World's tallest tropical tree in Sabah
---
Sabah is home to scenic hiking trails that're just the tipping point of nature gems to be found here. Also hiding out in rainforests are trees garnering impressive superlatives – including the world's tallest tropical tree that happens to be growing in a rainforest in Borneo.
Aptly nicknamed "Menara", meaning tower in Malay, this yellow meranti tree was uncovered recently in 2019. It stretches up to 330.7 feet high – or 100.8 metres – which is the height of an upright football field. The tree is also just several feet shy of reaching the height of the tallest tree in the world named "Hyperion" in California.
---
Endangered trees are home to 1,000 insects and more
---
After the world's tallest tree, Hyperion, that measures just over 380ft or about 116 metres, the second tallest tree can be found in Australia, as recorded in the Guinness World Records.
Coming in third is our record-breaking yellow meranti tree in Malaysia located in a well-protected, untouched rainforest called Danum Valley, and part of the conservation area there, in Sabah.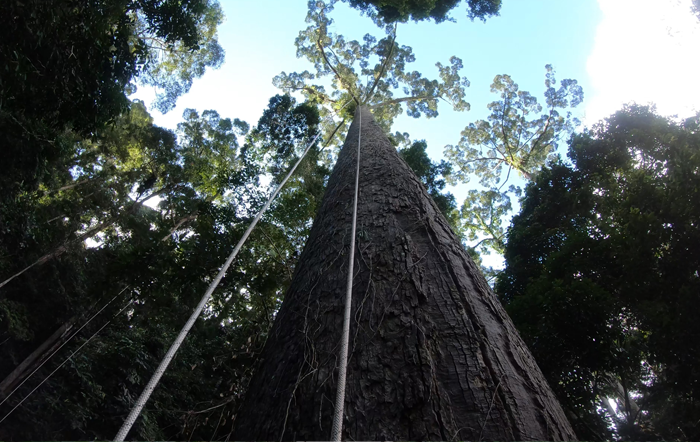 Image credit: University of Oxford 
Called Menara, or "tower", the tallest tropical tree in the world currently thrives along with the forest's inhabitants, such as orangutans and forest elephants. Much like orangutans, a critically endangered animal, yellow meranti trees are considered endangered tree species according to IUCN's Red List Of Threatened Species, as reported by National Geographic in an article dated 3rd April 2019.
This is because they can be quickly chopped down within minutes and are popular materials for concrete molds and plywood for crates and more.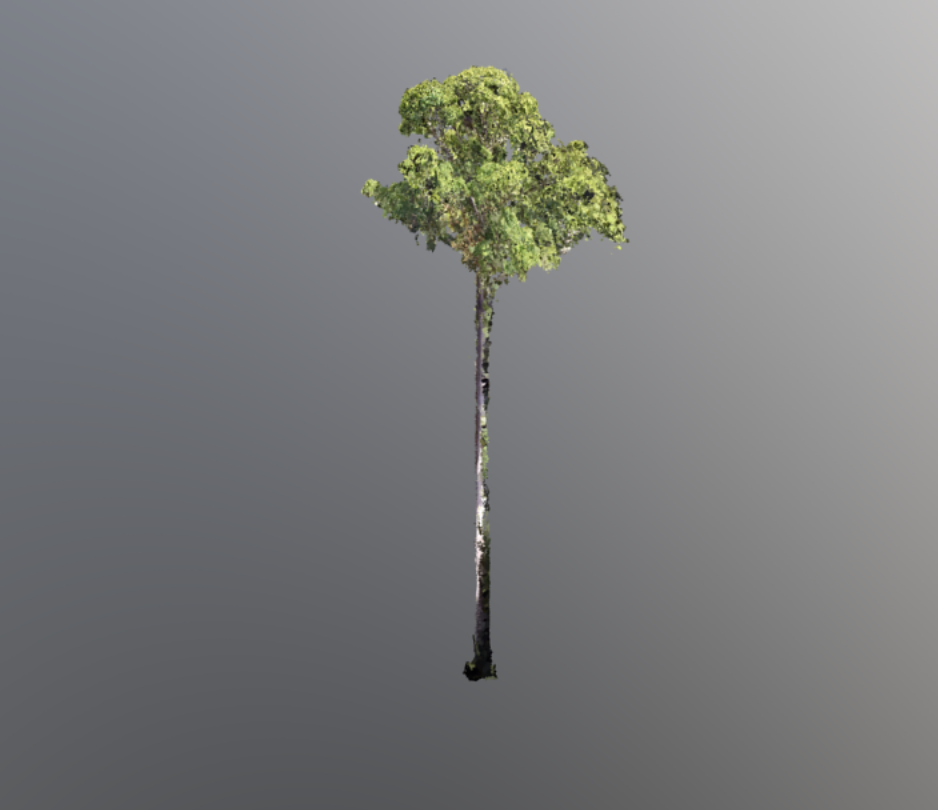 A 3D model of Menara
Image adapted from: Alexander Shenkin / SketchFab 
But when left to grow and thrive on their own, they can grow exponentially – as seen with Menara, whose height is close to the possible maximum height of a flowering plant, called an angiosperm.
These trees also serve as important mini-ecosystems, with yellow meranti trees known to house 1,000 various insects, fungi, and plants too – showing just how valuable they are to their surrounding environment. 
---
A Sabahan had to climb the 100-metre tree to measure it
---
Menara, in particular, was discovered by the joint efforts of the universities of Nottingham, Oxford, and South East Asia Rainforest Research Partnership thanks to laser scanning. 
To find out its actual height, however, a Sabahan, Unding Jami, had to go old-school and climb up the 100-metre tree just to drop down a measuring tape to get its exact height.
While this may sound like an odd concept to most of us, this is actually how the tallest trees in the world get measured – including Hyperion. And it's no easy task either.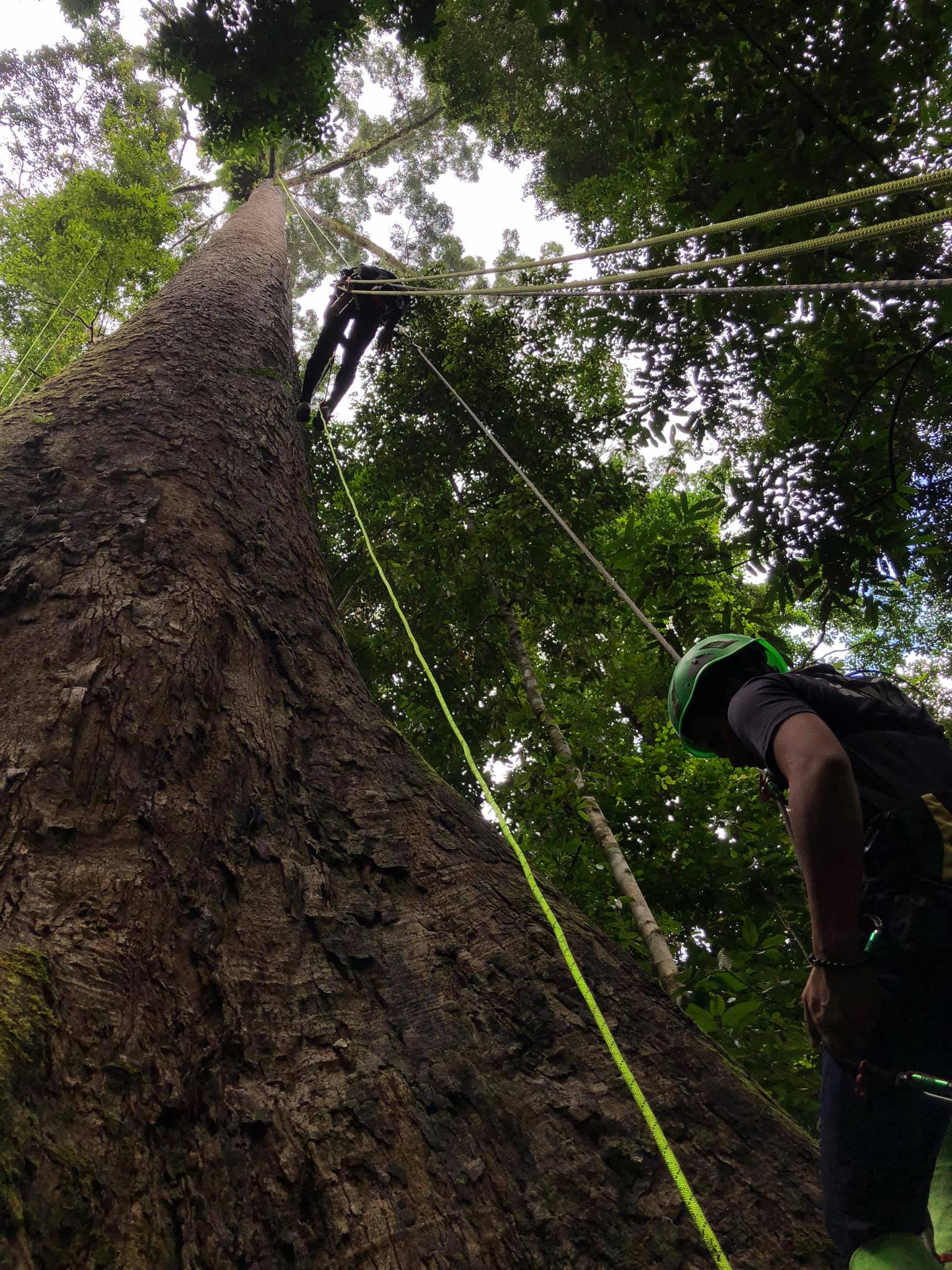 Image credit: Unding Jami

Jami admitted to National Geographic in the same article above that it took him 3 hours to climb Menara. He had to deal with flying lemurs, strong winds and rain, as well as potential animals popping out of the blue – including centipedes, snakes, and bees and wasps in their nests.
---
Menara tree seen in Minecraft, and longest Pos Malaysia stamp
---
If the tree's name sounds familiar, that's probably because Minecraft fans might recognise yellow meranti trees among the list of trees available in the popular video game.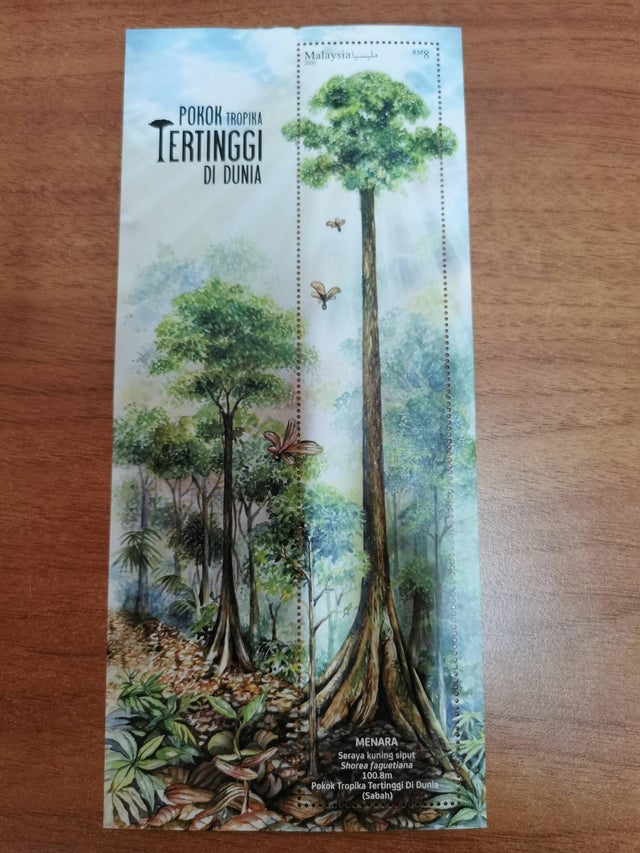 Image credit: Reddit.com
To commemorate the discovery of the tree, Pos Malaysia also released a series of stamps featuring the tree back in December 2020. Included is the longest stamp Pos Malaysia ever produced, which measures at 180mm in height.
---
Sabah is home to the world's tallest tropical tree, Menara
---
Nature lovers can all agree that Malaysia is a hotspot of nature gems just waiting to be discovered, as shown by Menara that was found hiding out in a rainforest in Sabah. The tree is proof that when nature is left untouched, they are able to grow and become important homes to nature – all while adding an impressive superlative under our country's belt too.
More trees here:
Also read:
---
Cover image adapted from: University of Oxford
Get more stories like this!
Drop us your email so you won't miss the latest news.