Venues for outdoor weddings
---
Outdoor weddings may not be the most conventional, but as wedding boards on Pinterest go to show, they produce some of the most gorgeous photos and settings. 
So if you're planning your nuptials and are inspired to say your vows while surrounded by nature, we've come up with a list of venues for outdoor weddings as an option for engaged couples to consider. You don't have to feel obligated to say your I do's in front of an altar or hold your banquet in a 5-star hotel when an outdoor wedding can be as enchanting. 
For other wedding-related articles, check these out:
---
1. Tanarimba – cool mountain air and pine trees for destination wedding vibes
---

Image credit: MunKeat Photography
Malaysia's tropical weather has nothing on Tanarimba as it's nestled between hills not too far from Genting Highlands. If the cool mountain breeze doesn't convince you, their cabin in the woods-type venue will – especially if you're aiming to recreate that iconic Twilight scene that sparked many of us regular folk to have our own outdoor weddings.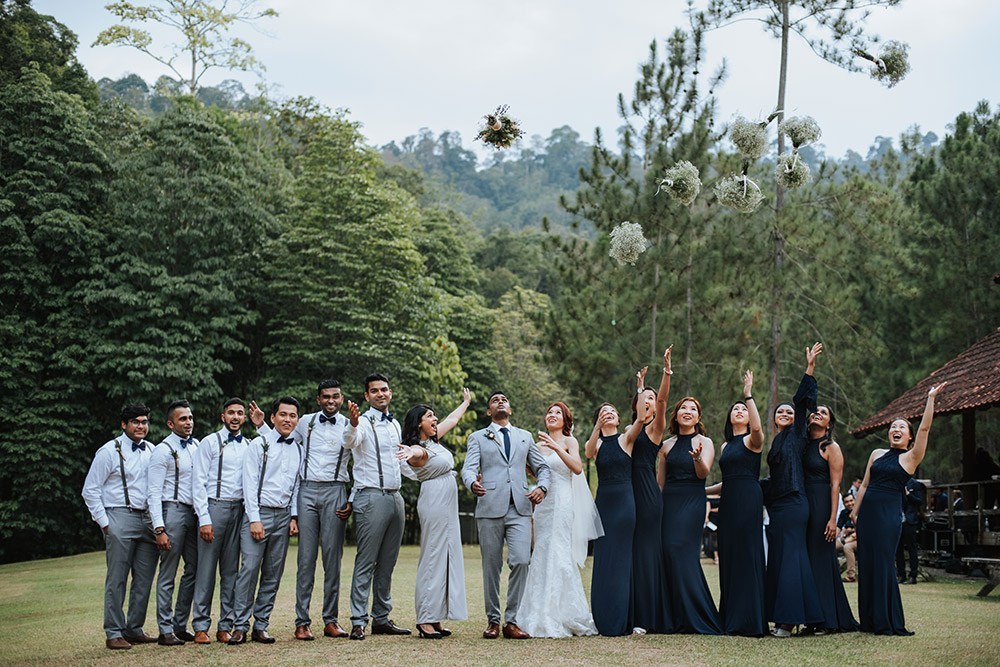 Slot in extra time in your schedule for a photoshoot session with the impressive view behind as a backdrop
Image credit: MunKeat Photography
Tanarimba in Janda Baik is just an hour's drive from the city centre, which is good news for your guests as they don't have to travel far for your wedding. There's also a resort (from RM350/room) nearby that can be booked so that guests can stay the night.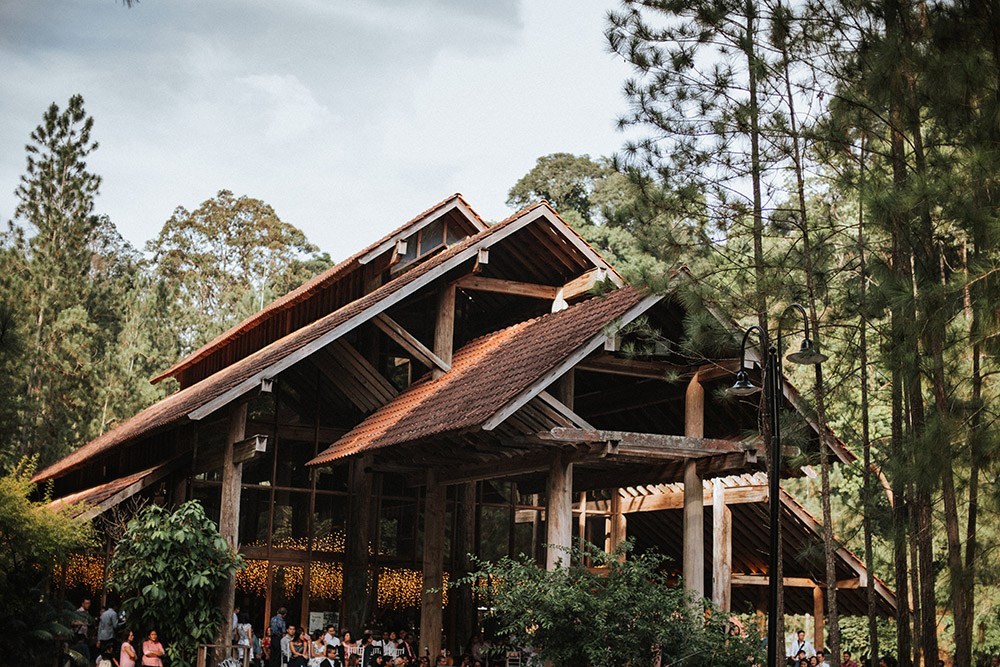 The Visitors Centre is nestled among towering pine trees and looks like a luxurious chalet
Image credit: MunKeat Photography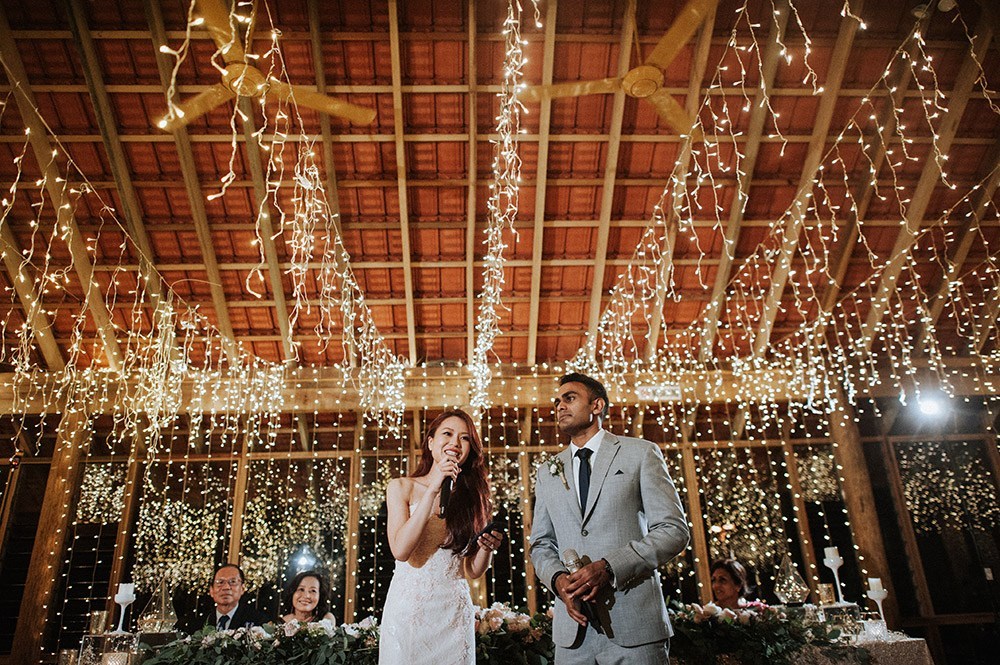 The Visitors Centre doesn't need much decorating – just some fairy lights and flowers – to transform it into a captivating event space that's on par with some 5-star hotels.+
Image credit: MunKeat Photography
The ceremony can be held out in the garden, as you wouldn't want to miss out on having its scenic view in the background. You can then host your reception in the stunning Visitors Centre. Although it's indoors, you'll still get a glimpse of the outdoors through the numerous window panels installed.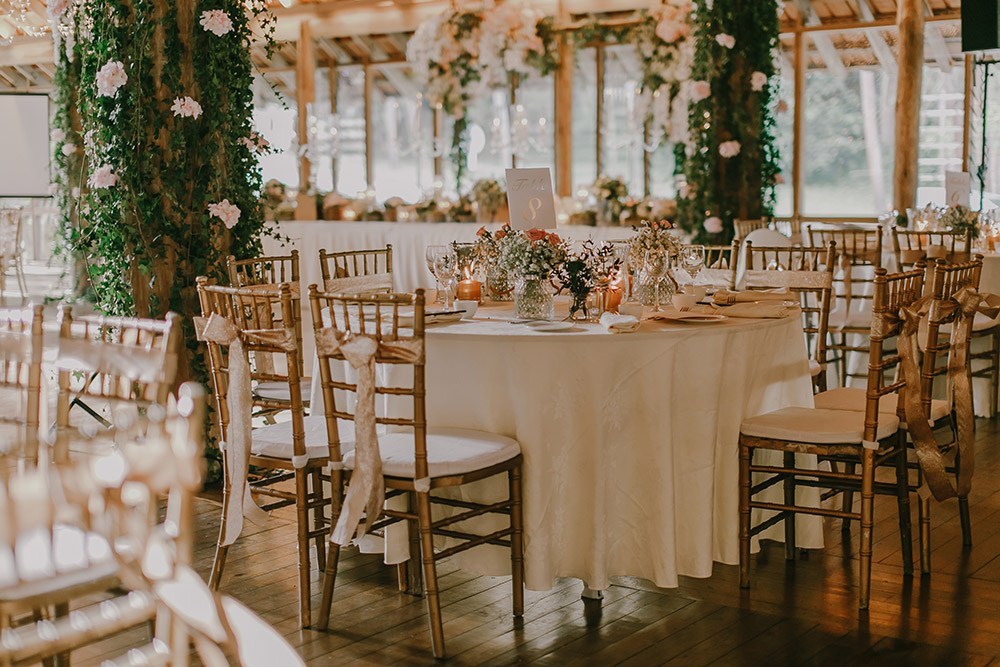 For an afternoon banquet, you can opt to have a more floral and boho-chic setup during your reception.
Image credit: Louis Loo Photography
Whether you're going for opulence or rustic, the venue at Tanarimba can be transformed to suit the theme you'd like for your wedding. If you're interested in having your wedding here, the venue will cost from RM6,500 to rent. The fee covers both the garden area and Visitors Centre, and you can outsource your preferred decor and catering.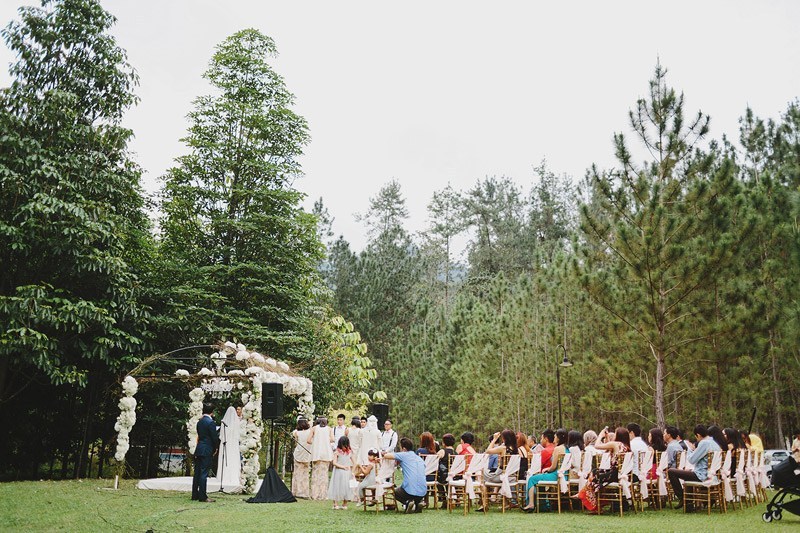 Temperatures here average between a comfy 20°C and 25°C
Image credit: Jonathan Ong
Address: Jalan Tanarimba Pine, Kampung Janda Baik, 28750 Bentong, Pahang
Opening hours: Sun-Thu 11AM-7PM | Fri – Sat 11AM-9PM (Closed on Wednesdays)
Telephone: 09-233 0655
Website
---
2. The Banjaran Hotsprings Retreat – other-worldly vibes at natural hot springs
---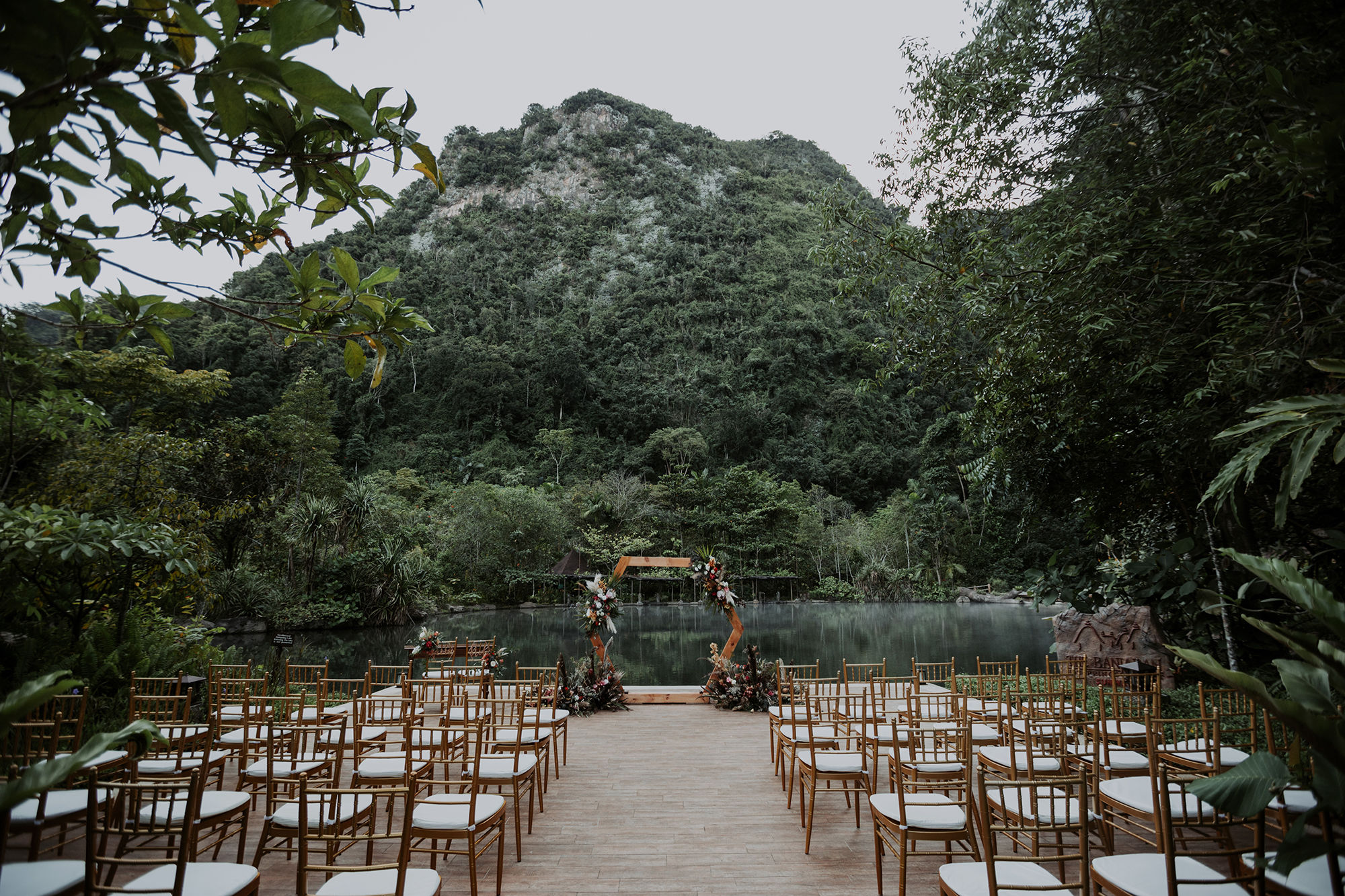 The lush greenery and limestone hills behind the hot springs provide a rather grand backdrop.
Image credit: MunKeat Photography
Typical venues that come to mind when in the midst of wedding planning with the future spouse: hotels, restaurants, churches, and maybe even the backyard of your house if it's big enough. But never have we come across a mention of hot springs. While it sounds unconventional, Banjaran Hotsprings proves that their venue can make for a grand and mystical wedding. Just look at these photos: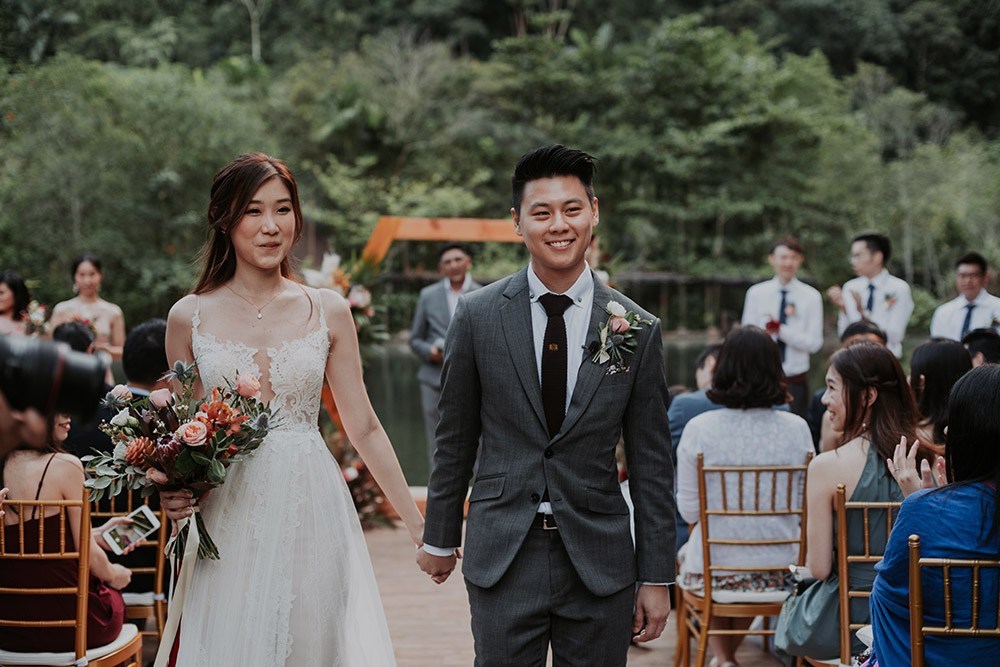 Image credit: MunKeat Photography
Banjaran Hotsprings is 2 hours away from KL and only a mere 20 minutes away from Ipoh town, so it's pretty accessible to city folk. The wedding venue can also double as a post-wedding honeymoon spot.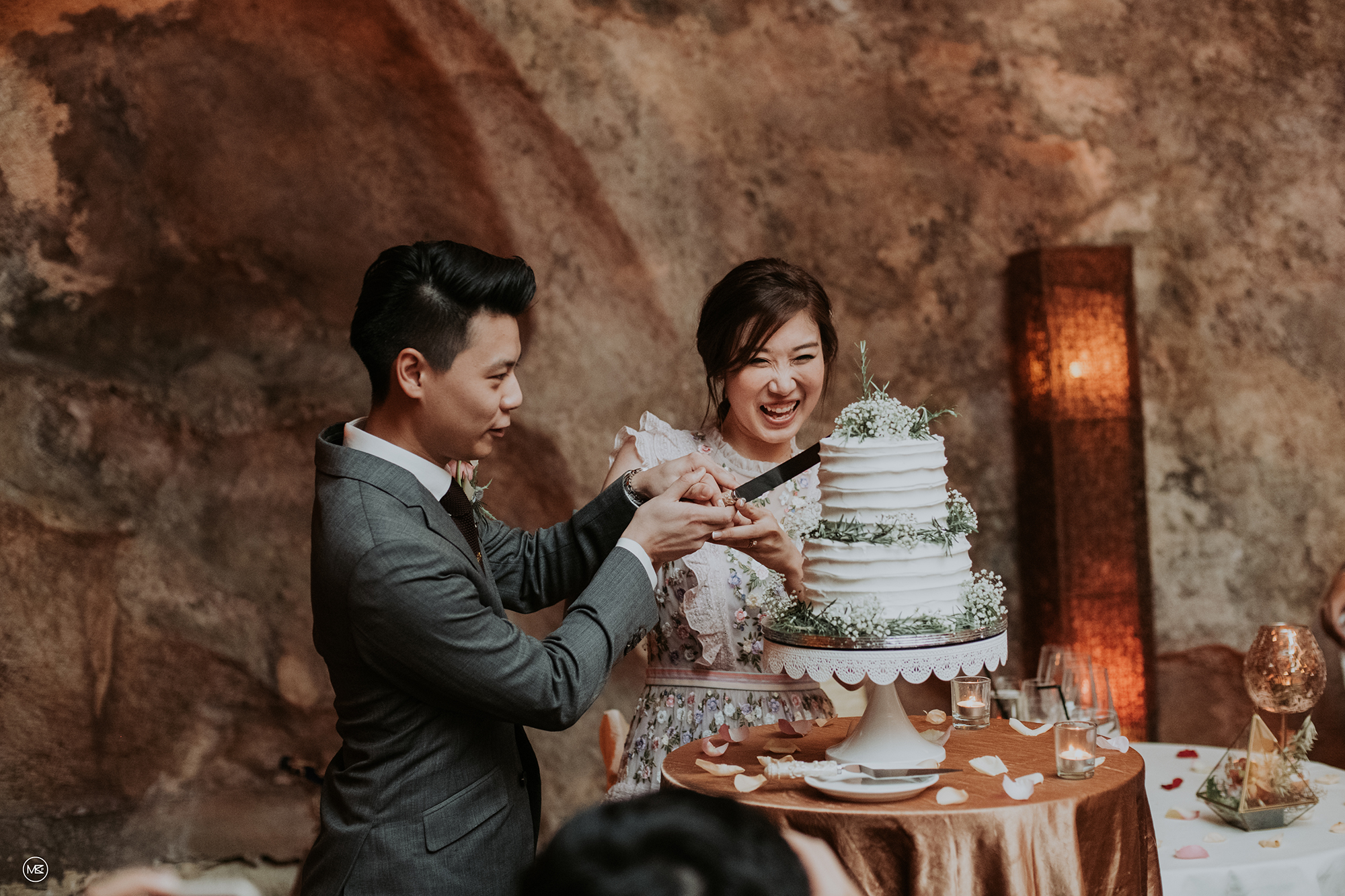 Hosting your banquet dinner or lunch in a cave is much more intimate due to its smaller area and dimmer lighting
Image credit: MunKeat Photography
Make your day even more special by hosting your reception inside a limestone cave. It's perfect for an intimate setting with your closest friends and family with a maximum capacity of 80 pax. To book this highly sought after venue and have an uber luxe wedding, there's a minimum cost of RM30,000.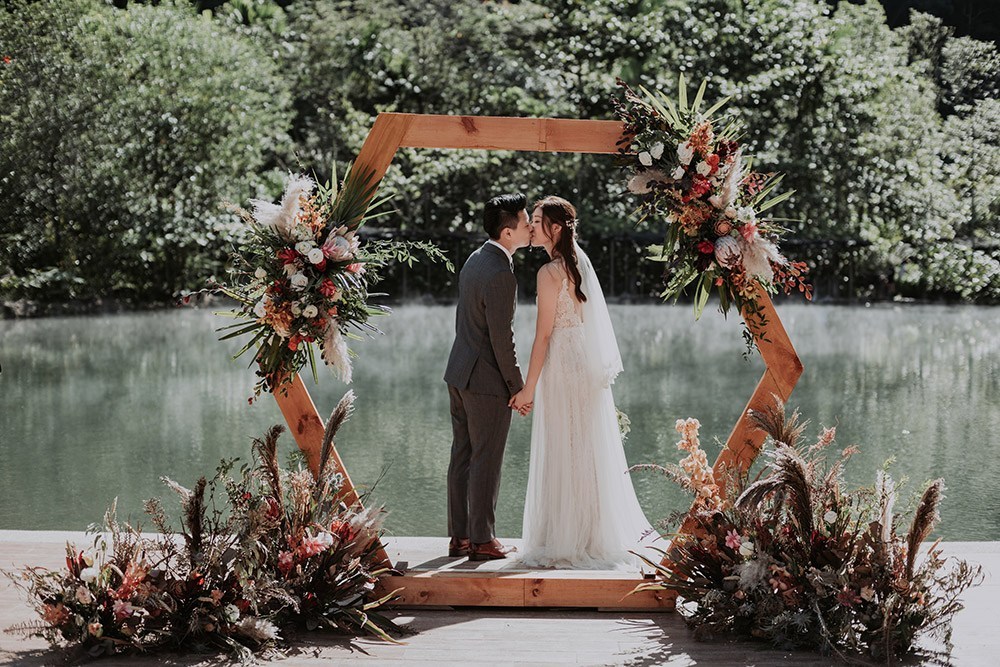 Image credit: MunKeat Photography
The romantic open deck by the hot springs is also available to rent for your ceremony from RM2,200. You can also have them arrange your wedding decorations for an extra RM2,700. 
Address: 1, Persiaran Lagoon, Sunway 3, 31150 Ipoh, Negeri Perak
Opening hours: 24 hours, Daily
Telephone: 05-210 7777
Website
---
3. Gita Bayu, Seri Kembangan – lakeside venue 30 minutes from KL
---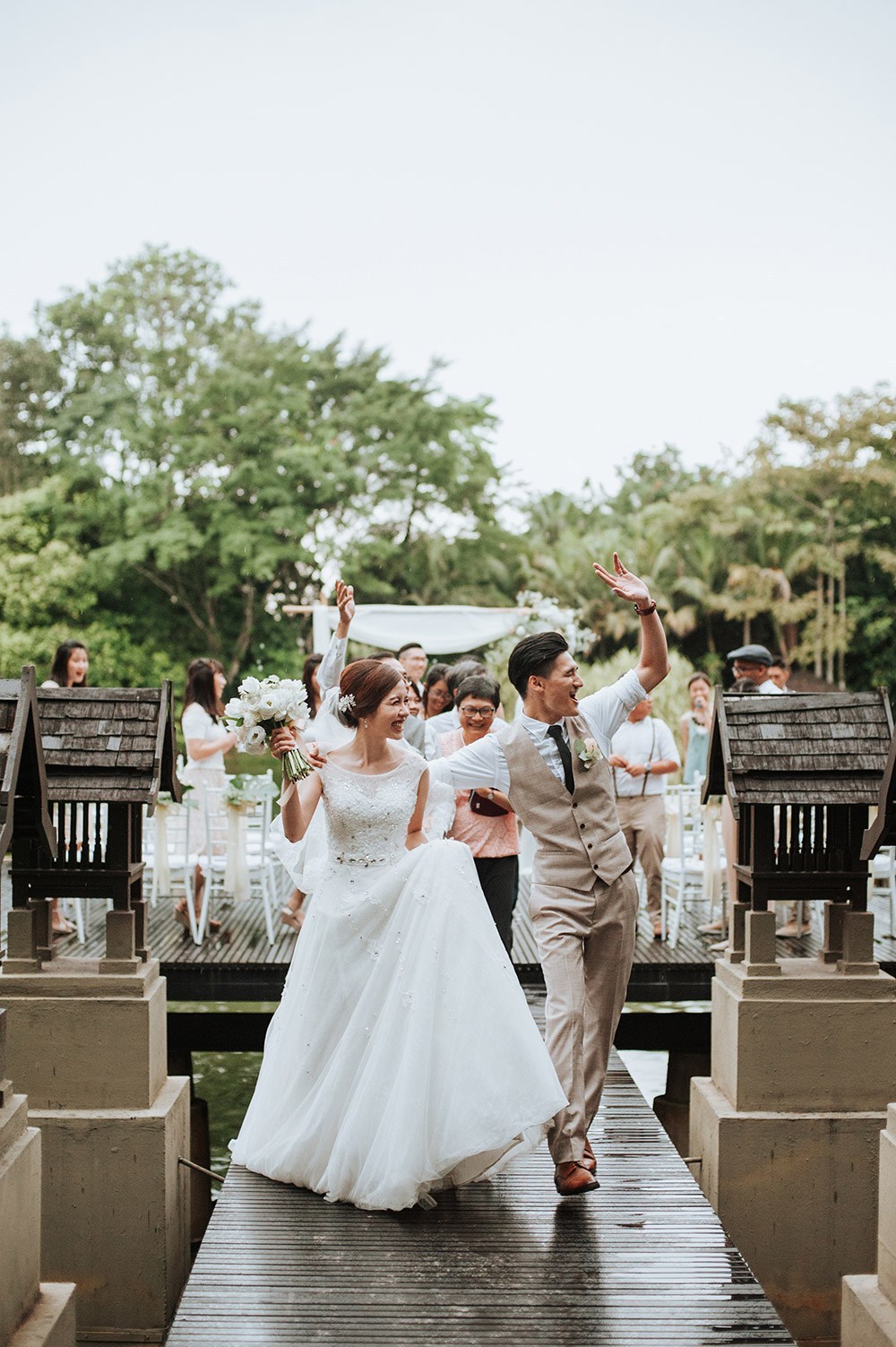 Image credit: MunKeat Photography
Gita Bayu is a lesser-known venue hidden in Seri Kembangan where couples will be able to recite their vows on a gorgeous lake that's surrounded by luscious greenery. 
There's an open deck where you can hold an intimate ceremony. With the lake and tropical trees in the background, it'll serve as the perfect backdrop that'll make your photographer's job much easier and leave you with memorable photos.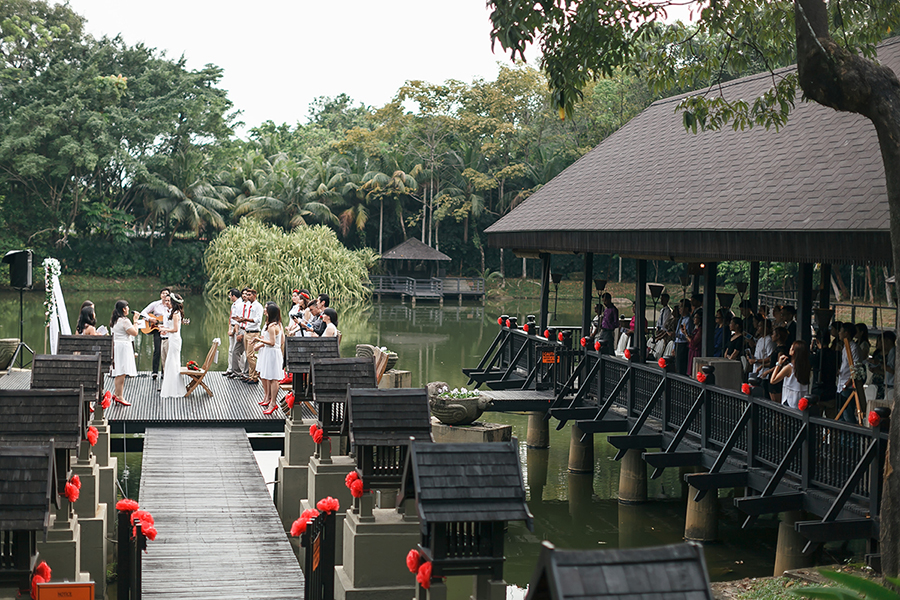 Image credit: WeFreeze Photography
There's also a wooden verandah by the side where guests can comfortably spectate the ceremony. This quiet venue is perfect for intimate settings and gives Balinese vibes, so you can have your "destination" wedding just 30 minutes from KL.
Those planning for smaller-scale weddings will find themselves right at home, as the verandah can accommodate about 100 guests. It costs RM5,000 to rent the floating pavilion and another RM5,000 if you want to hold your reception in the dining pavilion, which is in a separate building. Catering is an additional RM98/pax on average for a buffet meal. 
Address: Yee Seng Heights Sdn Bhd, No. 2, Jalan Bayu 1, 4330 Seri Kembangan, Selangor
Telephone: 017-9892560
Website
---
4. Rowan & Parsley, Johor Bahru – budget-friendly garden wedding
---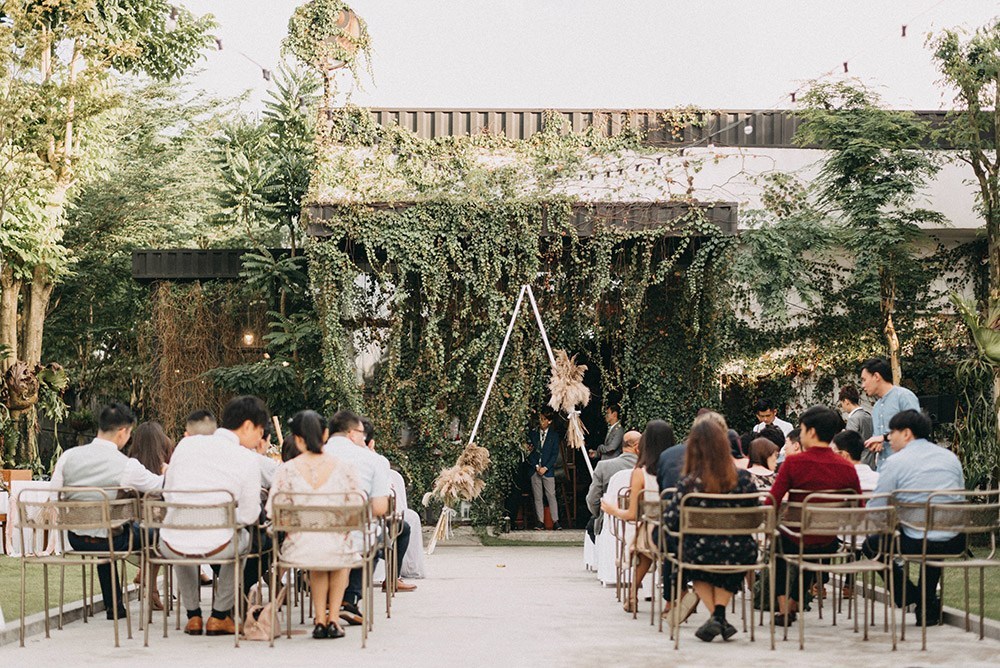 The location is decorated with hanging vines and trees, making it a top choice for couples who love the hidden garden look.
Image credit: Peter Herman Photography
Rowan & Parsley is a restaurant in JB that's nestled in an industrial area, which explains why parts of the building look like a shipping container. The entire exterior of the restaurant is covered with twirling vines that drape down the walls, which makes visitors feel as if they've just discovered a secret garden upon walking in.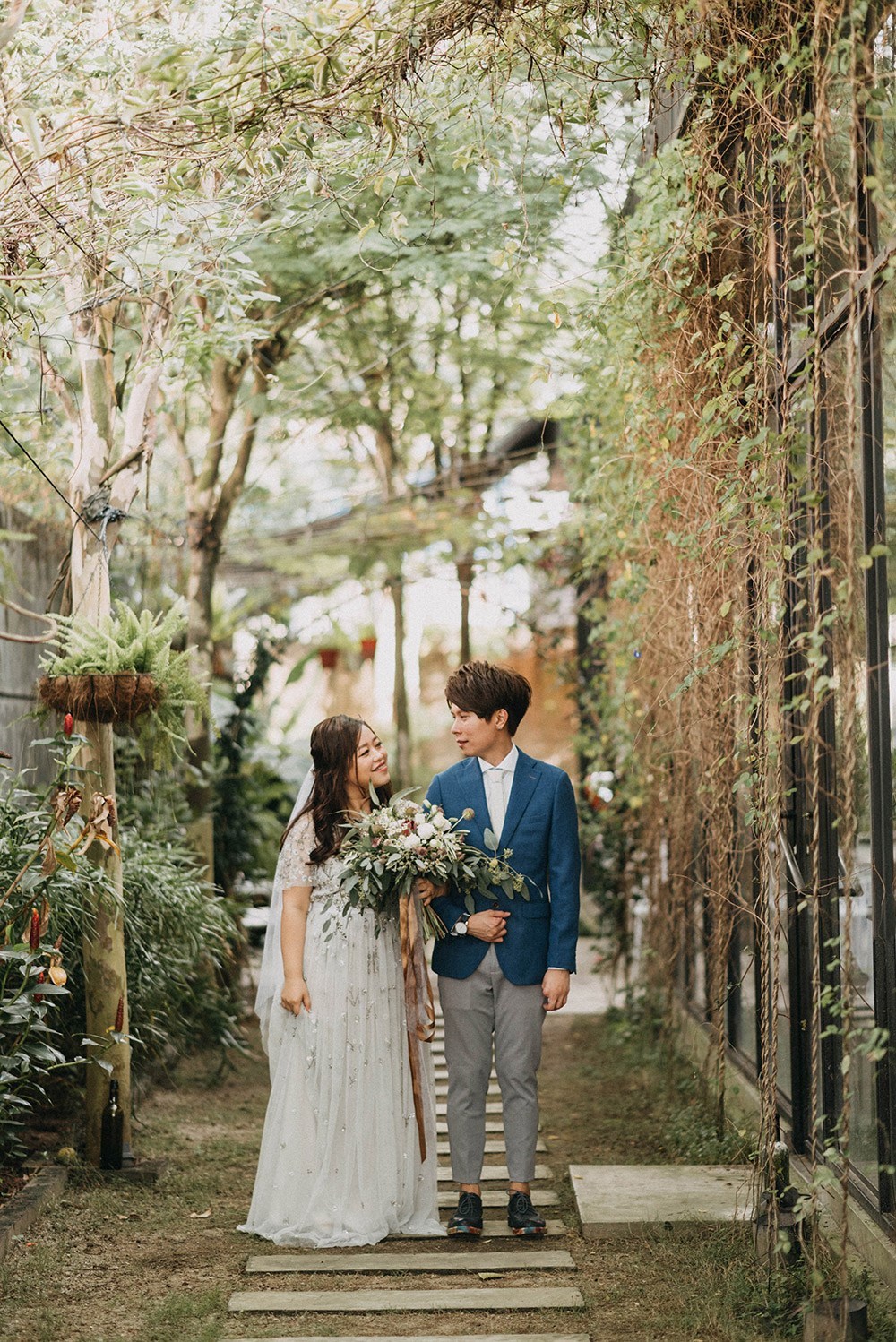 The cafe is full of aesthetically pleasing corners that your photographer will appreciate
Image credit: Peter Herman Photography
If you need a little more convincing, you'll also be saving a huge chunk of your expenses since the venue is provided for free as long as you use their catering services.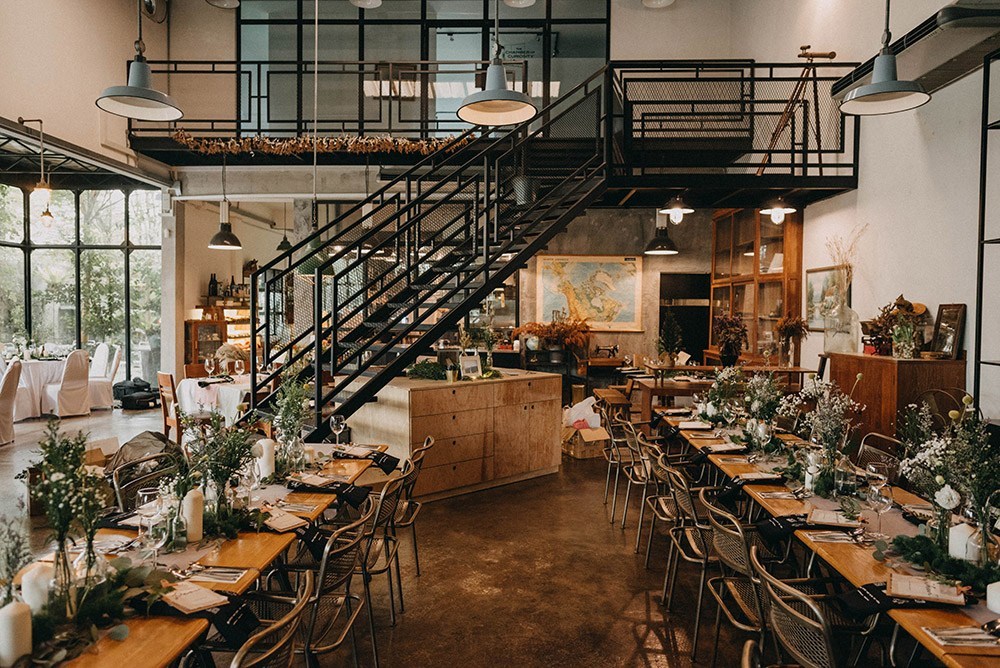 The cafe's interior sports the same rustic vibe as the garden outside but with an added industrial zest
Image credit: Peter Herman Photography
The cafe offers 2 catering packages: RM120/pax for a buffet and RM130/pax for a 5-course meal. We had a glimpse at their menu and we've already spotted a few dishes that are bound to crowd-favourites, like the Cajun Shrimp Guacamole Bites and Apple Cobbler. 
For a weekend wedding, be sure to have at least 85 guests to fulfill the minimum requirements needed to host your event there. 
Address: 17, Jalan Cenderai 20, Taman Perindustrian Kota Puteri, 81750 Masai, Johor
Opening hours: Tue-Sun 11AM-11PM (Closed on Mondays)
Telephone: 012-727 5717
Website
---
5. Tamarind Springs, Ampang – quiet canopy wedding in the city centre
---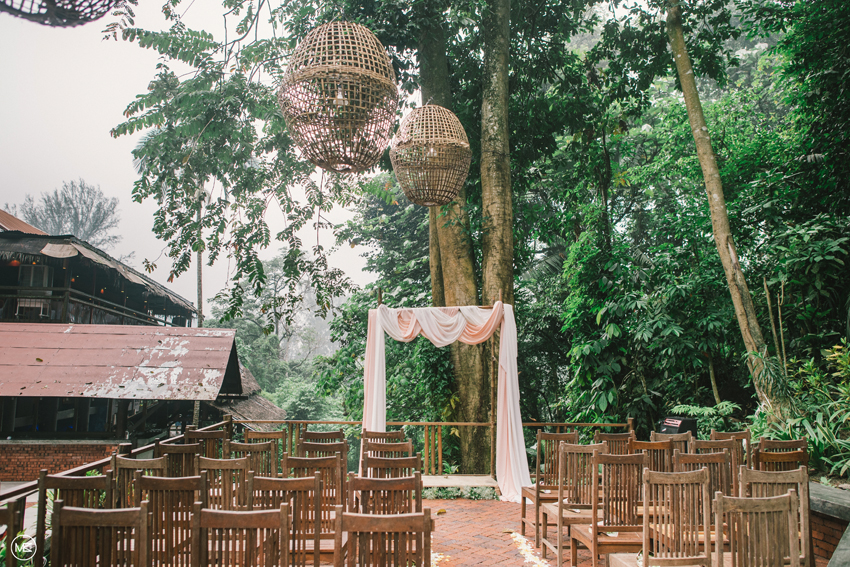 The elevated platform and open deck give off romantic treehouse vibes
Image credit: MunKeat Photography
There are only so few places in KL where we can truly get away from the hustle and bustle of the city, and Tamarind Springs is one of them. The best part about it is that the venue is only a short 20 minutes drive from the city centre, so you get to surround yourself in nature and host a quiet wedding without having to leave town.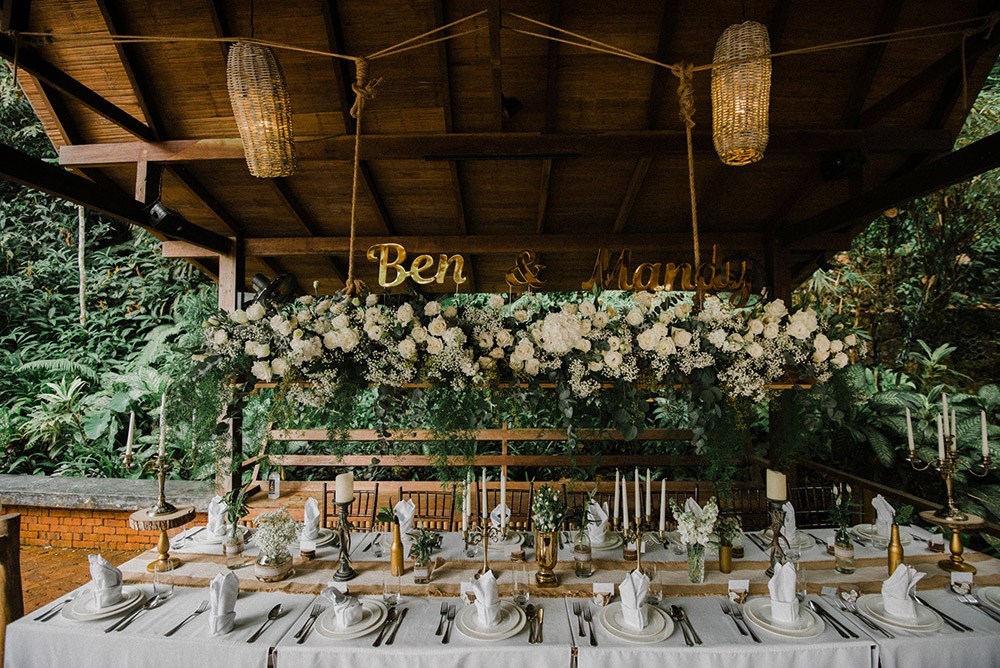 }
Tamarind Springs is one of the few places in the city that can give off dreamy garden-vibes that's perfect for outdoor weddings
Image credit: Fixer Photography
After the ceremony, you can proceed to the dining space that's on an elevated platform amongst the tree. The area here is sheltered, so you can comfortably dine while chatting with loved ones without worrying about unpredictable weather.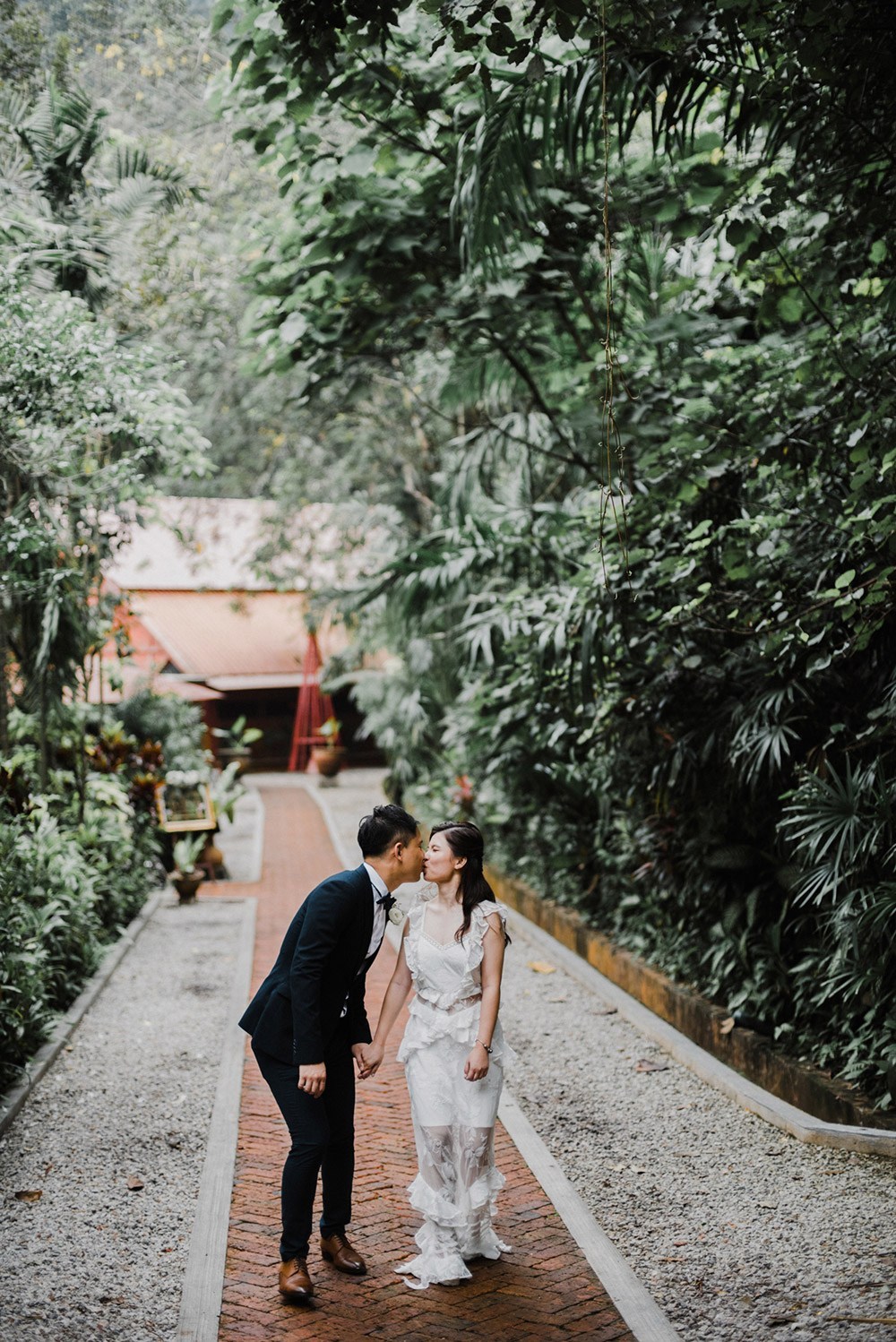 The entire compound is surrounded by trees and shrubs, making every spot photogenic.
Image credit: Fixer Photography
There isn't a base rental fee for this venue, but a minimum spend of RM40,000 for their catering service is required. You're given the option to choose from a buffet-style spread or a multi-course meal.
Address: Jalan 1, Taman Tun Abdul Razak, 68000 Ampang, Selangor
Opening hours: Tue-Sat 12PM-3PM & 6PM-12AM | Sun 11.30AM-3PM & 6PM-12AM | Mon 6PM-12PM
Telephone: 03-4256 9300
Website
---
6. Puncak Dani, Genting – get married in aircon weather
---
We all enjoy the occasional weekend trip up to Genting Highlands as the aircon weather there makes it the perfect place for a relaxing getaway. Besides the grand casinos, towering hotels, and the country's most awaited theme park, Genting also has a breathtaking wedding venue that has 18°C weather and is surrounded by nature.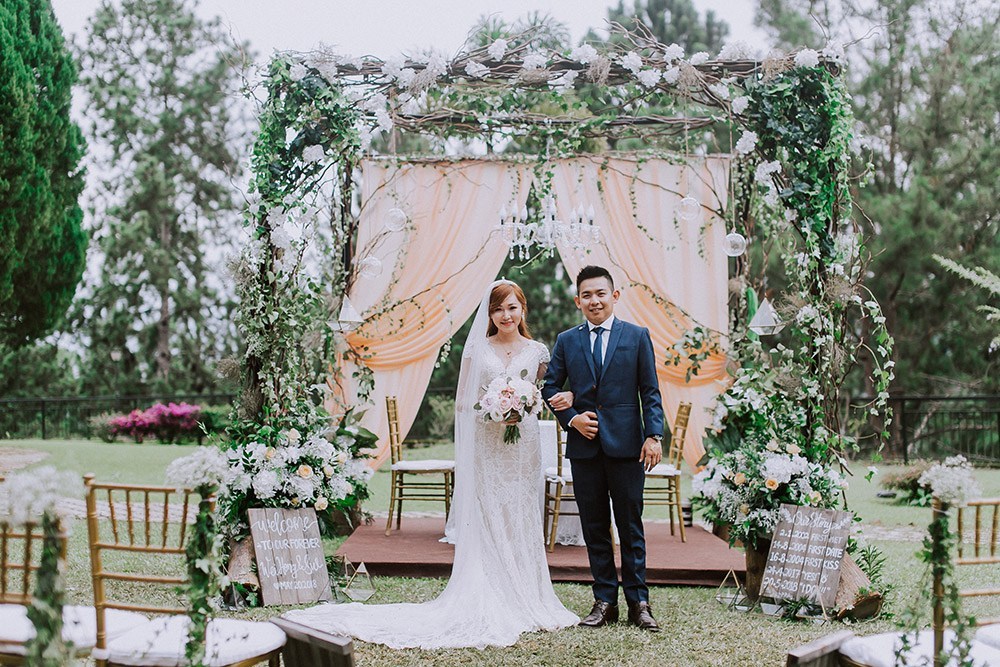 Image credit: Louis Loo
Puncak Dani is tucked away from the main roads in Genting, so unless you've done a fair bit of exploring during your visit, there's a slim chance you would've encountered this garden-like venue. There are 2 bungalows in the compound that's part of Puncak Dani that you can rent for the night, and this will be part of your wedding package.The package includes a 3D2N that'll cost about RM9650, depending on your chosen date.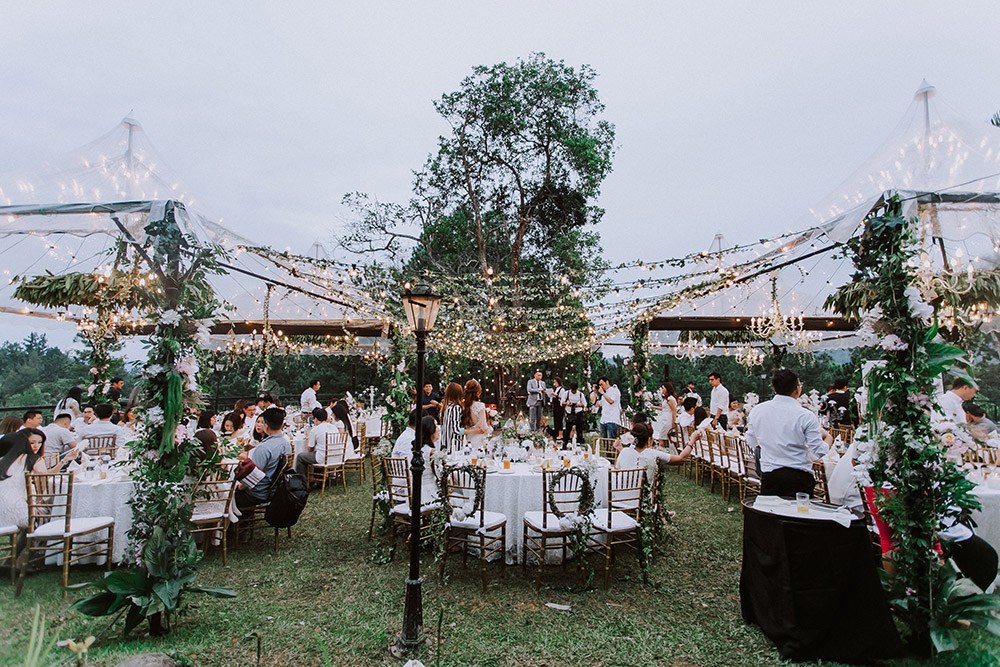 Image credit: Louis Loo
The compound is huge, so there's ample space for you to hold a romantic evening banquet under the stars. With such a photogenic background filled with trees and clear skies, you'll just need some fairy lights and flower arrangements to tie everything together. 
Address: Lot 12 & 13 Puncak Dani & Dani Lodge Gohtong Jaya Genting Highlands, Jln Institut Aminuddin Baki, 69000 Genting Highlands, Pahang
Telephone: 03-4251 6076
Website
---
7. Cove 55, Kuching – mountains on one side, the ocean on the other
---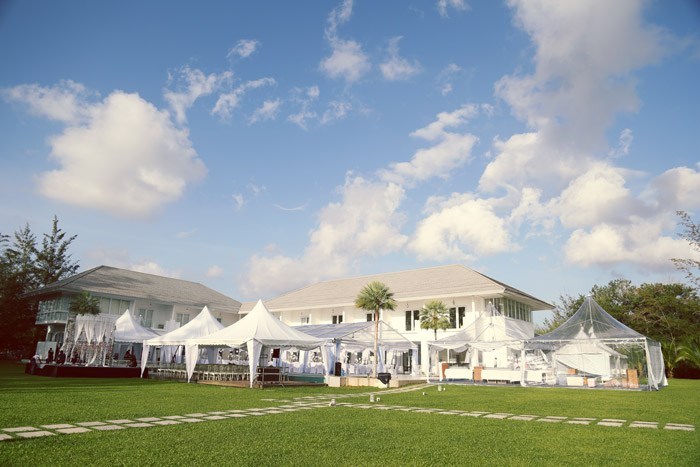 Image credit: Hollywood Bridal
Cove 55 is a dream venue for those who've always wanted a destination wedding. Taking only 1.5 hours of flight time from KL, this resort in Kuching is one of the most realistic choices for a destination wedding that's not too far from home and doesn't break the bank.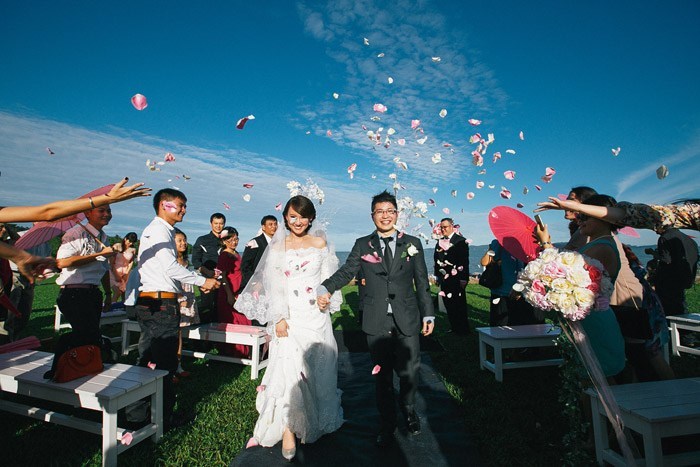 Image credit: Fabulous Moments
What was originally built as a holiday home for an Iban family is now a luxurious villa at the foot of Mount Santubong. This means you'll be able to peek at hilltops from the backyard and face the South China Sea from the front. There's also a mini-forest in the compound that'll suit your photoshoot needs.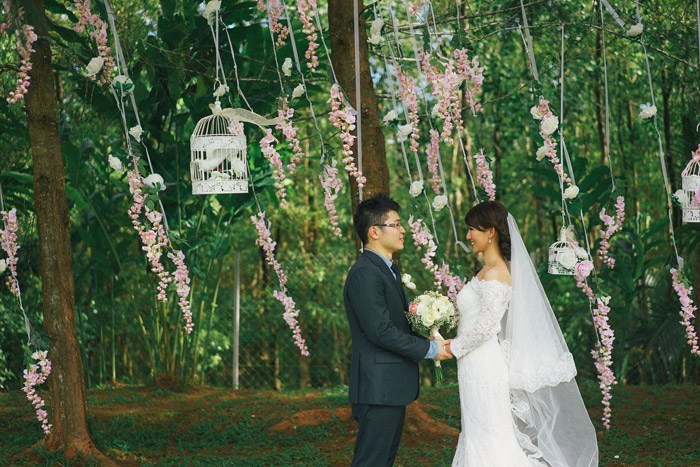 Image credit: Fabulous Moments
For exclusive use of Cove 55, you can expect to pay a rental fee of RM8,000–RM10,000, depending on your wedding date. You'll then have full access to all 15 guest rooms and facilities in the villa, so you can gather 30 guests to stay here for the night. 
Fun fact: Cove 55 has become a highly-coveted venue for Sarawakian brides-to-be, particularly those who've been pining over Henry Golding since his "Crazy Rich Asian" days. And it's all because the famed star got married at this very location with his now-wife, Liv Lo.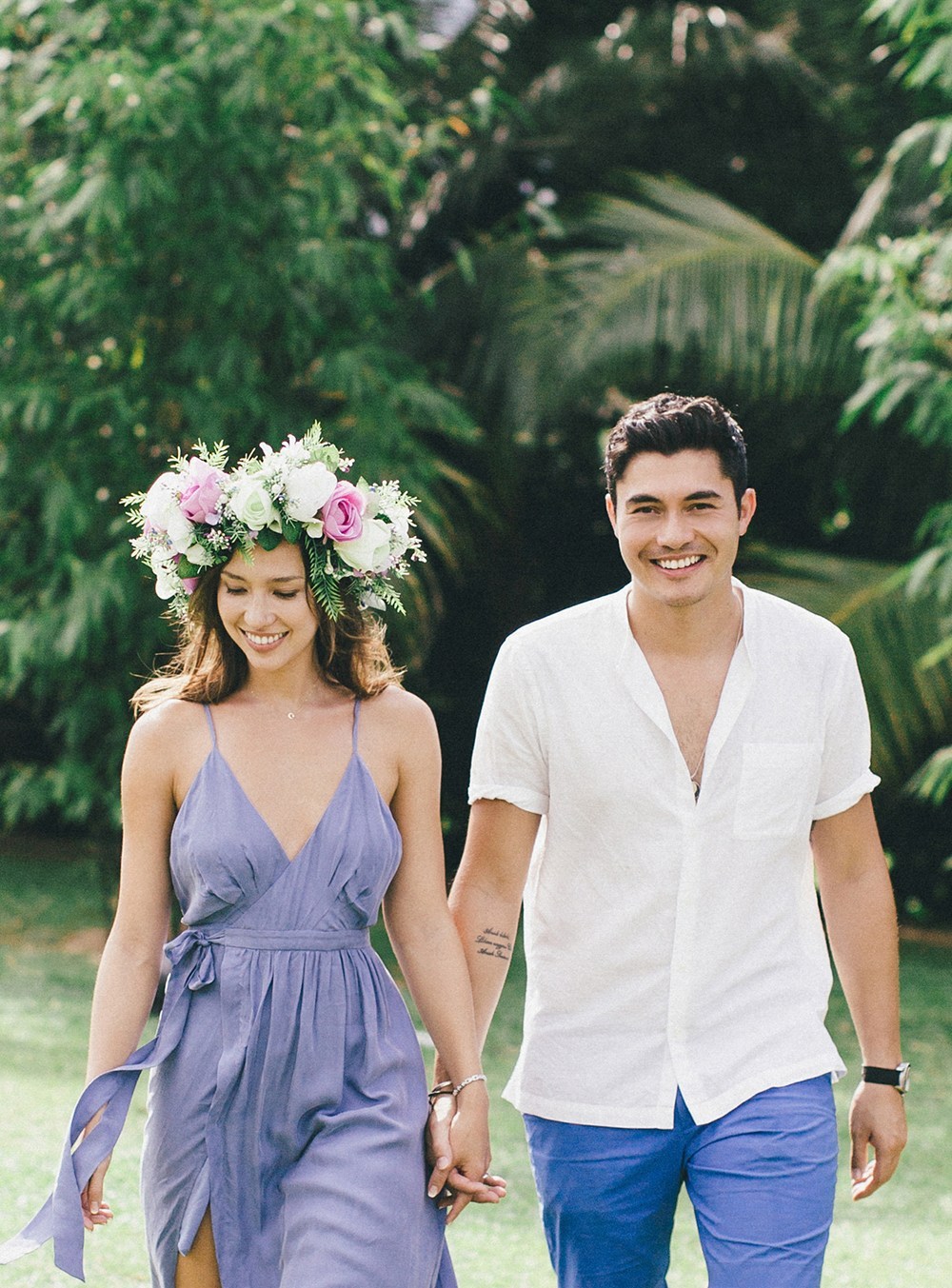 Image credit: Andy Phe Photography
Address: Lot 55, Jalan Sultan Tengah, Santubong, 93010 Santubong, Kuching, Sarawak
Telephone: 082-846 068
Website
---
8. Sunlight Suite, Cameron Highlands – get a view of the tea farms 
---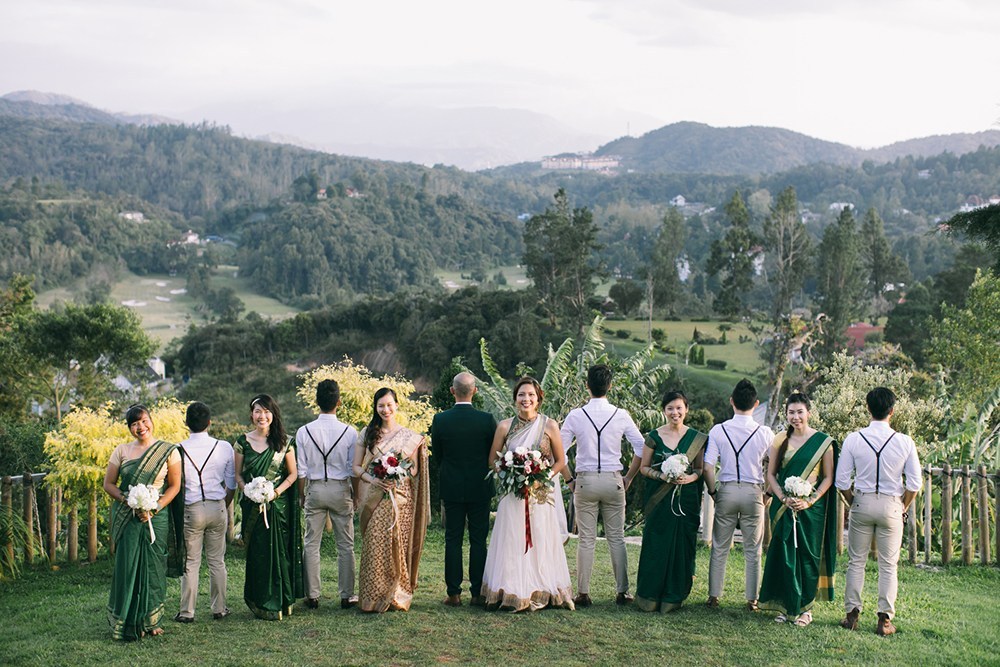 The breezy weather in Cameron Highlands makes it one of the best destinations for outdoor weddings
Image credit: Nigel Lim
When talking about picturesque spots in Malaysia, you can't miss out Cameron Highlands with its valleys of tea plantations and gorgeous flower gardens. A 3-hour drive from KL, Sunlight Suite is one of the few cottages in the township that can be rented as a venue for your wedding.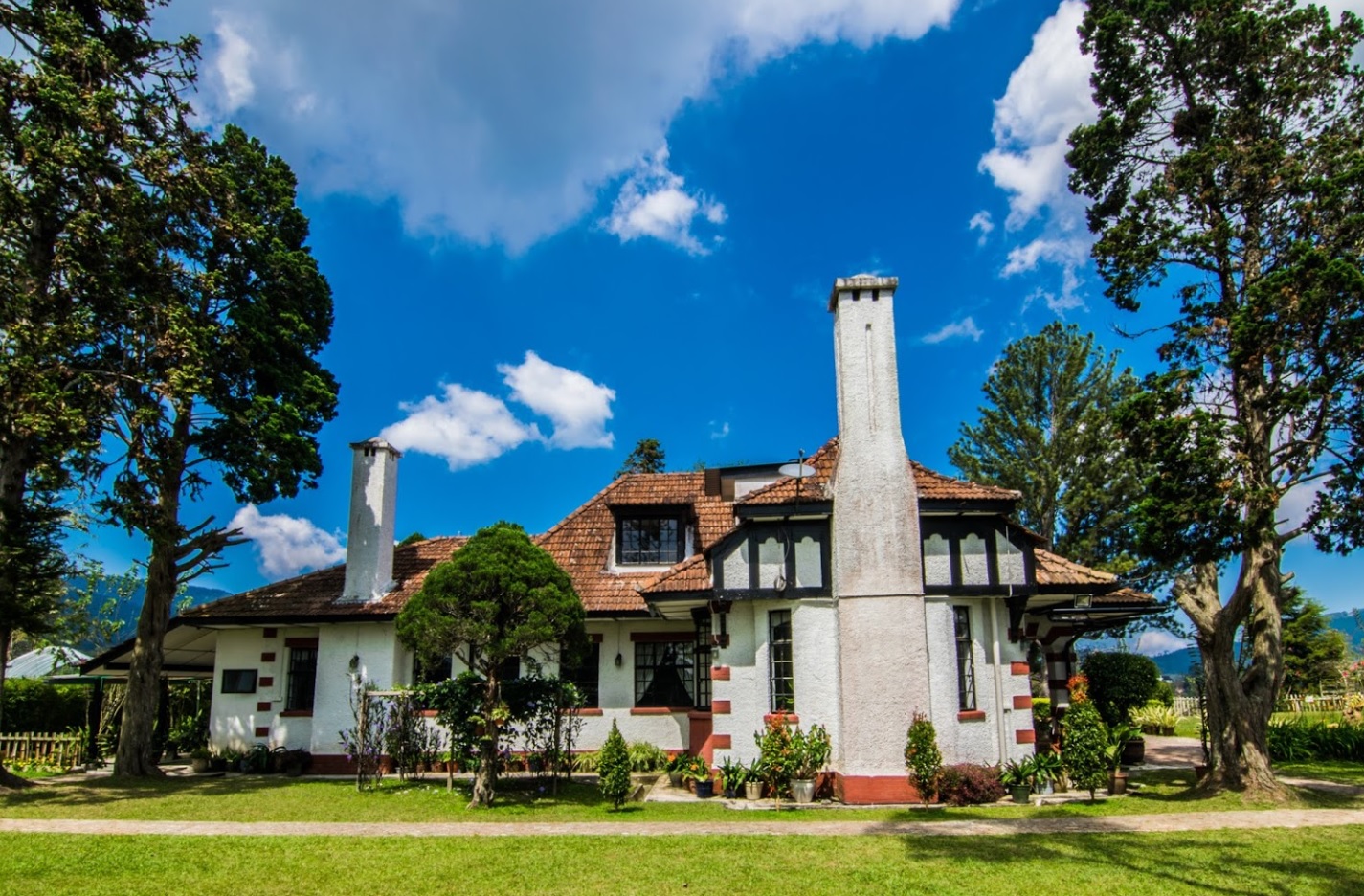 The venue rental includes the 2 bungalows that are on the compound
Image credit: Sunlight Suite Sdn Bhd
There's a massive lawn on the compound that overlooks the plantations and gives you an undisturbed view of the hilltops on the horizon. Whichever spot you choose to have your wedding and reception, the backdrop will be equally impressive.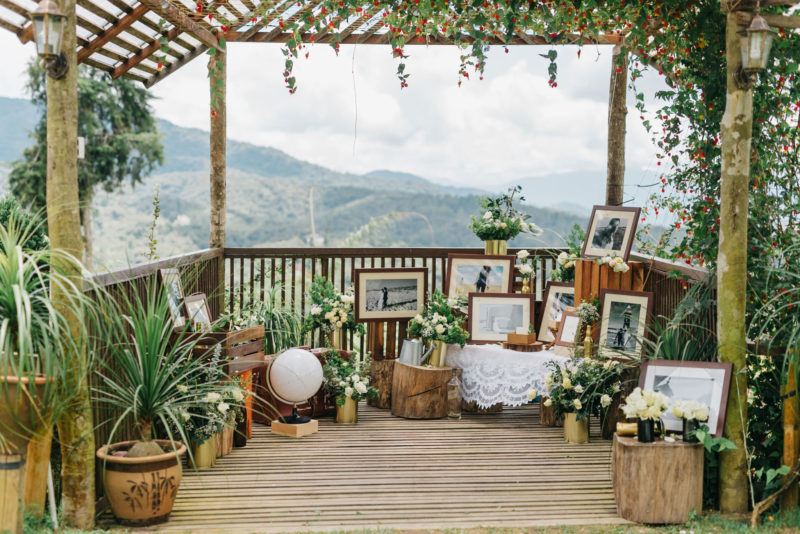 There's even a wooden shack that you can decorate with framed photos and potted flowers to give it that rustic look
Image credit: Wedoverhills
Sunlight Suite's wedding package requires a 2-day booking of their bungalows from RM,2700/night. Guests who've travelled far can spend the night here as the 2 bungalows are able to house 64 guests. 
Other fees that you may incur are cleaning fees (RM1,000) and garden charges (RM3,500). Sunlight Suite will also be able to give you a list of vendors for F&B arrangements after making your reservation to ease your wedding planning. 
Address: No. 46 & 47, Jalan Kamunting, Brinchang, 39000 Brinchang, Pahang
Telephone: 016-407 8998
Website
---
Locations for outdoor weddings in Malaysia
---
These venues for outdoor weddings can be a good alternative if you're looking to make your big day extra special. These venues prove that you can have your wedding in the great outdoors while still being luxurious so that even the most traditional grandparents would have to approve. 
It's a once-in-a-lifetime affair, so if you have your heart set on a non-conventional outdoor wedding, go for it. 
Here are some ideas on what you can do to get ready for your big day:
---
Cover image adapted from: MunKeat Photography and Wedoverhills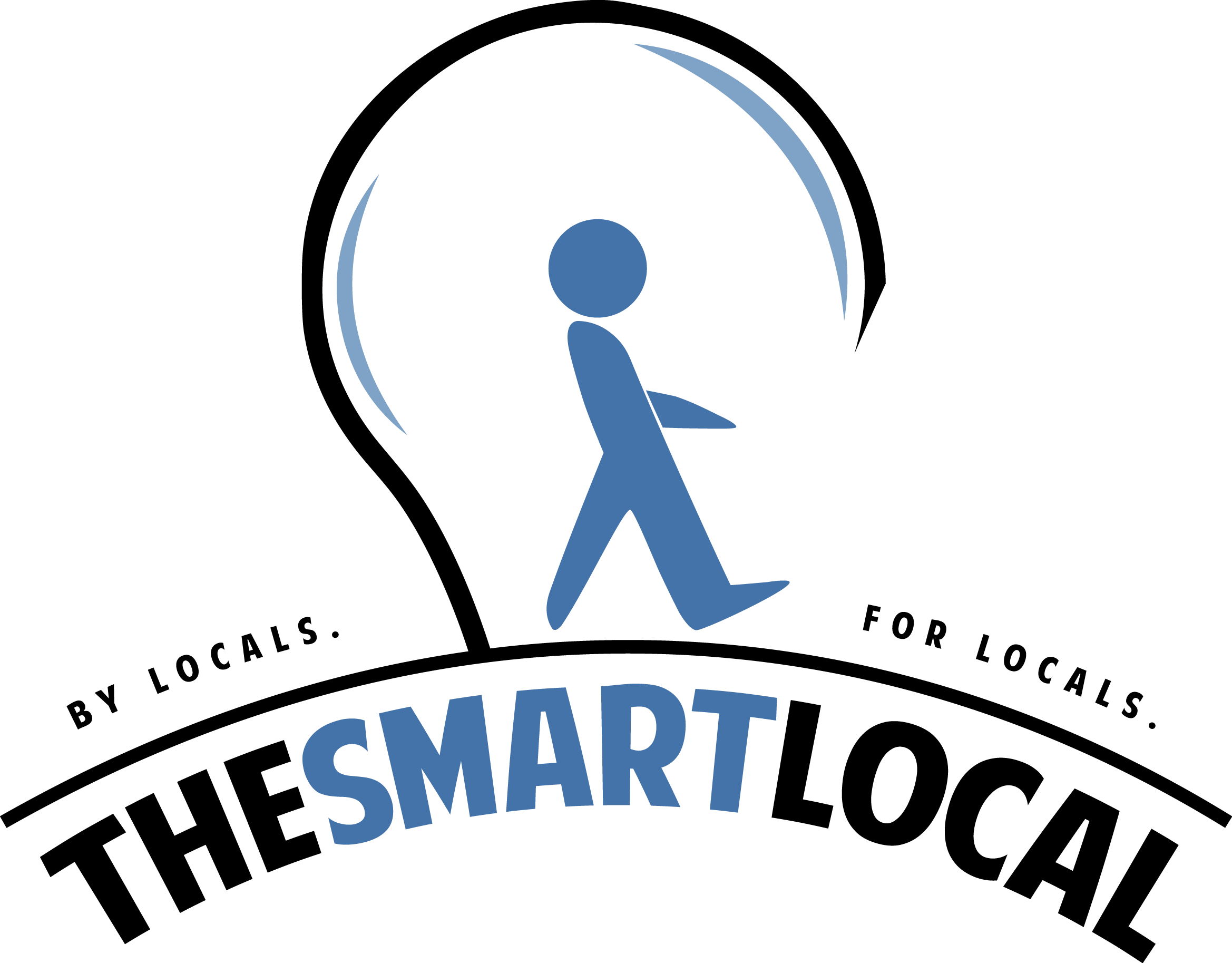 Drop us your email so you won't miss the latest news.