International cuisine in Penang
---
One of the best things about Malaysia is our vibrant ethnic society and sheer variety of foods that comes from it. Walk down a street and you'll find people of various ethnicities mingling, different languages and dialects being spoken, and a diverse selection of local cuisines being offered.
While we adore our popular traditional dishes, Malaysia boasts a myriad of delicacies beyond just nasi lemak and char kuay teow, with cuisines spanning the entire world. In Penang alone, you can eat your way through Italy, Thailand, India, and Mexico, without leaving the confines of the island.
To help you travel the world on plates, we've rounded up 9 restaurants in Penang where you can savour authentic international fare from all around the globe, while staying close to home.
---
1. Two Frenchies Restaurant – boeuf bourguignon & duck liver pate
---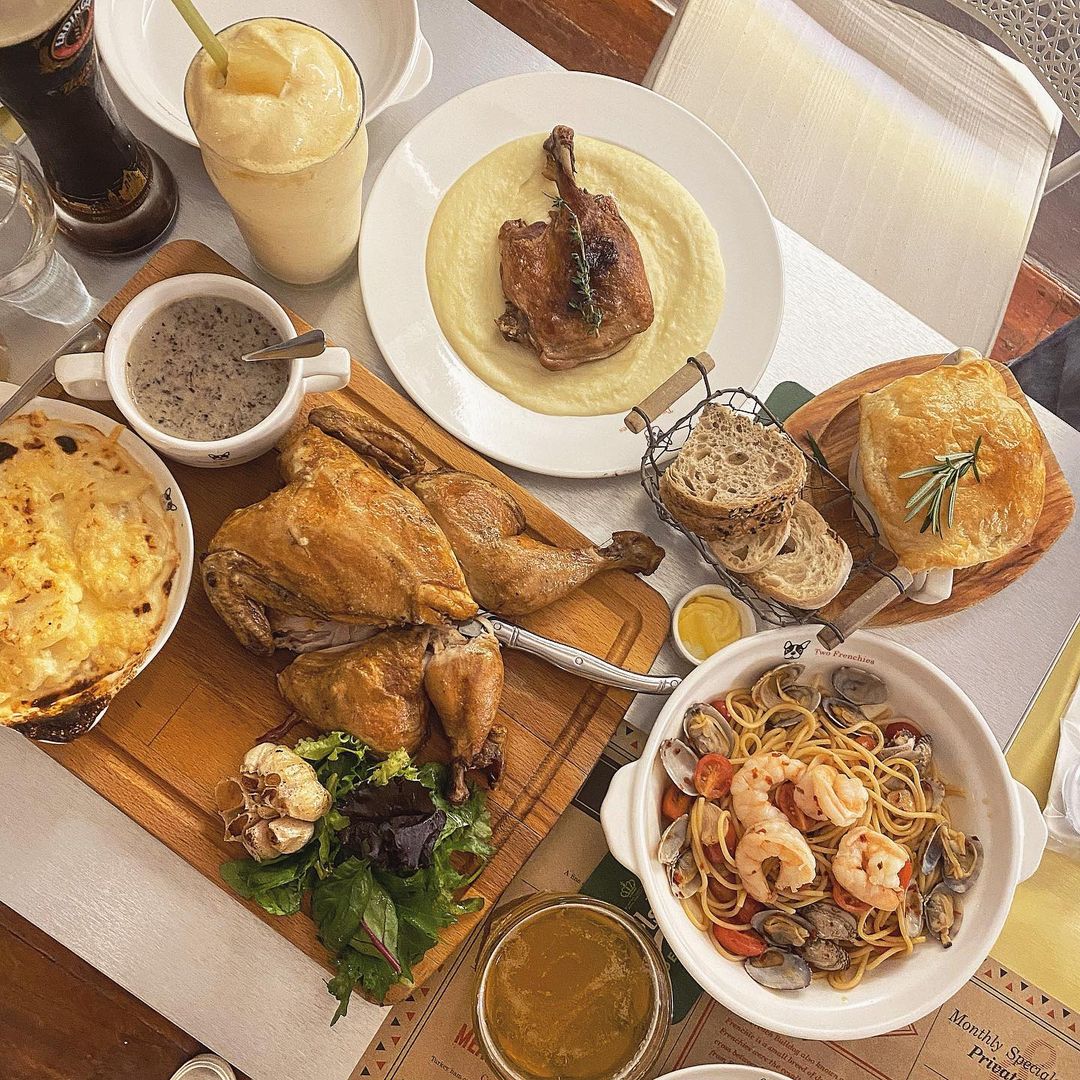 Image credit: @eatfunwithus via Instagram
There's something immensely sophisticated yet satisfying about a classic French bistro meal. Luxuriously buttery dishes that are always robust with richness, an ambience that's warm and intimate, and wine glasses clinking – Two Frenchies Restaurant is every bit an exceptional epitome of a bona fide French bistro.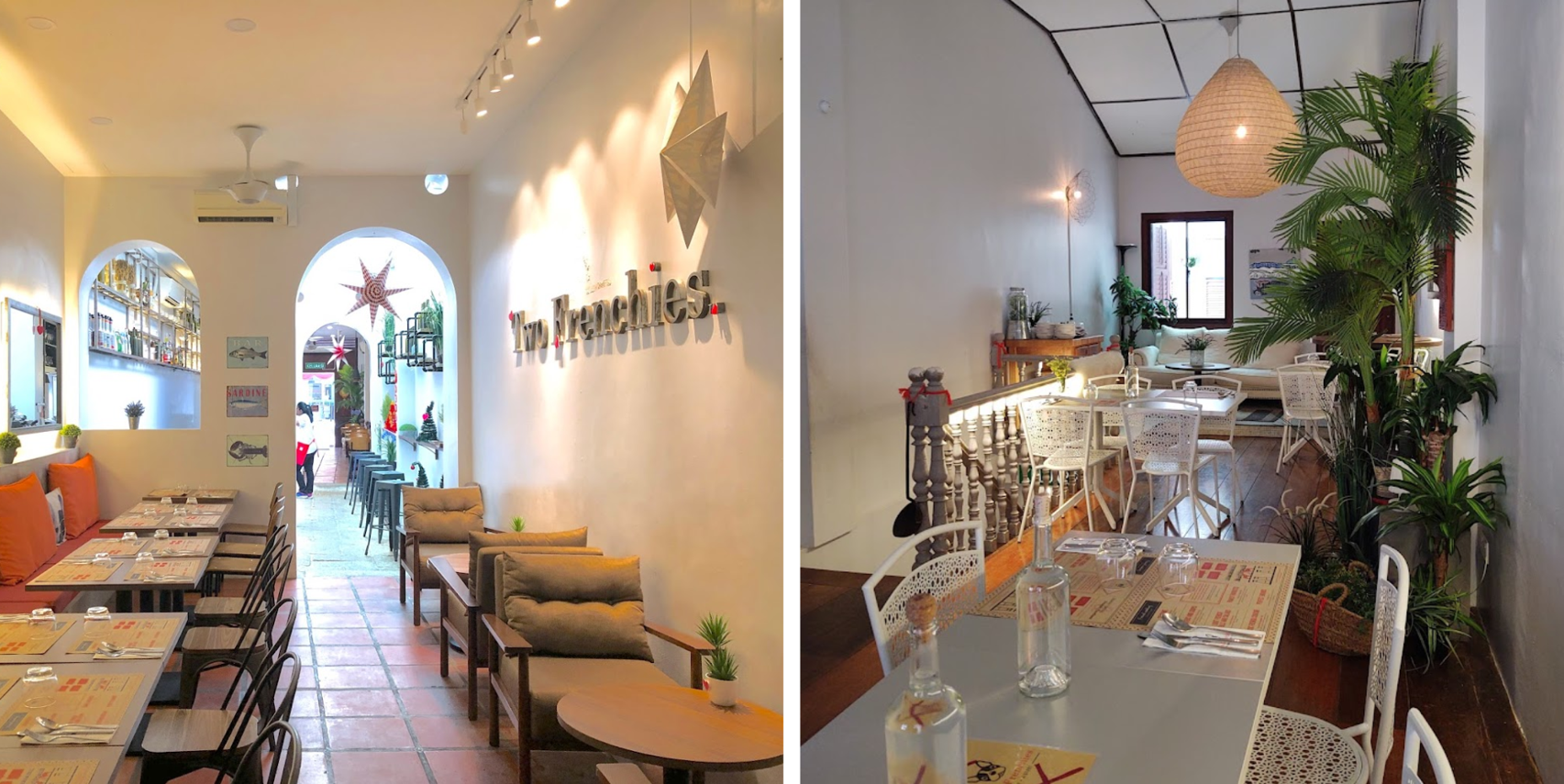 Image adapted from: jaroonrat vitoosuwam via Google Photos & Goh Wah via Google Photos
Helmed by a bunch of friends from France, the two-storey cafe and bistro is a quaint candlelit space, complete with cosy furnishings, rustic antiques and jowly faces of French bulldogs displayed on the walls and menus.
Honest and heartwarming would be the right way to describe a meal at Two Frenchies Restaurant. Their menu features a range of classic homecooked French cuisine including Croque Monsieur (RM23), Classic French Onion Soup (RM20), and Moules Frittes (RM68).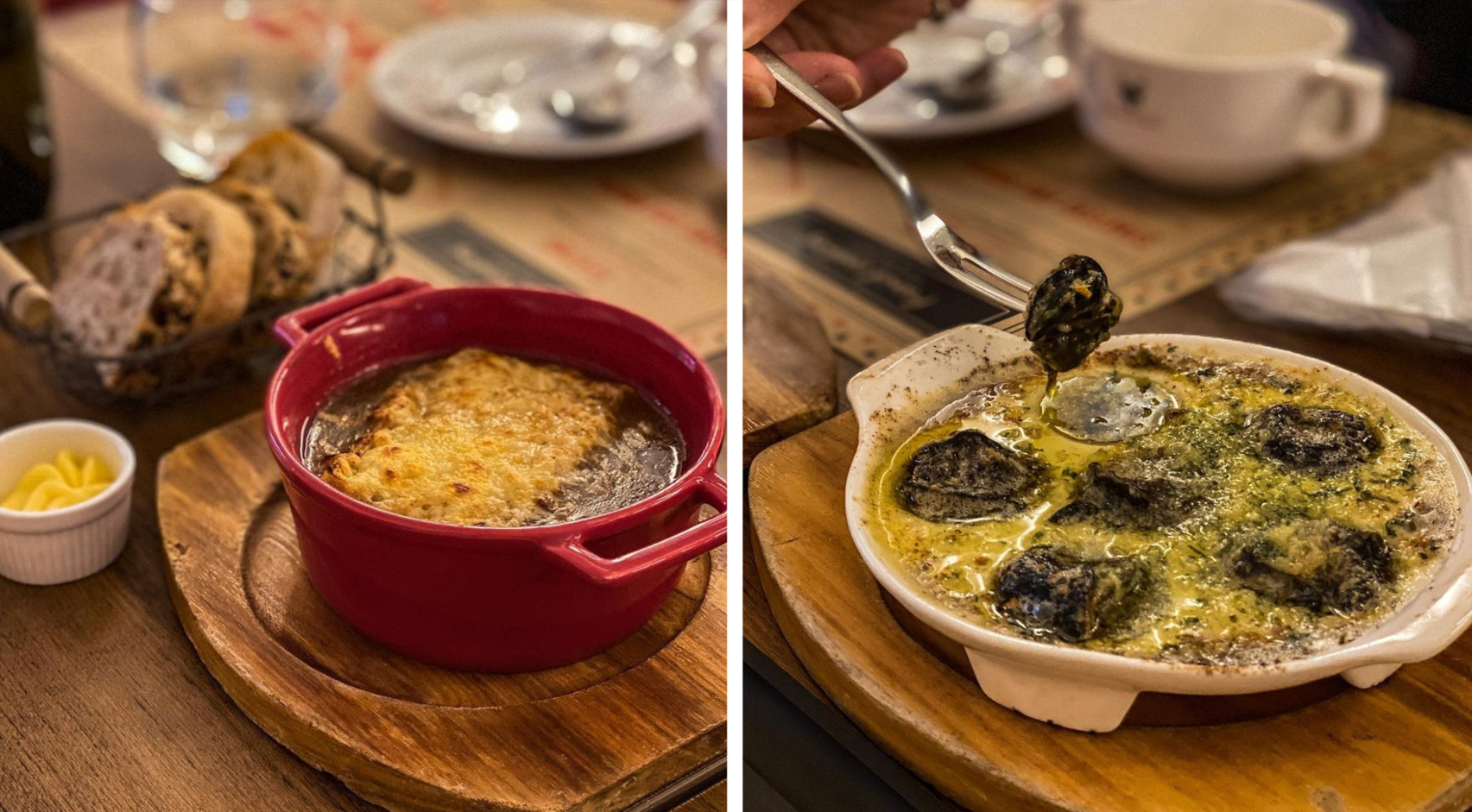 Image adapted from: @crazecraves via Instagram
Showcasing warmth and authenticity, their must-try mains include the Boeuf Bourguignon (RM75) and Confit de Canard (RM49) – slow-cooked beef or duck leg laying in a lush and buttery swathe of potato puree.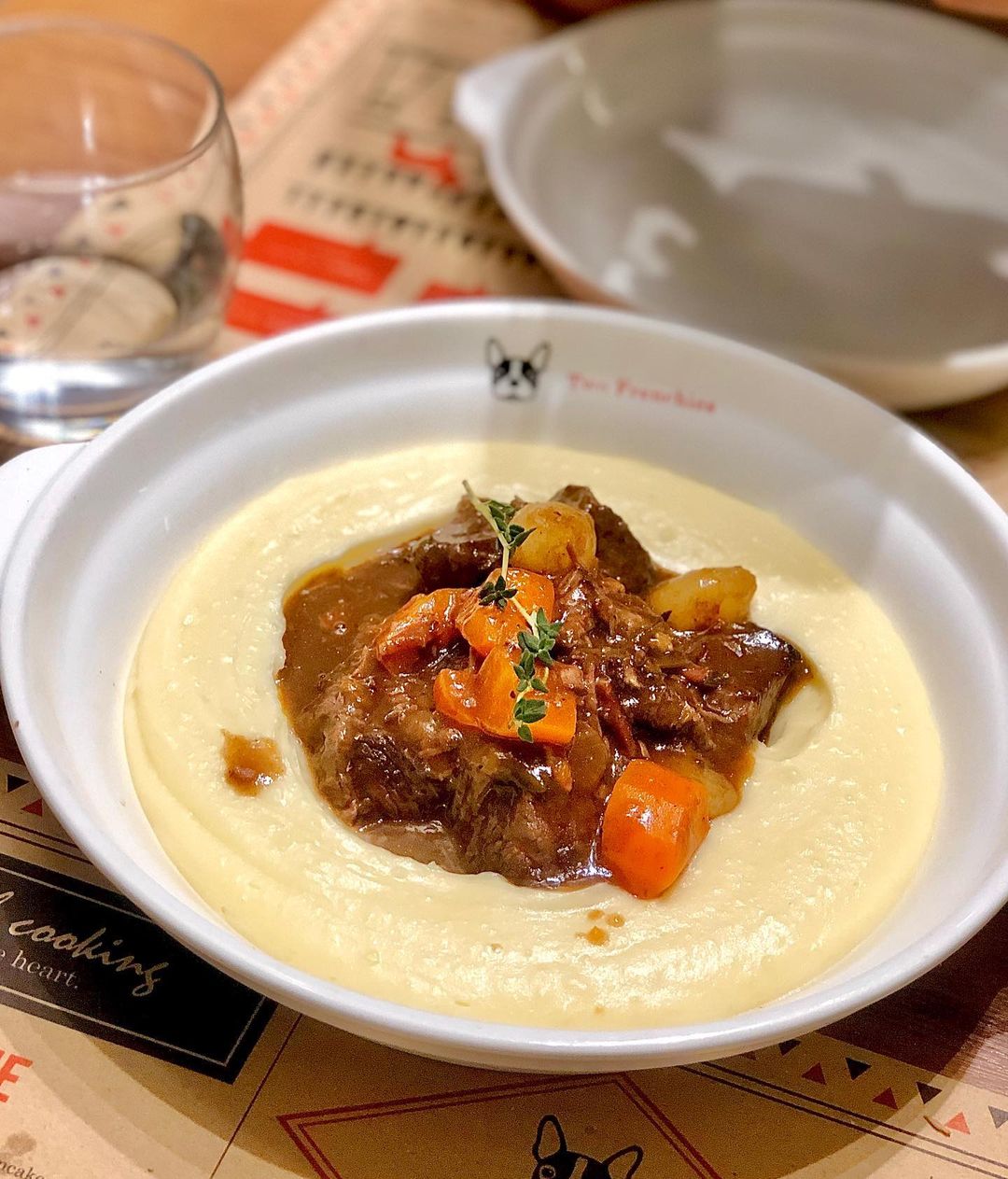 Image adapted from: @thenakedyolk via Instagram
The pasta dishes are outrageously remarkable – go for the hearty Ravioles Aux Champignons (RM38) that has forest mushrooms lovingly encased in handmade pasta dough and steeped in lemon and truffle oil dressing, or Pasta a la Normande (RM35) that don't hold back on its creamy richness as with any good French dish.
When dining in a French restaurant, eat like a French person – and that means never skipping dessert. Two Frenchies Restaurant have a glorious assortment on their dessert menu which will spoil you, but we recommend the Traditional Creme Brulee (RM17) or Tarte Aux Pommes (RM25).
Address: 36, Lebuh Bishop, 10200 George Town, Penang
Opening hours: Tue – Fri 11.30am-10.30pm | Sat & Sun 9am-10.30pm (Closed on Mondays)
Contact: 04-261 2000 | Two Frenchies Restaurant's website | Facebook | Instagram
---
2. Halab Penang – legit falafels & smoky kebabs
---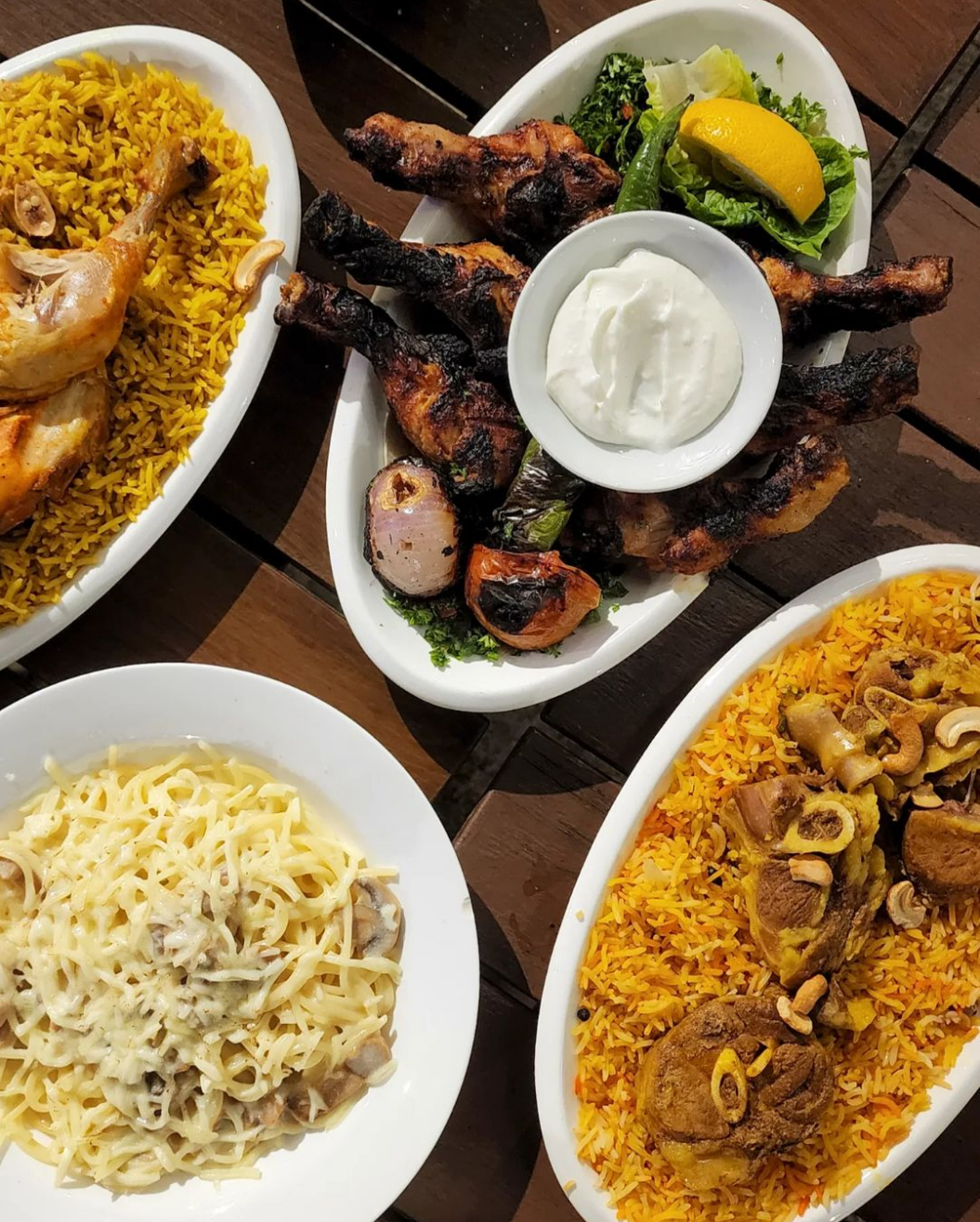 Image credit: @date.eats via Instagram
One of the city's most distinguished Middle Eastern restaurants, Halab's lusty and stunning space is a welcome oasis amidst old-school kopitiams in the heart of George Town. Housed in an opulent heritage building, the restaurant's ambience is a sumptuous one with honey-hued wood-panelled walls, high ceilings, and handsome velvet chairs that add to the feeling of grandeur.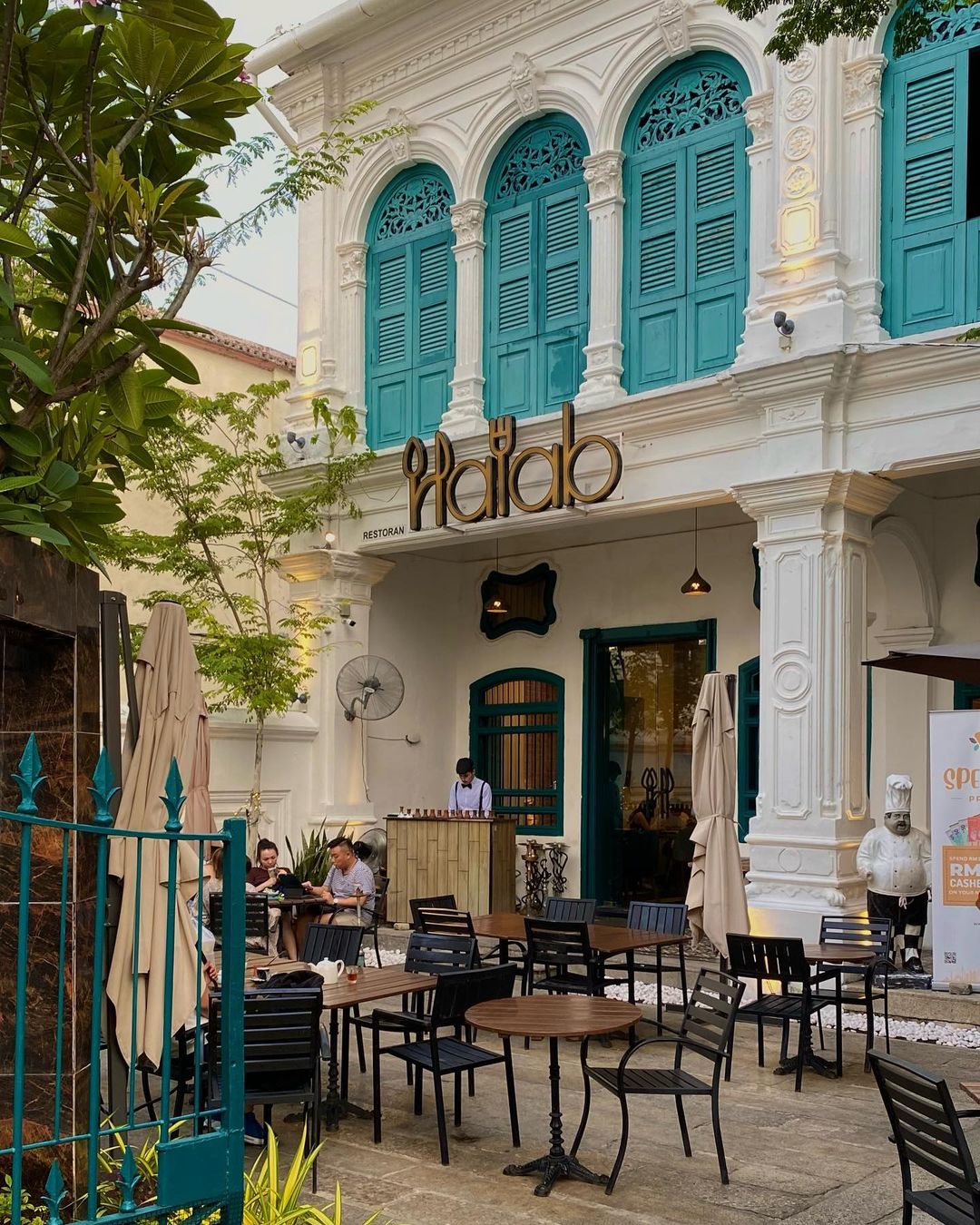 Image credit: @banalopypen via Instagram
The interior offers a nice backdrop to the haute yet comforting Lebanese cuisine that the restaurant is known for – an elegant take on the familiar.
Starters include the ever-so-reliable Falafel (RM20) that's herbaceous with gloriously golden outsides and fluffy insides, as well as the staple dips such as a bed of amply-spiced Hummus (RM17) and the flavourful Baba Ganoush (RM17).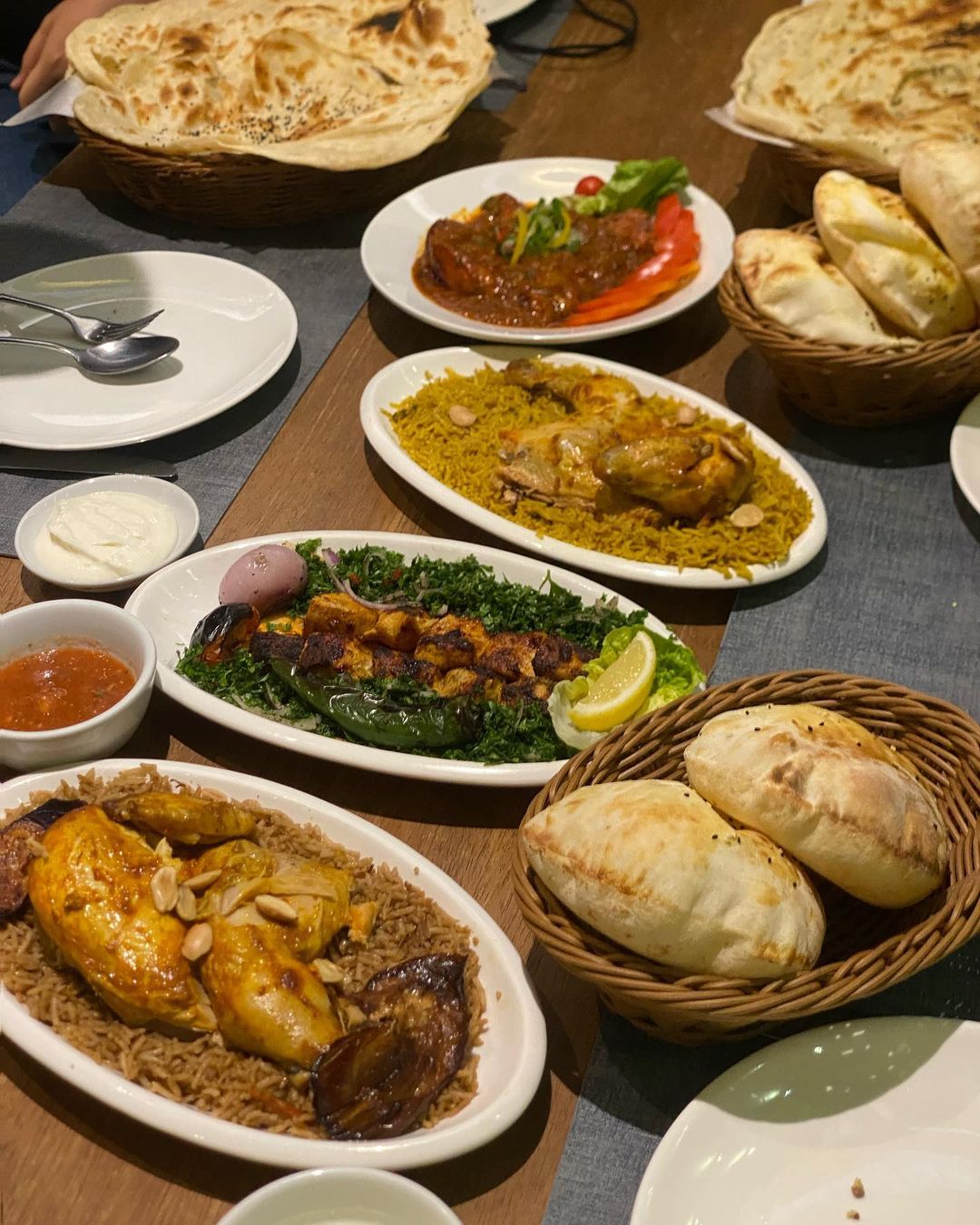 Image credit: @banalopypen via Instagram
While run-of-the-mill pita bread are staples in Middle Eastern cuisine, there are tons of options on their menu that'll wow you even more than wonderfully charred flatbread. Try the Maklouba Lamb (RM38) that has a supremely tender lamb shank served atop a platter of rice and sliced eggplant, or the Kibbeh Labanieh (RM30) which are essentially fried orbs of ground meat stewed in yoghurt.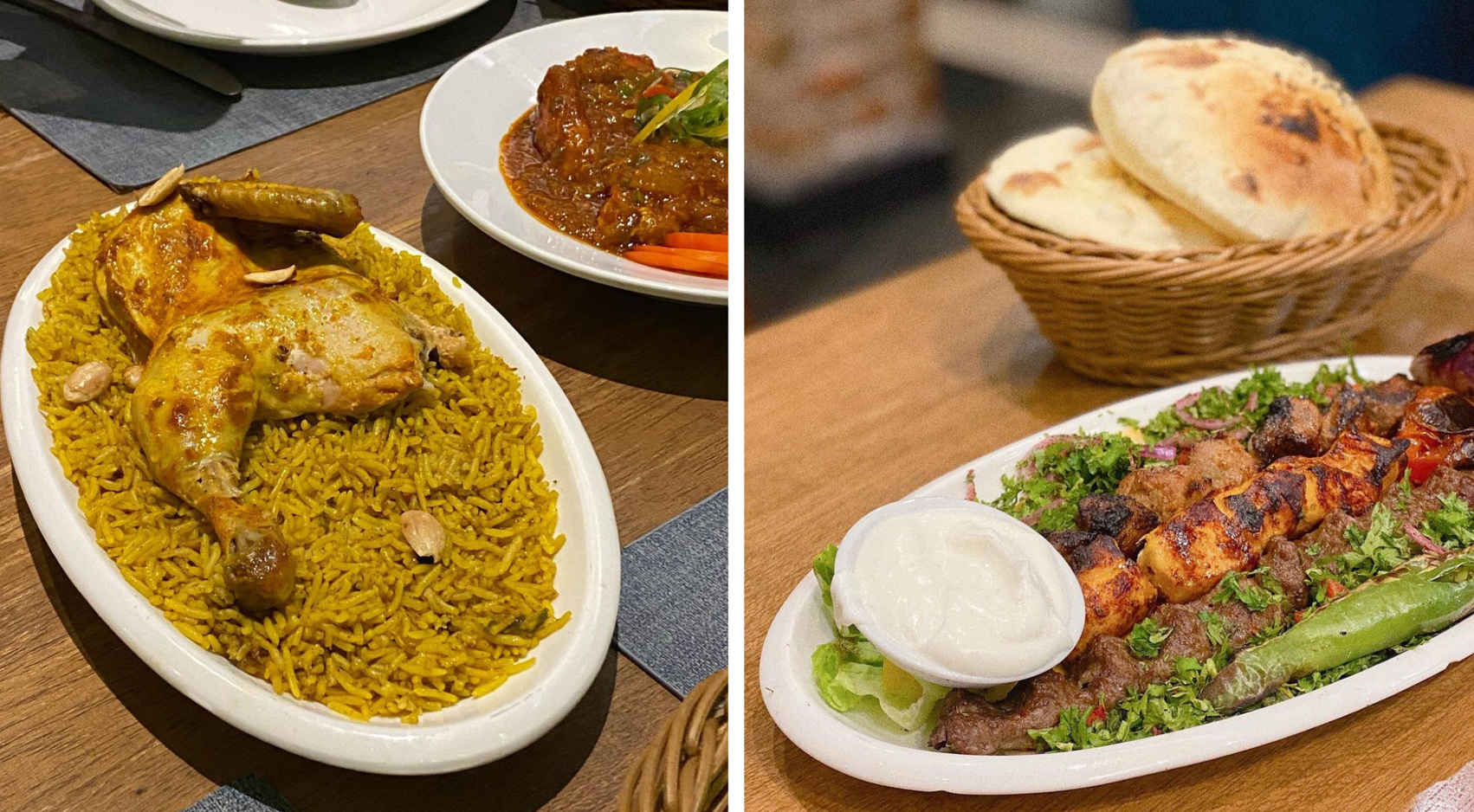 Image adapted from: @99life.com_ via Instagram
If these aren't enough to fill your tummy, they have a variety of sides such as the Halab Mix Grills Platter (RM75), Freaka Lamb (RM40), and KhashKhash Kebab (RM40).
Resist from downing too many pita breads, as you'll want to make some room for desserts too. Halab's Baklava or Arabic Sweets (RM30) are layered sweet delights of honey-soaked flaky filo pastry sandwiching crushed nuts, and their Rice & Milk Pudding (RM10) is a soul-soothing pot of pudding-like porridge infused with orange blossom and vanilla.
Portions are generous here so the restaurant makes for the perfect venue for gatherings and special celebrations as well.
Address: 381, Chulia St, Georgetown, 10200 George Town, Penang
Opening hours: 10am-3am, Daily
Contact: 04-251 9550 | Halab's website | Facebook | Instagram
---
3. Nero Nero Penang – sophisticated South Italian cuisine
---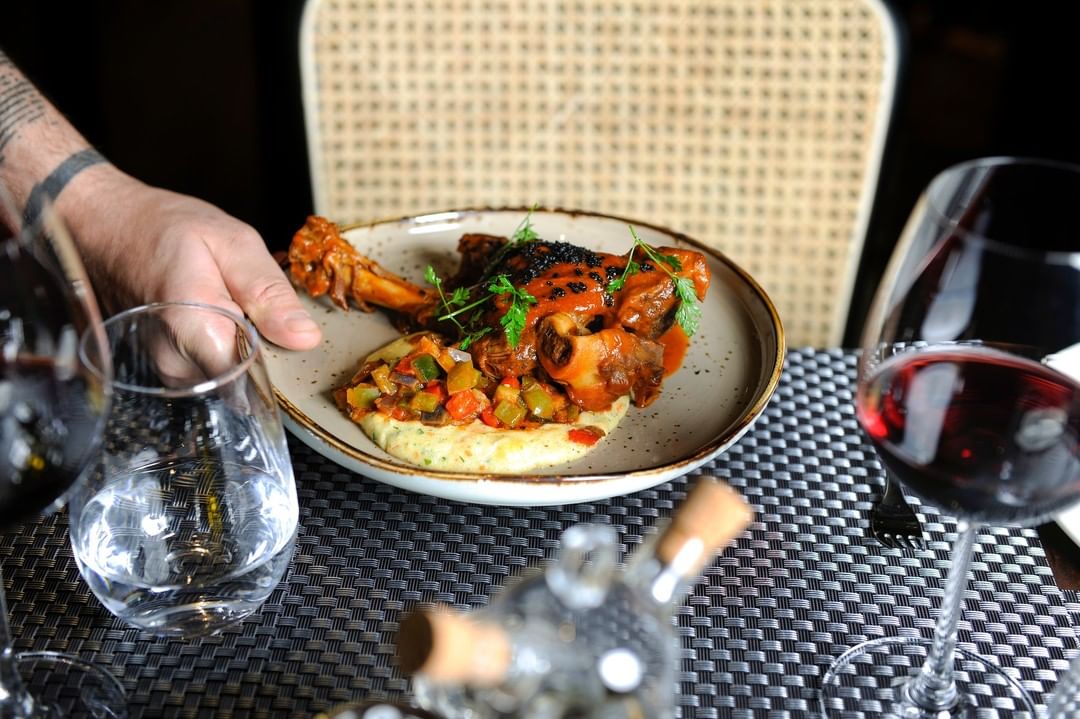 Image credit: @neroneropenang via Instagram
While most Italian eateries in Penang have been unfussy quaint red-sauce dens, the relatively new Nero Nero Penang is more of an upscale white tablecloth affair. Its sophisticated white shopfront is so elemental it's un-Instagrammable, standing out against the adjacent humble shophouses that makes it hard to be missed.
Stylish, intimate and full of class, the restaurant is ideally suited for a candlelight dinner when you're aiming to impress. Upon entering, you'll be greeted first by an elegant bar area before being led down a hallway to the dining area.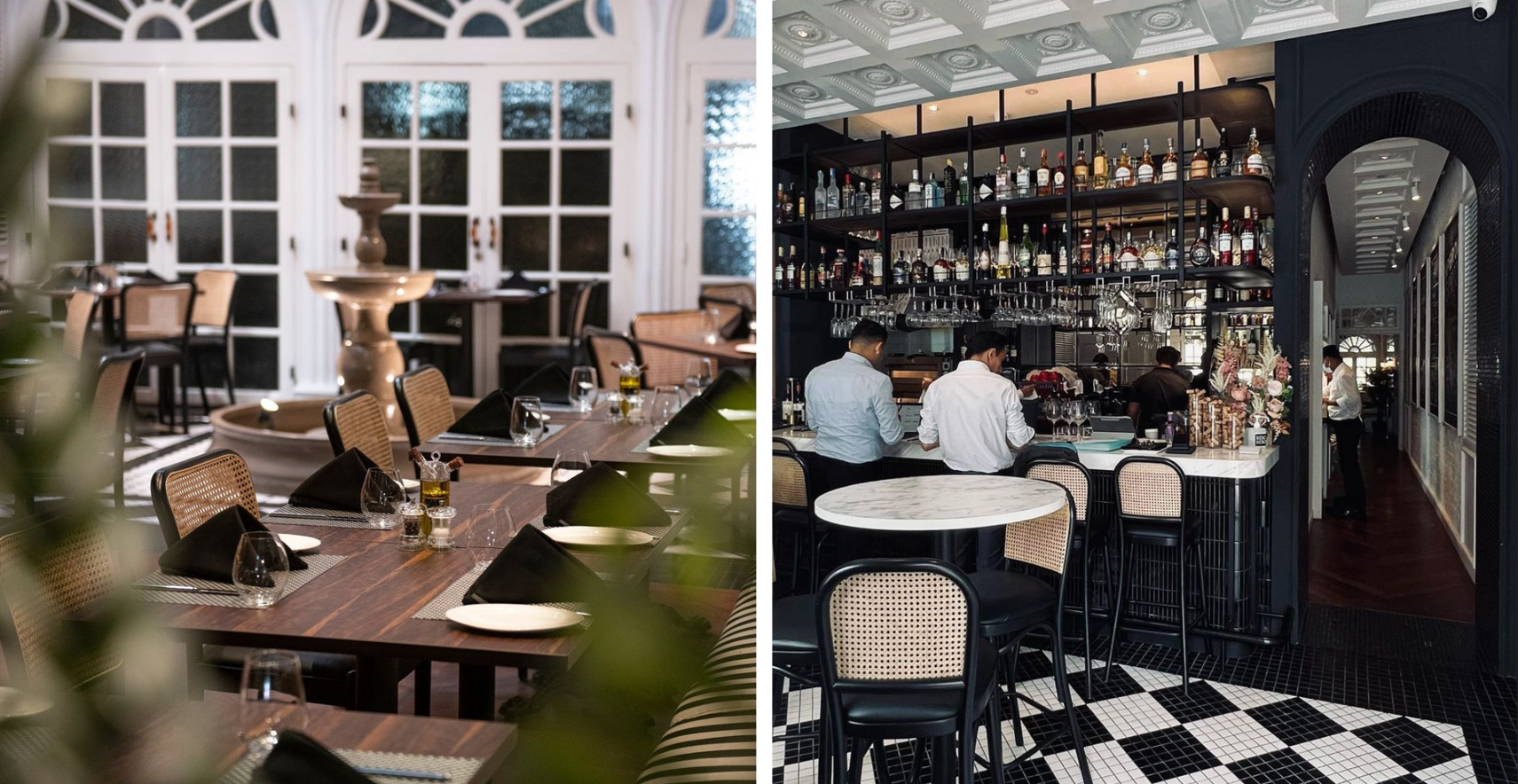 Image adapted from: @neroneropenang via Instagram & @verlicious.diary via Instagram
While sparsely decorated, the restaurant relies on artistic touches in the architecture and furnishings for an oomph of luxury. Its interior has black-and-white tiled floors for a vintage feel, arched stained-glass window for a dip of old glamour, muted wood tables, hanging plants and chandeliers, and a fancy decorative fountain centrepiece.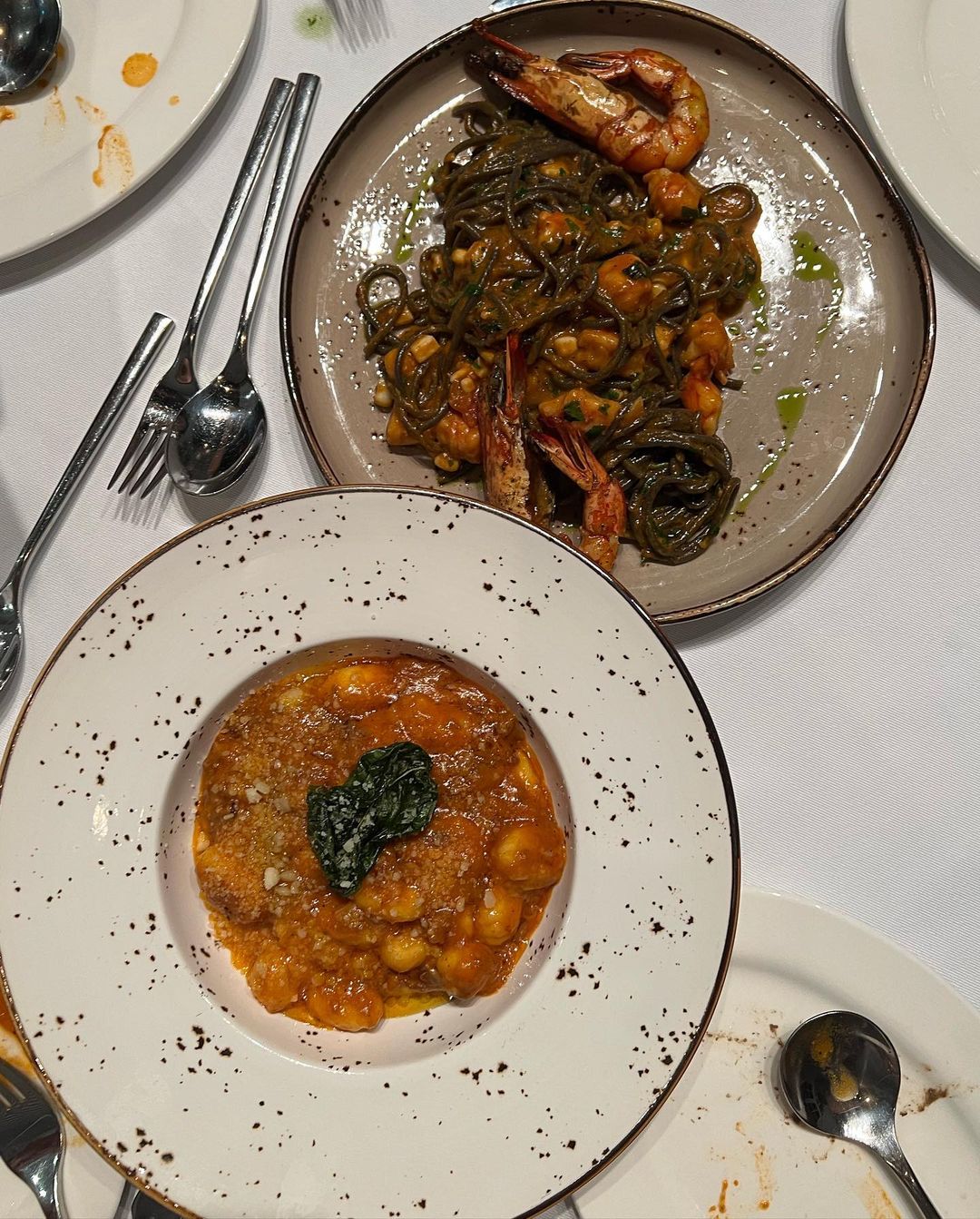 Image credit: @neroneropenang via Instagram
Reflecting its modern ambience, Nero Nero Penang serves contemporary Italian cuisine that showcases regional tastes of classic Southern Italian and Mediterranean flavours. The menu here is occupied by crowd-pleasing lists of antipasti, saladas, handmade pasta, panini, all manner of pizza configurations and a few familiar red sauce mains.
We recommend their homemade pastas that are too-die-for good such as Gnocchi al Ragu di Agnello (RM65) with slow-cooked Australian lamb, Orecchiette Frutti di Mare (RM67) that's a pasta shell dish loaded with seafood, or surprise yourself with their Risotto of the Day.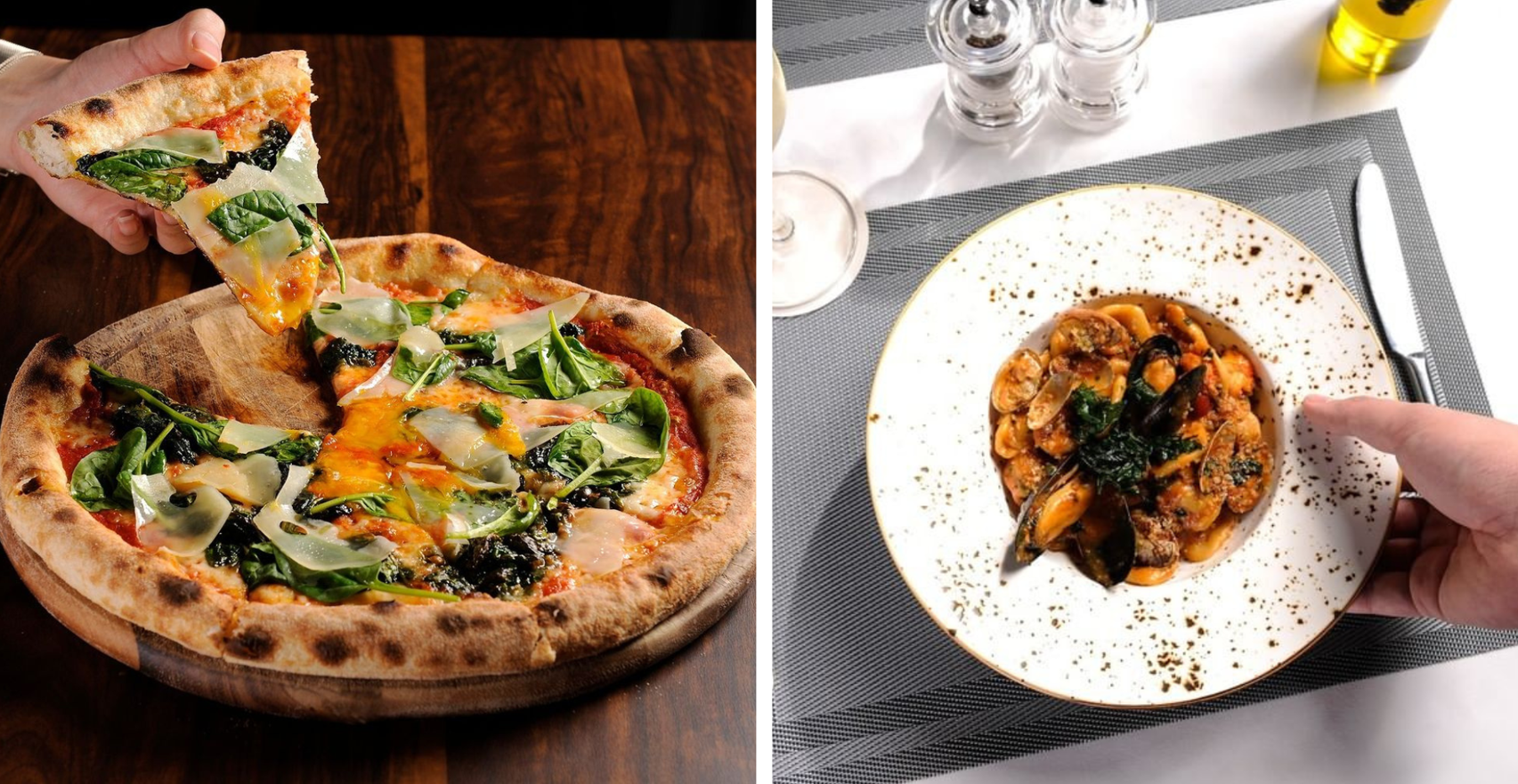 Image adapted from: @neroneropenang via Instagram
Don't skip the proteins like Pollo alla Diavola (RM85) or Salmone (RM96), showcasing a cooking that has breadth and depth all at once.
Of course, you wouldn't want to leave an Italian restaurant without having a slice of pizza, especially when they offer an array of studiously crafted ones with pleasingly-charred crusts. Choices on their menu include cheesy 4 Formaggi (RM46) or a gourmet Contadina (RM58) that's bright, pungent and garlicky.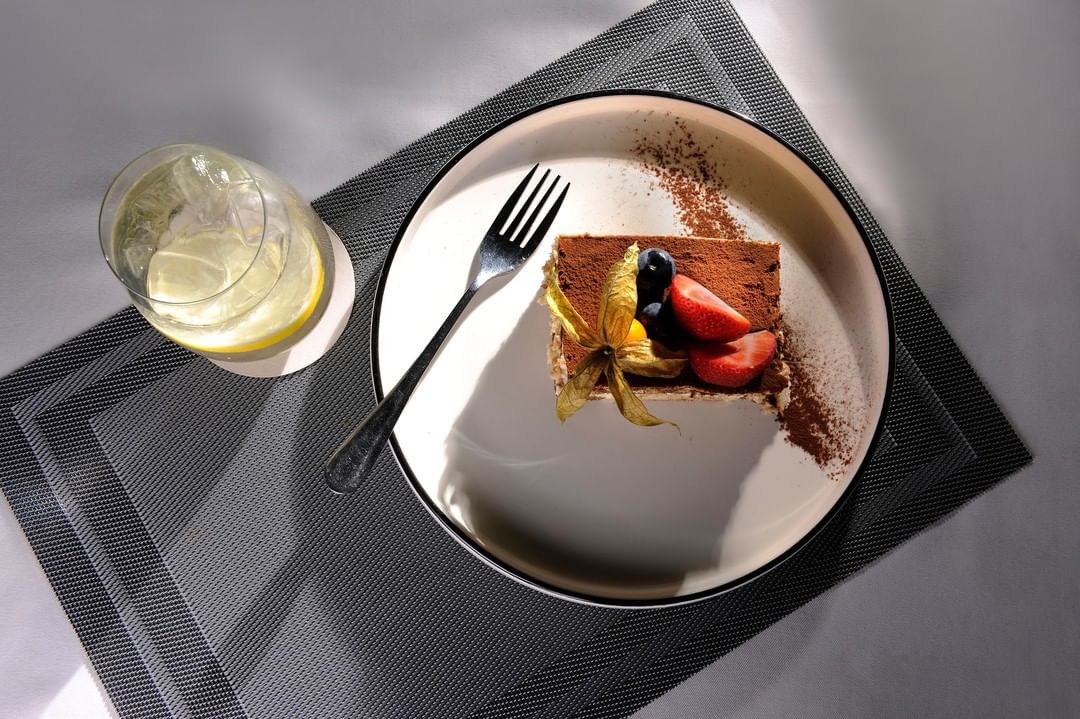 Image credit: @neroneropenang via Instagram
For dessert, there are Tiramisu (RM40) cheekily spiked with alcohol, or an Italian Panna Cotta (RM38) – you can't do much better than these as a quintessential finisher of an Italian dinner.
Address: 4, Lebuh King, 10200 George Town, Penang
Opening hours: 12pm-3pm & 6pm-10.30pm, Daily
Contact: 012-207 0794 | Nero Nero Penang's website | Facebook | Instagram
---
4. Via Pre – Italian staple with a variety of authentic pizza
---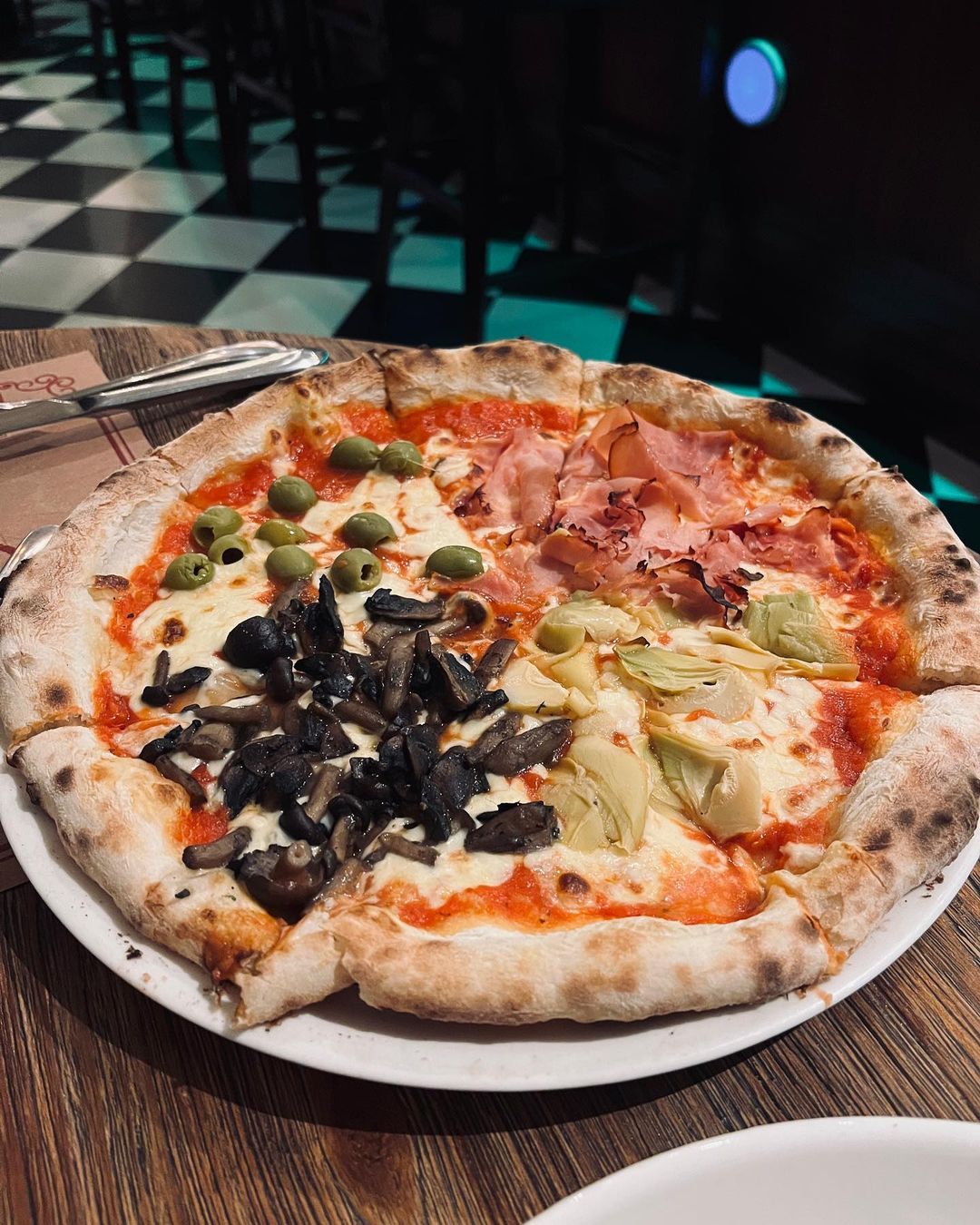 Image credit: @dexchong via Instagram
Via Pre is a darling, no-frills establishment that has been a neighbourhood Italian staple in George Town since 2012. Warm and inviting with plenty of wood and exposed brick, this eatery more than makes up for its quaint size with its exceedingly rustic charm.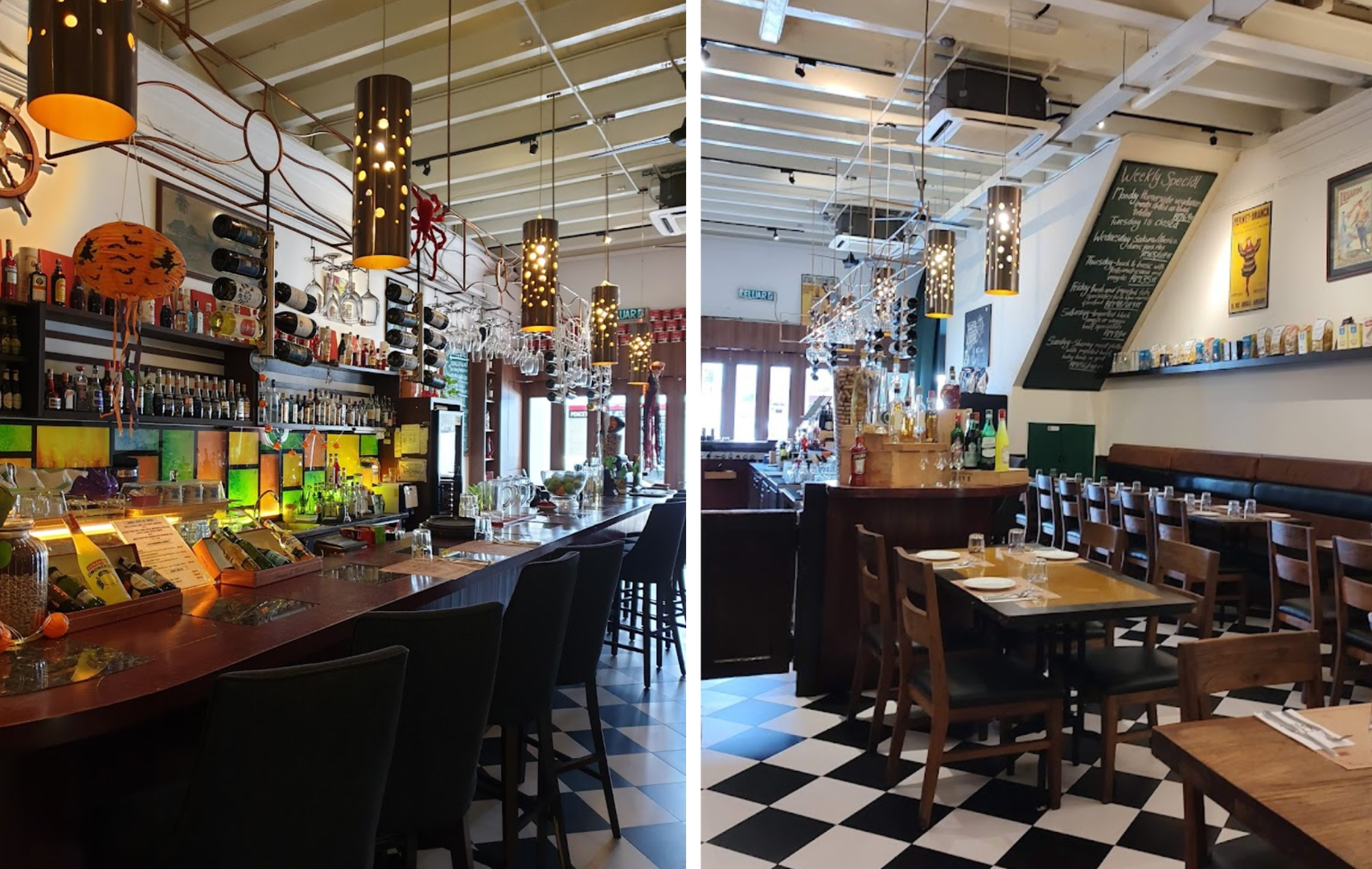 Image adapted from: PSD via Google Photos & Goh Wah via Instagram
Nearly a decade in, the place still draws in hordes for its supremely delicious creations. From plates of prosciutto and cheese to large wood-fire pizzas and rich pastas, their menu boasts a dazzling array of elegant but hearty Italian classics, with a perfect wine to pair with every dish.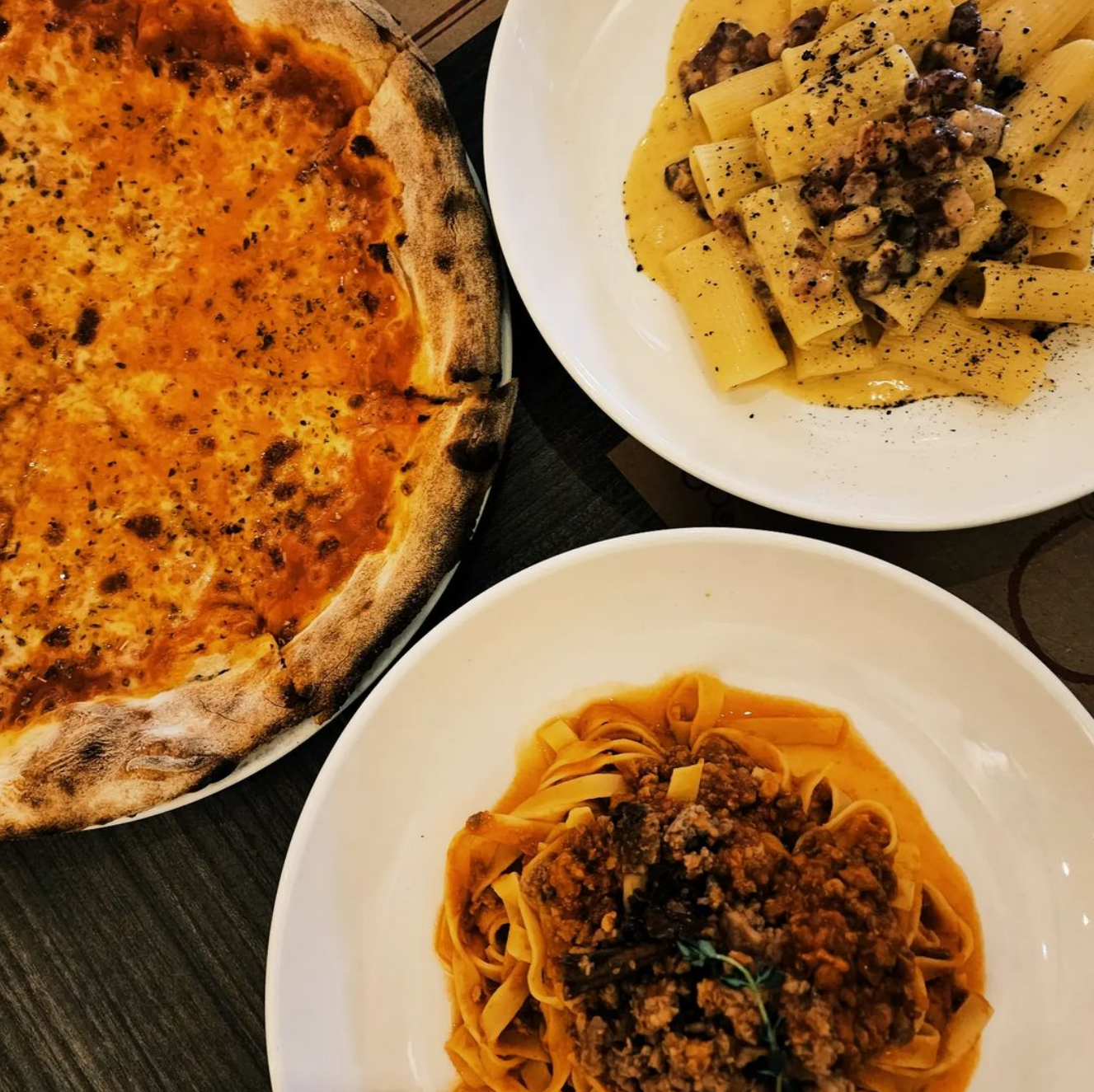 Image credit: @wru_nique via Instagram
Tuck into one of their plentiful pasta picks such as Pappardelle Pasta (RM36), rich with ragout and fried pork, or go for the Pumpkin Gnocchi (RM39), zingy with gorgonzola sauce and sweet with pumpkin.
Their Rolata Porkettata Style (RM69) is perfectly executed with outrageously tender pork cheeks drenched in a mustard and meat sauce, and served alongside a gorgeously baked potato gratin.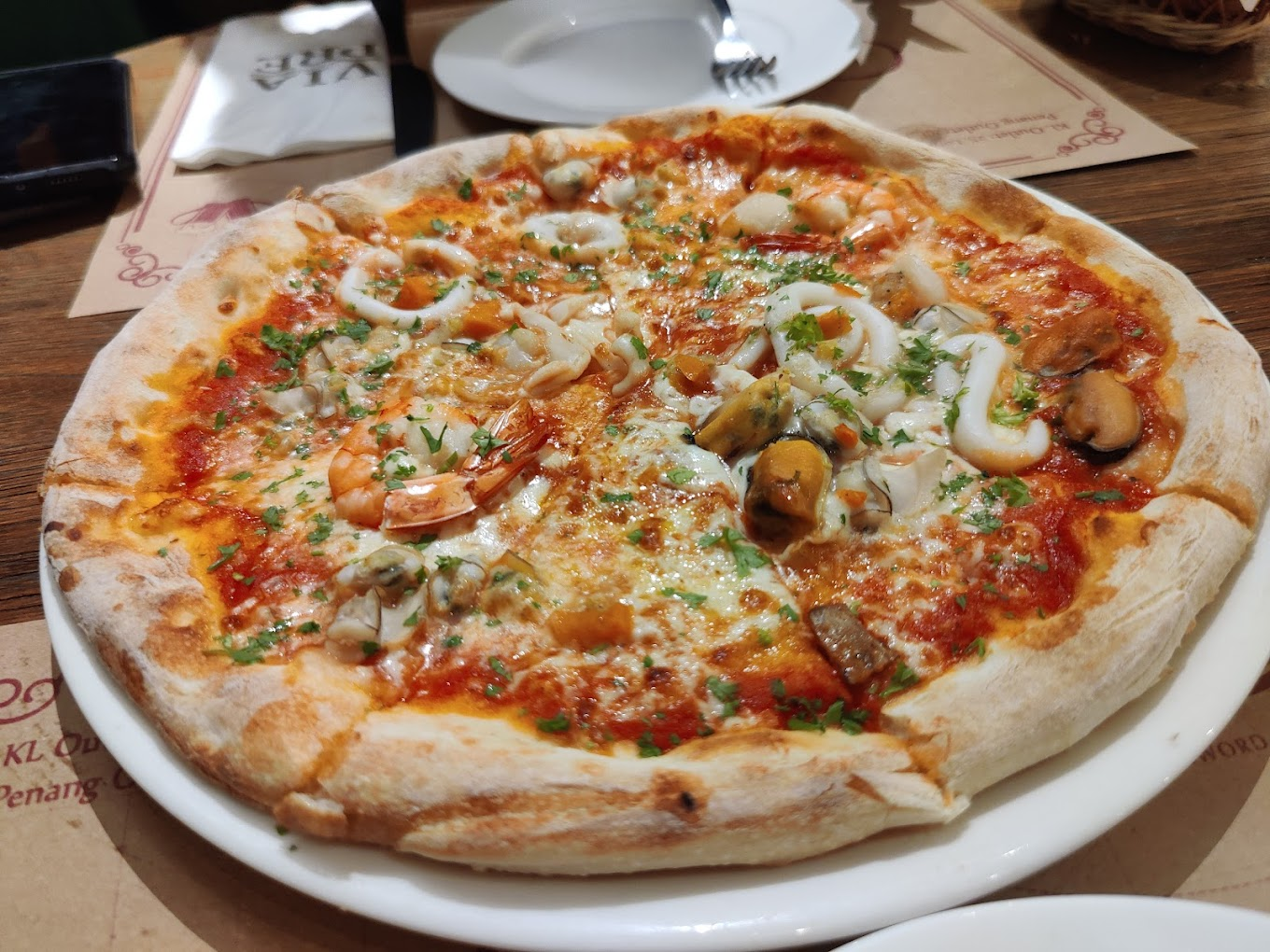 Image credit: Anup R via Google Photos
Whether you're into carbo-loading or not, their pizzas are the real winner. The Capricciosa (RM39) is a thin-dough wheel, ringed by delightfully-seared crust and judiciously topped with toppings like mushroom, turkey ham, artichokes and oozy cheeses.
Calzone Classico (RM55) will have you swooning at the puffy golden crust cosied up to fresh tomato paste, spicy salami and a lush blanket of cheese – truly like no other.
Address: 20e, Lebuh Penang, 10200 George Town, Penang
Opening hours: Wed – Sat 11.30am-10.30pm | Sun 12pm-10pm (Closed on Tuesdays)
Contact: 04-261 9800 | Via Pre's website | Facebook | Instagram
---
5. D'Sakra – classic Indian cuisine with a modern twist
---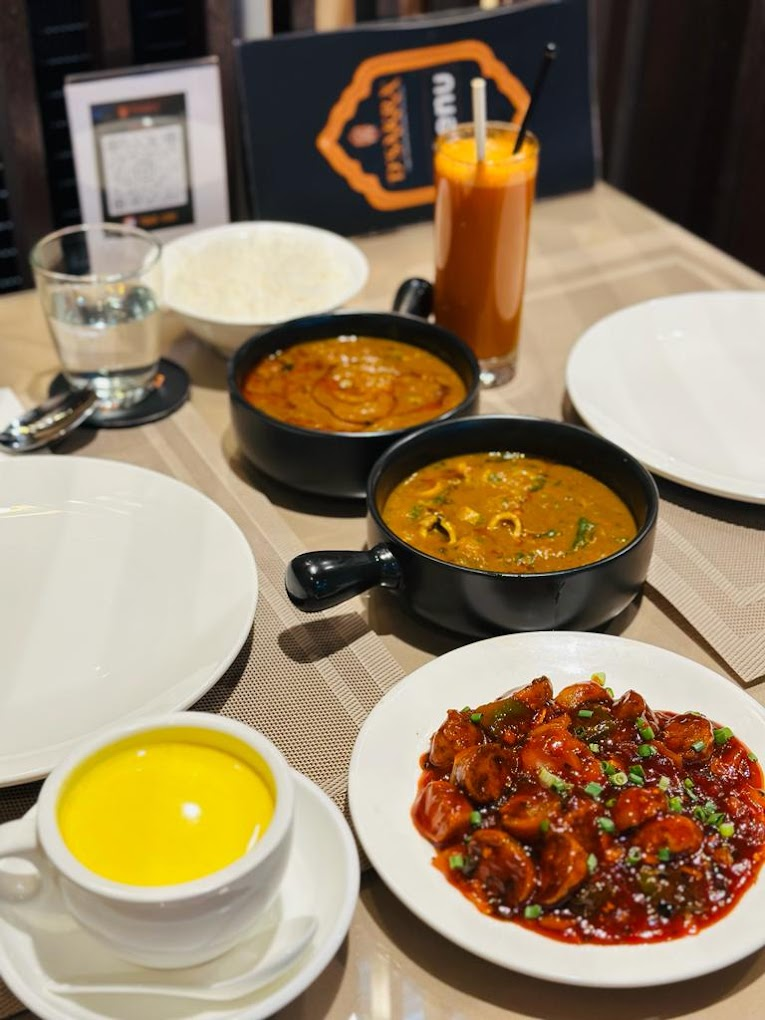 Image credit: Kinna Ji via Google Photos
A stellar new addition to the already bursting Indian culinary scene in Penang, D'Sakra infuses an unpretentious elegance into the rustic joys of Indian cuisine in a modern and tasteful space. 
With a name that embodies boldness and abundance in Sanskrit, the restaurant emanates these elements through both their stylish and inviting restaurant interior, as well as in their food.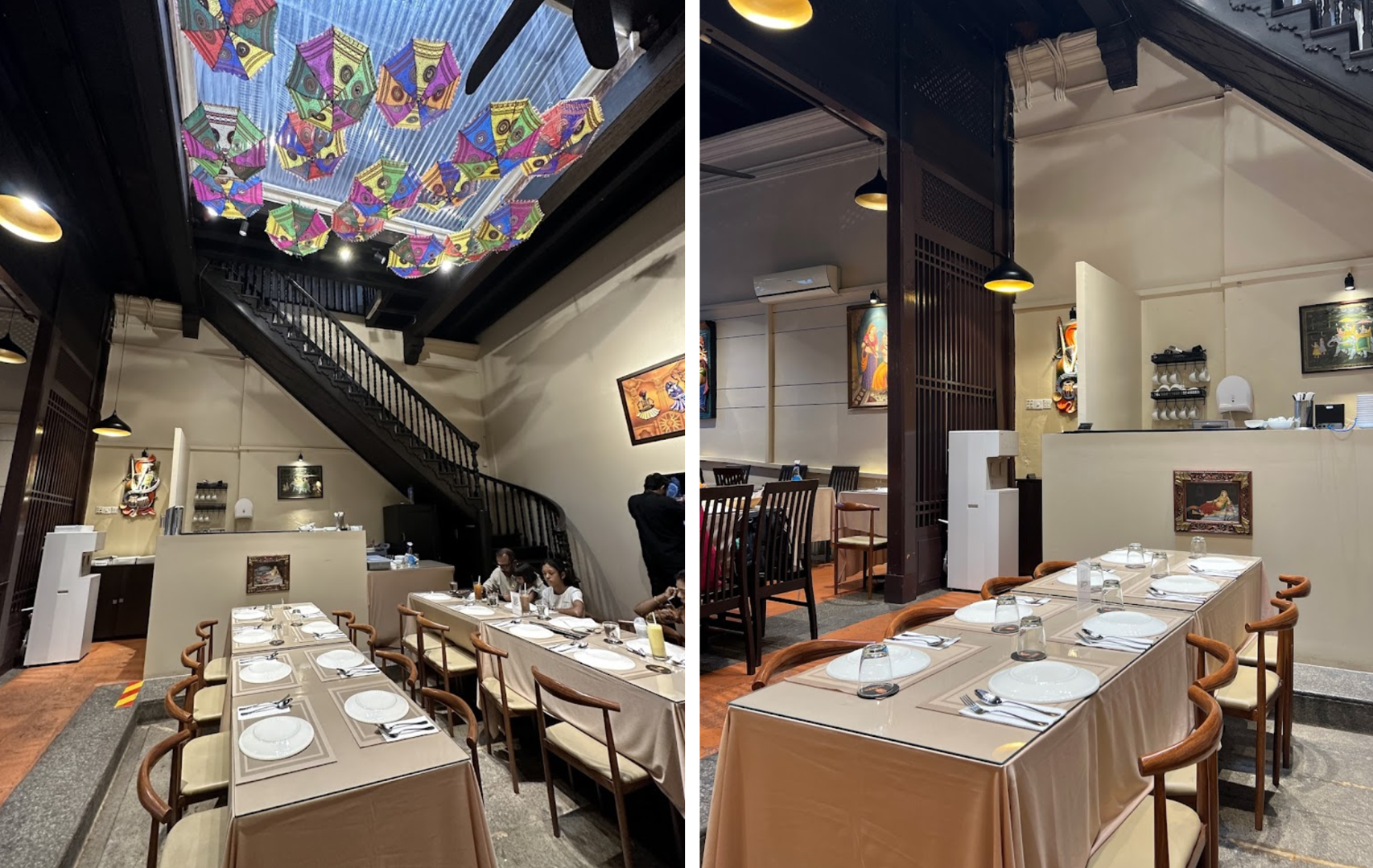 Image adapted from: Kumar via Google Photos & Hakimullah Khabilu via Google Photos
The menu spotlights a glorious array of authentic Indian dishes with a modern spin, with diverse options that cater to both meat eaters and vegetarians alike. Indulge in essential favourites such as Chicken Tikka Masala (RM18.50), Mutton Kurma (RM28.50), and Fish Vindaloo (RM26.50).
Vegetarian options are aplenty, with a vigorous selection of perennial favourites such as Palak Paneer (RM14.50), Aloo Masala (RM12.50), and Dhal Fry (RM8.50) – beacon of comforts with the breadth of flavours.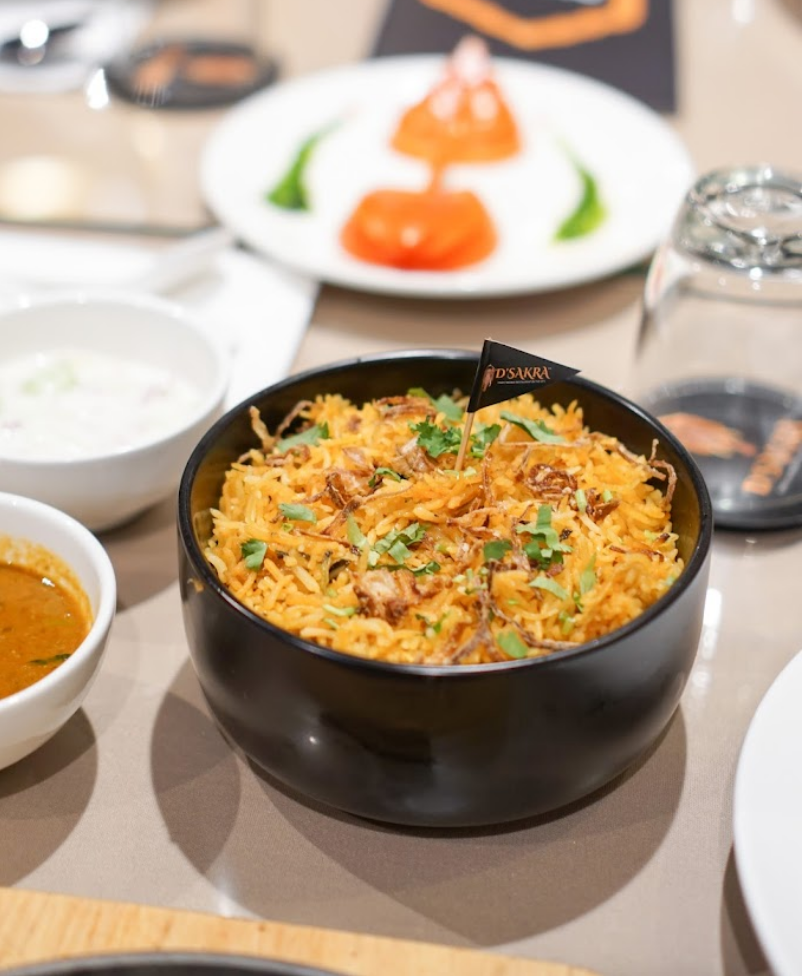 Image adapted from: Penanglicious via Google Photos
Indian food purists will absolutely love their Tandoori Chicken (RM10.50), flawless in its smokiness and seared patches on its crisp and wonderfully-spiced skin.
While the spectacular list of curries, chutneys and dips give you the perfect excuse to go ham on baskets of hot naan, these aromatic breads are amazing eaten on their own too – the Garlic Cheese Naan (RM8.50) and Butter Naan (RM6.50) are simply divine with the boldness of its flavours.
Address: 83, Lebuh China, George Town, 10200 George Town, Penang
Opening hours: 11am-10pm, Daily
Contact: 014-988 3881 | D'Sakra's Facebook | Instagram
---
6. Rubin Mardini Cafe & Restaurant – no-frills Turkish restaurant that serves affordable dishes
---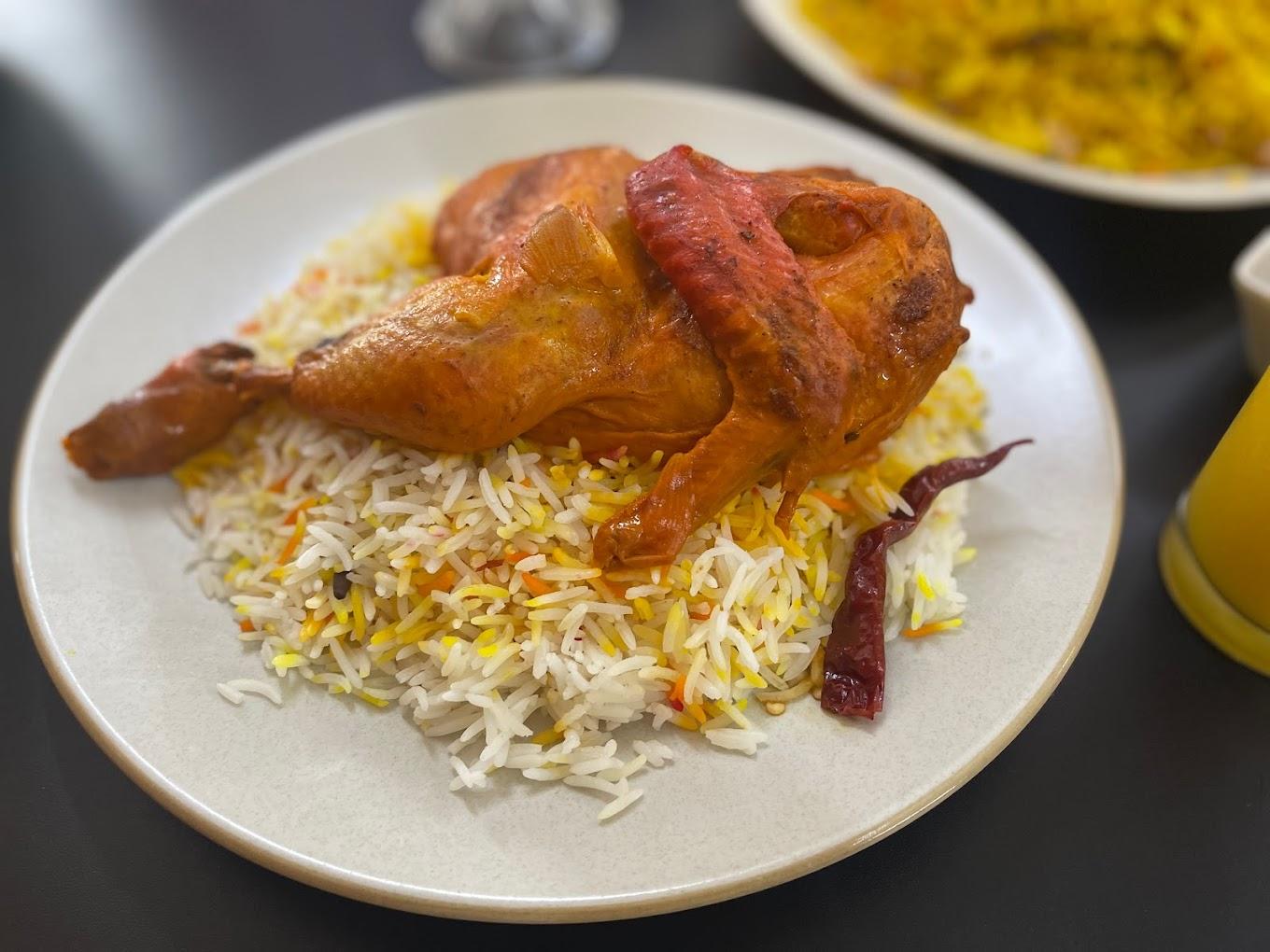 Image credit: Hassan Ali via Google Photos
One of Penang's little gems that's hugely lauded for its superb Turkish staples, Rubin Mardini Cafe & Restaurant is a modest and welcoming eatery that has been a comfort space for the Turkish community, as well as locals.
Located along the busy streets of the Batu Ferringhi area, Rubin Mardini has been serving up a fusion of traditional Turkish cuisine with familiar Mediterranean flavours woven in that are all delightful on the palate. What's more, their prices are easy on the wallet as well.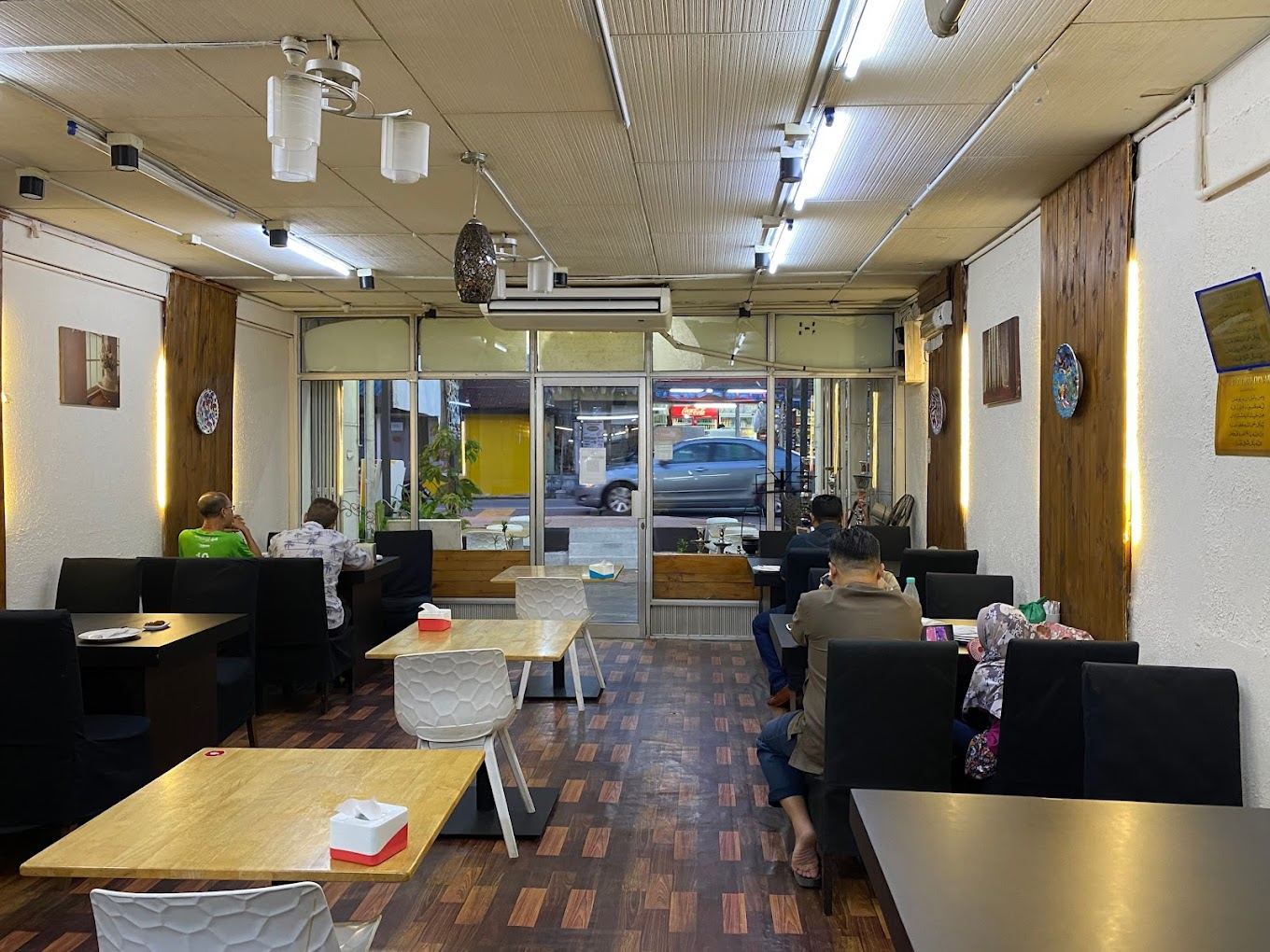 Image credit: Daniel W via Google Photos
Vegetable galore, grill-friendly and gorgeously-spice, the Turkish dishes are essentially a medley of Greek, Arabian and even Italian influences with the quintessential Turk touch. The Muttabal (RM16.80) – a puree of eggplant, tahini, and olive oil – and the Kuru Fasulye (RM25) – a tomato-based stew of white beans and lam chunks – may look like a mushy mess, but trust us when we say they are downright delicious.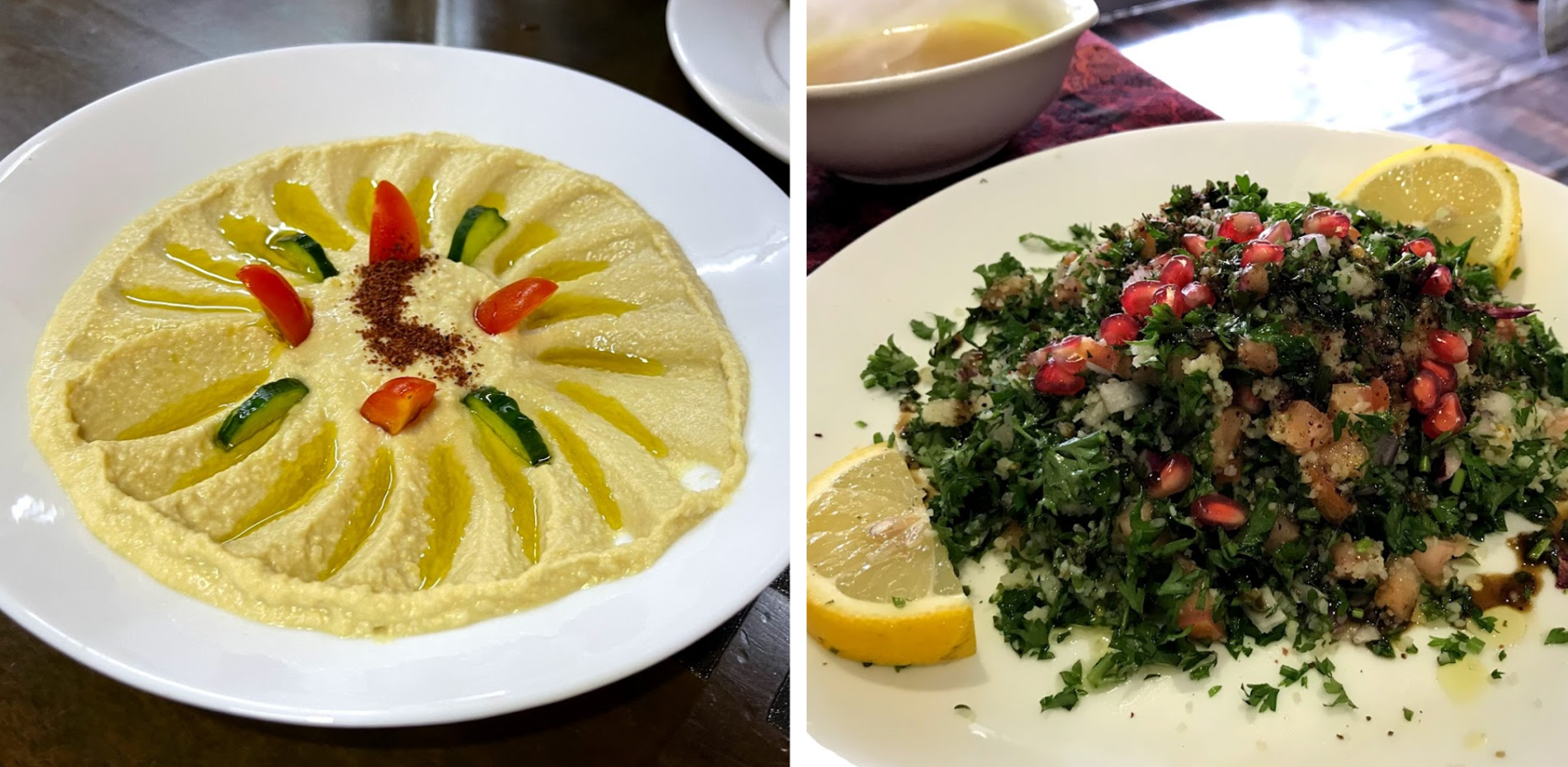 Image adapted from: Bohlool Asgar Ali via Google Photos & Starcreek Chen via Google Photos
The grilled proteins are out-of-this-world amazing. The Mix Kebab Plate (RM32) has shavings of tender lamb and chicken, both charred in all the best spots and placed over butter-toasted pita doused in creamy tangy yoghurt.
Be sure to try the Yemeni rice dishes such as Kabsah Chicken/Lamb (RM30/38), Hanith Chicken /Lamb (RM32/38), or Zorbian Chicken/Lamb (RM32/39) – think resplendently fatty grilled meat adorning a bed of traditionally spiced rice.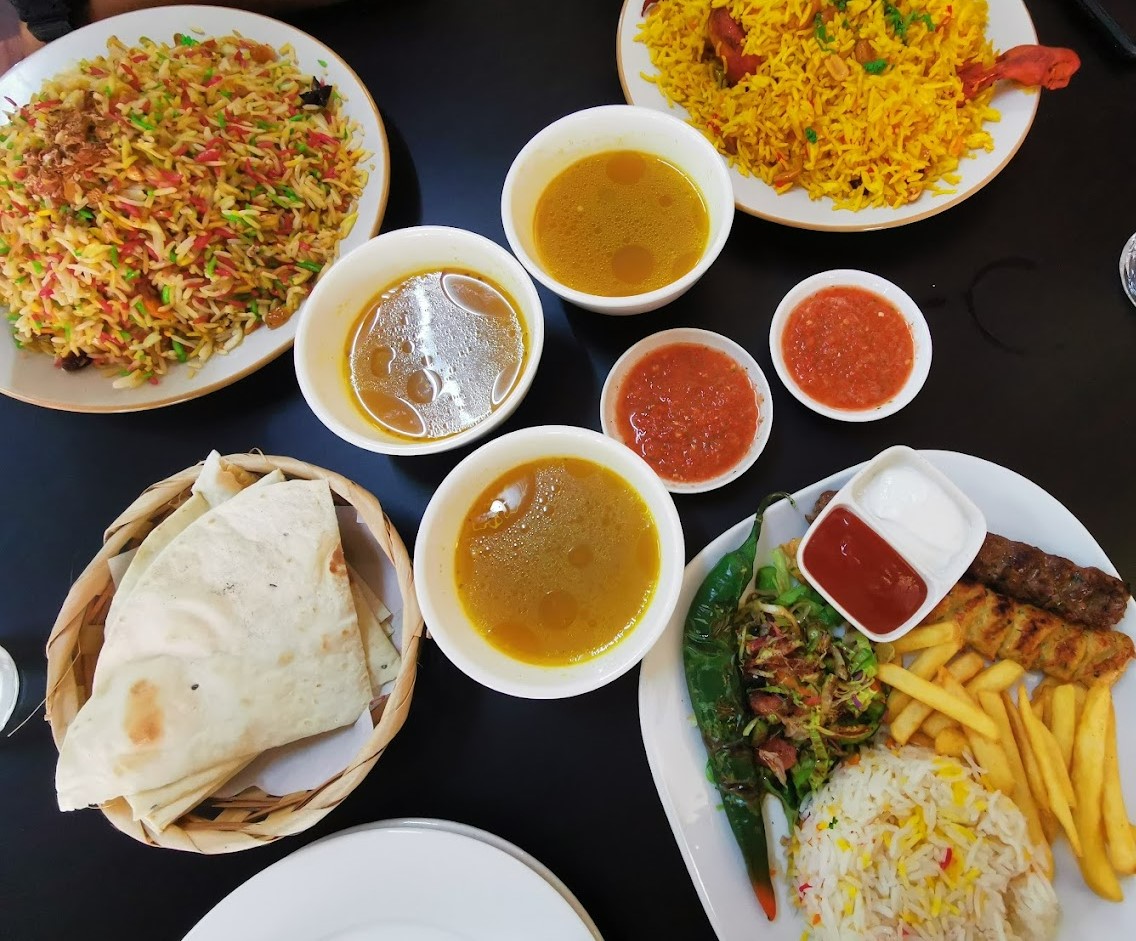 Image credit: Shahrizah via Google Photos
Stick around for the lip-smackingly sweet desserts – the Baklavas (RM15 per set of 8 pcs) are their pride, the Kunafa (RM25) has a cheesy pull when bit into the soaked-sweet pastry, and the  Muhallabia (RM9) is a rich milk pudding with nuts and hints of cinnamon.
Address: 591 Jalan Batu Ferringhi Batu Ferringhi, 11100 George Town, Penang
Opening hours: 11am-11pm, Daily
Contact: 011-1121 7378 | Rubin Mardini Cafe & Restaurant's Facebook | Instagram
---
7. Hola by Javu – tapas, meat stews & paella
---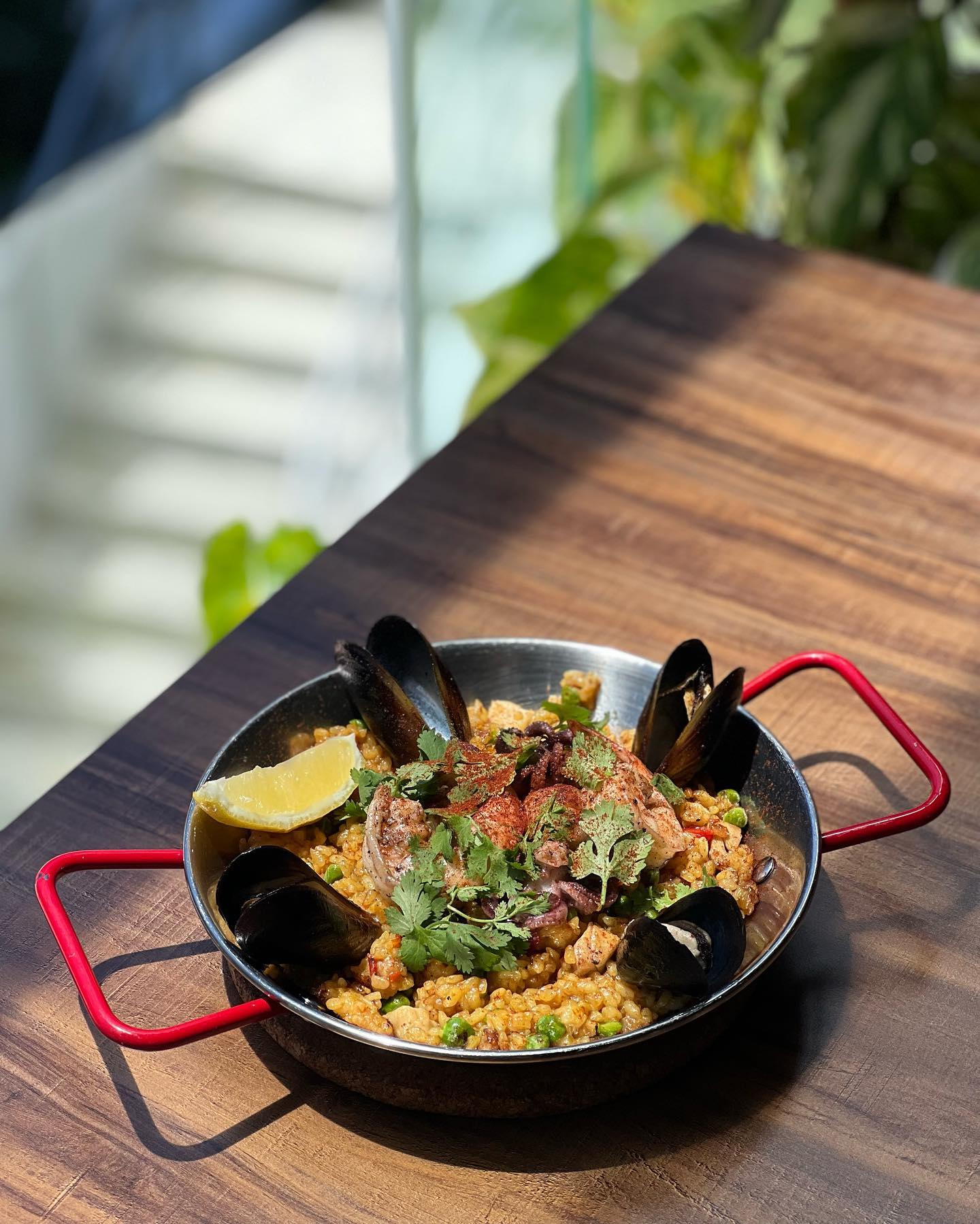 Image credit: Hola via Facebook
Tapas fans, ¡vamos a comer! Overlooking the stunning beachfront of Tanjung Tokong, Hola by Javu is an absolute blast for those looking to gorge on Spanish small plates and flavour-packed regional dishes. Slick, smart and roomy, this minimalist tapas bistro artfully combines elegant detailing with a stripped-back new neighbourhood look.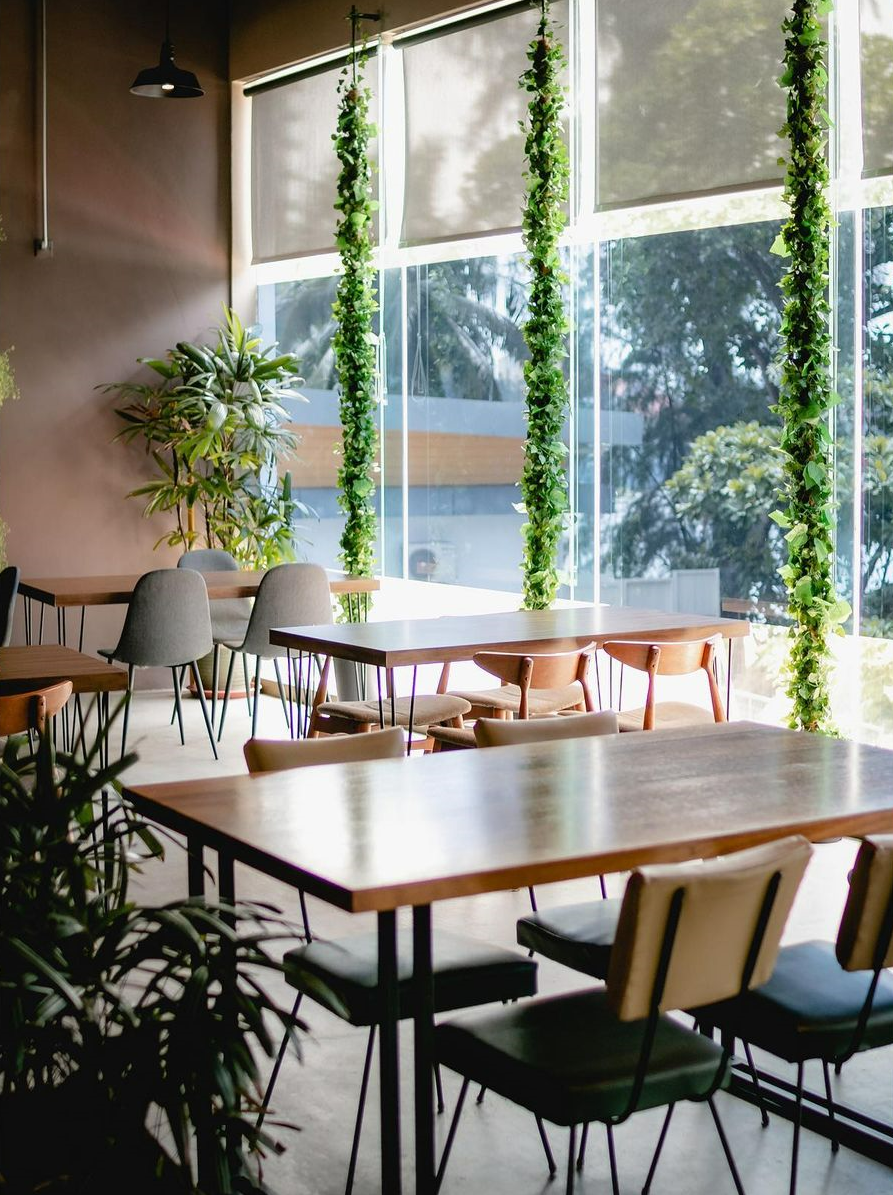 Image credit: @jerriexlim via Instagram

Doling out dazzlers such as excellent plateadas and almighty paellas, everything on the exhaustive menu here is nothing short of outstanding.
Trust when we say you'll down the tapas in no time at all – they're that good. Classic small plate offerings include Patatas Bravas (RM16) that has pouches of perfectly-roasted potatoes covered enticingly by bravas sauce, or Hoevos Rotos (RM29) – this dish, which translates to English as 'broken eggs', is a plate of Iberico pork and chorizo crowning runny eggs and potatoes.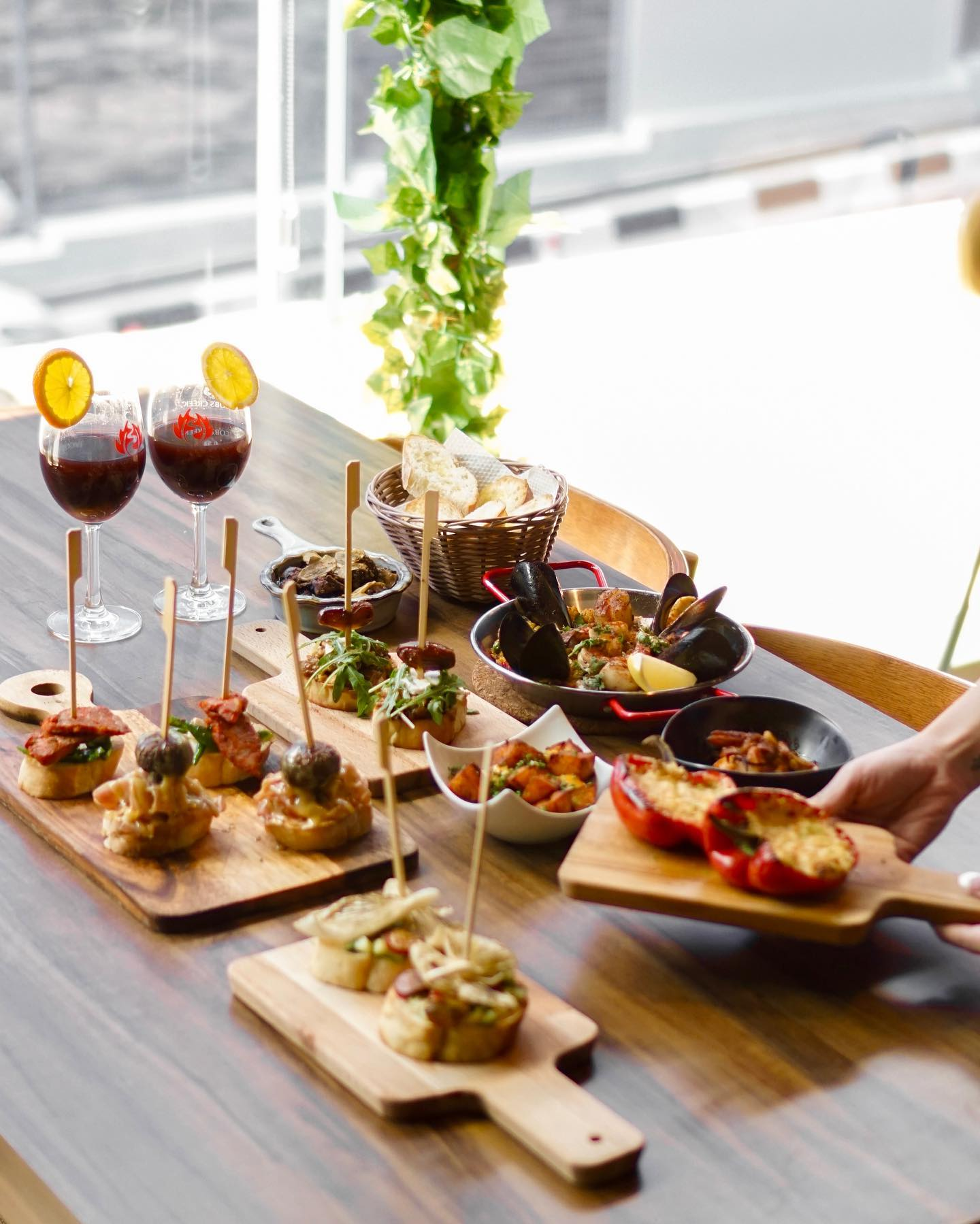 Image credit: Hola via Facebook
Now that you've got a foot in Spanish food paradise, order a paella set lunch that the restaurant is known for.
Hola by Javu knocks out big pans of paella that are good choices for sharing. Jam-packed with seemingly everything from the sea, the Paella de Mariscos (RM48) is a sizzling pan of saffron-infused Arborio rice that's fully loaded with succulent baby octopuses, clams, prawns and mussels.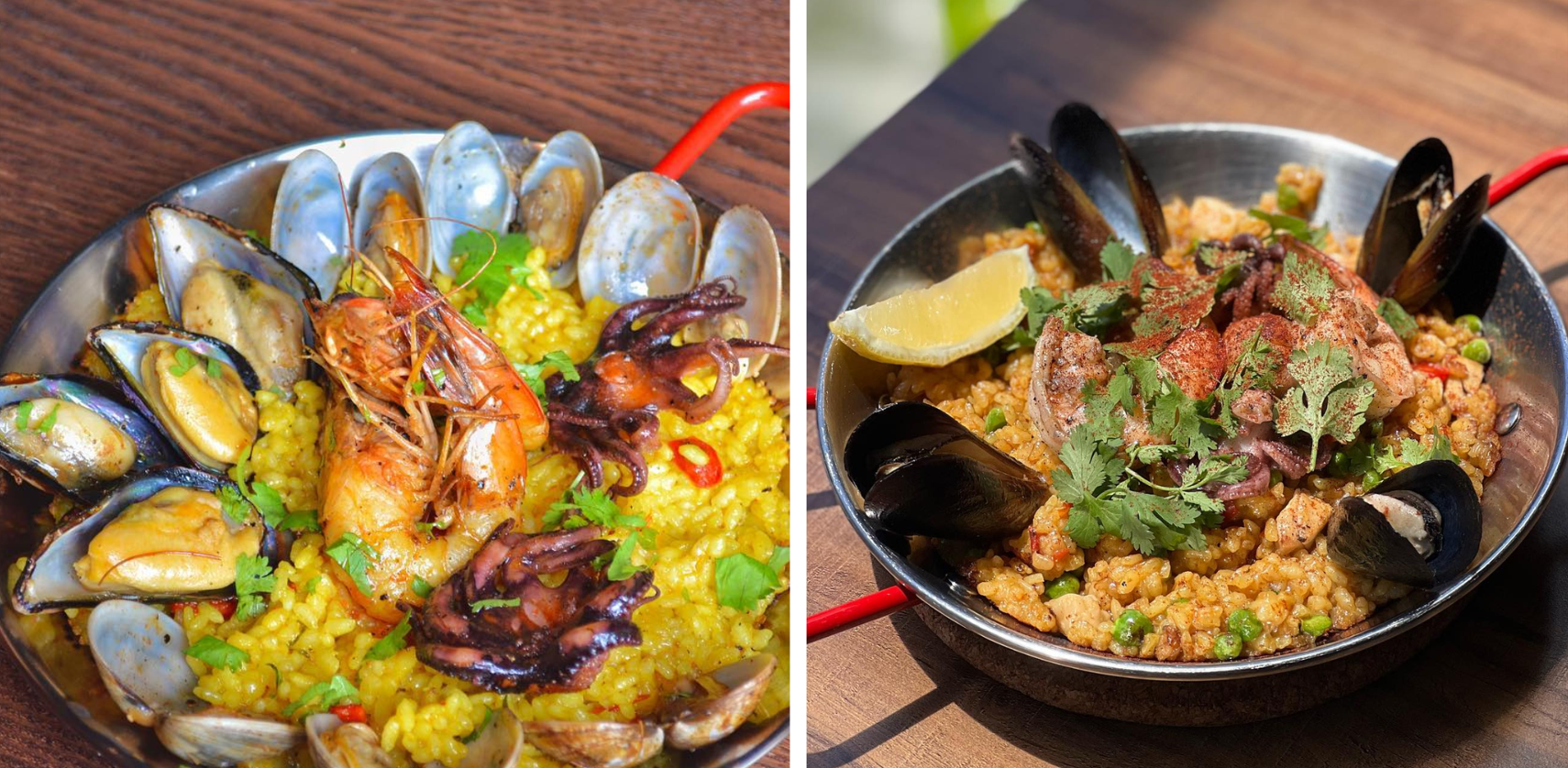 Image adapted from: Hola via Facebook
Address: 508-1-1, Tanjung Point, Jln Tanjung Tokong, 10470 Tanjung Tokong, Penang
Opening hours: Wed – Thu 11.30am-11pm | Fri – Sun 11.30am-12am | Tue 4pm-11pm (Closed on Mondays)
Contact: 012-362 4652 | Hola by Javu's Facebook | Instagram
---
8. Holy Guacamole – vibrant Mexican restaurant & bar with live performances
---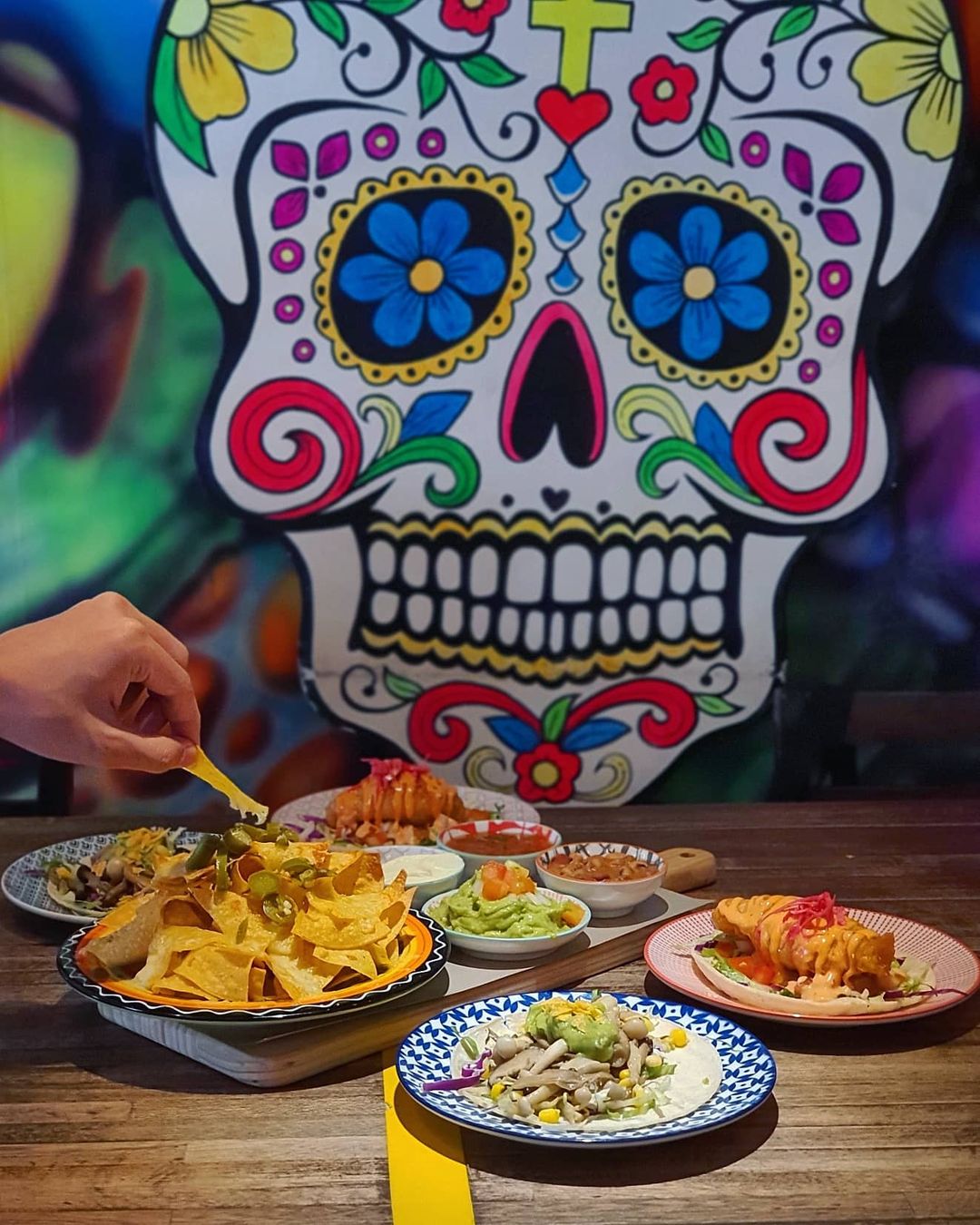 Image credit: @david_dsym via Instagram
If you ask any local for the best Mexican joint that serves the best sizzling fajitas or stuffed tacos, the answer will be a unison one – Holy Guacamole. The joint may be a quaint one that's sandwiched between larger brunch cafes along Love Lane, the restaurant and bar stands out easily.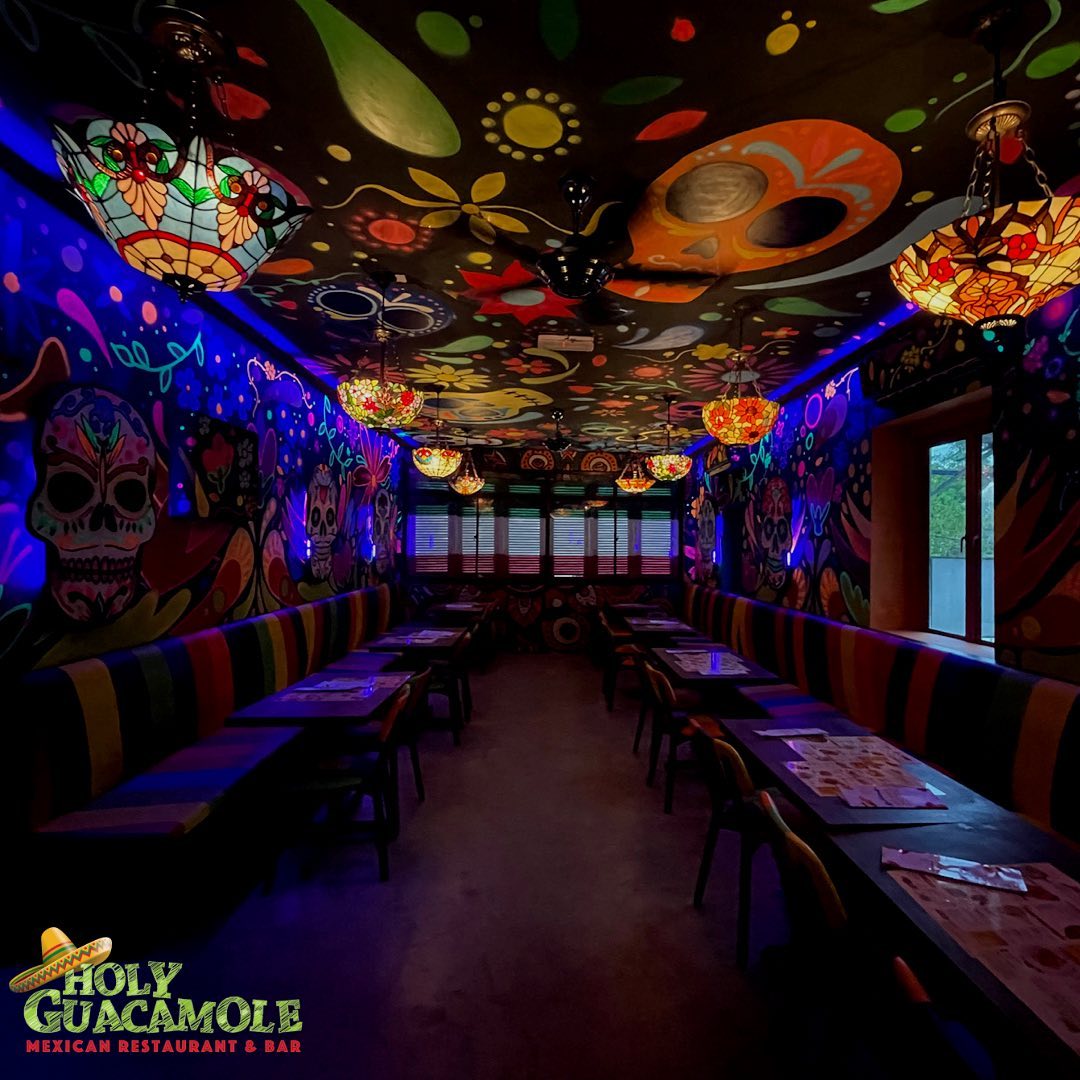 Image credit: @holyguacamole.penang via Instagram
Much like a festive Mexican spread, Holy Guacamole is rambunctious, vibrant and vivacious. Inside, their eccentric graffiti-tagged room, funky lighting, and flamboyant furnishings make the space feel party-ready at all times, and you'll find it always buzzing with friendly servers and customers.
We recommend dropping by in the evenings when the restaurant gets boisterous with occasional live performances.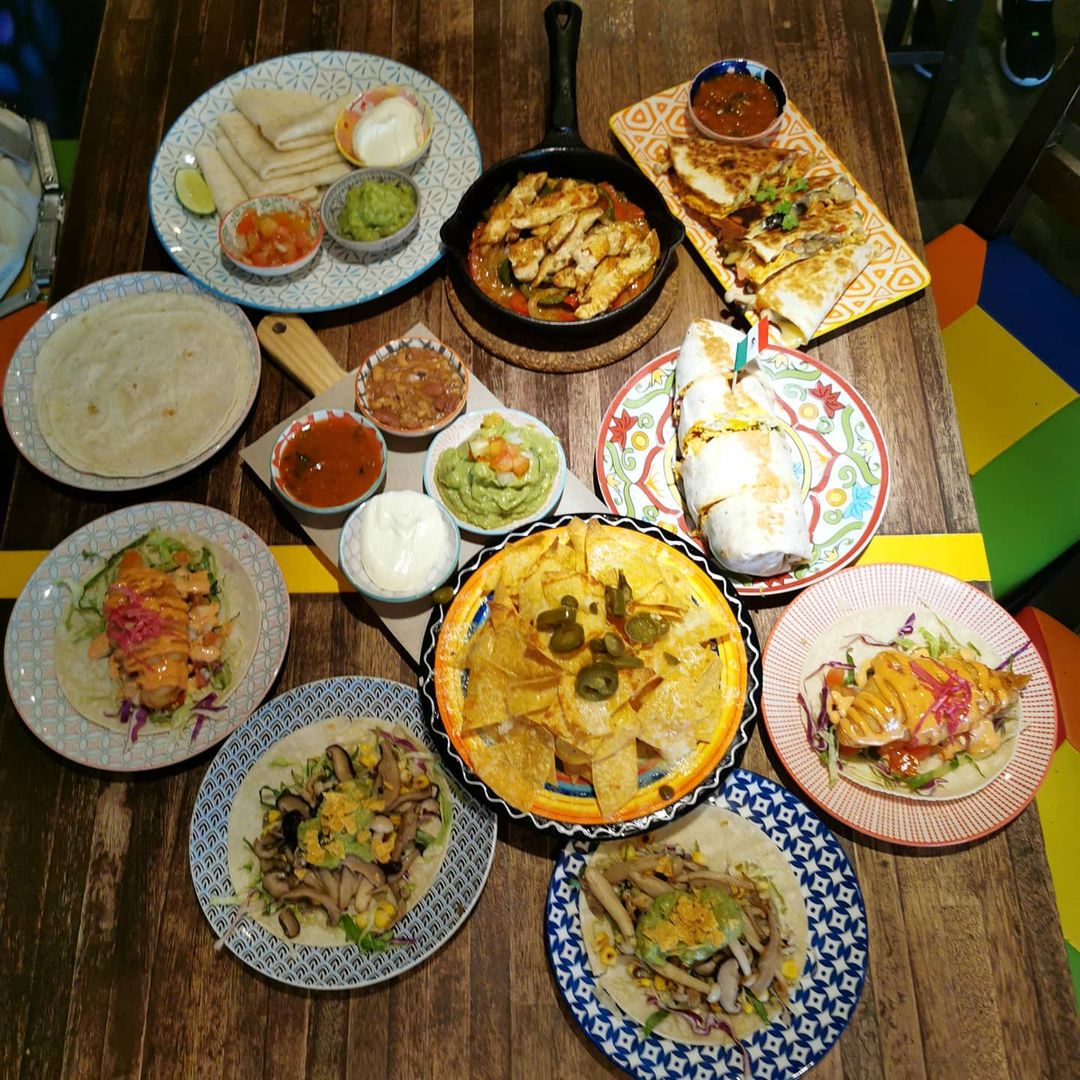 Image credit: @jijitankyy via Instagram
This local haunt churns out unfussy Mexican classics on funky plates – with burritos and quesadillas for lunch and fajitas at dinner – making it a terrific spot to snack and sip on margaritas any time of the day.
Go for their claim-to-fame Holy Taco (RM10) that has a choice of soft or crispy corn tortillas to basket juicy meats, spiced beans, and crunchy lettuces.The Camaron (RM15) has fillings of plump Mexican-spiced prawns, salsa roja and fresh guacamole all all heaped on corn tortillas and served with a spritz of lime.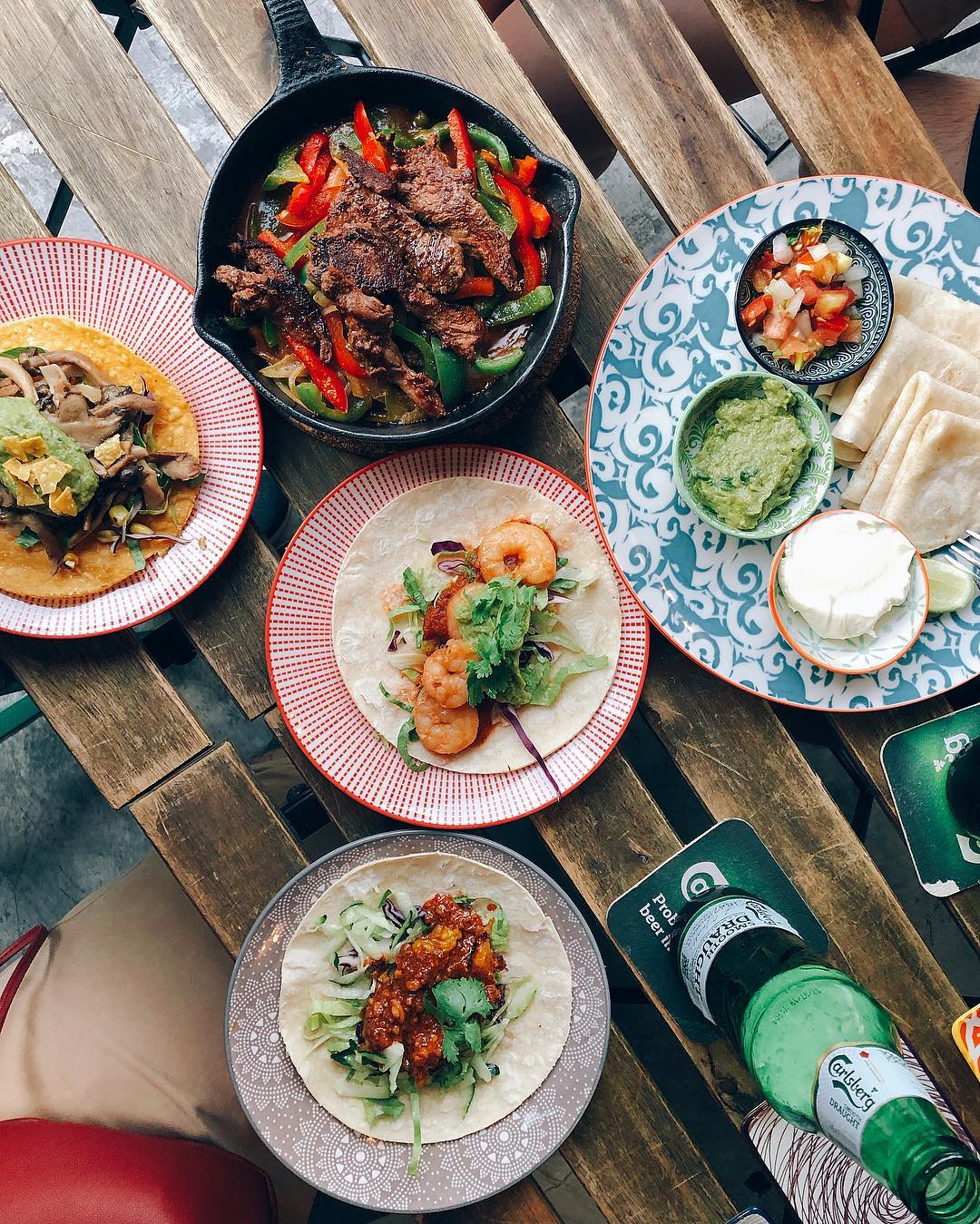 Image adapted from: @gudeeats Instagram
If you are in the mood for some stuffed wraps, there's the Holyritos (RM26) that's enticingly bulbous with tender shredded chicken, omelette, frijoles, jalapenos, salsa roja and lime crema. The quesadillas are equally celebrated and fully stuffed with your choice of chicken (RM22), beef (RM24), mushroom (RM24) or tuna (RM24).
Before heading to the bar for some post-meal drinks, grab some desserts the Mexican way as well with their street-style Churros (RM16), dusted bountifully with icing sugar and served with sides of luscious chocolate and caramel dips.
Address: 65, Love Ln, 10200 George Town, Penang
Opening hours: 12pm-10pm, Daily
Contact: 017-482 9065 | Holy Guacamole's Facebook | Instagram
---
9. Somkid Food Corner – comforting homecooked Thai dishes
---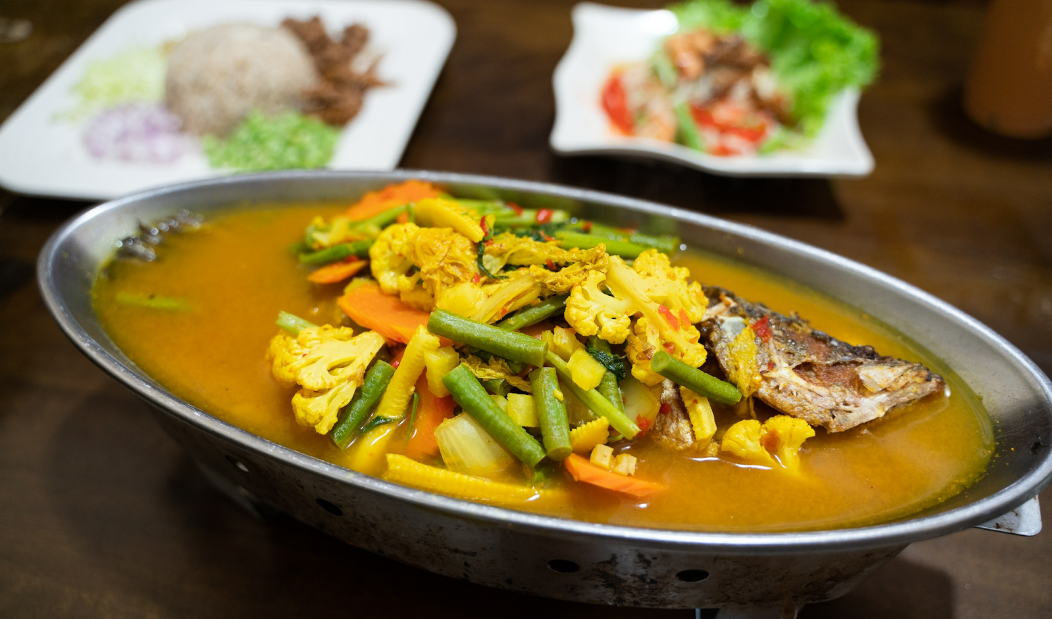 Image credit: Docs On Vacay via Facebook
While Penang has its fair share of fancy restaurants with outstanding food that's perfect for an extravagant night out, nothing really beats the comfort and warmth of a meal that tastes like a mother's cooking.
Somkid Food Corner is a closet of a space serving exceptional Chiang Mai-based Thai food, and frequented by the Thai community in Penang to reminisce on the taste of home. Helmed by Ms Somkid, the restaurant whips up Thai dishes that are comforting in taste while still having a flair for flavour – it feels like you're snagging a meal at a Thai grandmother's house.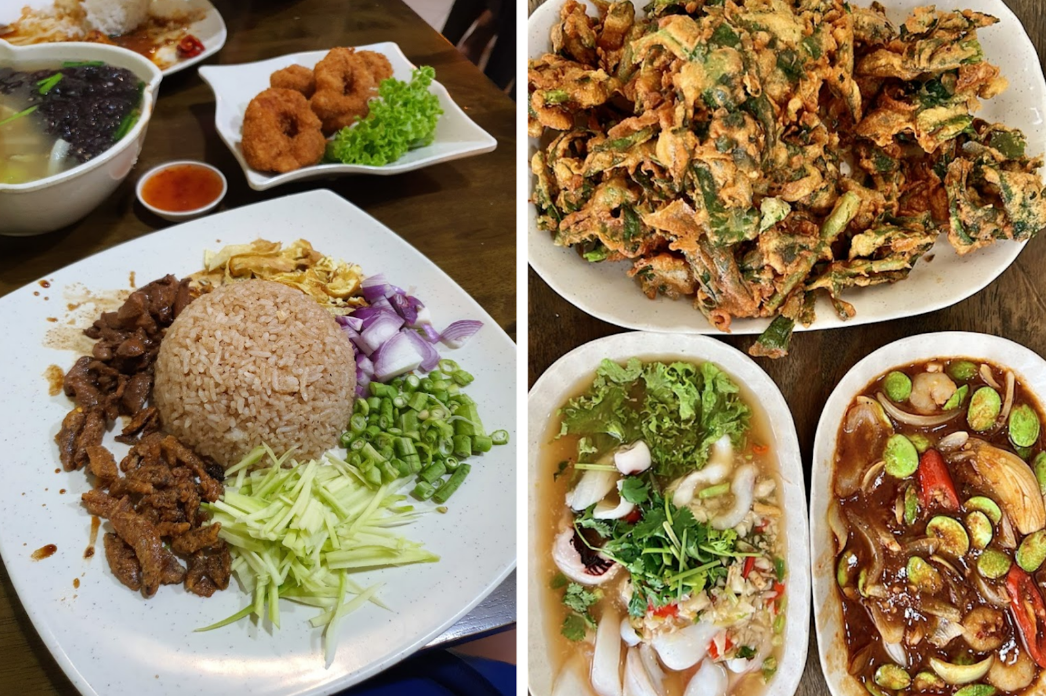 Image adapted from: Alex Lee via Google Photos & R via Google Photos
Everything on the menu is unpretentious and truly a genuine reflection of Thai food the way many Thais eat – tongue-tingling, funky with dashes of fish sauce, and always delectable. There are favourites such as Thai Koay Teow Soup (RM11), sweet-tart Pad Thai (RM11), and the ever-so-delicious Pineapple Fried Rice (RM9).
Look out for the soups, in particular. As with most Thai dishes, chilli peppers are ladened among many of them including the vivid and fiery Tom Yum Seafood (RM26), and Green Curry with Chicken (RM17). More delicate tongues can rest easy with the mild yet rich Coconut Milk Tom Yum with Chicken and Seaweed Soup with Beancurd, priced at RM17 per plate.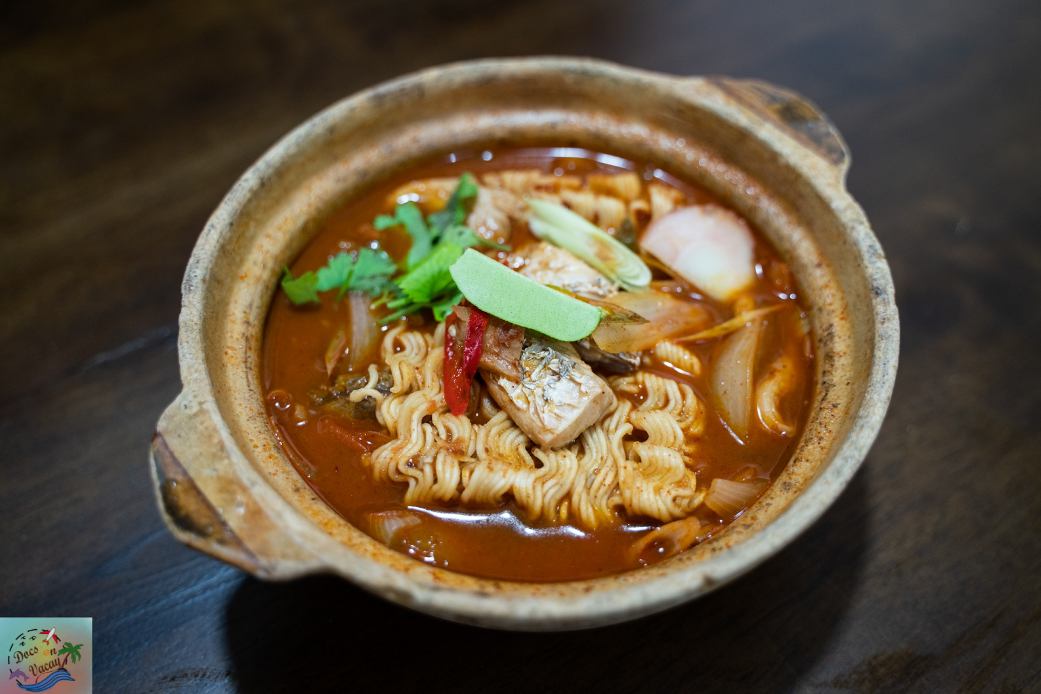 Image credit: Docs On Vacay via Facebook
Address: Prima Tanjung, 98-G-39, Jalan Fettes, Kampung Belachan, 10470 Tanjung Tokong, Penang
Opening hours: Wed – Mon 12pm-10pm (Closed on Tuesdays)
Contact: 011-1625 8876 | Somkid's Thai Food Facebook
---
International restaurants and cuisine in Penang
---
Enjoy a classy breakfast of French crepes, feast on an aromatic Thai spread for lunch, and party with some tacos and fajitas in a Mexican bar for dinner – the array of international cuisine is testament to how Malaysians celebrate diversity that isn't just limited to the ethnicities within our nation.
So, if you're feeling more than your usual hawker fare, bookmark this list and explore Penang's gastronomy scene that offers endless options of international cuisine for a transportative experience.
For more food places in Penang, here's Chulia Street Night Hawker with decades-old stalls and 9 breakfast cafes in Penang.
---
Cover image adapted from: @date.eats via Instagram, @thenakedyolk via Instagram, @neroneropenang via Instagram & Hola via Facebook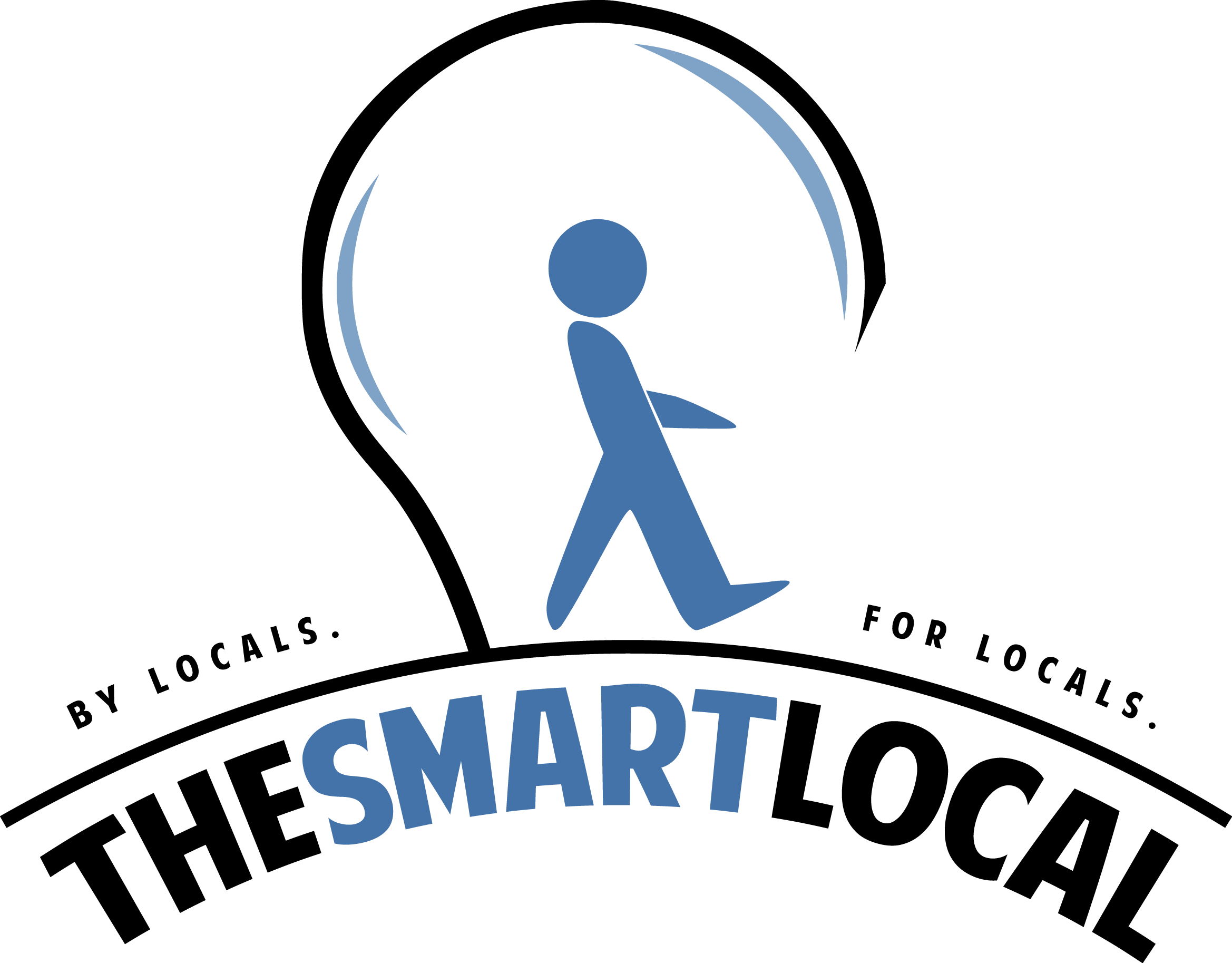 Drop us your email so you won't miss the latest news.