Chulia Street Night Hawker
---
When it comes to food, Penang hawkers delivers big on flavour, variety, and authenticity. Think steaming bowls of broth, bouncy noodles doused in dark sauce, and heaps of crispy fried pancakes on trays – you'll be treated to an endless menu of mouthwatering offerings. 
To try the best when you're in this city, head to Chulia Street Night Hawker. A beloved gem among locals and a famous tourist spot, this hawker spot is where you'll find some of the tastiest hawker dishes – including iconic ones such as char kuey teow and apom. 
---
A lively night hawker spot with decades-old vendors 
---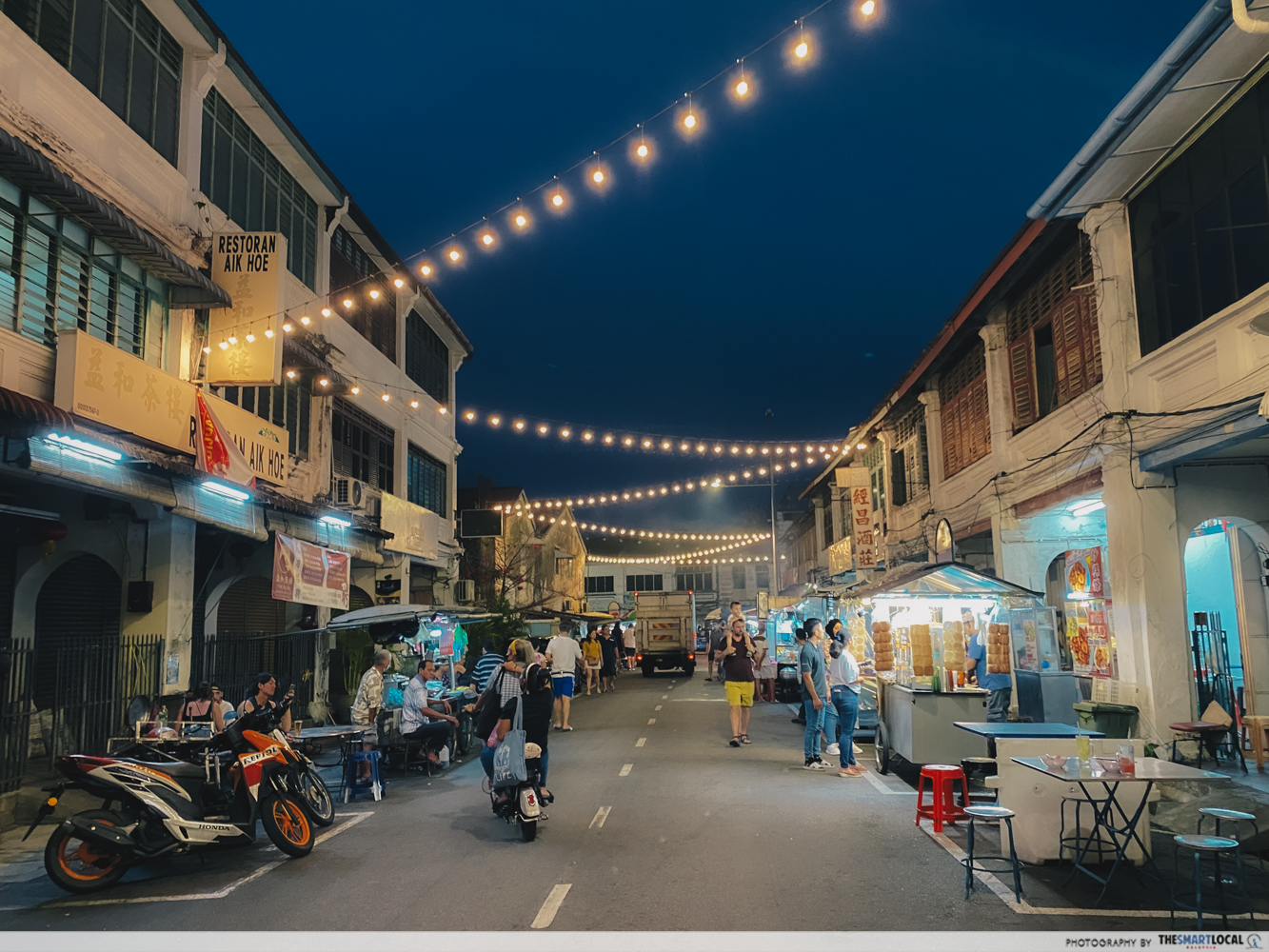 Stretching down one of the oldest streets in George Town, Chulia Street Night Hawker is a flourishing street lined with hawkers. While its former location was on the main Chulia Street, the renowned hawker has shifted to Carnarvon Street for the safety of visitors and to ease traffic.
Nevertheless, you'll still be able to locate it easily, as it is still within an eyeshot of its previous spot.
The hawker is so popular that if you ask any local for OG hawker fare recommendations, you'll likely be directed here. Having been around for decades and manned by generations of family, vendors at this night hawker are masters at their craft, serving the same iconic dishes for years that have withstood the test of time.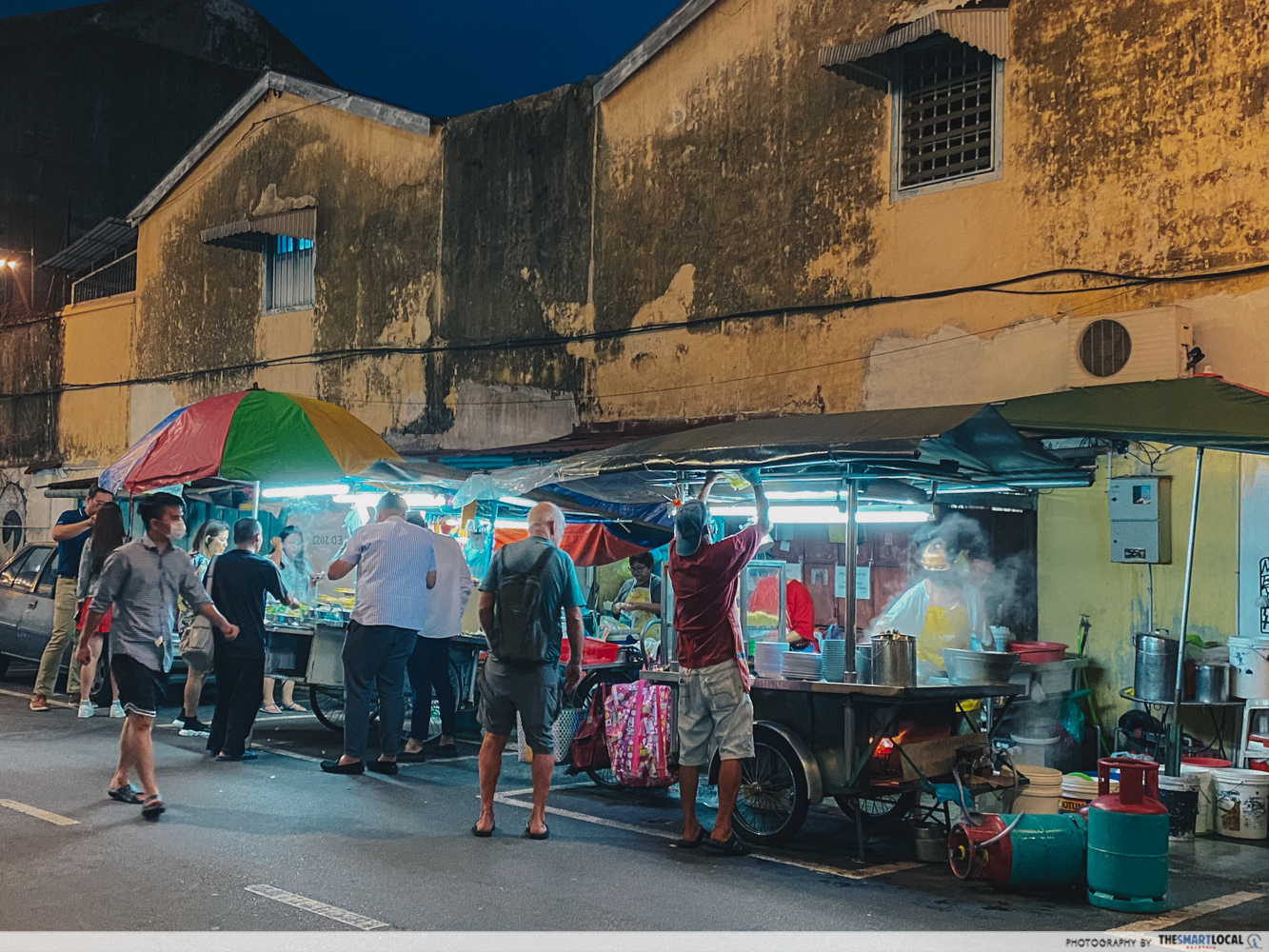 Once night falls, the street comes boisterously alive with the cacophony of spatulas clanking against pans, vendors shouting orders and greeting patrons in Hokkien, and hungry diners chattering away. Lights from the hawker stalls illuminate the street, adding to the lively and vigourous ambience. 
---
Must-try dishes at Chulia Street Night Hawker
---
Options for food are aplenty at Chulia Street Night Hawker. If you're planning a visit and want to avoid being overwhelmed by the sheer abundance of food choices here, we selected a few iconic dishes you should try.
---
1. Wantan Mee
---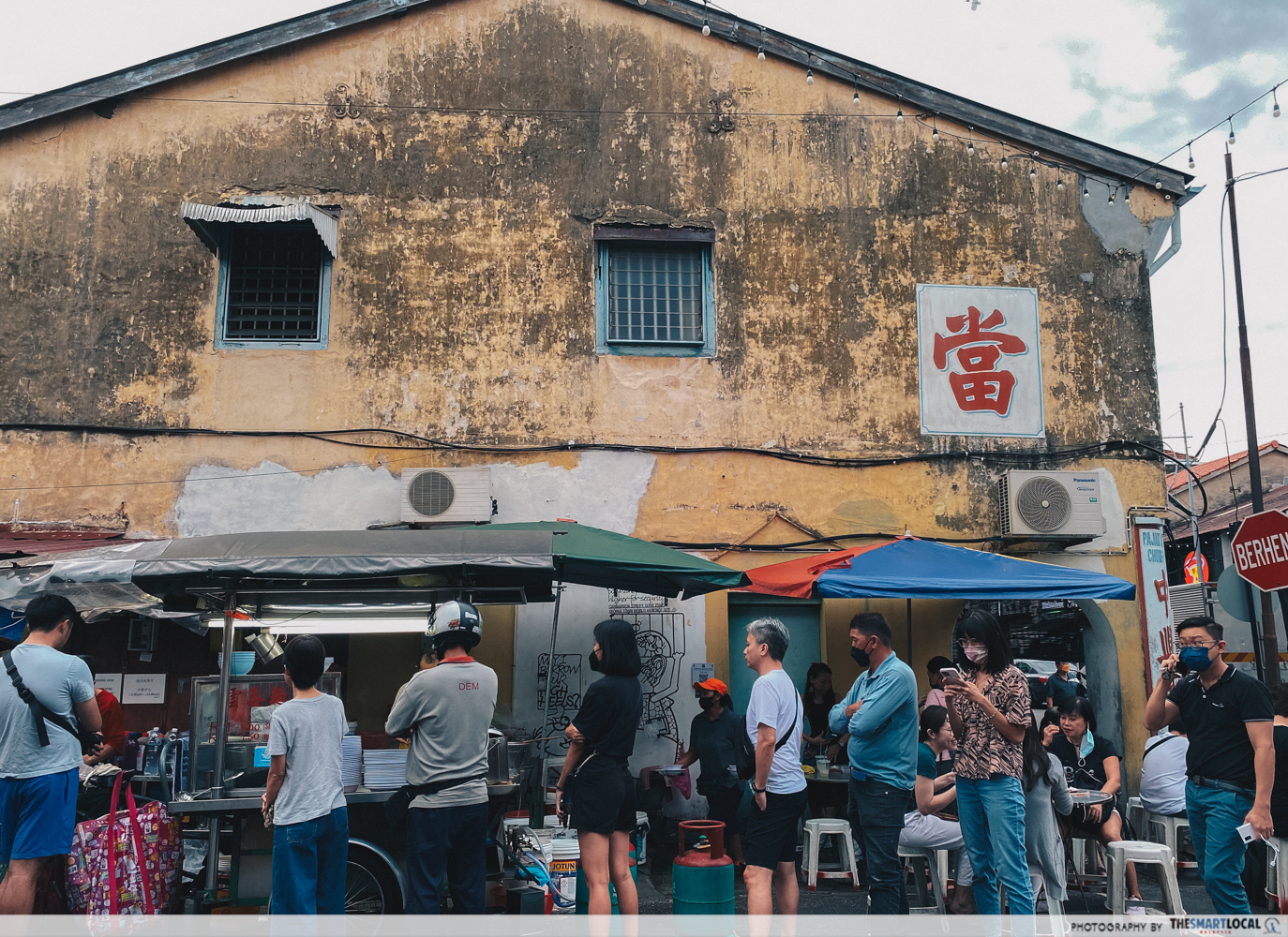 Here's a pro tip – get yourself something to snack on while you wait for your serving of this glorious wantan mee, as you can bet that the famous Mother & Son Wantan Mee stall is almost always swarmed with patrons.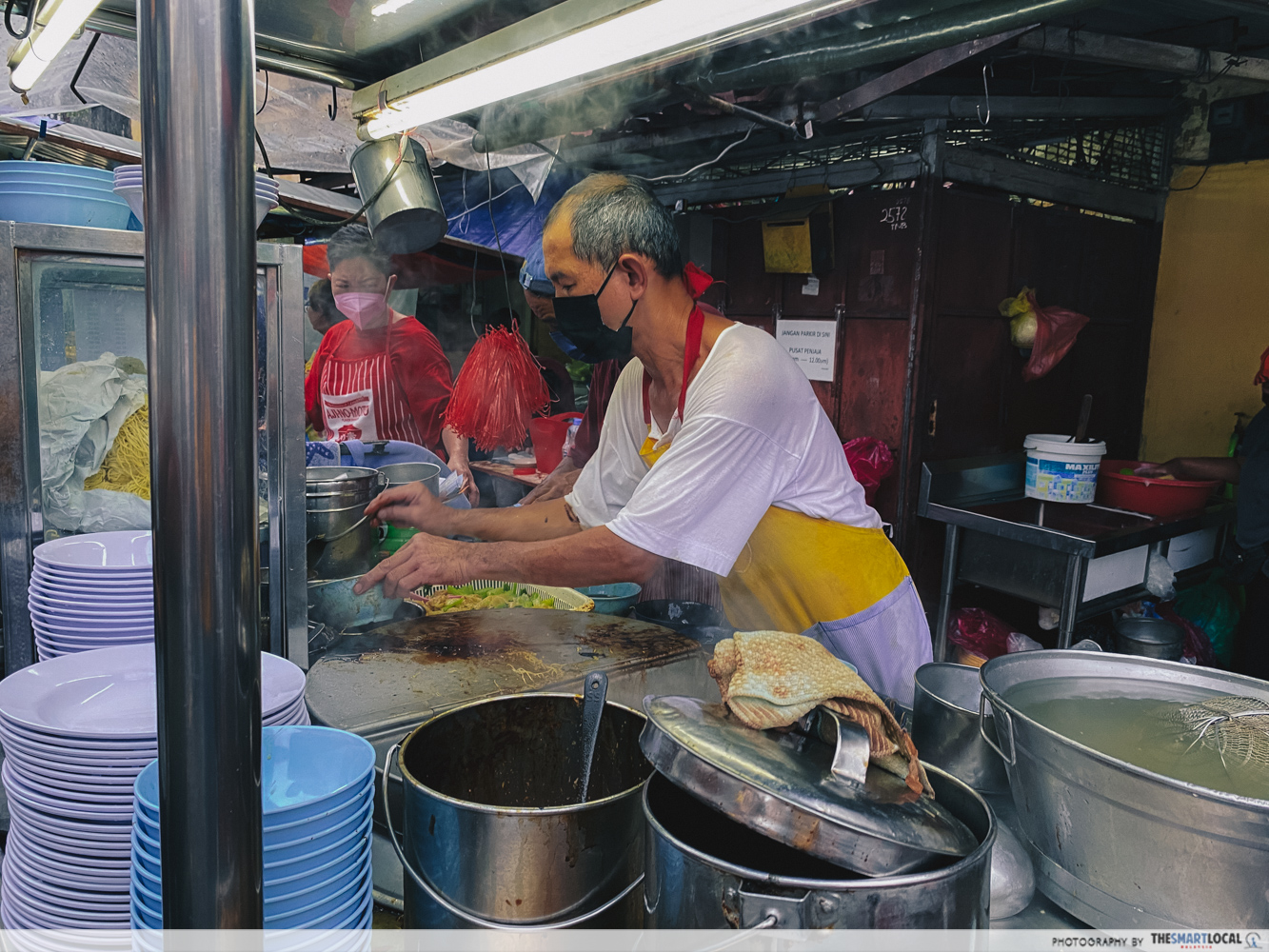 Arguably serving one of the best wantan mee in Penang, the stall is also often listed on food guides for the best wantan mee in the nation. An established stall that has been going strong for close to 50 years now, it is currently helmed by the founder's son who deftly whips up bowls after bowls of noodles.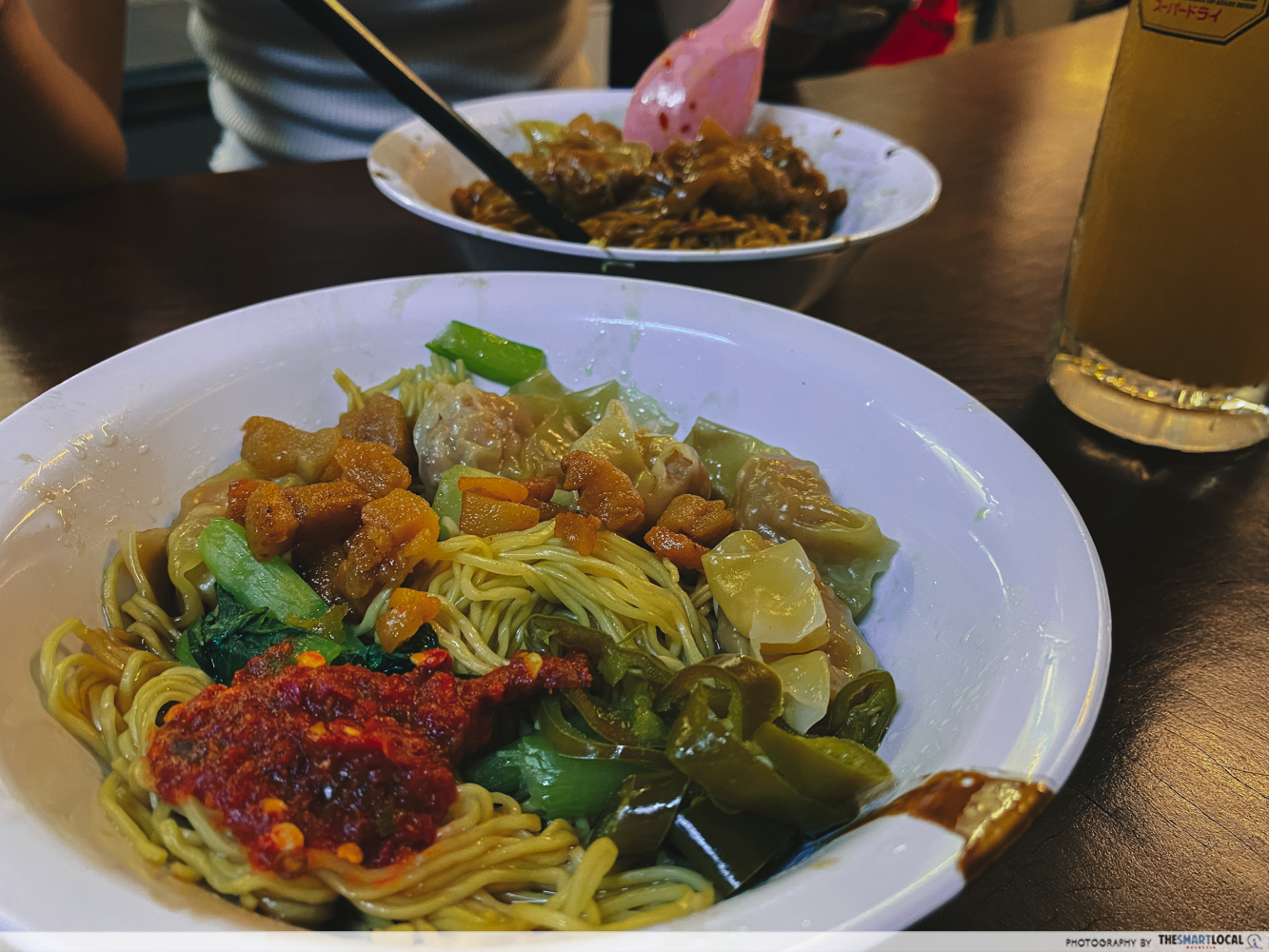 The constant snaking queue is no surprise when you finally have a taste of the stall's wantan mee. The noodles are slightly translucent and amazingly bouncy, and tossed in a pool of flavoursome dark soya sauce that's oily enough to coat the noodles – but not so much that they swim in grease.
Topping the noodles are well-stuffed handmade wantans, a small handful of vegetables and char siew, a good spoonful of fried pork lard, and some green chilli or sambal if you like your dish with a spicy kick.
All together, we found it to be a divine dish.
---
2. Curry Mee
---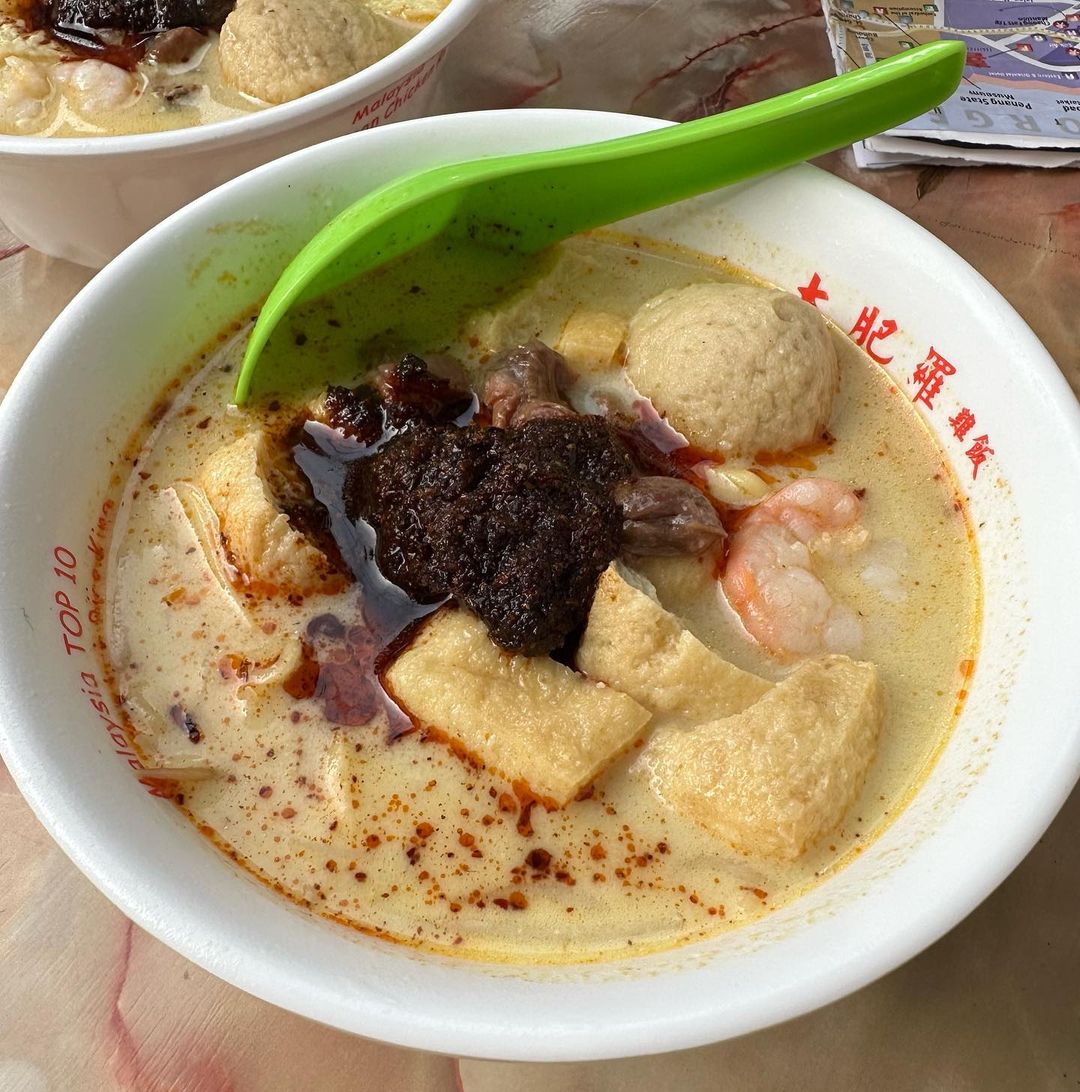 Image credit: @pimeal
Know that it's your lucky day if you see the legendary Chulia Street Curry Mee stall open when you drop by for dinner, as they close shop once they're sold out of noodles – which happens pretty often. So, make sure you get your hands on a piping hot bowl. This Curry Mee stall has been around for 80 years, and is raved about for its top-notch flavour and quality.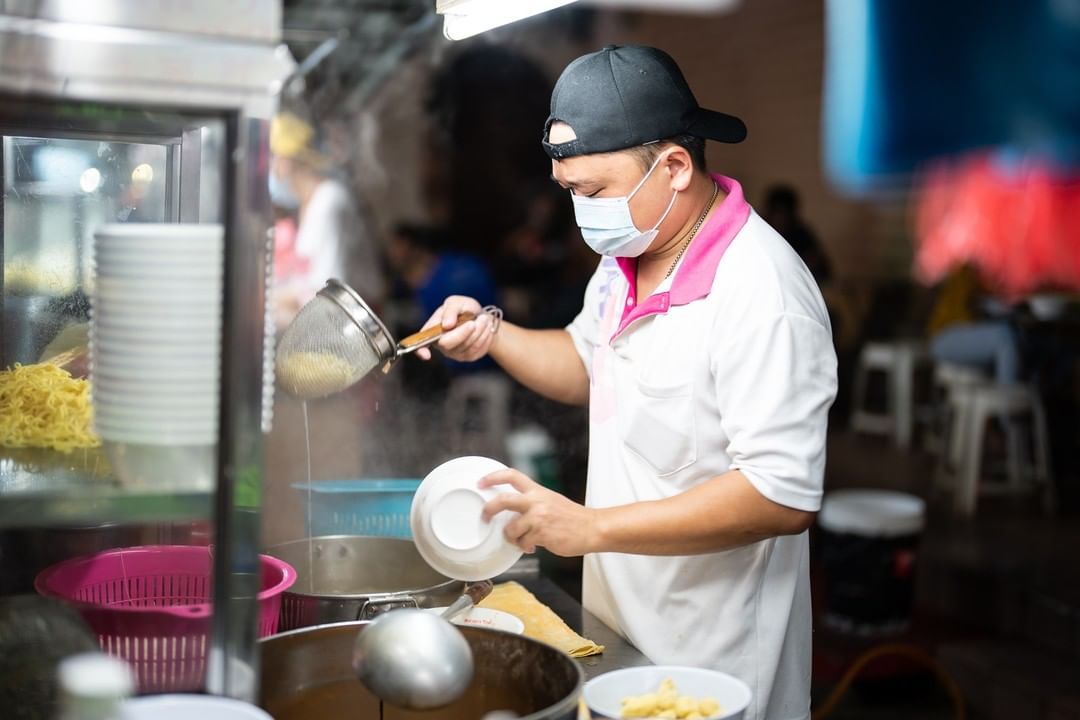 Image credit: @docs_on_vacay
A small-sized bowl is priced RM5, and a big one for RM6. The full-flavoured dish is sufficiently rich with a mix of thin vermicelli and yellow noodles swimming in a creamy curry broth.
You'll be delighted at the amount of ingredients that accompany every slurp of this noodle dish. There are chewy cuttlefish and cockles, spongy bean curd puffs that deliciously soak up the savoury soup, plump shrimps, and a huge fish ball that's something of a signature in their dish.
We recommend adding a heaping spoon of sambal – an essential addition to heighten the flavour of the dish.
---
3. Char Kuey Teow
---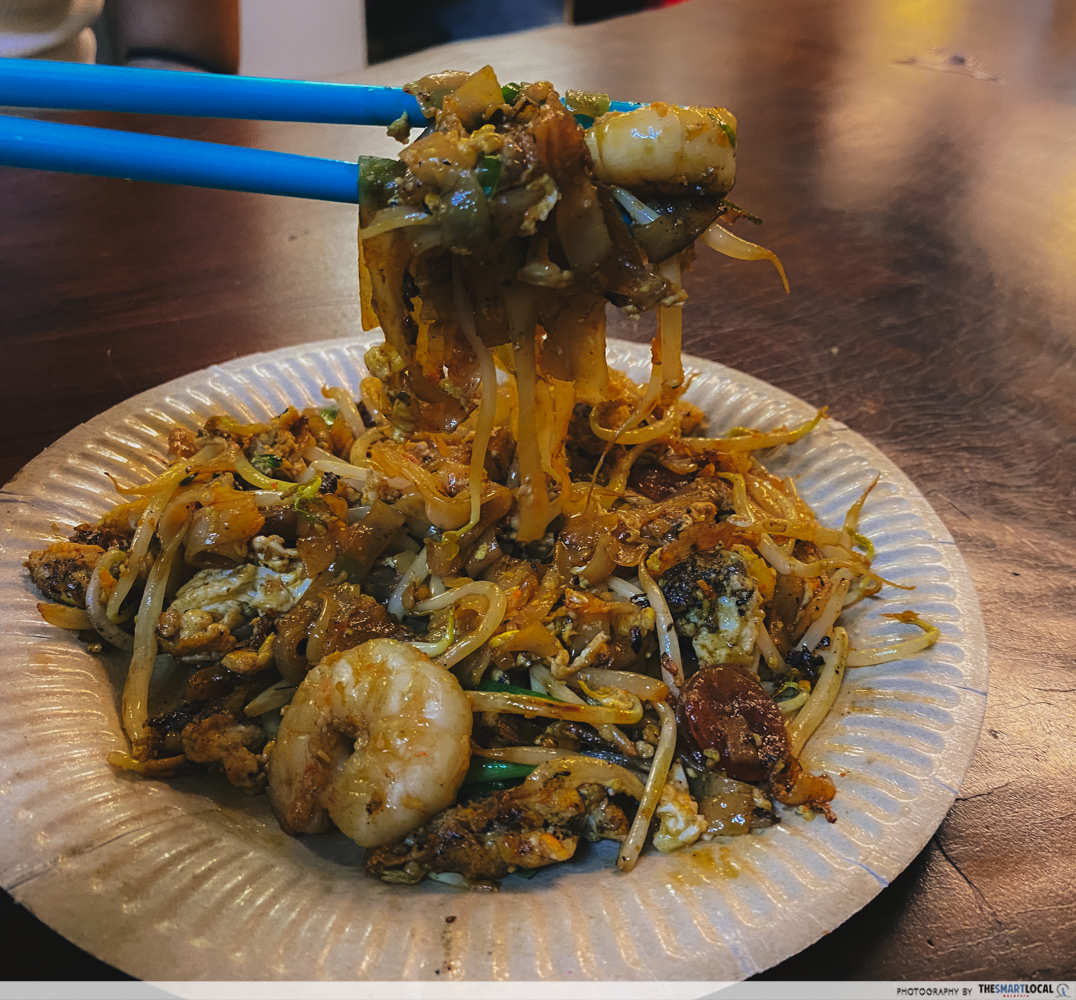 Another popular stall here that sells a Penang speciality dish – char kuey teow – is currently manned by second generation owners three decades after it began serving the exceptional dish. Light and springy flat noodles are skillfully stir-fried with soya sauce over high flames. Contrasted nicely with crunchy bean sprouts, and finished off with fluffy eggs and juicy prawns, the dish truly encapsulates the essence of Penang as a feisty and captivating locale.
A small plate of the famed char kuey teow here is priced at RM8. But go for the big one for RM9. Trust us when we say that you won't be able to get enough of the smoky and moreish CKT.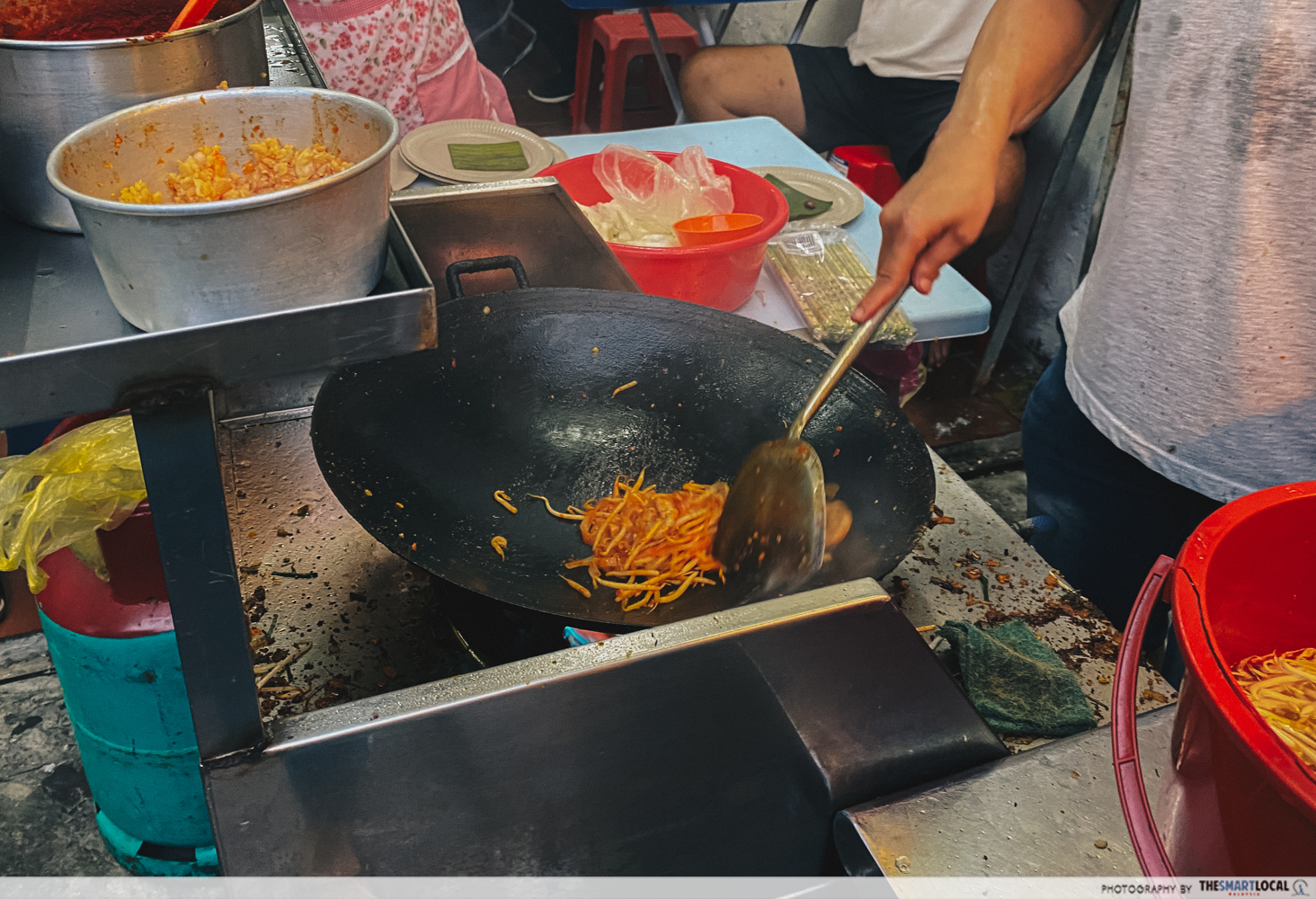 ---
Other local snacks to try at Chulia Street Night Hawker
---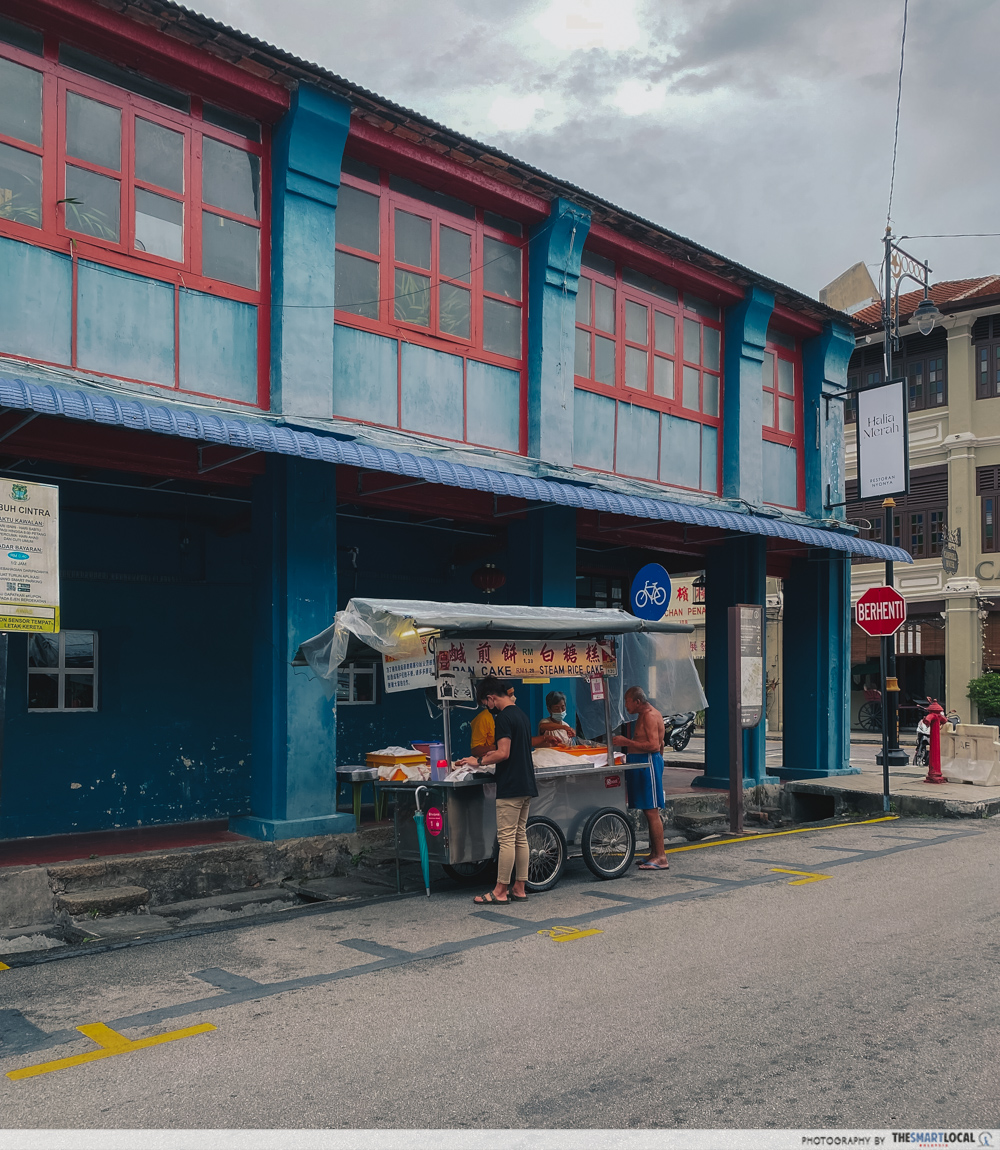 Stray a short distance off the main street where Chulia Street's hawker stalls congregate, and you'll find a standalone vendor with trays of deep-fried doughy goodness typically at the corner of a building. This is none other than the famous Penang Ham Chee Peng stall.
This particular stall may be an isolated one on Cintra Street, but it isn't hard to spot. There's always a consistent crowd gathered around the hawker, waiting patiently to snag bags of the golden-crusted snacks to nibble on pre- or post-dinner.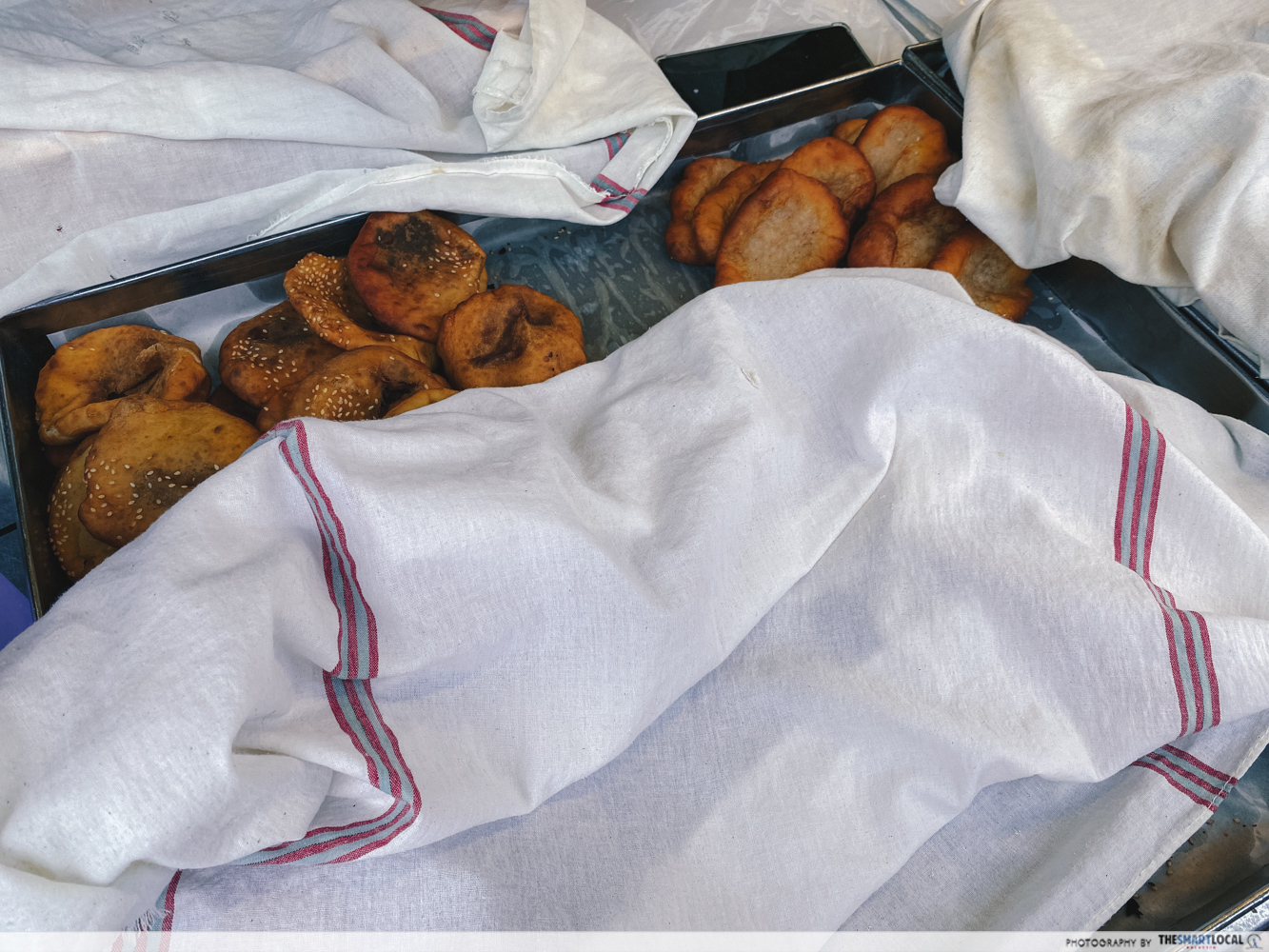 Often described as a Chinese-style doughnut, the ham chee peng (RM1.20/pc) comes plain and salted or with a red bean filling. Get ready to salivate at the sight of other delicacies sold at the stall as well, which includes "butterfly" dough fritters, sesame seed-studded glutinous balls filled with peanuts or lotus paste, and fluffy steamed rice cakes. 
Customers often walk away excited with three or four warm bags of fresh golden beauties – never just one.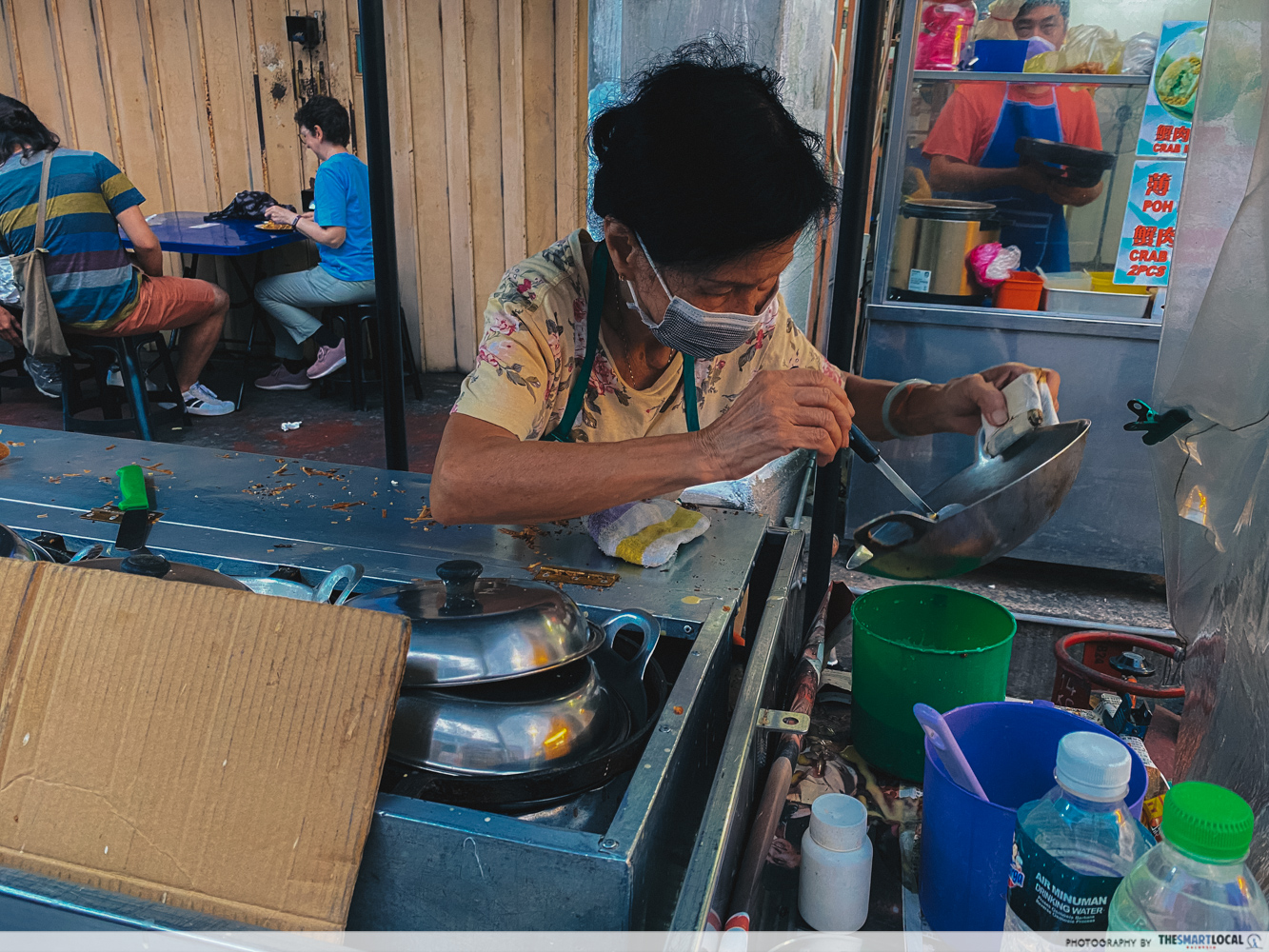 Another enduring eatery at Chulia Street Night Hawker is the apom snack stall. Here, you'll see a petite auntie skillfully whipping up fragrant crepes from her miniature wok – lovingly and careful, yet swift and adept.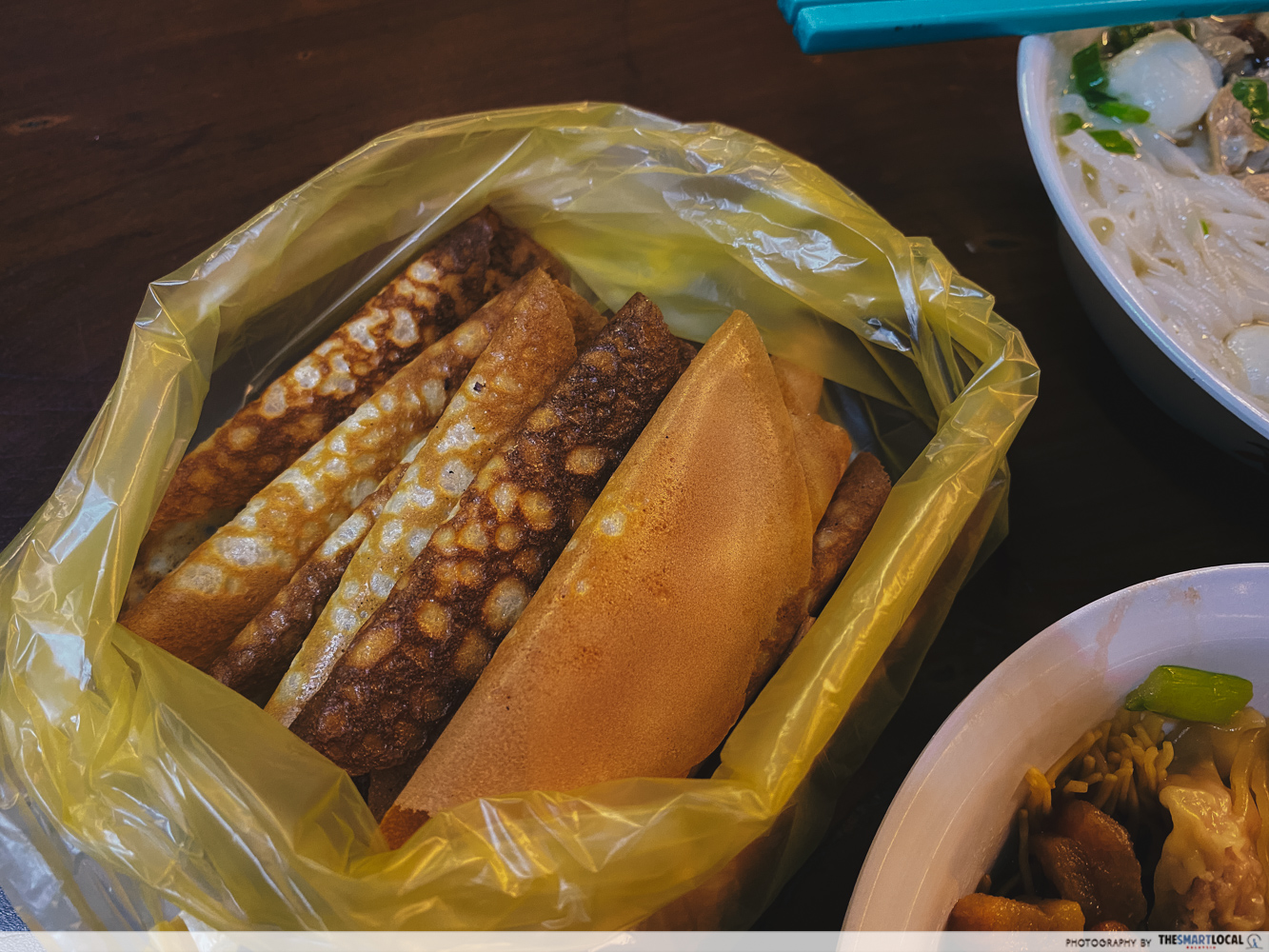 Sold at RM0.60 per piece, the apoms made here are tinier than the usual pan-sized one, making them the perfect bite-sized snack that is airy, light and extremely delicious. These are likely to disappear before you know, so we recommend ordering an ample amount of them if you have a large party – or just a huge appetite for the snack – especially since they are so affordable. 
---
Chulia Street Night Hawker in Penang
---
Proudly shouldering a number of titles – including "Top Culinary Spot" by Lonely Planet, and "Best Street Food Cities" by CNN Travel and TIME Magazine – Penang is a foodie's heaven. Whichever hawker you patronise here, the food is pretty much guaranteed to be glorious.
For something classic, nostalgic and most importantly, Penangite-approved, Chulia Street Night Hawker should definitely be included in your itinerary when you're in the food paradise island. From flavourful noodle dishes to beloved local snacks, you'll leave this night hawker with a full belly and merry spirits. 
Address: Lebuh Carnarvon (off Lebuh Chulia), 10100 Georgetown, Penang
Opening hours: Tue – Sun 6pm-12am (Closed on Mondays)
Read more interesting features of places here: 
---
Photography by Jia-Ju. 
Cover image adapted from: TheSmartLocal Malaysia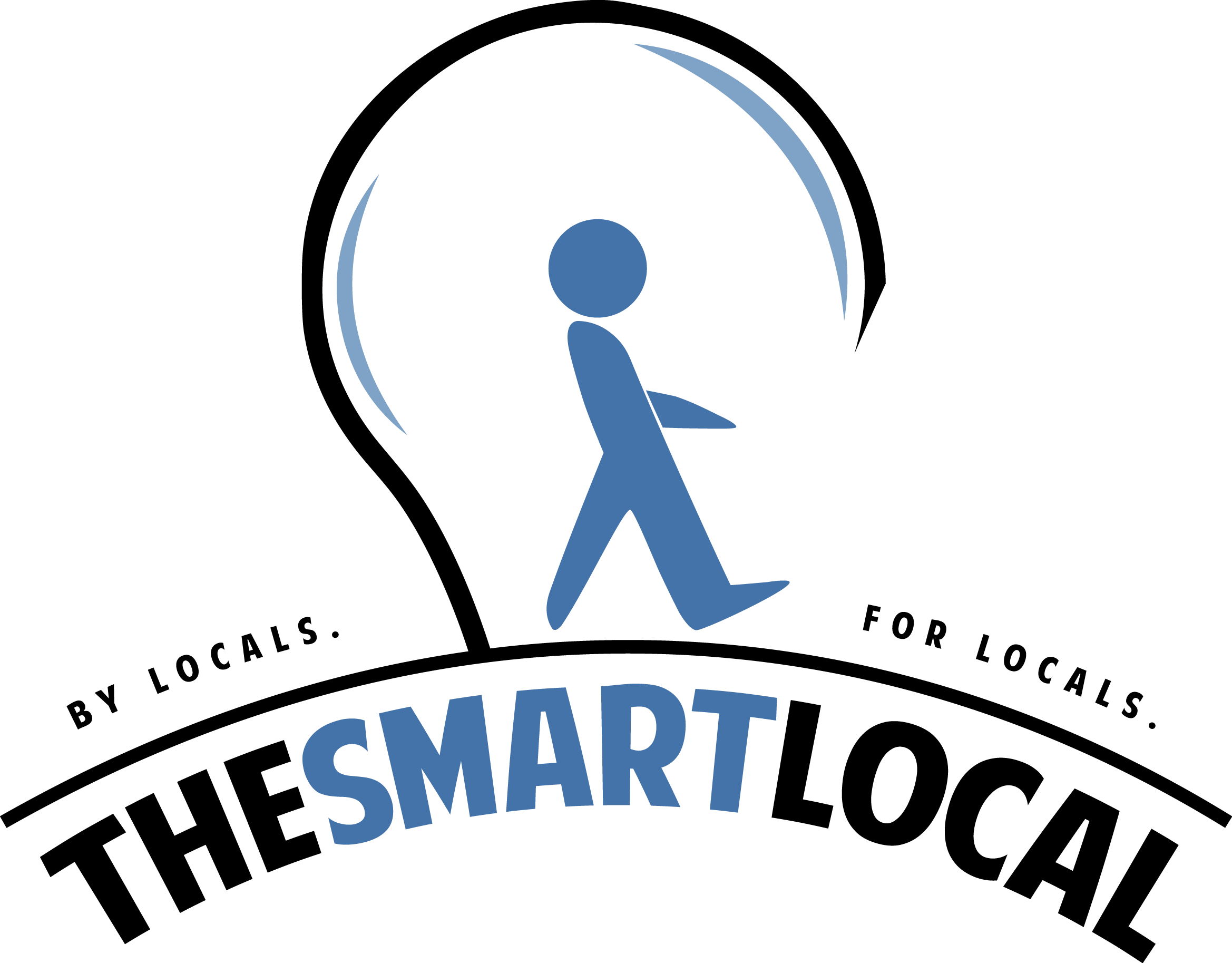 Drop us your email so you won't miss the latest news.