Roti Kapas in Shah Alam
---
Be it for breakfast or a snack, bread unquestionably tops the chart of irresistible food choices. Recall how frequently we see kopitiam-goers sinking their teeth into crispy roti bakar slathered with kaya and butter – some even dip it into half-boiled eggs or coffee, nailing "How to eat roti bakar 101".  
If the allure of bread isn't a threat to your diet plans, try Roti Kapas. Nestled in Kampung Padang Jawa, a small neighbourhood in Shah Alam, this homegrown stall is super famous for their roti kapas kukus, or stuffed steamed bread. 
Proudly calling ourselves bread devotees, we recently visited this stall to try their fluffy roti.
---
A fusion recipe with a Malay twist
---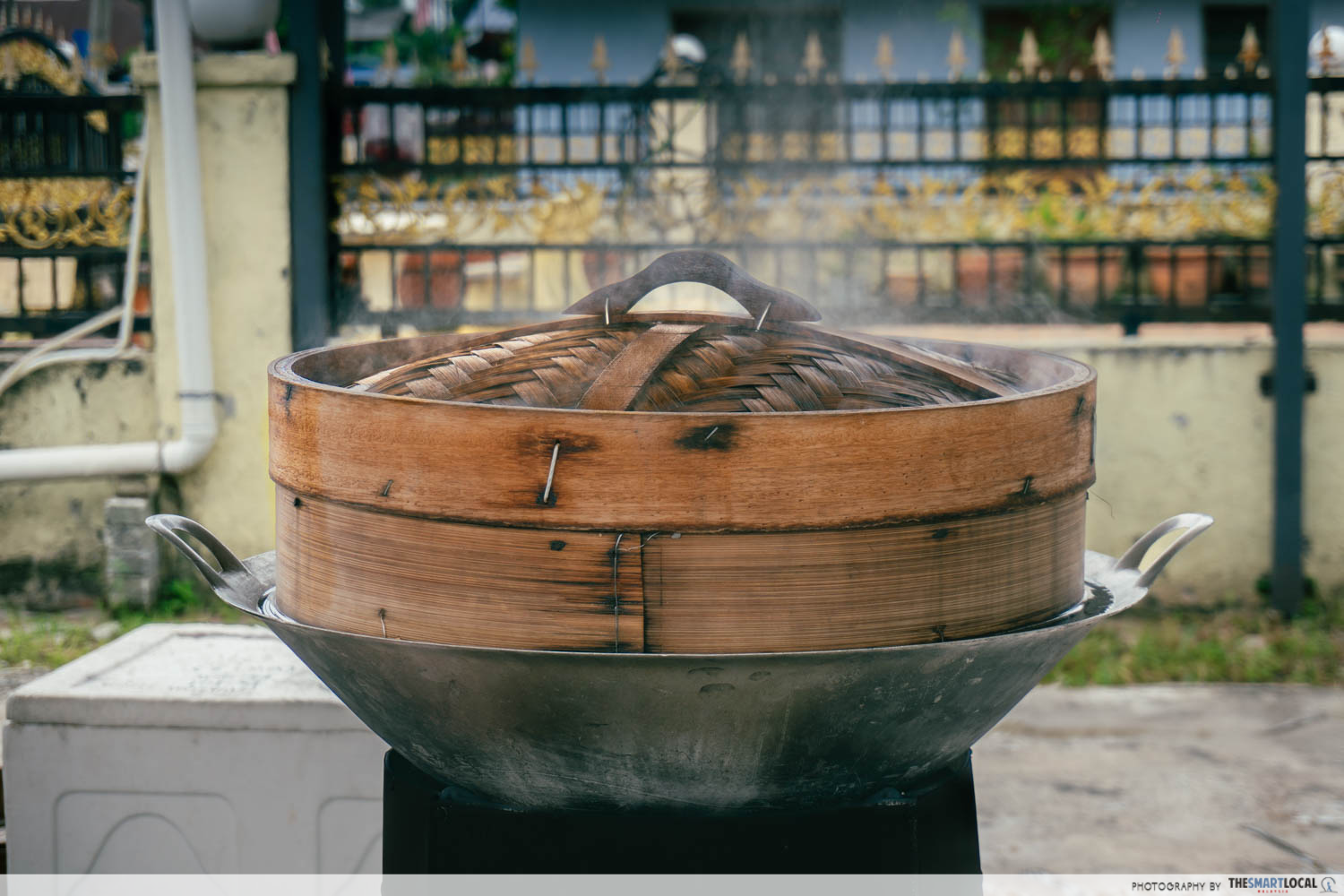 As we arrived, the bamboo steamers were already hard at work. With the water boiling underneath, hot steam ceaselessly flowed out of the bamboo lids, carrying with it a sweet bread aroma.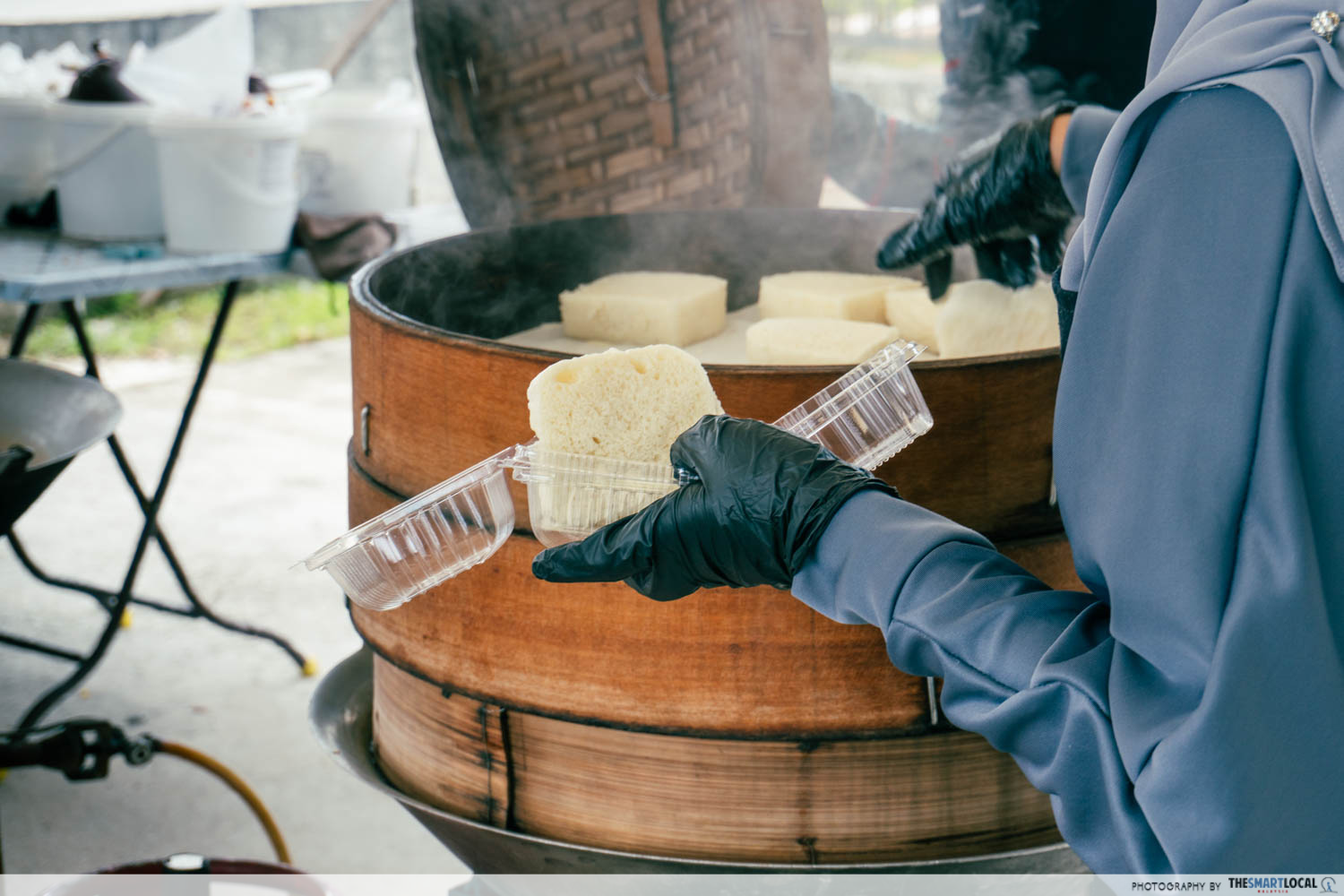 What was inside the steamers were none other than the white roti, which are made by the owners daily. According to them, around 200 pieces of bread are sold every day and their highest record was 600 a day.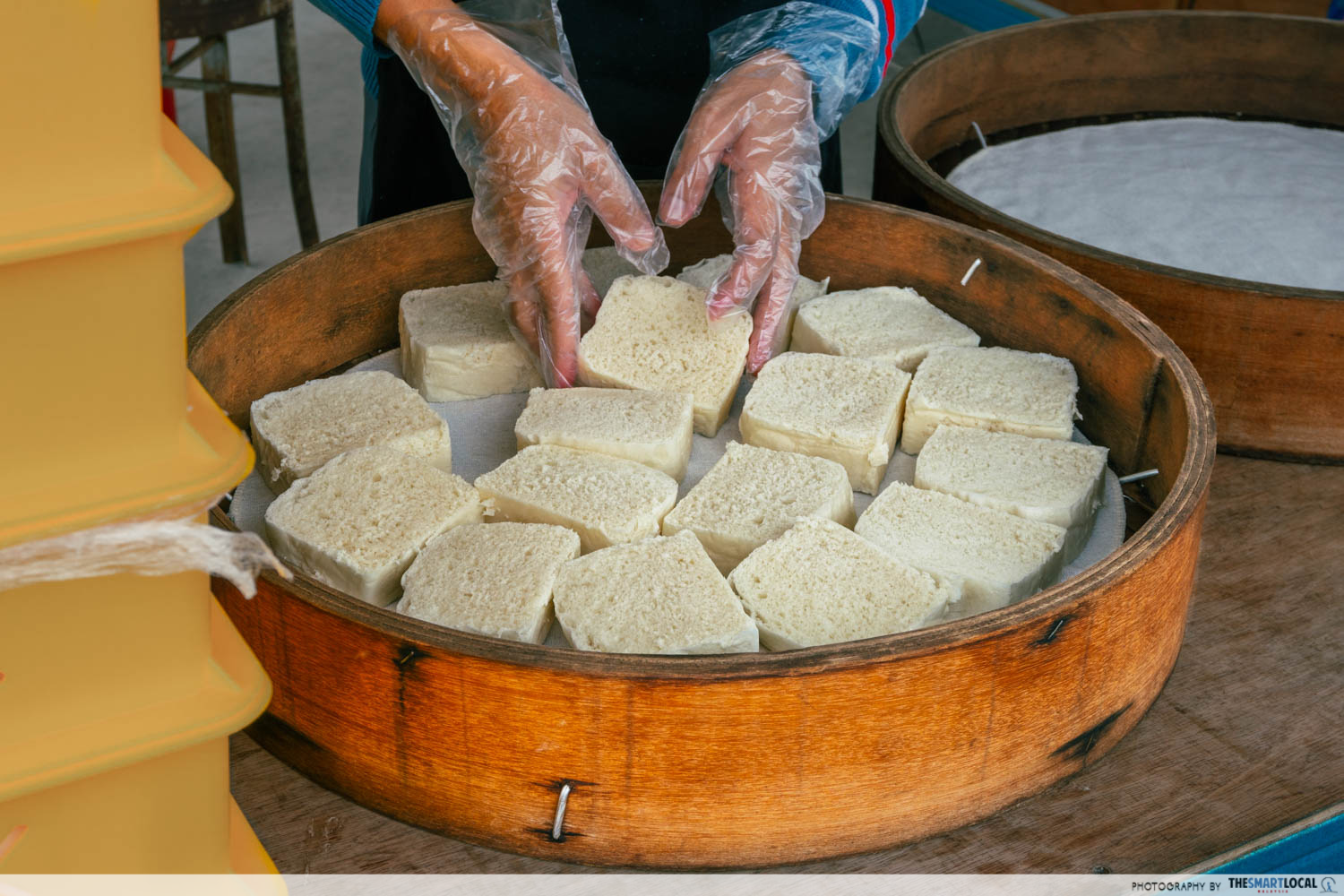 The owners shared with us that roti kapas kukus is a fusion of Chinese bao and Indonesian roti, added with a local Malay flair. All that combined has turned a simple bread into a moreish and scrumptious munch to have on the go.
---
Freshly made steamed bread filled with sweet & savoury sauces
---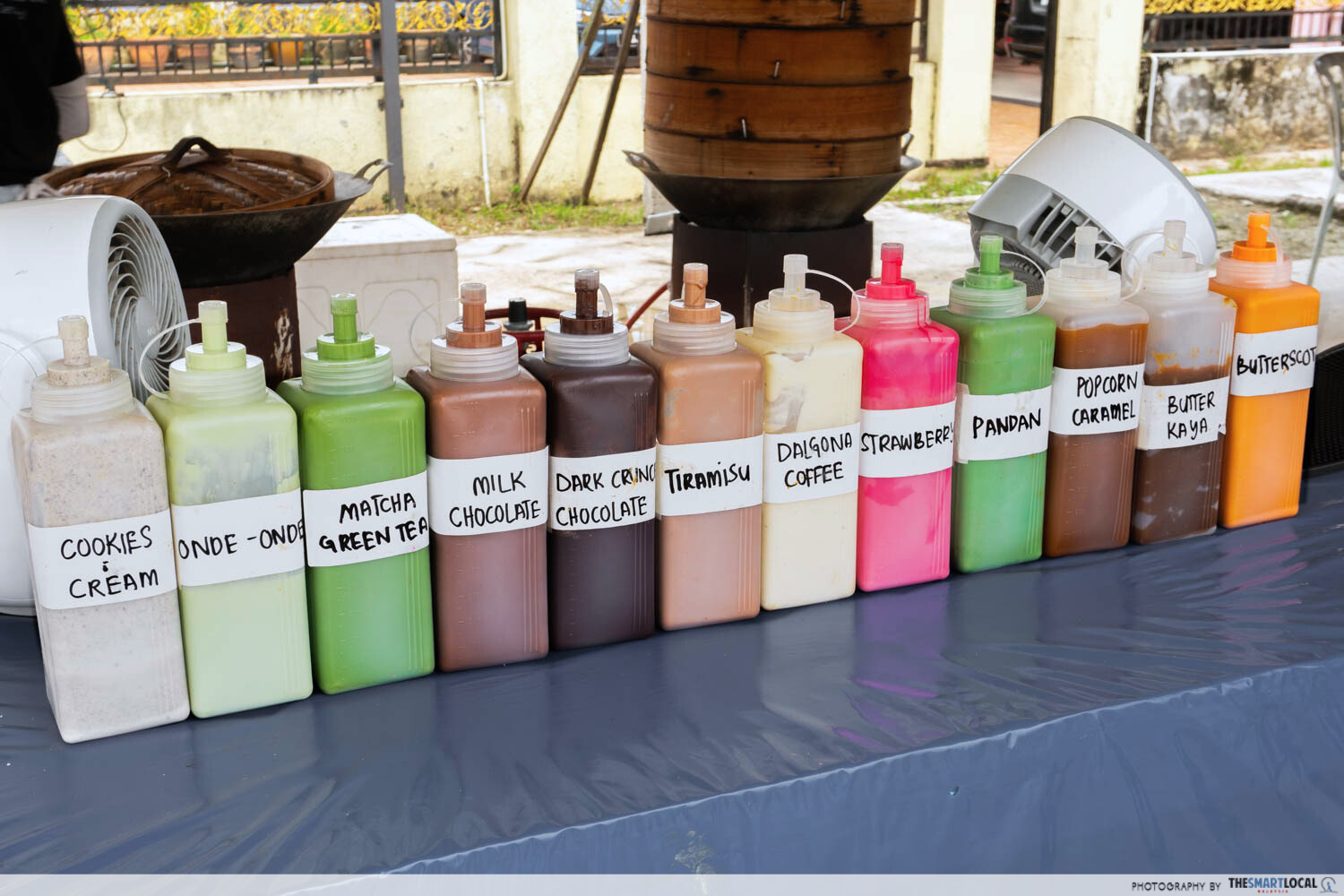 You can choose to have your bread stuffed with sweet or savoury fillings. For those with a sweet tooth, the selection is vast with sauce options such as onde-onde, popcorn caramel, and butterscotch. 
These vibrant bottles of sweet sauces are neatly arranged on the table, as if posing for a beauty pageant show, waiting for you to make a pick.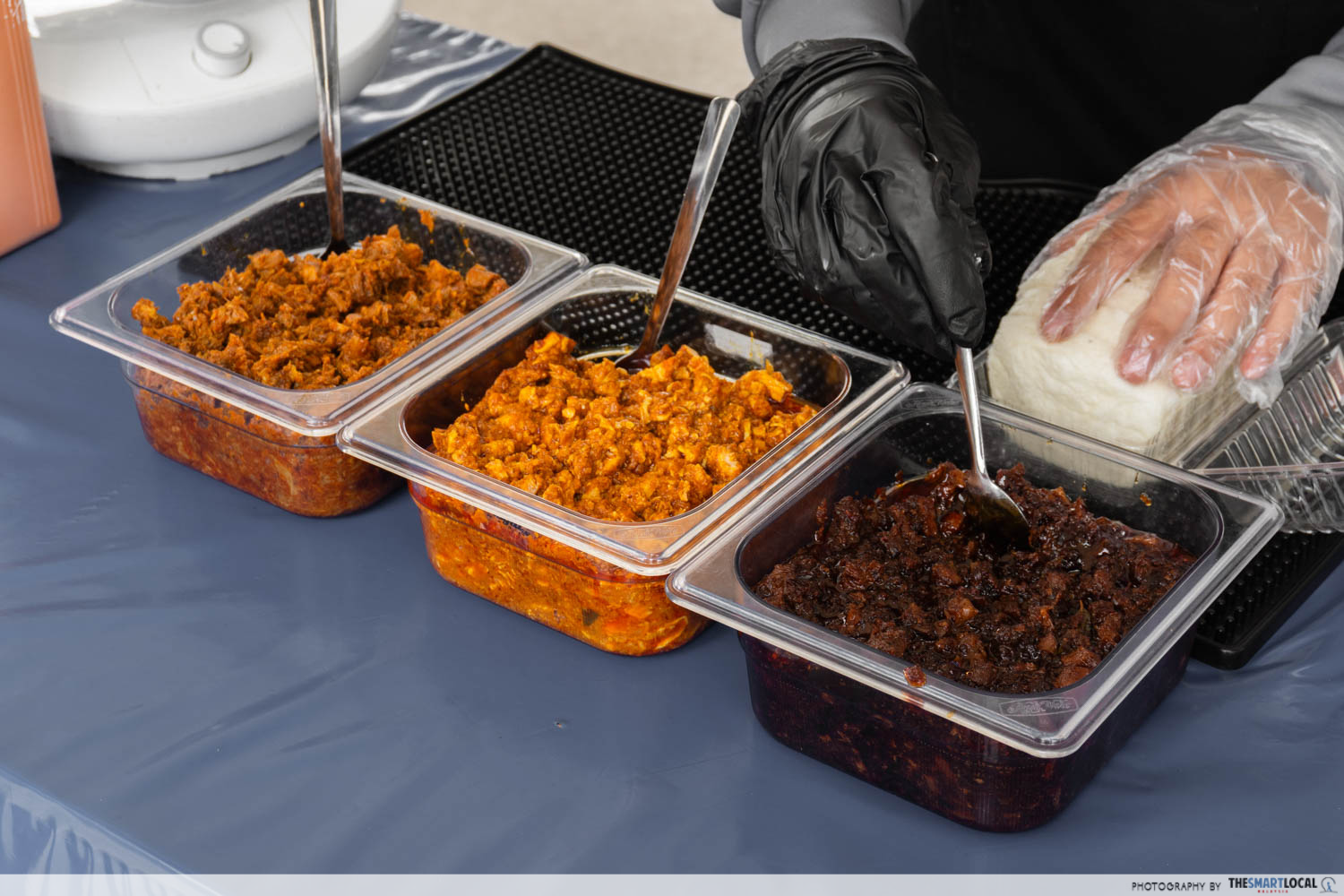 Meanwhile, the savoury options were an array of orange hues, looking super appetising. These beef and chicken meat sauces are all freshly prepared by the owners too.
---
Here's our verdict
---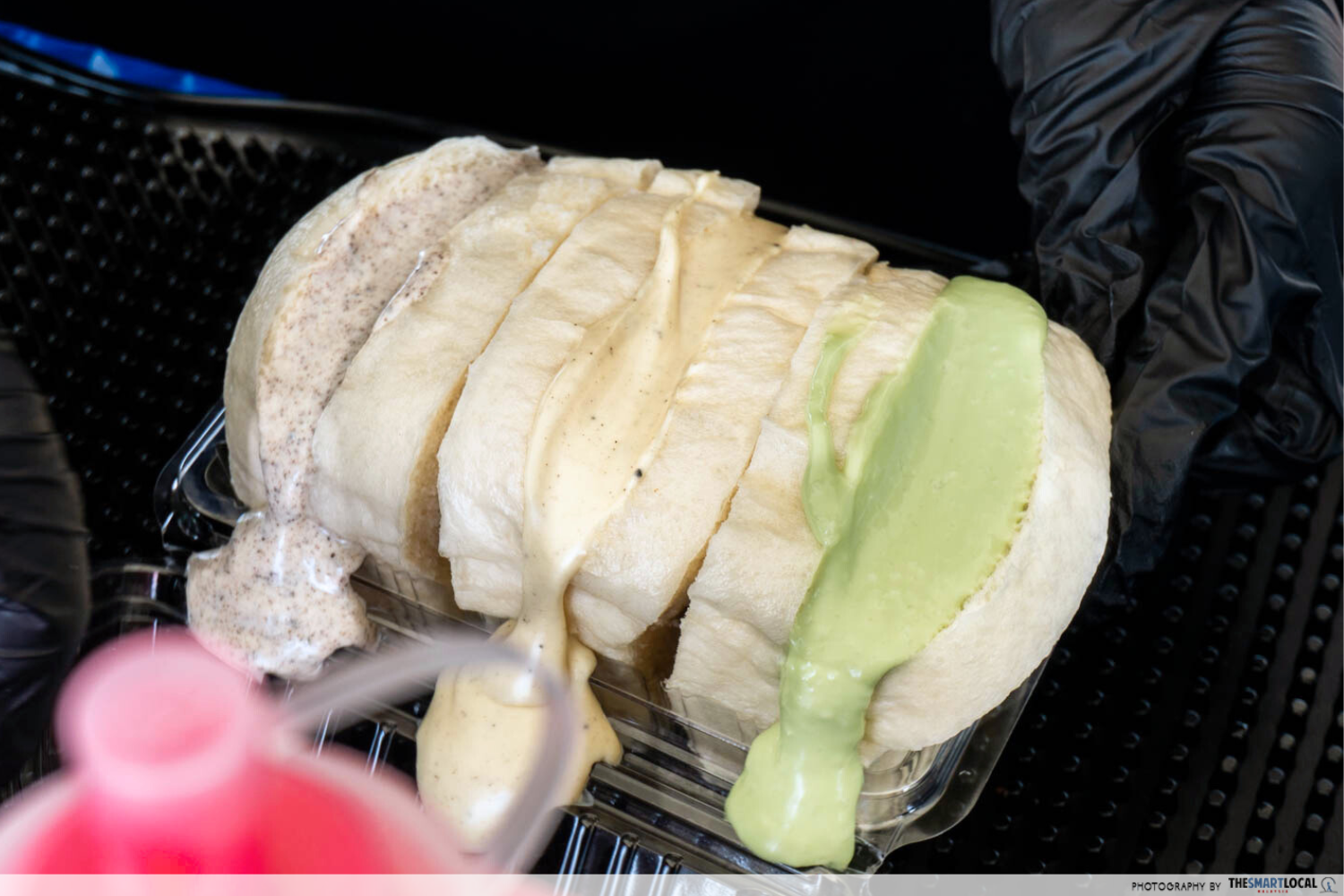 Without a moment's hesitation, we ordered a set of Inti Manisan (RM8). The colourful sauces were too enticing to resist. 
The set came with three pieces of roti kapas, each loaded with our selected fillings: Cookies & Cream, Dalgona Coffee, and Onde-onde.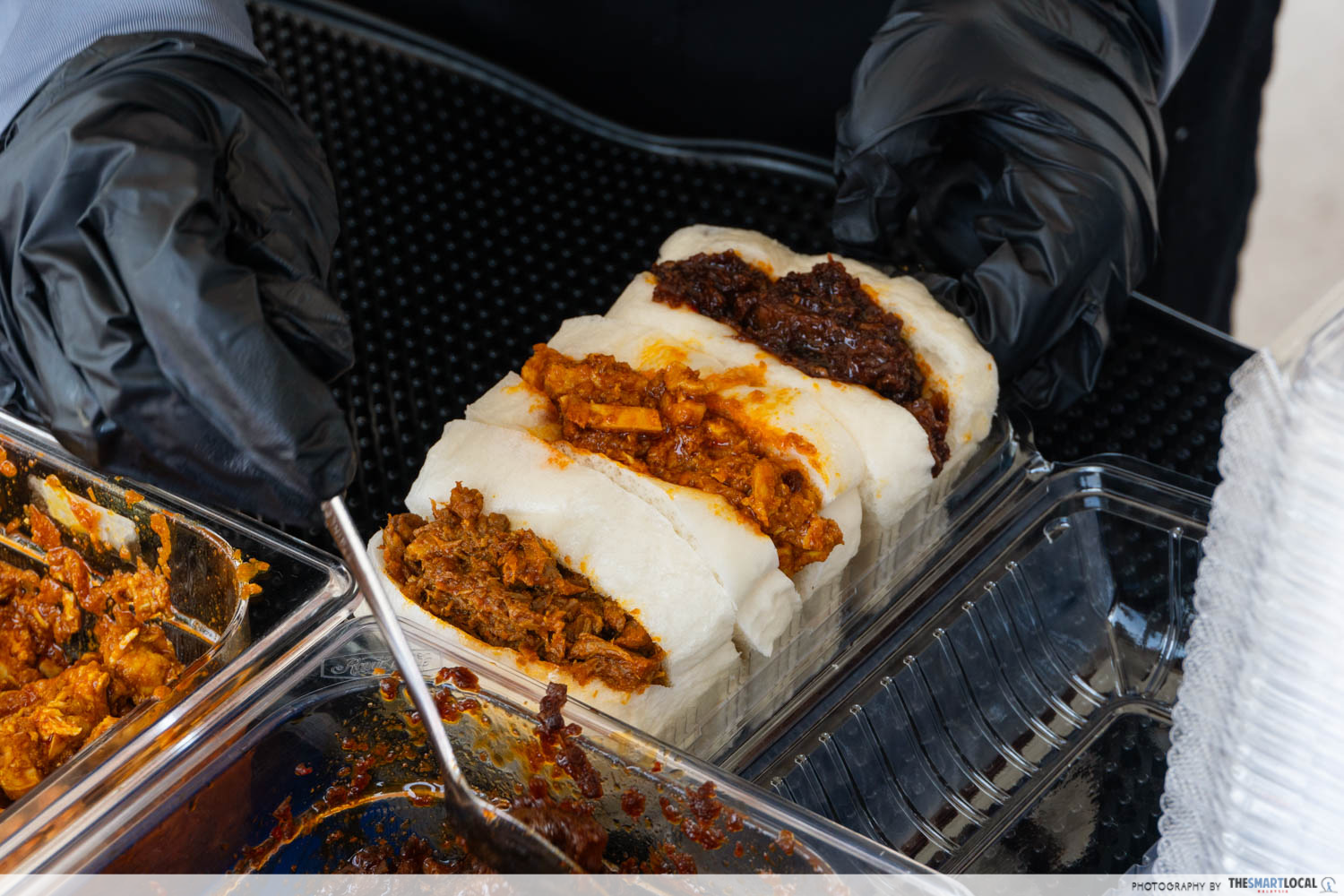 It was also a no-brainer for us to get a set of Inti Berlauk (RM11), which also featured three pieces of bread but stuffed with Chicken Rempah, Daging Rempah, and Daging Hitam.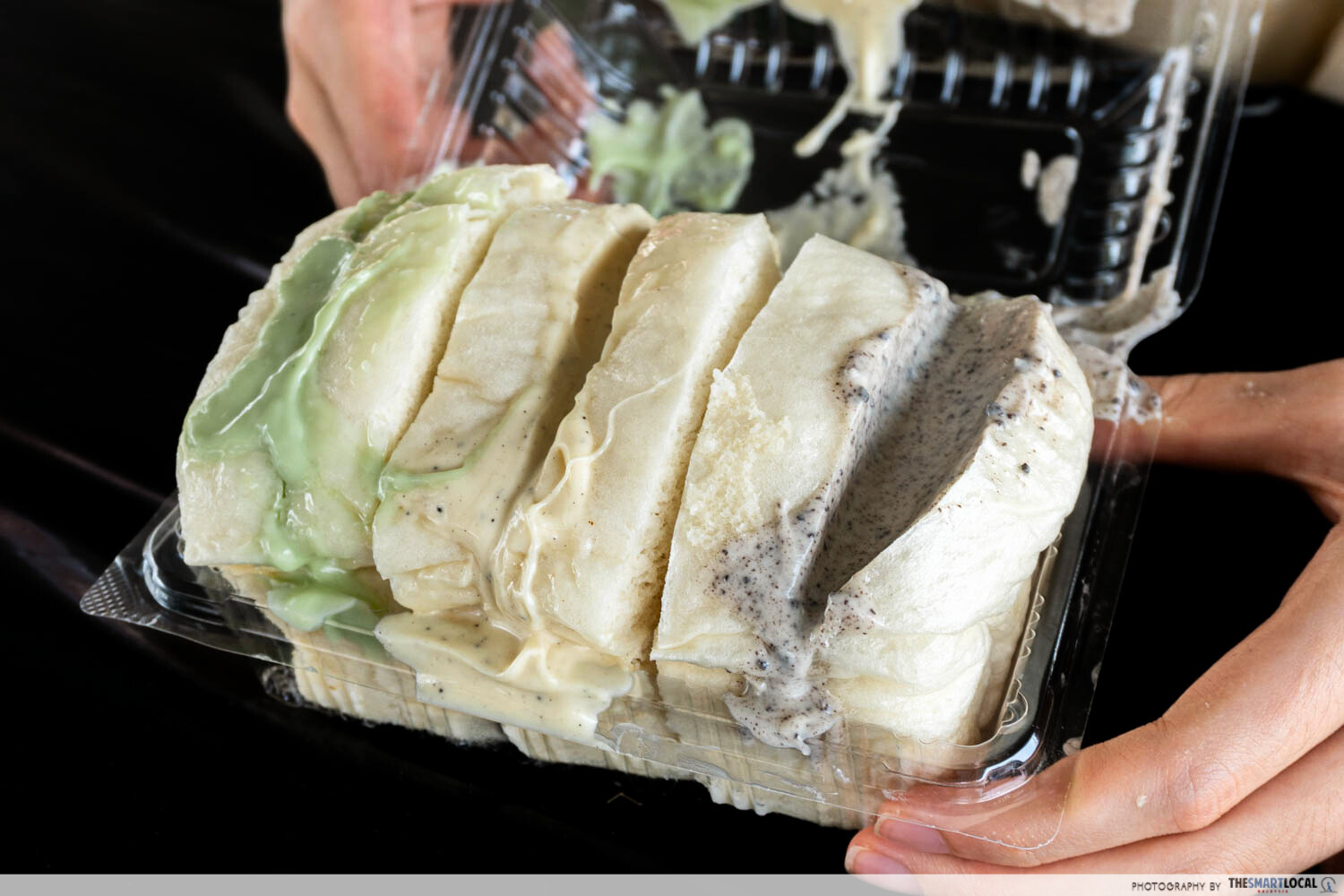 Savouring the Cookies & Cream roti felt like eating a piece of Oreo topped with a scoop of vanilla ice cream – it was creamy and chocolatey. The roti was so spongy and pillowy that it felt like we were biting into a cloud.
As for the Dalgona Coffee, it tasted like a strong cup of coffee latte but much milkier and sweeter. Meanwhile, the Onde-onde flavour offered a lovely coconut taste with a subtle hint of pandan sweetness – truly aromatic like the actual onde-onde.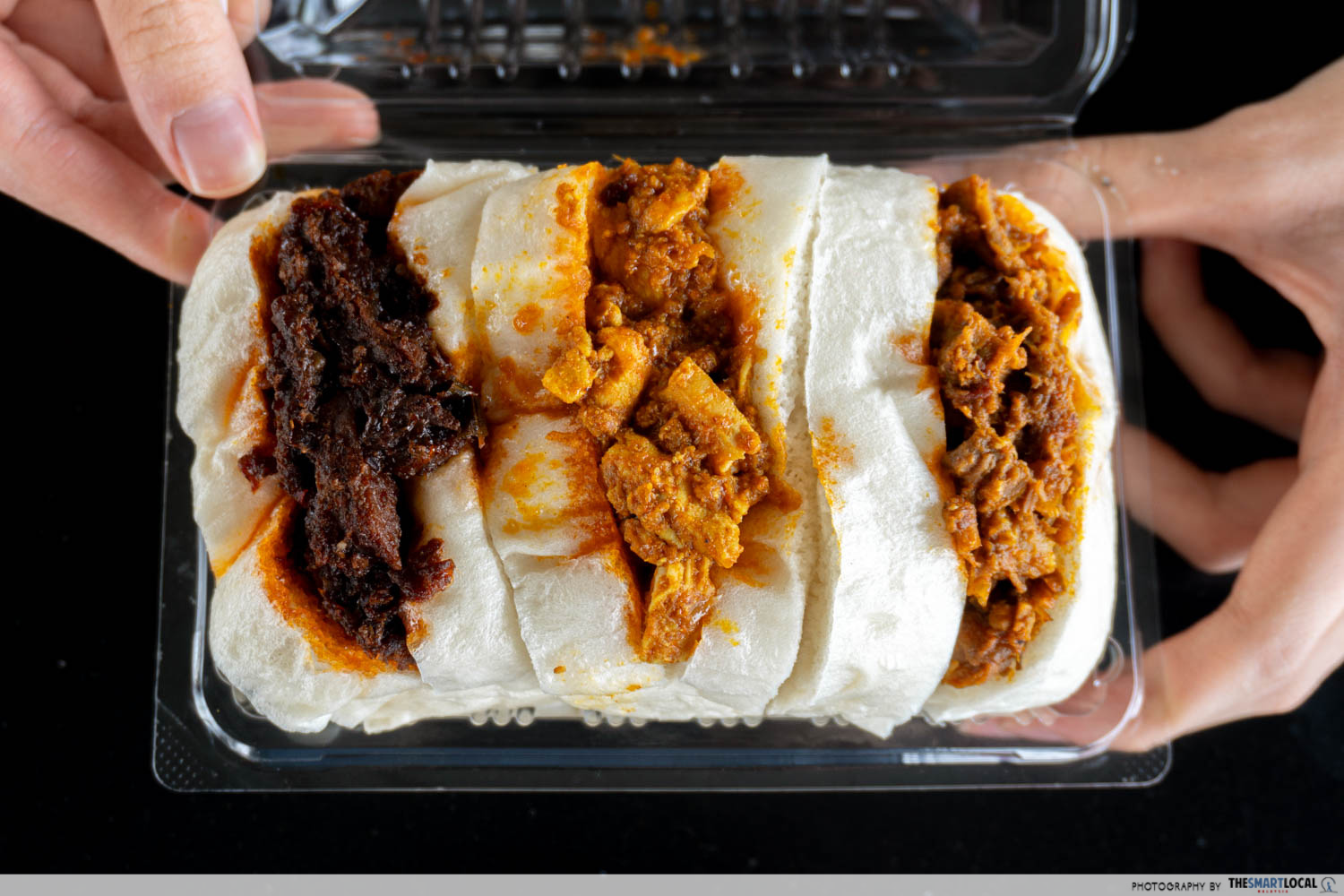 We then transitioned to the savoury roti kapas. We were not expecting to be blown away by the meat sauces, but words left our minds once we tucked in – it was just so good. In the end, all we could muster was a simple line of "This is really good", while shaking our heads in defeat.
The Daging and Ayam Rempah sauces boasted a generous amount of ground beef and chicken, resulting in a delightfully thick and chunky consistency. Their flavours resembled something between rendang and curry – mildly spicy but still a flavour bomb.
The Daging Hitam, on the other hand, boasted a sweet-umami flavour as it was soya sauce-based. The meaty taste of the beef came through even more in this one, offering a mouth-coating richness.
---
Indulge in stuffed steamed bread from Roti Kapas in Shah Alam
---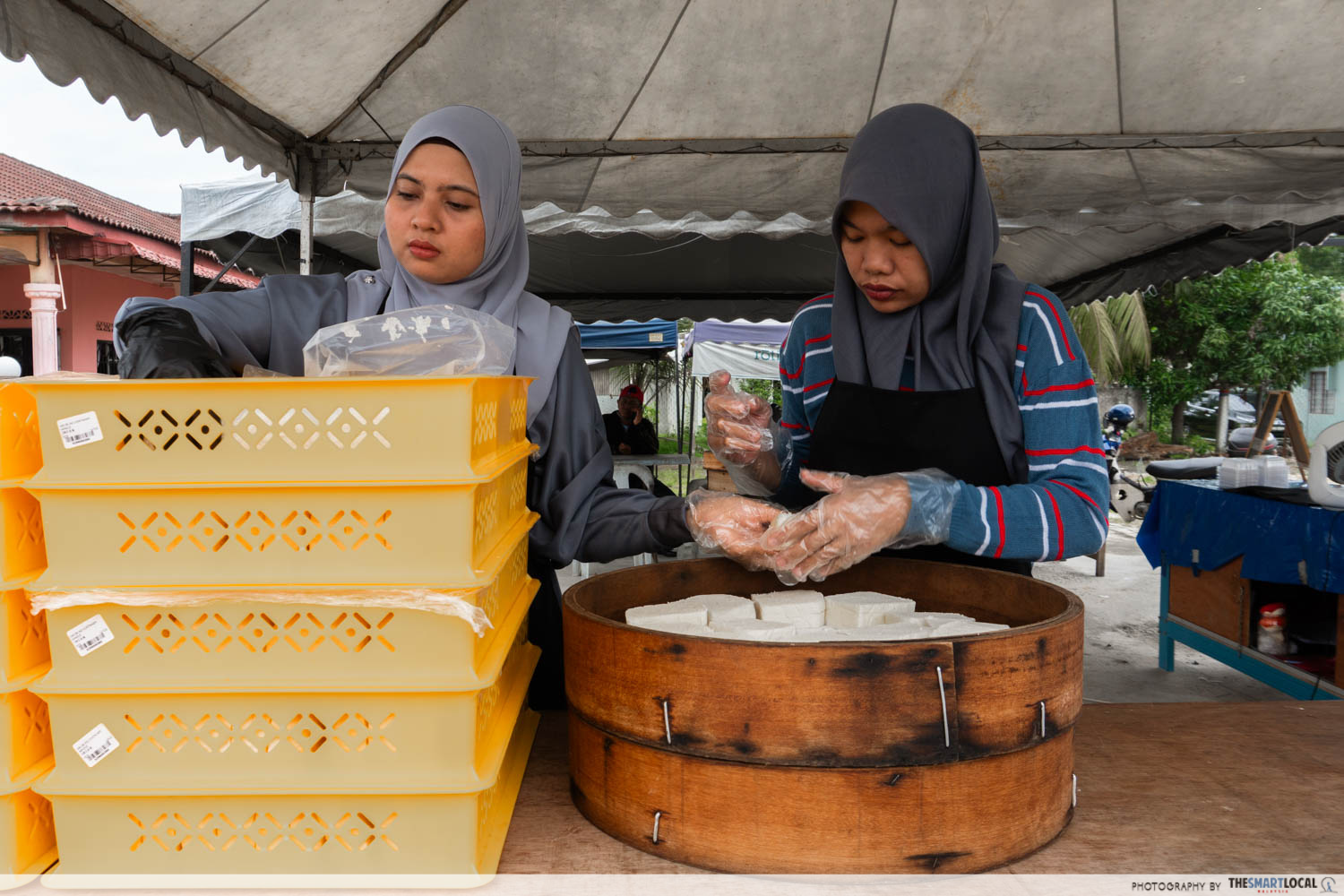 Despite having run the business for less than a year, Roti Kapas has earned stamps of approval from its loyal customers in that short space of time, including ours. During our visit, we saw people queueing up in front of the stall, even on a weekday, just to get their hands on a set of this piping-hot bread.
The stall opens daily except Mondays from 12.30pm until sold out, so do drop by when you are in Shah Alam as early as possible to try their roti kapas kukus.
Address: Kampung Padang Jawa, 41300 Shah Alam, Selangor
Opening hours: Tue-Sun 12.30pm (Closed on Mondays)
Contact: 013-777 7764
For more delicious munch to indulge in, check out Gordon Ramsay's new Street Pizza outlet in Sunway Pyramid or these 8 homegrown healthy snacks with delivery services.
---
Photography by xinyeegoh & Dennis Kong.
Cover image adapted from: The Smart Local Malaysia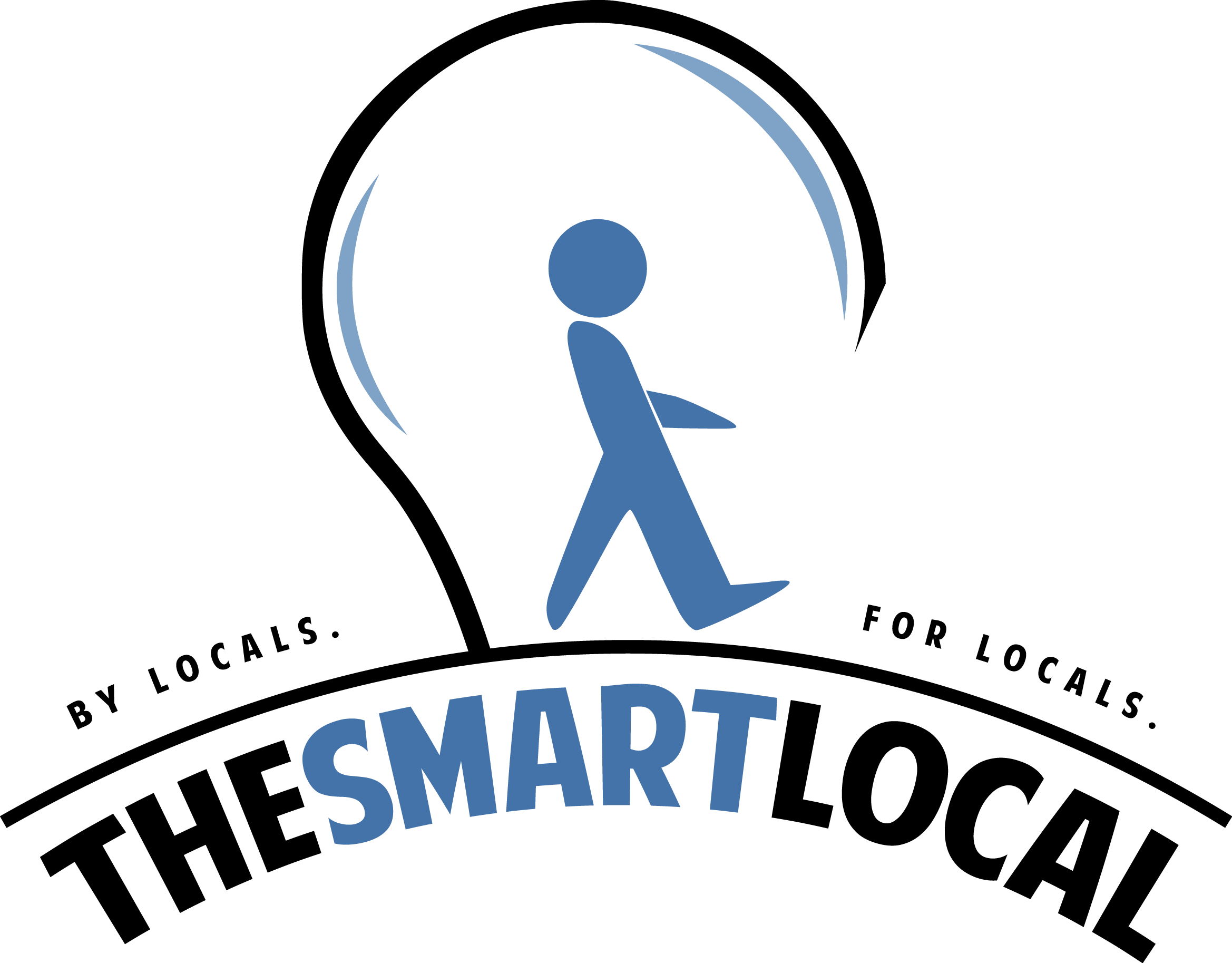 Drop us your email so you won't miss the latest news.