Best cafes for desserts in Petaling Jaya
---
As the saying goes, we all have a second stomach just for desserts. This couldn't be more true for those of us with a sweet tooth. No matter the time of the day, an irresistible slice of cake or fluffy waffles are enough to satisfy us before or after a hearty meal. From local kuih-muih to souffle pancakes and croffles, here are 8 cafes in the Petaling Jaya area to visit for desserts if you're craving something enticingly sweet.
---
1. Croffle Cafe – over 20 types of croffle toppings
---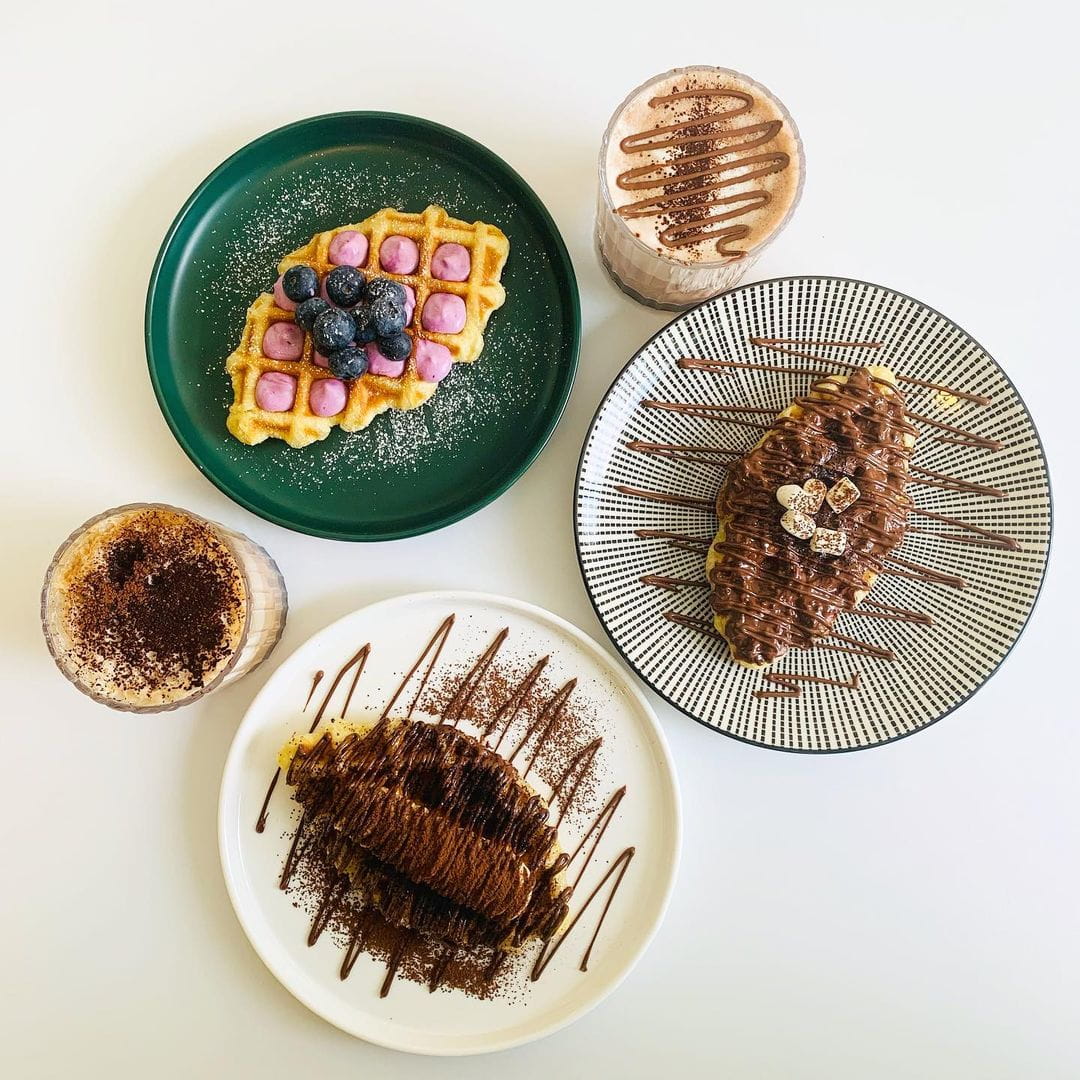 Image credit: @foodie_gerl
You've likely heard of croffles by now. This trendy croissant-and-waffle hybrid that's all the rage in South Korea has quickly become a popular grab-and-go dessert in Malaysia too. Over at Croffles Cafe, a quaint Korean-inspired cafe in SS2, they serve croffles with over 20 types of sweet and even savoury toppings.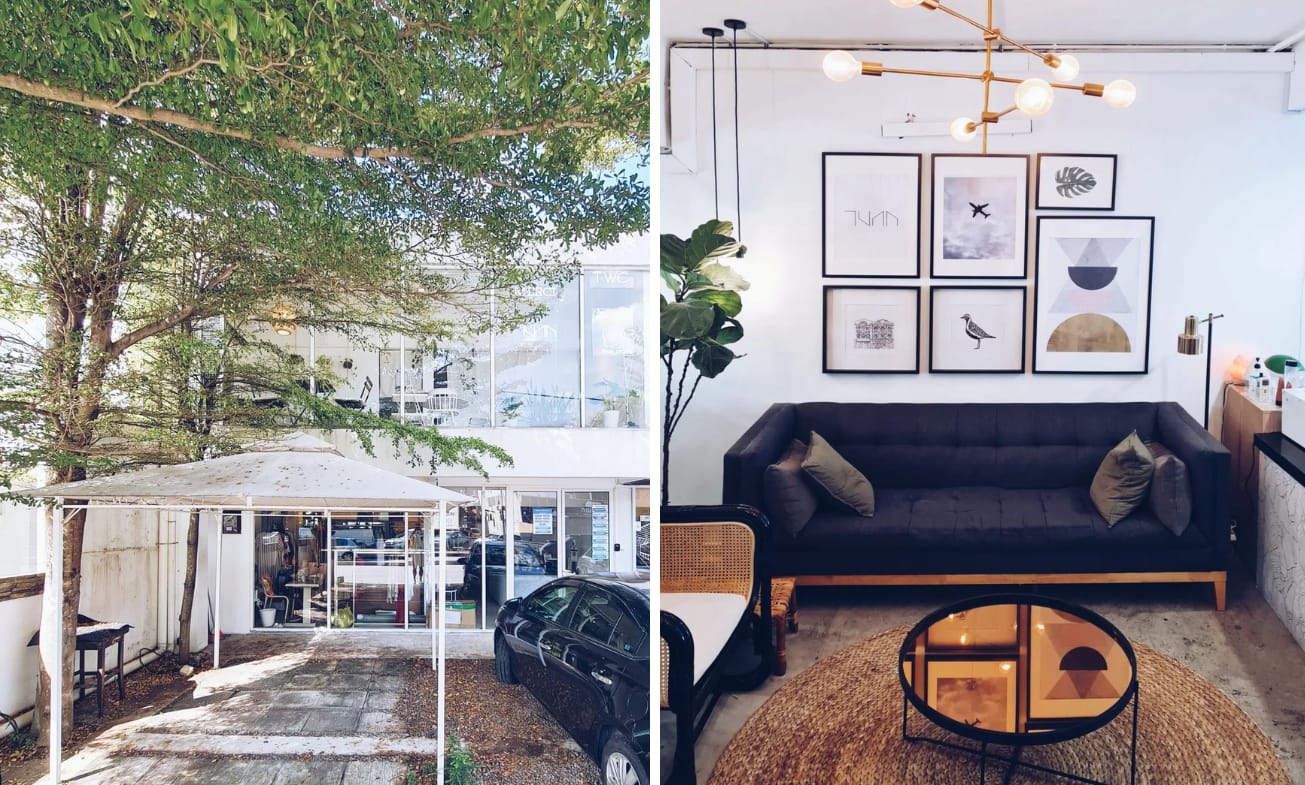 Image adapted from: @psylancer
There are popular sugary-sweet toppings, such as Lotus Biscoff (RM14) and Caramel Peanut Butter (RM13). Those who prefer fruity flavours can go for the fruit-and-cream combos – Grape Cream Cheese and Mango Cream Cheese, priced RM15 each.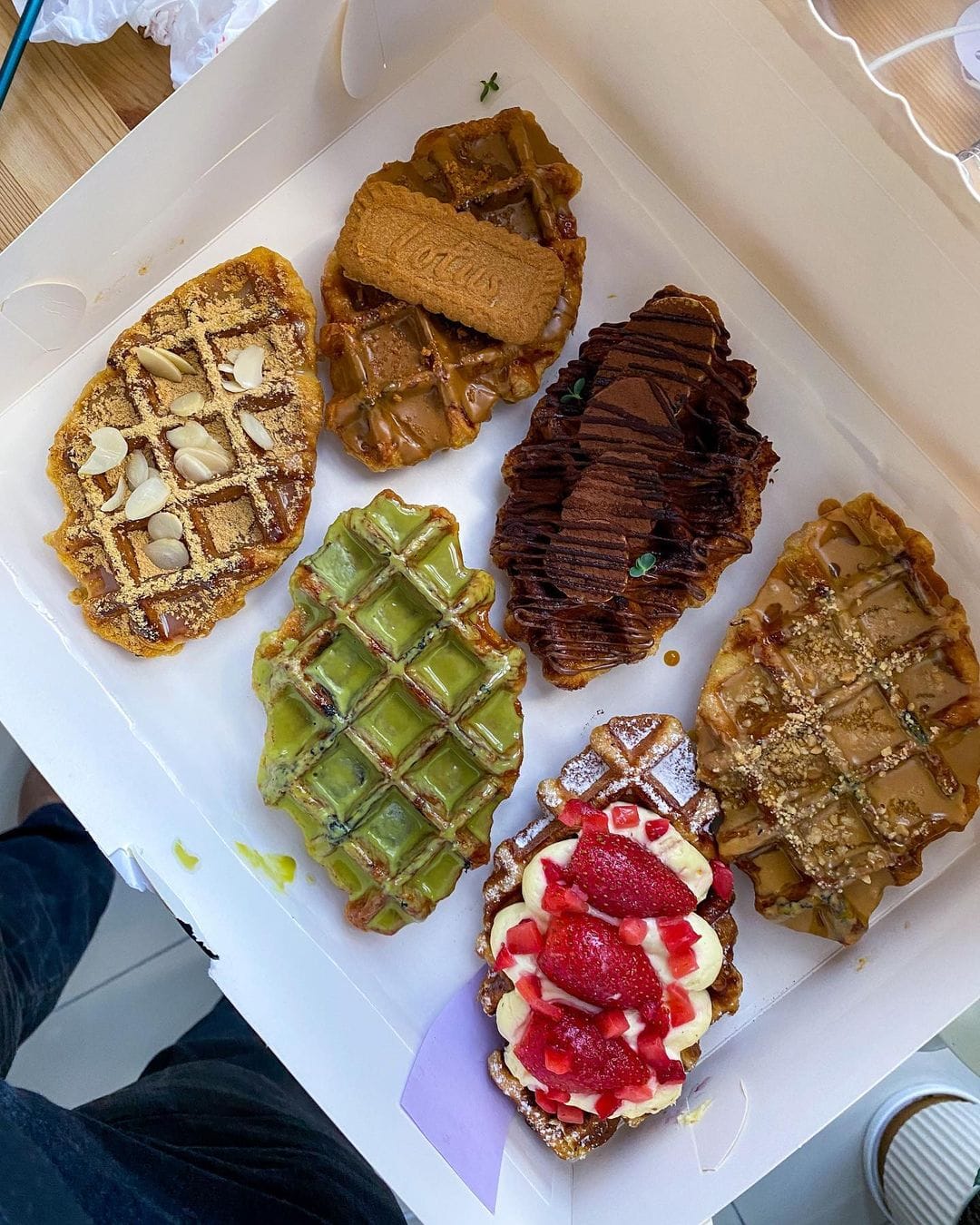 Image credit: @jasonatethis
Other croffles worth a mention are Apple Cinnamon (RM14) and Red Bean Matcha (RM13), as well as Injeolmi Croffle (RM12) which is sprinkled with a Korean favourite, Injeolmi powder.

Image credit: @psylancer
You'll get to enjoy the range of croffles at Croffle Cafe's cosy dining area, which has sleek dining tables and a touch of green from live plants. 
Address: No 6, Jalan ss2/55, SS 2, 47300 Petaling Jaya, Selangor
Opening hours: Tue-Sun 10:30am-5:00pm (Closed on Mondays)
Contact: 011-6937 0795 | Croffle Cafe Instagram
---
2. Slow Coffee Cafe – souffle pancakes & watermelon cake
---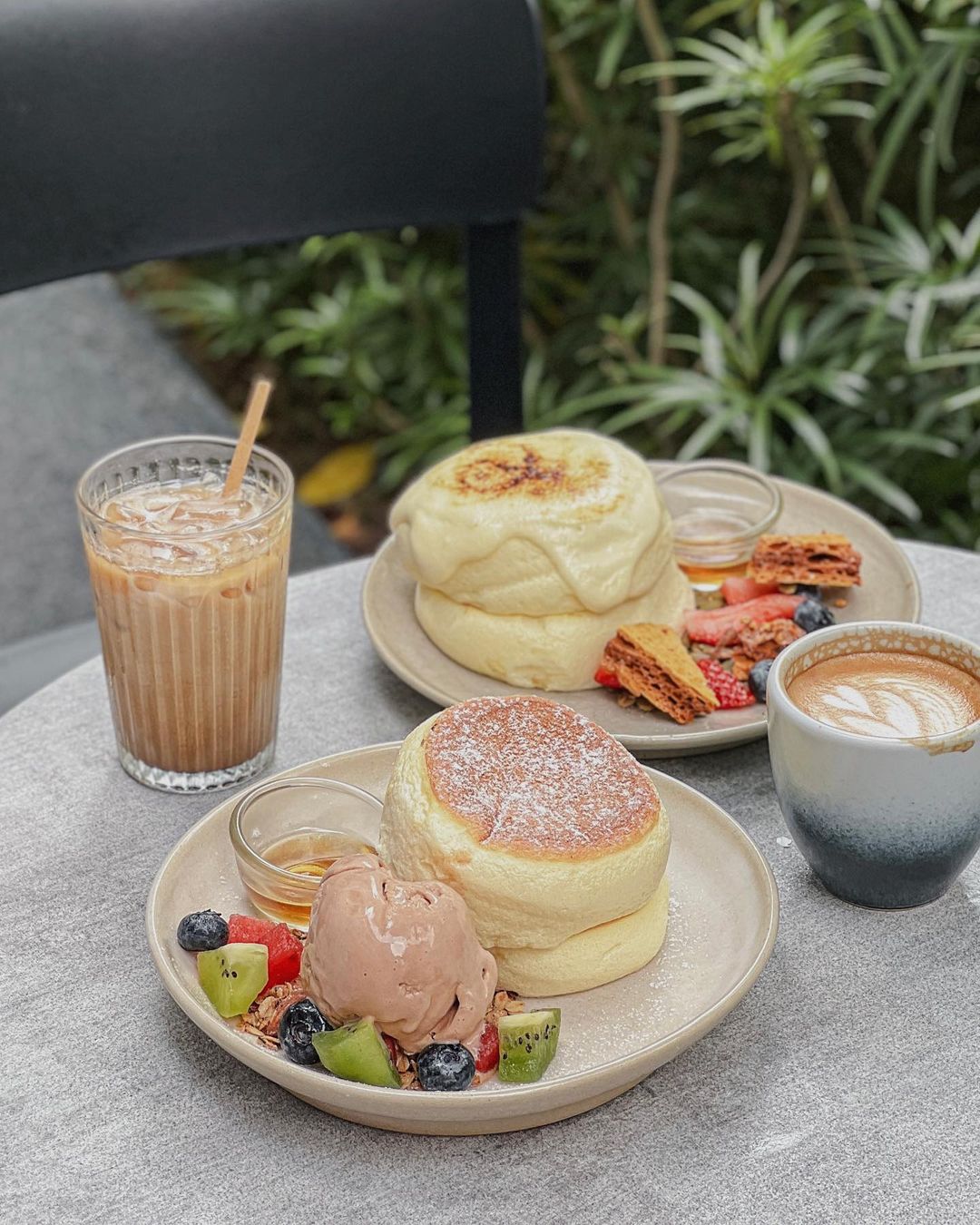 Image credit: @jowiepeace
It's safe to say that we all enjoy fluffy pancakes. But a cottony-cloud souffle pancake takes this already must-loved breakfast dish to the next level. At The Hub in SS2, Slow Coffee Cafe serves a signature Vanilla Souffle Pancake (RM24) that pairs jiggly pancakes with chrysanthemum syrup, caramelised bananas, and vanilla bean cream.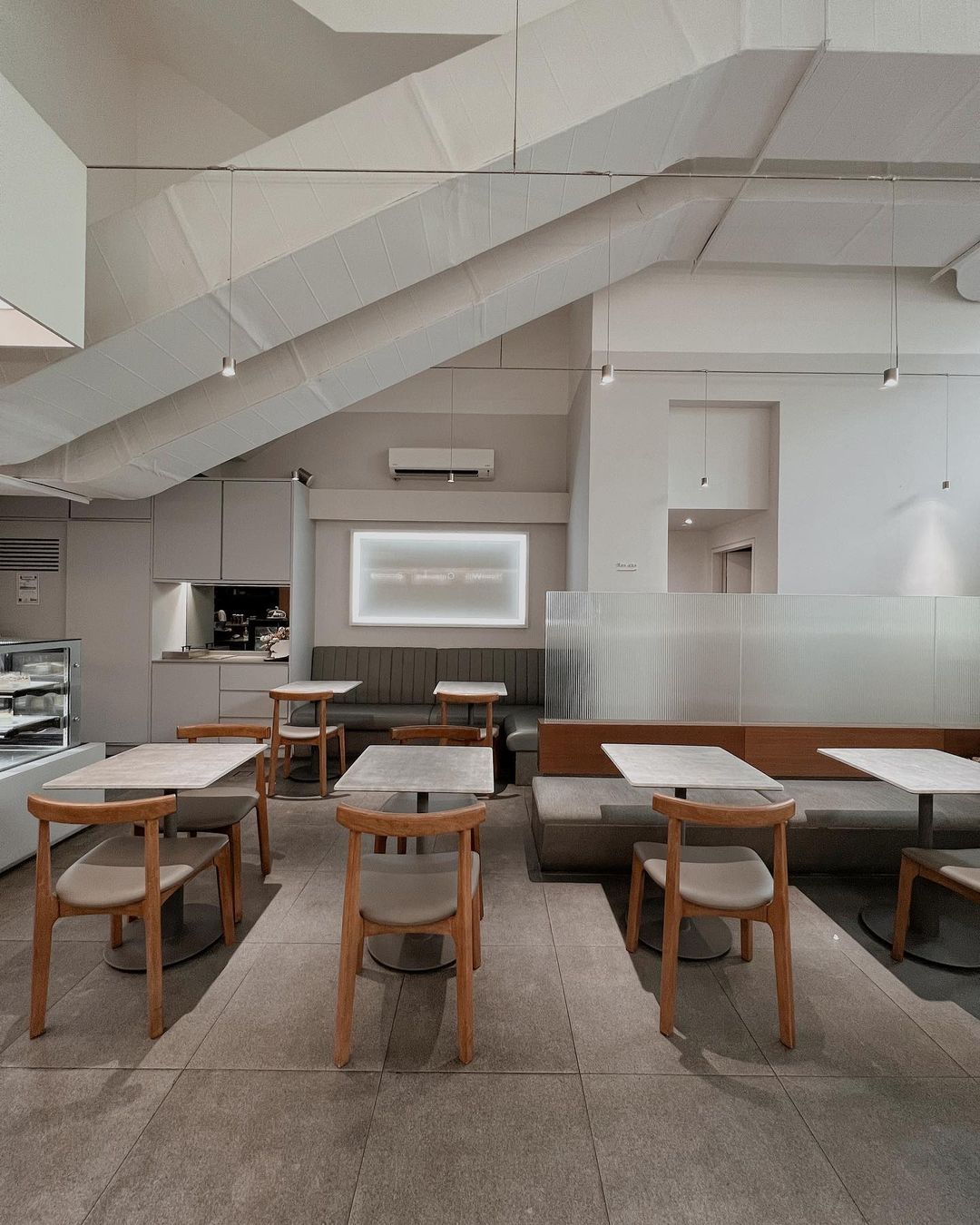 Image credit: @cha.wabi
Enjoy the signature dish in the cafe's minimalist dining area, where pops of brown from the wood furniture nicely complement the overall white-and-grey colour scheme of the space. Else, you can opt for gelato that the cafe is also known for. There are flavours such as juicy Strawberry Chocolate Gelato and Pu-erh Gelato, priced RM13 each, both of which have a velvety smooth textures and delicate flavours.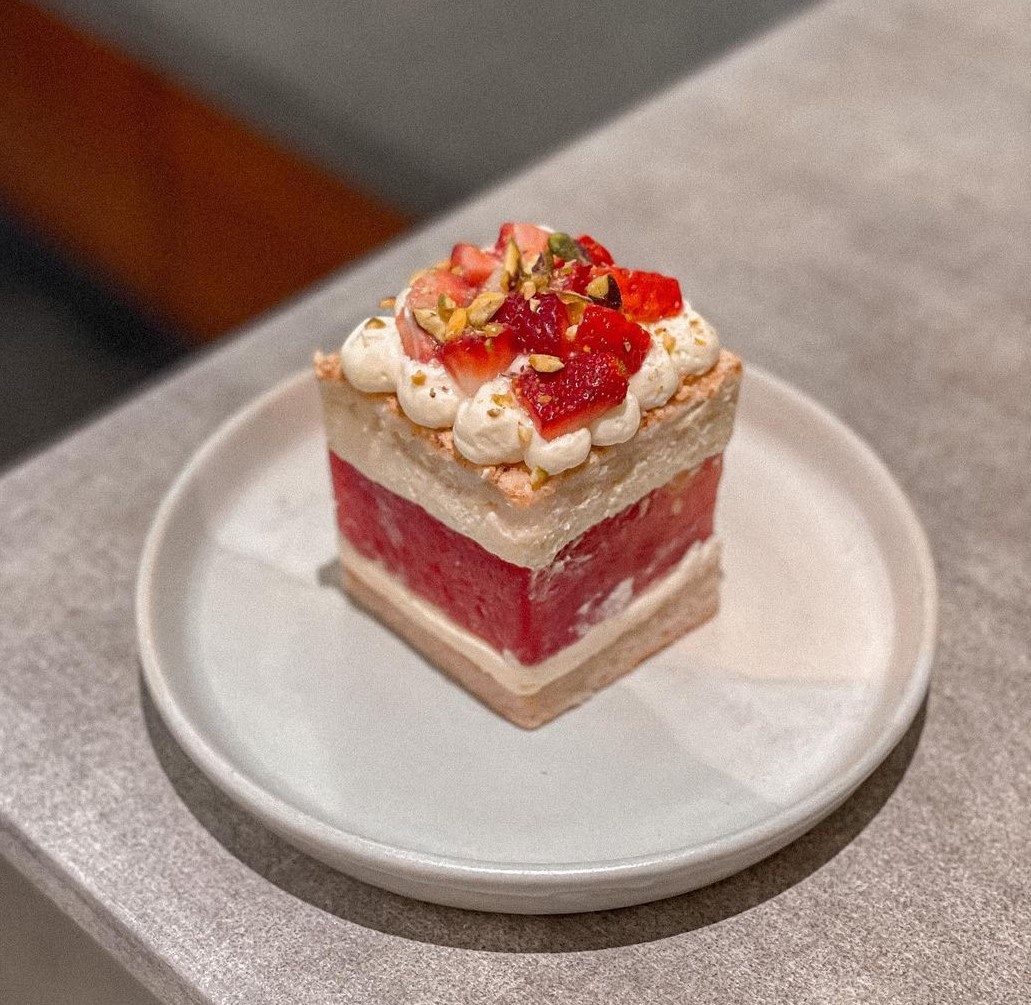 Image credit: @ashpresso
Watermelon cakes are hard to come by at cafes, but you can order yourself a slice of Watermelon Cake (RM18.50) at Slow Coffee Cafe. This irresistible cake sandwiches sweet, juicy watermelon chunks between smooth layers of cream.
Address:  B-G-03, The Hub SS2 19 Sentral, Jalan Harapan, Seksyen 19, 46300 Petaling Jaya, Selangor
Opening hours: 9:30am-6pm, Daily
Contact: 012-225 0307 | Slow Coffee Cafe Instagram
---
3. Dreamz Bakery – strawberry shortcake & checkerboard cakes
---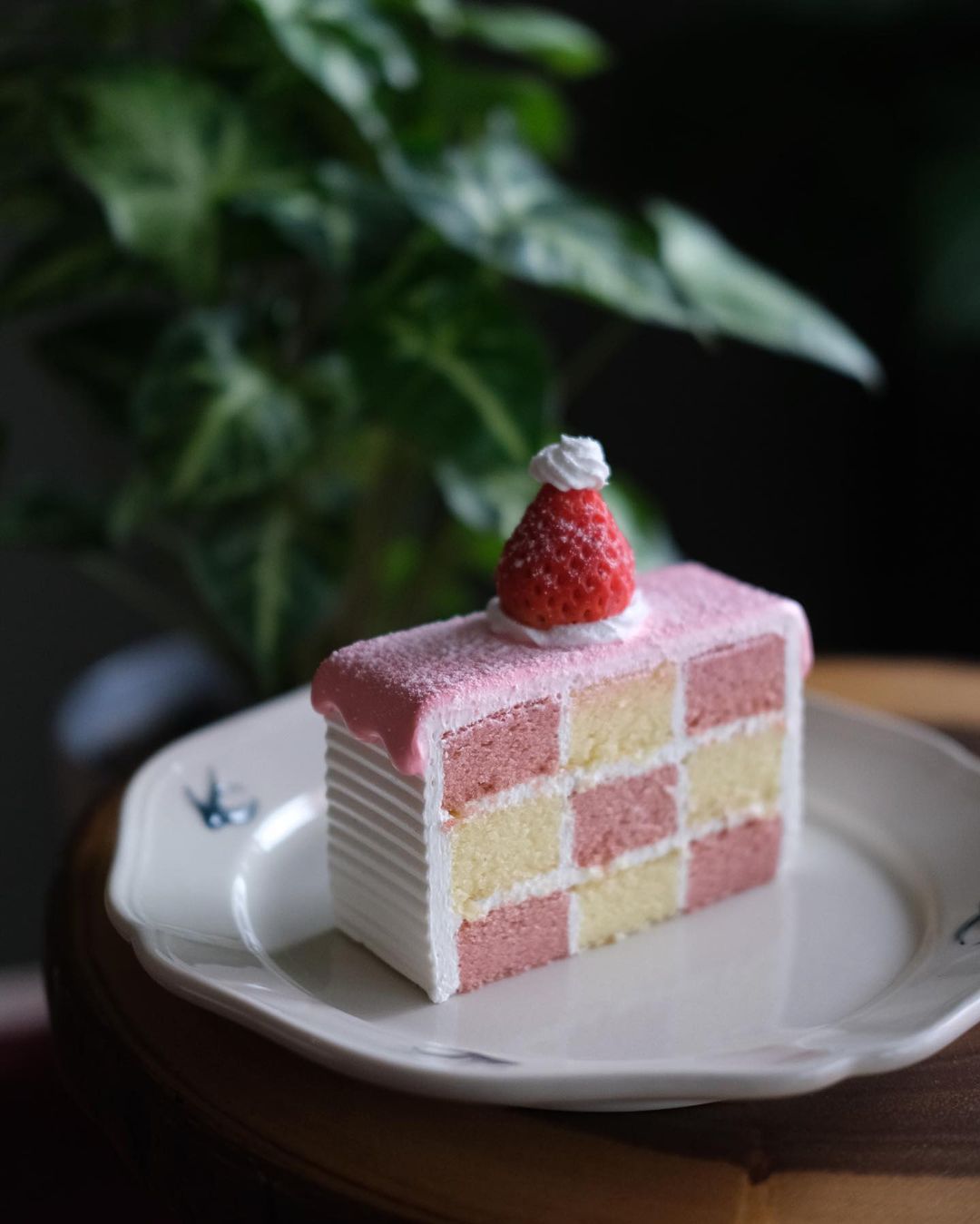 Image credit: @dreamzbakery
Dreamz Bakery has been whipping up eye-catching cakes that taste as good as they look since 2010. Hiding out at Kota Damansara in a shoplot across The Strand, this bakery cafe has a loyal following for their variety of cakes. This includes the Strawberry Shortcake (RM22/slice) that layers strawberries and cream between moist cake, as well as their mouthwatering Strawberry Vanilla Checkerboard Cake that's a feast for the eyes and tummy.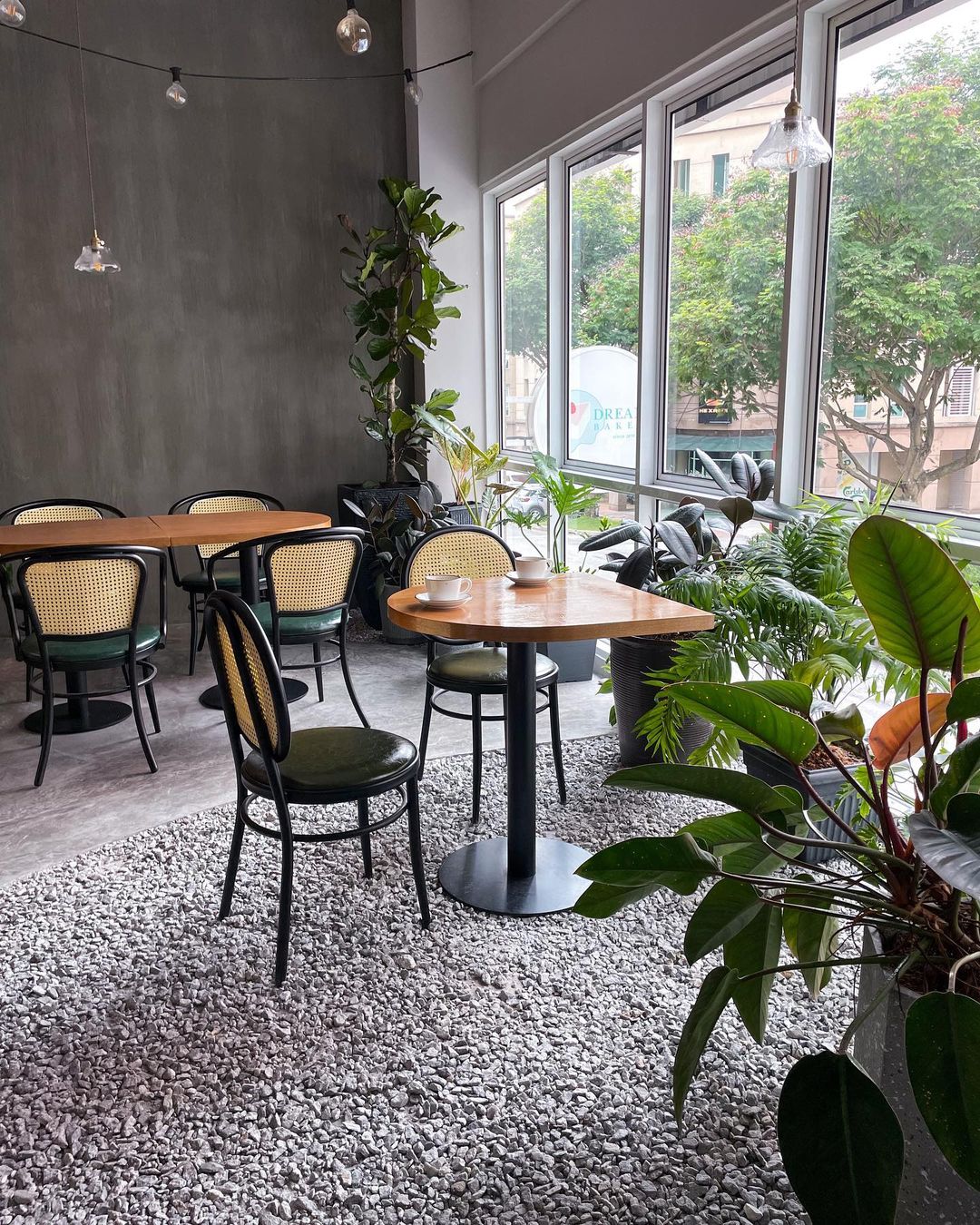 Image credit: @hwiyee_dreamz
Cakes at Dreamz Bakery are switched out regularly, which means you'll have different flavours to try every time you visit. But you can expect to dig into other just as delicious options such as Cempedak Pandan and Durian Pandan that are priced RM18.50 a slice. For some chocolate-y decadence, look out for the Jasmine Black Forest (RM17/slice) with cream, blueberries, shredded chocolate and a hint of aromatic Jasmine.

Image credit: @alisonsiufang
Address: No 32-1, The Strand, Jalan PJU 5/20d Pusat Perdagangan, Kota Damansara, 47810 Petaling Jaya, Selangor
Opening hours: Wed-Mon 12pm-7pm (Closed on Tuesdays)
Contact: 012-200 3441 | Dreamz Bakery Instagram
---
4. Fluffed Cafe & Dessert Bar – over 10 types of waffles
---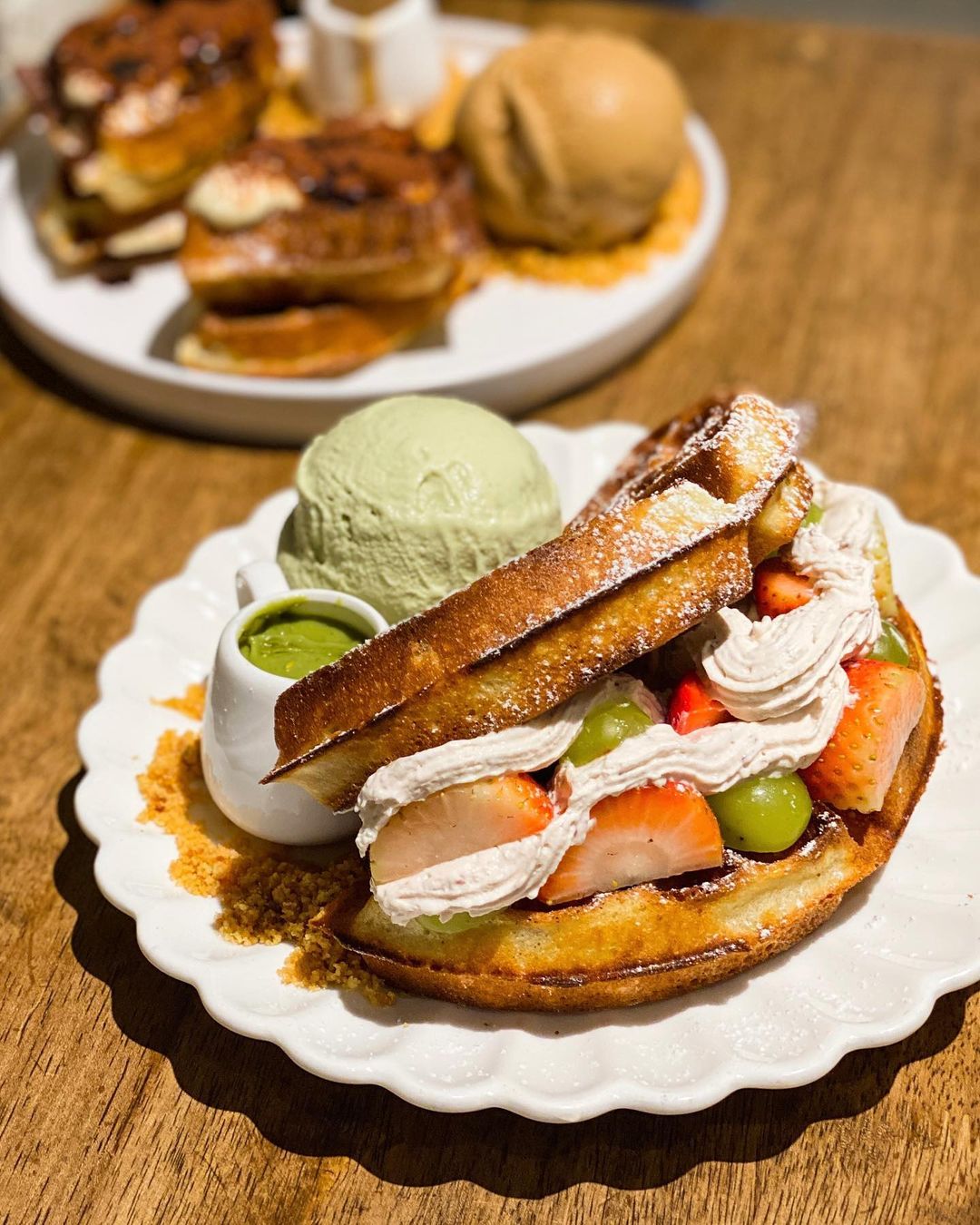 Image credit: @crazecraves

When it comes to waffles with decadent toppings in Petaling Jaya, Fluffed Cafe & Dessert Bar doesn't disappoint. This popular dessert bar in Taman Paramount has over 10 signature waffles that are crispy, fluffy, and topped with interesting ice cream flavours.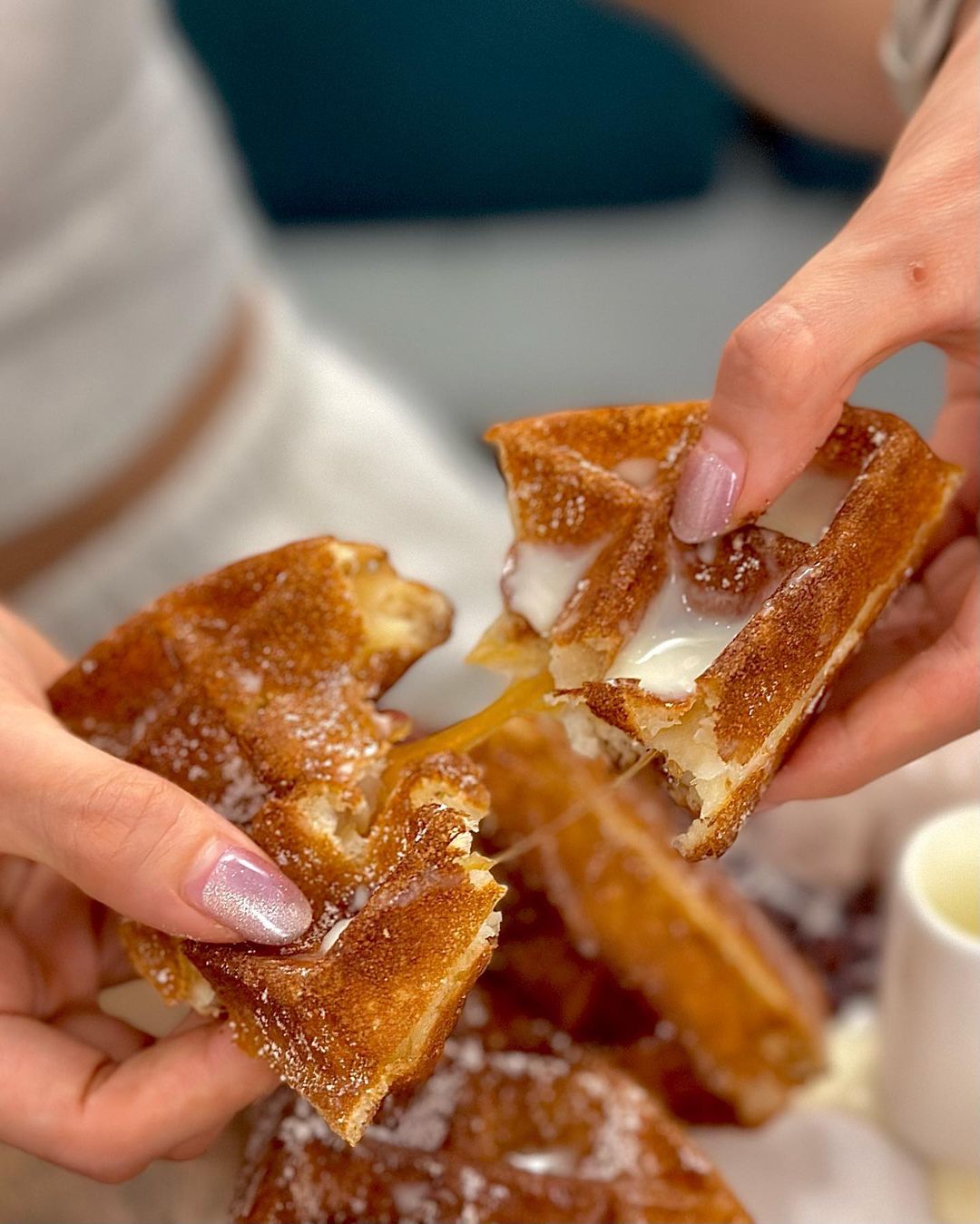 Image credit: @eatwkarmen
A crowd favourite here is Pooh Bear's Favourite (RM20), which comes with Hokey Pokey ice cream, crushed honeycomb, salted caramel, as well as fresh blueberries, strawberries, and bananas. Another popular order is the cocoa-flavoured waffle Chip 'n' Dale (RM23), and Peter Pan (RM20) – a local-inspired pandan-flavoured waffle topped with coconut ice cream, pandan kaya, butter crumble, and coconut flakes.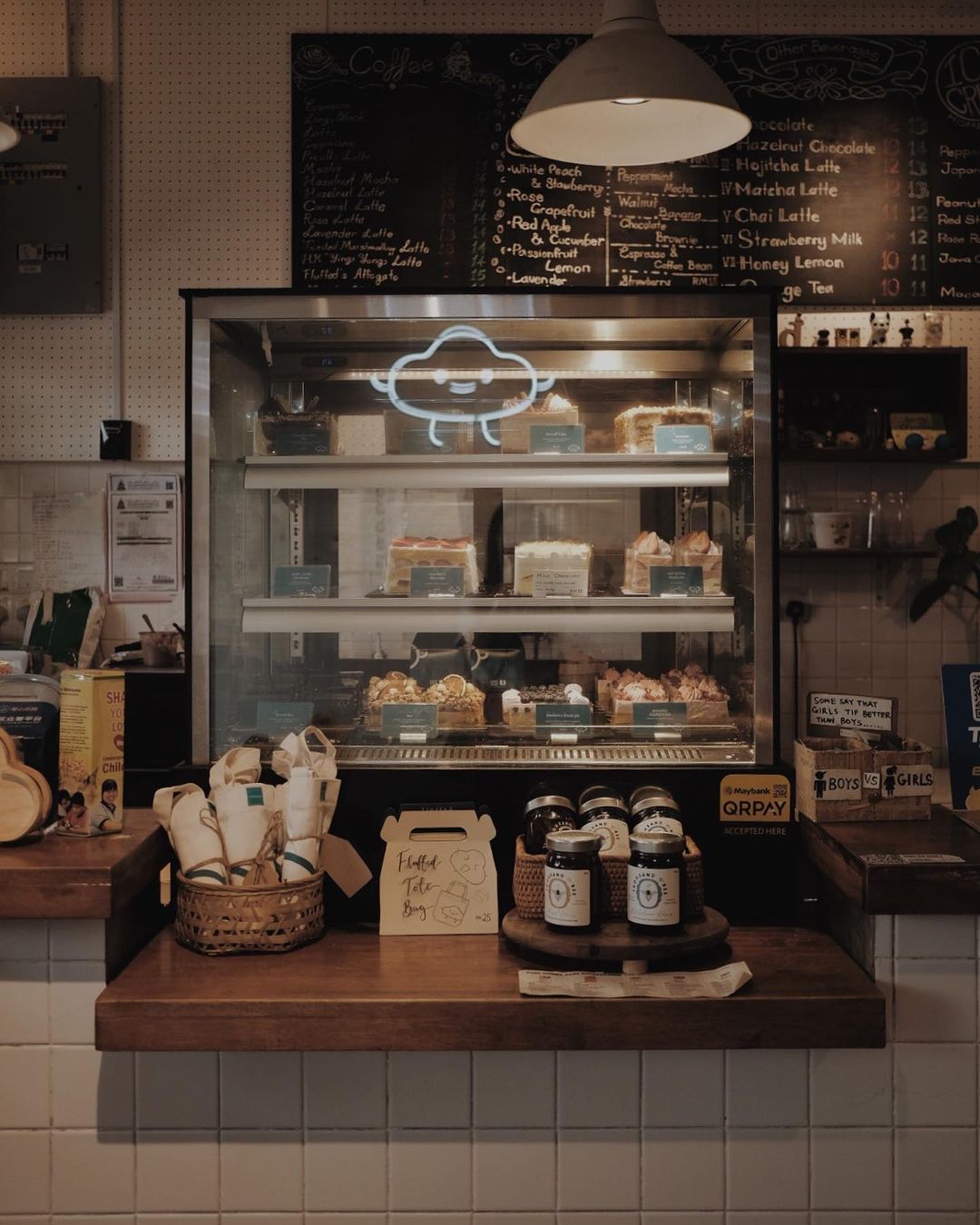 Image credit: @kane.cy

Besides waffles, Fluffed Cafe & Dessert Bar also serves delicious creamy ice cream in flavours such as Lavender Blueberry (RM8/scoop), Peanut Butter (RM9/scoop), and Java Chip Roasted Almond (RM10/scoop).
Address: 55, Jalan 20/7, Taman Paramount, 46300 Petaling Jaya, Selangor
Opening hours: Tue-Sun 12.30pm-10.30pm (Closed on Mondays)
Contact: 012-730 1310 | Fluffed Cafe & Dessert Bar Instagram
---
5. The Lemon Tree – lemon-infused pastries & desserts
---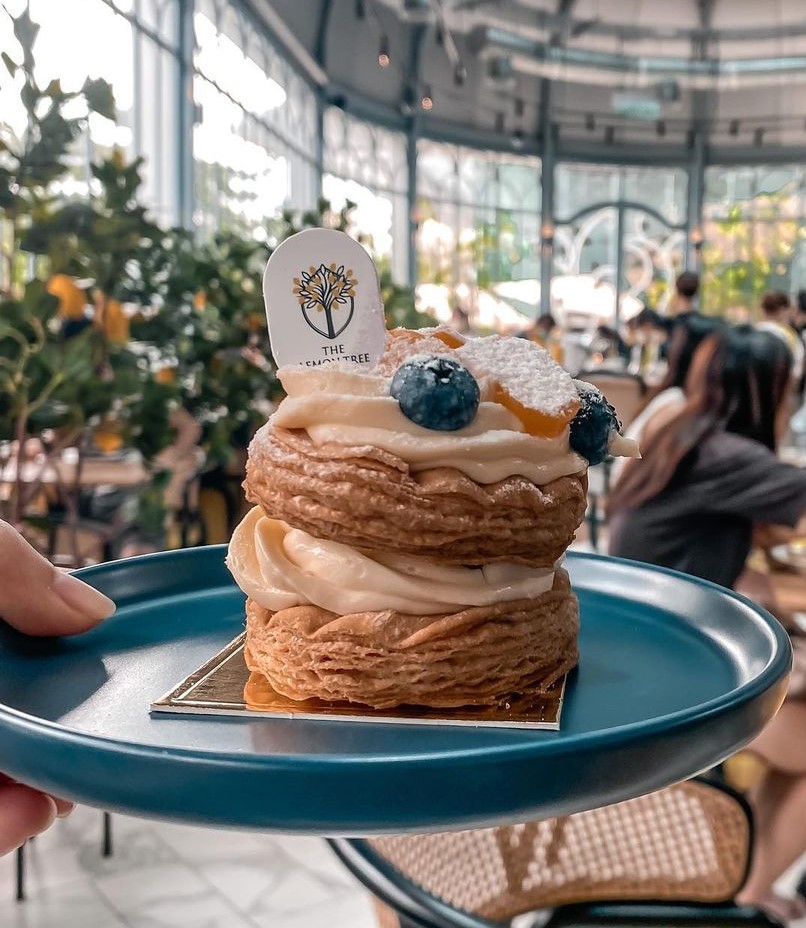 Image adapted from: @amy.cool_08
The Lemon Tree is a newly opened cafe in PJ that has been turning heads online. This is thanks to their vibrant cafe space, accentuated by a giant lemon tree as a centrepiece decor piece and the abundance of natural light that floods the space. Located in Menara Lien Ho, this cafe also has an impressive selection of delicious pastries, including lemon-infused ones.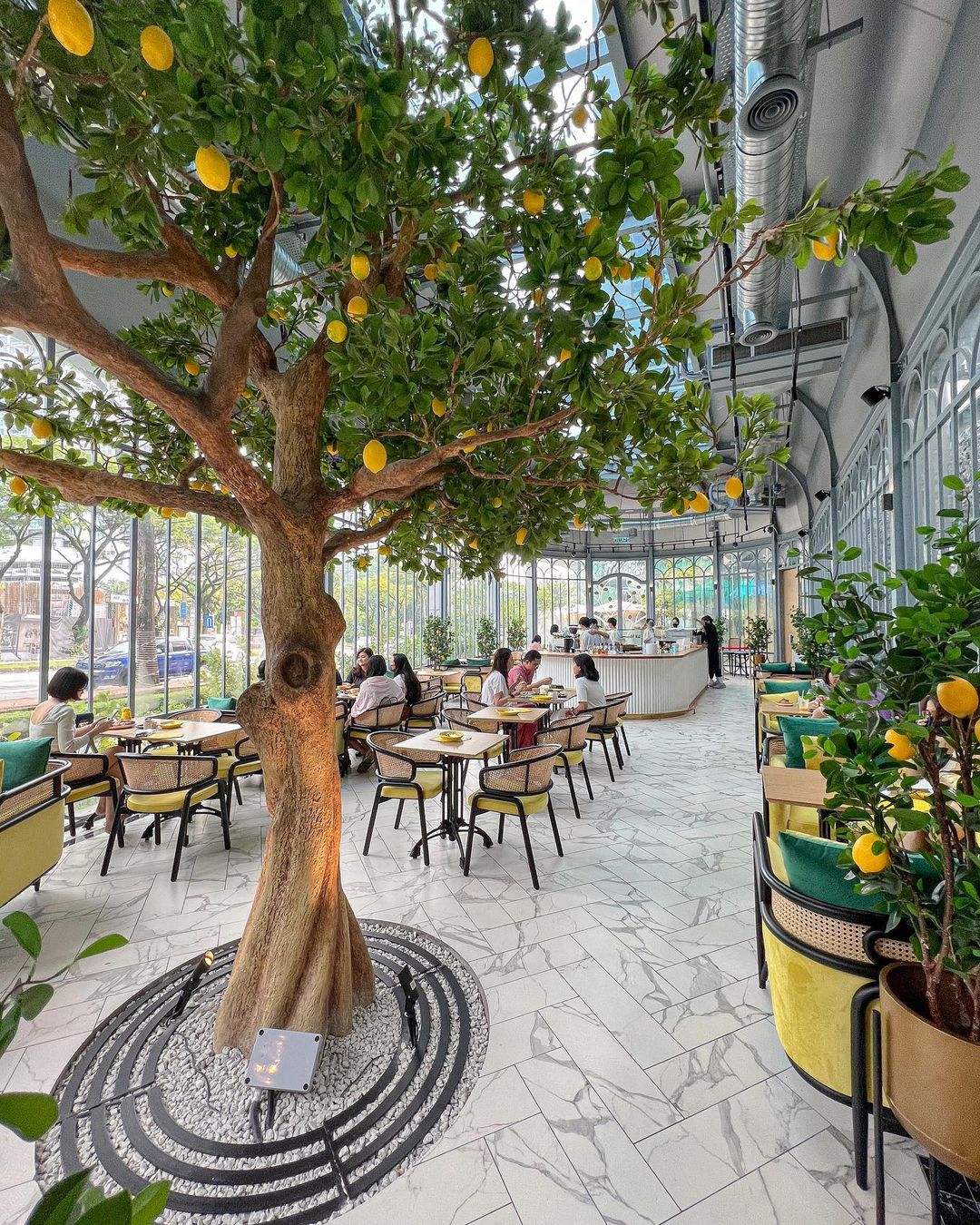 Image credit: @tiing.cafehop
For starters, there's the Lemon Napoleon (RM13), with lemon mousse sandwiched between layers of flaky puff pastry. Other tart desserts worth trying are Lemon Mousse Cake (RM13), a savoury and light confection with lemon cream filling, and Tarte de Fraise (RM10), a warm and soft tart topped with glazed strawberries that won't make you feel jelak.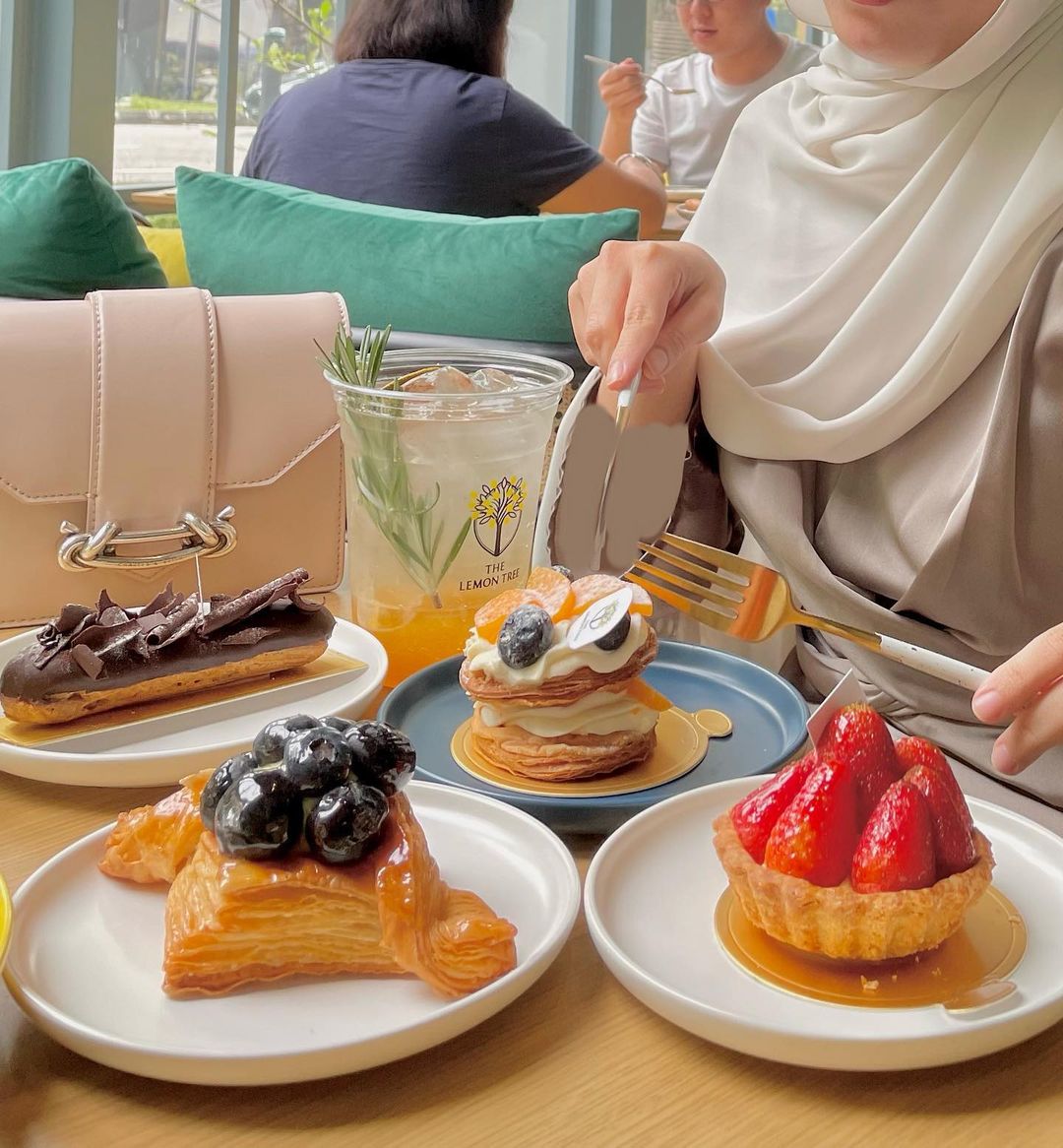 Image credit: @sweetwnderlust
For some chocolatey goodness, dig into the Chocolate Almond Cake (RM15). The light and drool-worthy Peach Mille-feuille (RM18), layered with cream and peach slices, is also a good one to go with if you prefer to have refreshing fruits in your desserts.
Pair the cafe's sweet treats with their unique beverages, such as the Lychee en Rose (RM13) or the Tangy Pear Honey-nade (RM13).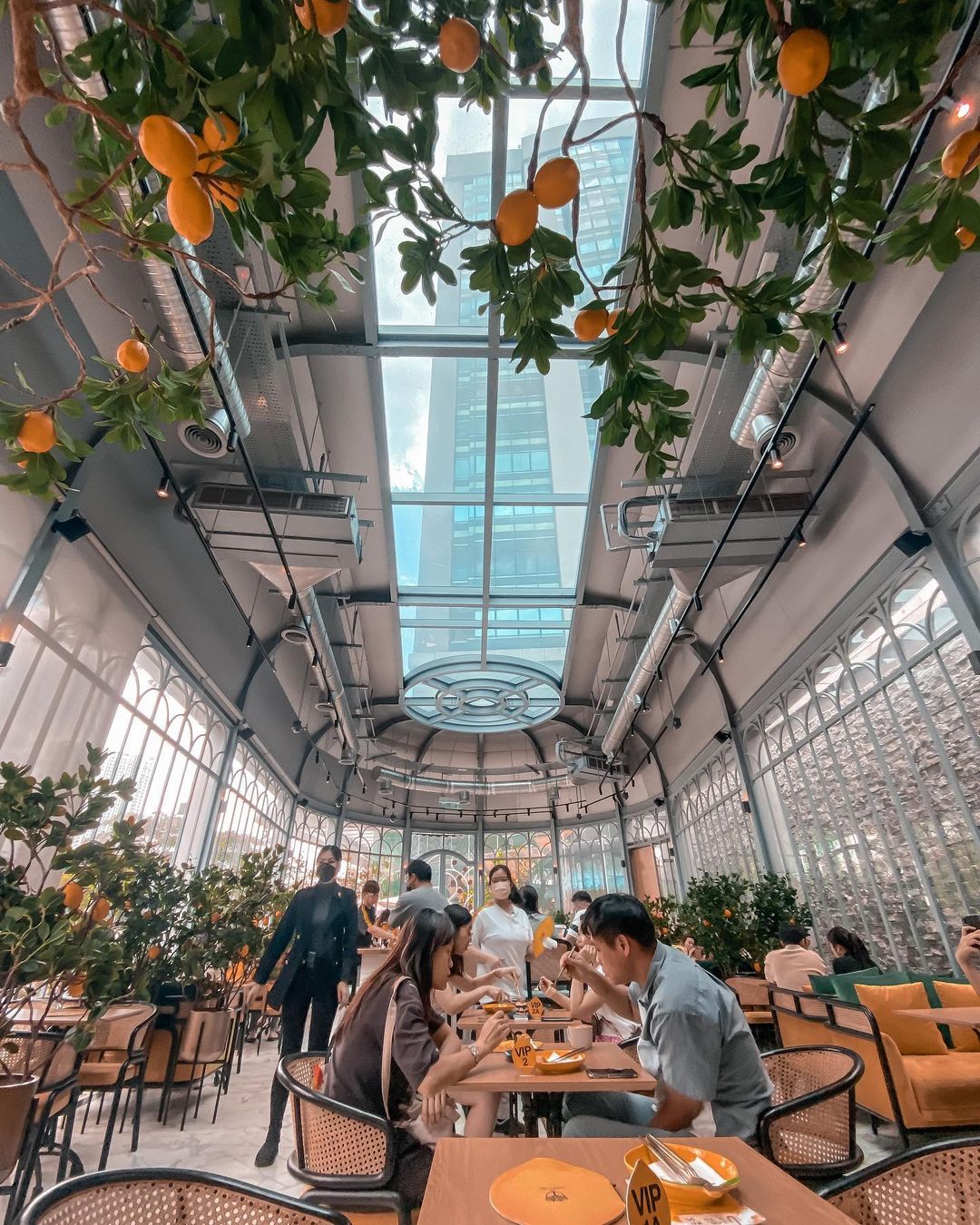 Image credit: @amy.cool_08
Address: Ground Floor, Menara Lien Hoe, 8, Persiaran Tropicana, Tropicana, 47301 Petaling Jaya, Selangor
Opening hours: 8am-6pm, Daily
Contact: 011-5763 0433 | The Lemon Tree Cafe Instagram
---
6. Sugirl Desserts – local desserts & mochis
---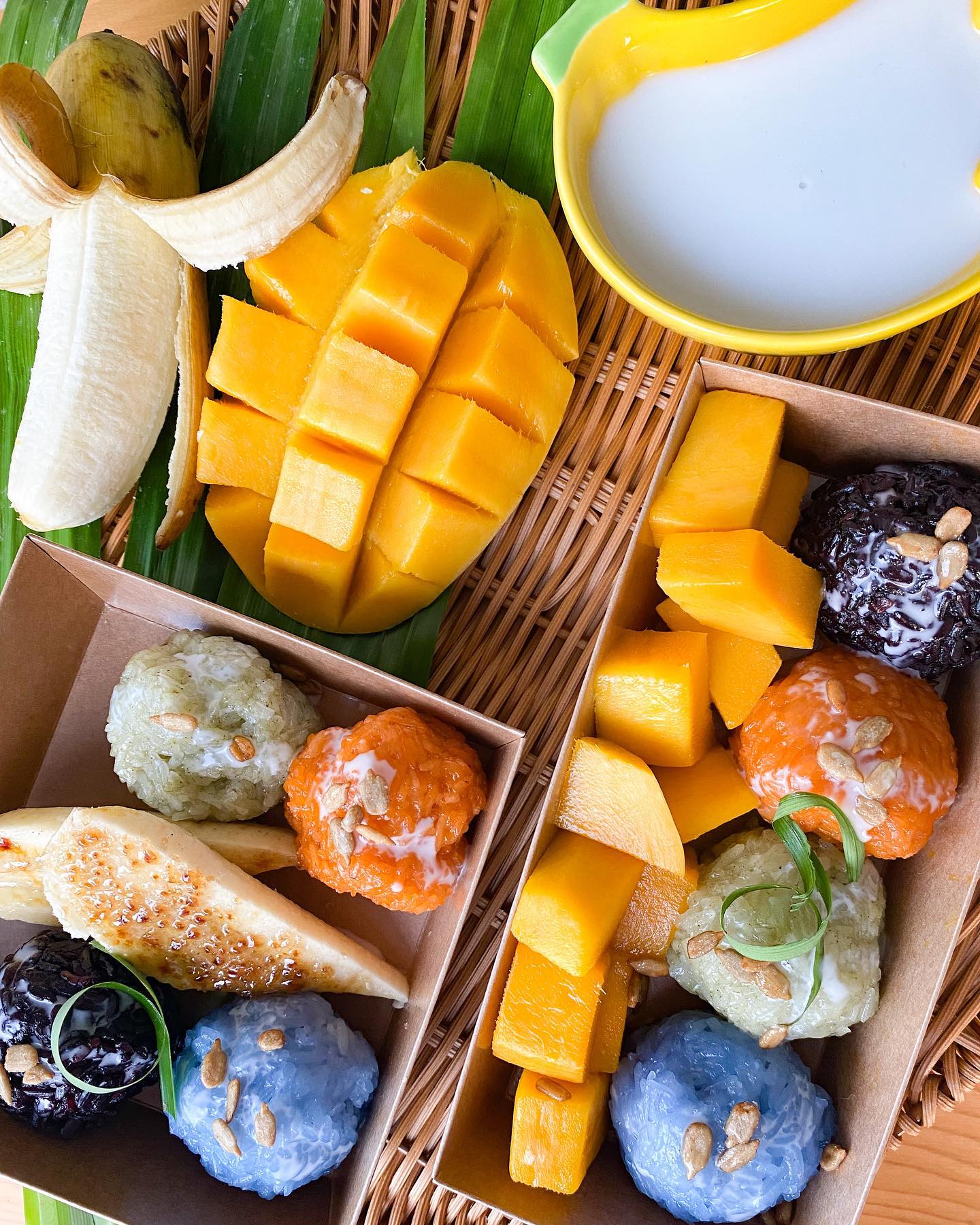 Image credit: @sugirldesserts
Located at Glomac Centro, Sugirl Desserts is a charming cafe that serves over 50 delectable Asian delights such as Rainbow Pulut (RM16.90), which is a best-seller here. It is made with natural ingredients such as pandan juice, sweet and creamy coconut milk, authentic Chatumee Thai tea, and purple-black rice.
Another must-try is the Durian Galaxy (RM20.90), which comprises D24 durian puree, chewy sago balls, mixed taro balls, and mango sago that are blended together to form a thick and delicious concoction.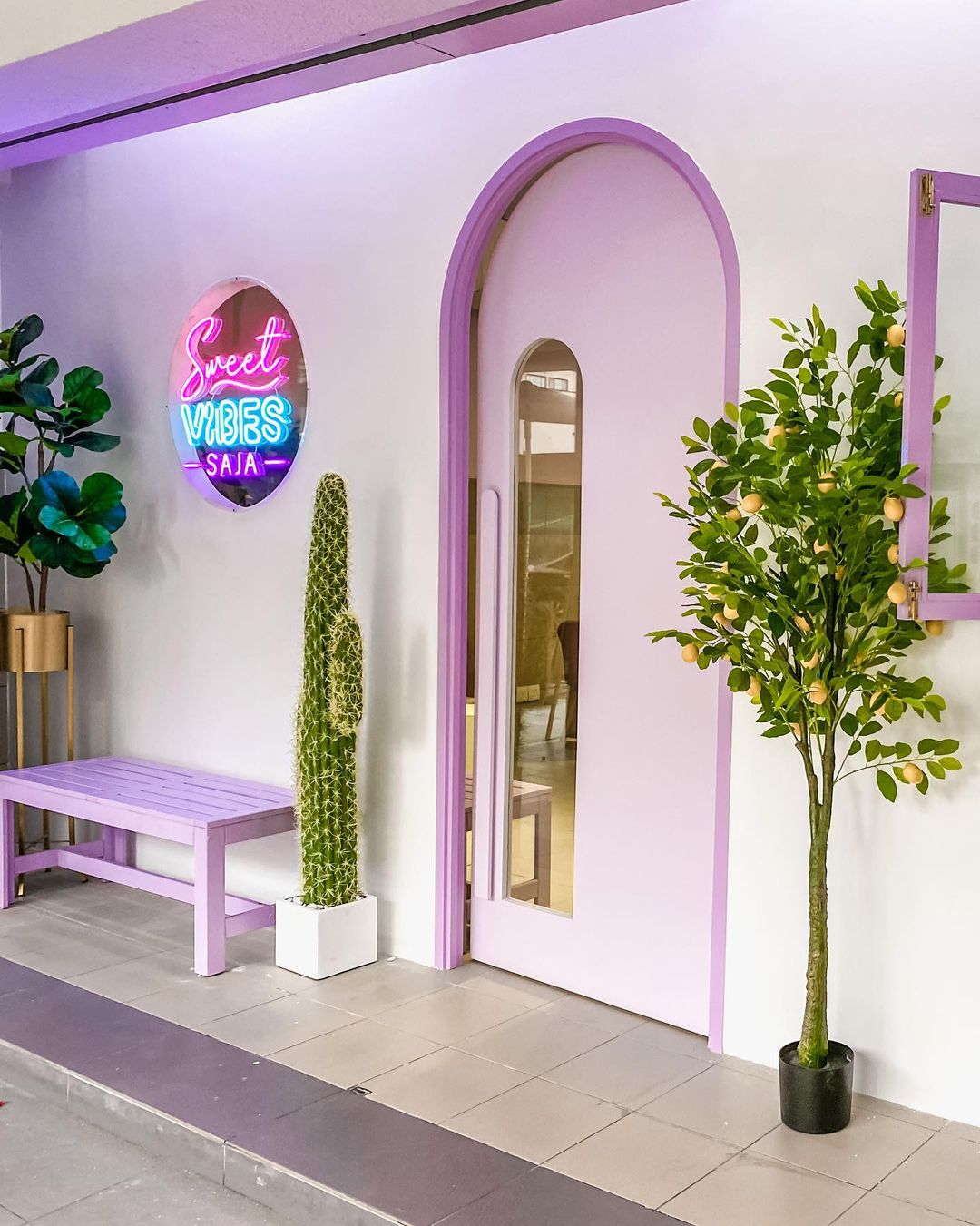 Image credit: @sugirldesserts
Sugirl Desserts also serves a selection of mochi, including Black Sesame Mochi (RM9.90), Adzuki Bean Mochi (RM9.90), and Peanut Mochi (RM9.90). Other dessert options with local flavours worth a try are Mango Sago with Lychee Rose Jelly (RM15.90) and Calamansi Passionfruit with Asamboi Jelly Cube (RM14.90).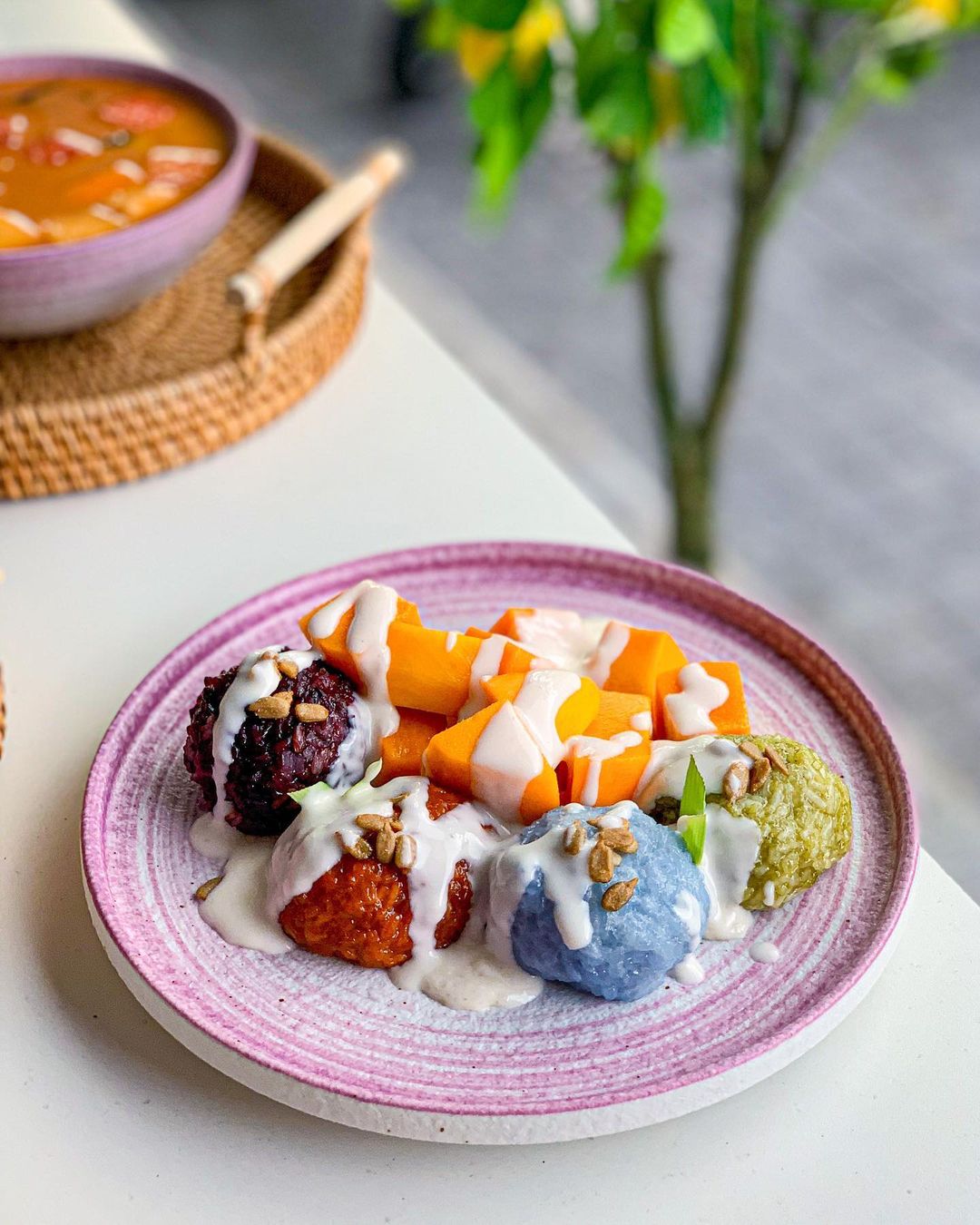 Image credit: @sugirldesserts
Address: No 1-15, Glomac Centro, Lorong Masjid 1, Kampung Sungai Kayu Ara, 47400 Petaling Jaya, Selangor
Opening hours: 12pm-10pm, Daily
Contact: 016-347 6964 | Sugirl Desserts Instagram
---
7. Rolling Daruma x Olfactory Bulb – desserts with a local twist
---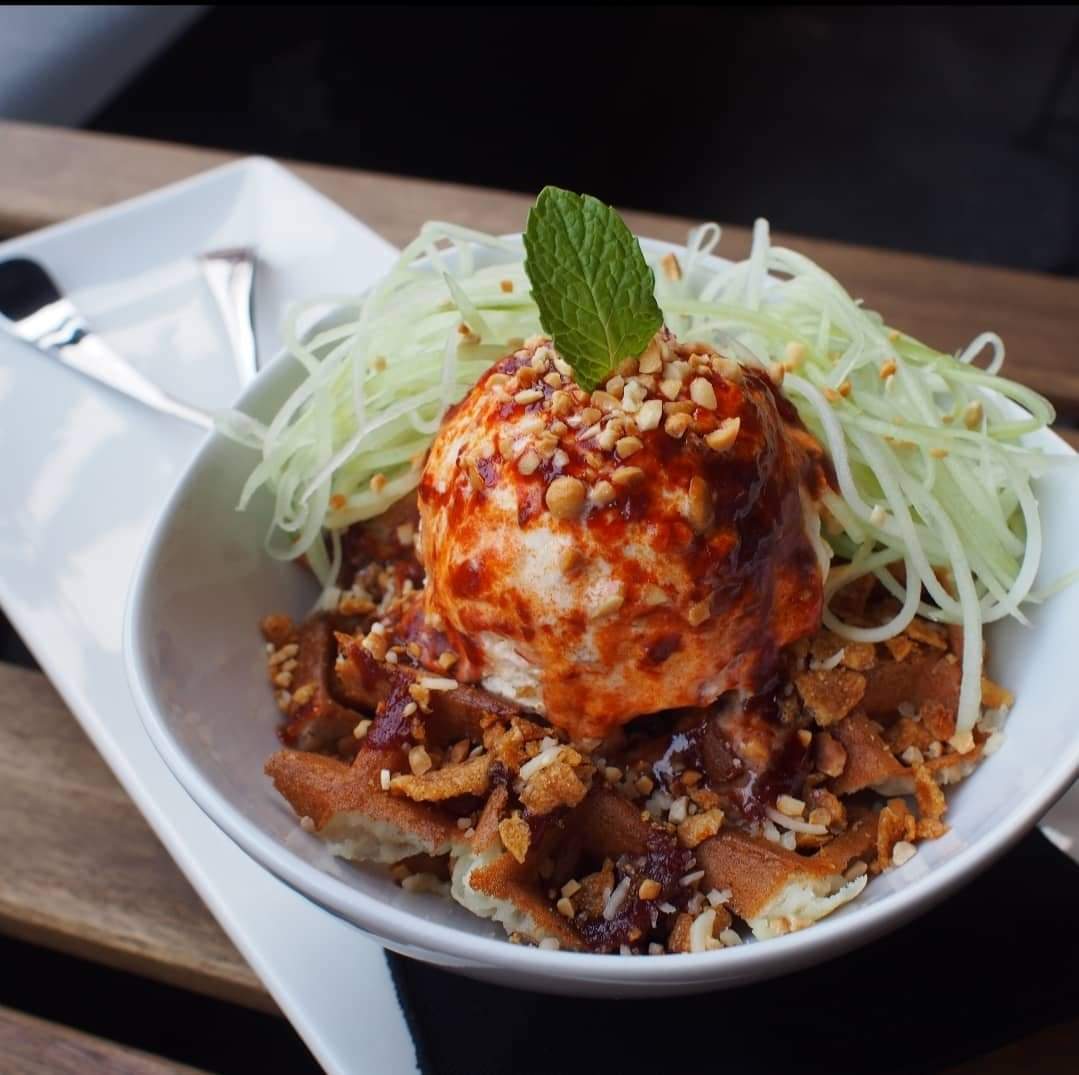 Image credit: @rollingdaruma
Rolling Daruma x OLB is a mixology cafe and bar that uniquely takes sweet treats to the next level by combining well-loved desserts with local flavours. Not to be missed out on is the Nasi Lemak Wafflemess (RM20), which combines a Kapiti Anzac coconut cookie with spicy sambal, crushed satay fish, shredded cheese, peanut chunks, and shredded zucchini.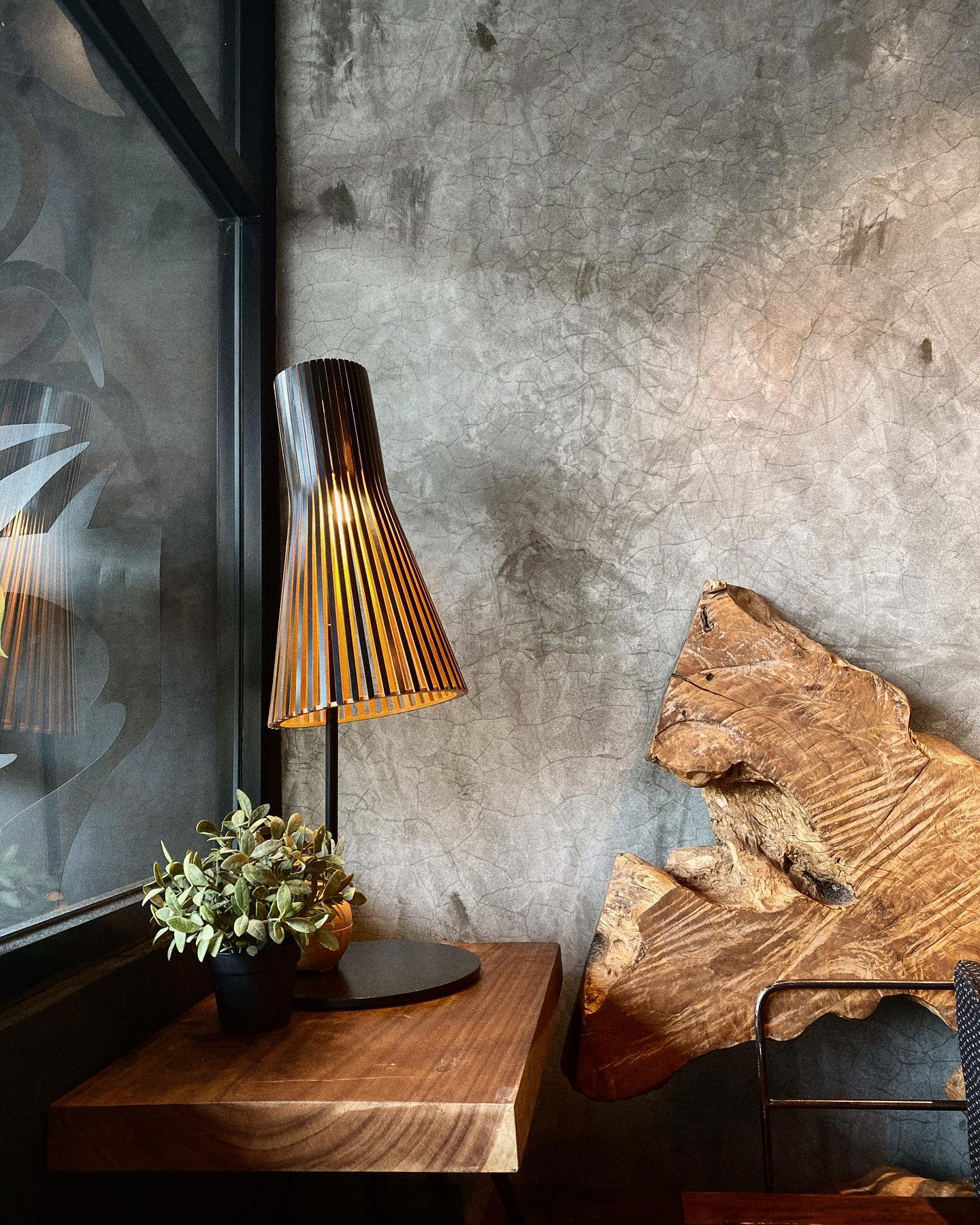 Image credit: Rolling Daruma
Another waffle worth trying is the Pisang Bakar Cheese Wafflemess (RM28). This dessert incorporates the beloved caramelised banana snack with caramel drizzle, shredded cheddar cheese, and peanuts.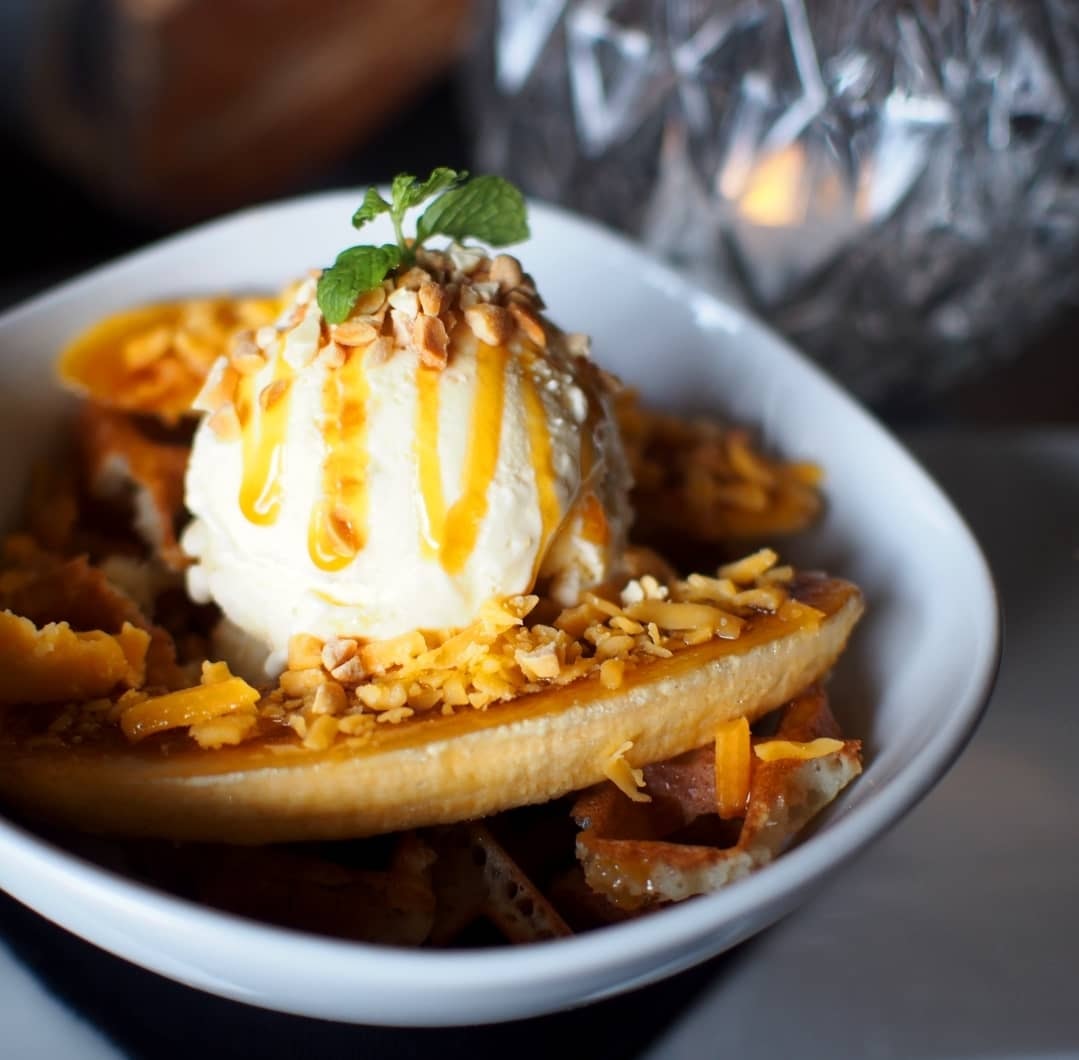 Image credit: @rollingdaruma
Meanwhile, the Whiskied & Whipped Remixed Wafflemess (RM36) is an excellent choice if you're in the mood for something deep with a touch of alcohol. It comrpises Kapiti Affogato, JW Black Label whisky cream, whisky caramel drizzle, dark chocolate sauce, torched marshmallows, chocolate buttons, and roasted peanuts.
Address:: 15-2, Jalan PJU 5/13, Kota Damansara, 47810 Petaling Jaya, Selangor
Opening hours: Wed-Fri 5:30pm-11:30pm | Sat-Sun 11:30am-11:30pm (Closed on Mondays & Tuesdays)
Contact: 03-61511108 | Rolling Daruma x OFB Instagram
---
8.  Dao Desserts – a variety of tau fu fah
---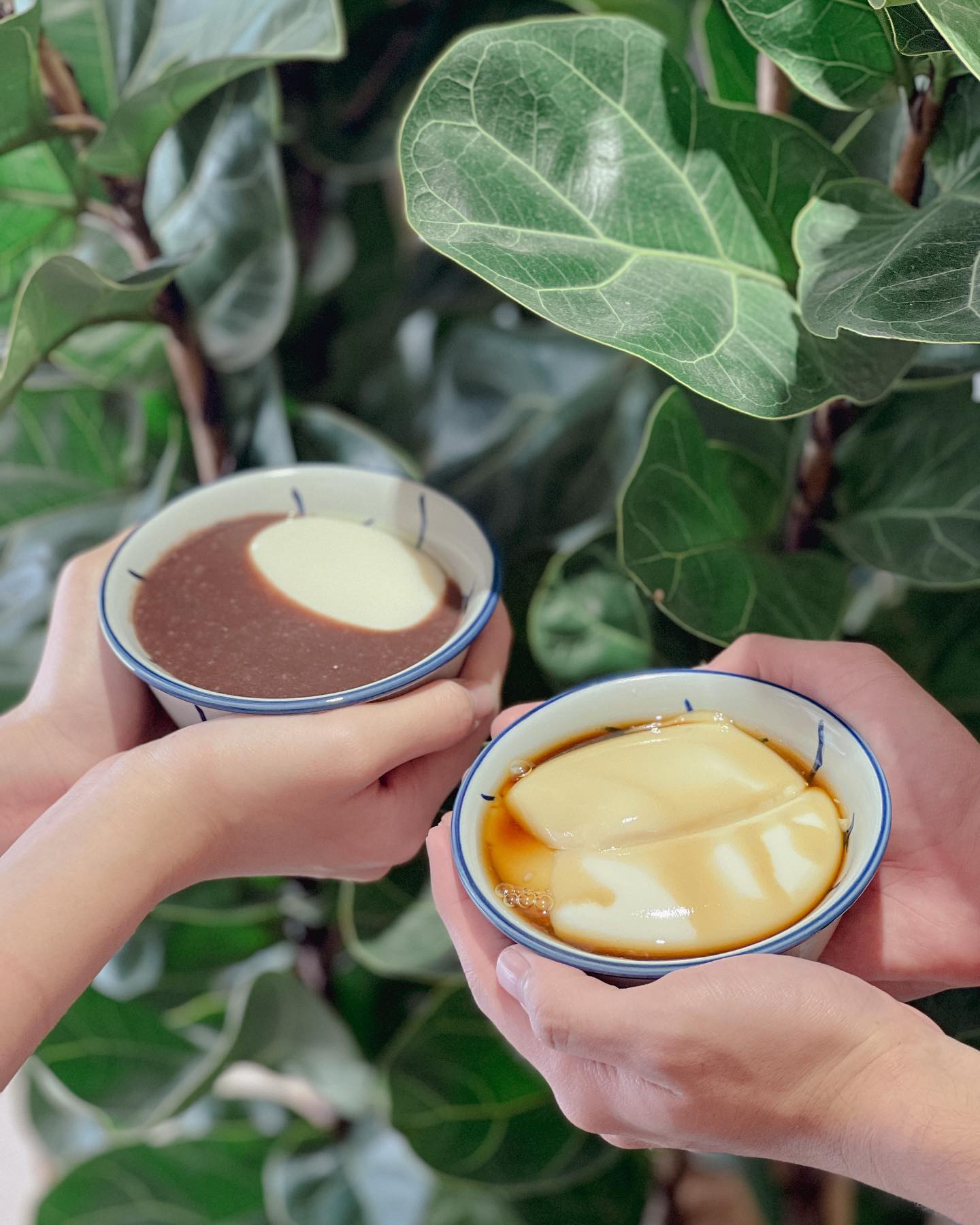 Image credit: @dao.desserts
If you prefer warm desserts, drop by Dao Dessert, a soya bean-based dessert spot that serves rich, creamy tau fu fah that is simple yet flavourful. Find a variety of tau fu fah here with different toppings, including the Dao Red (RM4.90) with red bean paste and the Dao Panda (RM5.90) loaded with black sesame paste. 
You can opt to add on extra toppings such as Pumpkin Tong Yuen (RM2.50 for 5 pieces) and Osmanthus Jelly (RM3.20 for 2 pieces). Other signatures to try here are Soy Milk (RM3.80) or Black Soy Milk (RM5.90), served hot or cold.
If you're looking for a different spin on your typical ice cream order, try the Geladao (RM20/pint), a hybrid soya bean-based ice cream with non-typical flavours such as black sesame. The Shaved Ice-topped cold Beancurd (RM9/bowl), available in various flavours such as ginger, honey lemon, and chrysanthemum, is another must-try.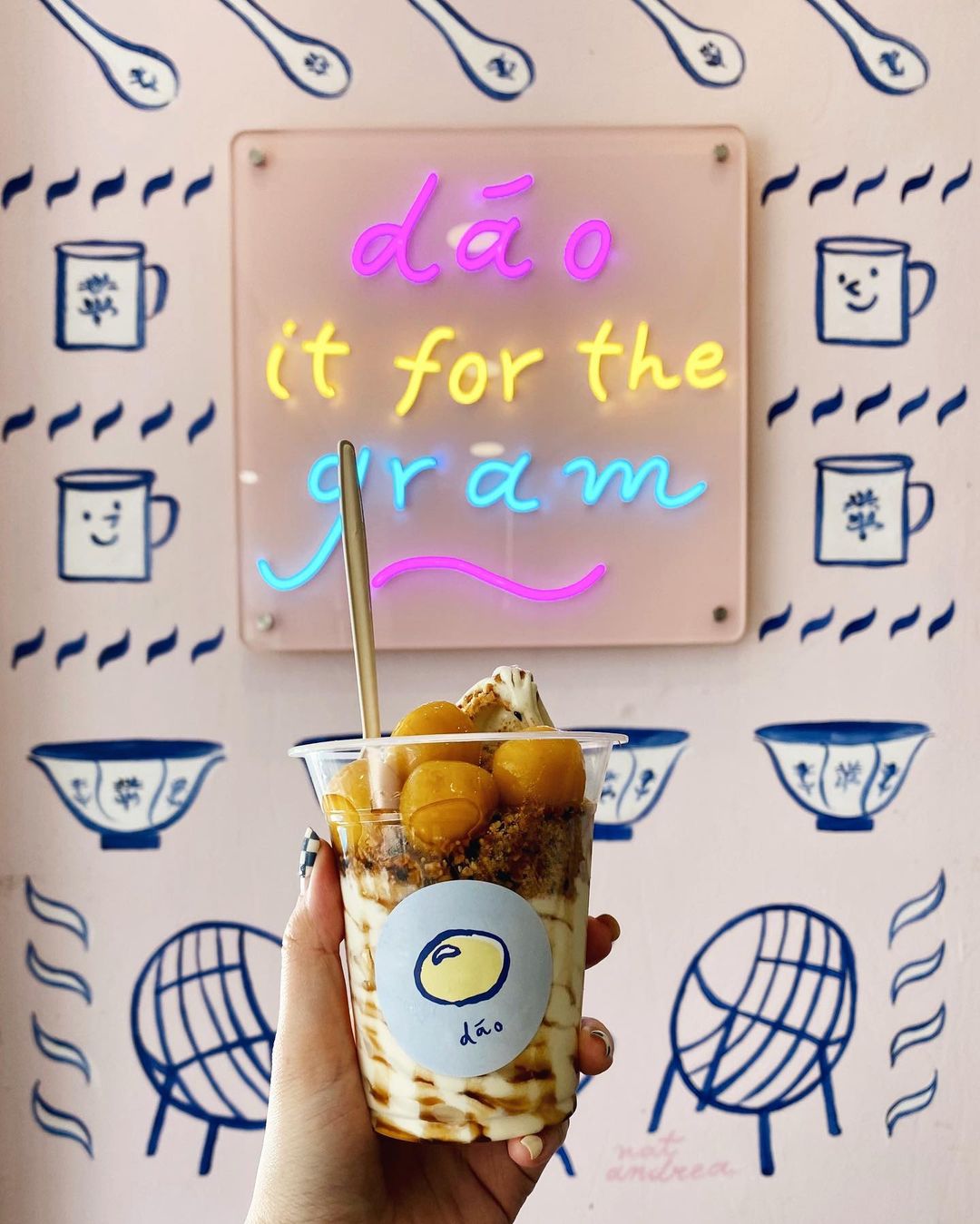 Image credit: @weipin28        
The Sundao Cup (RM 9.20/cup) is another delicious dessert that combines sweet and crunchy ingredients such as tau fu fah, tong yuen, peanut crumbs, and roasted brown sugar.
Dao Desserts @ Damansaya Jaya
Address: 21, Jalan SS 22/19, Damansara Jaya, 47400 Petaling Jaya, Selangor
Opening hours: Mon, Tue & Thu 10am-10:30pm | Fri-Sun 10am-11pm (Closed on Wednesdays)
Contact: 03-7499 0021| Dao Desserts Instagram
---
Cafes for drool-worthy desserts in PJ
---
If desserts are what you currently crave, it's worth visiting Petaling Jaya, where there are a plethora of dessert spots to indulge in desserts that will delight any sugar junkie. Whether you prefer something subtle or something rich in flavour, these cafes will not disappoint your taste buds.
Read more here: 
---
Cover image adapted from: @jowiepeace, @dreamzbakery, @ashpresso, @vs.eatdiary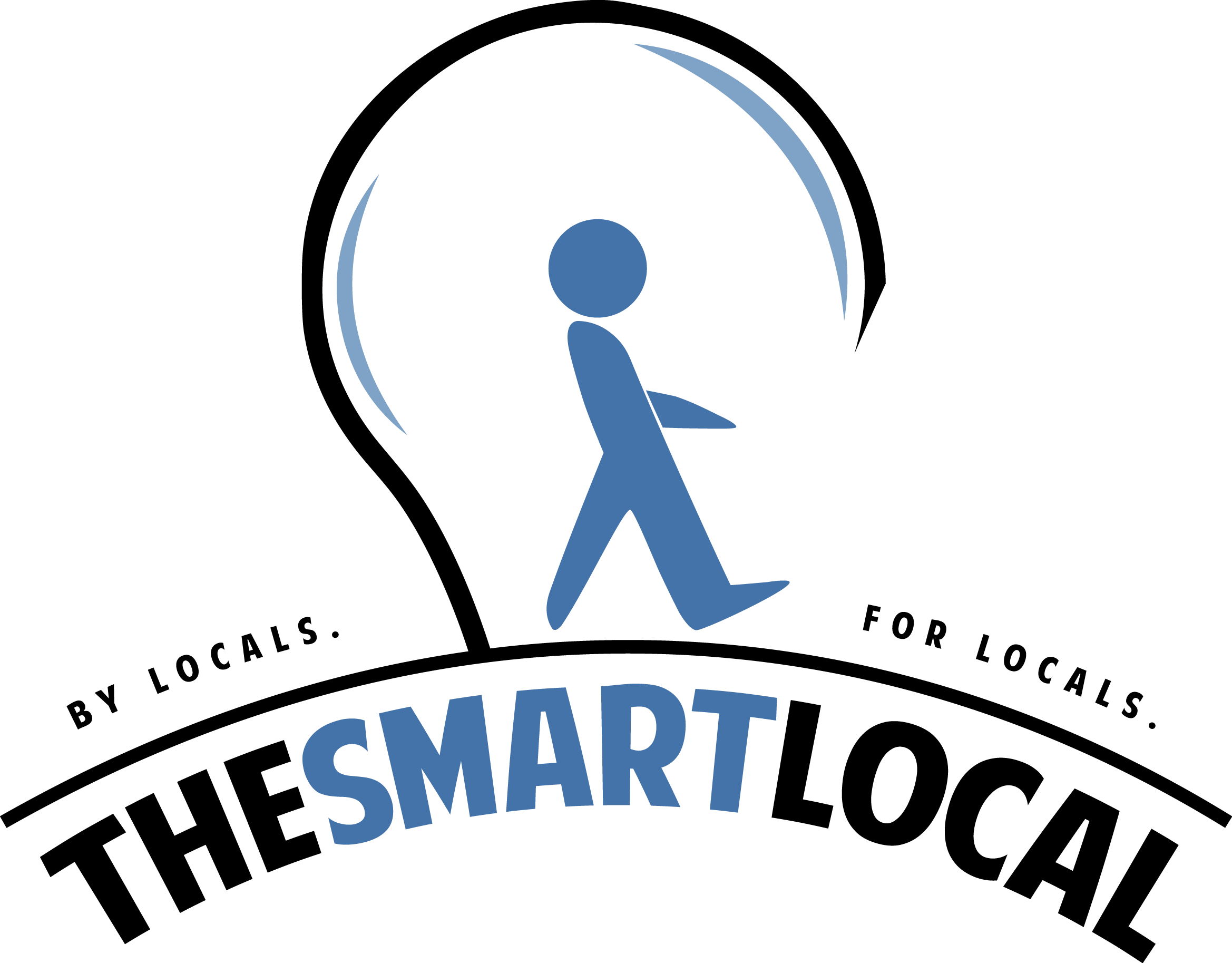 Drop us your email so you won't miss the latest news.