Minimalist, white cafes in Kuala Lumpur
---
Stark white rooms don't always have to feel antiseptic. When adorned with minimal and tasteful decor items, monochrome spaces will make you feel as if you've walked into an art gallery. In a bustling city like Kuala Lumpur, quiet and calm places like these are always welcomed.
Enter these 8 minimalist cafes in KL. Whether they remind you of a gallery or a white Christmas, these cafes with their white interiors let you declutter your thoughts while you enjoy your meal.
---
1. SWÔL – cakes from The Cheesecake Factory
---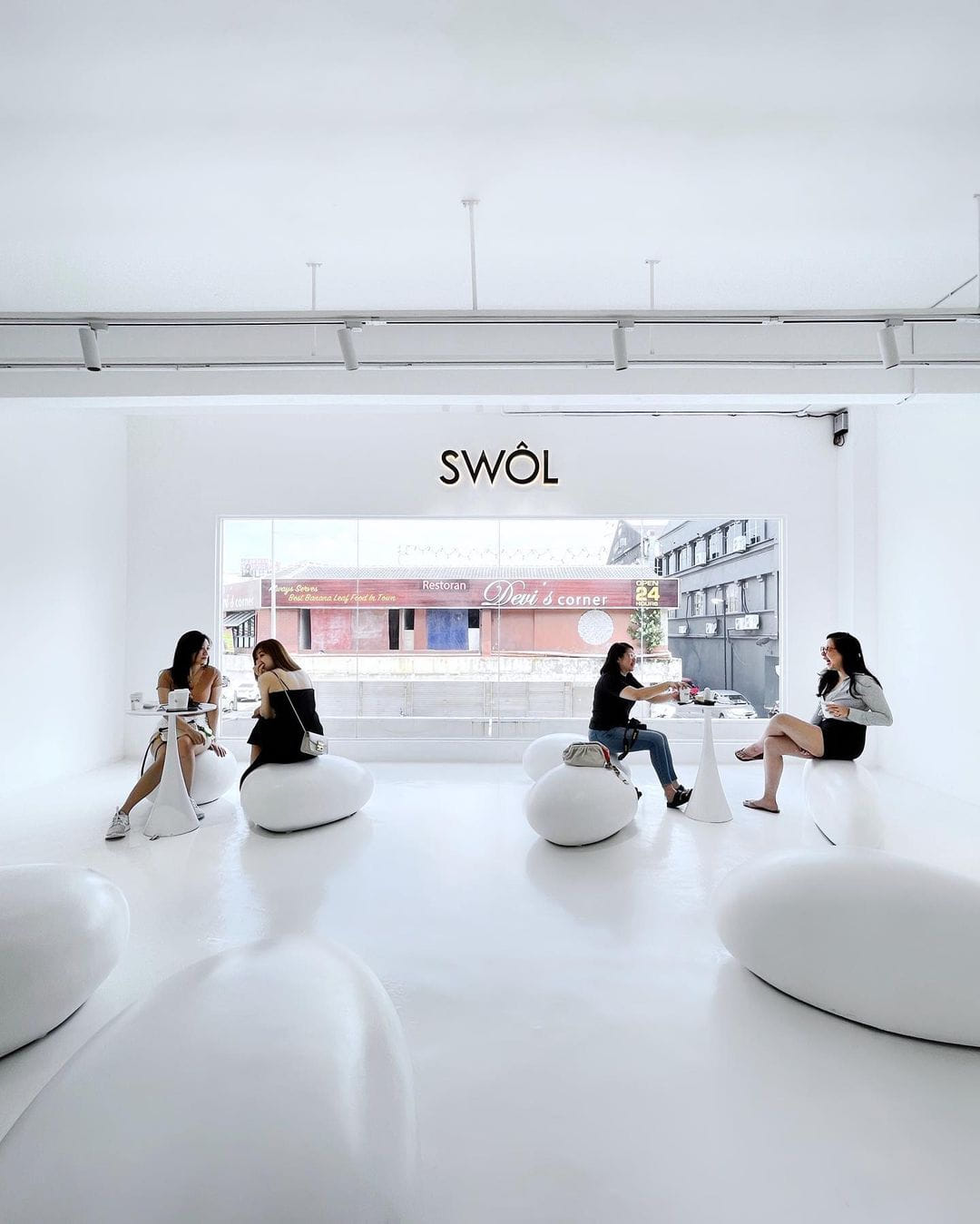 Image credit: @weeatfish
Step into SWÔL, and you'll wonder if you've stumbled into a modern art gallery. Between the scattered pebble-like structures and low feature tables in a sparse white room, it's easy to mistake this cafe for a museum – that is, until you get a whiff of their freshly brewed coffee and see patrons sitting on the structures.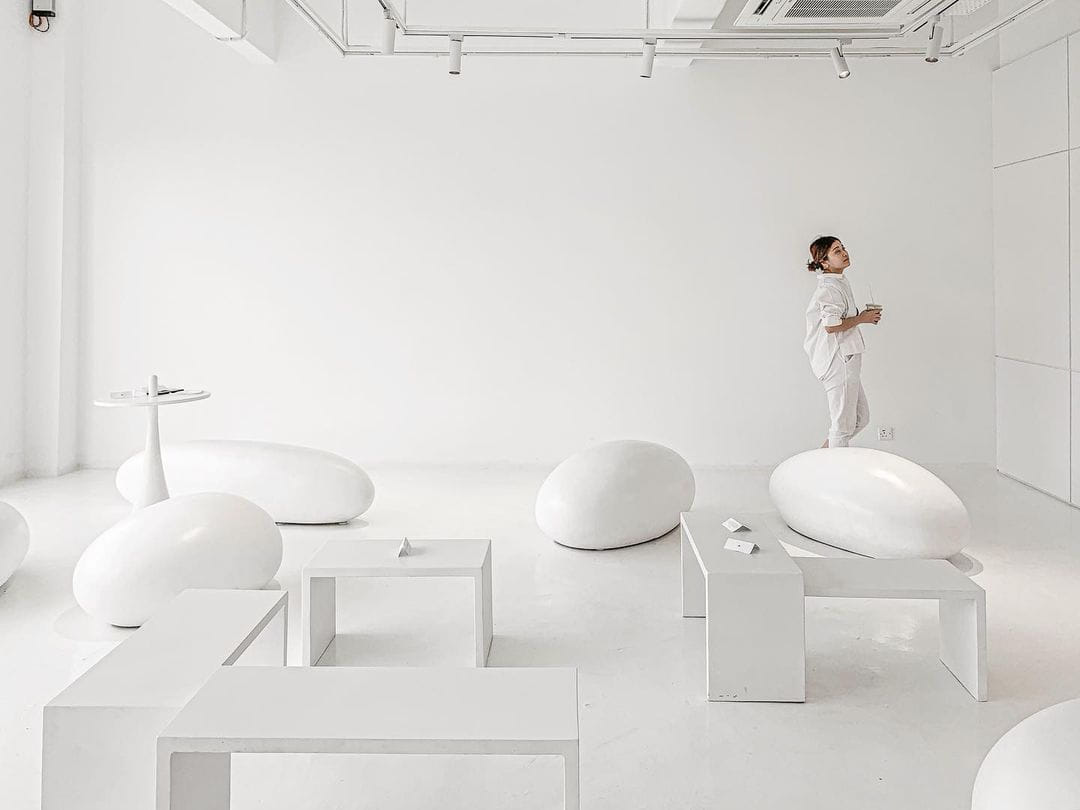 Image credit: @yovitakendrawijaya
This Bangsar cafe opened back in July 2022. Needless to say, it has quickly topped cafe hoppers' lists of must-visit spots for coffee in a minimally decorated space. 

Image adapted from: @weeatfish, @danson0806
Apart from its eye-pleasing interiors, SWÔL's menu features a variety of delectable light bites such as pastries and mini cupcakes to pair with coffee drinks and kombuchas.
A highlight here has to be their 8- and 10-inch cake slices from the well-known The Cheesecake Factory from the US. There are 9 different cakes to pick from, including the Classic New York and Key Lime Pie, priced RM20.90 per slice. Other decadent ones include Fudge Cake and Reese's Peanut Butter (RM25/slice).

Image credit: @swolbistro
Besides the classic Latte (RM14) and SWÔL White Espresso (RM15), both brewed with a house blend, the cafe serves unique sparkling coffee (RM18). Order this to have a double-shot of espresso poured over iced sparkling lemonade or lime juice for a fizzy, caffeinated drink.
Address: 34-1, Jalan Telawi 2, Bangsar, 59100 Kuala Lumpur, WPKL
Opening hours: Mon-Thu 8am-8pm | Fri-Sun 8am-10pm
Contact: 011-6161 0606 | Swol Bistro Instagram
---
2. White Land – smoked salmon bagels & cubano sandwiches
---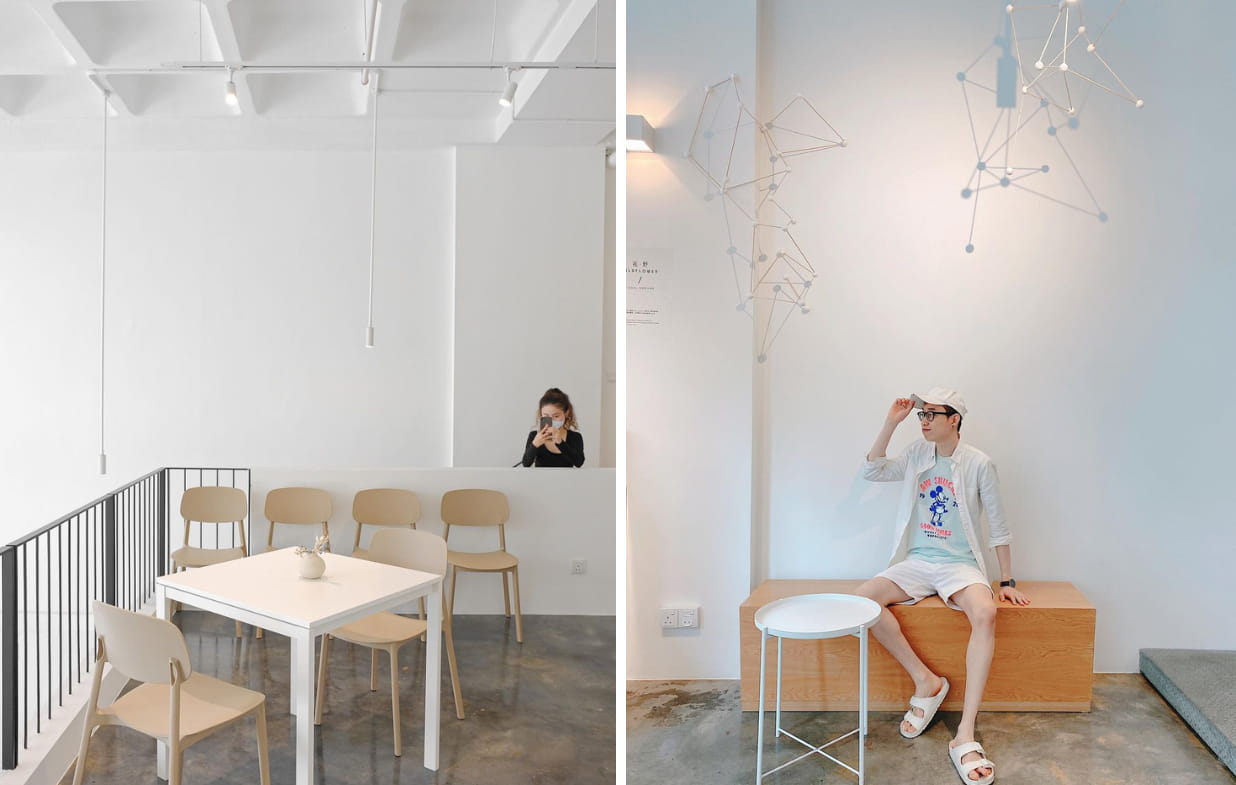 Image adapted from: @jd_chang, @hipsjer
White Land has the word "white" in their name for a reason. Tucked away in an apartment complex in the city, the aesthetic loft-style cafe tastefully balances light wood furniture with unadorned white walls and bare concrete floors.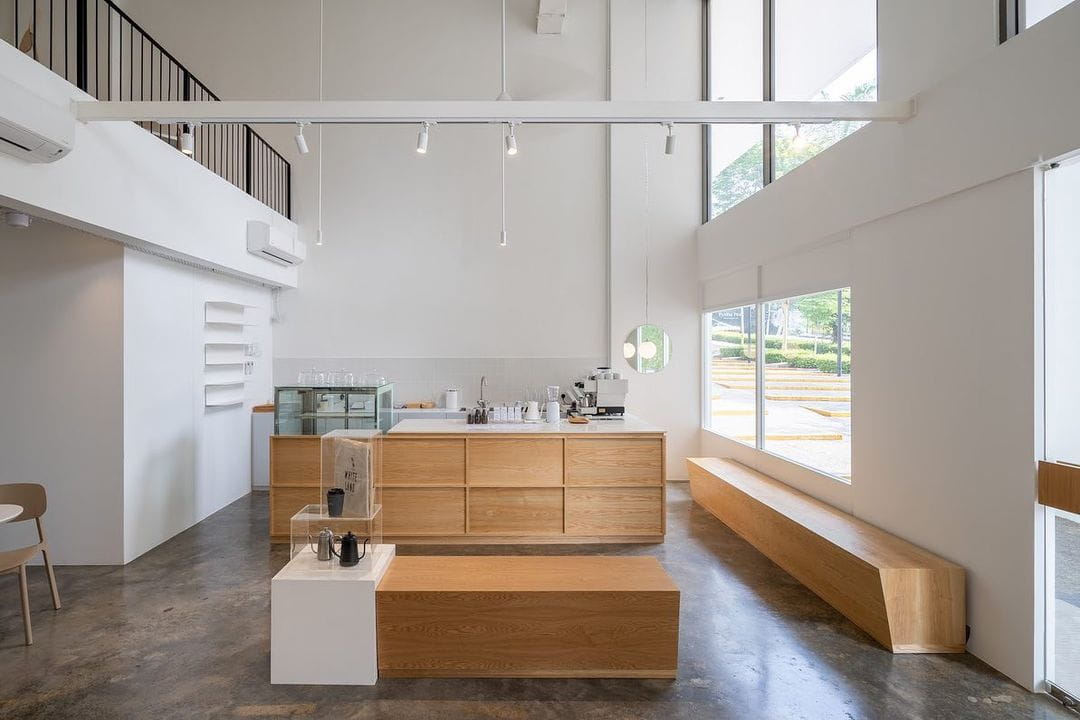 Image credit: @bricksbegin
With plenty of natural light flooding through large windows, you can plop down at a table and dig into their signature menu items in a zen-like space. The bagels and sandwiches are not to be missed. For first-time patrons here, go for the cafe's Bagel Pancetta & Egg (RM29). Though slightly pricier, the toasted bagel is worth trying, with its smoked Italian cured meat, cheese, eggs, and balsamic mayo. 
If you're craving Cuban sandwiches, there's the Jamaican Chicken Cubano and Brazilian Chicken Cubano, both packed with flavours and fillings, and priced RM30 each.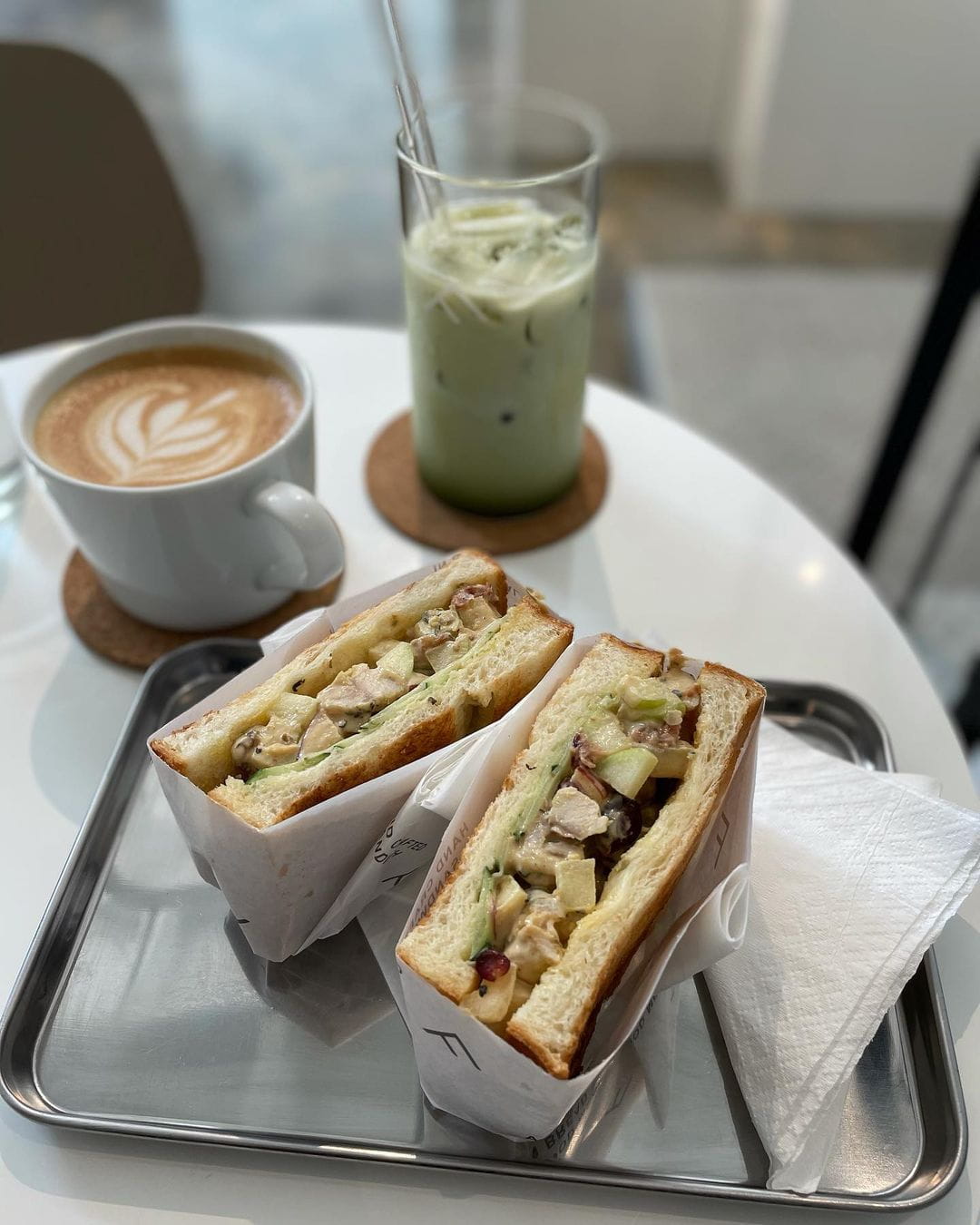 Image credit: @seriousss_eatz
The cafe uses coffee beans from DaVinci Coffee Taiwan and Ruins Coffee Roasters Taipei in their filter coffee (RM25). This speciality coffee pairs well with their star dessert – Sea Salt Dark Chocolate Tart (RM18), a rich chocolatey tart with a  subtle touch of salt. 
Address: 1-15, Centrio, 1, Jalan Pantai Murni, Pantai Hillpark, 59200 Kuala Lumpur
Opening hours: Wed-Sun 8.30am-5pm (Closed on Mondays & Tuesdays)
Contact: 03-2703 6053 | White Land Instagram
---
3. Buibui Bakehouse – dessert & Hokkaido milk toasts
---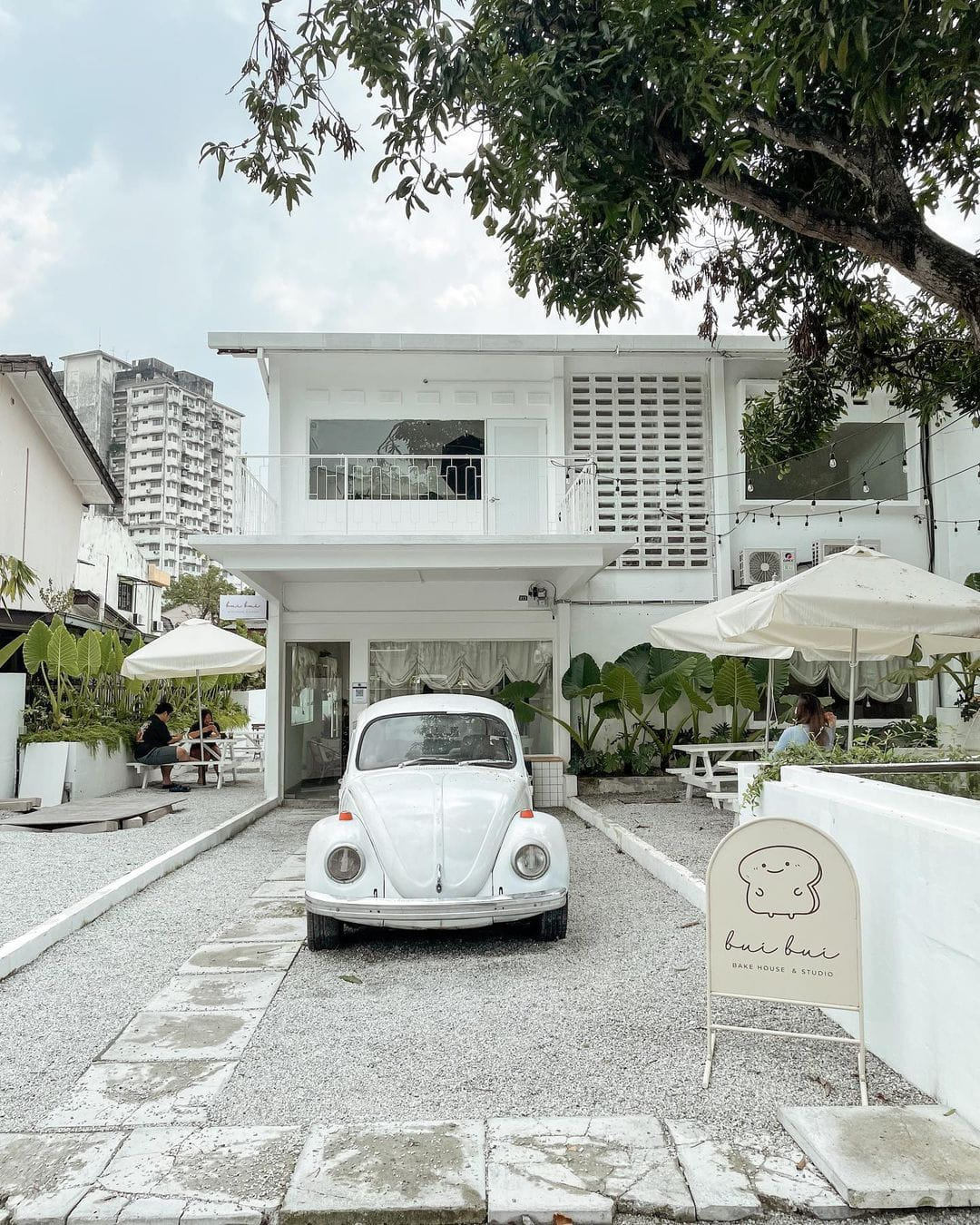 Image credit: @chowxinghui
If you're looking for a peaceful weekend brunch spot, head on over to Buibui Bakehouse. This cafe's all-white interior extends to their outdoor area. Here, you can dine at white picnic tables next to a stationary –  and just as white – Volkswagen Beetle that's a popular photo spot among diners.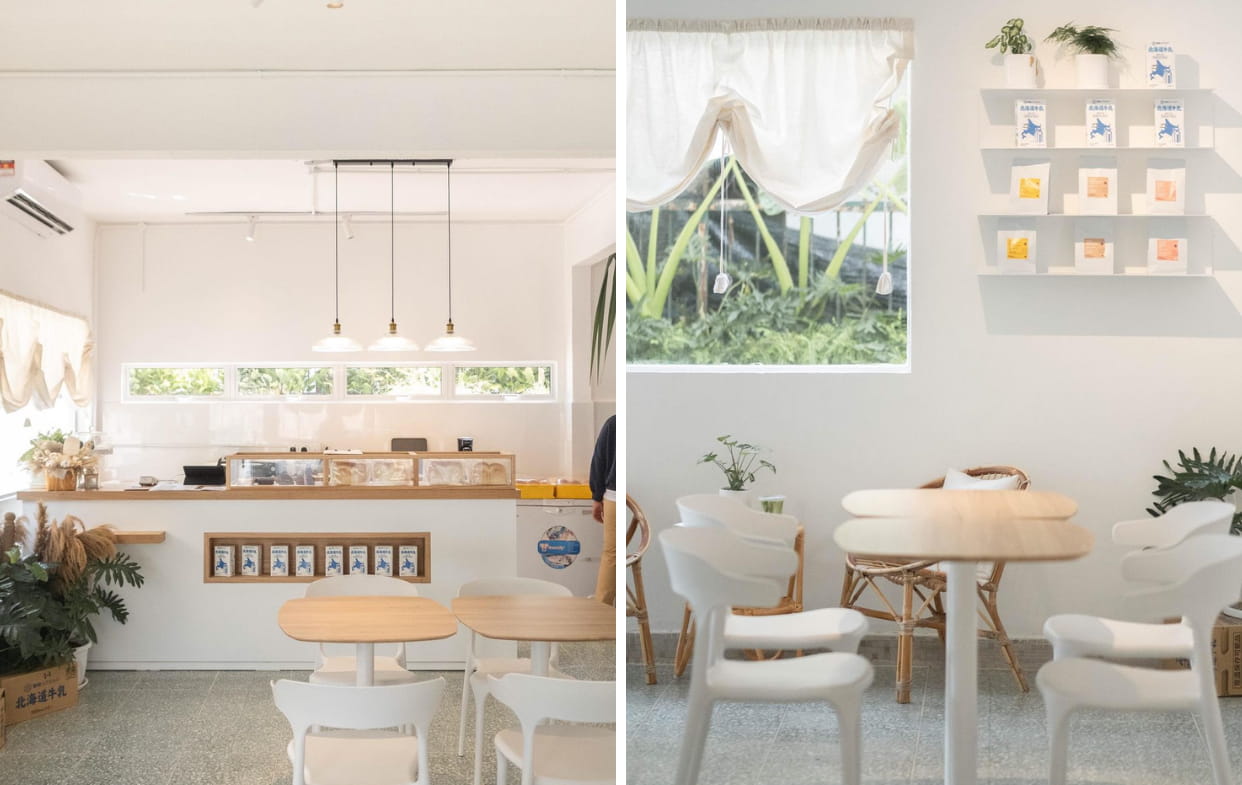 Image adapted from: @d_chum
Inside, you'll find the same clean aesthetics with just a muted pop of colour from light wood furnishings.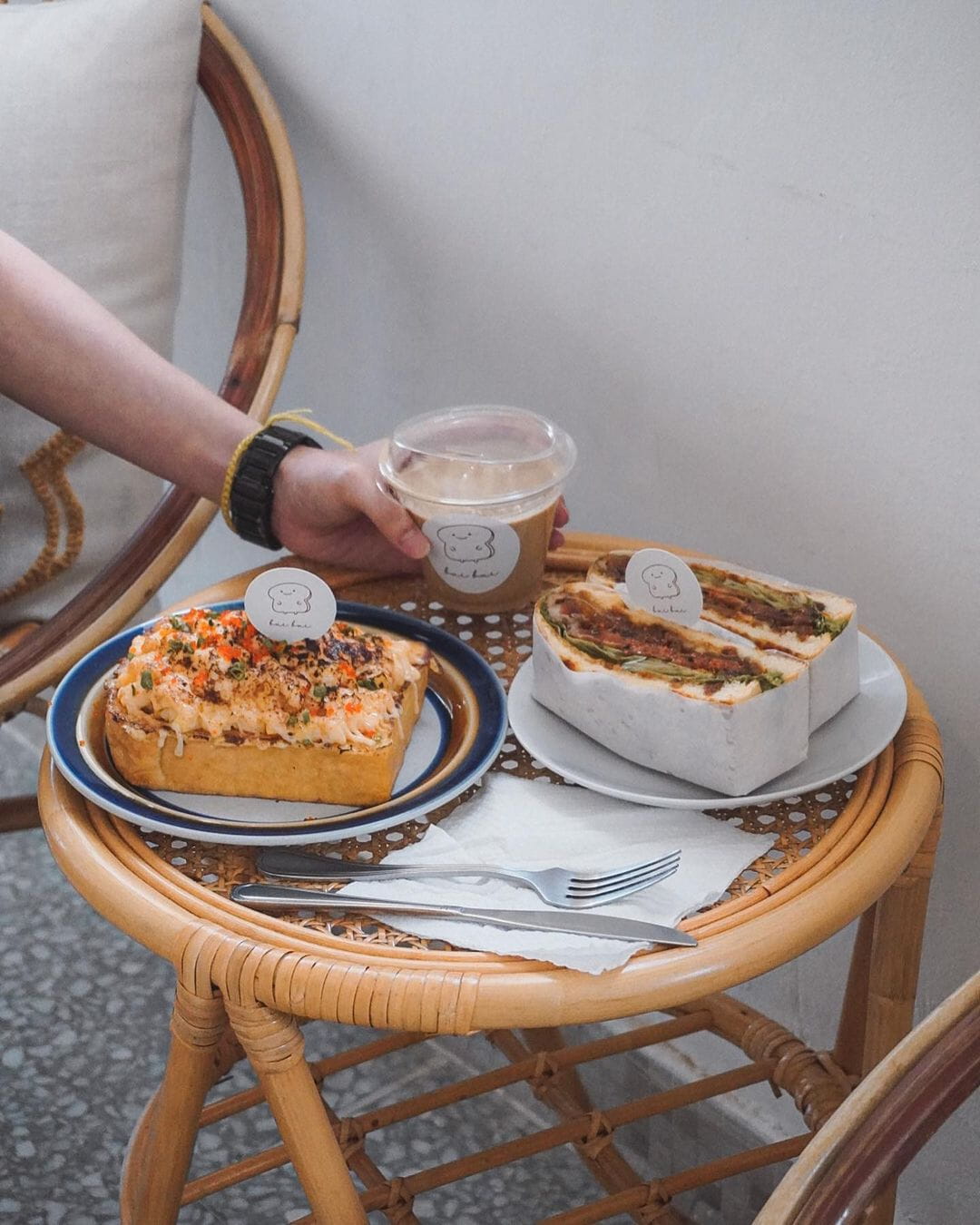 Image credit: @mid3_30
If patrons aren't heading here for the cafe's IG-worthy aesthetics, it's for their range of toasts with savoury to sweet toppings. 
To satiate your sweet tooth, there are dessert toasts such as the Strawberry Cheesecake, Creme Brulee, and Okinawa Taro, with sweet toppings generously spread over a thick slice of toast. These are all priced RM14 each. Other popular orders among patrons are Matcha Loaf (RM20) and Hokkaido Milk Loaf (RM19).
From 5pm to 9pm, Buibui Bakehouse hosts camping barbecues for 12 groups of guests at their outdoor space. A package includes essentials such as marinated meats and drinks for a meal under the night sky in the city. This will set you back RM53 per pax. 
Address: 213, Jalan Sepadu, Taman United, 58200 Kuala Lumpur, WPKL
Opening hours: 10am-6pm, Daily
Contact: Buibui Bakehouse Facebook | Instagram
---
4. Kāfeīn Roastery – micro roastery with speciality coffee
---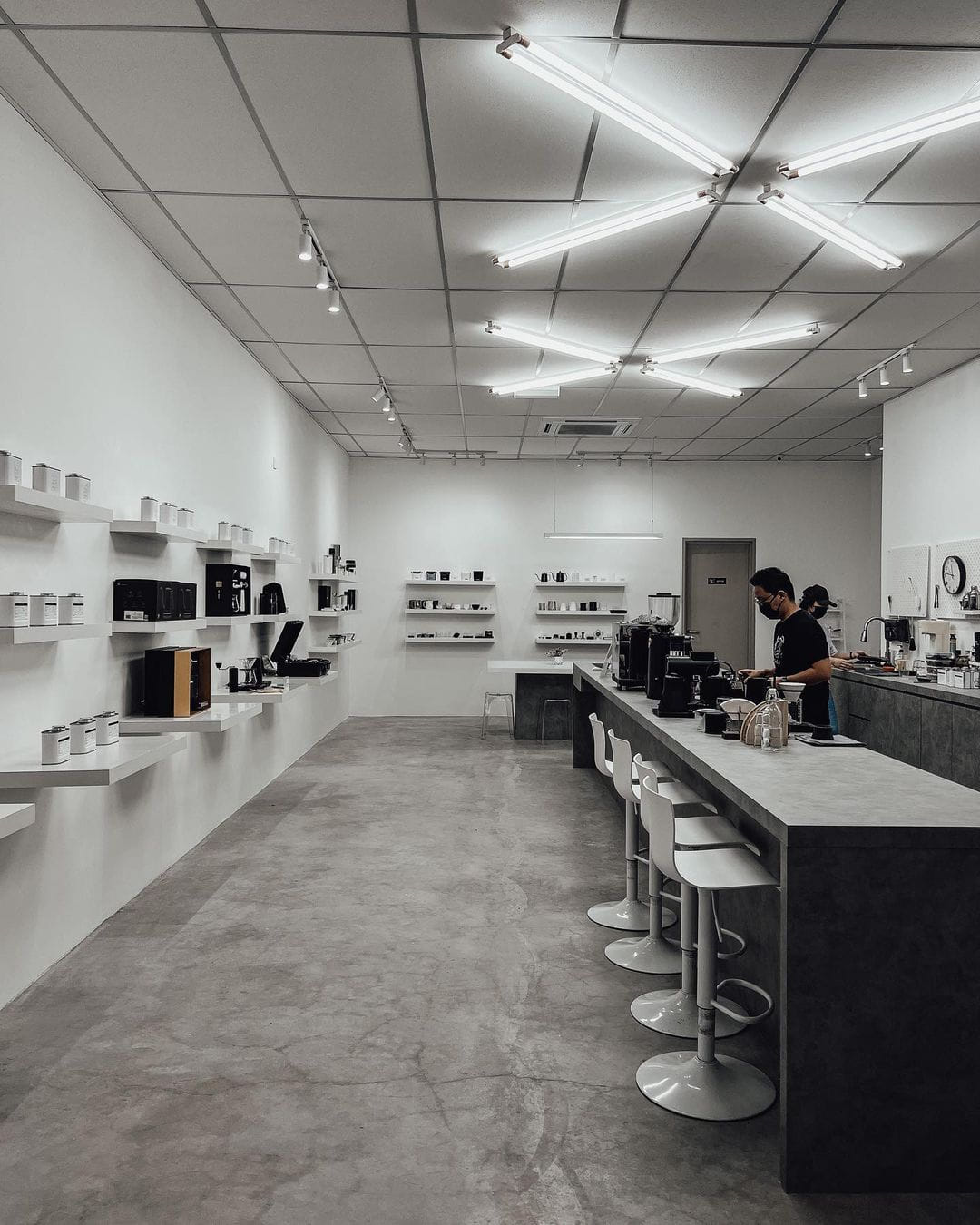 Image credit: @i.am.suz
Serious coffee drinkers might want to check out Kāfeīn Roastery, a recently opened coffee concept store in Alam Damai. This micro-roastery roasts a variety of coffee beans from around the world, such as Ethiopia, Costa Rica, Kenya, and Honduras. 
The beans boast a wide range of flavour profiles from fruity to floral, but are all, nonetheless, perfect for various coffee brewing styles. The beans also change out every month, so you can look forward to shopping for different blends while here.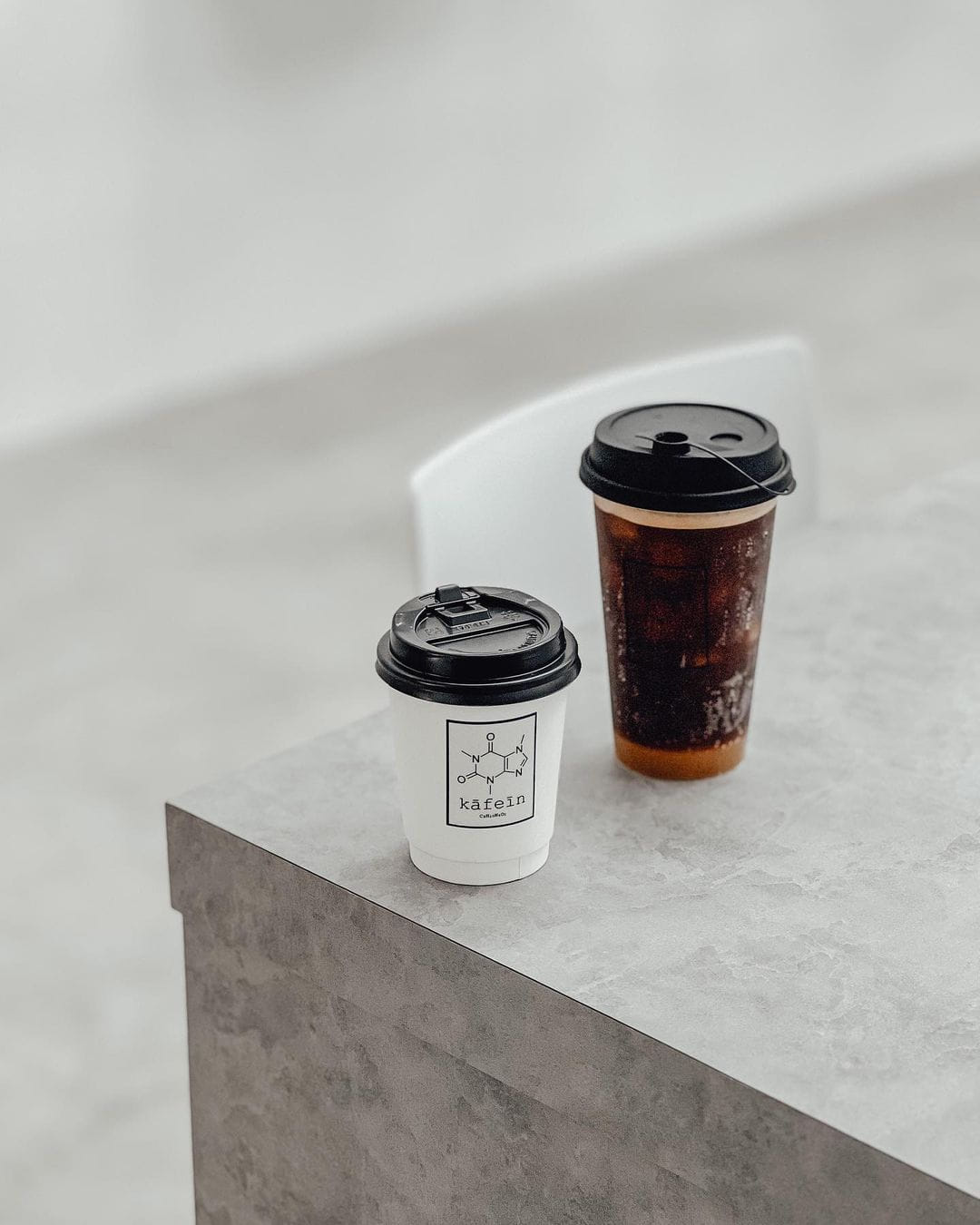 Image credit: @i.am.suz
While Kafein doesn't serve any food, coffee lovers can grab their Single Origin beans, sold per 200g in a tin or bag. The prices range between RM40-RM110. There are also House Blends, such as the Shinsekai Blend (RM65/200g) with floral notes, and the Ikigai Blend which is available per kg for RM110.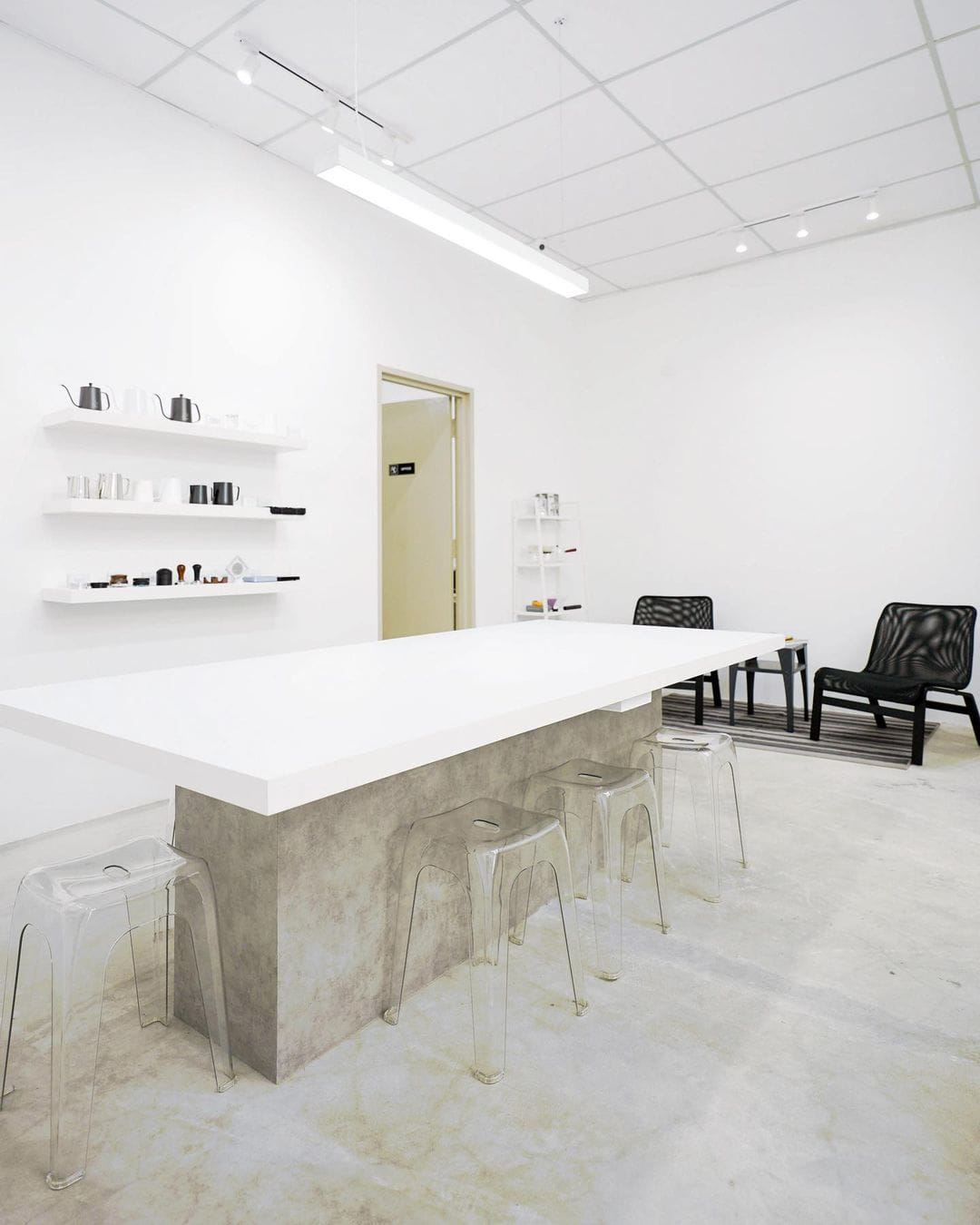 Image credit: @kafein_roastery
Else, you can shop for a variety of coffee equipment such as gooseneck coffee kettle (RM65) and Timemore U French Press (RM69), or sample a cup of coffee (from RM10) served by the experienced owners behind the concrete coffee bar. 
Address: 176-1, Jln Damai Raya 2, Alam Damai, 56000 Kuala Lumpur, WPKL
Opening hours: Mon-Sat 11am-5pm (Closed on Sundays)
Contact: 016-626 7450 | Kafein Roastery Facebook
---
---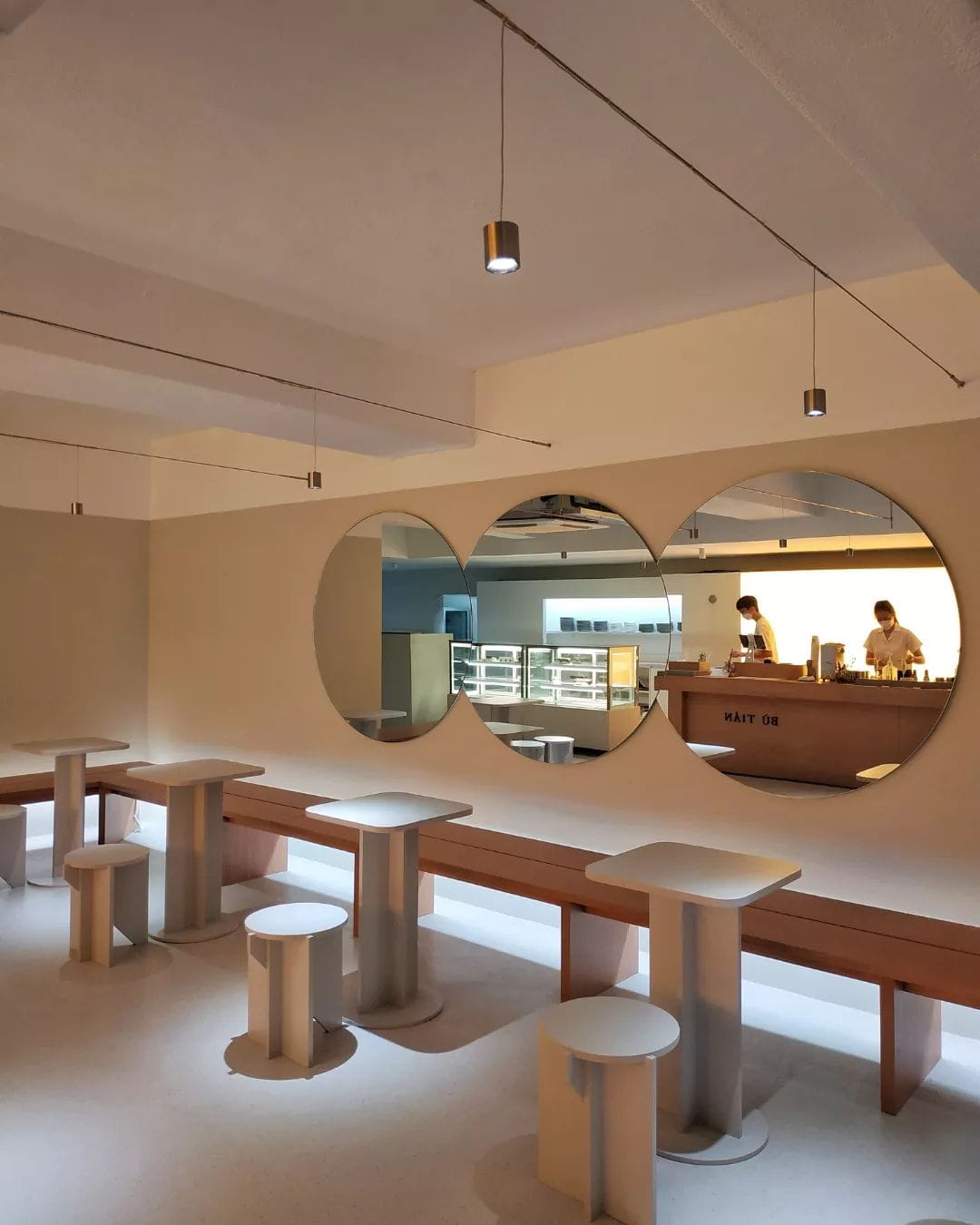 Image credit: @foongpc
For dainty Japanese tea cakes and sandwich cookies, consider dropping by BuTian in Kuchai Lama. Once upon a time, this spot only offered takeaway desserts. But they're now a fully operational and aesthetic cafe featuring soft muted tones, large round mirrors, and plenty of dining seats.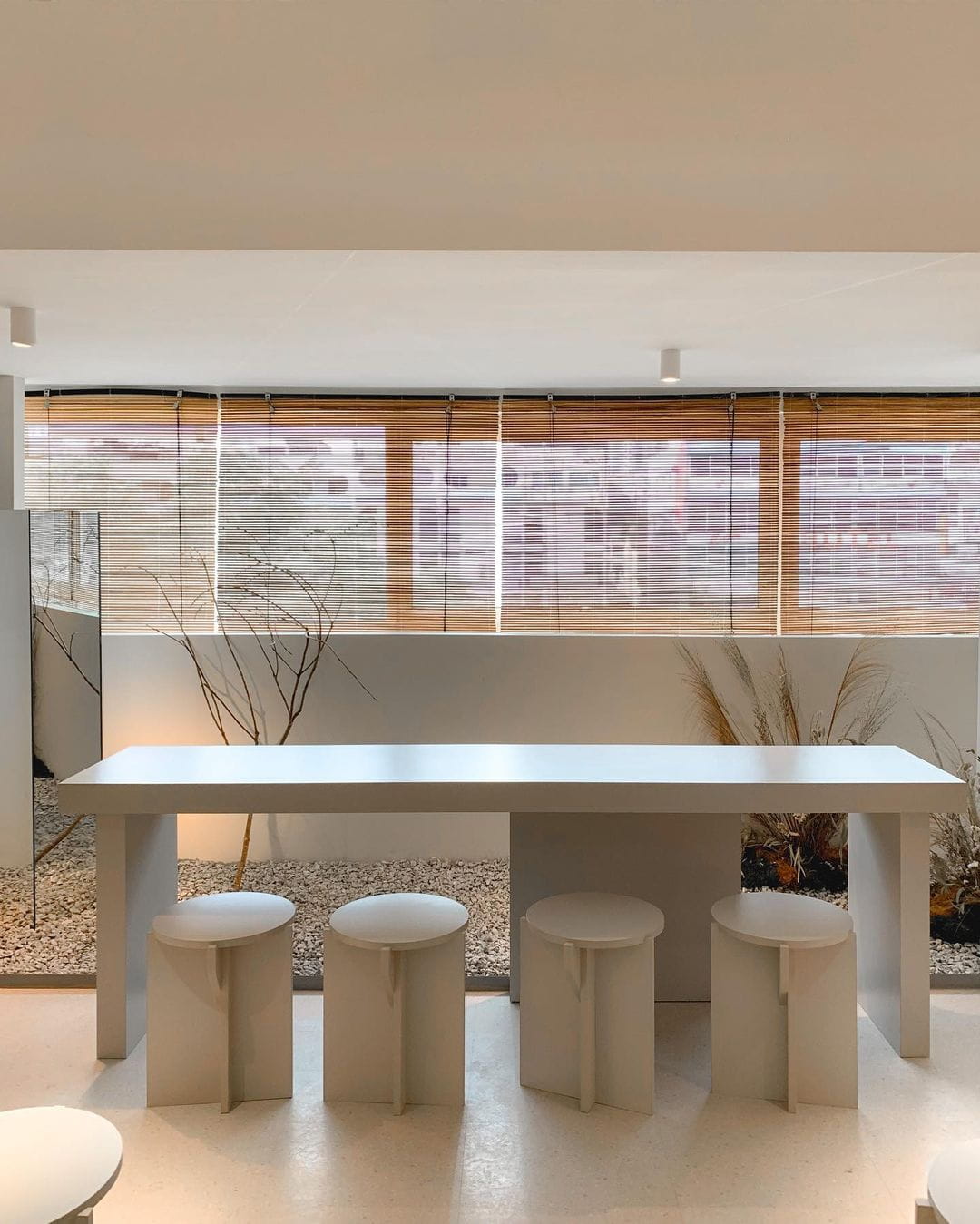 Image credit: @josephcshong
They specialise in a variety of matcha confectioneries, such as cakes, cheese tarts, sandwich cookies, and moon tarts, that are all lovingly whipped up by a small team of bakers. Some highlight desserts here are the Triple Matcha Cake (RM17) and Japanese Tea Moon Tart (RM22), which often receive rave reviews from patrons for being perfectly sweet.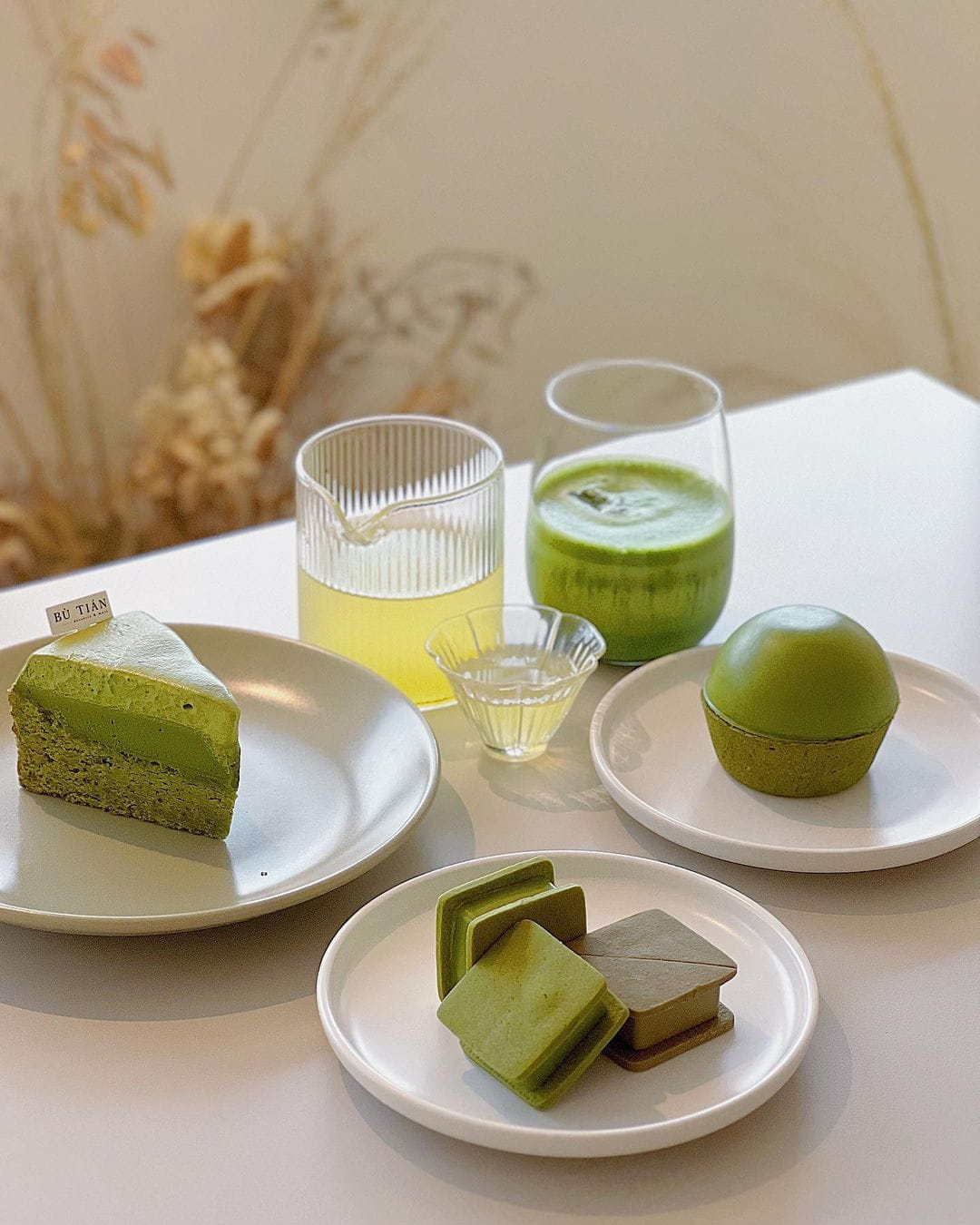 Image credit: @jiayee0223
There's also the Japanese Tea Sandwich Cookies in three variations – Matcha, Genmaicha, and Houjicha (RM7/each). You can also get this as a set of six cookies for RM38.
Address: 16-1, Jalan Indrahana 1, Taman Indrahana, 58200 Kuala Lumpur, WPKL
Opening hours: Thu-Tue 11am-7pm (Closed on Wednesdays)
Contact: 011-3320 6680 | BuTian website | Instagram
---
6. Mr & Mrs Brownie – fudgy brownies & mochi matcha lattes
---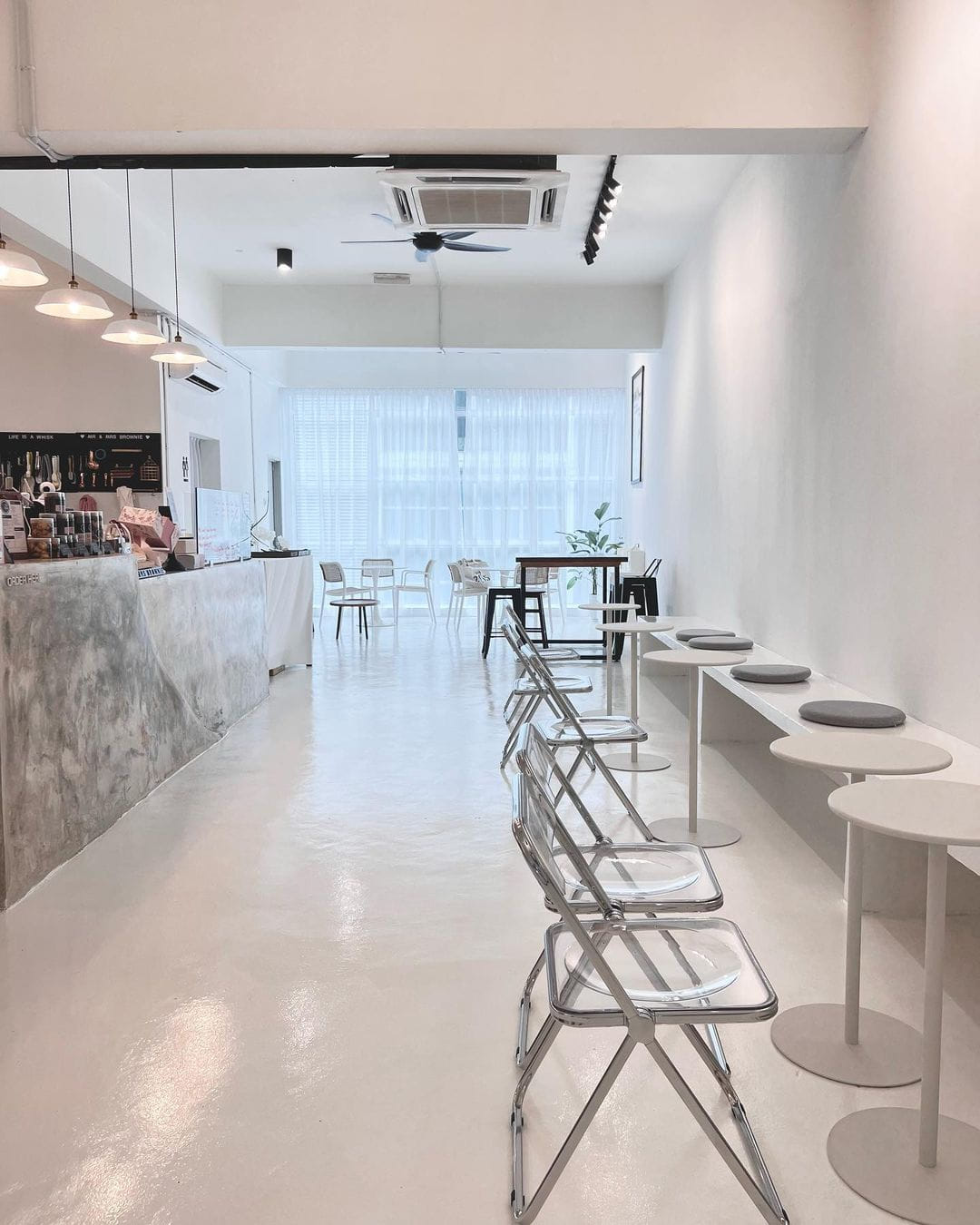 Image credit: @spy_jenn
Another treat for dessert lovers is Mr & Mrs Brownie. This minimalist cafe has been whipping up gooey brownies for over 5 years from their online store. They've recently found a permanent home in Sri Petaling, with a comfortable dining area to welcome their loyal patrons.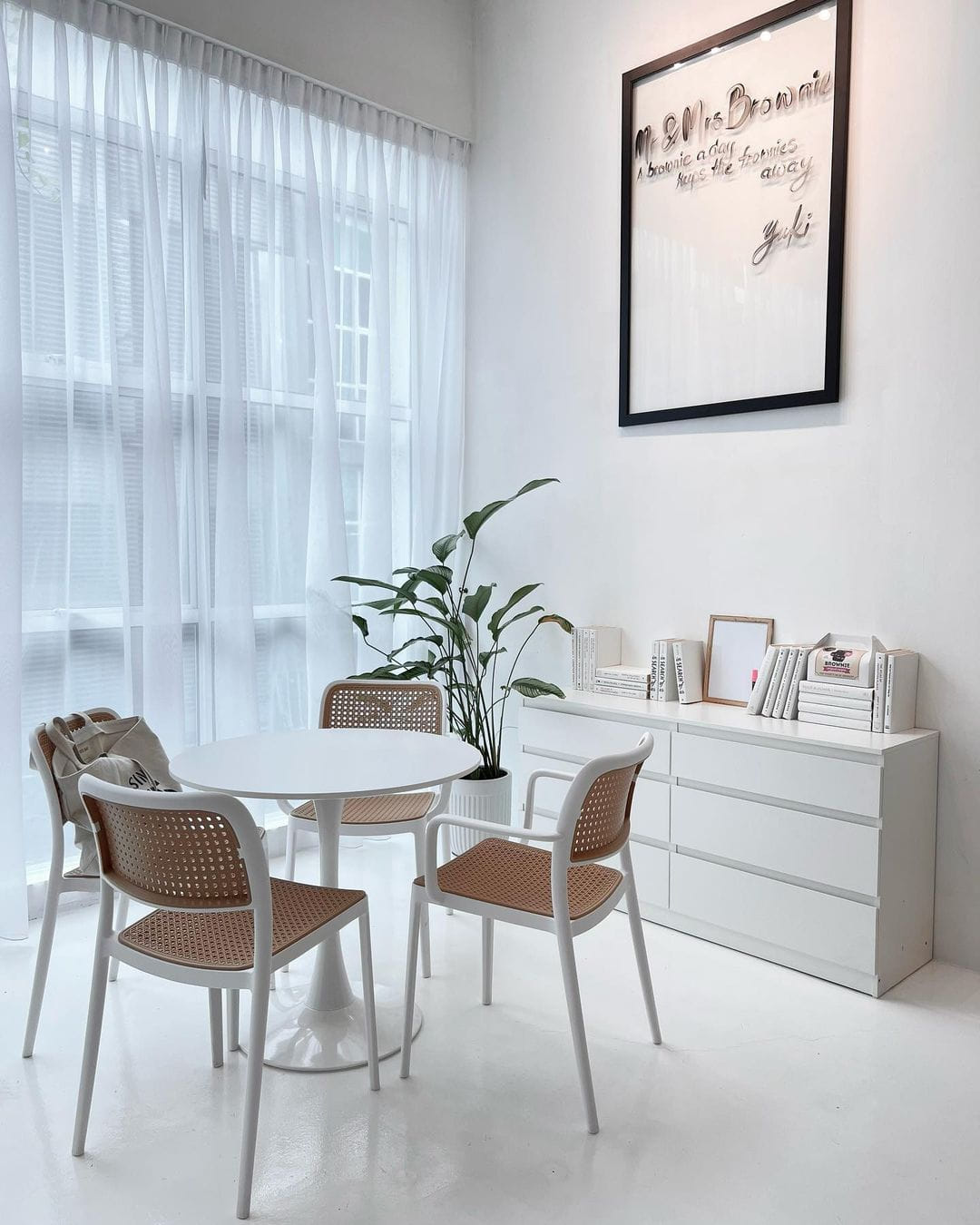 Image credit: @spy_jenn
Find 8 different types of fudgy brownies, all served warm, to order at this hidden gem in the area. This ranges from Classic Brownie (RM8.50), to extra indulgent ones such as Nutella Brownie (RM7.50) and Cheese Brownie (RM9.50).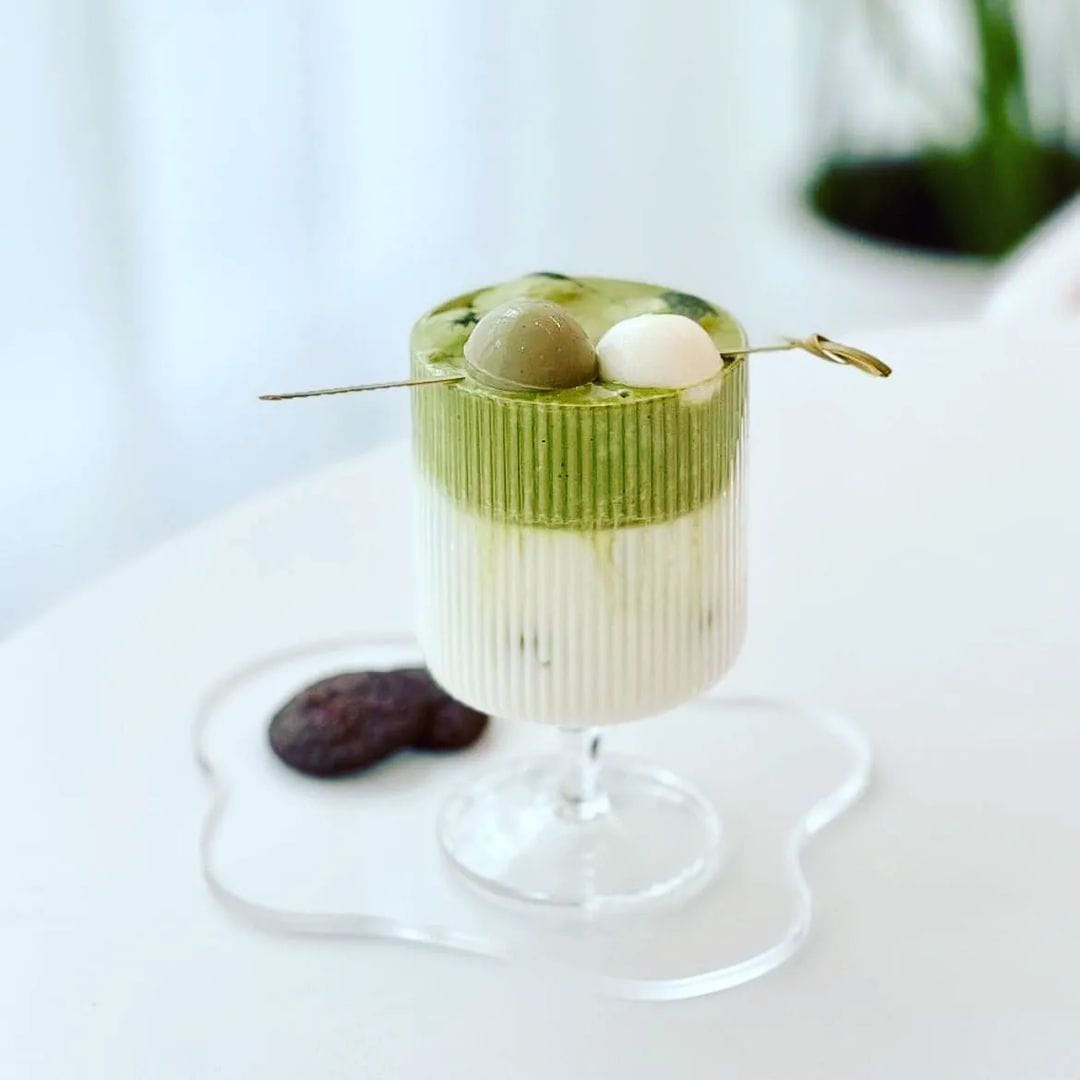 Image credit: @mrnmrsbrownie
For an extra sweet treat, their drinks are just as decadent – there are flavoured lattes such as Matcha Latte (RM13) and Strawberry Latte (RM14).
Address: 3, Jalan Radin Bagus 7, Bandar Baru Sri Petaling, 57000 Kuala Lumpur, WPKL
Opening hours: Wed-Mon 10am-6pm (Closed on Tuesdays)
Contact: 019-665 9657 | Mr & Mrs Brownie website | Instagram
---
7. Three Years Old – brunch specials & taro cakes
---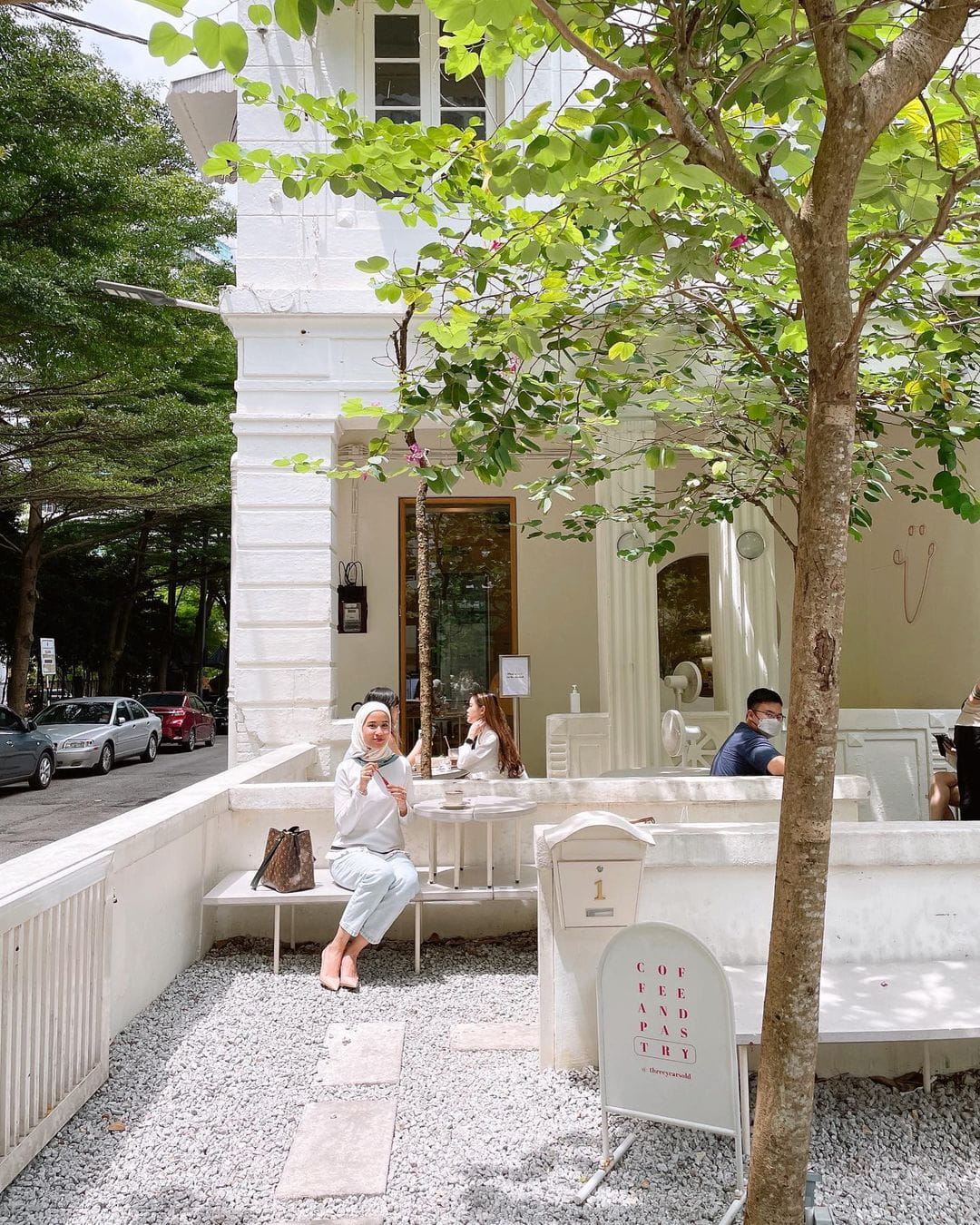 Image credit: @asma.nasa
When it comes to aesthetic cafes in the Bukit Bintang area, Three Years Old is one that springs to mind. Recently joining the list of Instagram-worthy cafes and restaurants located on Sin Chew Kee, this cafe is housed in a century-old, whitewashed townhouse. Its charms are often likened to those of Melbourne coffee establishments.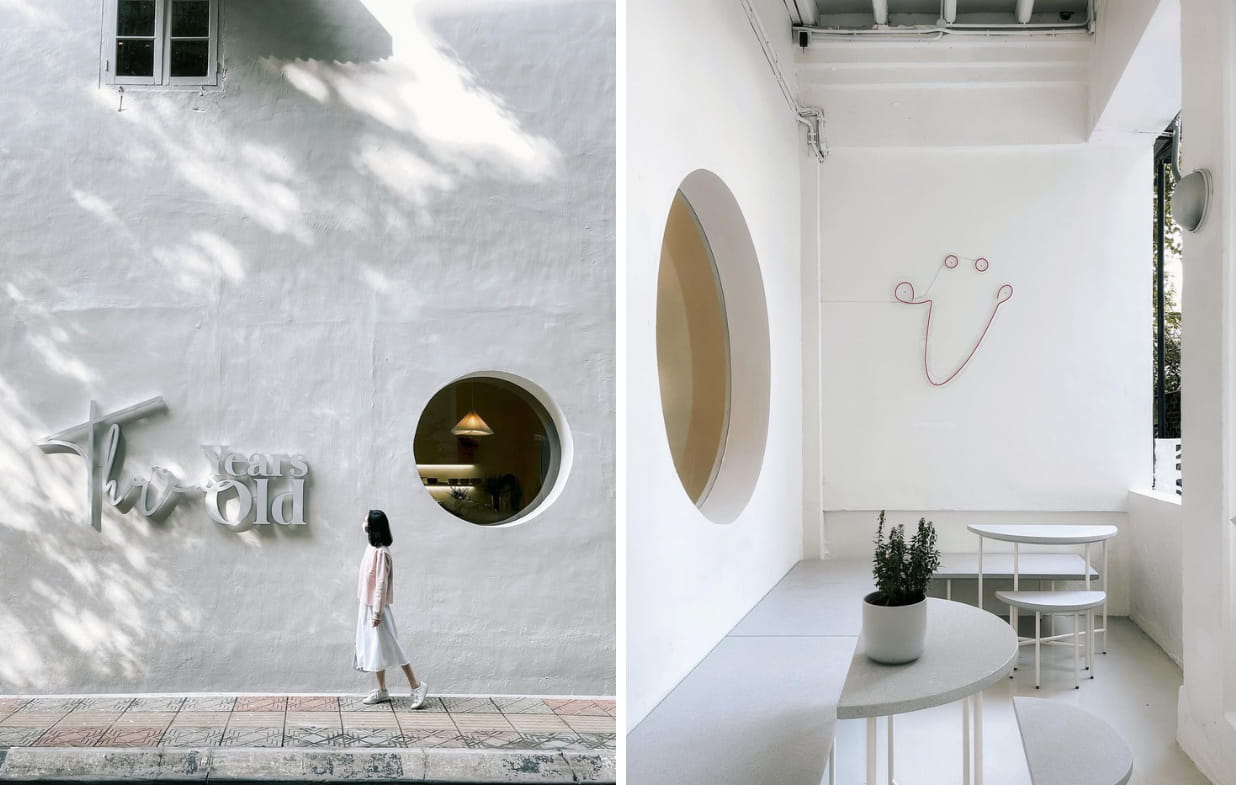 Image adapted from: @yvonnesoo
Outside, an all-white alfresco dining area lets you nurse a cup of coffee under a tree while you people watch. The cafe's facade is also a popular photo-taking subject among patrons – the side of the building, in particular, provides a great minimalist backdrop for photos.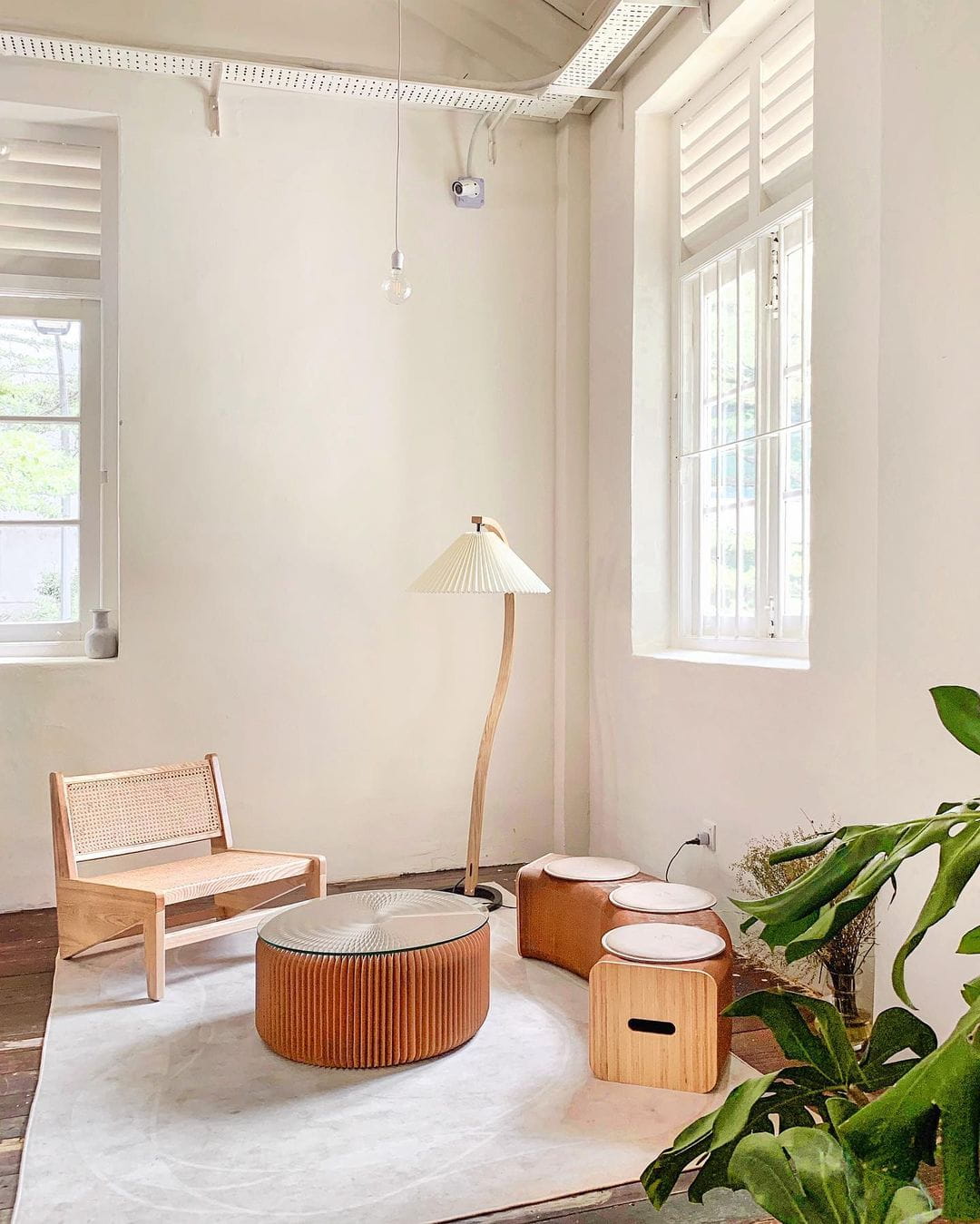 Image credit: @teeweiseng
If you're the kind of person who enjoys breakfast meals, Three Years Old serves classics such as Granola (RM20) with in-house granola, seasonal fruits, berry compote and Greek yoghurt, and Smashed Avo Toast (RM22) with smashed avocado and poached egg on sourdough toast.
Other crowd-favourites on the menu include Afternoon in Bangkok (RM15), a refreshing concoction comprising passionfruit, kaffir lime leaves, lemongrass and ginger, and Taro Cake (RM16/slice).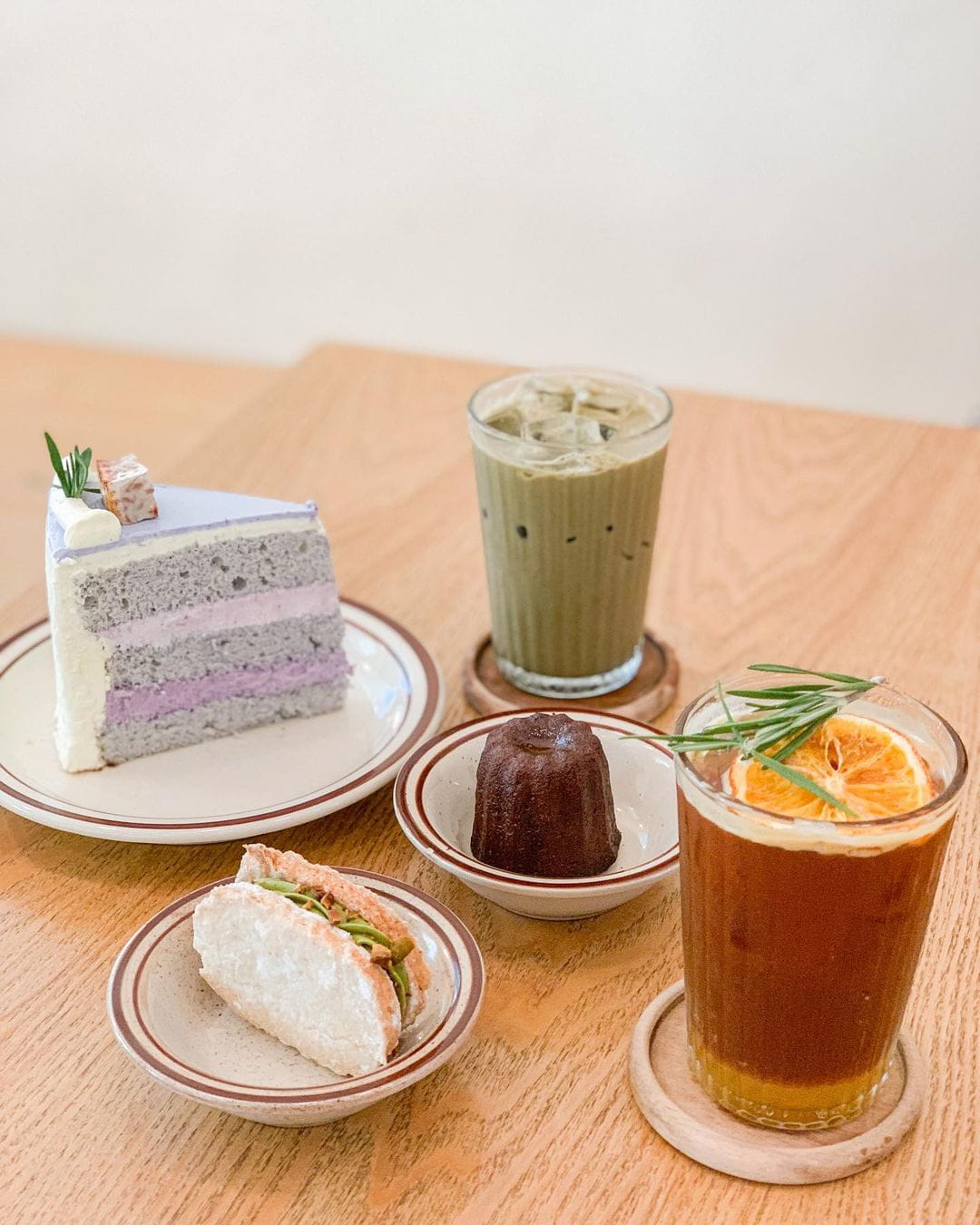 Image credit: @fettuyenne_
Address: 1, Jalan Sin Chew Kee, 50150, Bukit Bintang, Kuala Lumpur WPKL
Opening hours: Tue-Mon 9.30am-6.30pm (Closed on Wednesdays)
Contact: Three Years Old Instagram
---
8. Niko Neko 1.5 – speciality matcha drinks
---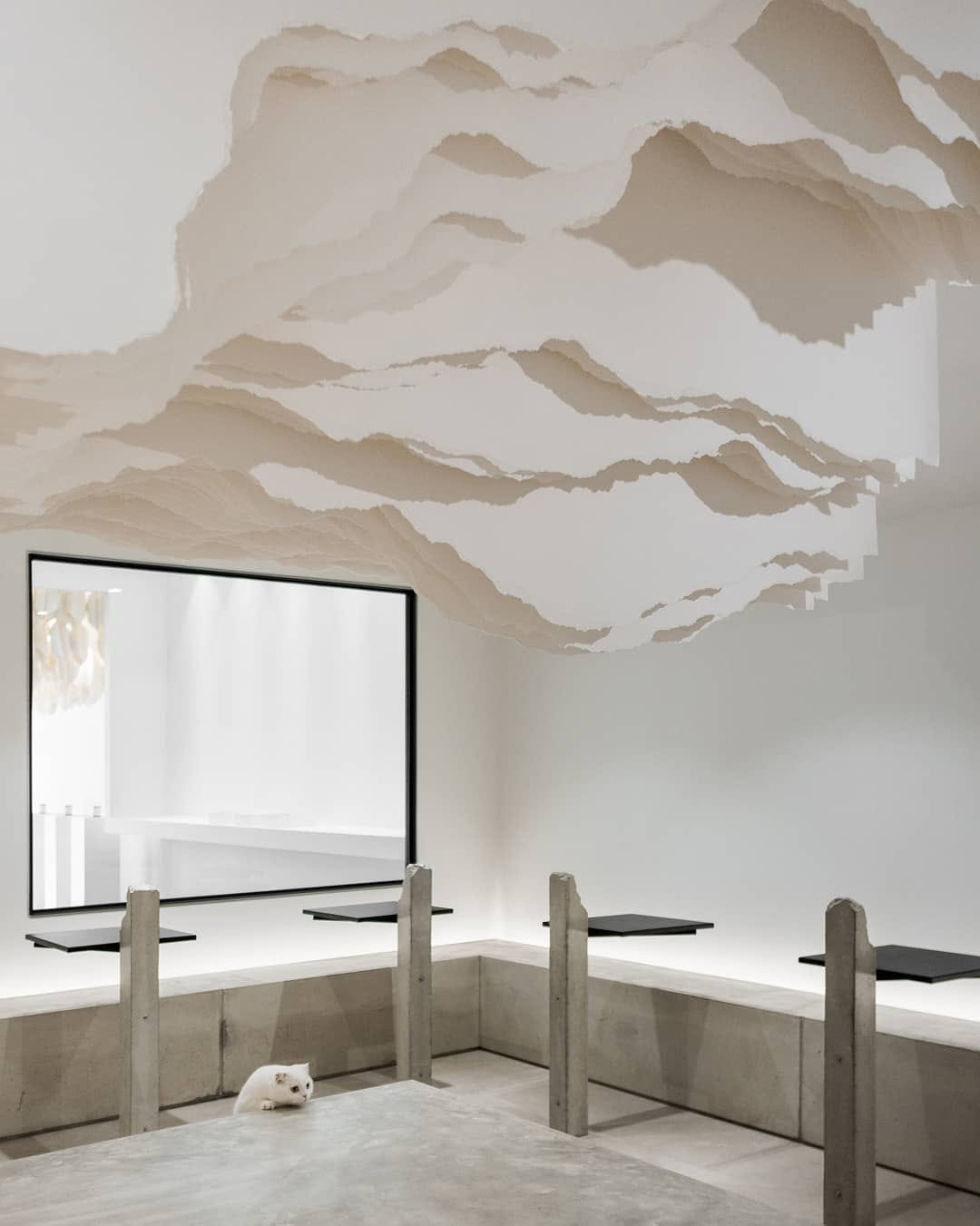 Image credit: @nic.lkh_
Niko Neko needs no introduction to matcha lovers. 
The well-known artisan matcha brand's range of matcha products are served at numerous cafes around Malaysia – over 400 of them, to be exact. But at their concept store outlet in Bangsar, dubbed Niko Neko 1.5, you'll get to enjoy their drinks in a surreal gallery-like space.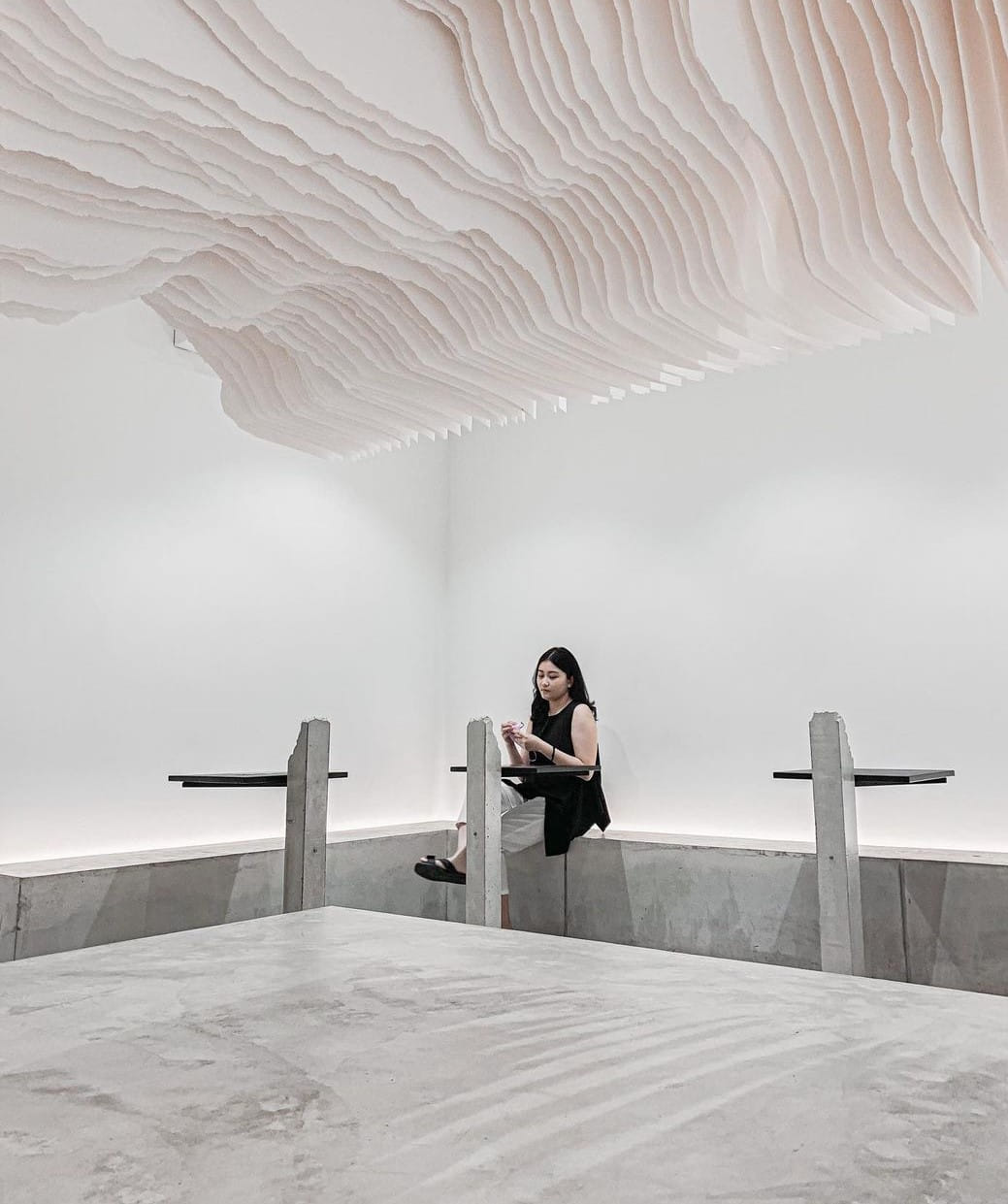 Image adapted from: @yovitakendrawijaya
Don't forget to look up when you enter the cafe. An organically-shaped decor piece hovers over the main dining space, which will make you think you're on the edge of another dimension. At one corner of the cafe, where their best-selling products are displayed on columns like art pieces, there's another hanging installation above with rolled-up papers.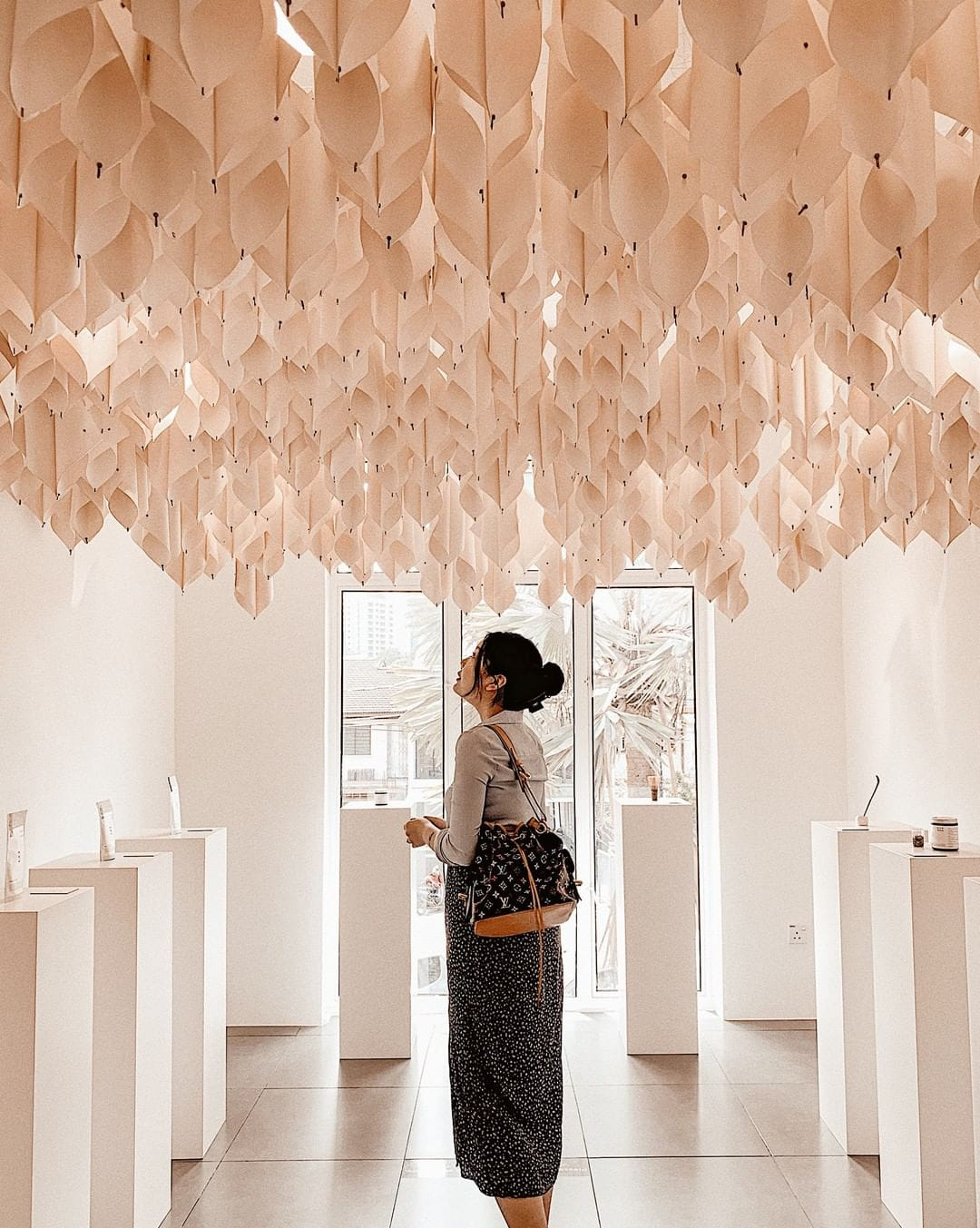 Image credit: @travelwithshini
Their matcha drinks are divided into three categories – lattes (from RM10), clear tea (from RM9), and mocktails (from RM15) – and they all boast different flavour notes. For starters, the Ren Matcha Latte (RM16) is super creamy and has a clean aftertaste, while the Ajisai Matcha Latte (RM11) tastes similar to soya bean and has a hint of bitterness. 
Their mocktails are worth trying too, as there are unique ones to order such as Mango Matcha Cheesecake (RM18). This drink comprises Ajisai matcha, cheesecake syrup, mango puree, lemon, fizzy soda and a frozen mango skewer that's a perfect dessert drink.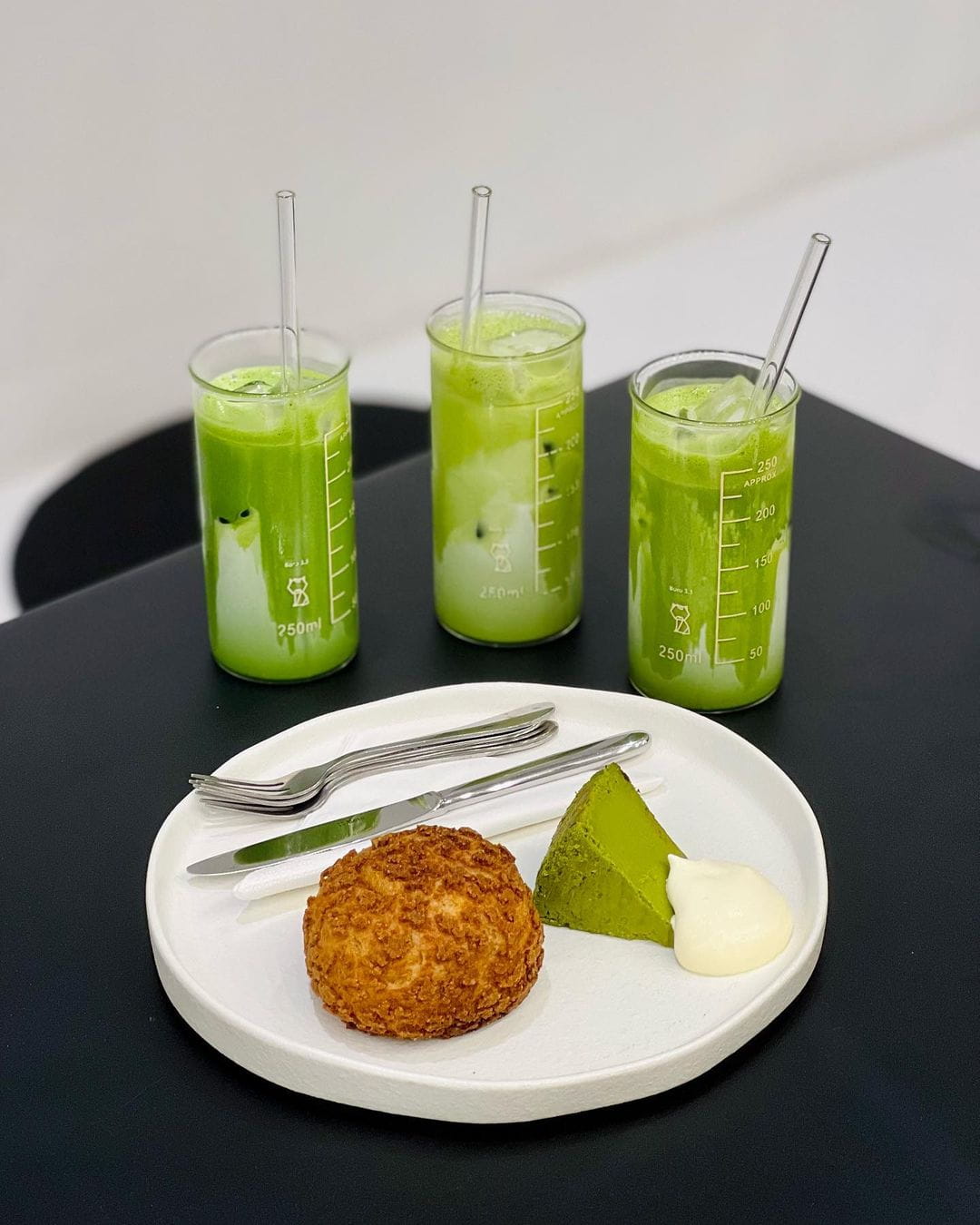 Image credit: @foodiegirlmy
Niko Neko also collaborates with different eateries for their various dessert offerings. Their Mini Matcha Burnt Cheesecake (RM10/slice), for starters, is a rich, melt-in-your-mouth cheesecake made in collaboration with The Tokyo Restaurant. 
Address: 82A, Lorong Maarof, Bangsar, 59000 Kuala Lumpur, WPKL
Opening hours: Thu-Tue 11am-5.30pm (Closed on Mondays)
Contact: 011-5648 2490 | Niko Neko website
---
Minimalist cafes with white interiors in Kuala Lumpur
---
We're all for adding pops of colours to liven up our feeds. But a splash of white, and calm and clean interiors, are the way to go if you're someone who appreciates sleek, modern interiors when you're dining out. So, bookmark this list of cafes for your next cafe-hopping adventure to sip on coffee in minimalist, white spaces that will surely help declutter your thoughts. 
Read more here: 
---
Cover image adapted from: @spy_jenn, @yovitakendrawijaya, @weeatfish, @i.am.suz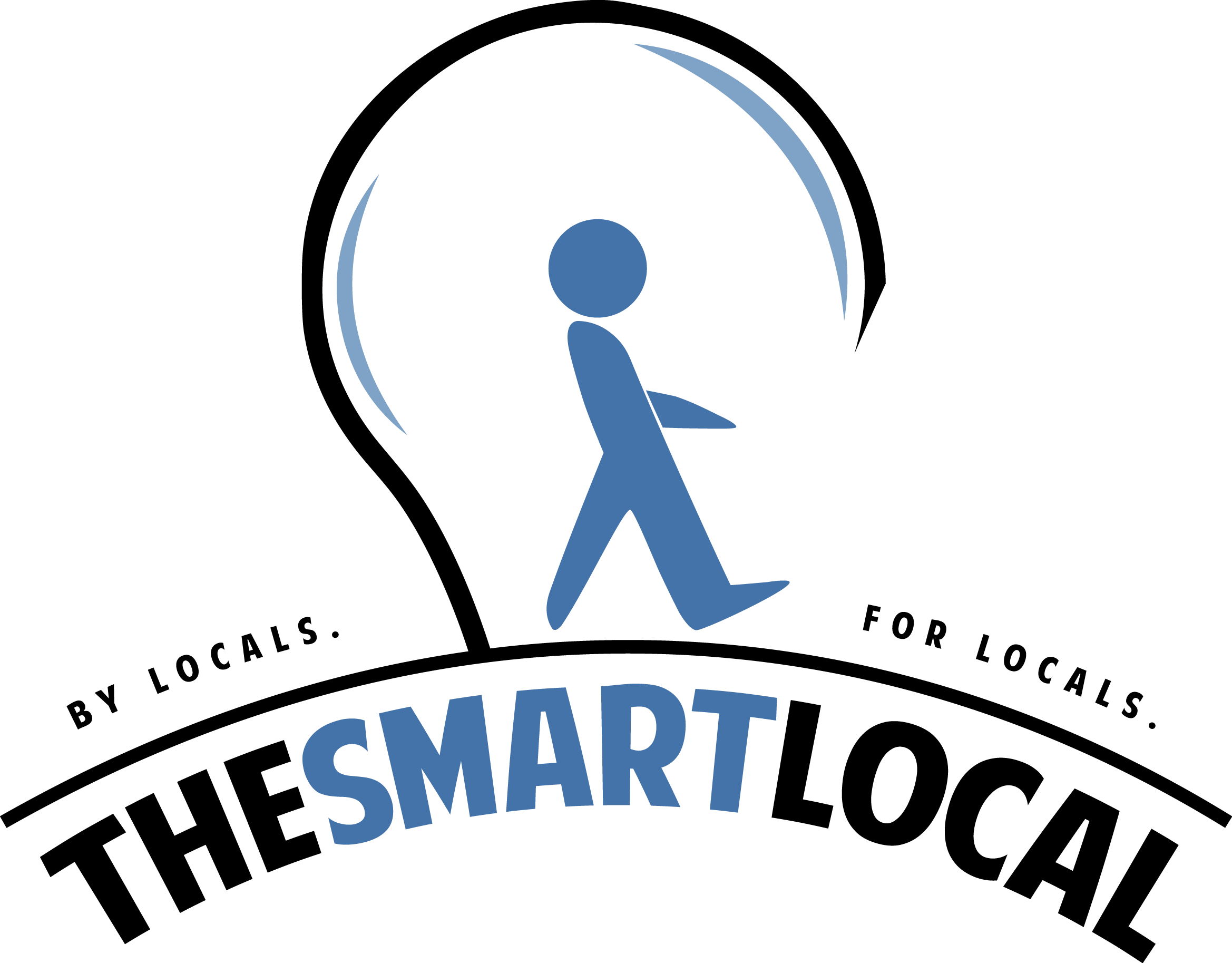 Drop us your email so you won't miss the latest news.