Splatter art studio in Subang Jaya
---
Painting has always been viewed as a therapeutic and relaxing activity that helps get our minds off our busy schedules. While this is true for some, not everyone is gifted with artistic talents and may find mixing colours and painting within the lines to be stressful instead.
Enter Splatter Art Factory, a hidden art studio in Subang Jaya where you can have an art jam session with your besties with no previous painting experience required.
Unleash your creativity and have fun by flicking glow-in-the-dark paint or shooting paint-filled water guns at a blank canvas to complete a bespoke artwork you can bring home after.
Here's what you can do here.
---
Art jam sessions in a hidden art studio
---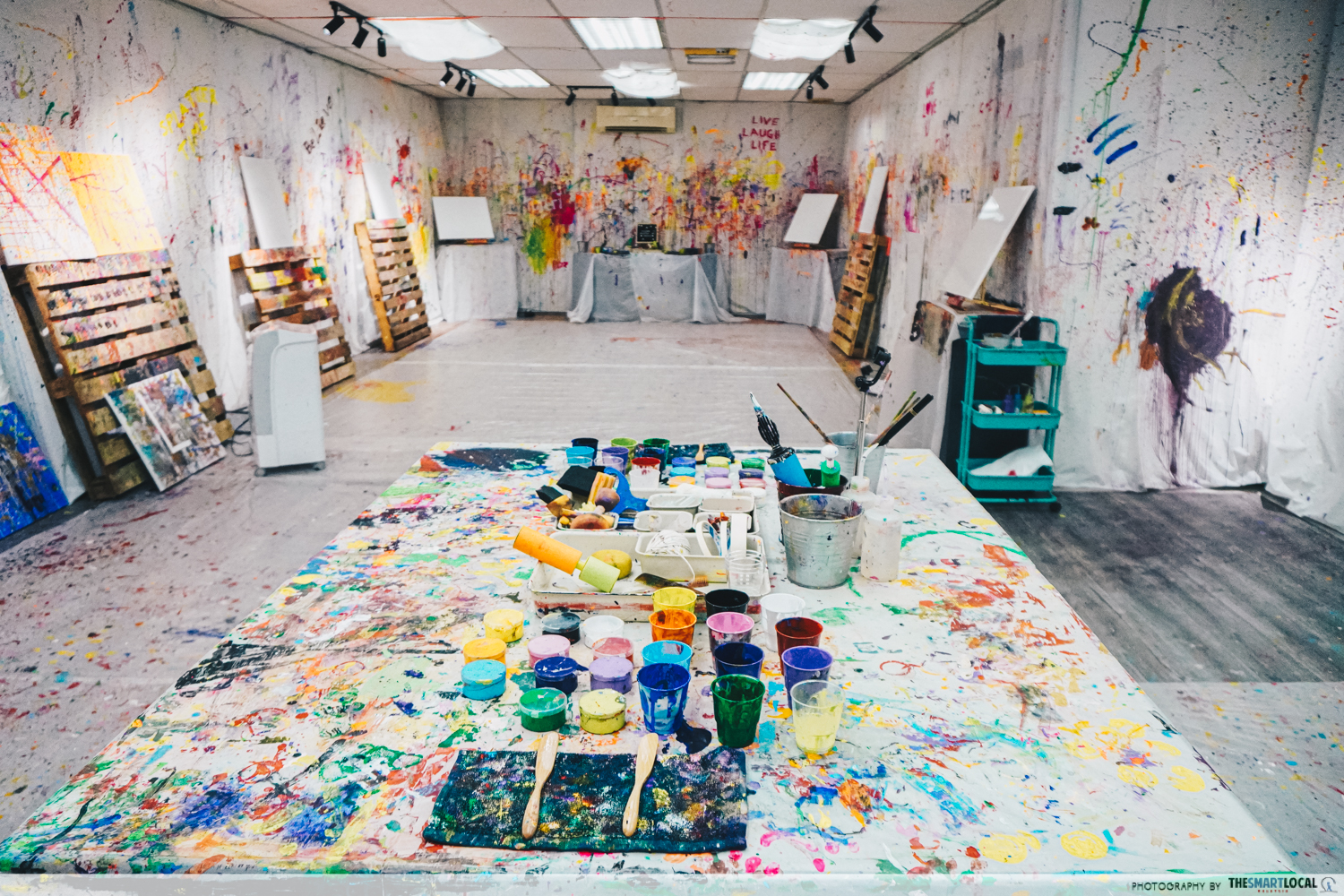 Fret not if the last time you picked up a brush was back in school during art class. Splatter Art Factory is a safe space in a Subang Jaya industrial park where art lovers and burned-out urbanites can unite.
Here, patrons can try their hand at filling up a blank canvas with paint via a variety of quirky tools, including toy water guns and pop-paint balloons.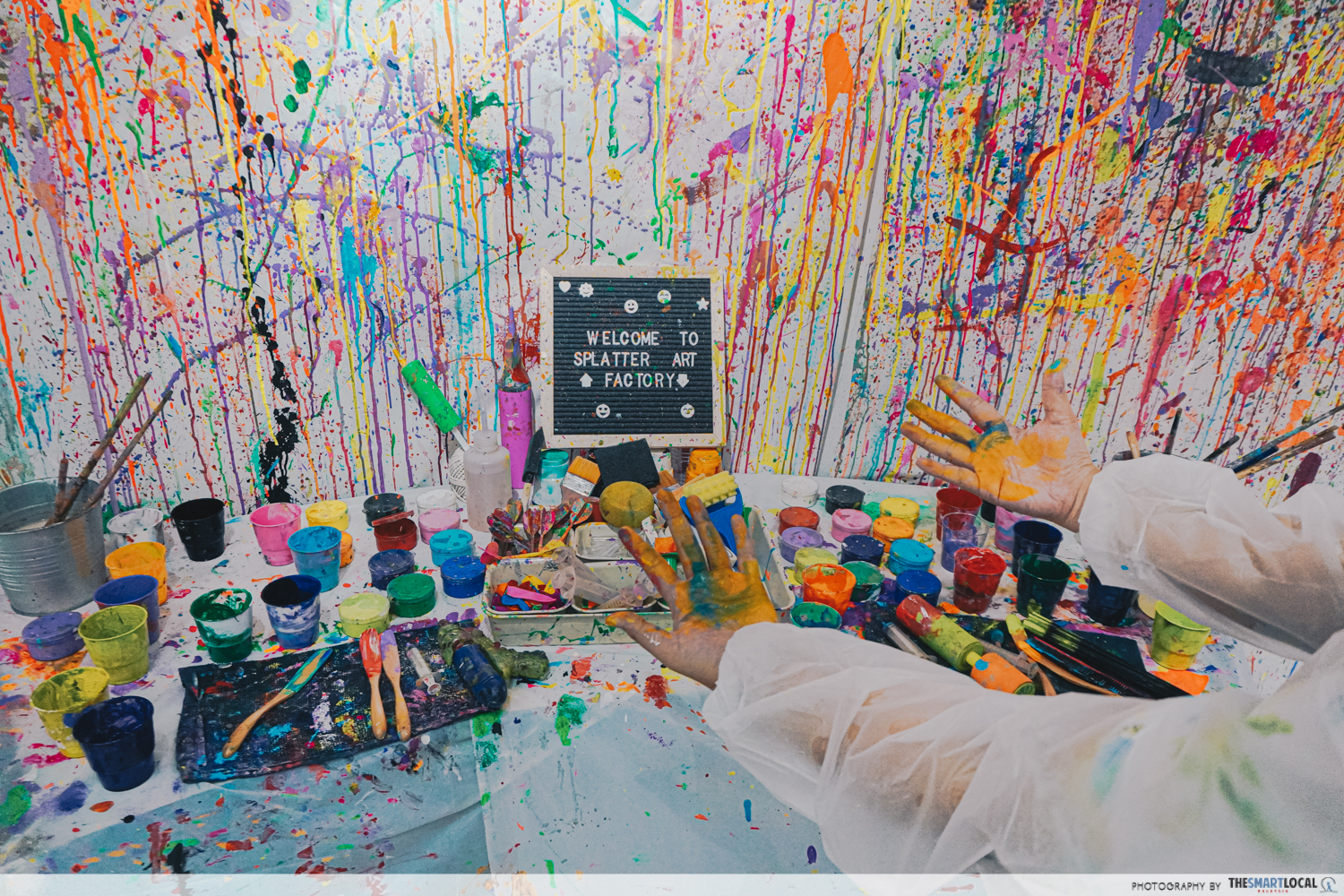 Find this lively art studio hiding out at Ultramine Industrial Park, tucked in between factories and offices in the area. They are located on the second floor of a factory that has been transformed into a lively, all-white hangout space that's been artfully decorated with paint splatters on the walls and floors from art jam sessions they host.
---
Paint with water balloons, water guns and darts
---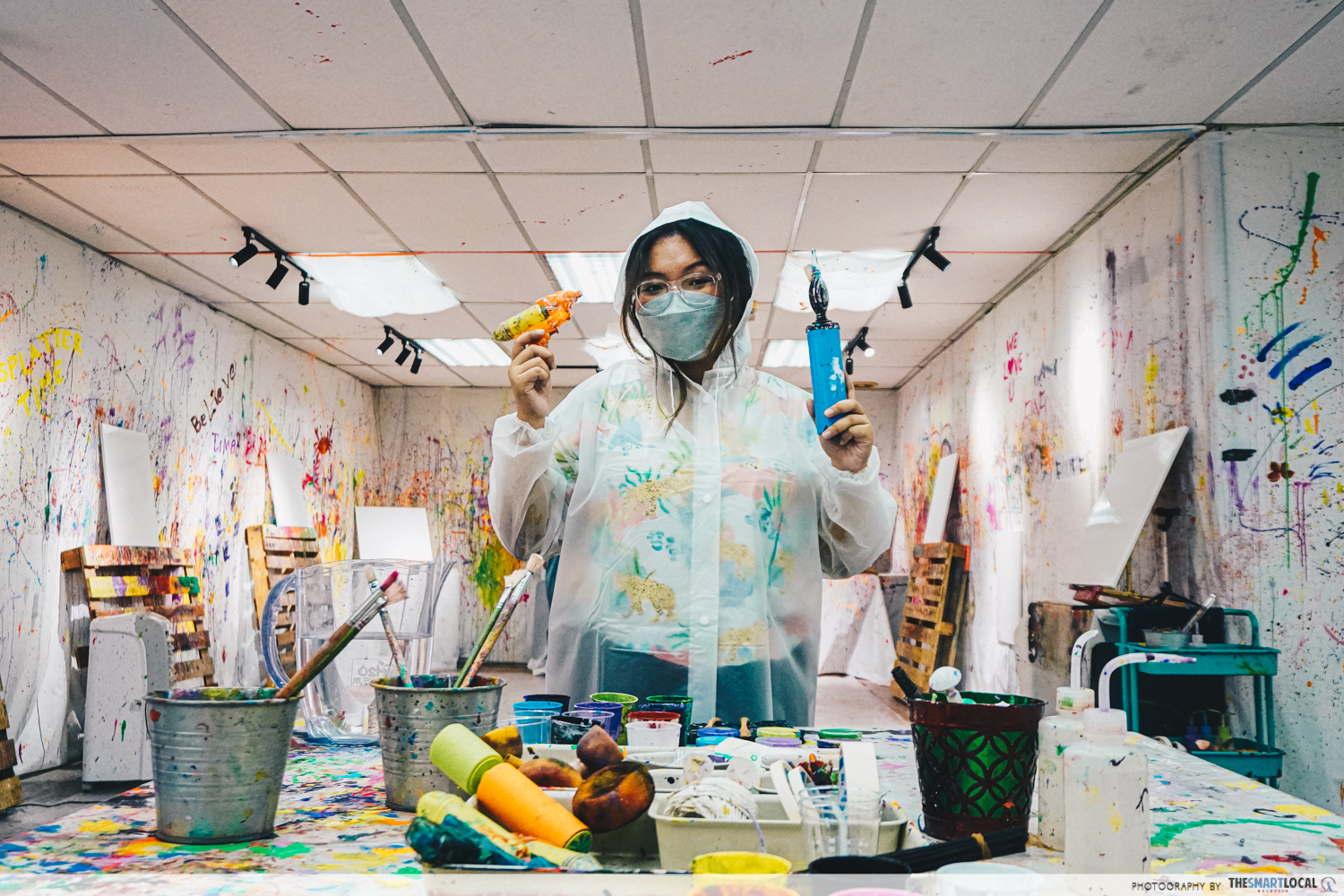 Come ready to let yourself get loose with colourful tubs of water-based acrylic paints and a wide variety of tools that aren't generally used for painting. This includes water guns, pop-paint balloons and syringes that you can utilise to create your artwork creatively without boundaries on a medium-sized canvas.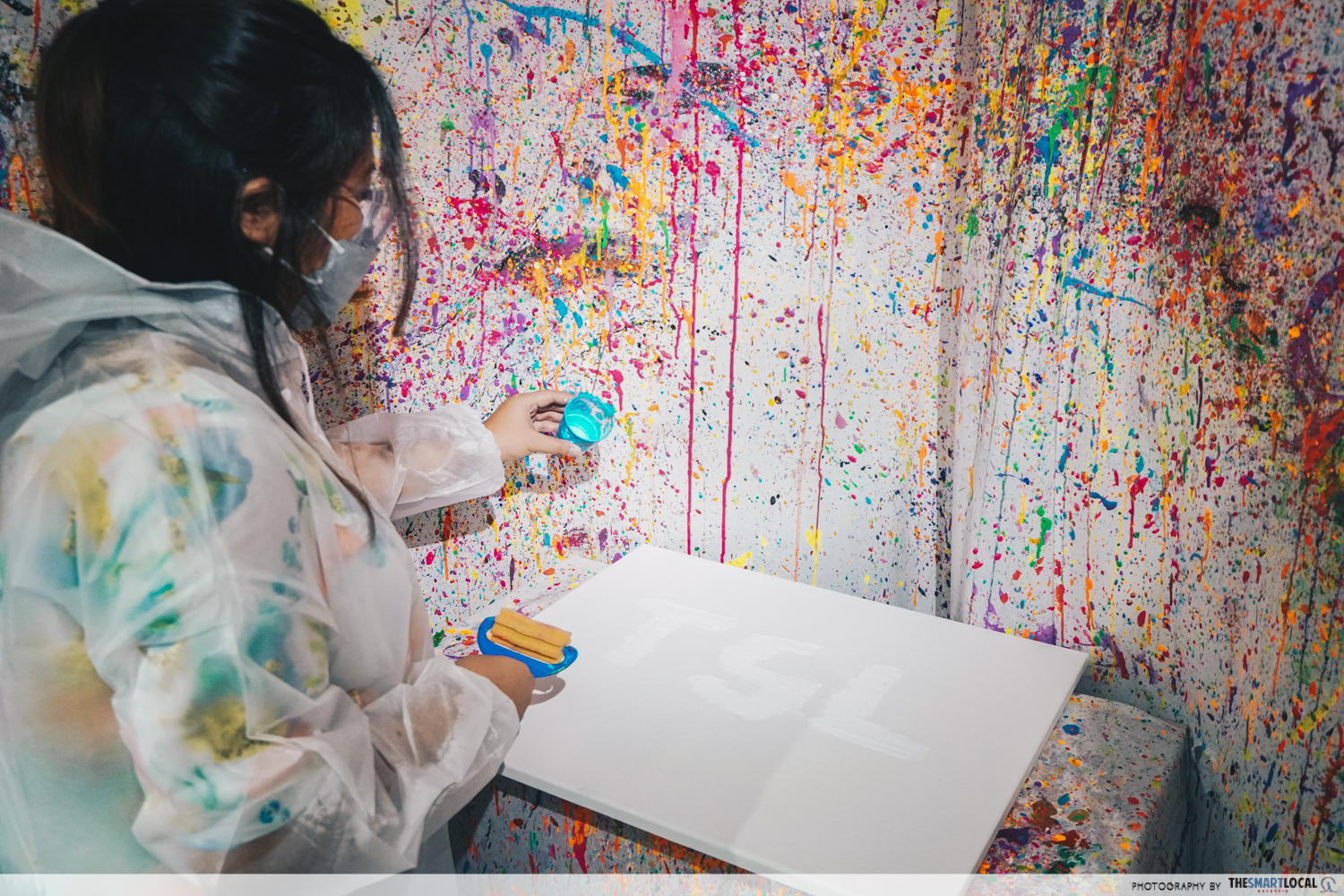 You can go rogue with painting here by choosing whatever art-making tool you prefer. We opted for some masking tape to create letters and paint rollers like the one you would use to paint walls to create a textured background.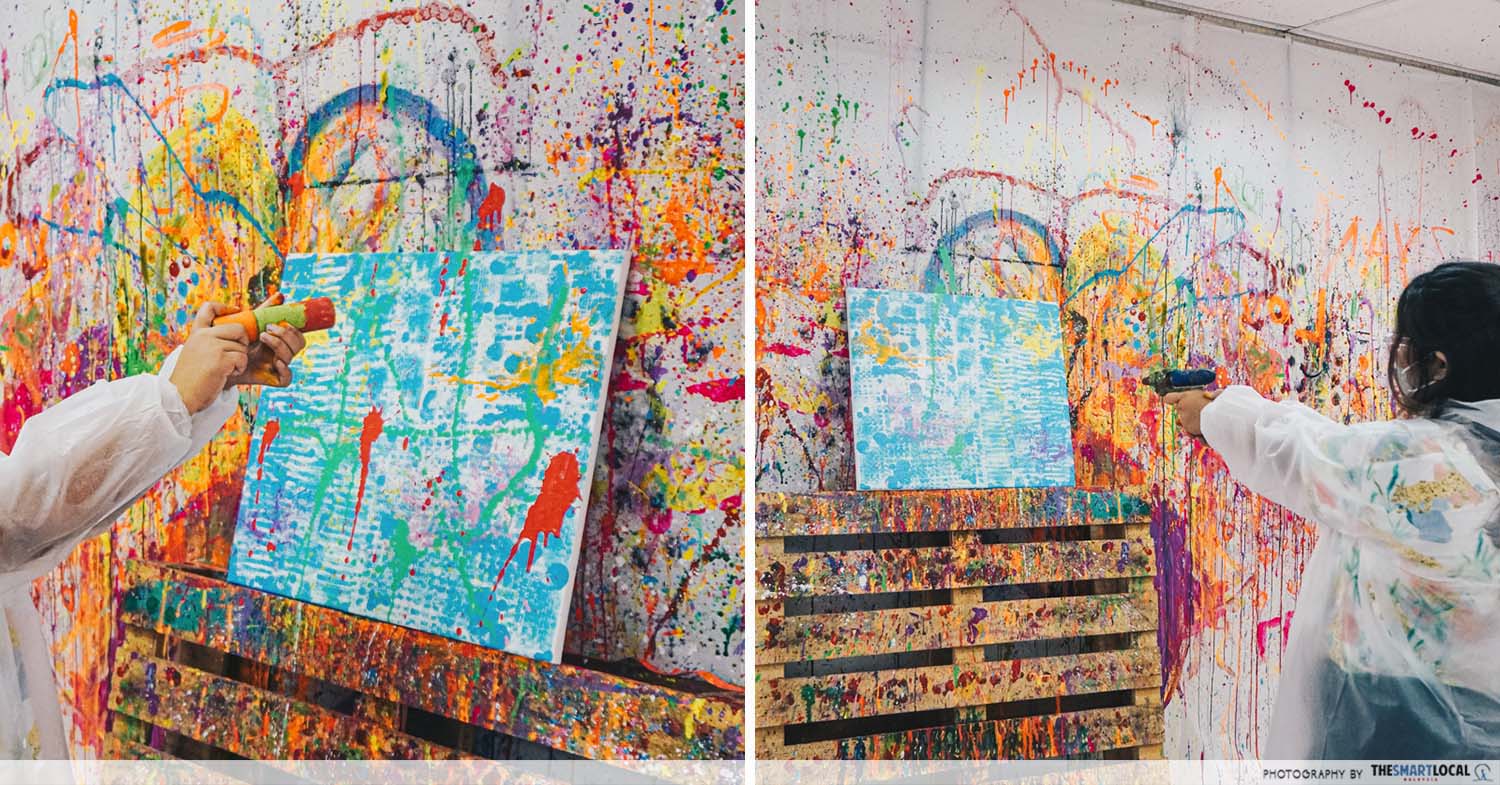 Prep aside, the real fun began when we bombarded our masterpiece with a toy water gun that was filled with bright, fiery red paint. Simply aim and shoot, and be mesmerised with the various abstract drips and shapes that will form with this unique painting tool.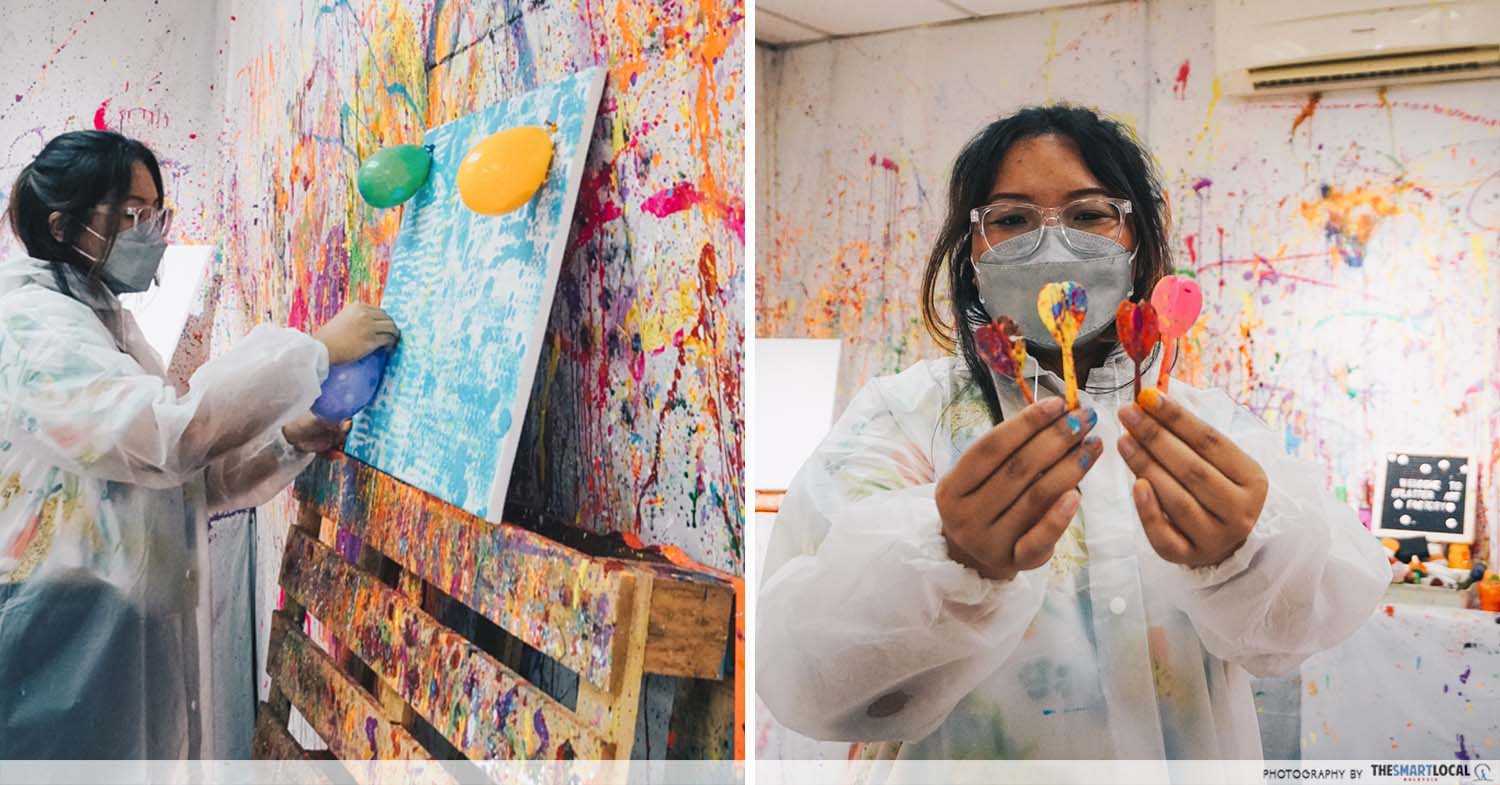 Like a scene out of The Princess Diaries, we also opted for water balloons loaded with vibrant paint and darts to pop the balloons for a unique, paint splatter effect.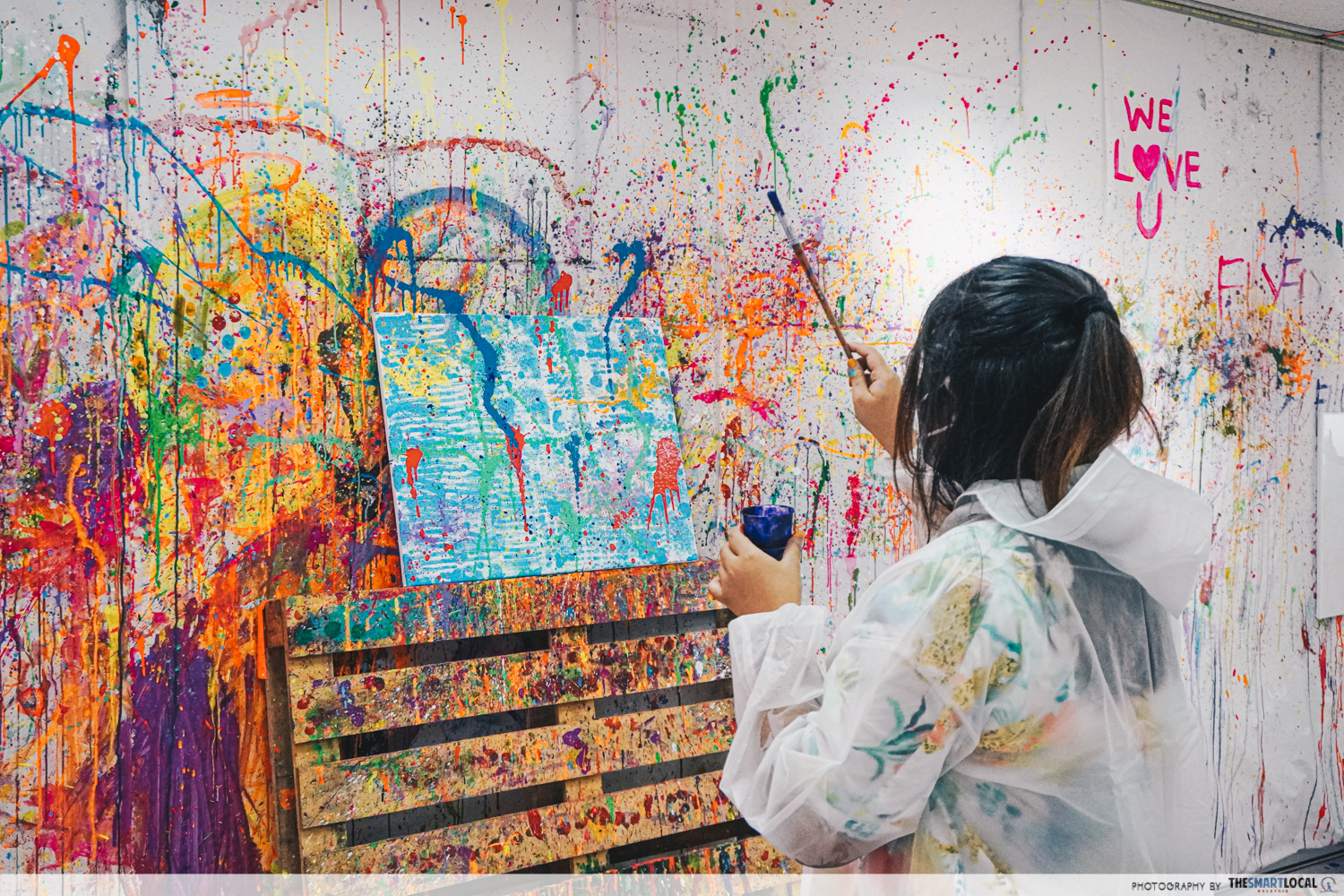 The brush, our all-time trustee, was next used to bring our art-making session to an end. The process of splattering paint on the canvas with a flick of your wrist had surprisingly satisfying and pleasant results too.
If you're looking to de-stress, the brush can be a fun painting tool, as you'll achieve more artistic results the harder you flick paint at the canvas.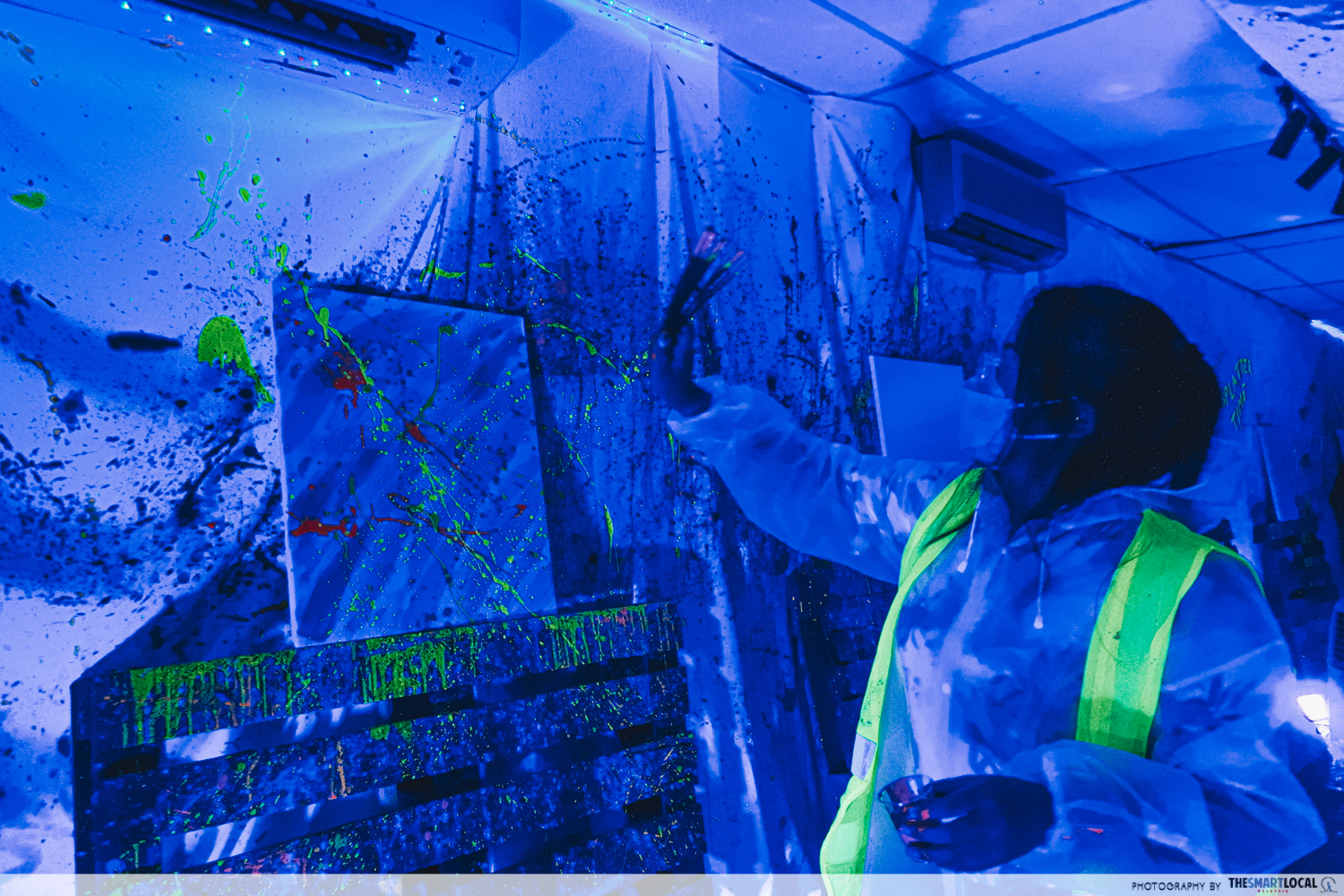 A painting session here is priced at RM120/pax. We suggest trying their UV Package (RM140/pax) if you're coming with your besties for a paint-in-the-dark art jam session with UV paints that glow in the dark.
You don't have to worry about the mess after this art-making session either. But it's recommended that you wear white or neon clothing so that you do not fade into the surroundings. Nonetheless, luminous vests are provided to patrons who want to take cool shots of themselves having a lit painting session for their Instagram feed.
---
Protective gear and art-pouring home kits
---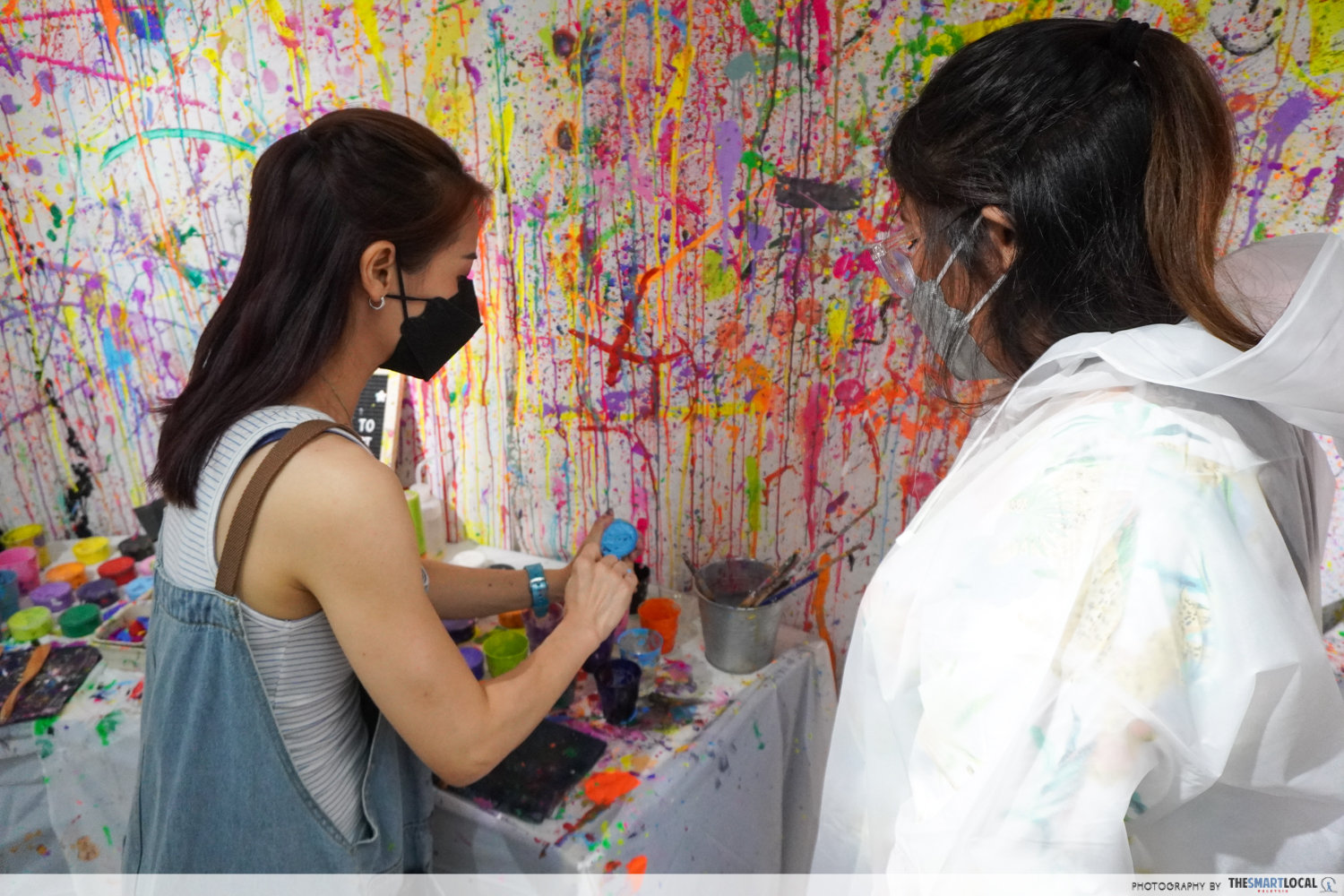 Besides canvas and painting tools, protective gear such as a waterproof poncho with a hood, disposable plastic shoe covers, and goggles are also included in their packages – so you don't have to worry about getting paint splashes on your clothes. 
If not, there are sinks at the studio where you can easily wash their water-based acrylic paint off after you're done.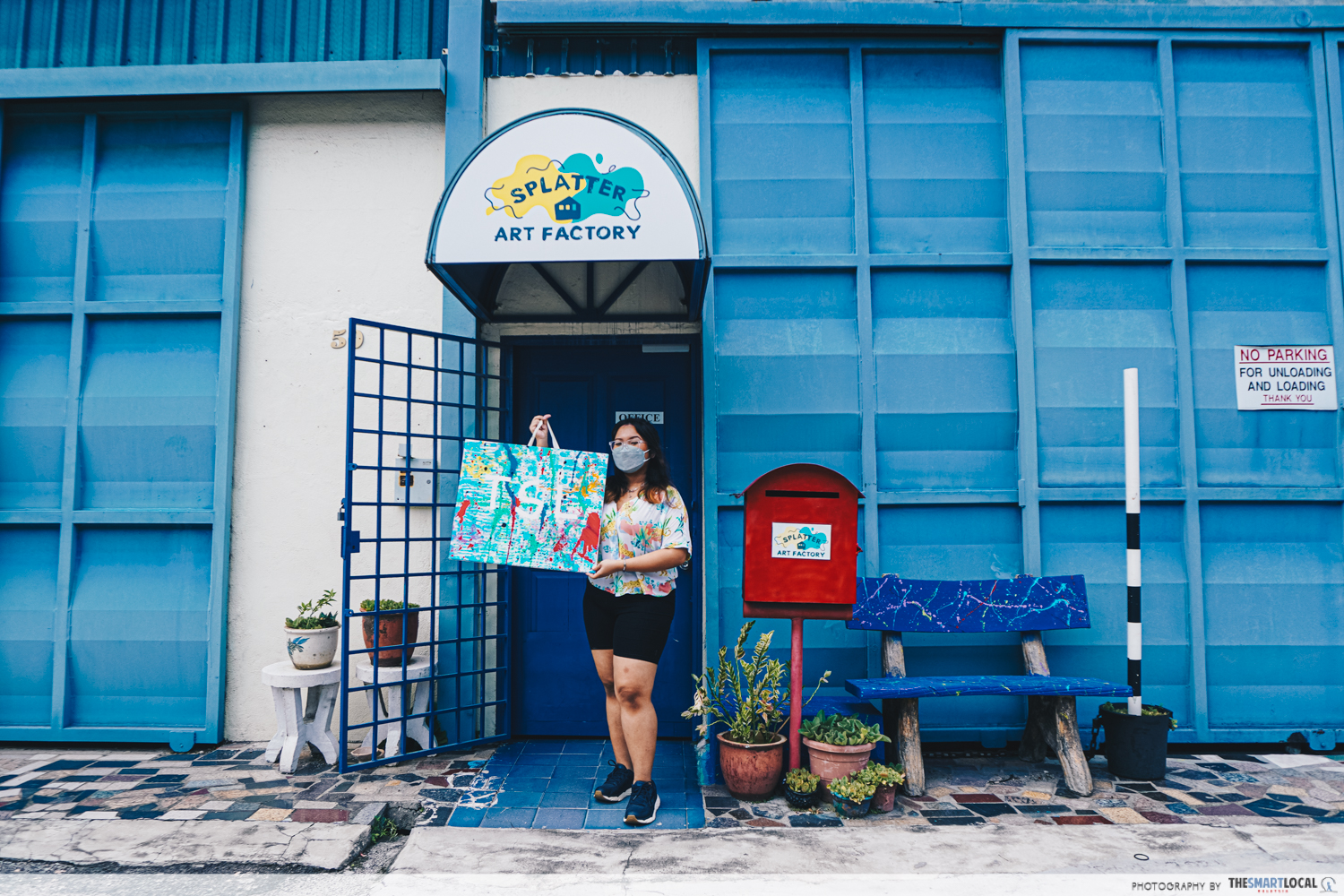 The most satisfying part – getting to bring back your work of art as soon as you're done with your session.
The owners of Splatter Art Factory are super helpful too, and will also show you how to use their paint tools and assist you during your session. Nonetheless, you are free to create your own unique masterpiece as getting creative here is the goal.
So even if you're not Jackson Pollock or Picasso, you'll be able to create a one-of-a-kind work of art to take home and display on your wall.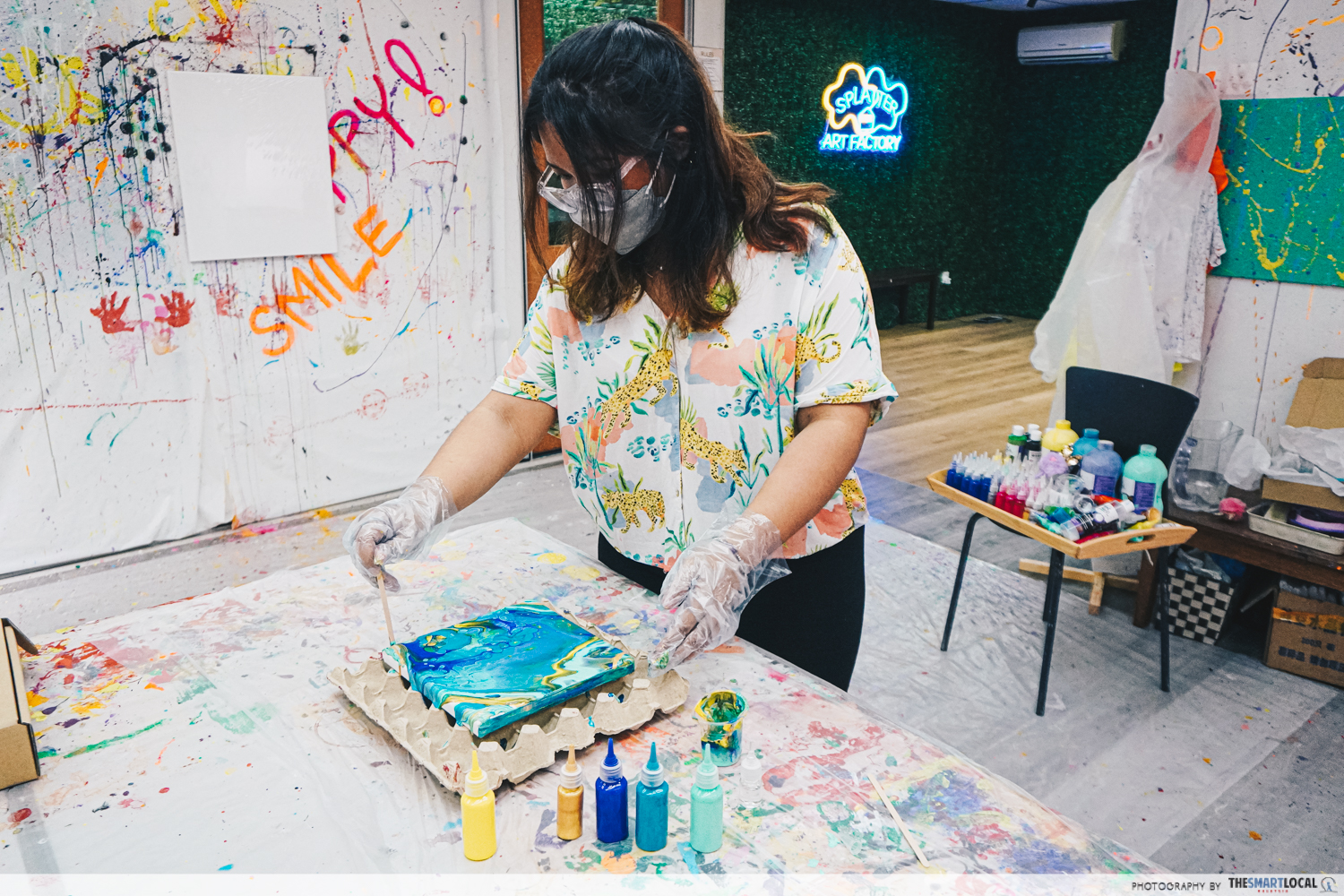 If you can't get enough of splattering paint after your session, consider getting their Pouring Art Home Kit (RM59). This creative kit includes two canvases – one small and one medium-sized, as well as all necessary utensils, five acrylic paints, and silicone oil. You can effortlessly create unique art pieces, similar to splattering art, by pouring paint and moving it around on the canvas with the provided tools to create marble-like patterns.
---
Splatter Art Factory in Subang Jaya
---
Splatter Art Factory is co-founded and managed by a pair of passionate sisters, Joyce and Amy, who believe that adults can have the same fun as kids, especially with colours. So if you're looking for a fun distraction from life, this charming art studio in Subang Jaya is where you can bring out your inner child and get creative with colourful paint and quirky painting tools.
Watch our video feature here:
Address: 50, Block C, Lot 49 & 777, Jalan Subang 4, Ultramine Industrial Park, Subang Jaya
Opening hours: Tue – Sun 10AM-5PM (Closed every Mondays)
Telephone: 014-338 1833
Splatter Art Factory's website | Facebook | Instagram
Check out these places for things to do nearby:
---
Photography by Emily Bak.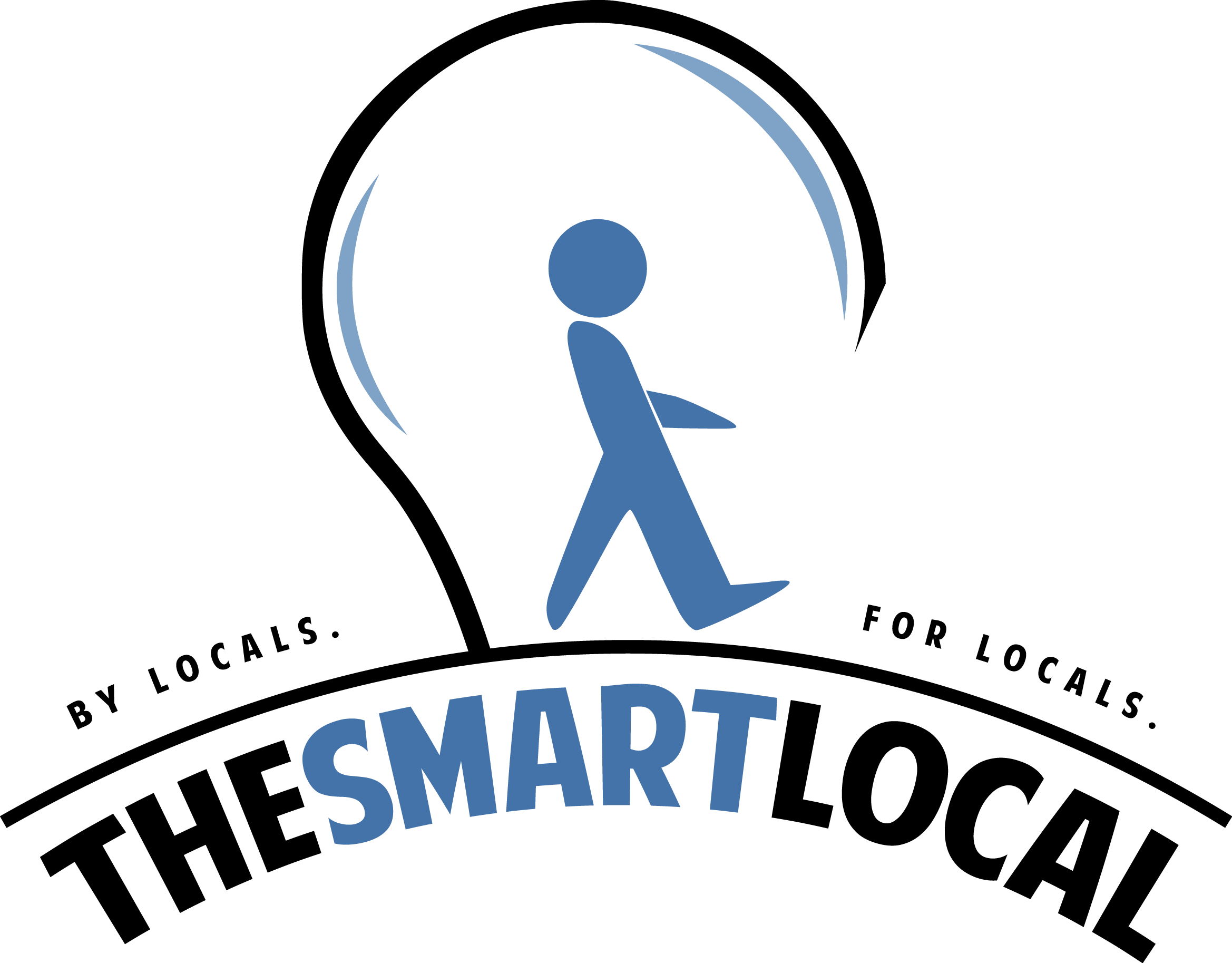 Drop us your email so you won't miss the latest news.