Viral video at Hang Tuah Station
---
The Light Rail Transit (LRT) system helps serve Malaysians who are opting for a way to get around conveniently. However, there remain concerns among the public over facilities and services provided at LRT stations.
Such a concern appeared to be the case for this commuter, who was greeted at an entrance to Hang Tuah LRT station with out-of-service ticket vending machines and unmanned counters.
After a video of his complaints went viral, Rapid KL clarified that the entrance he visited is not yet open to the public, and will only begin operations on 28th February 2022.
---
Man vents about faulty ticket machines
---
On 13th February 2022, TikTok user Sam Wong posted a video expressing his dissatisfaction over the lack of accessibility to Hang Tuah LRT station via the newly opened LaLaport Bukit Bintang City Centre (BBCC) entrance.
The video begins with Wong saying that all three ticket vending machines at the entrance were under maintenance, and that he couldn't get tokens to reach Pavilion in Bukit Bintang.
He pointed out the lack of staff to assist him at the counter, with signs saying 'rehat' seen in his video. There were apparently no Touch 'n Go top-up machines nearby either, so he couldn't perform reloads as an alternative.

Image credit: @samwongsx
Left frustrated by the whole situation, Wong said that public transport is not convenient, as everything was under maintenance and there was no one around to offer assistance.
Since its posting, Wong's video went viral on TikTok, garnering over 70,000 views and more than 4,000 likes from netizens who also left comments calling for improvements to our public transportation system, in particular inoperative ticket machines.
---
Rapid KL clarifies status of entrance to Hang Tuah LRT station
---
Two days after Wong's video went viral, Rapid KL shared a statement on their Facebook page to clarify the situation. According to the statement, the particular entrance that Wong attempted to use is not yet opened to the public, with operations expected to begin on 28th February.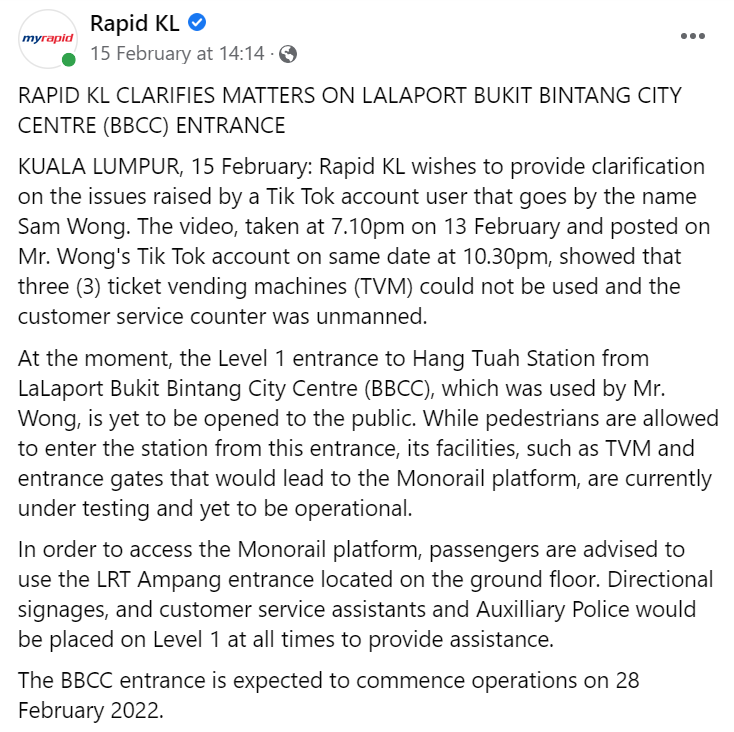 Image credit: Rapid KL
"At the moment, the Level 1 entrance to Hang Tuah Station from LaLaport Bukit Bintang City Centre (BBCC), which was used by Mr Wong, is yet to be opened to the public. While pedestrians are allowed to enter the station from this entrance, its facilities, such as ticket vending machines (TVM) and entrance gates that would lead to the Monorail platform, are currently under testing and yet to be operational," the statement read.
Rapid KL also advised commuters who wished to access the monorail platform to use the LRT Ampang entrance located on the ground floor of LaLaport BBCC instead.
There will now be directional signages, auxiliary police and customer service officers at the Level 1 entrance Wong visited too.
---
Using public transport in Malaysia
---
As the entrance to the LRT station is not yet open to the public till 28th February, it's understandable that facilities and services were not operational there yet. Though Rapid KL has clarified the situation, we hope that they'll continue to address commuters' concerns over small and big issues with their passengers' convenience always in mind.
Read more here:
---
Cover image adapted from: @samwongsx and klia2.info (for illustration purposes only)
Get more stories like this!
Drop us your email so you won't miss the latest news.