Teen hikes for 2 hours for better internet connection
---
No matter how daunting a dream or goal may seem, it is not impossible for us to achieve them if we put our minds to it. Admittedly, the journey to success is tougher for some, but their determination can serve as motivation to the rest of us – as shown by this 19-year-old teenager in Sarawak.
The young man had to hike up a hill for two hours to attend his online university interviews as he wasn't able to receive stable internet connection at home. He aspires to be a teacher, and didn't let the long hike or external factors such as pesky leeches or our rainy weather from being outside dampen his resolve.
---
Dreams of becoming a teacher despite the obstacles
---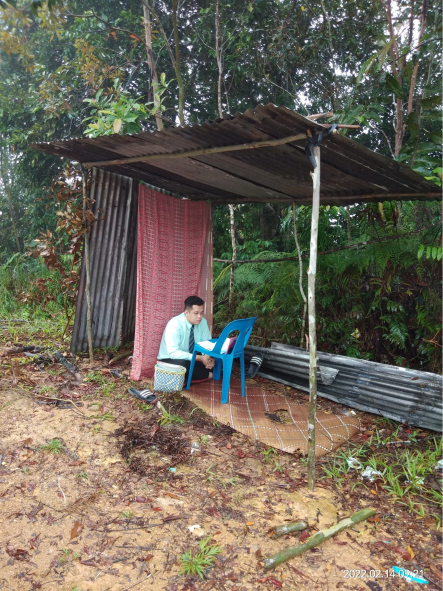 Image credit: Mario Sa
A post on Facebook by Mario Sa has gone viral online since it was shared on 14th February 2022.
The video and pictures in the post showed Mario's younger brother, Frank Steward Panting Sa from Pakan, sitting outside on a mat with his phone and interview materials propped on a plastic chair.
As shared by Mario Sa in the post, Frank had to trek up Bukit Kelingkang to attend his online interviews with Universiti Pendidikan Sultan Idris (UPSI). Frank was determined to attend the interviews so he could enrol in the institution, as he had always dreamt of becoming a teacher.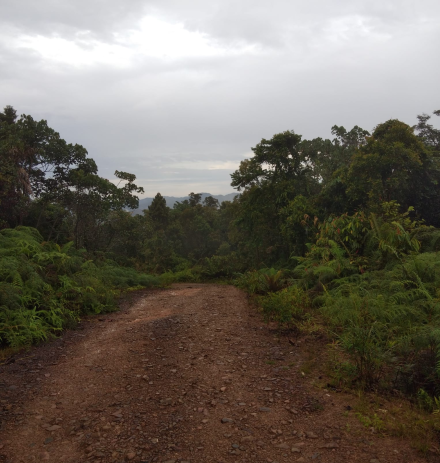 Image credit: Mario Sa
The reason behind the long and arduous trek is because Mario and Frank's longhouse Rumah Suing in Teberu, Ulu Kemalih, is not able to receive stable internet connection for the latter to attend the online interviews.
According to Mario, the network used for their residence is Sarawak Rural Broadband Network (SRBN), an initiative of the Sarawak government that aims to improve internet connectivity in the area. However, the network is only able to support applications that require less internet data, such as Whatsapp and Facebook. 
Left with little alternatives, Frank had to journey up the hill to find a spot with better internet connectivity for his online interviews.
Mario also mentioned that their father, Sa Ujom, had constructed a makeshift hut with a roof, mat and backdrop for Frank to conduct his interviews.
"Even with the mat, Frank's pants were soaked due to the ground being wet from the heavy rain," Mario shared. "His legs were also bitten by leeches, but that did not stop Frank from going through with the interviews."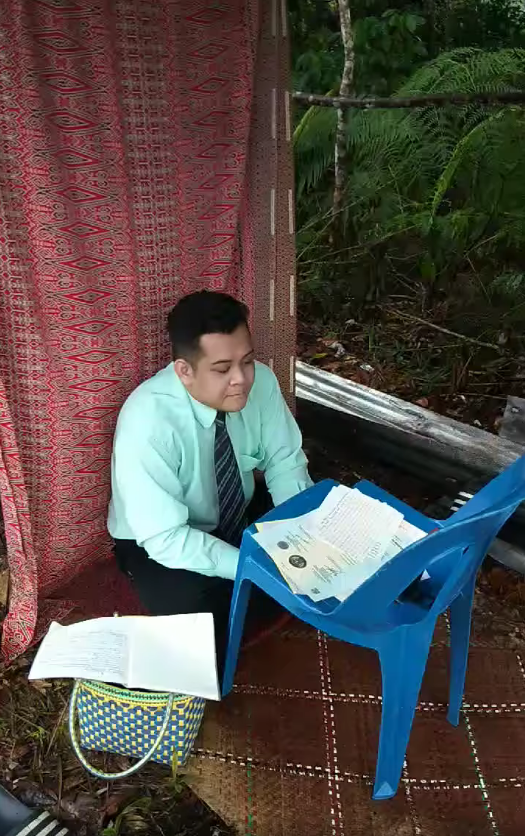 Image credit: Mario Sa
According to the Borneo Post, Frank had been at the same spot to attend two interviews for subjects he had applied for in the university. The interviews were about 45 minutes long.
Despite the slow internet connection, Frank was extremely hopeful about how his interviews went. His dedication to securing a place in university has finally become a reality as UPSI's vice-chancellor Prof Datuk Dr Md Amin Md Taff confirmed on Facebook on 2nd March, that Frank had been accepted as a student into the university.
---
Internet issue at rural areas being addressed
---
Mario's Facebook post has since garnered the attention of many, boasting about 1,800 likes, 300 comments, and 1,100 shares, with many netizens impressed by Frank's pursuit of his dreams.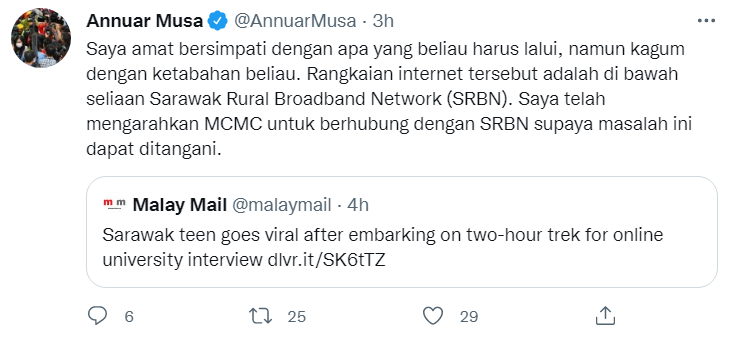 Image credit: @AnnuarMusa
Communications and Multimedia Minister Tan Sri Annuar Musa has also addressed the situation via a Twitter post, explaining that he had instructed Sarawak Rural Broadband Network (SRBN) to look into the matter urgently. 
He went on to say that he felt sorry Frank had to go through so much trouble, and complimented his perseverance.
---
An inspiration to those struggling to achieve their ambitions
---
The journey to achieving our dreams can be a bumpy ride. But individuals such as Frank shows all of us that we should always work hard to reach our goals. We applaud his determination, and wish him all the best as he waits on his interview results. 
Read more here: 
---
Cover image adapted from: Mario Sa
Get more stories like this!
Drop us your email so you won't miss the latest news.