Bako National Park, Sarawak
---
Hustling for your job in a fast-paced city can take a toll on both your mental and physical health. If you are looking for a short retreat to clear your mind, consider Bako National Park, a secluded nature reserve in Kuching, Sarawak surrounded by pristine blue waters. 
Situated about 37km from Kuching city centre, Bako National Park is only accessible by boat. It is also the first and oldest national park in Sarawak, and is home to over 50 exotic species of flora and wildlife, many of which can only be found in Borneo. 
Bako also promises visitors breathtaking views of its numerous coastlines and greenery, thus earning its spot as a must-see destination among nature lovers visiting East Malaysia.
---
Sarawak's oldest national park
---

Image credit: Sarawak Tourism
Established shortly after Malaysia gained independence in 1957, Bako National Park is Sarawak's oldest national park, but it is also one of Sarawak's smallest national parks at only 27 sq km – about the size of 5,045 football fields.
Still, you'd be surprised to find out that Bako has an extensive network of more than a dozen jungle trails. Each route guarantees its hikers a unique experience, and you'll be able to see everything from stunning coastal views to wildlife chilling in their habitats.
Visitors may opt for beginner-friendly trails as short as 700m, or challenge themselves to intensive treks of up to 13km. Most trails begin at the park's headquarters and can be completed in under 4 hours.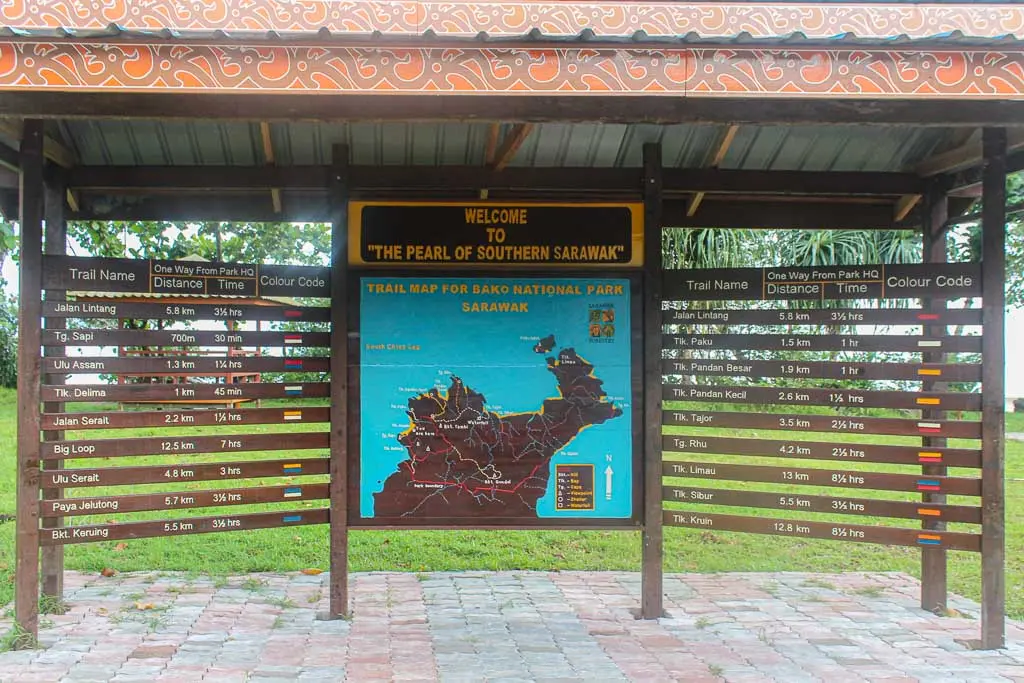 A glimpse of the park's trail network at the headquarters
Image credit: Adventures of Nicole
The courses are also colour-coded and marked with clear signs along the way, making navigation for even first-timers a walk in the park. 
For safety purposes, all visitors are required to sign in and out at the headquarters, as well as indicate the trails they wish to explore.
---
3 best family-friendly trails in Bako National Park
---
These 3 trails can be conquered under 3 hours, and each has its own highlights and landmarks to look out for.
---
1. Tanjung Sapi
---
Despite being the shortest trail, Tanjung Sapi is known to be an excellent course for observing Bako's wildlife in their full glory. Over 150 native species of birds such as kingfishers, woodpeckers, and owls roam freely on the island, making Bako a perfect bird-watching spot.
You can also expect to cross paths with various species of monkeys such as the long-tailed macaque and silvery langur.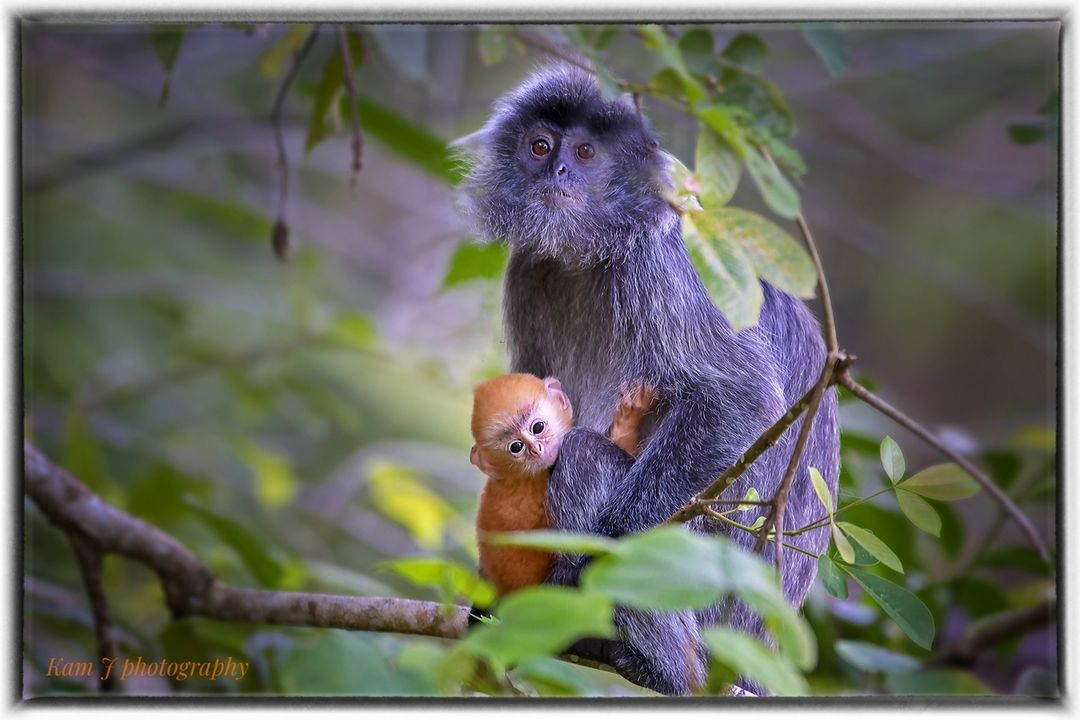 Image credit: @birding_kmj8799
Visitors hoping to catch a glimpse of the proboscis monkey are also in luck as these creatures are most commonly sighted in the trees along Tanjung Sapi. These well-known residents of Borneo's forests usually shy away from big groups and loud noises, so you'll do well to stay as quiet as possible if you want to spot these curious creatures.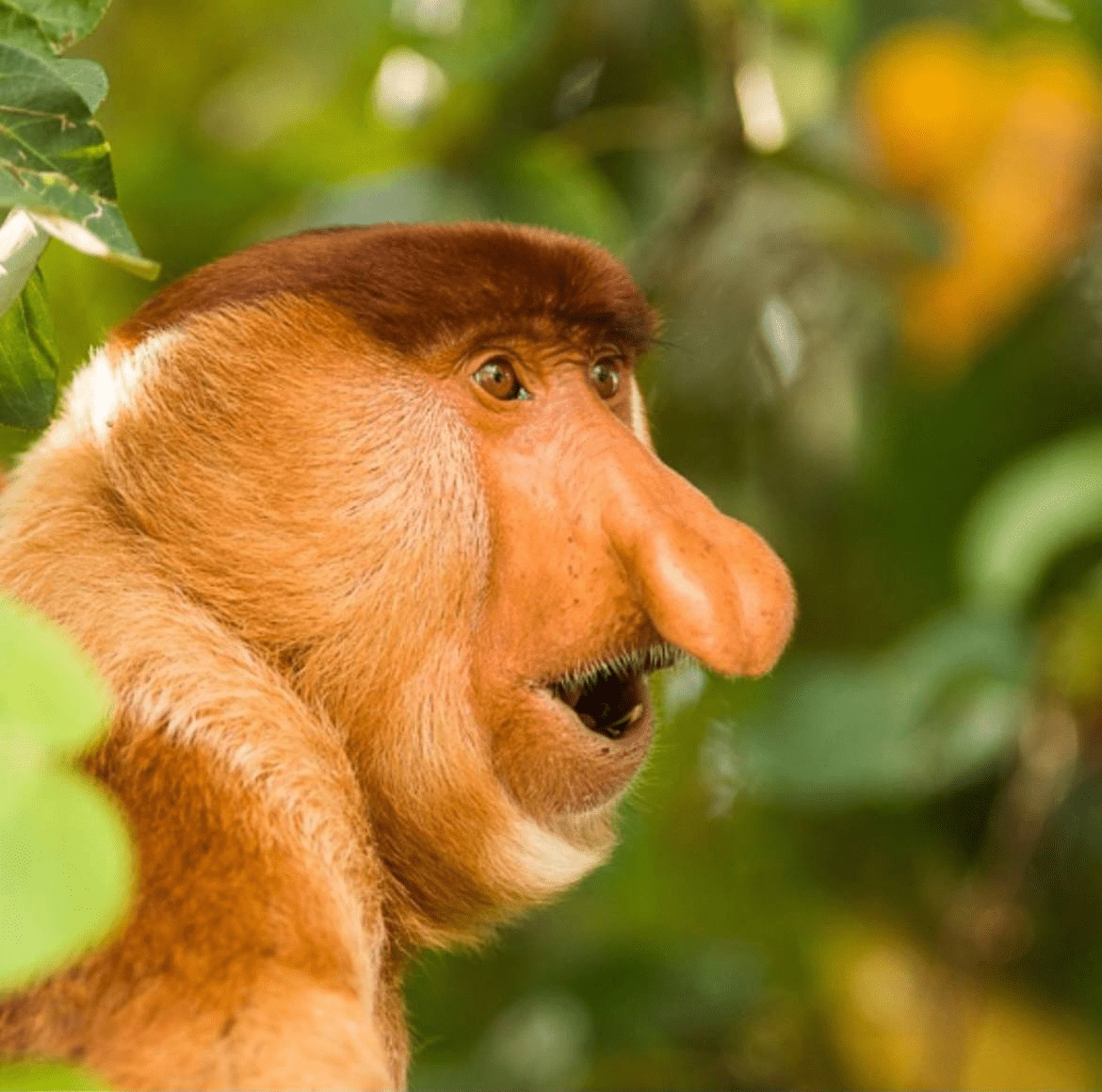 Image credit: @cantaygok
At the end of this trail, visitors will be greeted with the fantastic view of the Telok Assam coastline. Sometimes, otter families can even be spotted sunbathing in the water bodies of Telok Assam.
Bako's beaches and mangrove coasts are one of the usual hang-outs of the Bornean bearded pig. These animals also frequent places where food is present, such as the park's headquarters or forest lodges.

Image credit: Andre Lorenz/Flickr
At only 700m and being the nearest to the park's headquarters, the Tanjung Sapi trail is suitable for families with young children.
Distance: 700m
Estimated duration: 30 minutes
Highlights: Wildlife, Telok Assam Beach
---
2. Telok Pandan Kecil
---
If your main purpose for visiting Bako is to check out its signature sea stack, you will be pleased to know that Pandan Kecil Beach is just a 2-hour descent from the park's headquarters. 
This trail is popular for its majestic cliffs, which overlook an enticing bay of white sands and glistening waters.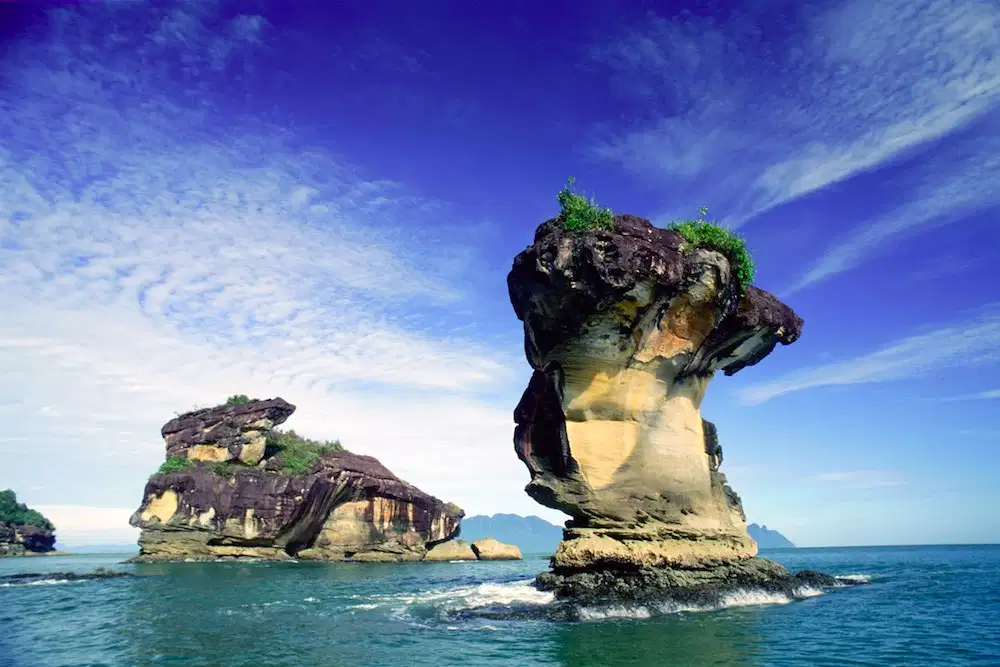 Image credit: Borneo Adventure
Alternatively, if you wish to take in a panorama of the bay without trekking there, you may choose to begin your journey from the beach instead of Bako's headquarters. All you have to do is to request that your ferry from Bako National Park jetty drop you off at the coast directly.
From the shores, it will then take you 15 minutes or so to ascend a flight of stairs and a short slope to reach the top of the cliff. The unobscured view of the sun, sky and sea from such wuthering heights definitely calls for a mass selfie, or we-fie, session.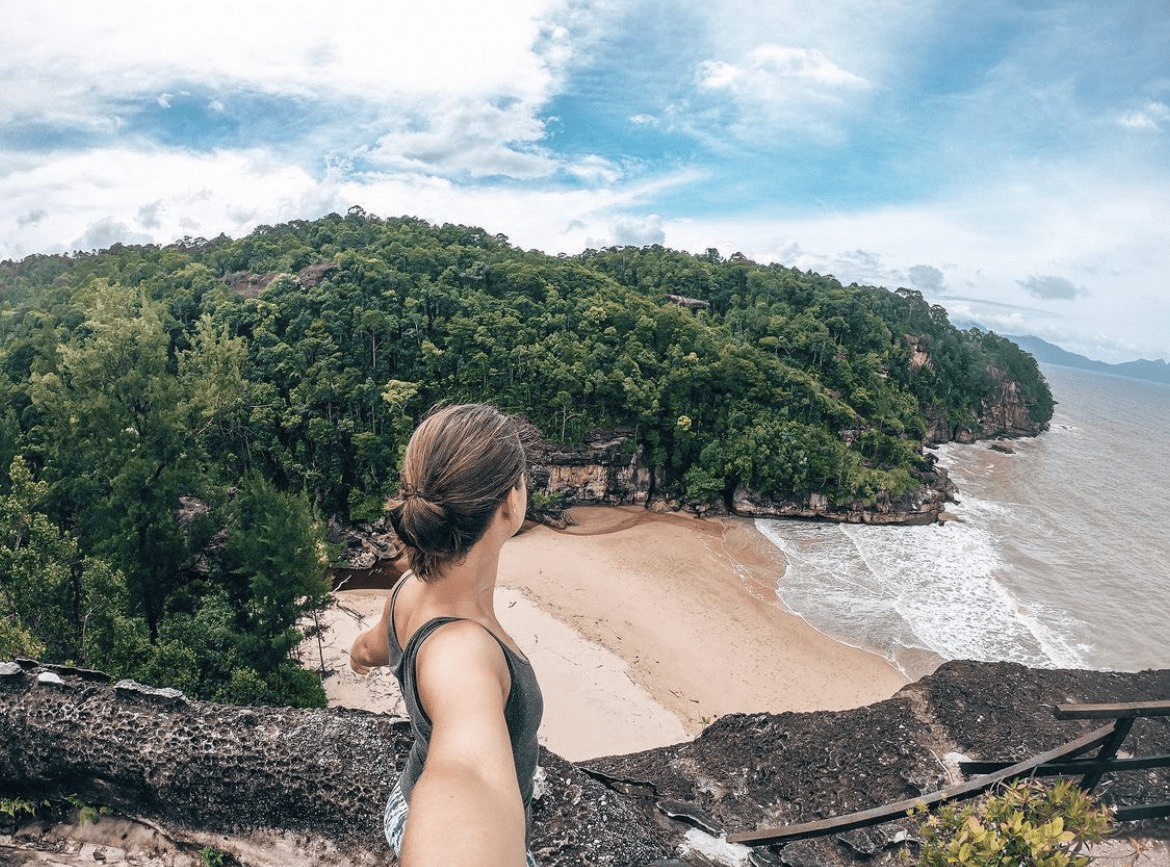 Image credit: @victoria_goodvibes
Pandan Kecil Beach is also known for its limestone rock formations adorning its coastlines, making it another ideal location for aesthetic photos or even your #OOTD.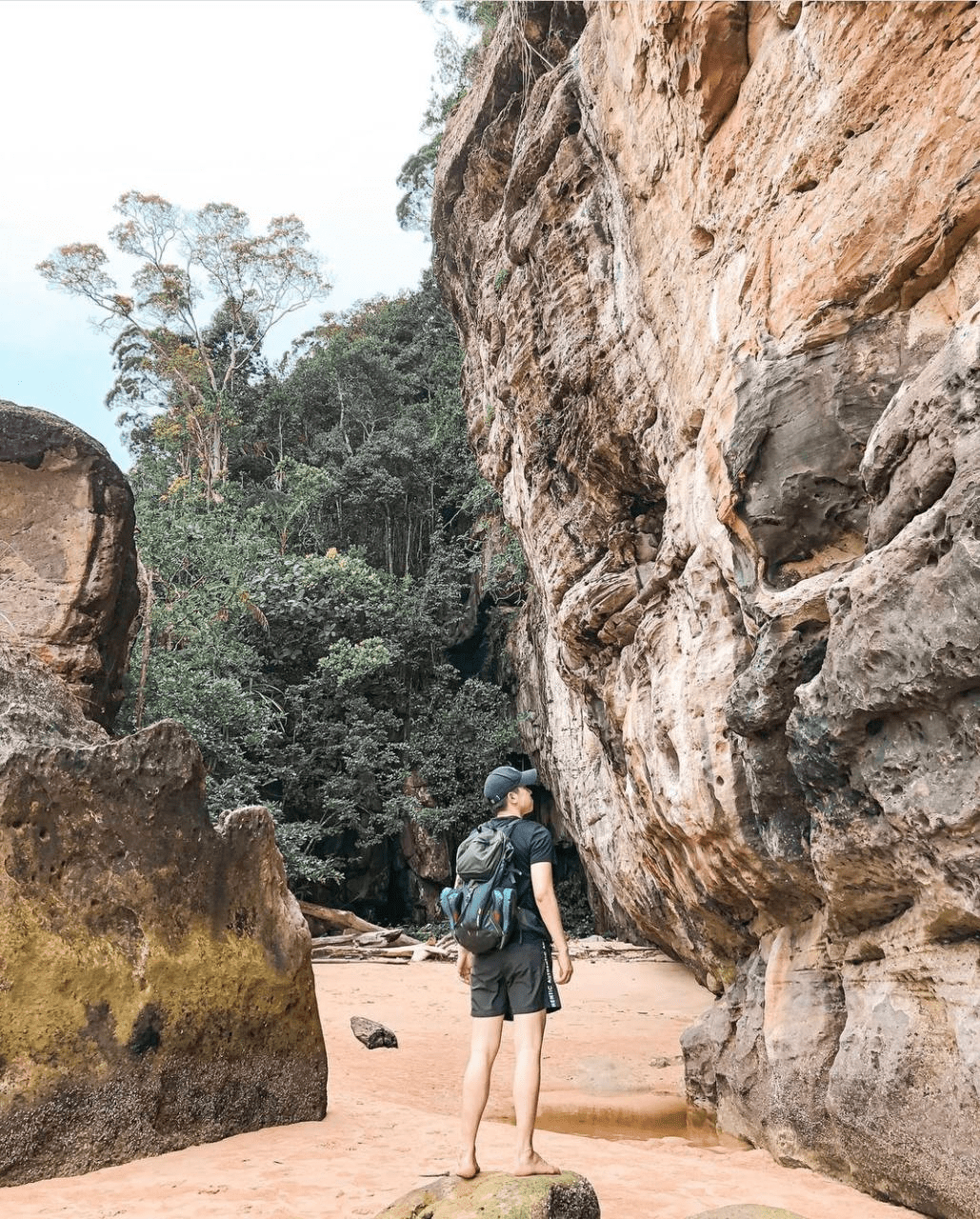 Image credit: @yangess
Telok Pandan Kecil is definitely one trail you should consider if the Cobra Sea Stack is on your bucket list. For day-trippers who have limited time before the park closes, it is recommended for you to decide early on where you would want to get off your ferry.
Distance: 2.6km
Duration: 90 minutes
Highlight: Pandan Kecil Beach
---
3. Tajor
---
The Tajor trail requires its explorers to journey across mangrove forest boardwalks and paths filled with undergrowth before arriving at Telok Tajar Beach.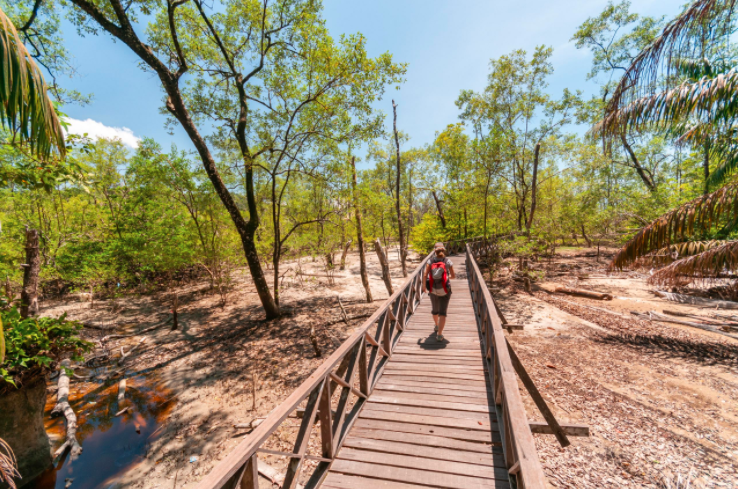 Image credit: Luka Esenko / Photohound
There's a mini waterfall, Tajor Waterfall, along the trail where clear waters with a slight tea-tint fall from a supposed height of approximately 290m, making it a great spot for hikers to catch their breath.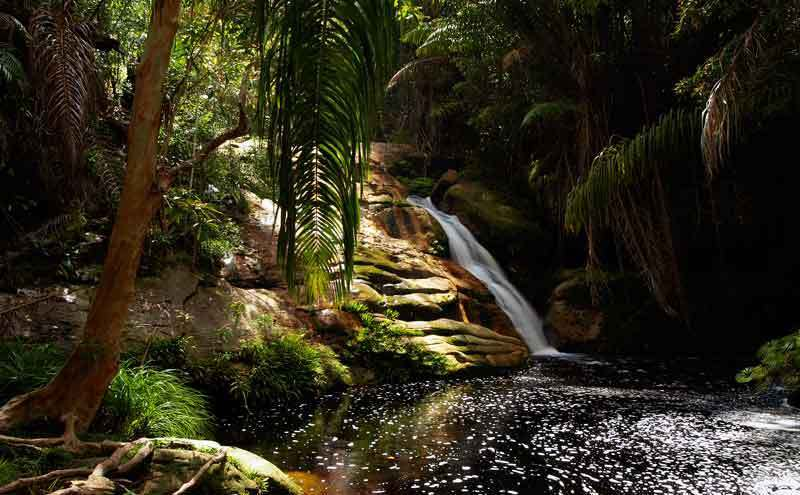 Image credit: Waterfalls of Malaysia
Those who have completed this trail shared that the water currents of pools around the waterfall are usually still, making it generally safe for swimming in. Nonetheless, with most of Bako's wildlife being left undisturbed, visitors should still be attentive of their surroundings and deserted water bodies.
Distance: 3.5km
Duration: 150 minutes
Highlights: Tajor Waterfall, Telok Tajor Beach
---
Things to note when planning a trip to Bako National Park
---
Plan your itinerary clearly and allocate buffer time if you are planning to spend only a day here
---
For travellers looking to chase sunsets during your day-trip, you may be disappointed as Bako ceases its daily operations before nightfall. Although the park closes at 5PM, the last boat to Kuching from the headquarters leaves at 3PM. Travellers who do not wish to spend the night in Bako are thus advised to plan their routes carefully.
As a rule of thumb, leave some buffer time for your trails in case of unexpected delays due to undesirable weather conditions or surprise encounters with unusual wildlife. Aim to reach the park's headquarters at least 45 minutes before the last boat leaves, so as to ensure that you will not be left stranded for the evening.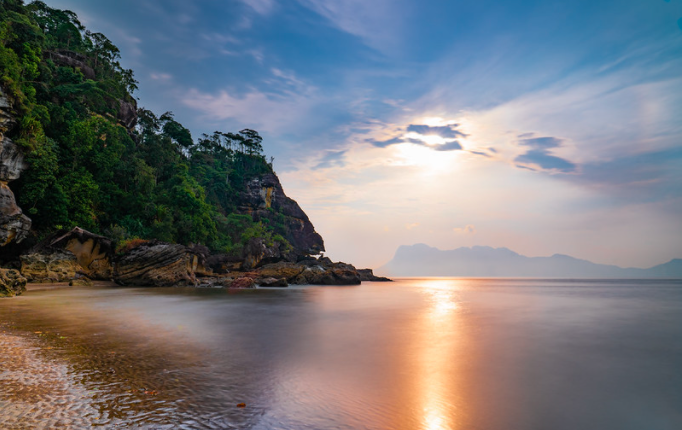 Image credit: Andre Lorenz/Flickr
While trails are generally well-marked at regular intervals, you can engage tour guides if you are afraid of losing your way or want someone to explain to you the wildlife during your trek. Tour guide services have to be booked at the jetty before your 20-minute boat ride to Bako. Prices range around RM200 for a full-day tour for a group of 4. 
---
There is only 1 eatery at Bako National Park
---
If you are looking to have your lunch before continuing on your hikes, you can check out Bako's only eatery around the headquarters, which serves a decent spread an affordable price. You can also get beverages and drinking water here, albeit at reportedly marked-up rates.
There are also no shops in Bako, so do come prepared with snacks, lots of water, and supplies – such as mosquito repellent and basic first aid items – you may need for your hike. Keep a lookout for wildlife, as they may be aggressive towards travellers carrying plastic bags and food.
---
Book your accommodation in advance if you plan to stay the night
---
With over 90km worth of trails, it is impossible to finish exploring all of Bako before the sun sets. Bako offers a number of affordable accommodation options starting from RM5/pax. Bookings have to be made in advance on Sarawak's official eBooking portal here.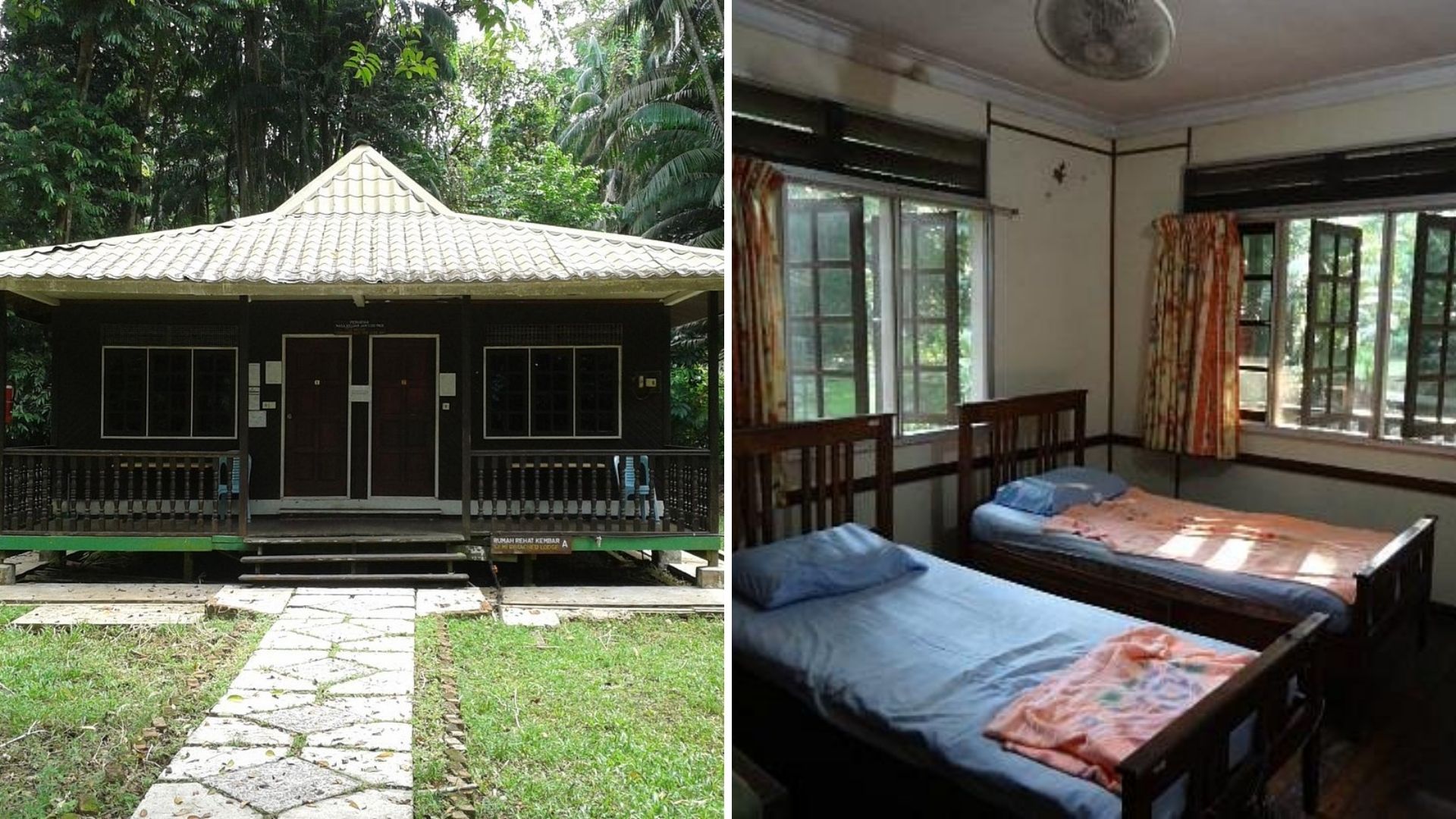 Forest lodge accommodation in Bako National Park
Image credit: w0rkinghard/Trip Advisor and MissKimBliss/Trip Advisor
Check out a list of accommodations available at Bako National Park below:
Campsite (from RM5/pax):
Facilities: Public bathrooms

Recommended to bring

your own camping equipment as these will not be provided
Forest hostel (from RM40/room):
2 single beds per room

Facilities: Fan, shared bathrooms

Not included: Towels & blankets
Forest lodges (from RM100/room):
Without air-conditioning: From RM100/room

2 single beds per room

Facilities: Fan, towels, blankets, attached bathrooms
With air-conditioning: From RM150/room

2 single beds per room

Facilities: Refrigerator, towels, blankets, attached bathrooms
Note: Quoted prices may change depending on season, so do check the eBooking portal for updated prices.
---
Getting to Bako National Park
---
Trails in Bako are mostly left exposed to the elements. For a safer and more comfortable trip, hikers are advised to avoid visits to the national park during rainy episodes around October to February, where trails will be wet and slippery.
Nevertheless, Bako National Park has amassed plenty of positive reviews from excited travellers all around the world, who share about their amazing experiences at Bako. Be it a short day trip or weekend getaway, this national park is something you don't wanna miss.
Getting there:
E

mbark on a

40-minute road trip

from

Kuching to Bako National Park jetty

either by public bus, shuttle, or taxi.

Take a

20-minute boat ride

from the

jetty to the Bako National Park headquarters

.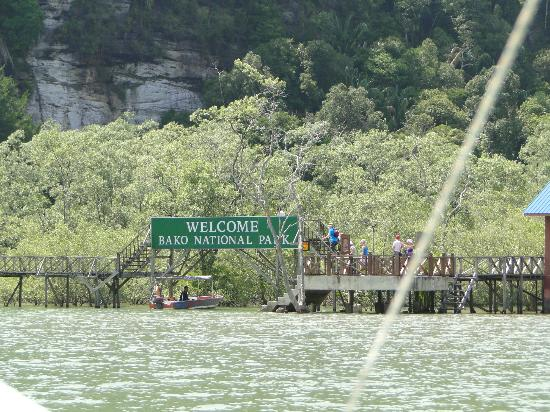 Floating entrance of Bako National Park
Image credit: Tripadvisor
Entrance tickets to the park will have to be purchased at the ferry terminal. 
Address: Muara Tebas Peninsular, 93000, Kuching, Sarawak
Opening hours: 8AM-5PM, Daily
Telephone: (+6) 082 370434 (General Line)
Website
Entrance fees:
Adults: Malaysians with IC (RM10/pax); Non-Malaysians (RM20/pax) 
Senior citizens or OKU:

Malaysians with IC

 

(RM5/pax); Non-Malaysians (RM10/pax) 

Children (17 and below):

Malaysians with IC

(RM3/pax); Non-Malaysians (RM7/pax) 
Also check out:
---
Cover image adapted from: @yangess and Borneo Adventure
---
This article was produced in collaboration with National Youth Council Singapore's Asia-Ready Exposure Programme.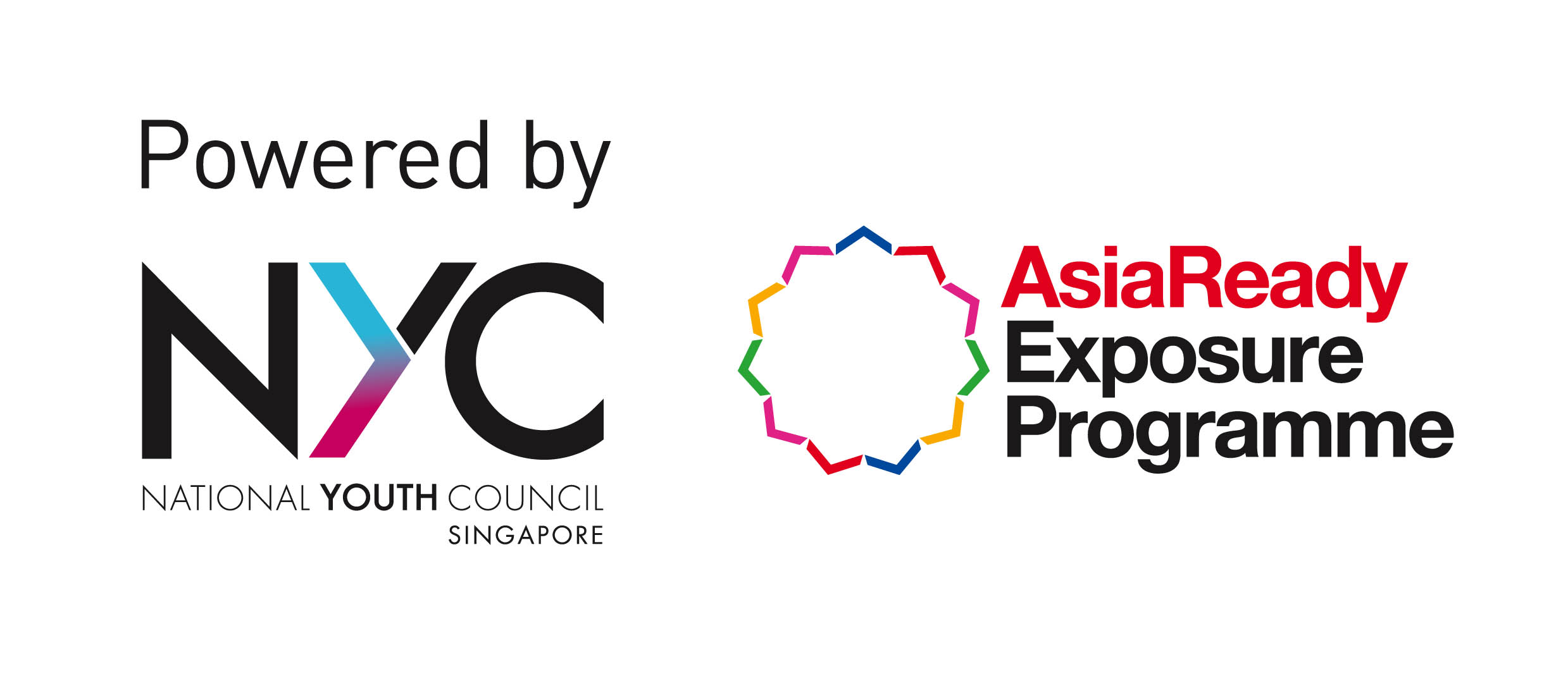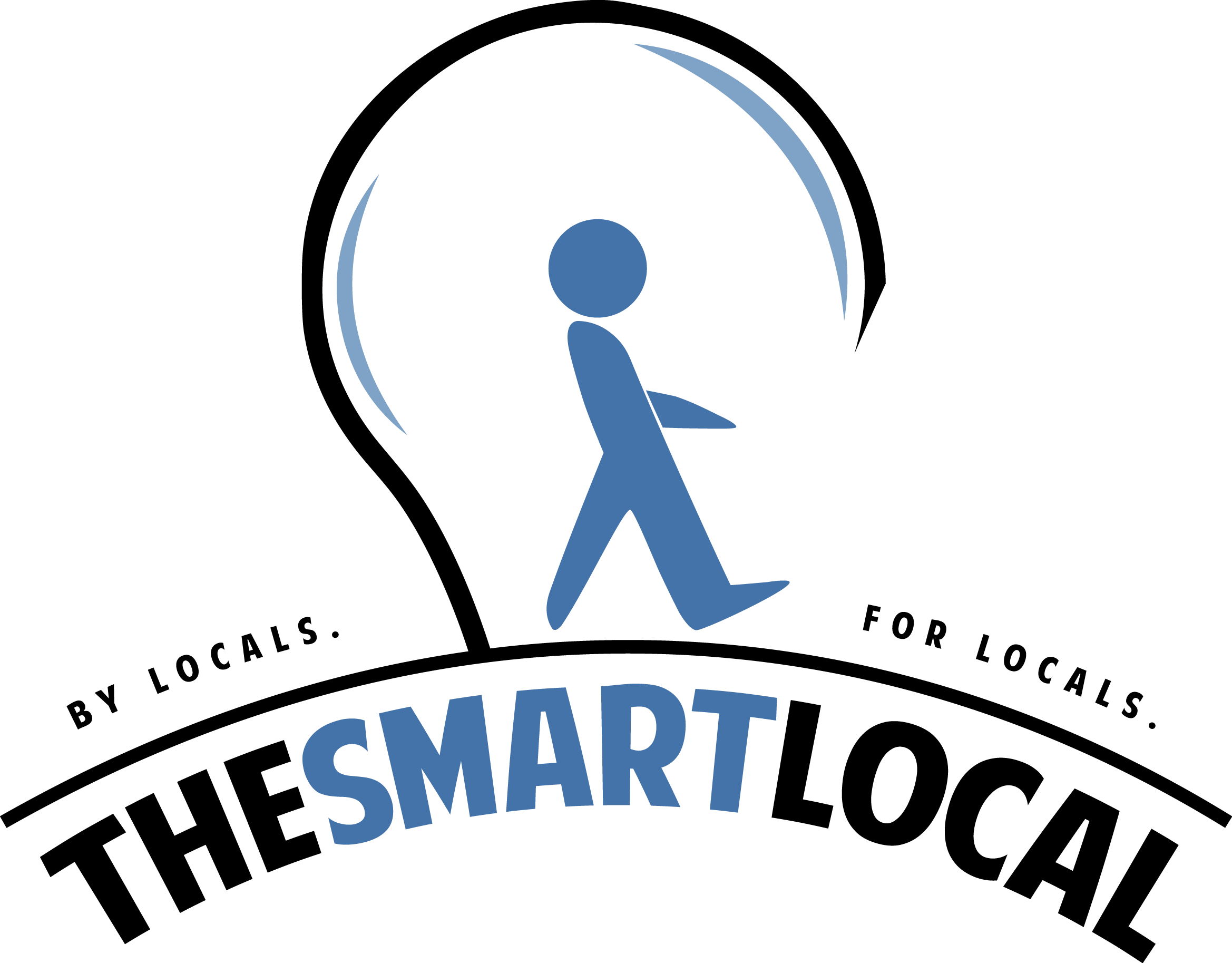 Drop us your email so you won't miss the latest news.