BIRU BIRU On The Island
---
For a city that's situated on an island, Penang has just a handful of drinks-by-the-sea spots to head to. If you've already eaten your way through cafes in George Town and crave a change of scenery, drop by BIRU BIRU On The Island. This charming cafe is perched at the edge of the seashore, and offers not only yummy meals and thirst-quenchers, but also a stunning view of the blue waters.
---
Seaside cafe in Penang with major Bora Bora vibes 
---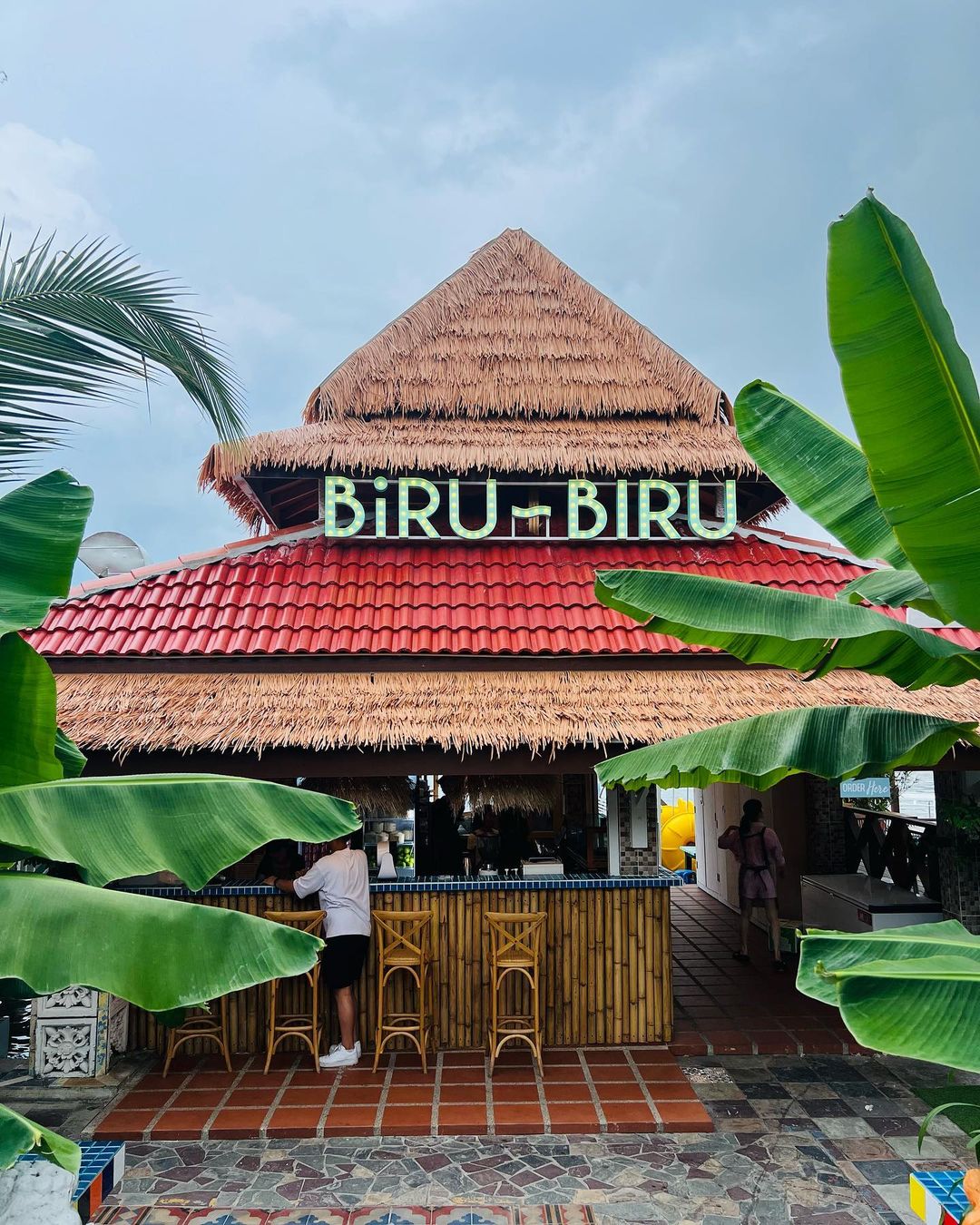 Image credit: @__notyou.z
Blue above, blue below, blue all around. That's how chilling at a beach bar in Bora Bora feels like. You can experience all this on the gorgeous island of Penang at BIRU BIRU On The Island – a new cafe by the Batu Ferringhi beach that's surrounded by turquoise blue oceans and azure skies.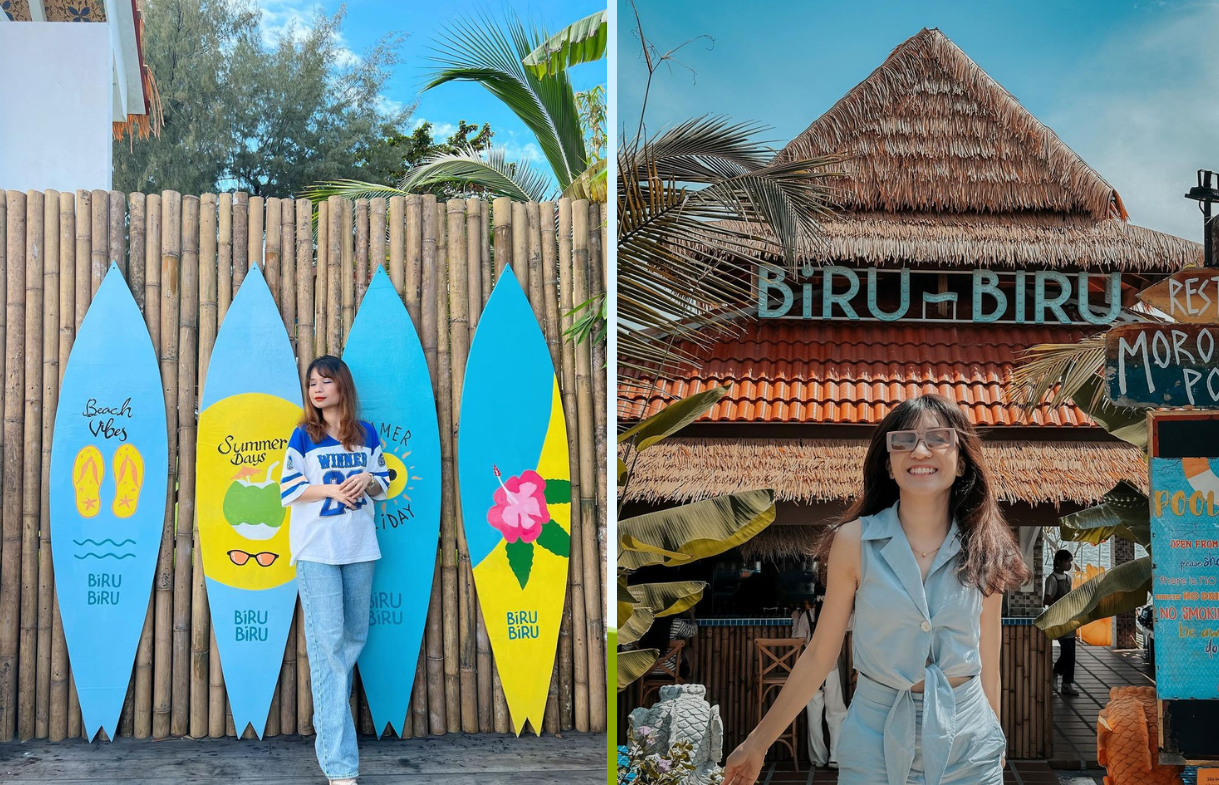 Image adapted from: @cik.callalily, @wenddiesyeoh
The cafe's interior exudes laidback vibes and all the charms of seaside bars – think thatched-roof huts, wood floorboards, and a galore of palm trees. Walk a little further into the cafe and you'll find a terrace jutting out into the sea.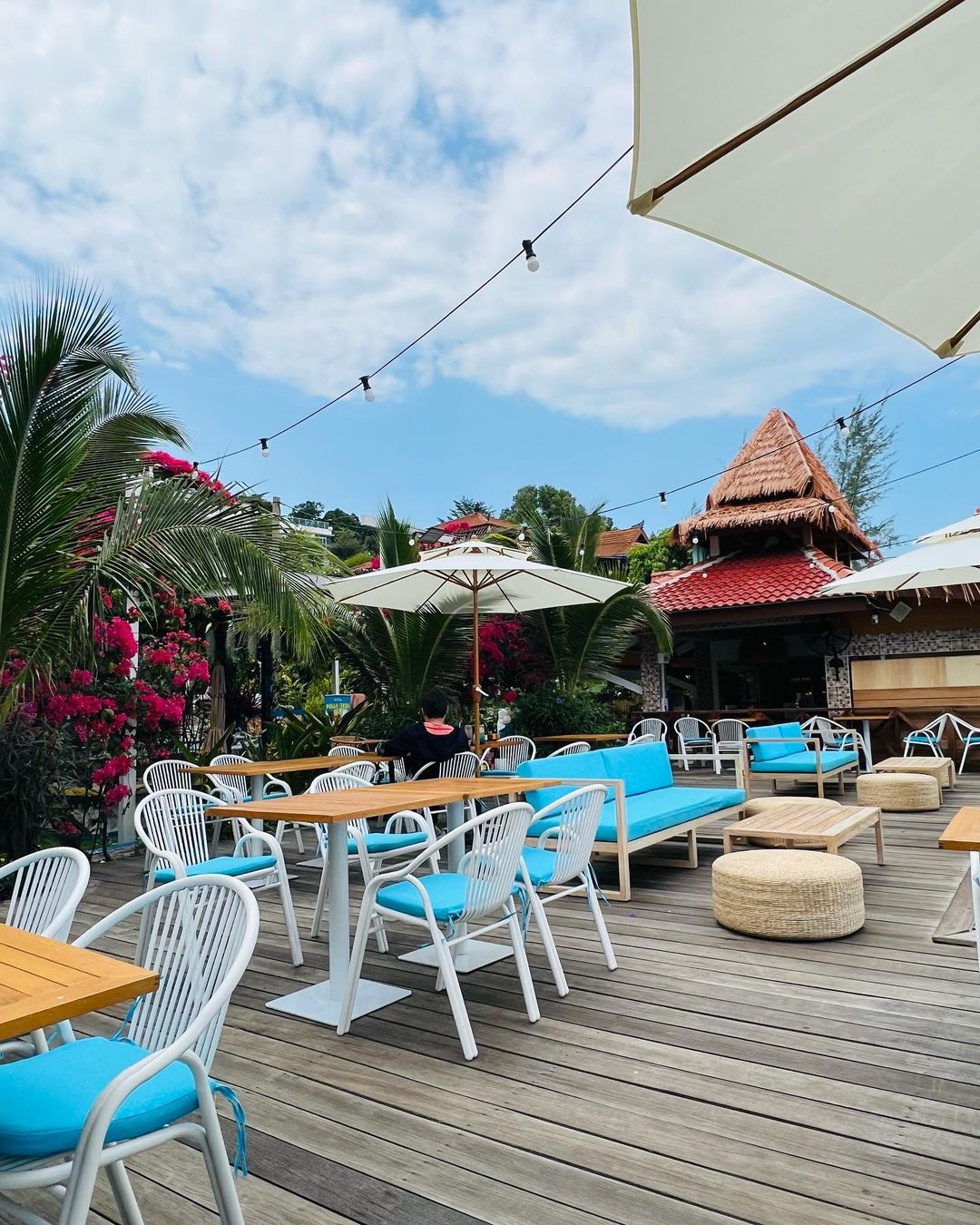 Image credit: @__notyou.z
The combination of pearly white chairs and umbrellas, splashes of cobalt blue cushions decorations, and clear waters right before your eyes will have you transported to a far-flung tropical island, namely Bora Bora.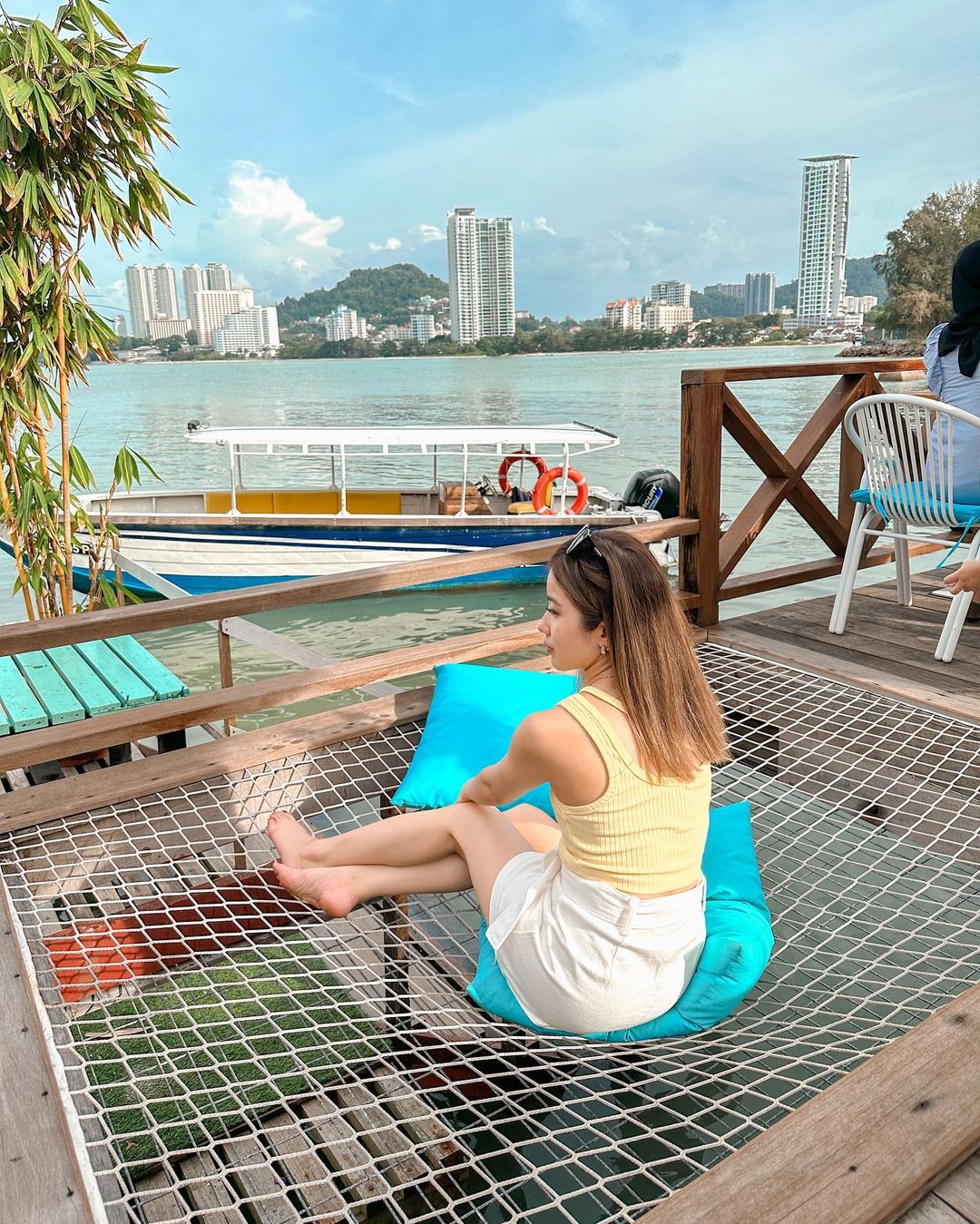 Image credit: @mishiko.s
To complete the Bora Bora vibes they have going on, the cafe has hammocks that overlook the aquamarine sea. So, laze under the sun in one of them and enjoy the view of the Penang horizon ahead, with the sound of lapping waves and the scent of the salty ocean.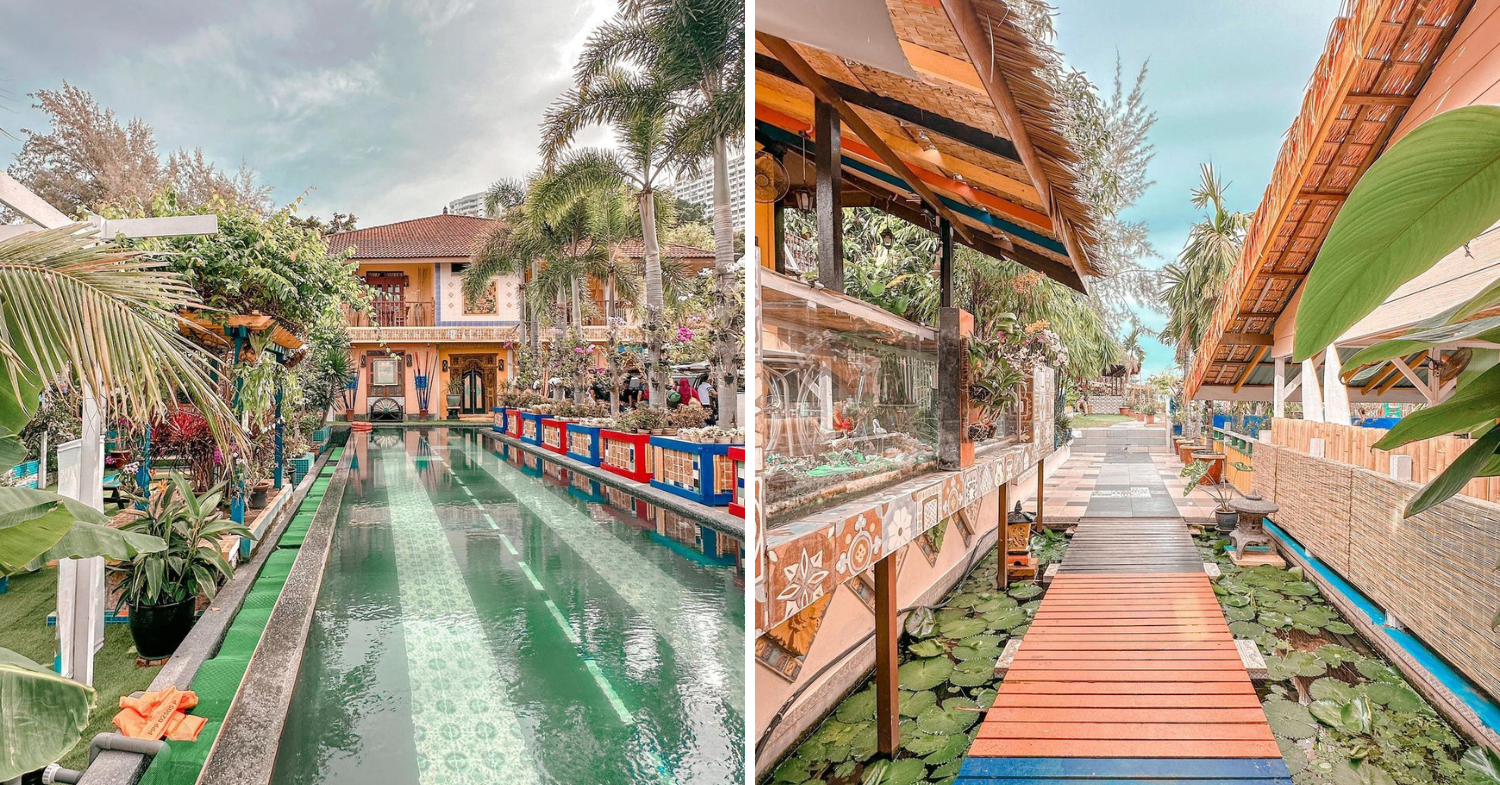 A Moroccan-inspired pool at the cafe.
Image adapted from: @mishiko.s & @mishiko.s
---
Ombre sodas by the blue sea
---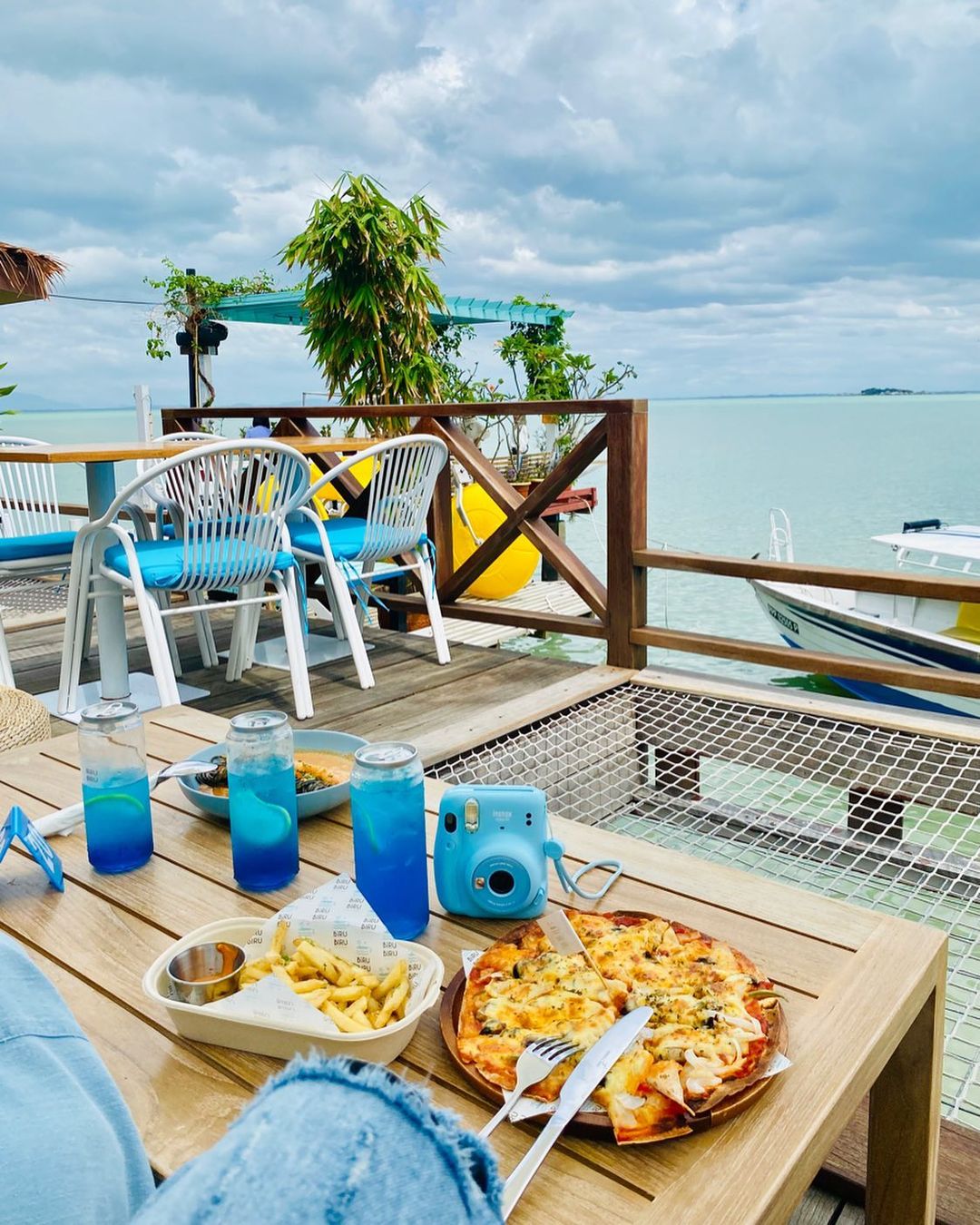 Image credit: @mieshyafadiera
Order your fill from their menu to accompany you as you cosy up in the blue, brown, and white aesthetics around you.
Their mains consist of both local and western meals, so there's something for everyone. If you haven't had your fill of rice for the day, the Nasi Lemak Ayam Berempah (RM25) lets you enjoy a classic Malaysian meal in a "holiday island" setting.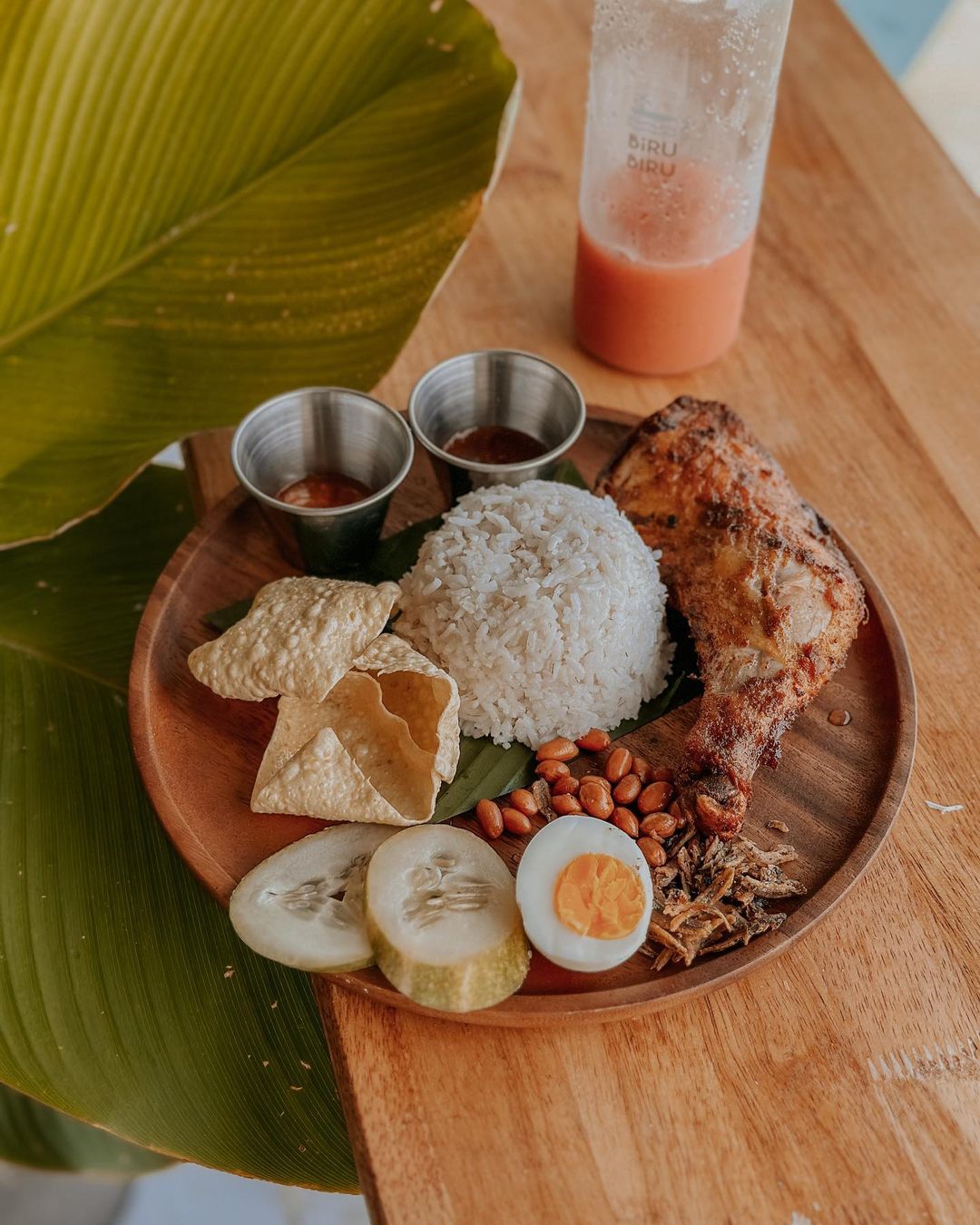 Image credit: @wenddiesyeoh
For something heartier, try their Margherita Pizza (RM35) or Vege Lover Pizza (RM32) which have portions great for sharing with friends. The Squid Ink Tom Yam Pasta (RM30) is another option worth trying for a blend of local and Western flavours.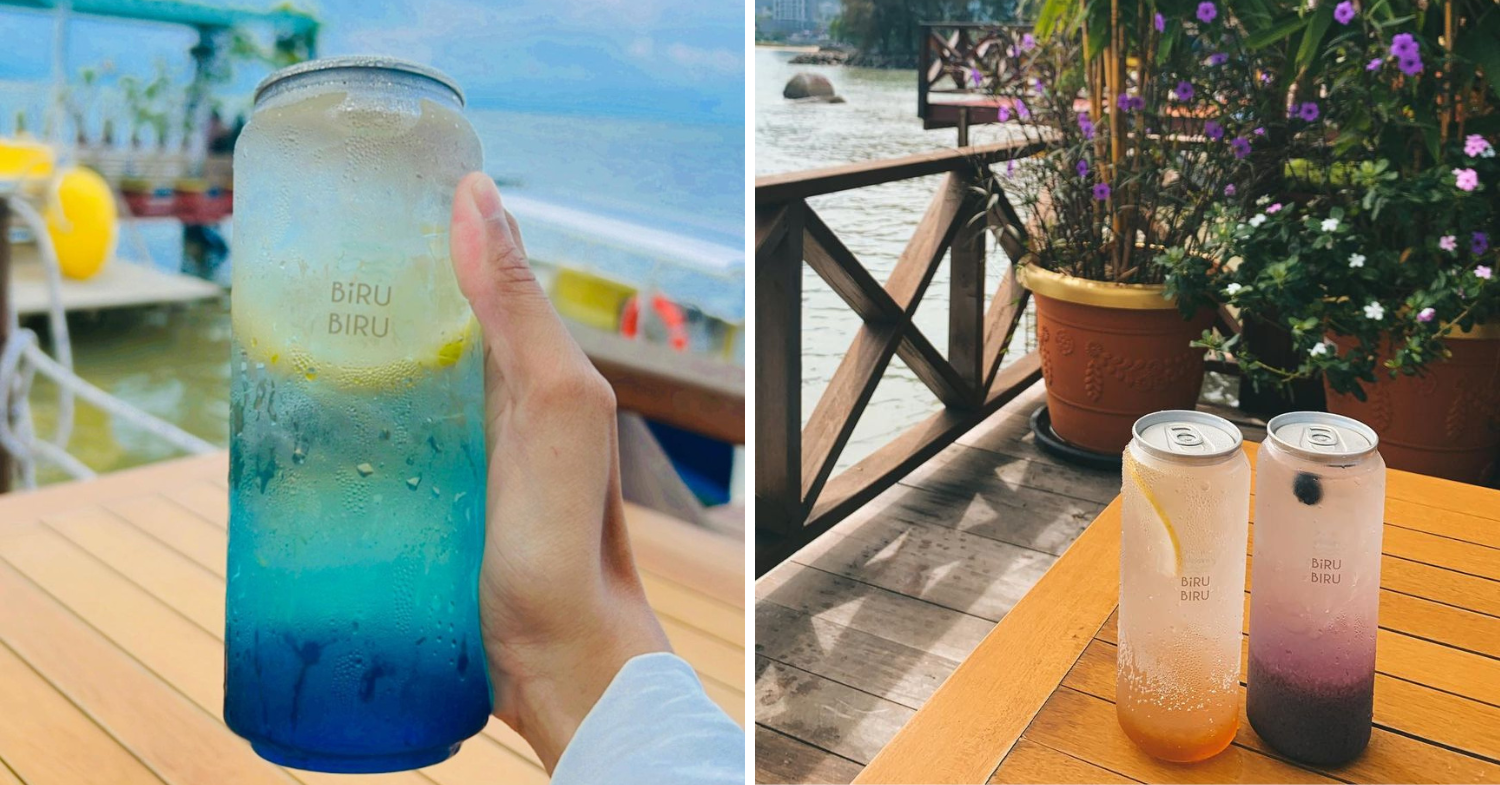 Image adapted from: @_notyou.z, @hessaorchid
The dramatic blue seas are best matched with a drink to sip on, especially when they are as pretty as the views. The cafe offers a selection of soda drinks that are served in transparent cans that show off the gorgeous ombre shades of the beverages within. 
Opt for flavours such as Yuzu Fizz (RM15), Blue Lagoon (RM15), Berry-Licious Yakult (RM16) and Blueberry Blast Yakult (RM16) – which are all slurp-able drinks to have while you enjoy a breathtaking view.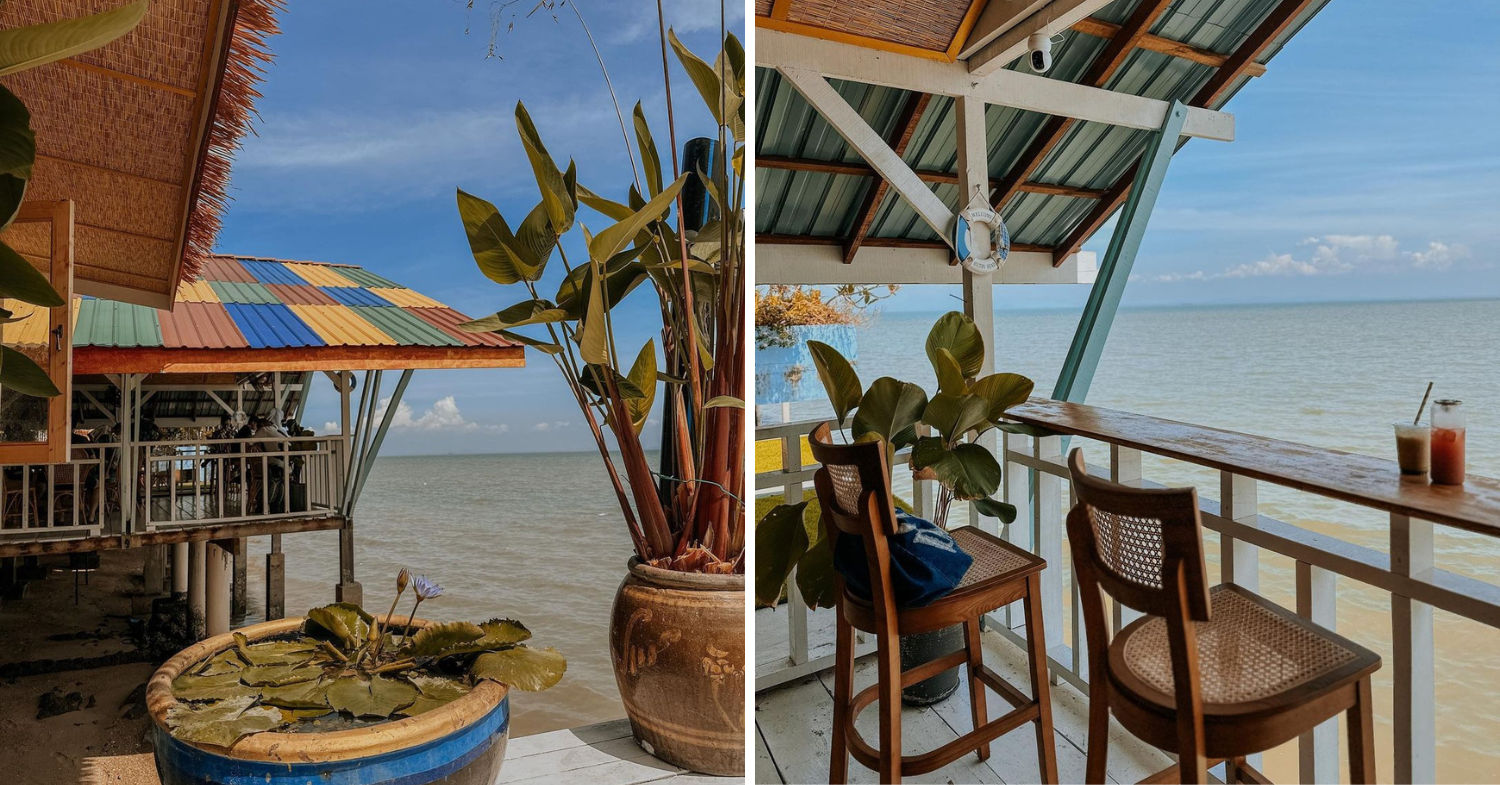 Enjoy your meals with open views.
Image adapted from: @wenddiesyeoh, @wenddiesyeoh
---
BIRU BIRU On The Island cafe in Penang
---
Serving an array of local dishes and refreshing drinks, BIRU BIRU On The Island has almost every corner of its space exposed to a view of the sea. So, consider dropping by to experience a feel of dining in Bora Bora by the vast sea right here in Penang. 
Address: 260, Jalan Batu Ferringhi, Tanjung Bungah, 11100 Tanjung Bungah, Pulau Pinang
Opening hours: Wed-Mon 8am-9pm (Closed on Tuesdays)
Contact: BIRU BIRU On The Island's Instagram
Read more interesting features of places here: 
---
Cover image adapted from: @wenddiesyeoh, @_notyou.z, @mishiko.s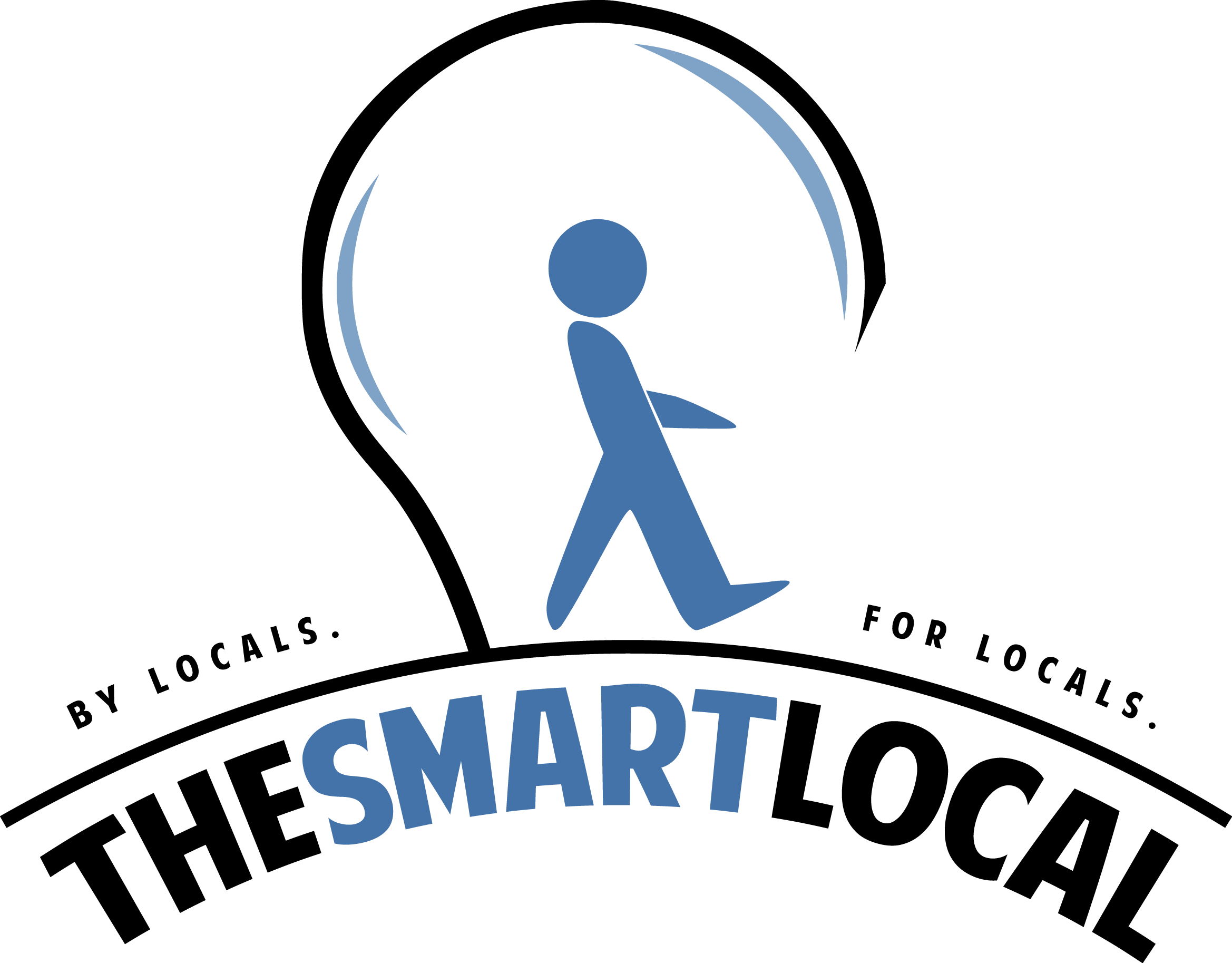 Drop us your email so you won't miss the latest news.