Farm cafes & restaurants near KL 
---
Plants have become key to the ambience of aesthetically pleasing cafes and restaurants in recent days. But picture this – escaping the city to chill among trees, with nothing but breathtaking views of lush greenery from every angle as you dine.
For those who savour digging into scrumptious meals while surrounded by nature, we rounded up 8 farm cafes and restaurants that are less than 2 hours from Kuala Lumpur. 
---
1. Hay Cafe, Sekinchan – a view of paddy fields
---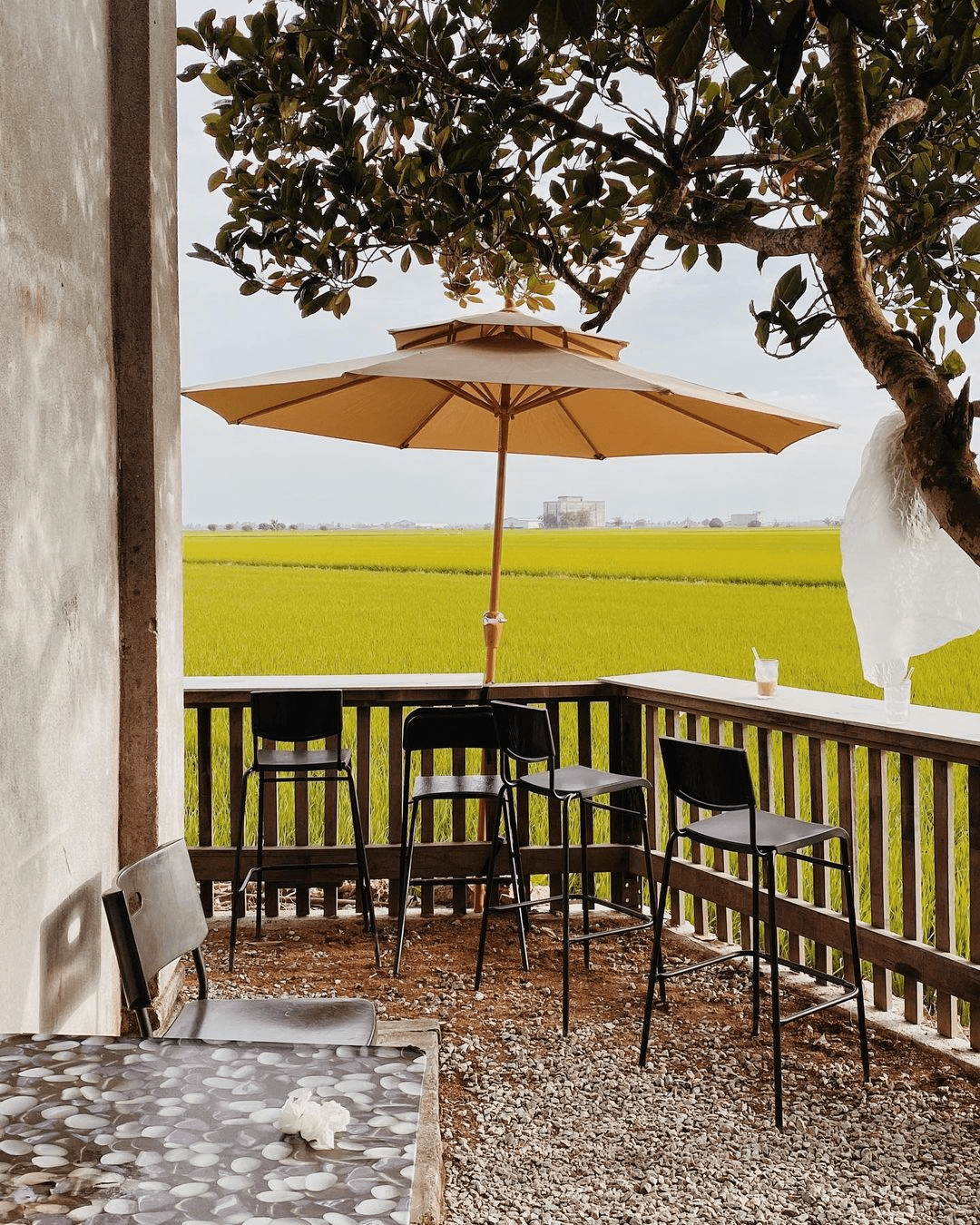 Image credit: @venicekeqian
There are plenty of things to do and see in Sekinchan. The paddy fields are an undeniable highlight. Over at Hay Cafe, located right smack dab in the middle of a paddy, you can gorge on cakes and coffee with a view of the lush fields around you.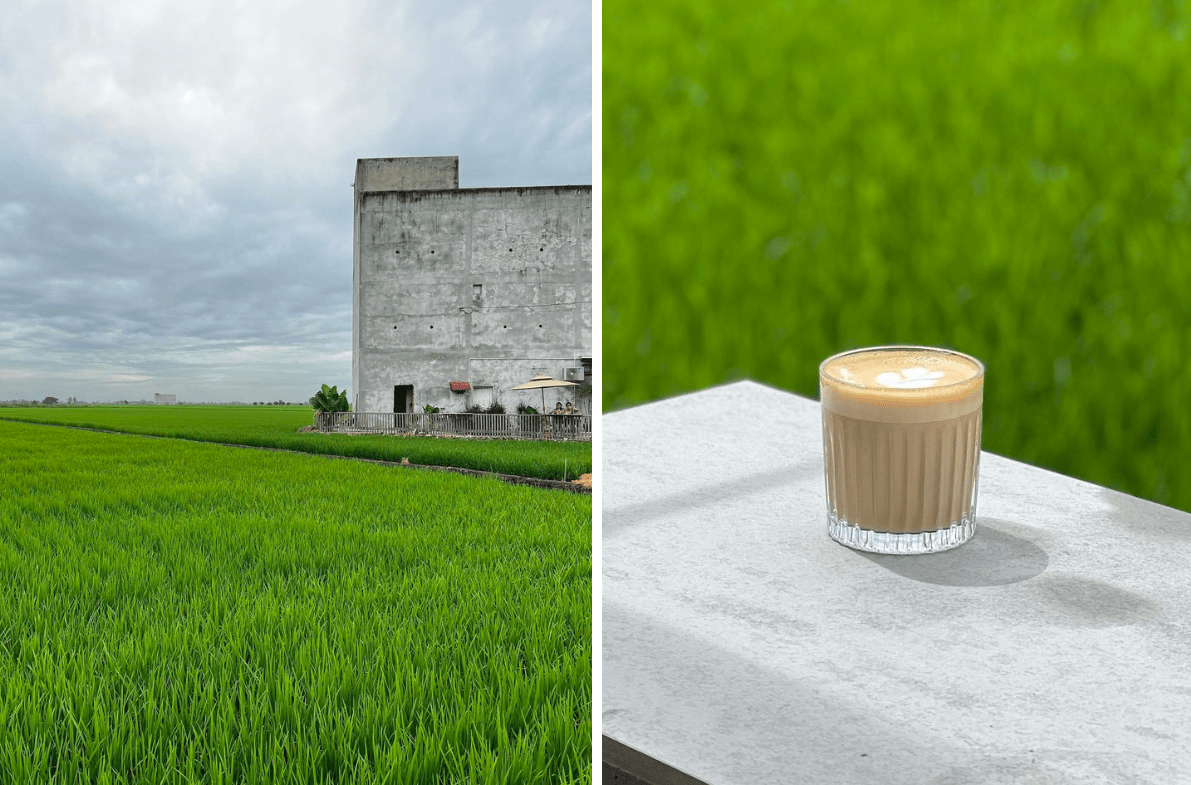 Image adapted from: @conniesimplelife
The cafe only recently opened their doors in September 2022. But they've been quickly catching the attention of locals looking to dine amidst the notable Sekinchan natural feature. Rest assured, whether you're grabbing a seat indoors or at the cafe's alfresco dining area, you're guaranteed a view of the famous paddy fields. 
There are large windows surrounding the cafe, and an outdoor bar overlooking the fields.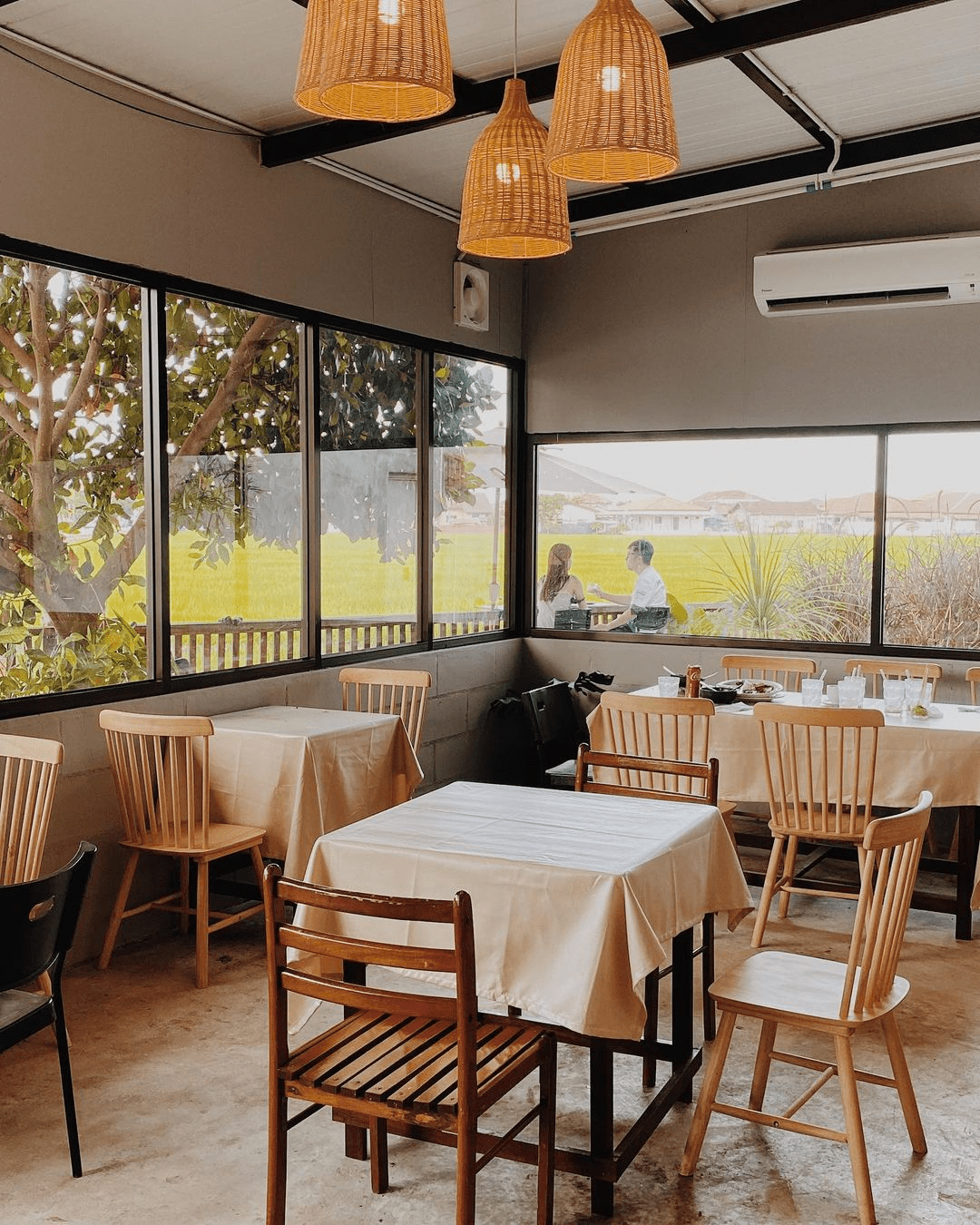 Image credit: @venicekeqian
Still in their newly-opened phase, the cafe currently serves a small selection of hot foods such as Nasi Lemak Ayam Rempah and Aglio e Olio to pair with Niko Neko matcha drinks. Expect to pay between RM20-40 for a meal for two. 
If you have trouble navigating your way here, Hay Cafe is located just a stone's throw from the popular Mango King in Sekinchan.
Address: Jalan Tali Air 5, 45400 Sekinchan, Selangor
Opening hours: Tue-Fri 9am-4.30pm | Sat & Sun 9am-6.30pm (Closed on Mondays)
Contact: 011-1026 6965 | Hay Cafe Instagram
---
2. Kebun, Batang Kali – rustic cafe serving Strawberry Shortcake
---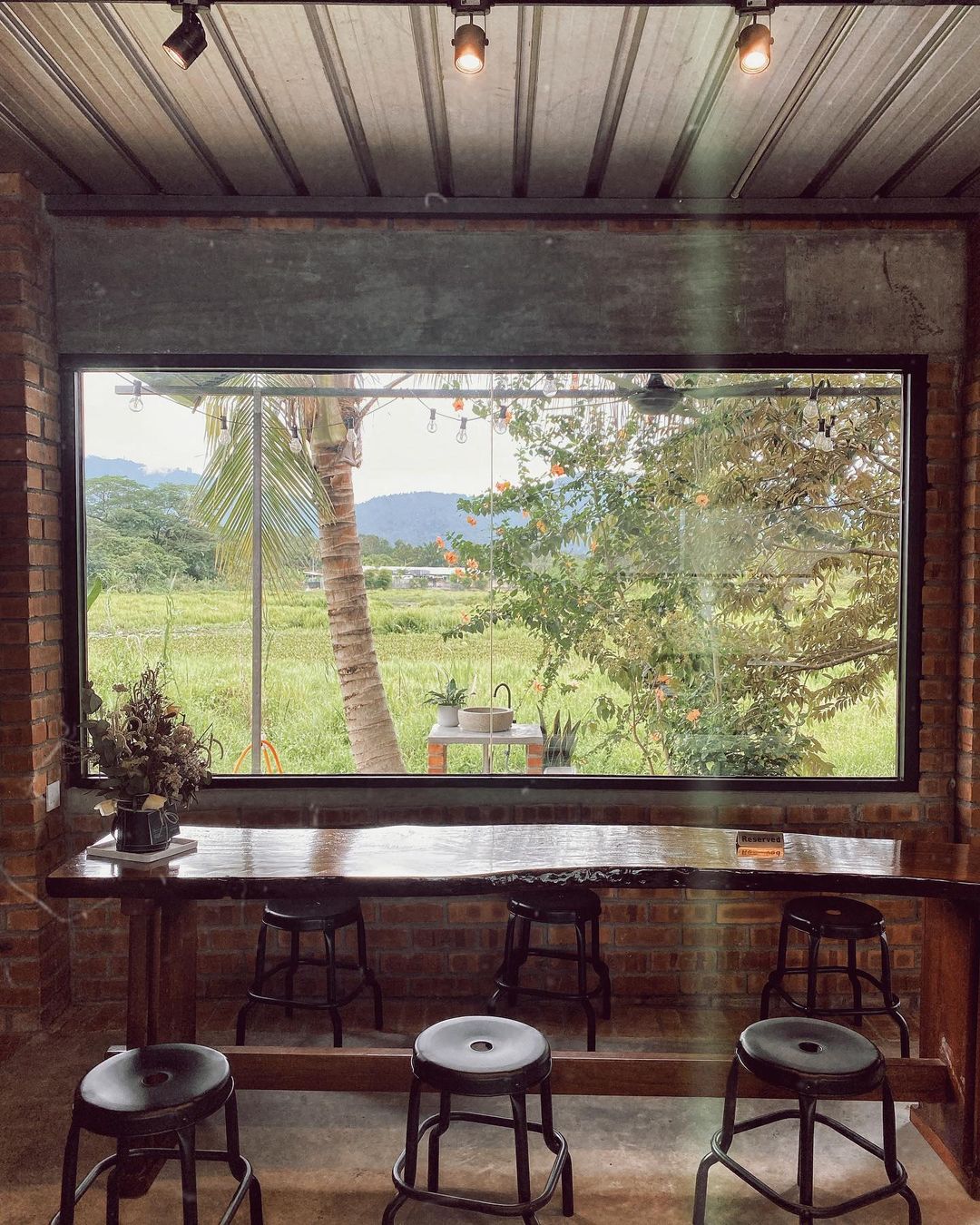 Image credit: @joeycafe
Kebun is aptly named. Located about 45 minutes from KL, this spot is nestled inside a vegetable farm called Ho Ho Organic Farm in Hulu Yam Lama. They're typically visited by road trippers on their way to Kuala Kubu Bharu.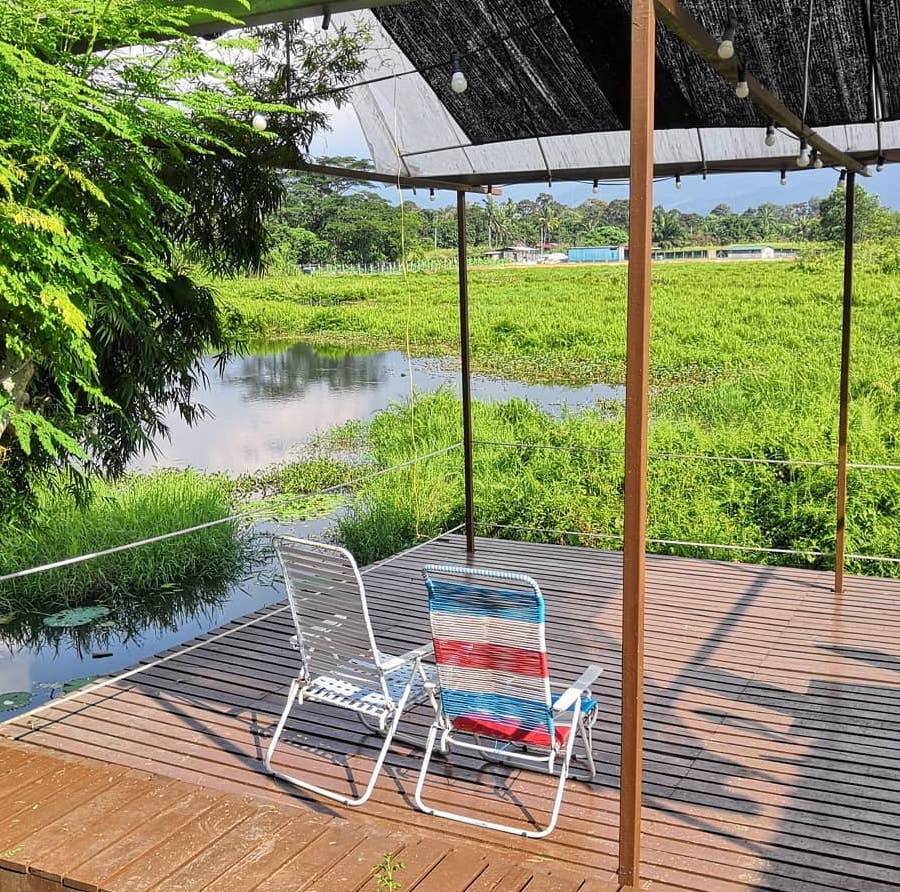 Image adapted from: @khuan517 
But those looking to chill out away from KL can enjoy a lazy afternoon here, sipping on tea and digging into cakes while seated at a table facing large, vista-framing windows.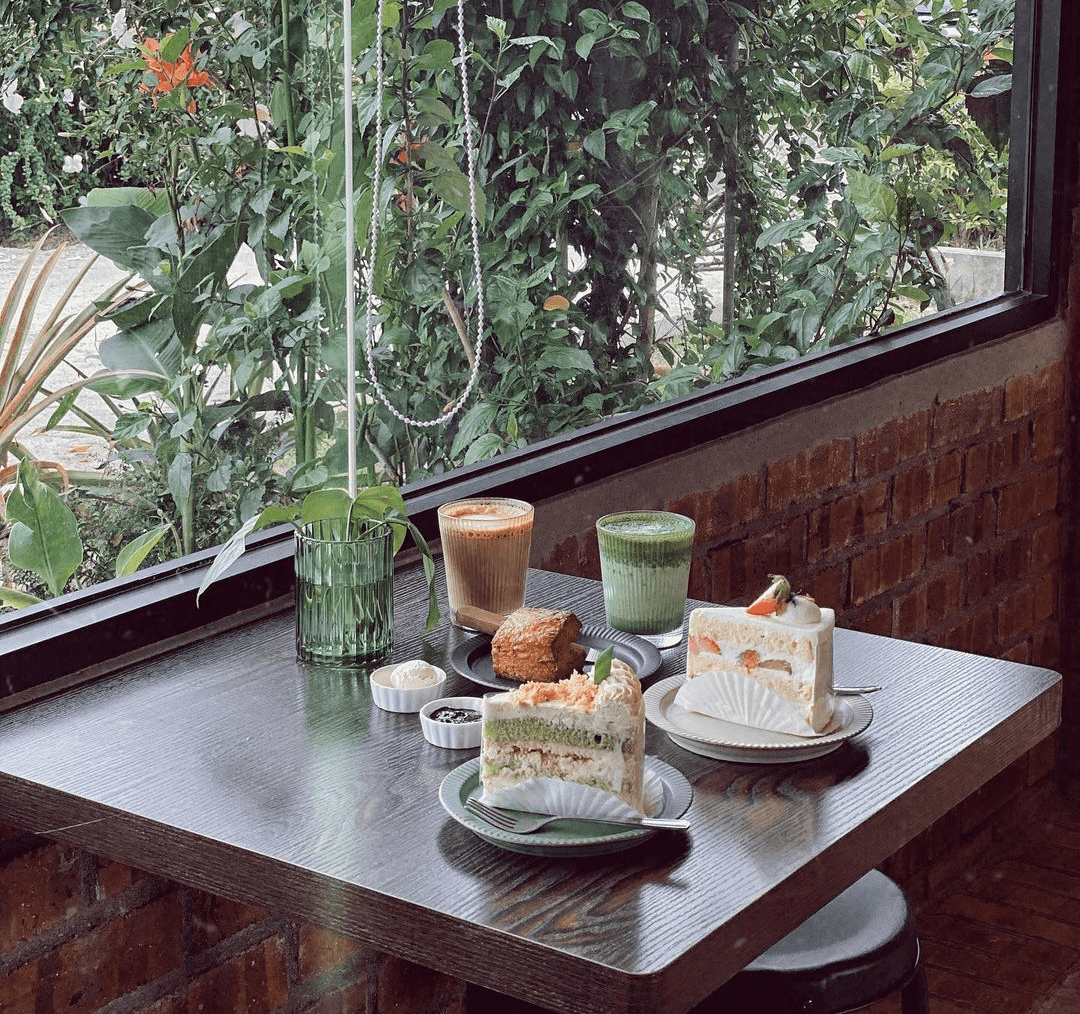 Image adapted from: @joeycafe
Not to be missed out on their menu is the signature Strawberry Shortcake (RM13/slice) – it's both light and fluffy, with thick layers of whipped cream and huge chunks of fresh local strawberries. For drinks, go for their selection of tea-based drinks, including fragrant tea (RM10/pot) and the unique coffee-matcha pairing, Matcha Cold Foam Iced Americano (RM12).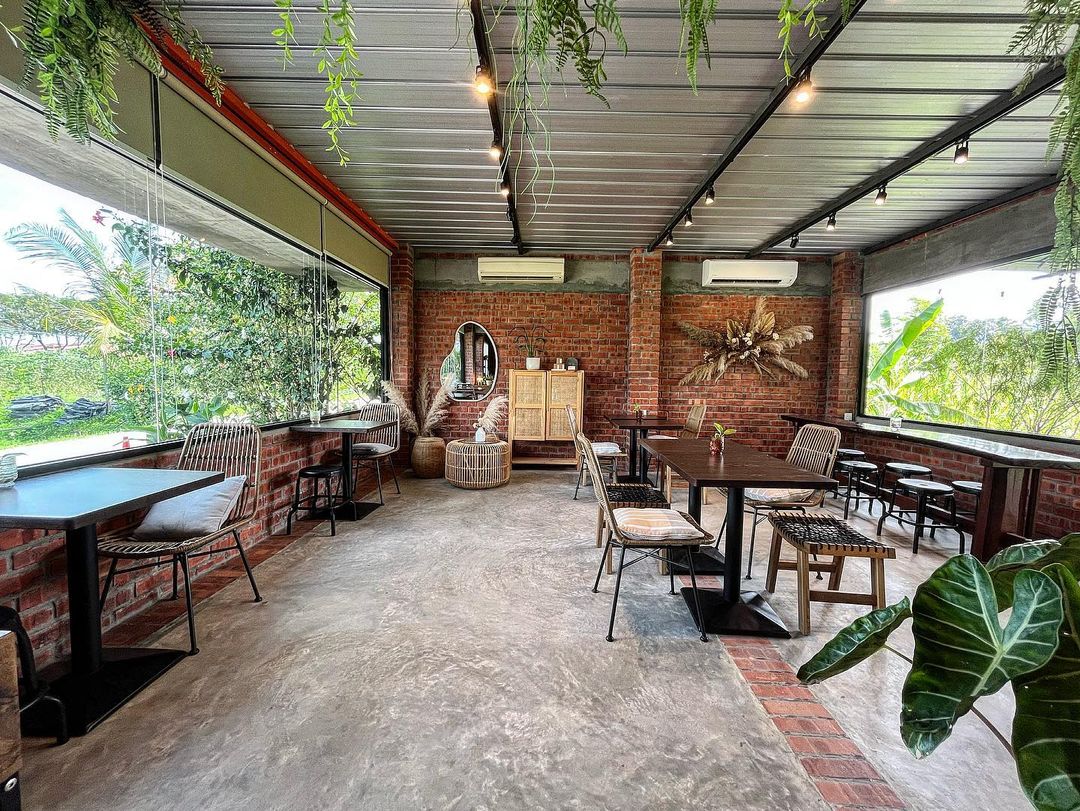 Image credit: @so3dna.kl
The cafe doesn't serve any hot food, but you won't be missing out on much. Their cakes are perfectly filling – some patron-approved cakes are the Pandan Mango, Black Sesame, and Chocolate Banana.
Address: Hoho Fruit Vege Park, Jalan Patin 2, Taman Desa Patin, 44300 Batang Kali, Selangor
Opening hours: Fri-Sun 11am-6pm | Public Holidays 11am-5pm (Closed Mondays to Thursdays)
Contact: 016-660 1023 | Kebun Facebook | Instagram
Read our feature to find out more about Kebun here.
---
3. Saudagar Nanas Agrofarm, Kajang – fresh pineapple drinks & desserts
---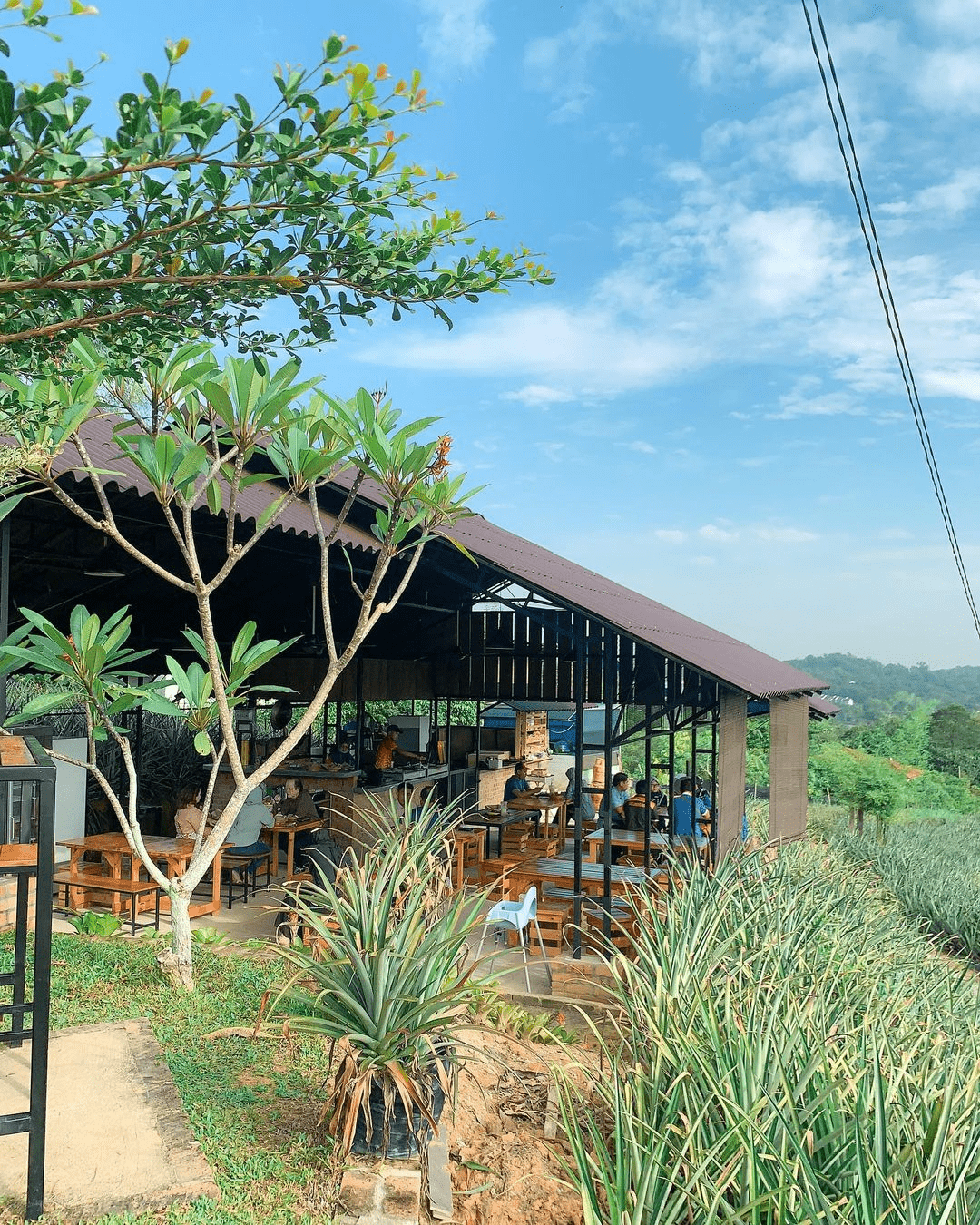 Image credit: @mielaghazali
Nothing cools us off on a hot day like an icy drink. At Saudagar Nanas Agrofarm, you can order freshly-blended, sweet pineapple juice (RM5) or shop for locally-harvested pineapples (from RM6/kg) after exploring the pineapple plantation's hillside landscape.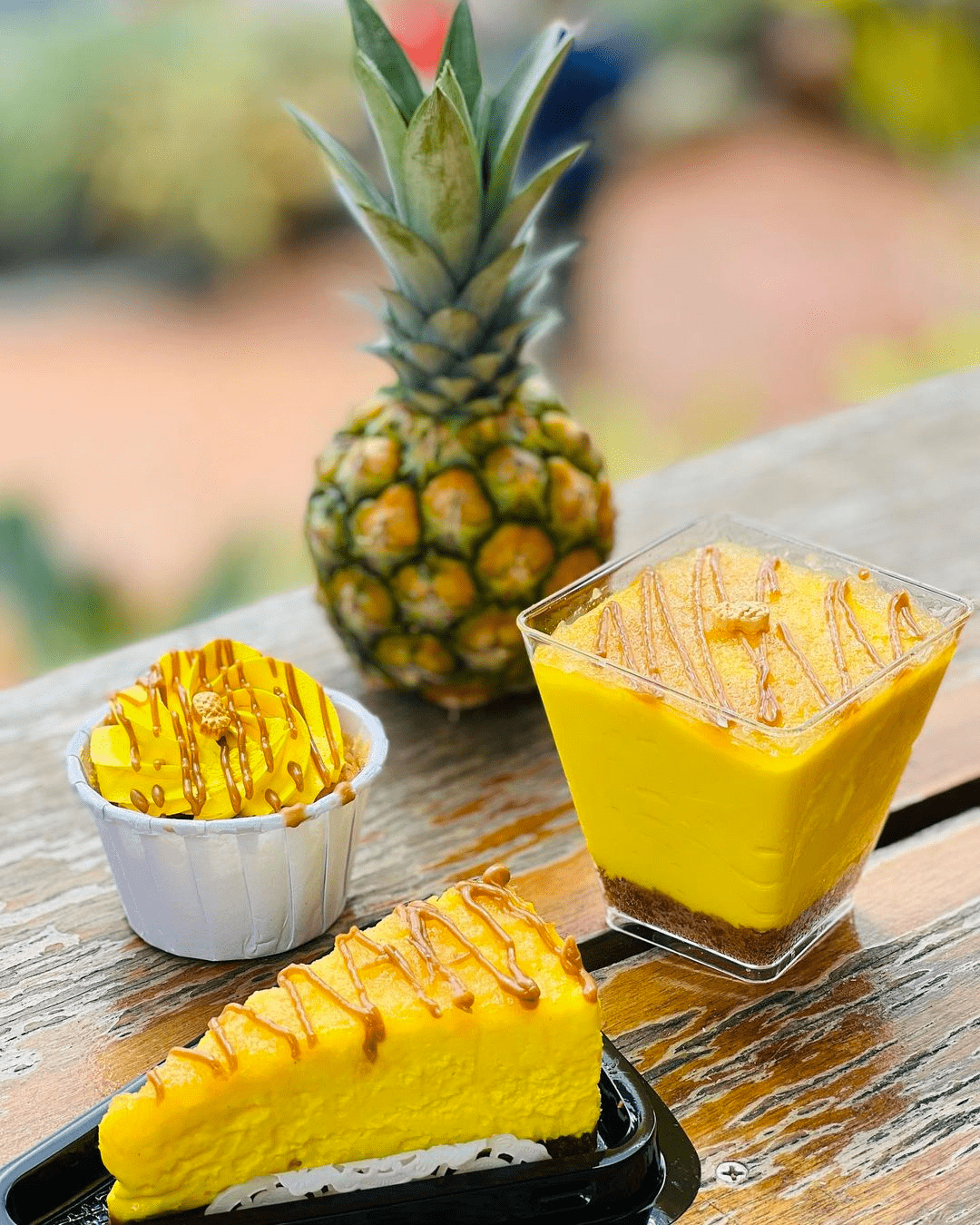 Image credit: @orionkoo
The nanas farm lets you stroll through their fields of pineapples, with different varieties grown here including Morris and Sarawak pineapples. But a highlight among many visitors is the in-house cafe that whips up dishes and drinks with a pineapple twist.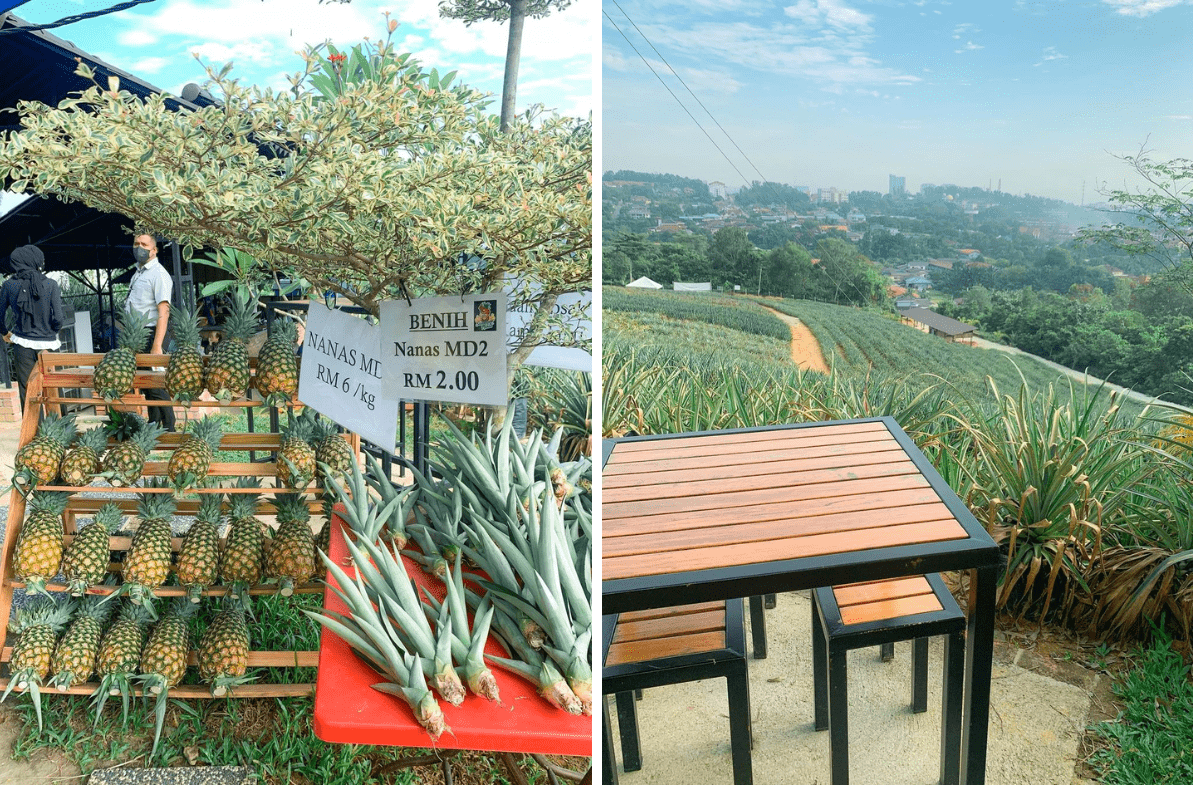 Image adapted from: @mielaghazali
From Nasi Lemak Nanas Ayam Goreng Berempah (RM13) and Pineapple MD2 Ice Cream (RM5), to Pineapple Shake (RM8) and Kopi Nanas (RM6) – there's a touch of pineapple in most of their menu items.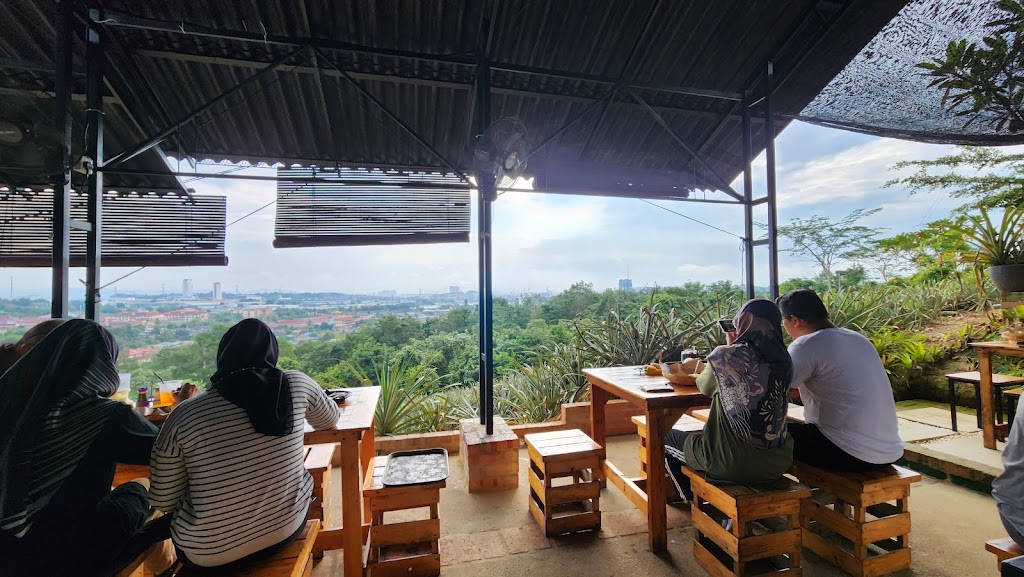 Image credit: Bahaizil Nazim Mohd Bakar / Google Maps
At their hilltop alfresco dining area with rustic picnic-style tables, you can catch serene panoramic views of the plantation and nearby town.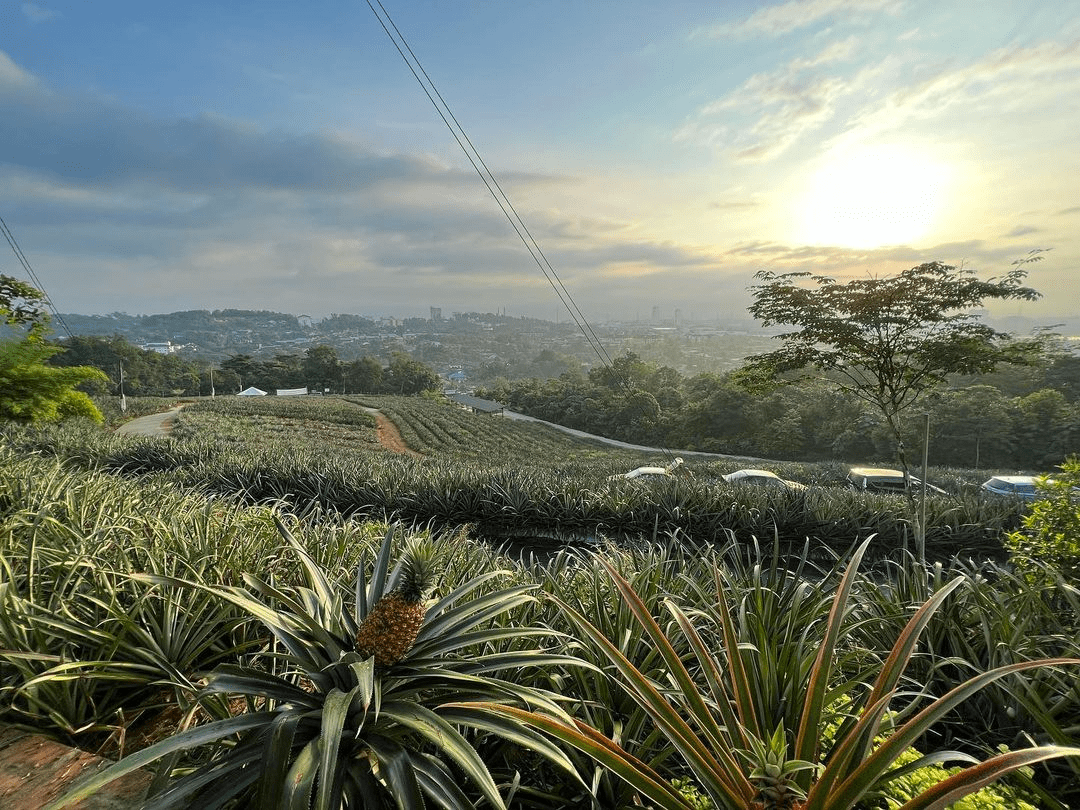 Image credit: @mardhiyah_hanim
The pineapple-twist menu items coupled with the hilltop views have made the cafe a popular dining spot among locals. So plan to come here on the weekdays, or around its opening hour at 7.30am, to grab a seat without having to queue up. 
Address: WPPV+6R, Kampung Sg Merab Luar, 43000 Kajang, Selangor
Opening hours: 7.30am-6pm, Daily
Contact: 010-288 2987 | Saudagar Nanas Facebook
---
4. Orchard Hill, Semenyih – a durian farm cafe & steamboat restaurant
---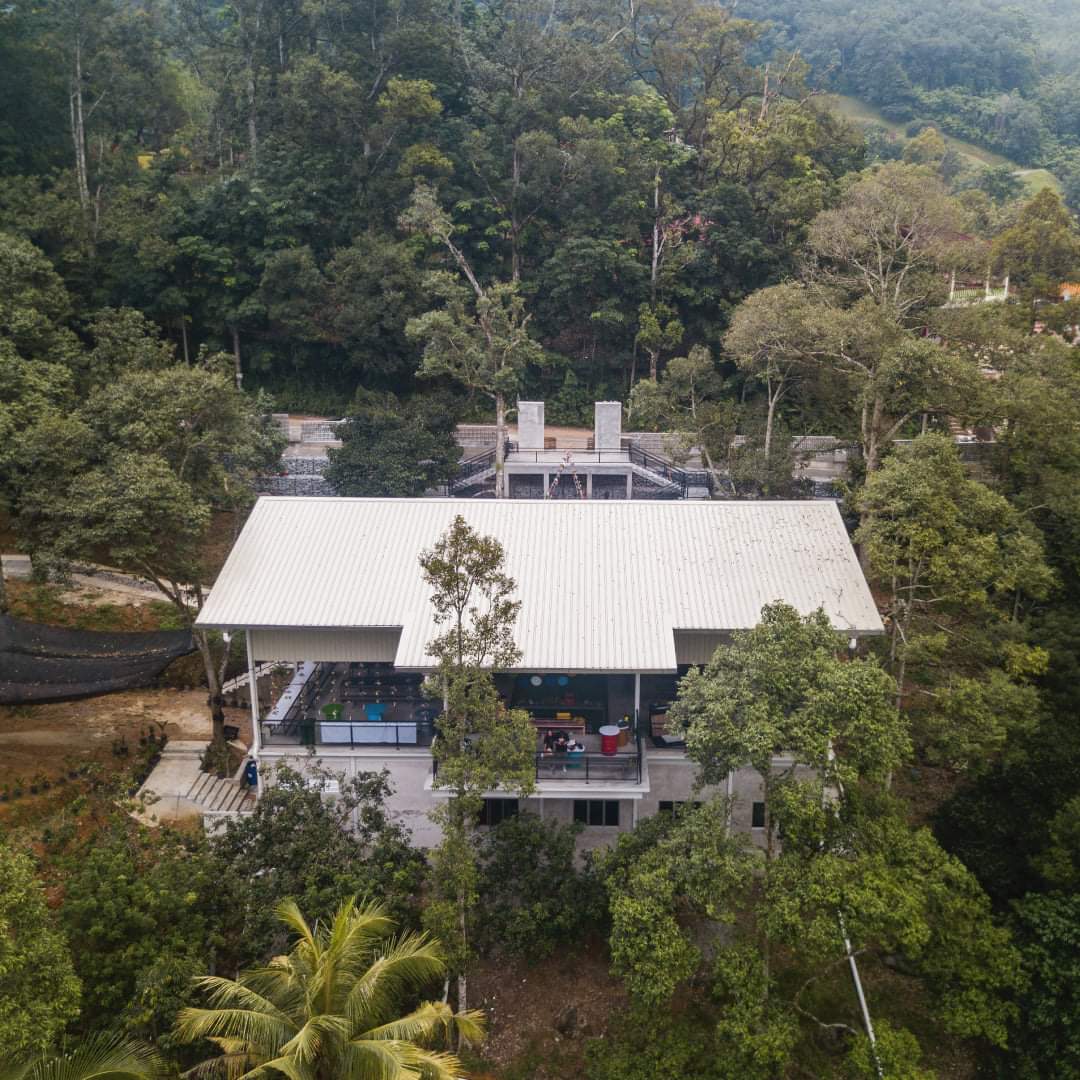 Image credit: Orchard Hill
Most of us associate Semenyih with the popular Broga Hills. Also hiding out in the Hulu Langat town are a selection of cheap eats, including Orchard Hill – a durian orchard which grows a variety of durian types, and shares a space with a campsite and a forested cafe.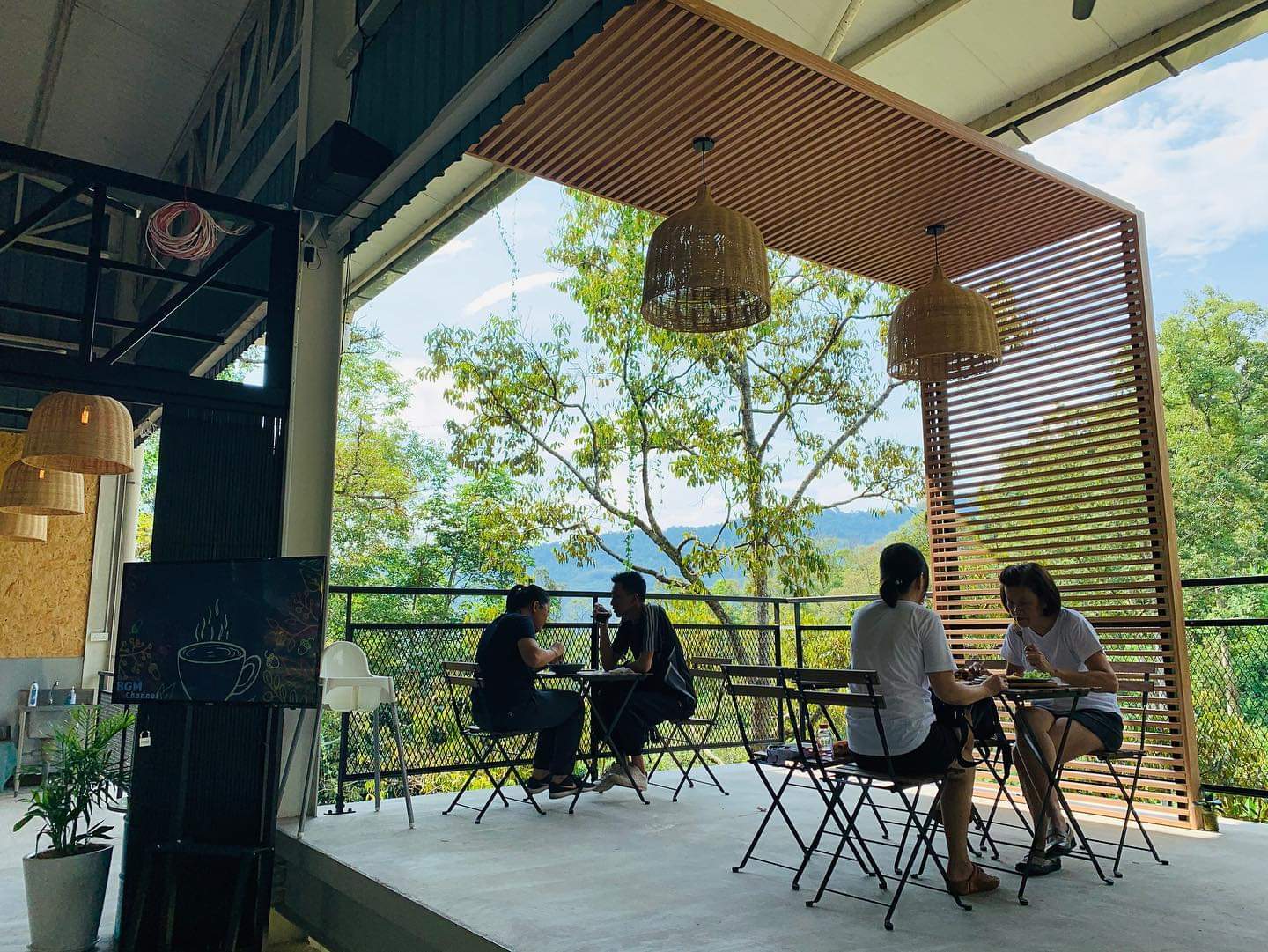 Image credit: Orchard Hill
Brunch is served from opening till 6pm, with additional menu items served from 12pm onwards. Find hearty meals to fuel up with in the mornings, such as Big Breakfast (RM25.90), comprising a croissant, chicken sausages, hash browns, and other sides. Or load up on carbs with their signature croissants – fillings include Fish Fillet (RM19.90) and Ham Cheese (RM16.90).
Besides the mouthwatering Smoked Duck (RM20.90) and Seafood (RM23.90) pasta plates that are served all-day, main dishes such as Soft Shell Crab Burger (RM28.90) and Chef's Classic Fish & Chips (RM25.90) can be ordered after noon.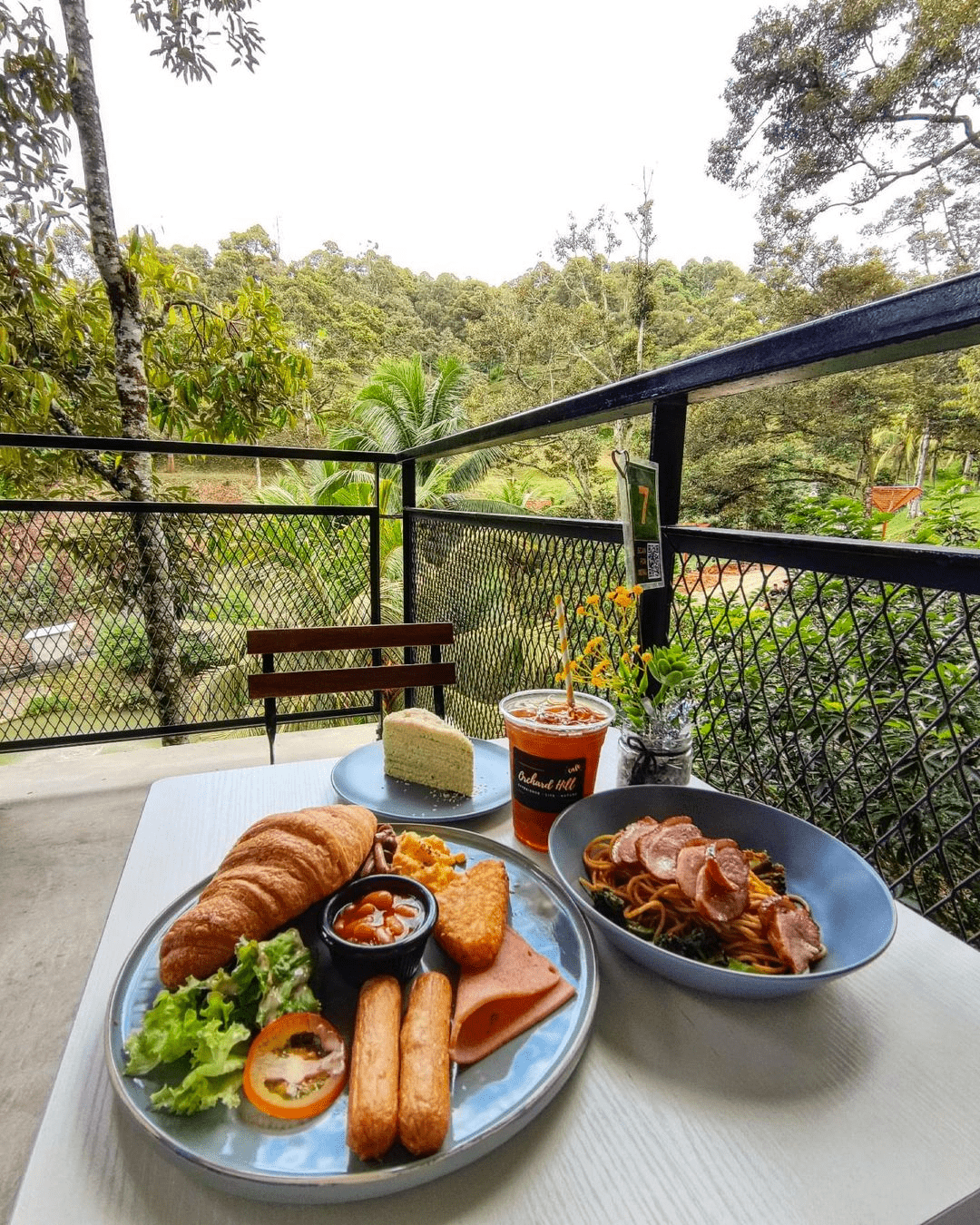 Image credit: @bububmonkey6
From 5pm onwards on the weekends, Orchard Hill's cafe even serves hearty mini hot pots, which can be enjoyed till late at the open-air cafe. There's the Seafood Pot (RM29.90) with a variety of seafood and vegetables, or the meat-free Veggie Pot (RM23.90).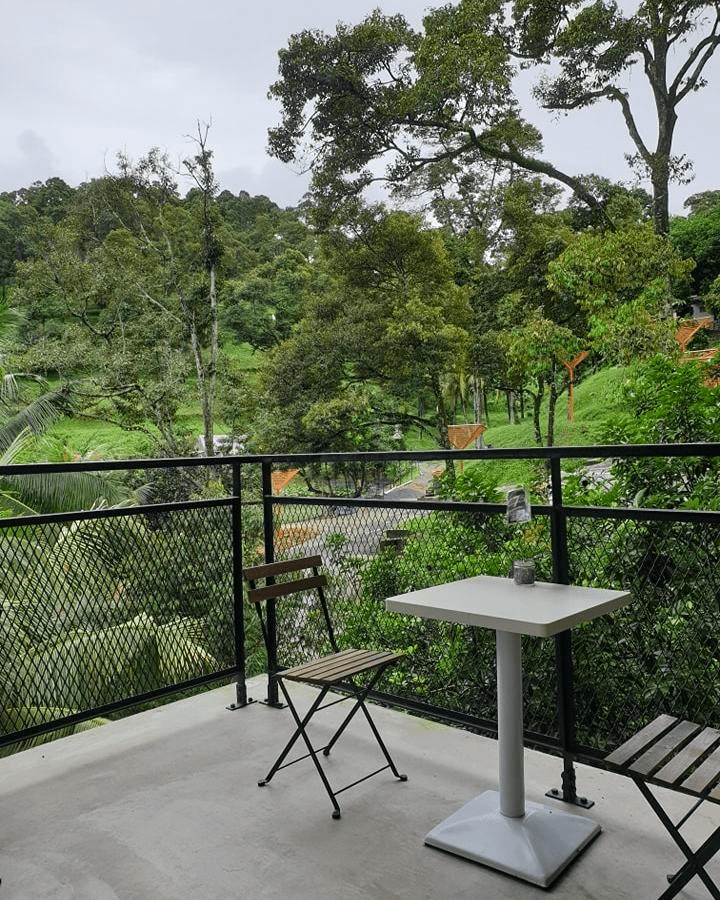 Image credit: @annie3011
Address: Lot 3009, Jalan Tanah Pinggir, Broga, 71750 Lenggeng, Negeri Sembilan
Opening hours: Mon-Thu 11am-6pm | Fri 11am-10pm | Sat & Sun 8am-10pm (Closed on Wednesdays)
Contact: 011-5139 3009 | Orchard Hill website | Facebook
---
5. Bug's Paradise Farm, Puchong – organic steamboat & plant-based burgers
---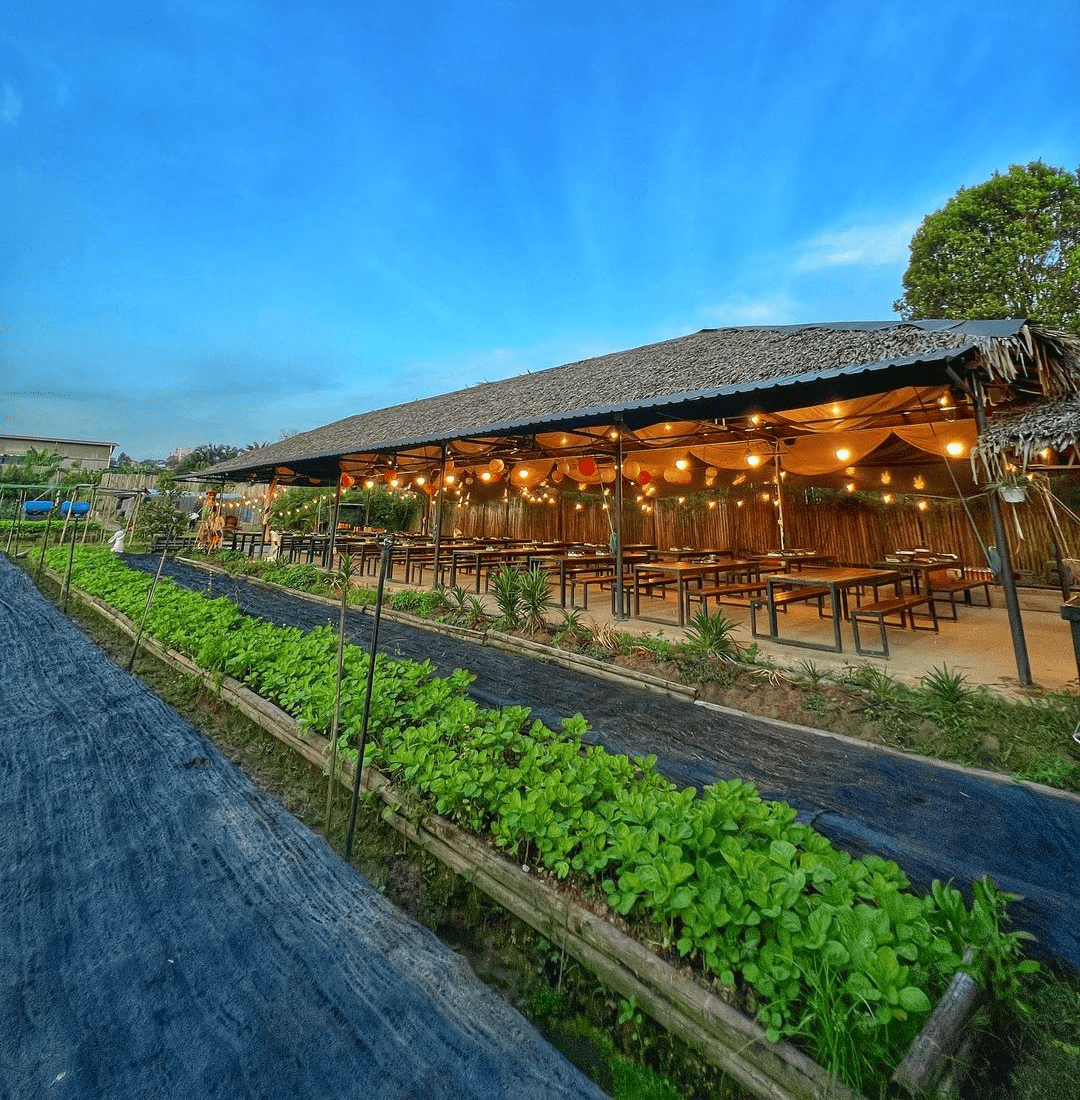 Image adapted from: @szeyinchong92
There's one thing that foodies don't mind sweating buckets for – steamboats. Whether indoors or outdoors, we're always ready to dip our ladles into steaming pots to fish out seafood and vegetables.
At Bug's Paradise Farm in Puchong, you can gorge on a healthy, farm-to-table steamboat with a view of the organic farm that grows produce for the dishes served here.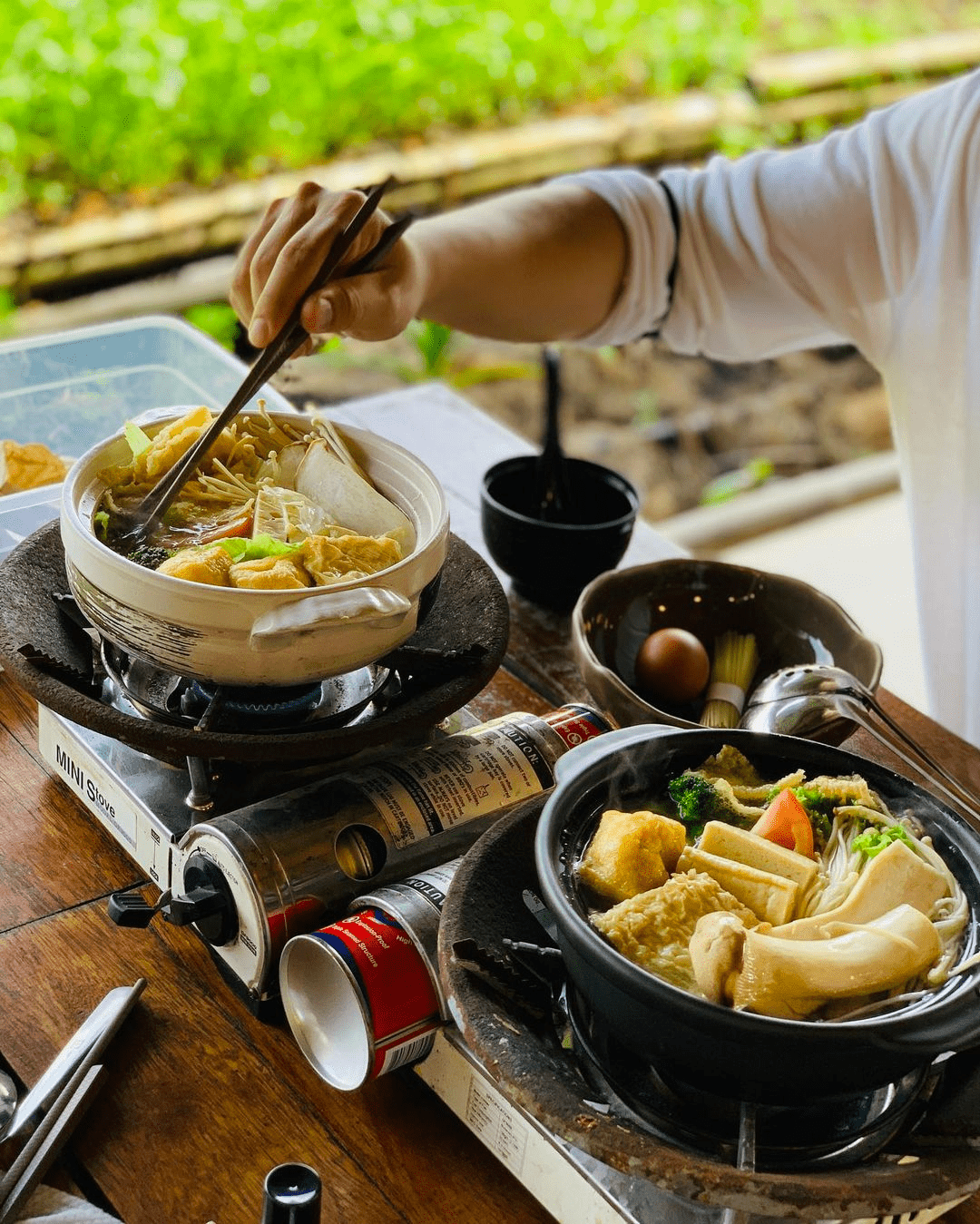 Image credit: @tofucouple
A signature dish here is the Healthy Steamboat Set (RM25.90), with mee sua or yee mee and a pot of healthy ingredients such as mushrooms, tofu, and taufu pok. There are five different soup bases to choose from to pair with the ingredients – Miso, Kimchi, Oatmilk, Kombu, or Pepper.
The restaurant recently expanded their menu to include healthy, plant-based burgers from Veco Burger too – Black Pepper Beetroot (RM25.90) and Fishy Cucumber (RM24.90) are served with vegan mayo and purple sweet potato buns. 

Image credit: @andrewseahsw
Address: Lot 46692, Jalan Pulau Meranti, Kampung Pulau Meranti, 47120 Puchong, Selangor
Opening hours: Wed-Fri 12pm-10pm | Sat & Sun 10.30am-10pm (Closed on Mondays & Tuesdays)
Contact: 016-742 8086 | Bug's Paradise Farm Facebook
---
6. Lemuni Cafe, Janda Baik – restaurant in a traditional palace replica
---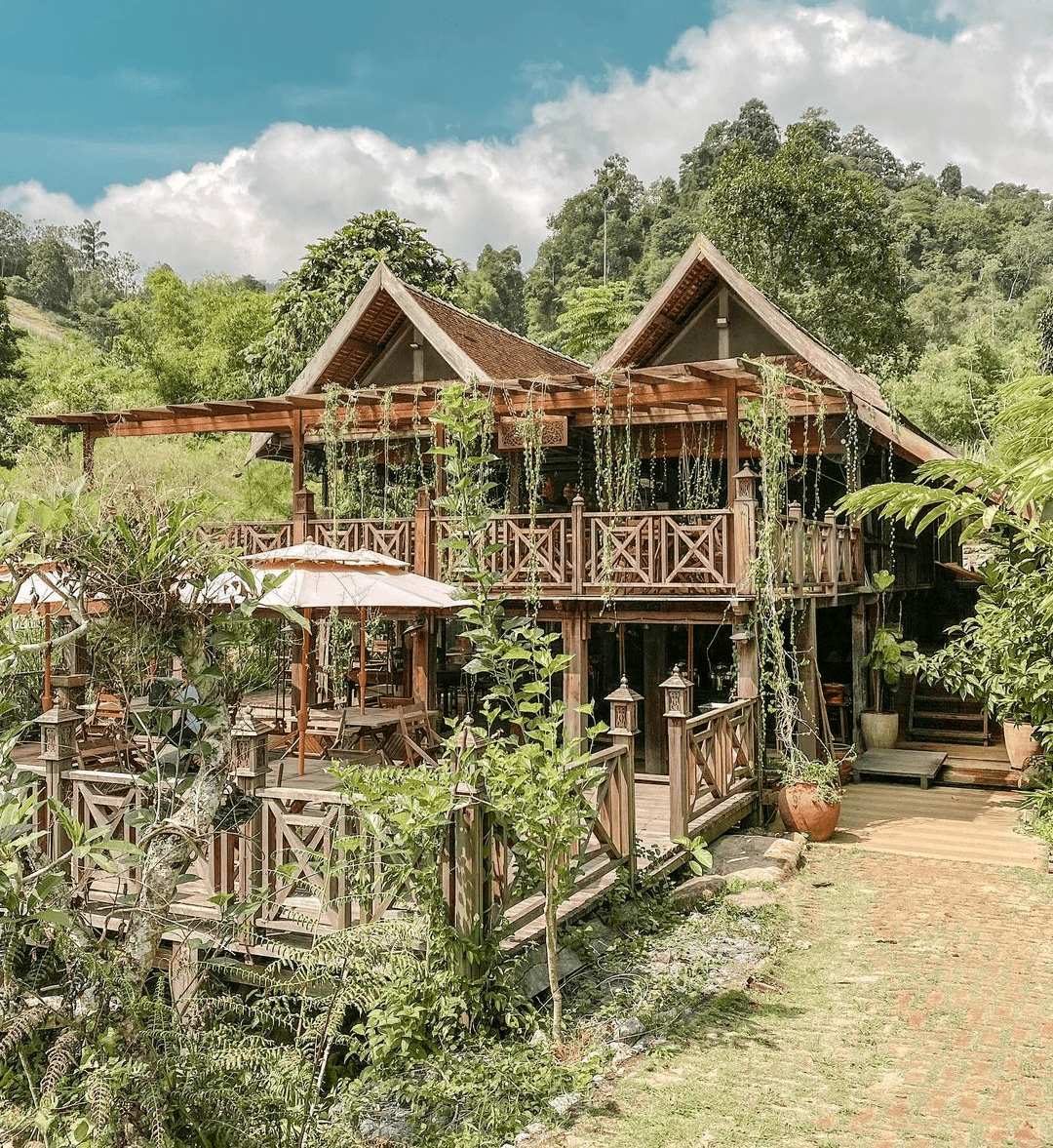 Image adapted from: @narztraveldiary
Janda Baik has established itself as an easily-accessible nature getaway for KL folks. Apart from the slew of comfortable hotels and staycations located here, there are forested cafes and restaurants that'll whisk you deep into nature. Lemuni Cafe is one such eatery.
The cafe is housed in a kampung-style building on stilts, which overlooks a river, the Lentang Forest Reserve, and three buildings that make up Istana Lemuni. A fun fact about the latter is that they're exact replicas of Terengganu palaces built in the 1800s. 
Also on the acres of land home to these traditional buildings, are orchards growing produce, and pens to rear chicken for the cafe's farm-to-table concept.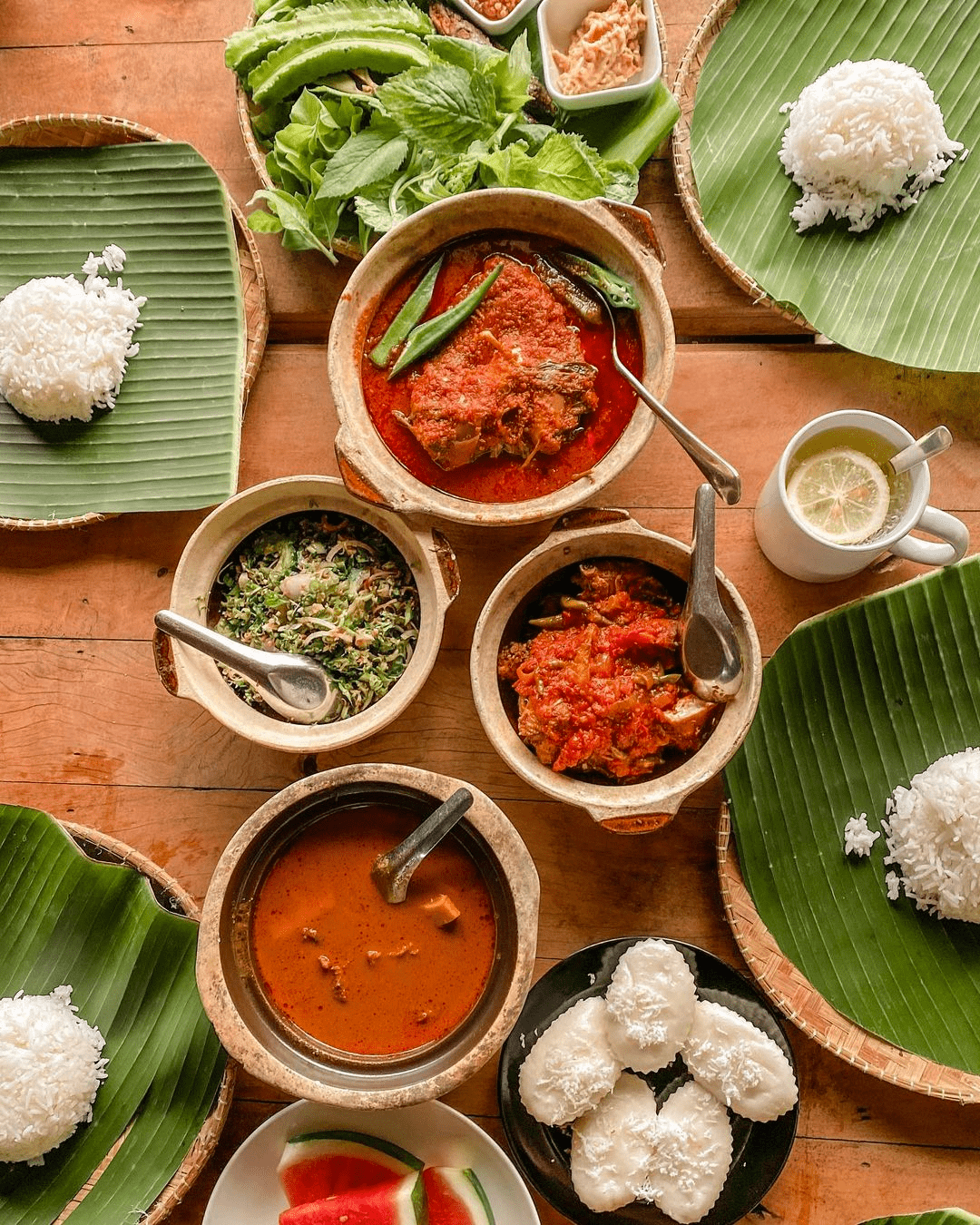 Image credit: @narztraveldiary
A popular order among Lemuni's patrons are the set meals, which you can enjoy while seated indoors or outdoors, accompanied by a splendid view of nature. Priced from RM90 and able to feed two, these traditional Malay cuisine meal sets come with white rice and a variety of sides such as kerabu ulam, ayam berlado, sambal belacan and ikan pekasam.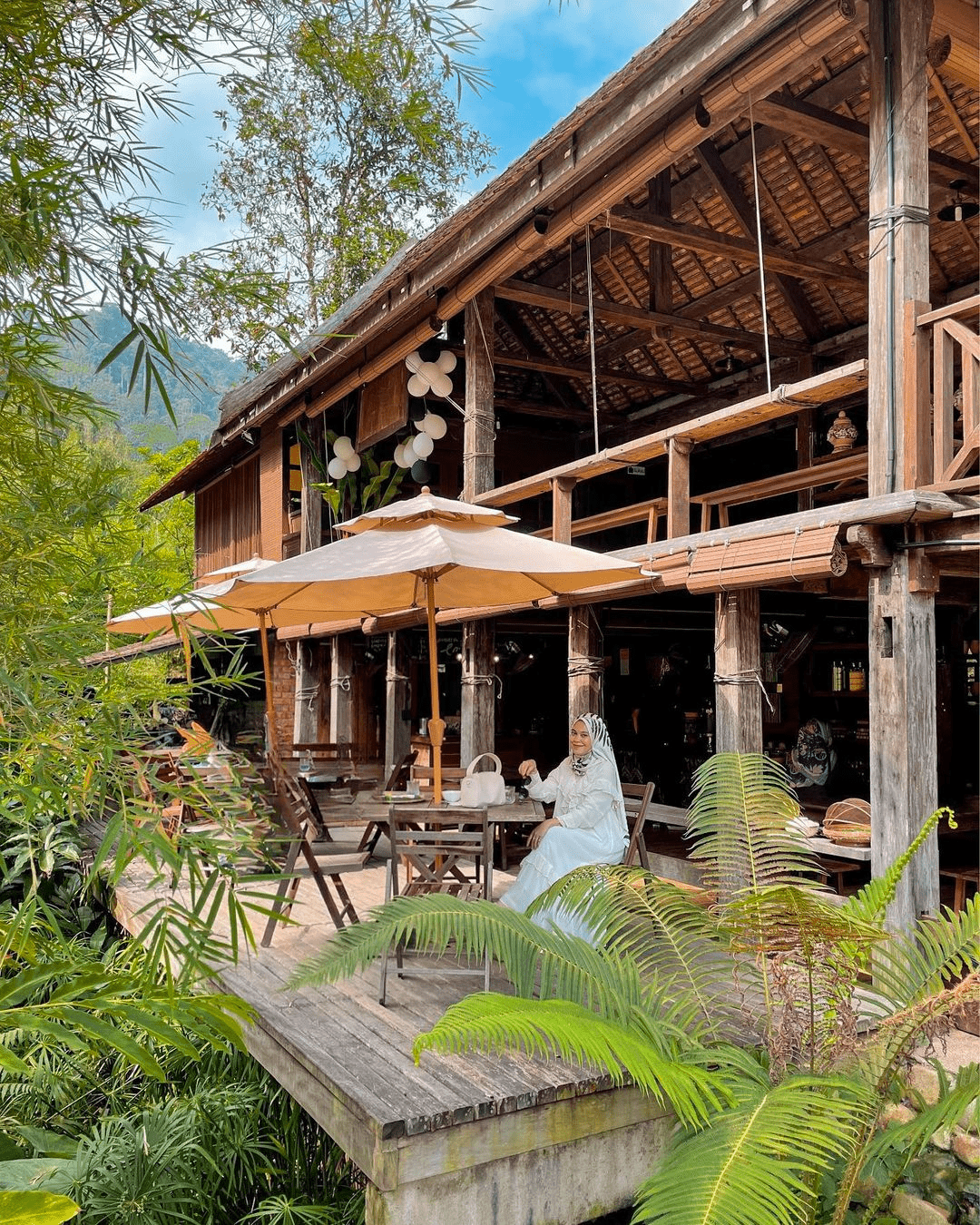 Image credit: @nurulamiira_
Else, order smaller bites on the menu, which include Nasi Lemak Lemuni (RM5), Roti Canai (RM6), and Lempeng Kelapa (RM5). There's also a breakfast buffet (from RM40/pax) – but for that you'll need to make a reservation prior to your visit. 
You can send them a message via WhatsApp here.
Address: Lot 9756, Kampung Chemperoh, Kampung Janda Baik, Bentong, Pahang
Opening hours: Fri 12pm-8pm | Sat 8am-8pm | Sun 8am-6pm (Closed Mondays to Thursdays)
Contact: 012-326 5966 | Lemuni website | Facebook 
---
7. Florescence, Batang Kali – a view of waterlily pond & orchids
---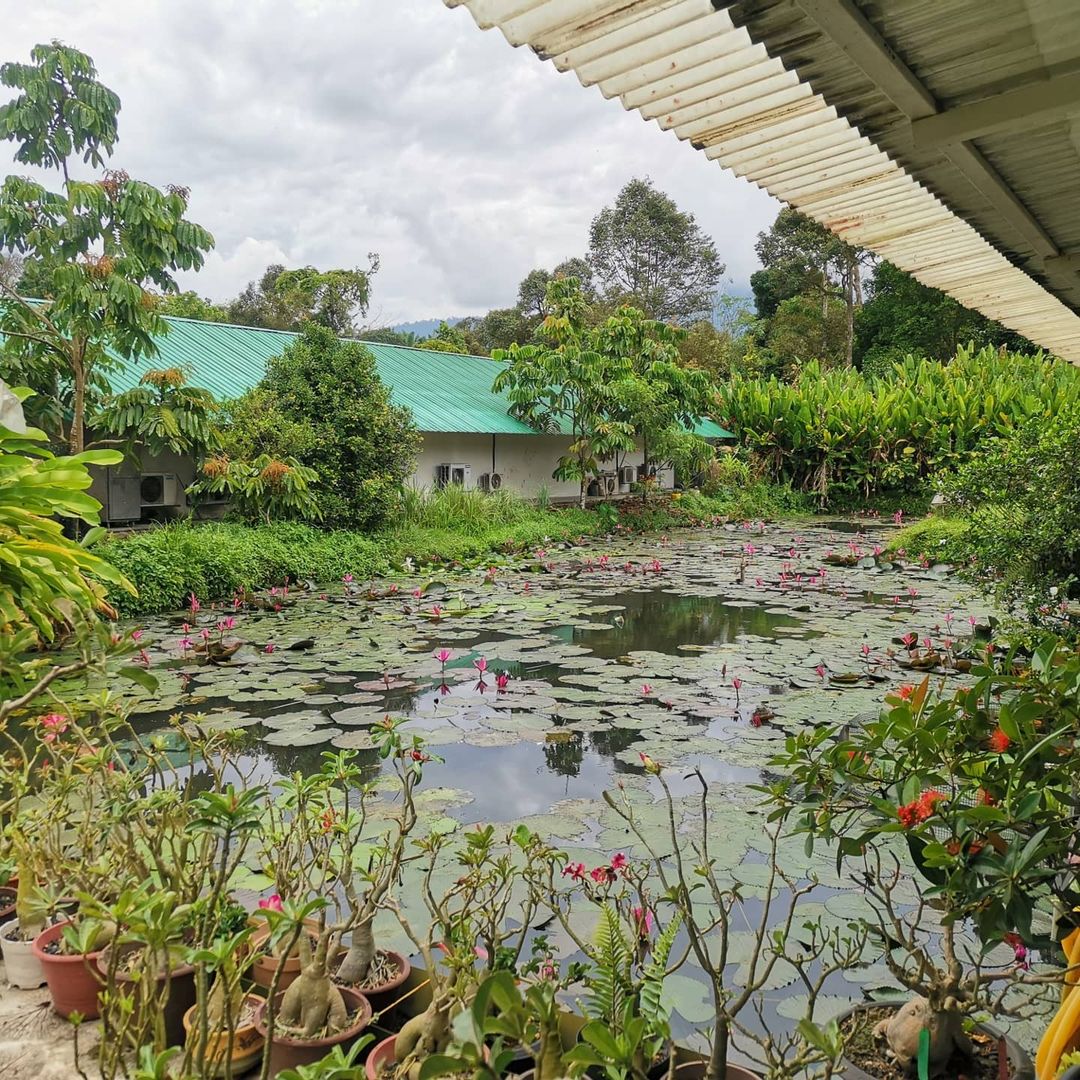 Image credit: @rick_lee_perodua
Florescence is another cafe in the Batang Kali area that's well-known for its waterlily pond reminiscent of Monet's garden. The cafe happens to be hidden inside World of Phalaenopsis, a 6-acre orchid farm that grows and sells this stunning flowering plant.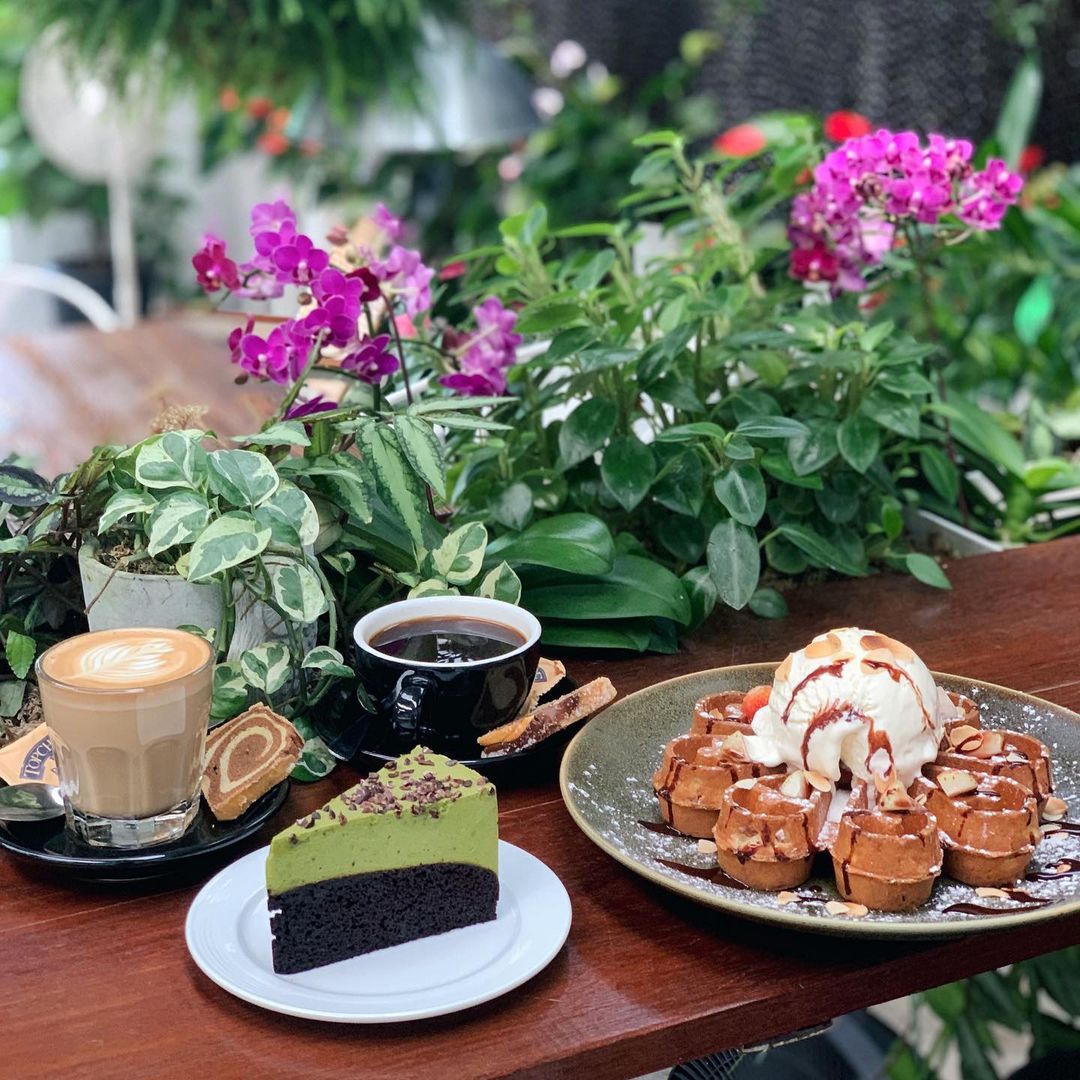 Image credit: @onsfornoms
Patrons can dine amongst an impossibly picturesque setting here, comprising a waterlily-filled pond against a backdrop of trees. A part of the cafe houses potted orchids too, so you can take your pick of the window seats overlooking the pond or the blooming flowers – either way, you'll get to immerse yourself in nature.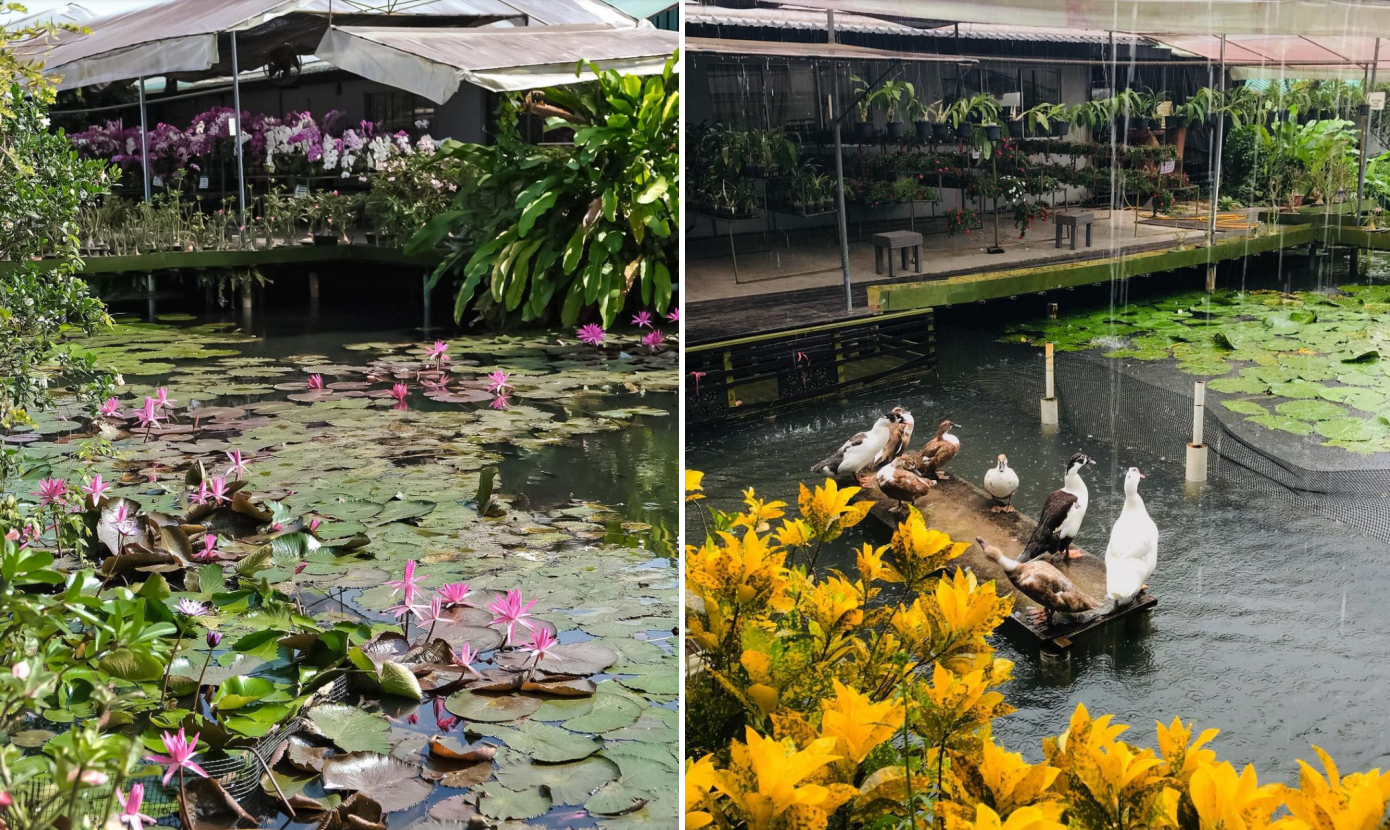 Image adapted from: @weihoe1001 and @photosweeekly
The scenery here may be a highlight, but you'll want to come with an empty stomach. The orchid farm's in-house cafe serves full meals such as Nasi Lemak Rendang Ayam (RM12.90) and Mee Hoon Siam (RM12.90) alongside cakes (from RM12.90/slice) and lattes (RM10).
Address: 1017, Jalan Batang Kali, Hulu Yam Bharu, Kampung Sungai Kamin, 44300 Batang Kali, Selangor
Opening hours: 8am-5pm, Daily
Contact: 03-6075 1133 | World of Phalaenopsis Facebook | Instagram
Read our feature to find out more about Florescence here.
---
8. Veg Fish Farm Thai Restaurant, Ampang – seafood served from speedboats
---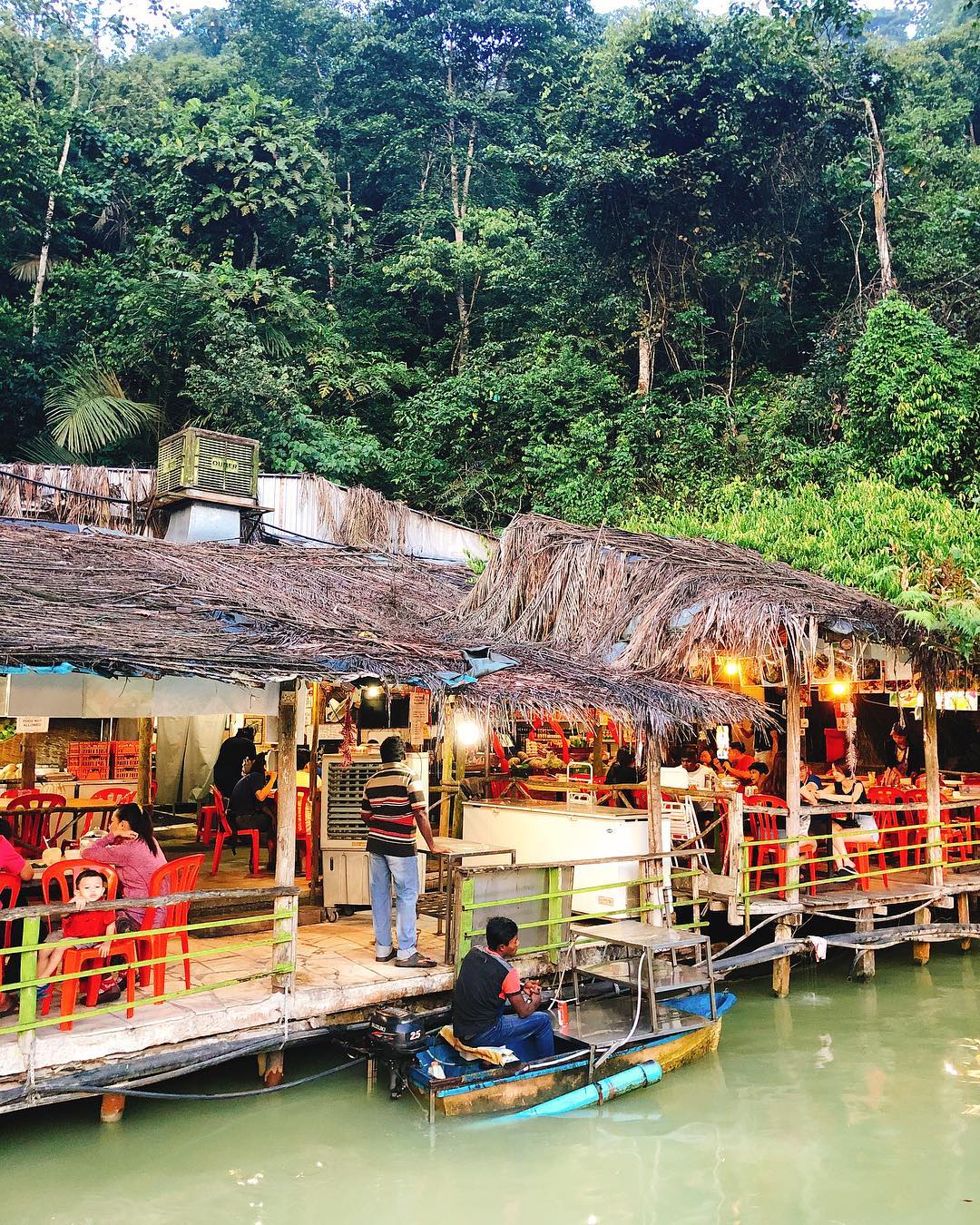 Image credit: @wiamthaiger
Not far from KL is Veg Fish Farm Thai Restaurant, an open-air, riverside restaurant tucked away in a forest amidst a small farm. Besides the variety seafood served, the restaurant's unique dining concept has been luring customers from near and far – spot servers whizzing back and forth on speedboats to serve patrons food whipped up in the restaurant's kitchen.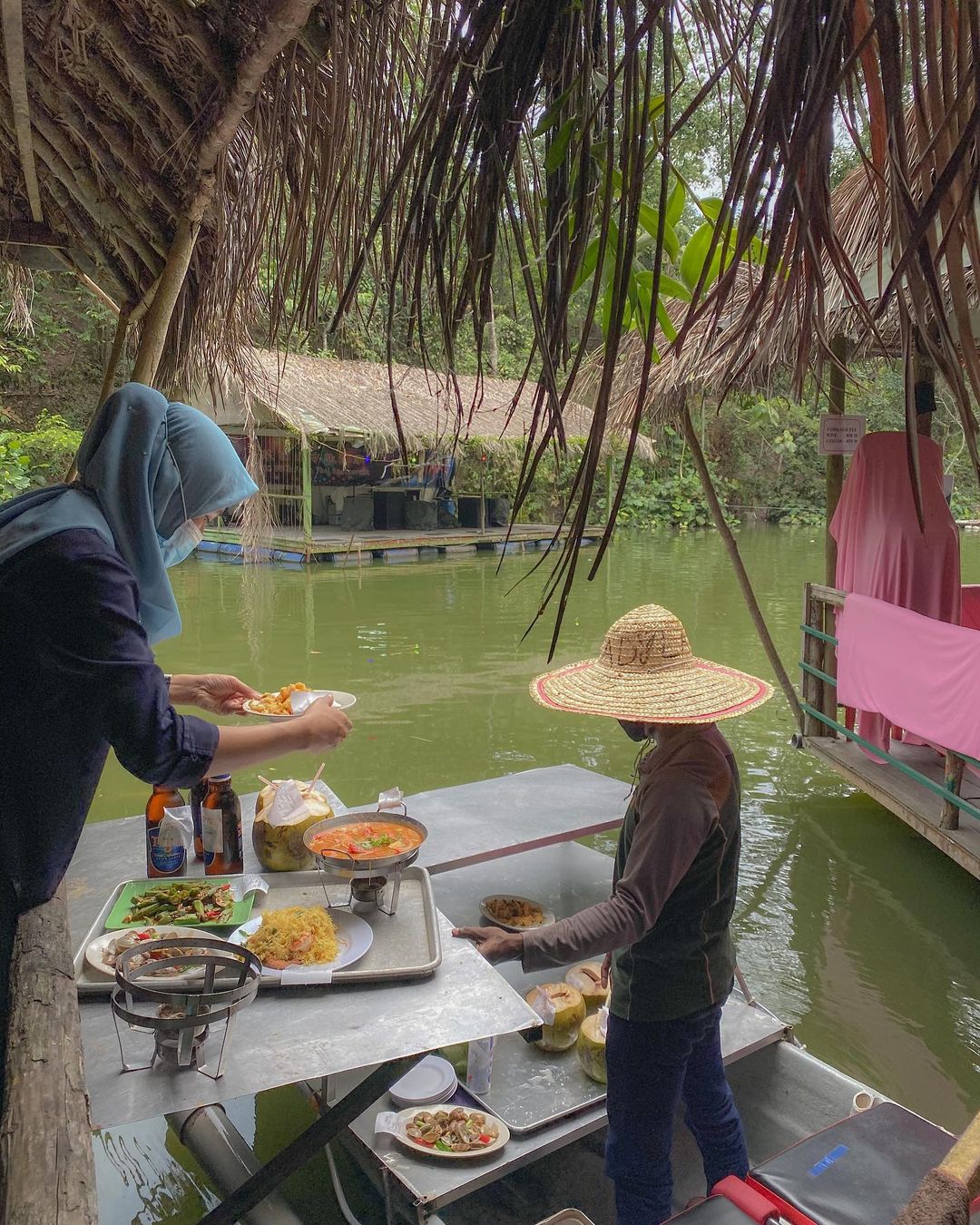 Image credit: @lavienenrose
Start off your meal with their signature tom yum. There are eight variations of the broth on the menu, including white vegetable tomyam (from RM20) and red seafood tomyam (RM40).
The decade-old restaurant also serves almost every type of protein, except pork. Some highlights are the BBQ cockles (RM15/small), lala (from RM16/small), butter king prawn (RM16/100g), as well as fresh fish priced per 100 grams – options include soon hock (RM18.80/100g) and grouper dragon (RM13/100g).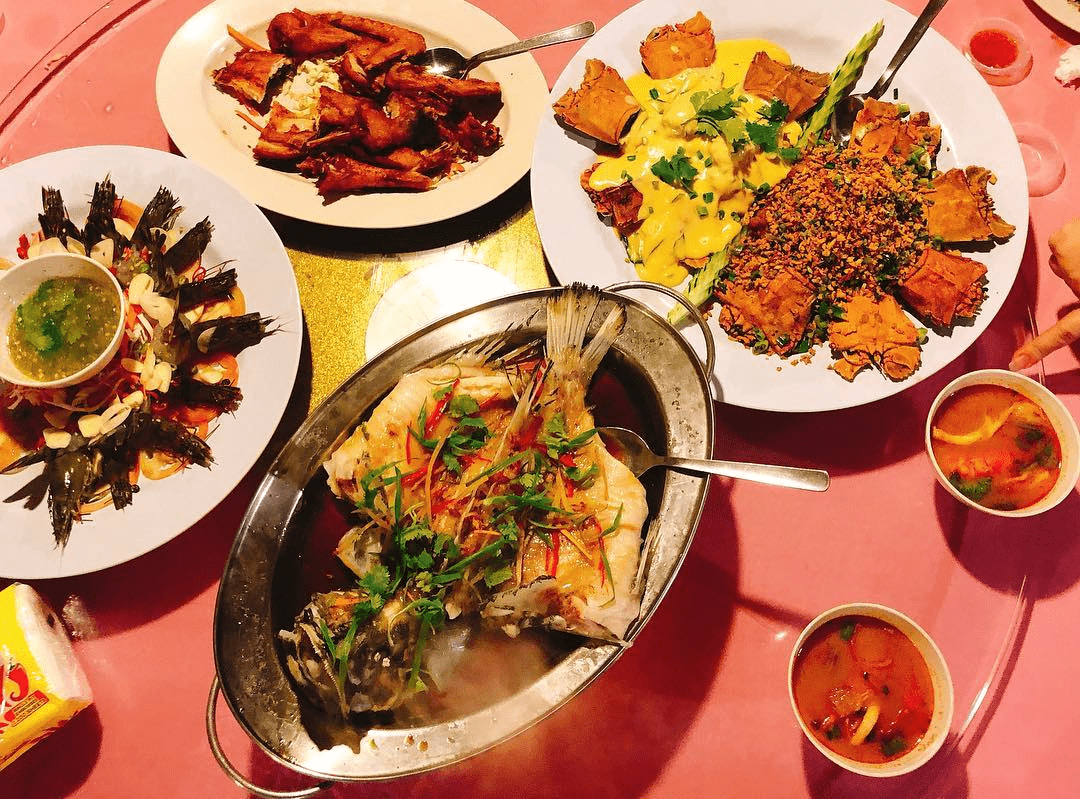 Image credit: @vegfishfarmthai
Finish off your meal with Thai-inspired desserts, such as Mango Sticky Rice (RM10/small), Luk Chup (RM10), and Sago Thai (RM8), to end your seafood feast on a sweet and refreshing note.
Address: M4, Jalan Hulu Langat, 43100 Ampang, Selangor
Opening hours: 11am-11.30pm, Daily
Contact: 019-260 6493 | 012-286 8193 | Veg Thai Farm Restaurant Facebook | Instagram
Read our feature to find out more about Veg Fish Farm Thai Restaurant here.
---
Cafes and restaurants on farms near Kuala Lumpur
---
Being one with nature doesn't always have to mean an arduous hike up a hill or through a forest. You can take things slow and still get a dose of nature at these cafes and restaurants, which offer diners good food and gorgeous views from their forested and farm locations.
Other eateries set amidst nature in Malaysia:
---
Cover image adapted from: Orchard Hill, @tracytiing and @nurulamiira_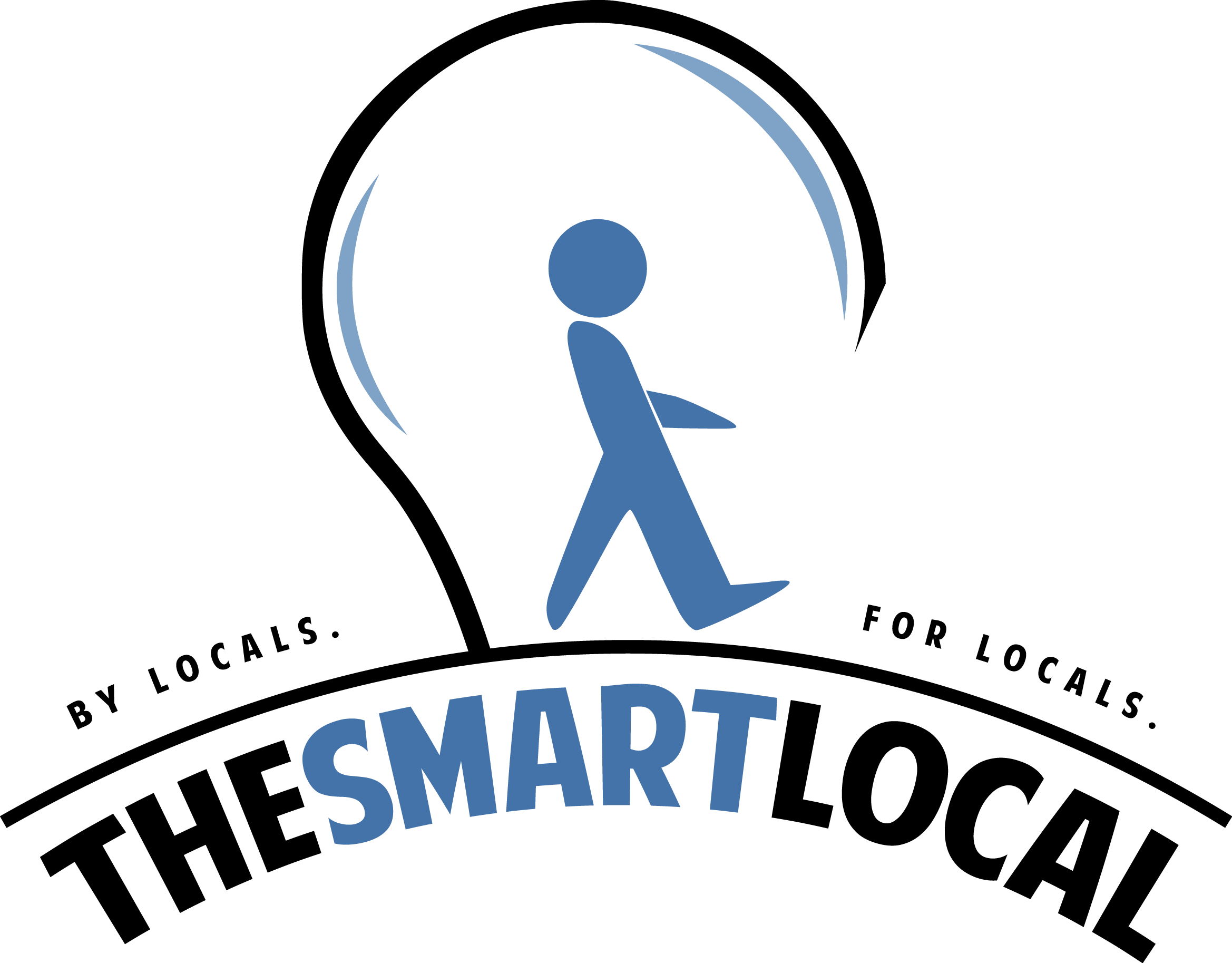 Drop us your email so you won't miss the latest news.