BookXcess in Sunsuria Forum, Setia Alam 
---
If you're a self-professed book lover, you've probably seen pictures of Seoul's iconic Starfield Library, located at COEX Mall. The public library houses over 70,000 books in curved floor-to-ceiling bookshelves that is every bookworm's dream come true.
But you don't have to fly all the way to Korea to satiate your literary thirst. BookXcess's newest outlet on the basement level of Sunsuria Forum, Setia Alam – a new shopping hub for locals here – lets you have a taste of Starfield Library's famous bookshelves right here in Malaysia.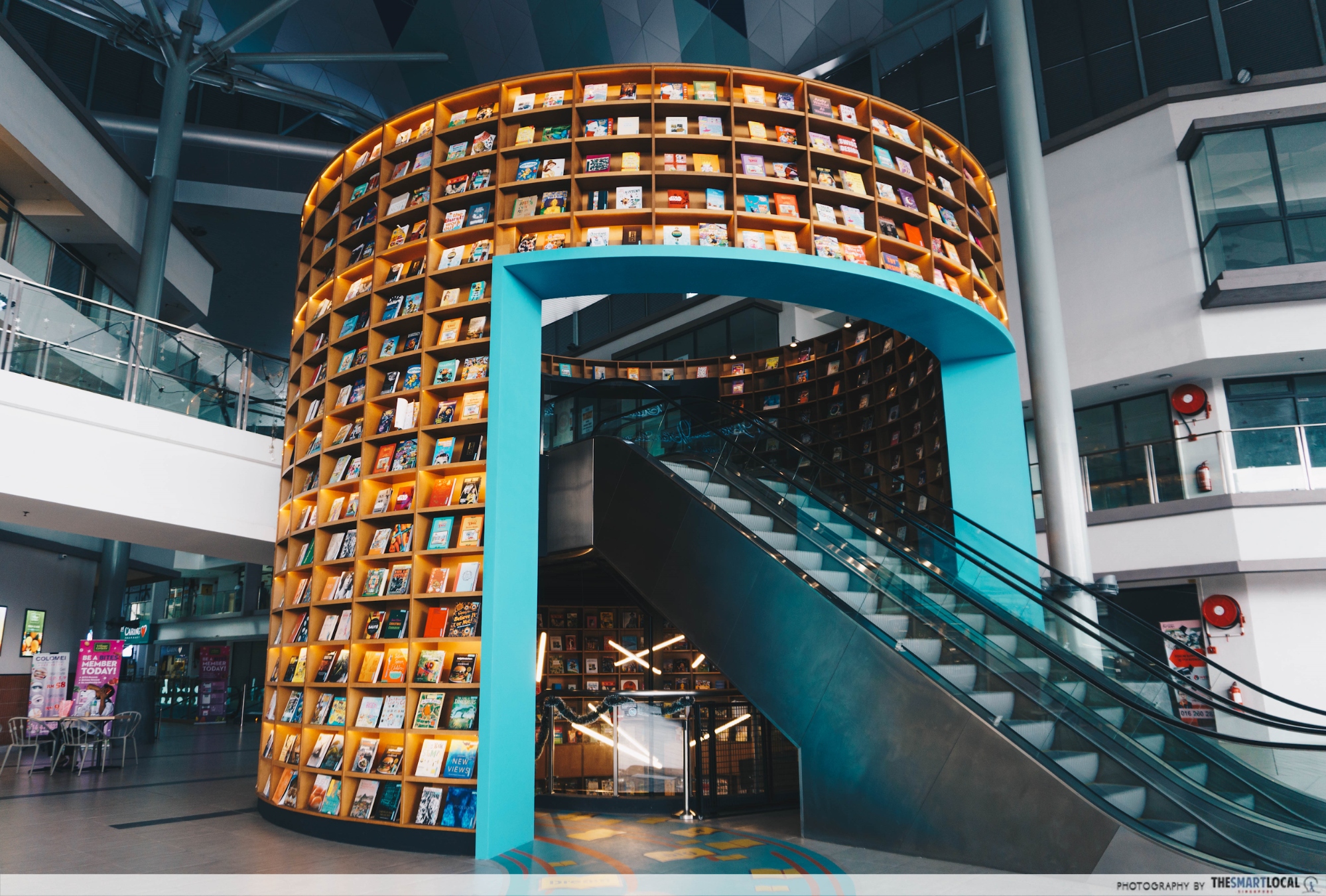 Like Starfield Library, the Setia Alam BookXcess outlet boasts plenty of reading nooks, photographable spots, and an in-house cafe perfect for those who need a quiet spot to rest, recharge, and read.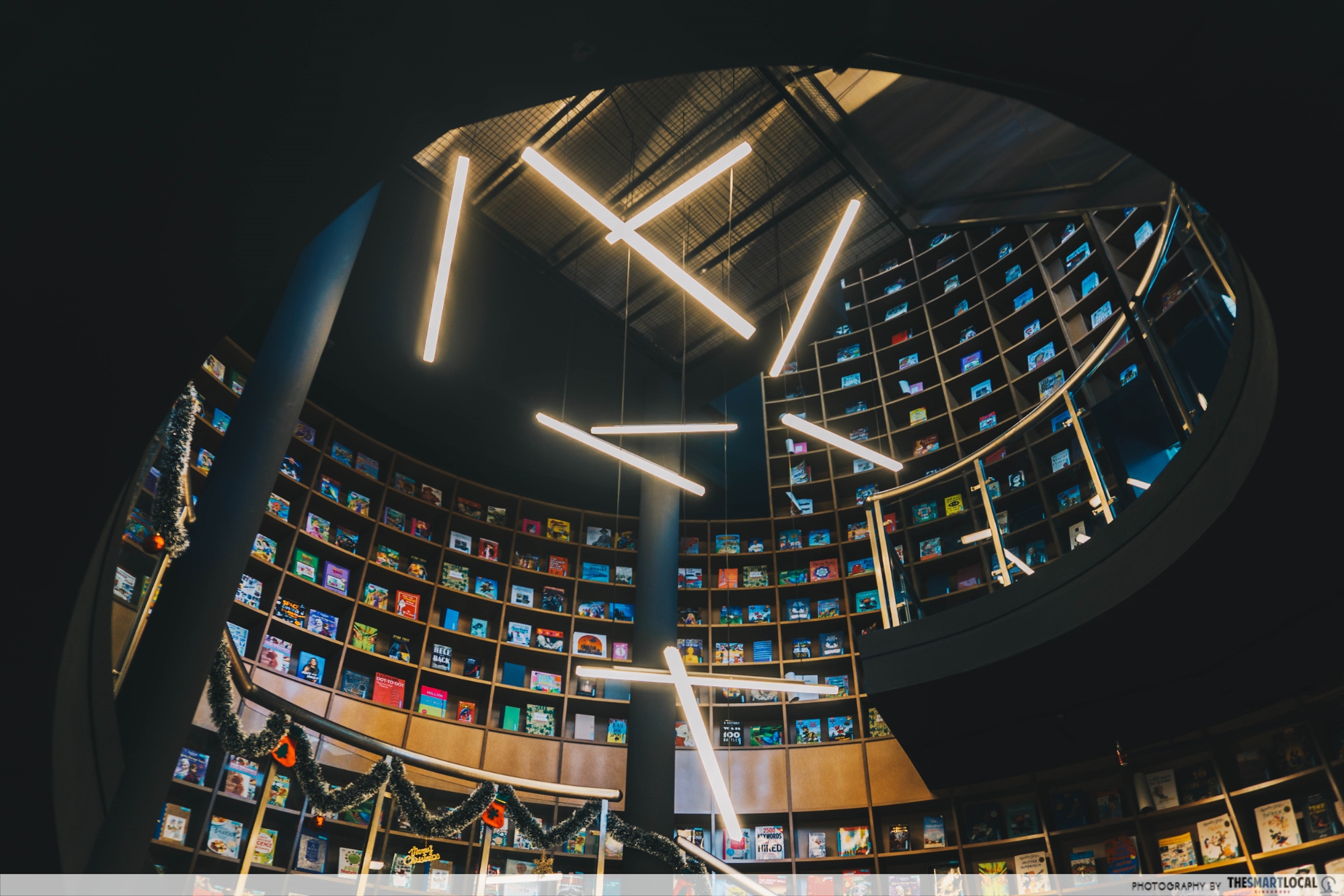 View of the curved bookshelf from inside the bookstore
But even better, you can find more than 500,000 books on the bookshelves at BookXcess. The books displayed on the giant bookshelf are off-limits as it's taped up, but copies are available for sale in store.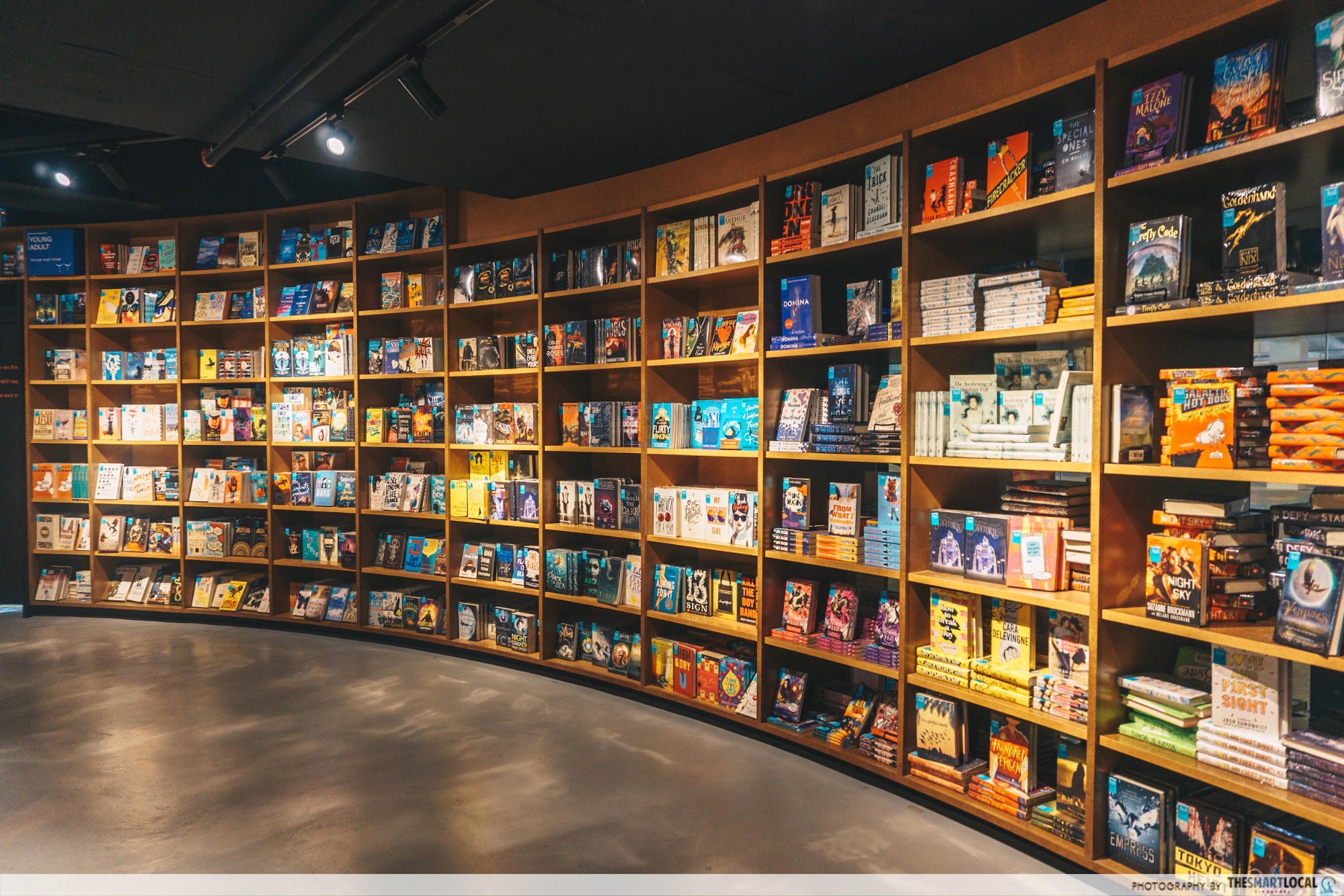 And get this – BookXcess is just a 40-minute drive from Kuala Lumpur.  
---
1. Discounted books in perfect condition
---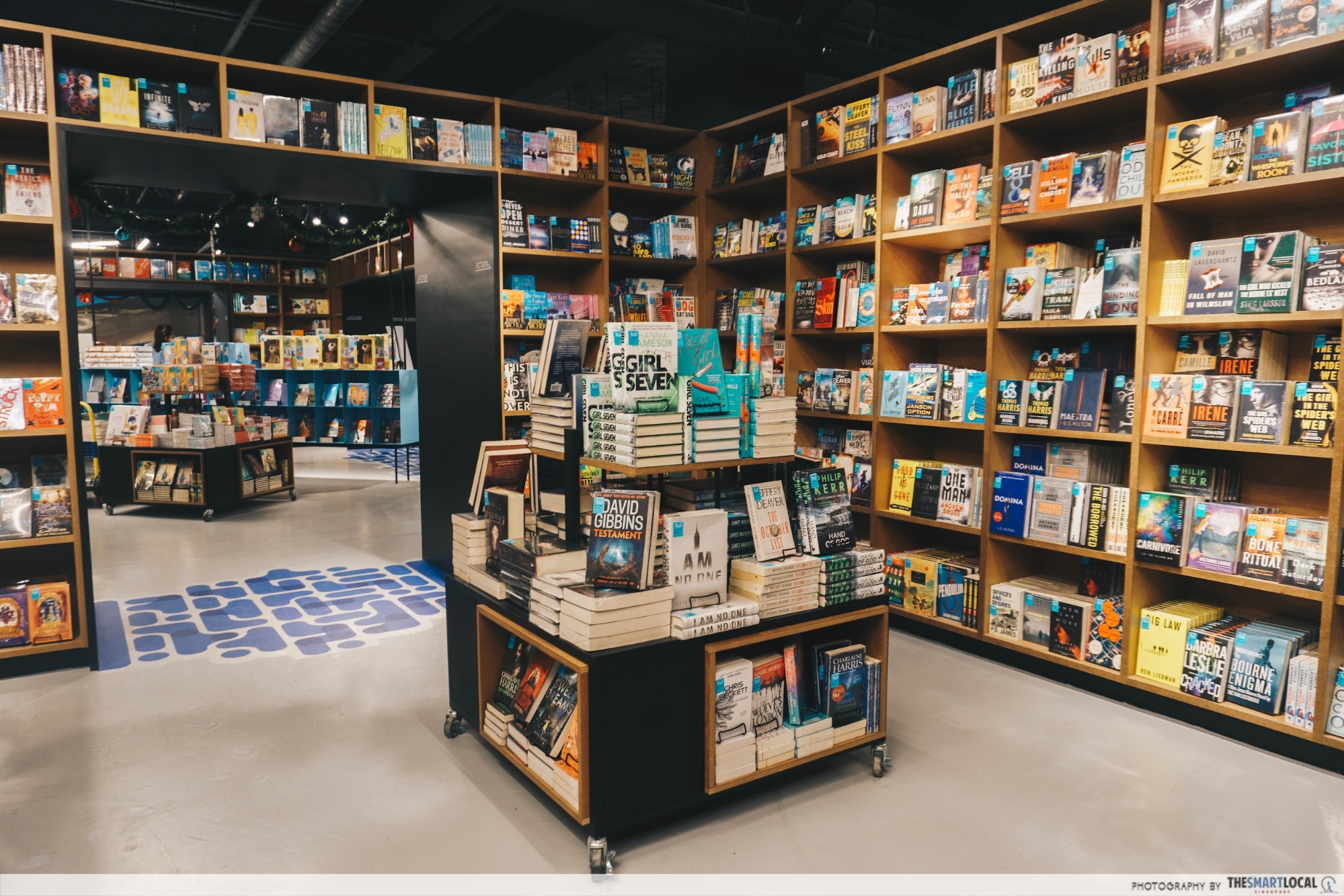 At BookXcess, you can find books of all genres, including sci-fi & fantasy, romance, self-help, and children's books – with discounts of up to 80%. You can also find colouring books, journals, and craft sets for sale.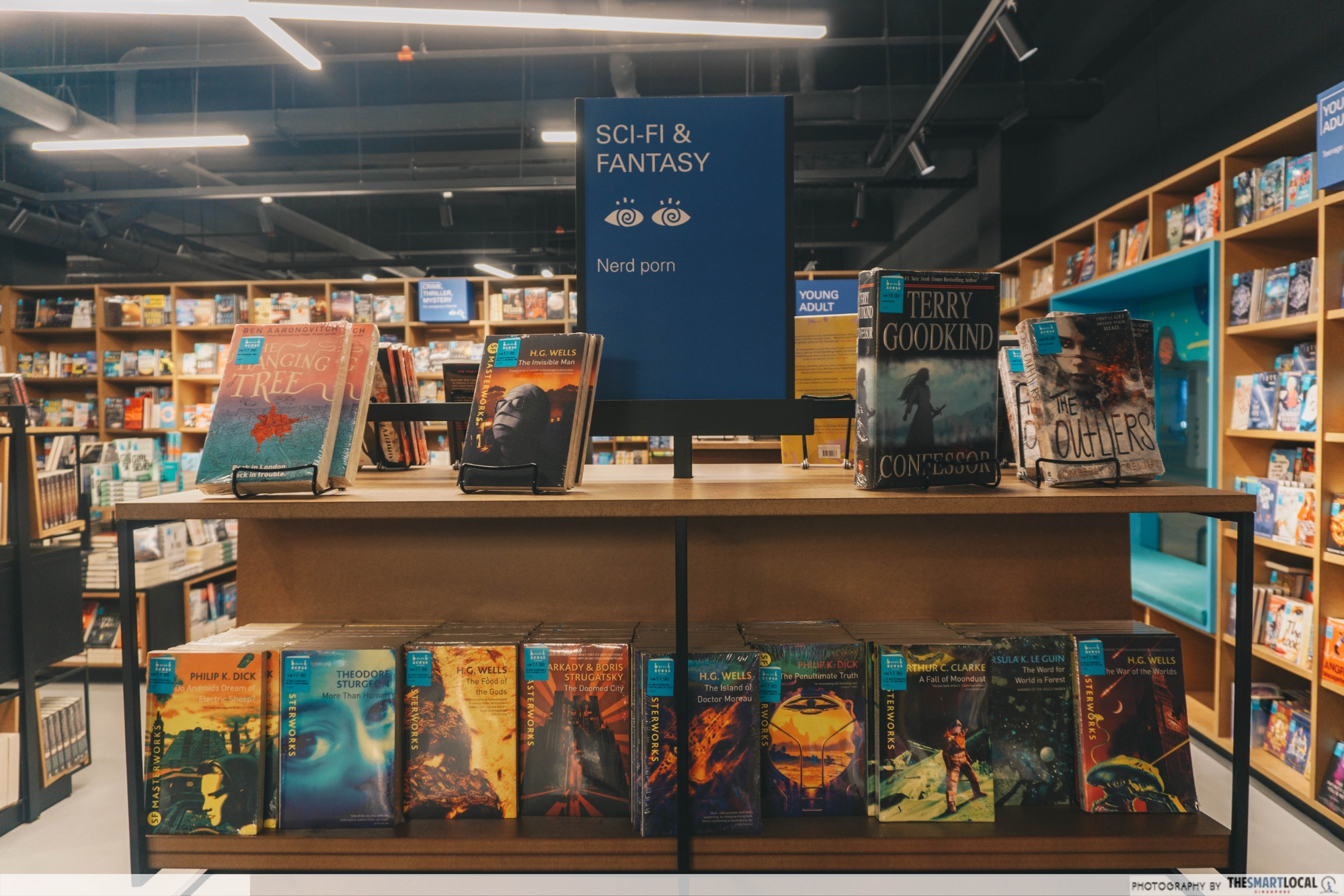 Books are sorted according to genre with cheeky names at BookXcess
Books here are all wrapped with clear plastic, which means that whatever you buy will be in pristine condition – no need to worry about bent spines and folded pages.
Look out for unwrapped browsing copies with a sticker that says "sample" on the cover. You're free to flip through these browsing copies and read to your heart's content.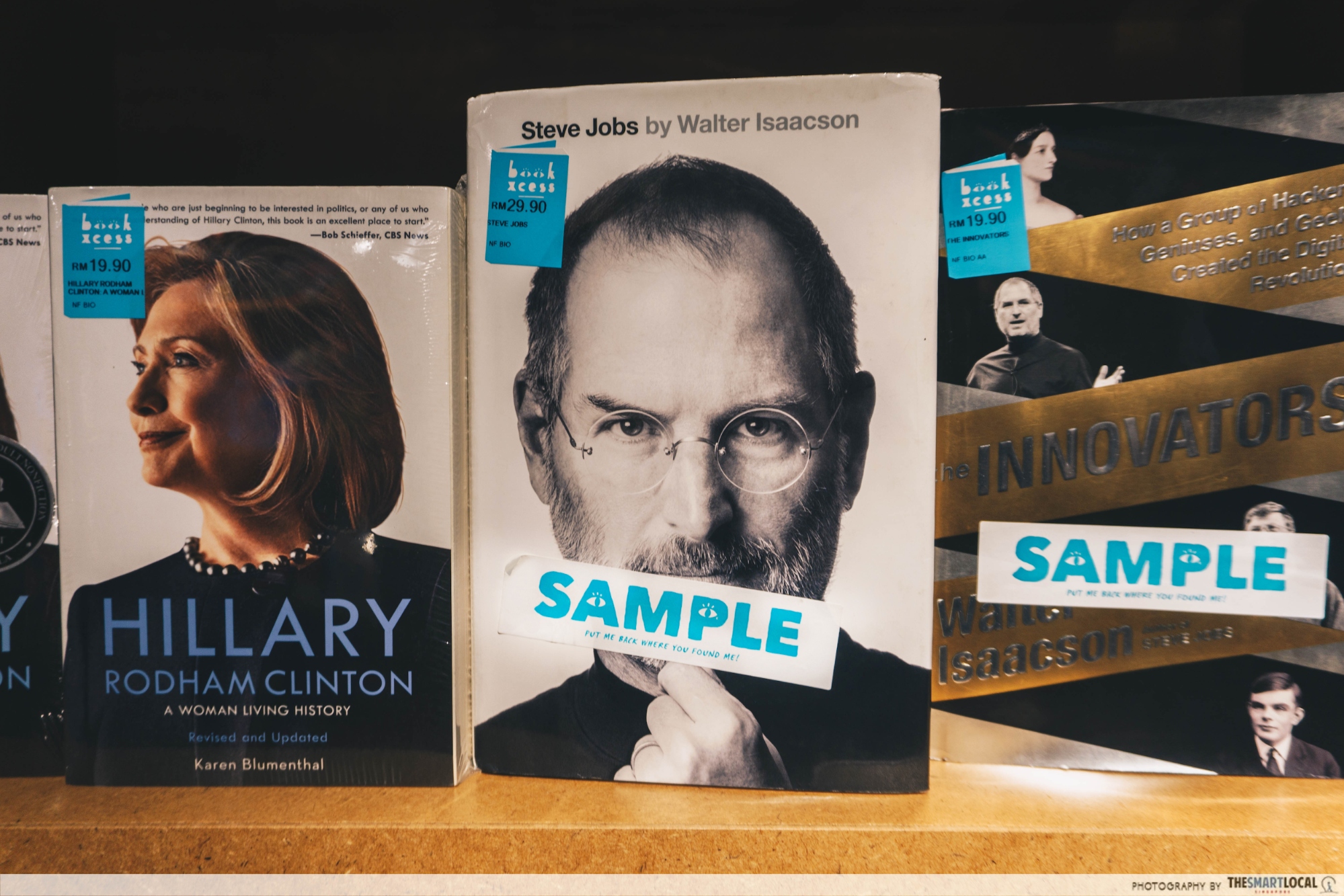 Books with "Sample" stickers
Just don't forget to put your new find back where it came from so others can read through it too. 
---
2. Get caught up in a book at a reading nook
---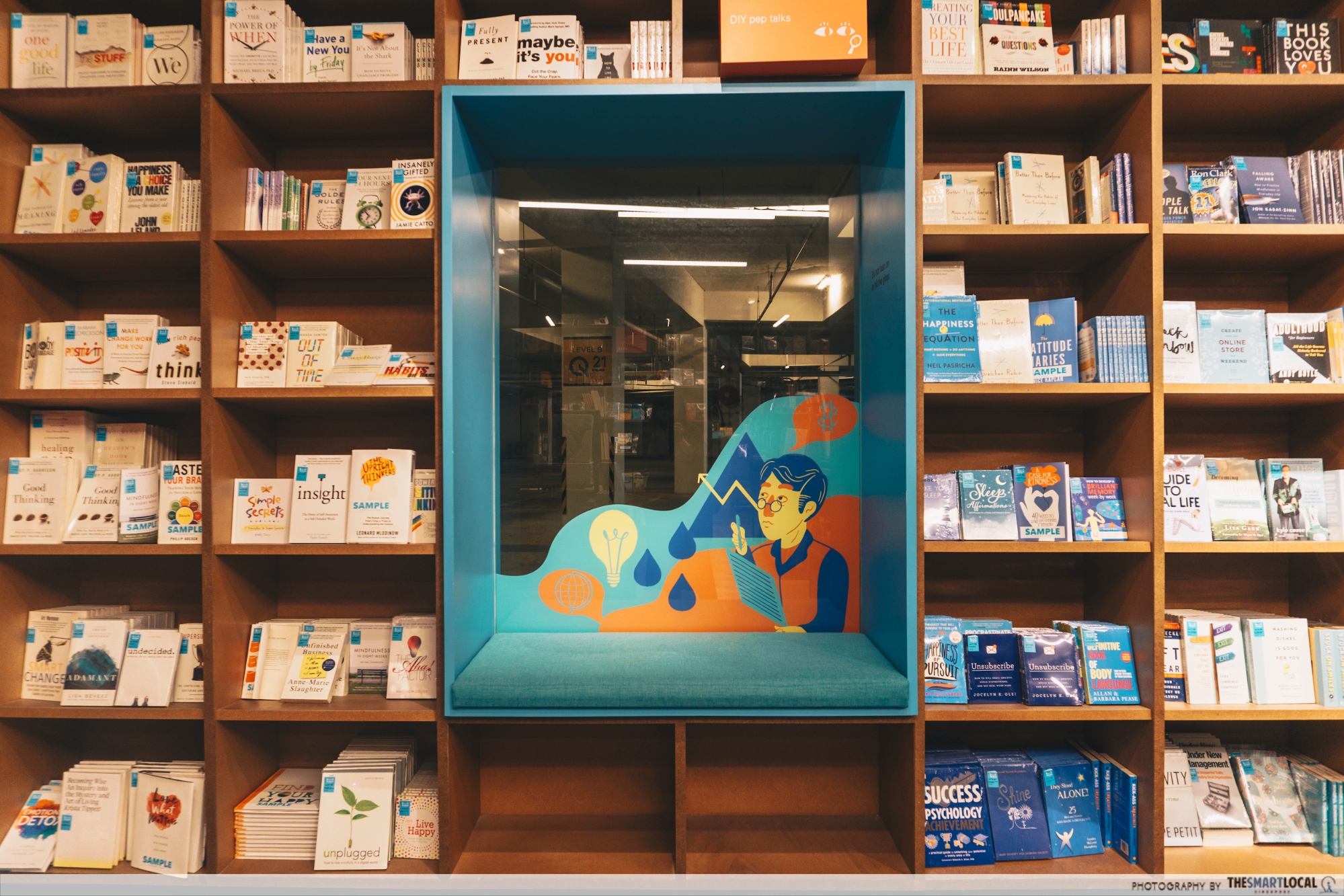 Once you've found the perfect book, all there is left to do is to find a quiet spot to savour it. There are plenty of cosy, hole-in-the-bookshelf reading nooks located around the bookstore for you to curl up in and do just that.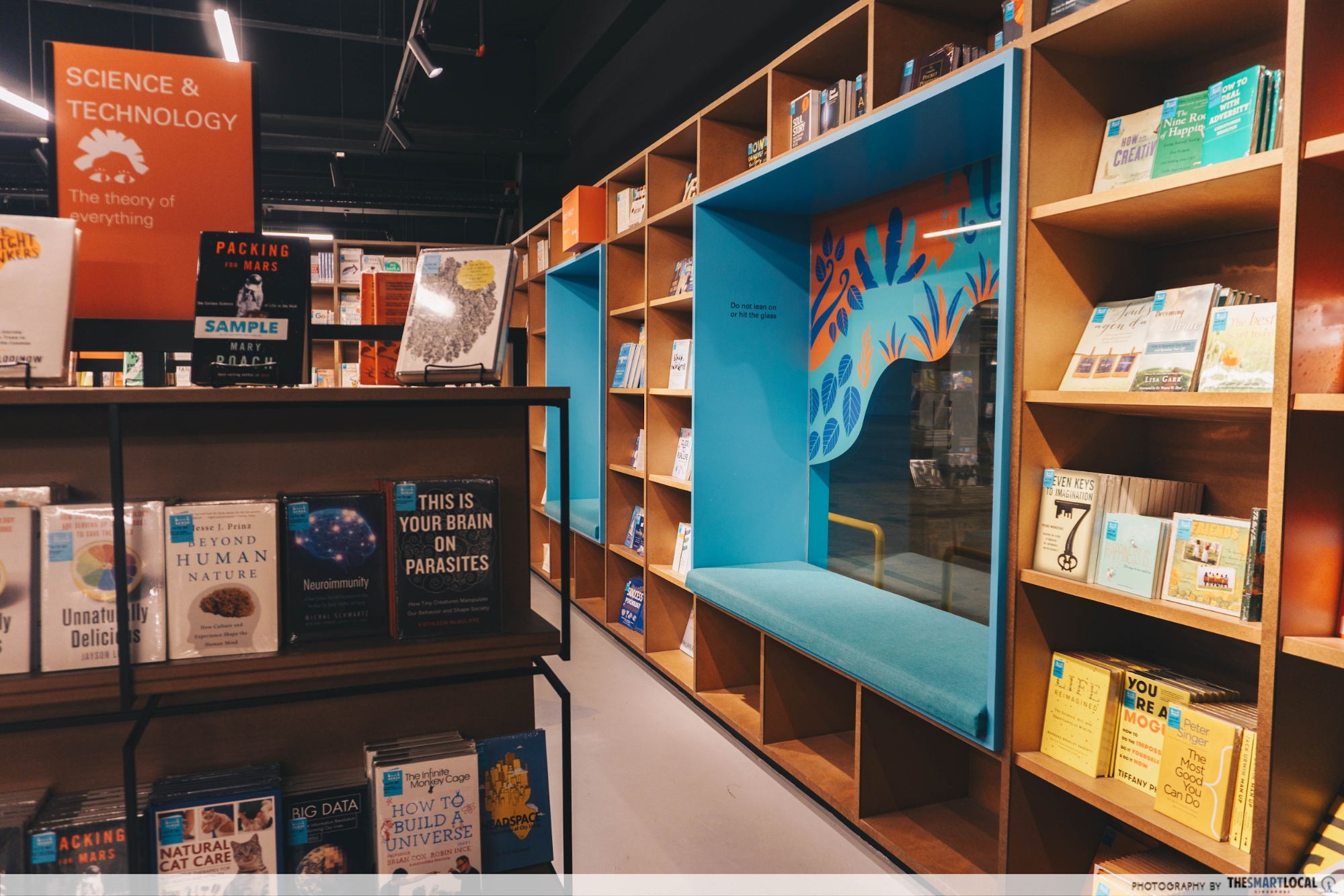 The windows look out into the parking lot of Sunsuria Forum, but the lack of scenery matters little when you're enjoying the free air-conditioning while getting transported to the world conjured up by the book in your hands.
---
3. Grab a cuppa and slice of cake at Cafe Wolf
---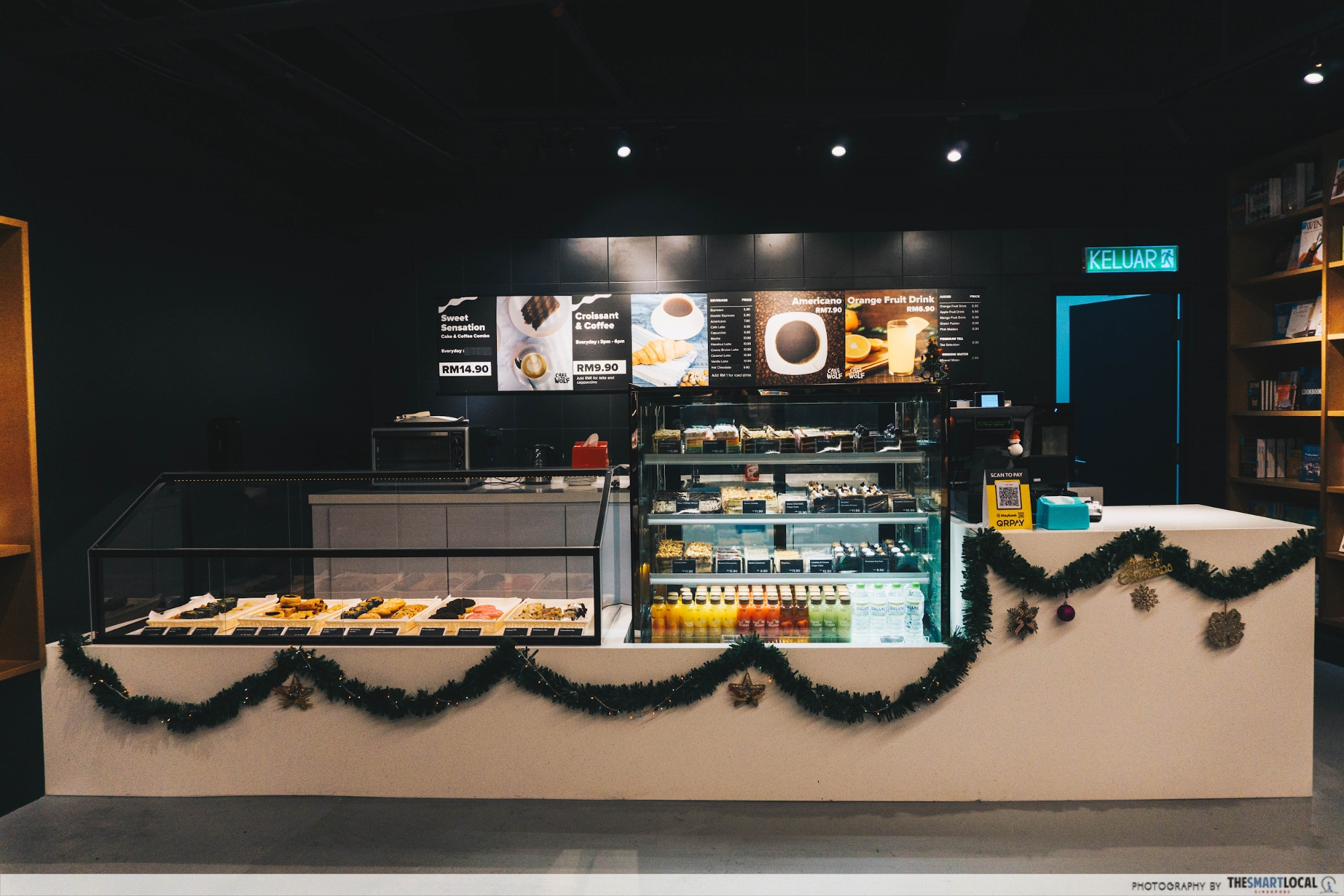 Head to Cafe Wolf, the in-house cafe, if you find yourself getting peckish with all that exploring and reading. The cafe serves pastries, cakes, and pies, as well as piping-hot drinks to warm yourself up if you find the chill of the bookstore getting to you. There are also Fruit Juices (RM6.90/each) in flavours such as Apple and Mango for those who prefer something cold.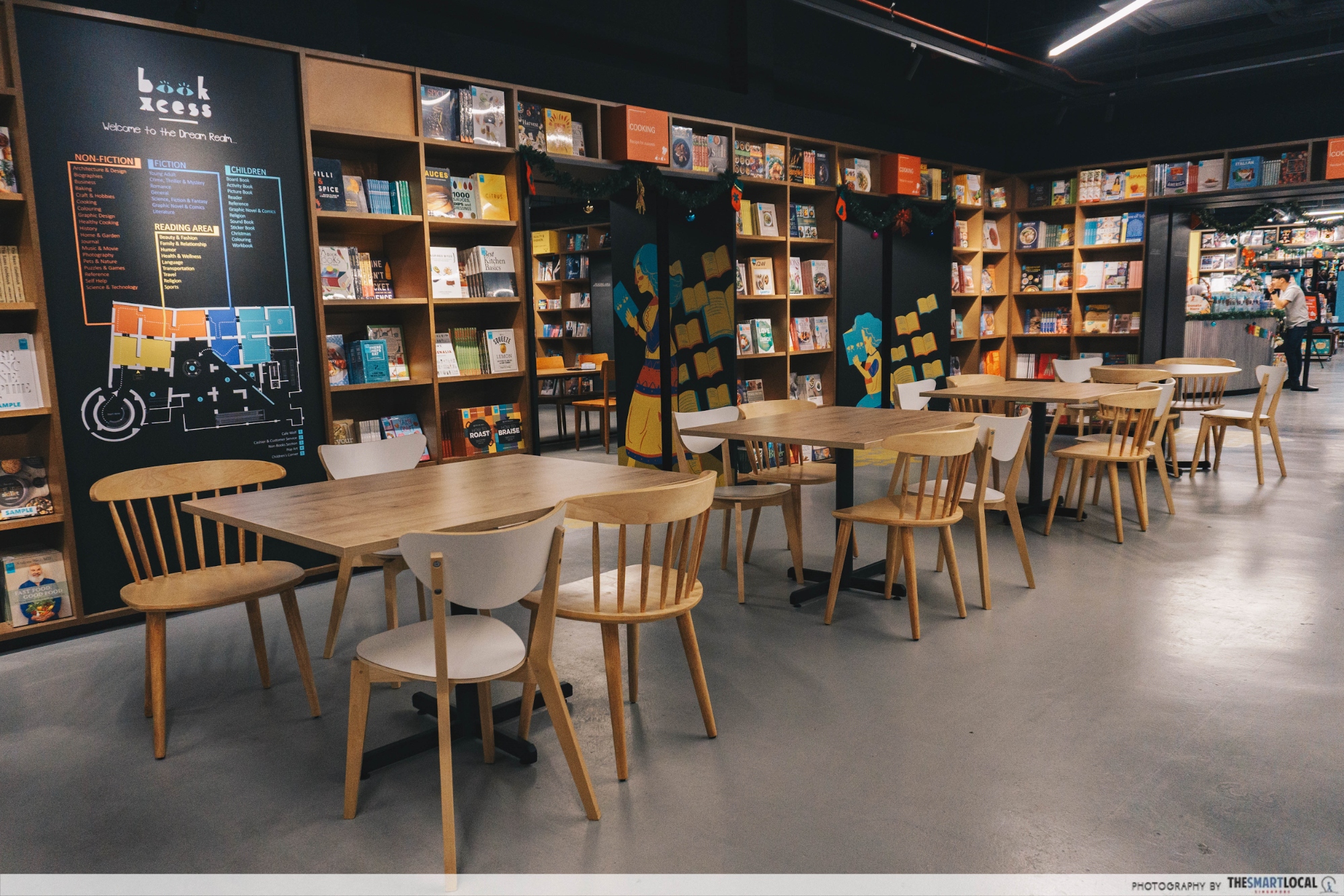 Ample seating space at Cafe Wolf
For something to snack on, you can get Oreo (RM5.90) or Strawberry (RM4.90) Donuts with a cup of Creme Brulee Latte (RM10.90).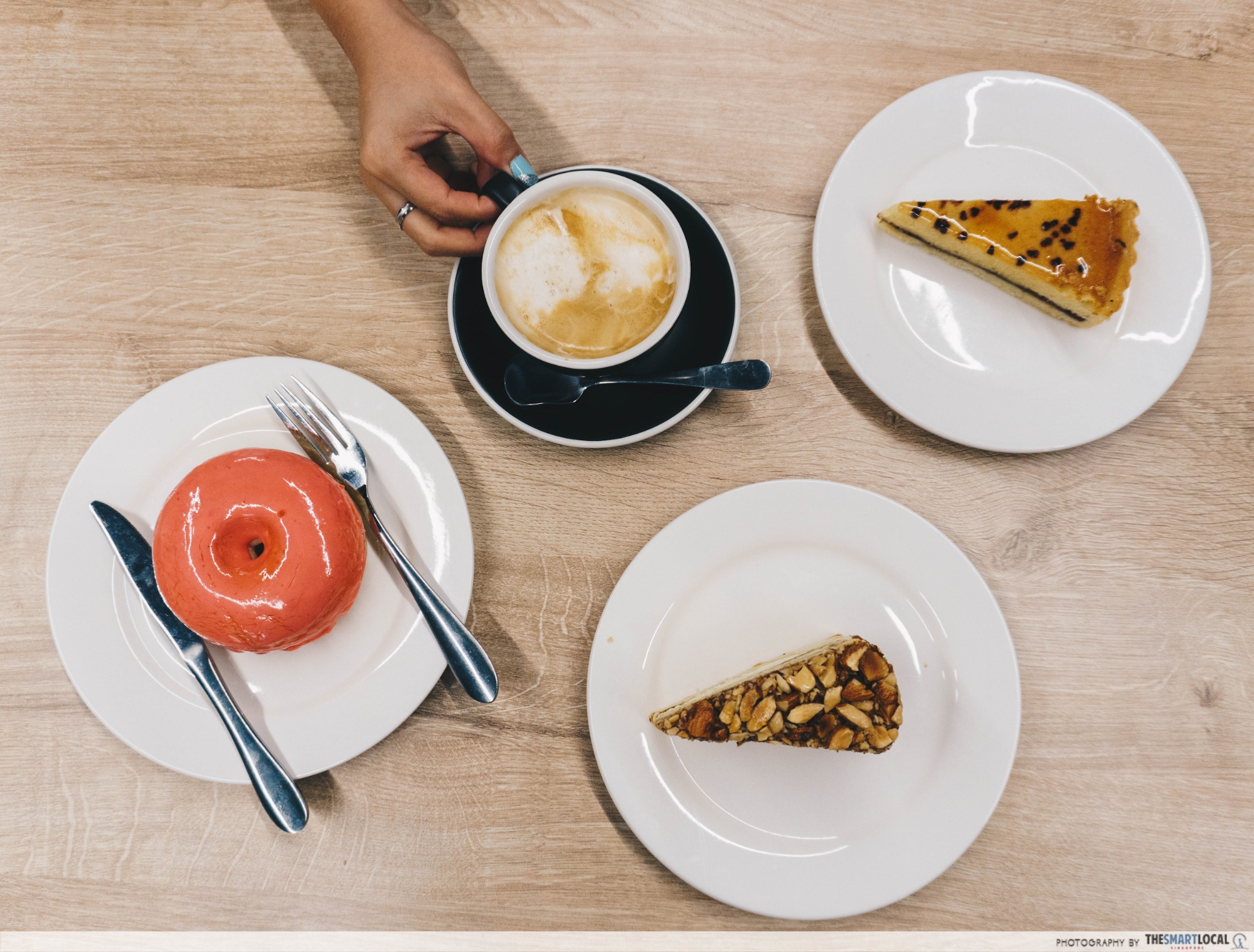 But if you're looking or something more filling, try the Almond Tiramisu Cake (RM11.90) and Raspberry Pie (RM6.90), both of which are sweet, decadent snacks that will fill you up.
---
4. Hunker down and get some work done at the work stations here
---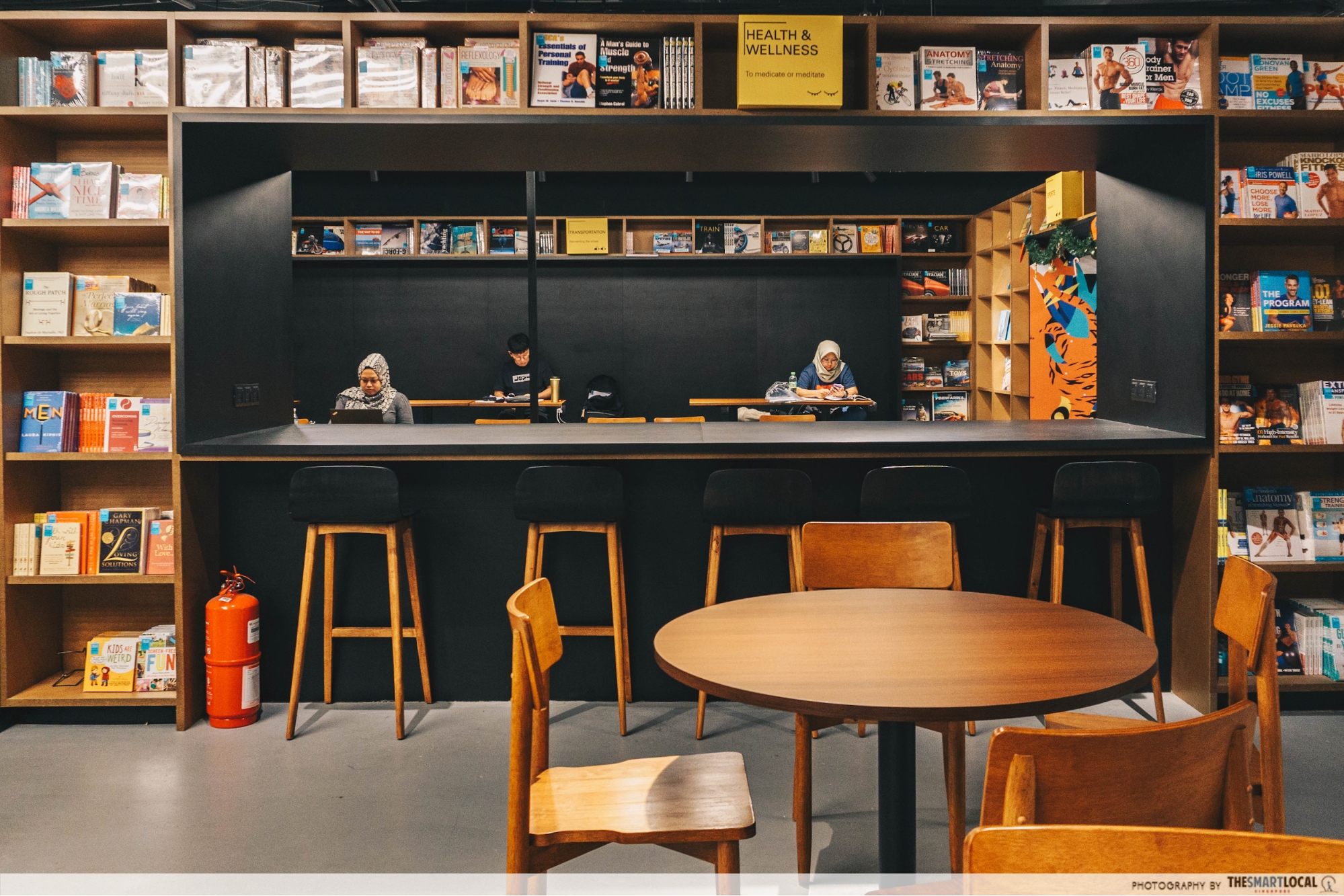 Since Sunsuria Forum is a new mall, there is rarely a crowd here. But if the cafe does run out of seating spaces during the weekends, head to the adjacent study space where there are more tables.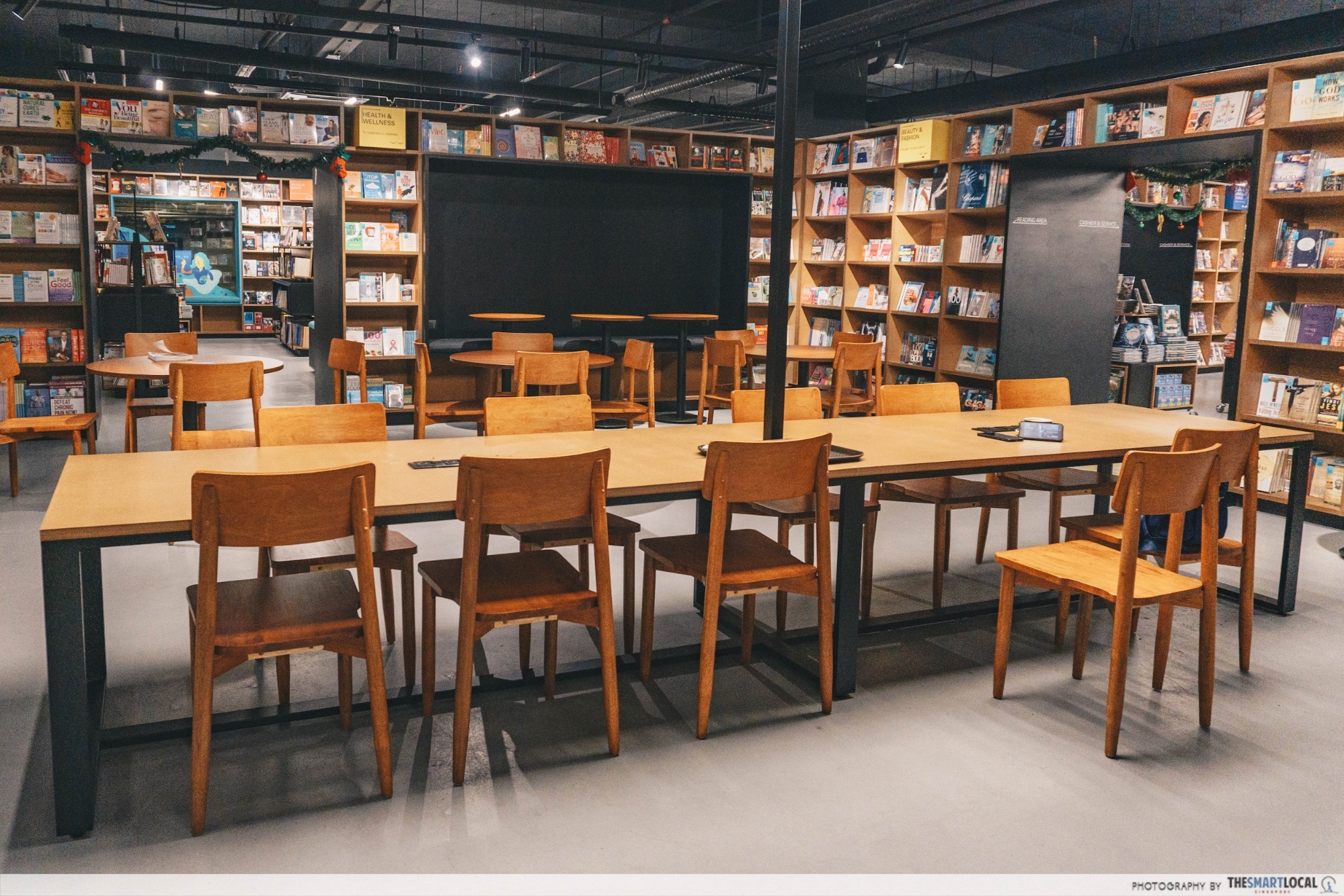 The work stations in the study space, with the exception of the round tables, offer charging points – a lifesaver if you find your phone running low on battery or need to get work done on your laptop.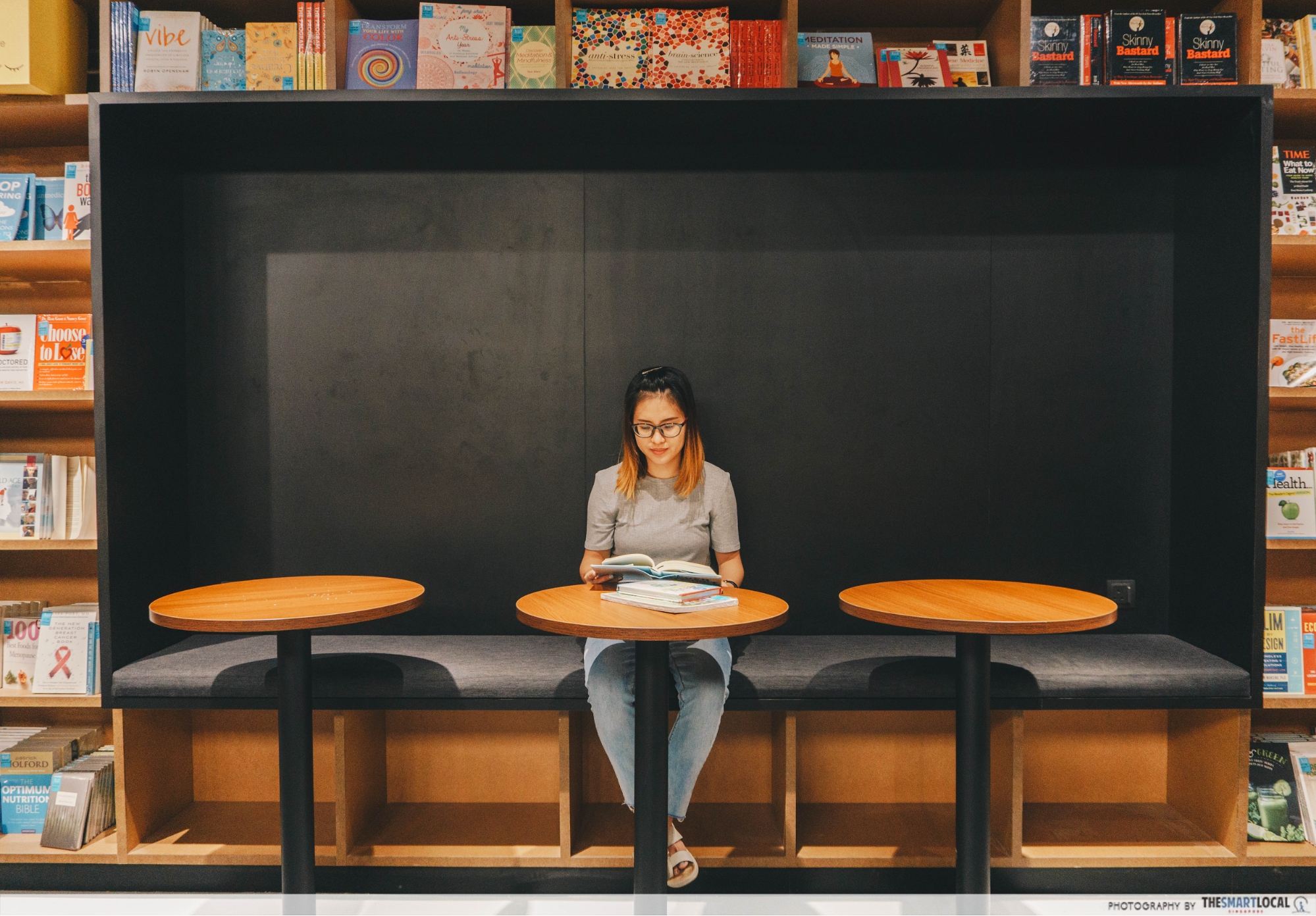 Pro tip: the working nooks with padded seats are the most comfortable. However, these seats tend to fill up first and get booked for several hours by students and bookworms, so be sure to get here early during the day to nab your spot.
---
5. Let the little ones roam around in the mini-maze in the Children's Section
---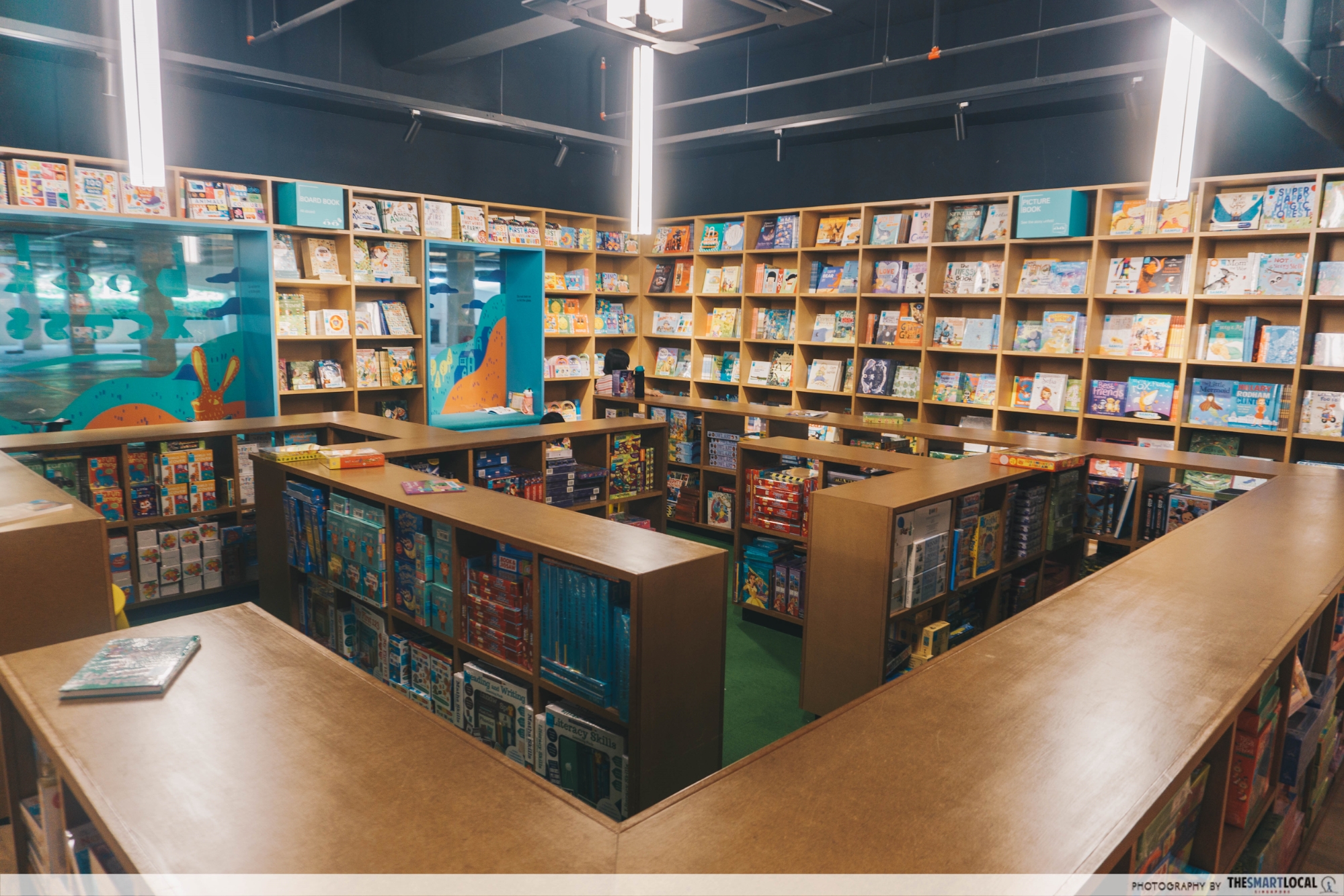 The mini-maze in the Children's Section is the perfect place for young children to roam free and explore the books here.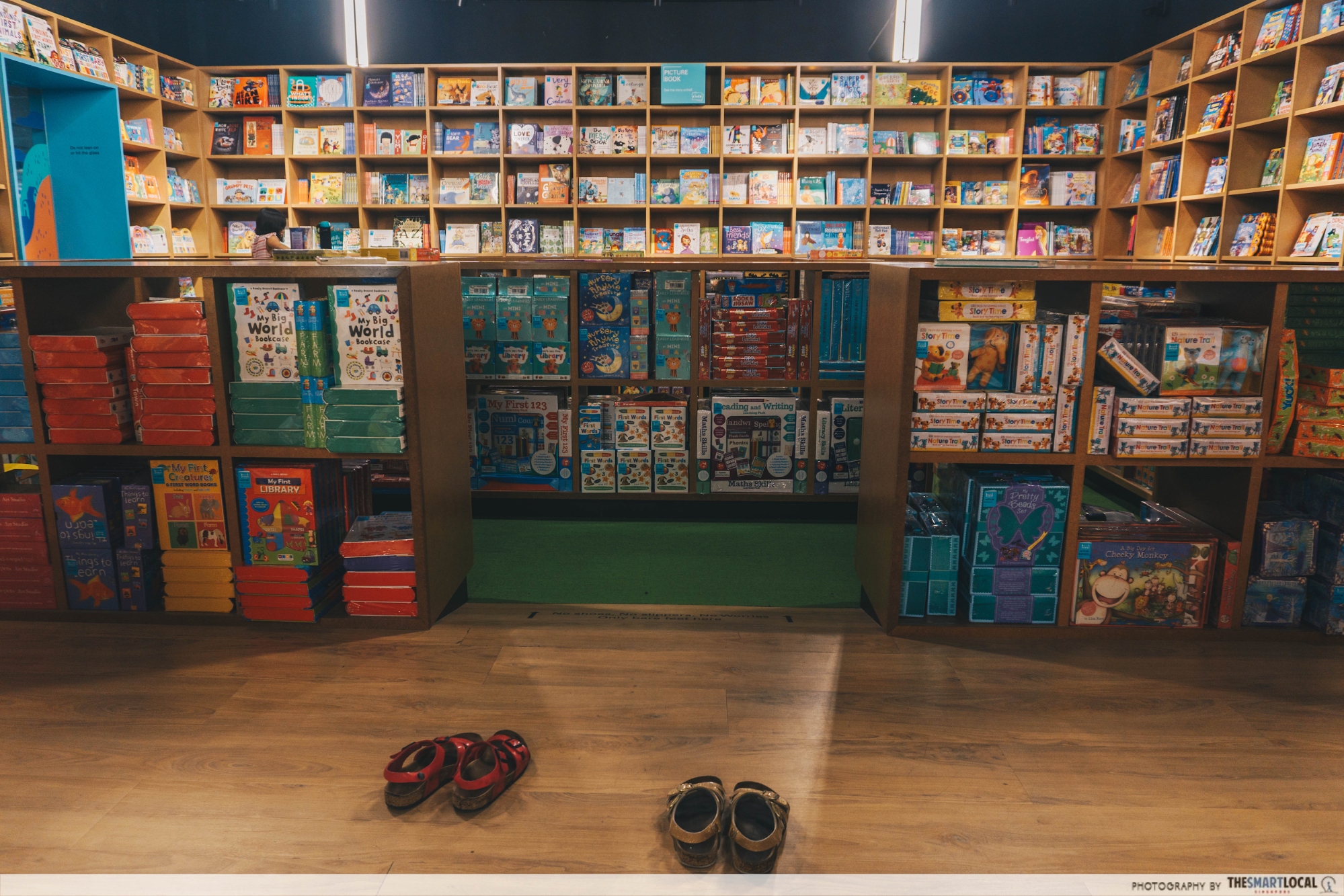 You have to take off your shoes to enter the mini maze
It's located towards the back of the store, away from the main entrance and cashier area. It can only be accessed through the children's books section. Here, children can play to their heart's delight. 
---
6. See how Magical Books with Augmented Reality works
---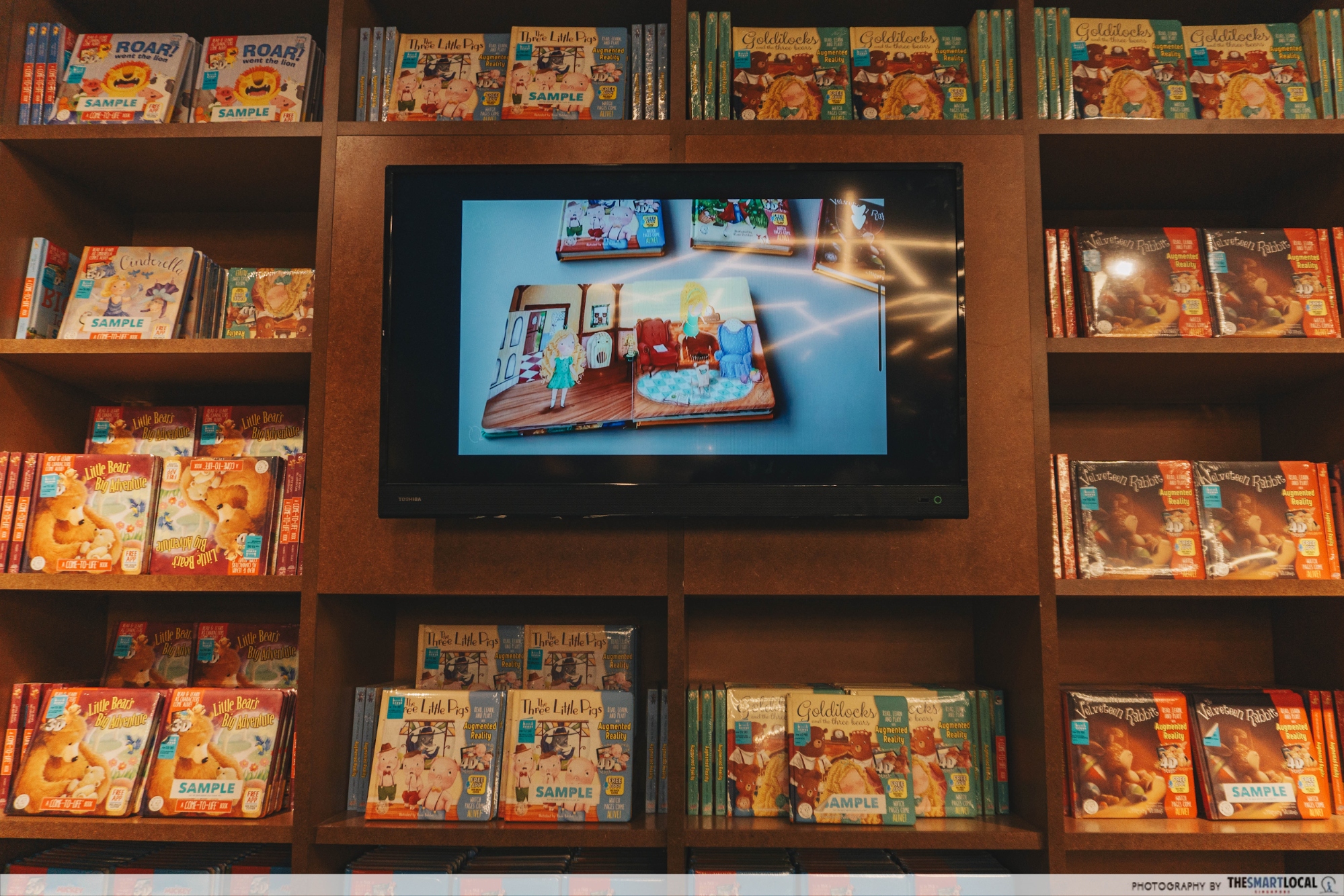 And if you're curious about how far books have advanced with technology, you should check out Little Hippo Books' series of Augmented Reality Books (RM19.90/each). These interactive books put a spin on classic children's books by integrating technology into its text, bringing beloved characters, such as Goldilocks and Cinderella, to life for readers.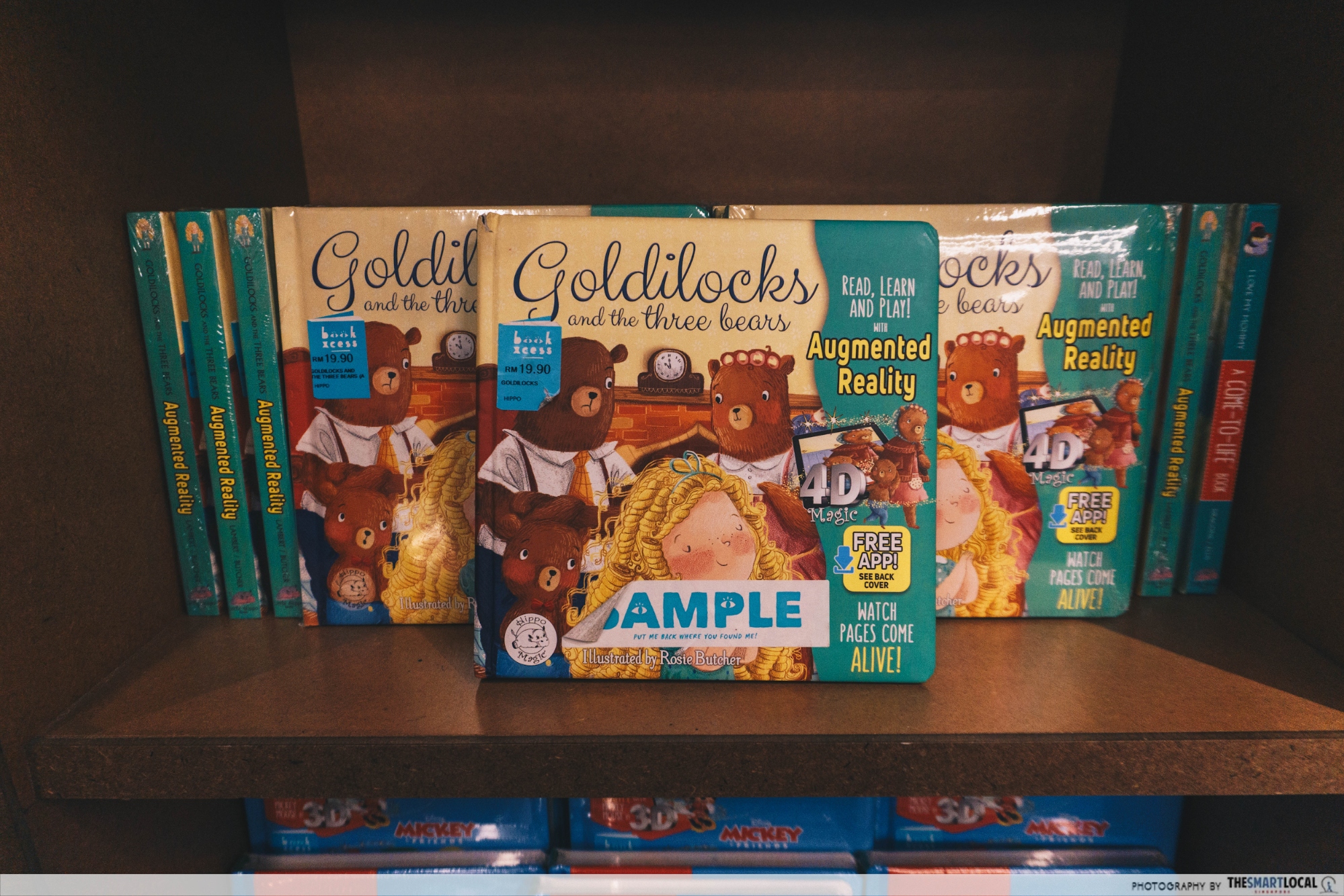 Kids can change the colour of Cinderella's classic blue gown, or watch Goldilocks sing her heart out with the three bears. All you have to do is download the free app onto your smartphone, scan the pages of the book with your camera, and watch as the characters come alive on the pages.  
---
7. Immerse yourself in this fan corner
---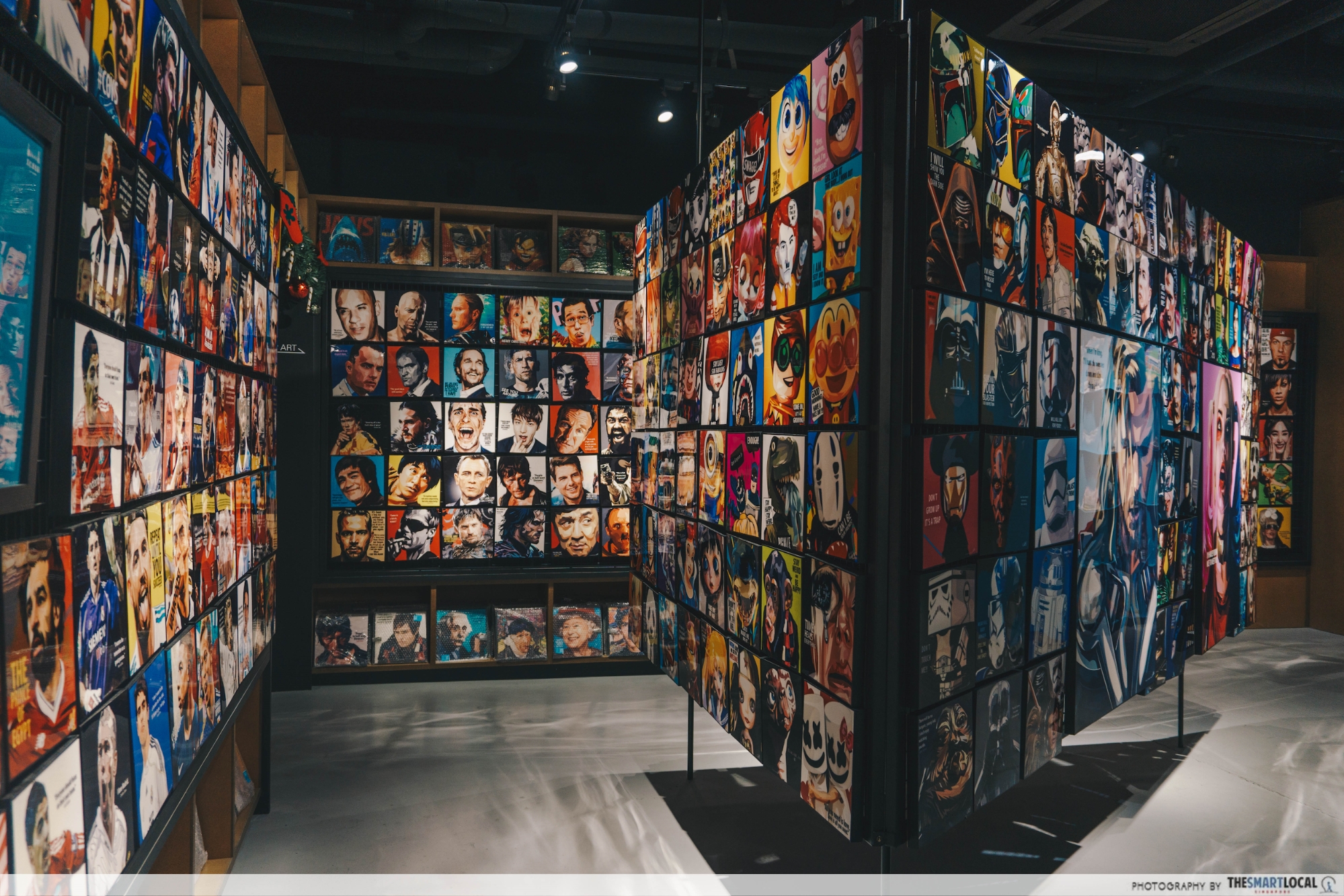 Don't forget to check out the fan-section filled with walls full of laminated posters (RM55.90/each). These posters bear inspirational quotes and lyrics from celebrities and icons, such as Audrey Hepburn, G-Dragon, Queen of Hearts from Alice in Wonderland, and even footballers and superheroes.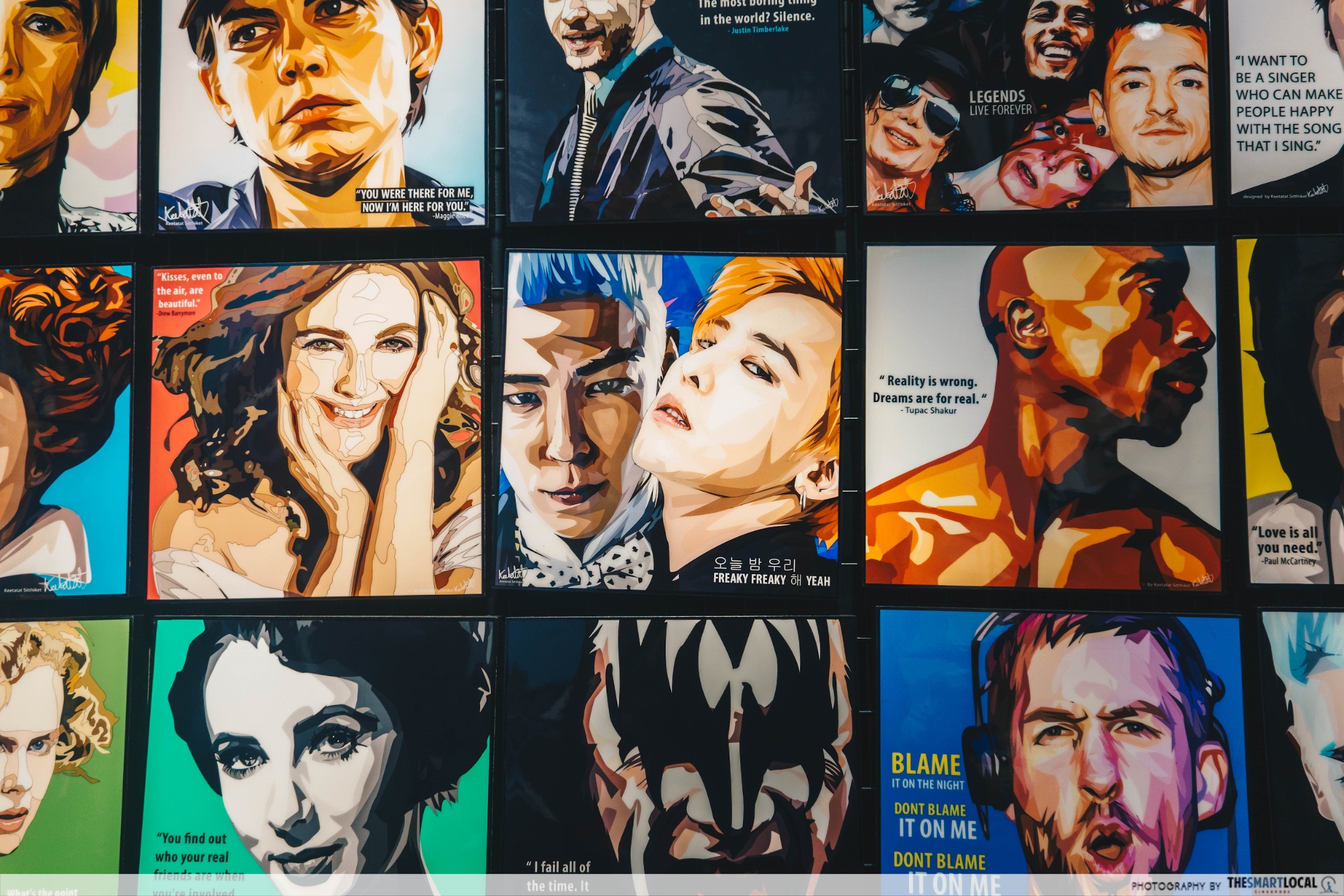 Game of Throne fans can also pick up a Winter is Coming poster (RM18.90) to pay homage to the recently-concluded series.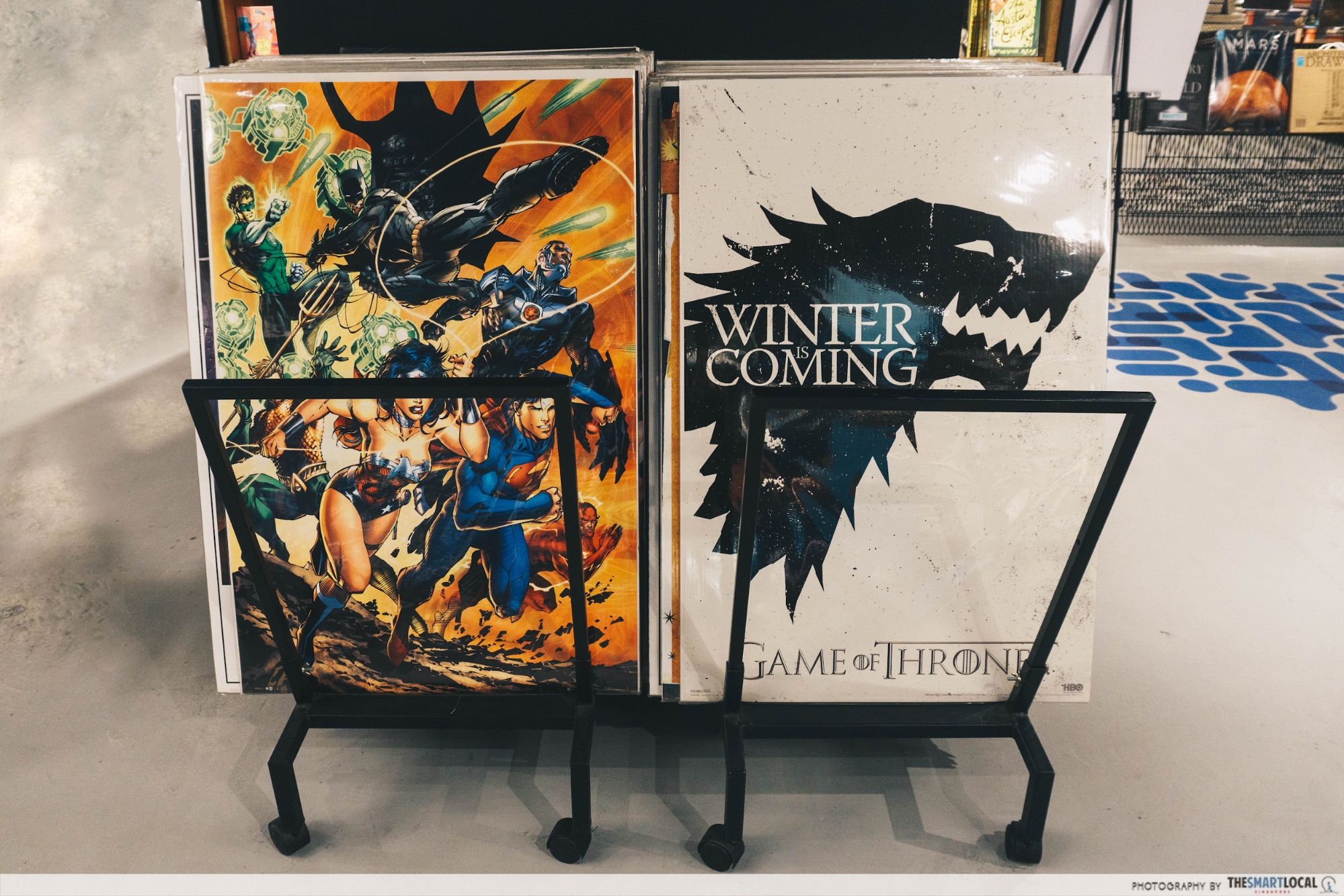 There are also posters from other fan-favourite cult films and TV shows, such as Harry Potter and Sherlock Holmes, as well as iconic vintage Coca-Cola posters, Marvel, and DC posters. 
---
8. Check out the Christmas decorations at BookXcess
---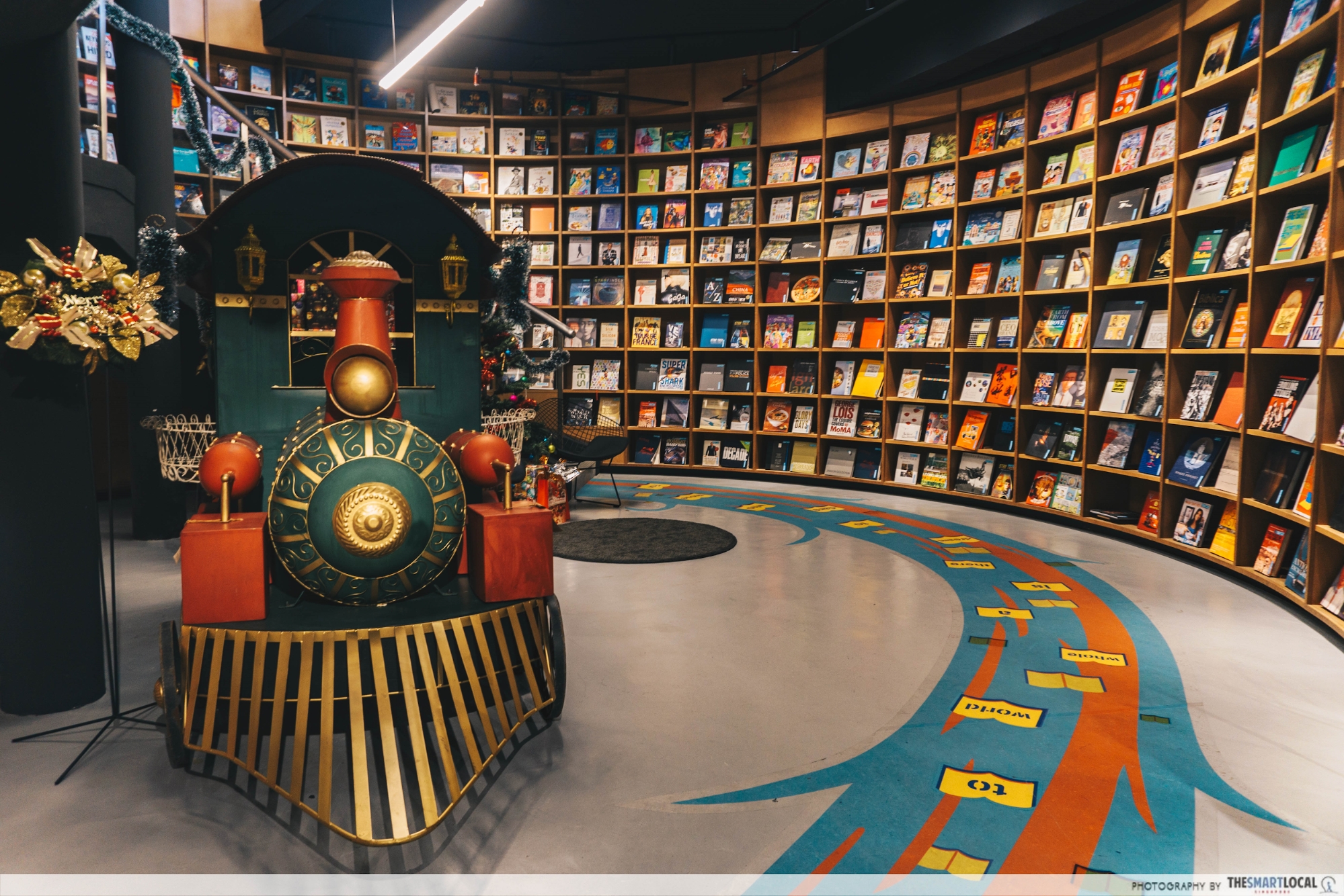 With Christmas just around the corner, BookXcess has pulled out all the stops for the season with festive decorations – including a Polar Express-inspired train – and major deals. 
From 15th November 2019 till 15th January 2020, you can get cash vouchers of up to RM50 for every RM300 spent. Members of BookXcess also get to enjoy free giveaways and complimentary gift wrapping with every purchase from 13th – 24th December 2019. 
---
9. Give back this season by buying Christmas gifts for orphanages
---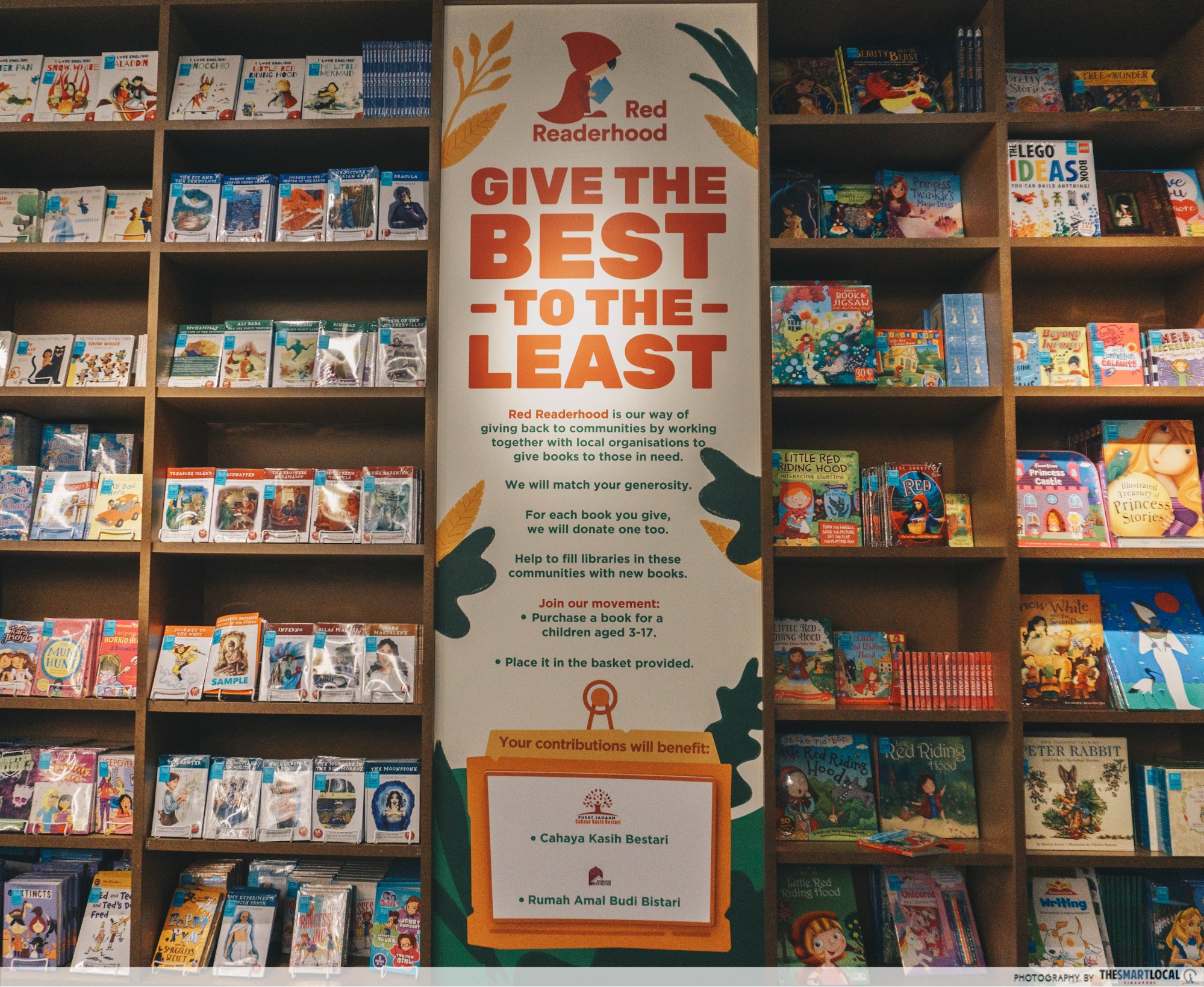 As part of its plan to give back to the community, BookXcess is running a Red Readerhood giving program at its Setia Alam outlet. Every book purchased and donated to this program will be matched by a book donation from BookXcess to support local libraries and communities. Purchases made at this outlet will benefit 2 local orphanages in Shah Alam: Rumah Amal Budi Bestari and Rumah Cahaya Kasih Bestari. 
This Christmas, BookXcess has personalised this program by letting you play Secret Santa to children at these shelter homes until 26th December 2019. All you have to do is find a tag on the Christmas tree, which lists out the child's name, age, hobbies, and home. After selecting one, you can choose a gift from the Red Readerhood shelf, or anything from the store if you run into something unique, purchase it, and drop it off at the basket located next to the cashier.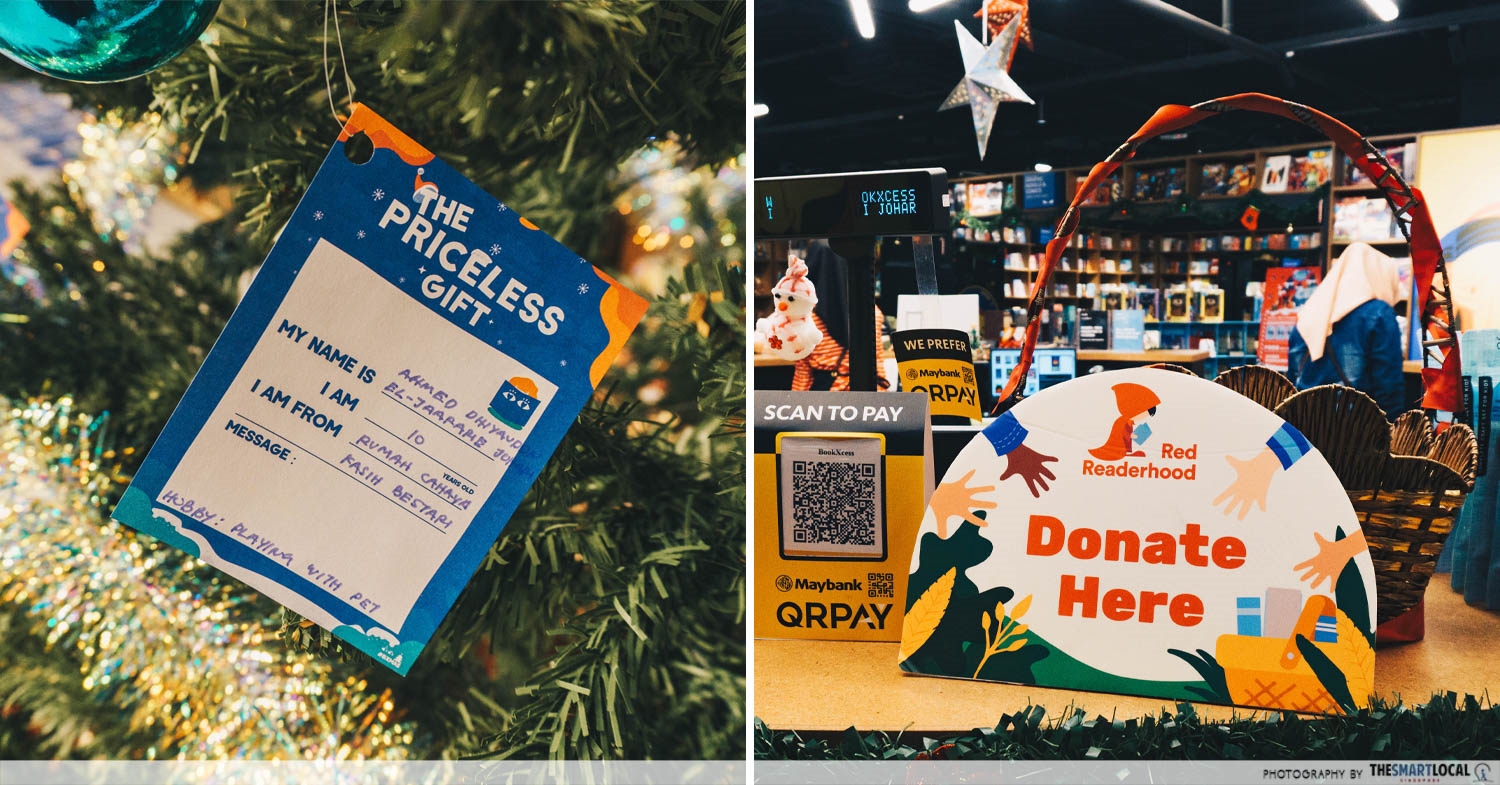 The tag with the child's information and Red Readerhood basket at the cashier
There's no limit to giving here, so pick up more than one tag if you're feeling generous this Christmas. 
---
10. Get your IG-game on
---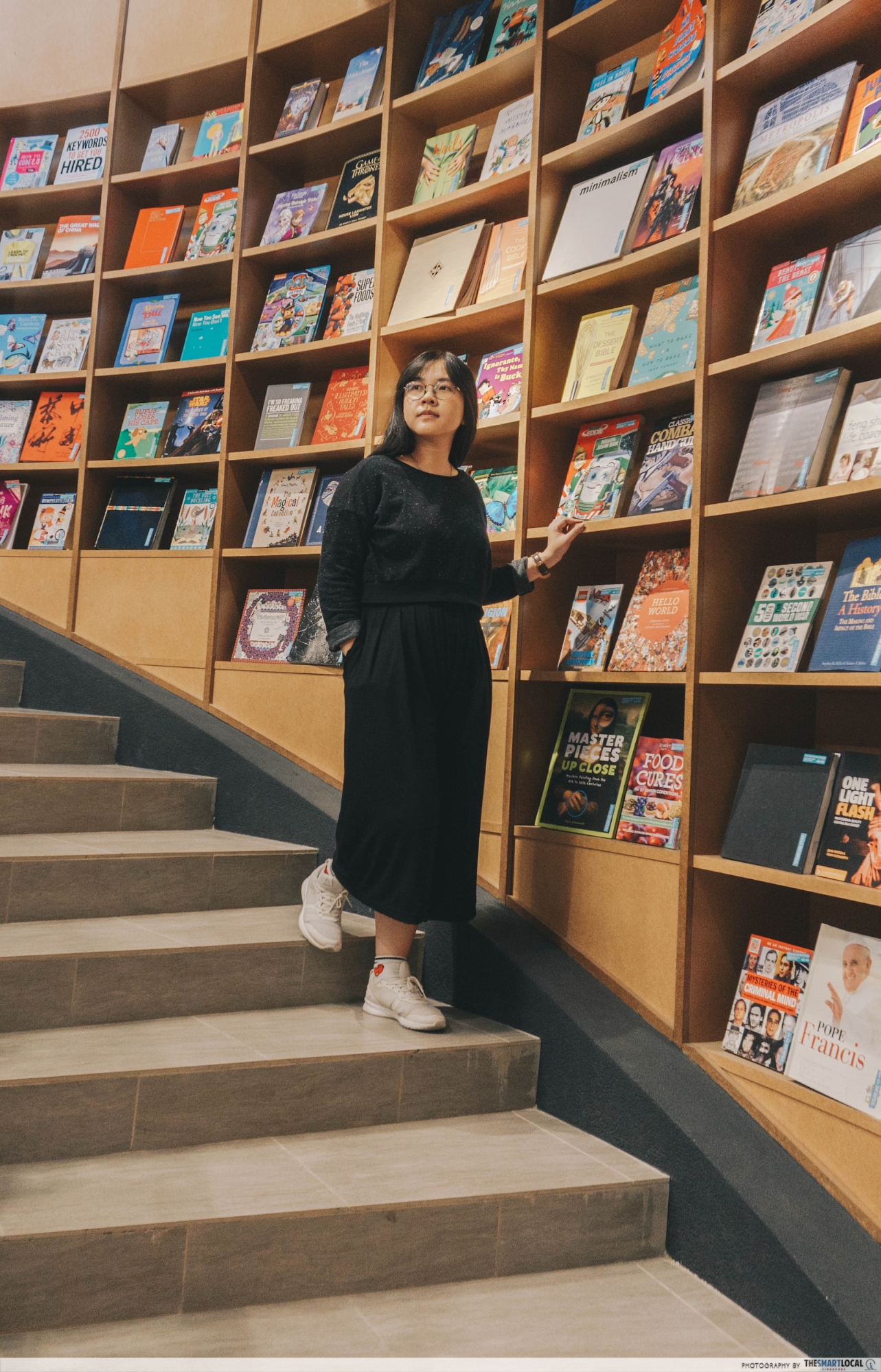 And while you're here at BookXcess, you might as well nail that Instagram shot at these spots in the bookstore.
You can grab a #shelfie with the curved bookshelf at the entrance of the store. Another pro tip: have someone take your photo from a low angle, Asian-level photography style, to elongate the bookshelf and capture the warm lighting from behind the books for a perfect shot.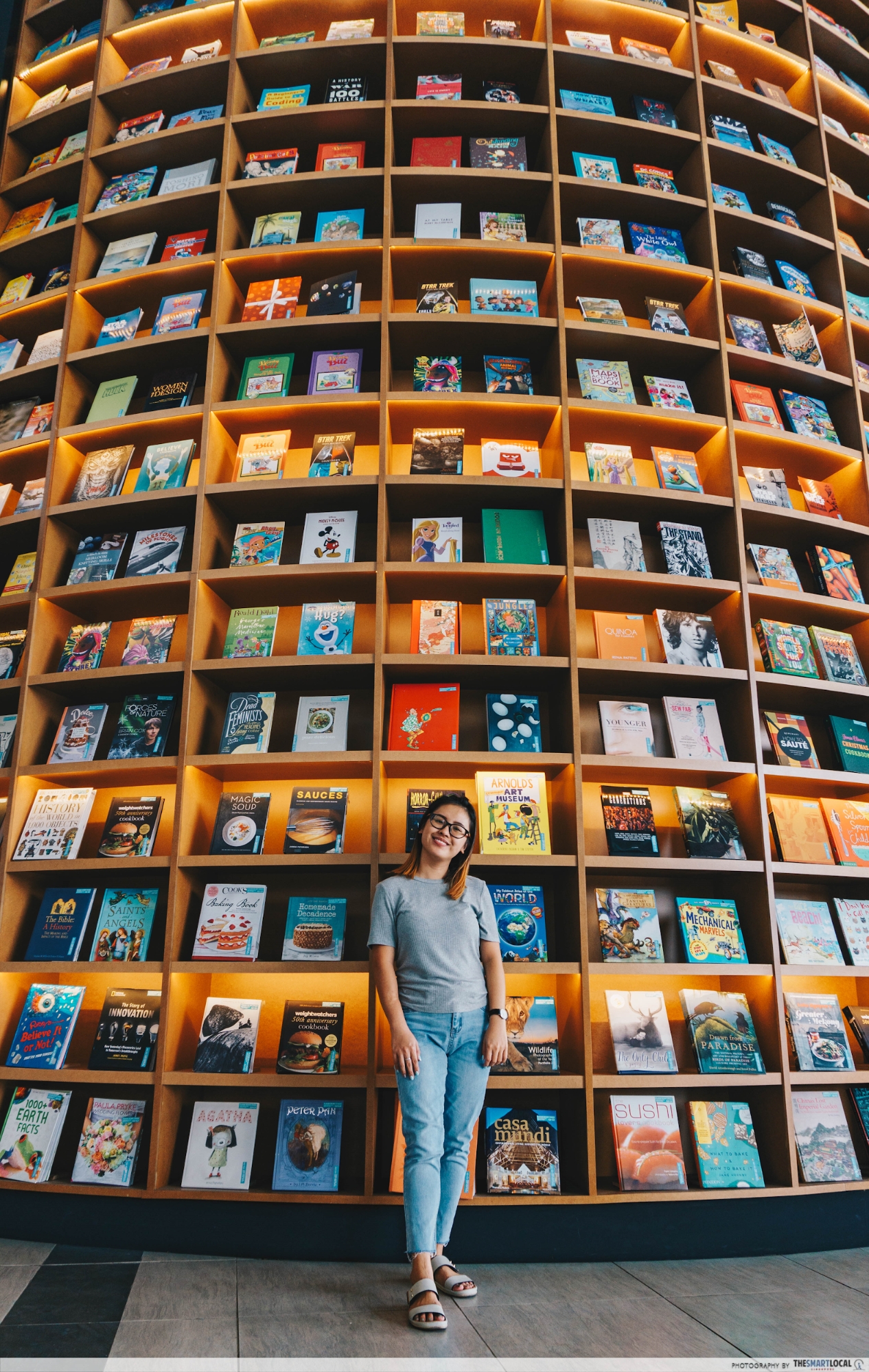 These shots will make it seem as if you travelled for more than just 40 minutes. 
---
BookXcess at Setia Alam
---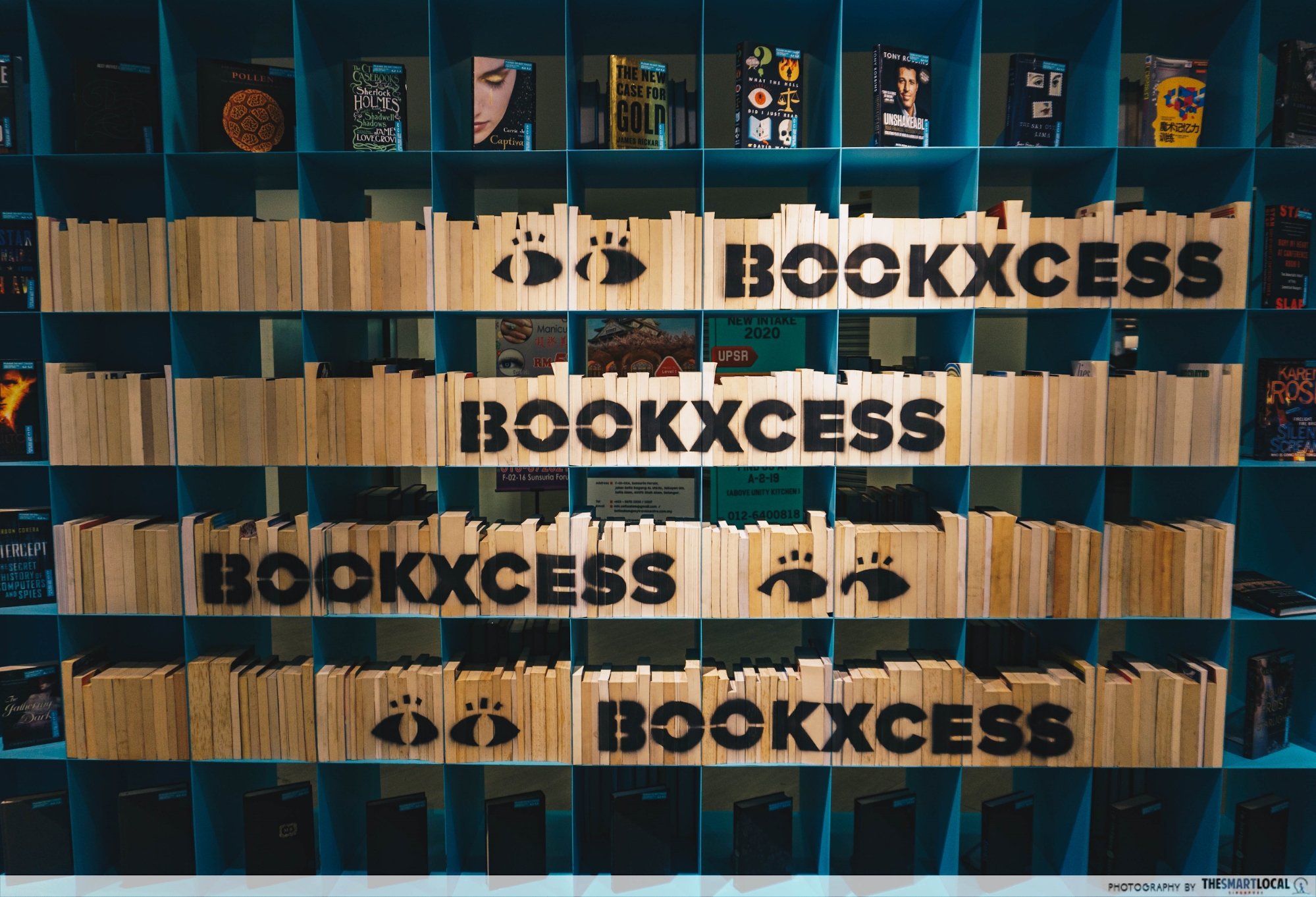 BookXcess in Sunsuria Forum, Setia Alam, offers up the best of bargain books and a chill hideout spot for those in search of a new, quiet study space away from the city. 
You can also explore Sunsuria Forum while you're here, and grab some Brown Sugar Boba Thick Milk (RM12.90) from JLD Dragon or some Teochew favourites such as Tom Yam Mee Hun (RM15.90) Lunch Set from The Double Happiness. 
Address: SB-1, Sunsuria Forum, No.1, Jalan Setia Dagang AL U13/AL, 40170 Shah Alam
Hours: 10AM-8PM, Daily
Telephone: 03-5031 9459
Website
See all locations here. 
Watch our video here:
Check out our other articles of things to do in Klang Valley:
---
Photography by Janet Cho.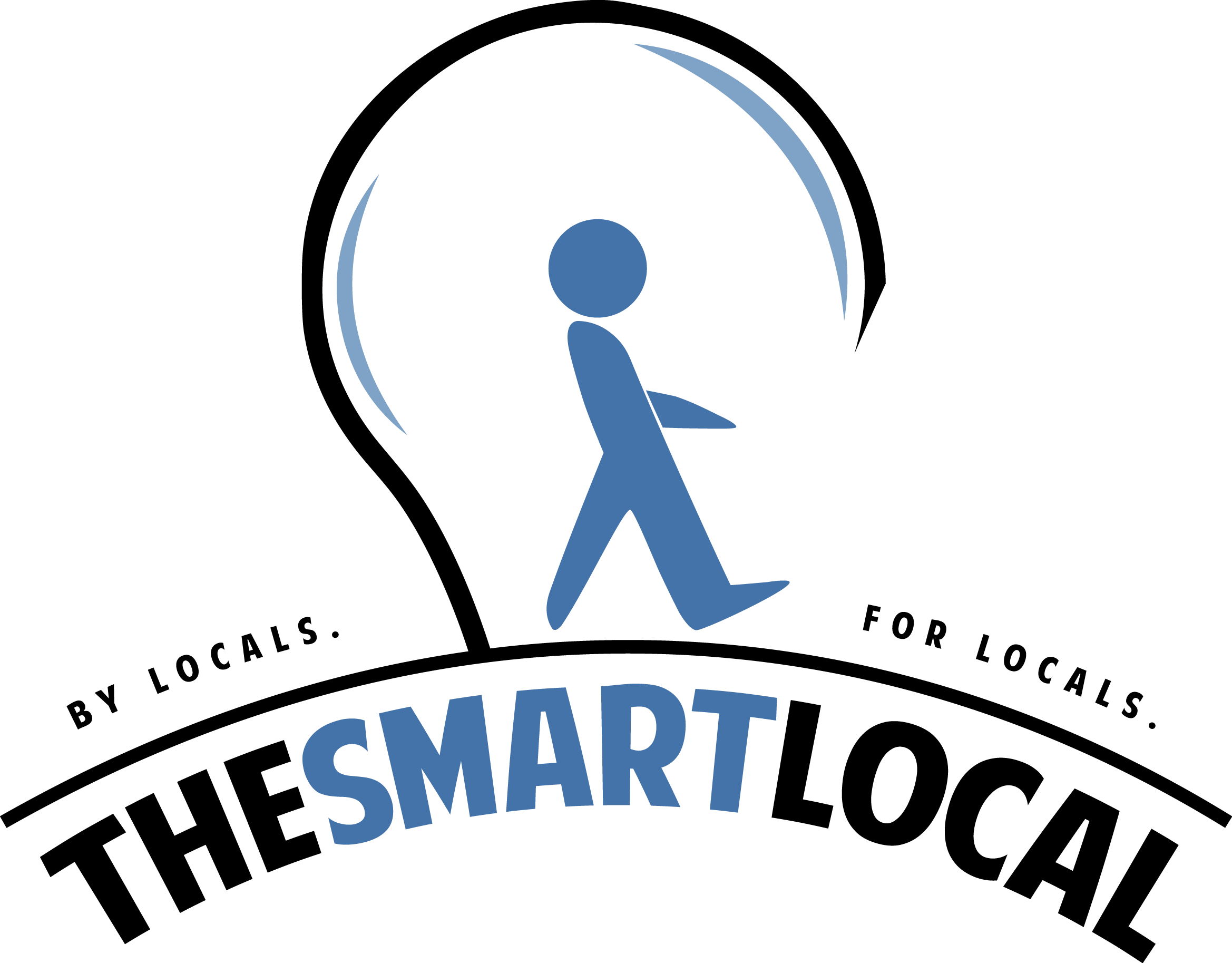 Drop us your email so you won't miss the latest news.