Vintage cafes in Klang Valley
---
A lot of us love road-tripping to Penang and Melaka just to walk along the heritage sites. But that's not exclusive to those states as we have equally charming spots right in KL too.
Take the weekend off from the fast-paced city life with this list of old school cafes in Klang Valley, where you can sip on good coffee and gorge on cakes before taking some shots for the 'gram. 
Check out our other articles on things to do in Klang Valley:
---
1. Kafei Dian – spacious shack-like kopitiam
---
It's hard to tell from afar that Kafei Dian is actually a kopitiam because it looks like an old wooden shack that's right smack in the middle of a busy street in KL. It may look like a humble shoplot from the outside but you'll be surprised to see that the space can easily accommodate large crowds when you step in.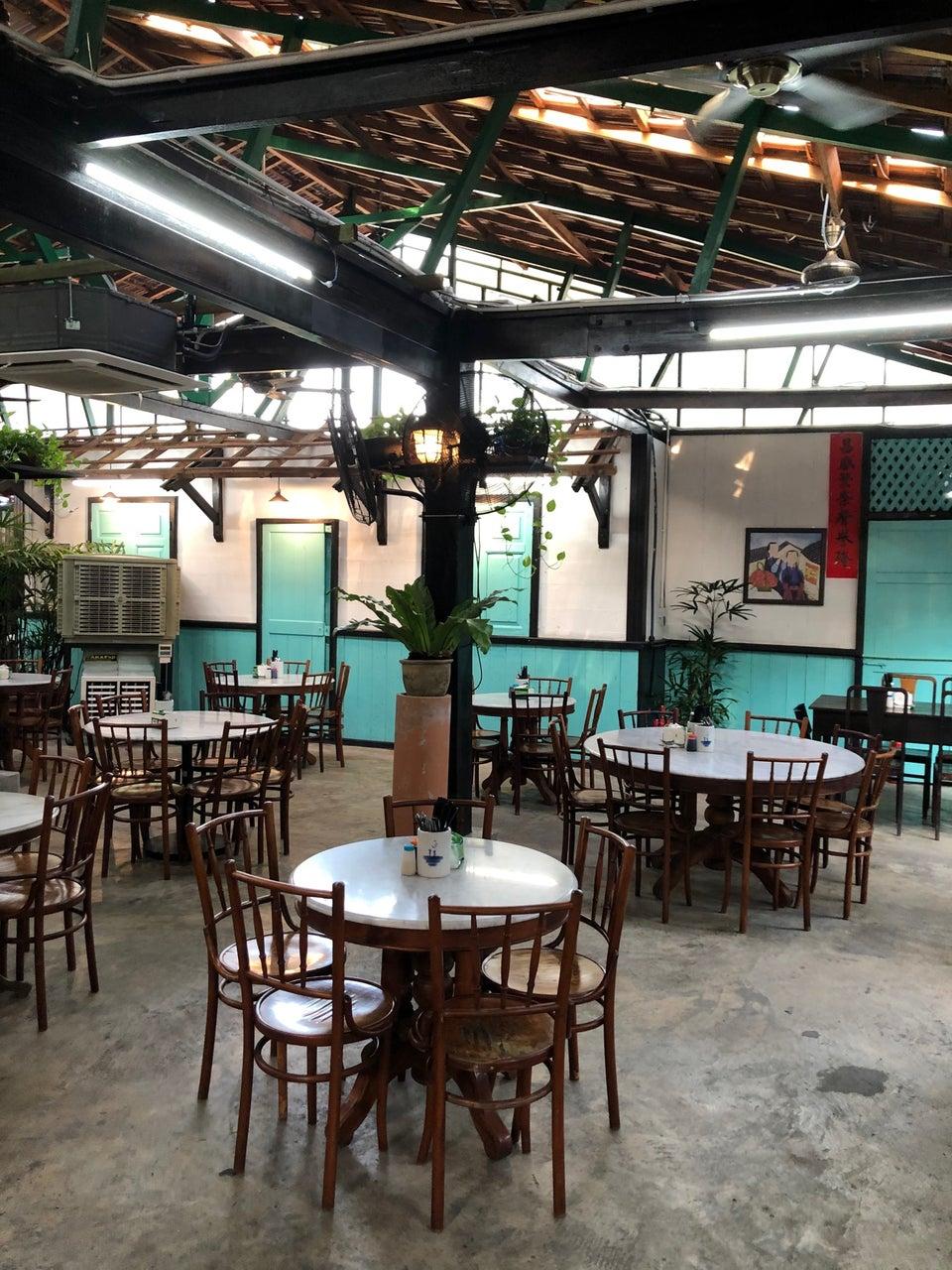 The wooden beams and marble-top tables give it that vintage look while the pop of cyan on the walls helps make the cafe appear more vibrant.
Image credit: Chu Yeong Y.
Unlike traditional kopitiams where tables are arranged close enough to one another that you'll find yourself "accidentally" eavesdropping on conversations, the seating arrangement here gives you plenty of personal space.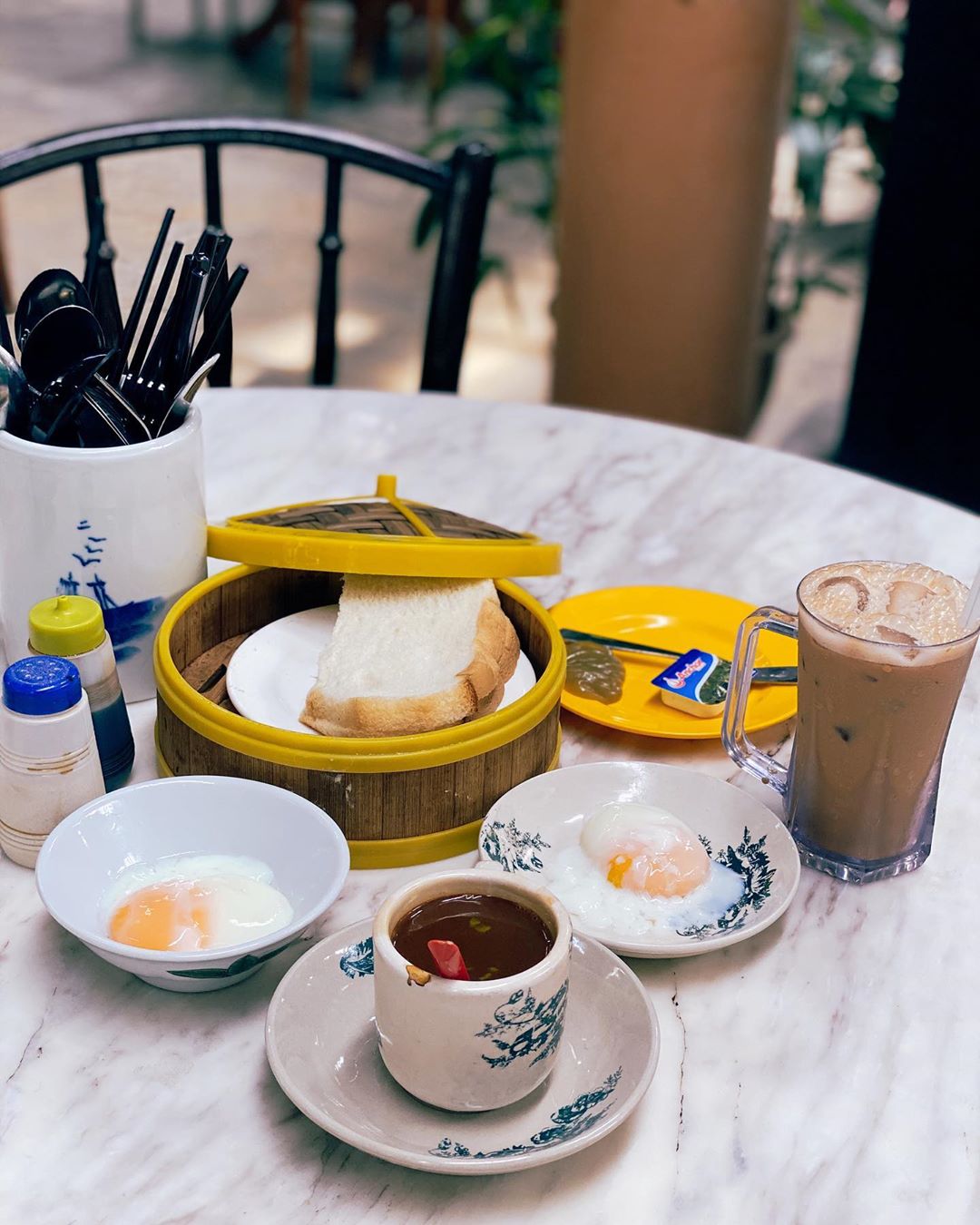 Image credit: @foodcmy
They have kopitiam staples like half-boiled eggs and steamed bread but for those coming in for something more filling, go for dishes like Stewed Ginger Duck with Rice (RM10.90) and all-day Dim Sum (from RM4).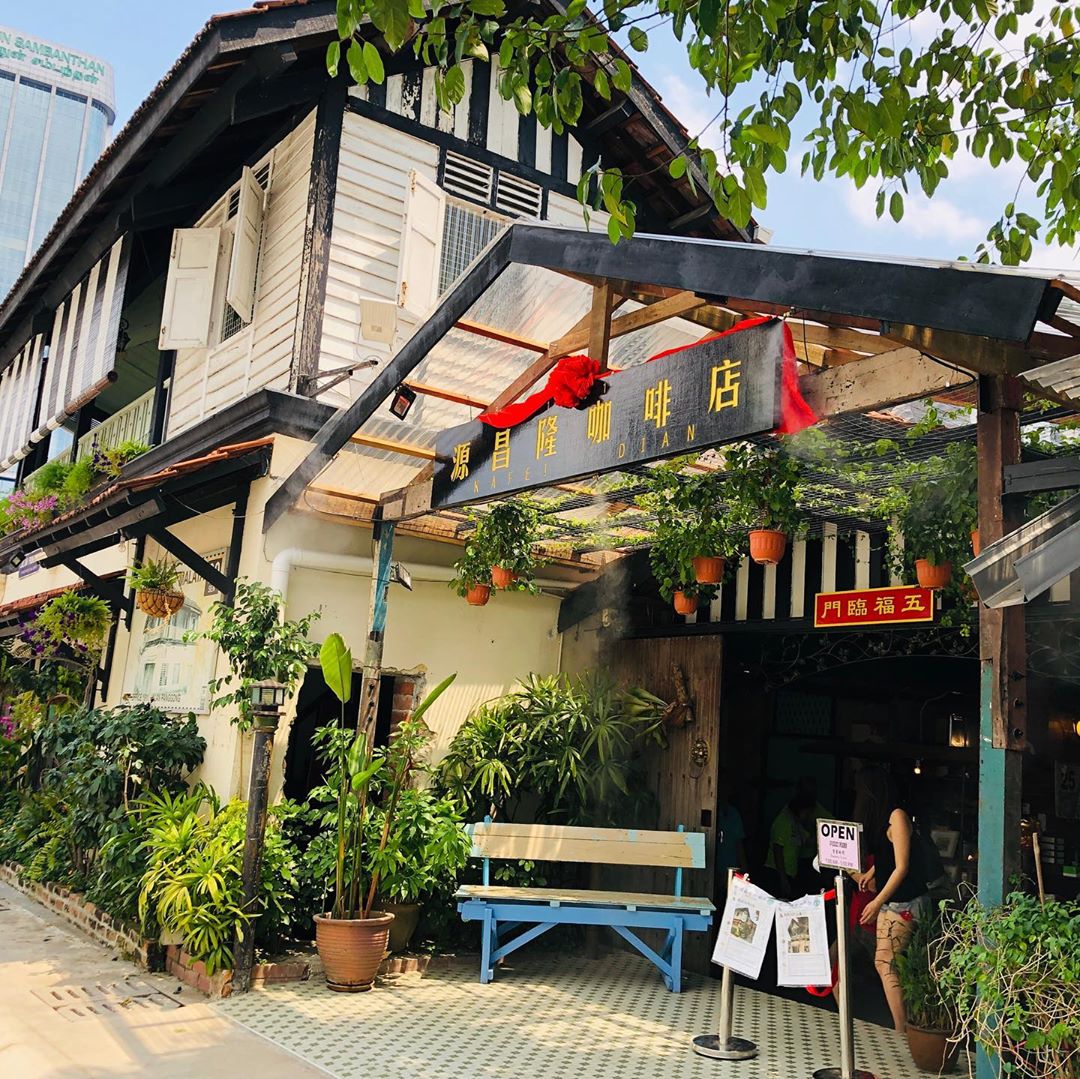 Image credit: @siewbee
Address: 80, Jalan Panggong, City Centre, 50150 Kuala Lumpur, Wilayah Persekutuan Kuala Lumpur
Opening hours: 7AM-5.30PM, Daily
---
2. Chocha Foodstore – rustic garden-themed cafe
---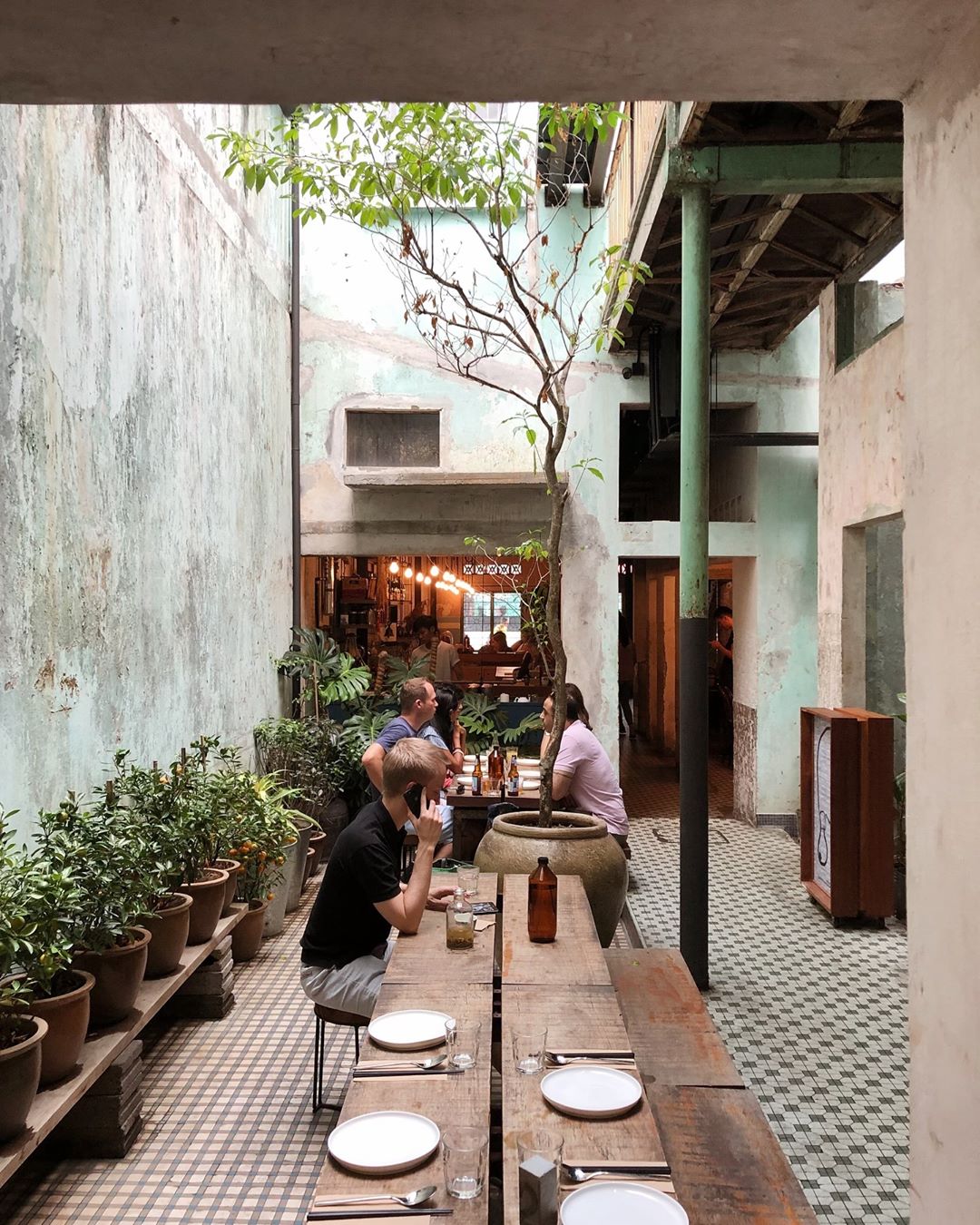 The open air courtyard in the middle of the establishment is everyone's preferred seating arrangement
Image credit: @skeatravelife
Chocha is a "hidden" cafe that didn't manage to stay under-the-radar for long, even without proper signage outside. Hawk-eyed Malaysians started to make the discovery after peeking through the windows to see that the Chinatown shop lot actually houses a fusion eatery.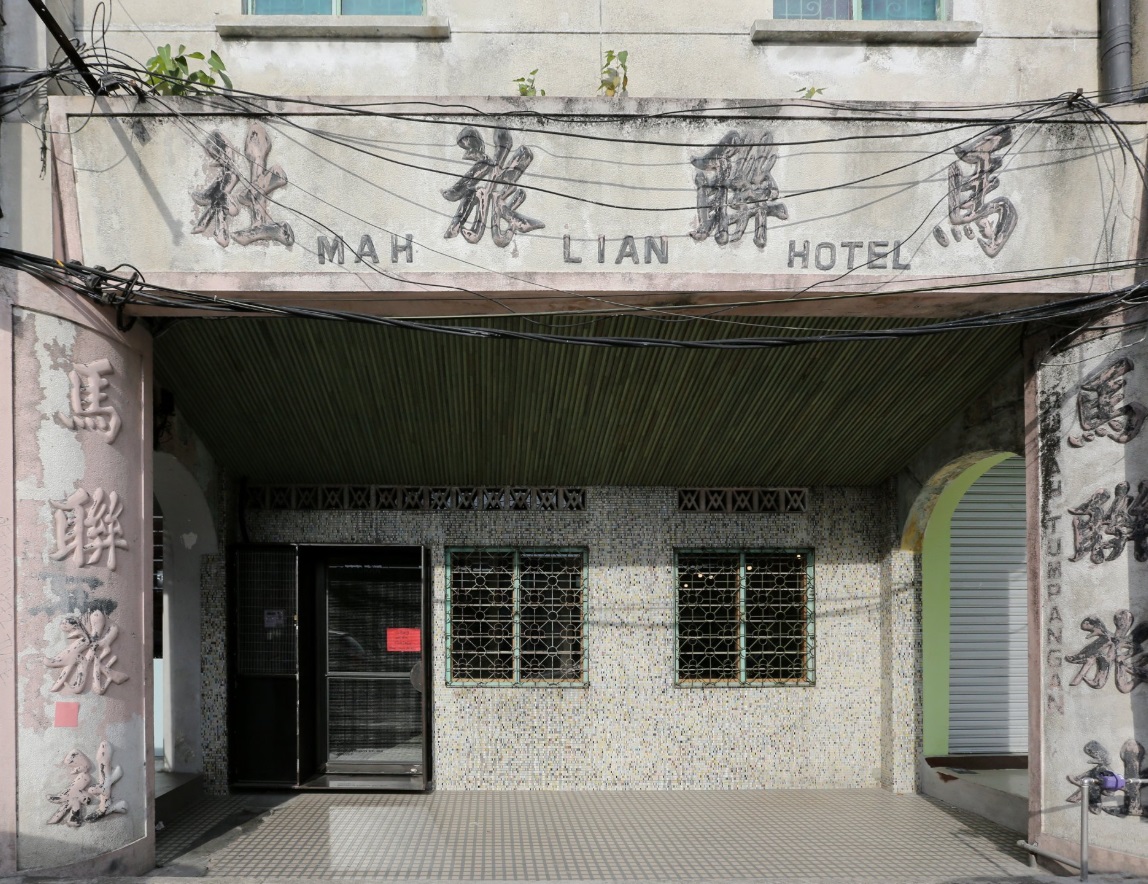 The empty storefront can be pretty confusing for those paying a first-time visit
Image credit: Chocha
Once you're through the doors, you'll feel like you've stepped into a place from a bygone era. The old school aesthetics are one that our grandparents might appreciate – mini square tiles on the floor, aged walls, and a row of potted mandarin trees.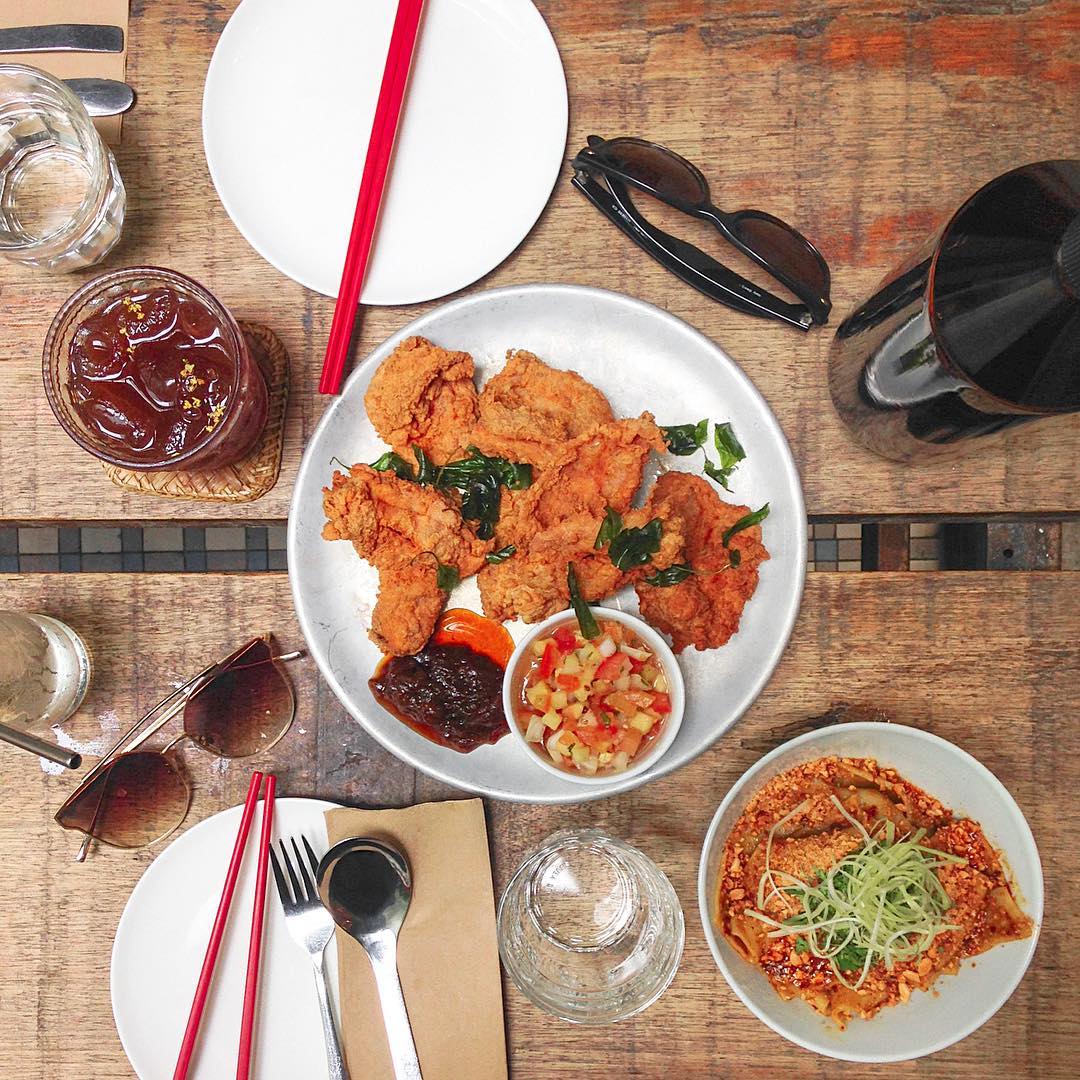 Fried chicken fans can go for the CFC (RM26) while noodle enthusiasts can try the Biang Biang Inspired Noodles (RM18)
Image credit: @elizabethanna
Spend enough time here and you may forget you're in one of the busiest parts of the city. The vintage furnishings and countless potted plants tucked into every corner gets you in the mood to kick back and relax with a cup of tea. Opt for a steaming pot of Aged Fujian Shui Hsien (RM18) or a cold-brewed alternative, the Taiwanese Dong Ding Oolong (RM16)
A quick glimpse at their menu will tell you that it's very East meets West, from cincalok marinated fried chicken (CFC) (RM26) that comes with a side of refreshing pineapple salsa to Chinese Pesto Flat Noodles (RM22).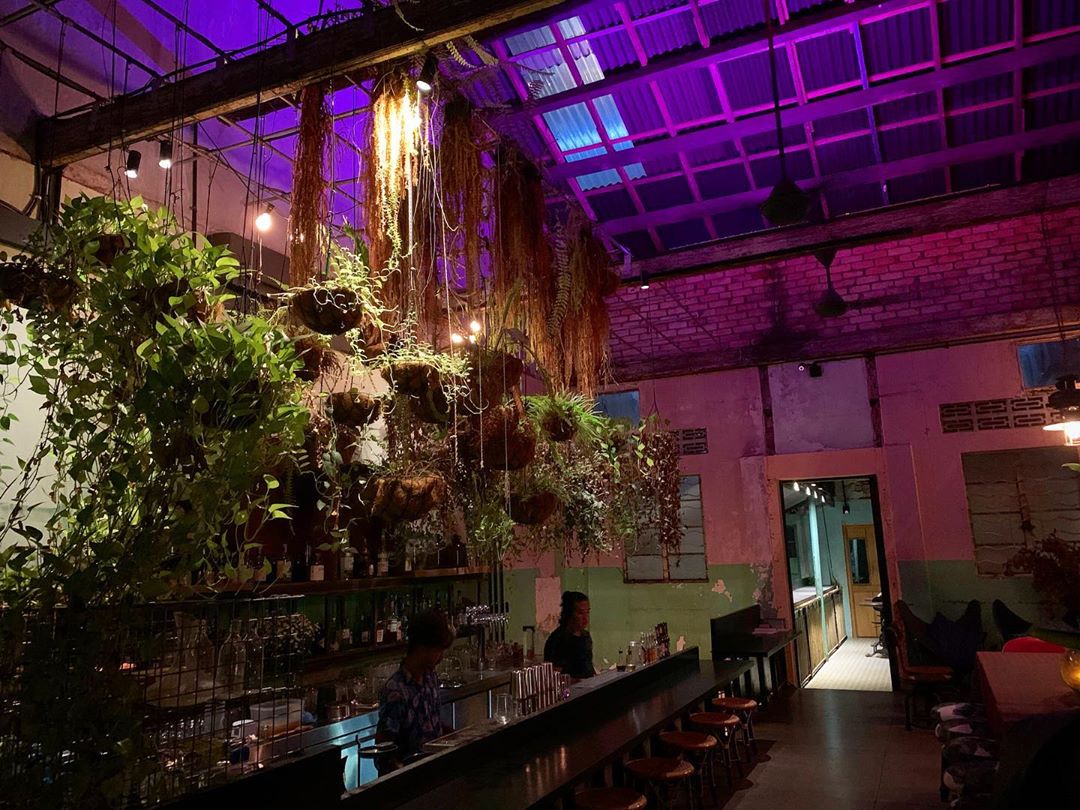 When the sun sets, head upstairs to Botak Liquor, Chocha's sister bar, to keep the night going with a few cocktails.
Image credit: @sh3nn3rs
Note: Those opting for dine-in at Chocha Foodstore will have to make a reservation at this time. Simply call them at their telephone, or click here, to book a spot.
Address: No. 156, Jalan Petaling, City Centre, 50000 Kuala Lumpur
Opening hours: Tue-Wed 11AM-11PM | Thur-Fri 11AM-10PM | Sat-Sun 11AM-11PM (Closed on Mondays)
Telephone: 03-2022 1100
Chocha Foodstore Facebook
---
3. Seraph Awaken – specialty coffee in BKT area
---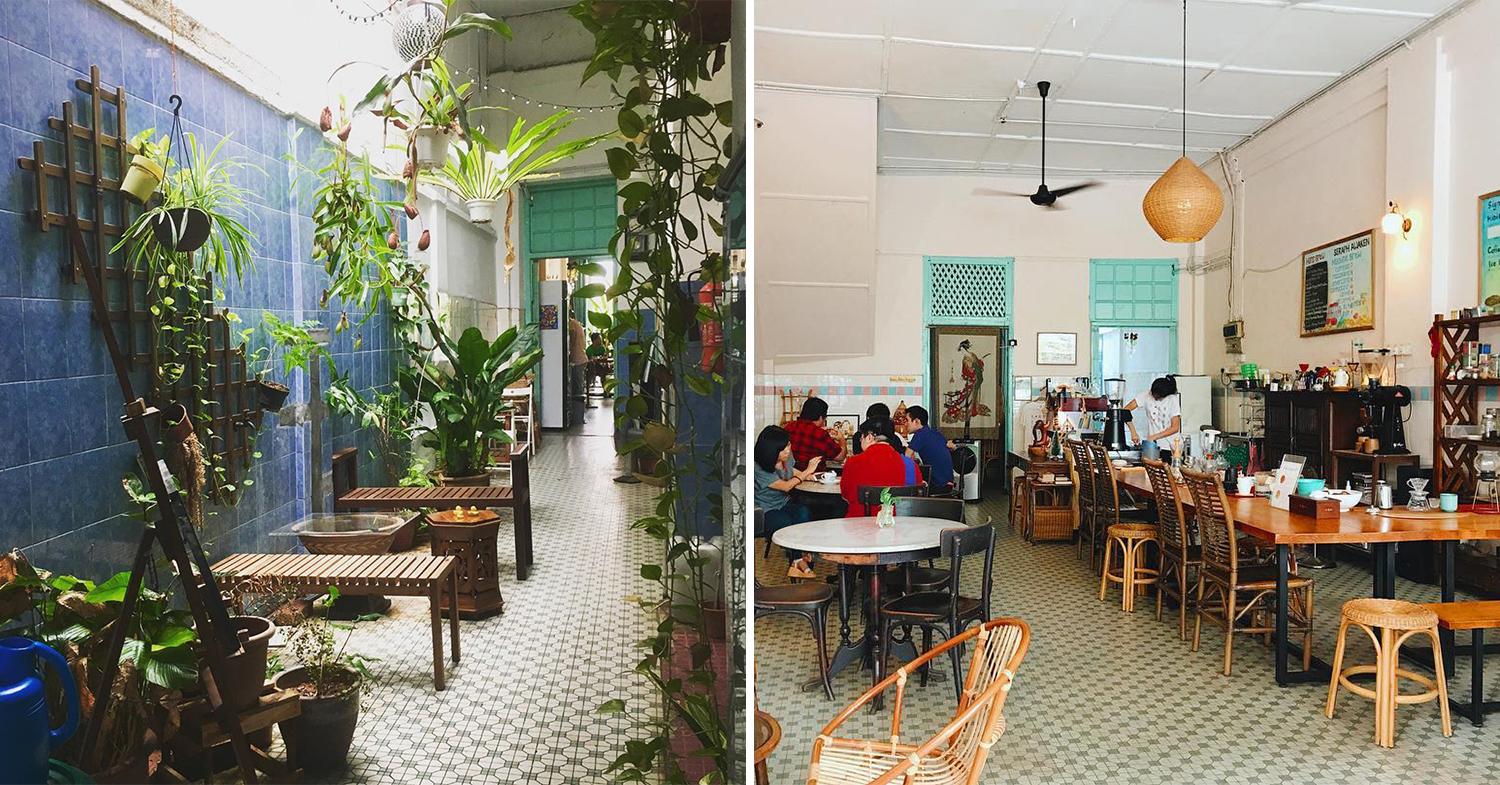 Image adapted from: @smilingssstar and @hidden_jane
For those of us who live outside of Klang, we're only ever willing to drive over for bak kut teh. But now we can add Seraph Awaken to the list. This kopitiam doesn't just serve a mean cup of kopi o, their signature is their hand-brewed coffee (RM12-RM18) imported from faraway countries like Mexico and El Salvador.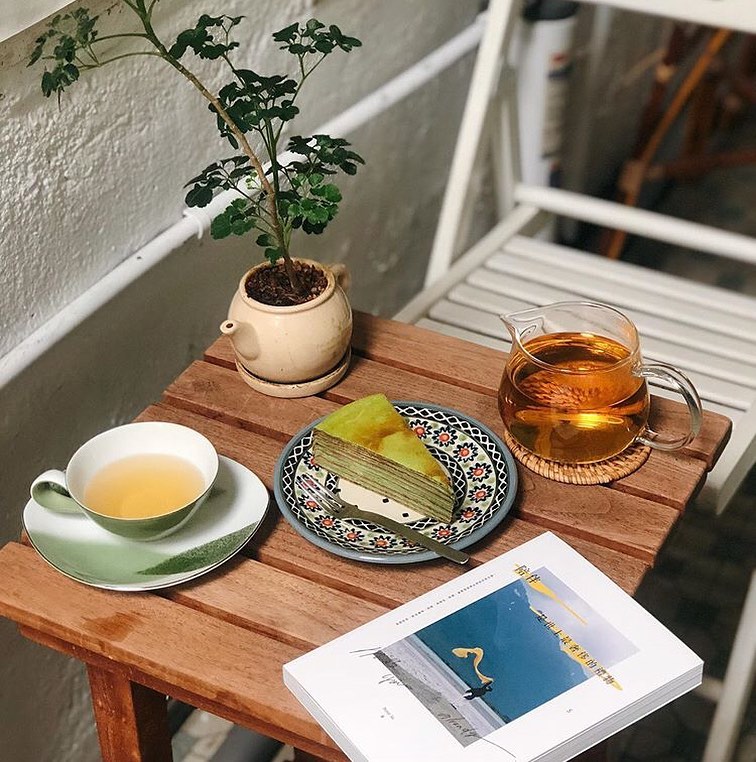 Image credit: @jl.lam
The shop's decor matches the kopitiams our parents used to patronise back in the day – marble-top tables, old-fashioned mugs and saucers, fans instead of air conditioning, and floor tiles that look right out of our grandmother's kitchen.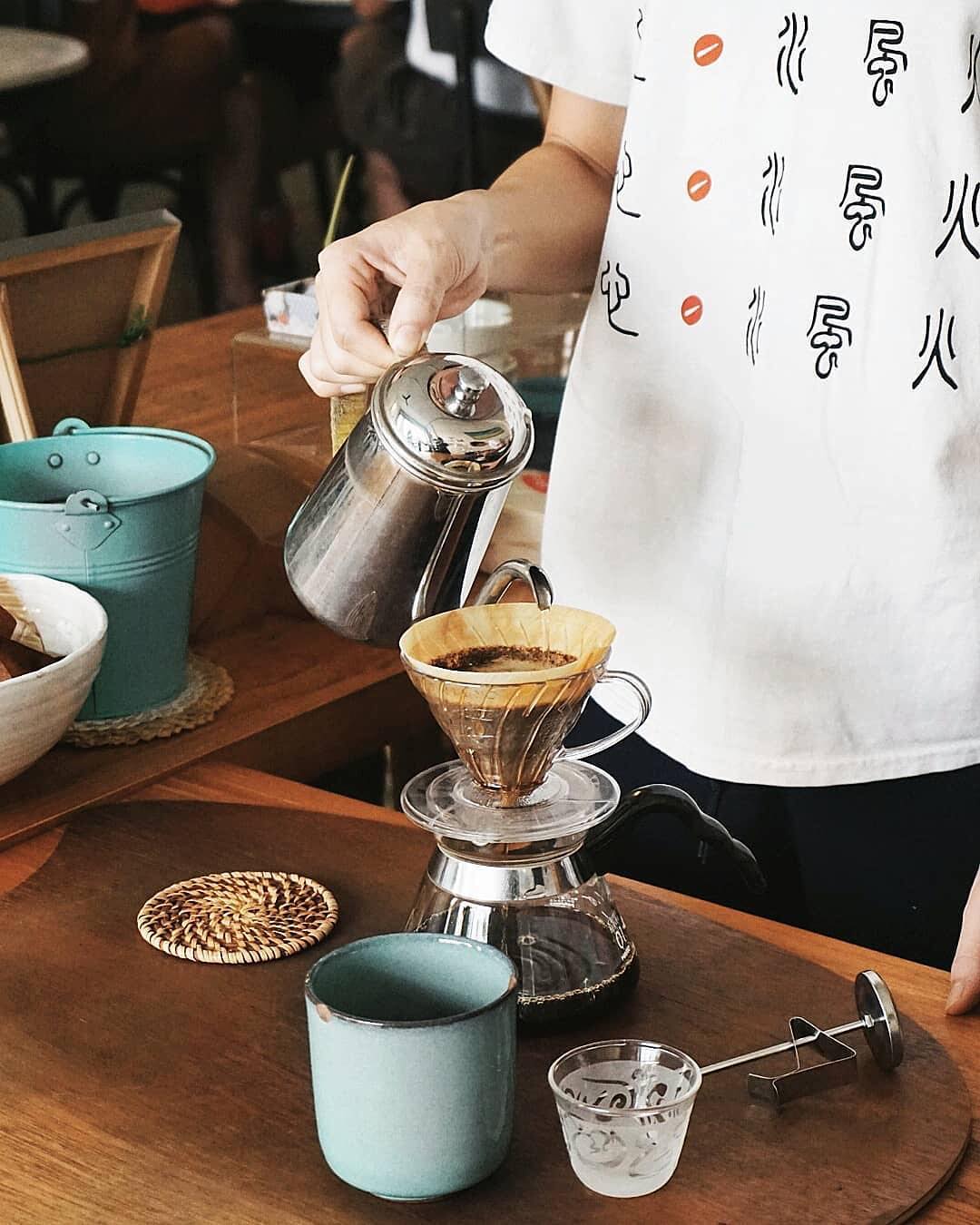 The staff will brew your coffee right in front of you
Image credit: @manualbrewonly
Their prime location – right across from Teck Teh, the oldest bak kut teh shop in Malaysia – attracts large crowds of BKT-goers who have just finished their meal and are looking for a quiet spot to relax. 
Address: 28, Jalan Stesen 1, Klang, 41000 Klang, Selangor
Opening hours: Fri – Tue 11.30AM-3PM (Closed on Wednesdays & Thursdays)
Telephone: 016-653 7393
Seraph Awaken Facebook
---
4. Leaf & Co – aesthetic wall made of cement bricks
---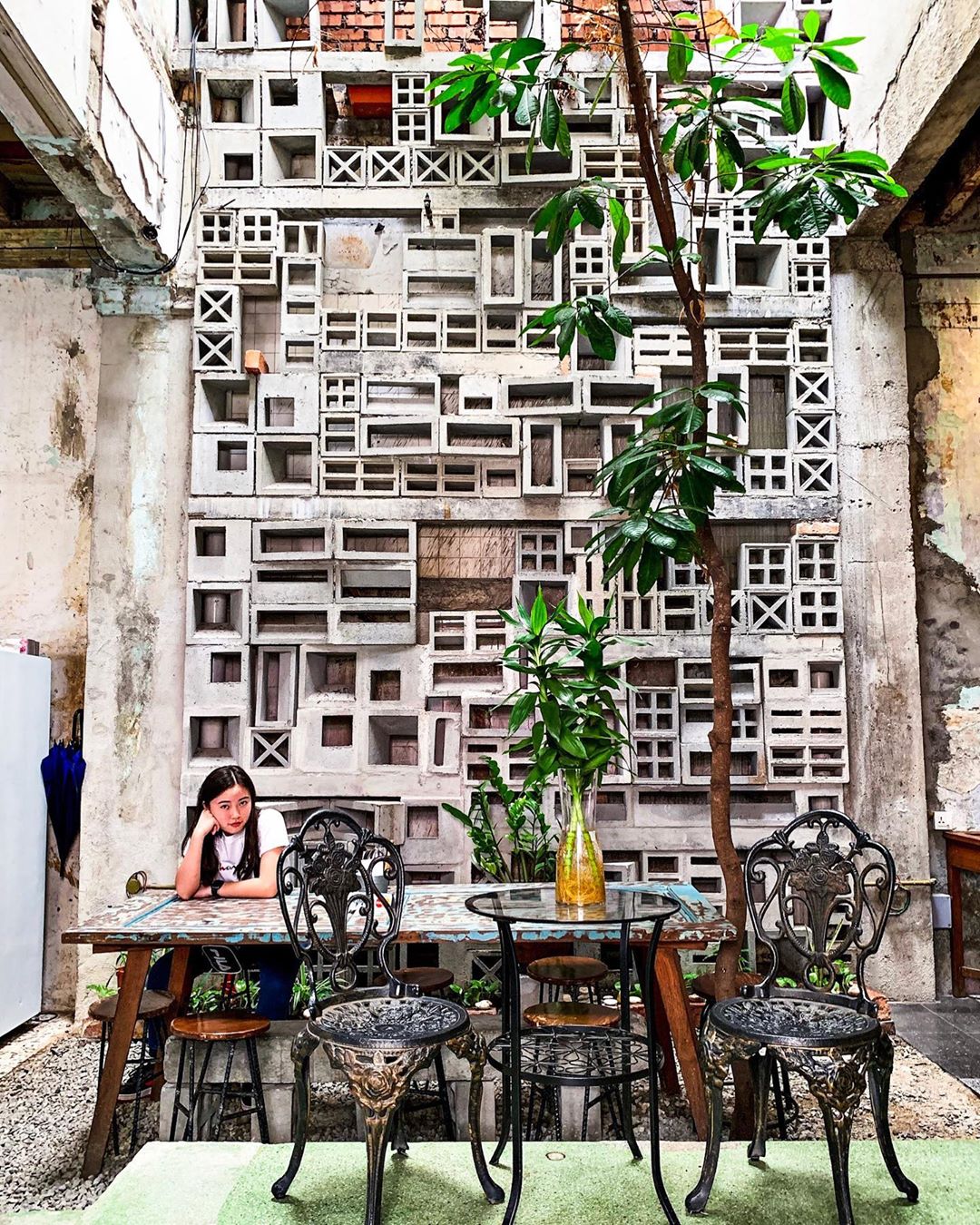 Image credit: @ridley_tan
Brick and mortar walls were a trending look a few years ago but now that it has become a staple in every other modern building, Leaf & Co has done their own version with cement bricks instead. Part of the wall is sectioned off to make way for the mismatched bricks of different sizes and designs.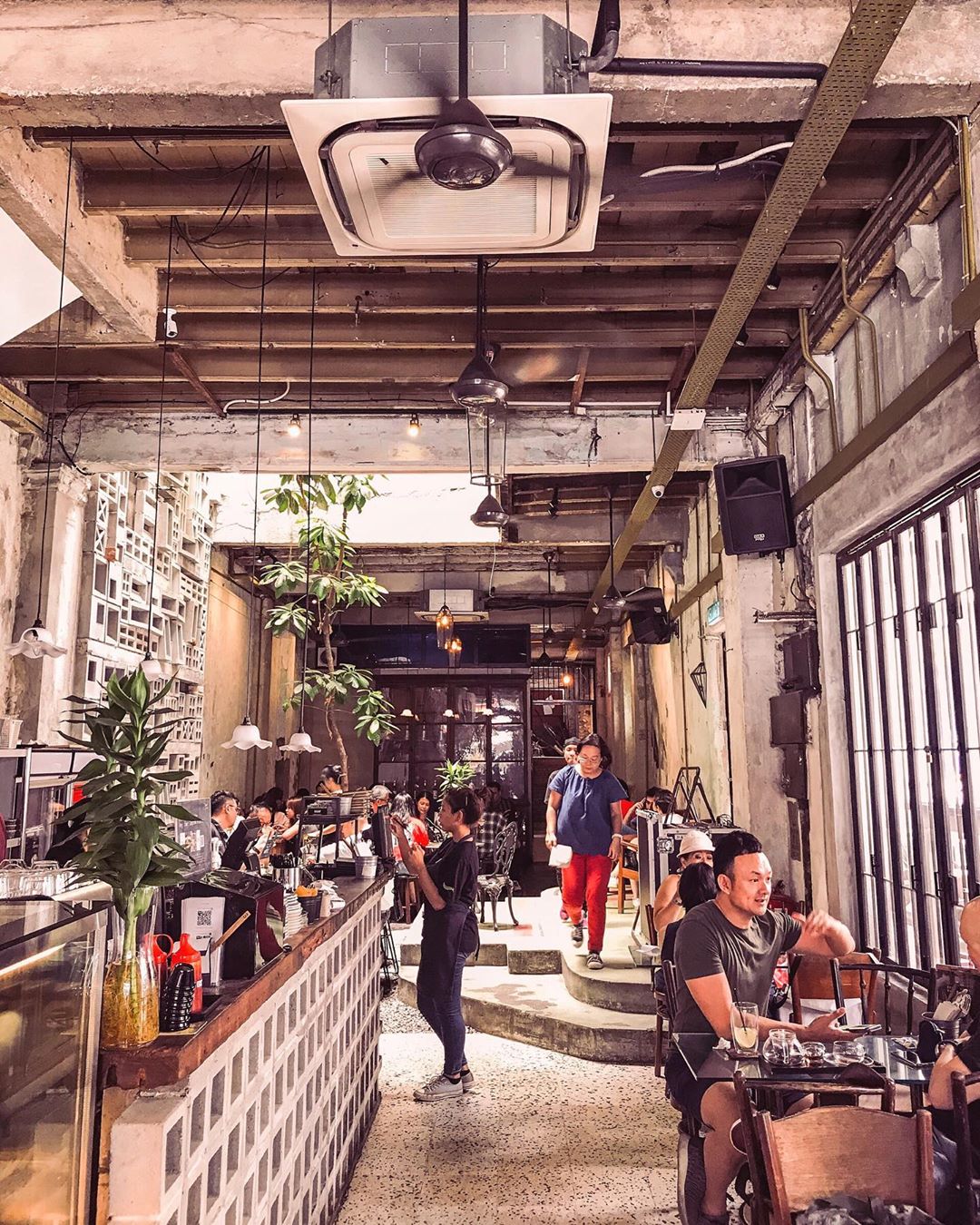 Image credit: @stringplann
The cafe keeps their colour palette to neutral shades of grey, giving the space a monochromatic industrial look. But it's really their vintage furniture that adds the old school touch to this place, like the outdoor swing set made from iron rods. 
They have a pretty standard menu of cafe fare, so you won't miss out on favourites like Spaghetti Chicken Bolognese (RM16) and Beef and Cheese Sandwich (RM23).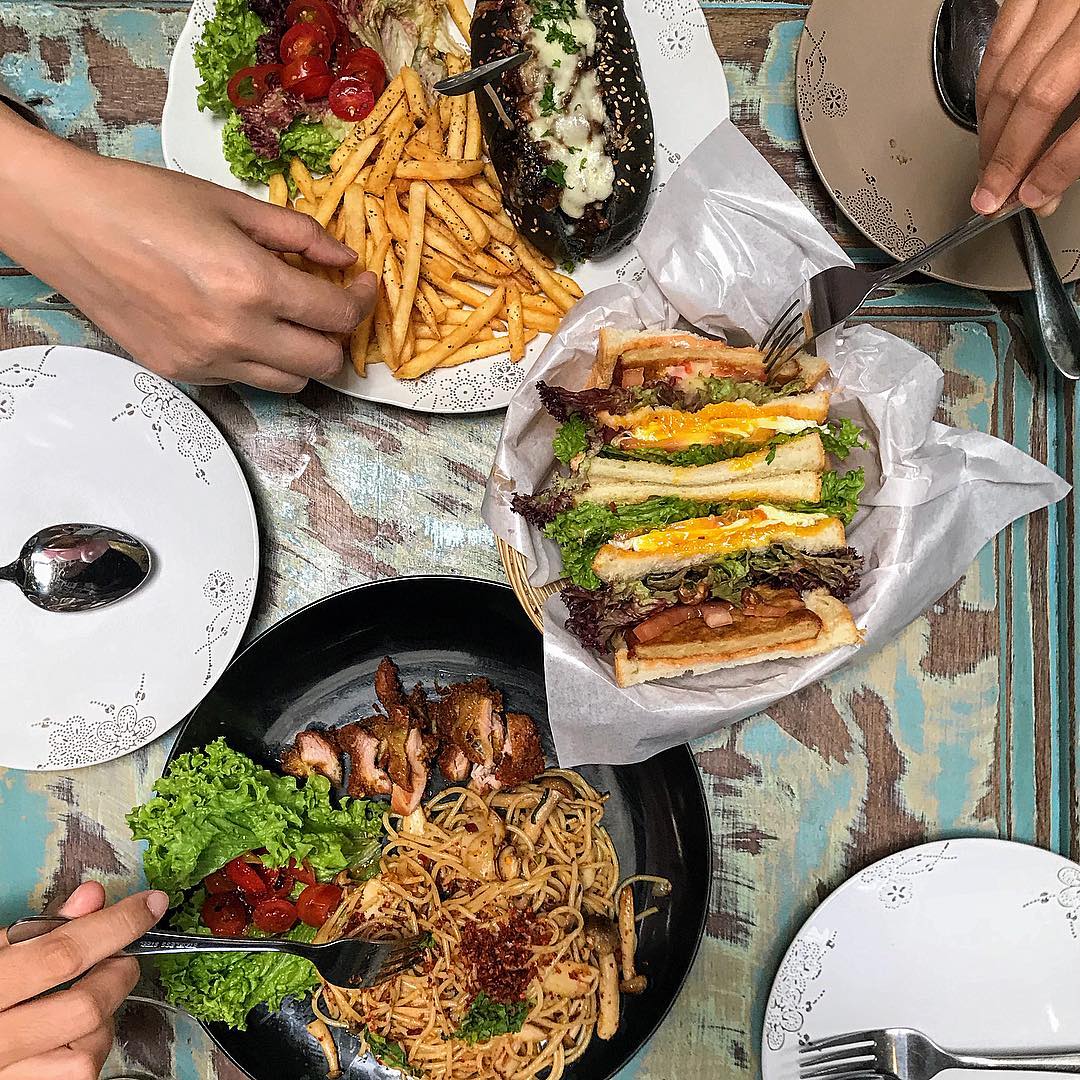 Image credit: @sislapar
Address: 53, Jalan Sultan, City Centre, 50000 Kuala Lumpur
Opening hours: 11AM-8PM, Daily
Telephone: 03-2020 2220
Leaf & Co Facebook
---
5. Lim Kee Cafe (Temporarily Closed) – contemporary kopitiam in a heritage hotel
---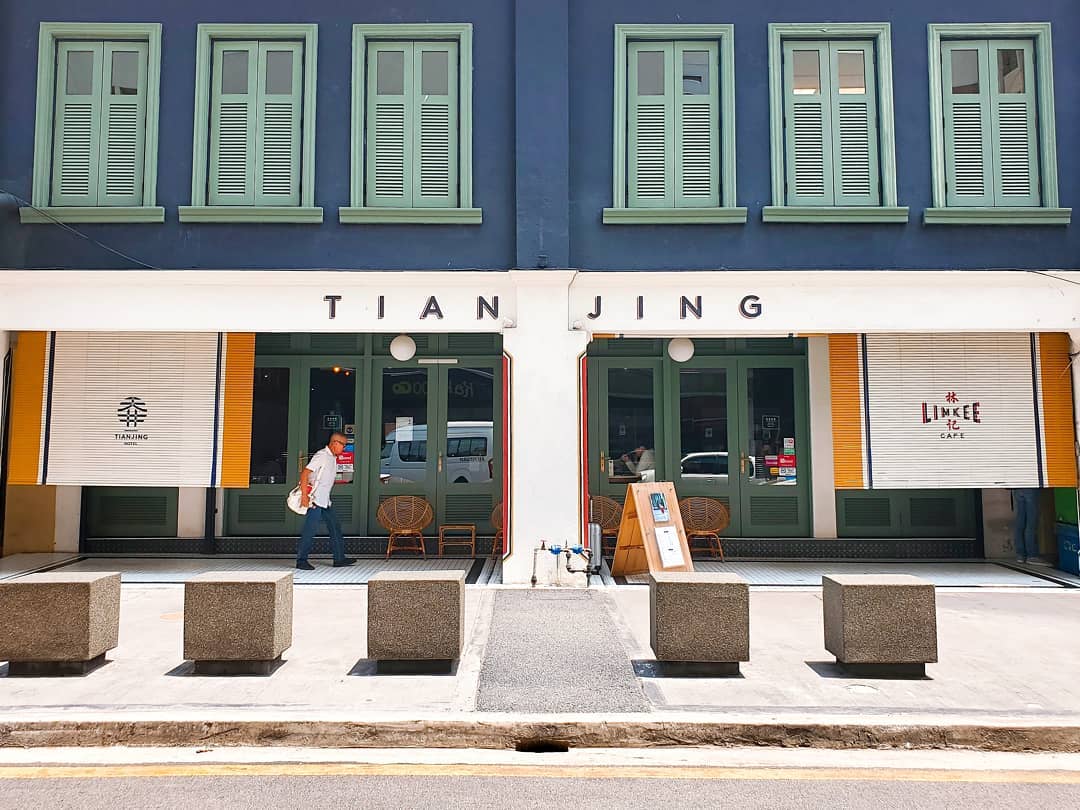 Image credit: @grxtc
Lim Kee Cafe takes up the first floor of Tian Jing heritage hotel in KL, and it does a pretty good job in evoking Malacca-like vibes in regards to both the food and ambience.
The navy blue and white walls paired with the light teal windows that flap open is reminiscent of traditional Peranakan housing. You'll find that the rattan chairs at the storefront are a popular photo spot too.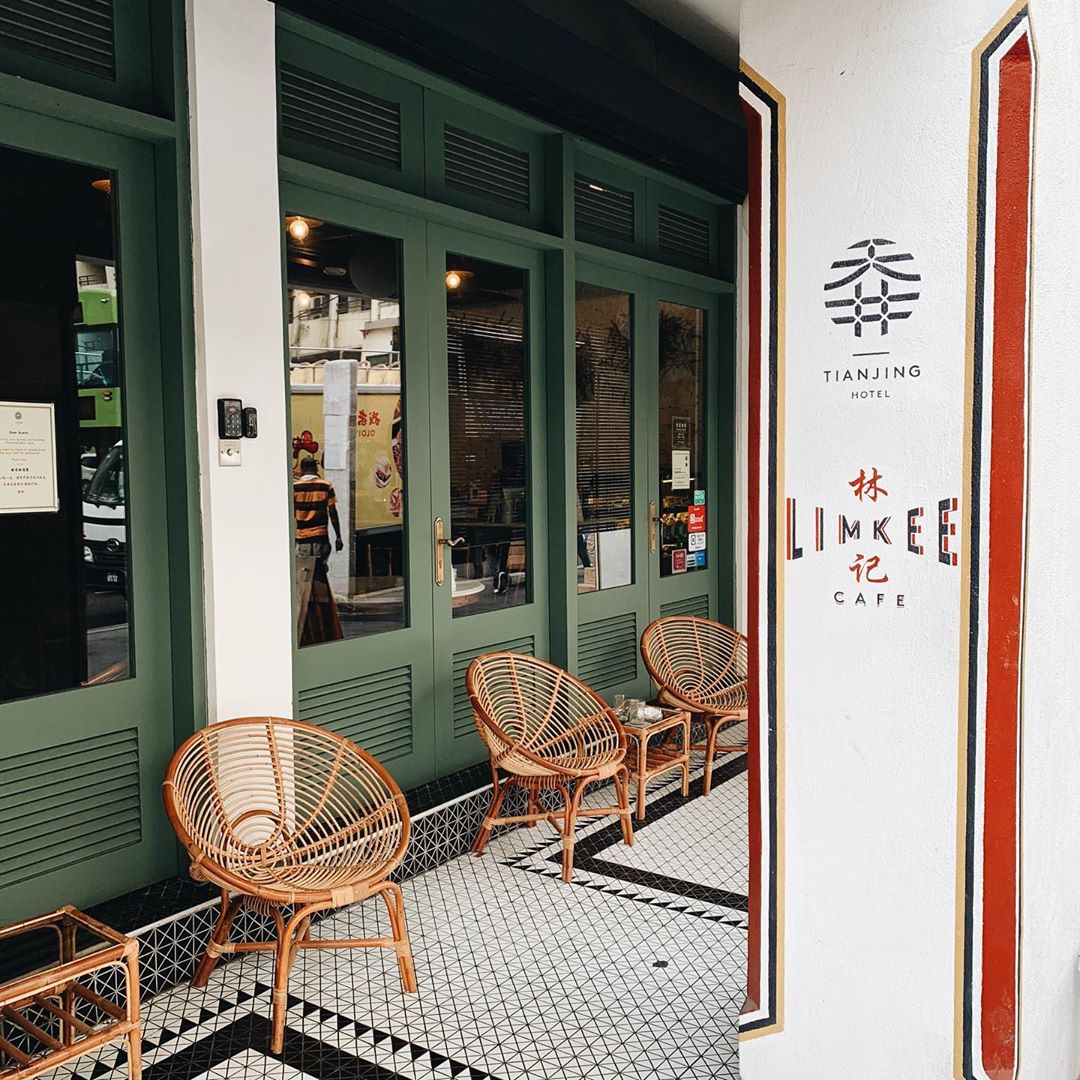 Image credit: @travic.co
There's a mix of old and new influences in their decor inside. They've retained the traditional kopitiam look with wooden chairs and tables but the black walls and ceiling give the space a contemporary edge.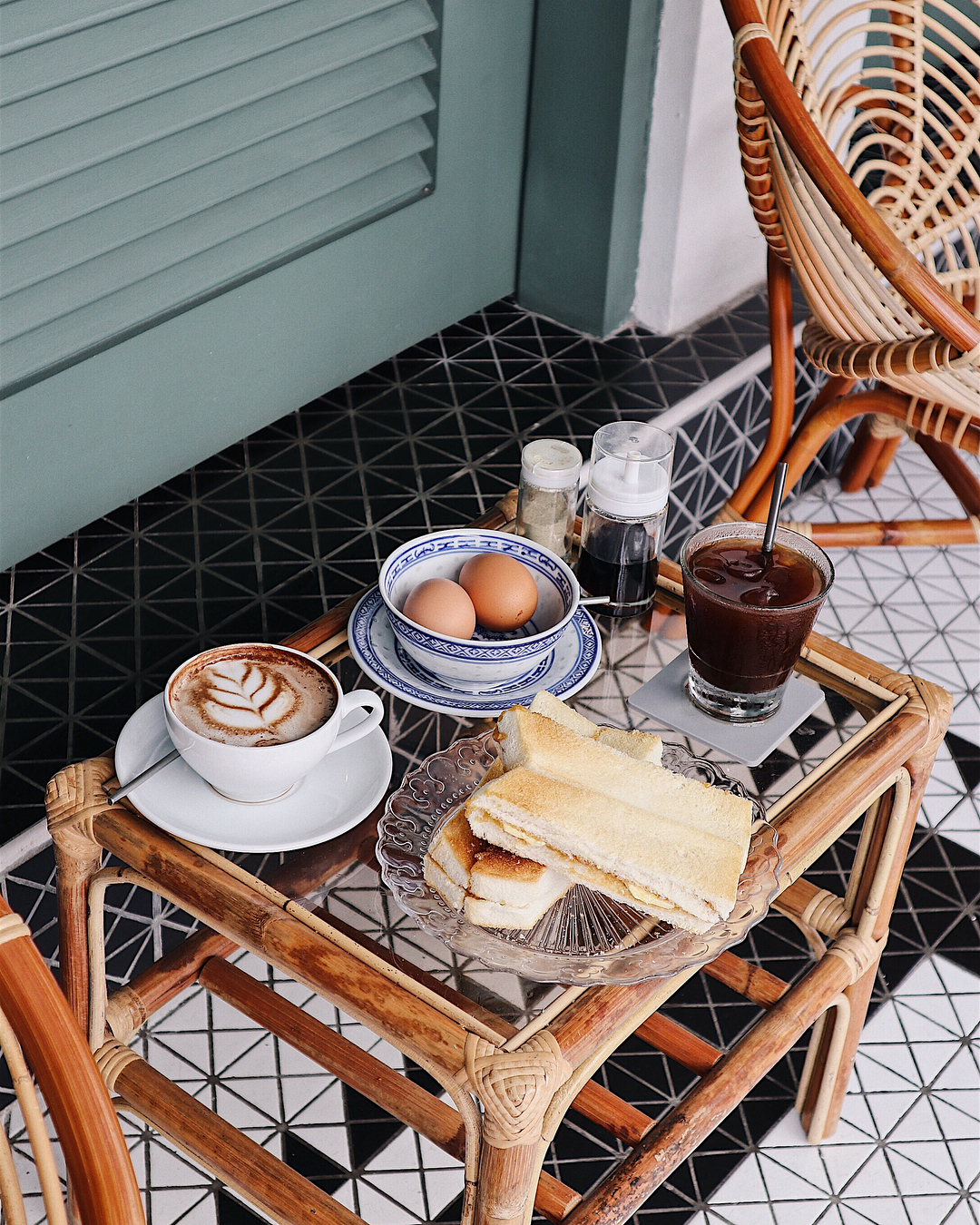 Image credit: @nataliechen_
Drop by for a light snack like Roti Kahwin (RM3) or Half-Boiled Eggs (RM3). Though mains are not on the menu, you can still go for their ice-cream that comes in unconventional flavours ranging from Pandan to Mascarpone (from RM8).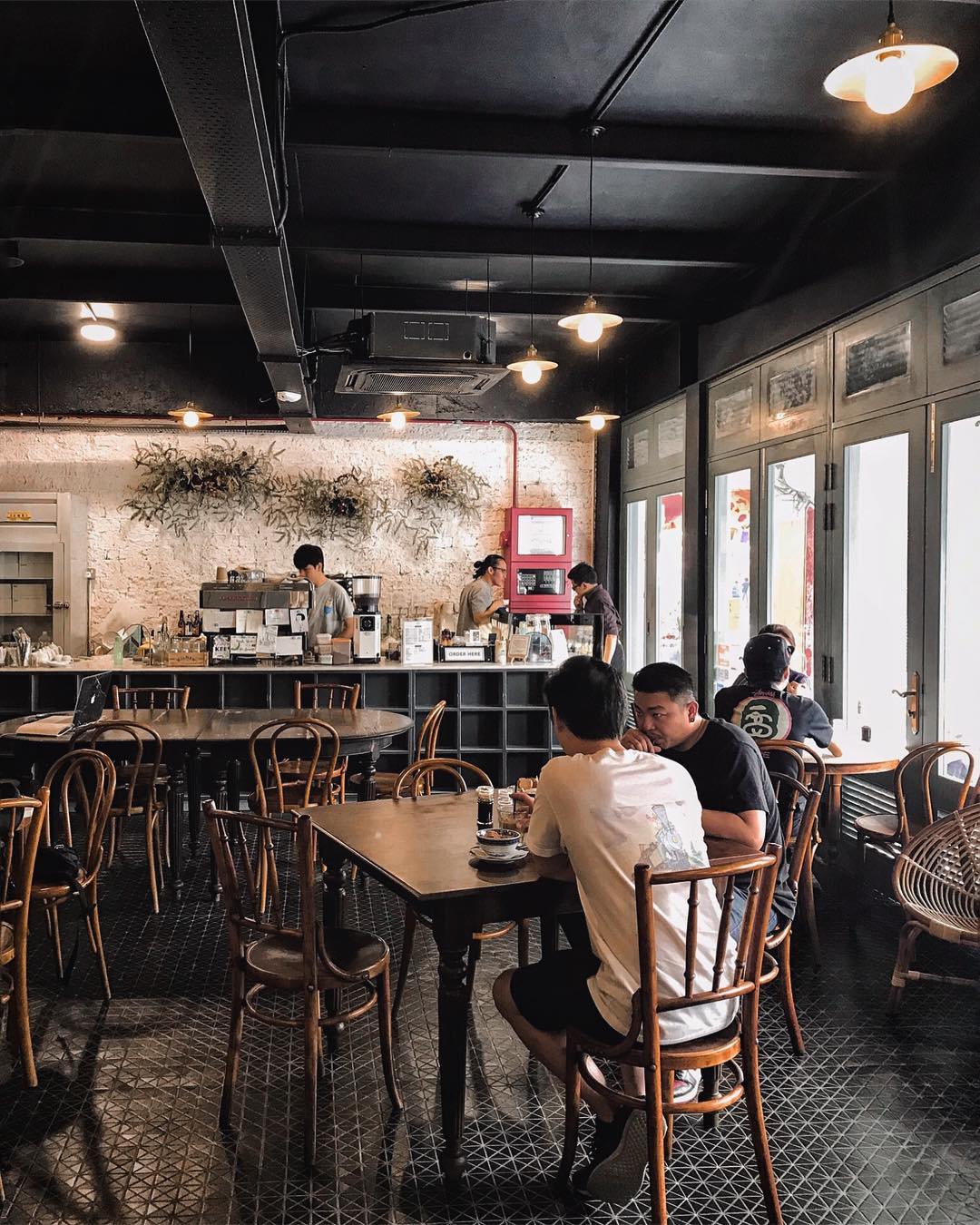 Image credit: @jahejane
Note: Lim Kee Cafe is not accepting dine-ins at this time.
Address: 66-68, Jalan Sultan, City Centre, 50000 Kuala Lumpur
Opening hours: 9.30AM-6PM, Daily
Telephone: 03-2022 1131
Lim Kee Cafe Facebook
---
6. Limapulo – legit Nyonya curry laksa in town
---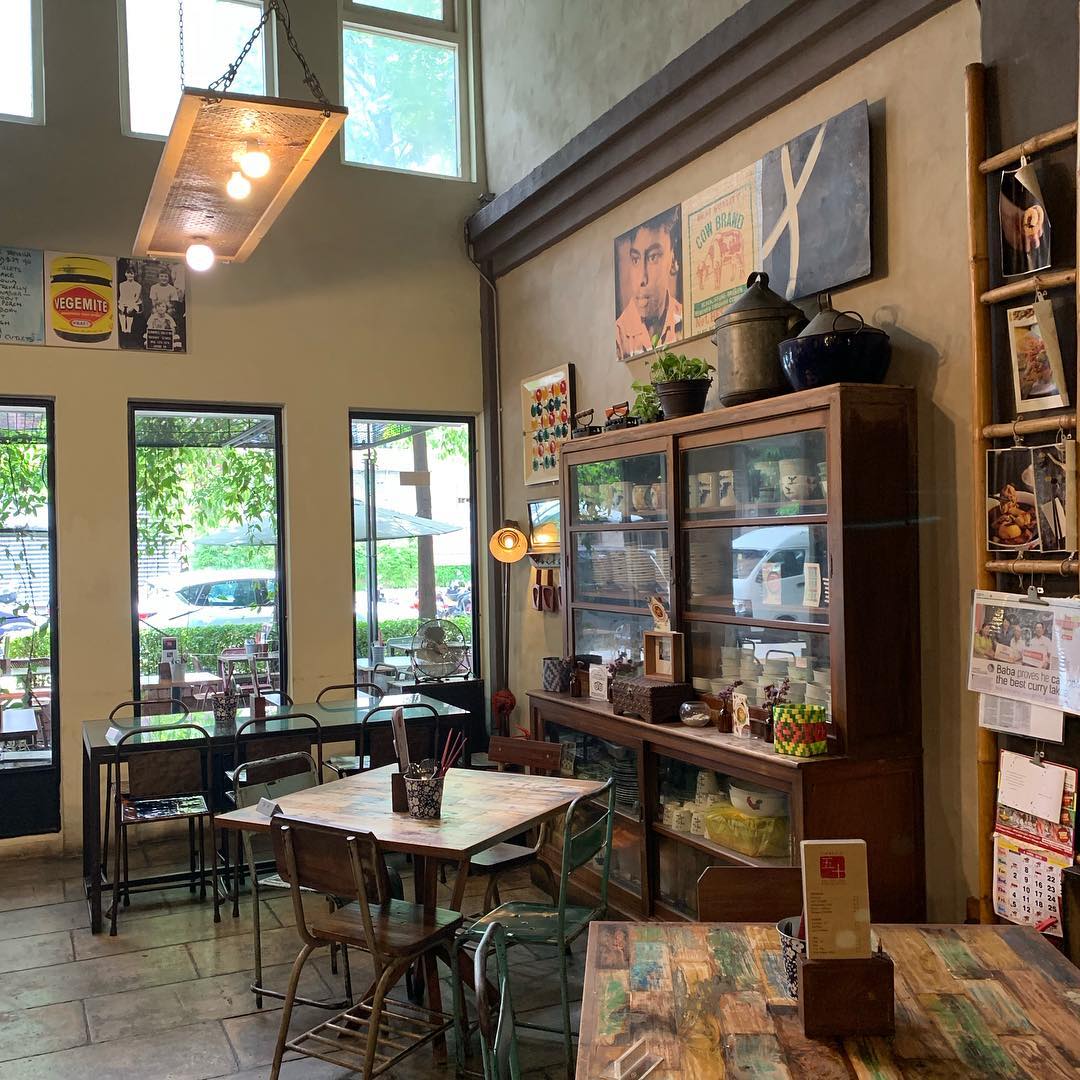 Image credit: @s_yun.n
Limapulo is a rare gem in the city as you can be spared the 2-hour journey to Melaka for some authentic baba nyonya food. 
The recipes are all fiercely guarded secrets handed down by the chef's mother, and each step is followed to a tee – which is why they only serve their award-winning Nyonya Laksa (RM9.90) 3 days a week on Mondays, Wednesday, and Fridays as the cooking process is a laborious one.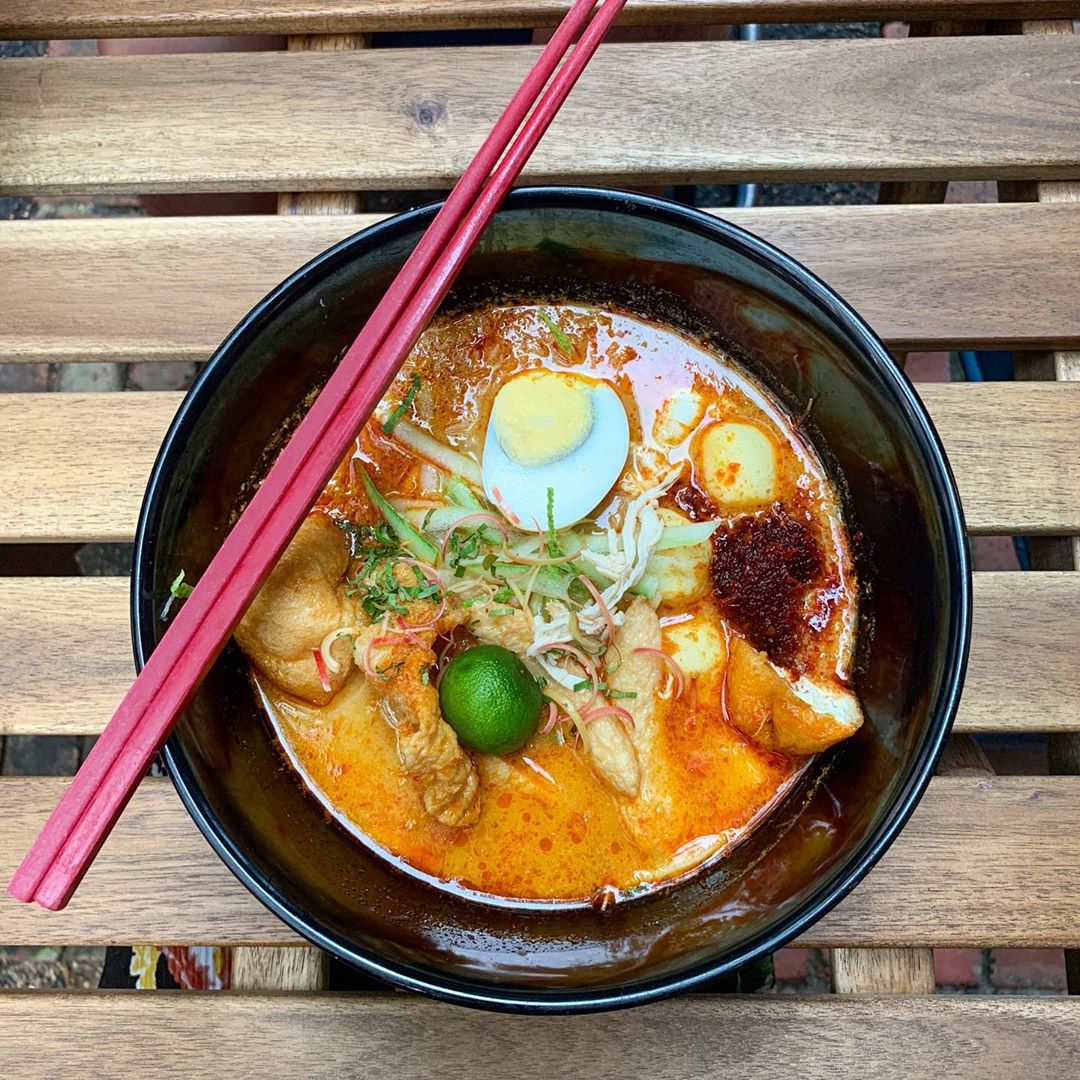 =
Their Nyonya Laksa bagged "Best Curry Laksa" after receiving overwhelming support from locals during The Star People's Food Awards
Image credit: @yenckl
Interior-wise, you'll find various embellishments like traditional wooden mooncake moulds, ceramic tableware with familiar blue designs and rooster motifs, as well as old photos hanging on the wall. 
Address: 50, Jalan Doraisamy, Chow Kit, 50300 Kuala Lumpur
Opening hours: 11AM-3PM, Daily
Telephone: 03-2698 3268
Limapulo Facebook | Instagram
---
7. Timothy – hole-in-the-wall cafe for fusion food
---
Timothy encompasses true Malaysian spirit in their cafe venture, from the signage up front that's written in our 3 main languages to the mix of food they serve. It looks like the kind of eatery you'd find off the beaten track and not in the middle of the city centre from the old kitchen tiles to the simple choice in furniture.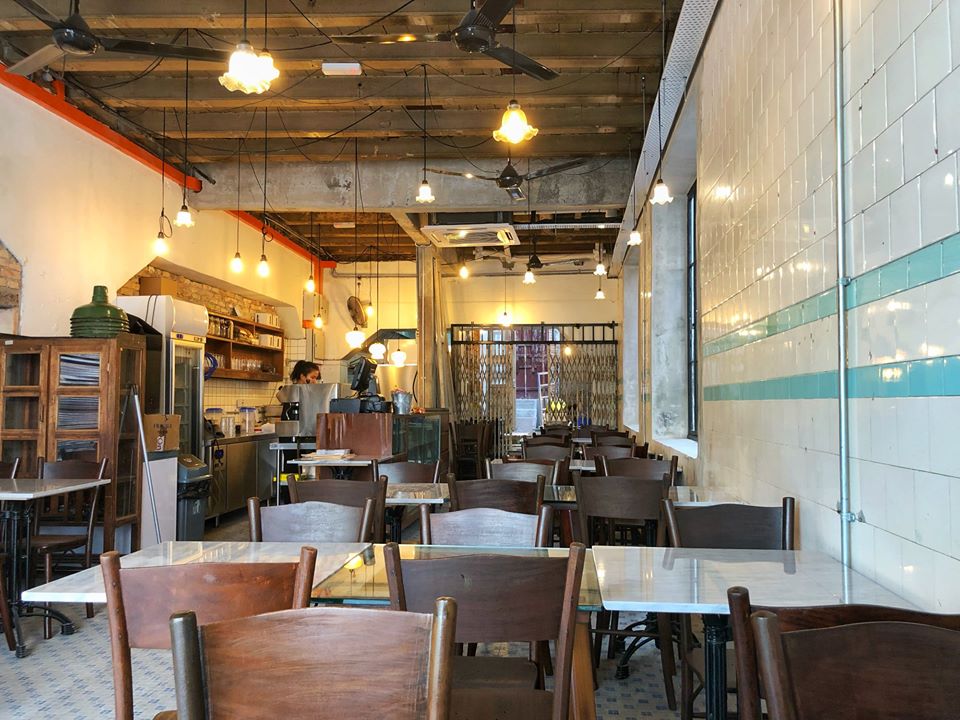 The wooden chairs and plain white tiles on the walls are reminiscent of grandmother's kitchen.
Image credit: Timothy
Their imaginative recipes include Gayithri Feels Nauseated (RM30), an Italian-style mushroom risotto with distinct Indian influences like paneer and baby spinach. Apart from the risotto, they also serve Signature Thunder Rice (RM18), a Hakka delicacy that's a rare find in any restaurant.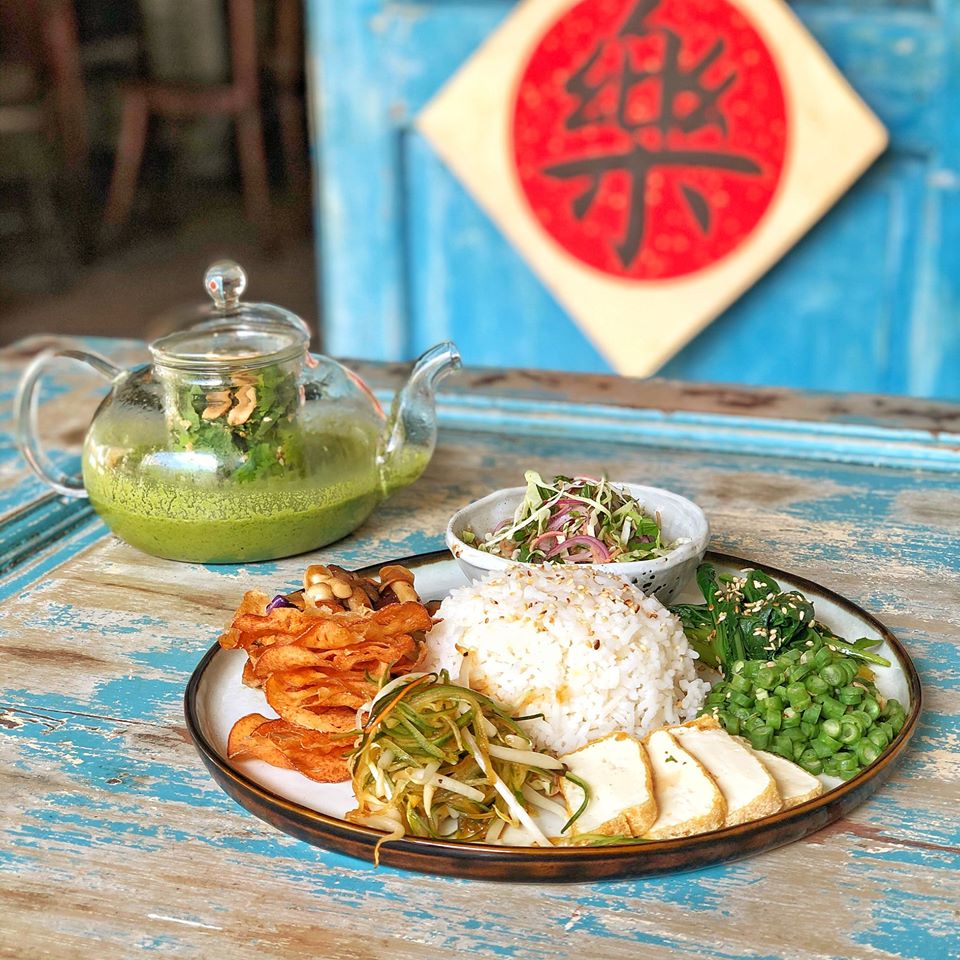 Timothy's rendition of the Hakka dish, thunder tea rice
Image credit: Timothy
We always go about saying that Malaysia is a melting pot of cultures, and it's at places like Timothy that we really get to see it in action. 
Address: 24, Jalan Tun H S Lee, City Centre, 50100 Kuala Lumpur
Opening hours: Mon–Fri 10AM-7PM | Sat & Sun 8AM-10PM
Telephone: 017-699 3422
Timothy Facebook
---
8. Luckin Kopi – halal kopitiam for affordable lunch sets
---

Image credit: @sansankys and @yve_tai
Luckin Kopi is new to the Petaling Street 'hood, and it looks like a rustic resort, with a massive bouquet of dried flowers hanging above the courtyard.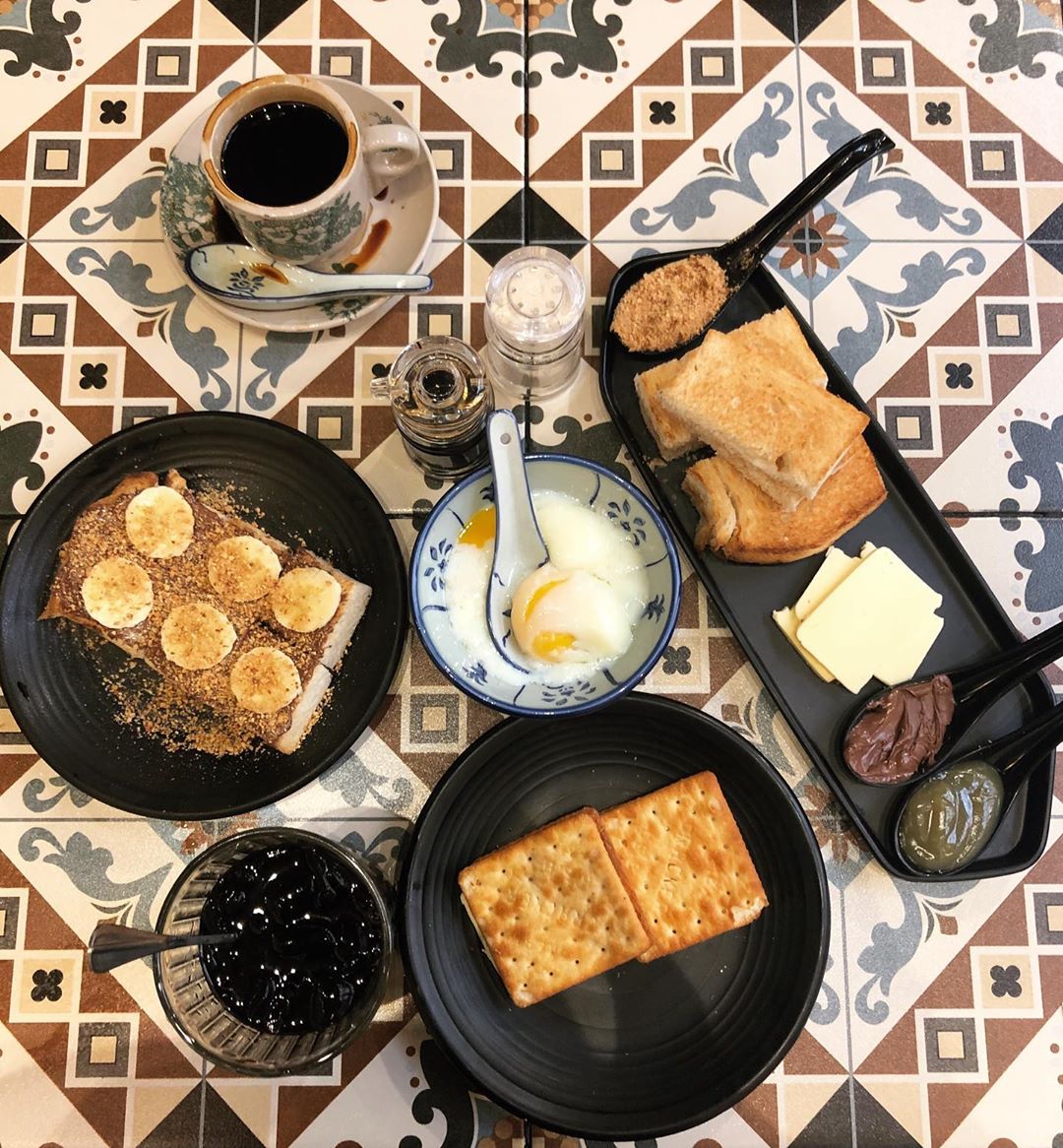 Image credit: @im_aykim
They have a wider selection of food than from what you'd usually find at your regular kopitiam. Their Luckin Toast (RM12.90) is the kind of breakfast spread we wouldn't mind waking up early for – half-boiled eggs, toasted Hainan bread with kaya, butter, nutella, and peanut sauces.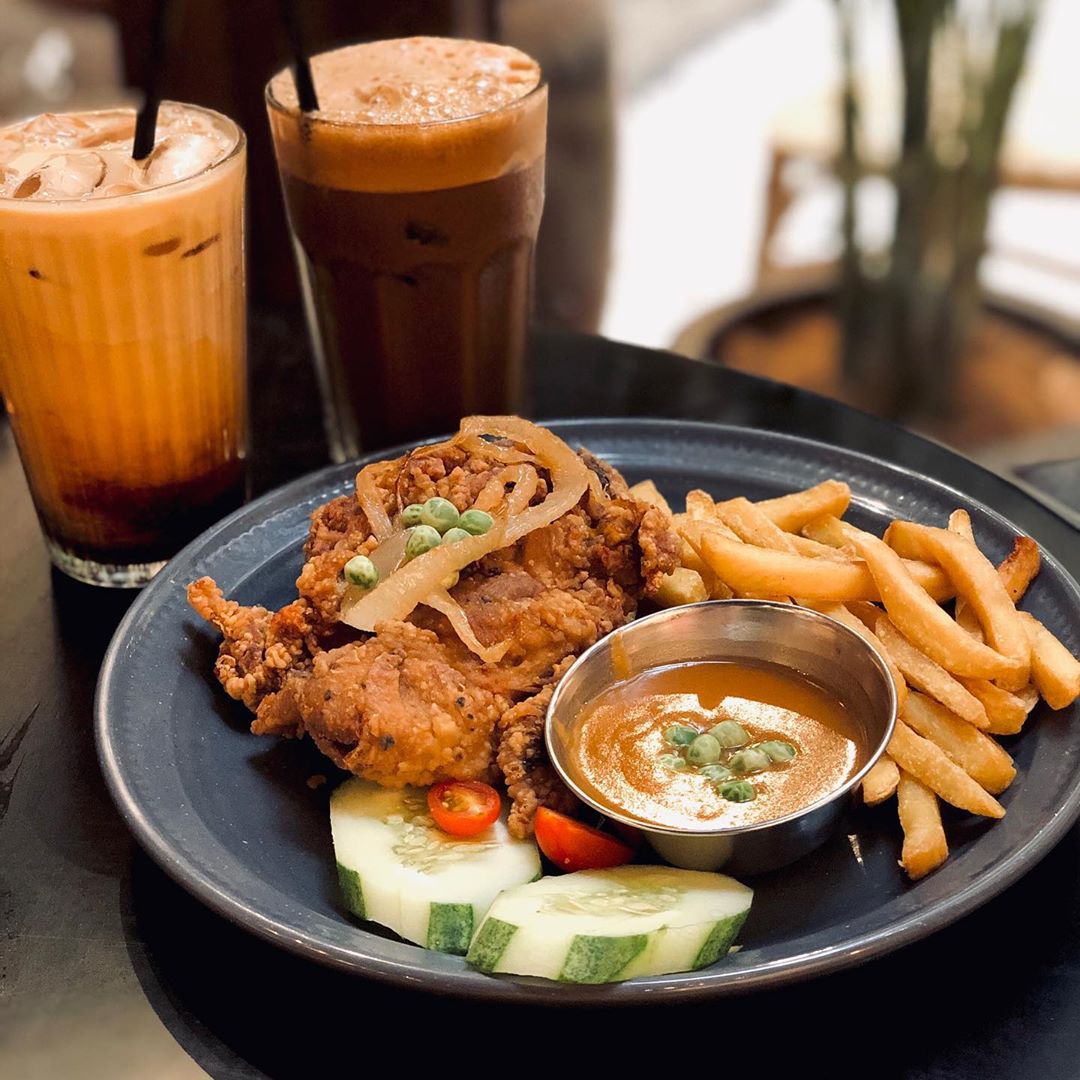 The Hainanese Chicken Chop (RM16.90) comes with a juicy cut of chicken and a side of sweet gravy
Image credit: @365.foodie
They may be new but they already have a good number of regulars who come in for the affordable lunch sets. Choose between Nasi Lemak, Indo Mee, and Mee Siam to have in your set (RM14.80) that comes with an unlimited refill of Luckin Kopi Kaw. 
The best part is that the food here is halal, so no one will be left out for a meal.
Address: 4, Jalan Panggong, City Centre, 50000 Wilayah Persekutuan, Wilayah Persekutuan Kuala Lumpur
Opening hours: Mon, Tue, Thur & Fri 9AM-6PM | Sat & Sun 8.30AM-6PM (Closed on Wednesdays)
Telephone: 03-2856 2811
Luckin Kopi Facebook
---
9. Merchant's Lane – peranakan-inspired aesthetics
---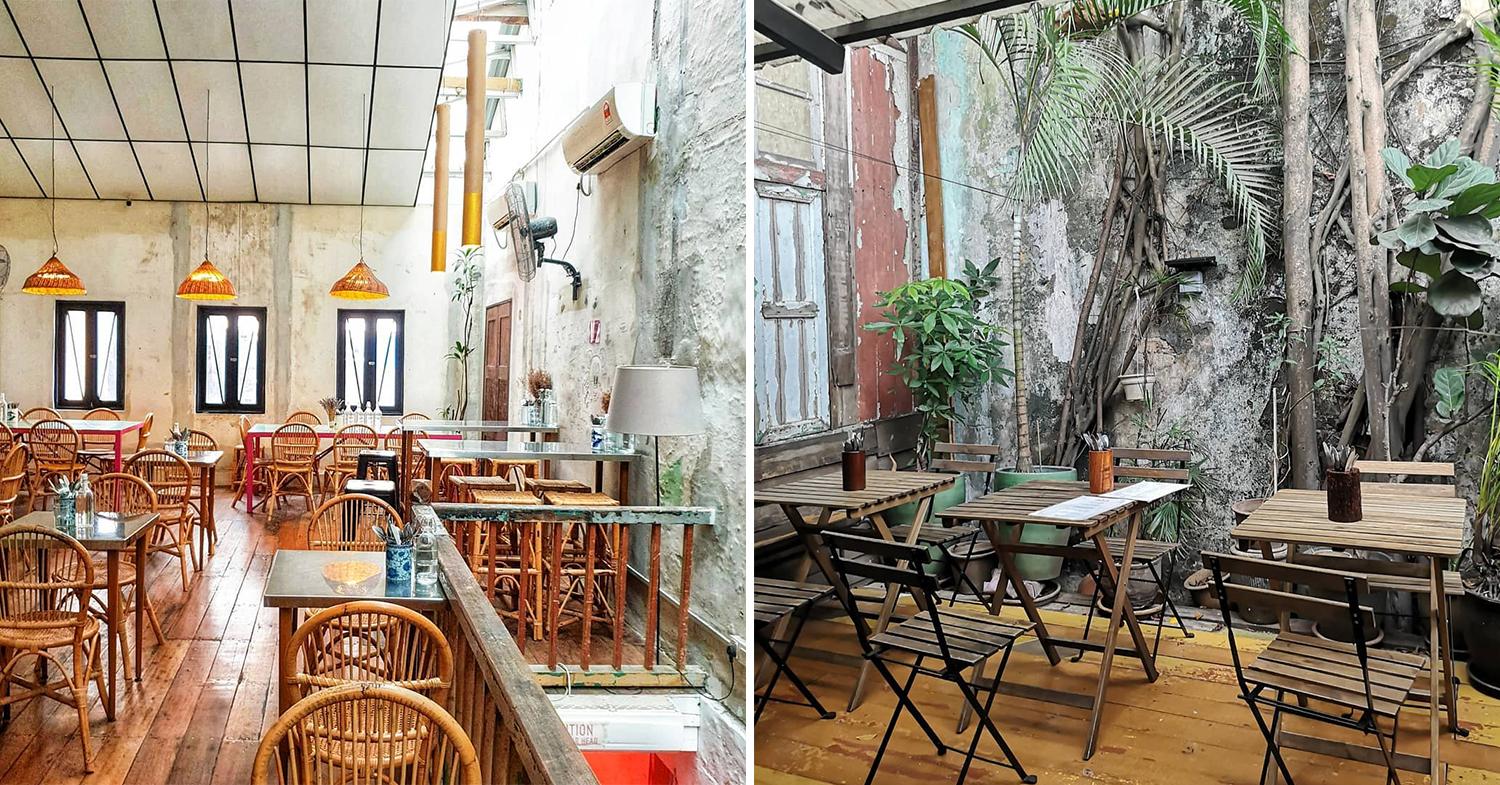 Image adapted from: @mademoiselle_stef and @ivy_bee
Most of us are no stranger to Merchant's Lane, especially if you're a prolific cafe hopper. Having been around as early as 2015, they're one of the pioneer "hipster" cafes in Petaling Street. Their decor ticks off everything that represents 80's Malaysia – rattan chairs, worn down cement walls, and some Peranakan-influenced embellishments.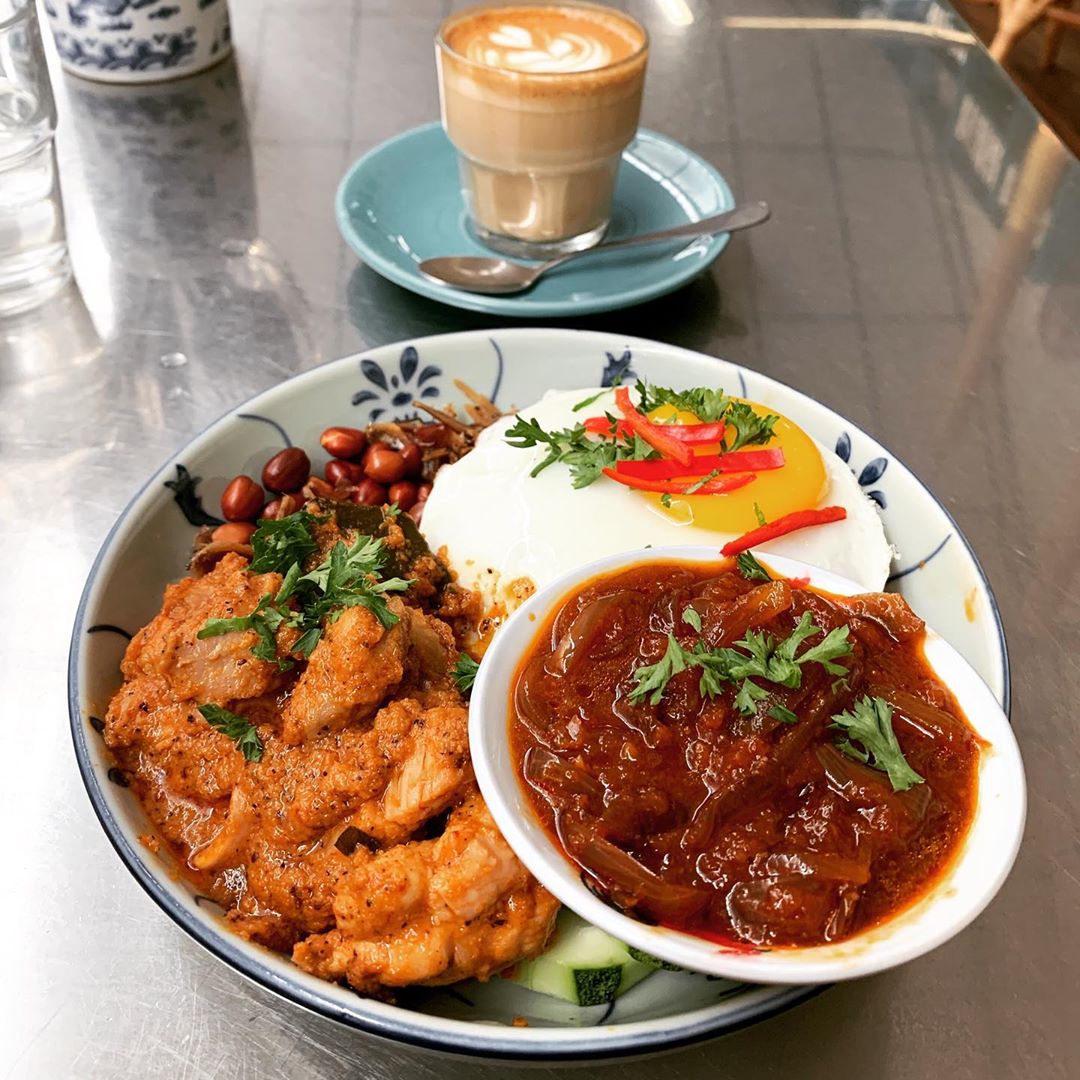 Nasi lemak pancakes substitutes coconut rice for pancakes
Image credit: @doubleskinnymacchiato
On their menu you'll find Asian fusion food like Italian Chow Mein (RM21) as well as classic Malaysian dishes like Kai Fan (RM21). If you're up for nasi lemak, give Merchant's Lane Nasi Lemak Pancakes (from RM19.90) a try. Instead of the fragrant santan rice, you'll be pairing your sambal and chicken rendang with pandan pancakes.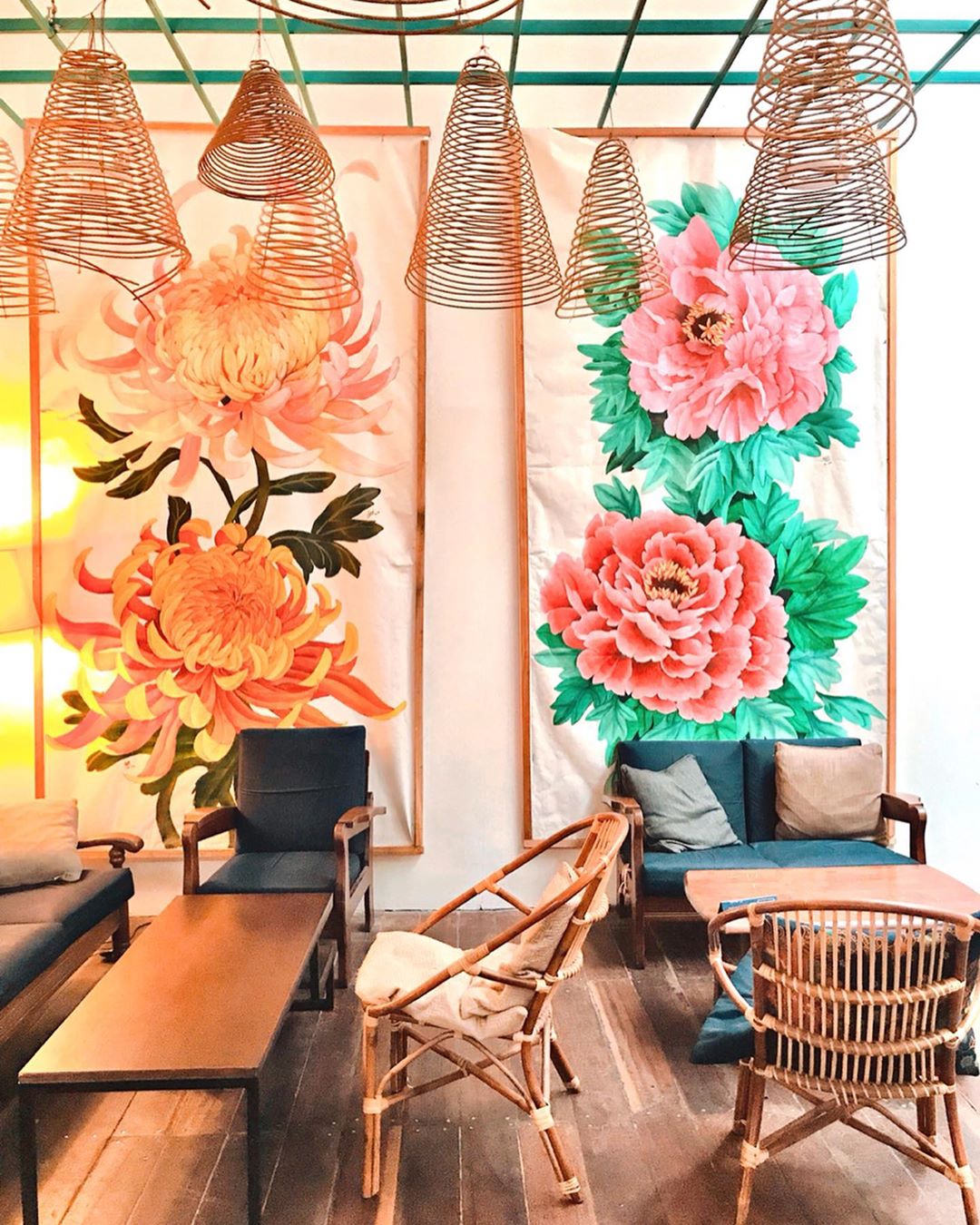 The painted flowers on the wall and wooden spiral fixtures hanging on the ceiling contribute to the Baba Nyonya aesthetic
Image credit: @j_innyc
Address: 150, Jalan Petaling, City Centre, 50000 Kuala Lumpur
Opening hours: Sun – Tue 10.30AM-7PM (Closed on Wednesdays)
Telephone: 03-2022 1736
Merchant's Lane Facebook
---
Cafes with old school aesthetics
---
Good food in a familiar and comforting ambience can do wonders to perk you up after a rough day. It's like visiting your grandparents' home during festivities and feeling like a kid again the second you walk in – that and being fed a huge amount of home-cooked food. Those memories get closer to heart at these reinvented modern-day kopitiams and cafes with old Malaya influences. 
If you're still looking for places to shake up that old dinner routine, check out our other food-related articles: 
---
Cover image adapted from: @ridley_tan, @yenckl, Timothy, and @randykzc
This article was updated on 15th October 2021.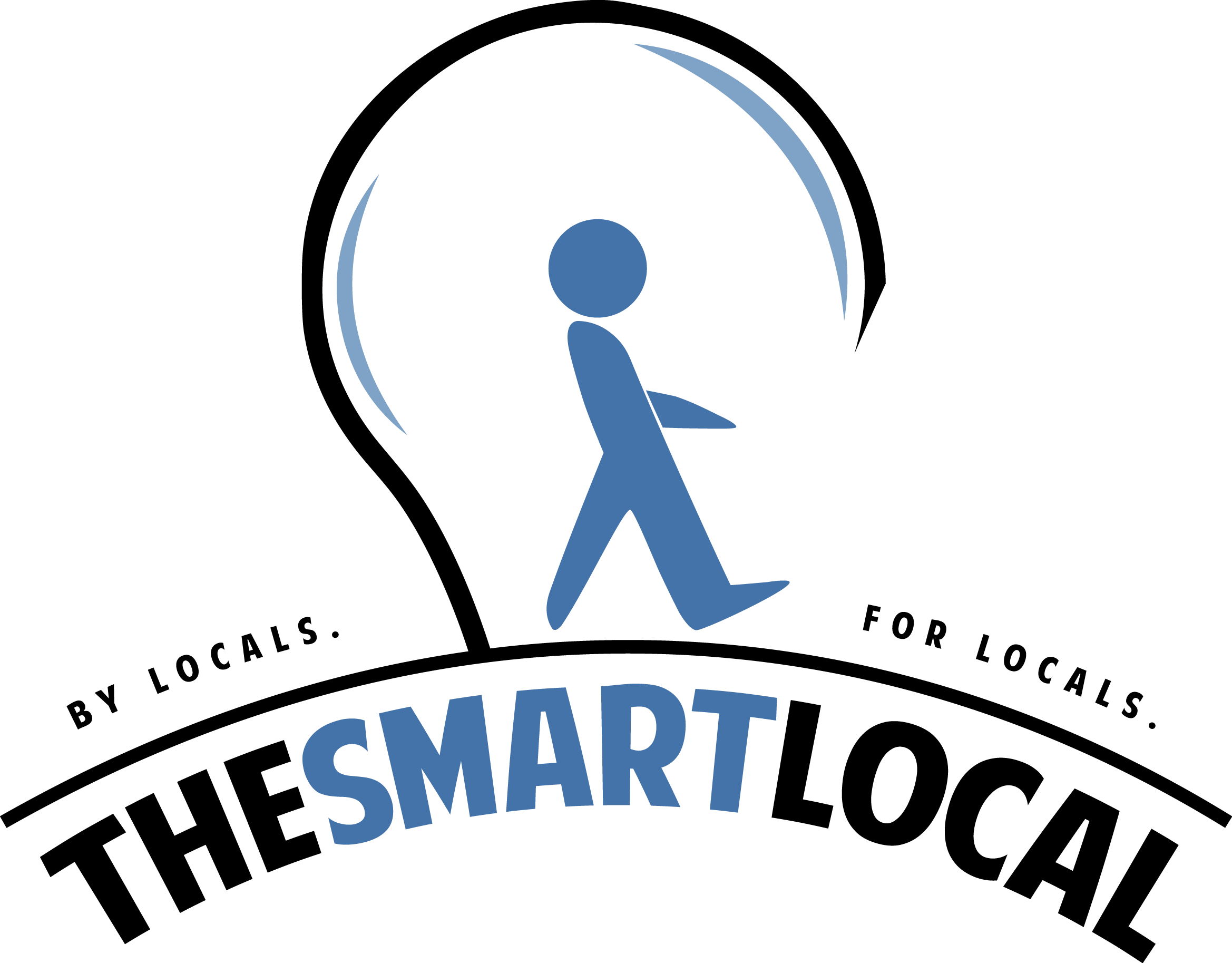 Drop us your email so you won't miss the latest news.