Young boy sells snacks to help his single mum
---
Life can be difficult for those struggling to make a living while facing hardships. But there are many hardworking individuals in Malaysia who continue to push forward in life regardless of their circumstances.
One passer-by spotted this young Malaysian boy falling asleep while selling snacks in front of a Starbucks outlet in Melaka. After netizens found out that he was working to help support his single mum, many offered to donate money to the family.
---
He fell asleep while selling snacks
---
On 27th April 2022, TikTok user @danielalii uploaded a now-viral video of a boy selling snacks at a Starbucks outlet in Melaka. He was seen sitting on the pavement next to the drive-through lane, with his basket of goods.
At one point of the video, a woman came down from her vehicle and approached him.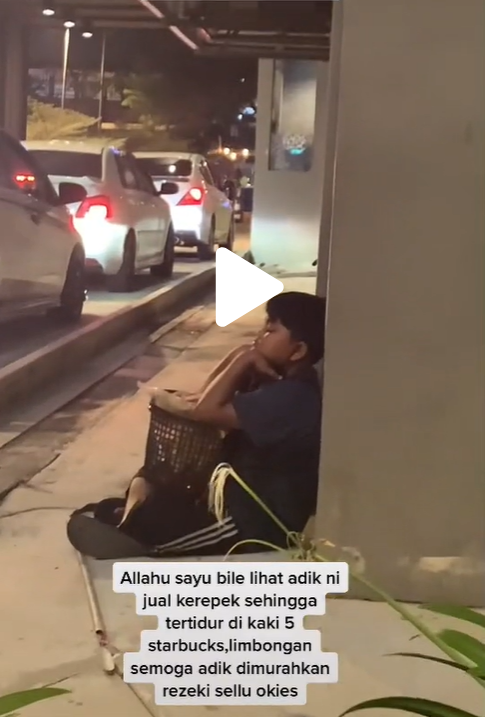 Image credit: @danielalii
As the boy appeared to have fallen asleep, the woman had to gently pat his arms several times to wake him up and alert him of money that she had dropped in his basket. The OP also proceeded to purchase several packets of snacks from the boy as he filmed.
---
Netizens crowdfund to help struggling family
---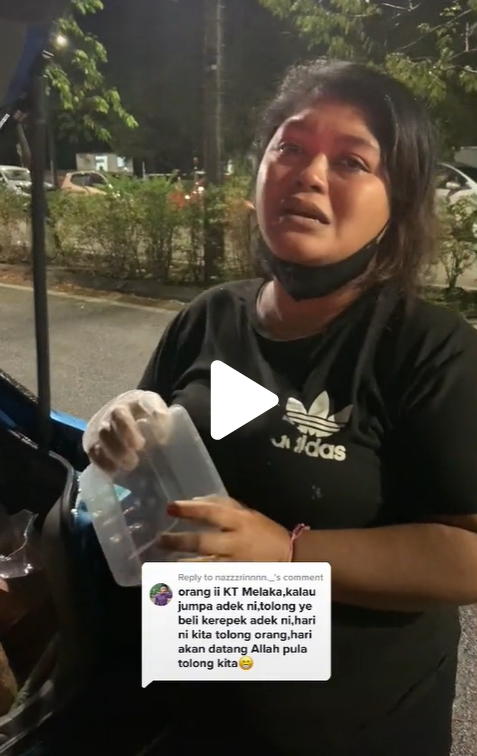 Image credit: @danielalii
Another video was later uploaded by @danielalii, in response to the many generous netizens who had been reaching out with offers to help the boy, later identified as Acap.
The follow-up video revealed that Acap had been helping his single mum, who has five other children, by selling snacks during his school break. The family resides in Johor, but travels to Melaka to sell various keropok.
The family of seven's struggle and determination to make a living has touched the hearts of Malaysians, leading many to extend support to the family and their small business with monetary donations.
According to @danielalii, a total of RM1,220 was collected from netizens. He was seen passing the donation to Acap's family and giving the boy a big hug in a second follow-up video uploaded to his account. The act moved the family to the point that Acap and his mum broke into tears.
To cap off the heartwarming story he shared, @danielalii thanked Malaysians for trusting him with their money and for their outpouring of kindness in helping the family.
---
Let's continue to look out for one another
---
It's always heartwarming to see Malaysians helping their neighbours so willingly, especially when the pandemic has affected so many livelihoods. If you happen to visit or stop by in Melaka, do support the family's business outside the Limbongan Starbucks outlet.
Let's continue to look out for one another, as even small measures of kindness when united can make a huge impact to the lives of those less privileged.
Read more here:
---
Cover image adapted from: @danielalii and @danielalii
Get more stories like this!
Drop us your email so you won't miss the latest news.