A meal for a boy selling vegetables during Raya 
---
Malaysians who observe Hari Raya Aidilfitri typically spend celebrations in the company of family over delicious delicacies. But there are also those who continue to work hard during the festivities.
On the second day of Raya 2022, a Malaysian man came across a young boy who was manning a vegetable stall by the roadside while his parents were away. Hoping to bring a smile to the boy's face, he purchased a McDonald's meal for him as he had not eaten in almost five hours.
---
Usually runs the stall on his own 
---
On Tuesday, 3rd May, restaurant owner Ernest Ong shared on his Facebook page that he had bumped into a 10-year-old boy selling vegetables by the roadside in Kuala Lumpur.
According to the post, Ong took notice of the boy while he was driving past a mosque in the TTDI area around 5PM. He had apparently seen the boy at the same spot several times before this. The 10 year old could either be found sleeping under the table, or near a tree, when there were no customers to attend to.
Concerned over his safety, Ong stopped his vehicle to find out more about him, and see if he could be of any help.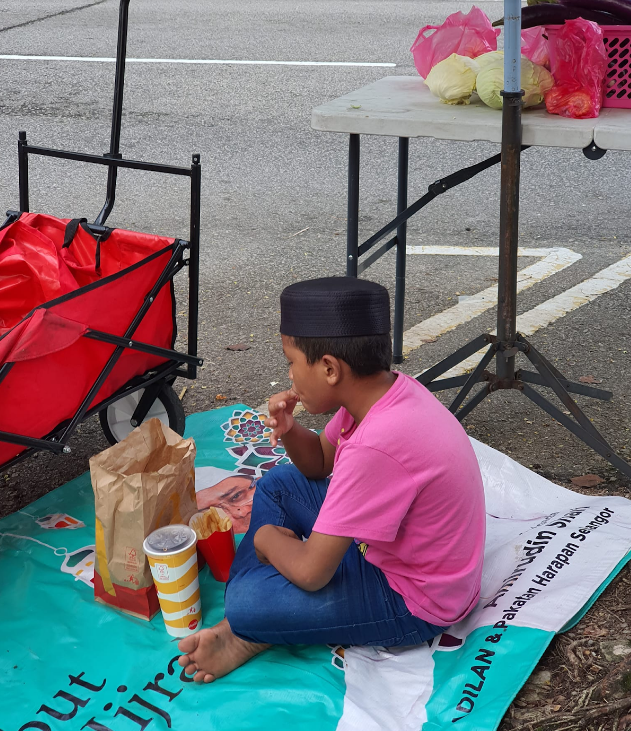 Image credit: Ernest Ong
In a conversation with the boy, Ong found out his name – Ikwan – and that the boy usually manned the stall alone while his father worked at Pasar Selayang and his mother looked after their baby at home.
When asked if his parents would accompany him soon, Ikwan told him that they would pick him up at night, but he did not know what time that will be. Ong also asked the boy if he had eaten, as he noticed Ikwan did not have any food with him. The boy shared that he last had a meal at 11AM.
Feeling sorry for the kid, Ong asked if there was anything he would like to eat, and Ikwan modestly replied that some rice and chicken would do. Since most of the shops were closed in conjunction with the Raya holidays, Ong settled on purchasing a McDonald's meal for the boy.
He also made sure to accompany Ikwan while he ate.
---
Hopes others will look out for the boy too
---
To cap off his Facebook post, Ong encouraged anyone who happened to be passing by the area to look out for Ikwan.
"I did not get to speak to his parents so I do not know how rough their situation might be. But for a 10 year old to be spending Raya at the cross junction, trying to sell vegetables without one buying at all, is heartbreaking", Ong wrote.  
Ong also hoped that the very least others could do is to buy him some food, or simply take the time to accompany him at his stall. He went on to ask if anyone could share Ikwan's parents' contact information with him if they had it, as he would like to contribute and help the family if possible and needed.
---
Small acts of kindness to bring a smile to others
---
Festivities are meaningful time for families, but it can also be a tough time for those who are struggling to make ends meet. Simple and unexpected acts of kindness can truly change one's day, and bring a smile to someone's face.
We applaud Ong for reaching out to Ikwan and buying him a meal, and hope only the best for Ikwan and his family. 
Read more here:
---
Cover image adapted from: Ernest Ong
Get more stories like this!
Drop us your email so you won't miss the latest news.