A surprise birthday celebration for bus driver
---
While many of us have the luxury of working from home during the pandemic, essential workers such as bus drivers continue to head out to earn a living. They may not all be highly paid, but they work hard to keep our economy going and give the public a sense of normalcy by continuing to provide necessary services.
There is no better time to express our gratitude for them, if that is the least that we can do.
Entrepreneur Hafiz Mahamad offers a humble suggestion – kindness. Last week, he threw a surprise birthday celebration for a bus driver whom he had just met after finding out that it was his birthday.
---
Bus driver moved by entrepreneur's sweet gesture
---
Hafiz Mahamad took to his Facebook page on 17th March 2022 to post the moving story of his bus driver, along with a video that documented the surprise birthday party for him.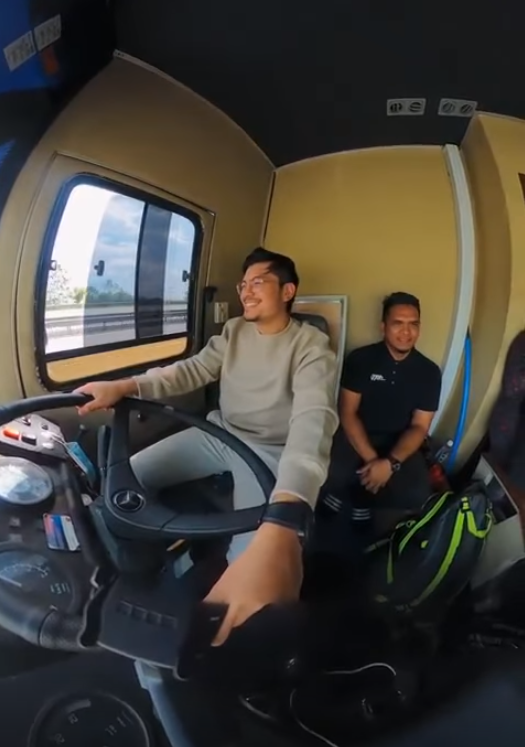 Image adapted from: Hafiz Mahamad
In the lengthy post, Hafiz Mahamad wrote that he'd been on a tour with his team in the past week, visiting his employees at various branches of his business around Malaysia. Deciding that a bus would be more comfortable than a car, he rented a bus and hired a driver to transport his team around.
Upon meeting the bus driver on the very first day of their tour, Hafiz and his team found out that it was coincidentally the driver's birthday on the day itself too. Though they had just met, they thought that it would be a great idea to throw a simple celebration for him before starting their journey.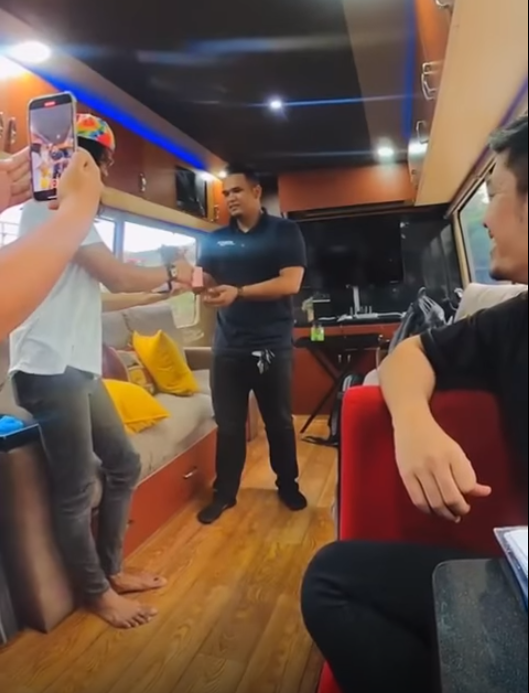 Image adapted from: Hafiz Mahamad
The video showed Hafiz and his team singing and cheering while presenting the bus driver with a cake. The latter can be seen beaming shyly in the video, undoubtedly pleased by the birthday surprise.
Hafiz also shared in his Facebook post that the bus driver had later confessed that he was extremely touched by the birthday celebration. The bus driver only had a small meal with his wife the night before to celebrate, and was taken aback by Hafiz's team's sincere wishes which had moved him deeply.
"All my life, there have only been two people who celebrated my birthday with me, my wife and you," the bus driver had told him.
Unable to hold back his tears, the bus driver also shared that though he meets so many people on a daily basis during his work, very little have shown him any form of respect. Most times, he would just sit at the front of his bus and have his meals alone.
"It had only been a simple birthday celebration", Hafiz wrote. "I did not realise how much it had meant to him".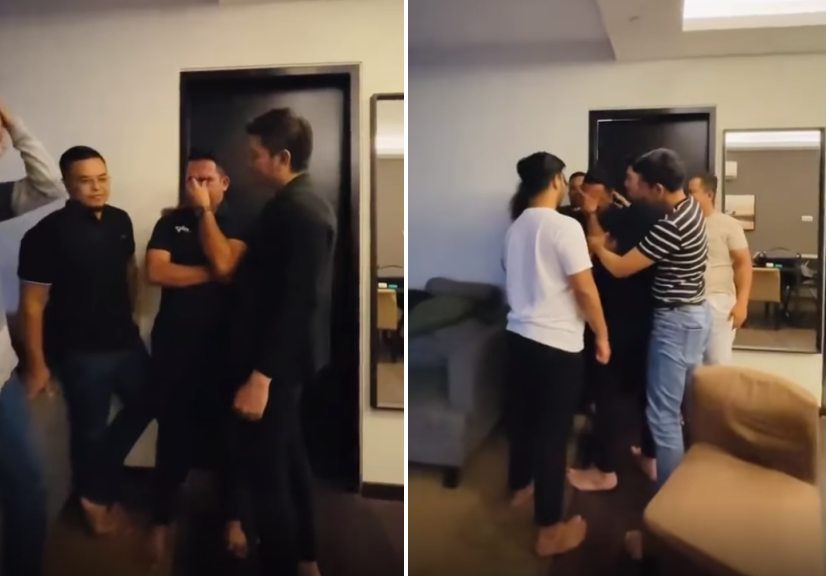 Image adapted from: Hafiz Mahamad
In the video, Hafiz and his team did what they could to make sure the bus driver felt at home with them during their tour. They even provided him with a comfortable hotel room and treated him to meals, believing that he should be enjoying the same privileges as everyone else on the team.
Through conversations with the driver, Hafiz came to learn more about the bus driver and how he always had an interest in buses. As a kid, he always looked forward to riding his uncle's bus. Thus, he decided to pursue his ambition as he enjoyed taking people on bus rides.
Towards the end of the post, Hafiz encouraged everyone to respect essential workers and their career choices, like how the workers themselves respected their own profession.
"I have learnt so much from a bus driver like him," Hafiz said. "Please don't look down on people like them. The fact that we are surviving well is because we have essential workers like them. Be kind and respectful to those in such professions as well".
---
Story touches the hearts of netizens
---
Since its posting, Hafiz's story has garnered over 32,000 likes, 2,500 shares and nearly a thousand comments. Many have been praising Hafiz, and sympathising with the bus driver's story.


Image adapted from: Hafiz Mahamad
Netizen Mariani Ishak shared that the sweet video had her in tears, and wished Hafiz and the bus driver the best in their careers.


Image adapted from: Hafiz Mahamad
Hanieza Muda also left a comment praising Hafiz for his kindness, and gave her blessings as well.
---
Spreading kindness to essential workers
---
The pandemic has been extremely difficult for many – but we should never overlook the power of kindness, and continue to help our neighbours in these unprecedented time. We applaud Hafiz Mahamad for reminding us about the importance of showing appreciation toward essential workers, who are committed to providing us with their services every day.
A smile, or a simple "thank you" can go a long way to make their days a little brighter.
Read more here: 
---
Cover image adapted from: Hafiz Mahamad
Get more stories like this!
Drop us your email so you won't miss the latest news.