Hawker stalls & places for breakfast in Penang
---
Penang is renowned for its food scene. It is a treasure trove of hawker food, with food critics and world-class gourmets consistently raving about the state's hawker food that is touted as some of the best in Asia. Visit the island, and you'll see why locals and tourists alike never get tired of eating hawker dishes any time of the day.
With a plethora of hawker stalls dotted throughout Penang, they make convenient and delicious breakfast pitstops for locals rushing to work and hungry tourists on the lookout for more hearty street food. 
From plates of bite-size dumplings for a dim sum fare to bowls of Hokkien mee with steaming broth, here are eight breakfast places in Penang where you can start your day with local favourites.
More food places to visit in Penang:
---
1. Ali Nasi Lemak Daun Pisang – local-favourite nasi lemak
---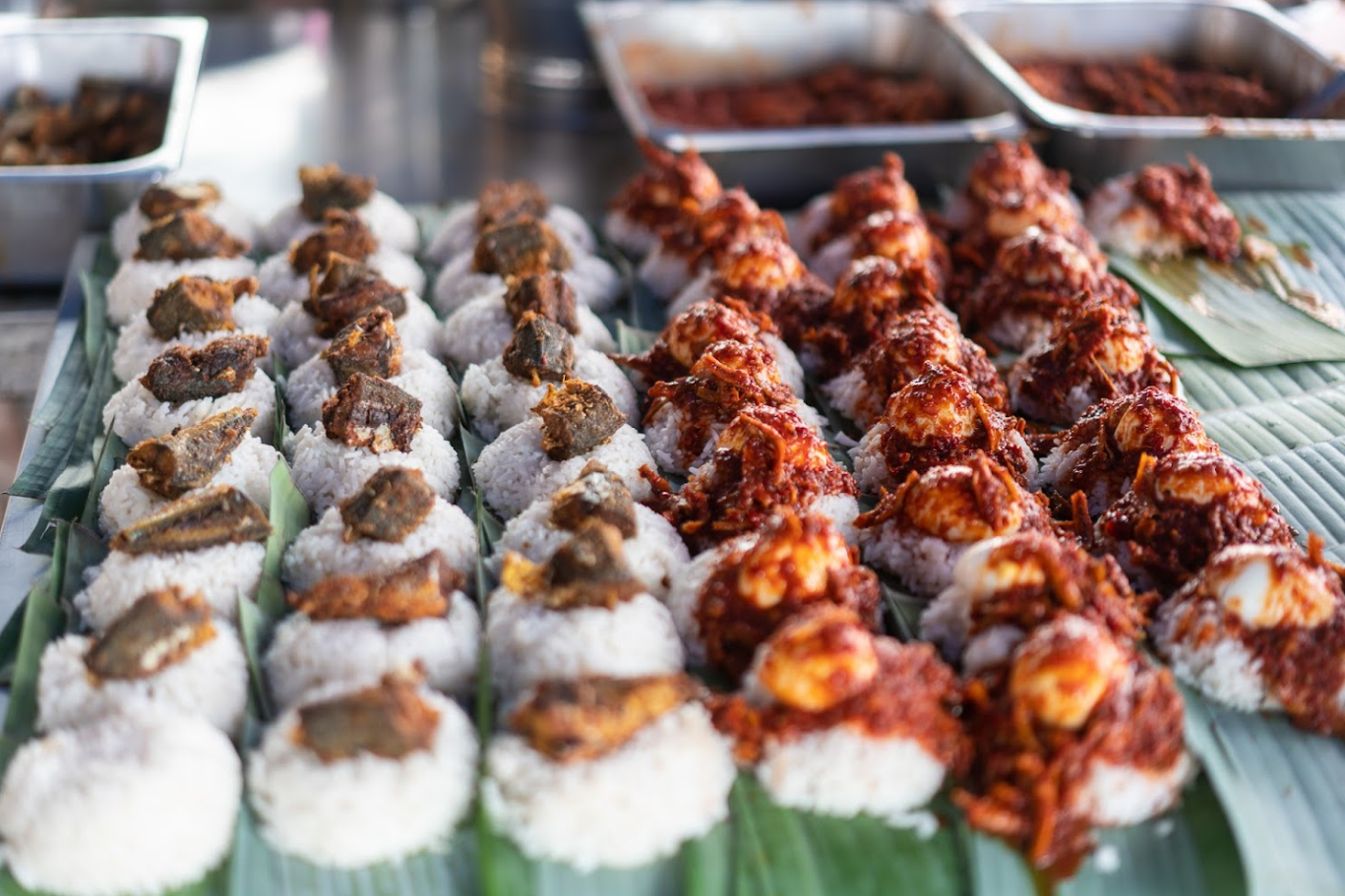 Image credit: Google Maps
If you see a queue along Sri Weld Food Court at Beach Street, it is most definitely for a packet of nasi lemak from Ali Nasi Lemak Daun Pisang. Even after years of business, the line that snakes its way to the humble stall every morning has never dwindled.
You won't feel restless waiting in line here. Watch as swift-handed makciks prepare batches of nasi lemak – mounds of coconut-infused rice on banana leaves, topped with delicious condiments and glaringly-red sambal on a mountain of fluffy rice.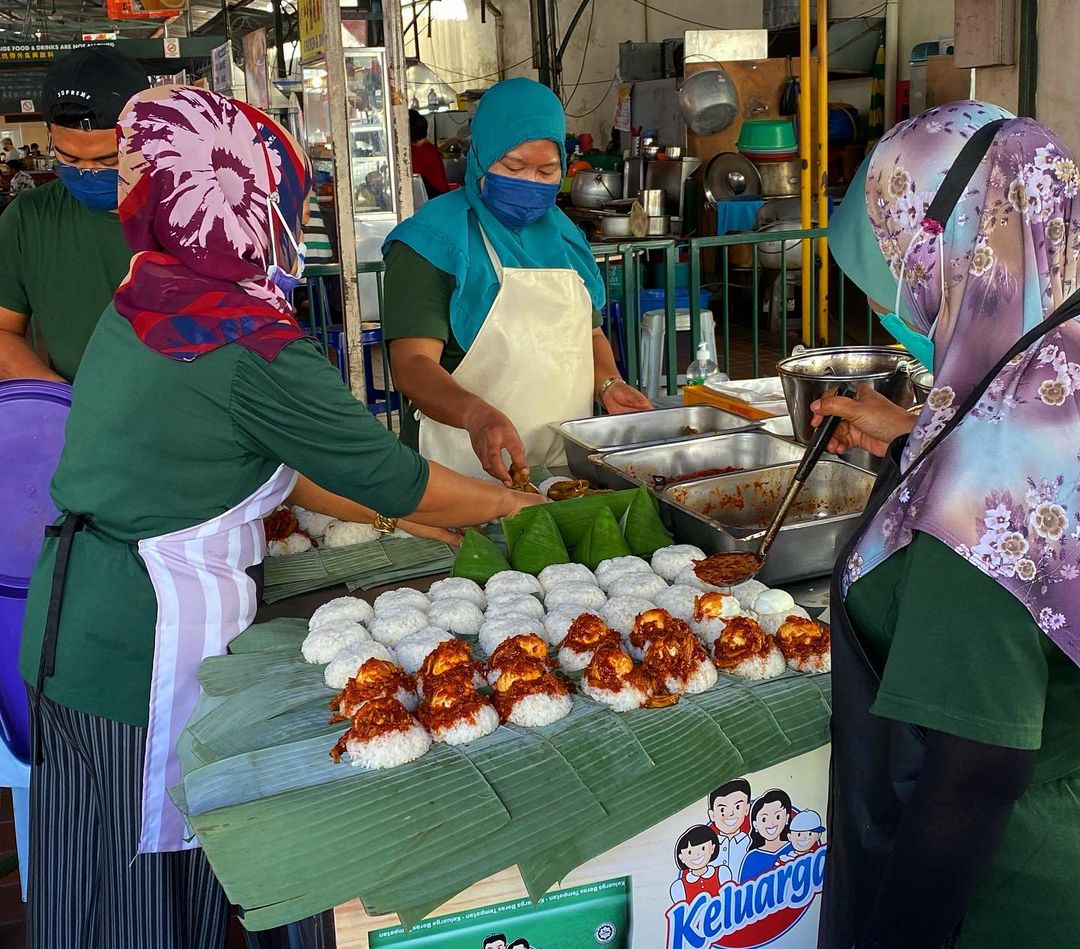 Image credit: @sparrow_tweets
Their nasi lemak are all priced at RM2 per packet, and patrons can choose from five types of condiments – anchovies with boiled egg, squid, prawn, fish, or salted fish with egg.
Upon unwrapping the green pyramid bungkus, customers will be hit with a waft of fragrant aroma – no better way to start your mornings. Small as a bungkus of nasi lemak may be, it bursts with flavour. The fragrant rice is well-balanced and could be eaten plain, while the generous pour of sambal complements the saltiness of toppings perfectly. 
Though some might find the nasi lemak a tad too spicy, many argue that the kick is what makes Ali Nasi Lemak Daun Pisang stand out.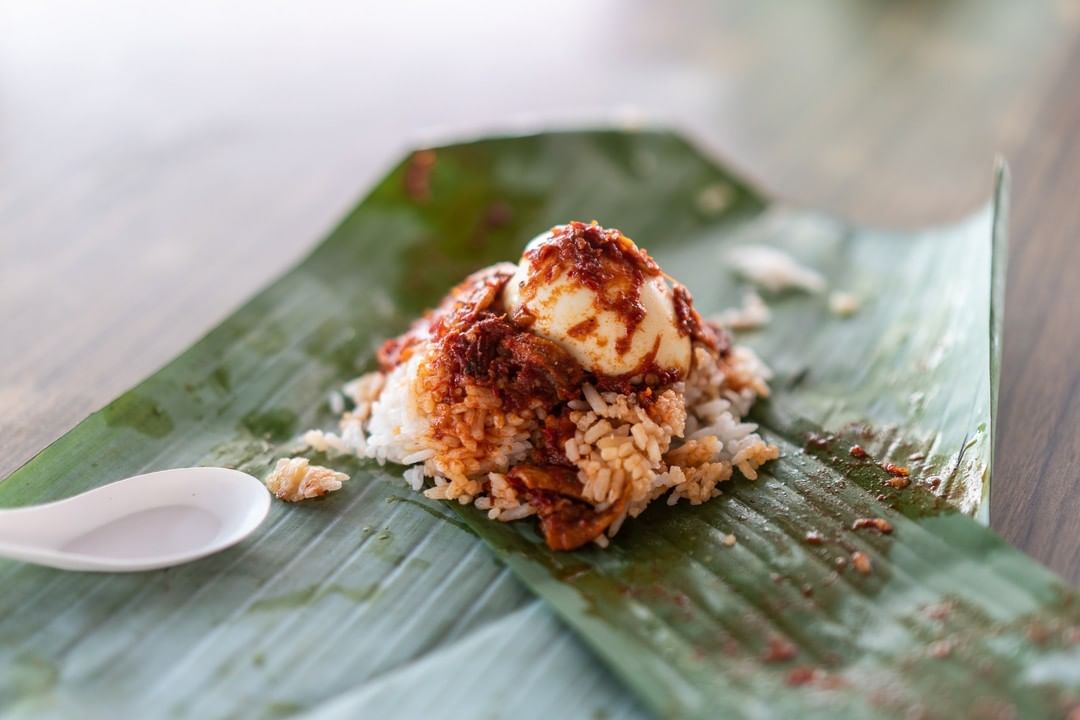 Image credit: @docs_on_vacay
Customers typically grab-and-go at this food stall, but you can dine on packets of nasi lemak in the food court. Be sure to head over as early as you can, as their nasi lemak sells out quickly within the stall's first few hours of opening. Dig into them, and you'll understand why locals swear by this stall.
Address: Sri Weld Food Court, Beach St, 10200 George Town, Penang
Opening hours: Mon – Fri 7AM-4PM | Sat 7AM-2PM (Closed on Sundays)
Telephone: 016-407 0717
Ali Nasi Lemak Daun Pisang's Instagram
---
2. Tai Tong Restaurant – oldest dim sum restaurant in Penang
---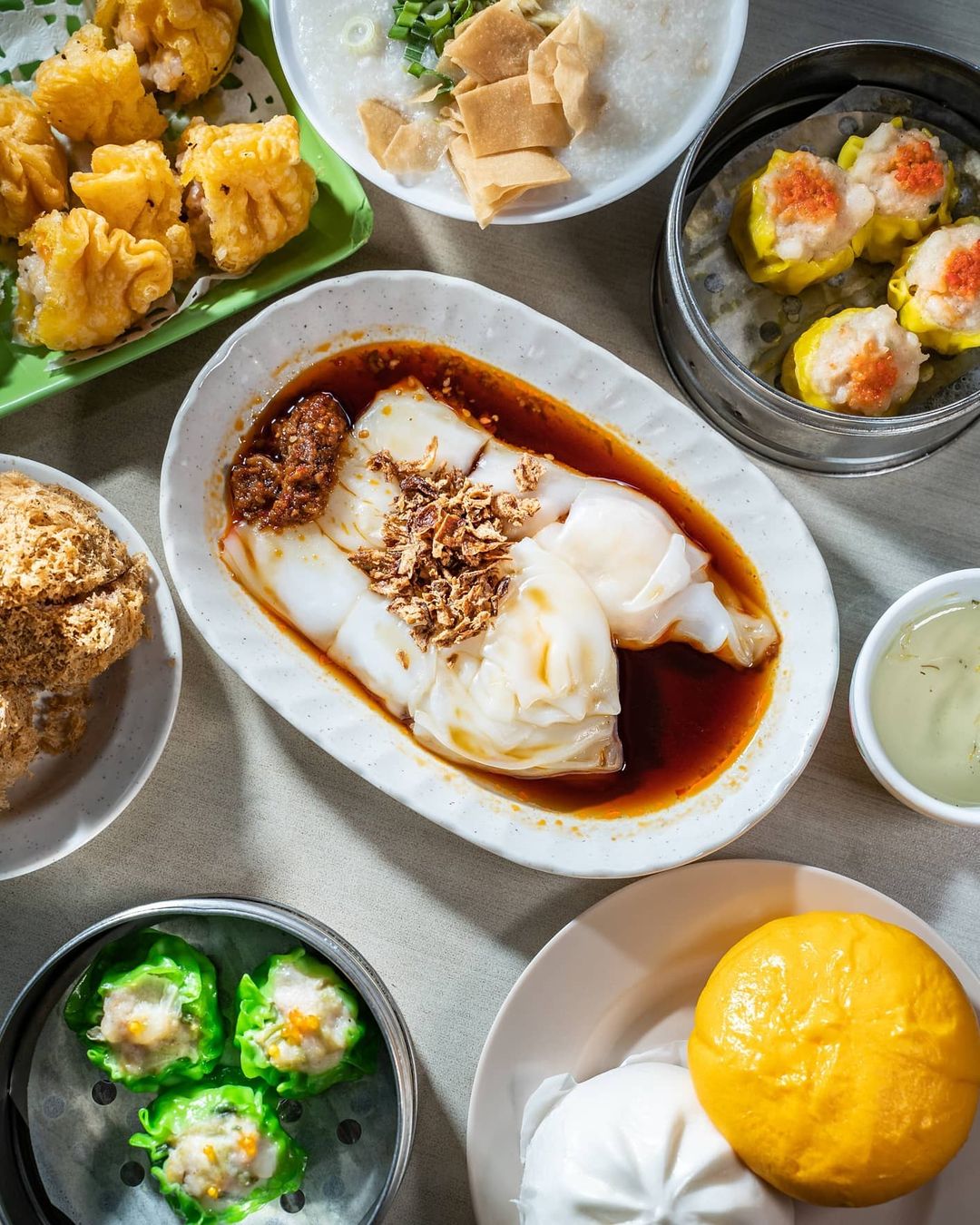 Image credit: @ooowenong
A favourite haunt for groups of families or friends after a hiking session, Tai Tong Restaurant has long been the place to feast on a vast variety of dim sum delights post-workout.
Tai Tong Restaurant has been operating since the 1950s, making it the oldest dim sum restaurant on the island and a time capsule. You'll see aunties pushing trolleys of stacked dim sum containers through a maze of tables and display counters, and shouting out orders over the noisy and packed space.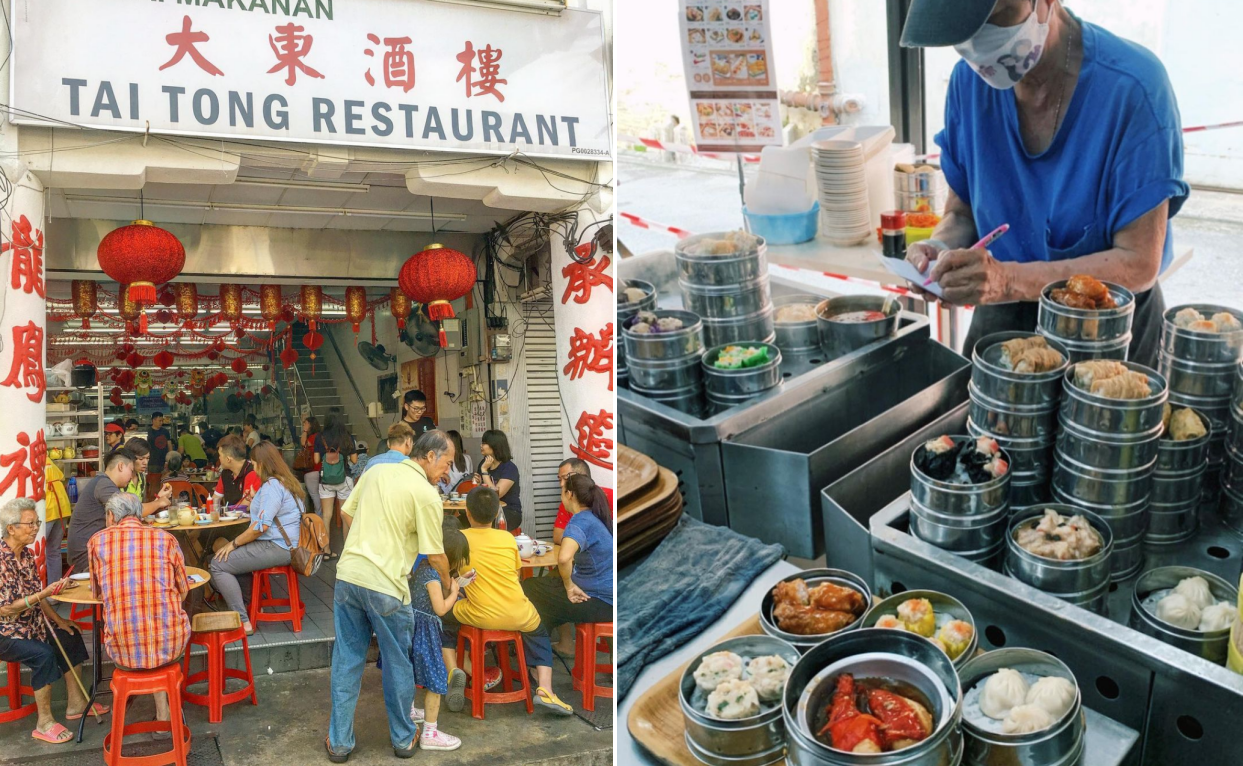 Image adapted from: @megmeestrip & @chiakpaboey
Here, food is ordered the traditional way – customers can approach any of the aunties with their trolleys, pick out their dish of choice, and have their order sheets filled up by the swift-moving workers. 
Look out for steaming baskets whisked around the parlour, containing classics such as translucent dumpling wrapping encasing plump shrimps called Har Gow (RM5.80 for 3 pieces), gloriously Fried Taro Croquettes (RM5.20 for 2 pieces), and Turnip Cakes (RM5.20). Rows of Paus (RM2.50) with fillings of all sorts that sit on the steamer like blooming flowers are also worth a try.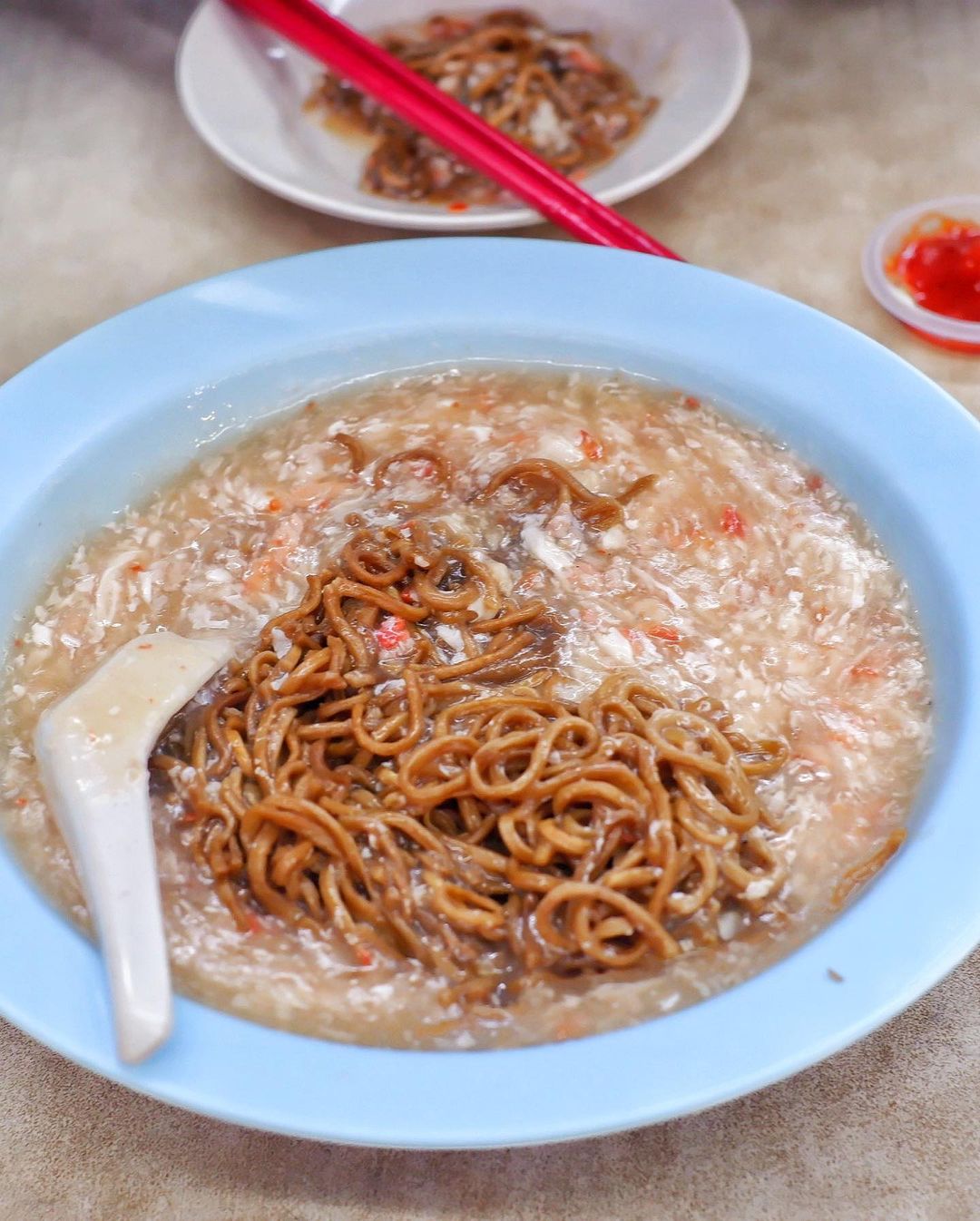 Image credit: @kelilingmakann
If these bite-sized snacks are not filling you up enough, try their signature Ang Dou Mee (RM13), a deep-fried yee mee dish swimming in thick, luscious gravy. There is an extensive menu of other heftier dishes as well, such as stir fry and fried rice. 
For an array of amazing food and a taste of nostalgia, Tai Tong Restaurant is definitely a classic breakfast spot for a good dim sum fare in Penang.
Address: 45, Lebuh Cintra, 10100 George Town, Penang
Opening hours: 6AM-2PM & 6PM-11PM, Daily
Telephone: 04-263 6625
Tai Tong Restaraunt's website | Facebook | Instagram
---
3. Dannok Cafe – specialises in Hokkien mee
---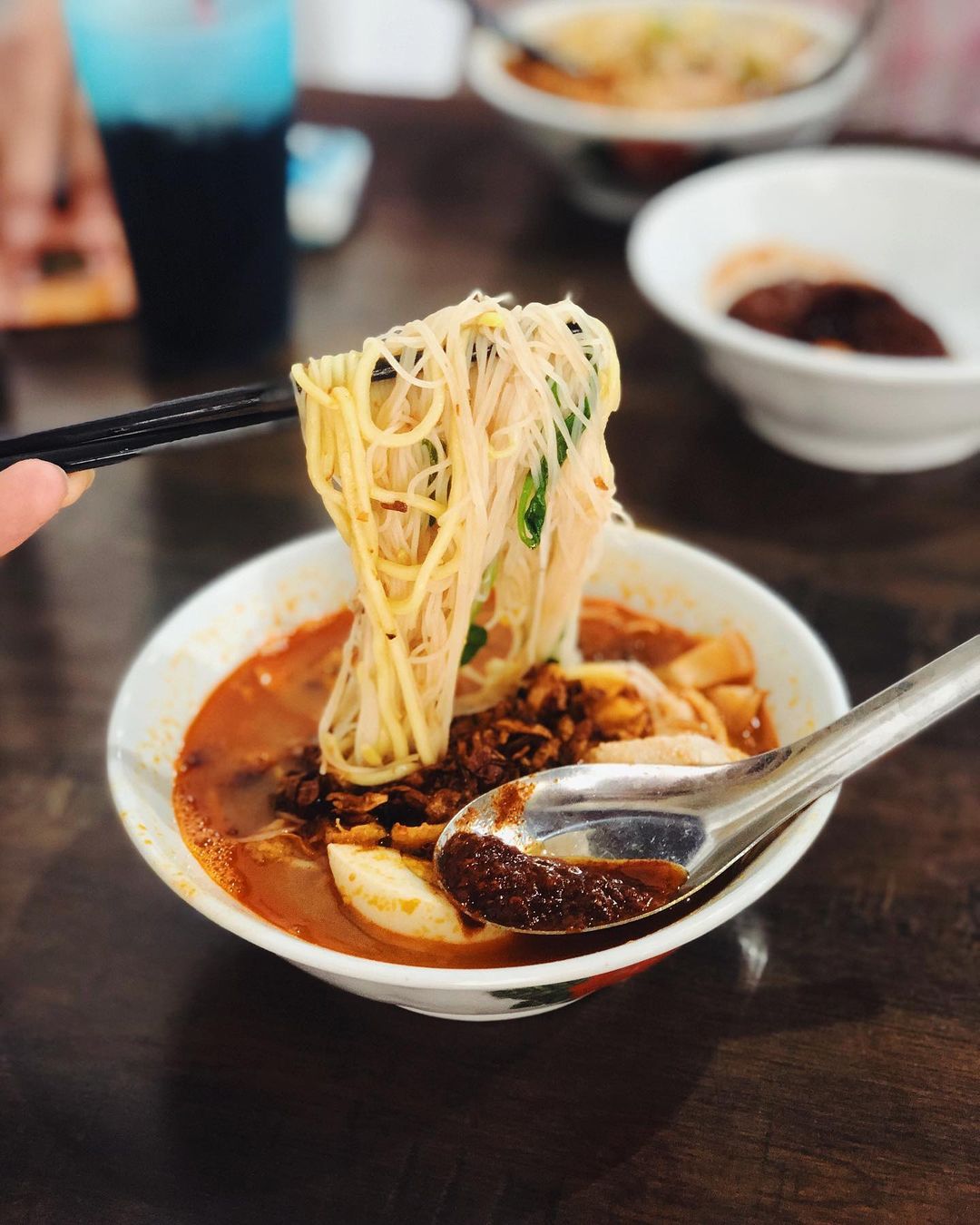 Image credit: @cher.eat.where
A fairly new and well-deserved hyped spot in Penang, Dannok Cafe is not quite like most hawker food cafes. This spot specialises in a local's beloved hawker dish – Penang Hokkien mee. 
With citizens who are predominantly of Hokkien heritage in Penang, it is no wonder a bowl of steamy red prawn broth is a staple in the state, be it for breakfast or dinner.
Located along Jalan Seang Teik, this speciality shop serves soothing bowls of Hokkien mee, a mix of bouncy yellow mee and bee hoon noodles. The sheer umami flavour in the red broth is evident, and the condiments are the dish's core ingredients – prawns, sinfully-fried eau chang (shallots) and bak eau poh (fried lard), sliced pork, and a boiled egg.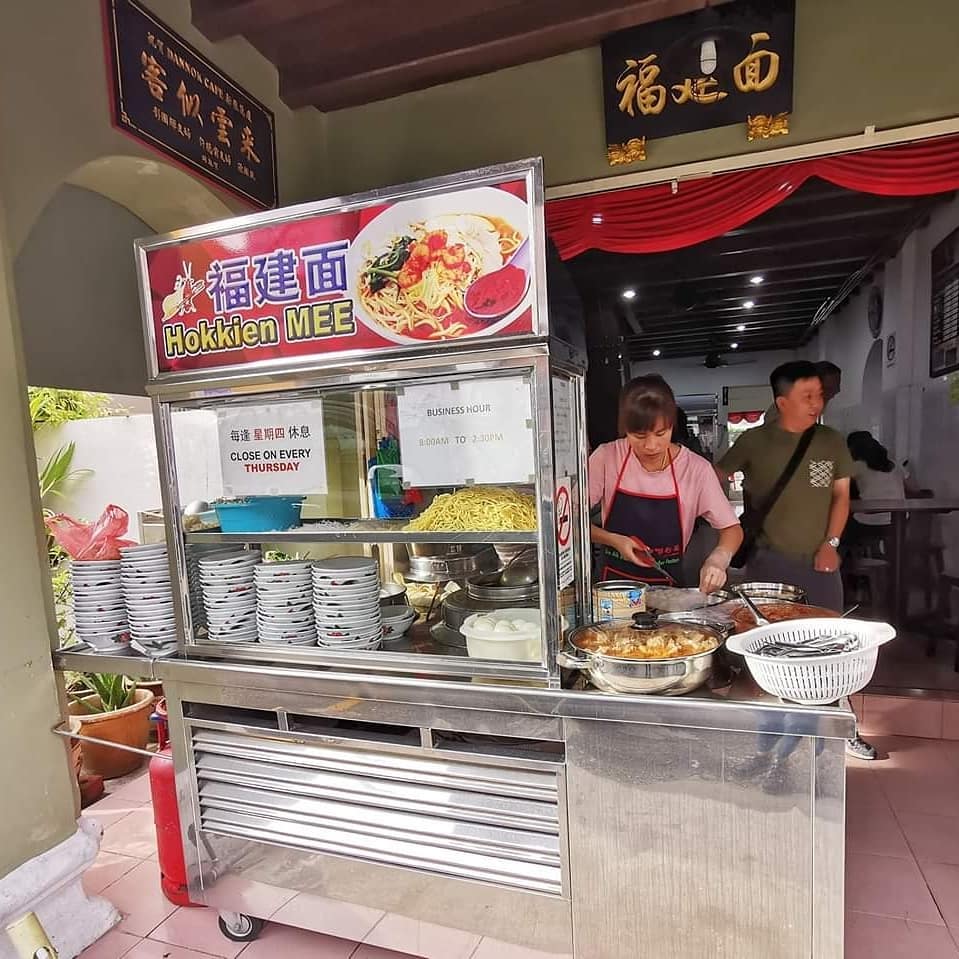 Image credit: @fatpenguin.foodie
A standard bowl of Hokkien mee costs RM6, or RM7 for an upsize.
They don't just stop at that. Dannok Cafe also offers a myriad of add-ons to elevate an already decent bowl of traditional Hokkien mee, such as spare ribs (RM2/piece), quail eggs (RM0.50/piece), and Fuzhou fishballs (RM2 for 3 pieces).
With its clean and cool environment, along with authentic bowls of piping-hot Penang Hokkien mee, Dannok Cafe is quickly rising as one of the best breakfast places in town.
Address: 41, Jalan Seang Teik, 10400 George Town, Penang
Opening hours: Fri – Wed 8AM-2.30PM (Closed on Thursdays)
Telephone: 019-480 5656
Dannok Hokkien Mee's Facebook | Instagram
---
4. Joo Leong Cafe – old-school toast, eggs & coffee set
---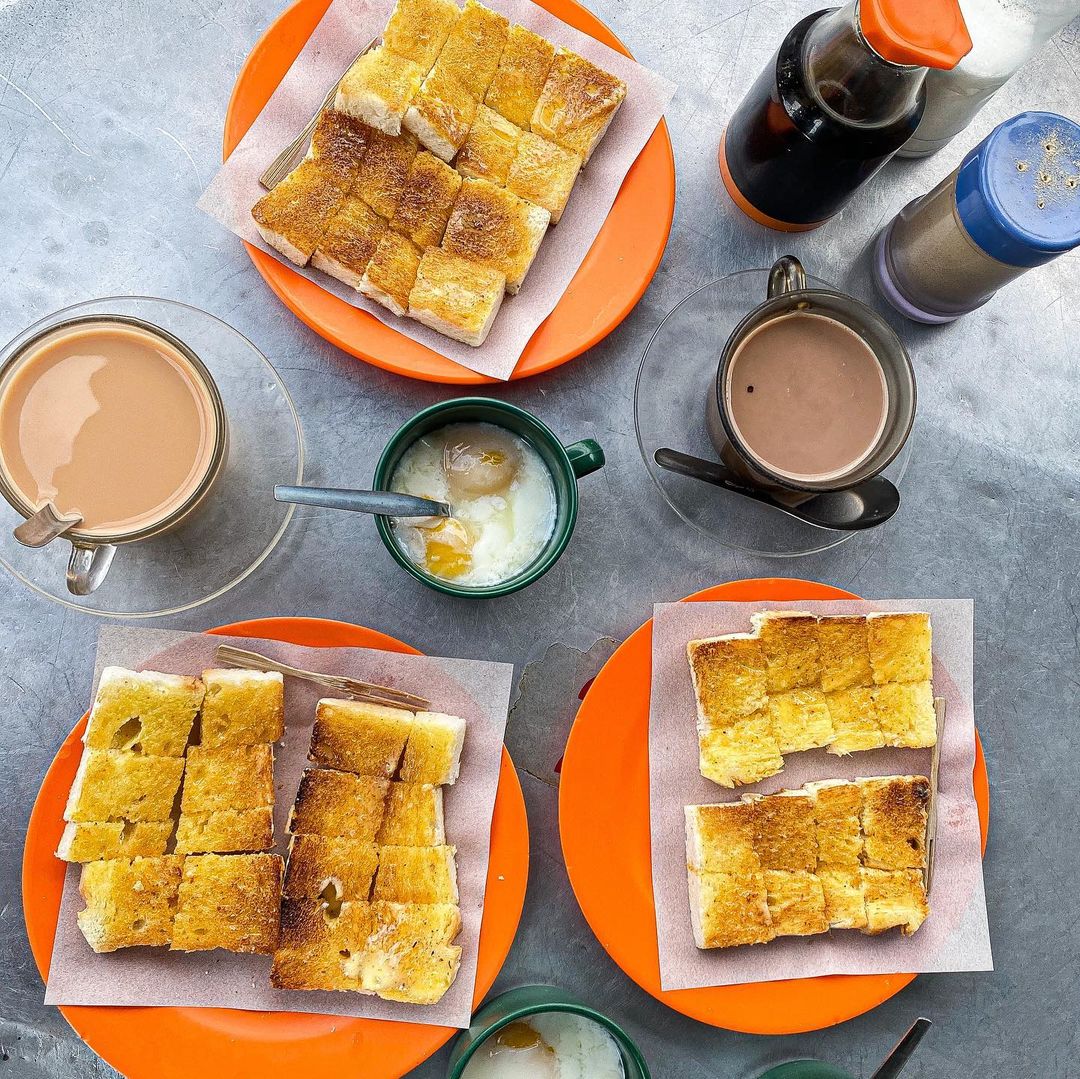 Image credit: @biujieeats
Despite the burgeoning French bakeries and Western breakfast places in Penang, it is the familiarity of a simple well-grilled slab of bread smeared with butter that has our heart.
A childhood comfort food spot of many, Joo Leong Cafe is an unassuming cafe that serves a dose of nostalgia in the form of Roti Bakar (RM2.40 for 2 pieces). Slices of thick benggali bread are grilled, marked with pleasant chars, and liberally slathered with butter and kaya. Bouncy half-boiled eggs (RM1.80 for 2 eggs) are served alongside for you to dip the toast in.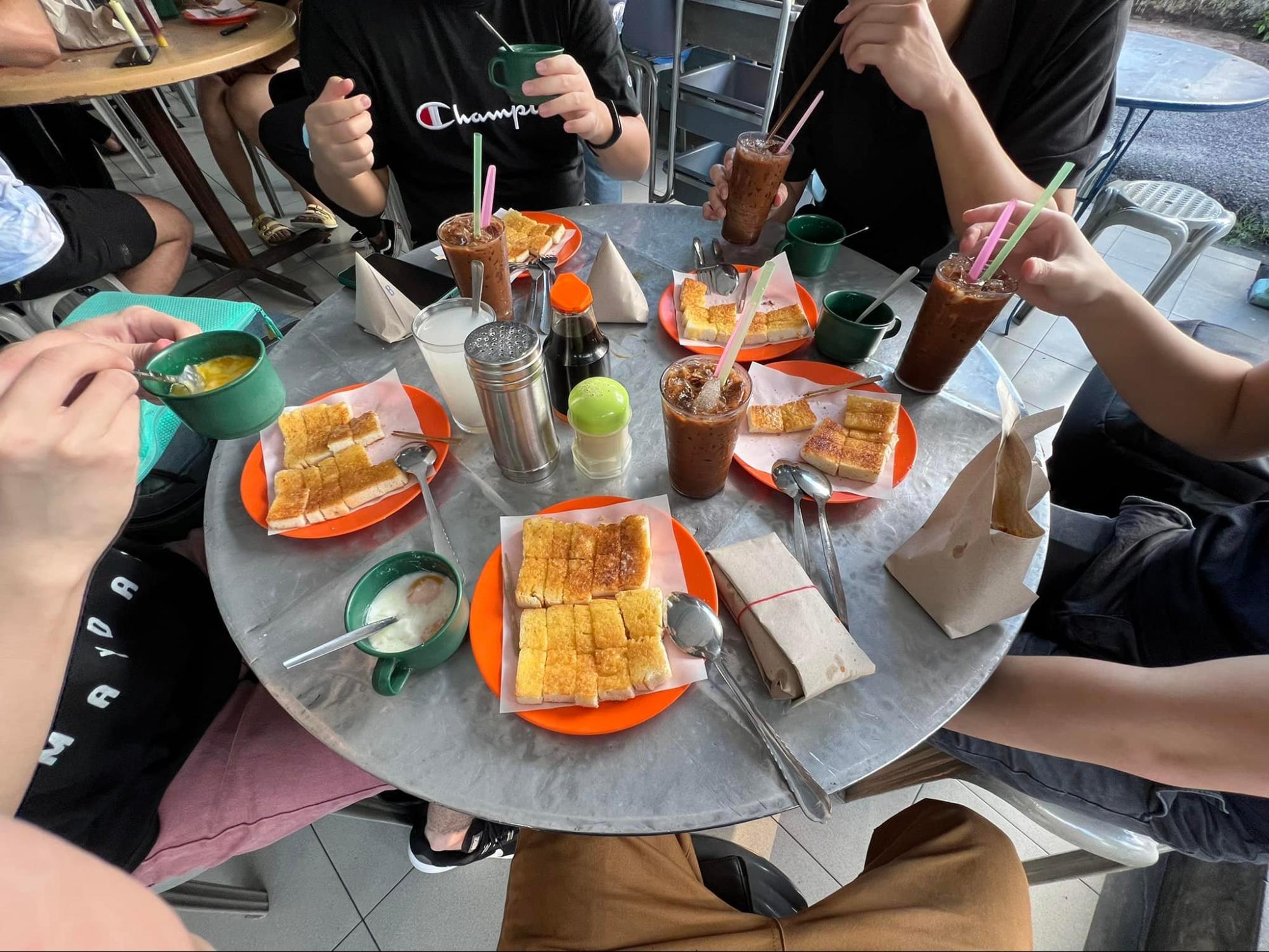 Image credit: 家胜
Don't miss out on another must-try order, their Kopitiam-style Black Coffee (RM1.20). Coffee beans are traditionally roasted and grounded, producing an aromatic cup of coffee. Pair the roti bakar set with some nasi lemak or fried bee hoon, if you need a heavier breakfast to power you through the day. 
Joo Leong Cafe is only 5 minutes away from Penang International Airport, giving tourists an opportunity to devour an authentic Penang breakfast once they touch down on the island. Locals can also get a chance to enjoy some blissfully fragrant roti bakar before an early flight.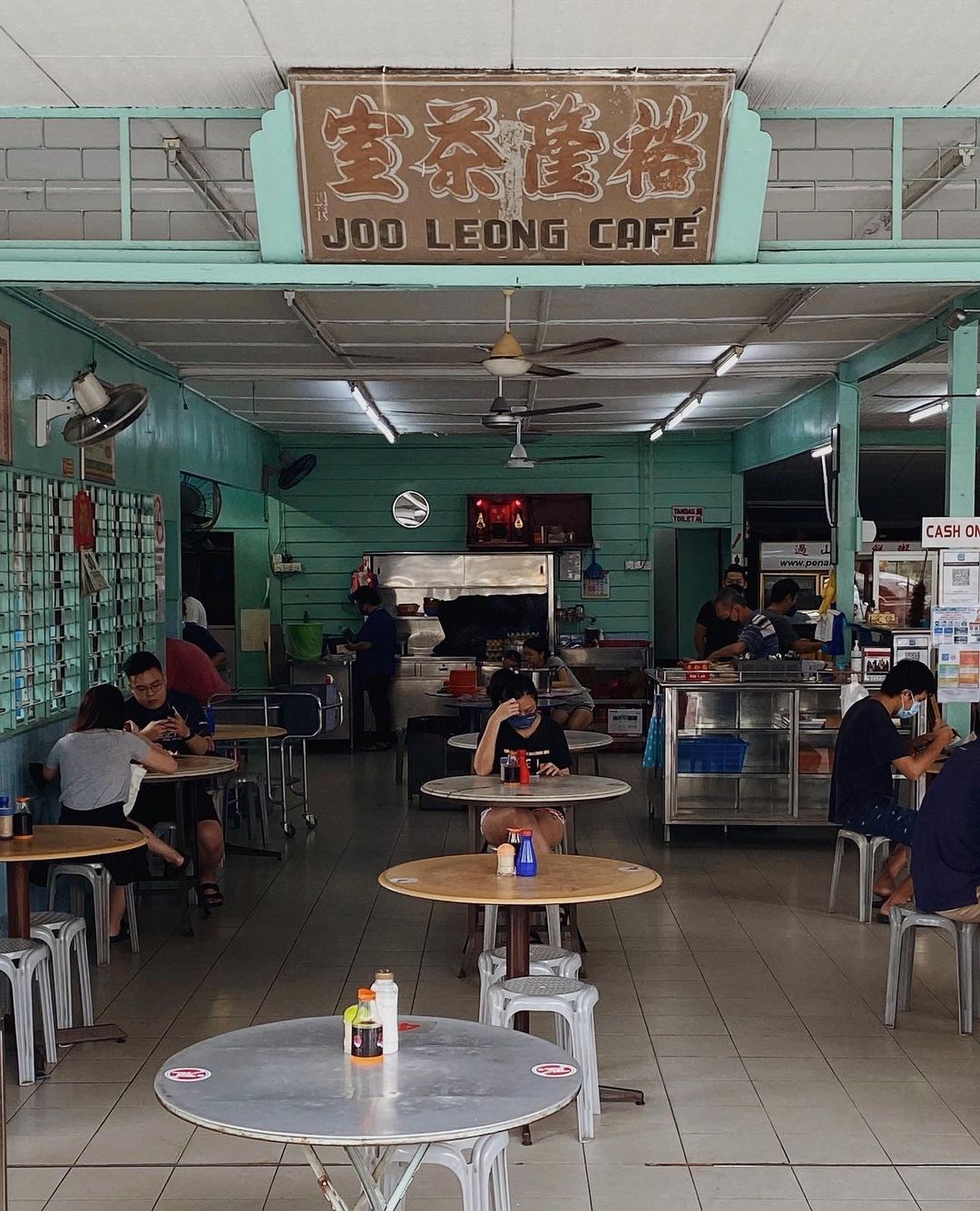 Image credit: @venicekeqian
Address: Mk. 12, Jalan Sungai Tiram, Kampung Sungai Tiram, 11900 Bayan Lepas, Penang
Opening hours: Tue – Sun 7AM-11AM & 6PM-9.30PM (Closed on Mondays)
Telephone: 012-423 7894
Joo Leong Cafe's Facebook
---
5. Gemas Road Roti Canai – a plate of loaded roti canai
---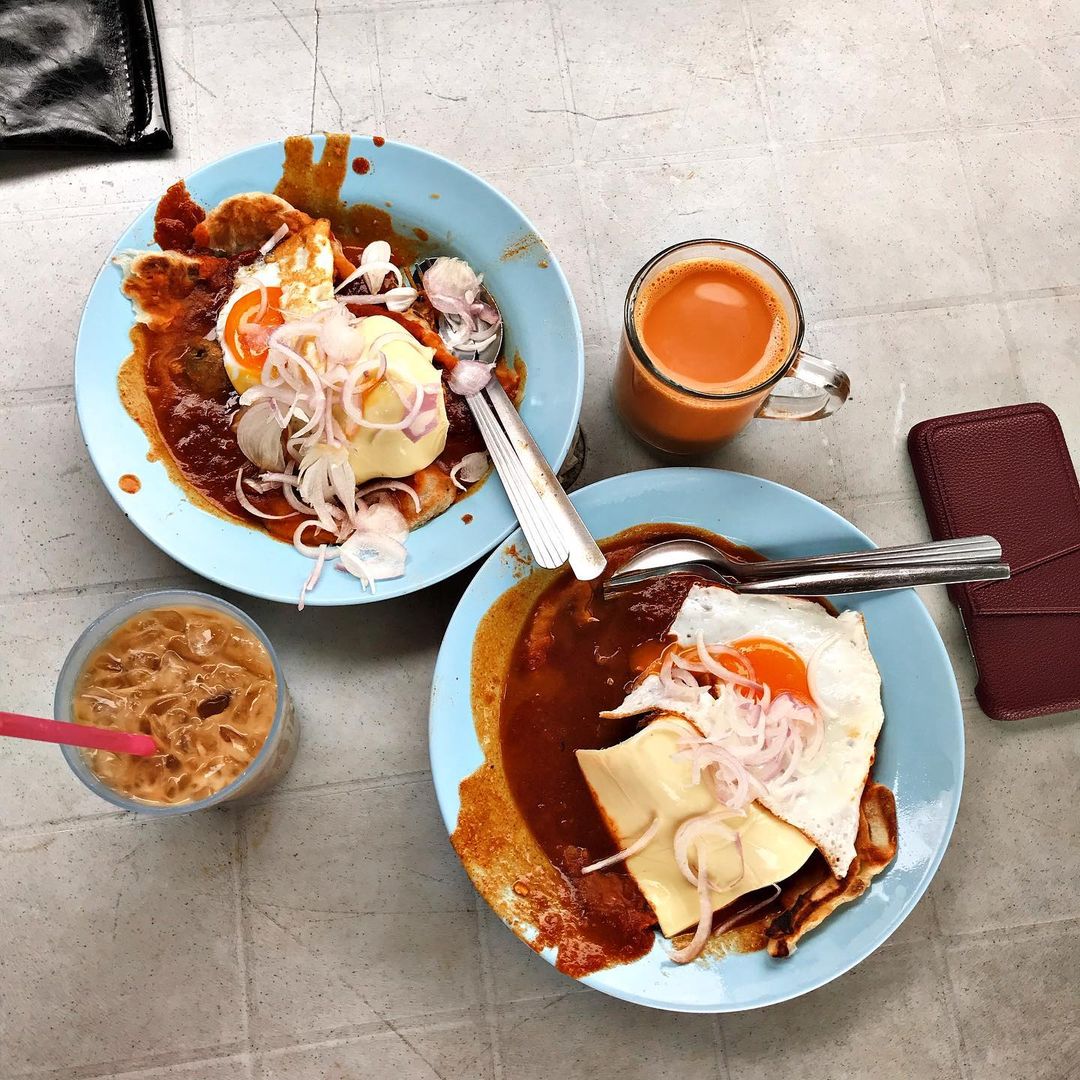 Image credit: @juliajuliadii
Once upon a time, Gemas Road Roti Canai by Gemas Road was the local villagers' best-kept secret. But with viral photos of tantalising plates of loaded roti canai making its rounds on social media, the word's out and now this humble roti canai stall is a favourite breakfast haunt of many.
The beginnings of this stall dates all the way back to 1994, when several Indian-Muslim brothers started the business in a local village called Kebun Lama. The simple neighbourhood breakfast spot is now on one of the busiest roads in Penang, and is one of the best places in the state to feast on buttery and stretchy Indian flatbread.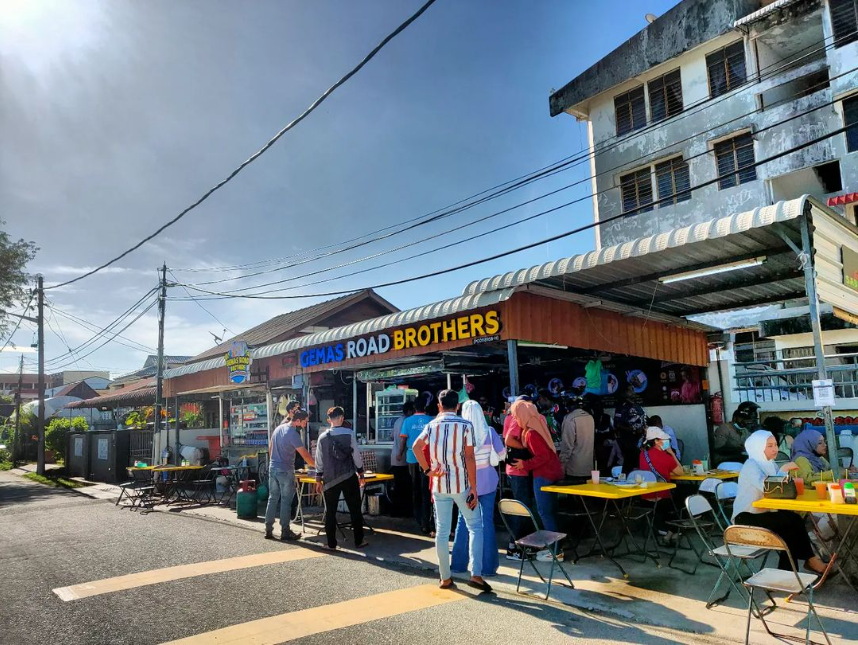 Image credit: @z_a_a_7
It's hard to miss this roadside stall due to the snaking lines it constantly attracts. While roti canaiwith a bowl of rich curry is more than satisfying, Gemas Roti Canai takes this up a notch. 
Their signature order is roti canai ladened with a sunny side-up egg, raw onions, a slice of cheese and a generous pour of curry – chicken, beef, or dhal curry. A hefty plate of this costs around RM8, but feel free to omit or add toppings according to your liking.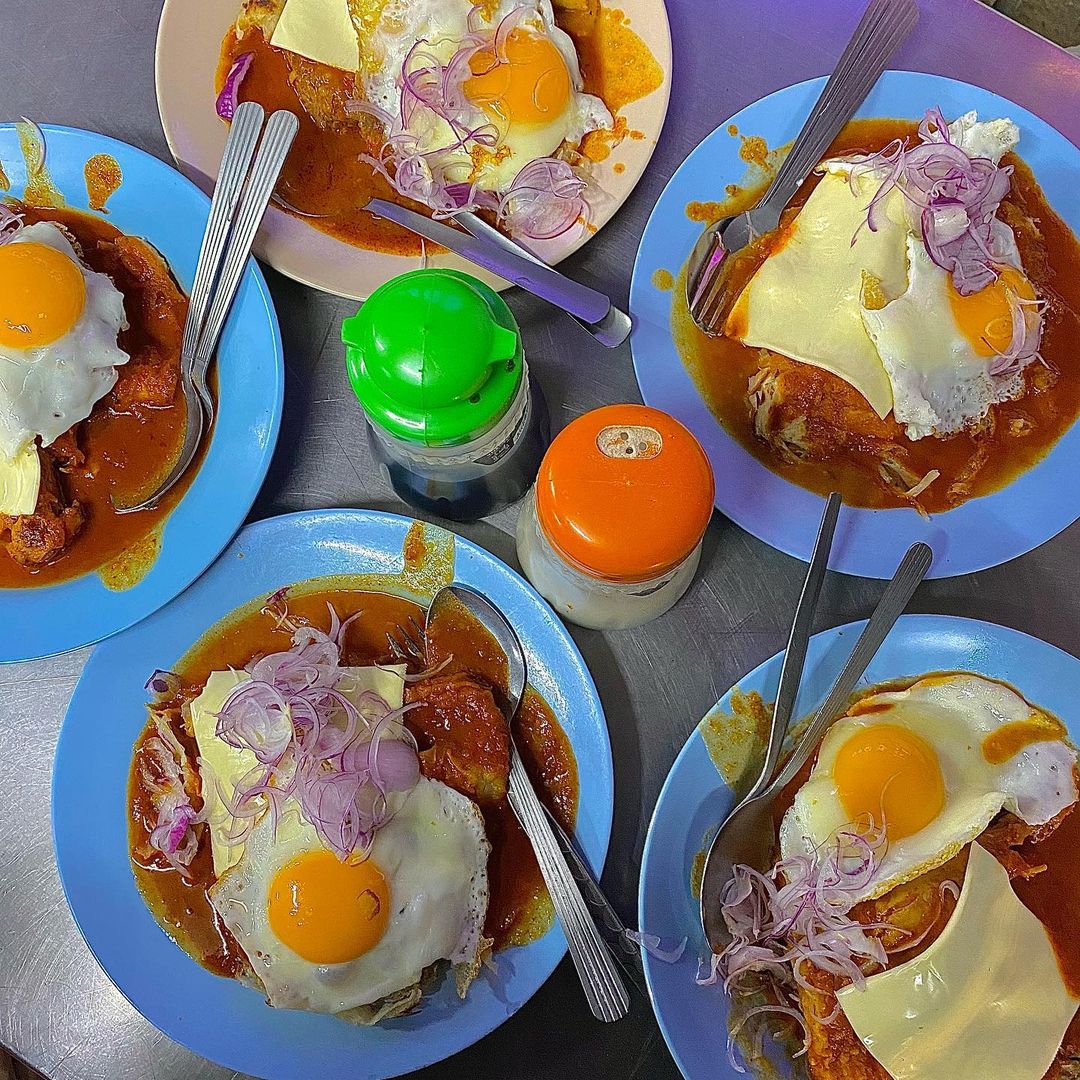 Image credit: @nonieeeeeee
Patrons can opt for additional orders such as Curried Beef (RM2), Curried Mutton (RM4.50), or Curried Chicken (RM4), that even spice wimps cannot resist. Be warned, this breakfast is no neat eat – but trust us when we say it's worth the stains that may end up on your clothes.
Pair your meal with a classic Teh Tarik (RM1.20). Other drinks such as Nestum Panas (RM1.60) and Asam Ais (RM1.50) make for perfect pals for your plate of roti canai too.
Address: 51 29, Jalan Gemas, Taman Kampar, 10460 George Town, Penang
Opening hours: 7.30AM-6PM, Daily
Telephone: 010-214 7228
Gemas Road Roti Canai's Instagram
---
6. New Cathay Kopitiam – a variety of hawker dishes
---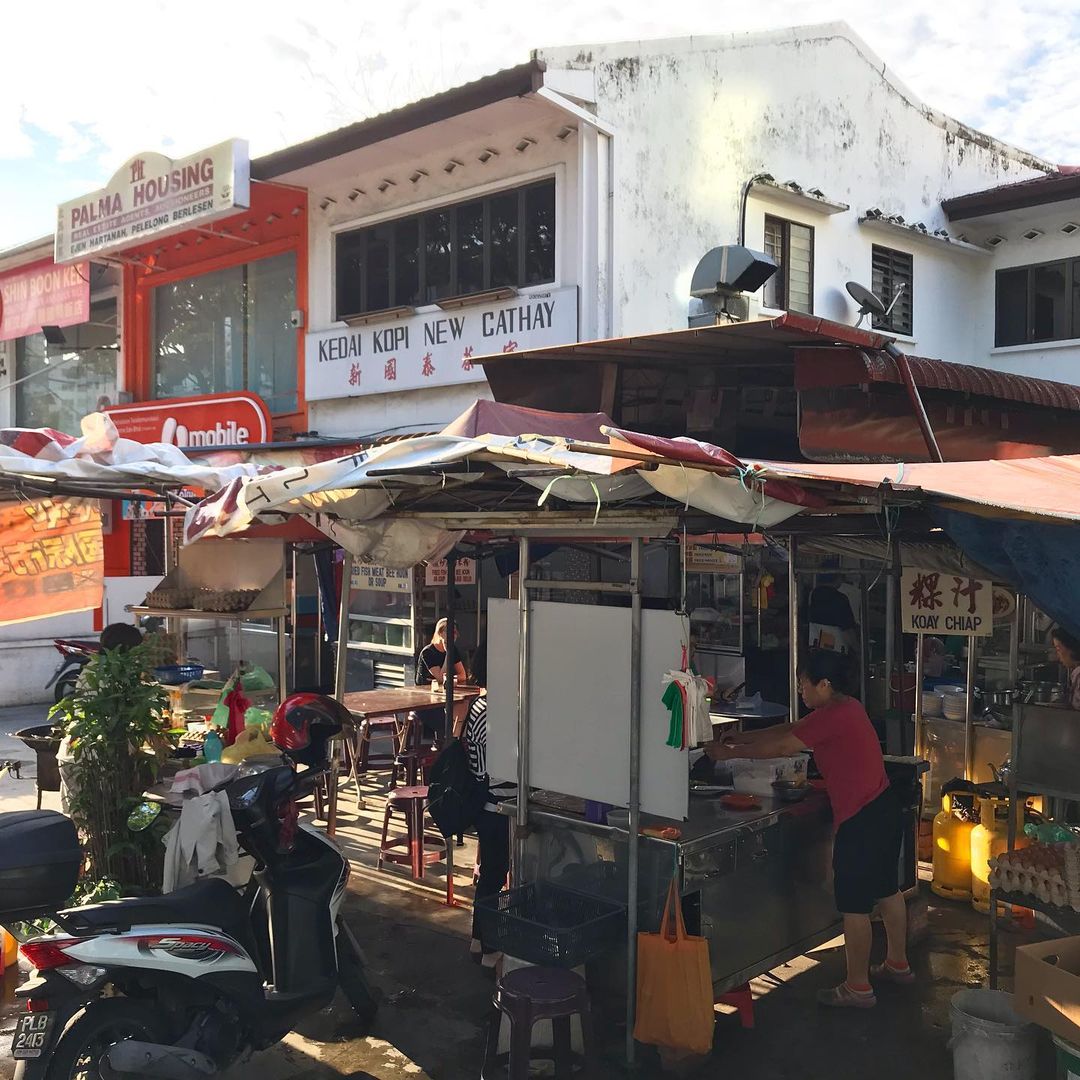 Image credit: @northcountryboy
To have breakfast like a true Penangite, is to be surrounded by overwhelming food choices so you don't stop at just one dish. Tucked at a corner of a row of shophouses in Pulau Tikus, New Cathay Kopitiam is a hotchpotch of hawker stalls with a cacophony of chatter and clanking of woks as early as 7AM.
Loved by locals and tourists alike, this coffee shop houses an array of legendary food stalls. For instance, Koay Chiap serves an bowl of handmade thick, flat rice noodles, stewed duck meat, pig intestines, and hard-boiled egg that swim in a robust, and wonderfully spiced soup.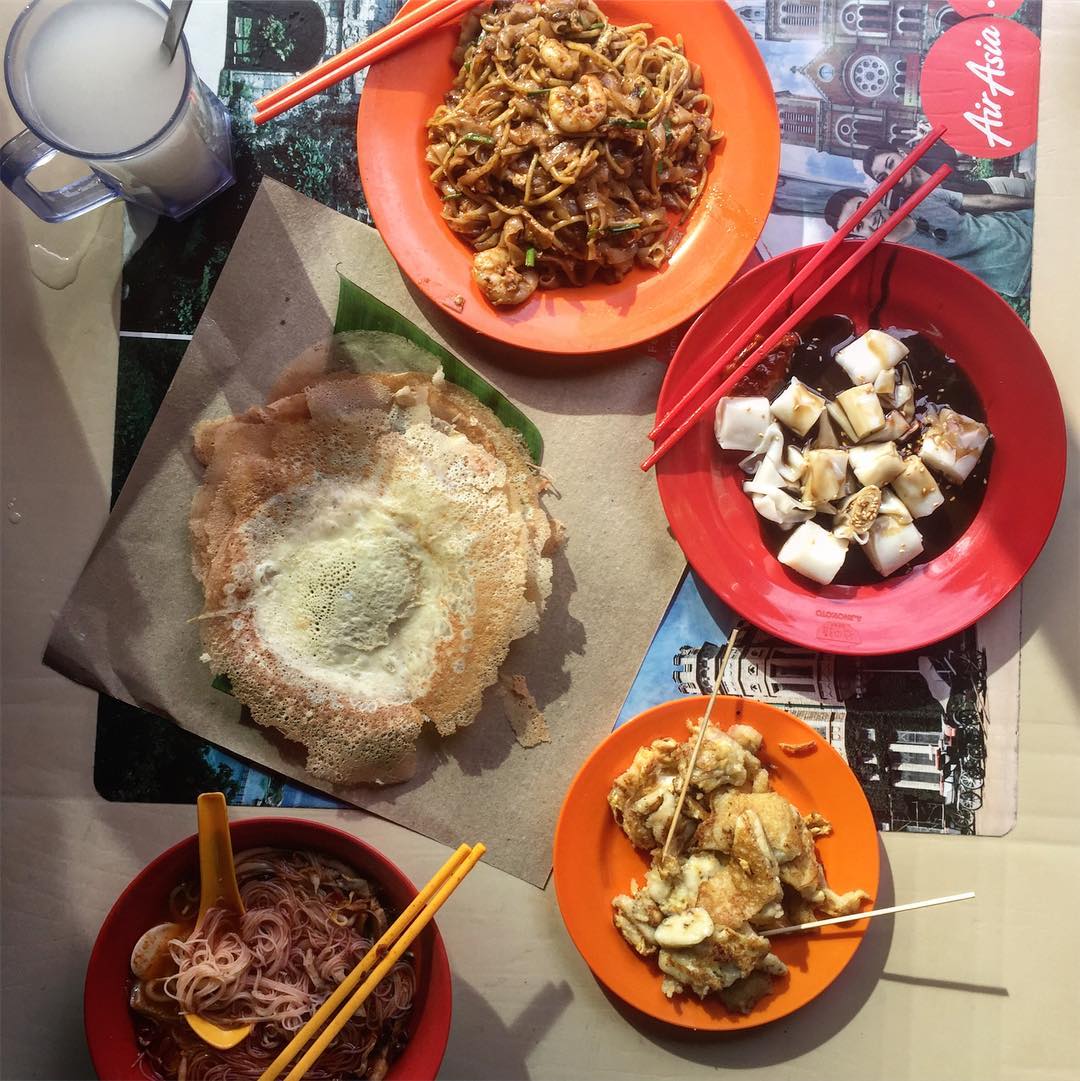 Image credit: @ivytanfiesta
Next to the kopitiam, you'll see Mr Ravi and his wife helming their humble apom stall, whisking batter and fanning stoves, as a small crowd waits patiently for their serving of warm eggy crepes. A substantial breakfast for many generations of Penangites, Mr Ravi's Apoms (RM4 for 5 pieces) – stacks of pancakes with spongy middles and crisp edges served on banana leaves – remains as authentic as they were years ago.
Other notable dishes to order for breakfast here include Lor Mee (RM6), Char Koay Kak (RM5), and Roti Babi (RM6.50).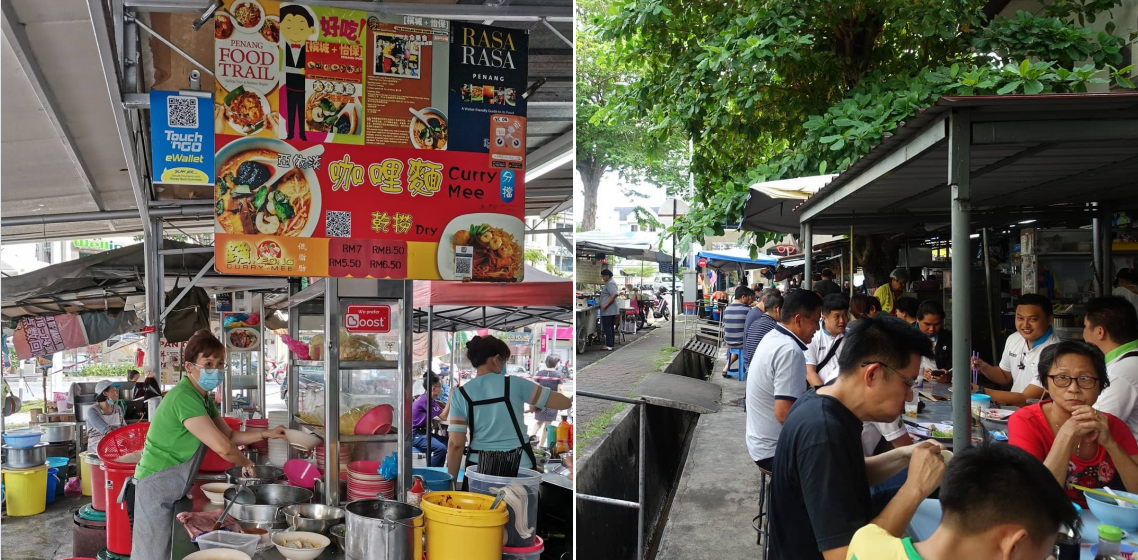 Image adapted by: @ibox_bowie & @klyeoh_foodie
Be sure to head here early as food at the stalls sell out fast. Expect to spend some time searching for a table, or simply share one with fellow diners, as this kopitiam is almost always packed.
Address: 425, Jalan Burma, George Town, 10350 George Town, Penang
Opening hours: Mon – Sat 7AM-2PM (Closed on Sundays)
Telephone: 011-2366 5505
---
7. The Shark Food Court – a mix of local cuisines
---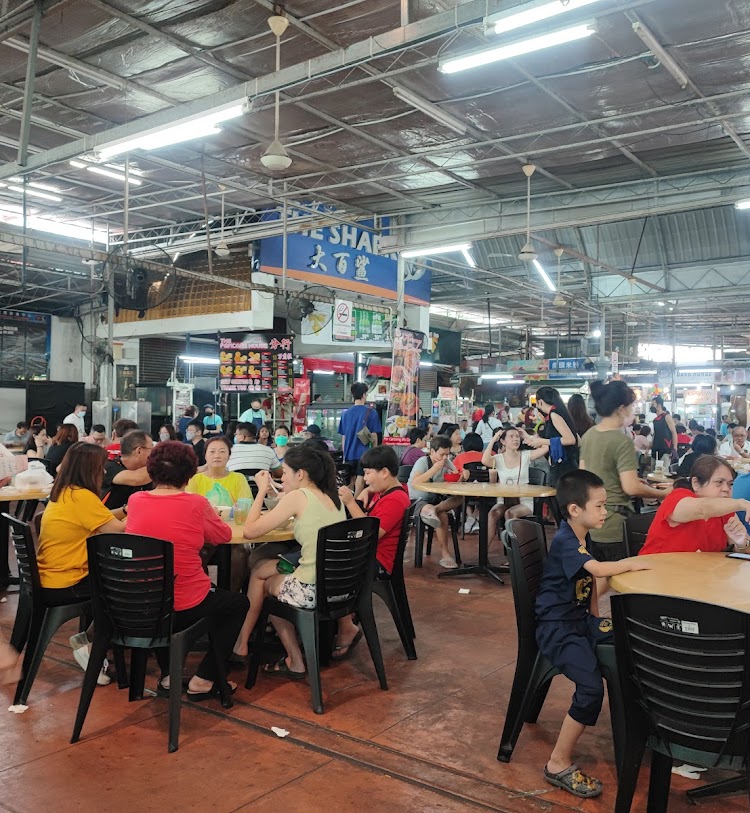 Image credit: Google Maps
The Shark Food Court is a lively food court that taps into the multiculturalism of Malaysia brilliantly. Here, you'll see a great deal of hawker stalls serving a mix of Chinese, Malay, and Indian cuisine, and even old-school Western food.
While the food court is airy and spacious, there is always a crowd, so be sure to come by early. This comes as no surprise with the variety of food they have to offer, all under one roof. There are multiple stalls, including economy rice with home-cooked dishes such as kari ayam, ikan cincaru, and a diverse array of vegetables that tastes just like mum's cooking.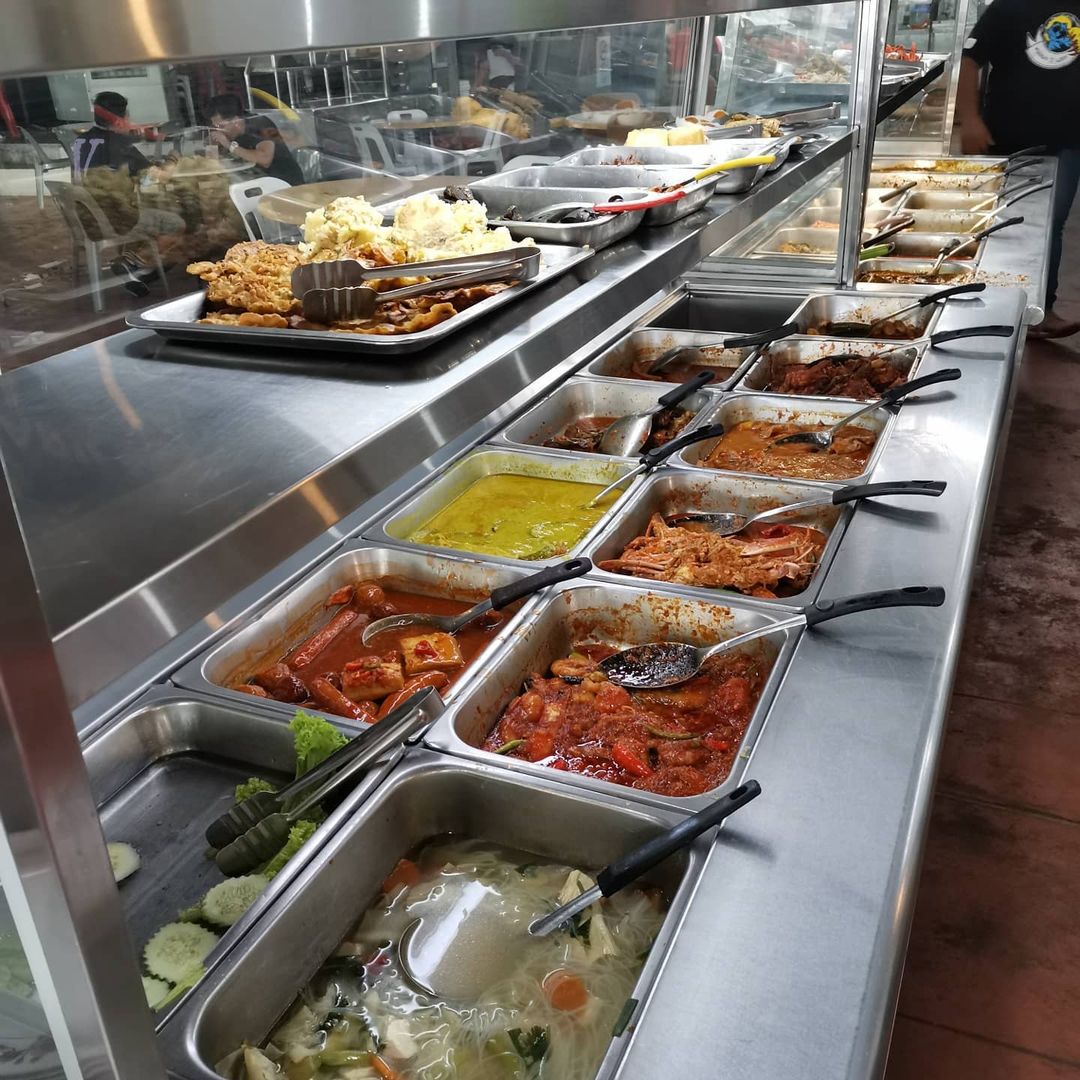 Image credit: @ibox_bowie
Another highly-raved dish available here is the Kuantan Road Curry Mee (RM5) – a bewitchingly fragrant bowl of noodles with rich santan soup, cockles, cuttlefish, taufu pok and large cubes of pig's blood. 
Other big names include Loy Kee Wantan Mee (RM5), a plateful of springy noodles coated in dark soy sauce, and garnished with fried pork lard and crispy wontons.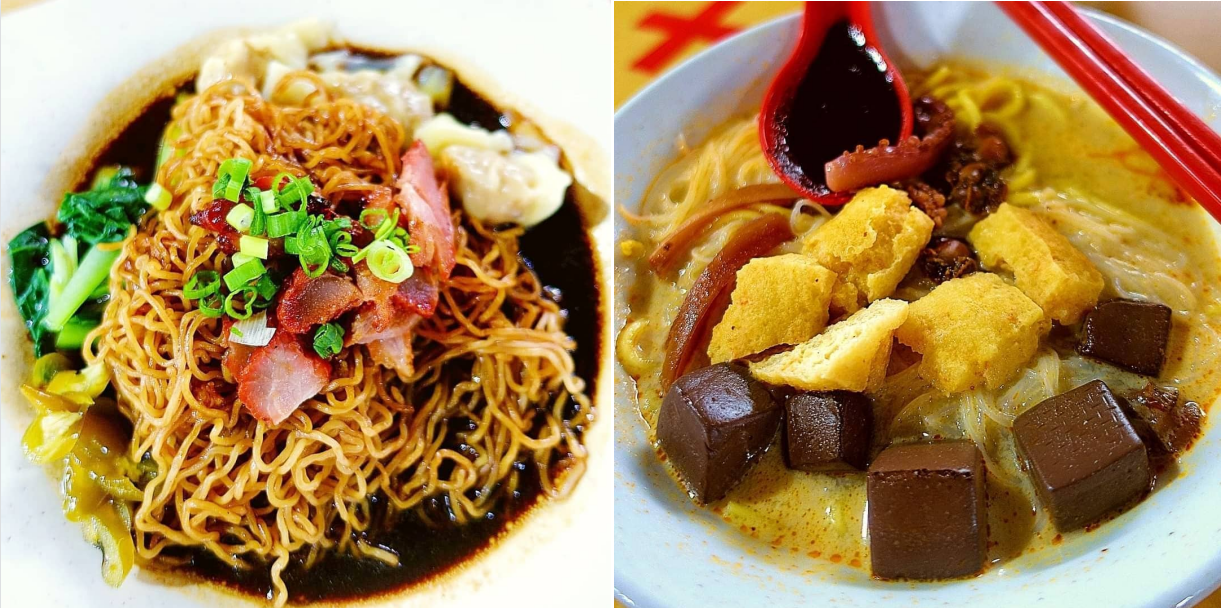 Image adapted by: @klyeoh_foodie & @klyeoh_foodie
Address: 192, Jalan Burma, Kampung Syed, 10350 George Town, Penang
Opening hours: Tue – Sun 7.30AM-11.45PM (Closed on Mondays)
Telephone: 012-429 8772
The Shark Food Court's Facebook
---
8. One Corner Cafe – famous breakfast & lunch spot for office workers
---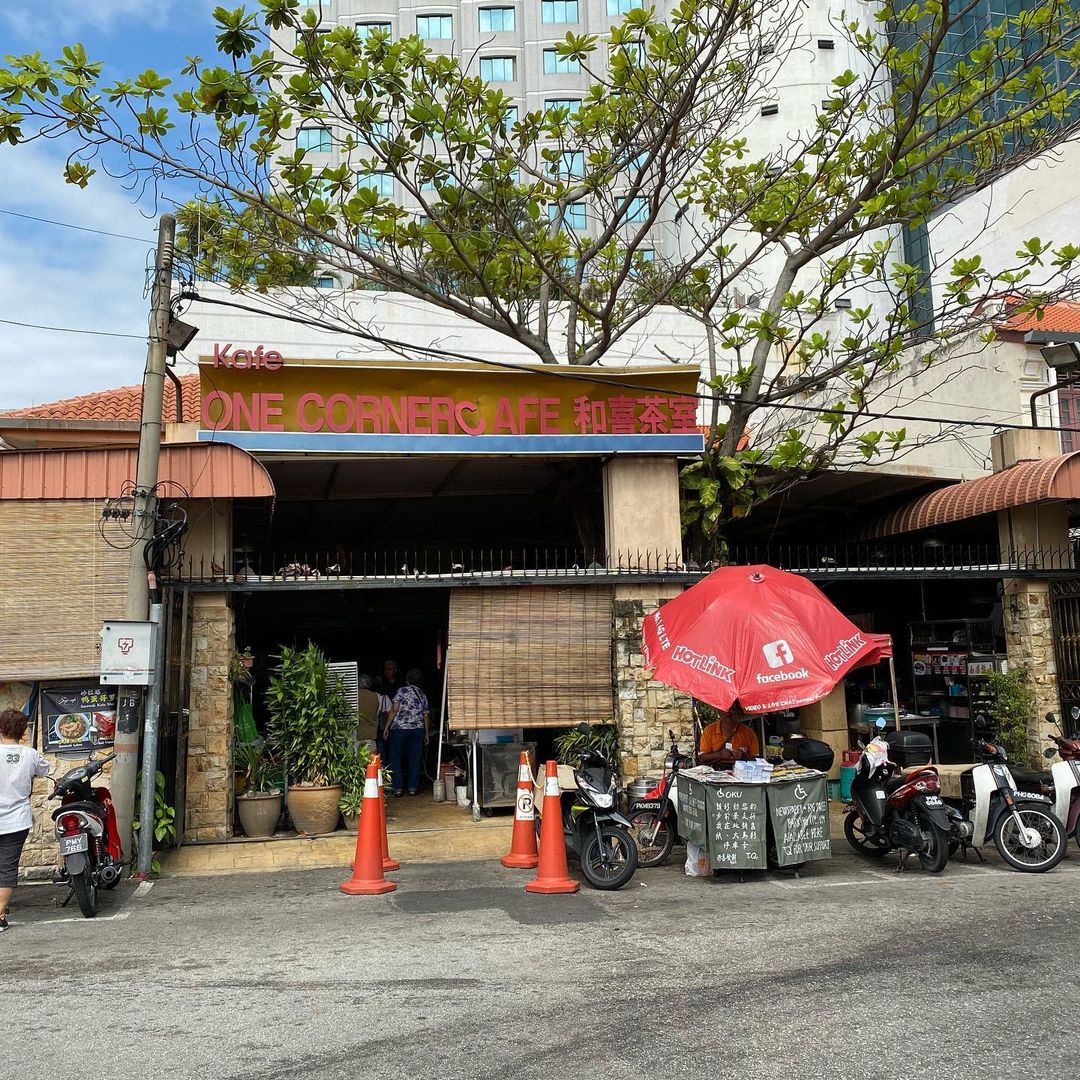 Image credit: @william_tan_wei_lian
A nostalgic enclave in George Town, One Corner Cafe has been a long-standing breakfast pit stop that brims with a crowd as early as 8AM in the morning. Located behind Penang Plaza, this spot is a melting pot of typical Penang hawker dishes, with the food as honest as the vendors.
Enter the bustling coffee shop and explore the numerous options here – including Lor Mee (RM5.50), Char Koay Teow (RM6), Chicken Rice (RM5.50), and Chee Cheong Fun (RM4.50).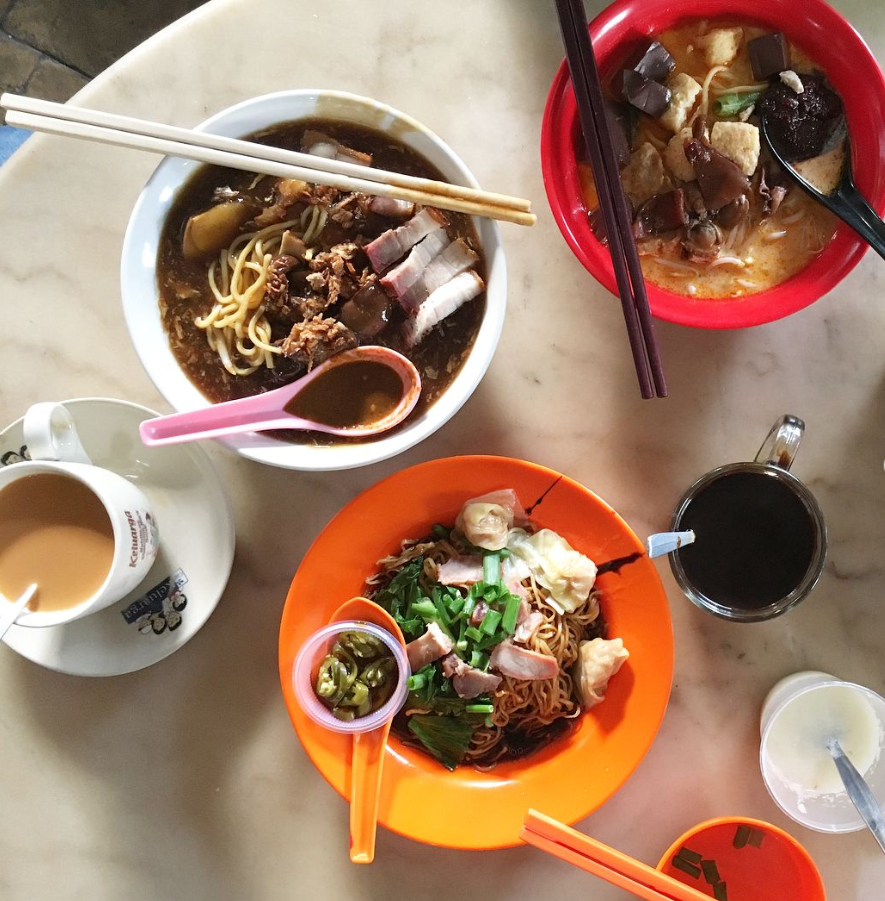 Image credit: @adidadiaries
A Hokkien mee stall that is well-known not just among the other vendors at One Corner Cafe, but throughout Penang, is Super Hokkien Mee. Try to snag a bowl of their legendary Hokkien Mee (RM5.50) when you visit, and know that you lucked out if you managed to as the stall is always sold out before 8AM.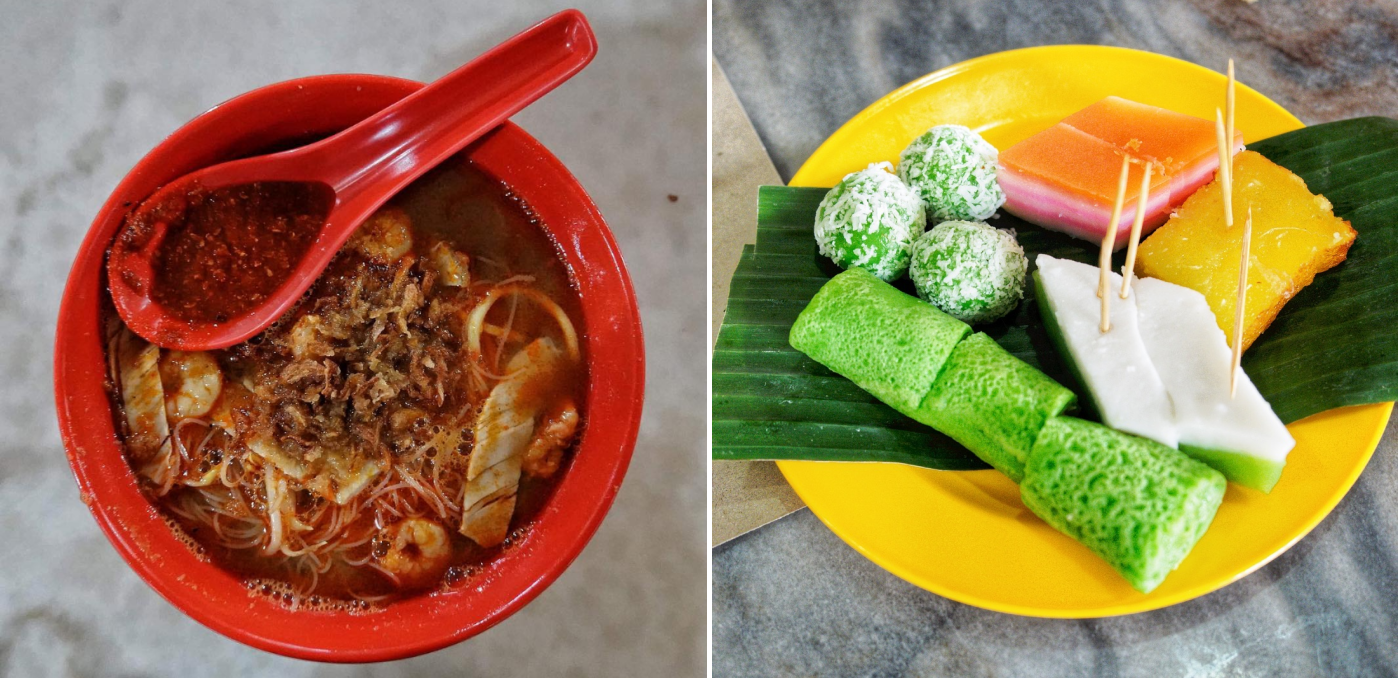 Image adapted from: @thechubbydoc & @lildreamsoffood
For your post-meal dessert, stop by the kuih stall by the entrance where you'll find a dramatic display of vibrant kuihs including blue butterfly pea-tinge pulut taitai, confetti-coloured kuih lapis, and irresistibly plump onde onde.
Address: 12, Jalan Bawasah, 10050 George Town, Penang
Opening hours: Sun – Fri 8AM-3.30PM (Closed on Saturdays)
Telephone: 012-473 3727
---
Breakfast places in Penang
---
Be it a greasy plate of char kuey teow, roti canai drowning in curry, or precious packets of fragrant nasi lemak, feasting on food in Penang is never boring. For breakfast, lunch, and everything else in between, head to these places for a good hawker fare to start off your morning and power through the day like a true Penangite.
Read more interesting here:
---
Cover image adapted from: @docs_on_vacay, @megmeestrip, Google Maps & @adidadiaries
Get more stories like this!
Drop us your email so you won't miss the latest news.