Traditional bakeries in Penang
---
As much as we all fawn over a good sourdough loaf or rich Pain Au Chocolat at modern bakeries and cafes in Penang, traditional bakeries were once our Willy Wonka's factory. Think soft buns with savoury fillings, biscuits glossy with egg wash, and assorted cakes with neon-coloured buttercream displayed on shelves. 
For those born in the 90s or earlier, you might have consumed an inordinate amount of these as a kid.
Well-known for its heritage gems, Penang still houses many of these traditional bakeries that have been around for decades. Here, we curated a list of nine traditional bakeries in Penang that are sure to resurrect your childhood nostalgia.
---
1. Continental Bakery – a pioneer of old-fashioned bakeries in Penang
---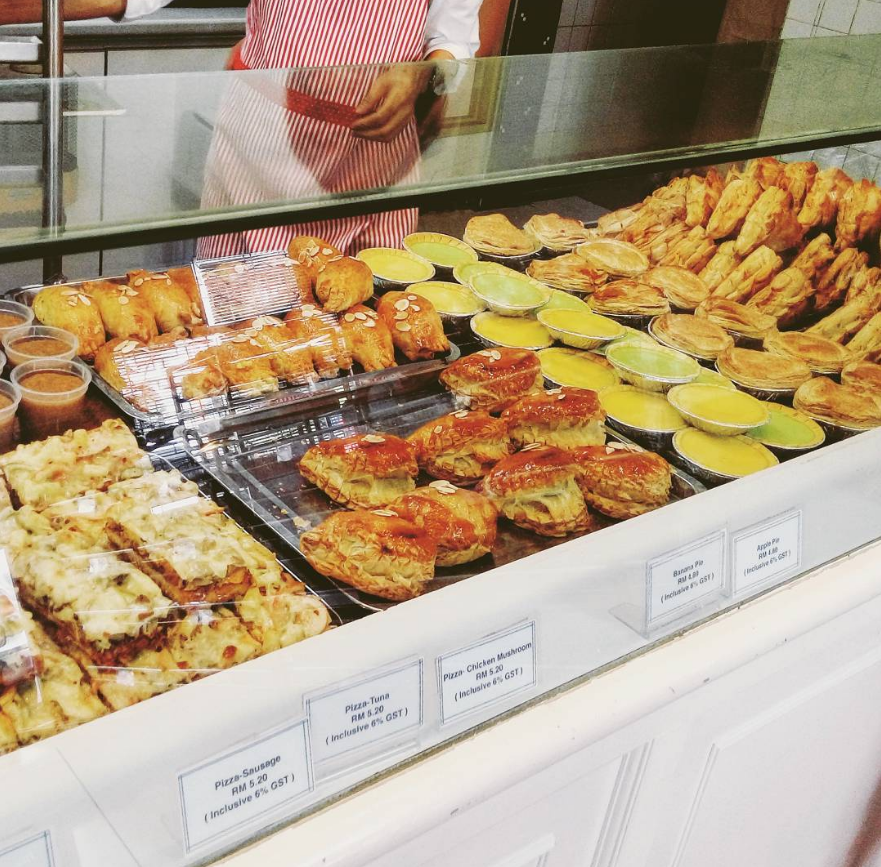 Image credit: @foodie_feeder
Continental Bakery is a household name among locals and tourists alike. Upon entering the modest corner shop located at Nagore Square, you'll be greeted with a long queue of patrons waiting to be served at the counter – a common sight, especially if you're dropping by in the morning.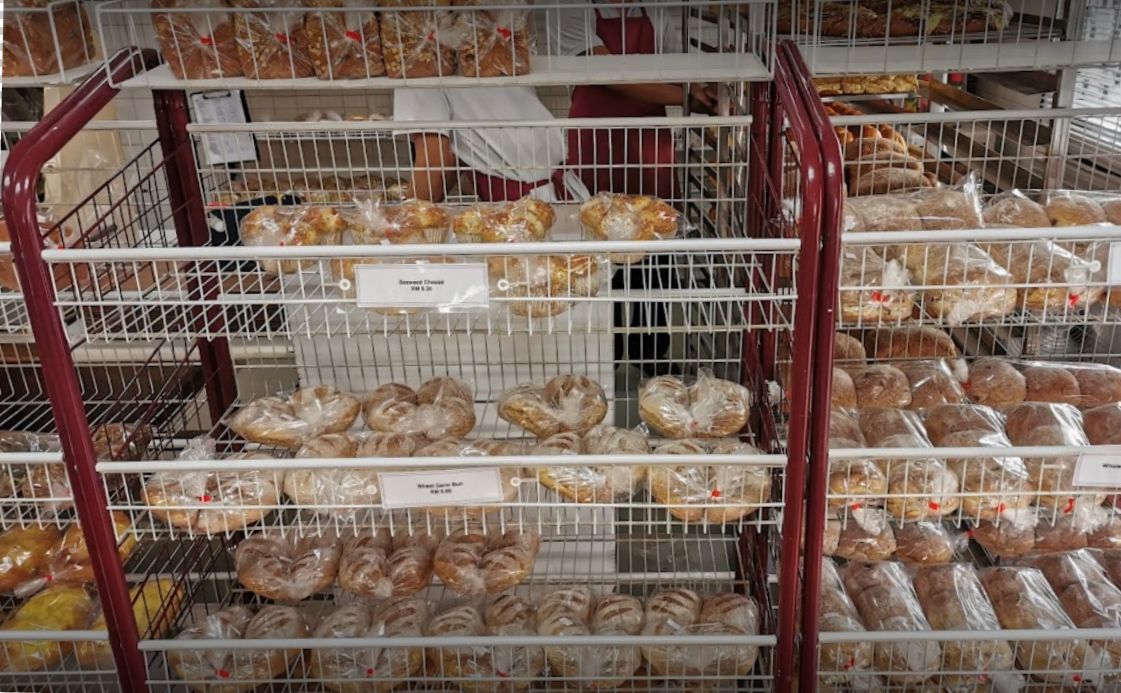 Image credit: Stephen Ong
This bakery churns out breads and pastries of all sorts every morning, so customers can regularly get their fill of loaves and buns. Go for the bakery's popular Cinnamon Rolls (RM2.50/each), oh-so-rich French Butter Croissants (RM12/pack), or their ever-so-flaky Chicken Curry Puffs (RM3.30/each). 
Continental Bakery is also known for their range of healthy wholemeal breads that still retain the fluffiness and airiness that a good loaf should yield.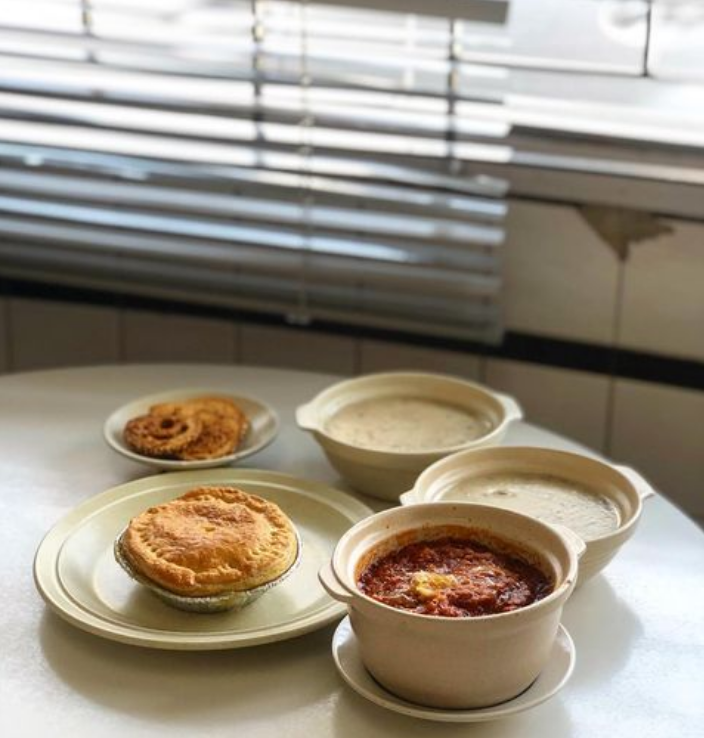 Image credit: @ksy.syk.foodie
If you can't get enough of the aroma of baked goods perfuming the bakery, you can enjoy your purchases at a small dining space inside the store. The bakery also serves light comforting meals, such as Chicken Pie (RM4.35), mushroom soup, and spaghetti.
We recommend heading here early, or you'll be left with limited choices for baked goods due to the bakery's popularity among locals and tourists alike.
Note: due to the recent uptick in Covid-19 cases, dining in at Continental Bakery has been put on hold until further notice.
Address: 33, Jalan Nagore, 10050 George Town, Penang
Opening hours: Mon 8.30AM-5.30PM | Tue – Sat 10AM-7PM | Sun 10AM-6.30PM
Telephone: 04-228 3814
Continental Bakery Facebook
---
2. Adventist Bakery – scrumptious bakes for the health-conscious
---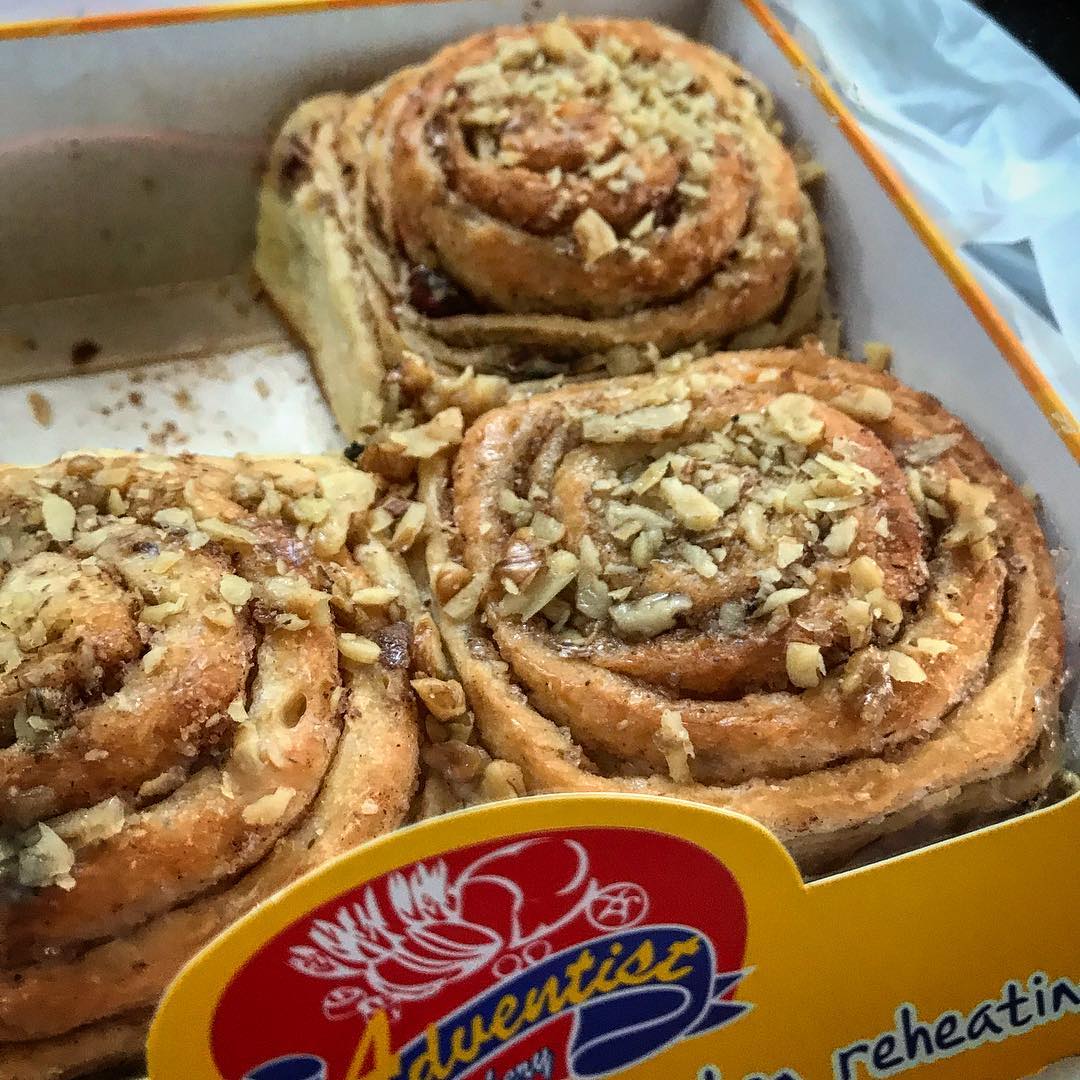 Image credit: @jessielurve
From Adventist Hospital, comes Adventist Bakery. This bakery has an interesting backstory – when the wife of Adventist Hospital's business manager, Mrs Heisler, developed an enriched wholemeal bread recipe in the early 70s, it became a hit among hospital staff and patients.
To cater to loyal followers of their healthy baked goods, the hospital launched a bakery around the mid-90s.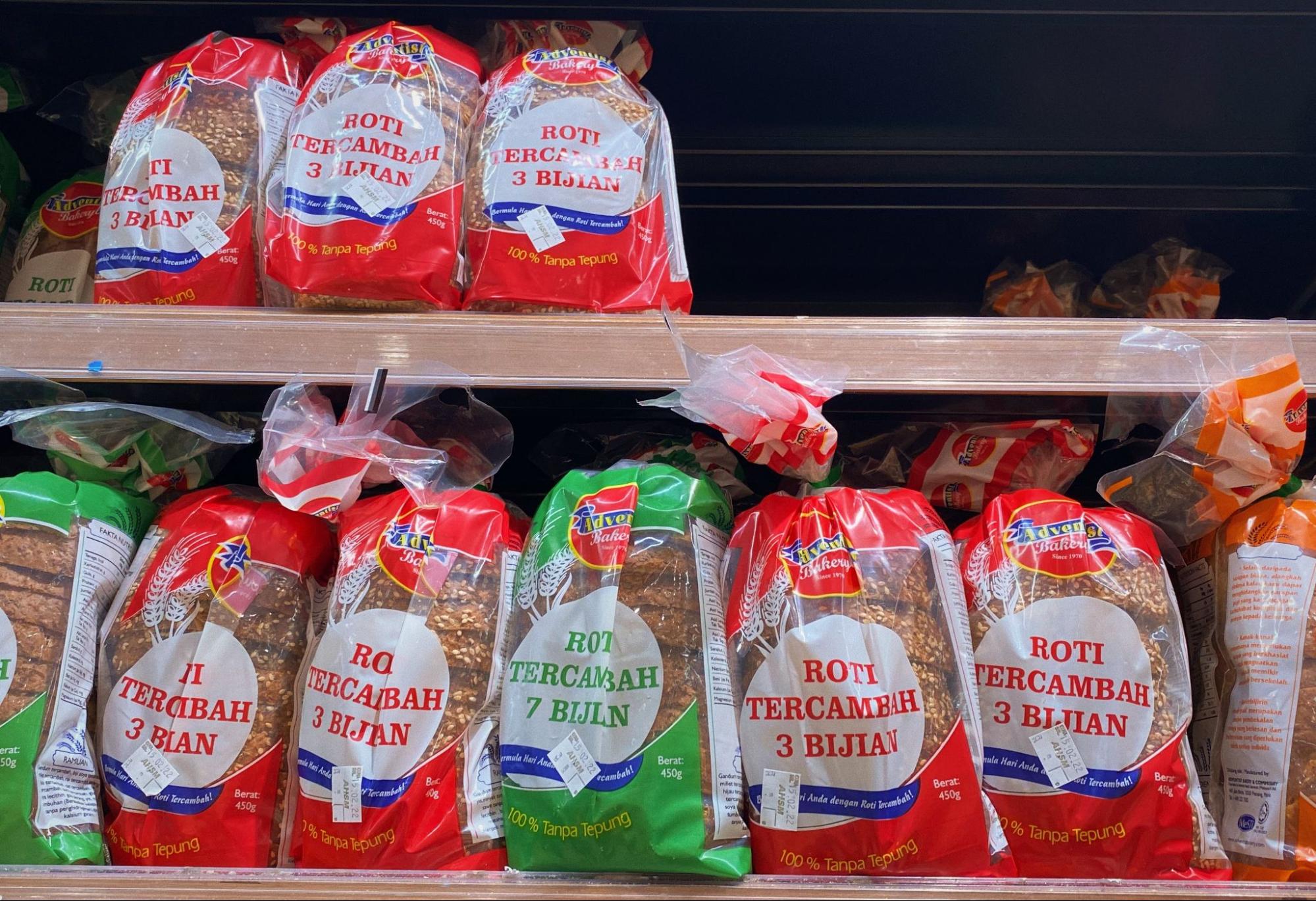 Image credit: Jia-Ju
As a brand that advocates healthy eating, Adventist Bakery offers a range of baked goods made with natural and wholesome ingredients. From loaves to biscuits, the bakery strives to promote nutritious confectionaries without compromising on tastiness.
Popular among patrons is their Wholemeal Bread (RM4.10), Sprouted 7-Grains Bread (RM6.60), and Sprouted 3-Seeds Bread (RM6.60), considered home-staple loaves among the older generation in Penang.  
The sprouted series is not limited to breads. Adventist Bakery also offers Seed Sprouted Cookies, Sprouted Chia & Flax Seed Cookies and Black Sesame Sprouted Cookies (RM7.40/box).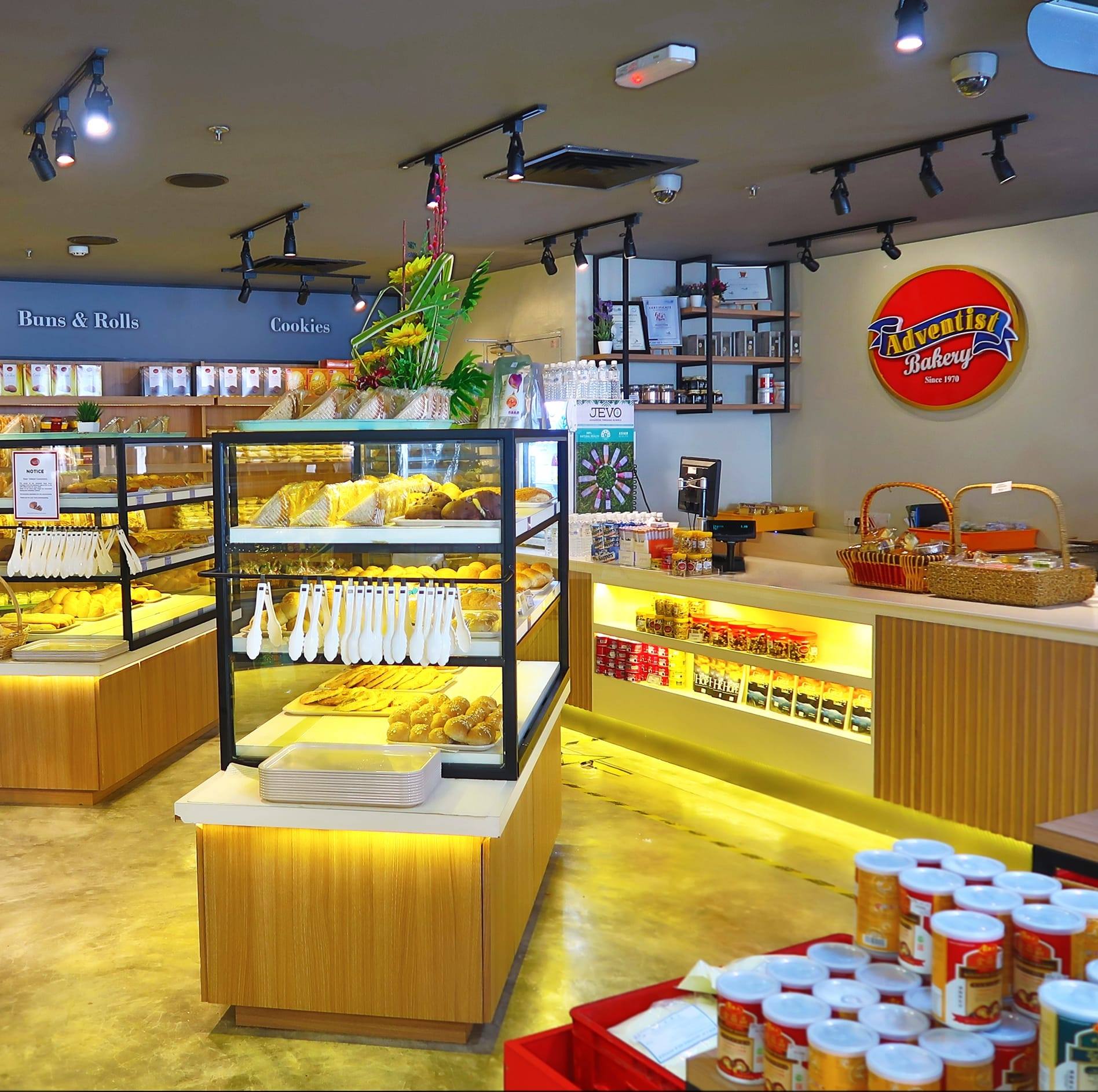 Image credit: Adventist Bakery
The bakery's pastries are as popular as their healthy counterparts. Their Walnut Cinnamon Rolls (RM9.50) and Egg Tarts (RM7.40), for starters, are pastries every Penang kid has likely begged their parents for more of growing up.
If you aren't planning a trip to Penang anytime soon, fret not. The bakery's products are distributed at grocery stores and pharmacies around the country – so keep an eye out for their striking red-and-blue logo on packaged loaves in supermarkets such as Jaya Grocer.
Address: C/O Penang Adventist Hospital 465, Jalan Burma, 10350 Penang
Opening hours: Sun – Thu 8AM-6PM | Fri 8AM-5PM (Closed on Saturdays)
Telephone: 04-222 7502 | 04-222 7501
Adventist Bakery website | Facebook 
---
3. Sin Ka Oon Bakery – childhood buns & customised vintage cakes
---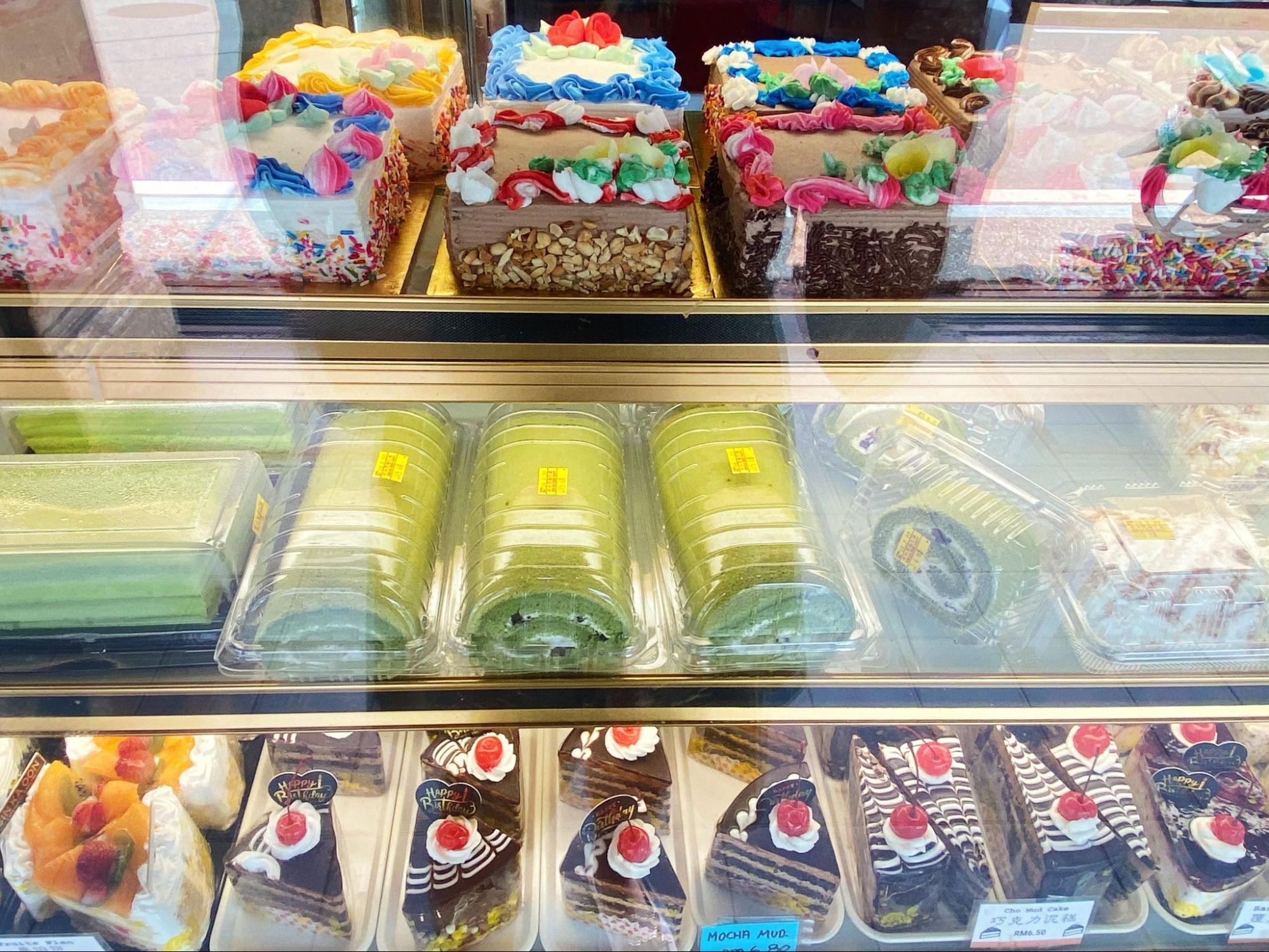 Image credit: Jia-Ju
Right in the heart of the bustling Air Itam wet market sits a three-unit shoplot with a prominent red signage that reads Sin Ka Oon. The shop is always buzzing with life – uncles and aunties browsing for bread, children gaping at colourful cakes on display, and regulars striking up conversations with staff behind the counter.
But the affordable prices makes up for the snaking lines you'll often see here.
Founded by Mr Lim Eng Keat and his siblings in 1957, Sin Ka Oon started out as a humble roadside stall selling home-baked goods. Since then, the bakery has established itself as local go-to for all things baked, and is currently managed by the second generation of the family.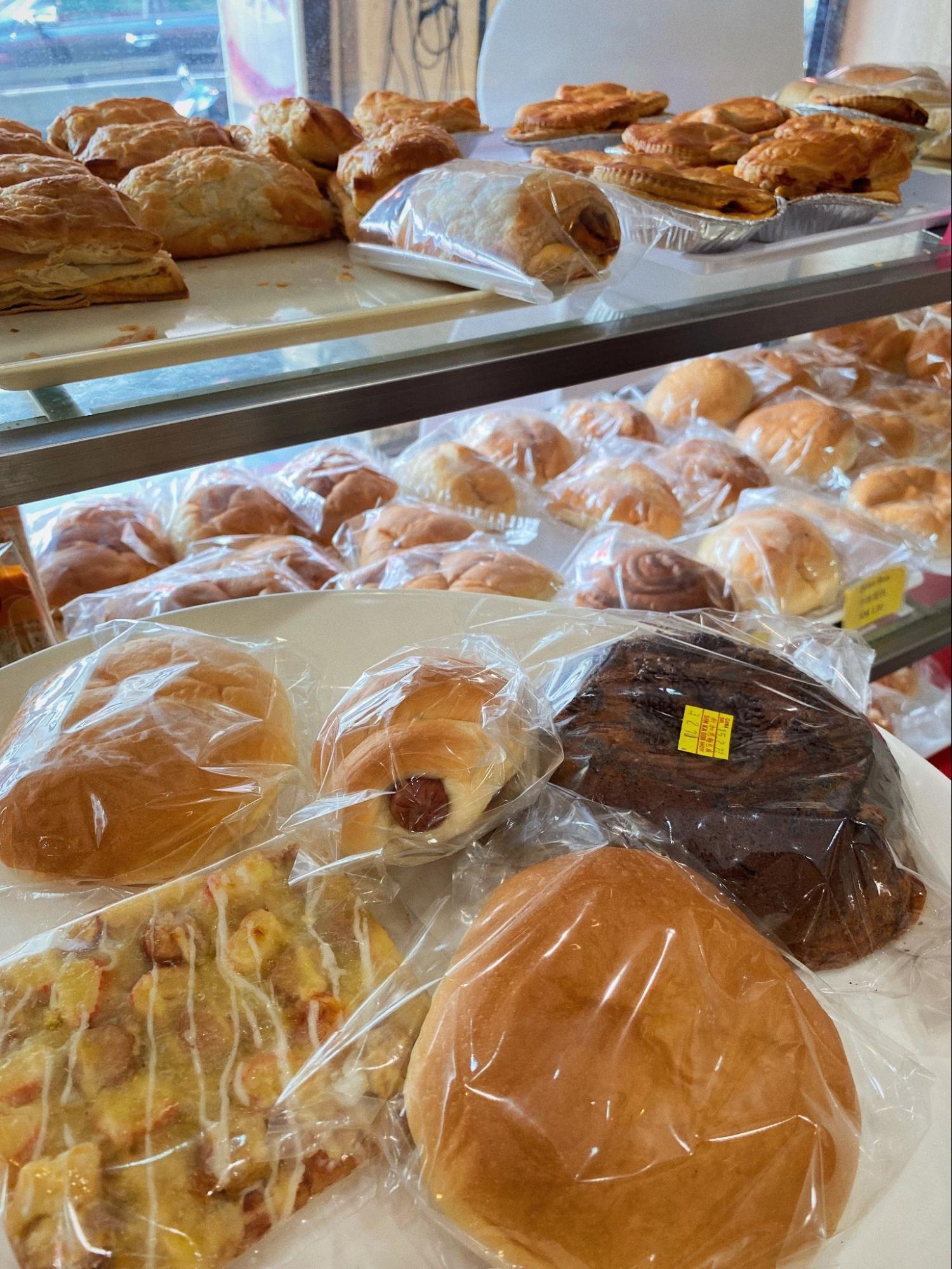 Image credit: Jia-Ju
While you can find fresh buns of all sorts, their Kaya and Coconut Jam (from RM2.90/small) are favourites among regulars.
Not to be missed out on either are the bakery's offerings of Chocolate Moist Cake (RM1.60/piece) and Chiffon & Butter Cakes (RM1.40/piece), as well as their signature Cream Puffs (RM7) which ooze delightfully creamy fillings and are sold in boxes of five.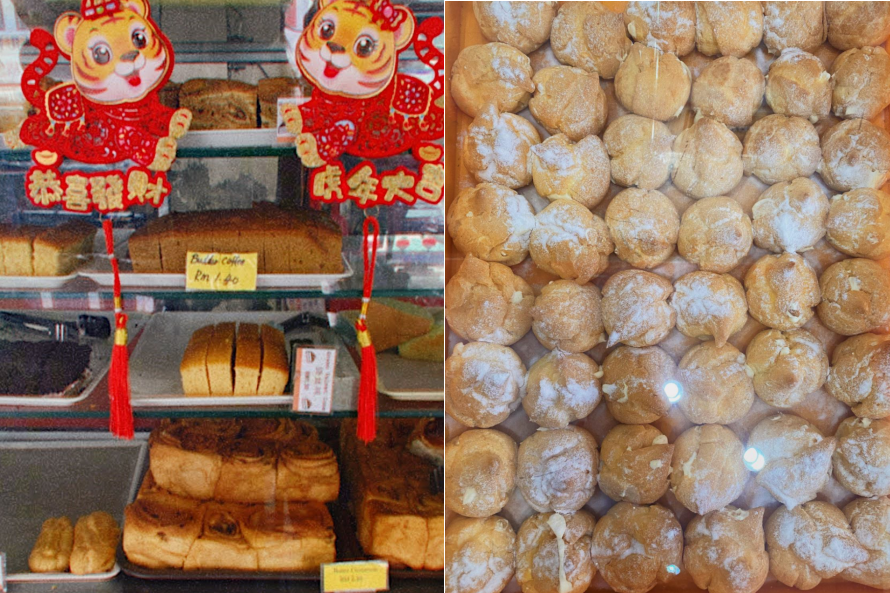 Image credit: Jia-Ju
Sin Ka Oon is also one of the few bakeries that still sell old-fashioned cakes, the kind we all wanted on our birthday as kids – think colourful layered-cakes with massive buttercream pipings and sprinkles galore.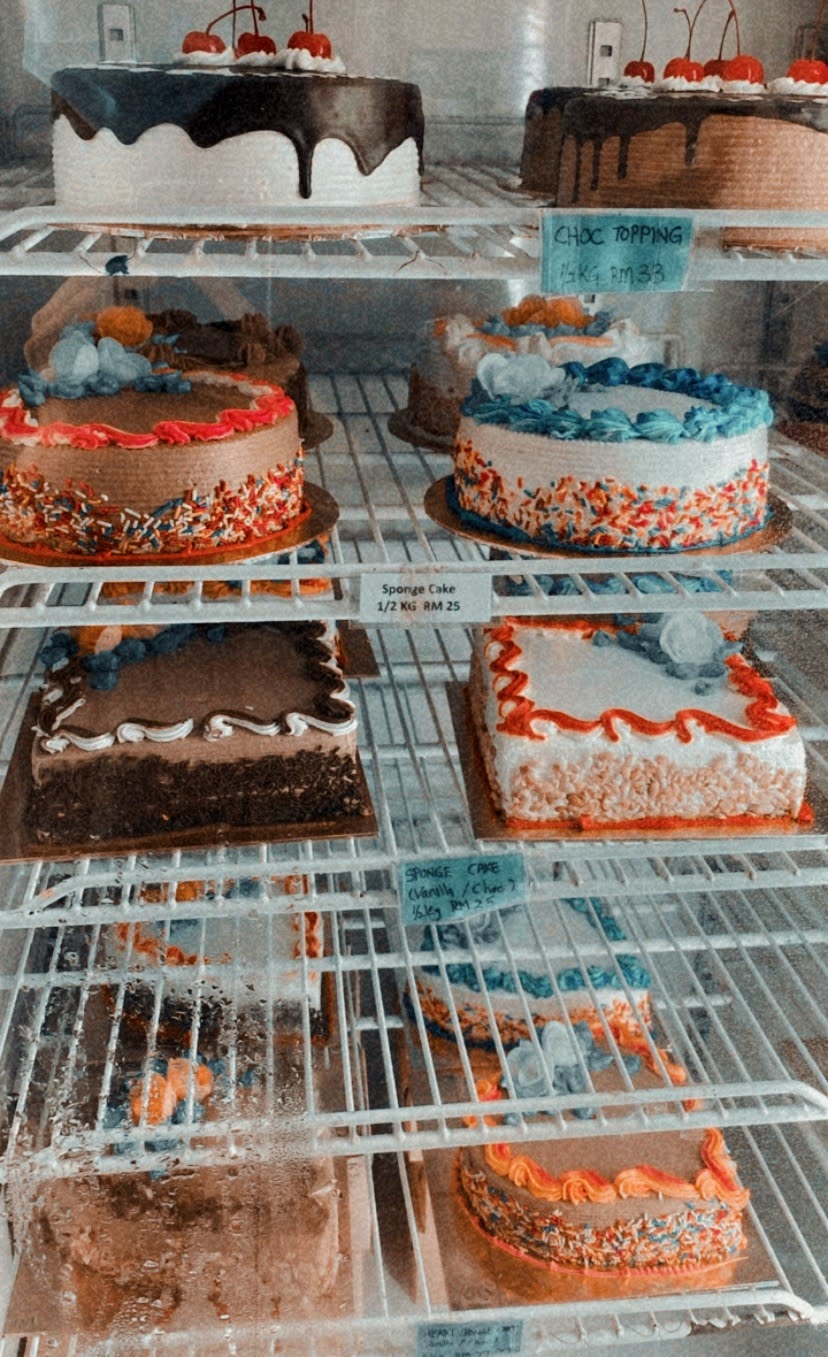 Image credit: Jia-Ju
Address: 606-M, Jalan Paya Terubong, 11500 Air Itam, Penang
Opening hours: 5.30AM-10PM, Daily
Telephone: 04-828 2062
Sin Ka Oon website | Facebook
---
4. Yohun Hot Bread and Cake House – variety of buns & colourful buttercream cakes
---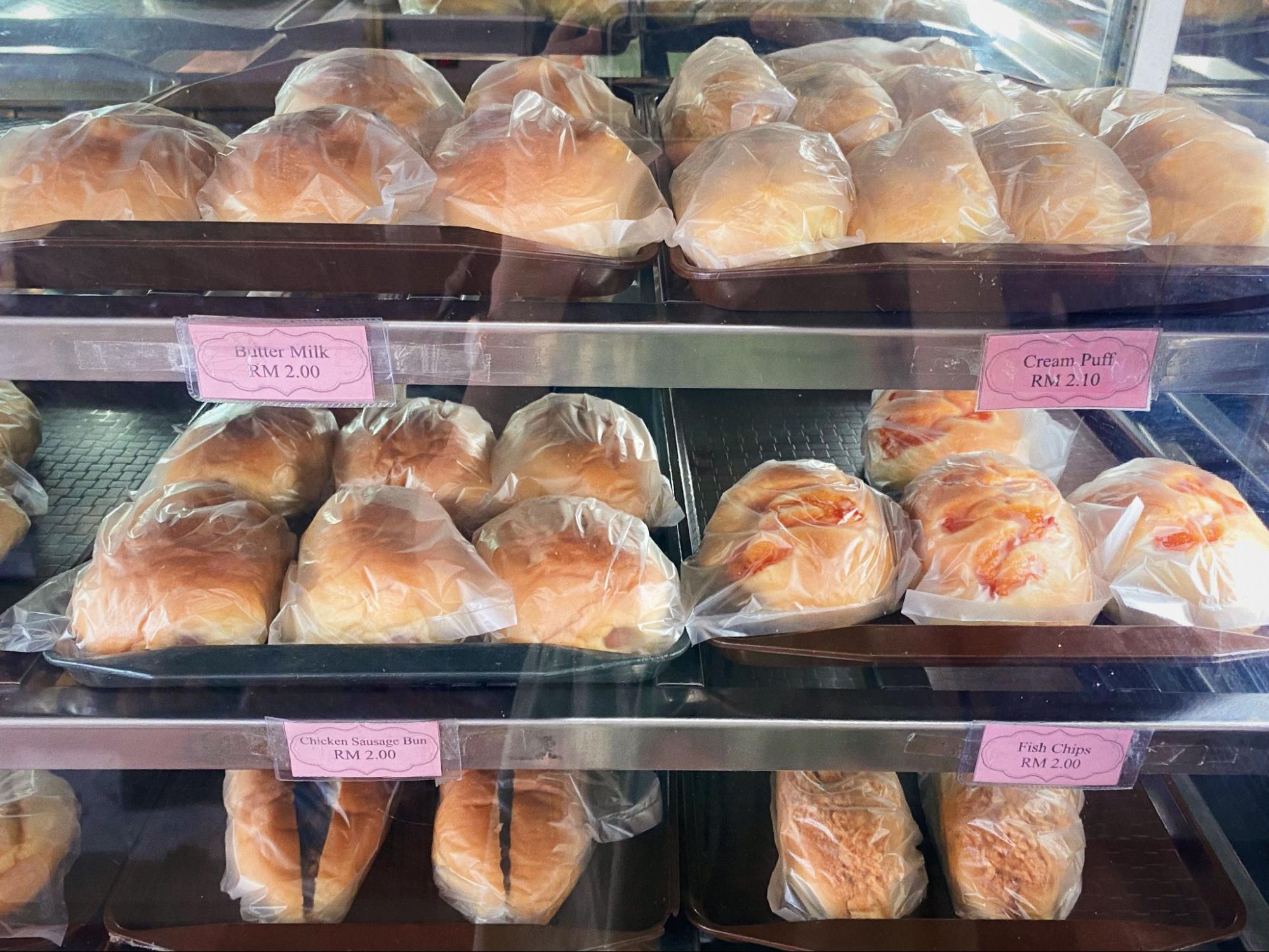 Image credit: Jia-Ju
Penangites have likely seen Yohun Hot Bread and Cake House's packages of rolls, loaves and mini candy-coloured cakes laid out in a hawker vendor's stand. Unknown to many locals, the bakery has a shop in Air Itam, tucked unassumingly in a row of shophouses.
Instead of a typically bustling bakery, it feels more like your grandmother's house – a small team of friendly workers, an unfussy atmosphere, and timeless baked favourites will greet you here. Take your time to choose from a variety of freshly baked buns and pillowy rolls, always still warm to the touch.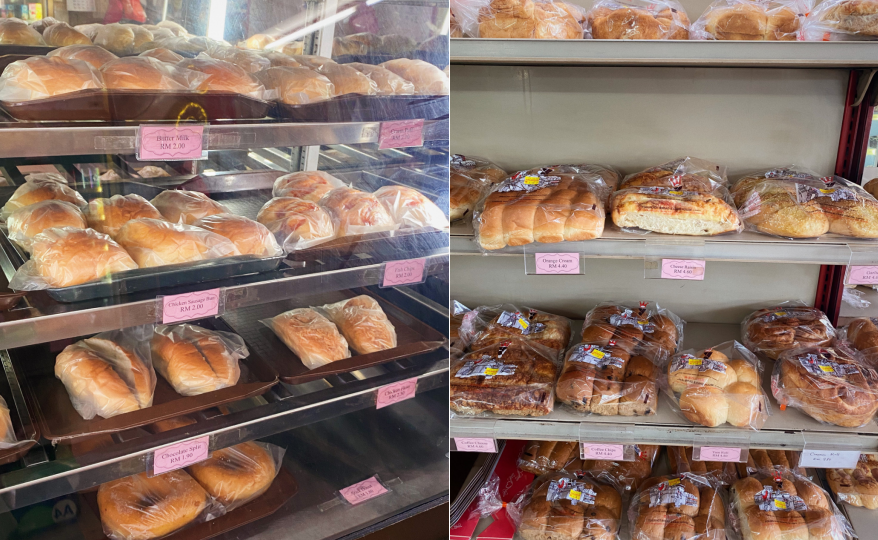 Image credit: Jia-Ju
We recommend their cloud-like Butter Milk Buns (RM2/each), and Mexico Buns (RM2.10/each) topped with different flavoured crusts – coffee, chocolate or pineapple.
Regulars also return for their Coffee Cream Rolls (RM4.40/each), stuffed with coffee buttercream, and their savoury fresh bakes, namely Garlic Rolls (RM4.60/each) and Cheese Raisin (RM4.60/each).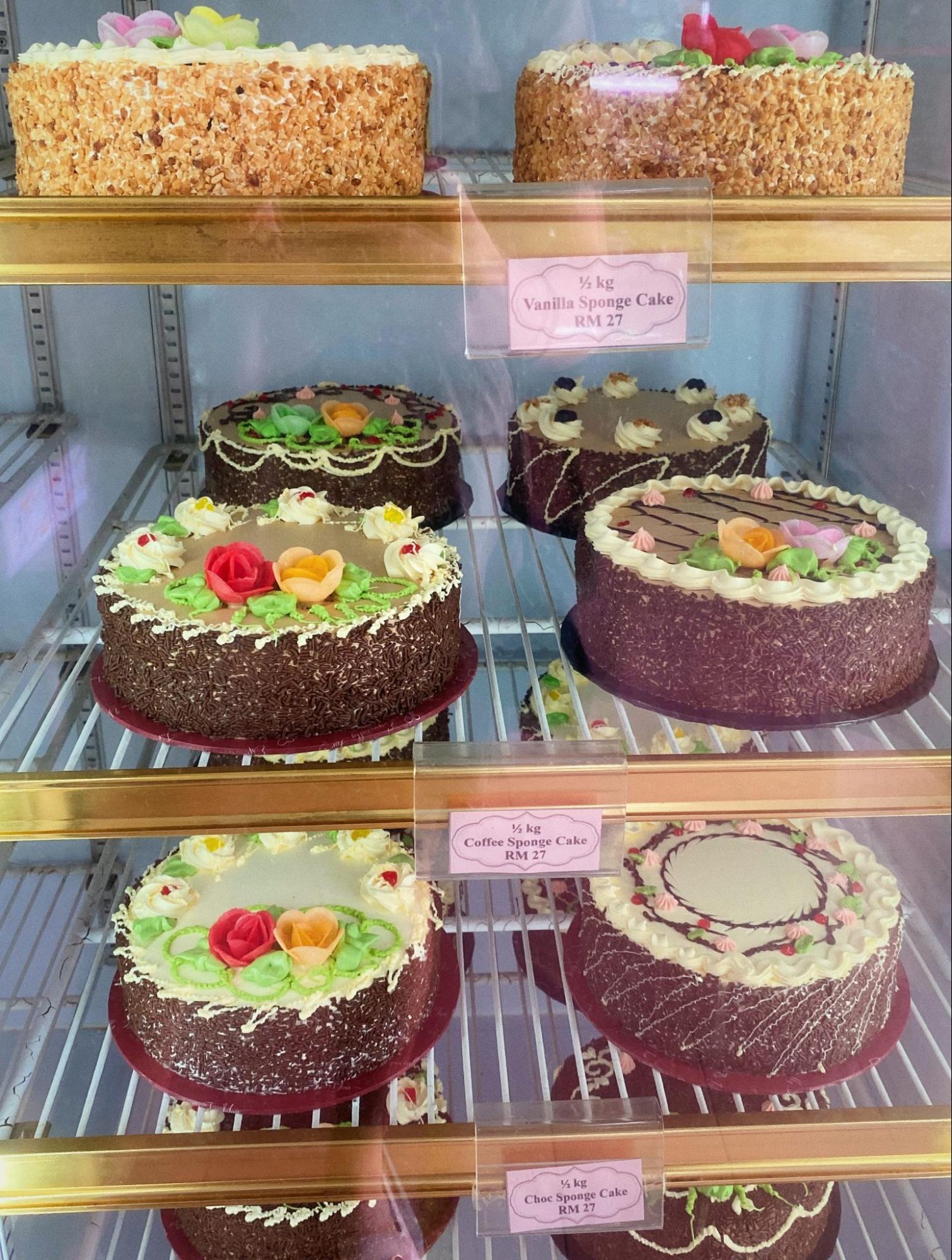 Image credit: Jia-Ju
Besides their buns, this bakery is known for their sponge cakes that com a variety of flavours such as vanilla and coffee – all gorgeously frosted and piped. These are sold as a whole for around RM27, or per slice.
Address: 29-A, Lintang Angsana, Bandar Baru Air Itam, 11500 Ayer Itam, Penang
Opening hours: Mon – Wed &  Sat 9AM-8.30PM | Sun 9AM-8PM (Closed on Thursdays)
Telephone: 04-826 1273
---
5. Him Heang – tambun biscuits & xiang bing biscuits
---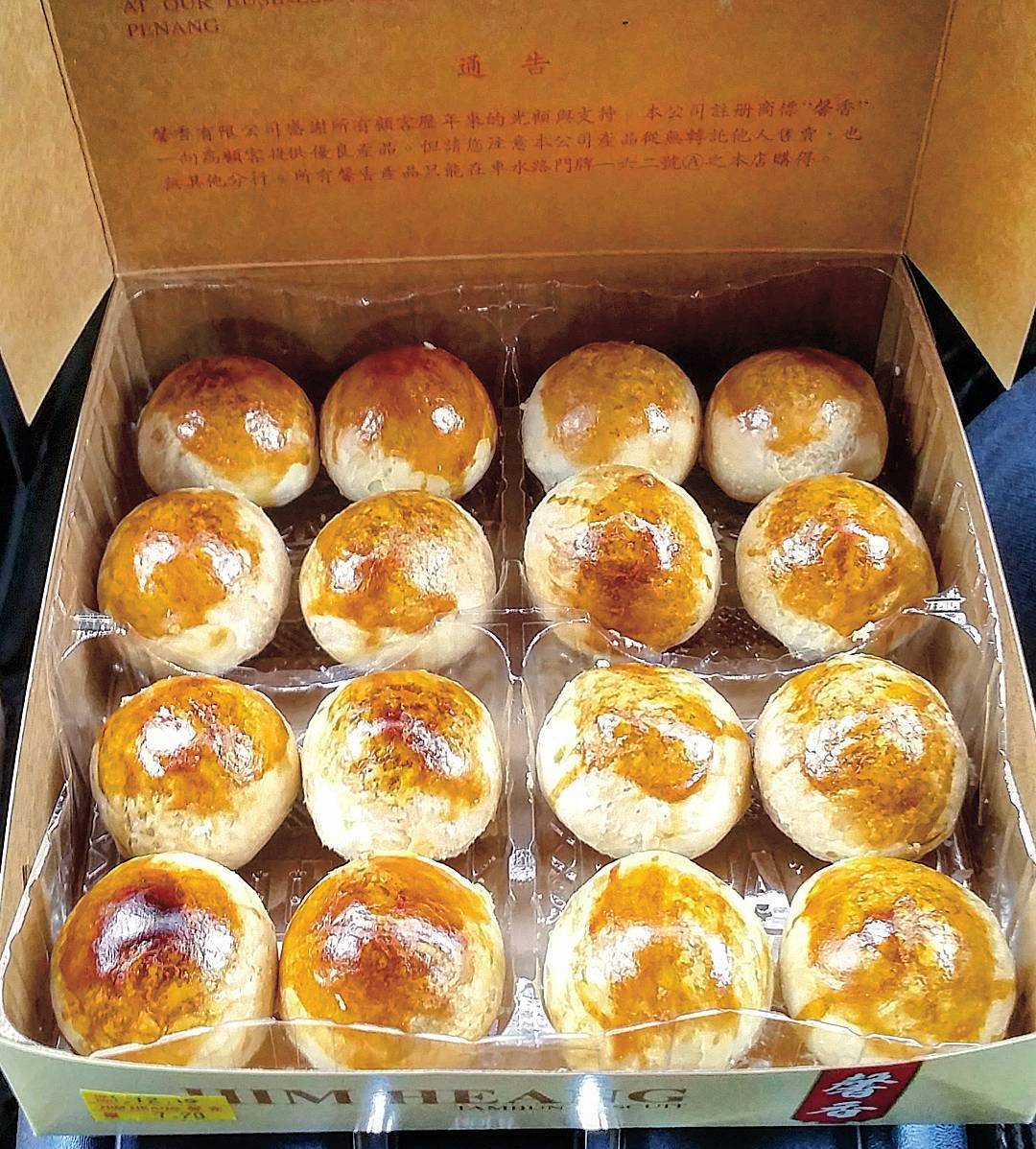 Image credit: @andrepreneur
Some would say that you haven't truly experienced Penang's food culture, if you have yet to set foot in Him Heang to treat yourself to some of their aromatic traditional biscuits.
Established in 1948, Him Heang has a long-standing reputation as one of the best Chinese bakeries in town that offers a wide range of handmade Chinese pastries. At present, the family-owned business is helmed by the third generation, and occupies a grandiose 3-storey building on Burmah Road.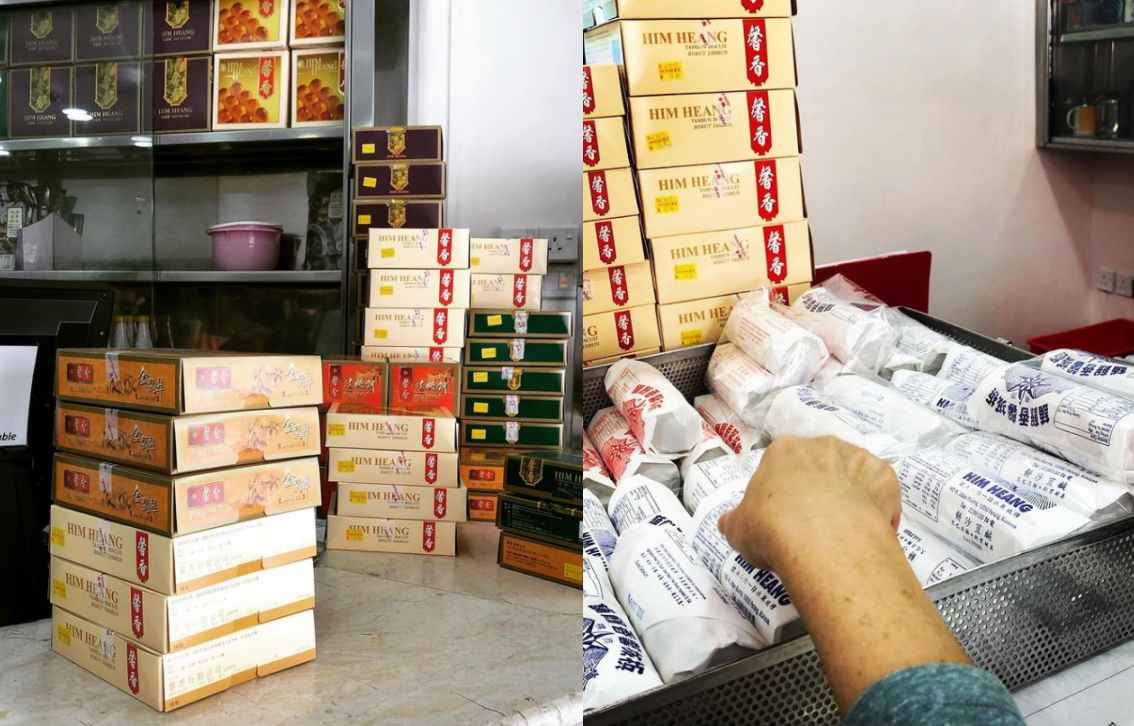 Image credit: @sophial208
The first thing you should get your hands on is their tau sar pneah, or tambun biscuits, that is sold in a box or a roll (RM4.30-RM16.40). These bite-sized balls, with golden-hued pastry skin that encases a sweet-salty mung bean filling, are constantly flying off the shelves.
Other treats worth getting here include Xiang Bing (RM9.50), which is similar to tau sar pneah but with brown sugar filling, and huge flaky pastries such as Beh Teh Saw (RM9.90) and Qing Tang Ping (RM8.80).
Or try out local biscuits available here – Roti Jari (RM7.20), Roti Potong (RM7.20), and Walnut Cookies (RM9.90).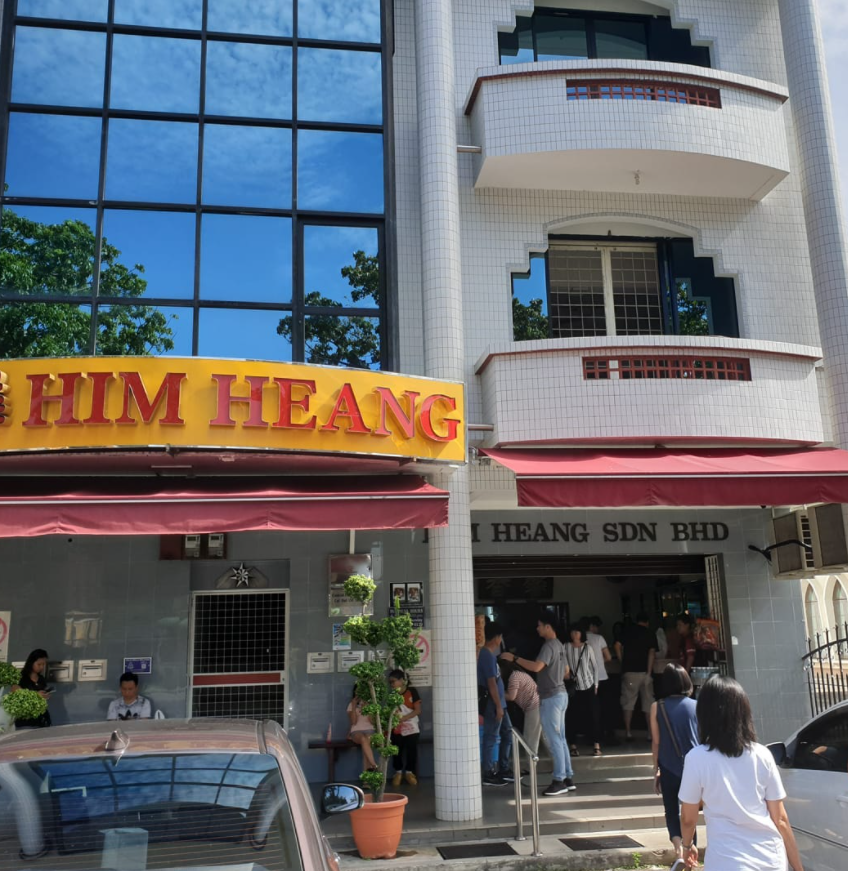 Image credit: @yqprawiro
The shop is almost always packed every morning, so be sure to head here early to get your share of their biscuits and more.
Address: 162A, Jalan Burma, 10050 George Town, Penang
Opening hours: Mon – Sat 10.30AM-2PM (Closed on Sundays)
Telephone: 04-228 6129 | 04-228 6130 | 016-425 1168
Him Heang website | Facebook
---
6. Maliia Bakery – fragrant benggali bread paired with curry
---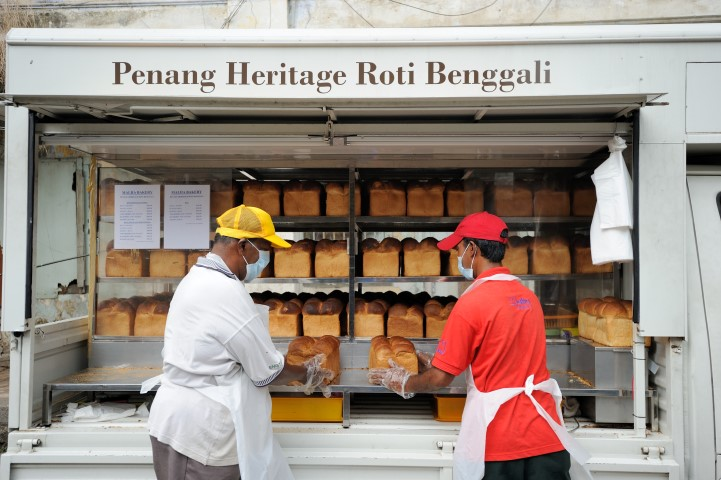 Image credit: maliiabakery
Remember that roti man who regularly rode past our houses on his motorcycle, with a village of snacks and breads perched behind him? Kids would run up to him and watch as he sliced thick slabs of panggali bread, also known as roti benggali to locals, and slather them generously with kaya and margarine.
Maliia Bakery specialises in this local bread, which holds a special meaning in Penang, where it originated. According to the bakery's website, the bread gets its name from the Tamil word panggali, meaning "bread shareholders". The bread was introduced in Penang by an Indian Muslim from Madras.
Maliia Bakery is one of the few bakeries around that still produces this bread, after they took over Ismalia Bakery – said to be the first bakery in Penang that specialises in this humble and tasty brown-crusted loaf with cottony soft crumb.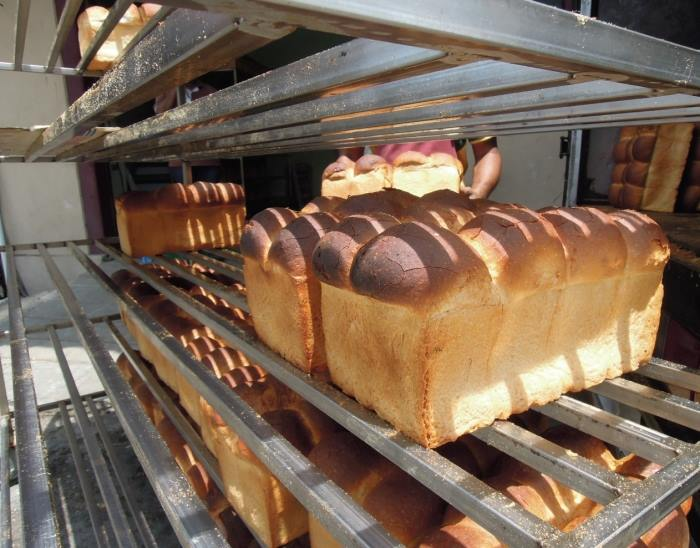 Image credit: Fahme N Mia
Nestled in Transfer Road is the bakery's headquarters, where you can find various benggali bread in different flavours – plain (RM10.40), wholemeal (RM12), charcoal (RM22.40), or chocolate (RM18.40).
It's recommended that you dine in at their cafe to enjoy the bread dipped in Fish or Chicken Curry (RM5/bowl). While you're here, you can also have your bread toasted with melted margarine and kaya (RM2), or simply plain with a cup of coffee (RM4.90).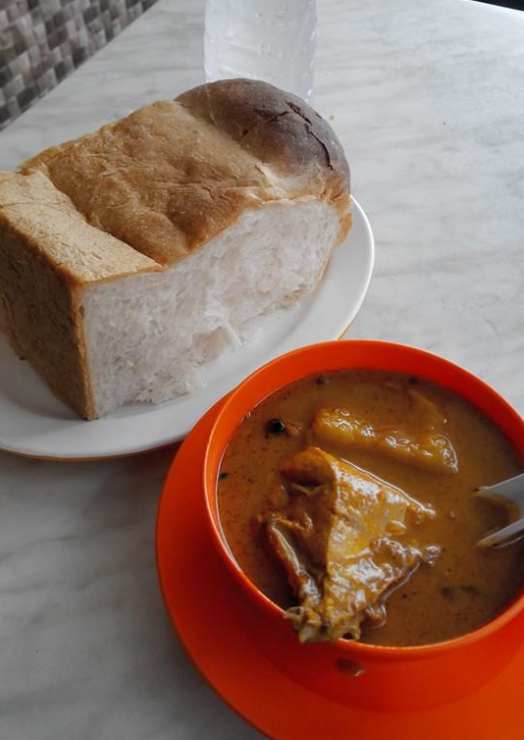 Image credit: Furhan Apocalypto
The bakery, which specialises in this local favourite in Penang, also distributes their loaves to hotels and restaurants around the state.
While the roti man is a rare sight nowadays, the bakery ensures that Penangites can continue to enjoy their hearty breads by operating about 20 mobile shops all over the city.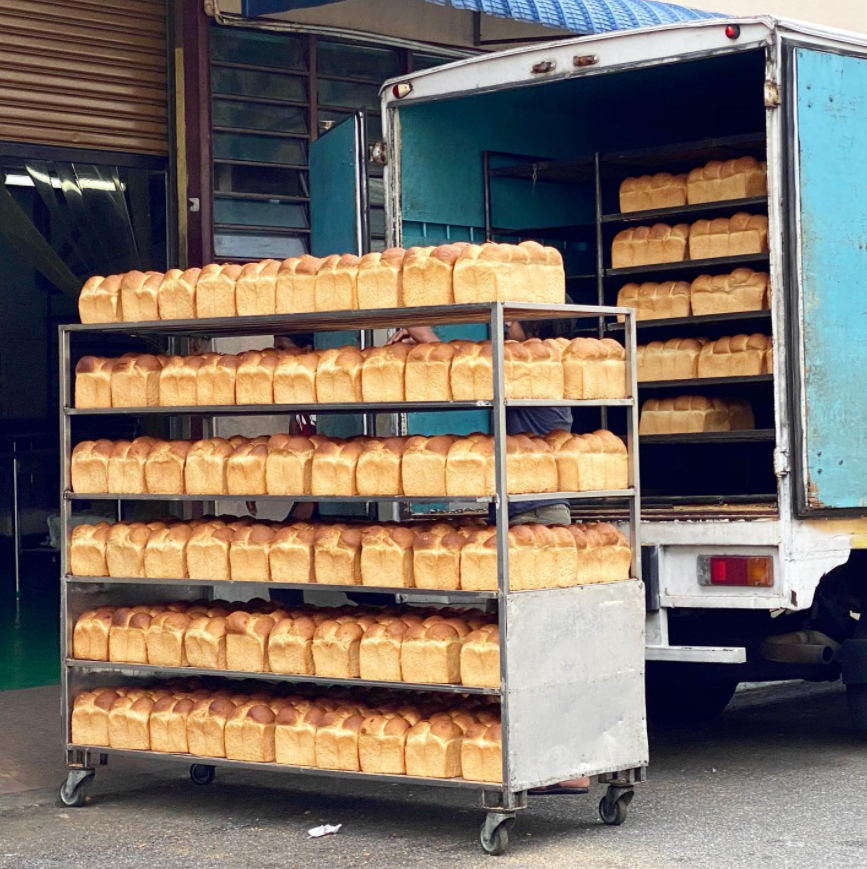 Image credit: @irwan_ariffin
Address: 114, Transfer Road, 10050 George Town, Penang
Opening hours: 8AM-11PM, Daily
Telephone: 04-227 1106 | 016-5556821
Maliia Bakery website | Facebook
---
7. Seng Hin Hiang Biscuit – local's favourite tambun biscuits
---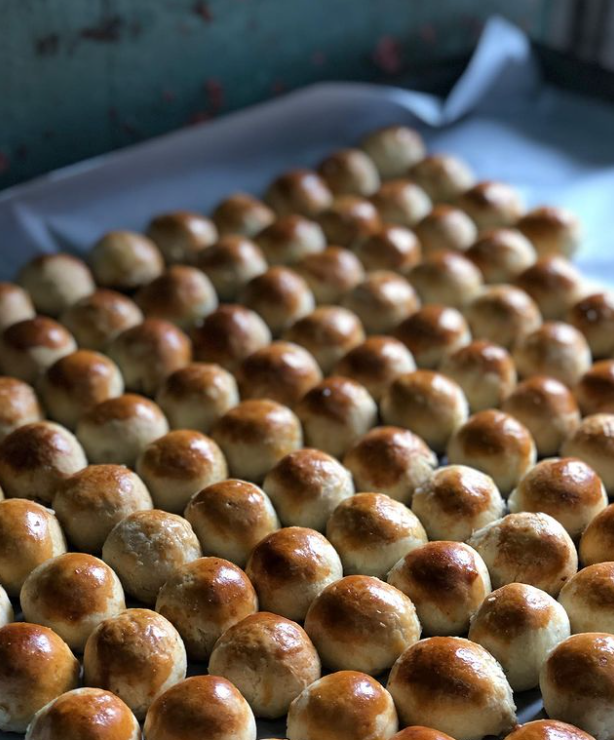 Image credit: @mooo_chelle
Seng Hin Hiang Biscuit is a family-owned bakery that remains popular among many Penangites even with the plethora of lavish modern bakeries cropping up throughout the state.
They may not be a commercialised brand with an extensive menu that younger generations would prefer. But they happen to whip up some of the best tambun biscuits in town from their small heritage shophouse. Nothing fancy or elaborated, just pure authentic goodness.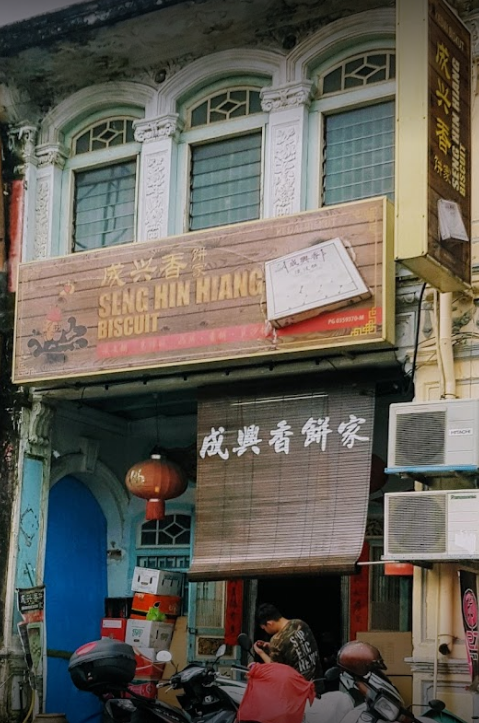 Image credit: Carlos .J

A favourite among the older generations, this shop is known for its extremely crispy and fragrant Tau Sar Pneah (RM7-RM12, depending on size). A hit among customers is their Pandan-Flavoured Tau Sar Pneah (RM7.50-RM13, depending on size).
Other biscuits also worth getting are Heong Peng (RM7) and Beh Teh Saw (RM9).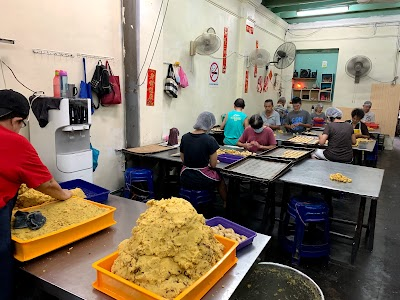 Image credit: @mapsus
While you're waiting for your biscuits to be packed, take a peek into the back kitchen and you'll see a team of workers rolling and kneading away dough, masterfully making their biscuits from scratch.
Address: 44, Lebuh Presgrave, 10300 George Town, Penang
Opening hours: Mon – Fri 9AM-6.30PM, pre-orders available for Saturday (Closed on Sundays)
Telephone: 012-285 1749
---
8. Ng Kee Cake Shop – a century of dishing out traditional treats
---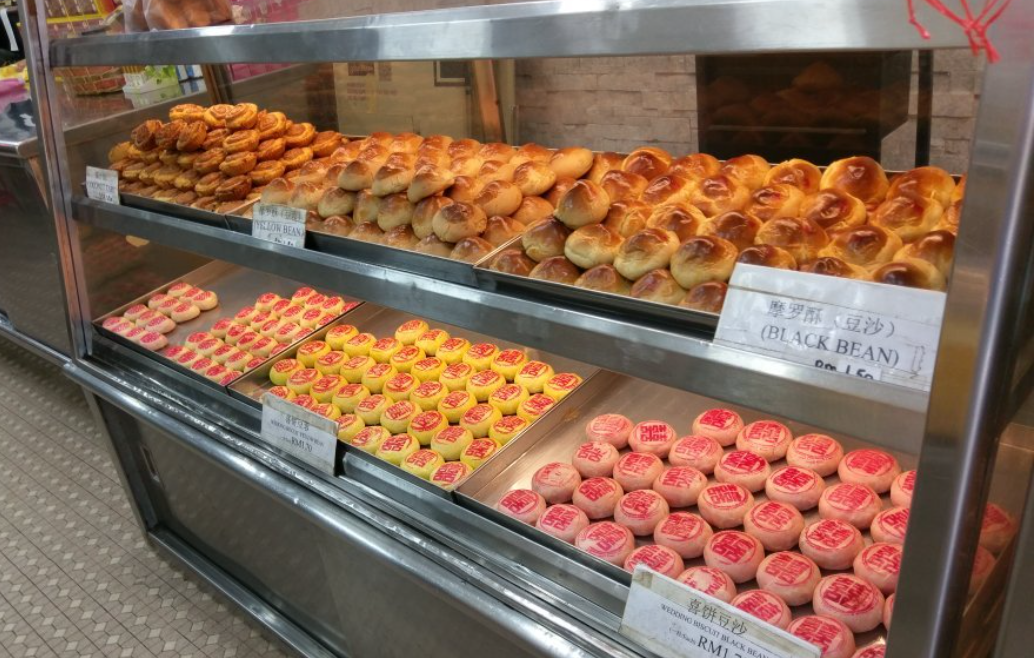 Image credit: ManWai Y
Talk about old-school bakeries, and Ng Kee Cake Shop will likely come to mind. They've been in the industry for more than a century now, baking old-school biscuits, traditional cakes and more.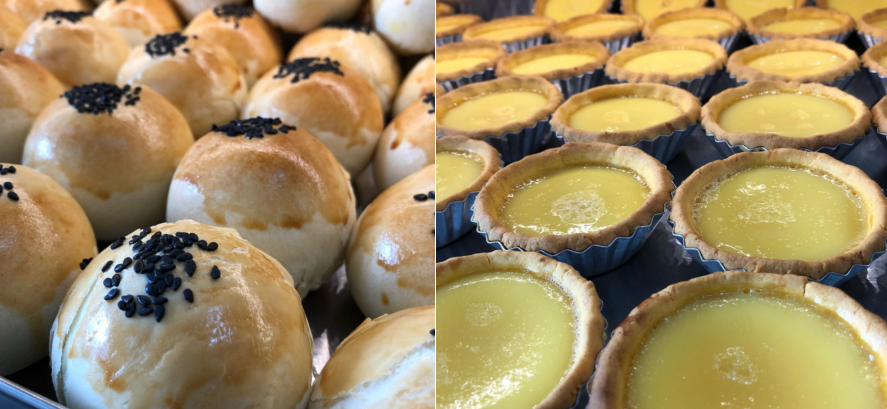 Image credit: @ngkeecakeshop
They are always well-stocked with traditional pastries of all sorts, such as Cantonese Wedding Biscuits (RM1.70/piece), Coconut Tarts (RM1.70/piece), Egg Tarts (RM1.80/piece) and Pepper Biscuits (RM9.50/box), to name a few.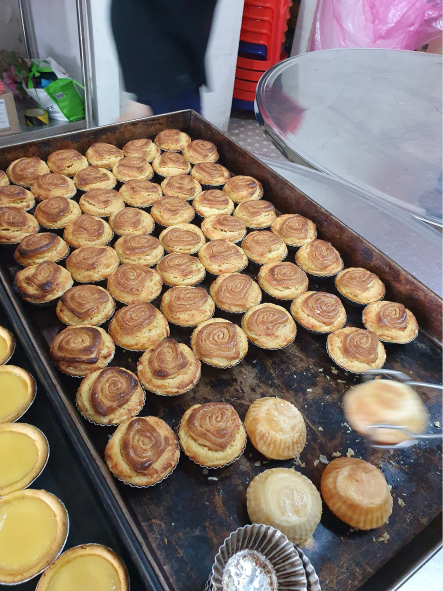 Image credit: Angela Pat Agnes Tan
Come Mid-Autumn Festival and you'll find a wide selection of mooncakes (from RM14.80-20.80), each one painstakingly handmade. Their signature mooncake fillings include the good ol' classics – Lotus, Red Bean Paste, Mung Bean Paste and Coconut.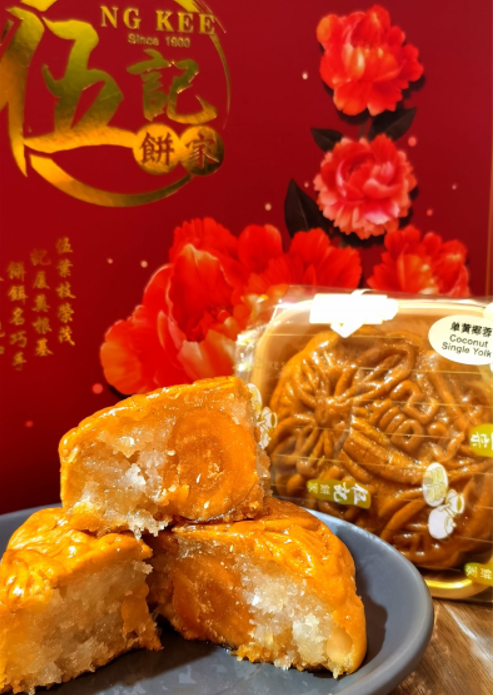 Image credit: Connie Lee
Address: 61, Lebuh Cintra, 10100 George Town, Penang
Opening hours: Mon – Sat 9AM-6PM | Sun 9AM-4PM
Telephone: 04-227 1106 | 016-5556821
Ng Kee Cake Shop website | Facebook
---
9. Leong Chee Kee Pepper Biscuit – hidden gem for coconut tarts & more
---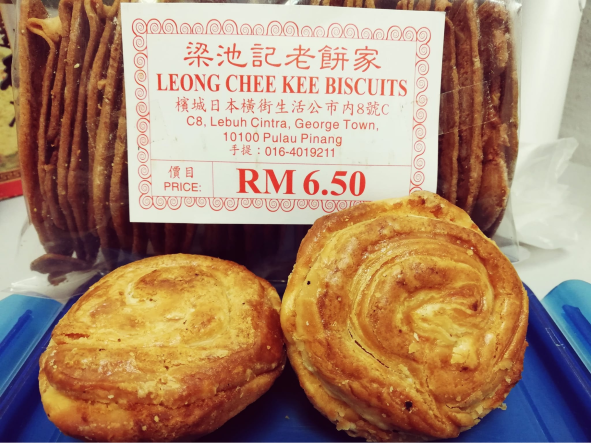 Image credit: Simon Ow
Leong Chee Kee Pepper Biscuit laid its roots in a secluded spot off Cintra Road more than half a century ago, and has been there ever since.
Currently run by the second generation of the original founder, the shop itself can be hard to locate. But here's a tip – look out for People's Court Apartment, and you'll find Kedai Biskut Leong Chee Kee tucked at the ground floor of the residential building.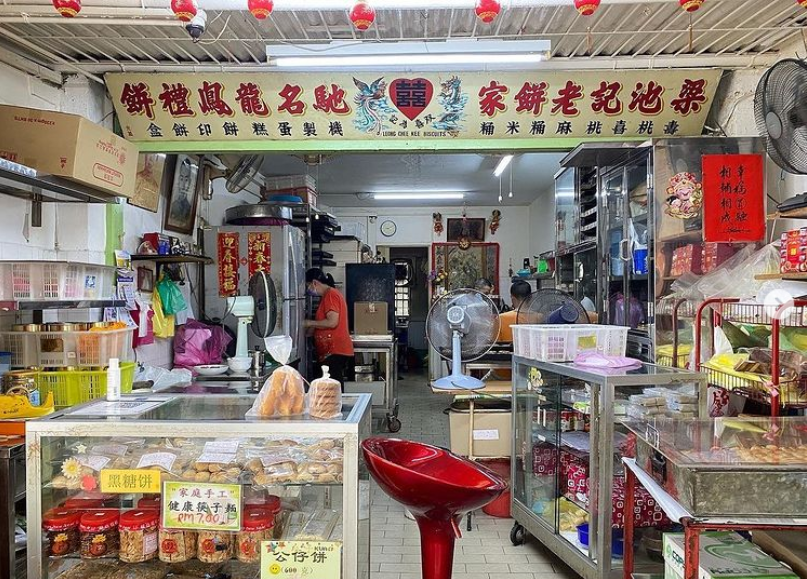 Image credit: @ok___beng80
Among its specialties are the Pepper Biscuits (RM6.50/pack) – huge crunchy discs that are sold in packs – and their fluffy Egg Cakes (RM6.50/pack) baked in flower-shaped moulds.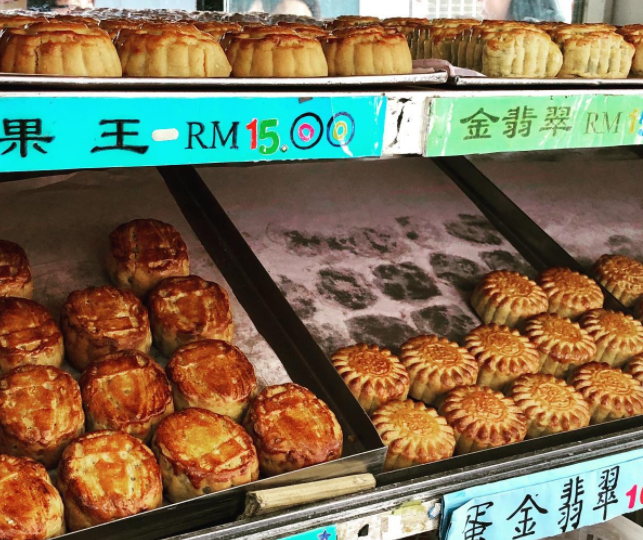 Image credit: @ryanloh1928
Crowds also flock to get their Coconut Tarts, which are topped with a buttery swirl crust, with moist grated coconuts within. Their Chinese-style Walnut Cookies (RM6.50/pack) are also highly recommended by patrons.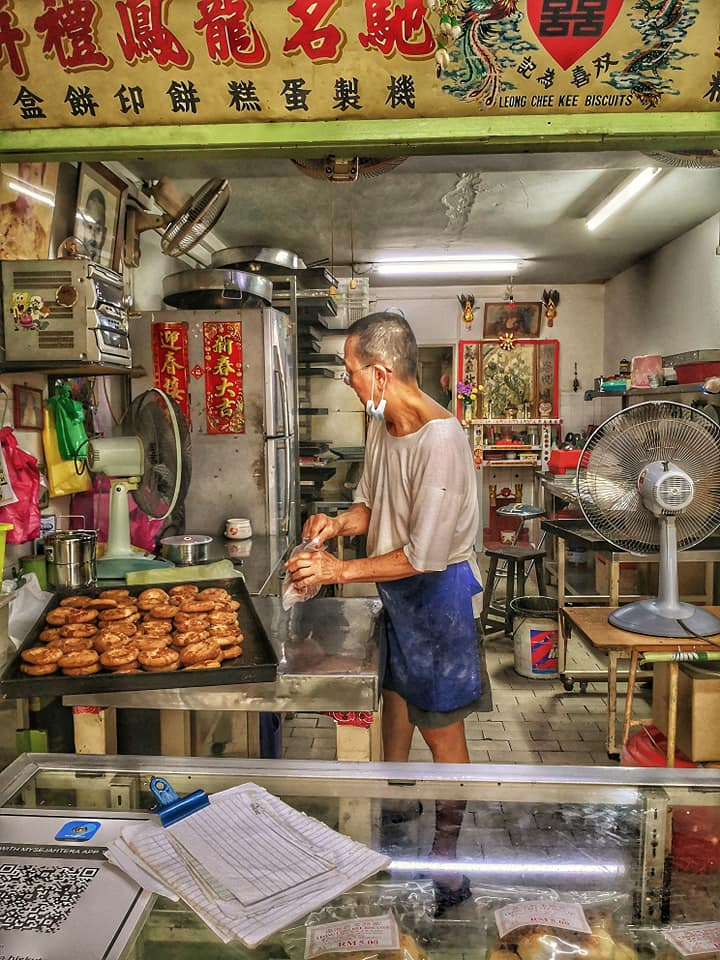 Image credit: Hedges Liang
Address: C8, People's Court, Lebuh Cintra, George Town, 10100, Penang
Opening hours: Mon – Sat 9AM-4.30PM (Closed on Sundays)
Telephone: 016-401 9211
---
Traditional bakeries in Penang
---
With the myriad of modern cafes and bakeries mushrooming across the island as the years go by, we don't indulge in our childhood favourites as often anymore. Nevertheless, there remains a bunch of traditional bakeries in Penang that still give us a wholesome taste of yesteryear.
So drop by to support these local bakeries to ensure they remain with us for years to come. After all, old is gold.
For other Malaysian bakery and cafe recommendations, check these out:
---
Cover image adapted from: ManWai Y, @andrepreneur, Jia-Ju, and @ngkeecakeshop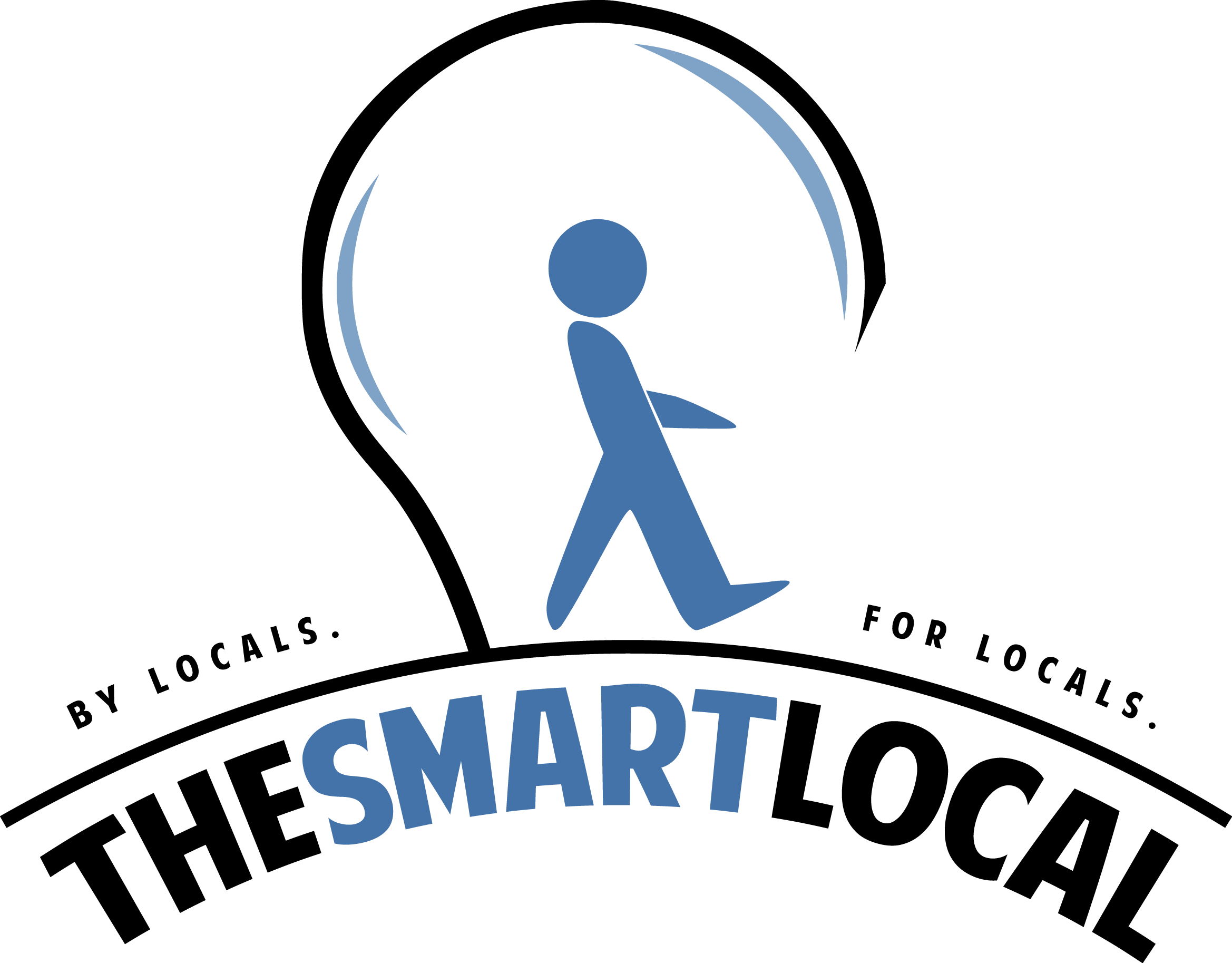 Drop us your email so you won't miss the latest news.