Best deals for July 2020 in Malaysia
---
To say that 2020 hasn't been the best year would be an understatement. Nonetheless, half a year has flown by and there seems to be plenty to look forward to in July 2020. We're now a step closer to the end date of the Recovery Movement Control Order (RMCO), set on 31st August 2020, and there are plenty of July 2020 deals and sales to take advantage of.
Here's our round-up of the 12 best deals for July 2020. It includes major discounts of up to 85% on footwear, and plenty of food deals with free ice cream and 1-for-1 coffee that you can indulge in.
---
1. All plates for RM3.18 at Sushi King's Bonanza 2020
---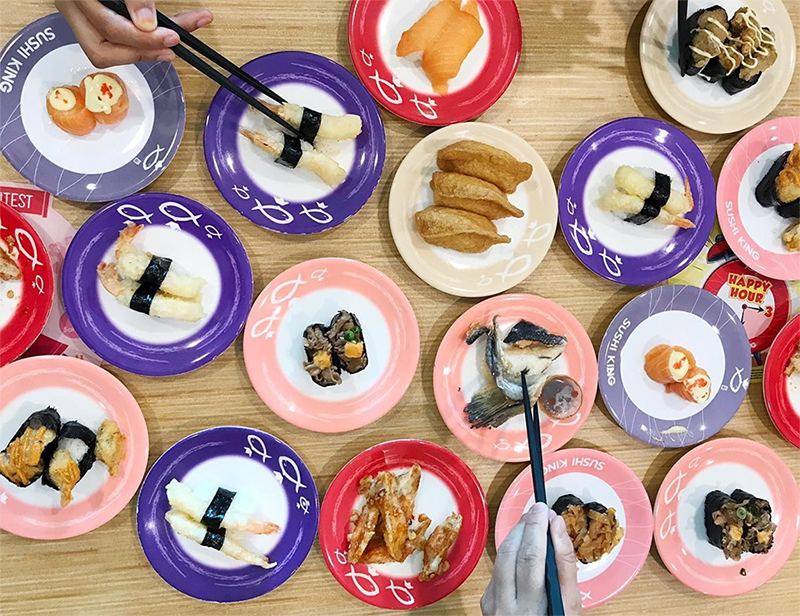 Image adapted from: @lilylulu_
Many of us mourned the closure of over a hundred Sushi King outlets nationwide earlier this year – the branches in KLCC and Selayang Mall, were just some of those affected. 
But luckily for us, there are still 26 outlets nationwide to visit for affordable plates of sushi. Its Sushi King Bonanza – a popular promotion that sees every plate of sushi going for just RM3.18, including service tax – will be making its return this July.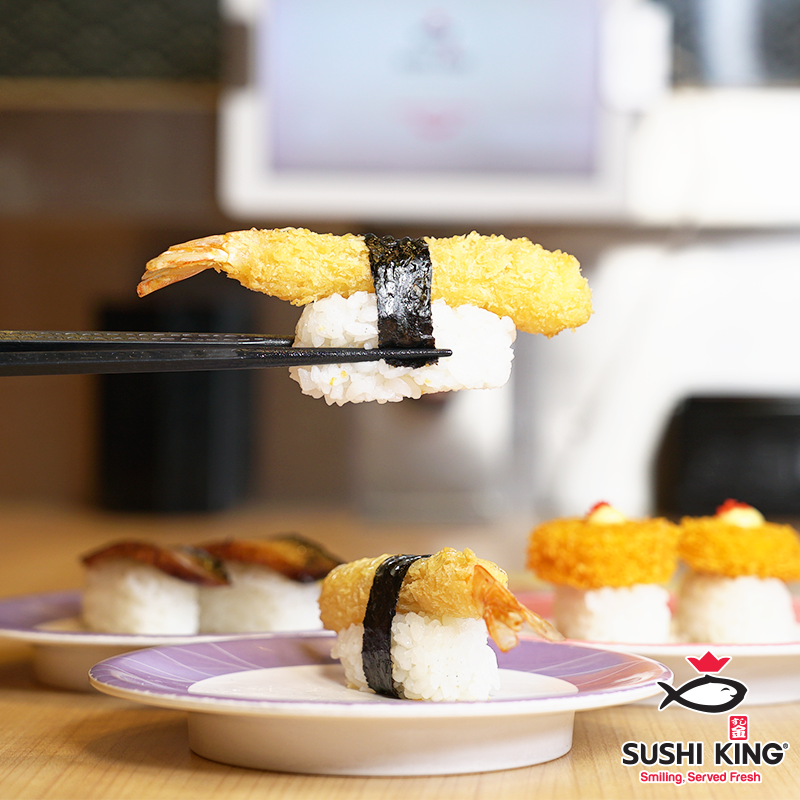 Image credit: Sushi King
You'll get to choose from 45 dishes – and plates of Cheesy Surimi Scallop (U.P. RM4.40), Ebi Fry (U.P. RM6.60), and Salmon Nishoku (U.P. RM6.60) will all be going at the affordable flat fee of RM3.18. Take note that there is a 45-minute time limit you need to keep to.
While this July deal is for dine-in customers who are members only, applying for membership at Sushi King is free and you can do it online too. This membership will also get you "Smile Points", with 1 point earned for every RM1 spent. Collect 20 smile points and you'll get RM1 cashback.
Find your nearest Sushi King outlet here.
Promotion period: 6th July – 12th July 2020: Penang, Perlis, Perak, Johor, Negeri Sembilan, Kelantan, Sabah and Sarawak | 20th July – 26th July 2020: Selangor, Kuala Lumpur, Putrajaya, Melaka, Kedah, Pahang, Terengganu
Website
---
2. 2nd pair of footwear for RM1 at Skechers
---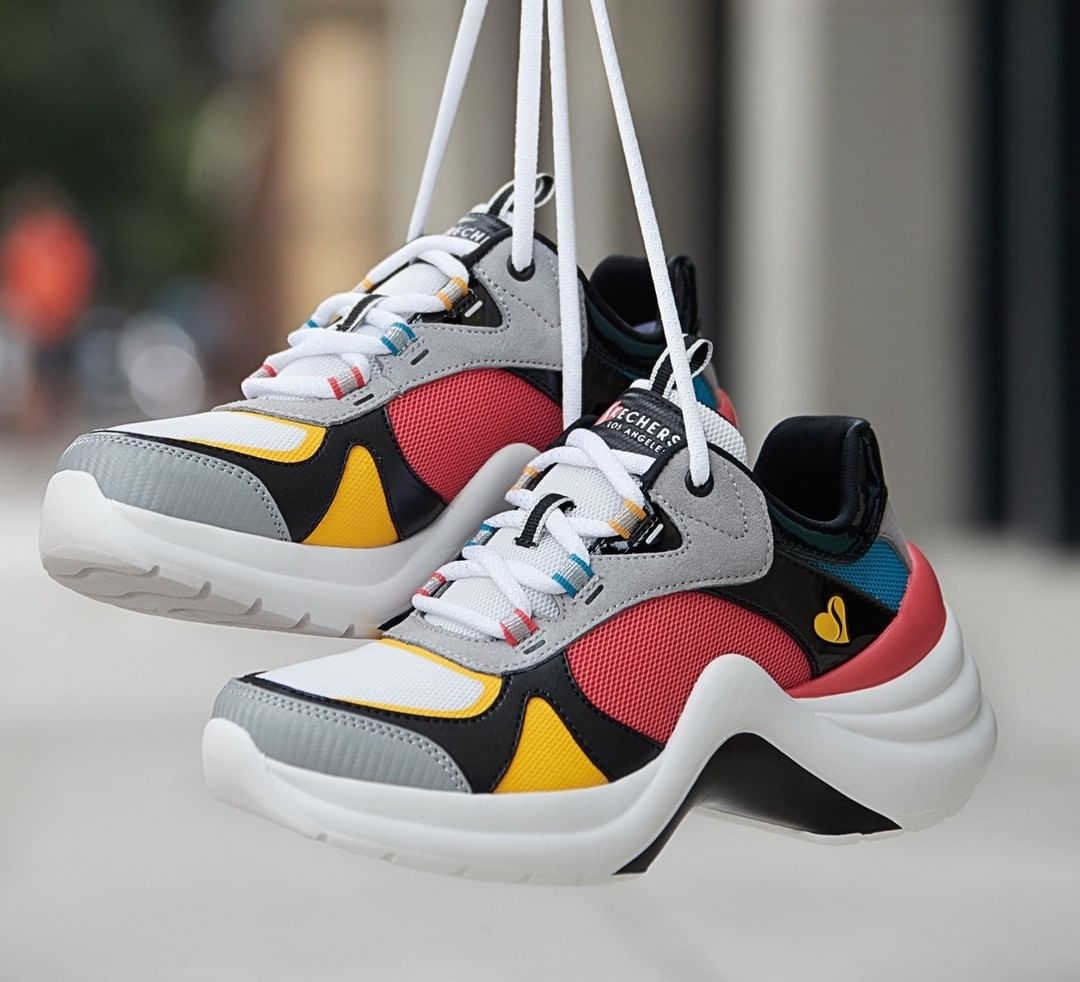 Image credit: @skechersmalaysia
Skechers is having a promotion in their physical stores, where you only need to pay RM1 for the 2nd pair of footwear when you purchase a pair of normal-priced shoes. The RM1 option applies to a selected range of footwear from sneakers to cushy slippers. 
The average price tag of a pair of footwear here will set you back around RM250. So grab a buddy – or your whole squad – to make the most out of this deal.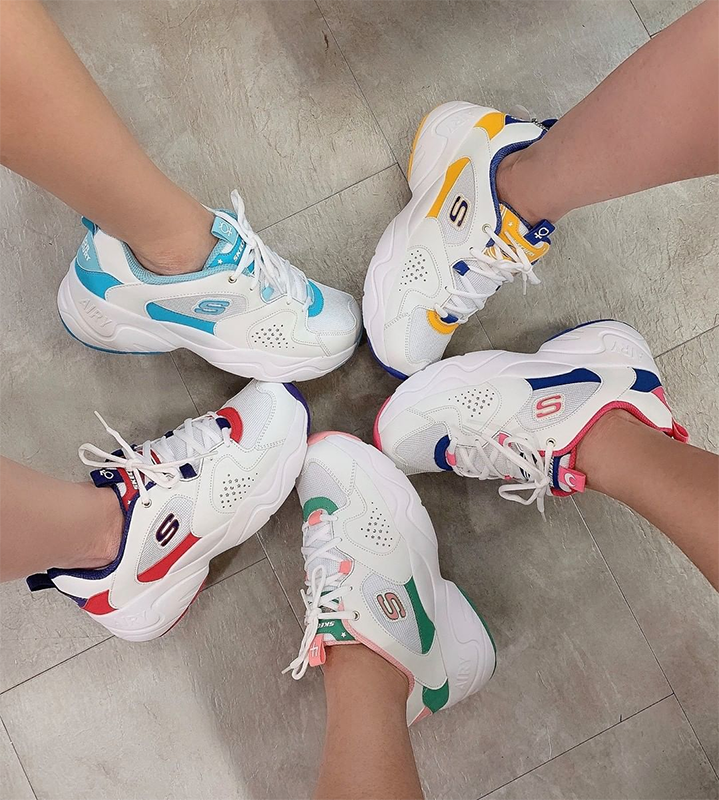 Skechers' Sailor Moon collection comes with pops of colour to match your favourite guardian
Image credit: @skechersmalaysia
Find your nearest Skechers outlet here.
Promotion period: 3rd July 2020 – 2nd August 2020
Website
---
3. Free scoop of ice cream at Baskin-Robbins (U.P. RM8)
---
Baskin-Robbins is known for its whopping 31 flavours of ice cream that range from classic choices of vanilla and chocolate, to unique options of Cotton Candy Wonderland and Twinberry Cheesecake.
Its July 2020 deals called "31 Days 31 Flavors" lets you get a free Junior single scoop of a flavour-of-the-day ice cream, with every purchase of a regular single scoop (RM11) at its stores.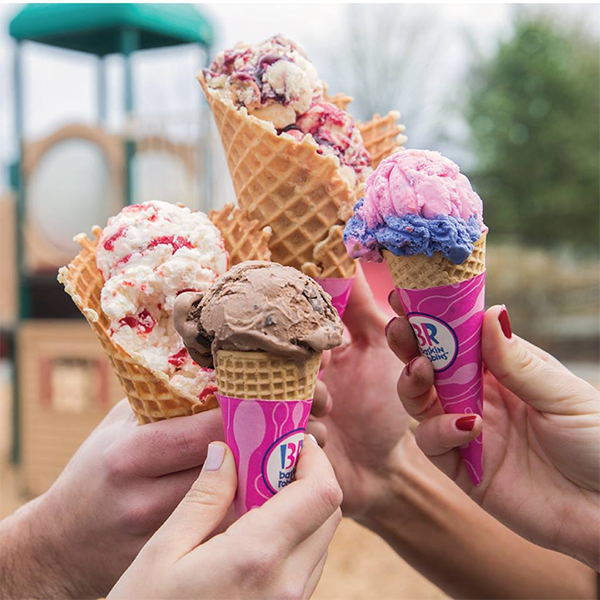 Image credit: Baskin-Robbins
To find out what's the flavour of the day, you can check out Baskin-Robbins' website, or their official Instagram page.

Image adapted from: Baskin-Robbins
Find your nearest Baskin-Robbins outlet here.
Promotion period: 1st July – 30th July
Website
---
4. 1-For-1 coffee beverages at The Coffee Bean & Tea Leaf
---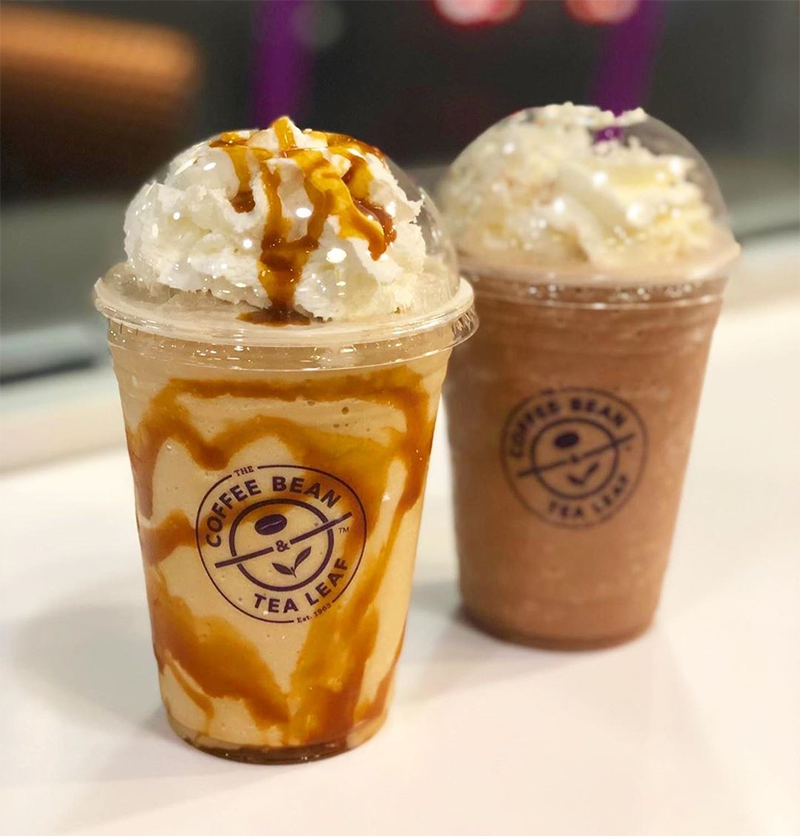 Image adapted from: @coffeepicoftheday
Malaysians are going back to work and their daily routines during the RMCO – which means that we're in need of that caffeine boost more than ever now after staying indoors for over 3 months.
This is why you'll want to save the date for The Coffee Bean & Tea Leaf's "Cookie Hour", from 3PM-8PM daily, available until 10th July.
This buy-1-free-1 deal applies to the following drinks: 
Mocha Cookies & Cream Ice Blended

Pure Chocolate Cookies & Cream Ice Blended

The Original Mocha Ice Blended

Ultimate Mocha Ice Blended

Mocha Latte

Iced Mocha Latte

Café Mocha

Moroccan Mint Tea Latte

Iced Moroccan Mint Tea Latte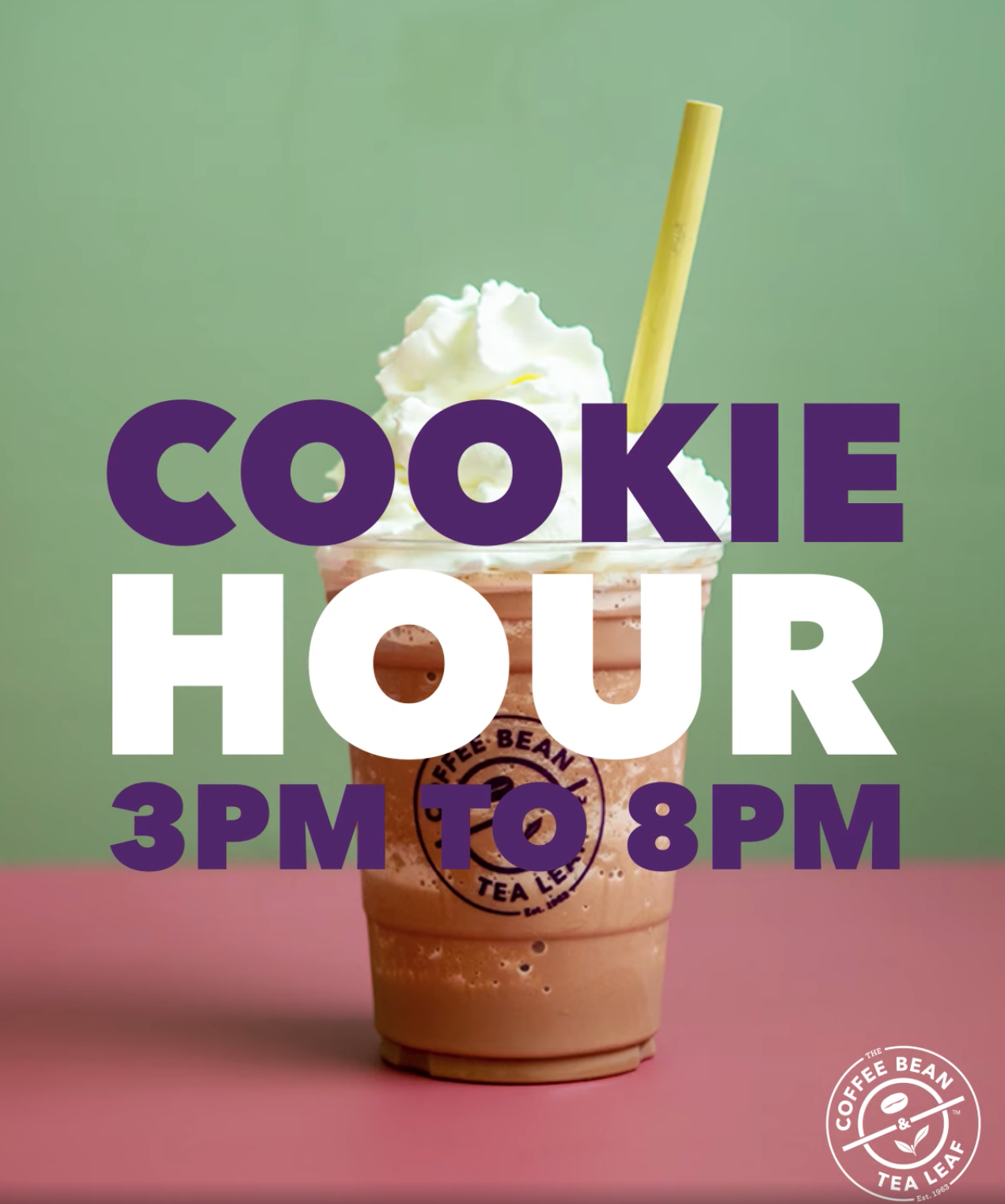 Image credit: Coffee Bean & Tea Leaf – Malaysia 
Since The Coffee Bean & Tea Leaf's beverages usually sets you back an average of RM11 per cup, this is a great time to belanja your friends or coworkers to a cup of latte or mocha when that midday slump hits. 
Find your nearest The Coffee Bean & Tea Leaf outlet here.
Promotion period: 26th June – 10th July
Website
---
5. Up to 50% off Nike footwear at JD Sports
---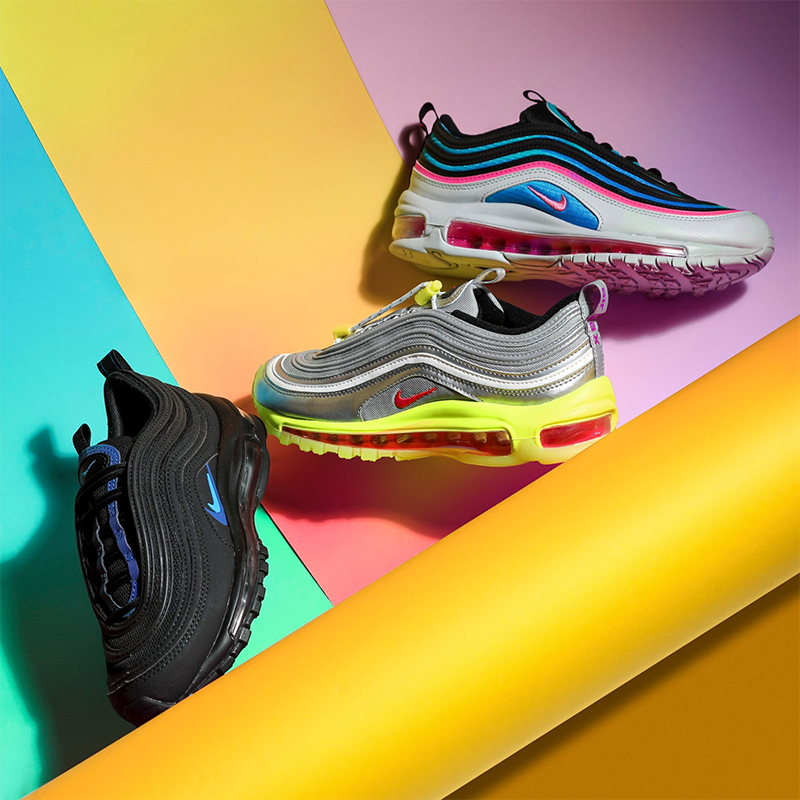 Image credit: JD Sports
Those looking for a pair of trusty sneakers to aid their #fitspo goals or to hit up a hiking trail should check out JD Sports. The store is offering discounts of up to 50% off its range of over 140 Nike footwear, and the promotion is available at both its online and physical stores.
You can look forward to getting a pair of Nike's lightweight Zoom Pegasus Turbo 2 (U.P. RM735) – a series that's great for jogging – at half-price. There's also discounted footwear for kids, and football boots available.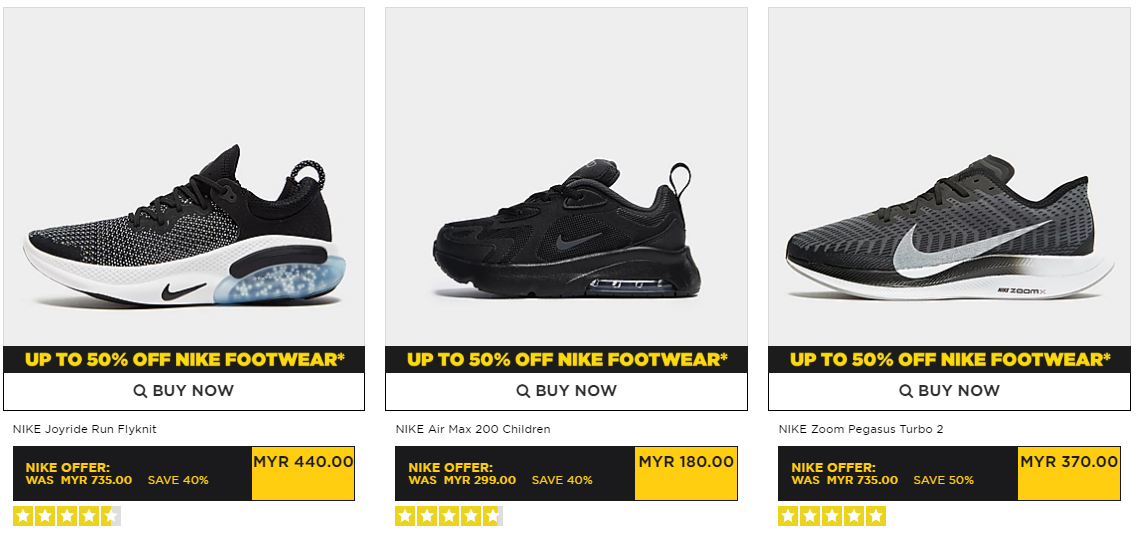 Different types of Nike footwear that's now on sale
Image adapted from: JD Sports
But if you're just looking for some cool and comfy kicks to go with your everyday wear, you'll find the same major discounts on some of its more fashion-forward sneakers. 
Nike's retro-style series of Air Max footwear, including its seriously comfy 98 SE and 98 with pops of reds, blues, and pastel pinks, comes with a 50% discount too. This means you can look to saving over RM300 for a new pair of stylish shoes at JD Sports. 
Image adapted from: JD Sports
Those who opt to shop from JD Sports' online store will get free delivery for orders over RM400. 
Shop for Nike shoes at JD Sports here.
Promotion period: 12th June 2020 – 5th July 2020
Website
---
6. Buy-1-Free-1 promotion at Watsons
---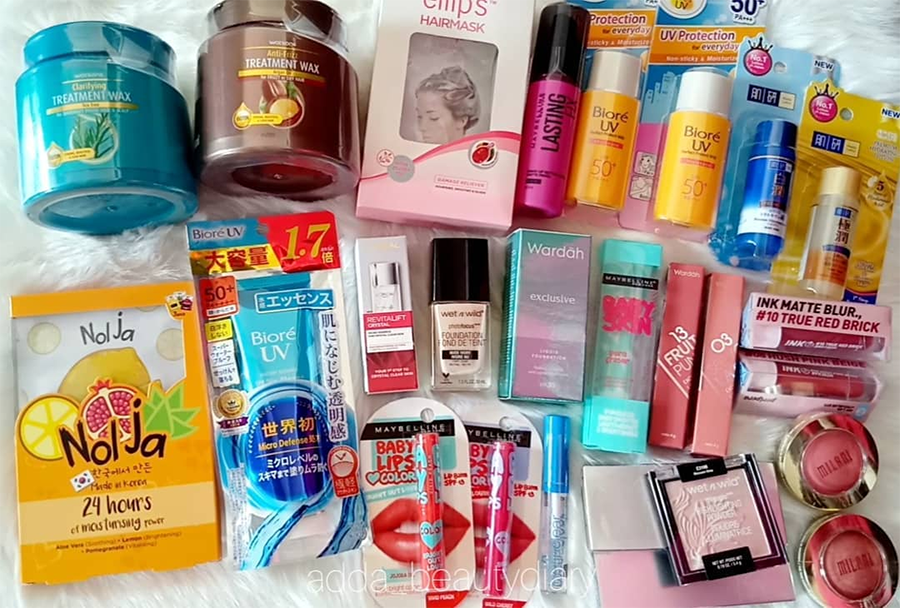 Image credit: @adda_beautydiary
If Watsons is one of your lepak spots where you can spend hours browsing the aisles for affordable makeup and skincare products, you'll be glad to know that it is having Buy-1-Free-1 deals from now until 27th July. 
The deals apply to over 600 products, including skincare and beauty products, with everything from hand lotions from Biore to mouthwash from Watsons up for grabs.
Some things to look out for are LEADERS Amino Moisture Facial Mask 5's (U.P. RM38.90) and JAYJUN Honey Dew Red Facial Mask 1's (U.P. RM7.90), which is great for those who want to add an extra moisturising step to their skincare routine.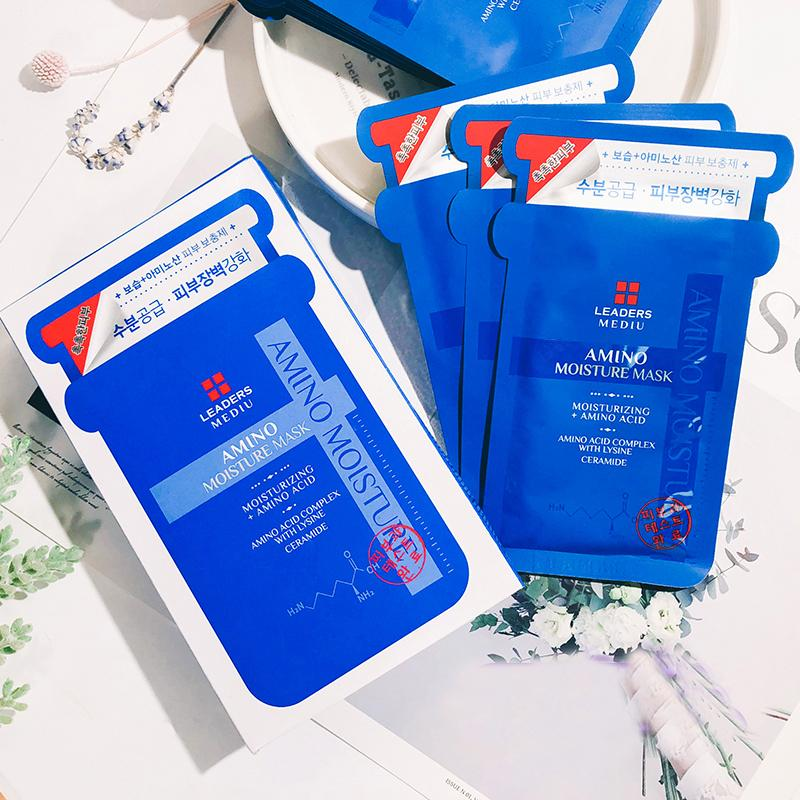 Image credit: Lazada
Even Maybelline's Eye & Lip Makeup Remover (U.P. RM30.50) is part of this sale, which means you get to save over RM30 if you decide to stock up on it. 
If you're not a Watsons member yet, you'll also get a RM20 voucher when you sign up now. 
Shop at Watsons online here.
Promotion period: 23rd June – 27th July 2020 (West Malaysia) | 30th June – 3rd August 2020 (East Malaysia)
Website
---
7. 2 Peach Jelly drinks with RM17 off at Starbucks (U.P. RM19.10 each)
---
Those looking for a new, refreshing flavour to try after indulging in Starbucks' FantasyTail Frappuccino can go for the franchise's new July 2020 deal that lets you get RM17 off when you order 2 peach jelly drinks. The drinks include Peach Cloud with Jelly, Peach Cloud Frappuccino with Jelly, or Chocolate Peach Jelly Frappuccino (U.P. from RM19.10 each), and are made with a base of white peach juice, and topped with peach jelly and fresh slices of white peaches.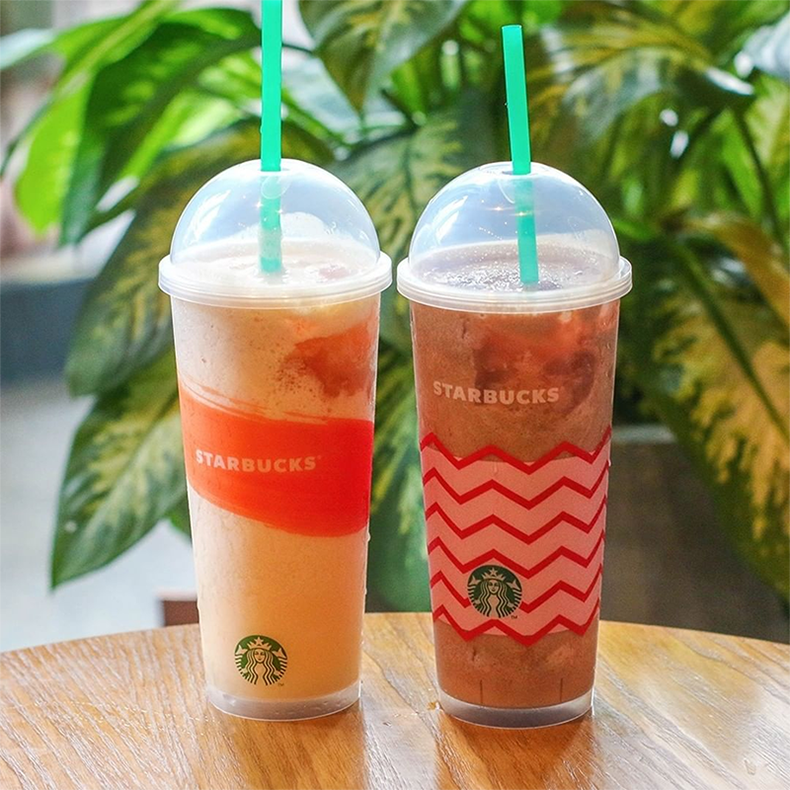 Image credit: @mystarbucks
The drinks are also part of Starbucks' yearly summer menu – which means they are available for a limited time only. If you're planning on just getting a cup for yourself, you'll get RM6 off these options too. 
Find your nearest Starbucks outlet here.
Promotion period: 26th June – 10th July
Website
---
8. Up to 50% off books at KL International Book Fair
---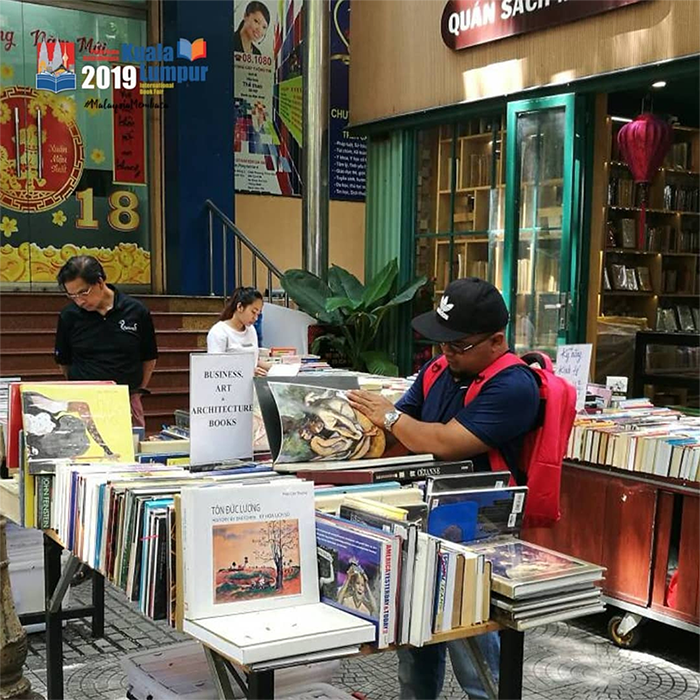 Image credit: @klibf.my
KL International Book Fair has been drawing in thousands of visitors at its yearly book fairs, bringing together bookworms, local publishing houses, and bookstores. But in the midst of the COVID-19 pandemic, the book fair has been taken online to Shopee so we can still browse through cheap books.
You can expect to find books as low as RM7, and with additional vouchers with discounts of up to 50% to be claimed. There are over 30,000 books to browse from 140 participating local bookshops and publishing houses too, including BookXcess, Gerakbudaya, MPH Bookstores, and Buku Fixi.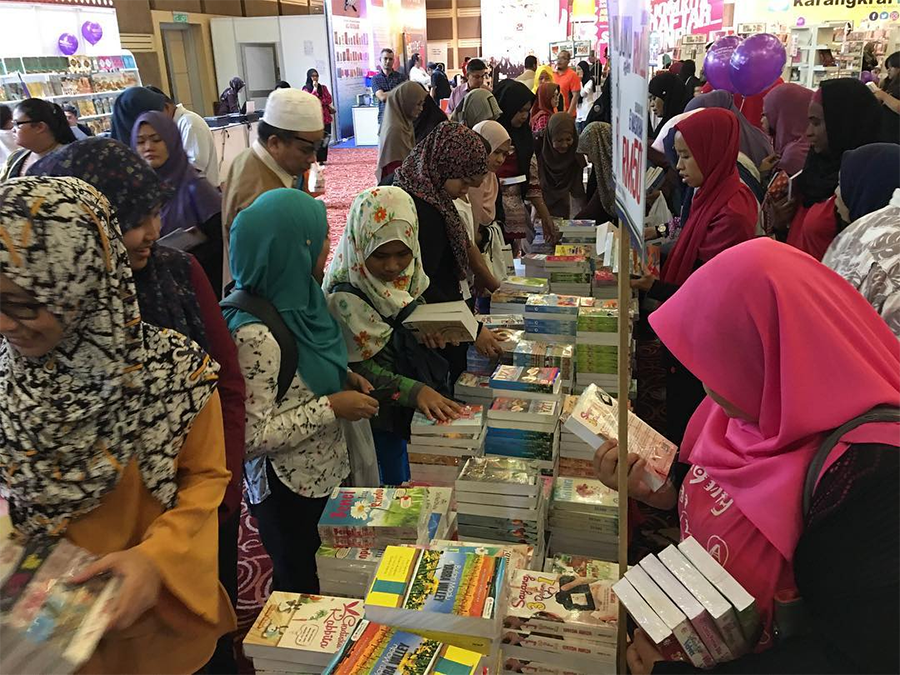 Image credit: @kumpulan_media_karangkraf
We scrolled through Shopee and found a host of genres available, including children's books, fiction, non-fiction, and educational textbooks. Those looking for new reads can look out for books from international authors such as John Green and Jane Austen, and as well as local authors including Rozlan Mohd Noor. 
Shop for books at KL International Book Fair online here.
Promotion period: 25th June – 8th July
Website
---
9. Up to 85% off sneakers with Sports Direct's clearance sales
---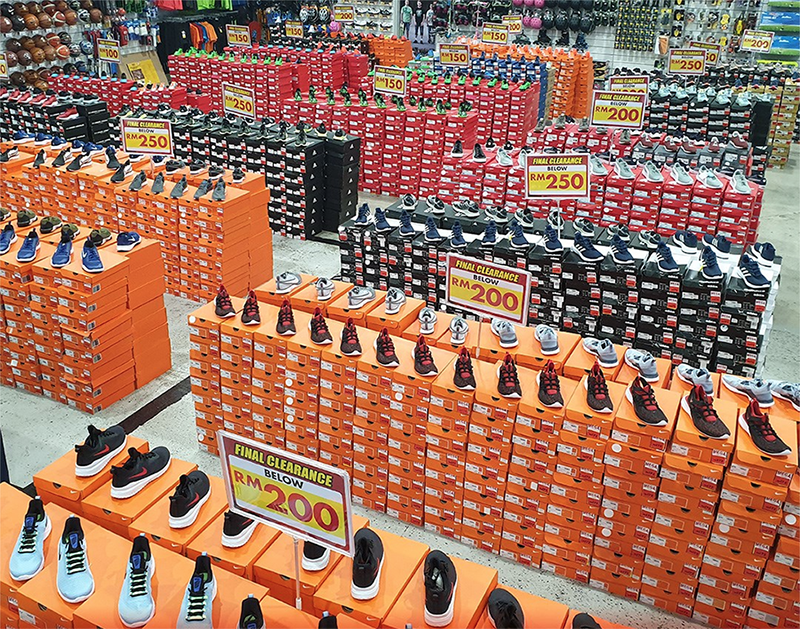 Image adapted from: Sports Direct 
Sneaker lovers will want to check out Sports Direct's online store, as its end-of-season clearance sales are currently ongoing. There's up to 85% off items from 35 sports and athleisure brands, including popular ones such as Adidas, Puma, Skechers, and Nike.
There's also over 11 pages of deals to scroll through online, with everything from clothes to water bottles to sneakers listed at slashed prices. You'll find a pair of Slazenger sneakers going for as low as RM50, and running shoes from Adidas going at over RM100 lower than its normal price.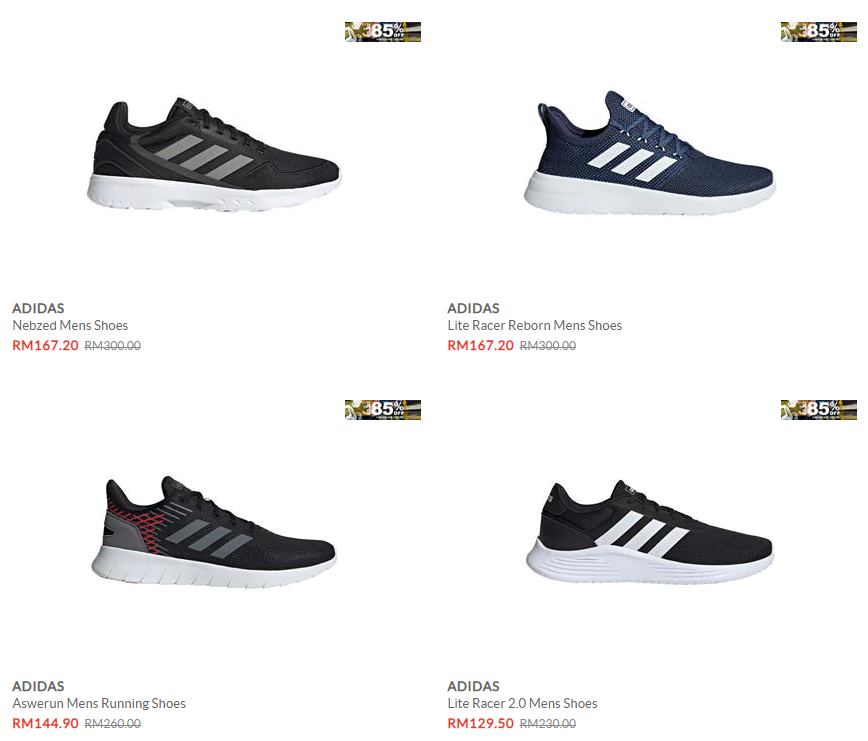 Sales on Adidas shoes
Image adapted from: Sports Direct
Shop at Sports Direct online here.
Promotion period: 22nd June – 5th July
Website
---
10. 30% off all menu items at Santan
---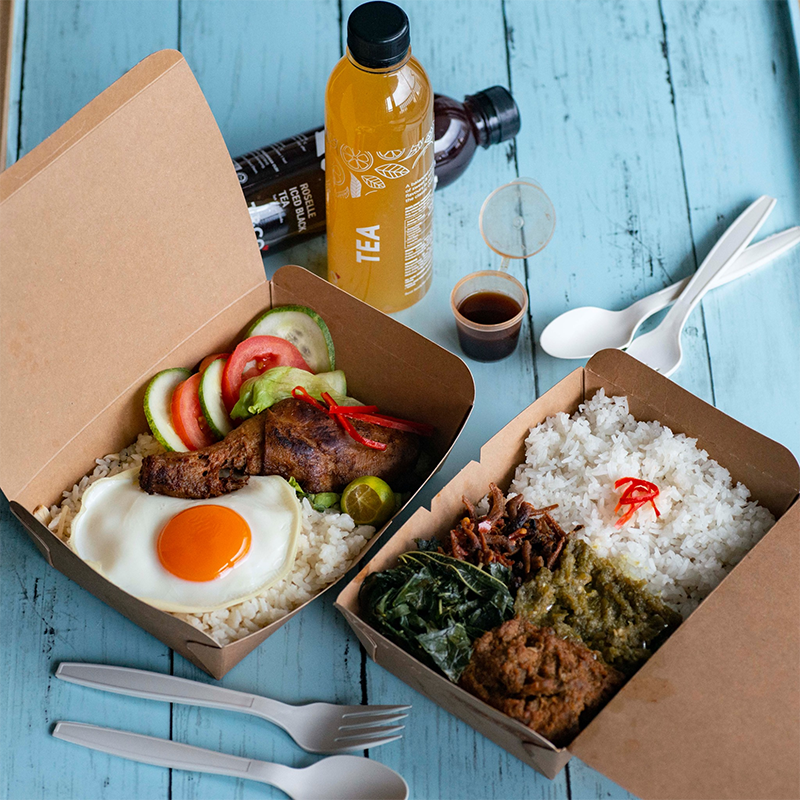 Image credit: Santan 
Santan ASEAN, known for its Pak Nasser's Nasi Lemak with chicken rendang and Uncle Chin Chicken Rice, is having a discount of 30% off all menu items for orders over RM35 from now until 12th July.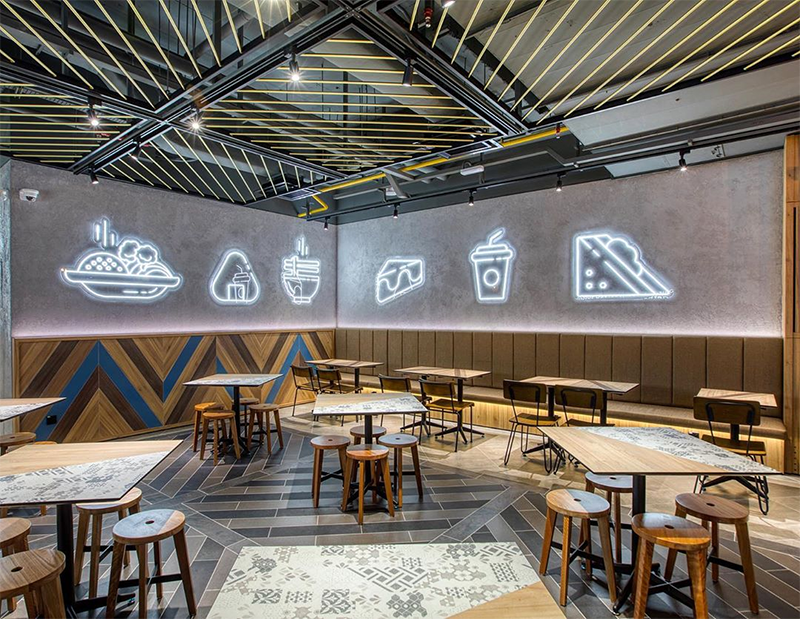 Image credit: @matthewlimassociates
You'll also get to score this deal on top of their already-affordable Value Meal sets, such as Santan Value Meal for 2 (RM32), where you get to mix and match 2 rice dishes, 2 desserts, and 2 drinks from their menu for a hearty meal. There's also options for groups of 4 and 6. 
For those who want the convenience of ordering in or are still avoiding crowds at this time, this deal also applies to deliveries and takeaways in addition to dine-ins. 
Address: Mid Valley Megamall 58000 Kuala Lumpur, Malaysia
Opening hours: 10AM-10PM, Daily
Telephone: 010-268 4754
Promotion period: 22nd June – 12th July
Website
---
11. Buy-1-Free-1 sofuto and sundaes at FamilyMart (U.P. from RM3.90)
---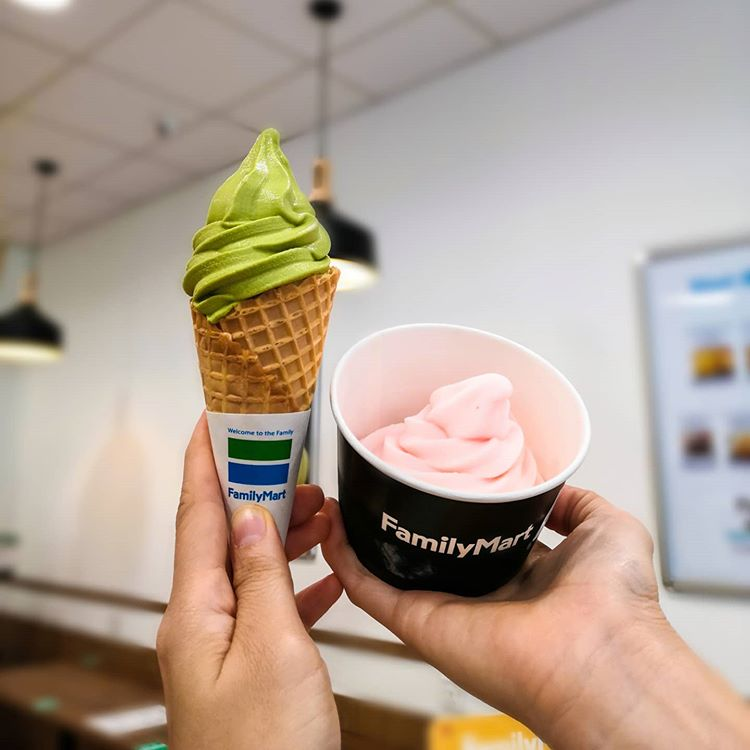 Image credit: @familymartmy
Matcha sofuto made its return to FamilyMart over a week ago, and the convenience store is having a Buy-1-Free-1 deal on all sofuto from now until 14th July 2020. 
Instead of the waffle ice cream cones, you can opt for sofuto sundaes, which come in a cup. The same offer and sofuto flavours of strawberry or matcha applies for both. 
If you're celebrating your birthday this month, you'll get to claim a free sofuto too. All you have to do is download the FamilyMart app on your phone to redeem a cone or cup of your choice, with flavours such as French Vanilla and Matcha to choose from.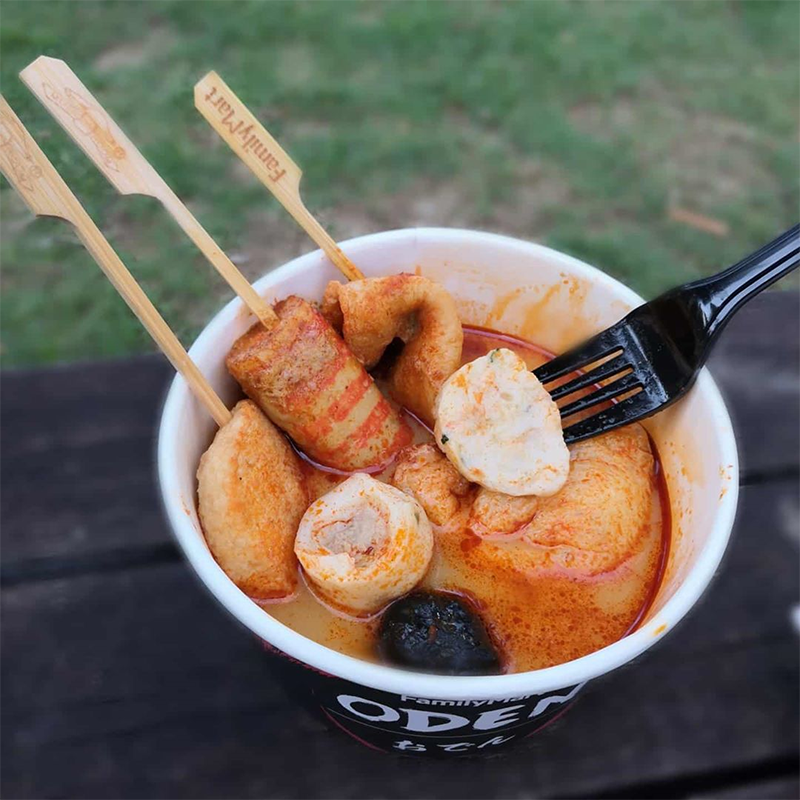 Image credit: @familymartmy
Those who can't resist FamilyMart's Oden bowls, which come packed with sticks of fishcakes and noodles of your choice in a steaming bowl of Tom Yam broth, can get 20% off Oden bowls when you opt to get it delivered by FoodPanda. 
This deal only lasts until 7th July, so you'll want to be quick to drop by while stocks last. 
Find your nearest FamilyMart outlet here.
Promotion period: 1st July – 14th July
Website
---
12. Free admission to KL Tower's observation deck (U.P. from RM30)
---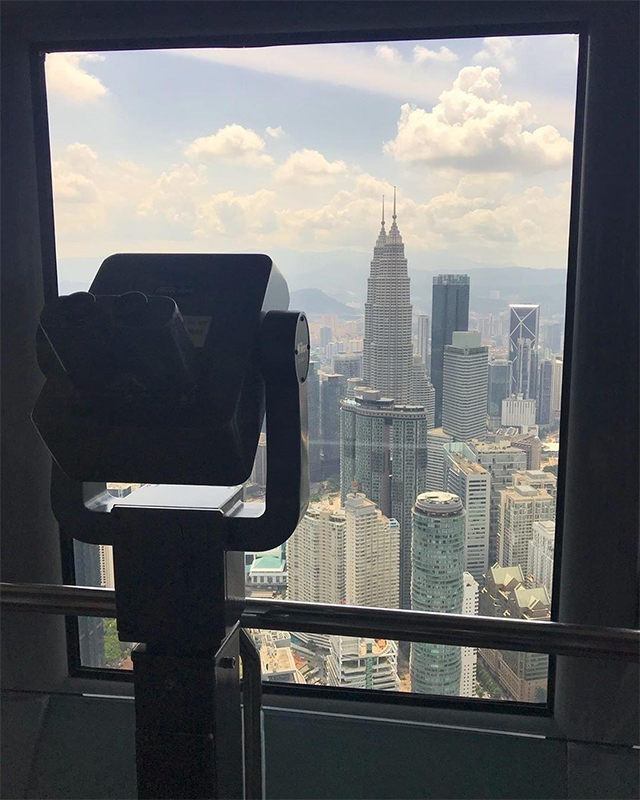 Image credit: Menara Kuala Lumpur (KL Tower Official)
KL Tower is giving free admissions to all visitors for the whole month of July 2020. 
Here, you'll get access to the observation deck, with views of the city and mountain ranges from 276 metres (around 84 storeys) above ground level.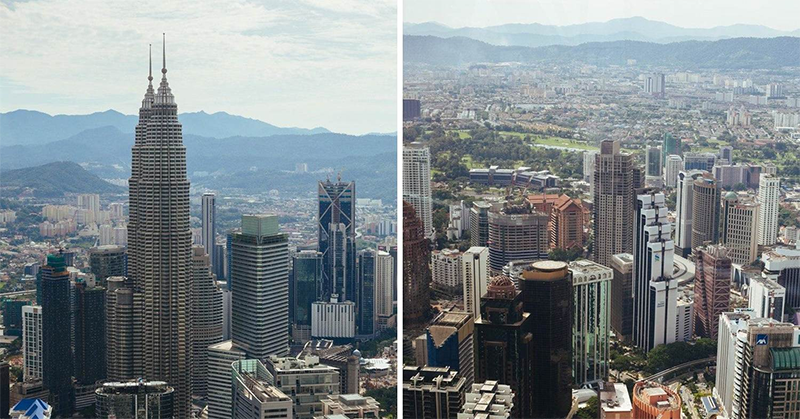 Image credit: Janet Cho
There's also 50% off tickets to KL Tower's Sky Deck (U.P. RM71/adult and RM37/child), where you'll get to hop out onto a glass box to take in stunning views of KL around and below you.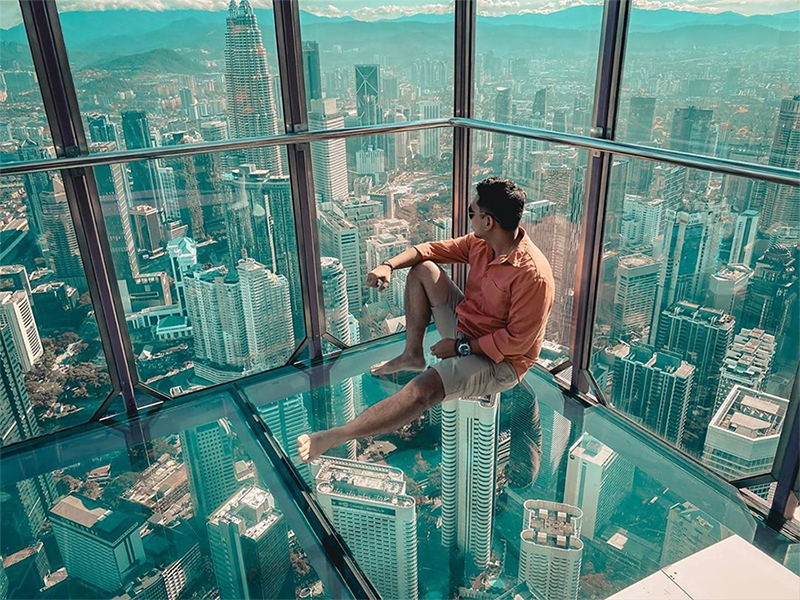 Image credit: @itsmepaul.17
For more information on deals at KL Tower, check out our article on it.
Promotion period: 1st July – 31st July
Website
---
Best deals for July 2020 in Malaysia
---
We're all back to our usual schedules, with Malaysia now seeing better days during the Recovery phase of the MCO. So save the dates on these deals for shoes, food, and attractions for July 2020 so you can fuel up on caffeine and save more than a penny while you're out shopping or hitting up a restaurant and local attractions.
For more things to do in July:
Get more stories like this!
Drop us your email so you won't miss the latest news.