Sky-Dome Hotpot in Kuala Lumpur
---
Hot pot has long been a favourite among Malaysians, but our fervour for the cuisine has reached an all-time high in the past year. With so many new chains cropping up in town, even the best of us give into temptation whenever we catch a whiff of aromatic soup bases or peek at the food on the table we're passing by. 
If you've made it a personal conquest to hit up all the newest hot pot joints around, you wouldn't want to let Sky-Dome Hotpot slip under your radar. Since its opening in 2020, the restaurant has turned heads for its unique experience where patrons dine in a futuristic dome-shaped tent that gives you an unobstructed view of KL's skyline. 
Whether you're a foodie or just someone who has their eyes out for the perfect venue for special celebrations, Sky-Dome Hotpot certainly tops the list with its romantic ambience and mouth-watering food.
For more good eats, check out these recommendations:
---
Glass-like domes on a rooftop terrace
---
Located on the 13th floor of Wisma Trax at Chan Sow Lin, Sky-Dome Hotpot has clear domes spread across the rooftop terrace. The main dining area is made up of a single large dome that can comfortably fit about 100 diners.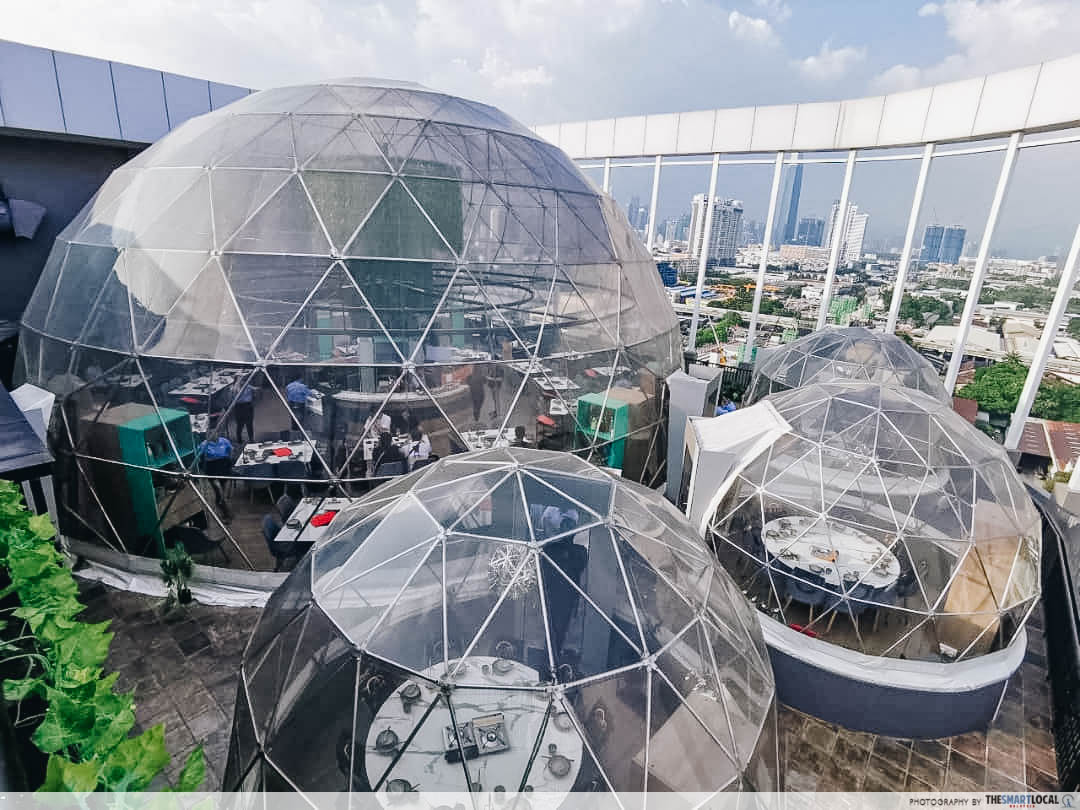 The domes' geometric design and transparent screen makes it look like one half of a disco ball
There are also separate smaller domes that surround the main hub. These are ideal for intimate gatherings as you get the whole space to yourself. If you want to be the host of a memorable dinner with your loved ones, there's a minimum charge of RM800 for these private domes.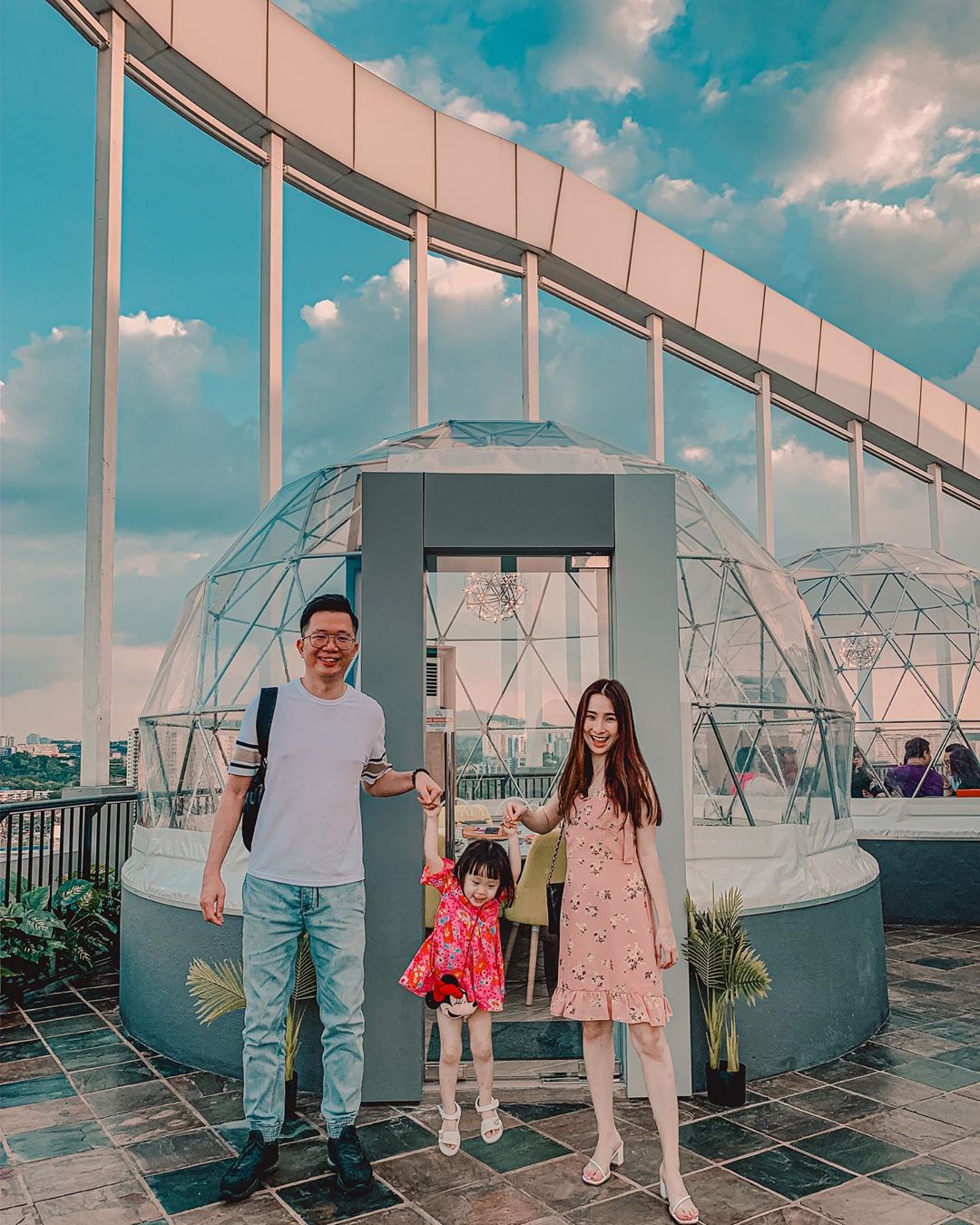 Image credit: @ashleyxjiahui
To add to the ambience, there's also a musician who walks around the venue while playing tunes on his trumpet. 
---
Take your pick from a large selection of ingredients
---
Malaysians love being spoiled for choice, which is exactly what makes hot pot such a popular choice for gatherings as there's plenty of variety to keep even the fussiest eaters happy.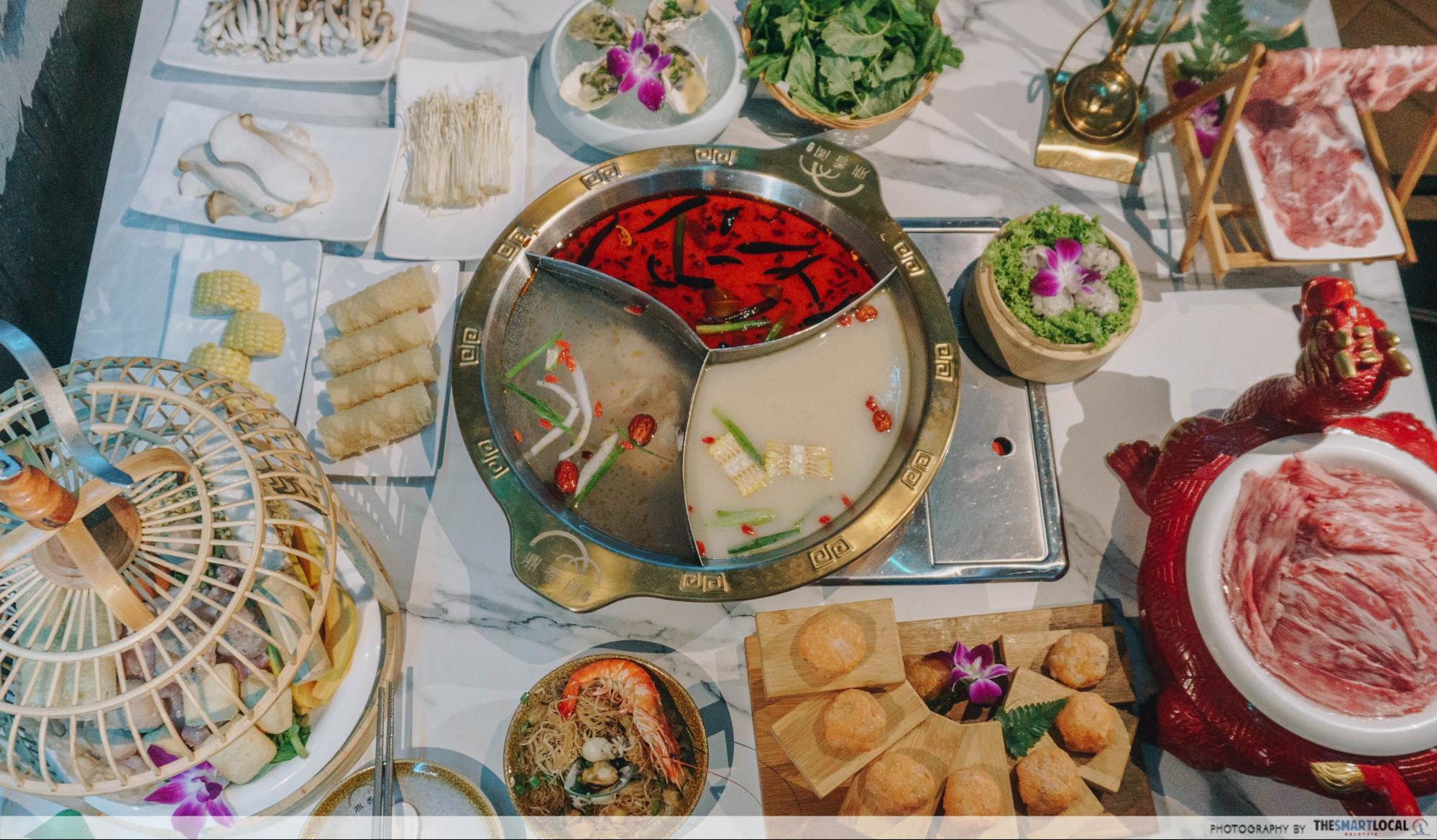 At Sky-Dome, you can expect to find classic hot pot ingredients like Pork Belly Slices (RM8.90/100g) and Crispy Beancurd Rolls (RM8.90/4pc) as well as more unique finds like Spain Pork Rib (RM9.90/100g) and Baby Octopus (RM9.90/4pc). 
We tried 3 soup bases (RM38/soup) – Coconut Chicken Soup (+RM7), Beauty Pork Soup, and Spicy Mala Soup. 
The coconut soup is refreshingly sweet and is loaded with traditional Chinese herbs like jujube and goji berries, which balances out the grease from the meat. The mala and pork bone soup are made from the same base, but the latter is slightly sweeter due to the addition of corn and dates. Those who can't take spice will be able to join in the mala hype with Sky-Dome's spicy soup as it packs a mild heat.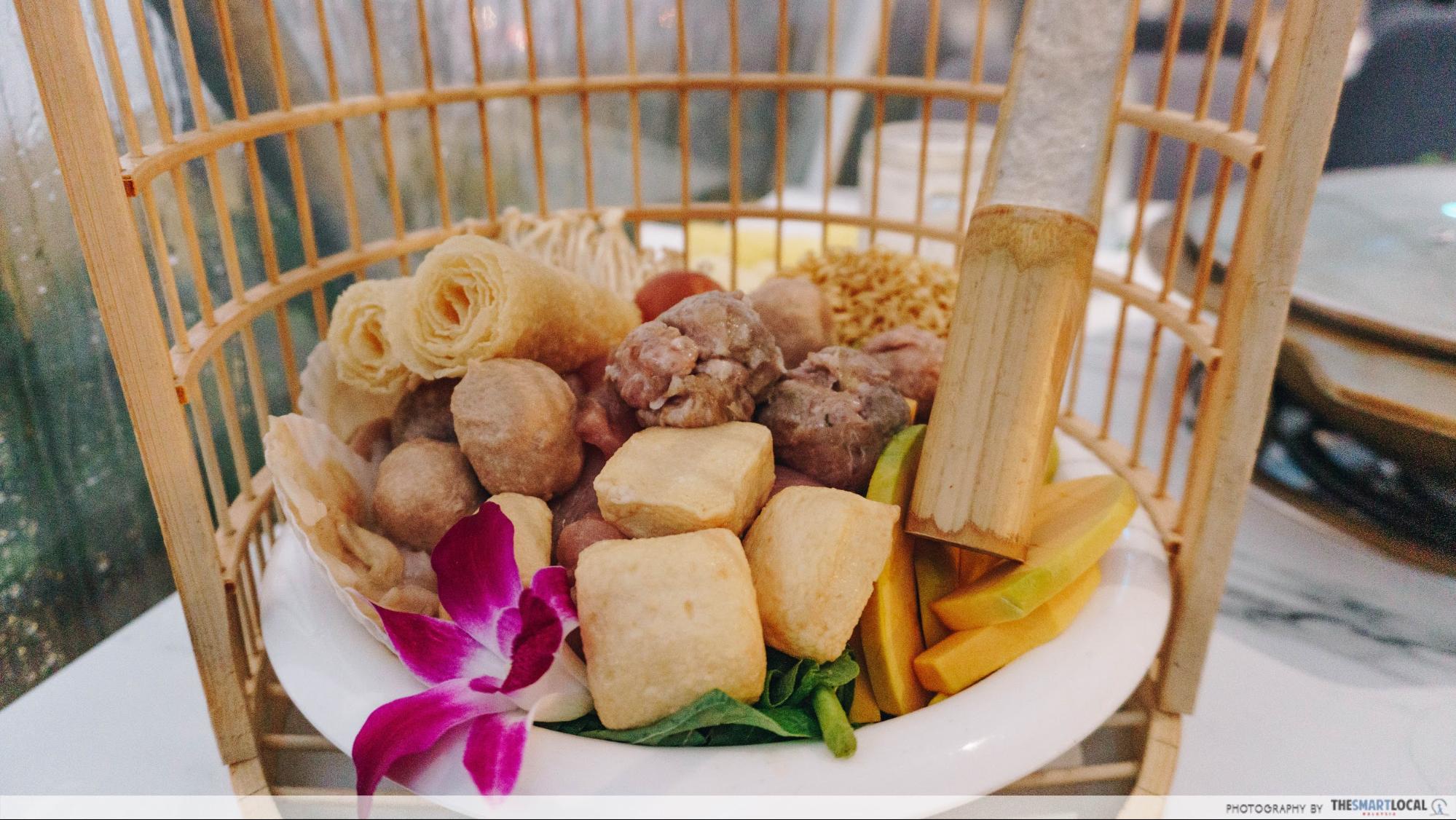 You can order a platter that comes with a good selection of meat, seafood, and veggies. 
First-time diners can opt for the sets to get a good gauge of the selection of ingredients here. The set for 2 pax is priced at an affordable RM88.80, and comes with Pork Marinated Ribeye, Dong Cai Pork Tendon Ball, and Bamboo Octopus Paste.


The meatballs here are freshly made everyday to maintain quality and consistency
The Ebiko Prawn Ball (from RM14.90/4pc) has a burst of briny umami flavours from the pops of fish roe, complementing the mild-flavoured shrimp. The Seaweed Cuttlefish Ball (from RM12.90/4pc) is a big hit among diners for its bold flavours. Those who are a fan of seaweed soup will definitely take a liking to this.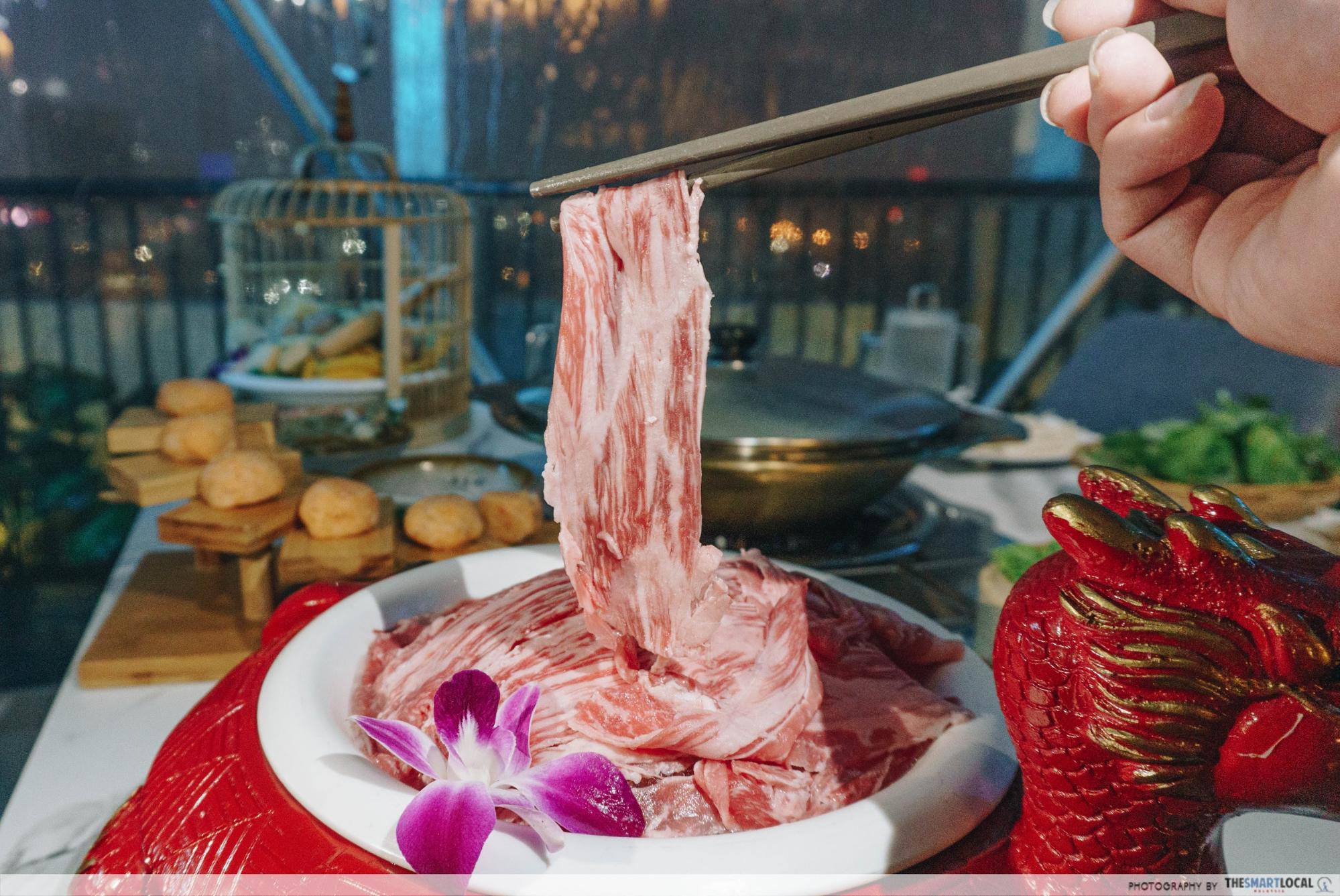 A slice of Wagyu beef only needs to be cooked for 10-15 seconds for optimum flavour and texture. 
The Australian Wagyu Beef Slice (from RM29.90/100g) is worth a try. The beautiful marbling on the beef gives it that heightened melt-in-your-mouth quality.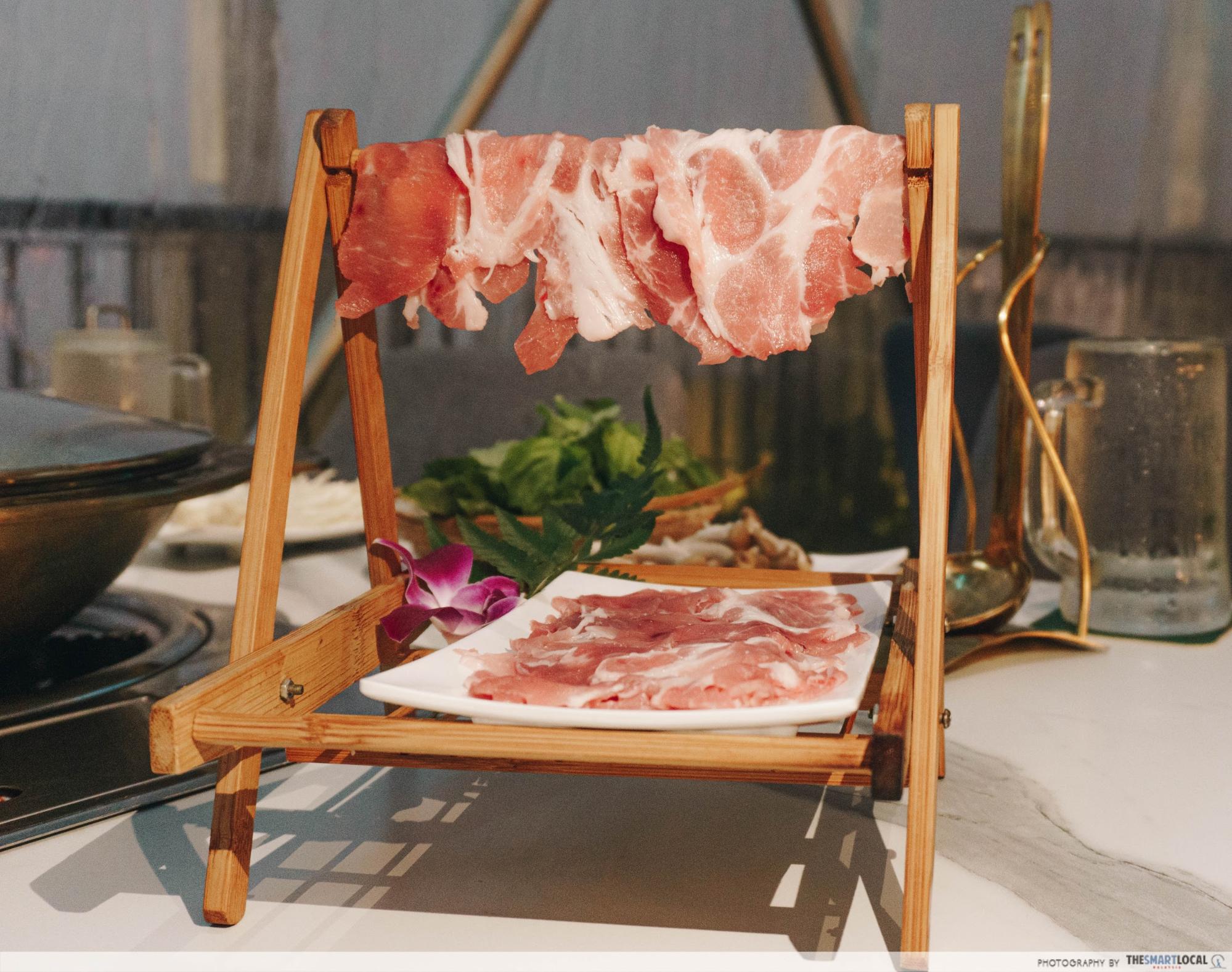 For a budget-friendly alternative, go for the Pork Collar Meat Slice (from RM8.90/100g).The fat to meat ratio gives it a tender bite while still retaining its juiciness after soaking in all that extra flavour from the soup.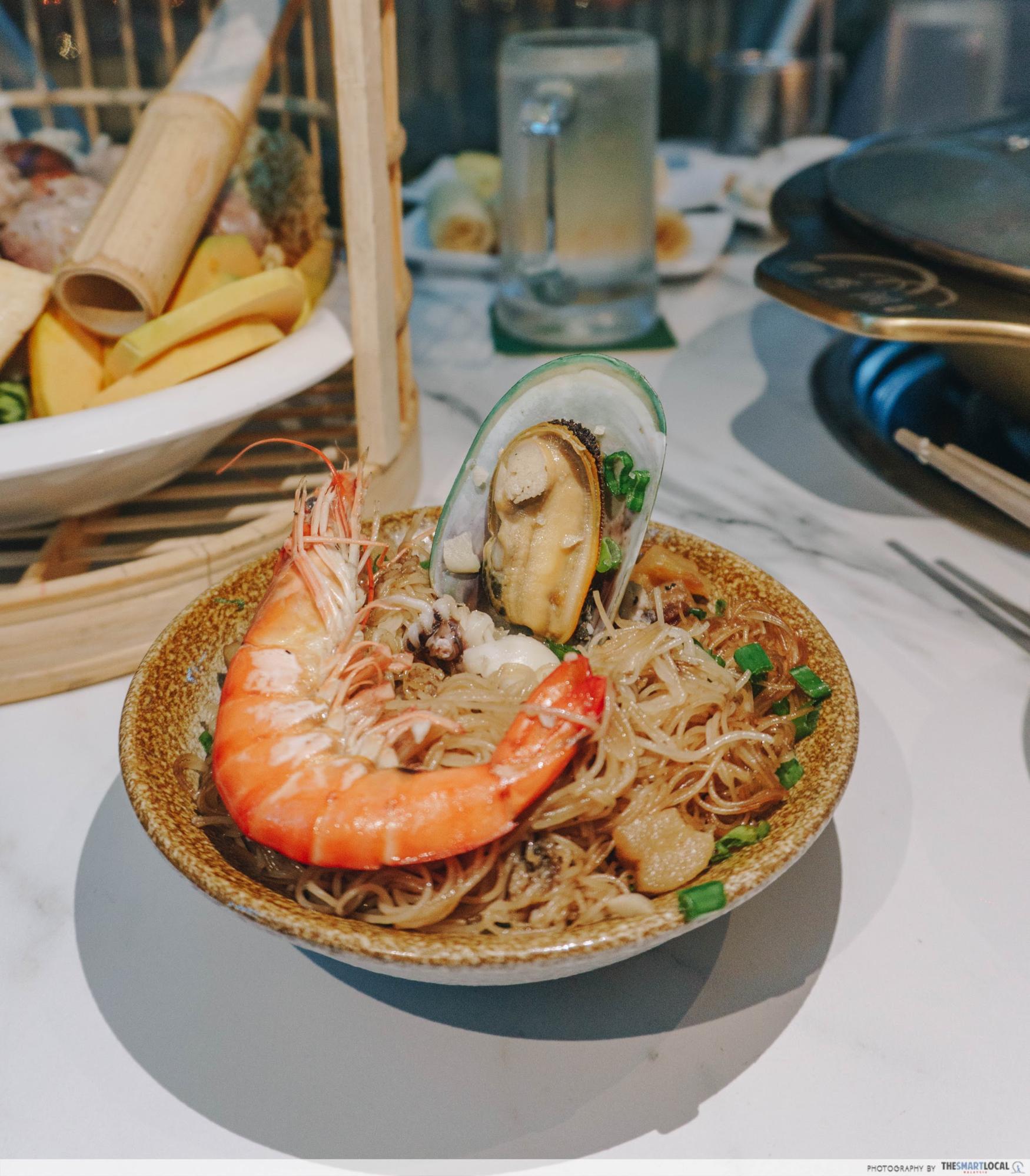 You'll get a bit of surf 'n' turf action with the fresh seafood toppings and crispy pork lard
While waiting for your ingredients to cook, keep your feast going by ordering some of the restaurant's hot food offerings. Their specials include Seafood Mee Hoon (RM14.90), a stir-fried noodle dish that has been tossed with soy sauce, sesame oil, and infused with fragrant seafood broth. 
Raw oysters on a hot pot menu are an odd find, but the Garlic Spring Onion Oyster is a good appetiser that whets the appetite with its zesty flavour. 
---
Dinner under the stars at Sky-Dome Hotpot
---
Malaysians ought to be thrilled to know that they have another restaurant to add onto their list of date night venues as few can compare to Sky-Dome's unique glamping-style hot pot dinner. Its concept is a nod to the few things Malaysians love most about dining out: charming ambience, large variety, and reasonable price tags. 
Address: Wisma Trax, Level 13, No.1, Jalan Lima, Chan Sow Lin, Kuala Lumpur
Opening hours: 4PM-12AM, Daily
Telephone: 018-668 0021 (WhatsApp only)
Sky-Dome Hotpot's Facebook
For ideas on how to spend your weekend, check out these articles:
---
Photography by Amber Lee.

Cover image adapted from: @cindysia95
Get more stories like this!
Drop us your email so you won't miss the latest news.