Gardenia lorry goes missing in KL
---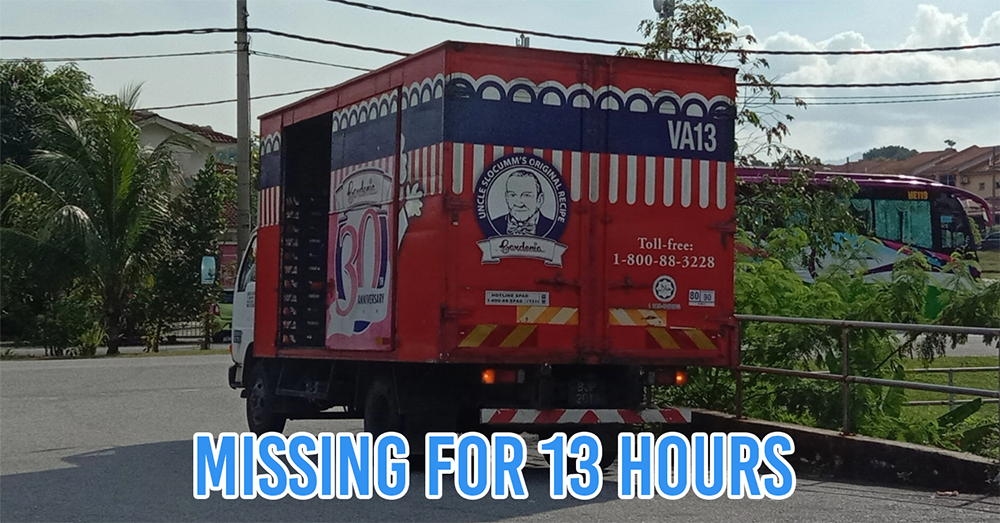 Gardenia lorry
Image (for illustration purposes only) adapted from: Mohd Nadzrin Wahab
It wasn't long ago that Gardenia made headlines as people were seen hoarding loaves of bread during the Movement Control Order (MCO). Gardenia may have since assured Malaysians that there's enough bread to go around, but recently, another "scandal" has emerged. 
On 31st March 2020, an entire Gardenia lorry mysteriously went missing in Kuala Lumpur. And no one knew what happened to the lorry until it finally turned up 13 hours later, all the way in the northern state of Terengganu.
---
Lorry transporting bread disappears in KL
---
On Tuesday, 31st March, around 1PM, a Facebook user called upon the public to keep an eye out for an allegedly stolen Gardenia lorry that had gone missing. While many took it seriously and tried to help, others started making jabs at how bread has become such a hot commodity during the MCO that someone would hijack a bread lorry.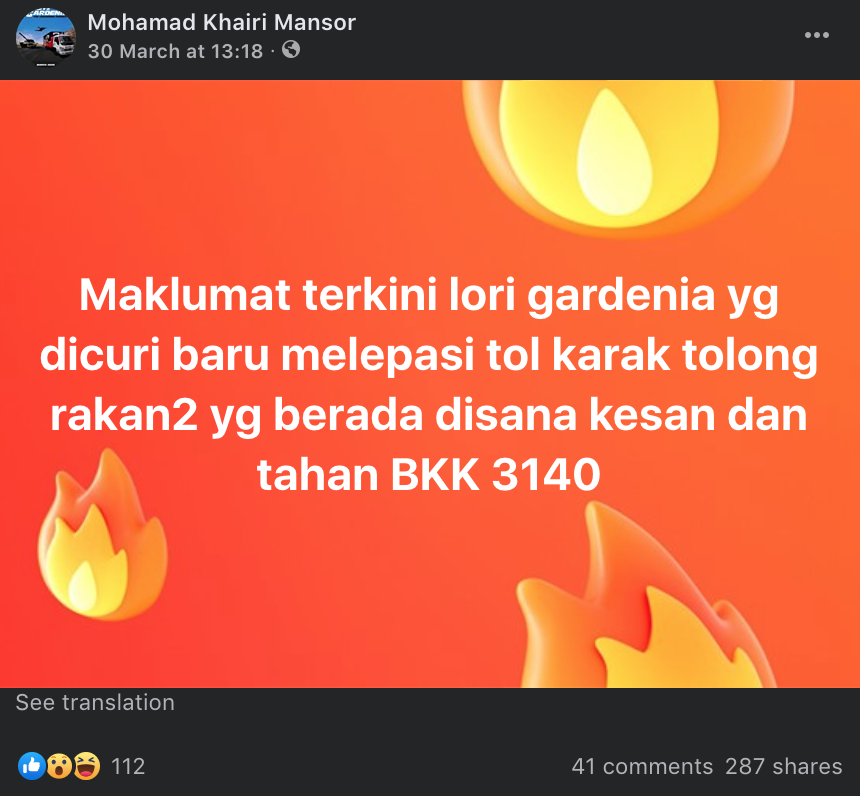 "Latest news about the stolen Gardenia truck: it just passed the Karak toll. Ask your friends to look out for and detain the lorry".
Image credit: Mohamad Khairi Mansor
It was later confirmed by Astro Awani that a 3-ton lorry carrying Gardenia bread – which had been reported missing in Jalan Petaling, KL on Tuesday at 7AM – was found near a mosque in Kijal, Terengganu at 8PM the same day.
But the twist was, the bread was left untouched, as shown in a video that had been circulating online.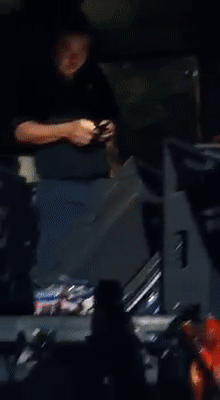 Video showing the Gardenia lorry with packs of bread left behind
Image adapted from: Info Kemalangan & Bencana Malaysia 
Gardenia also released a statement letting everyone know that the story was indeed true and the driver was safe, with a police investigation currently in the works. In a sad but necessary action, all the bread had to be disposed of as the reclaimed vehicle has been sanitised for safety. 
---
Gardenia a hot item during MCO
---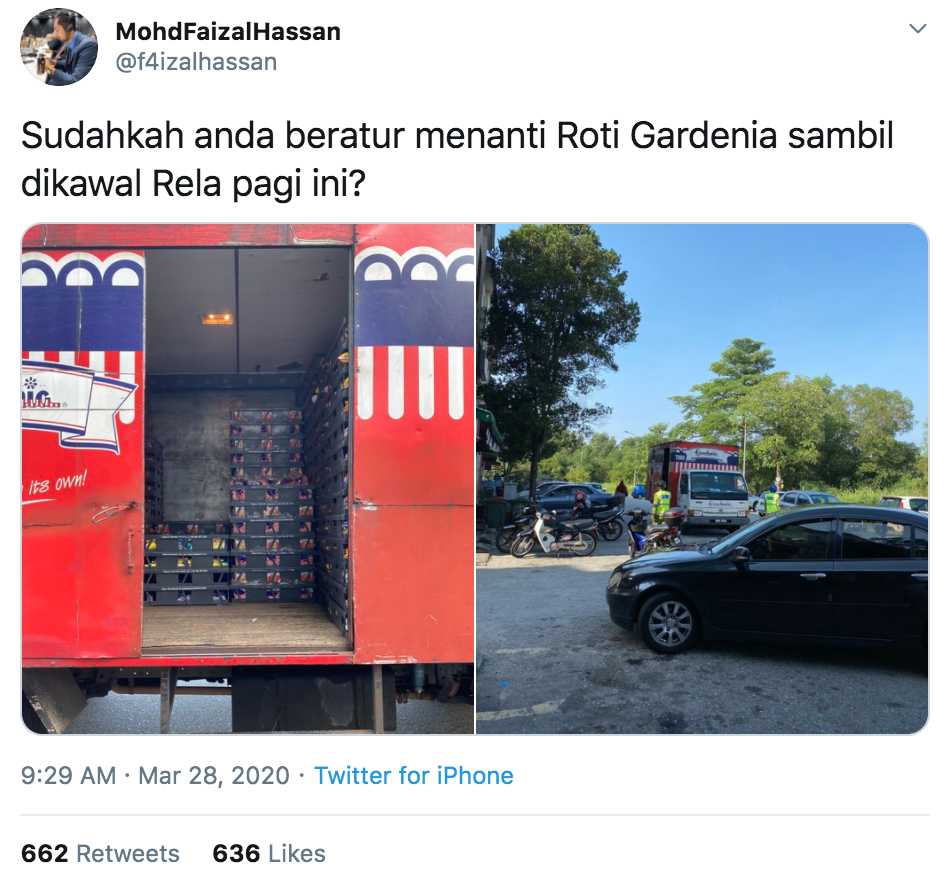 "Have you lined up for your Gardenia bread with RELA monitoring it this morning?"
Image credit: @f4izalhassan
Further showing how valued bread is during this time, a Twitter user also reported seeing RELA officers guarding a Gardenia lorry on 28th March.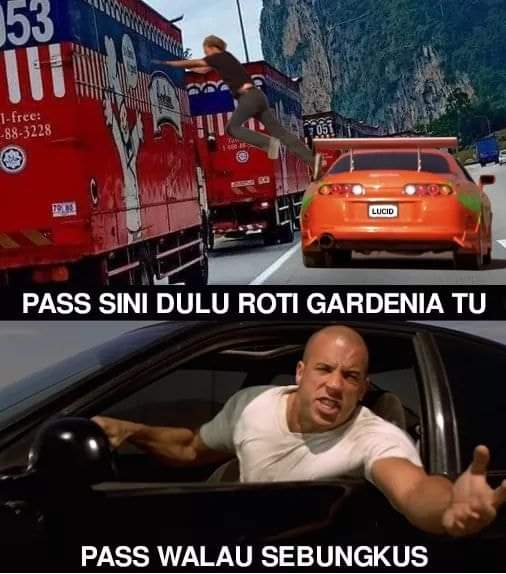 "Pass me the Gardenia bread!"
"Just pass me a pack!"
Image credit: @zaid_suria
News of the missing Gardenia lorry naturally led to a string of memes online. Many likened the Grand Theft Auto-like stunt to a Fast & Furious mission gone wrong. Others joked about having to lelong their loaves of Gardenia bread at hiked up prices online.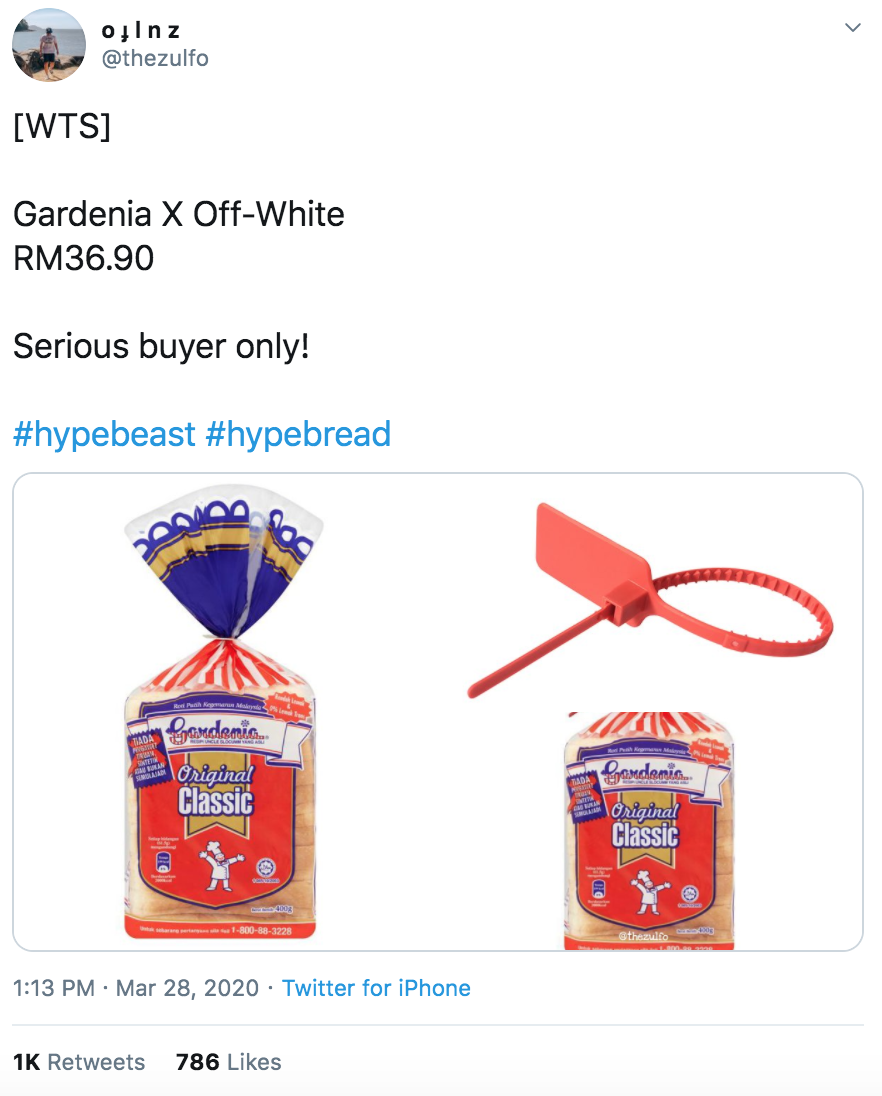 A Twitter user tries to lelong a Gardenia x Off-White "hype-bread" online for serious buyers only
Image credit: @thezulfo
Malaysian Youtubers have even started doing unboxings and reviews of Gardenia bread, such as Adrian Lo's video of "Malaysia's most wanted (out of stock) food".

YouTuber Adrian Lo reviews Malaysians' highly prized food item during MCO
Image adapted from: Adrian Lo
---
Gardenia lorry goes missing in KL 
---
What happened to the Gardenia lorry remains a mystery, but we're glad to see that it has since been found and that the driver is reported safe and sound through this whole ordeal. 
And while we all love and cherish our bread, and have time on our hands to indulge in it during this time, don't forget to leave some for others at your grocery store and get only what you need. 
Read move COVID-19 news here: 
Get more stories like this!
Drop us your email so you won't miss the latest news.