Man shops for cigarettes in Rilakkuma costume in KL
---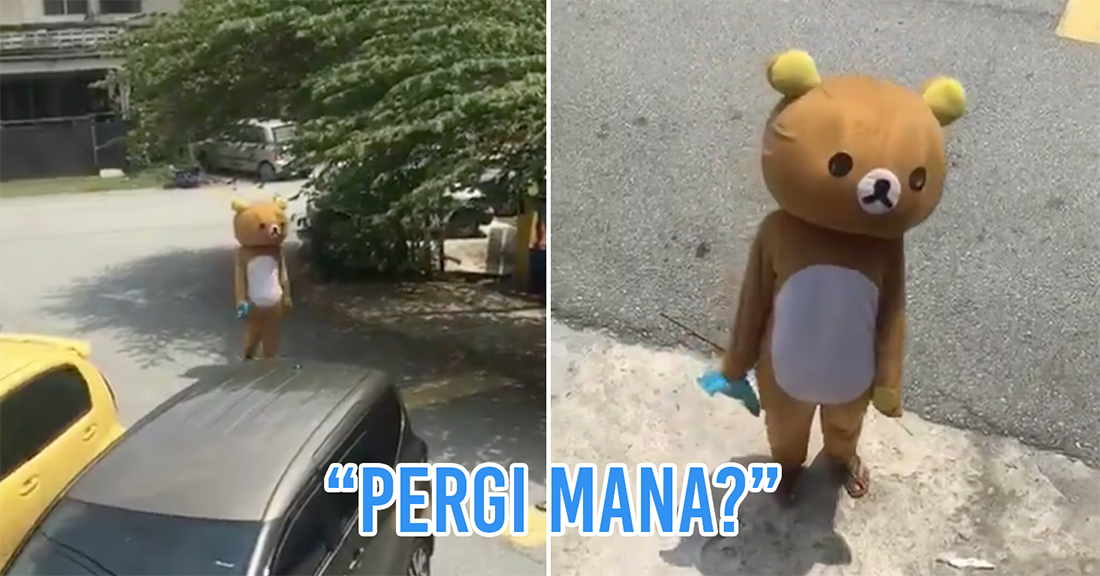 Image adapted from: @afikproduction
We've seen our share of the weird and the funny during Movement Control Order (MCO) – from Malaysians dressing up their cats to keep busy while staying at home, to shoppers donning dinosaur suits as protective gear while grocery shopping.
But just when we thought we had seen it all, a new contender has emerged as of 31st March 2020. A life-sized Rilakkuma was spotted in Kuala Lumpur, presumably as protection against COVID-19.  
---
Rilakkuma out to buy cigarettes in KL
---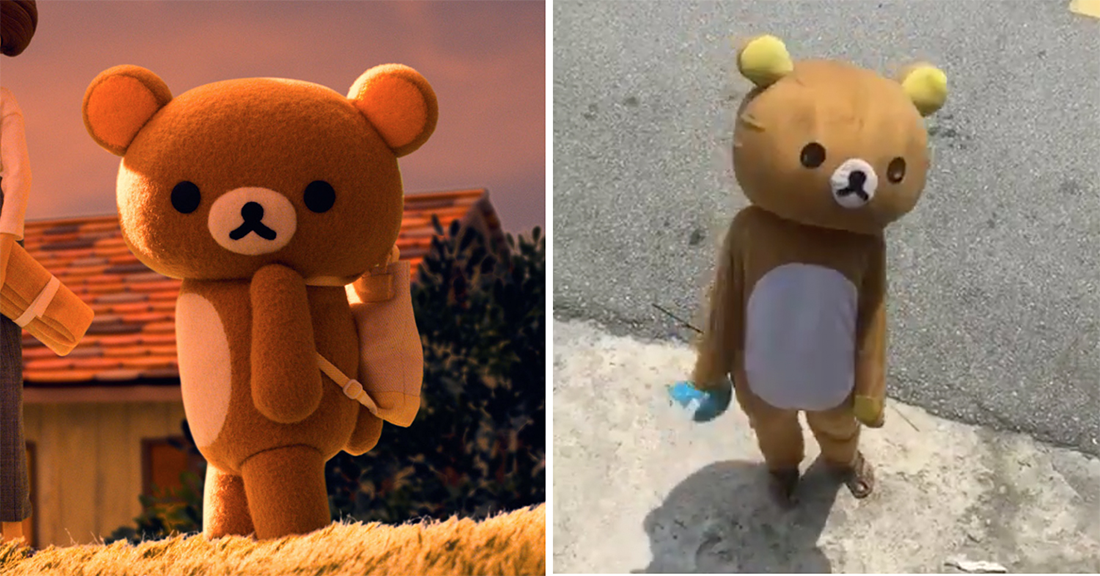 Rilakkuma on Netflix vs. localized Rilakkuma in KL
Image adapted from: Japan Times & @afikproduction
If you don't already know what Rilakkuma is, it's an adorable bear character from Japan that has its own Netflix series. Characterised by its lazy and relaxed nature, it has become an icon for many – which is probably why it was instantly recognisable in this video. 
Posted by Twitter user Afikproduction, it has since garnered over 19.4k retweets: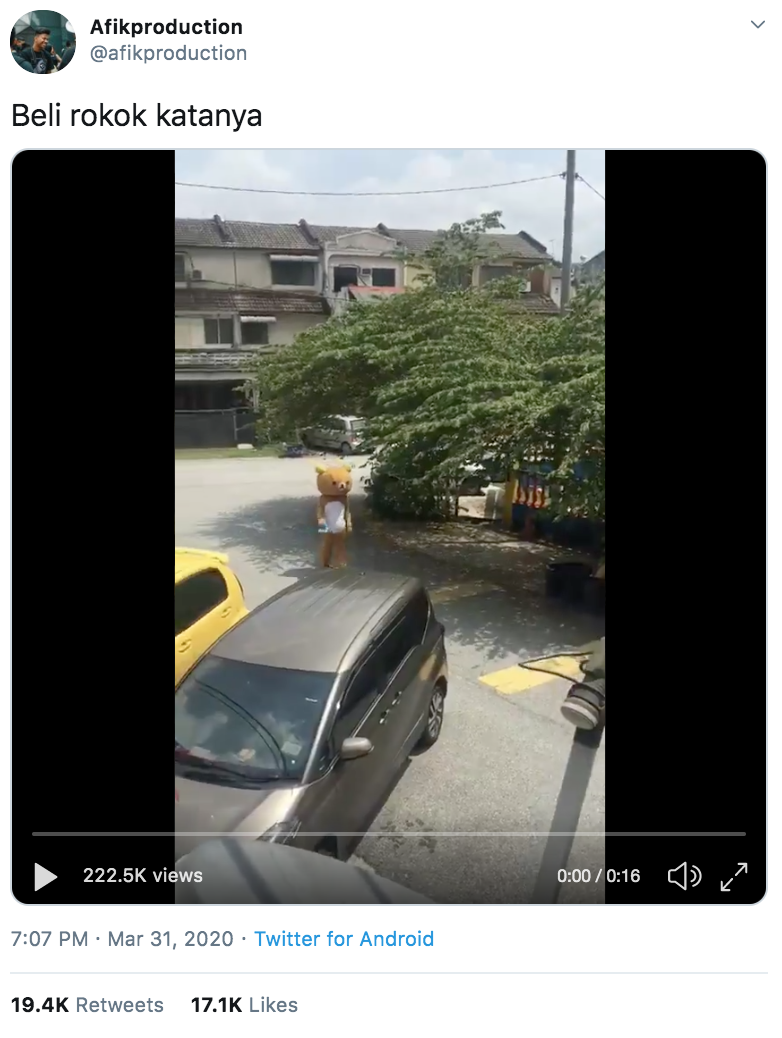 "He said he's going to buy cigarettes"
Image adapted from: @afikproduction
In the video, a man dressed in a Rilakkuma costume is seen walking down a quiet and empty neighbourhood in KL, complete with a blue plastic bag and typical Malaysian brown slippers that give his identity away.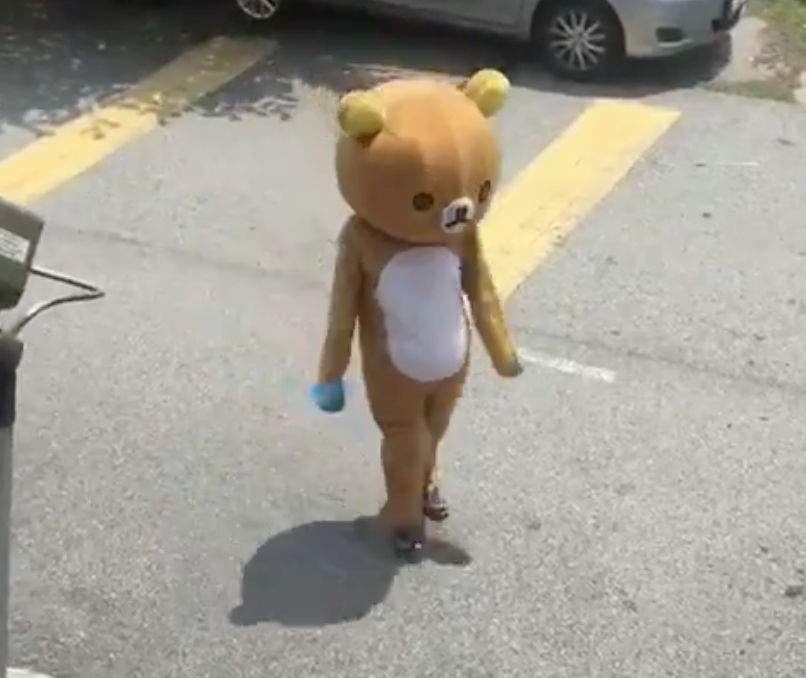 Rilakumma spotted leaving home to get pack of cigarettes
Image adapted from: @afikproduction
A conversation in Malay can be heard in the video between the bear and his friend recording his journey, which can be translated into English as the following: 
"Hey, where are you going?"
"Cigarettes ah."
"Buy cigarettes? Why are you dressed like this?"
"COVID-19 la." 
---
Netizens cannot tahan how cute the bear is
---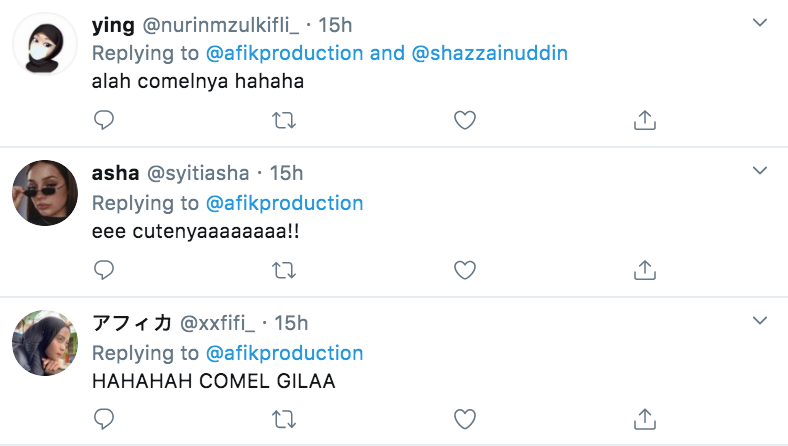 Image adapted from: @afikproduction
Many couldn't hold back their comments on how adorable the costume is, with netizens commenting "comel gila". 
The costumed man even found an unlikely ally with user @syazwaniarahim's sister, who was seen at her school wearing a bear costume and carrying a backpack.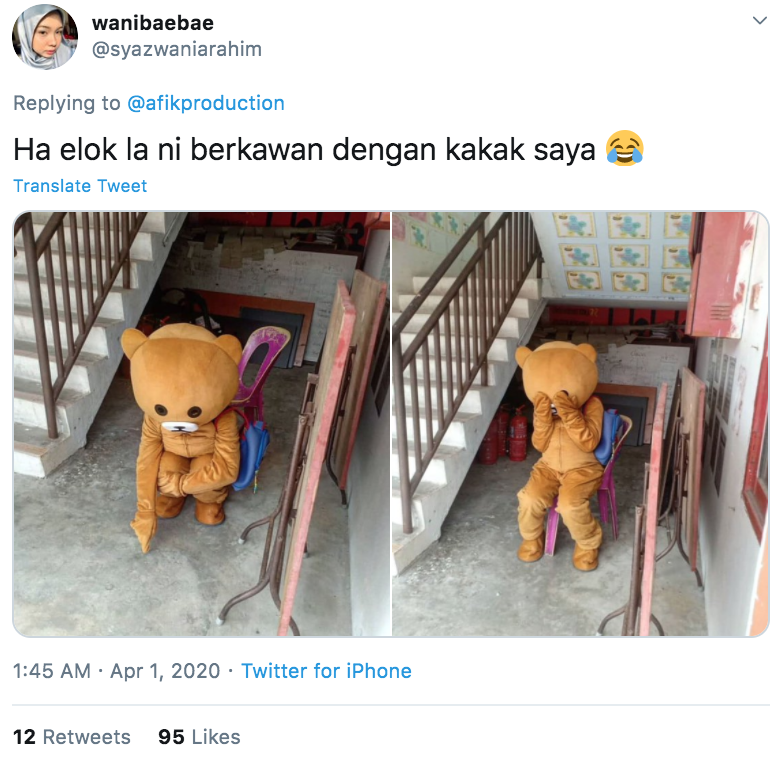 "Hey, you should make friends with my sister".
Image adapted from: @syazwaniarahim
Another user pointed out the contrast between the adorable costume and the man's deep voice, with user Syy commenting, "Cute face, but tough guy voice" along with a laughing emoji that gives us a reality check. 


Image adapted from: @syhdhrslan_
---
Rilakkuma costume as protective gear
---
This lepak Rilakkuma goes to show that Malaysians can stay humorous even in tough times. Creativity is not lost either, with many staying safe and creative when leaving their house for essentials during MCO. 
Read more COVID-19 news here:
Get more stories like this!
Drop us your email so you won't miss the latest news.