Hauntu, an immersive haunted house, in KL
---
The average haunted house in Malaysia goes like this: pitch black, spooky music, a jumpscare at every corner and 'ghosts' wearing special effects makeup going "boo". And the entire experience lasts about 10 minutes. Don't get me wrong, they're still scary – especially for scaredy-cats like me. But once you've been to a few, the repeated acts just aren't as thrilling anymore. 
Enter Hauntu, the first haunted house of its kind in Malaysia where you get to interact with the 'ghosts', play out a complete storyline, and have the decisions you make in the game affect the ending you get. The hour-long experience will be the new favourite pastime for horror buffs out there because the haunted house and escape room combo lets you get your money's worth.
From RM58/pax, you'll get your own "The Shining" experience – that's entirely localised. This "survival" game is not for the weak. Trust me, I barely made it out. Here's the low-down:
---
Checking in to Colle Eastern Hotel
---
There are 3 different episodes running on loop. Each one runs for several months to keep the experience fresh. So say you visit in January and play episode 1. You can go back in June to play episode 2 or 3 to get a different ending. During our visit, we got to play The Tourist, episode 2. 
All 3 episodes take place at the fictional Colle Eastern Hotel that was built in 1950, back when we were still known as Malaya. Hauntu's elaborate set is just what you'd expect a hotel from that era to look like – hardwood counters, rattan chairs and a black-and-white TV. It's classic old-school aesthetics that our atok and nenek would be familiar with.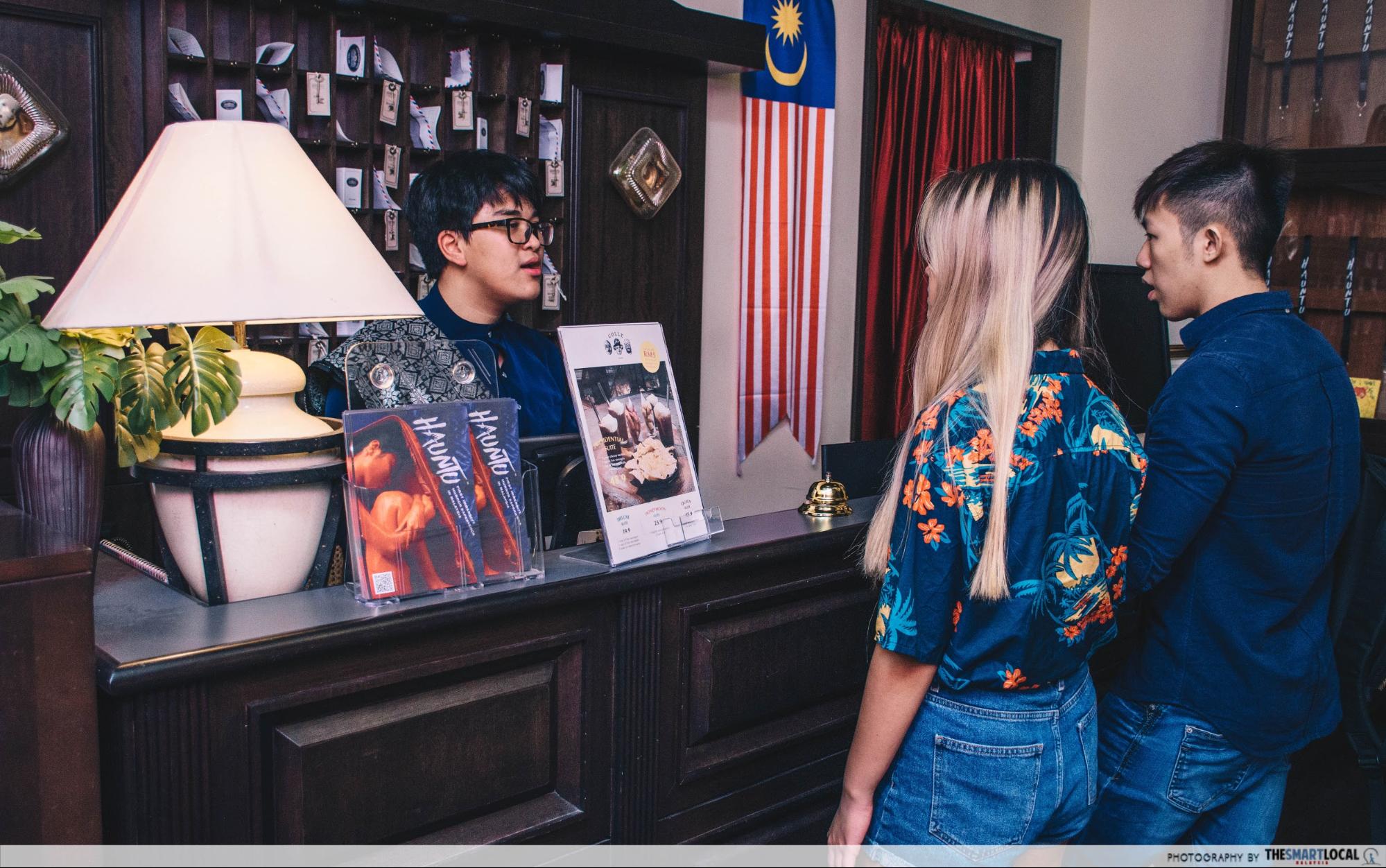 Checking in to Colle Eastern Hotel
My 2 other team members are almost as big a scaredy cat as I am, so we were more like the cowardly trio than #squadgoals. But we started off strong and confident – because we had no clue as to what was coming.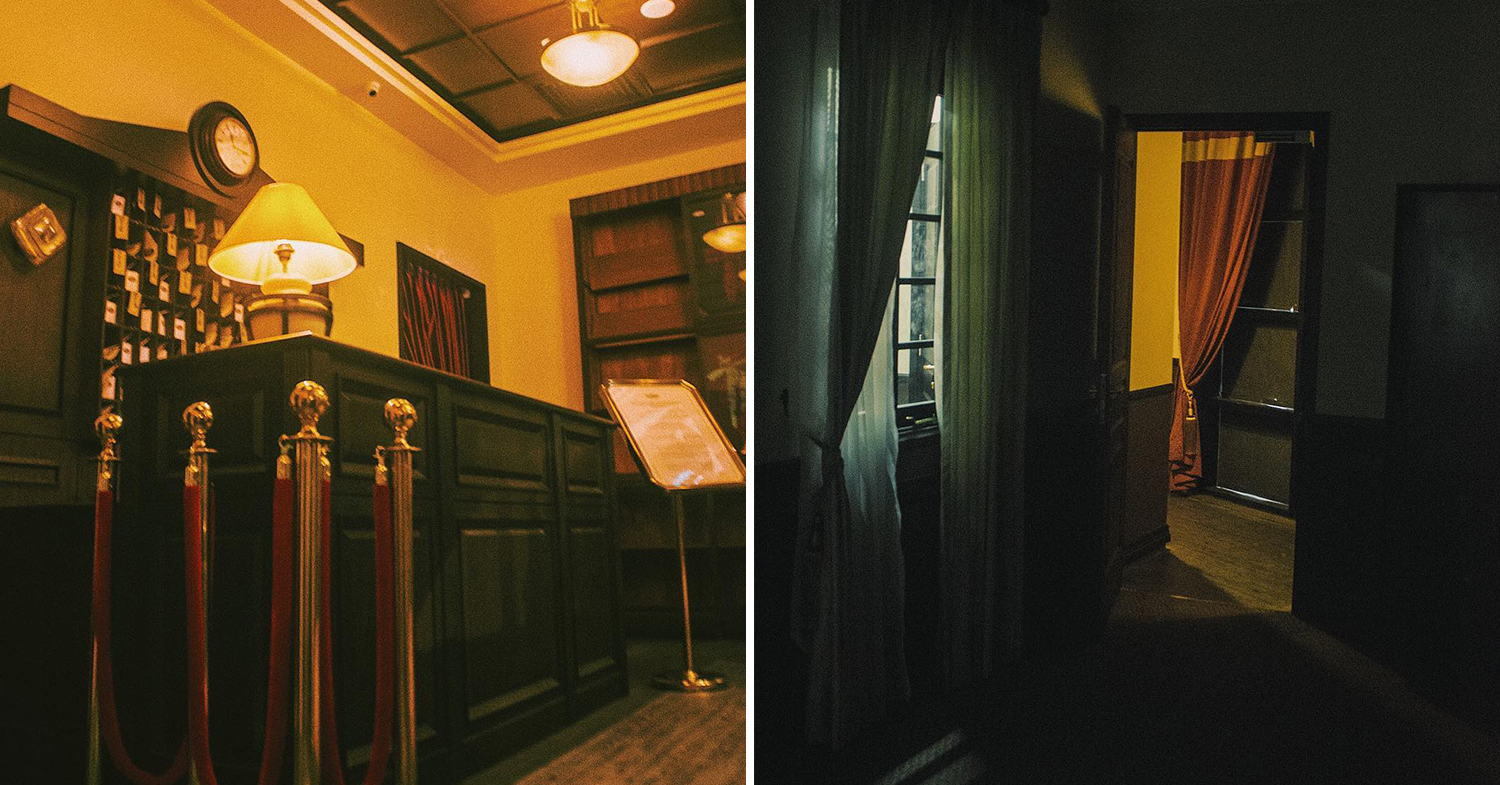 Image credit: @hauntumy
Just like your regular hotel, we were first required to check in at the lobby where a friendly receptionist gave us a briefing before handing us our keys. We were then escorted to the cafe, where we lounged about munching on homemade cookies and sipping milkshakes (RM14/set) while waiting for our rooms to be prepared. 
---
Meeting the hotel staff & running away from The Thing
---
The game starts officially when you enter the lift, where the first character you meet will burst through the door with a loud bang! before apologising for startling you. Besides the "accidental" scare, the bellboy was otherwise friendly when guiding us to our room. We even made small talk. 
But we had our guards up the moment we stepped foot into our room. Years of being conditioned by haunted houses and horror movies has convinced us that ghosts would be hiding in every possible corner. Yet, no ghosts came popping out. Pro tip #1: Forget what you know about conventional haunted houses and come in with an open mind.

The VIP room we checked in to
Not every room we entered had a character to assist us. Sometimes, we have to make do on our own. There are prompts on what to do next, but the ultimate goal is to escape each room before The Thing comes for you.
The game unfolded like a movie, where we were introduced to a new character in each scene. 
There was a panicked pak cik in a sarong who helped us find clues about the mysterious hotel; an eerie woman named Sarimah who performed a cleansing ritual on us; Anis, who made us play an unwilling game of hide-and-seek while The Thing was still chasing after us; and Aizat, the character who helped us piece the whole puzzle together.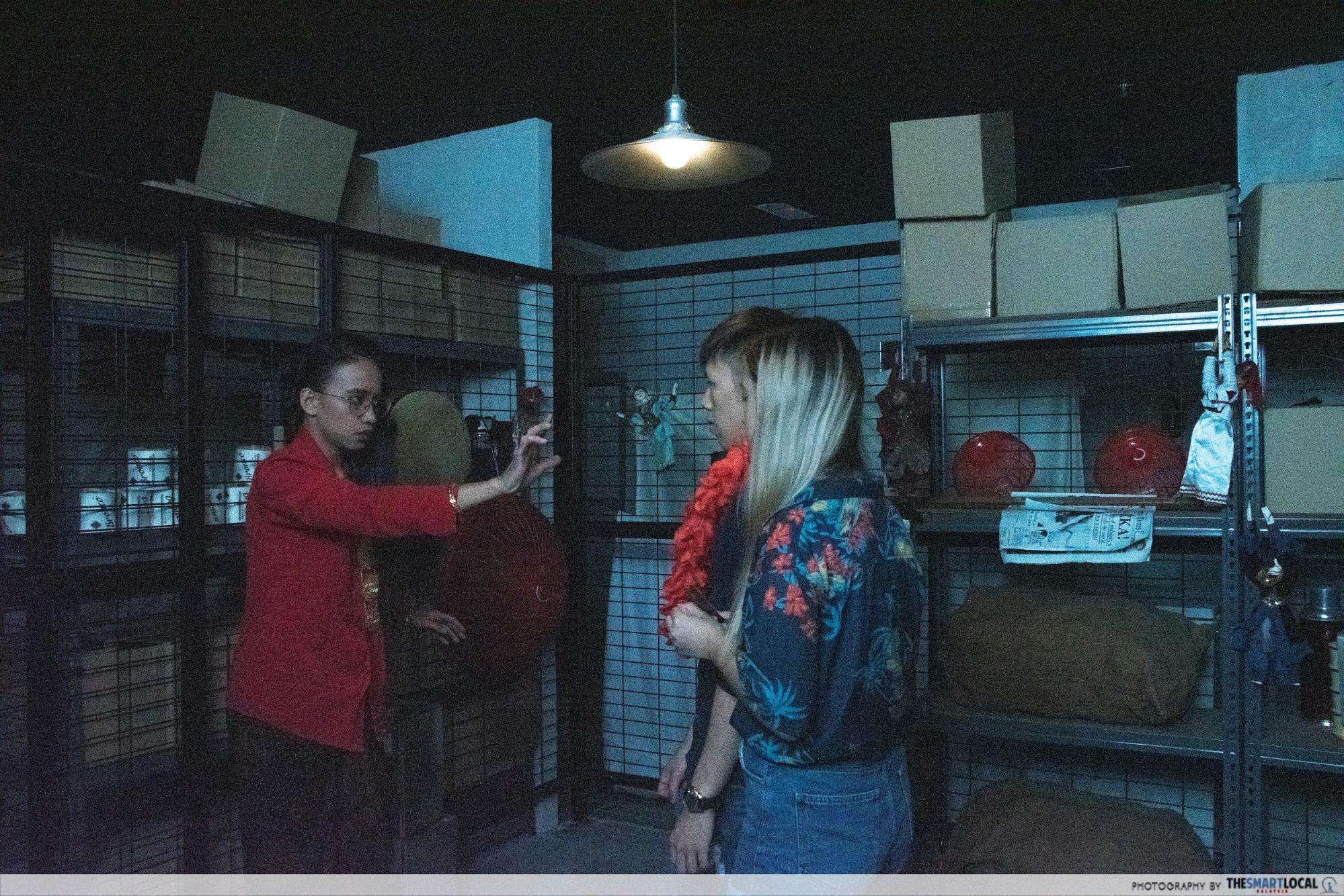 Sarimah studying us to see if we were affected by the curse
In between the scenes, we were always running away from The Thing. The hour was jam-packed with action and scares, so we didn't even get one second to catch a breather. 
Pro tip #2: Interact with the characters. The actors won't ever break out of character – unless you whip out your phone or grab them, as that's not allowed at any point of the game – so you can talk to them as much as you want and see if they'll reveal any important information. 
What also comes in handy is if you can remember the characters' names as they will ask you about their colleagues. A good memory will help you crack the big mystery in Hauntu.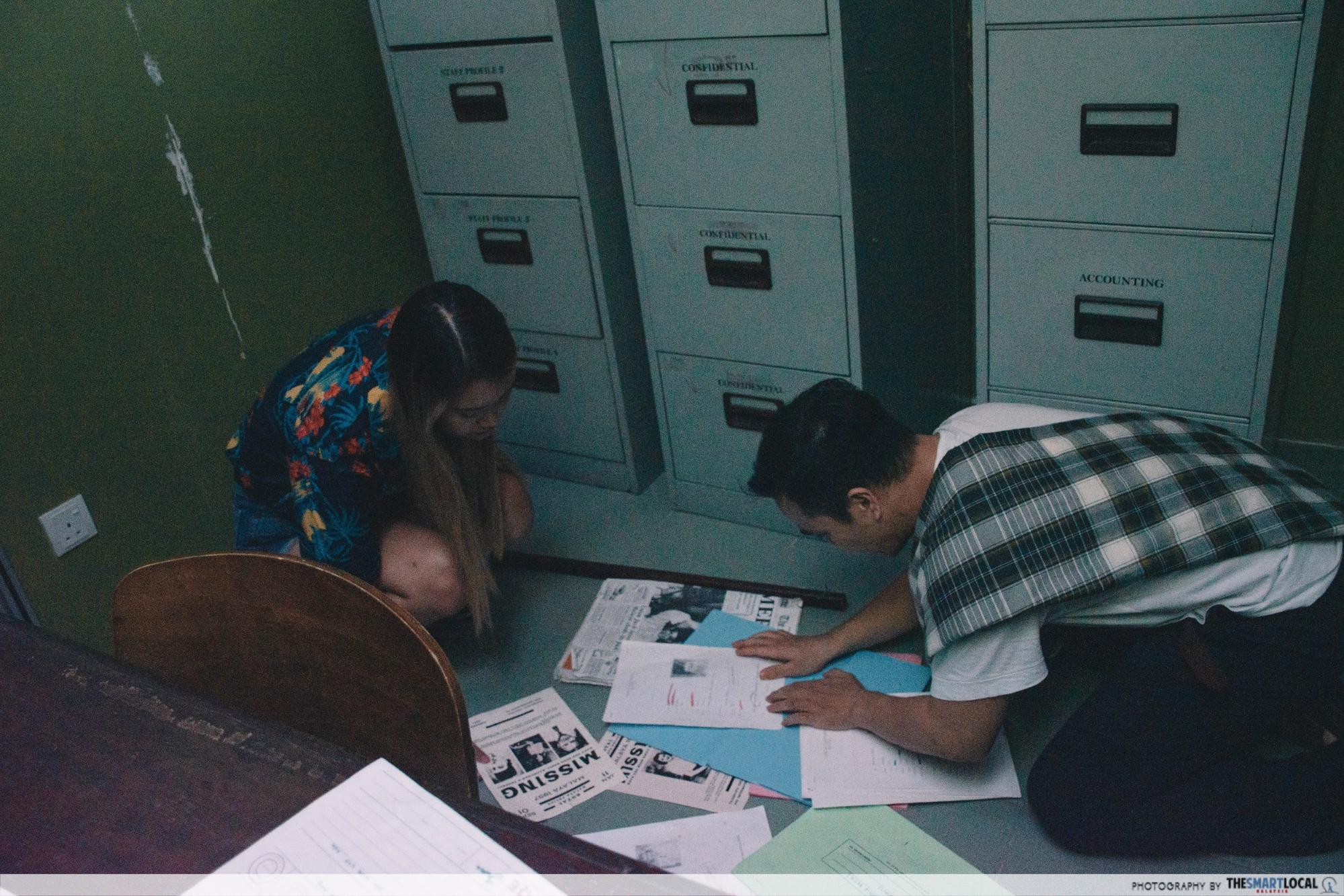 Looking for clues with Inspector Dan, much like how you would at an escape room
---
A thrilling horror flick in real life
---
Hauntu is possibly one of the most compelling spin-offs of a regular haunted house where there's a whole storyline for you to explore. Even if you play it over and over again, you'll always uncover something new with every different choice you make. We've been told there are different endings to discover and they're determined by your choices in the game – it's like "Black Mirror: Bandersnatch", except in real life.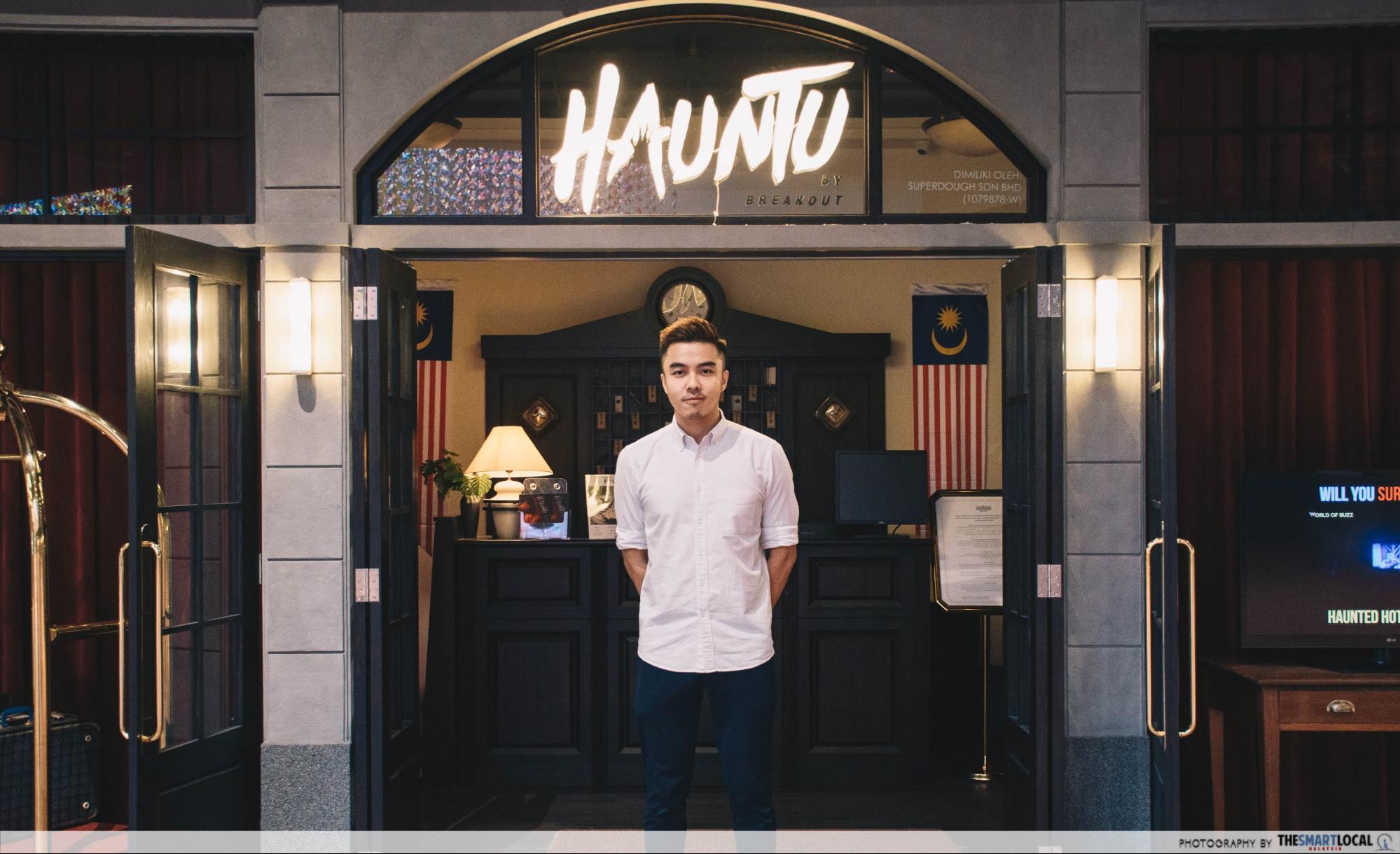 Hauntu is Cheah Kah Wai's (pictured above) latest venture with partner Johnny Ong after having co-founded Breakout Malaysia
The set is huge and doesn't spare any of the tiniest details so you really feel like you're trapped in a hotel from the '50s. The actors especially, play the biggest role in making Hauntu a truly immersive experience.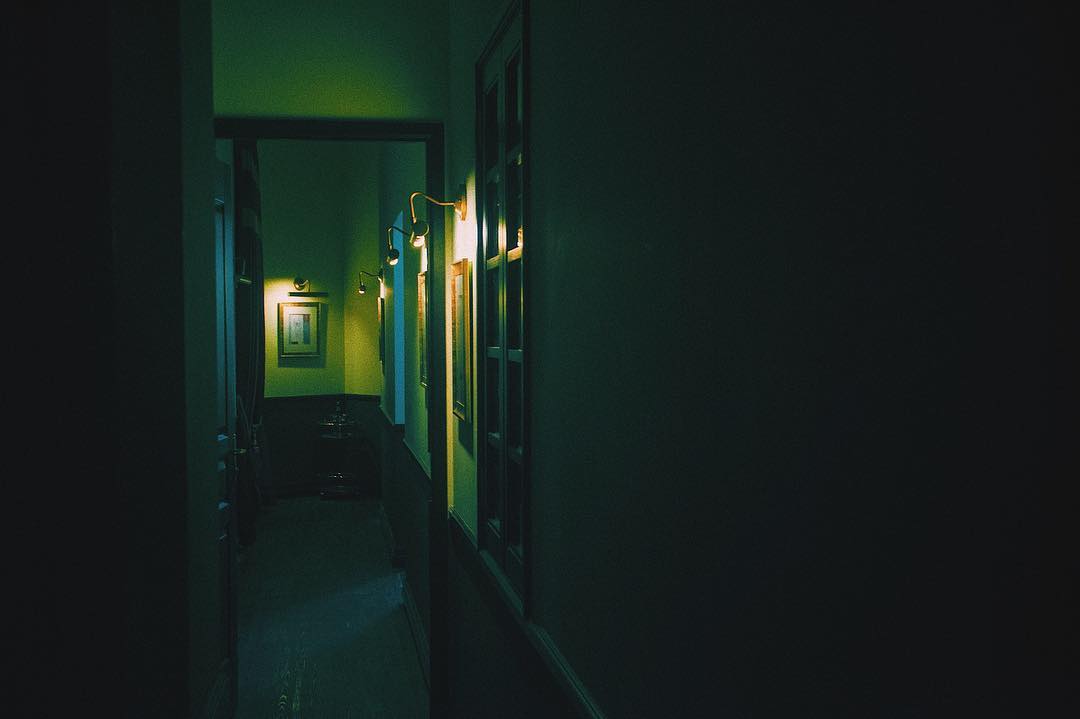 Image credit: @hauntumy
---
Hauntu, an interactive haunted house in KL
---
No amount of visits to any haunted houses could've prepared me for Hauntu. The scare factor is so high I'd probably have to be dragged in kicking and screaming for a second round. Yes, it's that scary. 
If you've ever wondered how you'd fare in a situation where supernatural beings are chasing after you, you'll be able to get a pretty good gauge on your survival rates after a visit to Hauntu. Even if you're not one for horror, the intriguing concept and elaborate storyline makes it a must-visit for anyone who's up for a thrilling time. 
Plan ahead of your trip to Hauntu by booking your tickets here.
Note: During the National Recovery Plan (NRP) in Malaysia, all visitors at Hauntu are required to show their fully vaccinated status upon entry. All employees at Hauntu are also fully vaccinated. Standard operating procedures (SOPs) in place here include physical distancing measures, regular disinfection of the premise, and capacity limit of 10 people for each session.
Address: 2-9, Level 2, The LINC KL, 360 Jalan Tun Razak, Pudu, 50400 Kuala Lumpur, Wilayah Persekutuan Kuala Lumpur
Opening hours (during NRP): Wed – Fri 2PM-10PM | Sat & Sun 11AM-10PM (Closed on Mondays & Tuesdays)
Telephone: 011-1686 9199
Hauntu's website | Facebook | Instagram
For more things to do:
---
Photography by Danny Ko. 
Cover image adapted from: @hauntumy, @hauntumy, and @hauntumy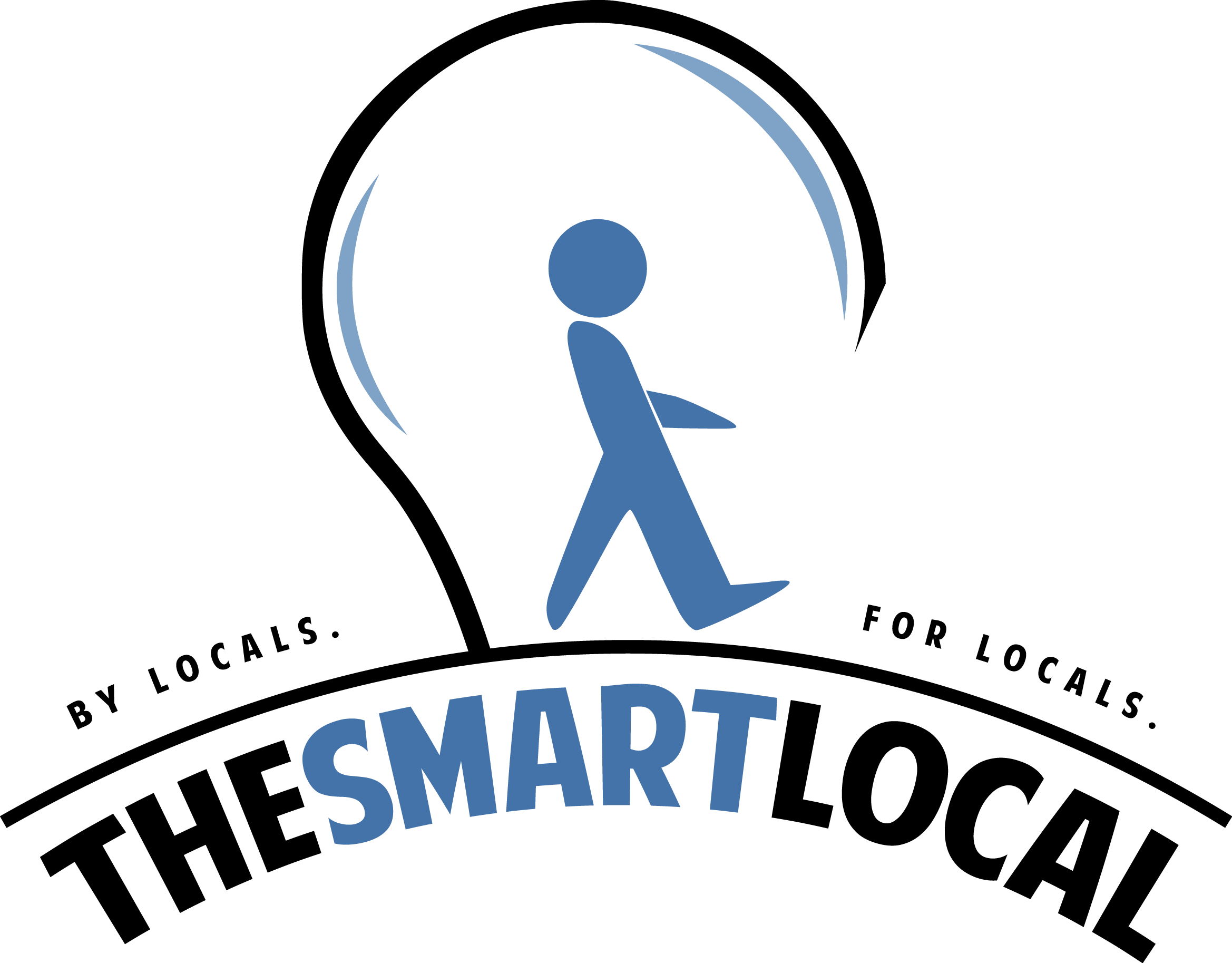 Drop us your email so you won't miss the latest news.