Waterfalls in Malaysia
---
Waterfalls in Malaysia come in all shapes and sizes. There are the really tall ones whose sources you can't see however hard you look, those with endless cascades of water from rock to rock, and the ones which congregate to form large pools, perfect for swimming.
No matter the discourse, waterfalls seem to emit an energy that revives us. The crashing water and misty spray cools us and makes us feel relaxed.
Try chasing waterfalls in Malaysia – there are about 100 waterfalls here, with more being discovered with time. Here, we list out 15 waterfalls that are relatively easy to get to, with no special gear needed.
Let's dive in: 
---
1. Kanching Falls in Rawang, Selangor
---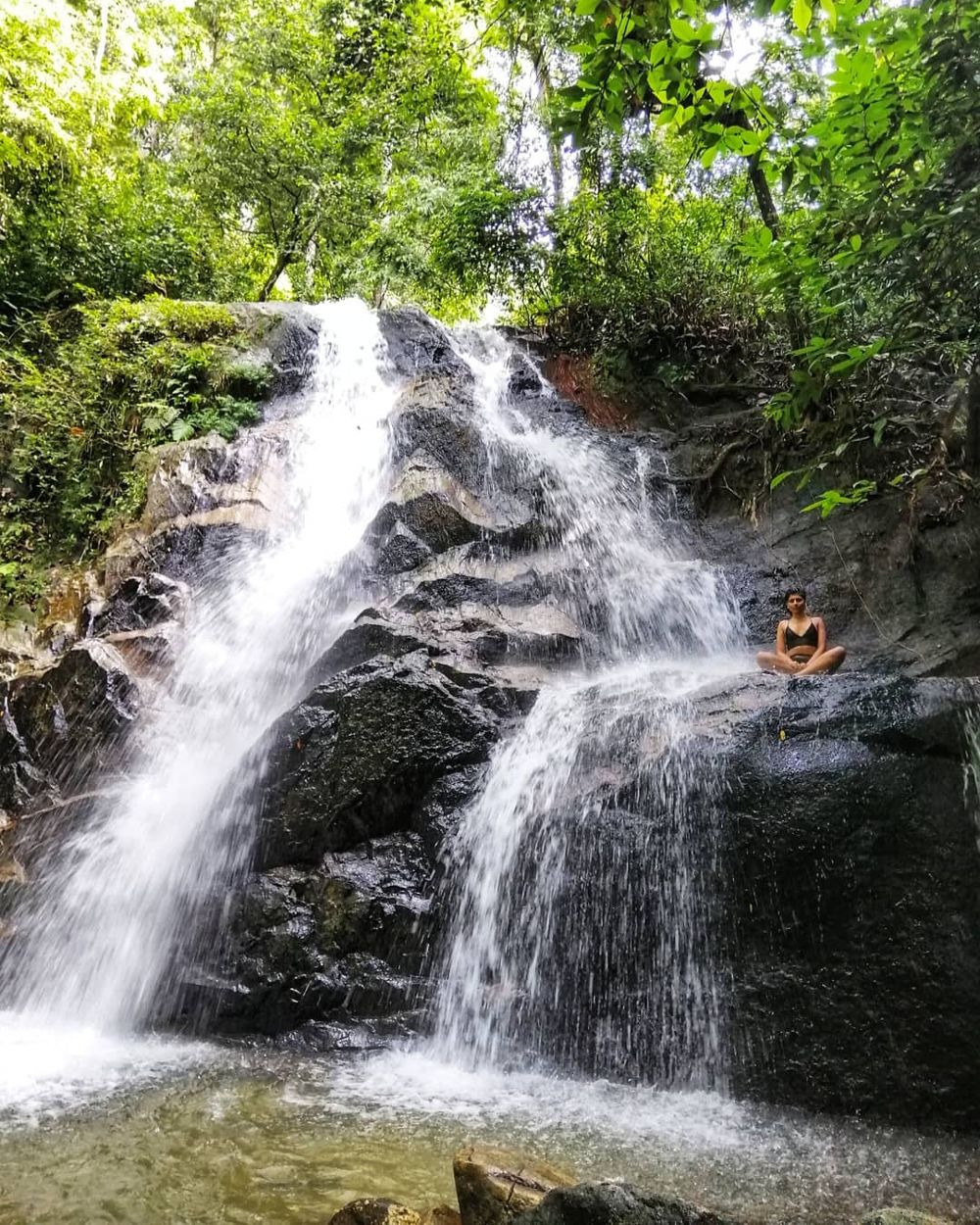 Image credit: @sabrinabmarie
With seven different falls, Kanching Falls is a variety showcase. The best part is that it is only 30KM north of Kuala Lumpur. A fuss-free, half-day escape from the city would suffice. Head towards Rawang via Rawang Highway and exit when you see the Kanching Falls signage.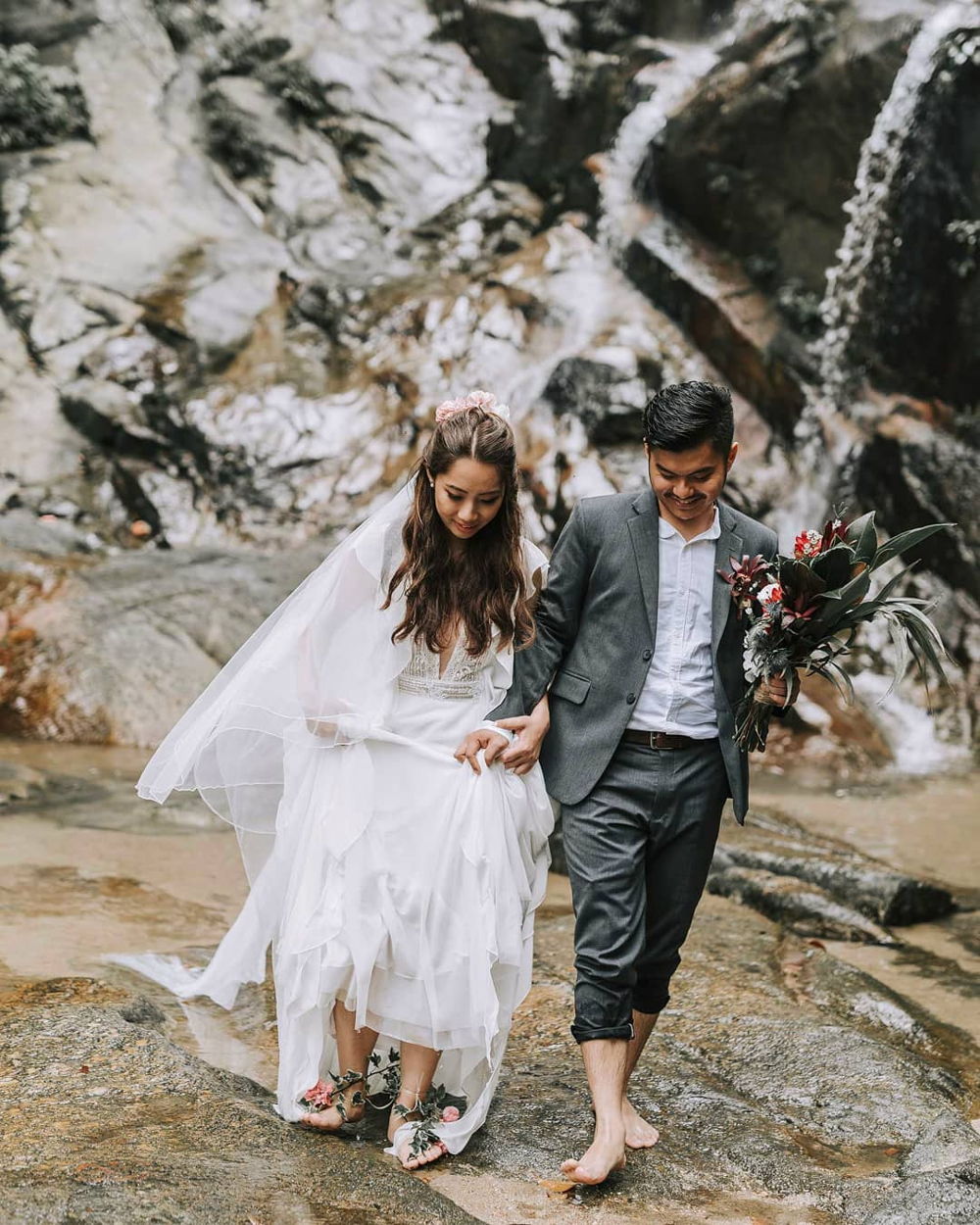 Image credit: @patrickkokmoments
The first four levels are easily accessible – just follow the cement footpaths and steps toward each level. Within these levels, many visitors will opt to spread their mats and picnic as their children swim. Some even set up tents to camp the night. This waterfall has also hosted wedding solemnisations. 
You can stop here or go in further after the cement path to view the fifth, sixth and seventh levels, which will take you about an hour to reach from the bottom. The trail can be steep in some areas and you might have to scramble on all fours to the top, but the waters up there are clearer and the atmosphere more peaceful away from the crowds. There will also be arrows to guide you so you won't get lost. 
Kanching Falls, Rawang, Selangor
GPS coordinates: 3°18'07.8″N 101°37'11.4″E
Opening hours: 7AM-5.30PM, Daily
Telephone: 03 6091 6131
Entry fee: RM1/person, RM2/car
---
2. Sungai Pisang Waterfall, Batu Caves, Selangor
---
30 minutes from the heart of Kuala Lumpur is Sungai Pisang Waterfall, a chute waterfall. Half the excitement of this waterfall is in the hiking, and it is best enjoyed when the group is small, as it is not a particularly large area.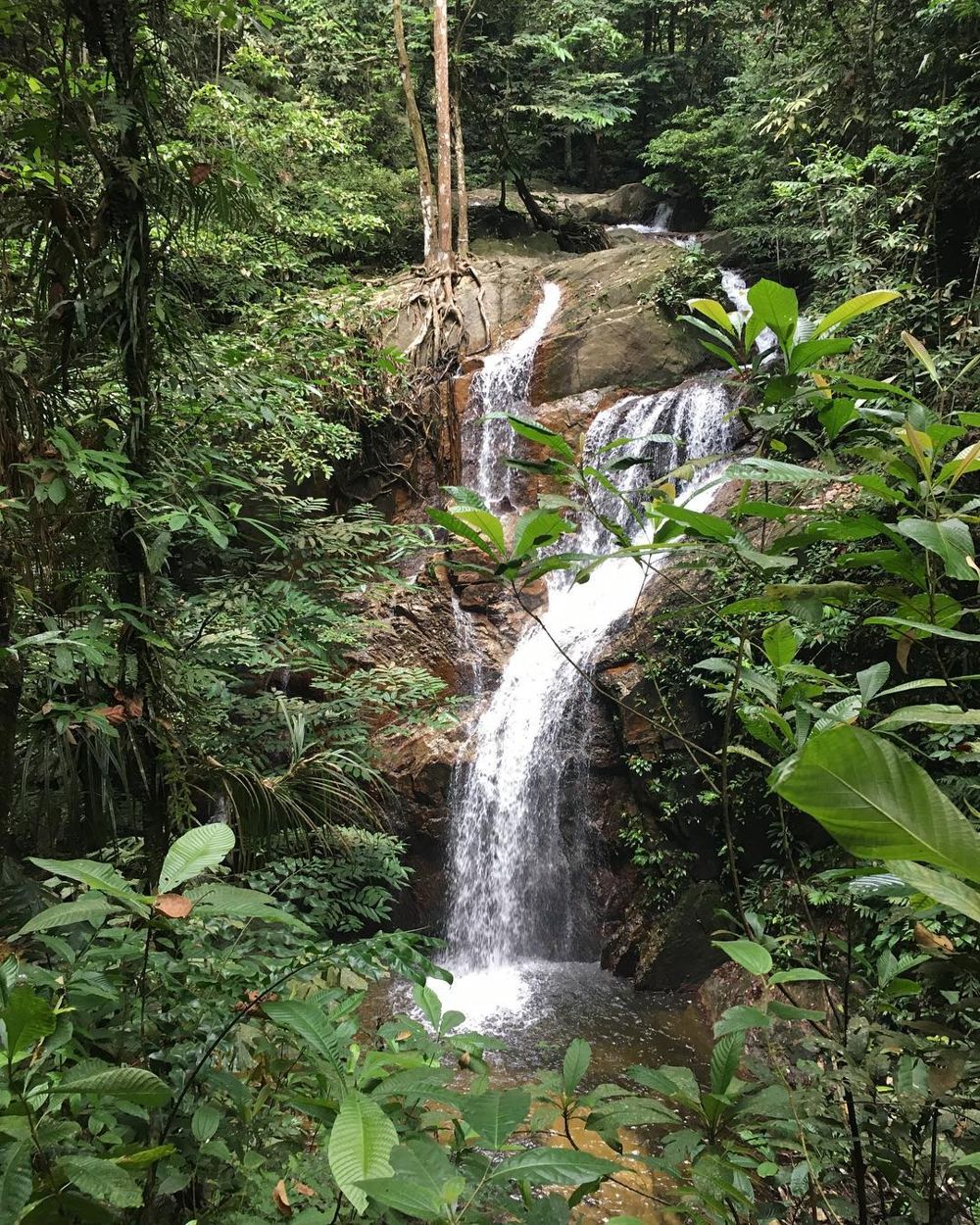 Image credit: @shangeetha_
Head towards The Alangs/Jungle Lodge retreat that's near Batu Caves and along Karak Highway to park your car. There might be a few locals loitering around the area that will collect a small parking fee that ranges between RM1-RM3 – do not be conned into paying more than that.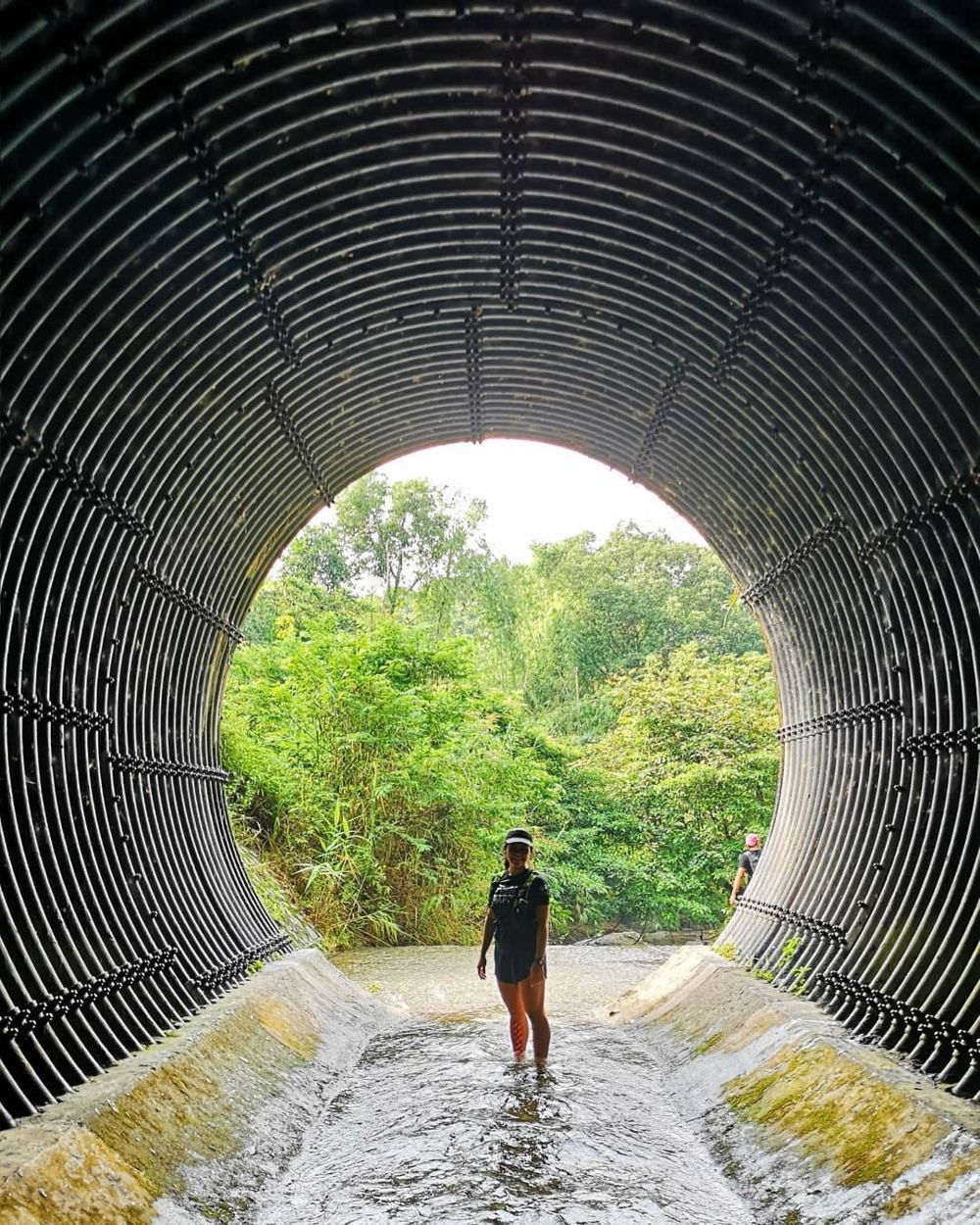 Image credit: @huijin_jin
Slip into durable rubber shoes, dry-fit apparel, and be prepared to get soaking wet as you'll be walking through a shallow river. It is advised to trek towards the waterfall before 9AM as it is cooler then. 
You'll have to go through twin tunnels underneath the Karak Highway before reaching a fork in the road where your hiking journey begins. Route 1 takes you to the base of the waterfall and Route 2 takes you over the river to the top of the falls where the campsite is. Both routes take around an hour to trek.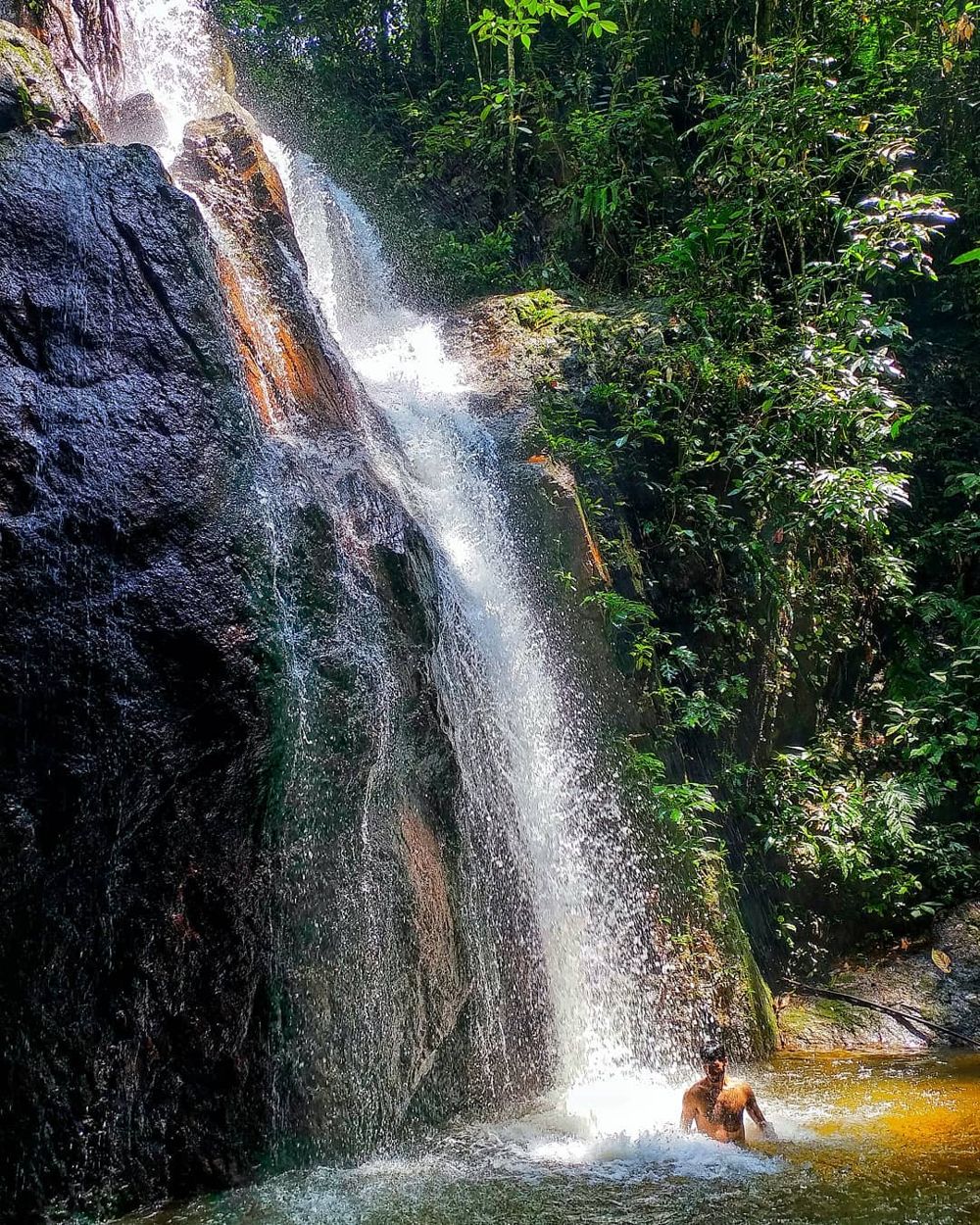 Image credit: @tommasco_rcc91
Once there, be enchanted by the little enclave with the punchbowl waterfall as the highlight. 
Sungai Pisang Waterfall, Batu Caves, Selangor
GPS coordinates: 3°19'00.6″N 101°43'58.0″E
Opening hours: Open daily
Entry fee: Free of charge
---
3. Jeram Toi in Kuala Klawang, Negeri Sembilan
---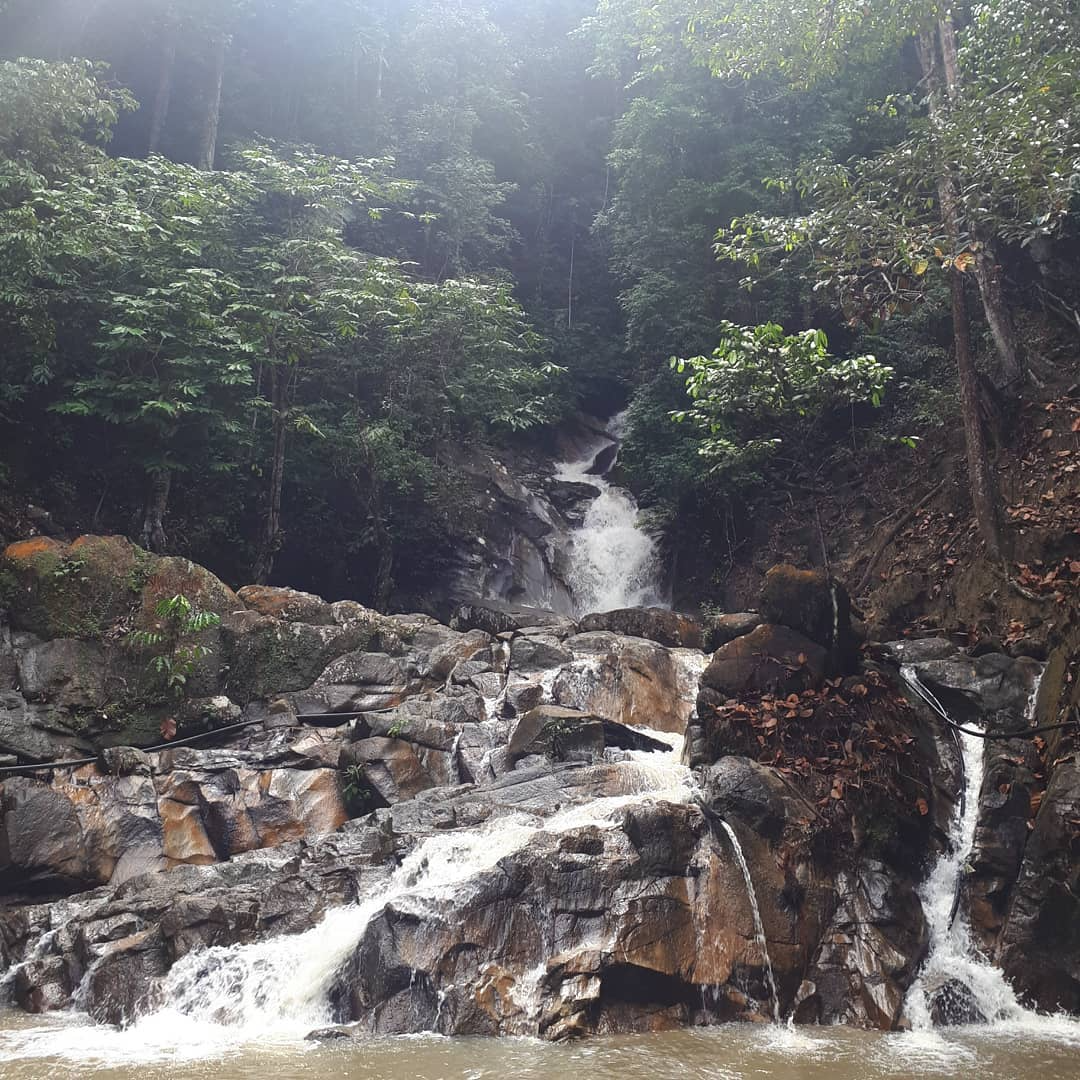 Image credit: @dondivano
Great for families, Jeram Toi is a waterfall that has evolved to look like a recreational park. Located between Seremban and Kuala Kelawang, this chute consists of four levels. The first level is renovated to look like a swimming pool – it is even equipped with a man-made water slide!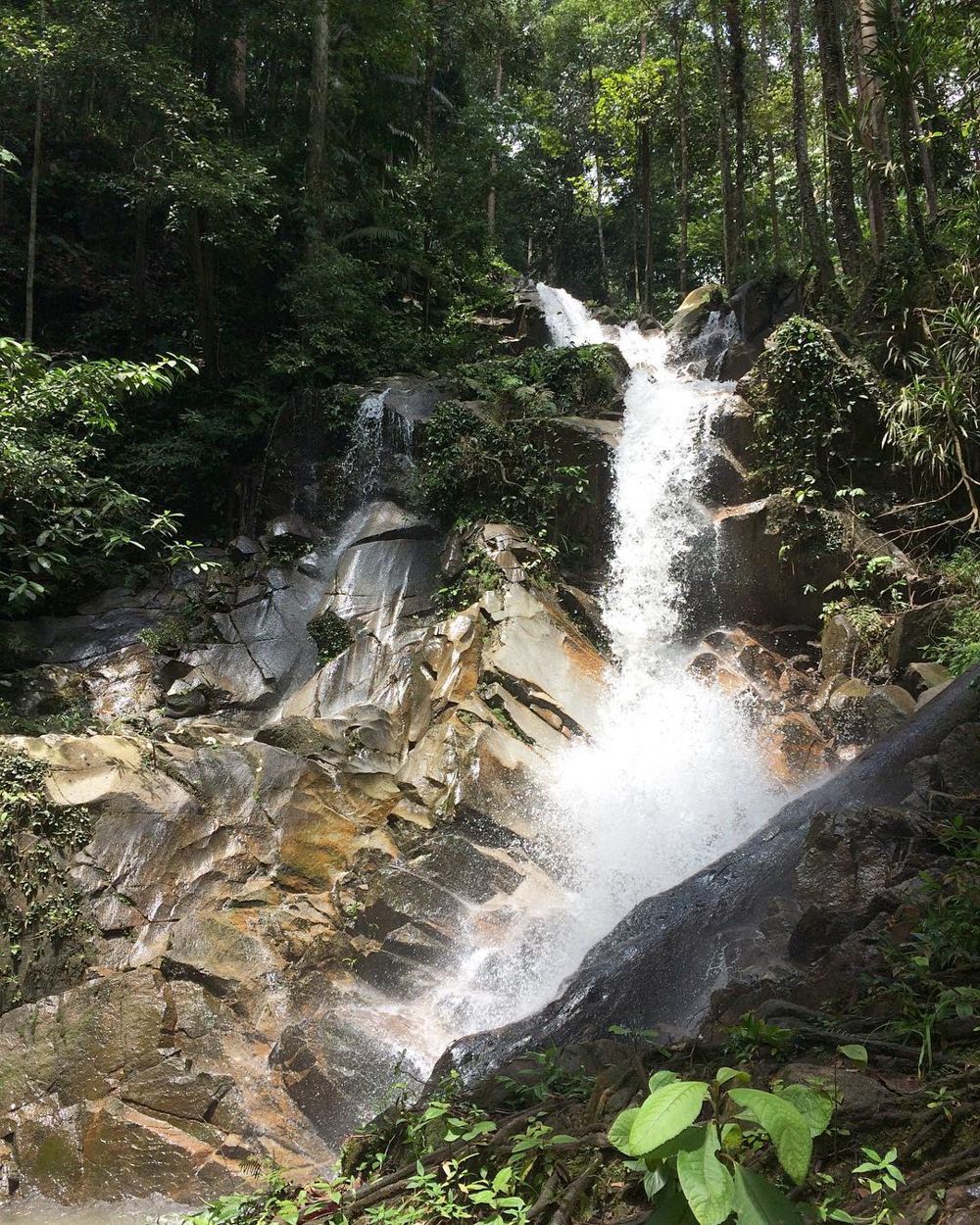 Image credit: @abbyw01
Many flock over to this level as it is equipped with barbecue pits, tables, resting huts, washrooms and prayer rooms. However, if you are looking for some peace and a good waterfall massage, do traverse to the higher levels. 
The higher tiers may not be as large as the first, but it offers clearer waters and pounding cold water. It is advised to come during the dryer seasons as heavy rainfall can make the waters murky. 
Lata Bukit Hijau, Baling, Kedah
GPS coordinates: 5°29'51.6″N 100°46'23.4″E
Opening hours: 8AM-6PM, Daily
Telephone: 04-490 3760
Entry fee: Free of charge
---
4. Lata Kinjang Waterfall in Chenderiang, Perak
---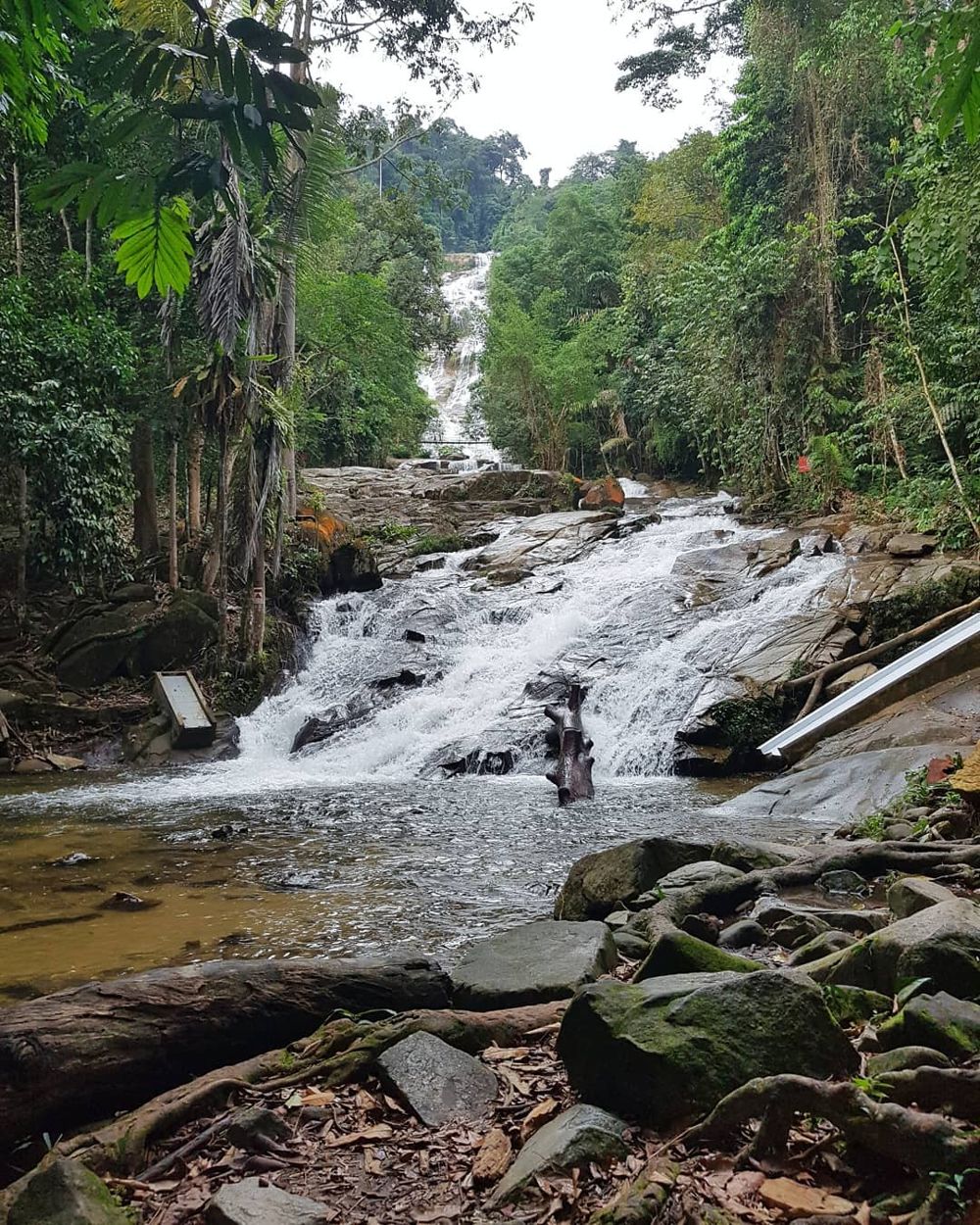 Image credit: @adzamanuar
One of the tallest waterfalls in South East Asia, Lata Kinjang Waterfall can be seen when travelling from the North-South Highway. To get here, take exit 59 at Tapah to Chenderiang. It takes 40 minutes from the toll to reach the waterfall. There is no need to hike because where the road ends, there is a river that leads you directly to the waterfall. 
There is a minimal fee of RM3/person to enter. As the waterfall is hidden by thick foliage, you'll have to get in to see it up close. Park your vehicle in the area allocated and gear up for a splashing time.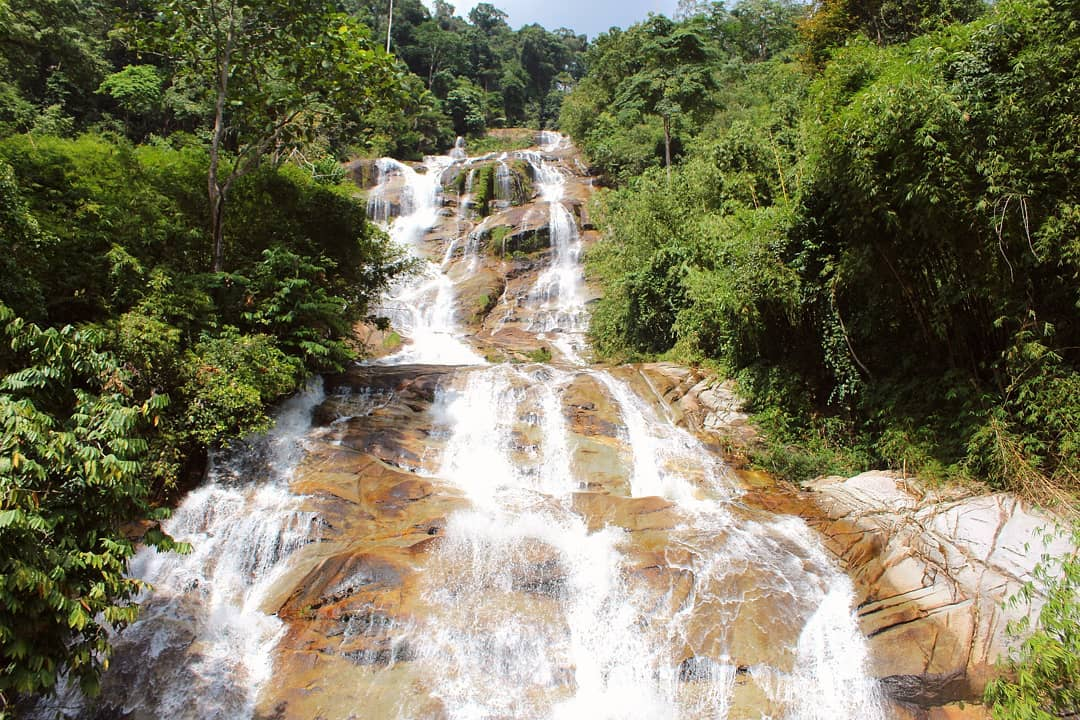 Image credit: @kerol.photo
There are two parts to this waterfall. The first is a mild cascade with water gushing over large boulders. Many would be tempted to slide down the rocks but that is not advisable. The shallow dipping pool here is suitable for children under the close watch of adults. 
Walk further in and go up a few more steps and you will need to narrow your lids before you can make up the edge of the fall as the ledge is really high up. For a better view, head up the cement path to the suspension bridge.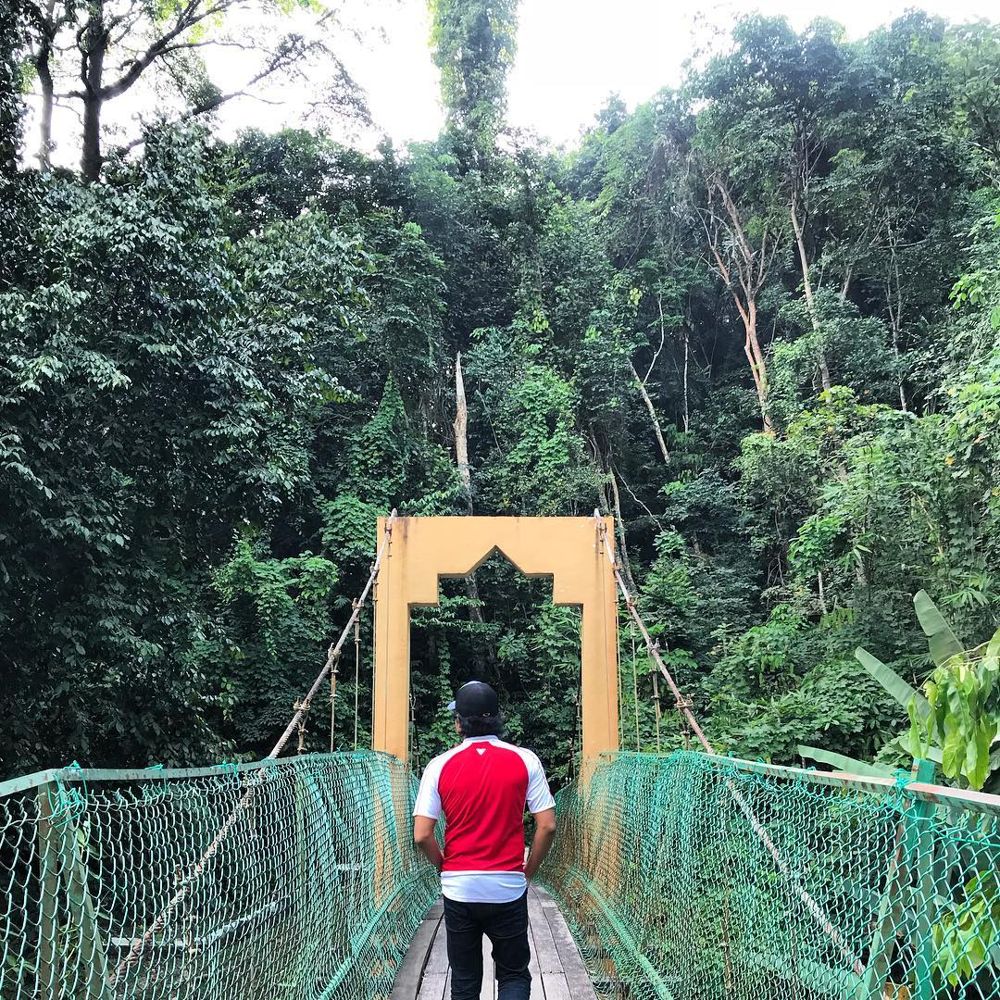 Image credit: @fikritheofficial
If you are adventurous, you can opt to hike up to the pool at the very top. You'll be able to see the highway where you came from and the mountain range behind you. 
Lata Kinjang Waterfall, Tapah, Perak
GPS coordinates: 4°18'09.2″N 101°15'18.7″E
Opening hours: 7AM-6PM, Daily
Telephone: 05-528 8100
Entry fee: RM3/person
---
5. Ulu Chepor Waterfall, Chemor, Perak
---
A natural gem located 10KM (a 20-minute drive) from Ipoh is Ulu Chepor Waterfall that's set in a lush rainforest. That means you can have Ipoh Dim Sum and still go on a waterfall escapade on the same morning.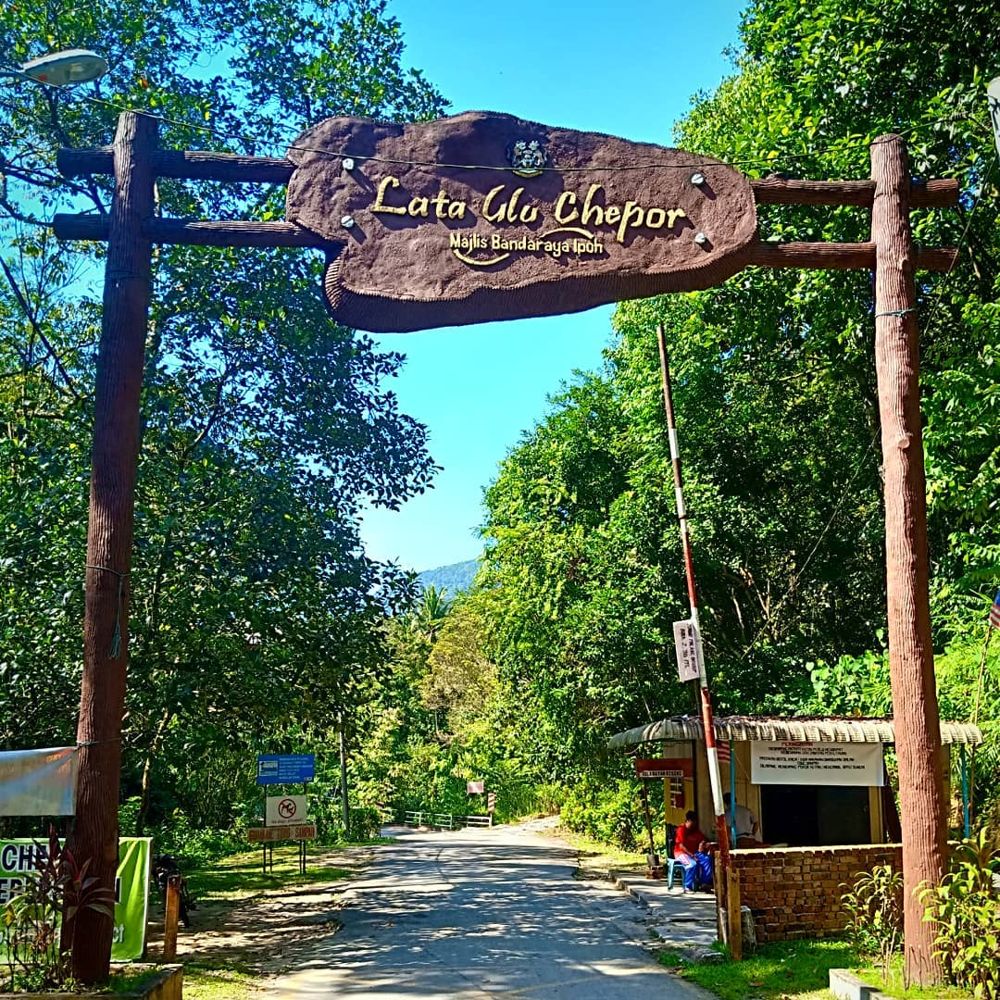 Image credit: @mrs_dhiamaisarah
Fitted with amenities such as a campsite, multi-purpose hall, playground, prayer hall, and of course, toilets, this well-maintained area is along the old trunk road towards Chepor after exiting the Jelapang toll on the North-South Highway. There is an arch that states Lata Ulu Chepor – take the turning and you'll find yourself there soon enough.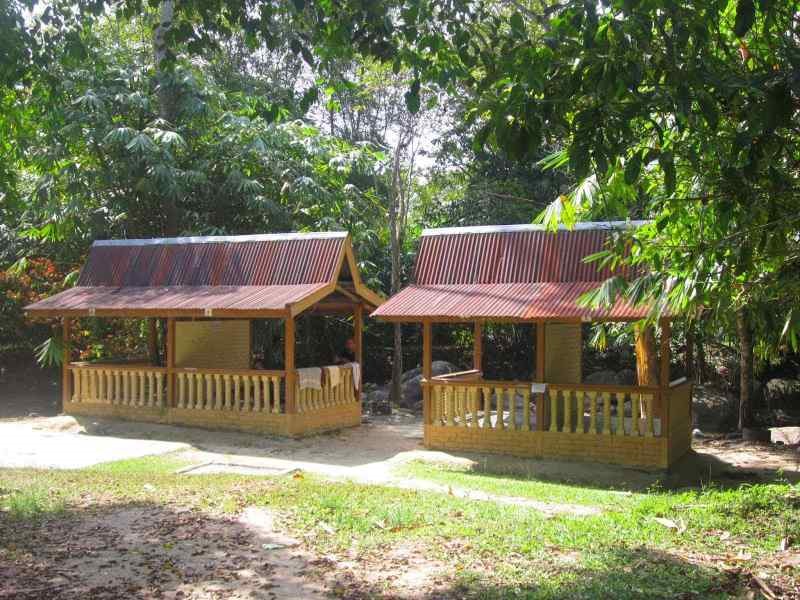 Huts available for rent
Image credit: Everything About Perak
This waterfall has multiple cascades but the attraction lies in the flora and fauna that surround it. Butterflies also consider this place a haven and you'll be able to see them fluttering about. 
There are gazebos you can rent for the day at RM8 if you would like a private space to rest. There are also wooden and concrete chalets you can rent to stay the night for RM60 and RM80 respectively.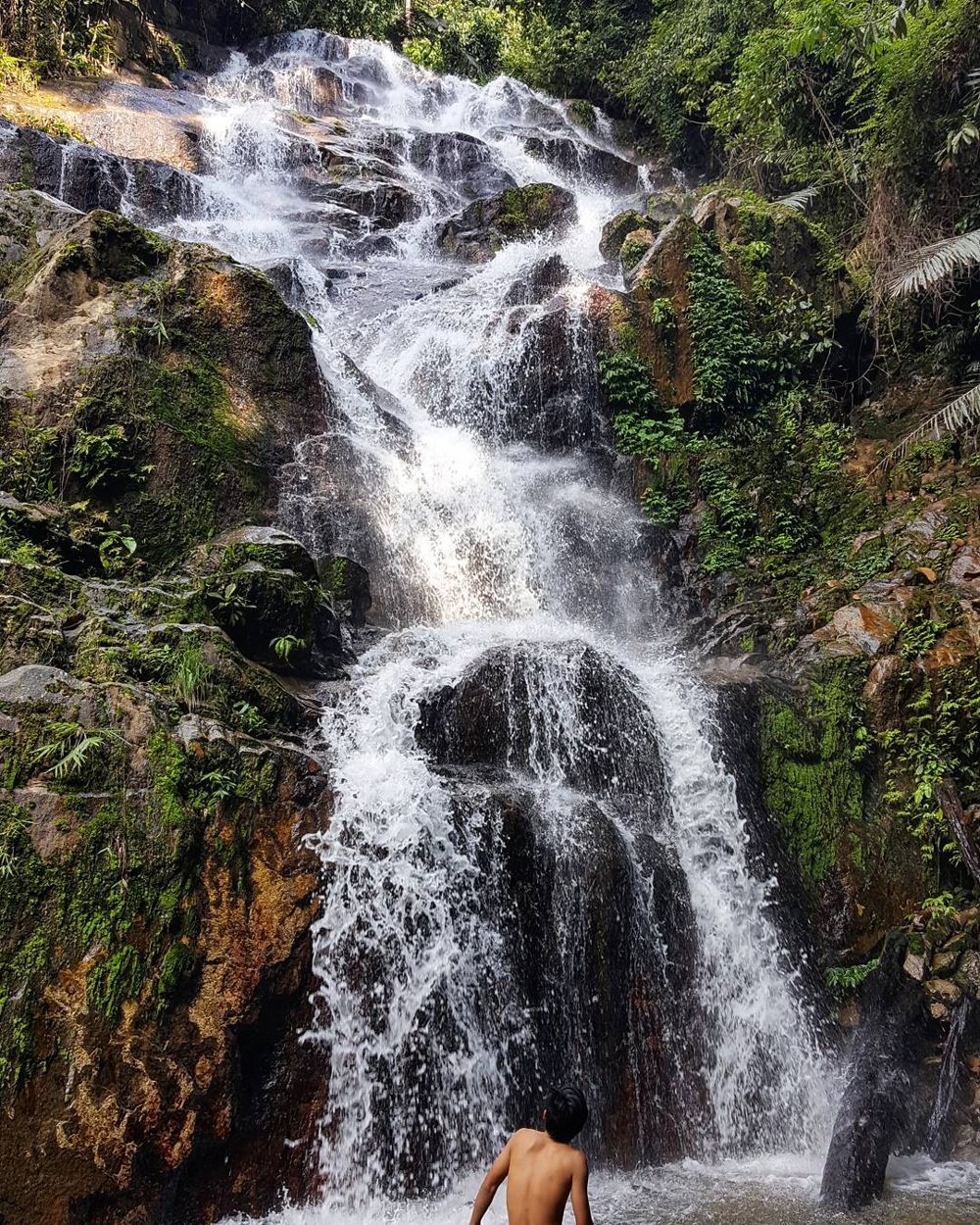 Image credit: @bintangtitiwangsa
After the first fall, walk deeper and you'll have to walk under two big boulders to get to the last one. Chillax at the private enclave and hear the calming sounds of flowing water and you might just drift to sleep. 
Ulu Chepor Waterfall, Chemor, Perak
GPS coordinates: 4°42'34.0″N 101°04'20.9″E
Opening hours: 8AM-6AM (the next day), Daily
Telephone: 010-540 4163
Entry fee: Free of charge
---
6. Lata Tengkoh Penyel in Sungai Siput, Perak
---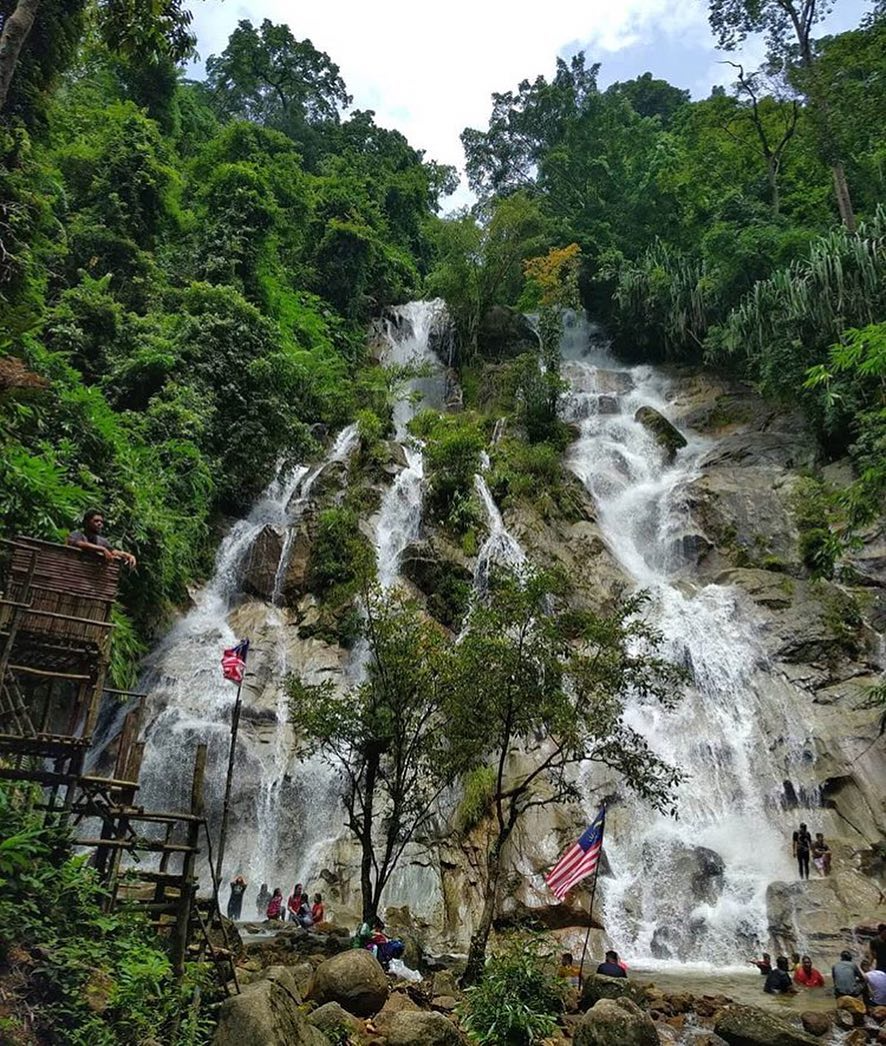 Image credit: @xplore_malaysia
Located deep in an orang asli settlement, is Lata Tengkoh Penyel, a lesser-known fan-shaped waterfall. To get there, drive two hours North from Ipoh, through the hilly region to the settlement known as Kampung Pendeq, Pos Yum.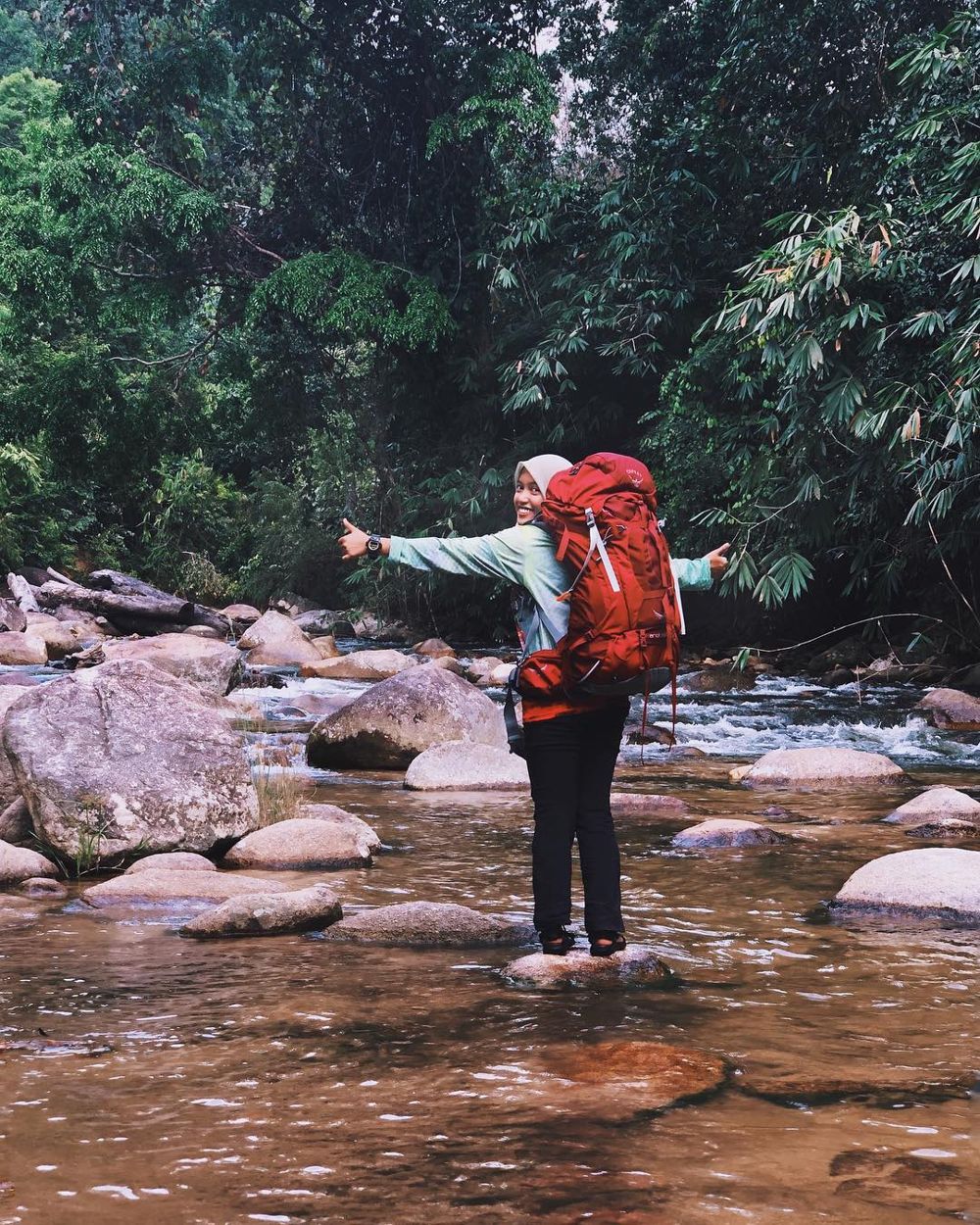 Image credit: @uyuhee
Upon arrival, you'll still have to do a 20-minute jungle trek to reach the waterfall. Expect to be astounded by the spring that cascades down the rocky slopes.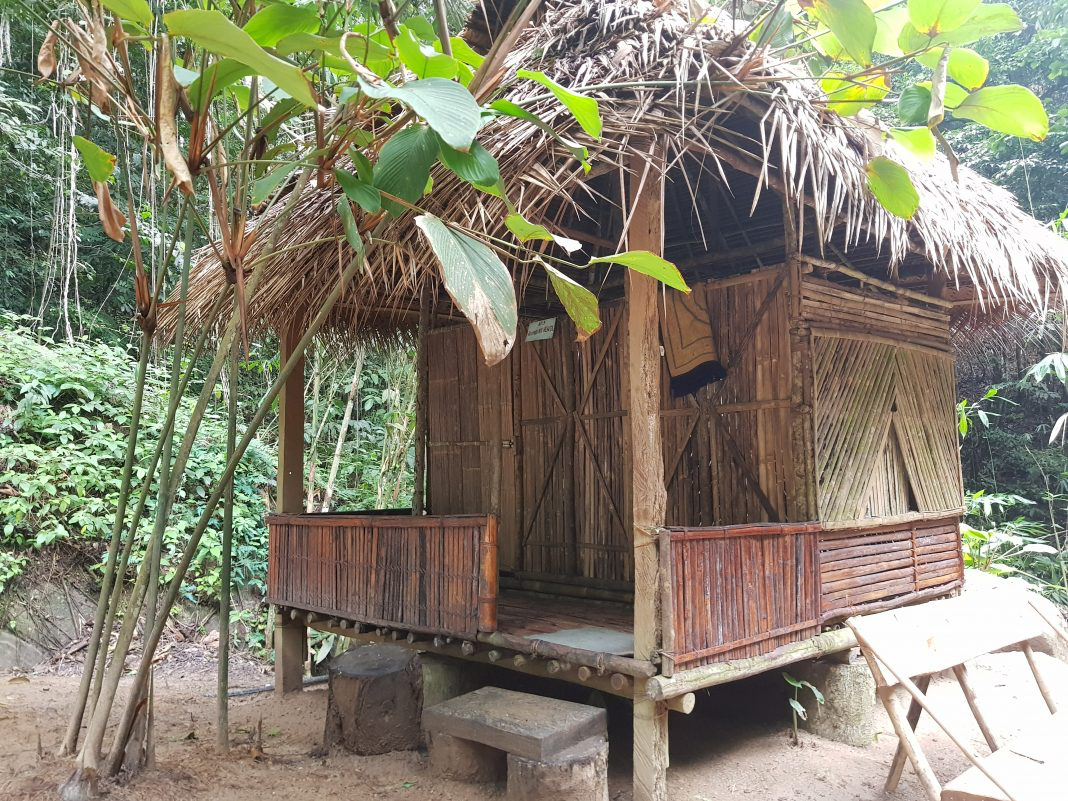 Image credit: @onesteponefootprint
There are traditional wooden chalets built by the orang asli for visitors to stay the night for just RM60 – it is a great way to experience how it is like to live like the orang asli, deep in the rainforest.
Lata Tengkoh Penyel, Sungai Siput, Perak
GPS coordinates: 4°55'44.0″N 101°19'23.0″E
Opening hours: Always open
Wooden chalet rental: RM60
Entry fee: Free of charge
---
7. Chamang Waterfall in Bentong, Pahang
---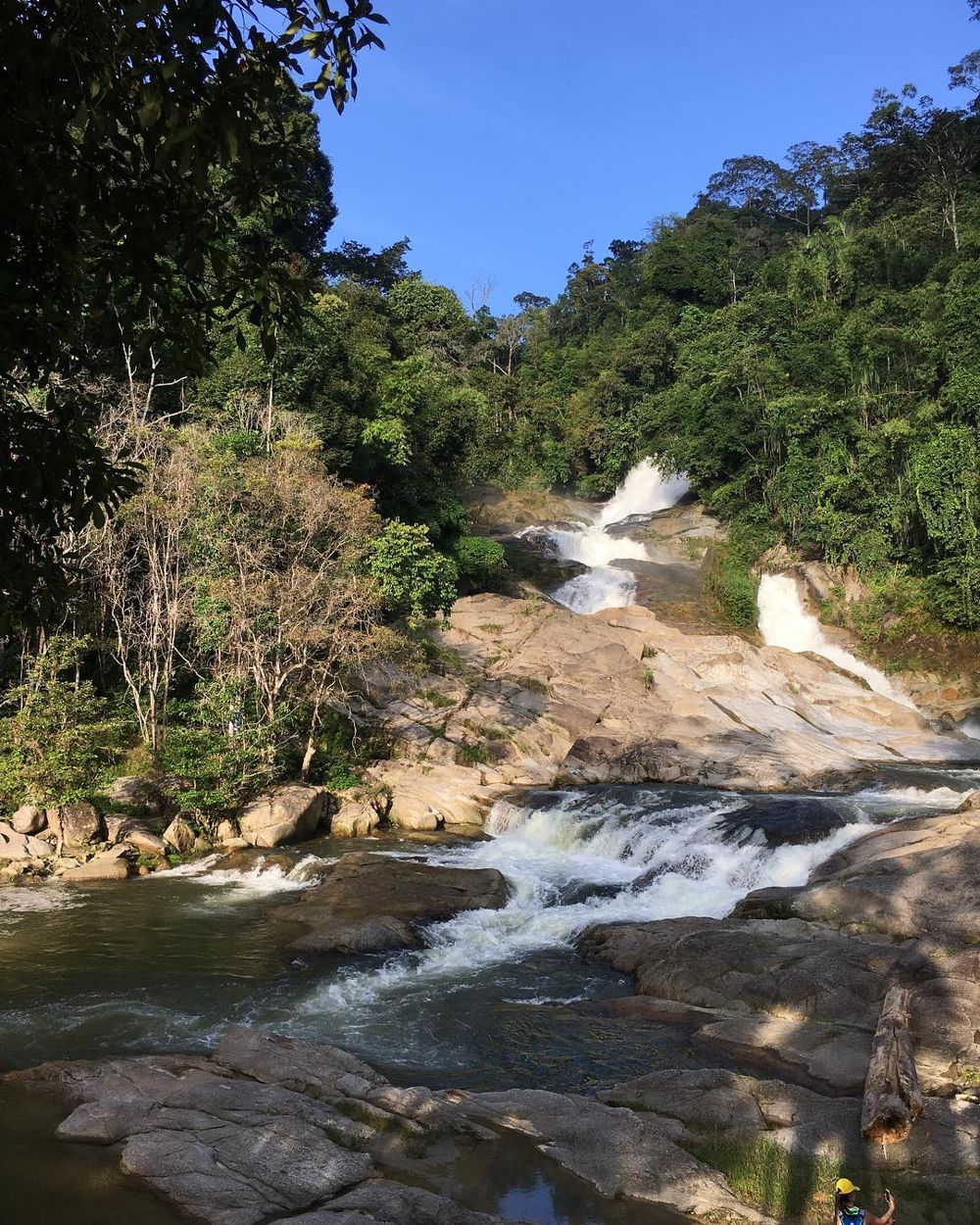 Image credit: @fizah88
Bring your family and friends because Chamang Waterfall is perfect for big groups with a large area to congregate in. It is also easy to get to and comes complete with amenities such as toilets and changing rooms.
To get there, drive towards Genting Highlands from Kuala Lumpur, passing the Gombak Toll. Follow the Bentong signboard towards the Bentong Toll. Onwards to Raub, you'll see road signs that will lead you to Chamang Waterfall, about 8KM off the main road.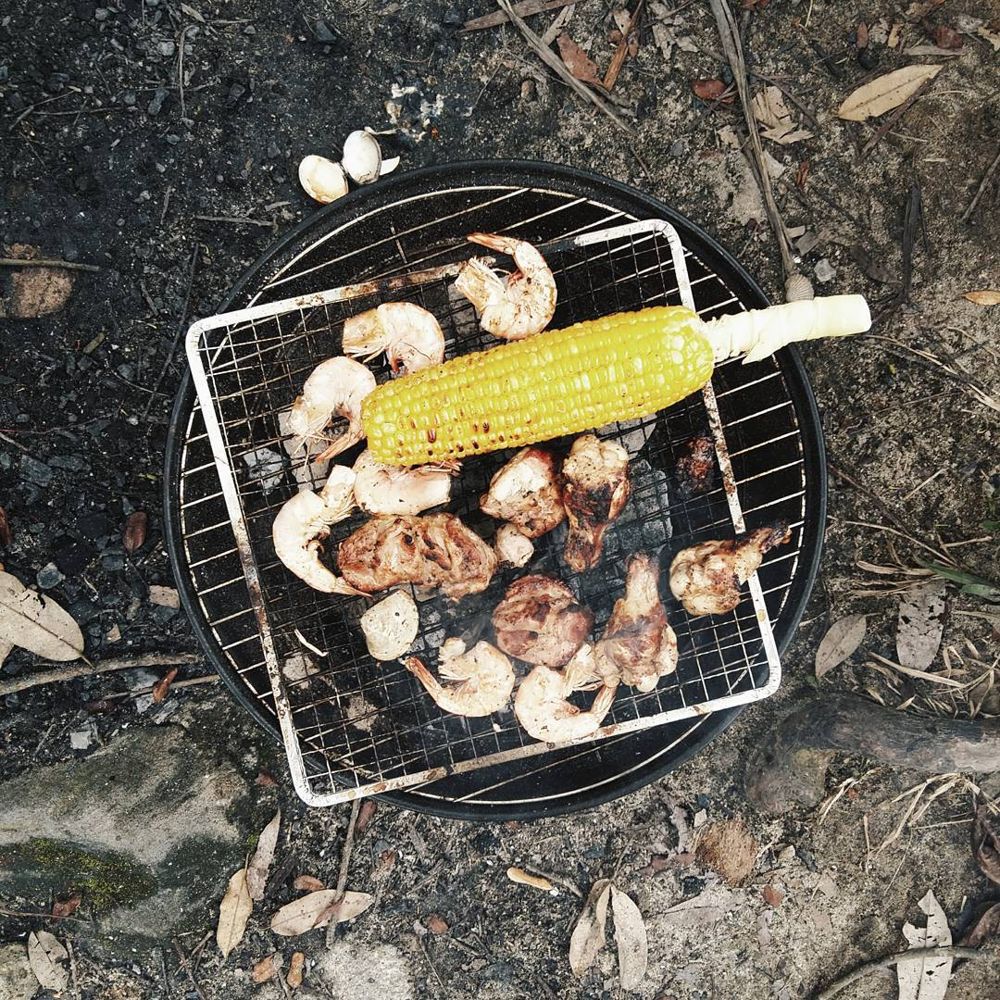 Image credit: @legitmarcuseee99
Because there are wide rocky spaces around the waterfall, you can consider packing food, a picnic mat, and a portable barbecue kit. There is a large car park at the foot of the falls so there is no need to hike if you don't wish to. Phew!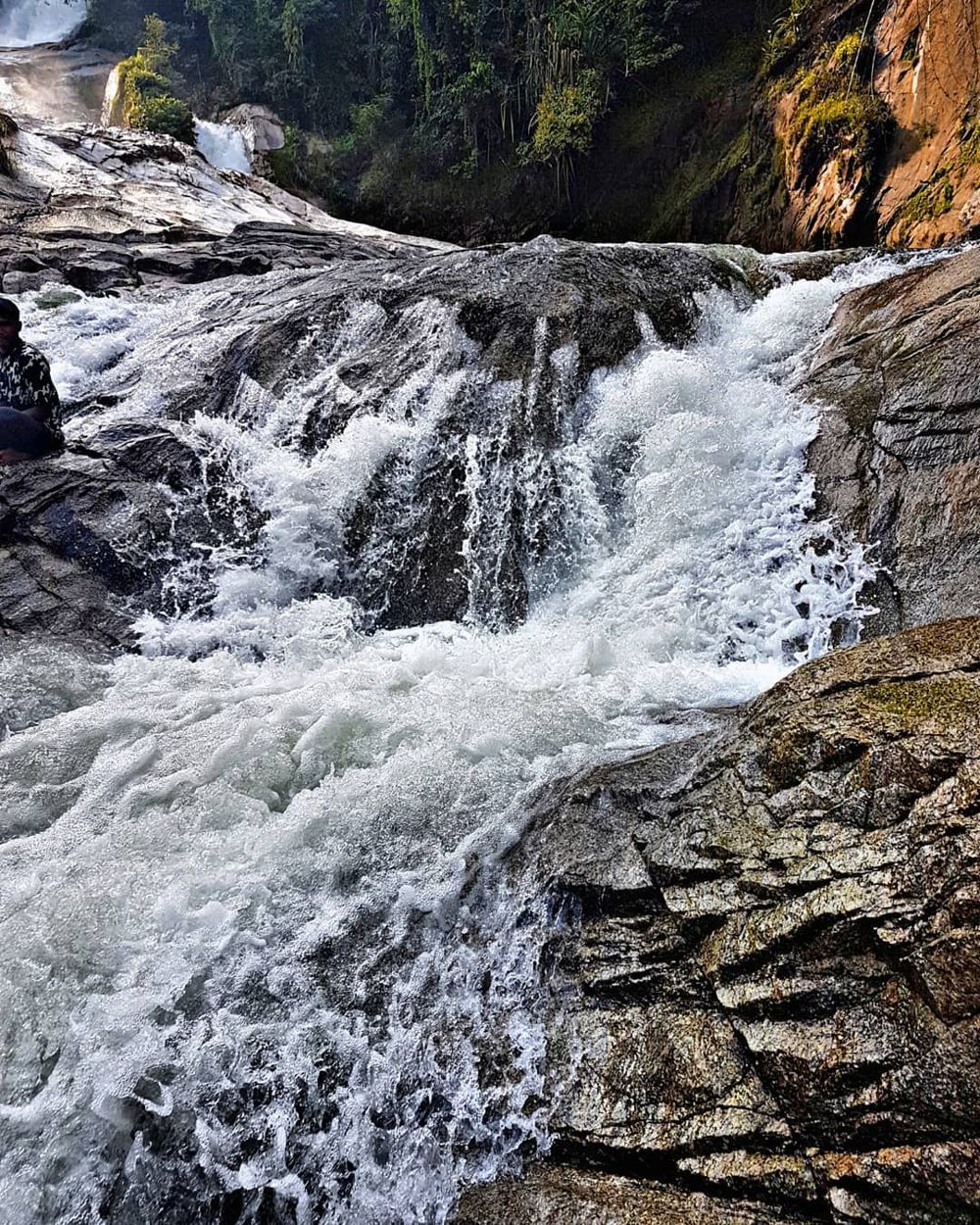 View from the top of the falls.
Image credit: @rajikrisnan
However, if you do like hiking, there is a 2.5KM hiking trail that will lead you to the upper falls – just keep to the left after you cross the suspension bridge and follow the trail.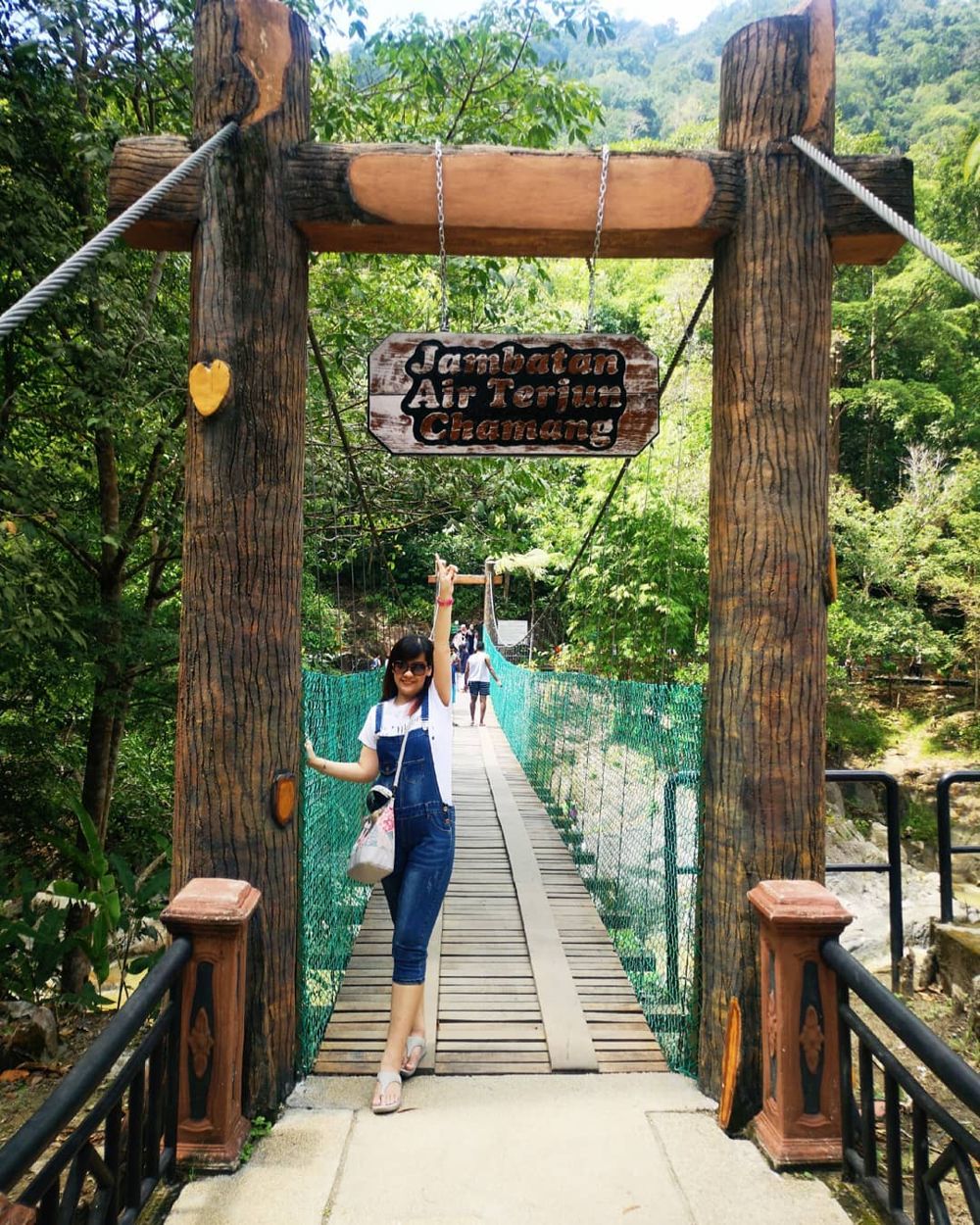 Image credit: @chermen08
If you are not keen to wander, lounge on the big rocks or take a dip in the wading pool, which are also suitable for children. However, do be careful if you intend to swim in the plunge pool as the currents can be dangerous, especially after the rain. 
Chamang Waterfall, Bentong, Pahang
GPS coordinates: 3°30'34.7″N 101°51'28.1″E
Opening hours: 9AM-5PM, Daily
Telephone: 017-366 6223
Entry fee: RM2/person
---
8. Air Terjun Panching in Kuantan, Pahang
---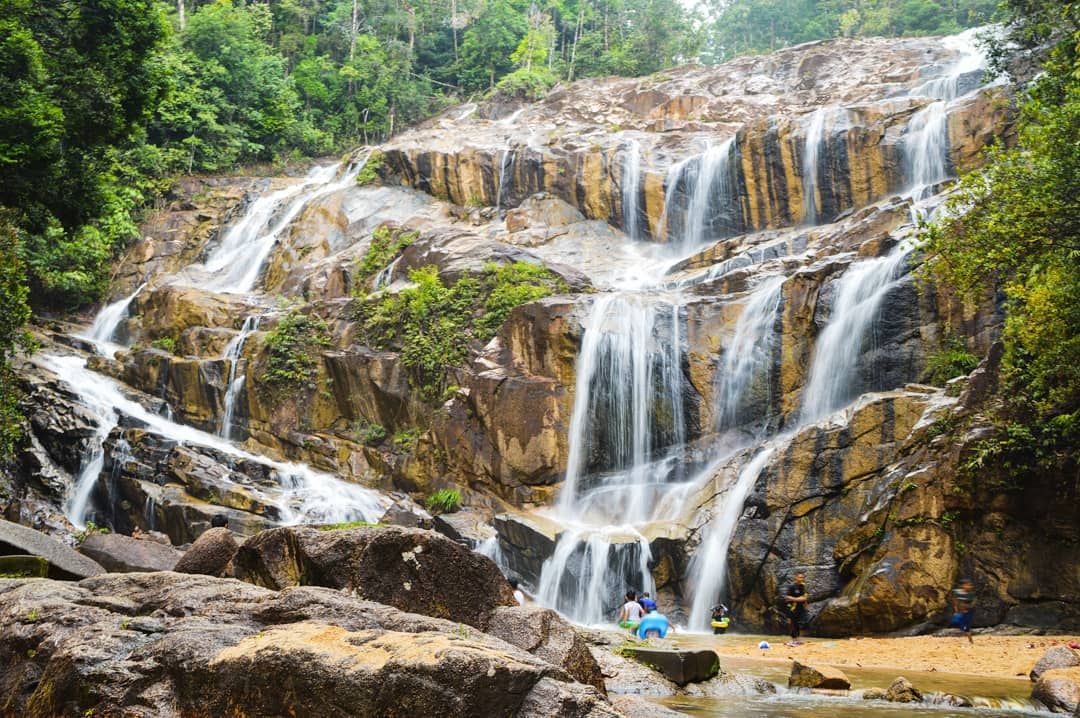 Image credit: @mashkur_muhamad
Also known as Sungai Pandan Waterfall, this spectacular waterfall is located near Kuantan, the state capital of Pahang. If you are staying in Kuala Lumpur, get on the Karak Highway, follow the signs to Sungei Lembeng and towards Panching. There will be a junction to exit to get to the waterfall.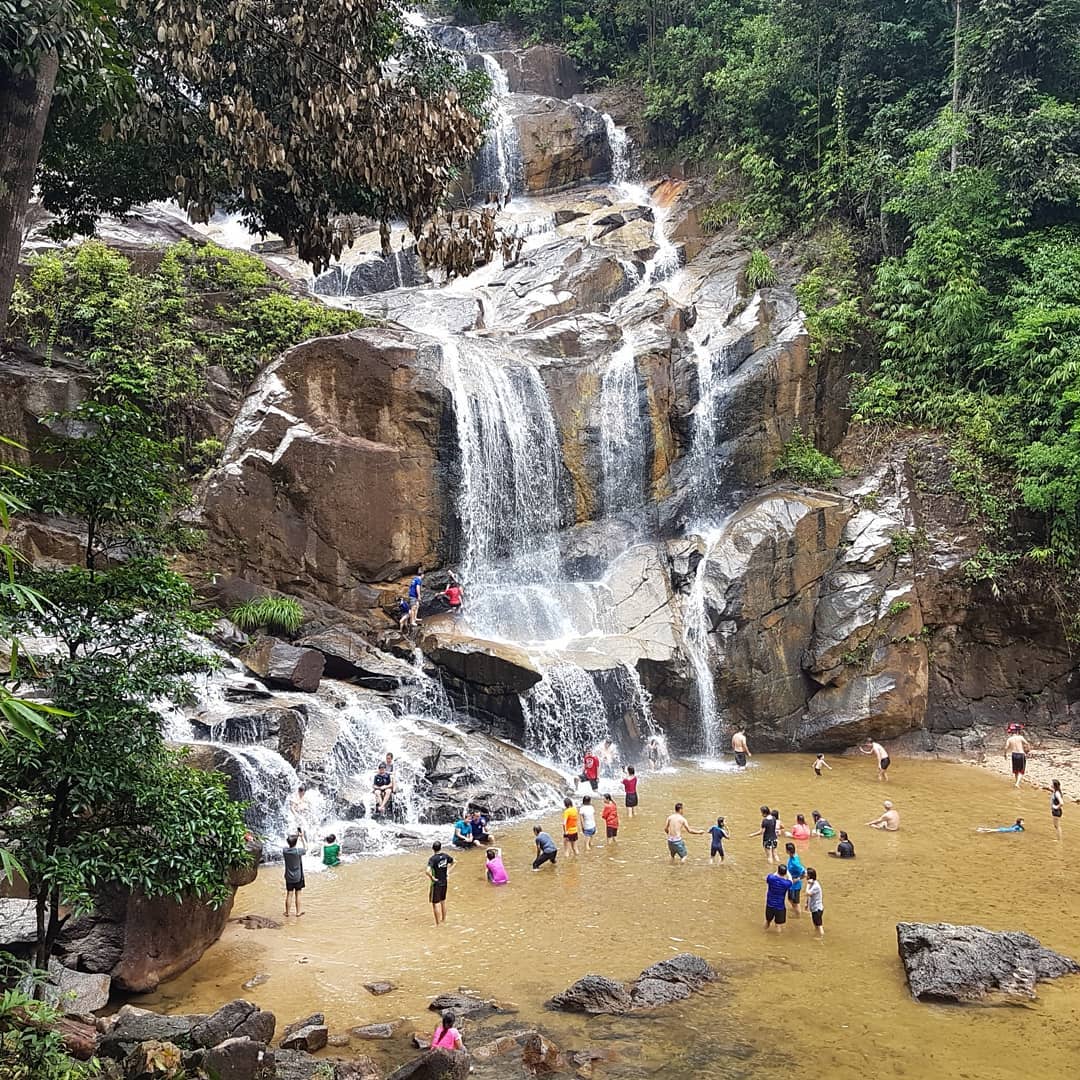 Image credit: @saberi5347
Just before you reach the main fall, you can choose to head up the suspension bridge to get a good view of the waterfall. The torrent makes its way down, splits into a few sections, forming many threads of cascading falls. It all comes together again at a large wading pool. 
The waterfall is located in a dense rainforest – you might even spot a few species of pitcher plants fondly known as Monkey Cups.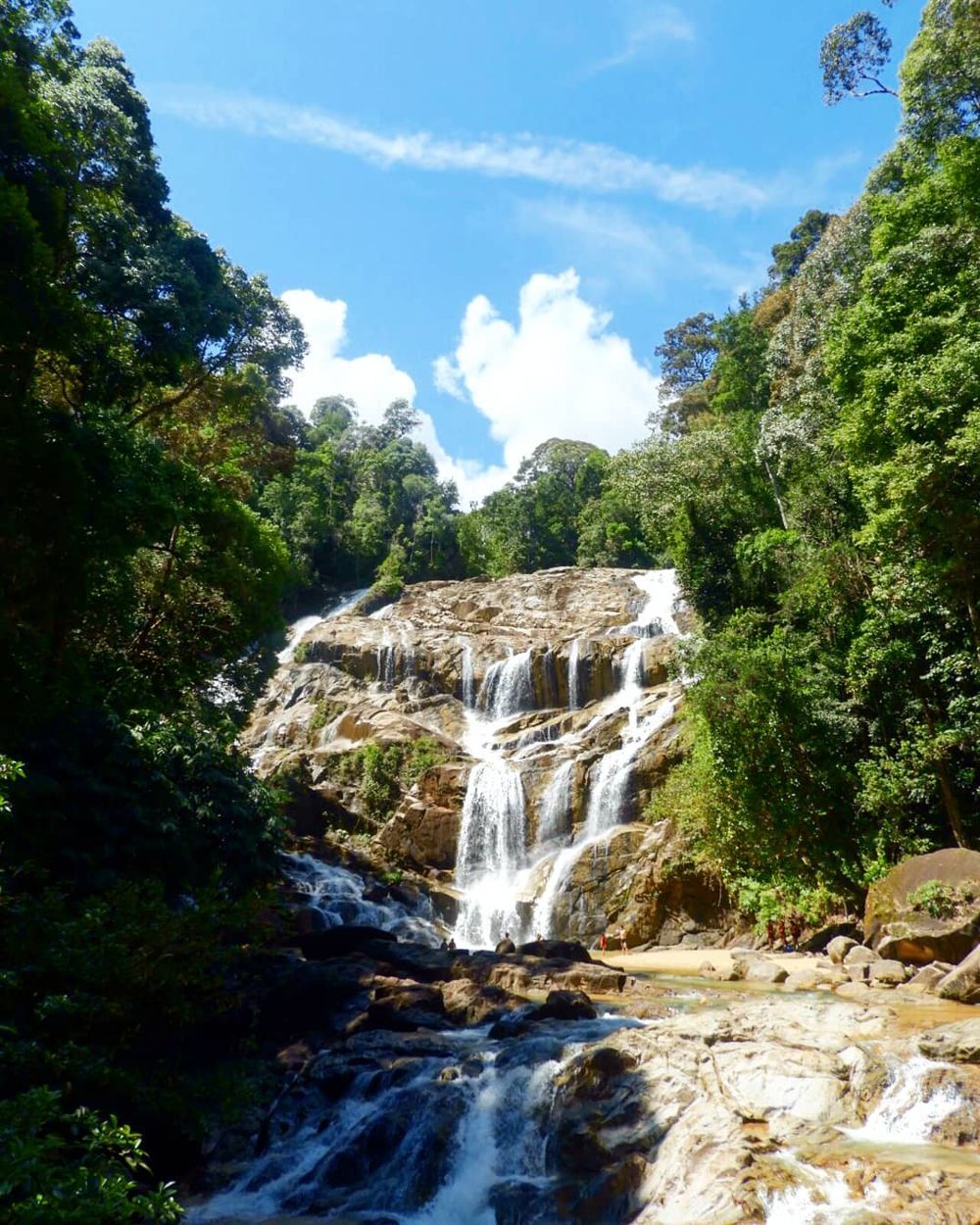 Image credit: @mdsyaiful_ip
Well equipped with amenities, the area comes with barbecue spots and even a few stalls selling local food. Don't worry if you get soaking wet because there are changing rooms and toilets – you don't need to drive back to the hotel with soaking car seats!
Air Terjun Panching, Kuantan, Pahang
GPS coordinates: 3°47'23.2″N 103°08'31.6″E
Opening hours: Mon-Thu 9AM-5PM | Sat-Sun, 9AM-6PM (Closed on Fridays)
Telephone: 016-922 4777
Entry fee: RM5/person
---
9. Rainbow Waterfall in Sungai Lembing, Pahang
---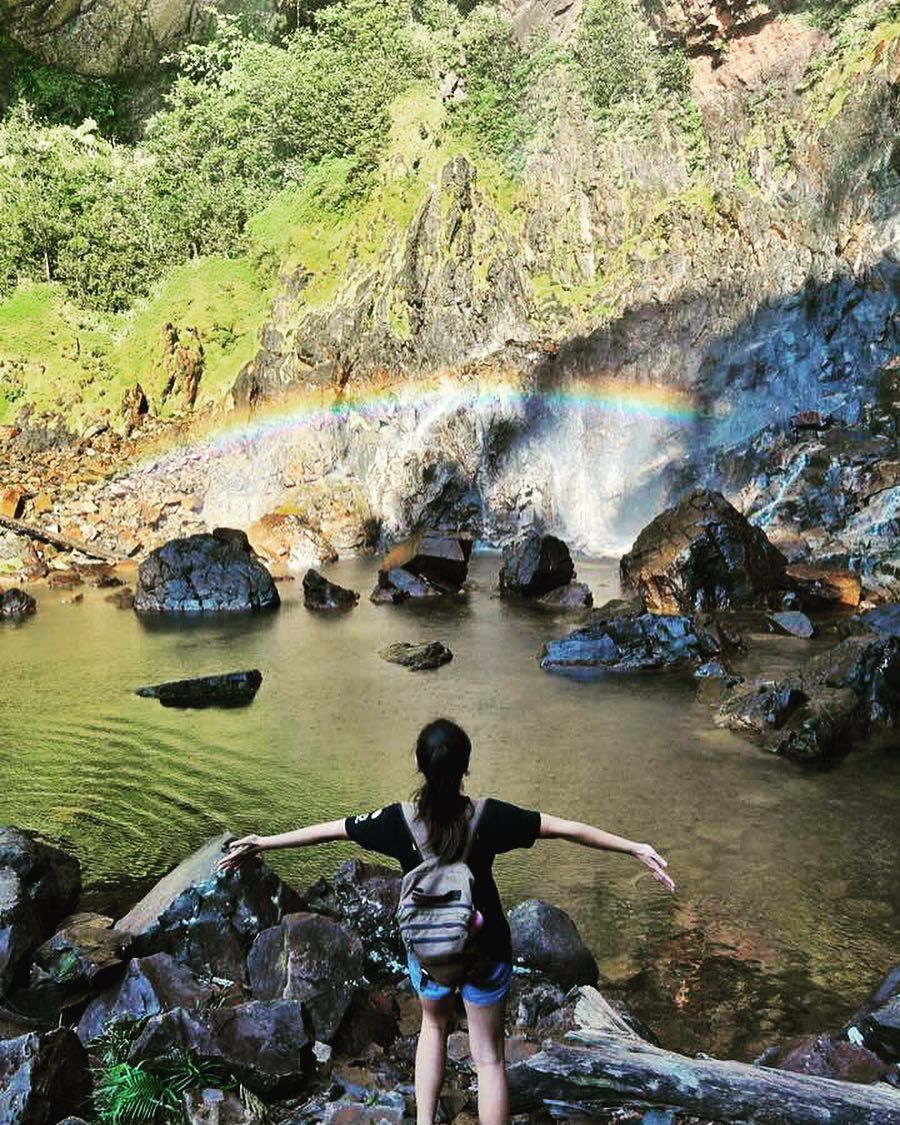 Image credit: @daphne__tan
Perhaps there's no pot of gold here, but you'll still hit jackpot right at the Rainbow Waterfall – where both ends of the rainbow are within the same locale.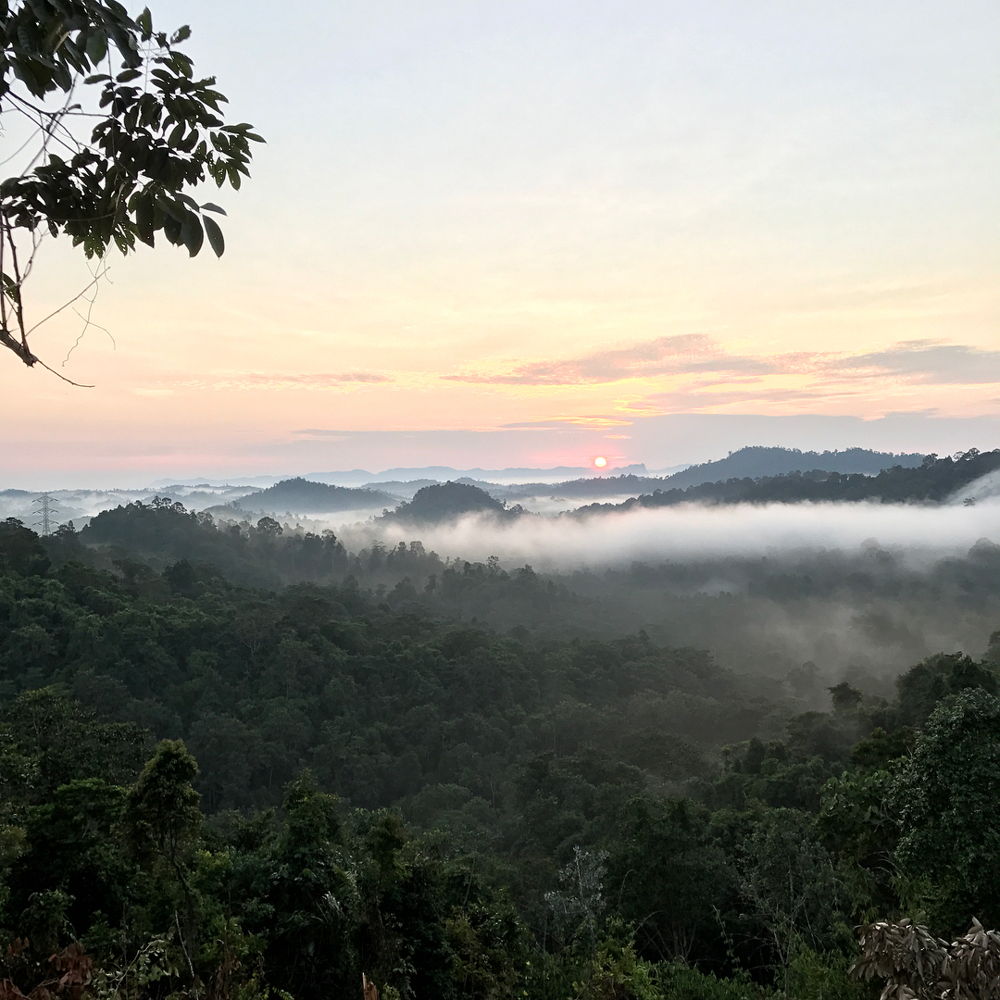 Image credit: @leongkongyuh
Like all treasures, this one that's located in Sungai Lembing requires a little work to get to. You can book a 4-wheel drive tour with a guide to get to the exact site – it's a good idea to stay the night in the Sungai Lembing town before you depart for the falls in the morning. 
Depending on the tour agency you engage, you can expect to pay RM35-RM60/person for a one-hour ride across rocky terrain and shallow streams.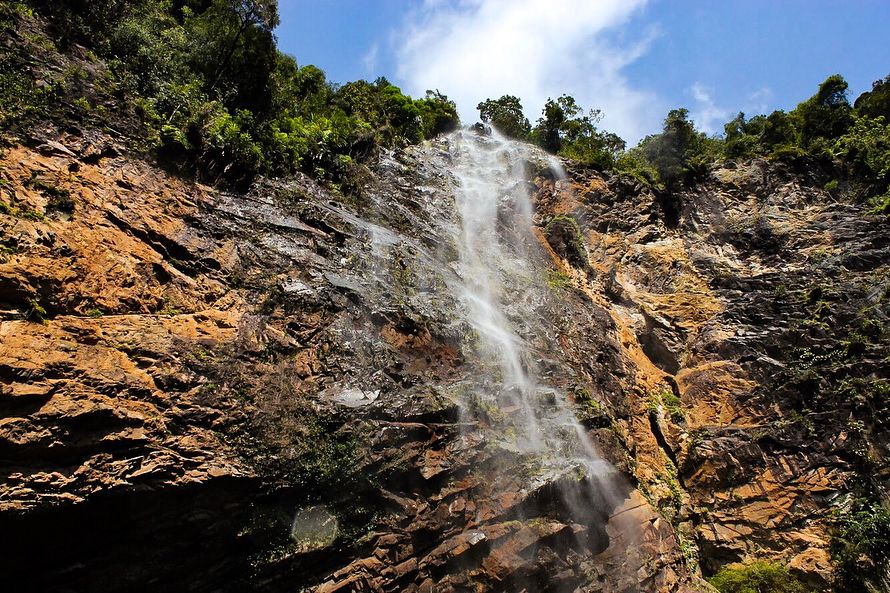 Image credit: @jff_instagraphy
You will be dropped off at the base camp, where you'll need to do a 45-minute/1KM hike to the falls. 
The water comes out through a chute, and disperses to form a light spray from the top – and that is the secret to the rainbow. You'll see it when the sunlight hits just right, at around 9AM-10AM, sometimes more than if you are lucky.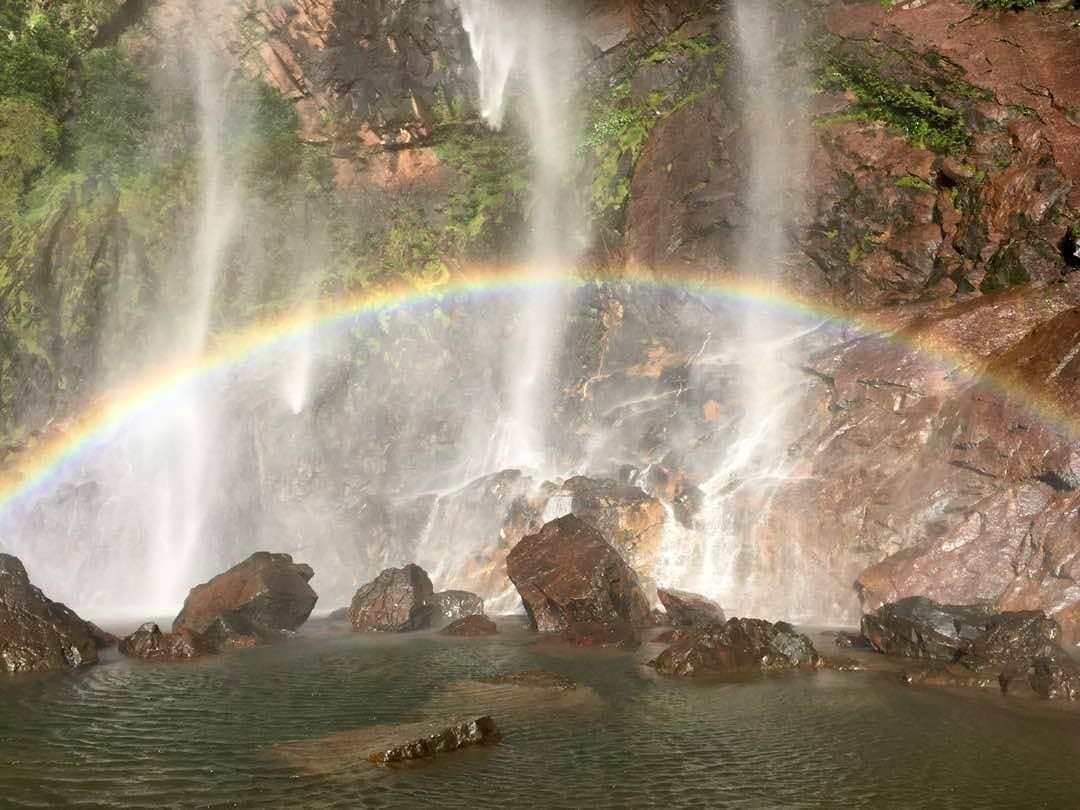 Image credit: @reenashahmakeupartist.85
Rainbow Waterfall, Sungai Lembing, Pahang
GPS coordinates: 3°55'19.8″N 102°56'50.4″E
Opening hours: 6.30AM-1PM, Daily
Telephone: 019-912 6369
Tour fee: RM35 – RM60/person
---
10. Lata Iskandar in Tapah, Pahang
---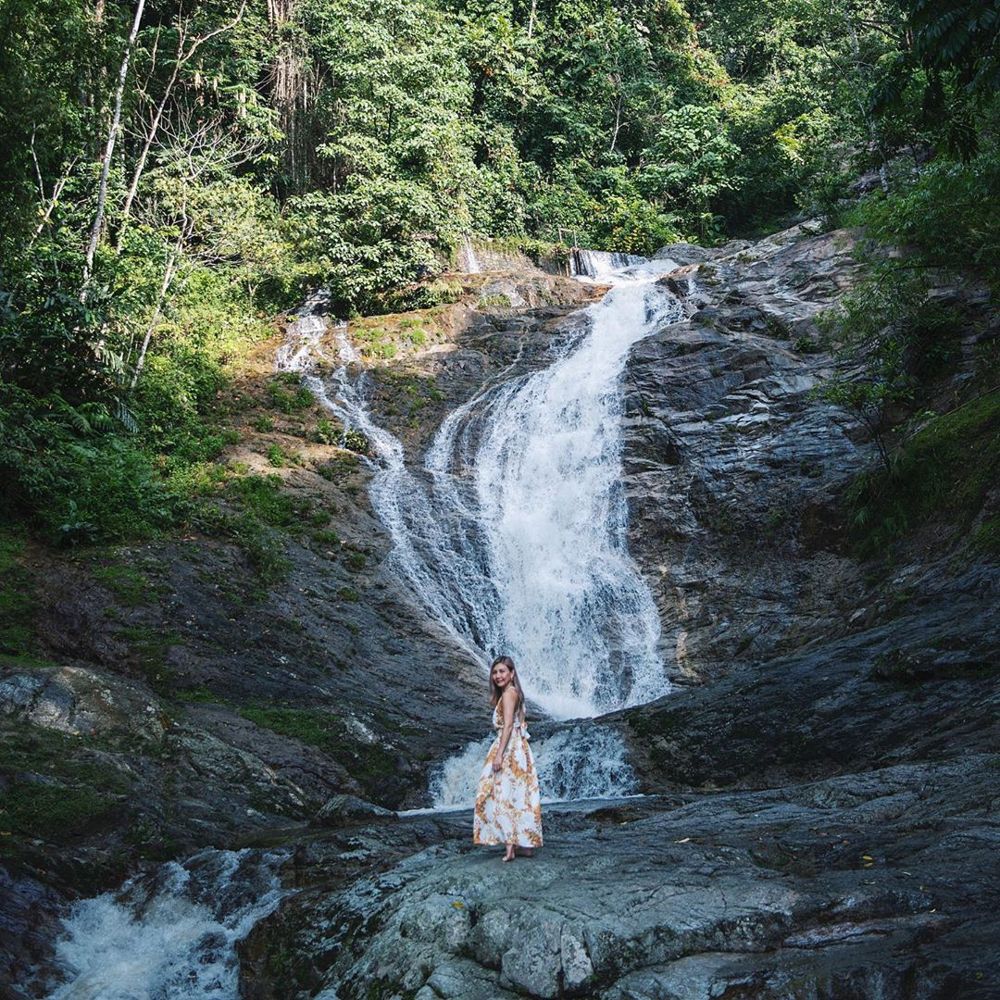 Image credit: @elanakhong
Holidaymakers en route to Cameron Highlands via Tapah should make a point to stop at Lata Iskandar. This breakpoint before continuing the winding journey up presents an enchanting series of cascades over granite slopes. However, if you are travelling to Cameron Highlands from Simpang Pulai, consider driving down after Tanah Rata to reach this waterfall. 

Shop for local produce while you're in the area
Image credit: @fuadfahmy
Before you even get to the falls, allow yourself to be distracted by the shopping opportunities that line on the main road. The orang asli sell handicrafts, honey and tropical fruits here. If you are a durian fan, come during the season for your fill of the king of fruits.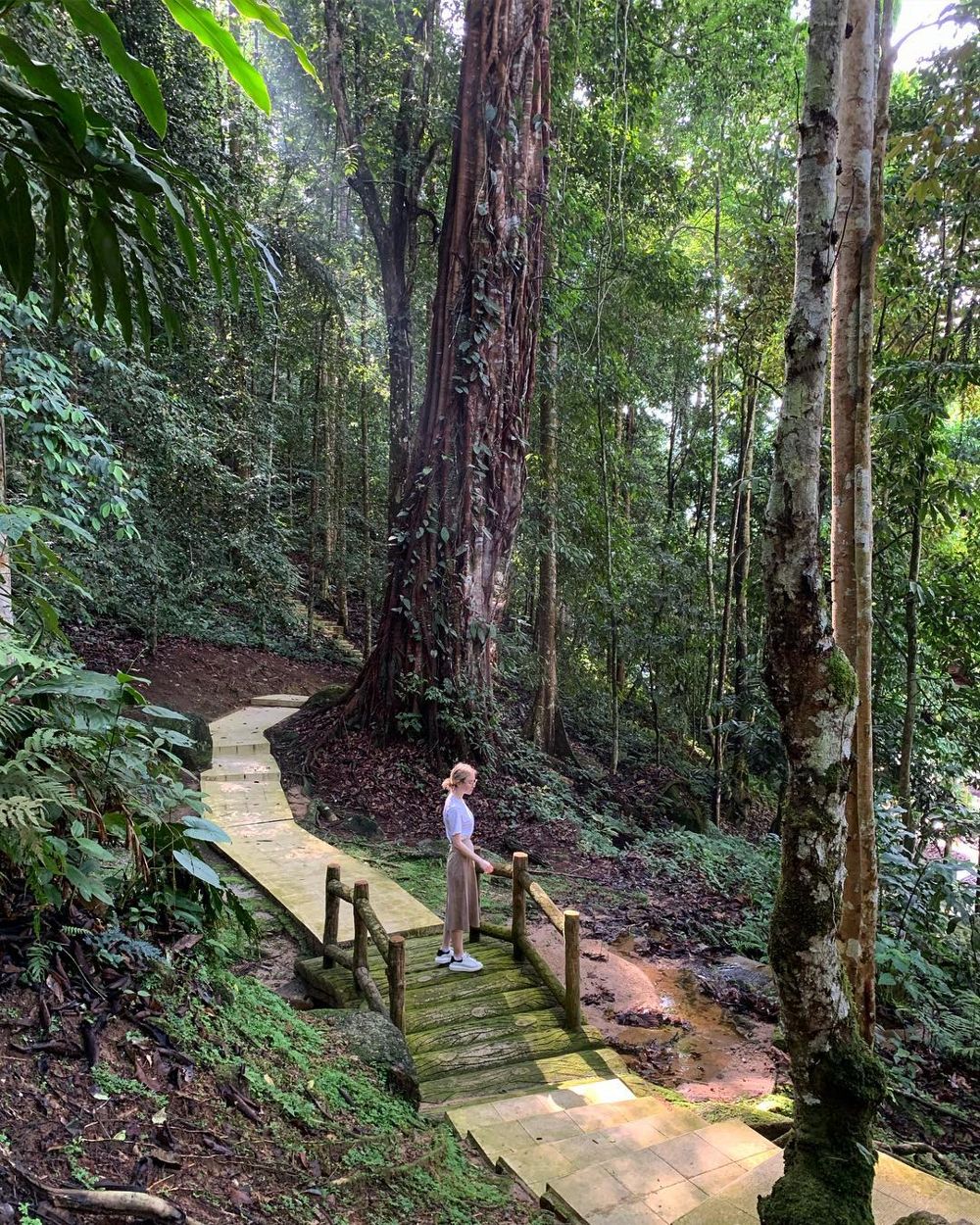 Image credit: @temwhite
After taking in the cool spray from the waterfall at its base, climb up to the top to view the surroundings and frolic in the little pool before the drop, away from the buzz of people at the main fall. Be careful though, the path can be mossy and slippery.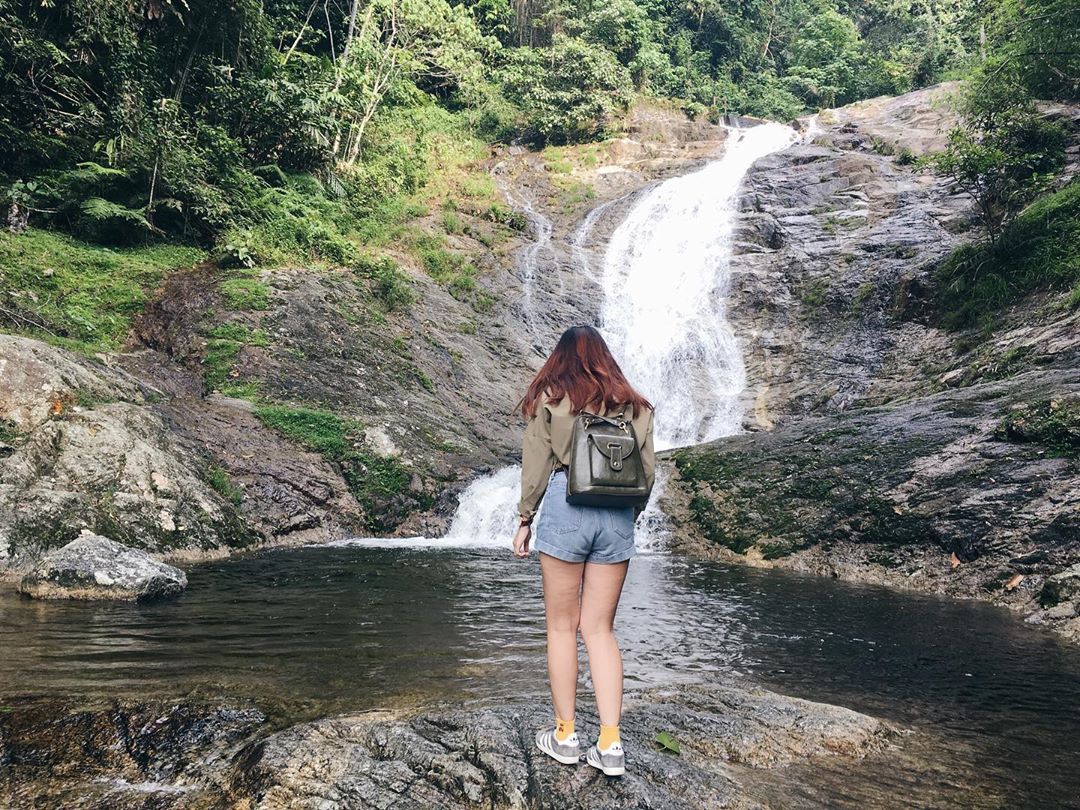 Image credit: @irischl
Lata Iskandar, Tapah, Pahang
GPS coordinates: 4°19'27.1″N 101°19'30.3″E
Opening hours: 7AM-6PM, Daily
Telephone: 05-401 1402
Entry fee: Free of charge
---
11. Chin Farm Waterfall in Batu Feringghi, Penang
---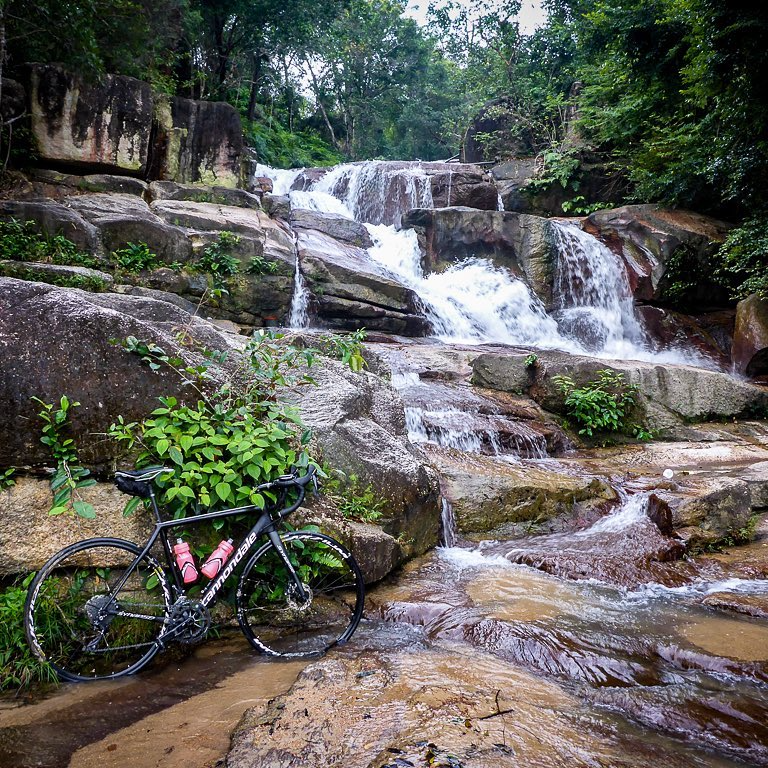 Image credit: @adrianrumney
Batu Feringghi is famous for its beaches, but if you are done frolicking in salty water, clear springs from a whirring waterfall are a refreshing change. You'll find a sign that says Chin Water Fall Lam Thean Mui Temple across the road from Bayview Beach Hotel – follow the path along the Batu Feringghi River to get to the base of the waterfall.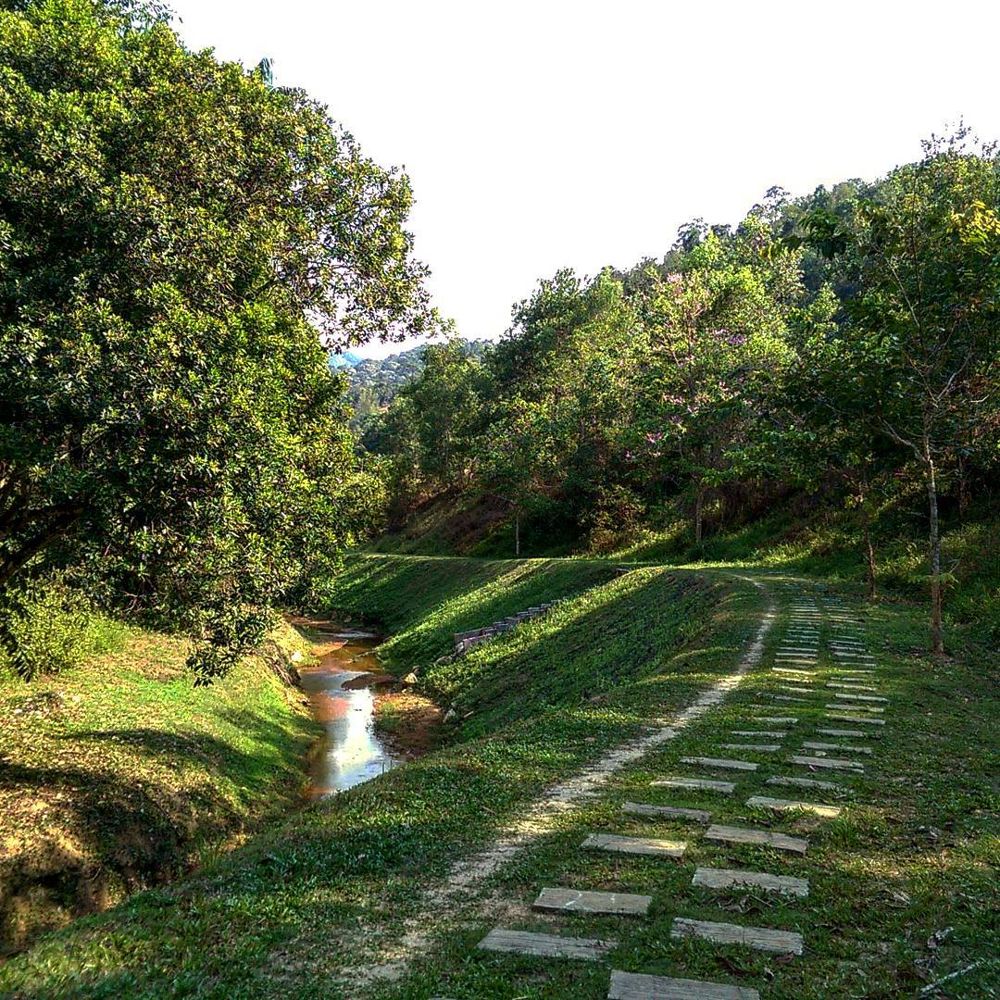 Image credit: @bryanimbus
Fill your picnic basket and set off early in the morning or in the evening as it is not a shaded area. 

Image credit: @winter_asher
There are several cascades and block falls. You can scramble up the rocks or pick a spot to chill at amongst the many shallow pools at this waterfall. Lay on the orange boulders as fresh water trickles down your back, making it an almost spa-like experience.
Chin Farm Waterfall, Batu Feringghi, Penang
GPS coordinates: 5°27'36.6″N 100°14'31.2″E
Opening hours: Open daily
Entry fee: Free of charge
---
12. Seven Wells Waterfall in Pulau Langkawi, Kedah
---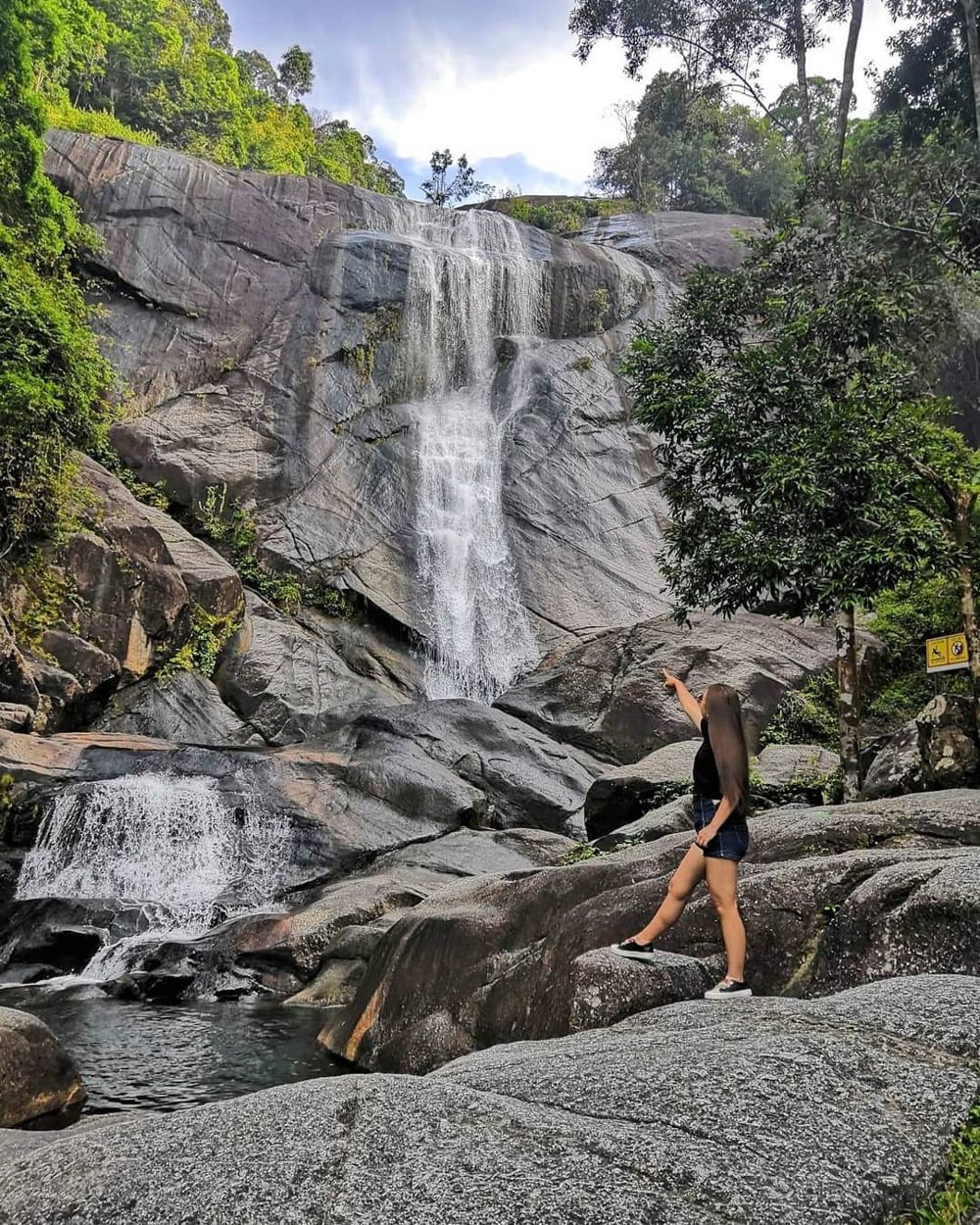 Image credit: @lee.jia.jia
A major tourist spot in Pulau Langkawi, the Seven Wells Waterfall is located on the second-highest mountain on the island, Mat Chin Chang Mountain. Close to Pantai Kok, it is a stone's throw away from the cable car station that ferries tourists to the top of Mat Chin Chang. You'll be able to catch a bird's eye view of the waterfall from the cable car.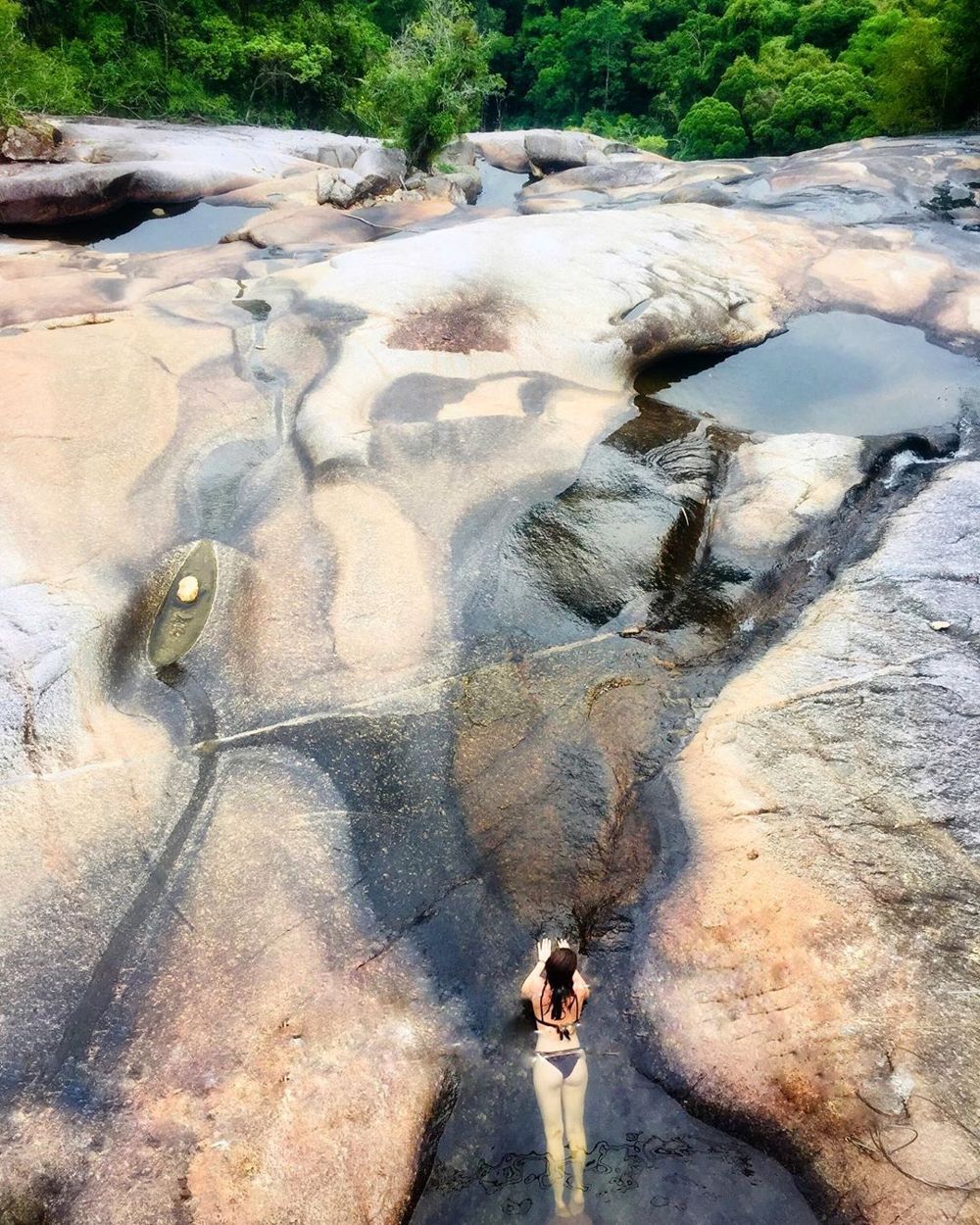 Image credit: @wonderseekingsarah
The main fall showcases a vertical fall with waters that burst forth over rocky boulders at the top before they lose most of their gust, streaming down more boulders at the bottom.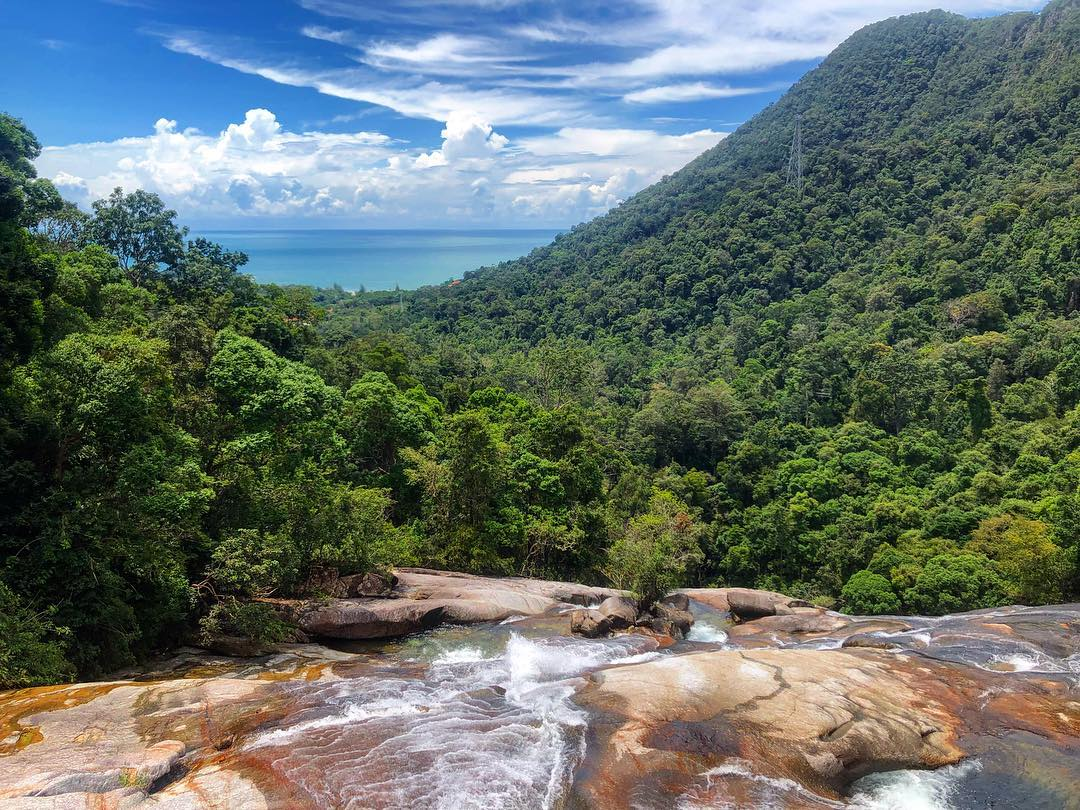 Image credit: @moch_ax
Take a 20-minute hike up to the top and you will spot seven pools that give the waterfall its name. Folk tales tell of the 7 fairies who dance around its 7 natural pools. Others believe that the pool contains healing properties.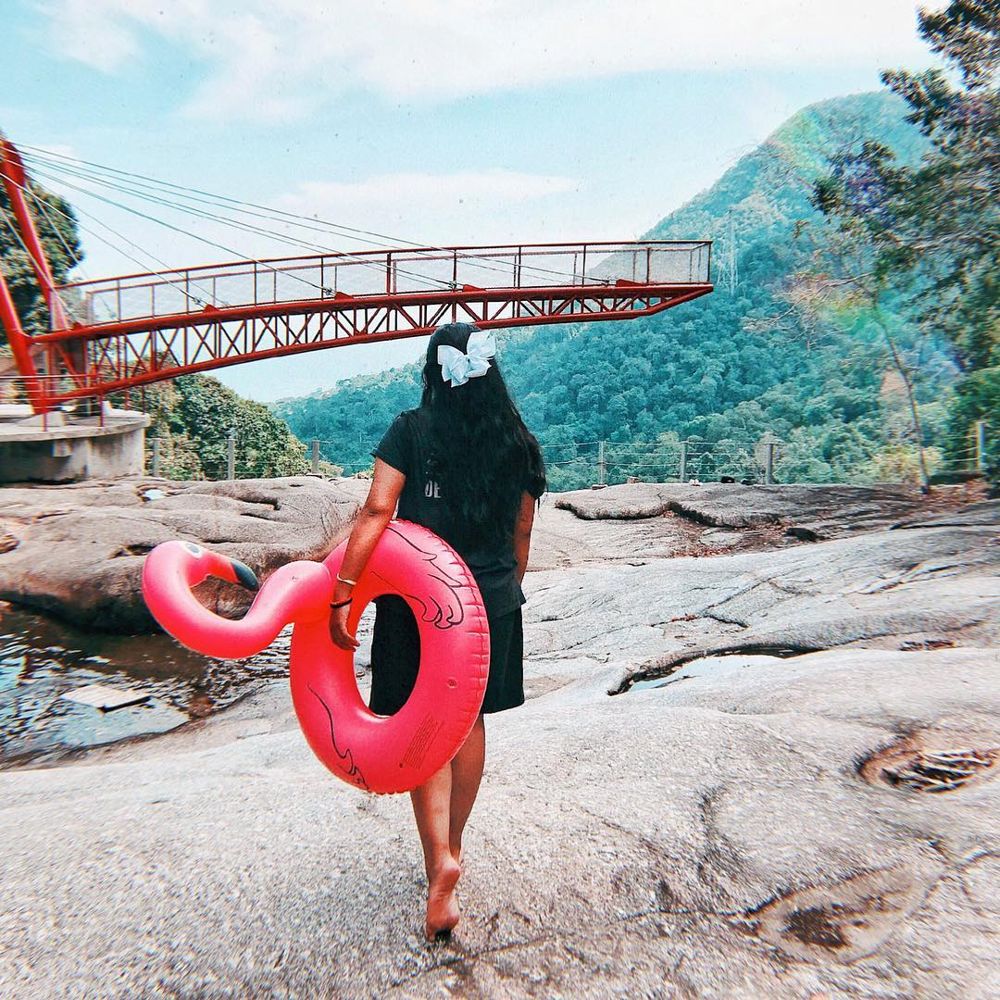 Image credit: @peachtorial
No fairies were spotted and we aren't too sure about its healing powers, but it's still worth taking a soak in the pools. There is a red "half-bridge" with a glass platform that you can hop on to take pictures as well. 
Toilets and changing rooms are located at both the top and base of the waterfall. You can even do some souvenir shopping or get some snacks and coconut water to cool off just before you exit.
Seven Wells Waterfall, Pulau Langkawi, Kedah
GPS coordinates: 6°22'54.6″N 99°40'22.8″E
Opening hours: 8.30AM-4.30PM, Daily
Telephone: 012-570 0104
Entry fee: Free of charge
---
13. Temurun Waterfall in Pulau Langkawi, Kedah
---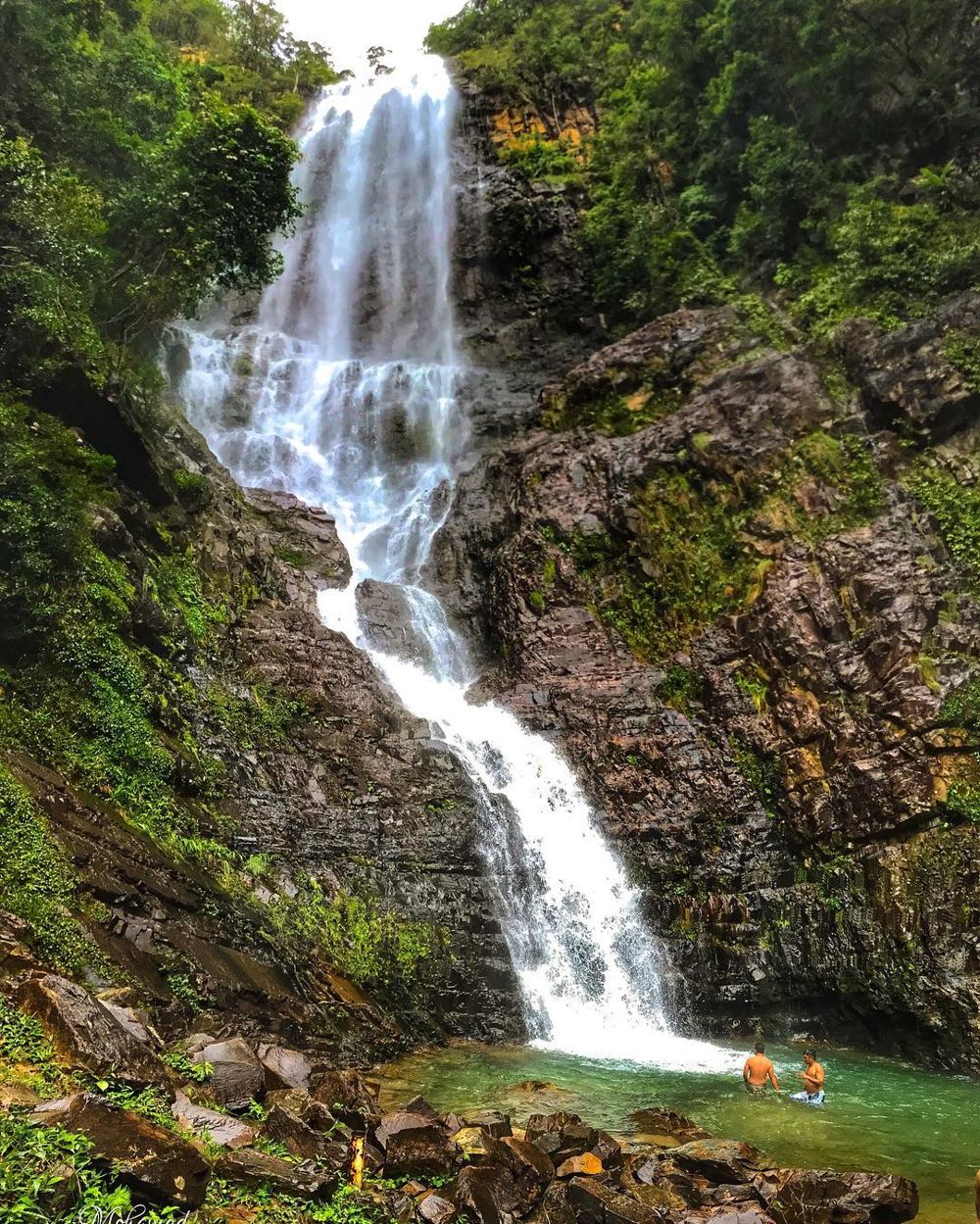 Image credit: @naturally_talhah
On the flip side of the same mountain as the Seven Wells Waterfall is Temurun Waterfall, another one that plunges off jagged rocks. It is best to visit during the wet season, from April to October, as it can slow to a trickle during drier months.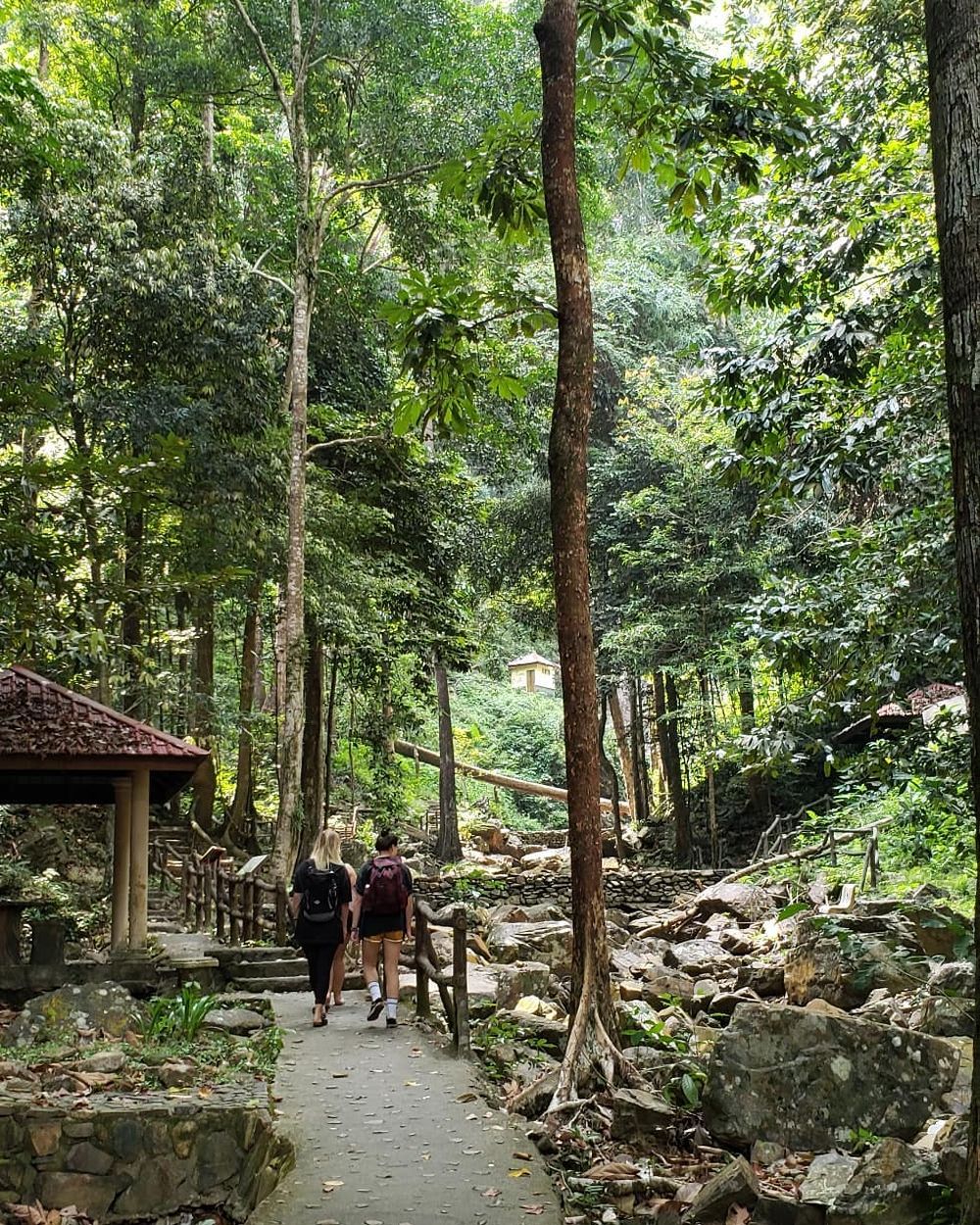 Image credit: @tiffany9496
A rather long drive from the more popular sites on the island – roughly 45 minutes from the bustling Cenang Beach – this seasonal waterfall is worth the jaunt. To get there, follow signs towards the Datai Bay Resort. Enjoy the coastal drive and follow the signboards to get there.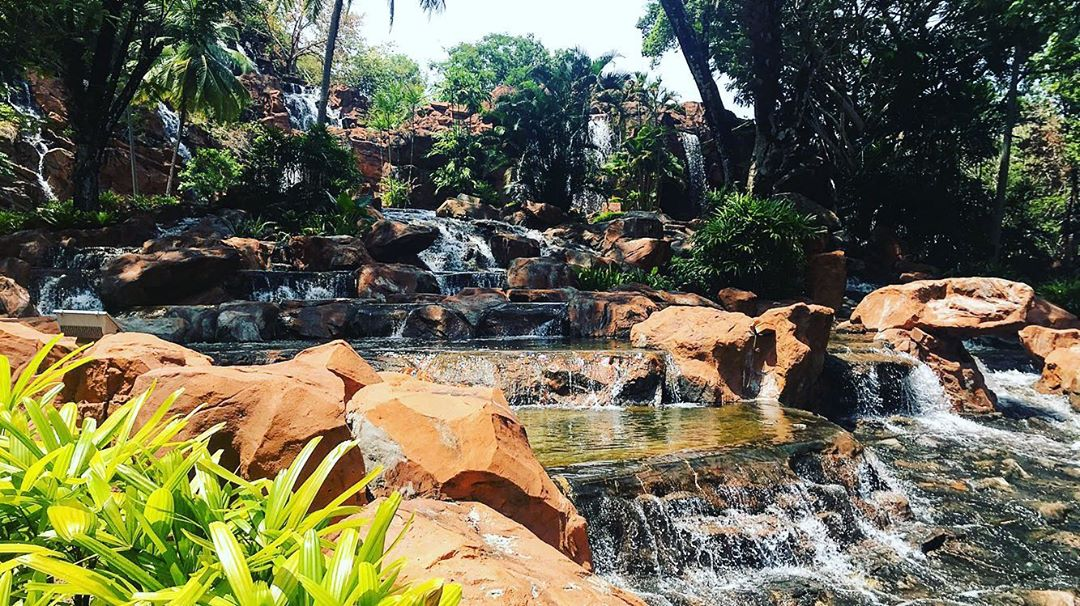 Image credit: @sarahsahaaraa
The first two tiers feature cascades that lap the banks. Suitable for picnics, there are several gazebos you can chill at along the gradual cement path up the third and final tier. 

Image credit: @krn_lee
Being here will make you feel like you've just walked into the set of Jurassic Park, with all that verdant vegetation and rocks. The waterfall stands grand, with water constantly crashing onto the pool below. 
Don't shy away from swimming in the clear water despite the waterfall's size and what may look like sharp rocks surrounding the pool. You might even spot some locals trying to scale part of the waterfall before diving into the pool. 
Temurun Waterfall, Pulau Langkawi, Kedah
GPS coordinates: 6°26'02.5″N 99°42'29.6″E
Opening hours: 7AM-7PM, Daily
Telephone: 04-960 0501
Entry fee: Free of charge
---
14. Lata Bukit Hijau in Baling, Kedah
---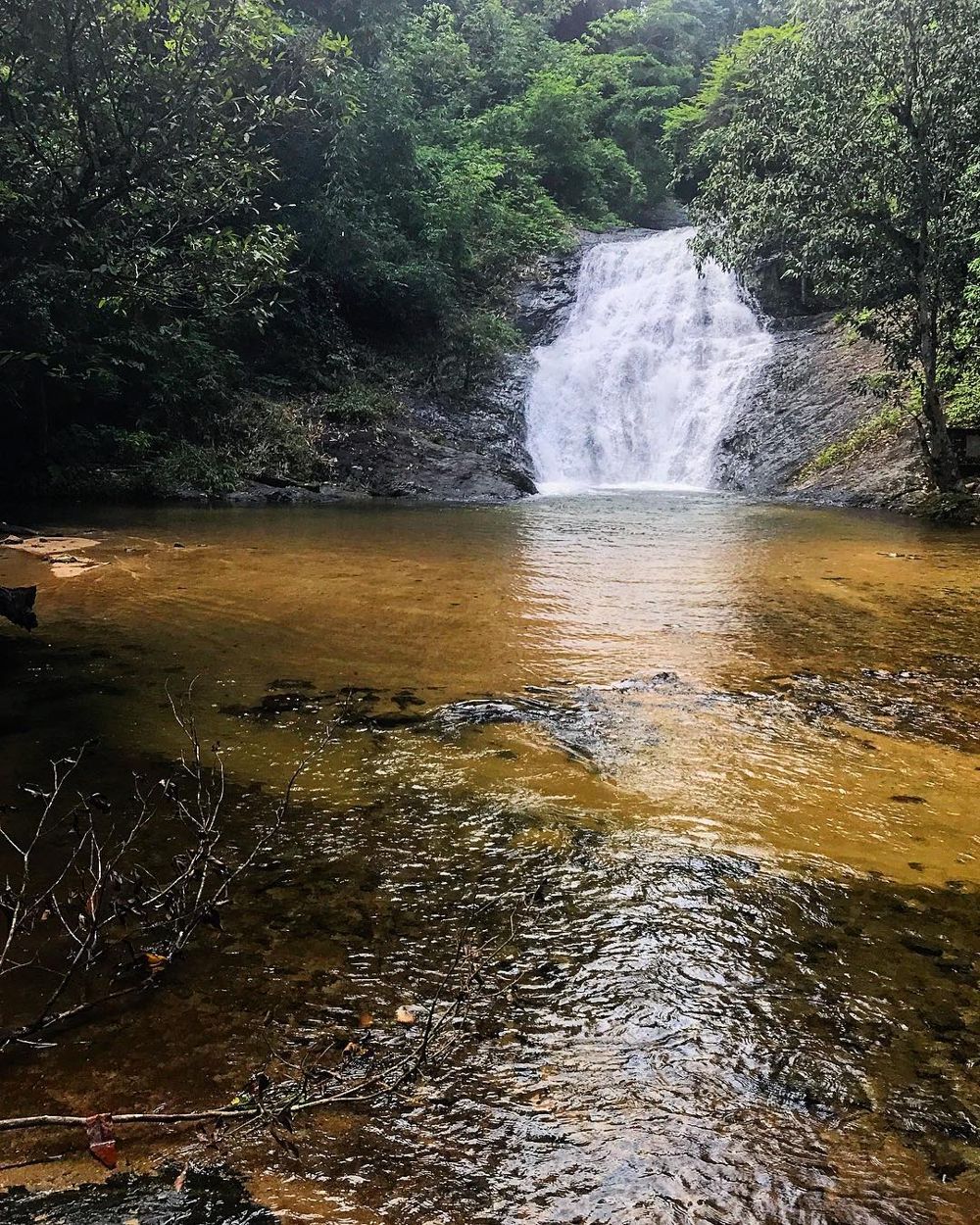 Image credit: @shoutrageous
Beautiful but forgotten unlike the other waterfalls, Lata Bukit Hijau does not get the attention it deserves. Hidden within the forest folds of Kedah, a northern state in Malaysia, this used to be a hotspot for locals but is now left alone to be one with nature.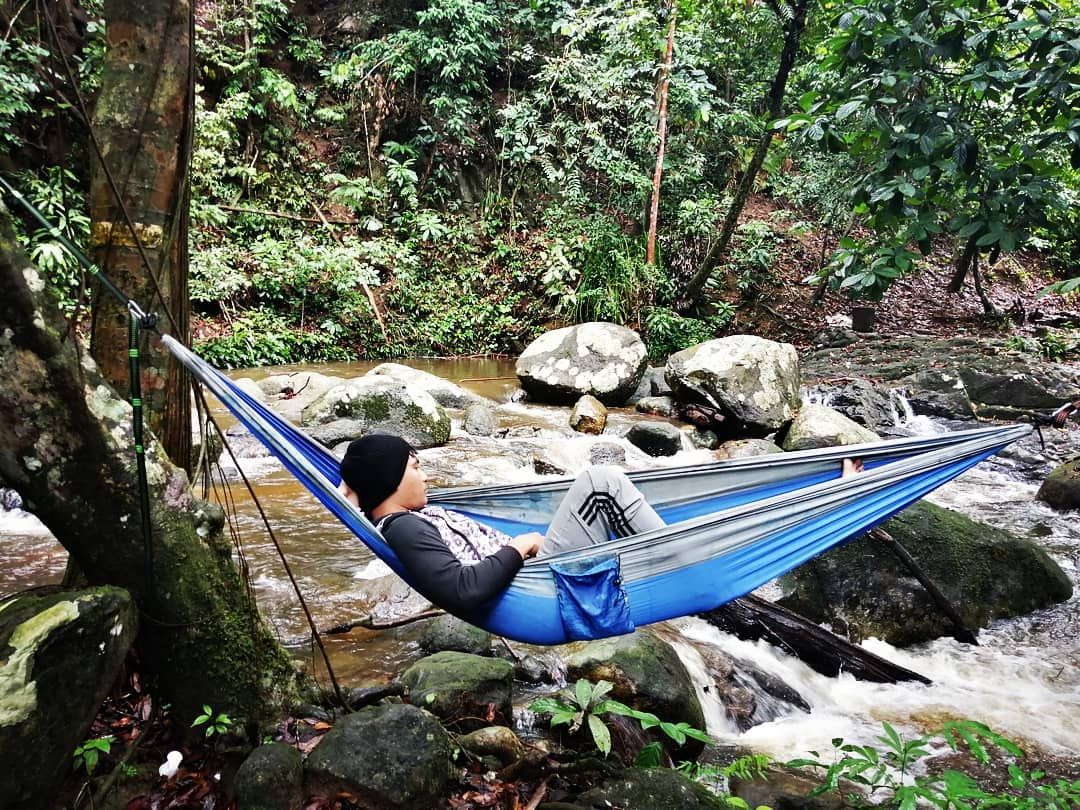 Image credit: @afizzzzz
The lack of amenities here shouldn't deter you from exploring, as the quiet and serene surrounds mean you can enjoy each level of the waterfall without crowds. The first level is a long wide fall, with two bridges connecting either side of the bank.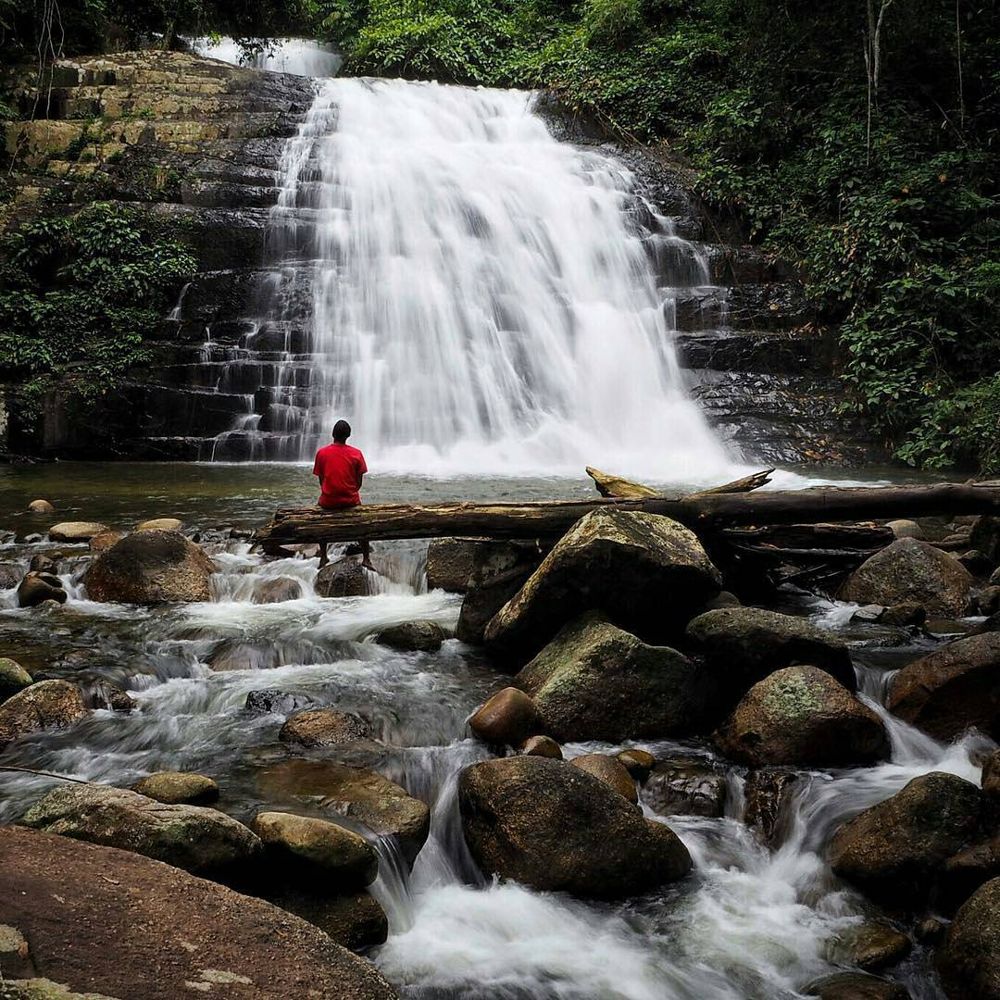 The "staircase" waterfall
Image credit: @kembarians
It can appear underwhelming to some at first glance, but there are a series of waterfalls deeper in. Cross over the last bridge and follow the trail to its "back door". You will pass a punchbowl waterfall that you can't access, but can admire through the foliage. Walk in further to reach a block waterfall that looks like nature's staircase that flows out into a shallow pool. 
Lata Bukit Hijau, Baling, Kedah
GPS coordinates: 5°29'51.6″N 100°46'23.4″E
Opening hours: 8AM-6PM, Daily
Telephone: 04-490 3760
Entry fee: Free of charge
---
15. Jelawang Waterfall in Dabong, Kelantan
---
Standing tall is the most underrated waterfall in Peninsula Malaysia – you probably won't meet a single soul here. How one of the tallest waterfalls in South East Asia remains relatively unknown is a mystery.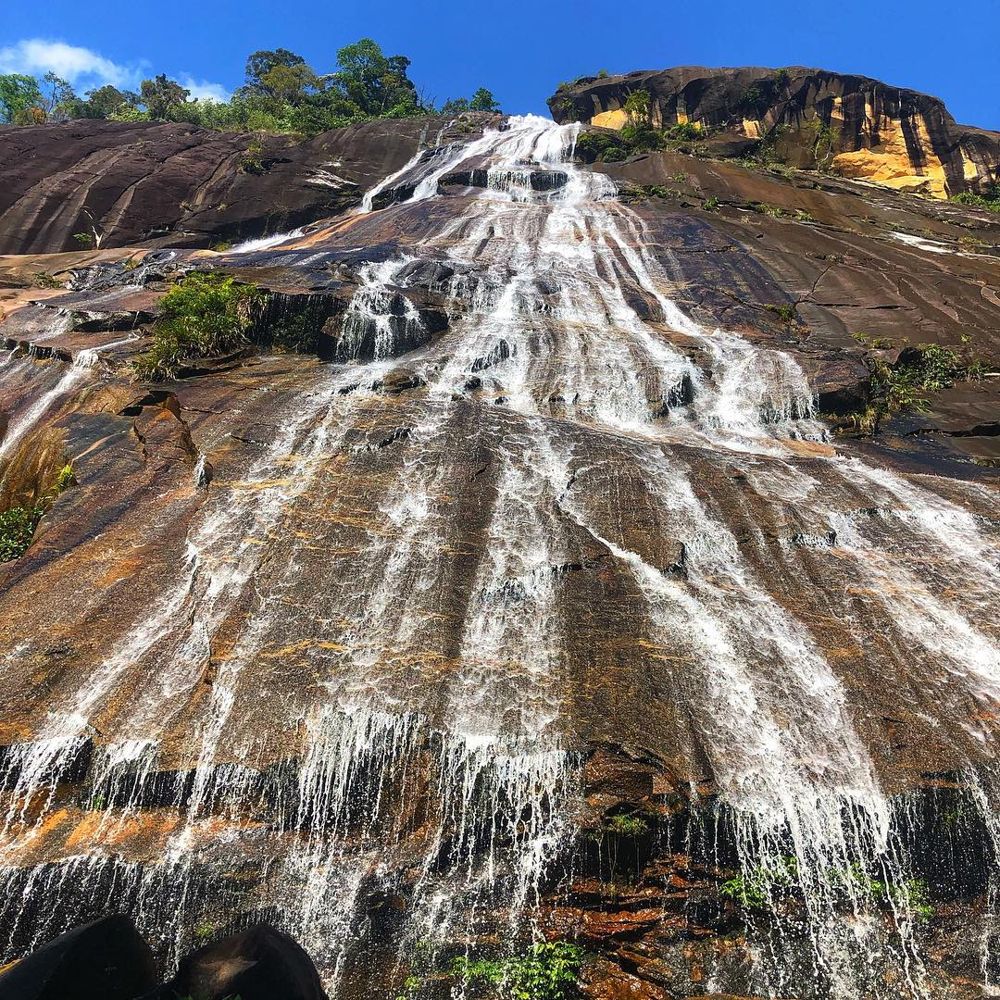 Image credit: @stongoutdoorsxventure
Jelawang Waterfall, also known as Stong Waterfall is the main attraction found in Gunung Stong State Forest Park. It's a little secluded, but worth the journey.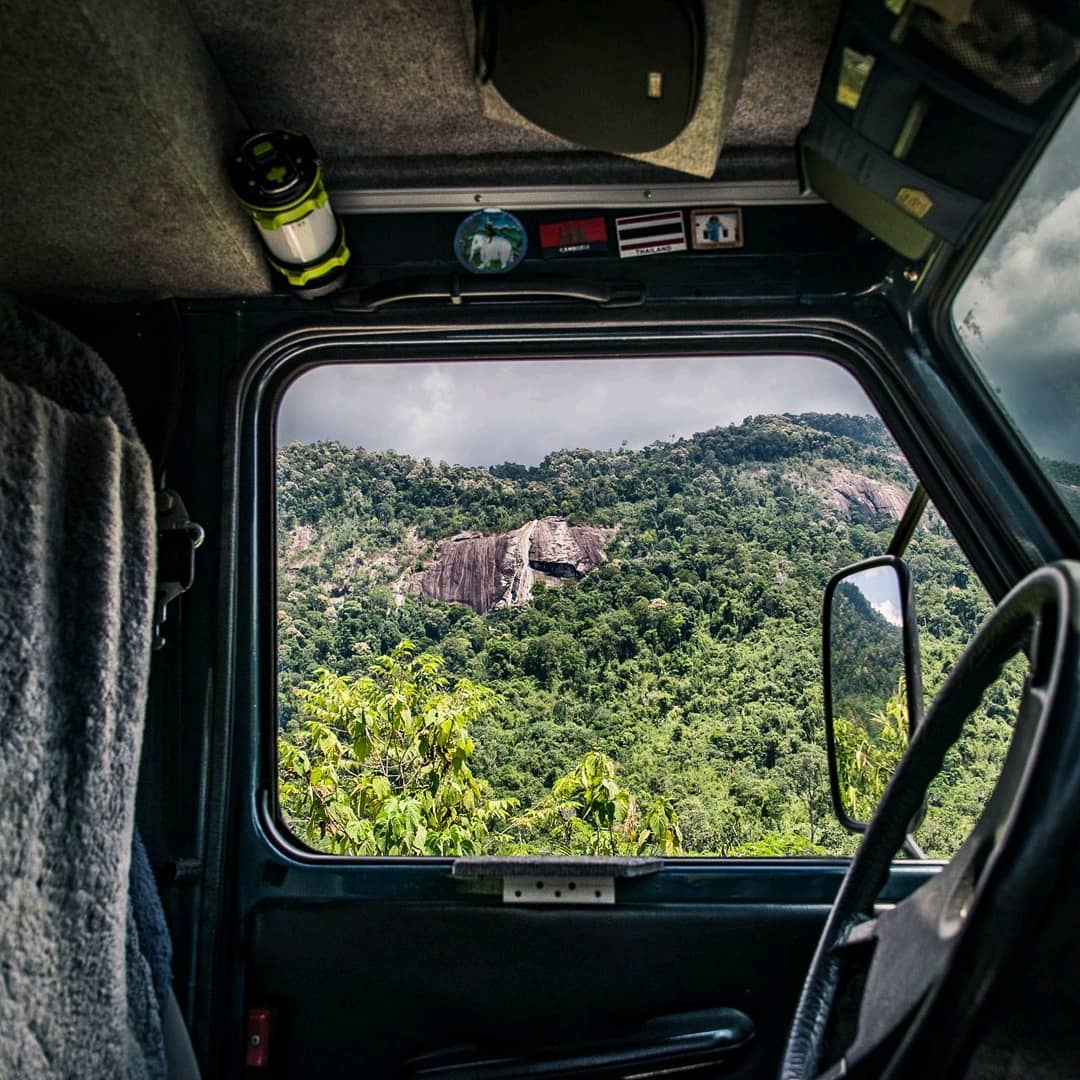 Image credit: @gtrotternet
You can drive from Kuala Lumpur through Kuala Lipis to Gua Musang and use the D241 to Dabong. There are signboards to lead you to the forest park. Alternatively, you can fly to Kota Bharu, hail a cab to get you to Wakaf Bharu train station, and from there, board the forest train to Dabong – it will take 3 hours.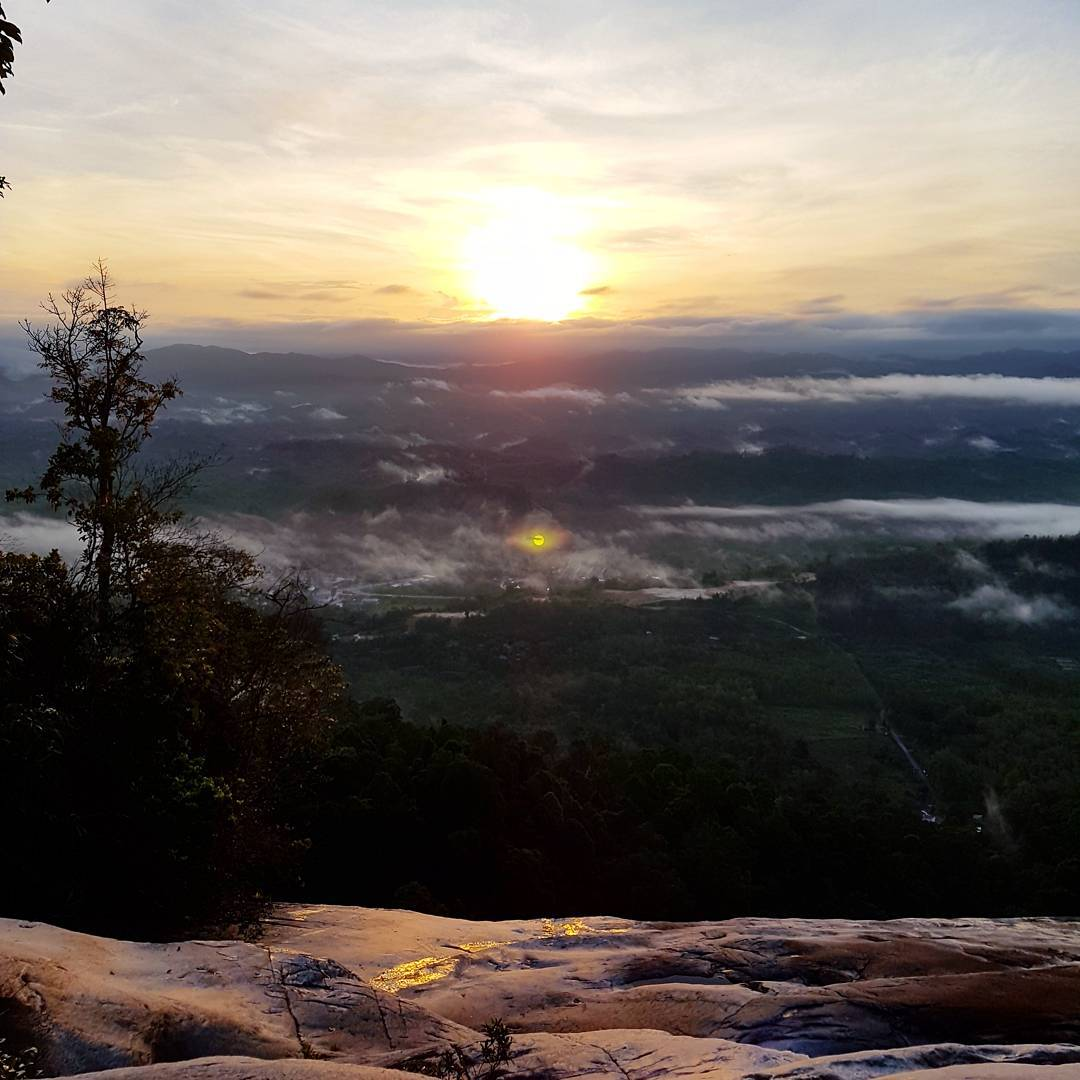 Image credit: @taufikwan
Once there, stare awestruck at the height of the waterfall and its vertical streams. Consider trekking up to the top to Baha campsite with a guide to catch the sunrise. It is not encouraged to journey up without a guide, as there are no clear directions to lead you to the top. 
There are minimal amenities with only toilets available. Walk a little deeper after you've reached the Baha campsite and you'll be greeted by another smaller waterfall resembling a waterslide. 
Jelawang Waterfall, Dabong, Kelantan
GPS Coordinates: 5°20'25.8″N 101°57'55.8″E 
Opening hours: Always open
Telephone: 09-966 3345
Entry fee: Free of charge
---
Waterfalls in Malaysia to hike to
---
This post is your ticket to escape the city into the arms of Mother Nature. Fresh air and waterfall mist are said to increase your serotonin levels and reduce stress. So the next time it gets overwhelming at the workplace, or when the weather is getting sweltering hot, you know it is time for a road trip around Malaysia to chase waterfalls.
Watch our video for more stunning waterfalls in Malaysia here.
Also check out our other articles: 
---
Cover image adapted from: @lee.jia.jia, @daphne__tan, @stongoutdoorsxventure
This article was updated on 25th February 2022.
Get more stories like this!
Drop us your email so you won't miss the latest news.