Irama Dining in George Town, Penang 
---
Malay cuisine often brings to mind comfort food, and some of the best we've ever tried are from roadside stalls. But while we all love visiting these food haunts in our shorts and slippers, we don't mind getting fancy at a sit-down restaurant for a delectable Malay feast.
In recent years, more upscale restaurants have been taking on Malay cuisine with an elegant presentation and contemporary twist. Irama Dining is one of them. Set in a charming heritage building in George Town, this restaurant offers a wide array of classic Malay dishes we all know and adore, served in a modern setting with a breathtaking rooftop view.
---
An upscale Malay culinary experience
---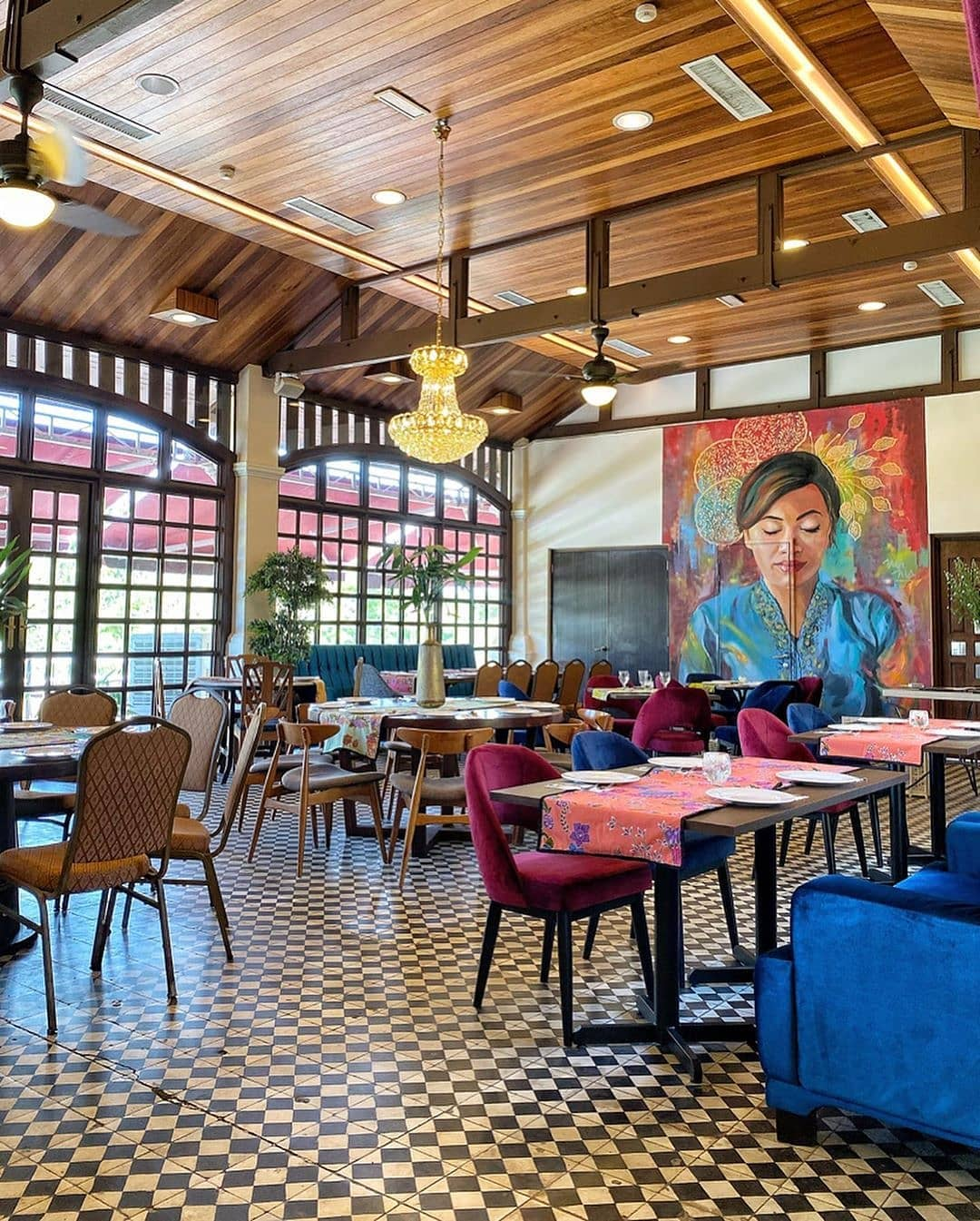 Image credit: Irama Dining
Housed at the heritage Penang Chinese Chamber of Commerce on Penang Street, Irama Dining is a Malay cuisine restaurant with a contemporary setting.
Spacious and lavish, the dining area features eclectic furnishings and an elegant crystal chandelier. But local craftsmanship and traditions still shine through the modern space, with batik-print table runners and polished wooden ceiling.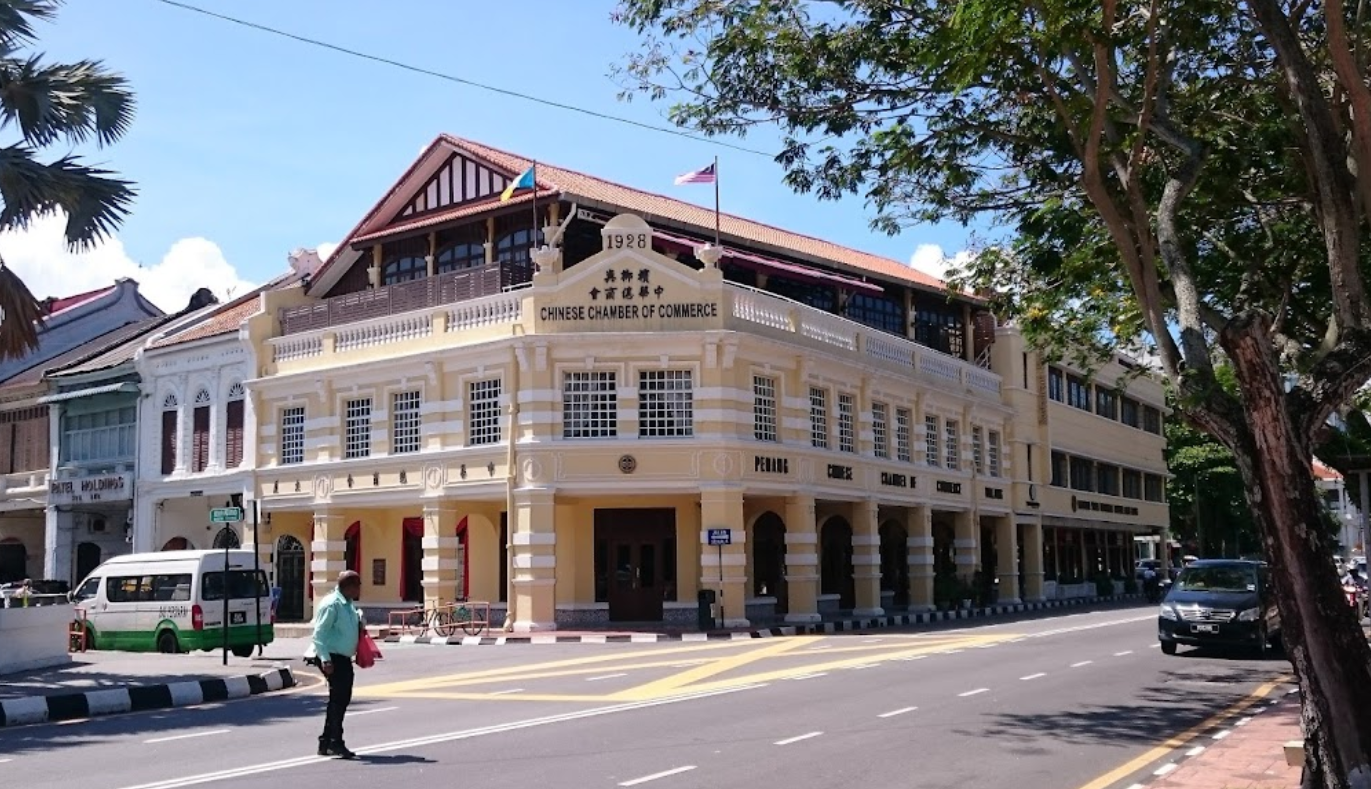 Irama Dining is located at the top of this building
Image credit: Marius Z'LO
A beautiful mural of a Malay lady clad in a traditional kebaya – painted by Penang-based painter, Mandy Maung – greets diners at the entrance of the restaurant, and adds a relaxed, home-like charm to the whole space.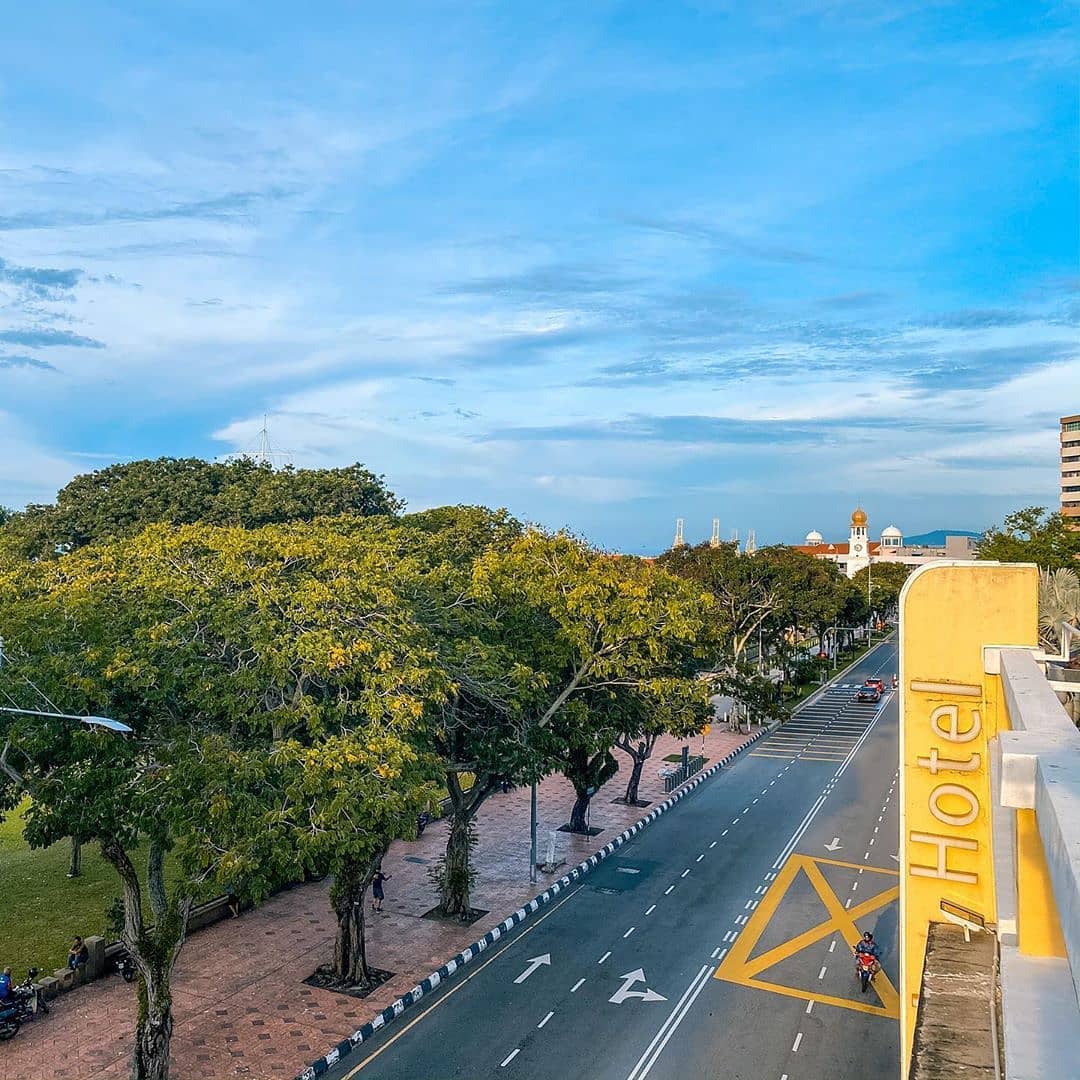 Image credit: @irama_dining
Besides the indoor fine-dining experience, Irama Dining also has outdoor seating on the rooftop terrace with a glimpse of the sea, as well as views of the Jubilee Clock Tower and streets of George Town. 
The sophisticated and dreamy outdoor setting makes it a gorgeous backdrop to take the perfect OOTD portrait. The entire space can also be booked for special events and occasions.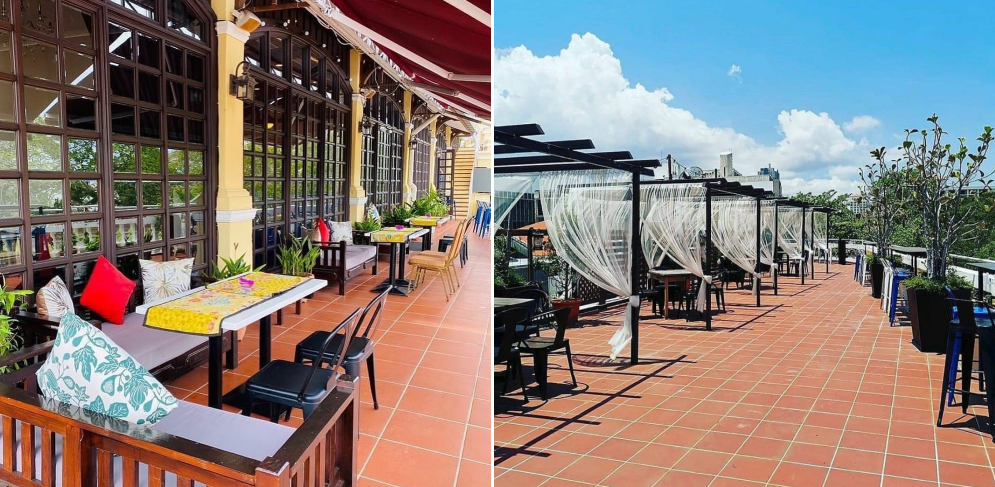 Image adapted from: Irama Dining & shibu joseph
---
Elegant Malay-style fine dining
---
Irama Dining sticks to its Malaysian heritage as a Muslim-run restaurant – everything here is halal, and there are no alcoholic drinks on the menu. Here, you can expect to dine on authentic Malay dishes bursting with flavour and perfectly plated for the 'Gram.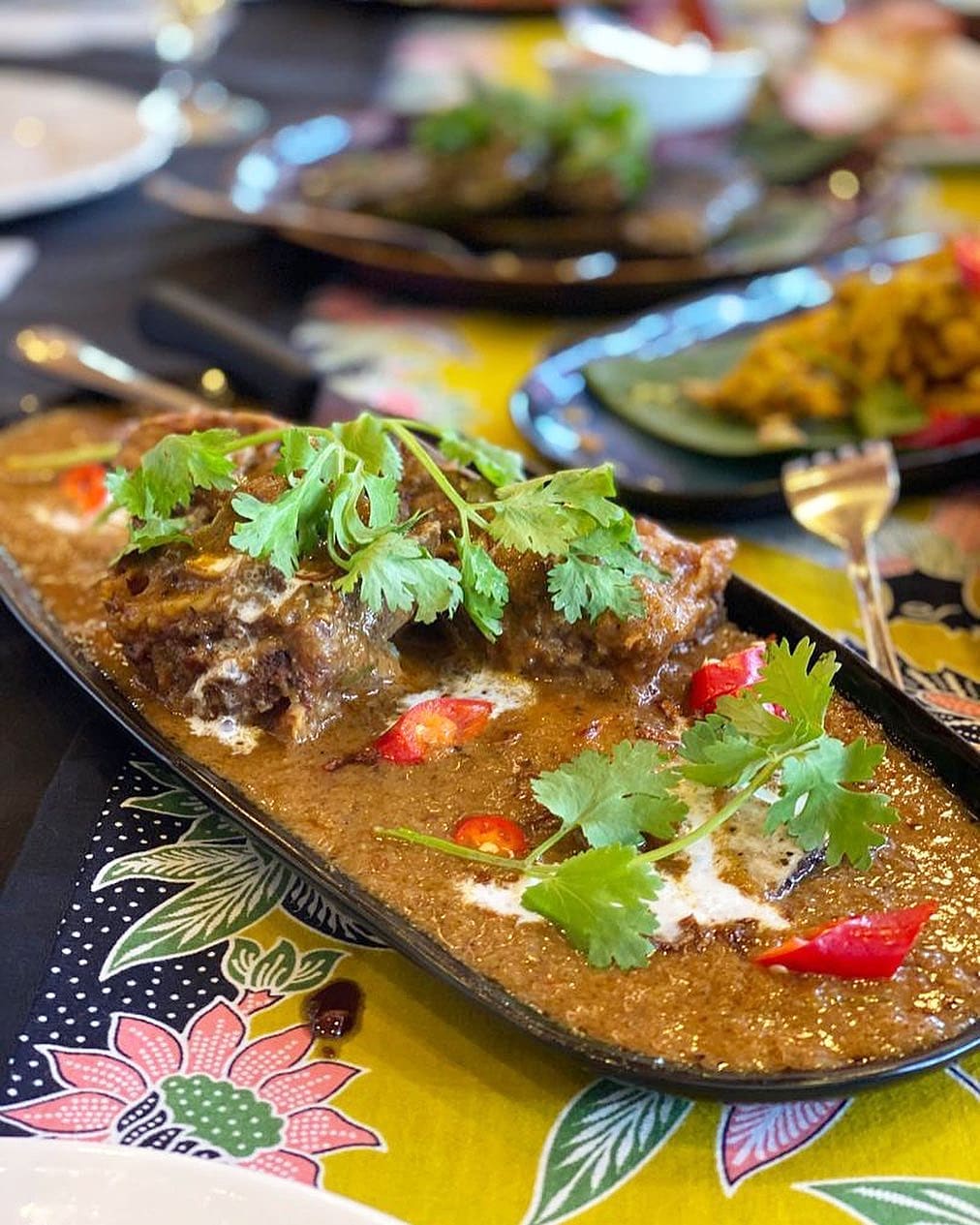 Image credit: @irama_dining
For starters, the Otak-otak (RM12) blends the familiar fishcake dish into a curry with prawn, mackerel, and keropok. Their Pulut Kelapa Dip With Rendang Kerang (RM20) is another popular choice, pairing fragrant rendang with cockles, and steamed glutinous rice coated with coconut butter.
If you want some greens to go with your meal, order the Kerabu platter (RM26). This refreshing Malay-style salad comprises kerabu served three ways – Kerabu Pucuk Paku Kerang with fiddlehead fern and cockles, Kerabu Kacang Botol Sotong with four-angled beans and turmeric squid, and Kerabu Mangga with green mango and anchovies.
Diners can also opt for a single kerabu dish for RM16.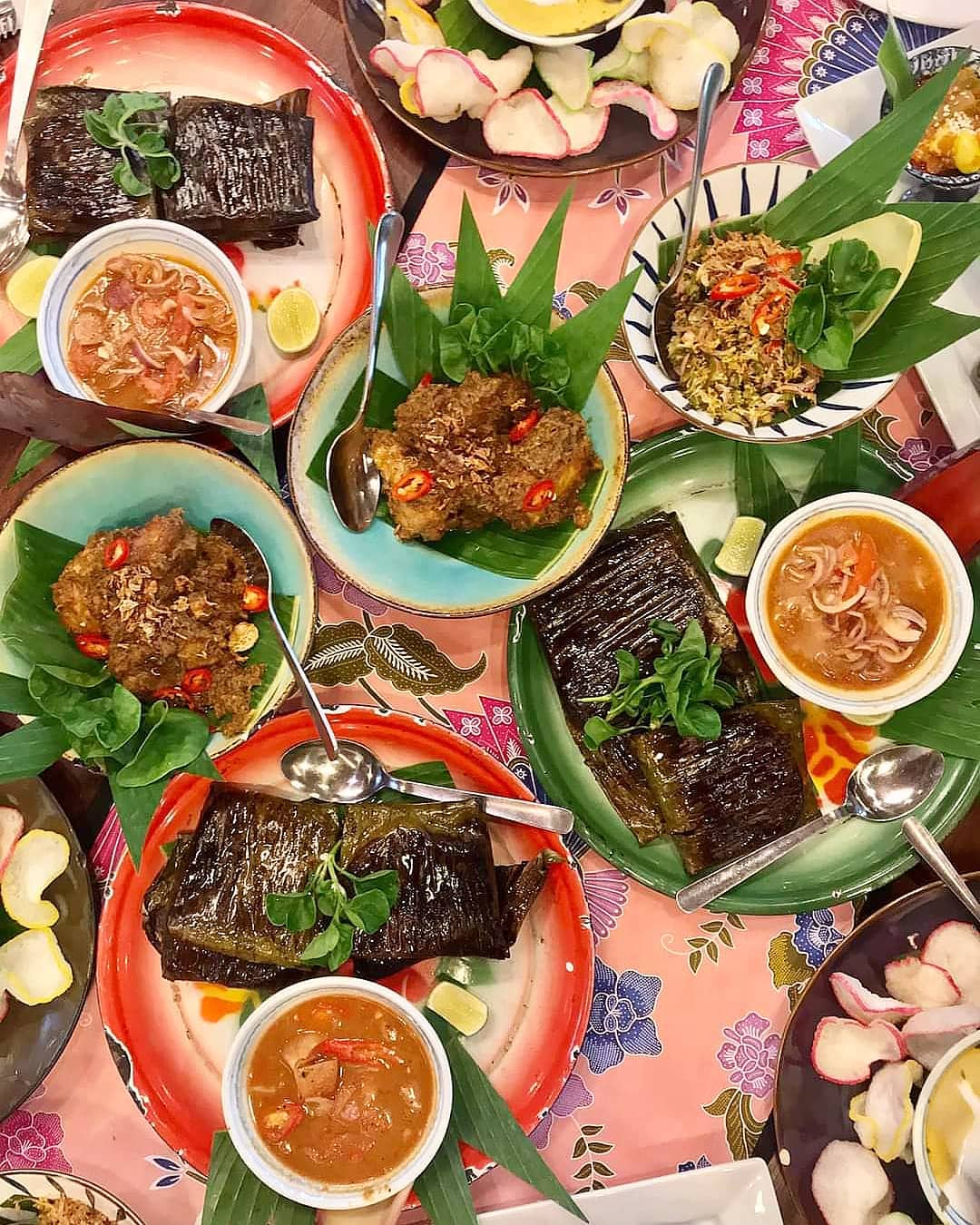 Image credit: @irama_dining
Wholeheartedly embracing iconic local flavours and ingredients, Irama's wide selection of mains takes the spotlight.
The Smoked Massaman Curry (RM32 for duck/beef and RM28/chicken) is a rich, creamy Thai-style curry infused with lemongrass, and made familiar with local spices. Other mains include Beef Rib Rendang (RM 38) and Lamb Shank Kurma (RM38) – which are both rich curries with succulent meats that are fall-off-the-bone tender.
For seafood, there're Udang Masak Lemak Tempoyak (RM35) – turmeric gravy with fermented durian and a whole lot of prawns – and Sotong Sumbat (RM32), which translates to squid stuffed with glutinous rice.
As a hearty Malay feast is incomplete without rice, there are three types of rice (RM5/plate) to choose from – Nasi Bunga Telang, steamed rice tinted blue by Ternatea flowers, Nasi Beringin infused with lemongrass and pandan, and Nasi Ulam flavoured with herb and spices.
There are vegetarian dishes available on their menu such as the Ulam-ulaman (RM10), and cafe-style pasta dishes like Laksa Spaghetti (RM26).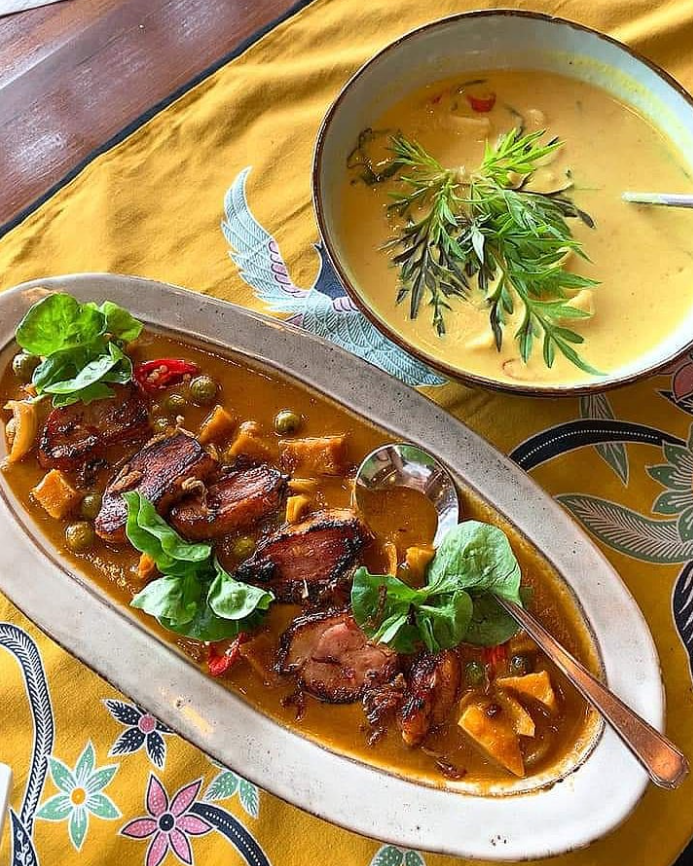 Smoked Duck Massaman Curry
Image credit: @irama_dining
Cap off your meal with Irama's distinctively Malay desserts. Bubur Sumsum (RM12) and Churros (RM15), made local with a coconut pandan dip, are some sweet treats you'll find on the menu. At RM10 per glass, you can also order drinks such as Pandan Gula Melaka, Lemongrass Pandan Mint, and Bandung Lychee Cincau to accompany your meals.
If you're coming here in a group, the restaurant offers set meals priced between RM45-55 for 4 pax and RM800 for 8-10 pax.
---
Irama Dining in Penang
---
George Town is a city that's slammed with an abundance of local cuisine – from roadside hawker stalls to luxurious fine dining restaurants, all of which showcases Penang's culinary delights that's known in and outside of Malaysia.
While the endless food choices can be overwhelming, Irama Dining is a good place to immerse yourself in the core of Malaysia's heritage, with its elegant setting and traditional generational recipes that we all adore.
Address: 2nd Floor, 2, Penang St, George Town, 10200 George Town, Penang
Opening hours: Wed – Mon 12PM-11PM (Closed on Tuesdays)
Telephone: 04-261 2292 | 012-914 0908 | 011-2841 3940
Irama Dining Facebook | Instagram
More places to discover in Penang:
---
Cover image adapted from: shibu joseph & Irama Dining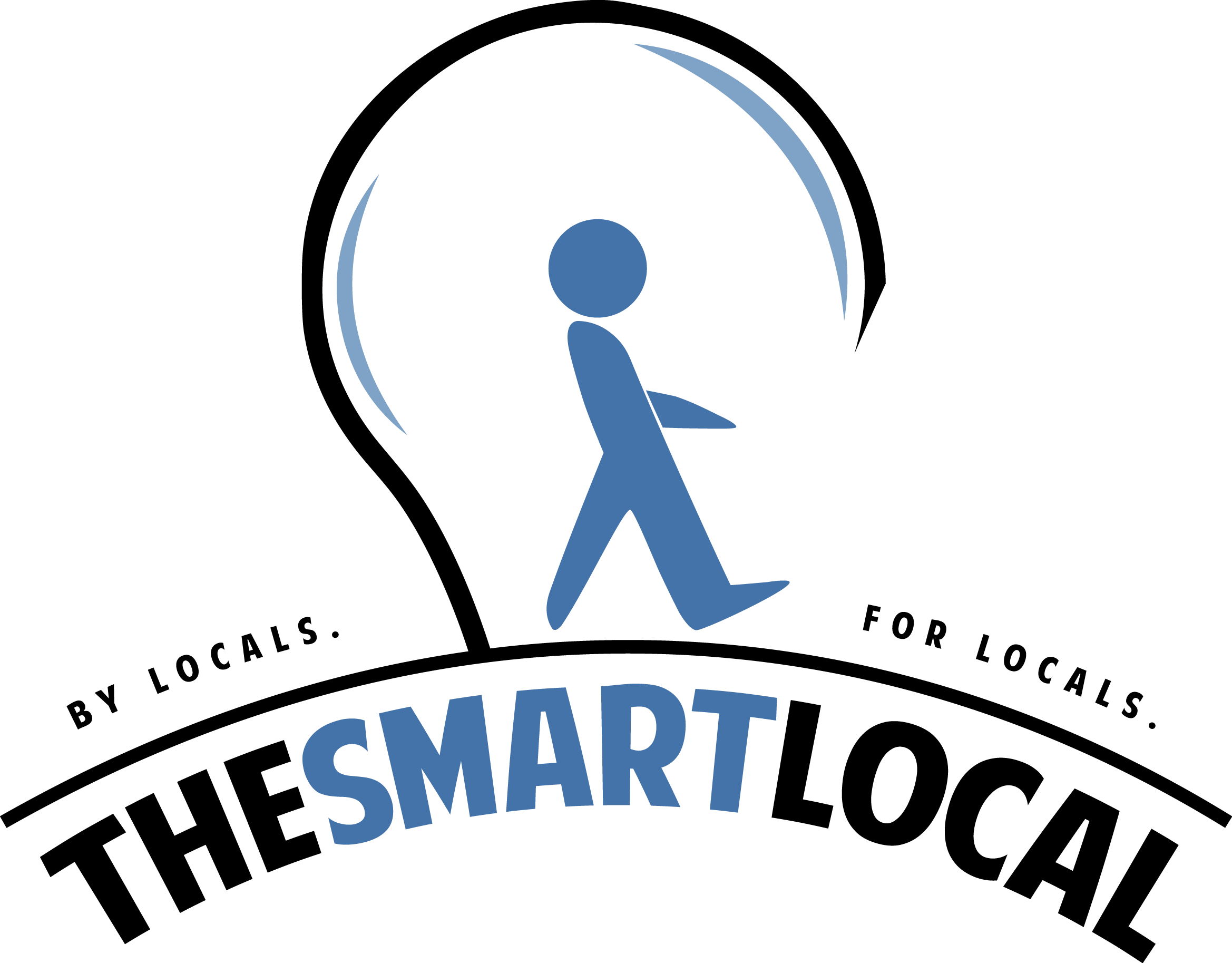 Drop us your email so you won't miss the latest news.