Mooncakes in Malaysia
---
As soon as mooncakes start making their way back onto store shelves in Malaysia, or their pop-ups start showing up at malls, we know what is approaching – the Mid-Autumn Festival. 
But let's be honest – the most exciting part about the celebration isn't moon watching. We all look forward to sampling an assortment of mooncakes, followed by a cup of hot tea to balance out the sweetness.
Read on to discover the 9 local brands to shop for mooncakes this year, with delivery services across Malaysia. 
---
1. Tong Ah Bakery – Japanese mooncakes with Gula Melaka & coconut flakes
---

Image adapted from: @tongahbakery via Instagram
Tong Ah Bakery is where you can get Japanese vegan-friendly mooncakes, or Momoyama Mooncakes (from RM24.10/pc). 
While they look similar to snowskin mooncakes, what sets them apart is the incorporation of Malaysian flavours into the recipes – find flavours such as Gula Melaka With Coconut Flakes and Red Yeast With Dates & Longan. 
For this year's Mid-Autumn celebration, the shop has rolled out Momoyama Fruity (RM128) – a set of six mooncakes with fruit-based fillings like honeydew melon, grapefruit, and blueberry.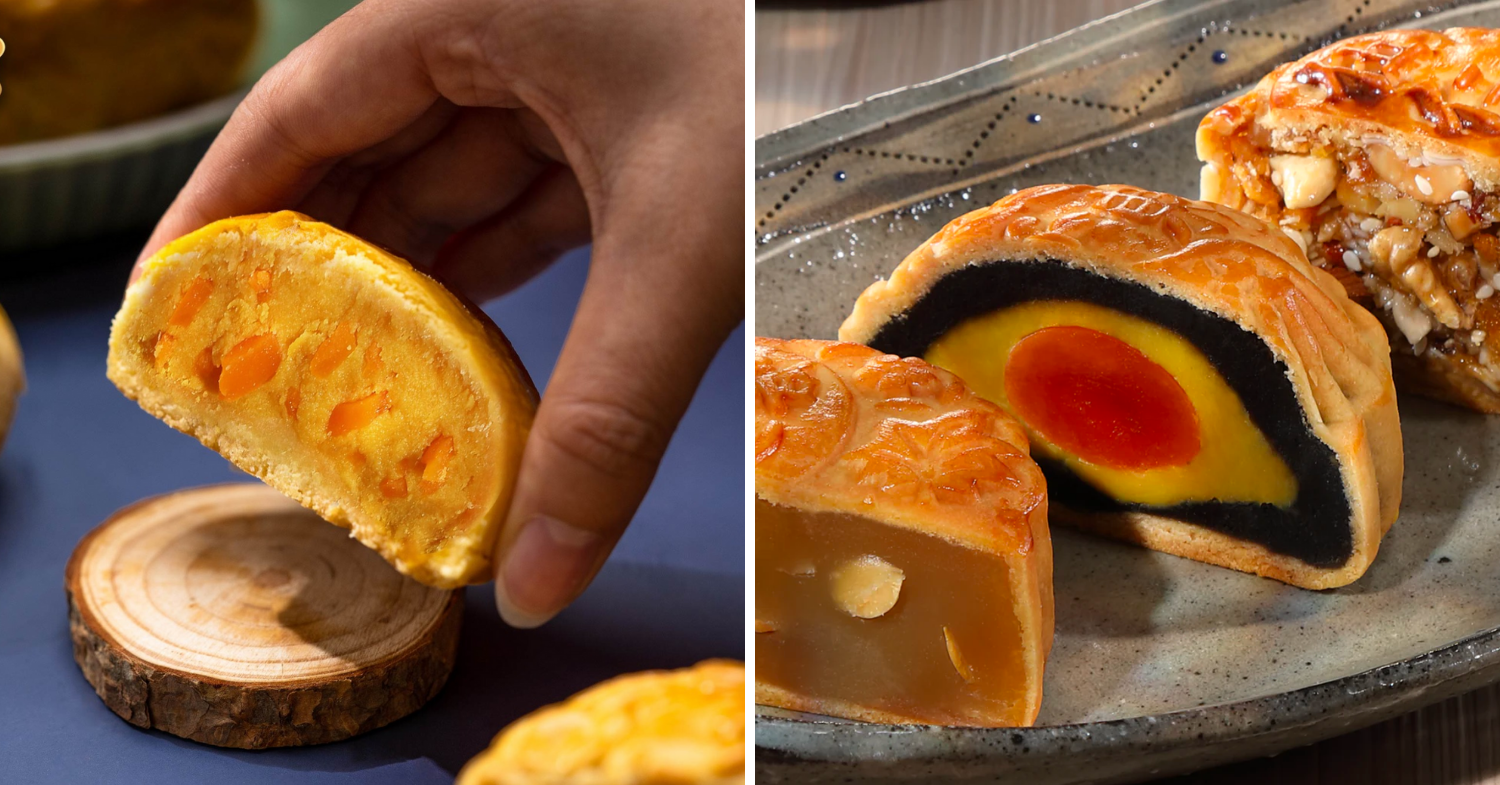 Image adapted from: Tong Ah Bakery & Confectionery via Facebook, Tong Ah
If you love the interplay of sweet and savoury notes, the Shanghai Golden Salted Egg Custard (RM24.40/pc) will be a great choice for you. This treat features salted egg chunks and creamy custard paste encased in a pie-like crust.
Another popular pick among customers is their Moonlight Star (RM24.40/pc). As you cut through it, you will find a half-section that resembles a planet, revealing three concentric circles of orange salted egg yolk, yellow custard, and black sesame paste.
Delivery services are available across East and West Malaysia, and Singapore.
Shop at Tong Ah Bakery here.
---
2. Sweet Castle – 6.5-inch giant mooncakes with triple egg yolks
---

Image adapted from: 佩佩 via XiaoHongShu
We usually visualise mooncakes to be palm-sized, but here's a surprise – the Giant Mooncakes (from RM59/pc) from Sweet Castle can easily surpass the size of our face. 
Looking more like a meat pie, each mooncake measures a whopping 6.5 inches in size and is generously stuffed with standout ingredients such as triple-salted egg yolks, sweet yam paste, mochi, and meat floss.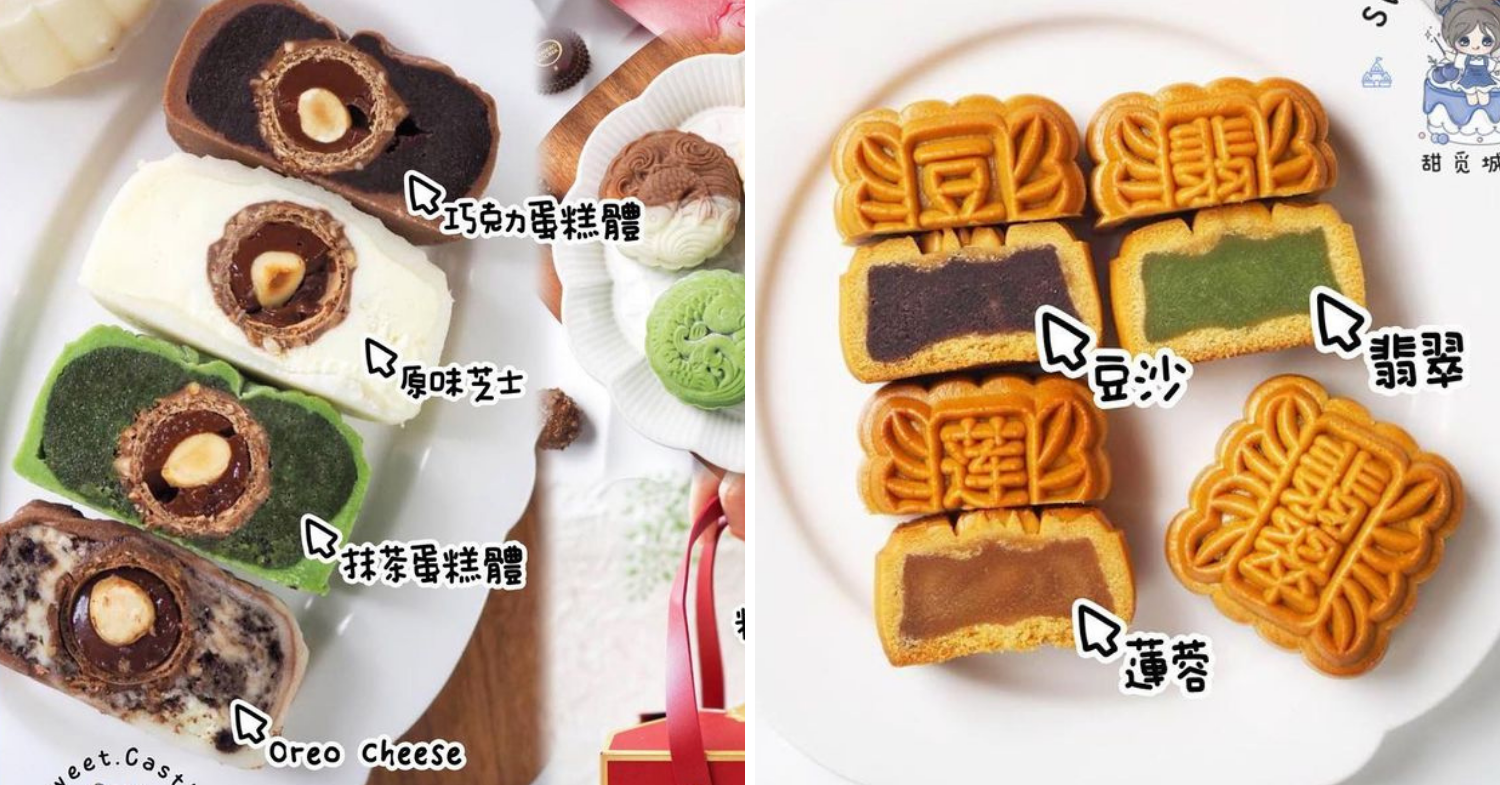 Image adapted from: @s.weet_castle via Instagram
Those who prefer a softer and chewier texture should get their Snowskin Mooncakes (from RM38 for 4 pieces), which are elevated with the owners' unique twists. 
Instead of the conventional sweet paste, what's inside the pastry is cake and cheese, with a Ferrero Rocher chocolate delicately nestled at the centre. Each filling offers a soft and spongy texture with a delightful crunch.
If you are sticking to traditional flavours, their Traditional Mooncakes are affordably priced at RM25 for six pieces, and available in three classic flavours: Lotus, Red Bean, and Pandan Jade.
Delivery services are available across Kuala Lumpur, Selangor, and Port Dickson.
Shop at Sweet Castle here.
---
3. Fai Fong Bakery – traditional mooncakes with longan & wolfberry fillings
---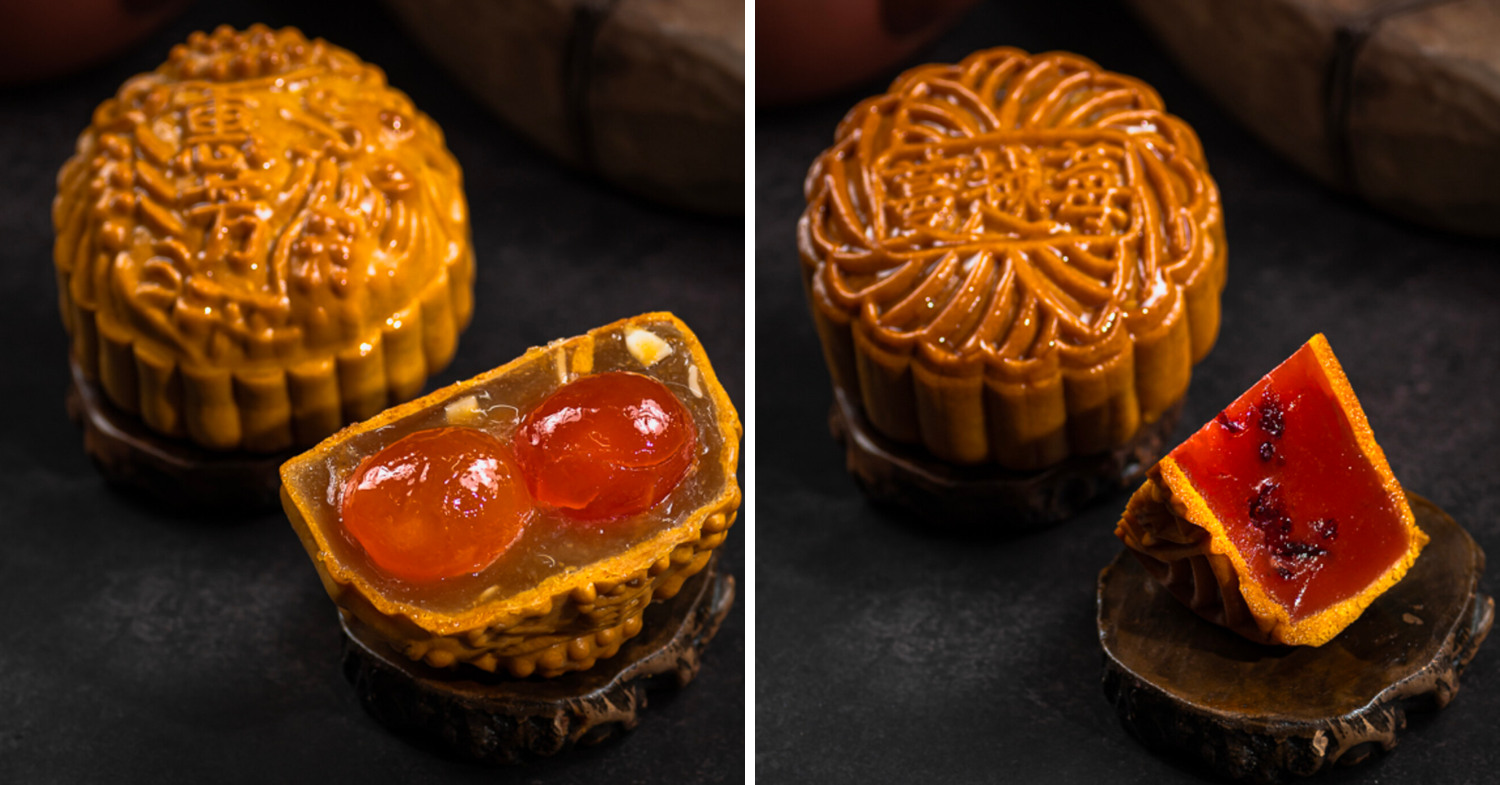 Image adapted from: etlgifttrading
Despite an extensive 74-year history in the baking industry, Fai Foong Bakery never ceases to evolve and bring fresh takes to the classics.
For instance, their Traditional Mooncakes (from RM18/pc) are crafted with fillings of unique combinations such as Longan Wolfberries, Cranberry Lotus, and Yam Lotus. 
Nevertheless, you can still find timeless options on the menu, including Lotus With Double Yolk, Pandan Jade, and Mixed Nuts.

Image adapted from: etlgifttrading
If you love lava cakes with a molten centre that oozes out as soon as you cut through them, you will love the shop's Lava Mooncakes (RM19.50/pc). 
The Tiramisu Lava Mooncake boasts a coffee-flavoured crust, chocolate paste, and gooey chocolate sauce at the core. Whereas, the Sweet Potato Lava Mooncake has a buttery skin, with sweet potato paste and salted egg custard inside.
Delivery services are available across West Malaysia.
Shop at Fai Fong Bakery here.
---
4. Yijia Pastry – sambal-nyonya & Musang King mooncakes
---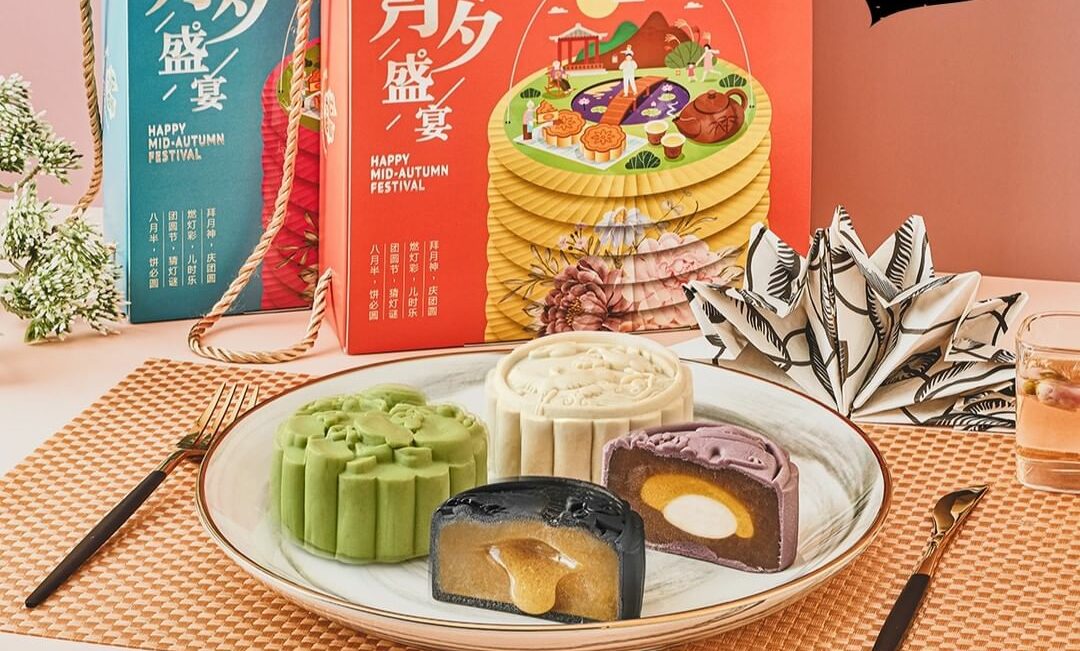 Image credit: @yijiapastry via Instagram
For durian enthusiasts, don't overlook Yijia Pastry. Their Musang King Lava Mooncake (RM22.80/pc) presents a charcoal-infused dark grey exterior and a golden interior that comprises reduced-sugar Musang King paste and a mouth-watering Musang King lava centre.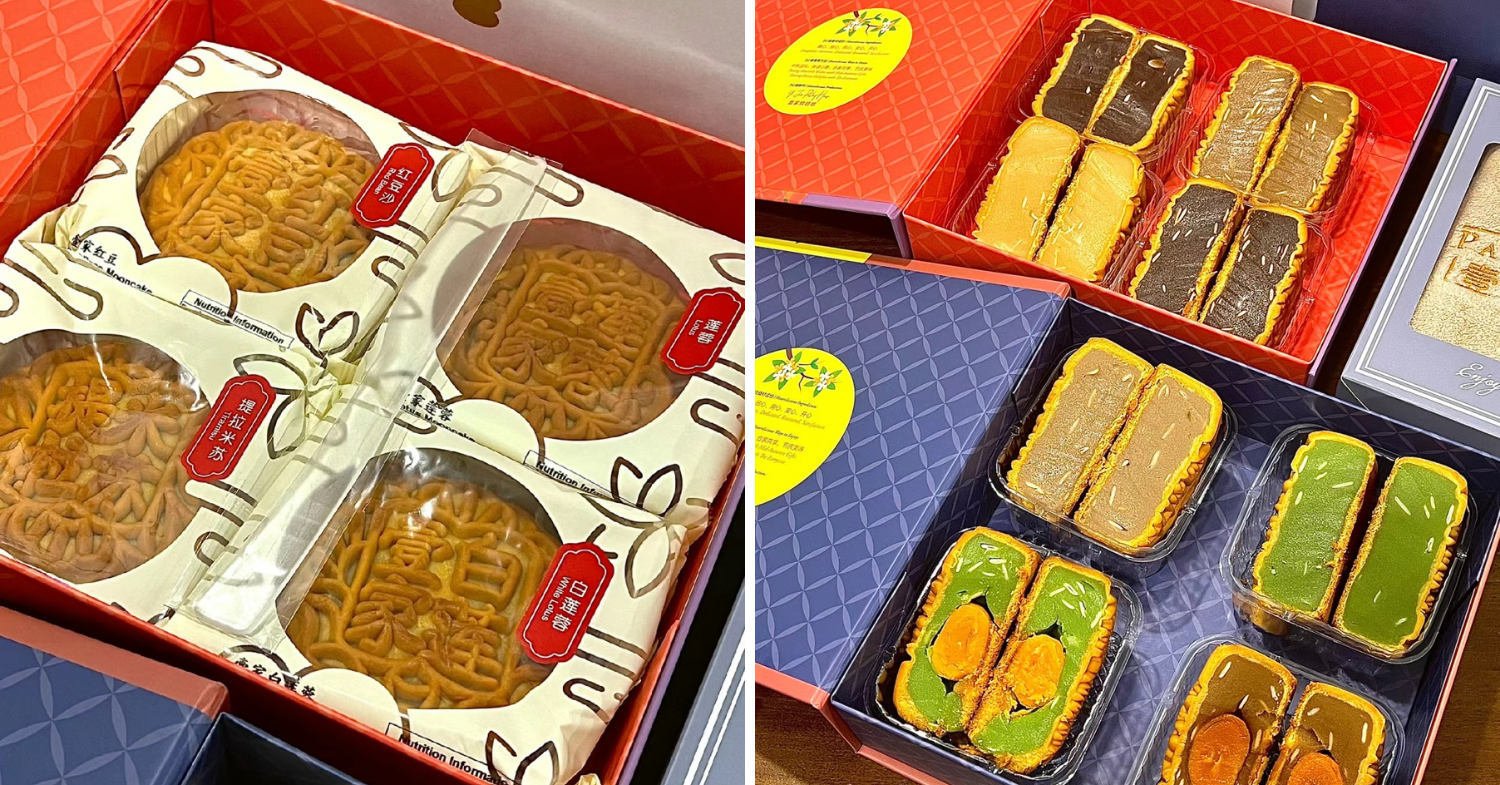 Image adapted from: MELISSA via XiaoHongShu
Other than that, expect to find mooncakes with local interpretations at the shop. One of them is Tropical Emerald Premium Mooncake (RM23.80/pc), which contains pandan-lotus paste and coconut flakes, reminiscent of onde-onde. 
Another interesting option is Sambal Nyonya Mooncake (RM22.80/pc) – the paste is a delightful blend of spicy sambal and sweet lotus. 
It is worth mentioning that all these pastries are baked with less oil, ensuring a healthier option.
Delivery services are available across West Malaysia.
Shop at Yijia Pastry here.
---
5. Tenfingers Bakery – cheesy Shanghai mooncakes with free delivery
---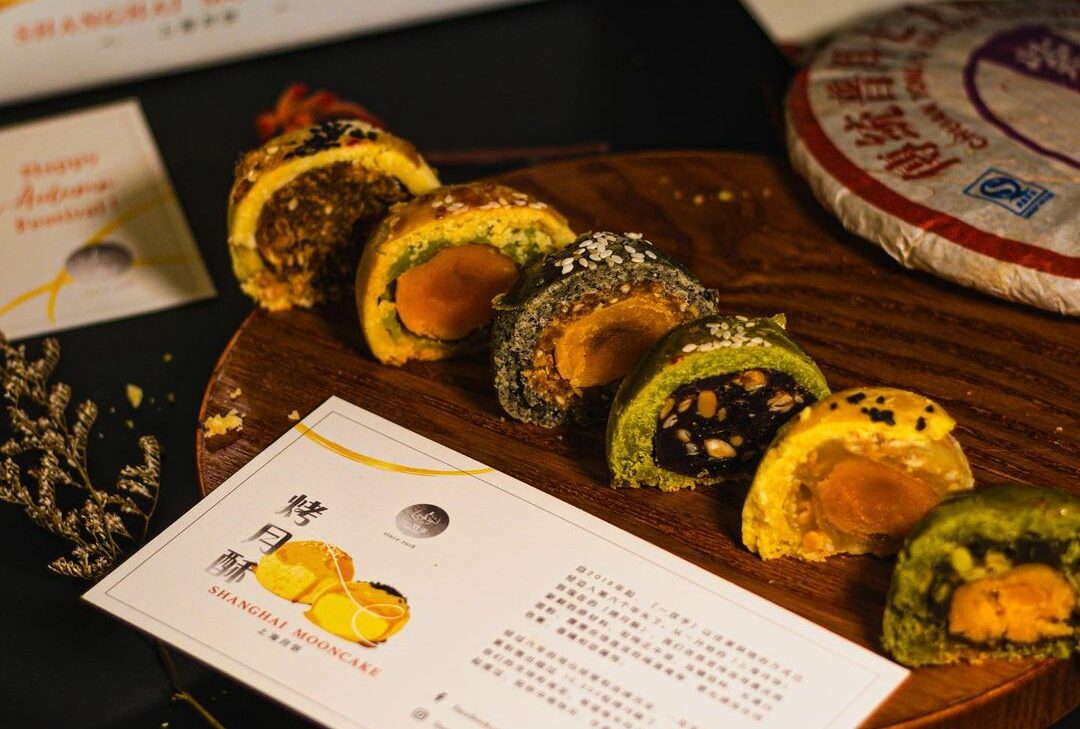 Image credit: @colorieruu via Instagram 
While we never thought of seeing cheese in a mooncake, the masterminds behind Tenfingers Bakery often experiment with unprecedented flavours. Their latest mooncake incorporates a blend of cheddar and parmesan cheese into their White Lotus and Pandan Shanghai Mooncakes (from RM76 for 6 pieces).
That being said, expect a mouthfeel of aromatic sweetness intertwined with a creamy-cheesy taste as you indulge in this pastry.
Additionally, you can find Oolong Osmanthus and Black Sesame With Peanut Shanghai Mooncakes in the catalogue, priced from RM64 for a set of six mooncakes.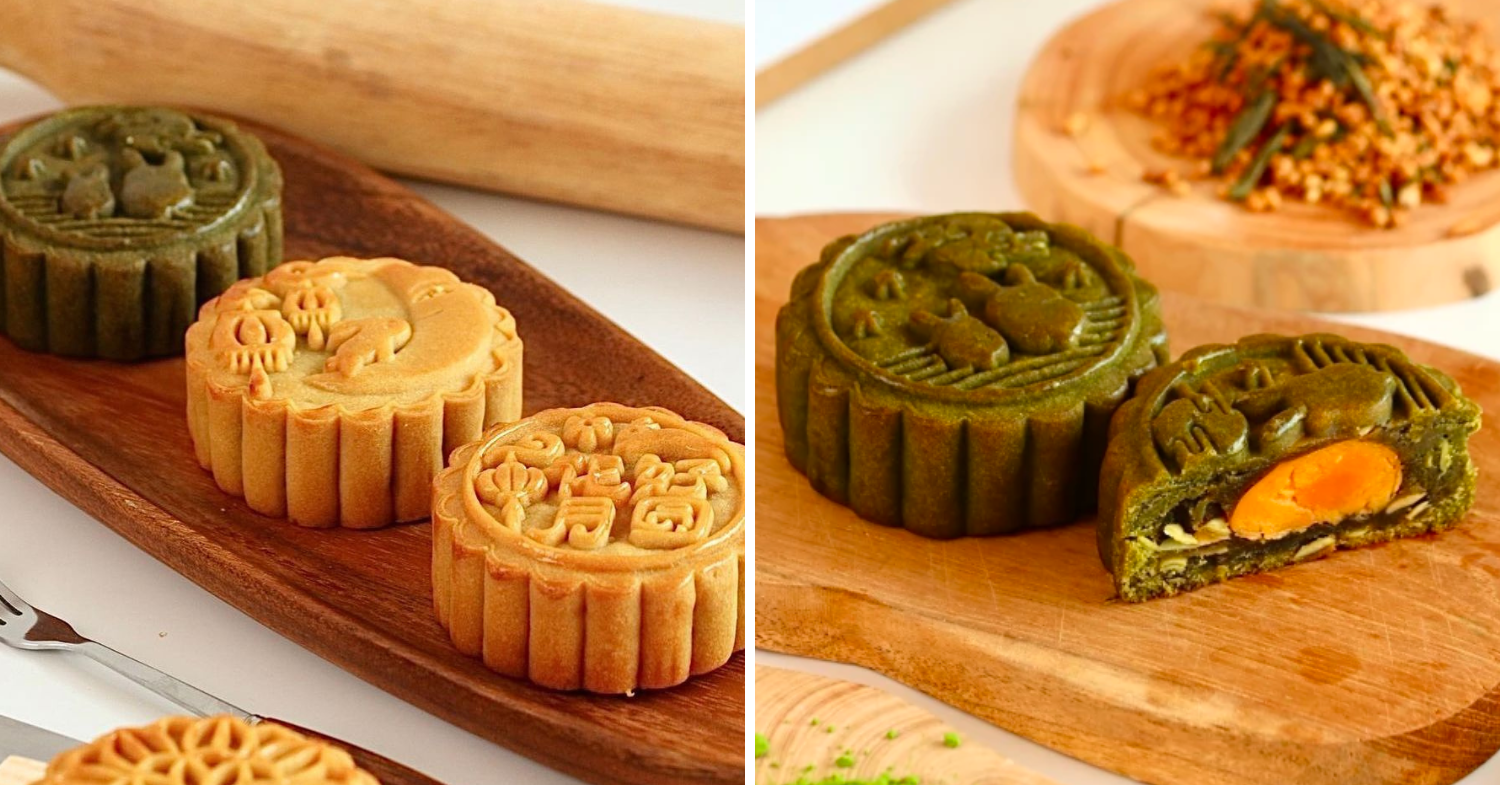 Image adapted from: @tenfingersbakery via Instagram, TenFingers Bakery
Furthermore, they also make Traditional White Lotus and Green Tea Mooncakes (from RM32 for 2 pieces), with or without the yolk.
Regardless of which mooncakes you go for, they are all freshly baked without preservatives, artificial flavourings, and colourings.
Delivery services are available across West Malaysia with free shipping for orders of five boxes and above, and also to Singapore with free shipping for orders of six boxes and above.
Shop at Tenfingers Bakery here.
---
6. Joysmom – tiramisu lava & bite-sized mooncakes
---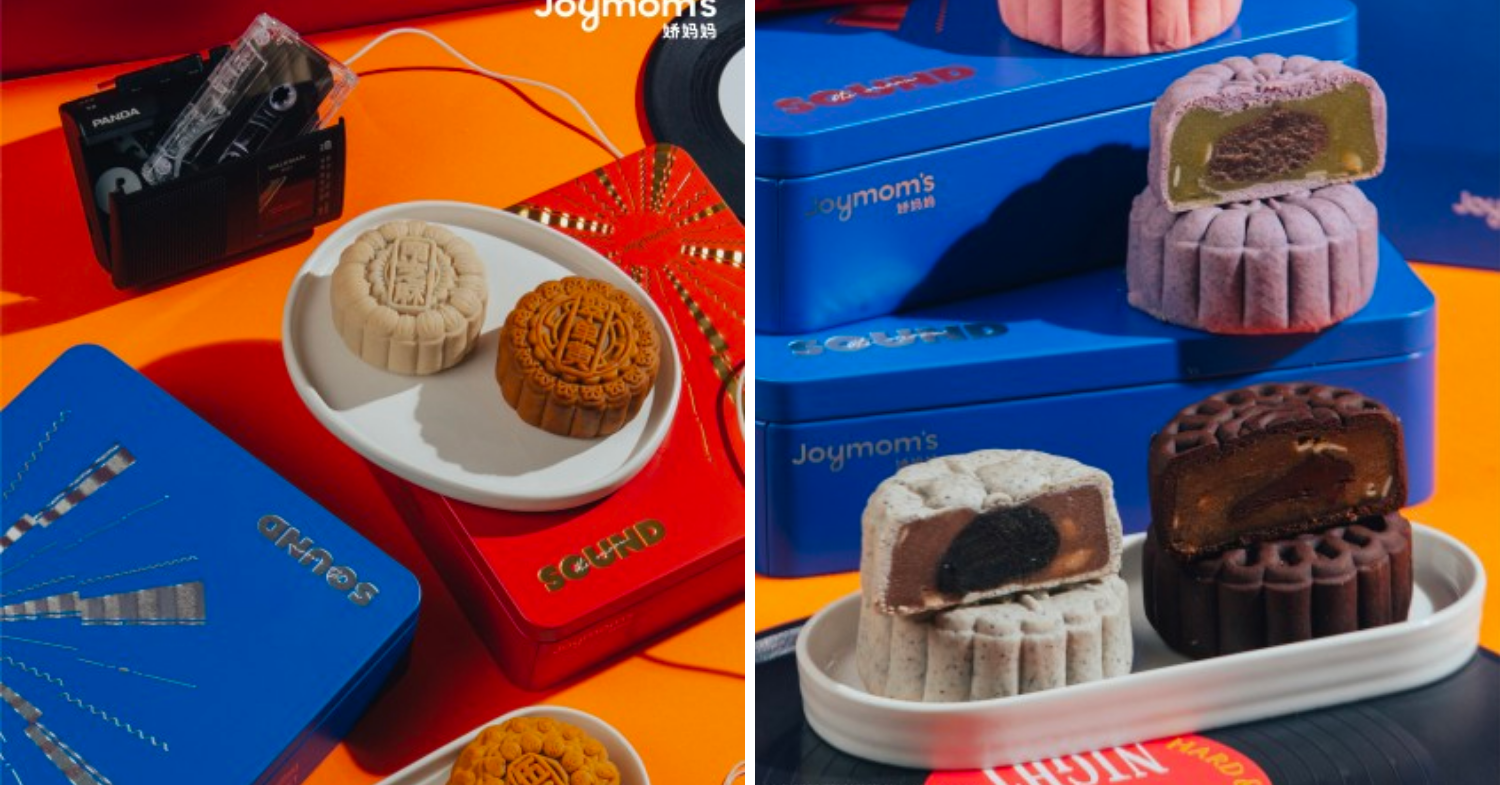 Image adapted from: Joymoms official
People who shop at Joysmom will always get their Lava Mooncakes (RM22.80/pc), which come in two options: Black Sesame and Tiramisu. 
The former guarantees a strong nuttiness in each bite as it has a rich black sesame sauce at the core, surrounded by a luscious paste of black sesame and melon seeds. 
Meanwhile, the latter is filled with coffee-flavoured paste and chocolate lava sauce – savouring a piece of this is like drinking a cup of mocha.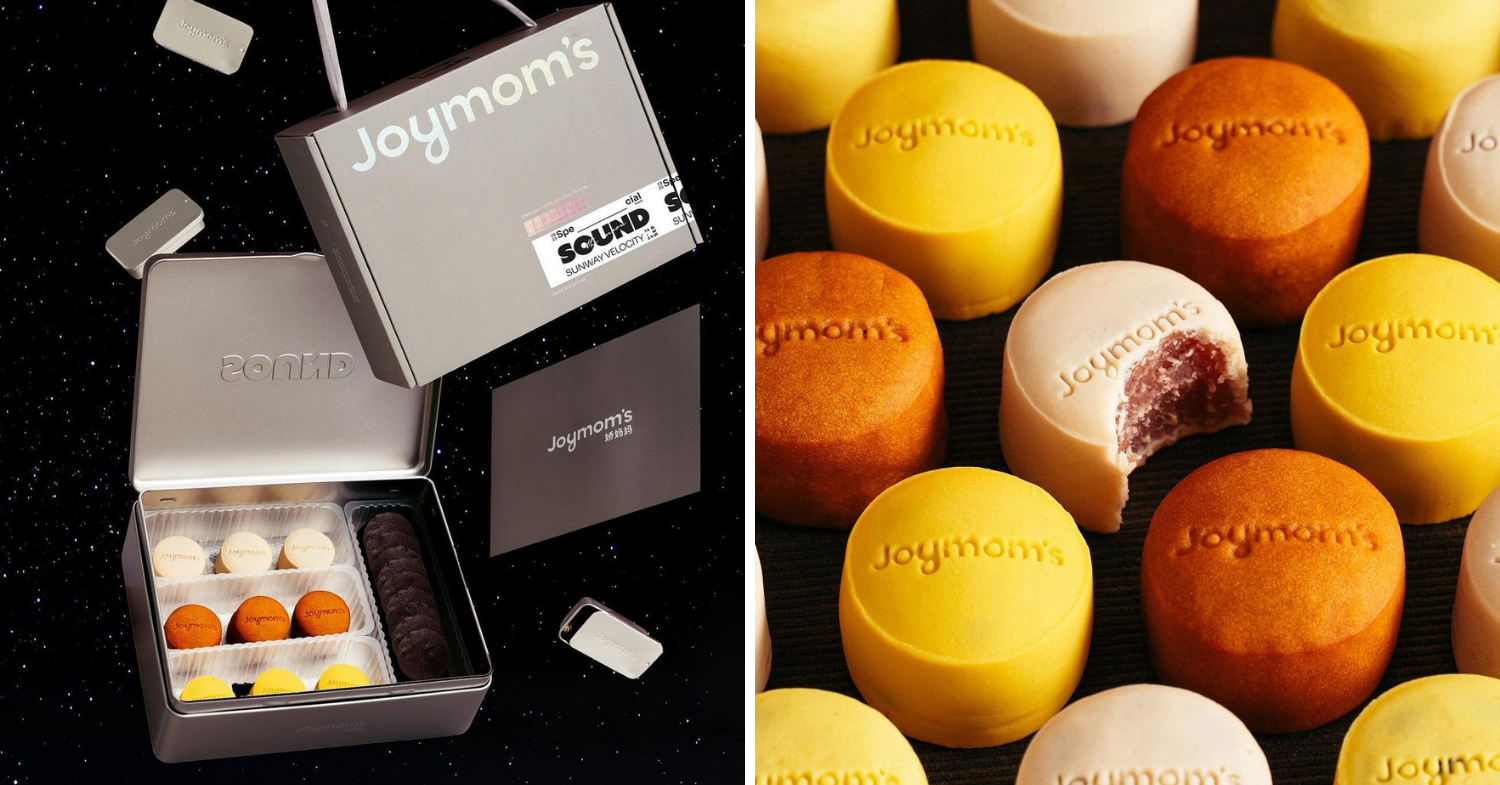 Image adapted from: @joymomsofficial via Instagram
Their recent release is the Sound The Moon Gift Set (RM66.60). This limited edition set comes with nine pieces of cupcake-like mini mooncakes, available in three different flavours: Pure Lotus, Peanut With Sesame, and Red Dates With Cranberry.
Delivery services are available across East and West Malaysia, and Singapore.
Shop at Joysmom here.
---
7. Dom Dom Bakery – Taiwanese mooncakes with mochi & meat floss
---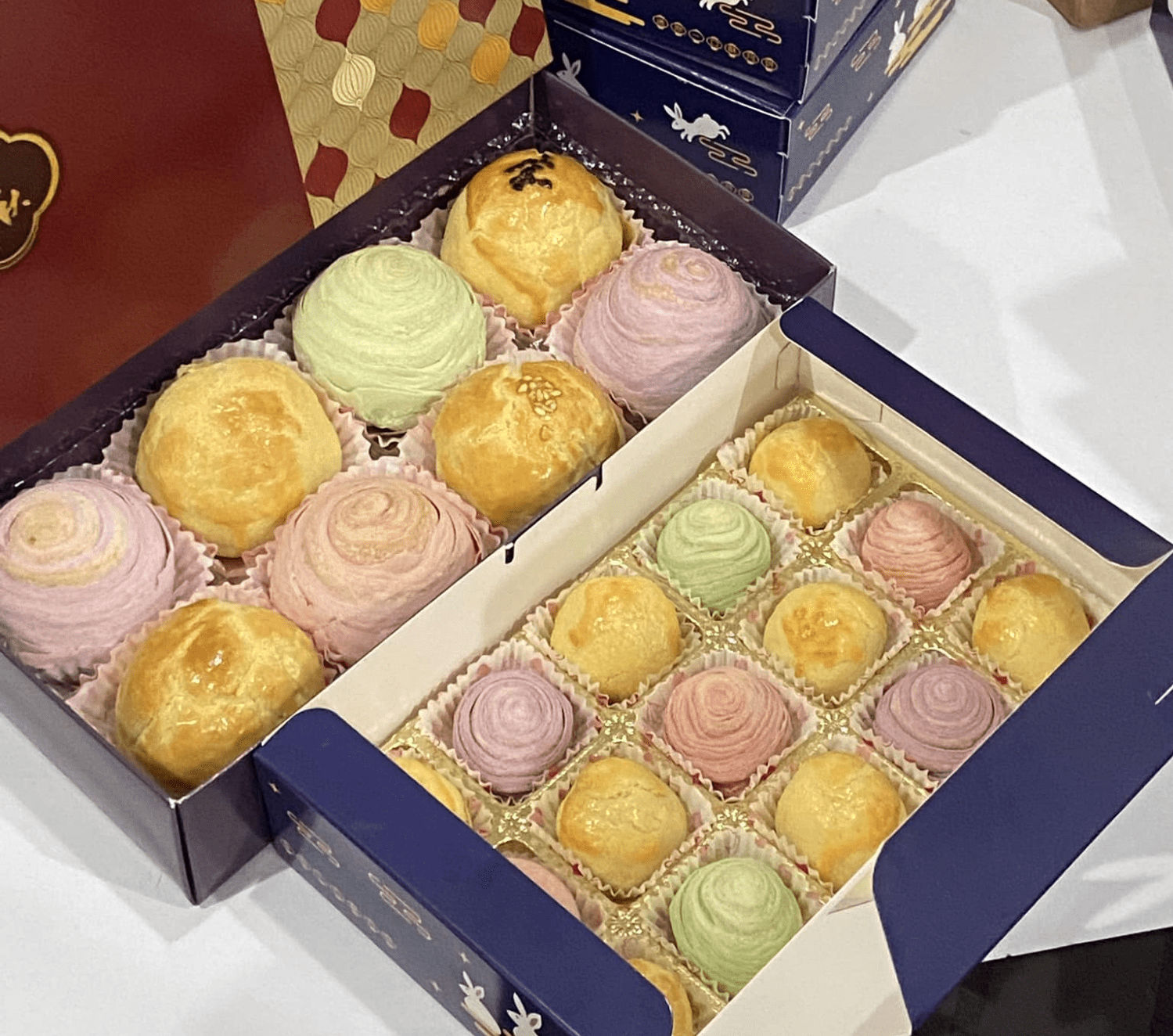 Image credit: Domdom.bakery via Facebook
Dom Dom Bakery is renowned for their Shanghai and Flaky Mooncakes, which offer two different types of crusts – the former is thick and buttery while the latter is layered and comes with a spiral finish.
These mooncakes are available in a set (from RM45 for 4 pieces) with flavours that you can mix and match – Pandan, Lotus, and Red Bean. 
For those who just want to enjoy the mooncakes in their entirety, the Mini Set (from RM49) comes with 15 bite-sized mooncakes of assorted flavours.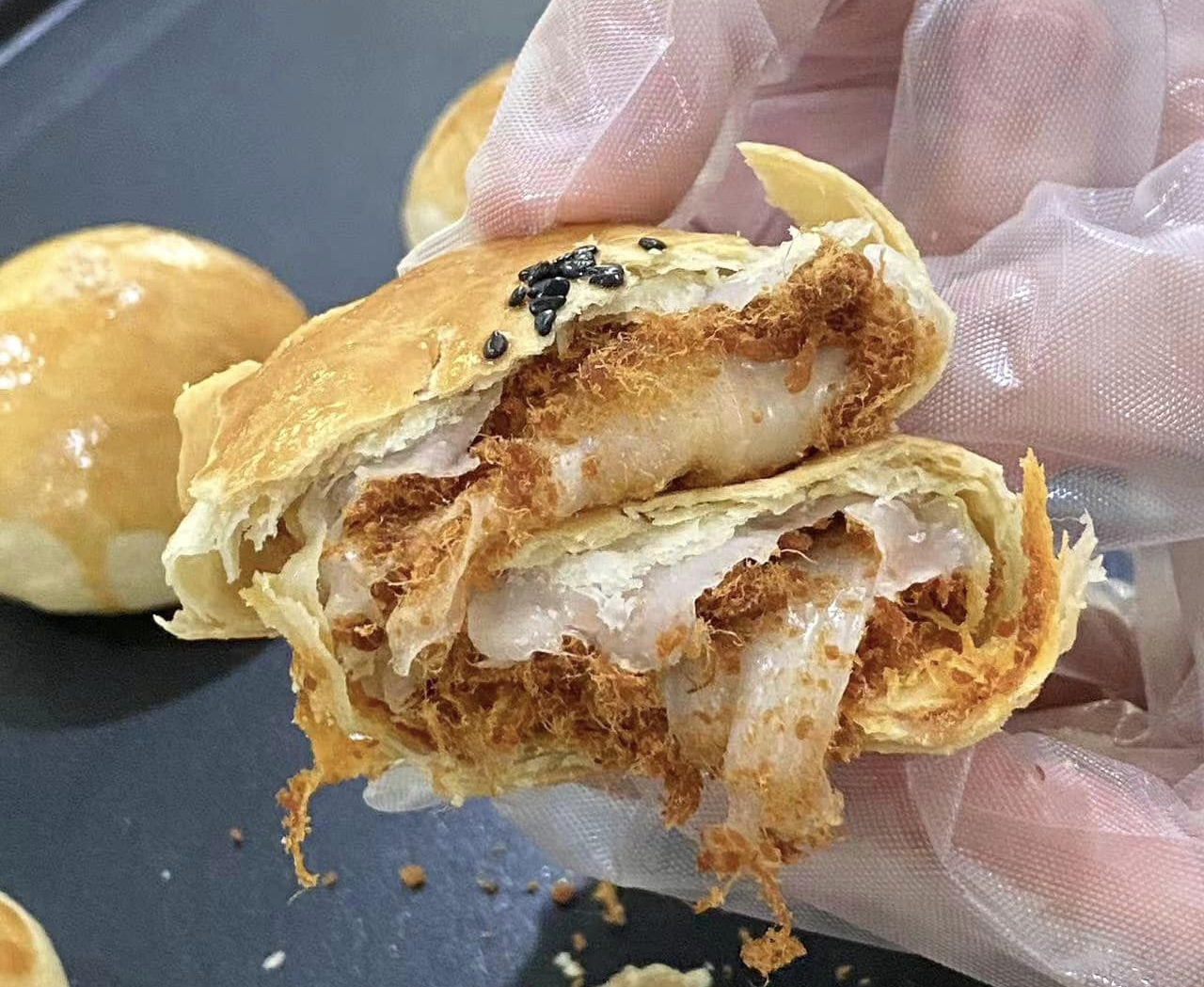 Image credit: Domdom.bakery via Facebook
Nevertheless, the Taiwan 3Q Mooncake (RM49 for 4 pieces) is the shop's latest release, featuring a flaky crust and a layered interior of mochi, meat floss, red bean paste, and salted egg. 
Each bite of these Taiwanese mooncakes is a sweet and savoury indulgence that comes with a satisfying chew.
Delivery services are available across Kuala Lumpur, Melaka, and Johor.
Shop at Dom Dom Bakery here.
---
8. Rach Bakes Me Happy – 100% homemade snowskin mooncakes for gifting
---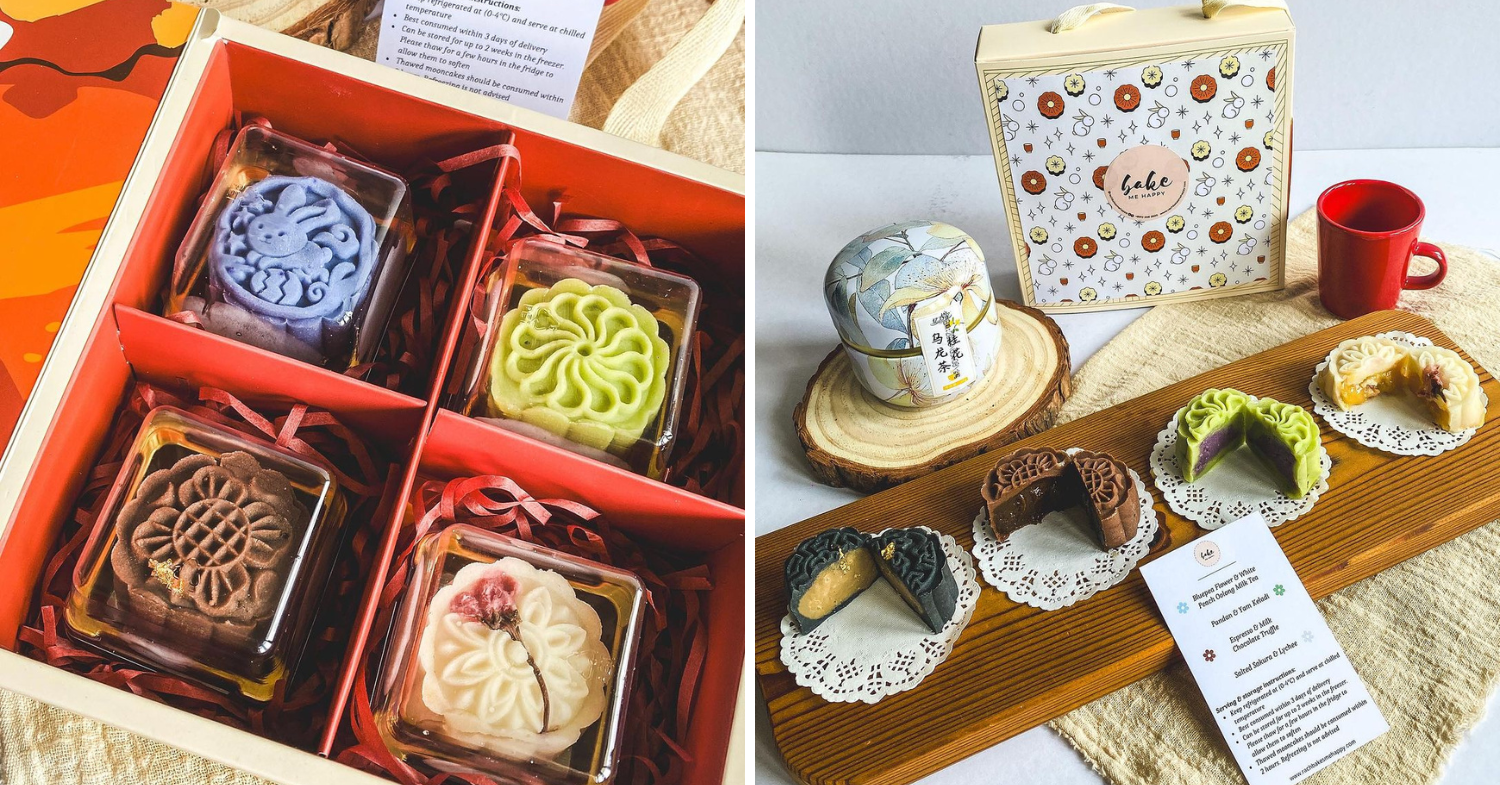 Image adapted from: @rachbakesmehappy via Instagram 
For some delicious snowskin mooncakes, check out Rach Bakes Me Happy's Illuminate Mooncake (RM108) – a gift set of four snowskin mooncakes nicely packed inside a reusable handle bag.
Each piece carries a different colour, representing the four different flavour combinations: Bluepea Flower & White Peach Oolong Milk Tea, Pandan & Yam, Espresso With Milk Chocolate & Truffle, and Salted Sakura & Lychee.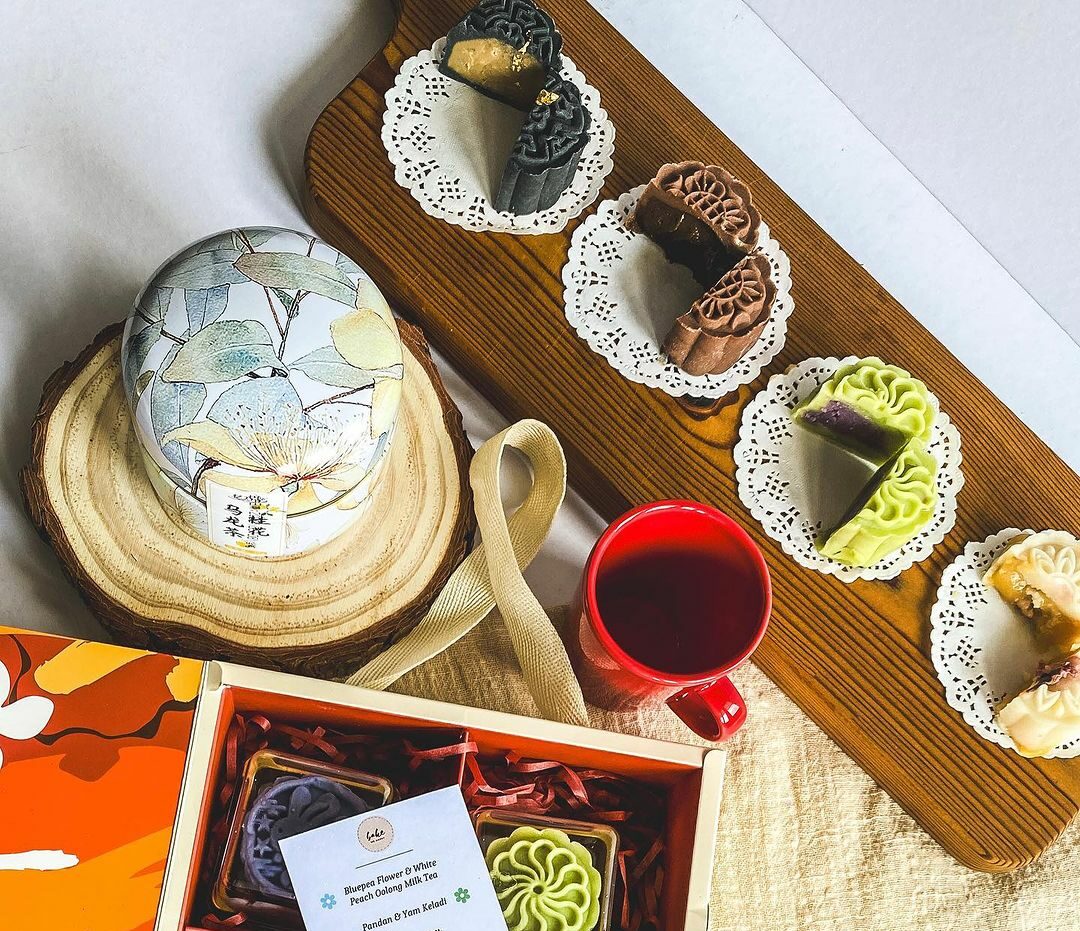 Image credit: @rachbakesmehappy via Instagram 
What's noteworthy is that the mooncakes are all 100% homemade without artificial colourings, flavourings, or preservatives. 
As tea and mooncakes always make the perfect partners to balance out each other, the shop also includes 15 tea bags inside the gift set, letting you pair the sweet treats with some palate-cleansing tea.
Delivery services are available in Klang Valley.
Shop at Rach Bakes Me Happy here.
---
9. Bao Malaysia – halal mochi & lava mooncakes in a Moon rabbit box
---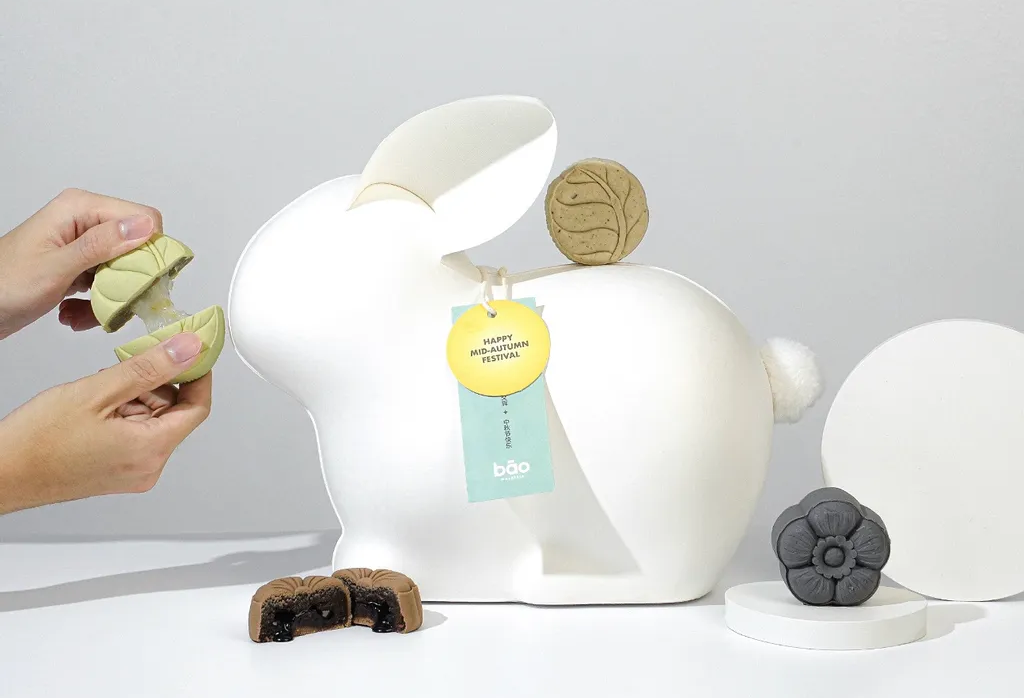 Image credit: baomalaysia
If you are searching for an aesthetic gift for your family or friends this Mid-Autumn Festival, look no further than Bao Malaysia. 
The shop has taken things up a notch by designing a white Moon rabbit box to fit four pieces of halal Mochi and Lava Mooncakes (RM178/set) – available in four variations: Osmanthus Oolong Tea Mochi, Earl Grey Yuzu Mochi, Lava Belgium Dark Chocolate, and Lava Black & White Sesame.
The box is also crafted with a magnetic closure so that the mooncakes will still be in perfect shape when they are delivered to your doorstep.

Image adapted from: baomalaysia
Another great alternative for gifting is their MOONCAKE (RM148). This set includes four mooncakes with the same flavours as the Moon rabbit, but presented in a Moon-imprinted chipboard hard box.
Delivery services are available across West Malaysia with free shipping.
Shop at Bao Malaysia here.
---
Where to get mooncakes in Malaysia in 2023
---
Given how delicious mooncakes are, it is tough to keep our temptations at bay, especially when shops continually introduce interesting twists to this traditional confectionery each year. 
But considering the Mooncake Festival comes around only once a year, it's okay to let loose a little. So bookmark this post as your guide for some spicy sambal mooncakes or a gigantic one that resembles a regular pizza.
For more yummy sweet treats, check out this stuffed steamed bread in Shah Alam or take these 13 bakeries in KL and PJ as your guide.
---
Cover image adapted from: @colorieruu via Instagram, baomalaysia, etlgifttrading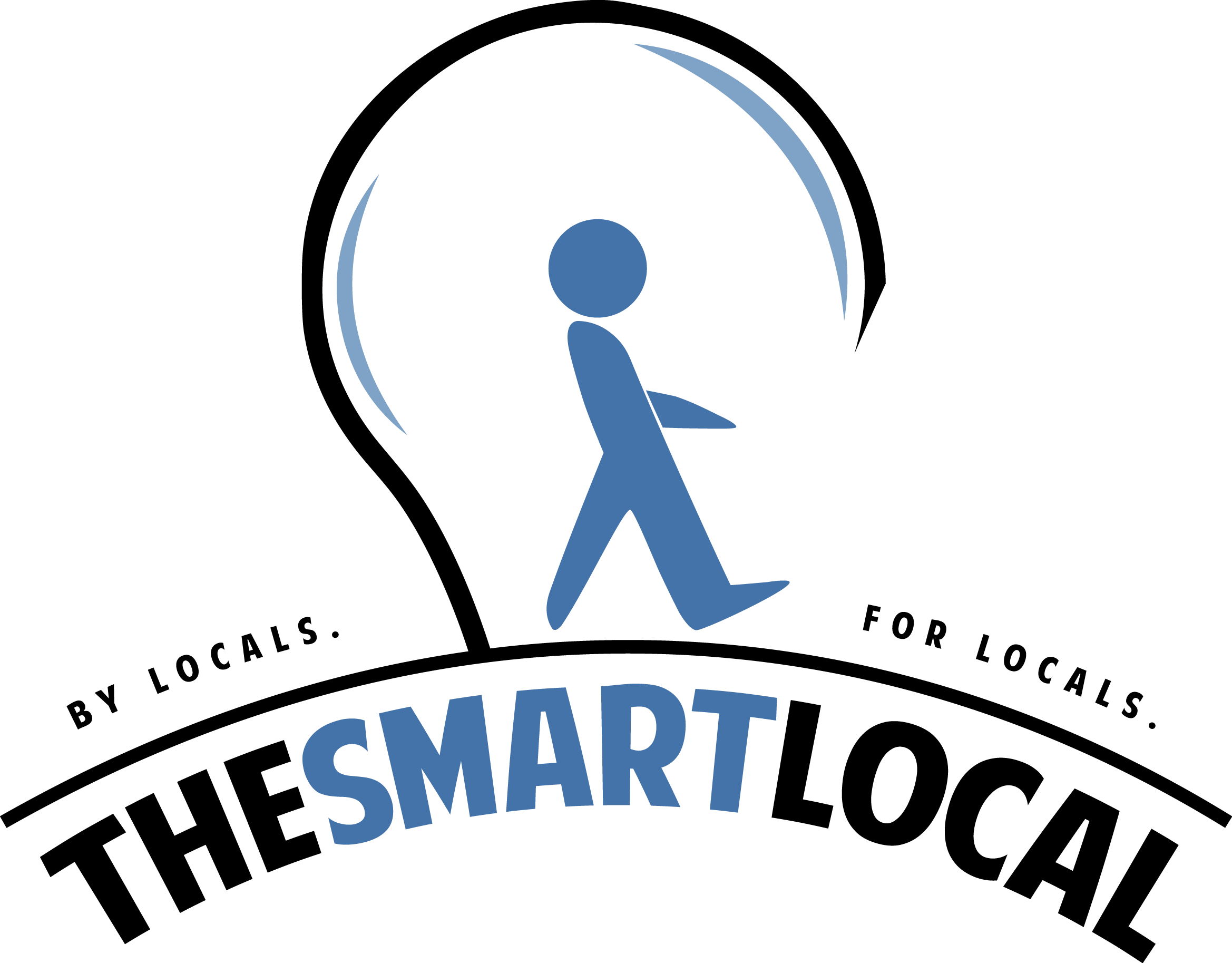 Drop us your email so you won't miss the latest news.