Bakeries in KL and PJ
---
Whipping up breakfast at home is a luxury for those who're always strapped for time. Many of us opt for quick fixes by grabbing pastries off the shelves of the nearest bakery. If you're always reaching for the same buns and muffins each time you pick up breakfast, head to these 11 bakeries in KL and PJ instead. Known for a range of delectables from cruffins to strudels, these places are also worthy of your next brunch meetup in Klang Valley. 
For more great eats in Klang Valley, check out these articles:
---
1.  Flakes – sweet and savoury croissants
---
Flakes is one of the newer kids on the block, having only opened in October 2019. Even though they've only been around for a couple of months, they already have a stream of regulars coming in on a daily basis for their croissants. This makes them worthy of a spot on our list of bakeries in KL and PJ.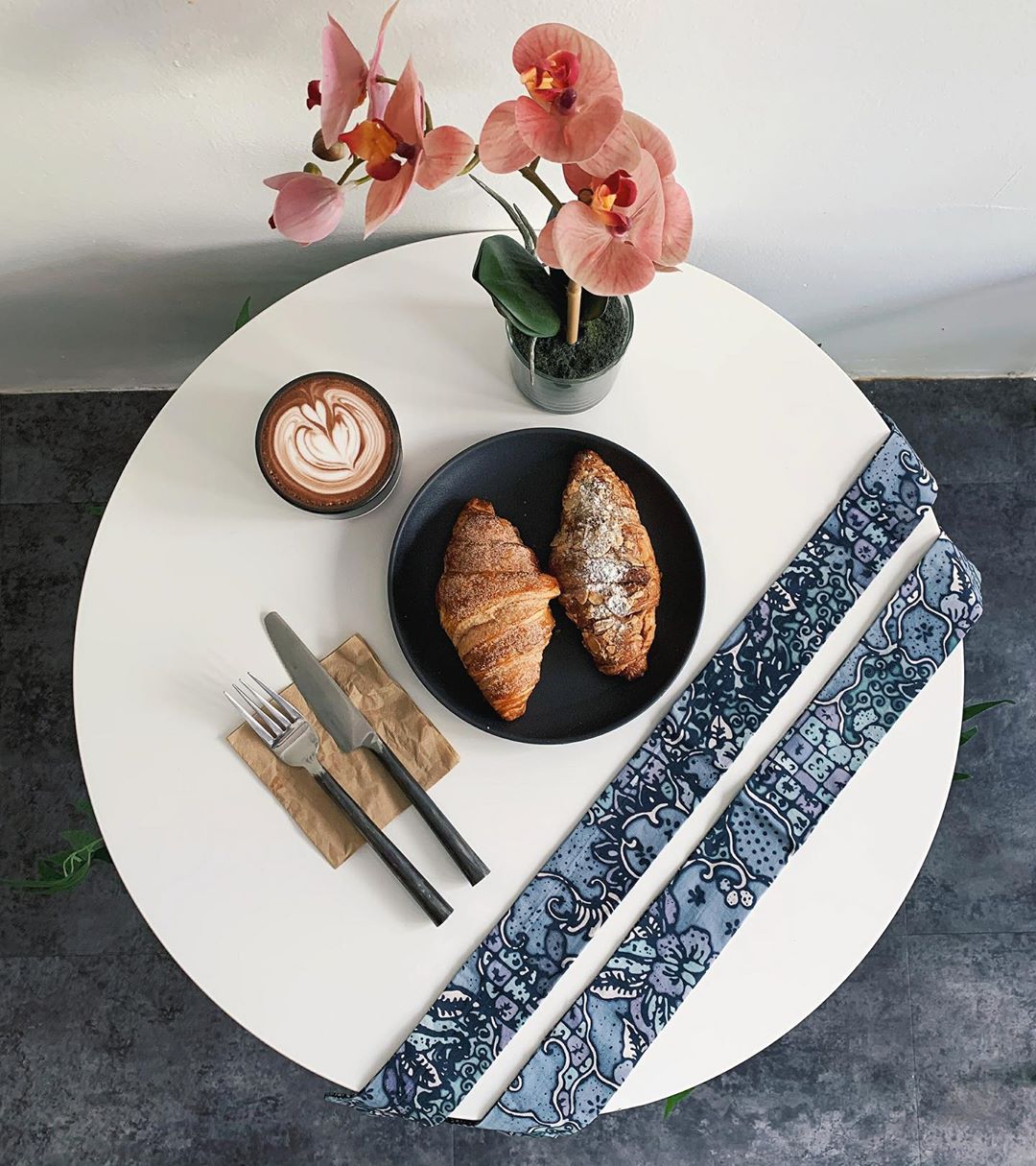 Flakes is one of the bakeries in KL and PJ that serve almond and cinnamon croissants (RM7)
Image credit: @knotjustheadbandsmy
Croissants may be a common find in local bakeries, but finding a baker who does it close to the OG ones in France is like hitting the jackpot. The croissants here have a crumbly outer layer that flakes off to reveal a soft centre, making their croissant sandwiches a popular choice among patrons.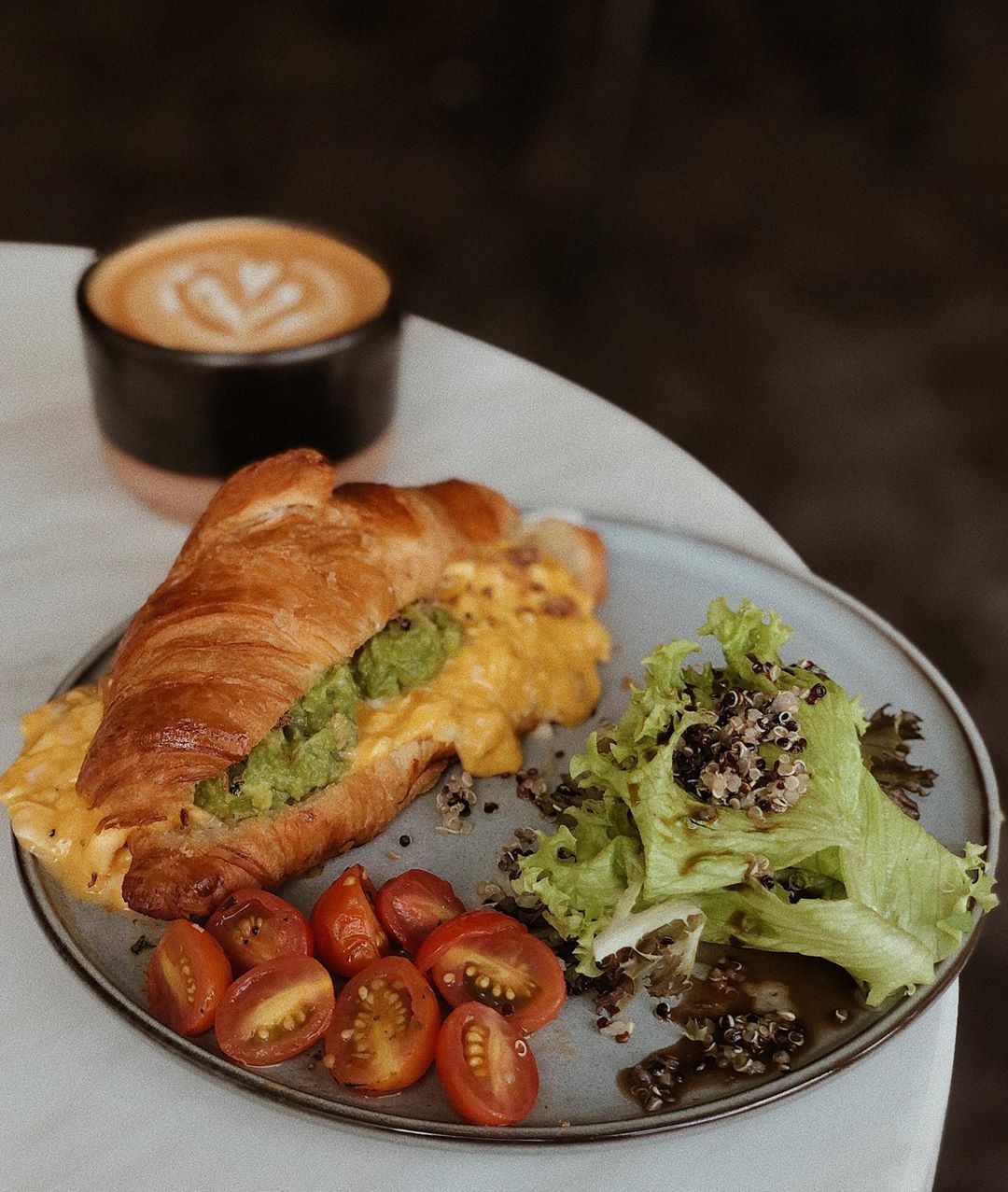 The Avo Scrambled Eggs is a scrumptious choice for a well-balanced breakfast, served with sides of cherry tomatoes and quinoa salad.
Image credit: @uhnseenjourney
For savoury options, the Ouef La Pute (RM15) is an interesting option that combines onion confit, melted cheddar cheese, and smoked paprika aioli with scrambled eggs. The Avo Scrambled Eggs (RM16) is also worth a try as it's hard to go wrong with the avocado and egg combo.
If you still have some space in your stomach, go for the Tai Tai by the Beach (RM24). It's a filling prawn and squid pasta dish that's tossed with bunga kantan, lemongrass, and chilli.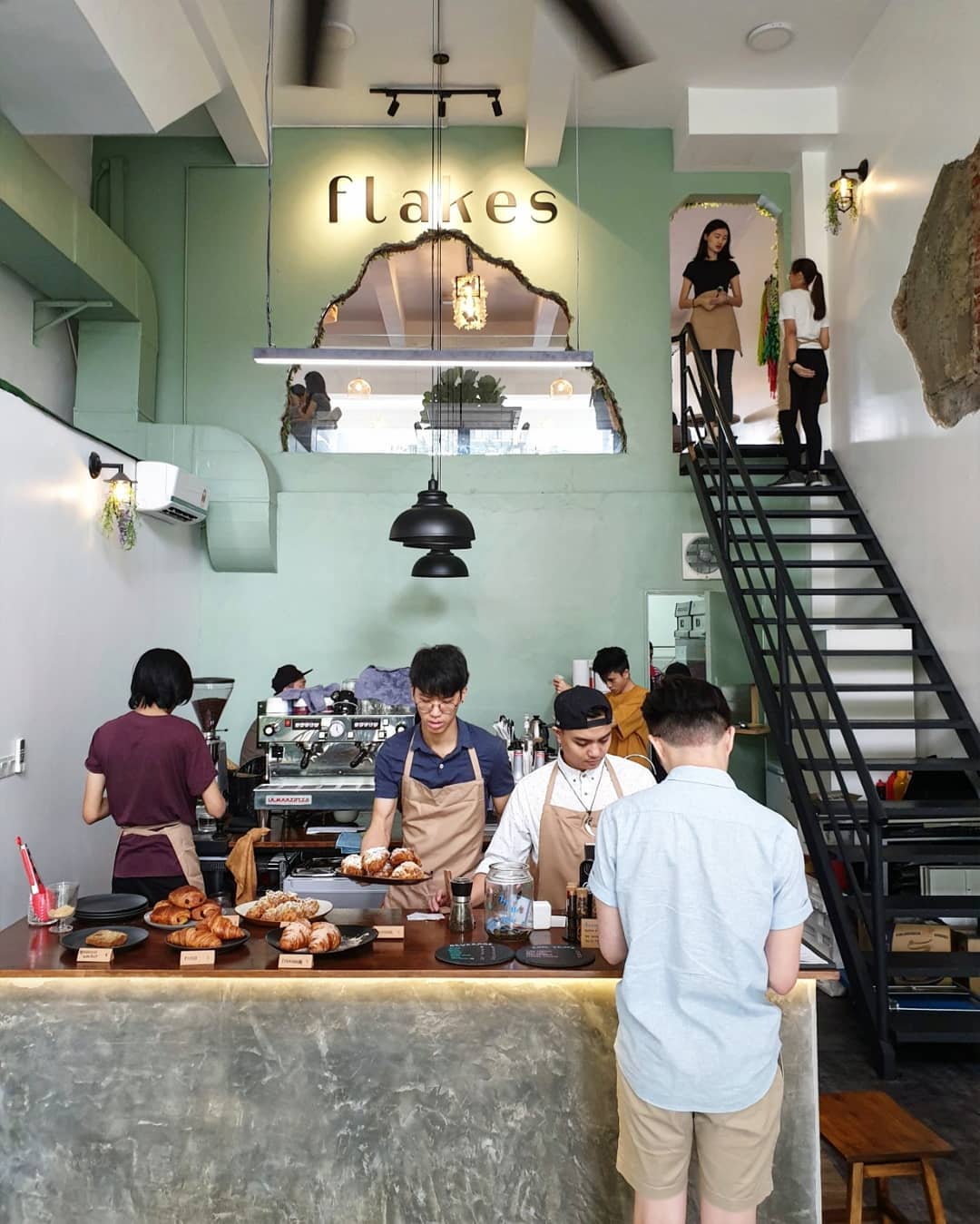 Walk into Flakes and you'll immediately notice the open kitchen as well as the 2-storey dining area
Image credit: @ulric5
Address: B-G-06, The Hub SS2, 19 Sentral, Jalan Harapan, Seksyen 19, 46300 Petaling Jaya, Selangor
Opening hours: 9.30AM-6PM, Daily
Telephone: 011-1760 4816
Flakes Facebook
---
2. The Bread Shop – cruffins from Australia
---
The Bread Shop has been around for a little longer than 10 years, so it's no surprise that they've amassed a loyal following that patronise the bakery on an almost daily basis.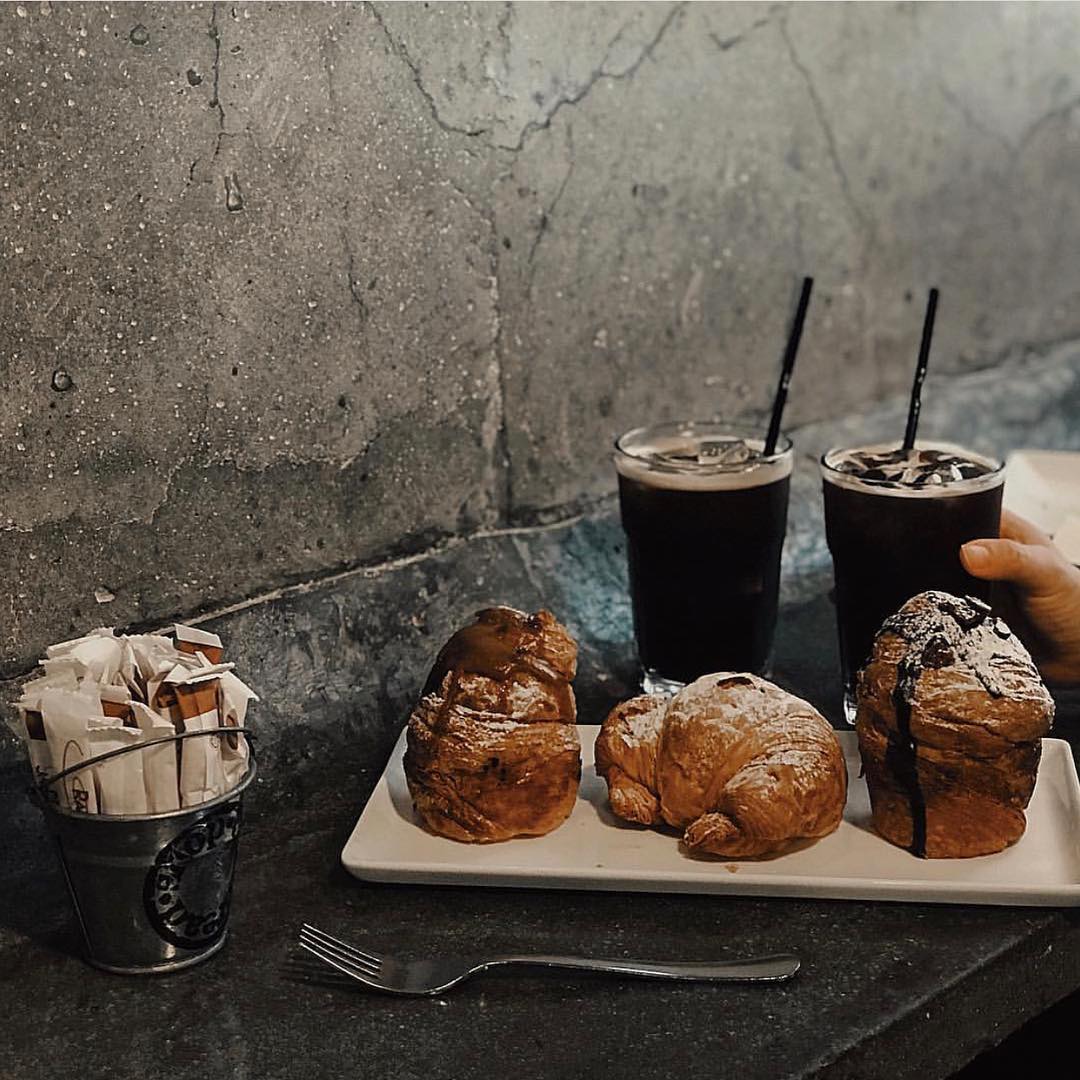 Image credit: @thebreadshop
You may also recognise them as the bakery that introduced the first ever cruffin (RM6.80) to Malaysia. The cruffin is a hybrid between a croissant and a muffin that was first popularised in Australia. It's baked in large muffin moulds before the inside is piped with various fillings like lemon and salted caramel.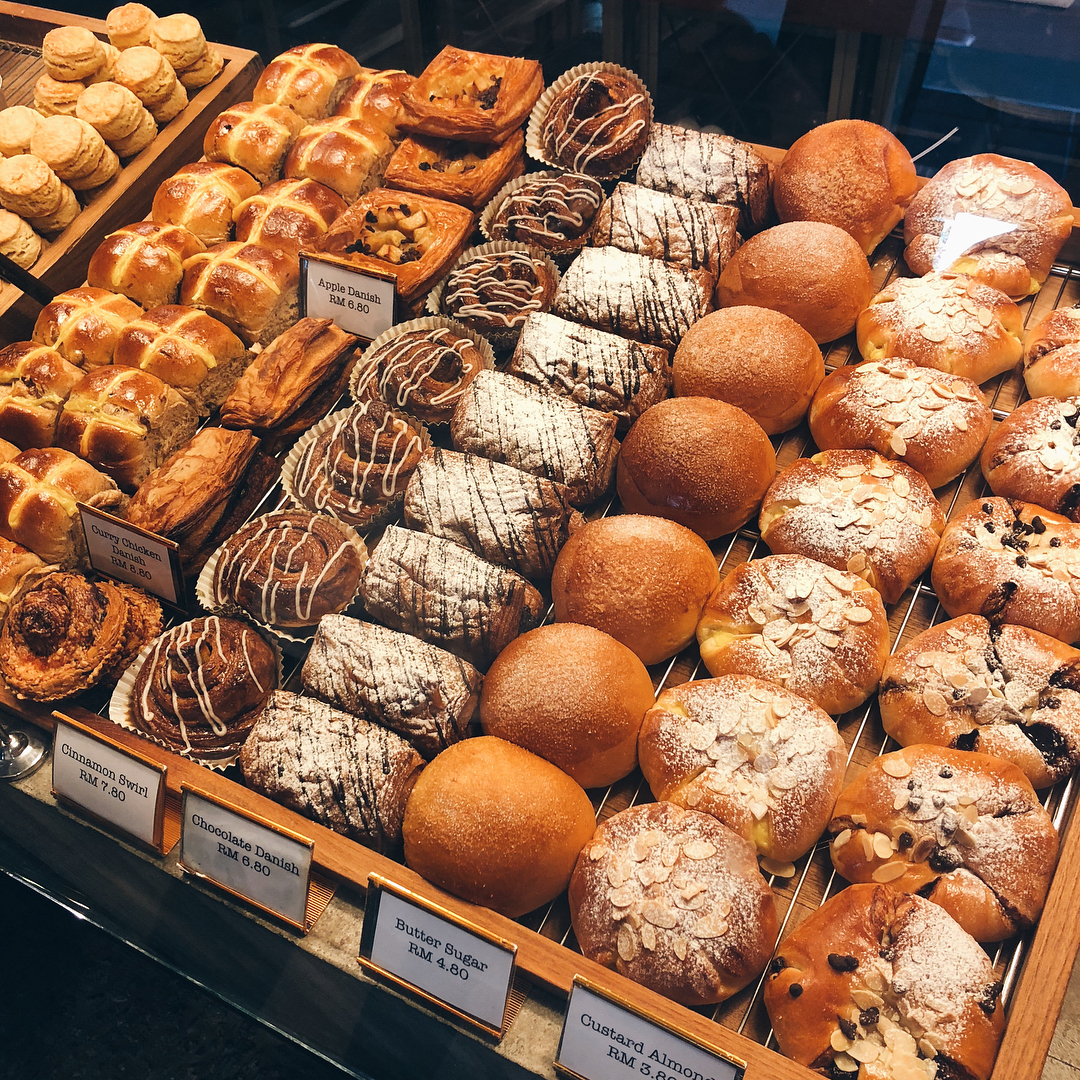 Image credit: @munaabella
But their soaring popularity can't just be attributed to their cruffins as they have a ton of other toothsome treats. You can find traditional delights like Hot Cross Buns (RM5.50) and more unique bites like Bananascotch (RM7.50).
Address: 11, Jalan Setiakasih 5, Bukit Damansara, 50490 Kuala Lumpur
Opening hours: Tue – Sun 8AM-6PM (Closed on Mondays)
Telephone: 03-2093 8734
The Bread Shop Facebook
---
3. Universal Bakehouse – experts on sourdough bread
---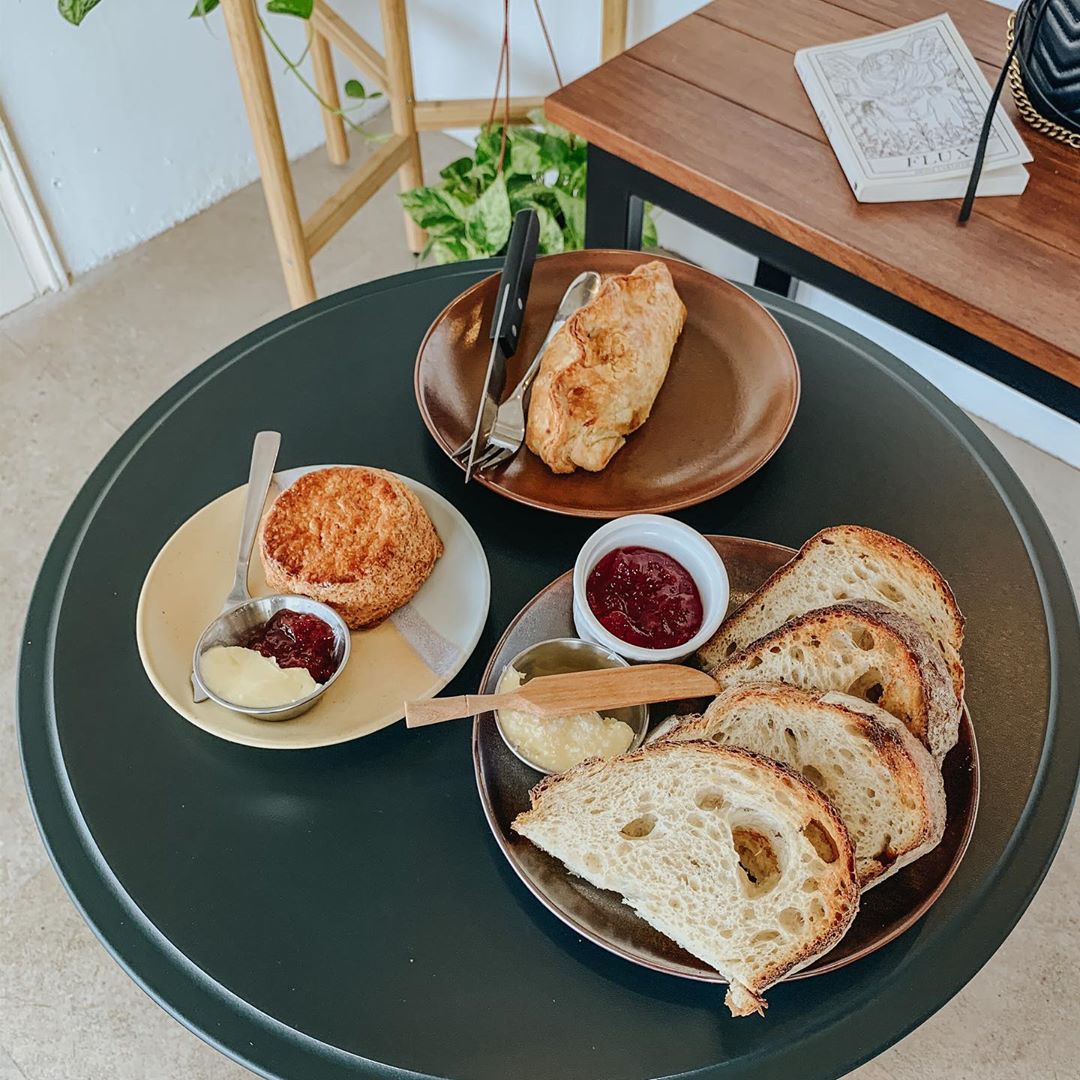 Their signature sourdough bread, a puff, and pie.
Image credit: @syameensalehaldin
You might've unknowingly passed by Universal Bakehouse when driving to Damansara Uptown. The shop's obscure signage out front that resembles that of a manufacturer rather than a bakery can easily fool passersby if not for their strong social media presence.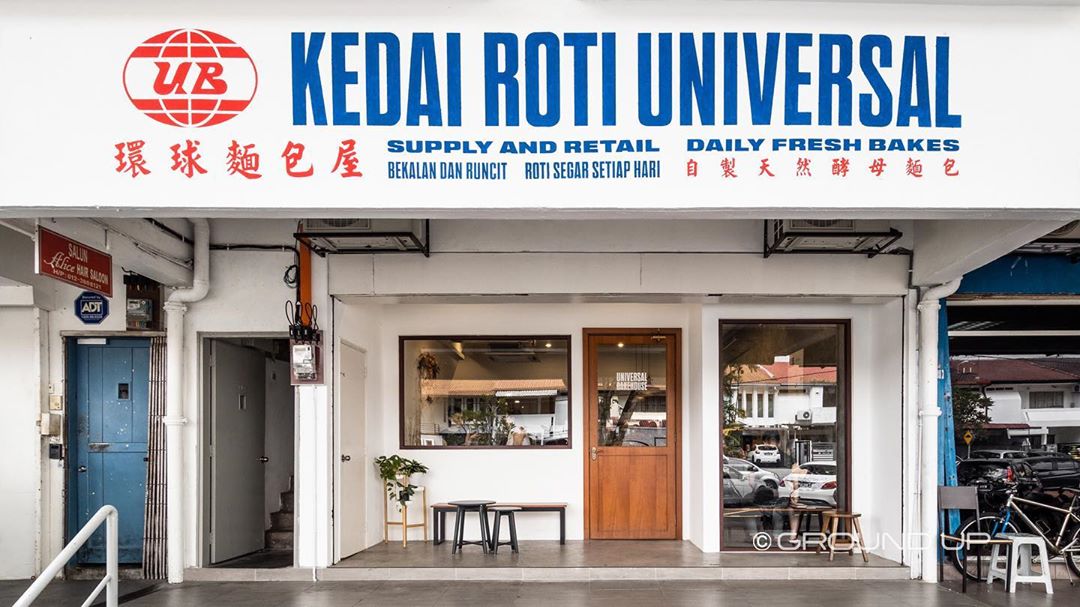 Image credit: @groundupmy
Their small menu comprises simple food items like toast and spreads, as well as some beverages. However, they have other baked goods like cakes and pastries in their display counter. Be there early if you want to lay your hands on treats like Choco Cookies (RM4) and Ricotta & Cranberry Breadstick (RM11).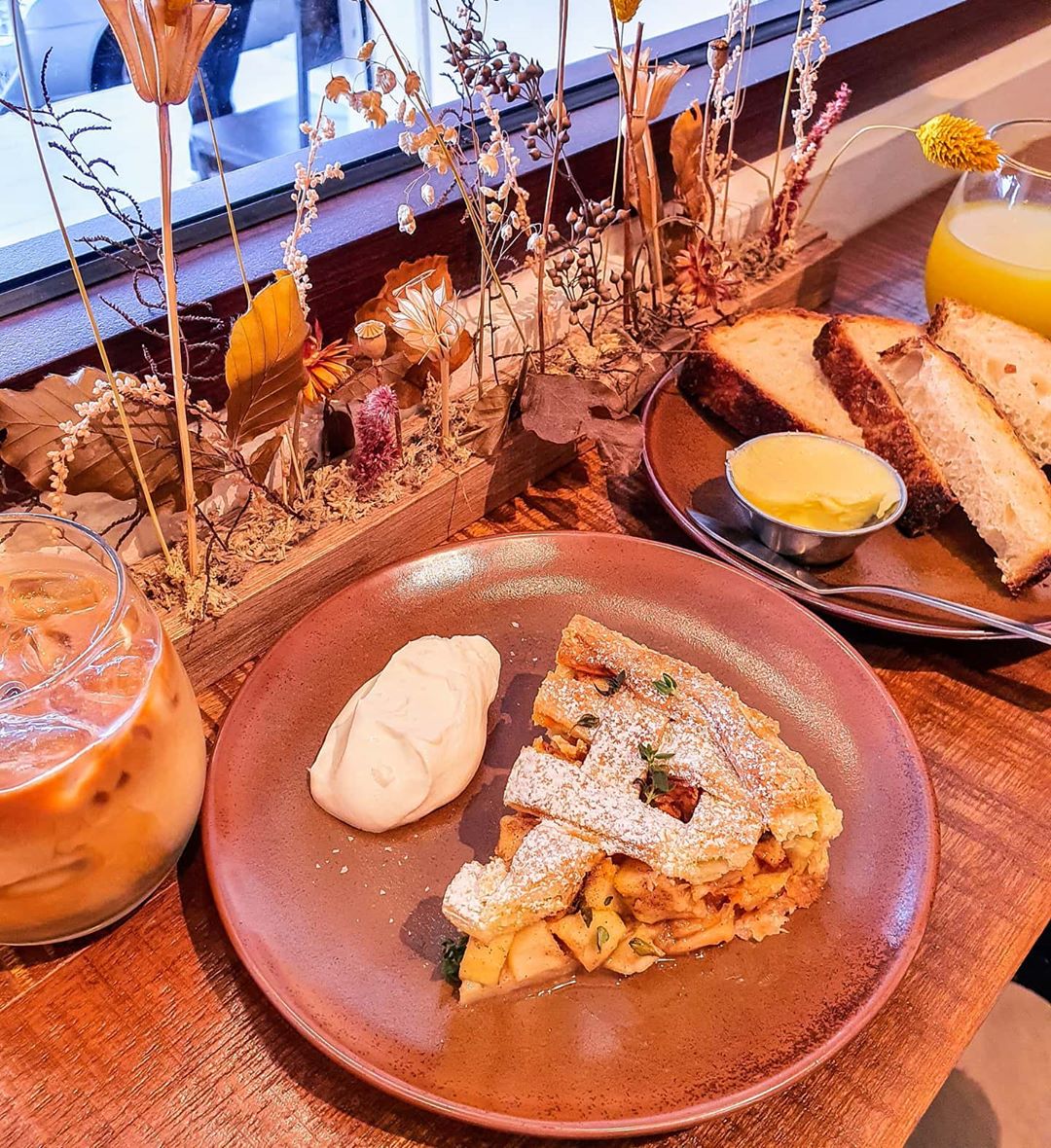 This apple pie is one of their newer additions to the menu
Image credit: @maxlim_08
Their Apple Pie has quickly become a staple menu at Universal Bakehouse. Each slice looks like it came out from the scene in Snow White where the princess was baking a pie for the dwarves with the help of friendly birds and squirrels. The chunks of apples are tart and still slightly crispy while the crust is perfectly flaky.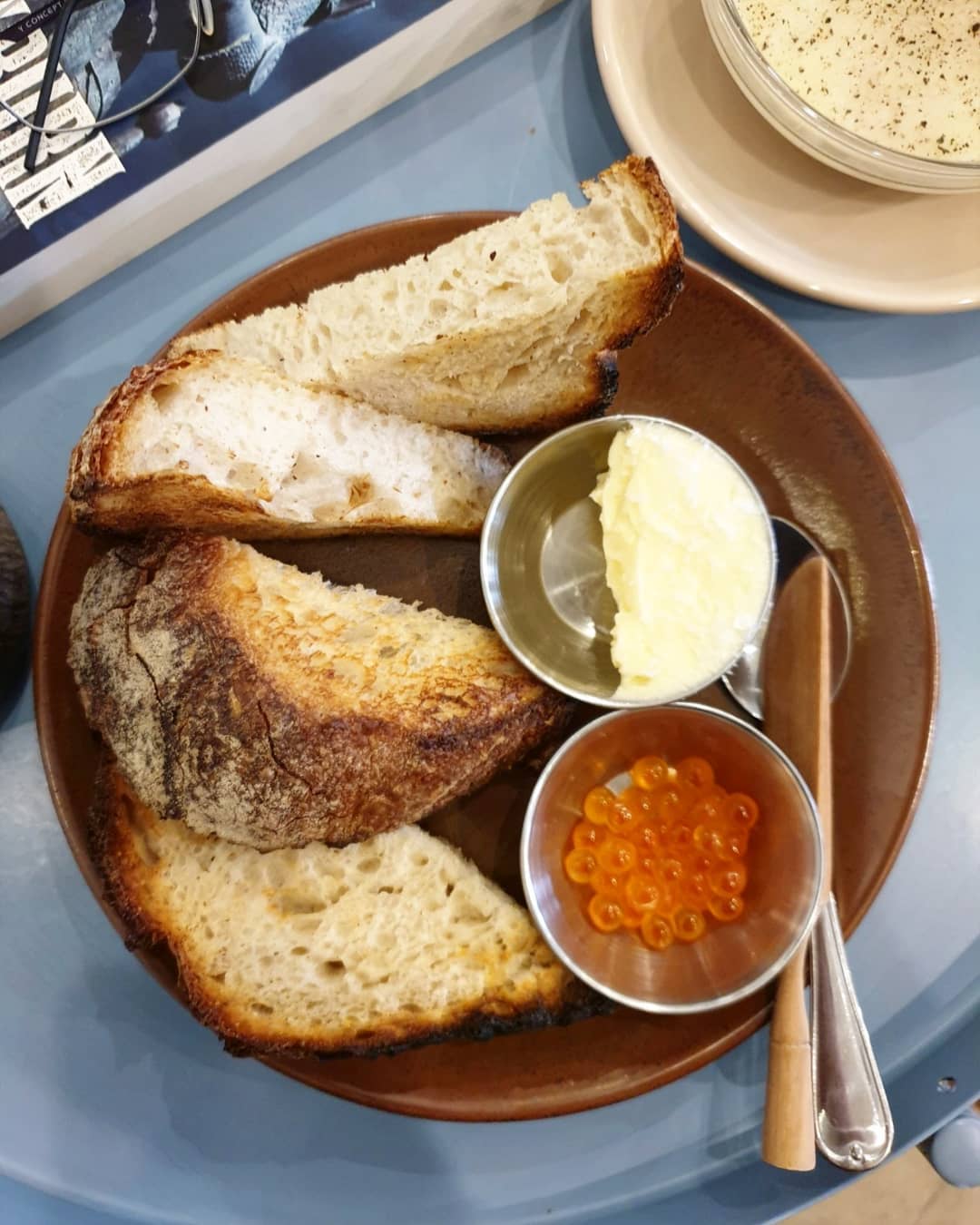 Image credit: @ulric5
A must-try is definitely their sourdough toast, which is what they specialise in. Their Country Sourdough (RM6) comprises 2 slices of bread that's baked in-house daily, with a side of french butter and sea salt. If you want something to spruce things up a bit, get an extra order of Gula Melaka (RM3) or Hummus & Pistachio (RM7) to go with your toast.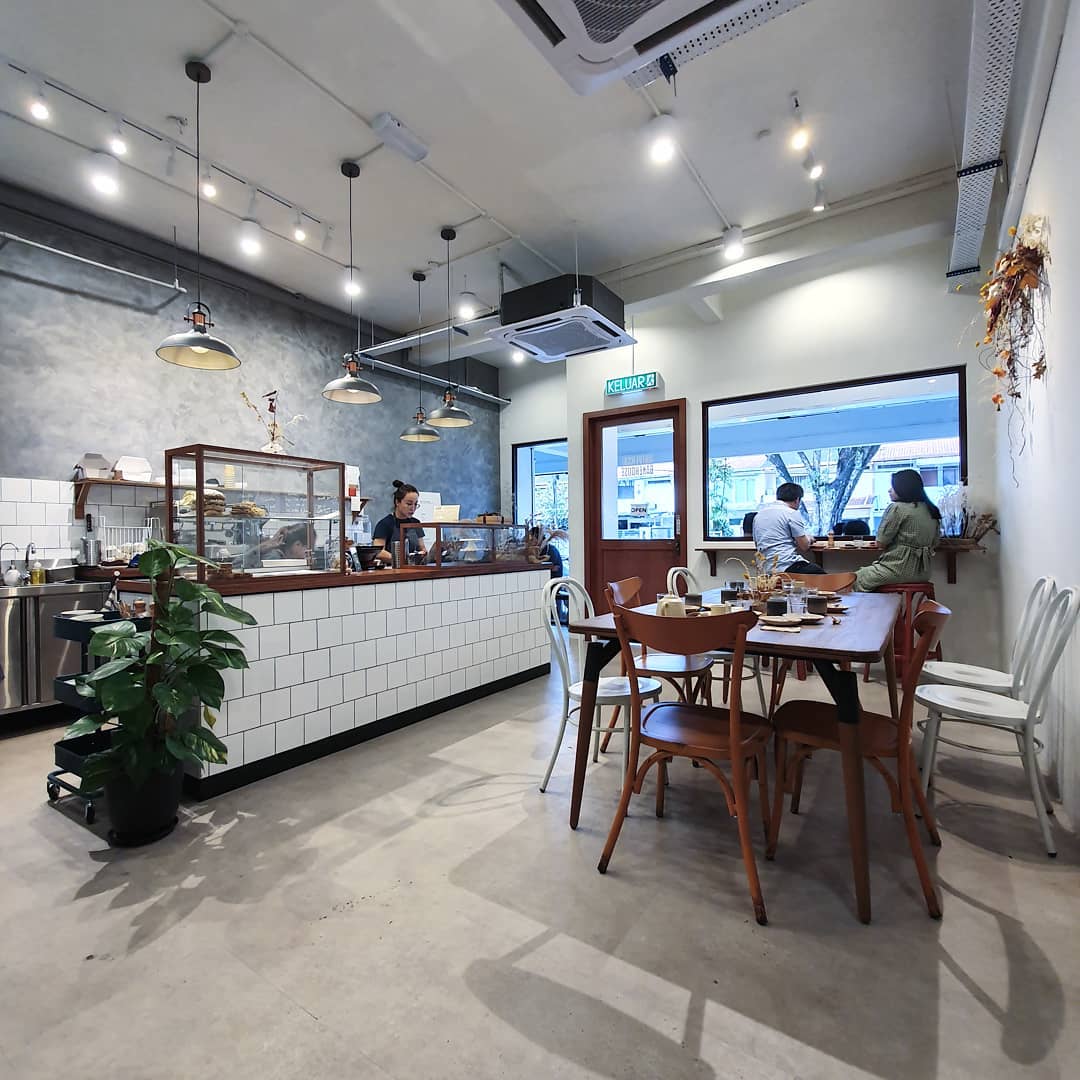 Their minimalist grey and white interior exude a calming vibe that many can appreciate, especially during quiet mornings.
Image credit: @ojdarren
Address: 21, Jalan SS20/11, Damansara Kim, 47400 Petaling Jaya, Selangor
Opening hours: Tue – Sun 9.30AM-3PM (Closed on Mondays)
Telephone: 011-3332 7581
Universal Bakehouse Facebook
---
4. Provisions – Cali-style breakfasts in Damansara
---
It's hard to miss Provisions when walking around SS2 in Petaling Jaya, simply because of its coral-coloured walls. Apart from its IG-worthy look, the cafe was able to gain traction for their simple but hearty California-inspired breakfasts.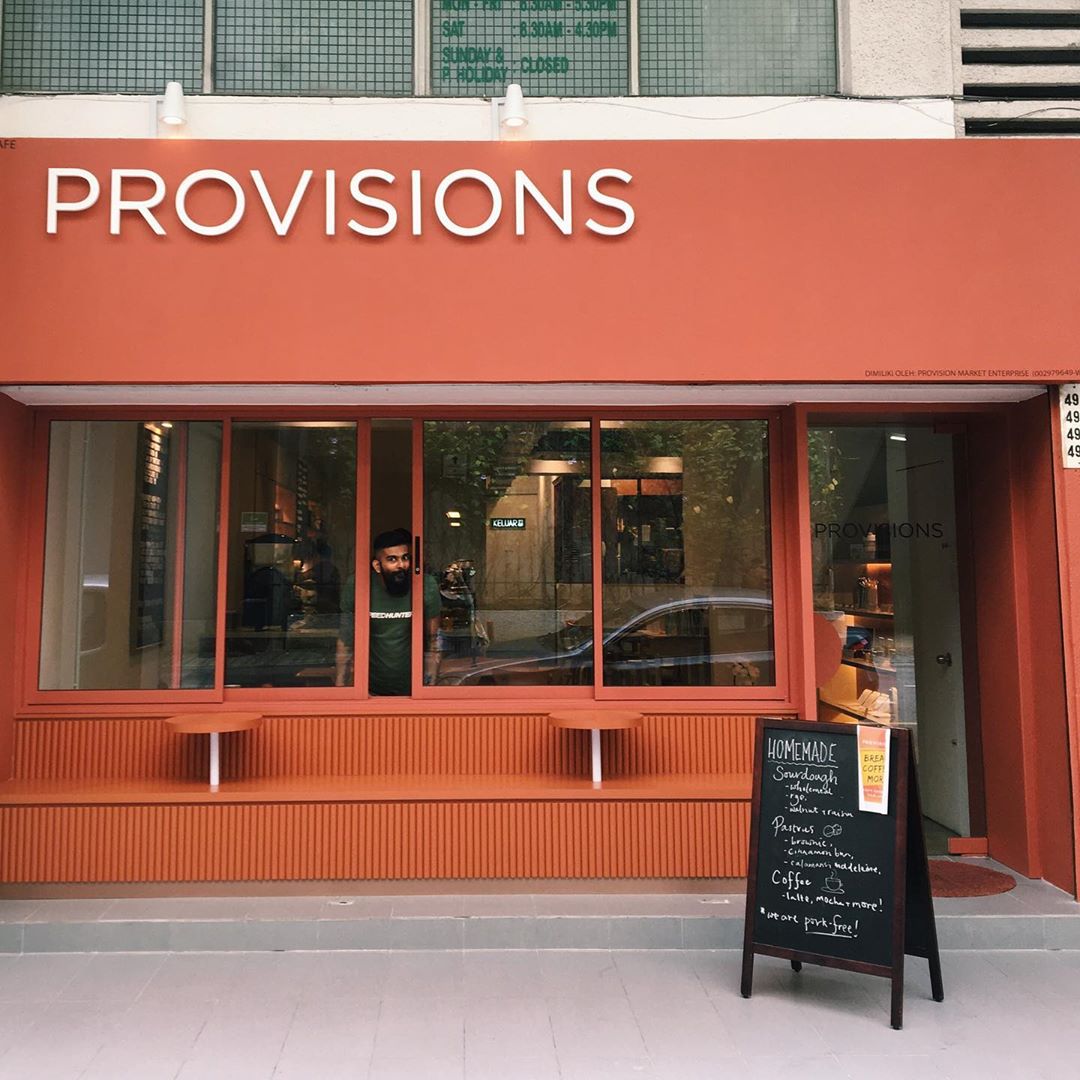 An IG-worthy photo spot for when you come to visit
Image credit: @dineshblack
If you like to start off your day with something sweet, make a beeline for the display counter at the front of the store where all the pastries are. From Cinnamon Buns (RM7) to Brownies (RM10), the menu carries plenty of options so that you can easily load up on your day's worth of sugar here.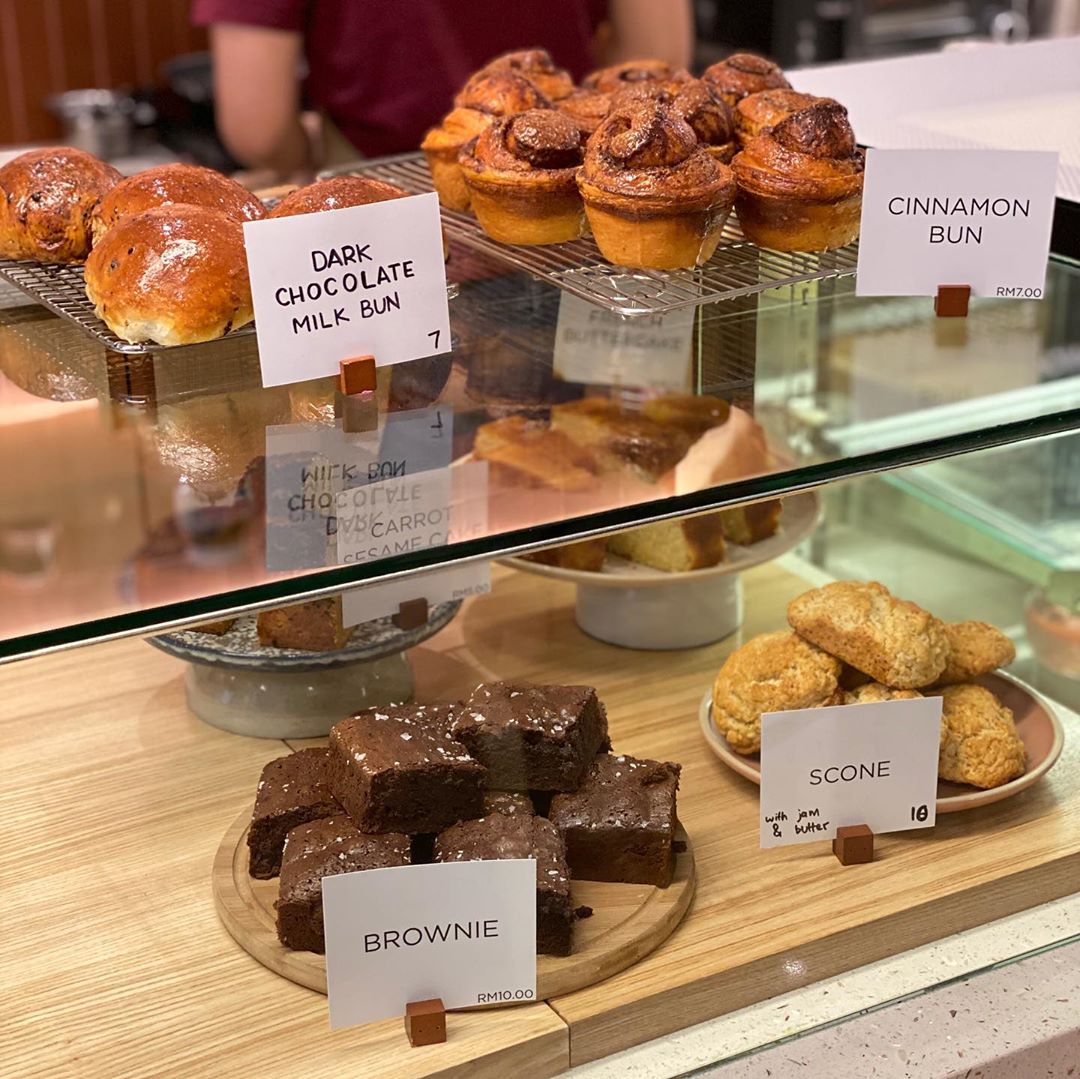 Image credit: @dineshblack
Fans of sourdough will be overjoyed to know that Provisions has a whole selection of sourdough toasts that come with different accompaniments like Cinnamon Sugar (RM5), Avocado (RM12), and Jam of the Day (RM5).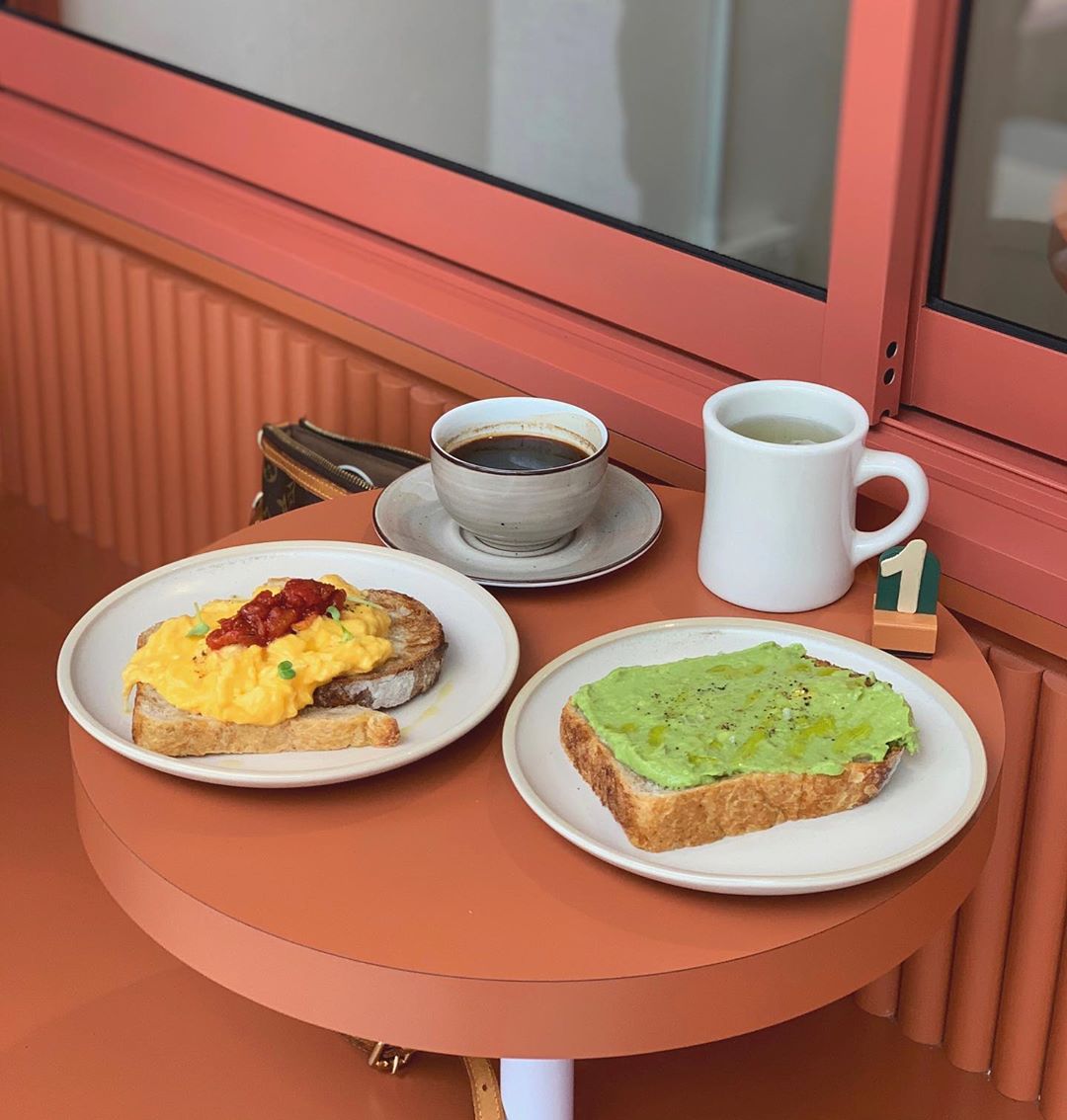 Image credit: @wenwen.chee
Other menu items include Grilled Cheese Sandwich with Tomato Soup (RM20) and Slow Scrambled Eggs on Sourdough with Tomato Jam (RM14). The eggs are done a la Gordon Ramsay-style where it's silky soft and smooth with a few chunky bits while the tomato jam deepens the flavours of this simple sandwich.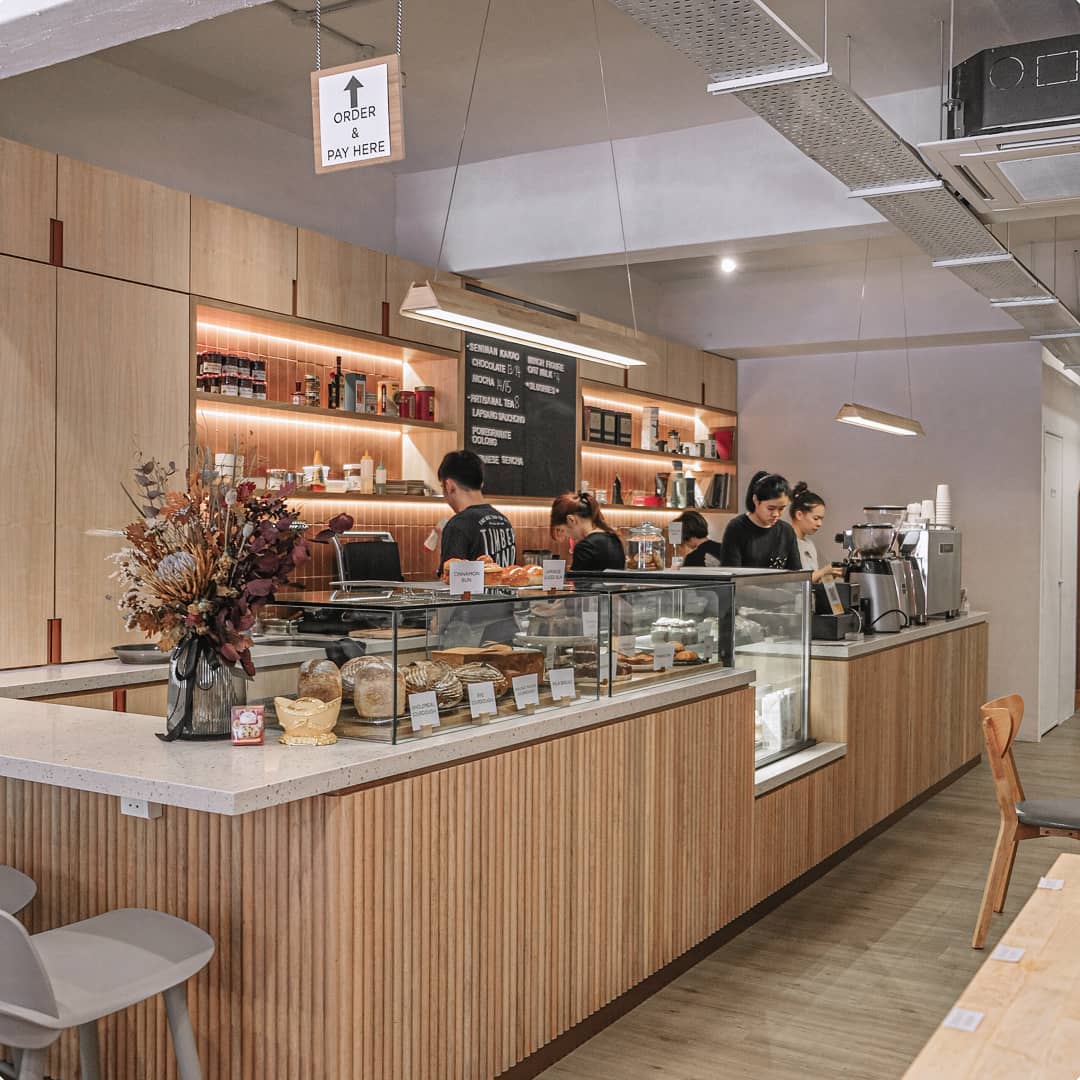 Image credit: @mark0000619
Address: 49, Jalan SS 22/23, Damansara Jaya, 47400 Petaling Jaya, Selangor
Opening hours: Tue – Sun 9AM-7PM (Closed on Mondays)
Telephone: 03-7731 7971
Provisions Facebook
---
5. Huckleberry – freshly baked pastries from 7.30AM
---
Even non-cafe hoppers would have heard of Huckleberry, the go-to brunch spot in Damansara before other cafes started popping up in the area. This cafe doesn't just cater to 11AM weekend meals. They open as early as 7.30AM each day, so those looking to grab some breakfast before work can make a quick pit stop here before heading to the office.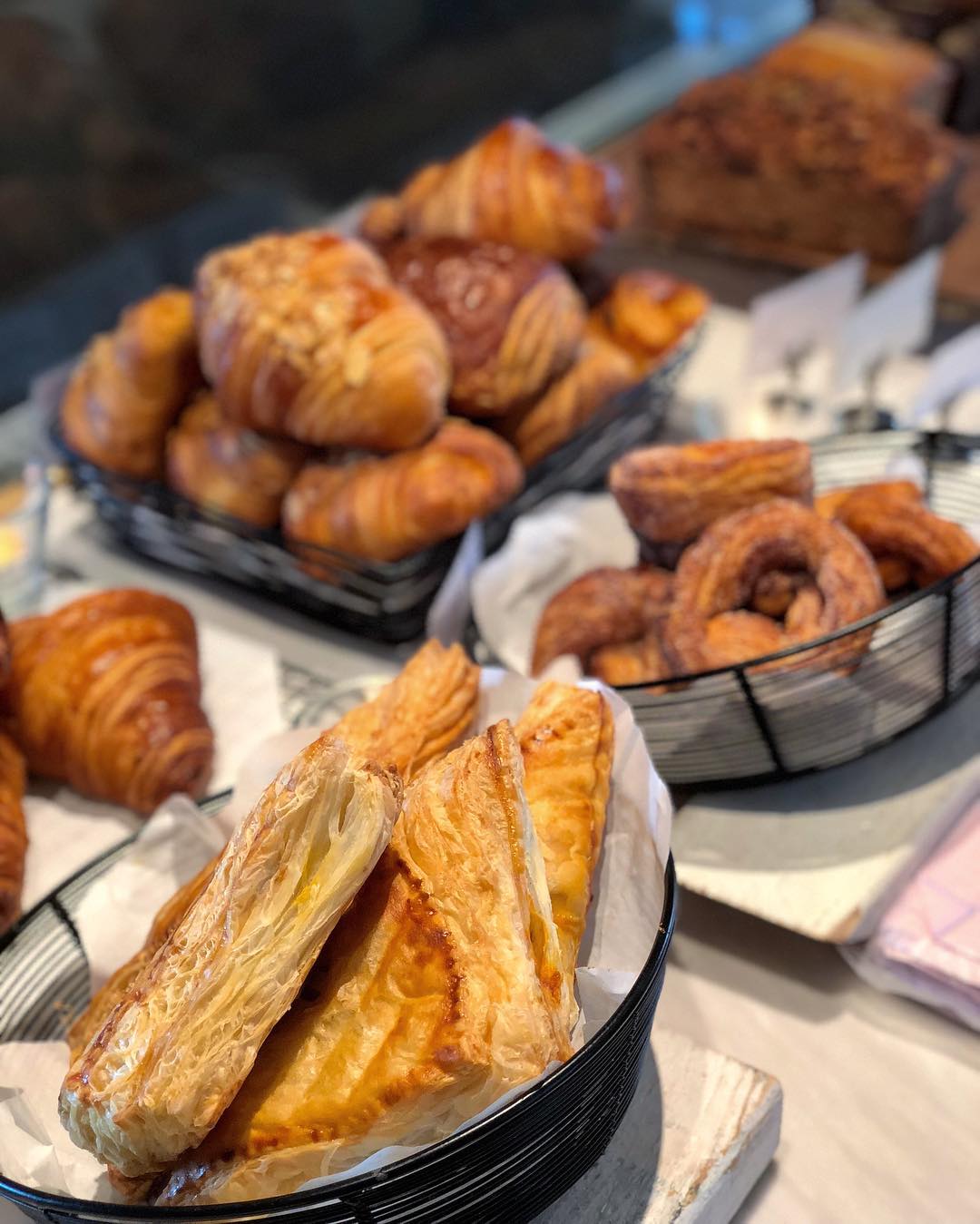 They have a selection of freshly baked pastries on their counter, so you can quickly grab one and go if you're in a rush.
Image credit: @birch_kl
Their Cinnamon Roll (RM4.90) has a tantalising caramelised top and when pulled apart, the dough inside is soft and chewy. The generous sprinkling of sugar on top complements the fragrant spiced cinnamon flavours.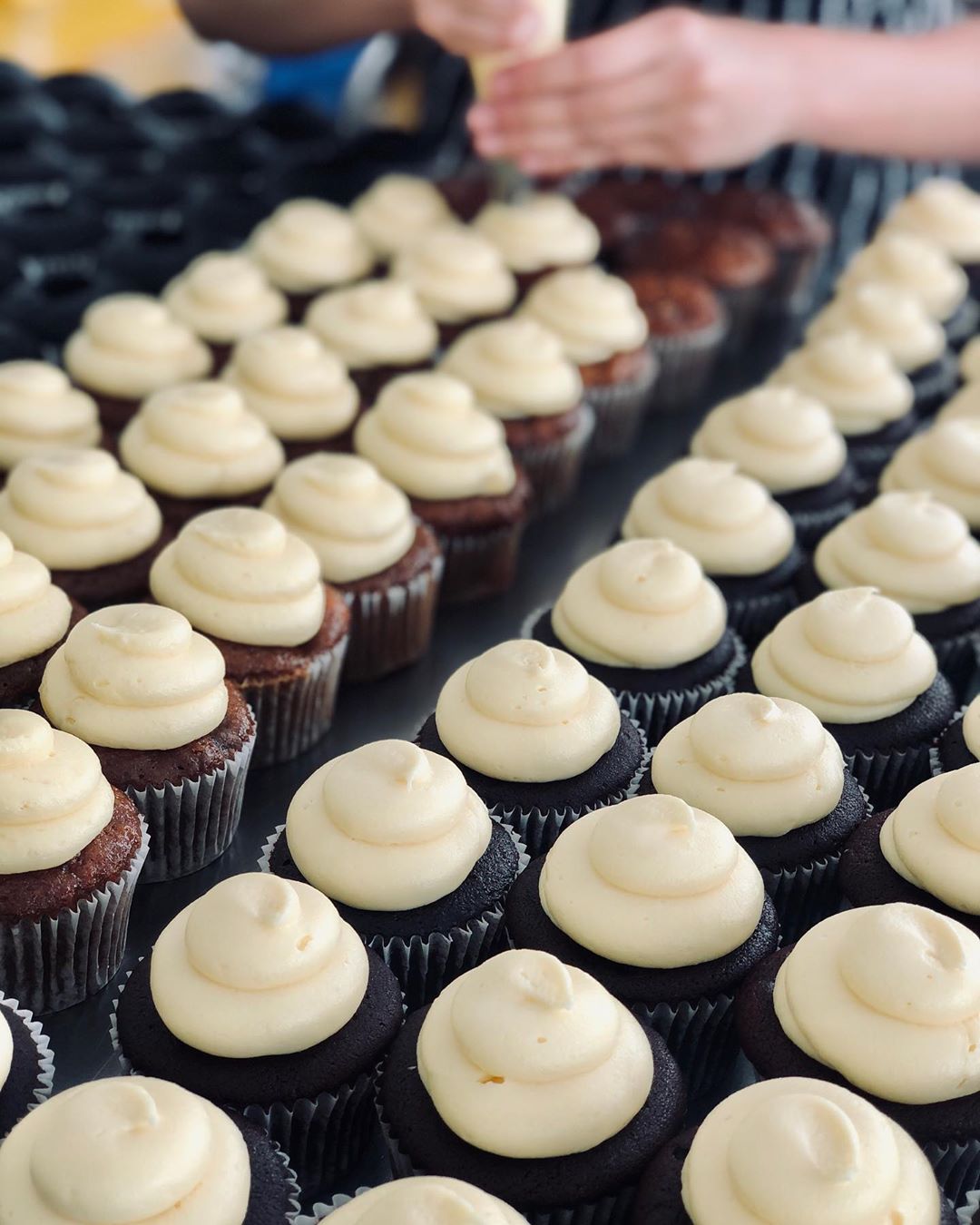 Huckleberry is known to be one of the more famous bakeries in the KL and PJ area.
Image credit: @myhuckleberrykl
The cupcakes are also worth a try, especially Snicker Doodle (RM11.90) and Apple Pie Crumble (11.90).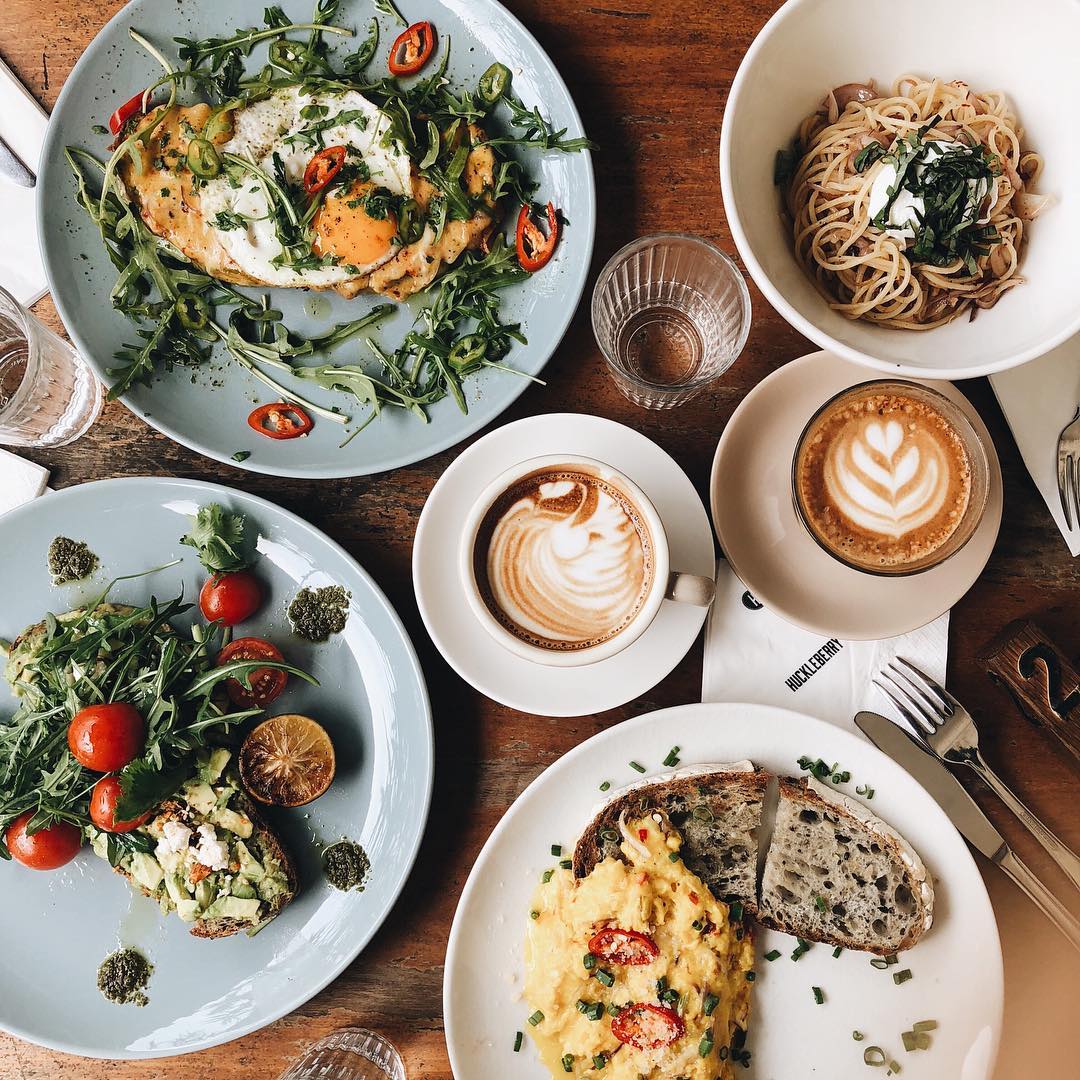 Image credit: @kashella.irl
For a sit-down meal, opt for the Huckleberry Granola (RM18.50), a nutritious breakfast made from house-baked granola that's served with Greek yoghurt and fresh fruit. The Chilli Cheese Scrambled Egg (RM13.90) is also a popular option for its added spice in your regular serving of soft scrambled eggs on toast.

Their cosy interior is decked out with dark mahogany wood panels and neutral patterned tiles
Image credit: @abesalim
Huckleberry @ Damansara Heights
Address: 2G & 4G, Jalan Medan Setia 2, Plaza Damansara, Damansara Heights, 50490 Kuala Lumpur
Opening hours: 7.30AM-12AM, Daily
Telephone: 03-2098 7933
Huckleberry @ Bangsar Shopping Centre
Address: G108 & GK2, Bangsar Shopping Centre 285, Jalan Maarof, 59000 Kuala Lumpur
Opening hours: 8AM-12AM, Daily
Telephone: 03-5033 2118
Huckleberry website | Facebook
---
6. Jaslyn Cakes – Bangsar's dessert hub
---
Just like how many of our moms used to go to the neighbourhood's bakery to stock up on red bean buns and baked goods to last a whole week's worth of breakfasts, you'll be tempted to do some stocking up of your own when you step foot into Jaslyn Cakes.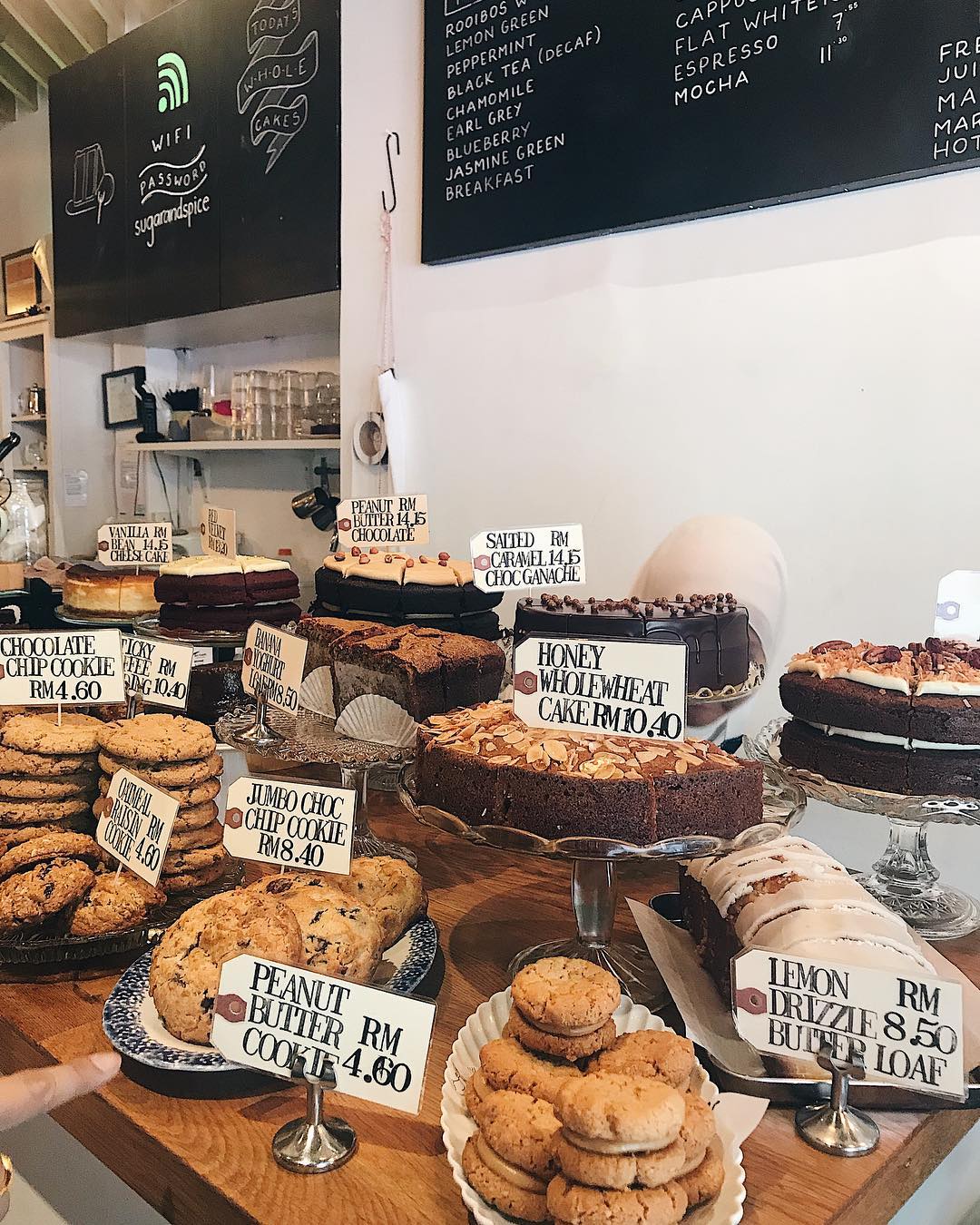 The labels on these treats are reminiscent of the ones from Alice in Wonderland
Image credit: @chewwwthefood
What started out as a humble space in Bangsar has turned into a full-fledged bakery that puts out an endless array of baked goods on a daily basis. Hungry patrons flock to their doors every morning to get the best picks because if you come during midday, their counter would already be half empty. 
You'll be able to find a huge variety of desserts here, from Chocolate Chip Cookies (RM4.60) to Lemon Drizzle Butter Loaf (RM8.50). Their menu is constantly expanding too. Some of the gems that are worth keeping your eyes peeled for include Ginger Scones (RM8), Sticky Toffee Pudding (RM11), and Smoked Salmon Quiche (RM18).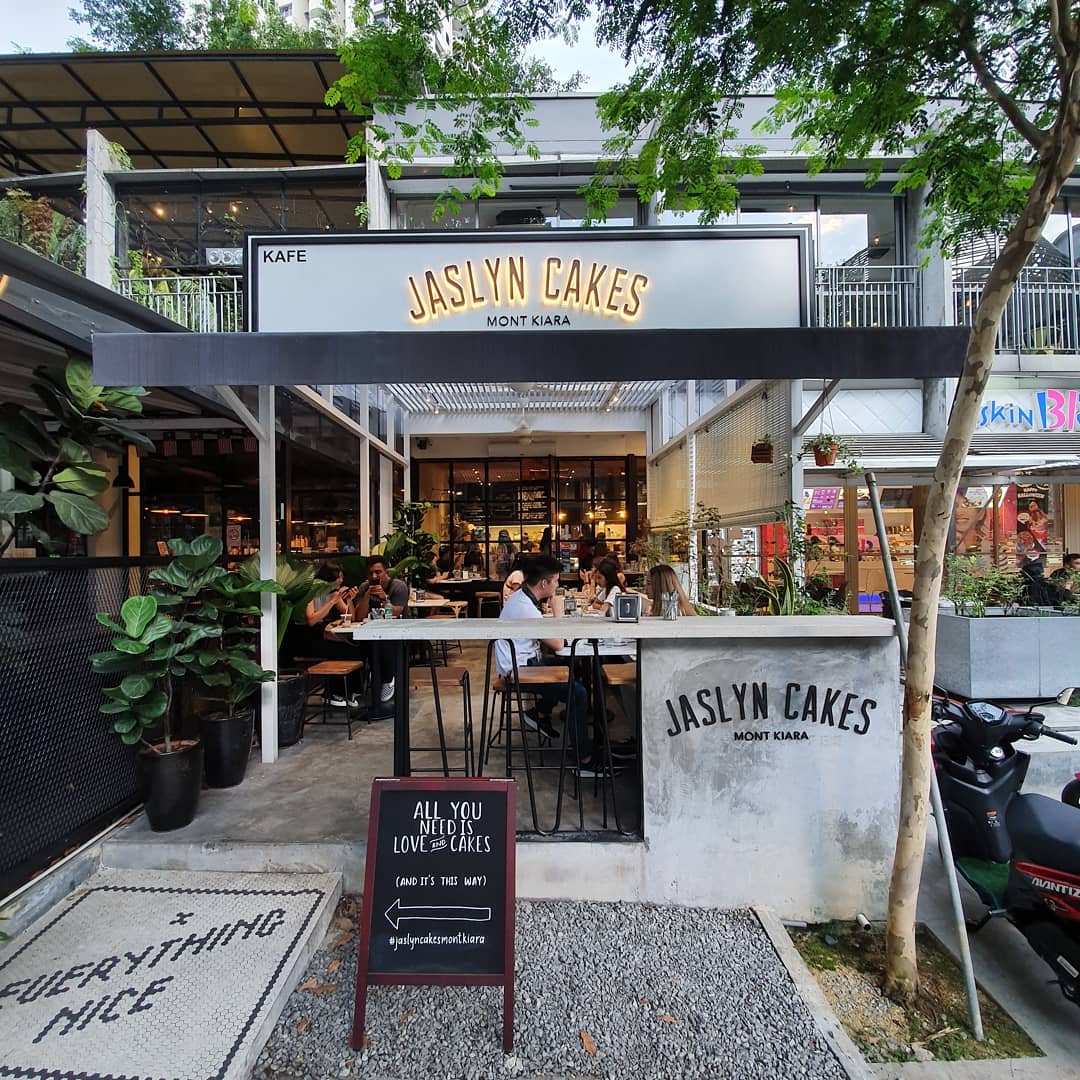 Image credit: @ojdarren
Jaslyn Cakes @ Bangsar
Address: 7A, Jalan Telawi 2, Bangsar, 59100 Kuala Lumpur
Opening hours: Tue – Fri 11AM-7PM | Sat & Sun 11AM-8PM (Closed on Mondays)
Telephone: 03-2202 2868
Jaslyn Cakes @ Mont Kiara
Address: Lot 1B New Wing, Lower Ground Floor, Mont' Kiara Shoplex, Jalan Kiara, Mont Kiara, 50480 Kuala Lumpur
Opening hours: Tue – Fri 9AM-7PM | Sat & Sun 11AM-7PM (Closed on Mondays)
Telephone: 03-5886 0950
Jaslyn Cakes website
---
7. One Half x Ilaika – coffee and bakery inside a specialty store
---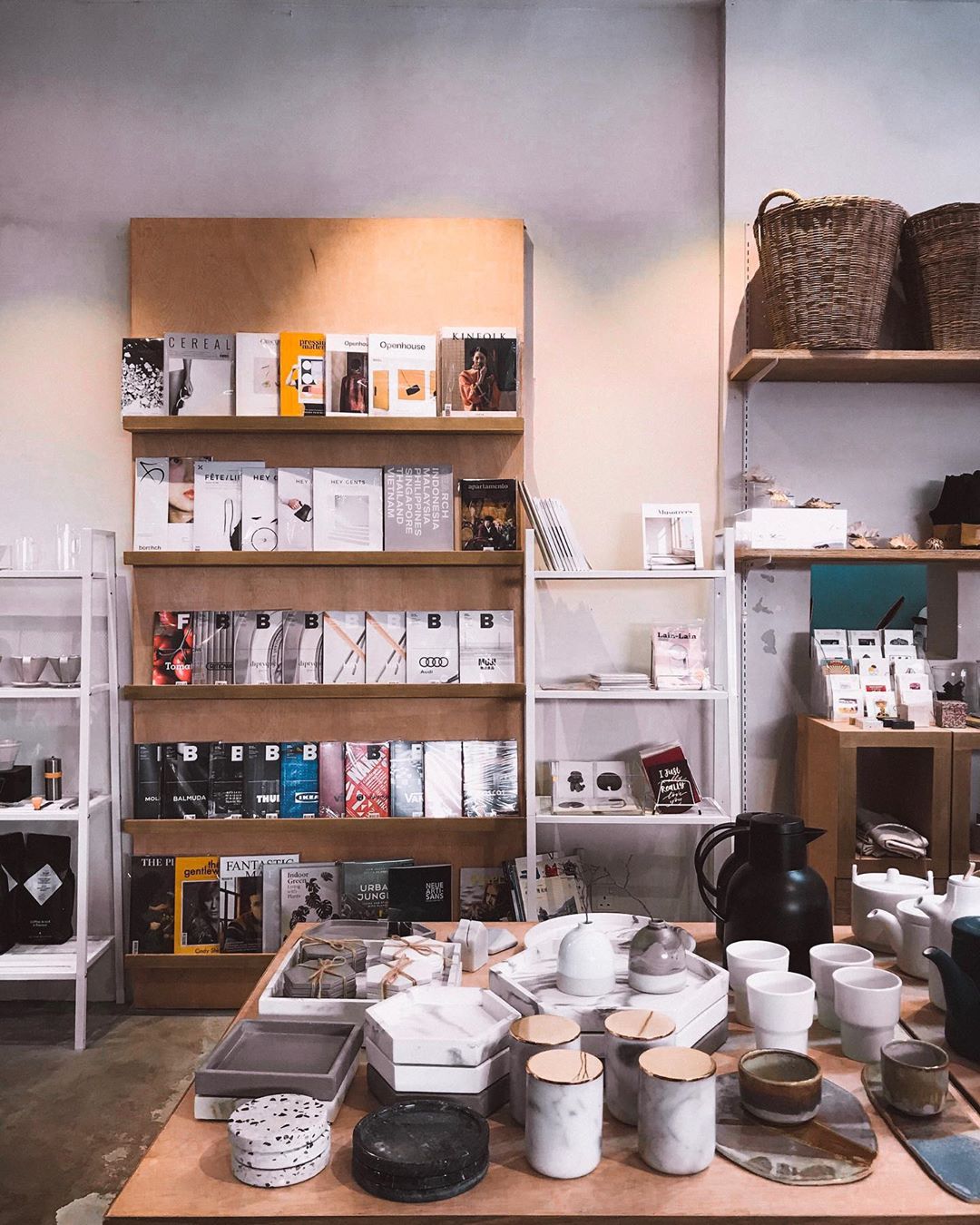 Image credit: @winloon
One Half x Ilaika is a cafe and speciality store that sells trinkets from local creators. As you're waiting for your cup of coffee, you can roam around the shop and browse through their collection of pretty ceramics, magazines, and other household supplies on their shelves.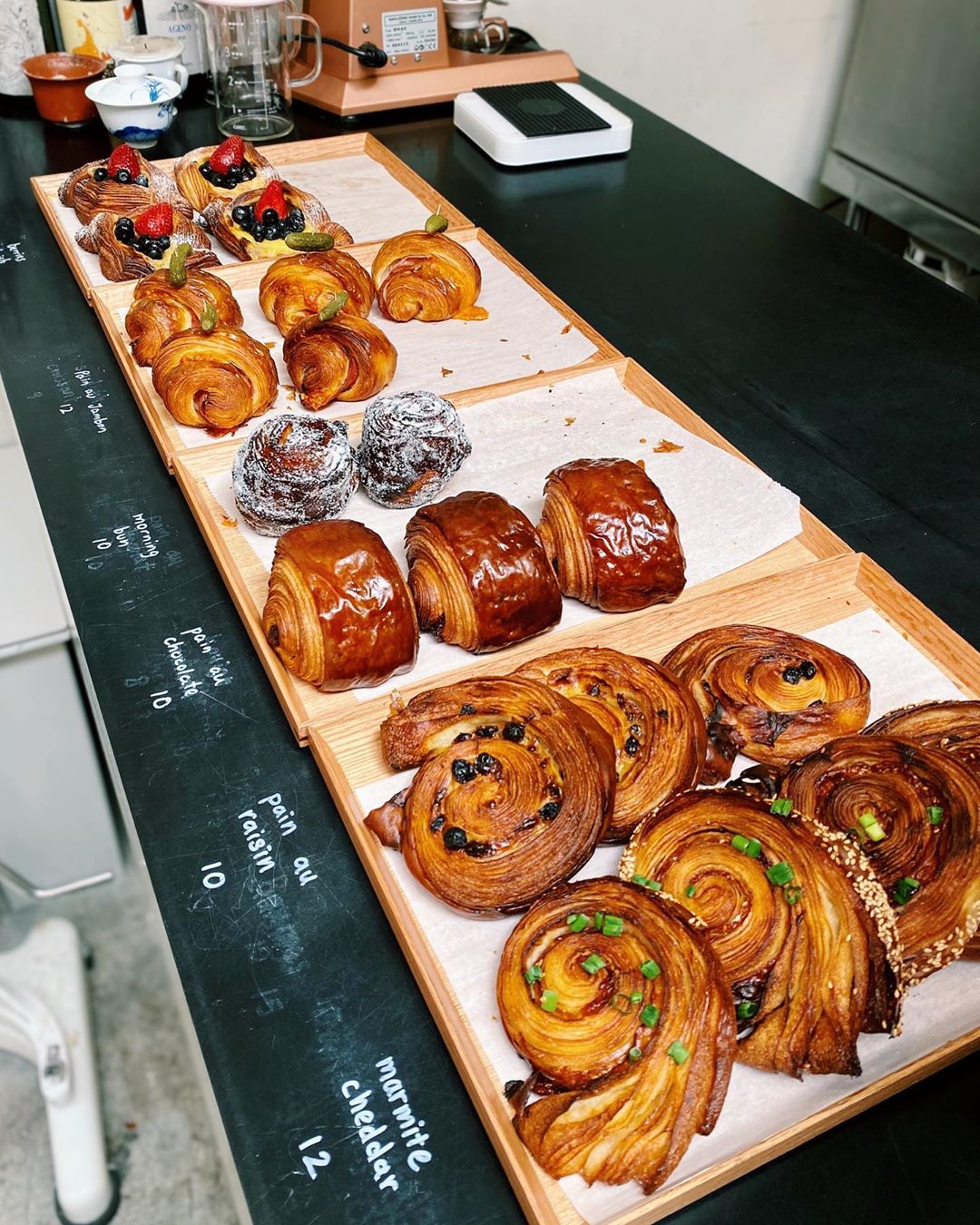 Image credit: @food.raeservation
You won't be able to resist getting a pastry or 2 once you walk past their display counter. Not only do they smell great, but they also look pretty darn good. We've got our eyes on the Marmite Cheddar (RM12), which offers a little sweet on salty action from the sharp cheddar filling and the caramelised sugar glaze on top. 
Their Pain Au Chocolate (RM10) is another tempting choice just from how hefty it looks. Once you bite into the crumbly layers, thick chocolate will come oozing out from the middle. 
You can't leave without getting a cup of their special tonic coffee. Go for the Black Tonic (RM15), made with a shot of espresso and fruity tonic water to add a muted sweetness to this caffeinated mocktail.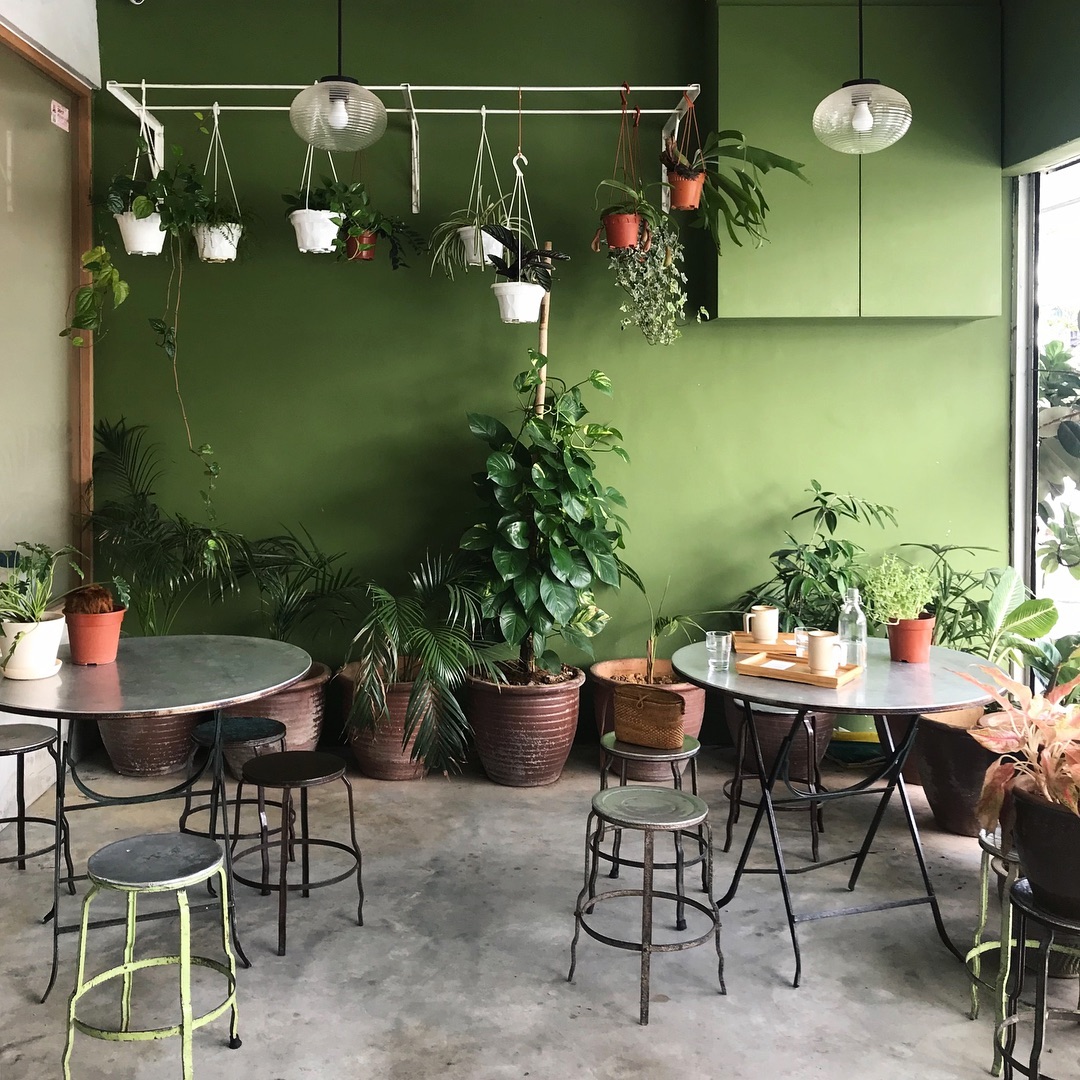 Their al fresco dining area has garden vibes with lots of potted plants
Image credit: @painaulait
Address: 17, Jalan 20/13, Taman Paramount, Petaling Jaya, 46300 Selangor
Opening hours: Sun –Fri 8AM-10.30PM | Sat 8AM-7PM
Telephone: 010-261 0588
One Half x ilaika Facebook
---
8. Kenny Hills Bakers – imported ingredients for quality produce
---
Kenny Hills Bakers ensures that all their baked treats are of high standard by importing stone-milled flour such as rye and spelt for a good quality dough base.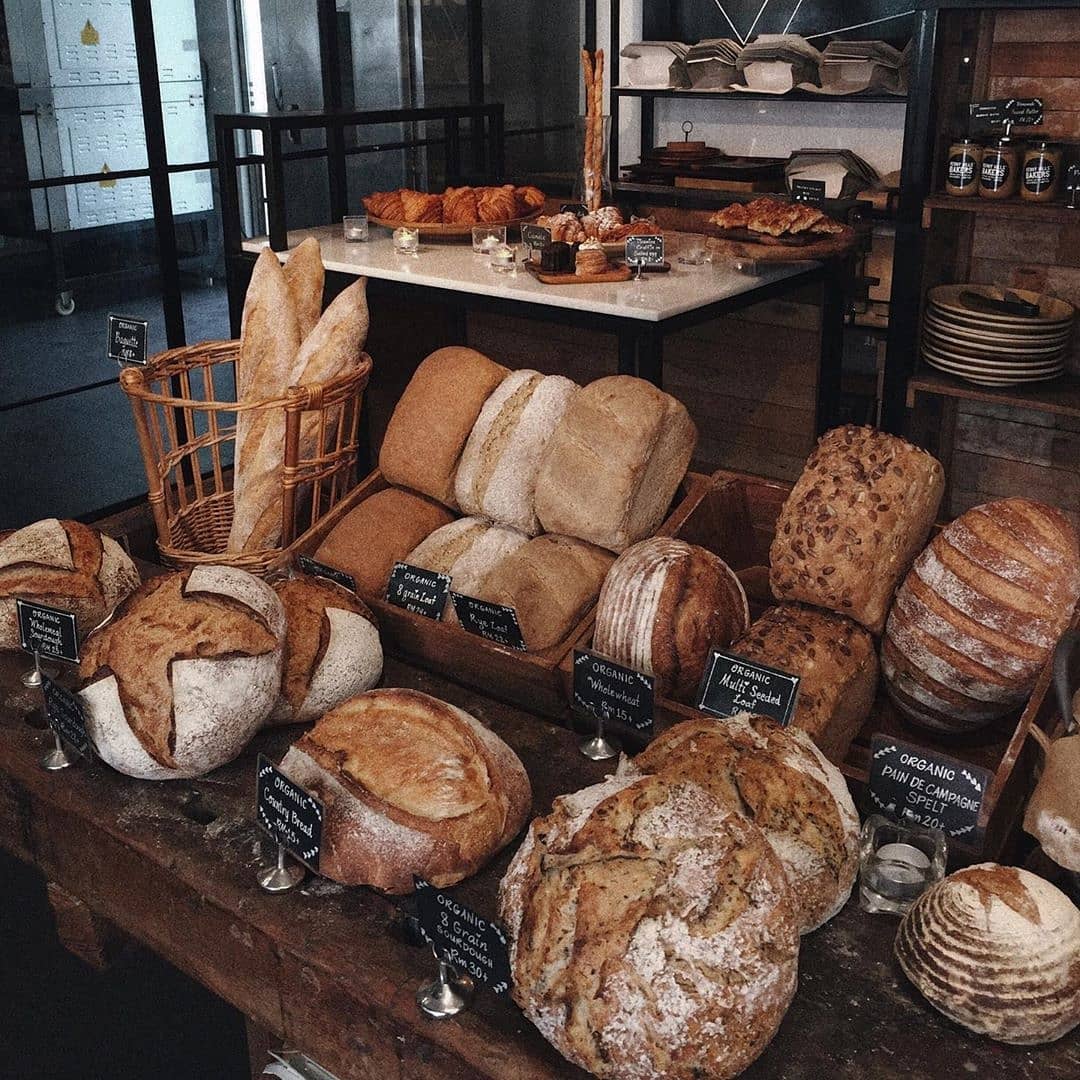 The rustic display counter filled with freshly baked loaves look like illustrations from old children's books
Image credit: @denicelai
You'll find the likes of Rye (RM18) and Spelt Sourdough (RM18) inside woven baskets and wooden crates on their display counter.
Apart from what you can see on the display counter, they also have a selection of pastries that are worth a try. Their Croissants (RM6) are dusted with powdered sugar and you can spot toasted almond slices tucked into the layers. Don't skip the Banana Almond Tarts (RM10) when you're here, especially if you're a fan of banana bread. 

Peach Strudel
Image credit: @spoonsofbutter
Another must-order is the Peach Strudel (RM16), which is what Kenny Hills Bakers have become known for. With the flaky pastry as a base, it's topped with mild Chantilly cream before juicy peach slices are arranged on top.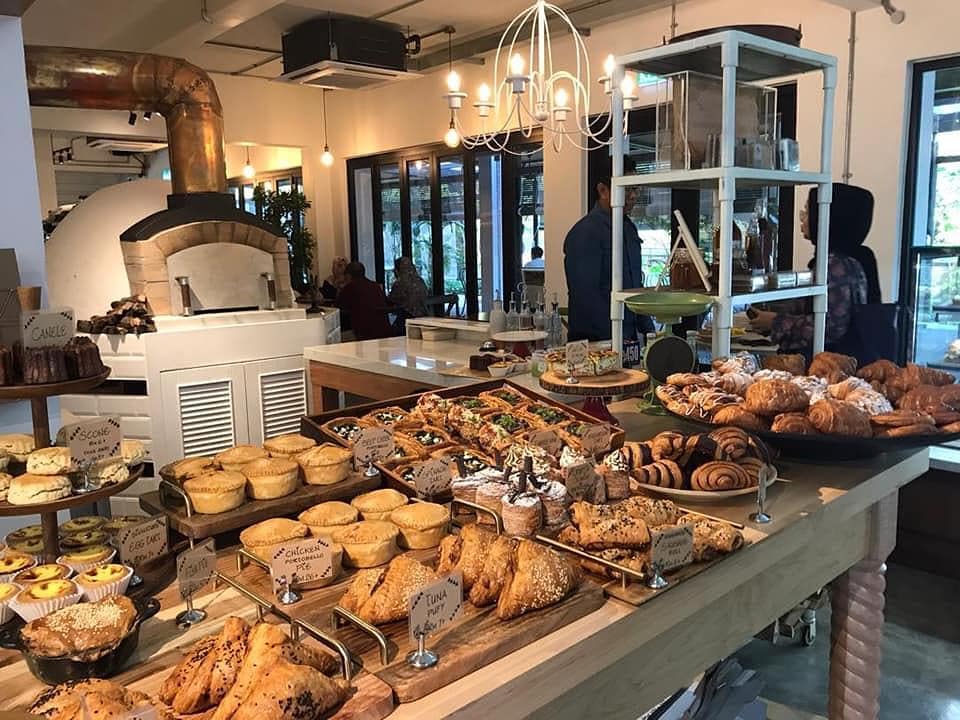 Image credit: Kenny Hills Bakers
Kenny Hills Bakers @ Ampang
Address: 241-B Lorong Nibong, Off, Jalan Ampang, 50450 Wilayah Persekutuan, WPKL
Opening hours: 8AM-8PM, Daily
Telephone: 03-4265 2020
Kenny Hills Bakers @ TTDI
Address: The Greens Terrace, Lot G-2 Taman Tun Dr Ismail TTDI, 60000 Kuala Lumpur
Opening hours: 8AM-8PM, Daily
Telephone:03-2703 7030
Kenny Hills Bakers Facebook
See other locations here.
---
9. Der Backmeister – little Germany in TTDI
---
Der Backmeister is the place to go to if you're hankering for some quality German bread and European pastries.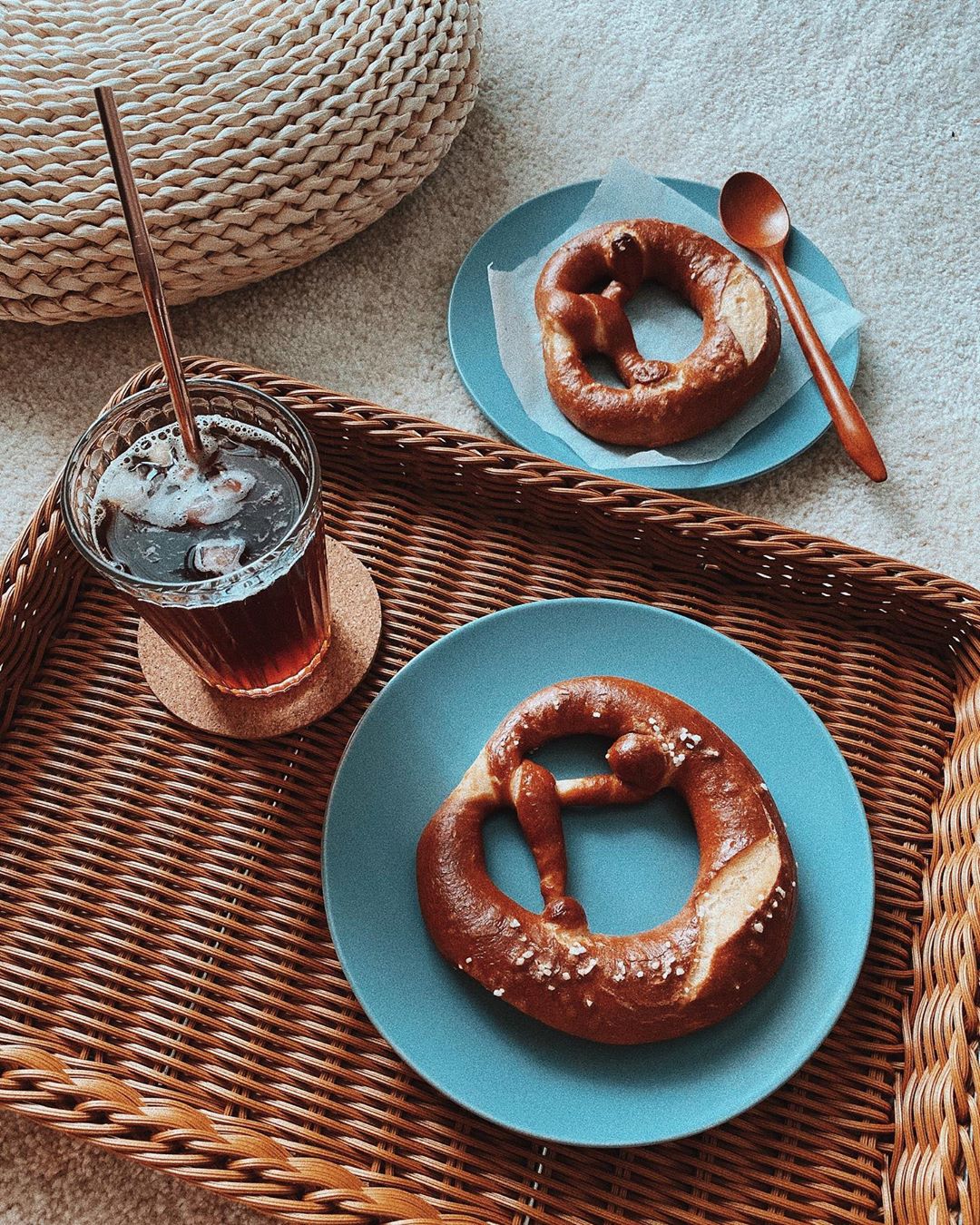 Image credit: @renaeyeo
These foreign treats from Der Backmeister is a nice change from some of the more common pastries we're used to seeing. Look out for their Pudding Danish (RM7), an European-style egg tart that has a creamy pudding centre.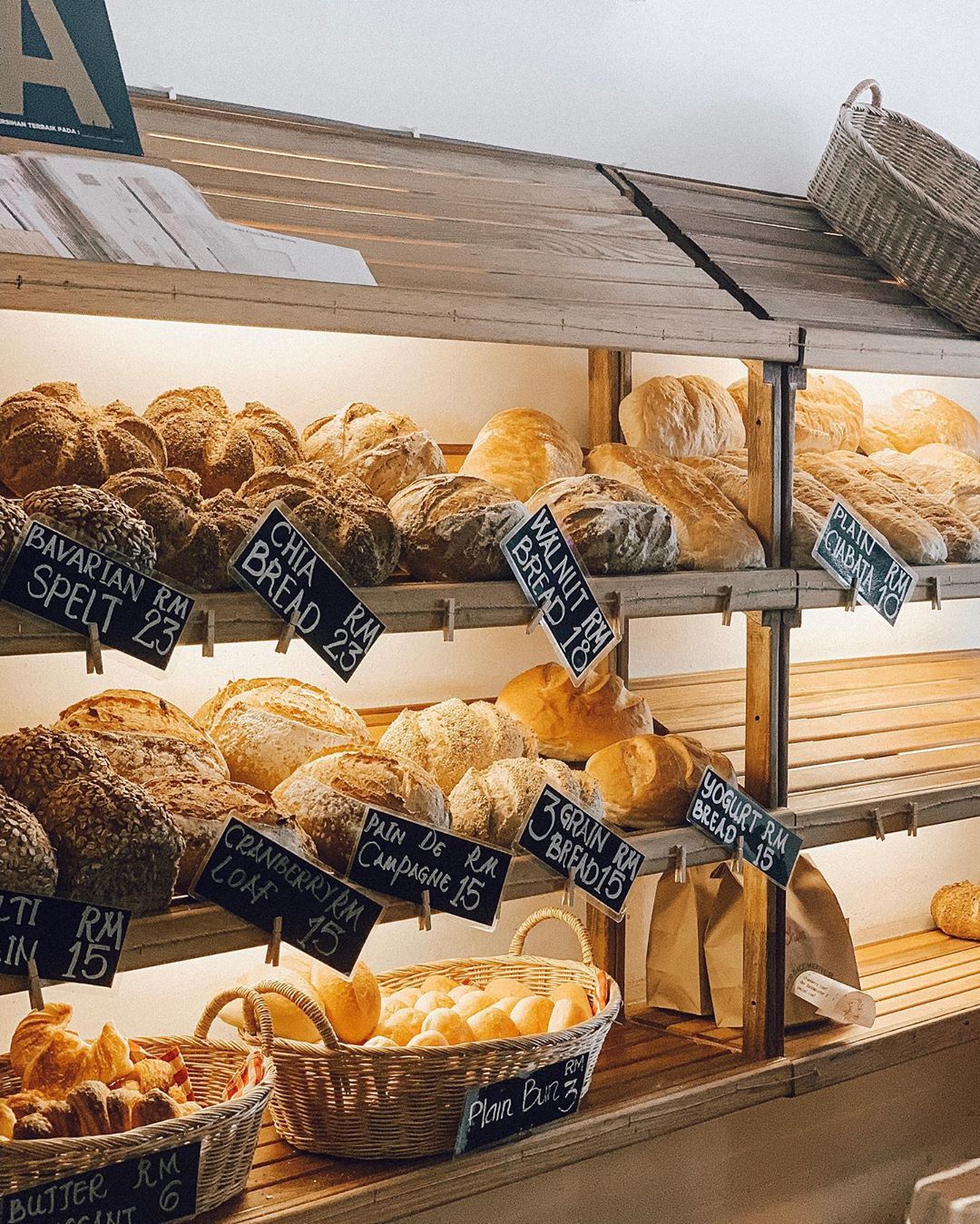 Image credit: @klpipipau
You can also bring home freshly baked bread loves if regular store-bought ones just aren't cutting it anymore. The 3 Grain (RM15) is a healthy alternative to white bread as it's packed with nutritious grains, while Plain Ciabatta (RM10) has a soft, chewy texture that makes it perfect to eat with soup or gravy. 
Der Backmeister @ TTDI
Address: 40, Persiaran Zaaba, Taman Tun Dr Ismail, 60000 Kuala Lumpur
Opening hours: Tue – Sun 8AM-5PM (Closed on Mondays)
Telephone: 03-2856 0613
Der Backmeister @ Ampang
Address: KPJ Ampang Puteri Hospital 1, Jalan Mamanda 9, 68000 Ampang, Selangor
Opening hours: 8AM-6PM, Daily
Telephone: 03-4265 0222
Der Backmeister @ Bangsar
Address: 37, Jalan Abdullah, Bangsar, 59000 Kuala Lumpur
Opening hours: Tue – Sun 8AM-5PM (Closed on Mondays) 
Der Backmeister website
---
[Closed] 10. The Lolla Co – a quiet cafe in the middle of a busy city
---
There are a ton of bakeries in KL and PJ, so it's easy enough to miss out on Lolla Co. This hidden gem in Ampang is a good place to retreat to when you just want to get away from busy crowds during the weekends.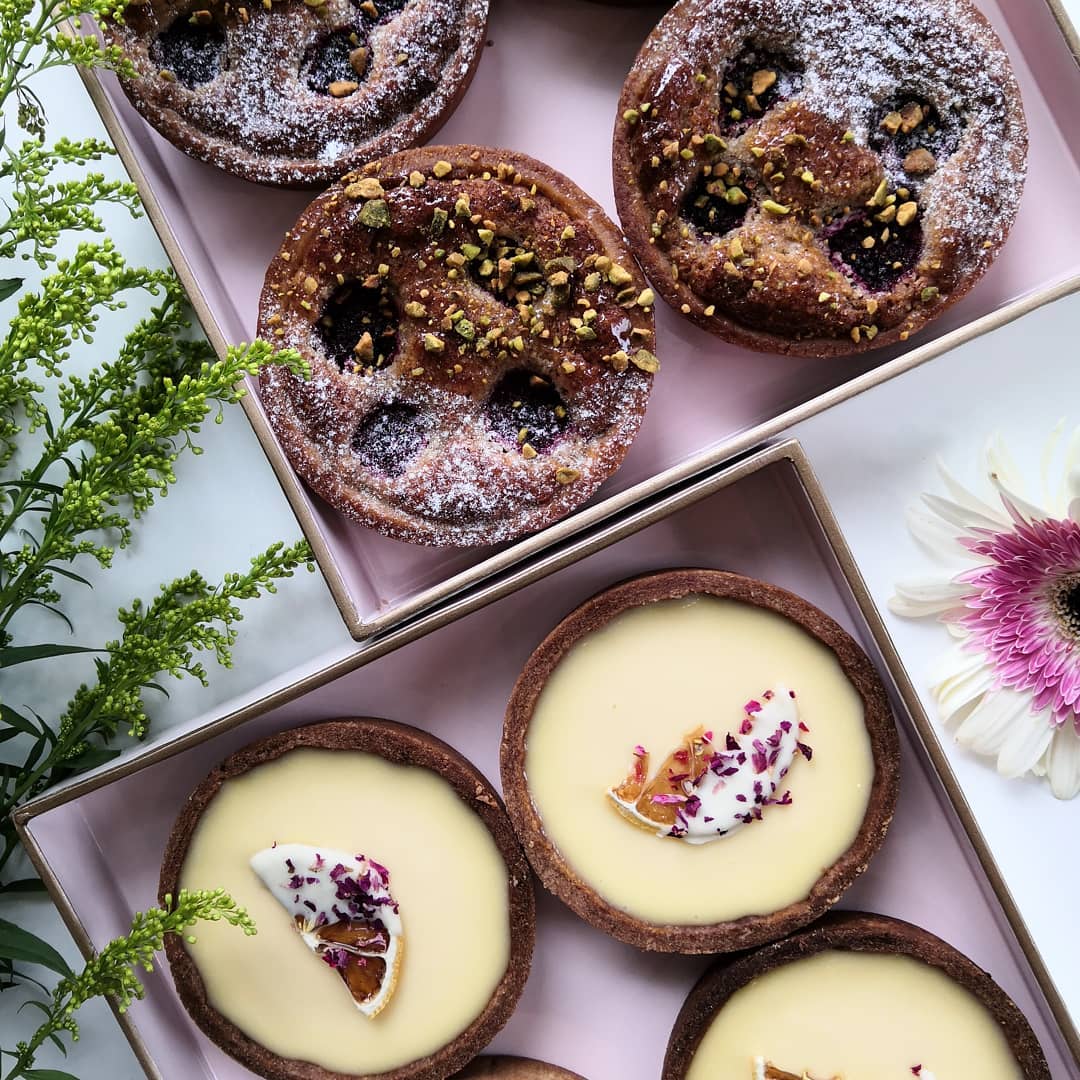 Aside from their hot food menu, they also whip up some baked goodies like these tarts.
Image credit: The Lolla Co.
Some of their top-notch pastries include Pain Au Chocolate (RM6) and Pain Au Raisin (RM6). The outer layer has been crisped up in the oven, which is what makes it so delightfully crumbly at first bite while the inside is loaded with chocolatey goodness.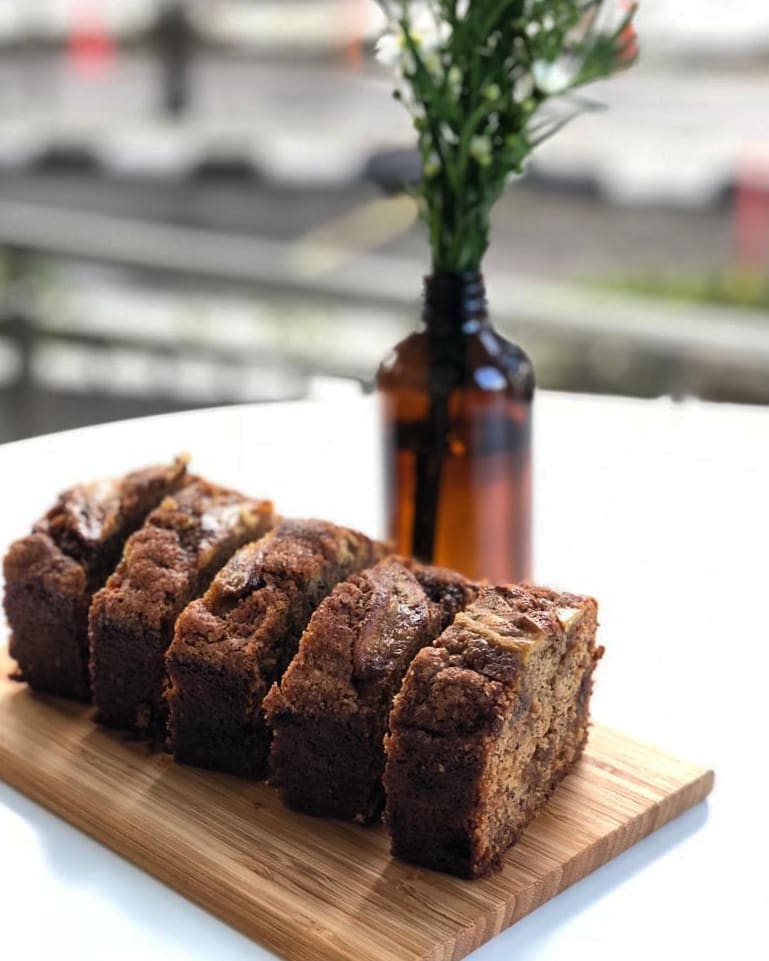 Image credit: @thelollaco
For more sweet treats, go for the crowd-favourite Toffee Banana Loaf (RM8). The one here is light and filled with toffee bits that aren't overly sweet.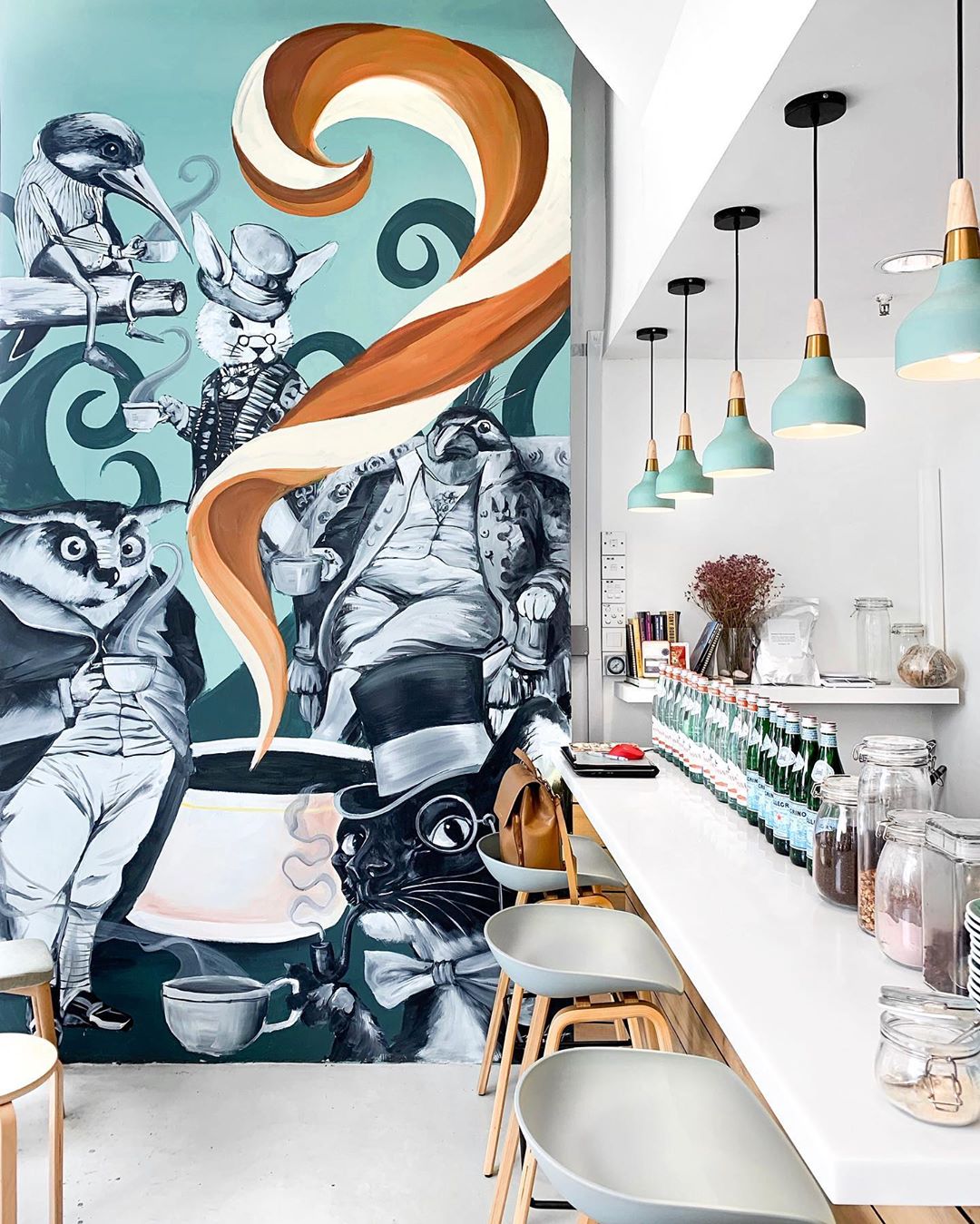 Image credit: @teeweiseng
Their main menu for hot foods is loaded with hearty grub like Avocado Toast (RM22). The large breakfast ensemble comes with 2 slices of sourdough toast packed with cherry tomatoes, avocado, and feta cheese. On the side, you'll find some roasted chickpeas and hummus. 
Address: G.01, The Ampwalk, 218, Jalan Ampang, 50450 Kuala Lumpur
Opening hours: Mon – Fri 7.30AM-6PM | Sat 9.30AM-5PM (Closed on Sundays)
Telephone: 03-2856 8726
---
11. Lisette's Cafe & Bakery – massive spread of savoury and sweet treats
---
Many know Lisette's for their brunch buffets (from RM35) and a huge spread of delectable baked goods.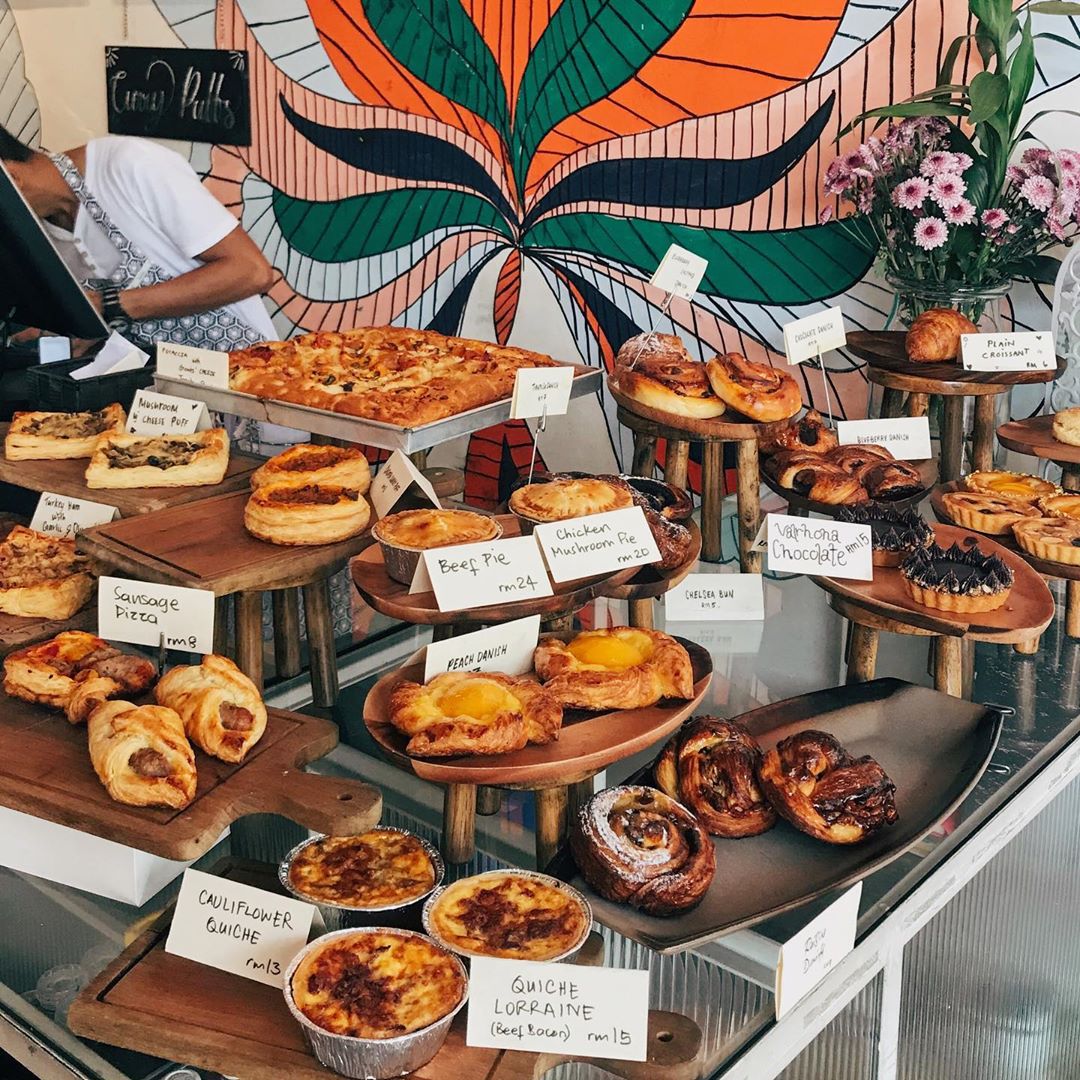 Image credit: @eaterykl
They churn out freshly baked loaves and appetising pastries every day. You can look forward to savoury bites like Quiche Lorraine (RM15), which is made with beef bacon, and filling options like Chicken Mushroom Pie (RM20). 
They also have sweet pastries such as Valrhona Chocolate (RM15), an indulgent chocolate tart that can be shared among 2, and Plain Croissant (RM6), a flaky croissant that can be enjoyed with just a side of butter and jam.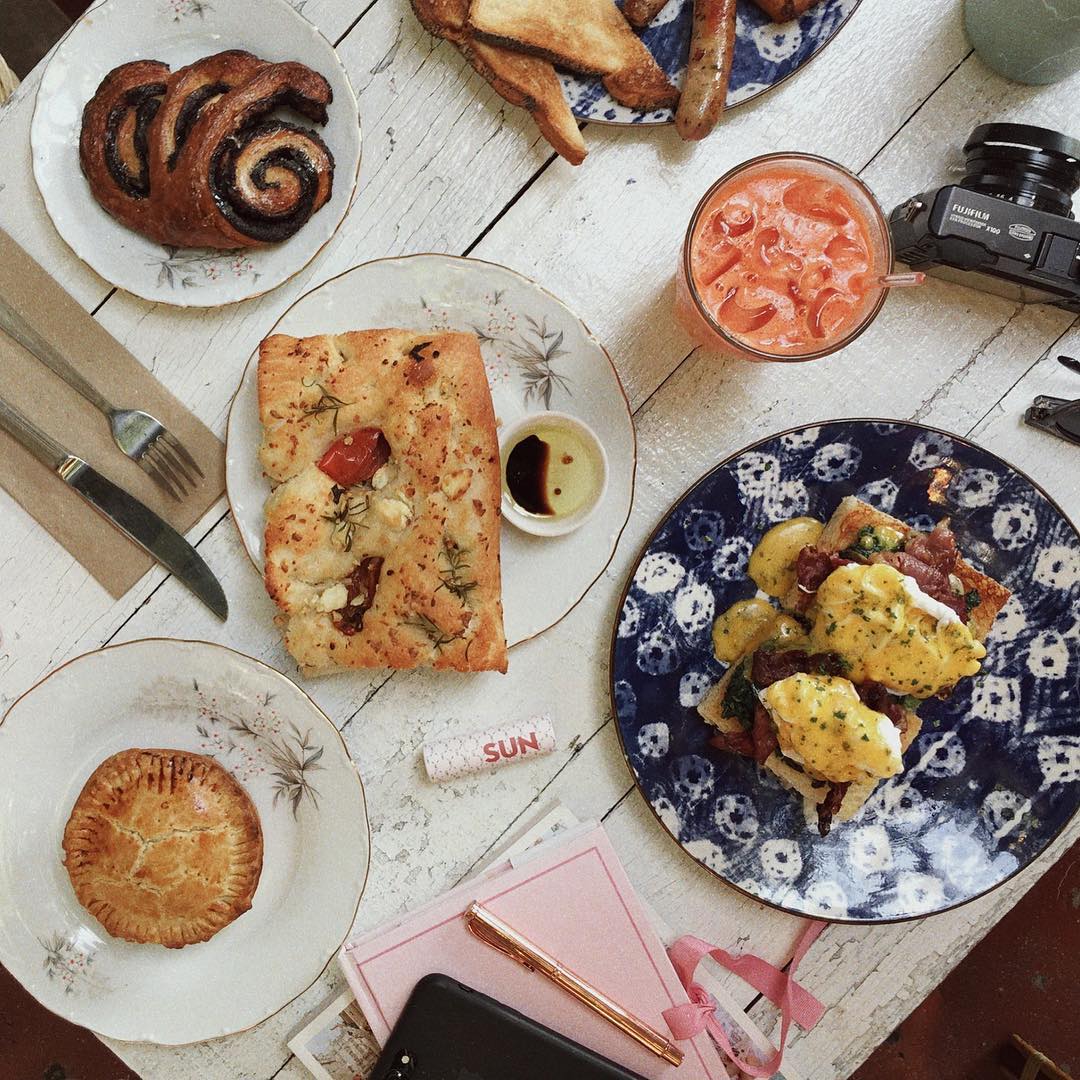 Image credit: @honestlyhani
The cafe is popular for their vegetarian-friendly options that extend to their main menu as well. For example, the Mumbai Eggs Kejriwal (RM22) is a big hit with customers. It comes with a slice of toast that's topped with spicy scrambled eggs, avocado, and eggplant. Over half their menu are vegetarian dishes, so you'll be spoiled for choice. 
Lisette's Bangsar
Address: No. 8A & 8B, Jalan Kemuja, Bangsar, 59000 Kuala Lumpur
Opening hours: 8AM-10PM, Daily
Telephone: 03-2201 7772
Lisette's Subang
Address: GK09, Ground Floor, Empire Shopping Gallery, Jalan SS16/1, 47500 Subang
Opening hours: 8AM-10PM, Daily
Telephone: 03-8602 1219
Lisette's website
---
Brunch at these bakeries in KL and PJ
---
When your routine breakfast of cereal and milk starts to feel a little dull, it's time to switch things up with these tasty treats that are fresh out from the oven. Great for pretty much any meal of the day, these bakeries in KL and PJ will lift your spirits as you recharge over the weekend before work the following Monday.
Here are some ideas on what you can do after you're done with your meal:
---
Cover image adapted from: @munaabella, @knotjustheadbandsmy, and @abesalim
This article was updated on 25th February 2022.
Get more stories like this!
Drop us your email so you won't miss the latest news.