Cafes in Puchong
---
When we're talking about foodie districts in Klang Valley, we can't miss out on Puchong and its wealth of cafes that can be found in the area. Besides the sprawling housing estates and the massive IOI Mall that stretches out into the highway, this part of Selangor is starting to catch the attention of foodies everywhere for its many delicious dining options.
If you'd like to take your coffee and brunch adventures outside of cafes in KL and PJ, we've compiled some of the best cafes in Puchong that are worth visiting: 
For other things to do in Klang Valley, check out these articles:
---
1. Souffle – fluffy souffle pancakes
---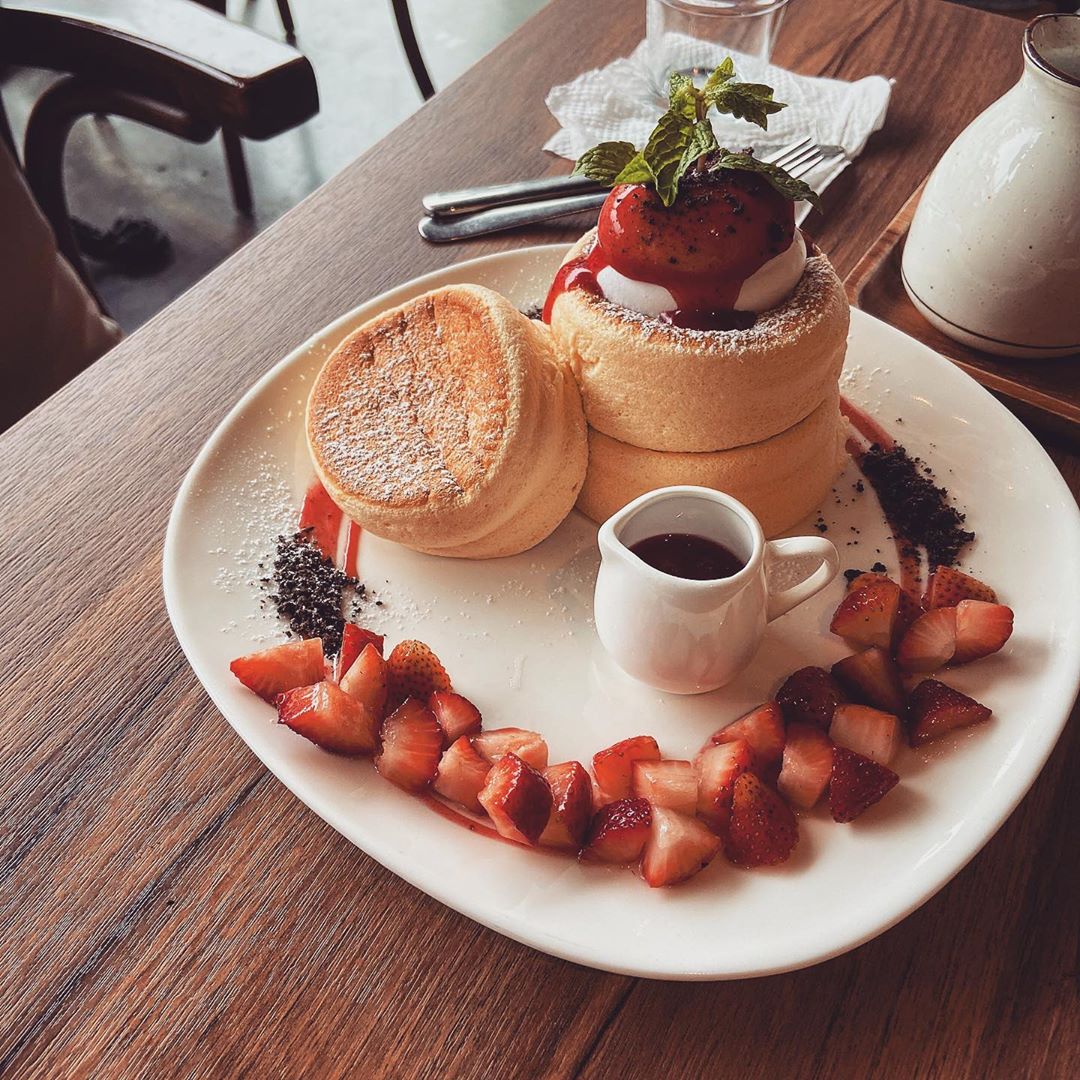 The Strawberry Souffle Pancake is a stunner with its gooey berry compote and cubed strawberries
Image credit: @mcooper_bb
Souffle is one of Puchong's busiest cafes and is also the first name most would mention when getting recommendations for the best Japanese-style pancakes. Each plate of the dessert comes with a stack of 3 pancakes that look just like giant toasted marshmallows – you can even spot them jiggling as the server carries it over to your table. 
Besides the Strawberry Souffle Pancake (RM20), those who like fruity flavours have plenty of options to choose from like Caramel Banana Souffle Pancake (RM18) and Mango Souffle Pancake (RM19). Otherwise, you can always go for the Matcha Red Bean Souffle Pancake (RM19) that comes with a side of matcha cream and sweet red beans.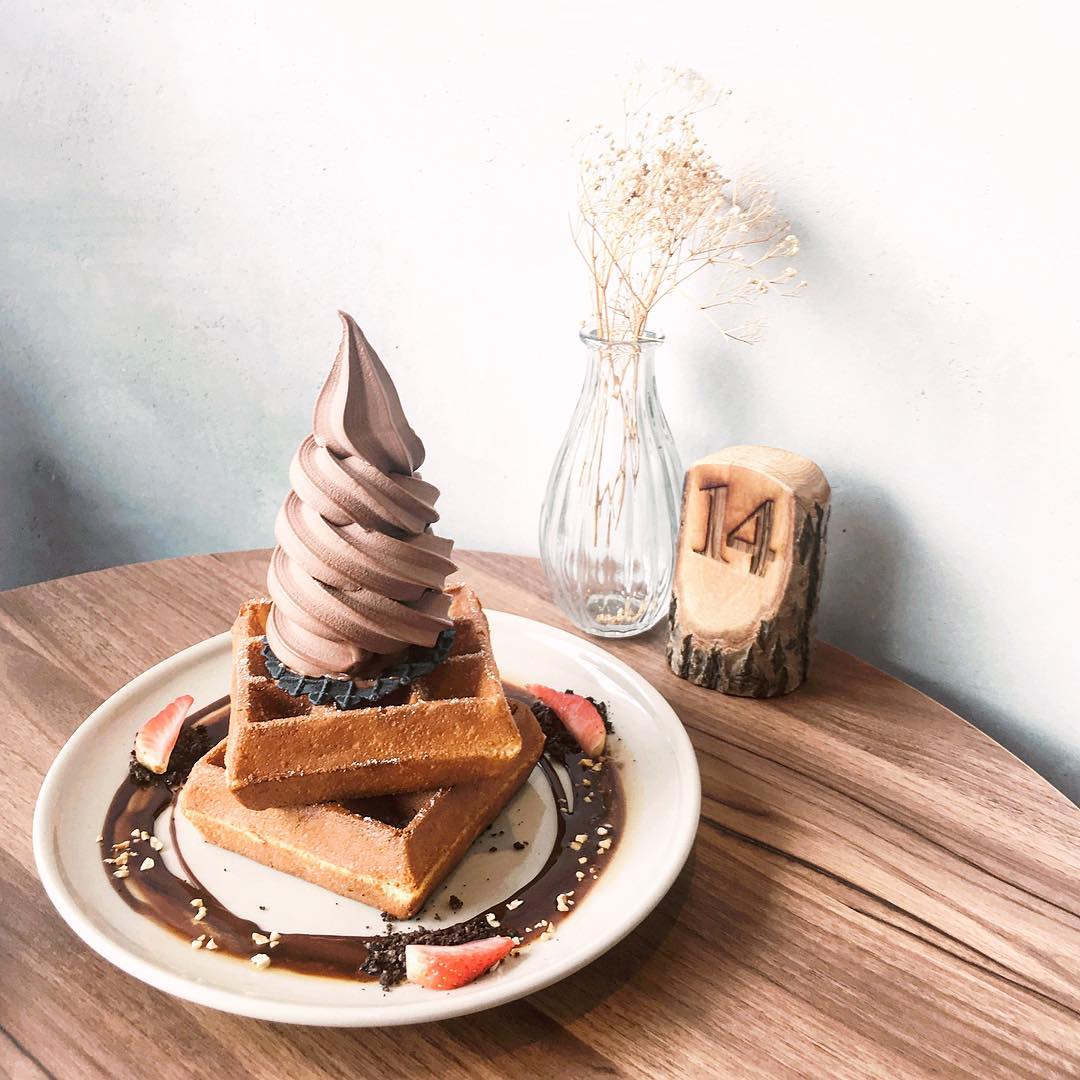 Image credit: @melissaluvfood
If you prefer having waffles (from RM15) over pancakes on the breakfast table, they have those too. Theirs' are generously thicker for a fluffier bite, so you'll be plenty stuffed even with just 2 pieces. The square pockets are also deeper to hold in more maple syrup – perfect for those of us who like it extra sweet.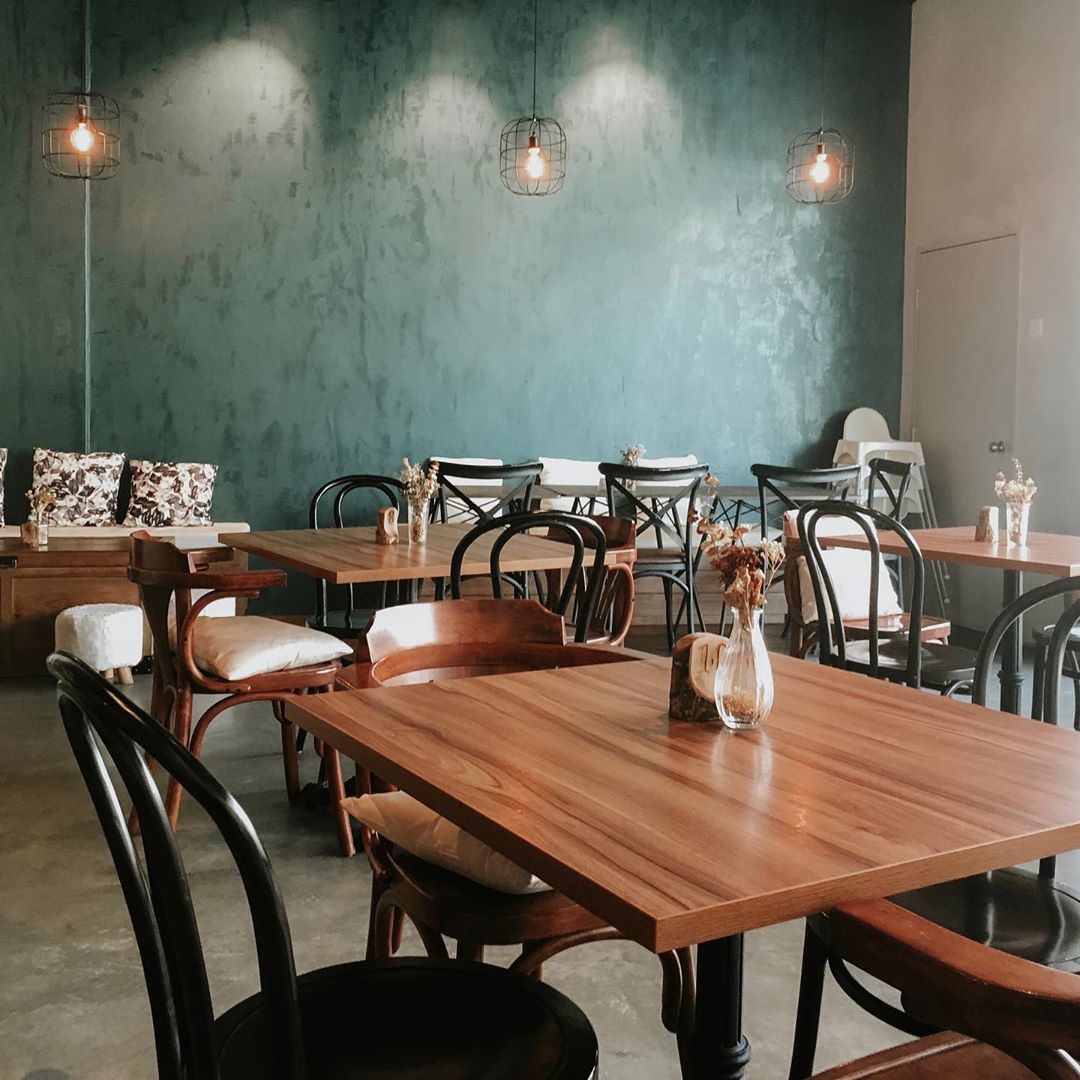 The textured teal wall and dried flowers on every table gives the place an elegant, semi-rustic feel
Image credit: @prinsayys_
Address: CS-1F-7, 1st Floor, Kompleks Kenari, Jalan Kenari 19a, Bandar Puchong Jaya, Selangor
Opening hours: Sun – Thu 2PM-11PM | Fri & Sat 2PM – 12AM (Closed on Tuesdays)
Contact: 03-5885 9237 | Souffle Facebook
---
2. Unicorn25 – Dutch baby pancakes and unicorn desserts
---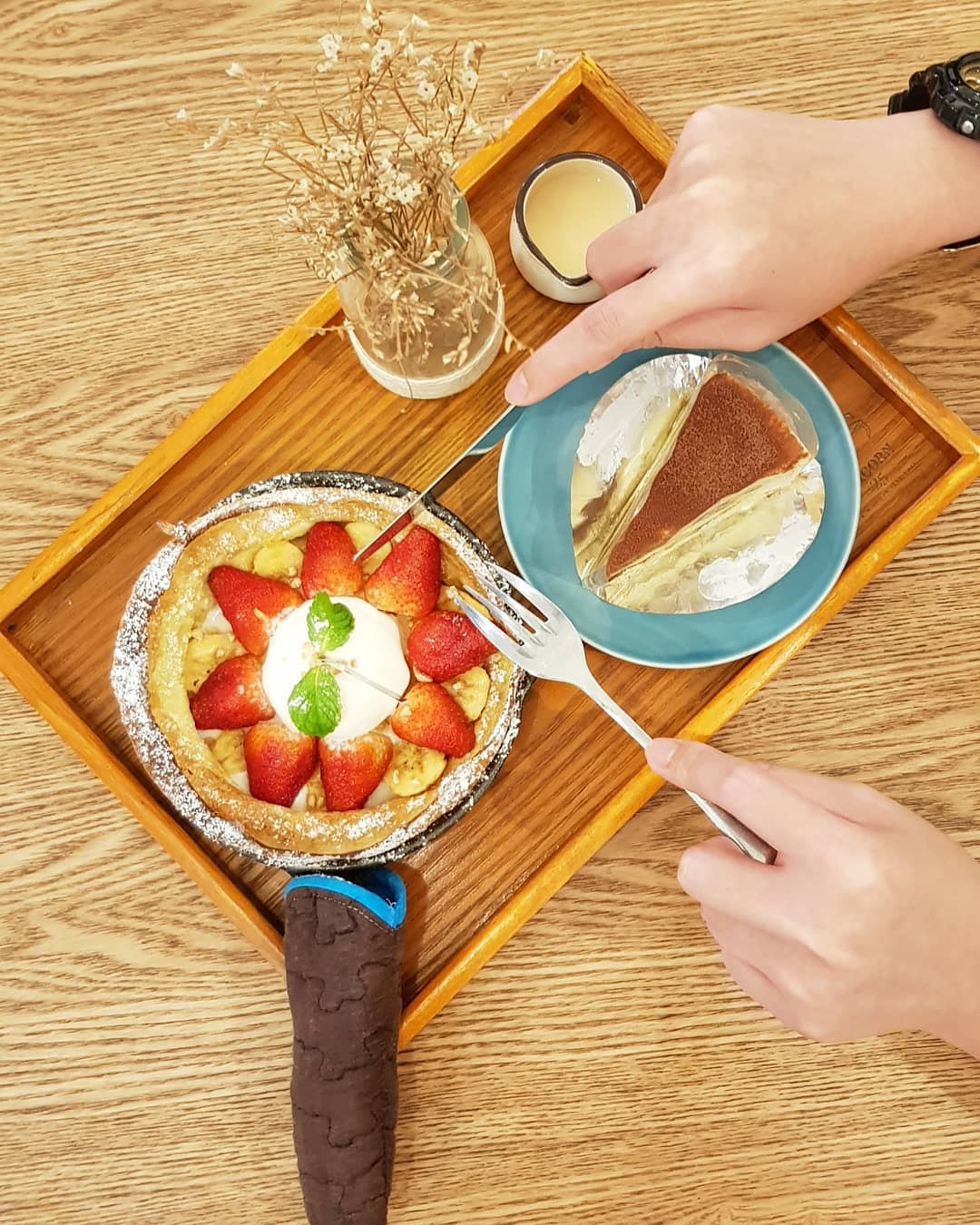 Dutch Baby Pancake (from RM18)
Image credit: @esthersee_89
Dutch Baby Pancakes (from RM18) could be the start of a new food trend in Malaysia. You may be expecting a regular plate of pancakes when you order this, but you'll be stunned when you see your "pancakes" served to you in a skillet. If you're intrigued by this foreign treat, head down to Unicorn25 as they're one of the few places that offer dutch baby pancakes.
It's made by pouring the batter into a hot skillet before it's placed into an oven for a couple of minutes. While a souffle gradually deflates after it's been served, these pancakes collapse the second it's taken out of the oven – what's left behind is a poofy centre with a crepe-like texture and crispy, golden edges.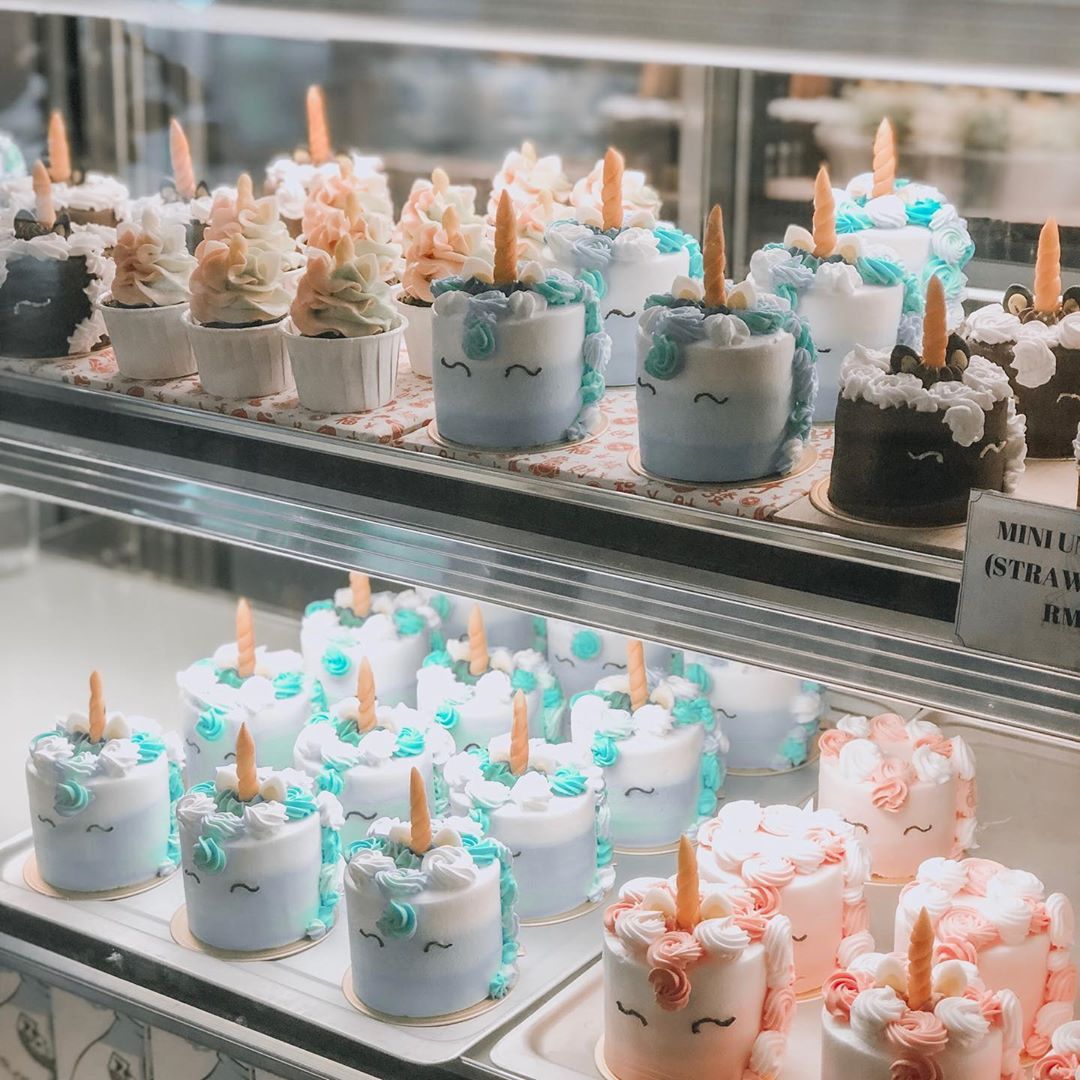 Image credit: @yu_jie12
With "unicorn" in their name, you can expect to find some adorable unicorn-themed desserts like their mini cakes. Each one comes with a gradient finish and is piped with beautiful swirls around before topped with a golden horn.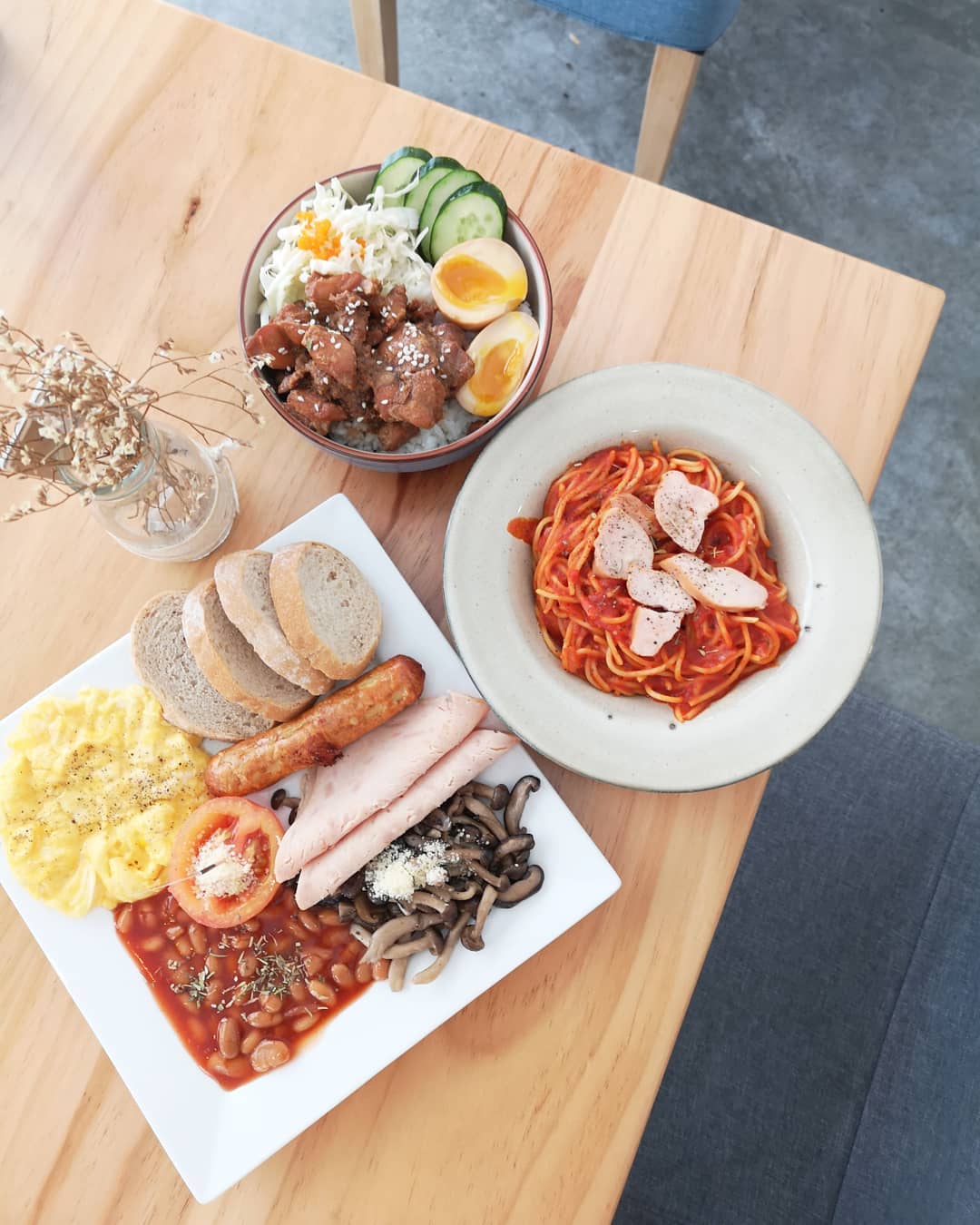 Image credit: @wenikooo
Before you indulge in these desserts, the cafe also has plenty of hot food for you to fill up on first. Their Super Big Breakfast (RM25) comes with 3 waffles, sauteed mushrooms, grilled tomato, ham, and sausages. For lighter eats, opt for Seafood Aglio Olio (RM15).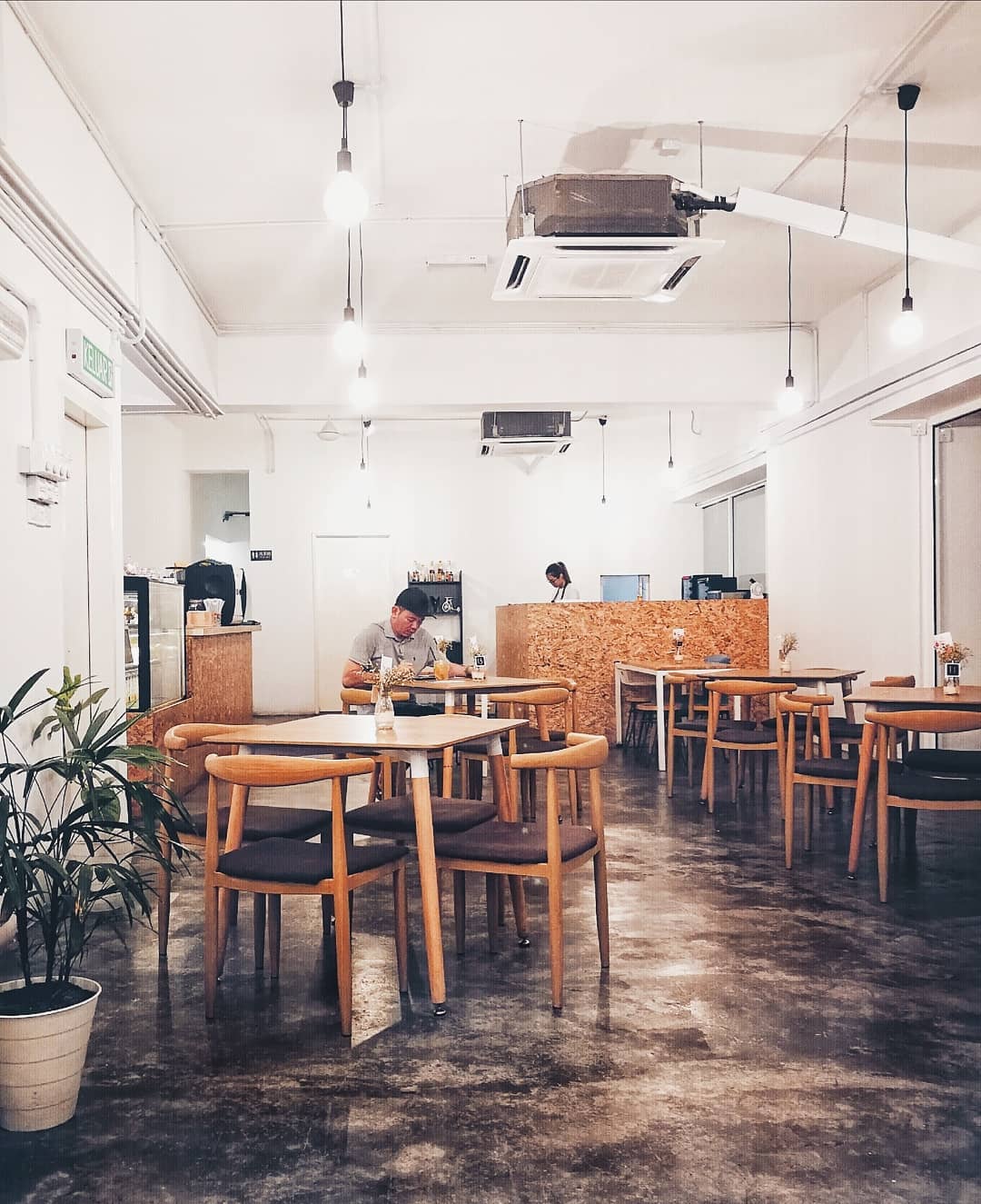 Image credit: @mielifestyle
Address: SS-01-19, Skypod Square, Persiaran Puchong Jaya Selatan, Bandar Puchong Jaya, 47100 Puchong, Selangor
Opening hours: Tue – Sun 9AM-5PM (Closed on Mondays)
Contact: 018-250 2452 | Unicorn25 Facebook
---
3. Walnut – roomy cafe with decadent mains
---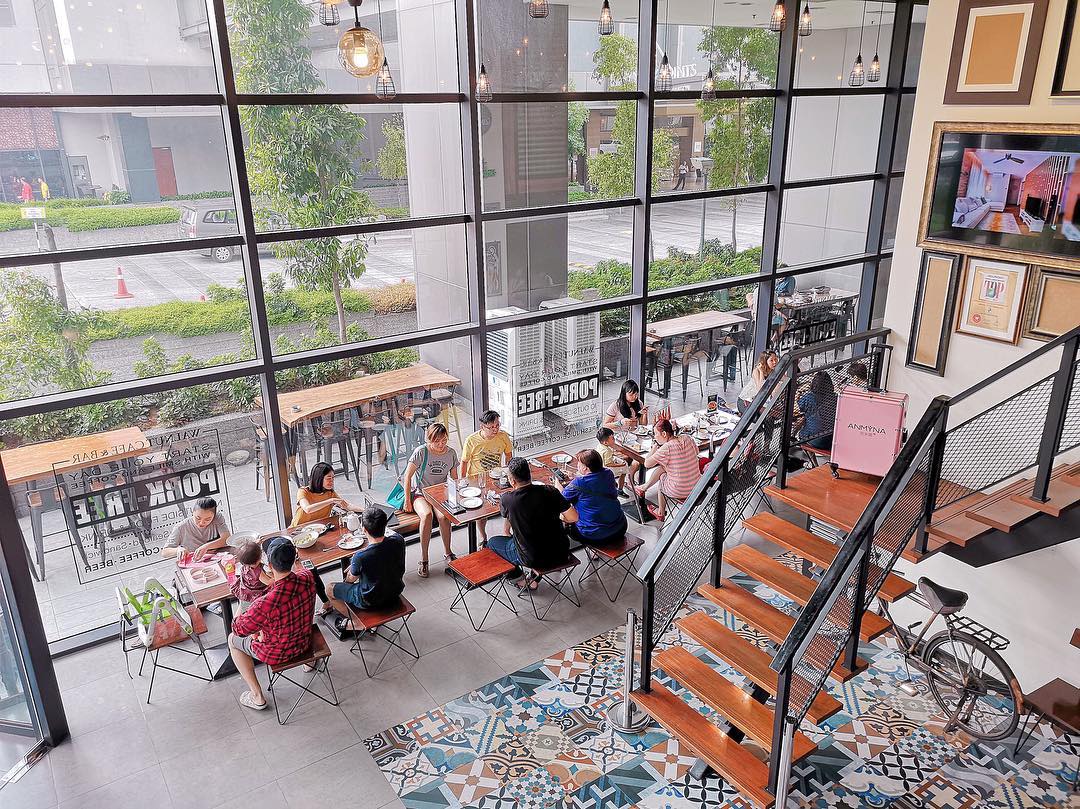 Little embellishments like the framed photos, patterned tiles, and vintage bike are homey additions to the decor
Image credit: @renqiqi
The first thing you'll notice as you enter Walnut is how huge the space is with its bevelled floor-to-ceiling windows and winding staircase up to the 2nd floor. With plenty of natural light and ample personal space, this is the kind of cafe you can comfortably spend your mornings in without worrying about being imposed on.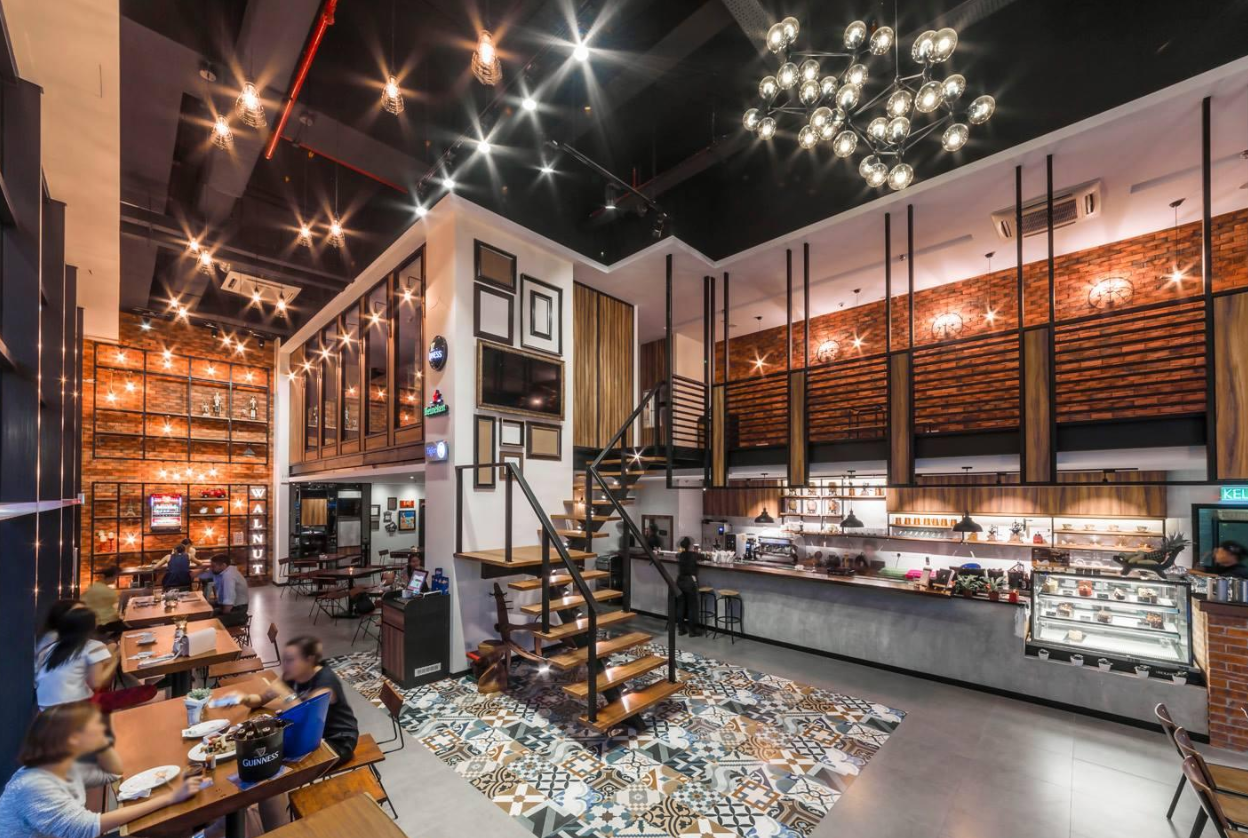 Image credit: Jiggae Jon

This pork-free cafe is right next to Puchong Financial Corporate Centre and Four Points hotel, making it a popular destination among businessmen and tourists alike.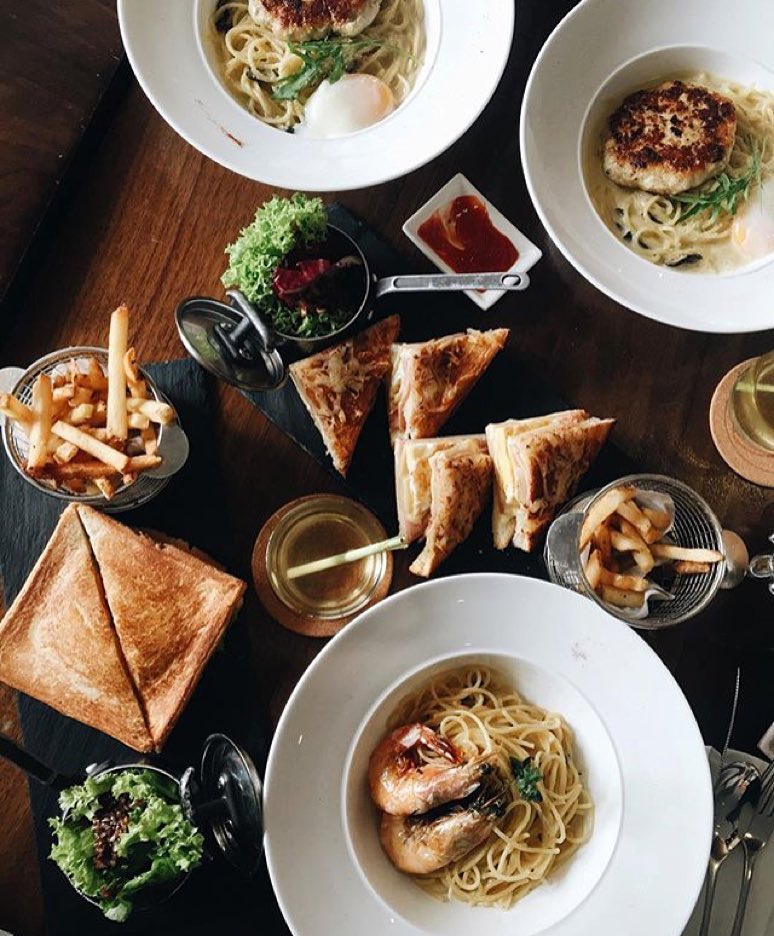 Image credit: @walnutcafebar
They're also a great spot for gatherings with friends or family as their extensive menu can cater to any preference or taste. You'll find that prices here are reasonable, even for their more premium selections such as Grilled Salmon (RM33.80).
Their starters, such as Wing Skeward (RM39.80) – sure to appease any fans of hot wings – are also worth a try. 
Address: G-10, Ground Floor, Tower 4&5, PFCC, Jalan Puteri 1/2, Bandar Puteri Puchong
Opening hours: 11AM-12AM, Daily
Contact: 03-8052 6607 | Walnut Cafe Facebook
---
4. The Depot by JWC – specialty coffee by award-winning baristas
---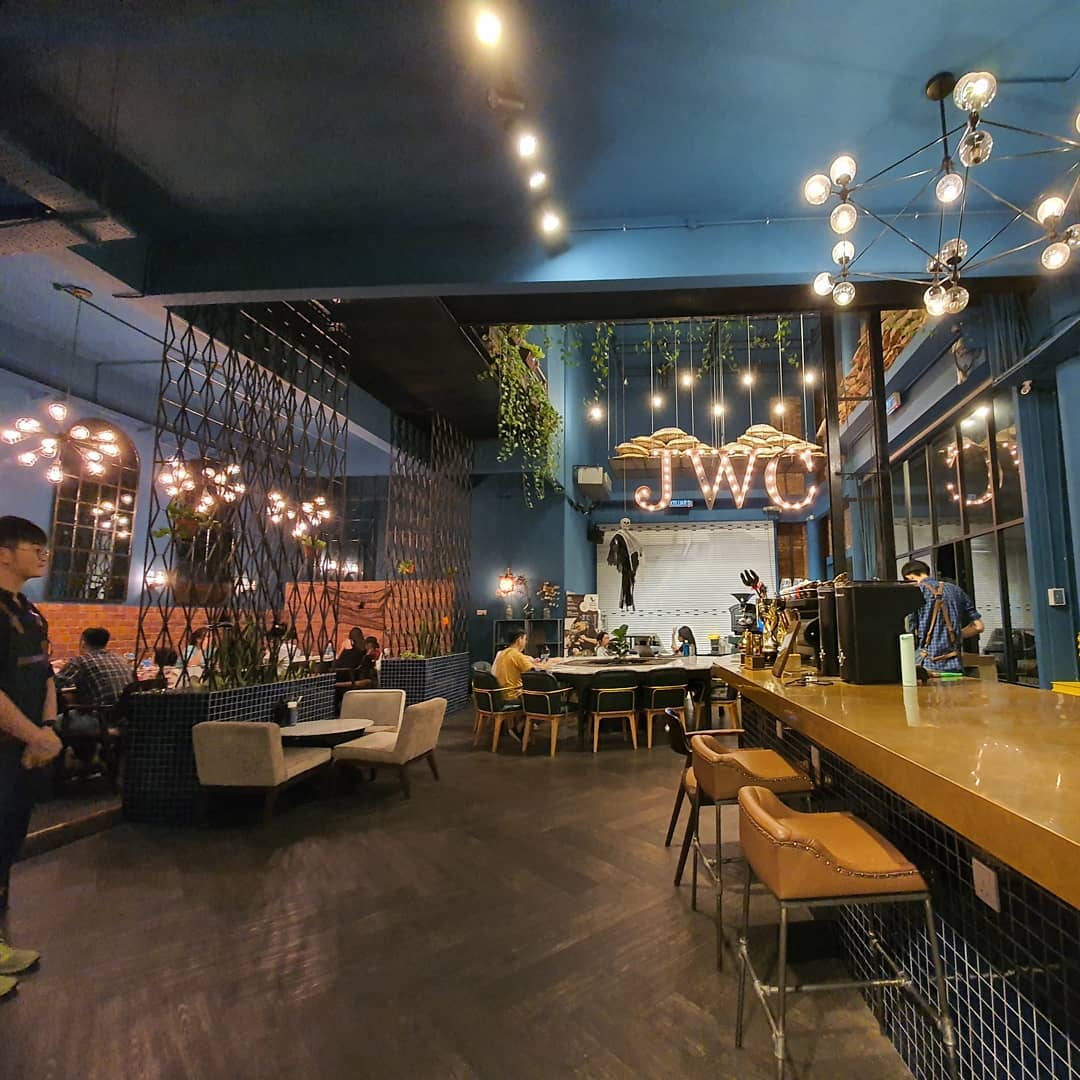 Image credit: @messecore
There are many different types of coffee drinkers, but whichever category you land in, you'll love the selection at The Depot. The cafe hailing from Johor Bahru roasts the beans and creates signature blends themselves. As the final cherry on top, they also have an arsenal of award-winning baristas to maintain their reputation.
To help you navigate through their extensive menu, here's what we recommend: Classic Cold Latte (RM16), Brandy Chocolate (RM15.90), and their list of specialty coffees that are imported from all over the globe.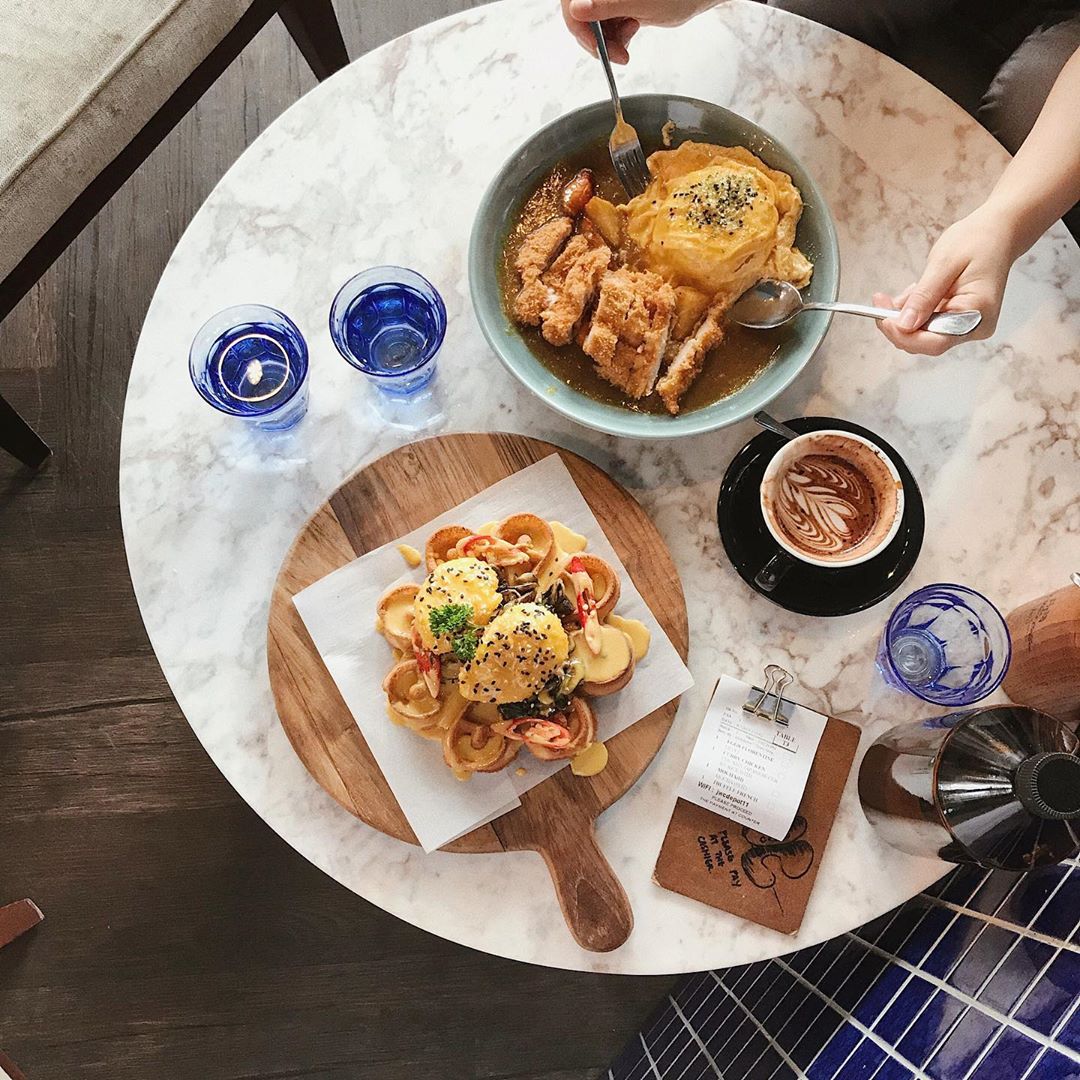 Pair your coffee with mains like Chicken Japanese Curry Rice with Scrambled Eggs (RM17.90) and a waffle for dessert
Image credit: @yeehonglee
Whether you're coming in for lunch or tea time, you'll be tempted to order some of their food. For first time diners, the Chicken Japanese Curry Rice with Scrambled Eggs (RM17.90) is a safe choice as it won't disappoint. You won't want to skip out on desserts either, especially when they have an entire selection of delectable waffles like Chocolate Dinosaur Waffle (RM19.50).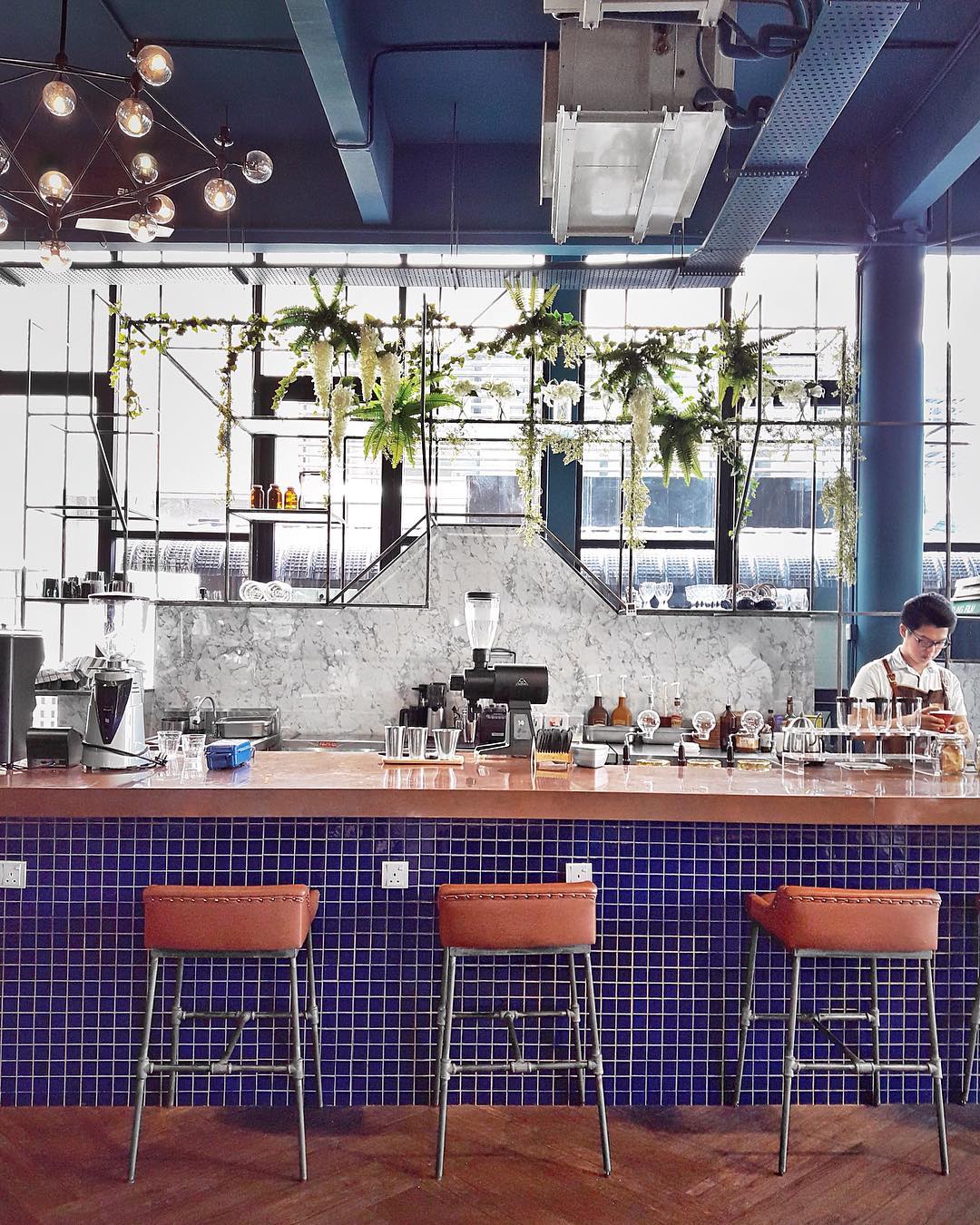 Image credit: @teeweiseng
Address: 11, Jalan PPU 2A, Taman Perindustrian Pusat Bandar Puchong, 47100 Puchong, Selangor
Opening hours: Tue – Sun 11AM-7PM (Closed on Mondays)
Contact: 03-8066 5627 | The Depot by JWC Facebook 
---
5. Ground Eatery – industrial vibes with a man-made indoor tree
---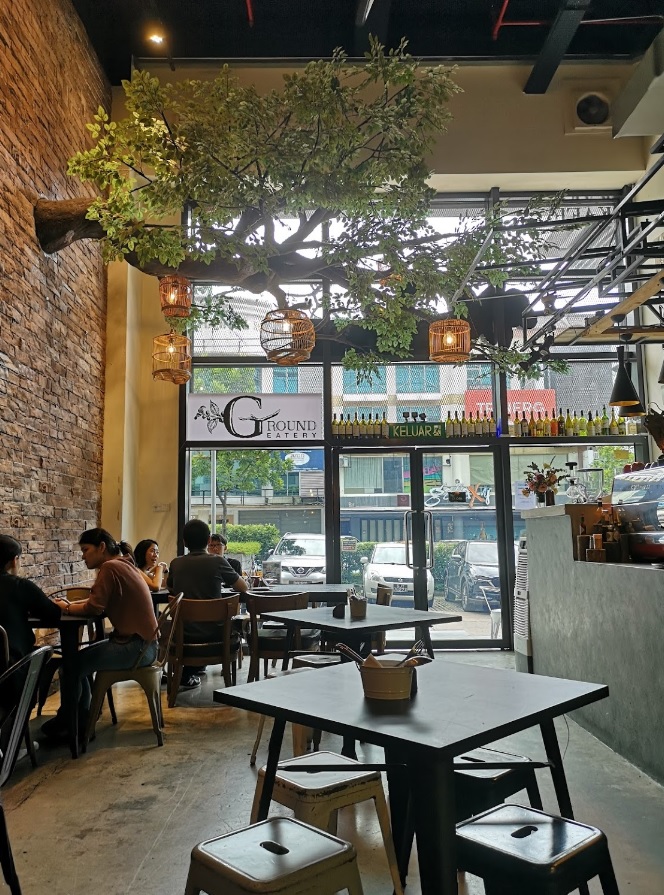 A tree branch with lanterns and a wooden bird cage hangs over diners
Image credit: Phoon Yiplynn
Ground Eatery is one of those cafes you wouldn't expect to find in this part of town, where just a couple years ago, you'd only have seen street food lining each street. They've kept the decor simple by just sprucing the place up with some plants to contrast the industrial grey floors and countertops.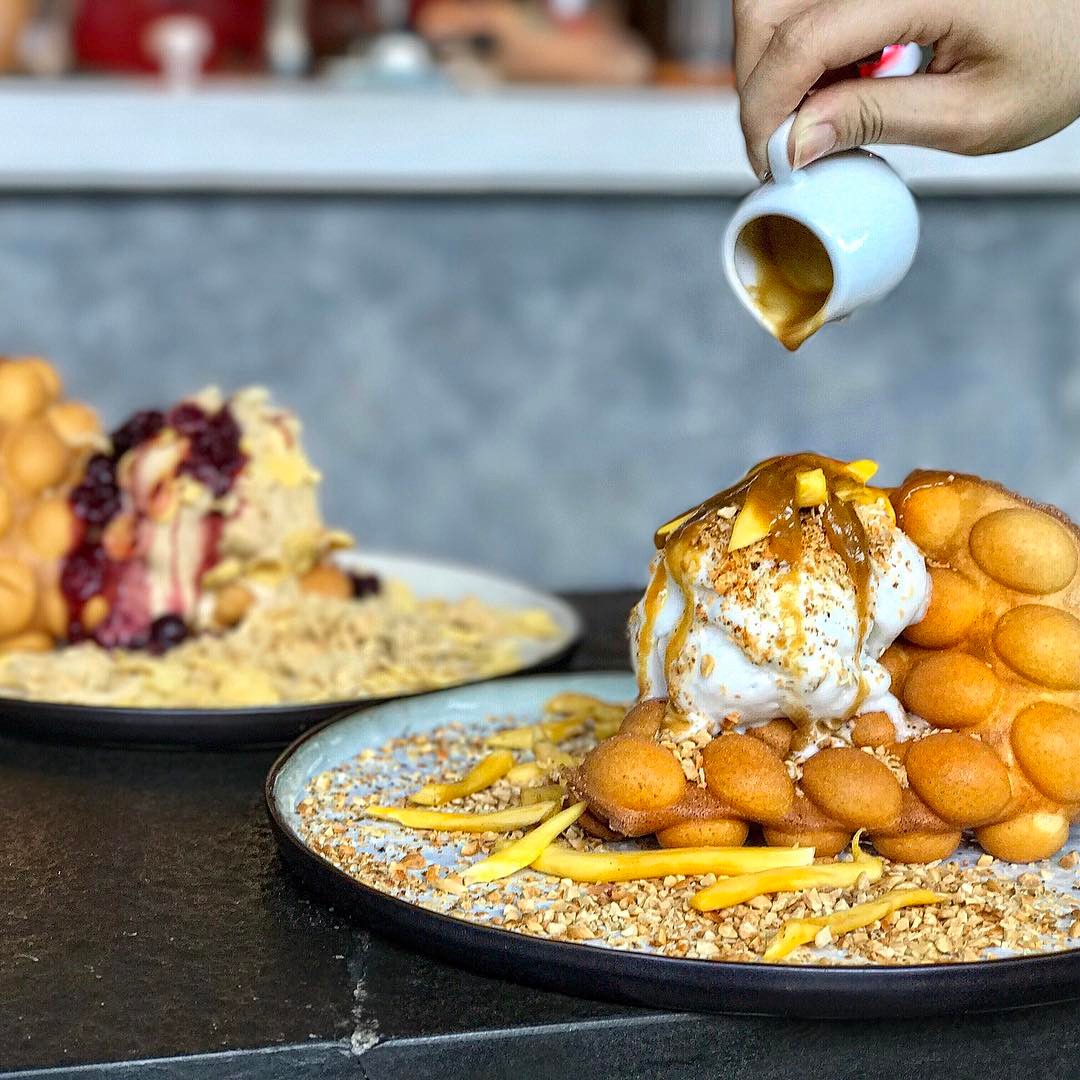 Jack The Baba HK Eggettes (RM20)
Image credit: @owenchia_lifediary
The dessert that brought them social media fame is none other than Jack The Baba HK Eggettes (RM20), a fun twist on the classic Hong Kong street food. It's served with thin slices of honey jackfruit, a heavy sprinkling of toasted peanuts, and topped with a scoop of refreshing coconut ice-cream.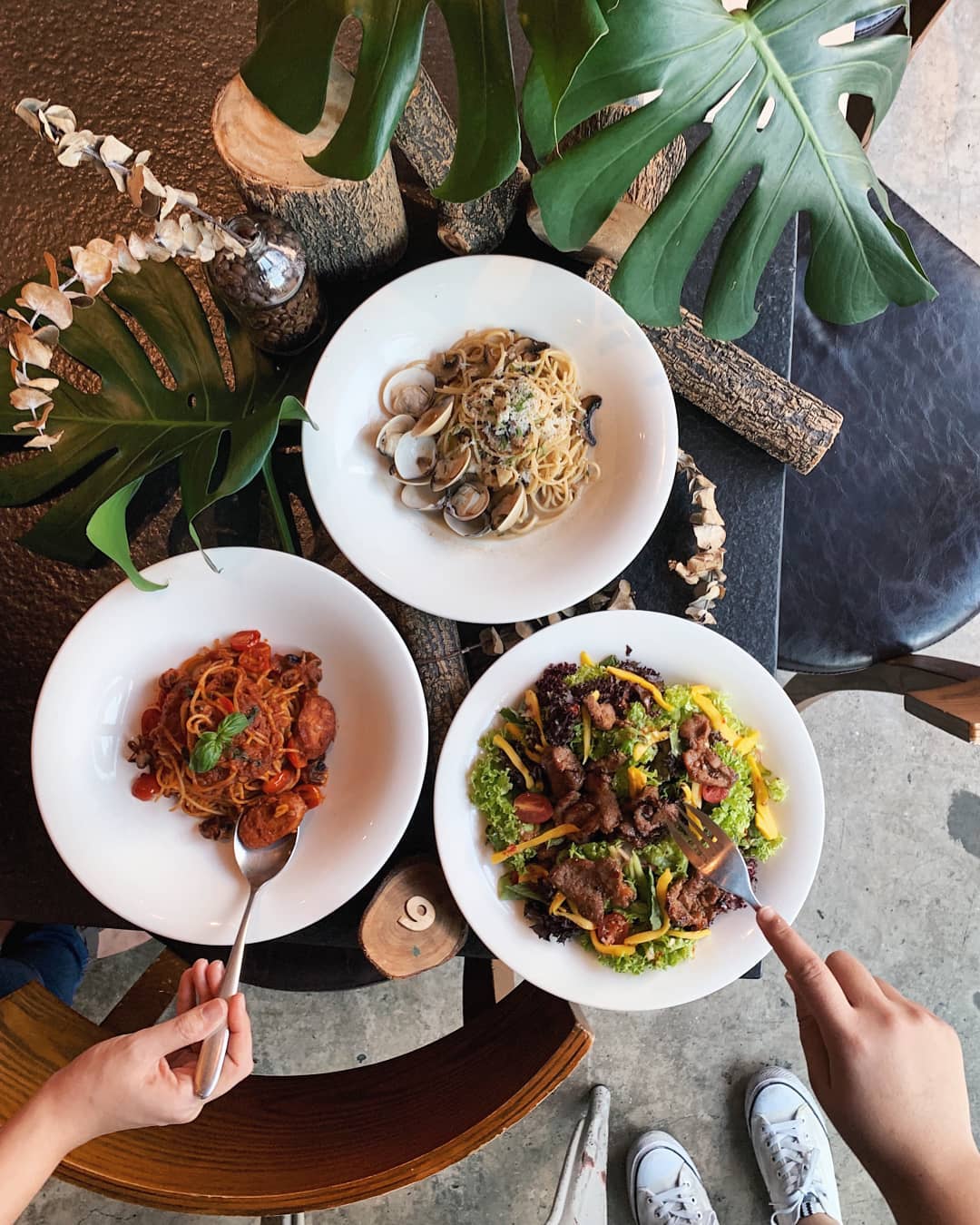 They have a ton of dishes for you to enjoy, ranging from pastas, pizzas, to even Chinese baos
Image credit: @groundeatery
Besides cafe staples like Smoked Duck Aglio Olio (RM20) and Big Brekkie (RM35), you can also look forward to trying some of Ground Eatery's more innovative dishes like Mentaiko Pasta (RM21). As for appetisers, don't miss out on the Signature Dino Eggs (RM20) which has always been a crowd-puller since its inception. 
Address: G-09, Ground Floor, Tower 4 & 5 PFCC, Jalan Puteri 1/2, Bandar Puteri, Puchong New Village, Selangor
Opening hours: Fri – Mon 11AM-9.30PM | Tue – Thu 12PM-9.30PM
Contact: 03-5879 7292 | Ground Eatery Facebook
---
6. Buranchi – authentic Japanese meal of rice in hot tea
---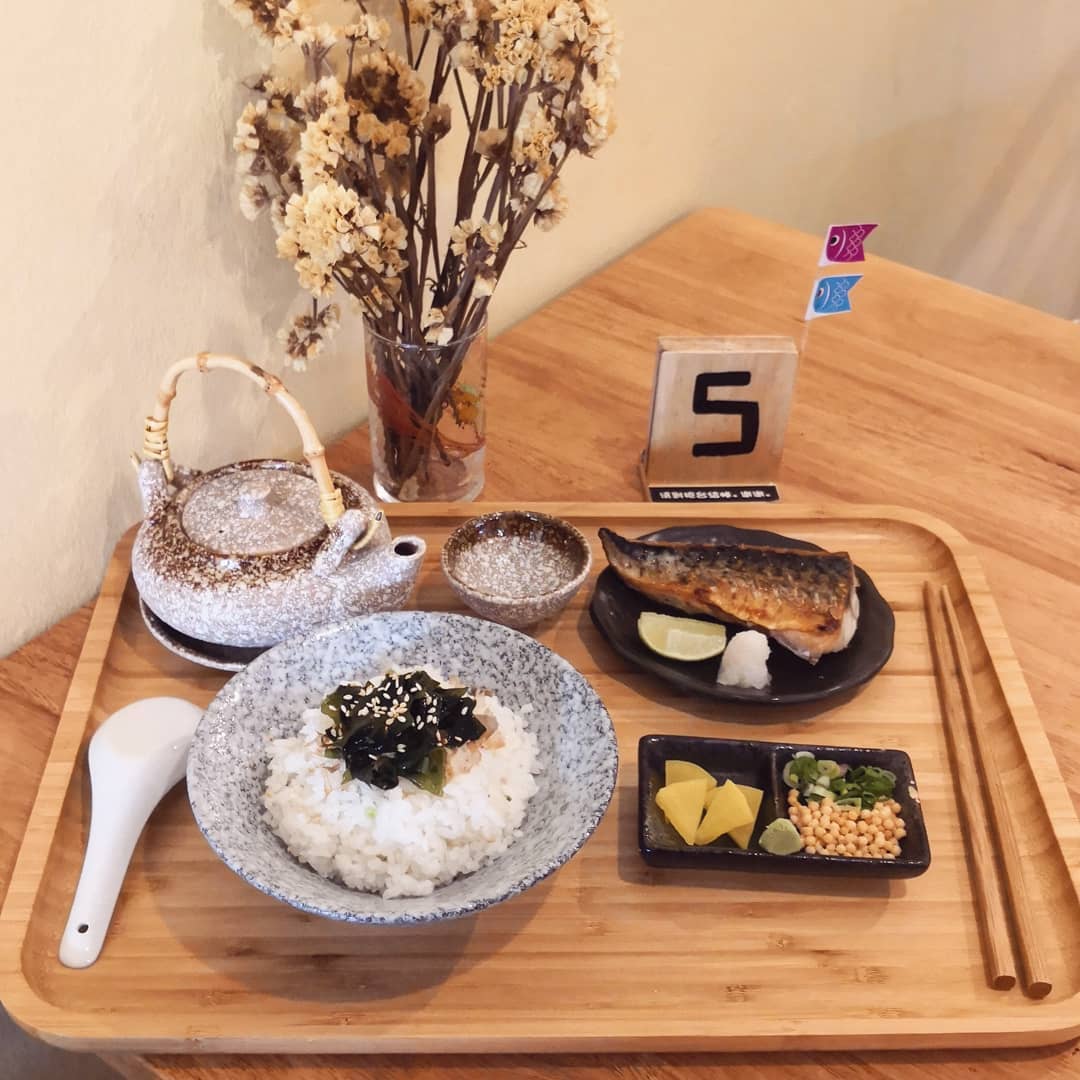 Image credit: @queeniewong989
It's hard to find a meal like this even in the city centre, where most Japanese places only serve the typical sushi or bento boxes. Buranchi in Bandar Puteri has Chazuke (from RM12) on their menu, which is a set meal that comes with a pot of tea, grilled saba fish, and side dishes. You're meant to eat this dish by pouring the tea into your bowl of rice a la thunder tea rice style.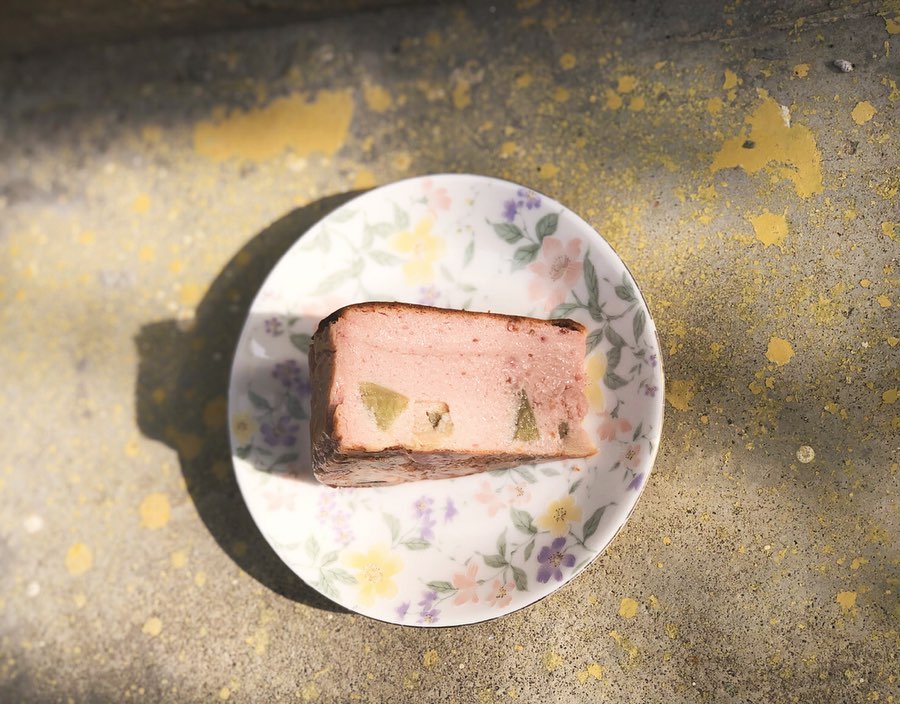 Image credit: @buranchi_
Switch to your second stomach once you're done with your main course to indulge in their handmade desserts, like this Sweet Potato Cake. It's made from Okinawa potatoes, hence the slight tinge of purple in each slice.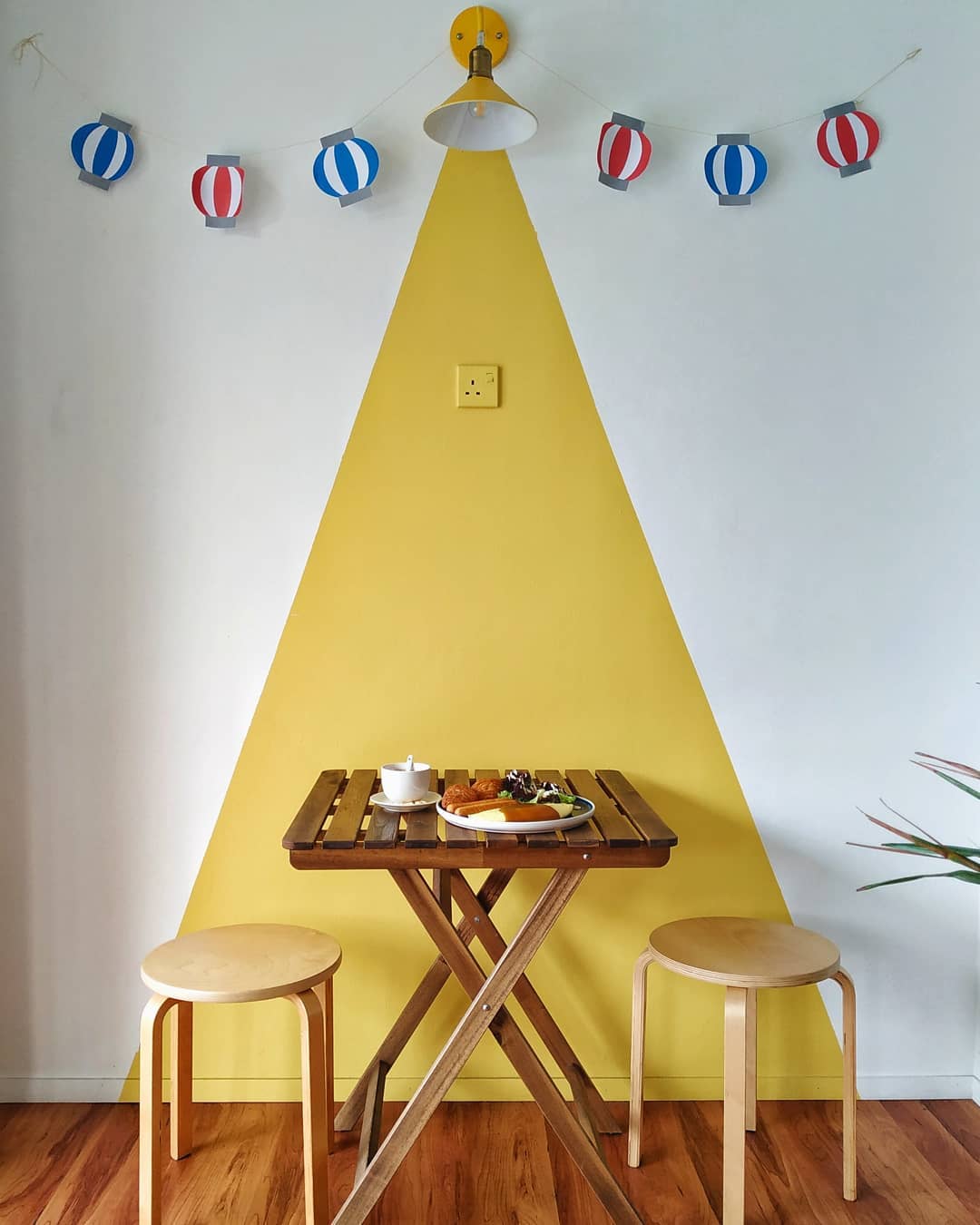 The cosy interior is brightened up by the splashes of colour here and there
Image credit: @lewyee_ng
Address: 72A-G, Jalan Puteri 5/5, Bandar Puteri, 47100 Puchong, Selangor
Opening hours: Tue – Sun 8.30AM-4PM (Closed on Sundays)
Contact: 03-5879 7341 | Buranchi Facebook
---
7. Sipping Corner – sweet cakes at a green sanctuary
---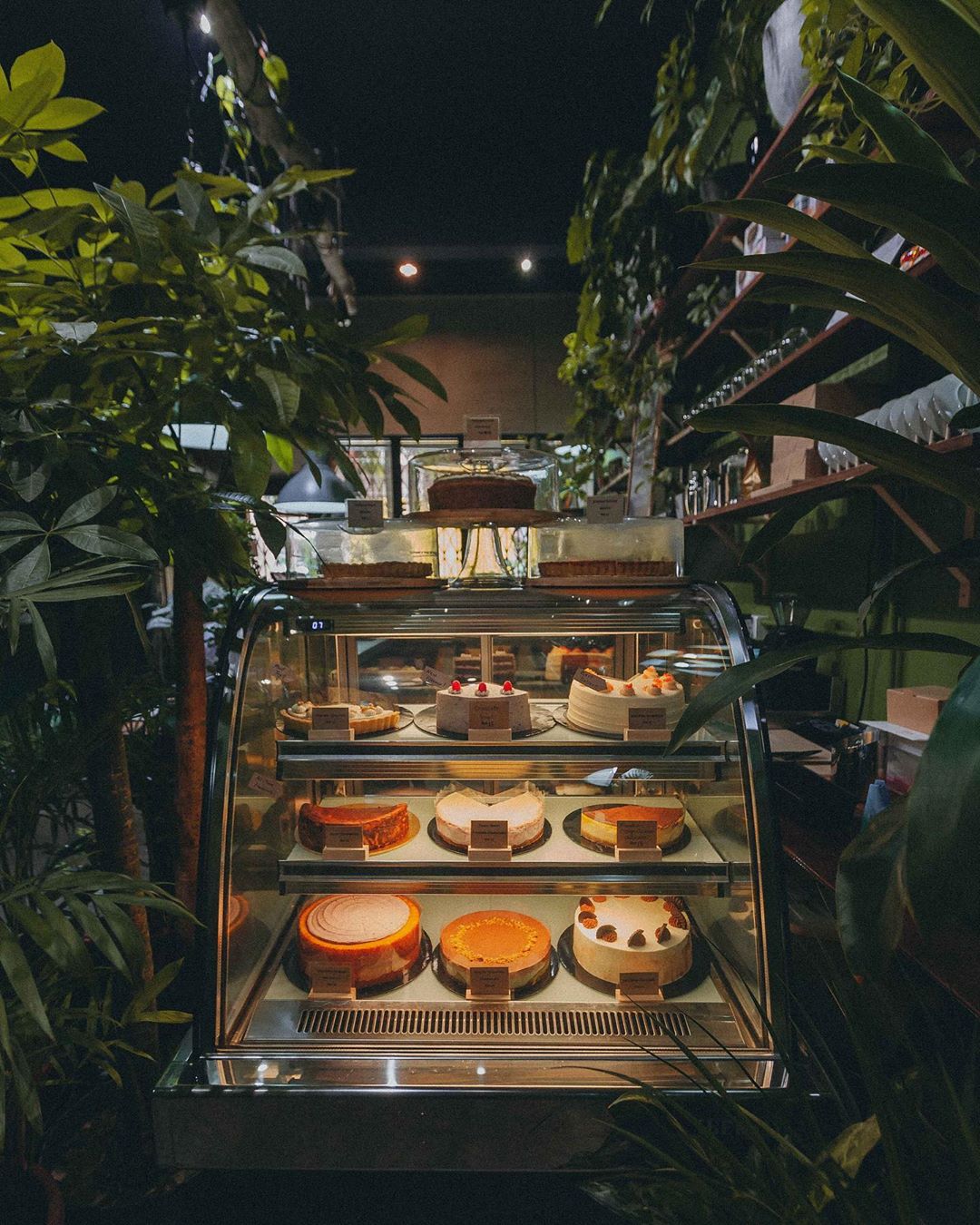 They have a different selection of cakes each day, so there's always something new to try with each visit
Image credit: @susu_eats
Sipping Corner is one of the newest additions to the list of hidden cafes in the city, and they could possibly be the most misleading one yet. The storefront is crowded with countless potted plants that are so densely packed together that it looks like a mini forest. But unless you are looking to start a succulent collection, you probably wouldn't be tempted to make your way inside.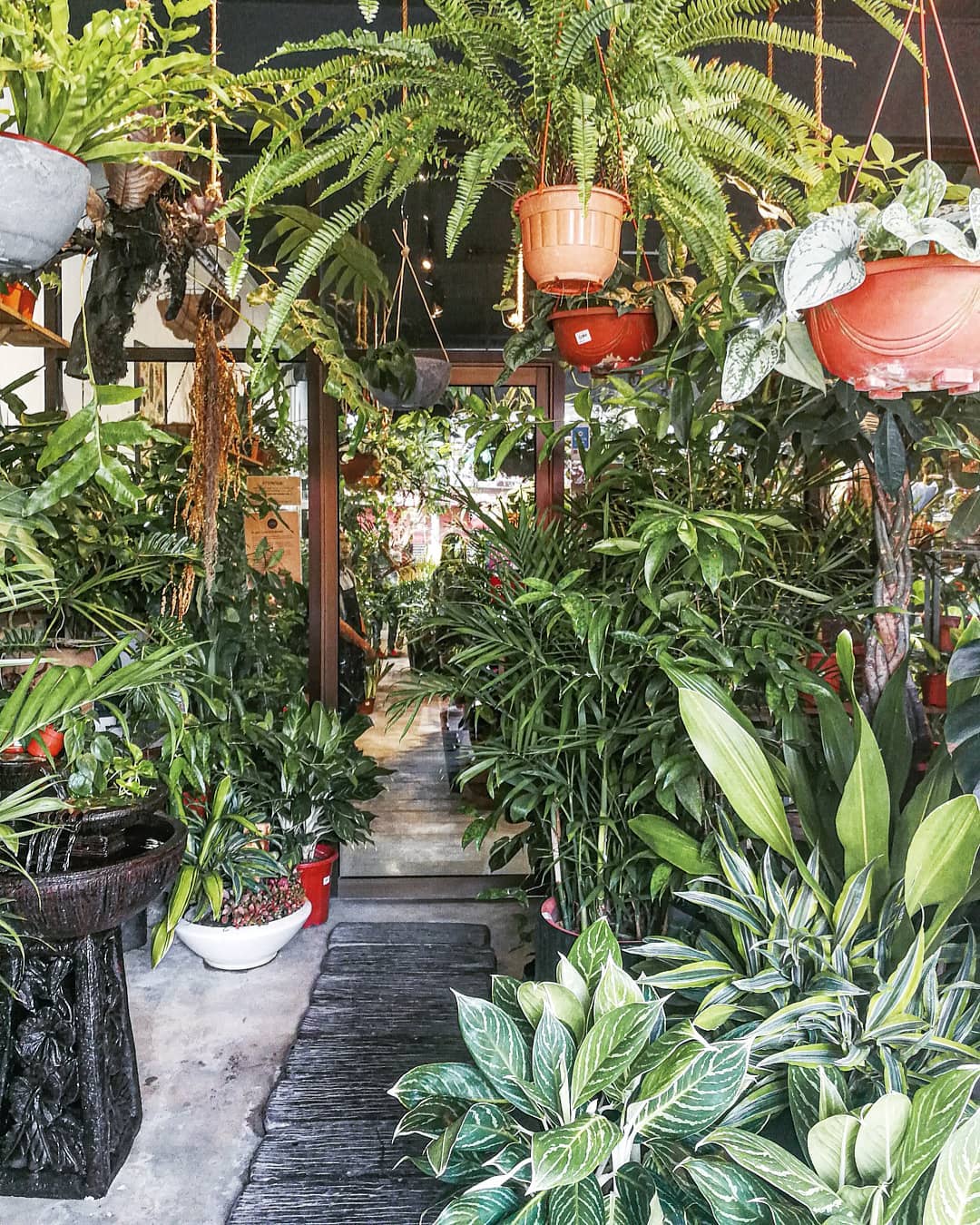 The crowded storefront of Pot & Plant is the entryway to Sipping Corner
Image credit: @mielifestyle
The same shoplot actually houses a quaint coffee shop at the back that serves toothsome cakes and tarts. When you peek into their display counter, you'll find a unique selection of desserts. The list includes Avocado and Lime Tart (RM16), Earl Grey Grapefruit Cake (RM14), and Blueberry Frangipane Pie (RM15).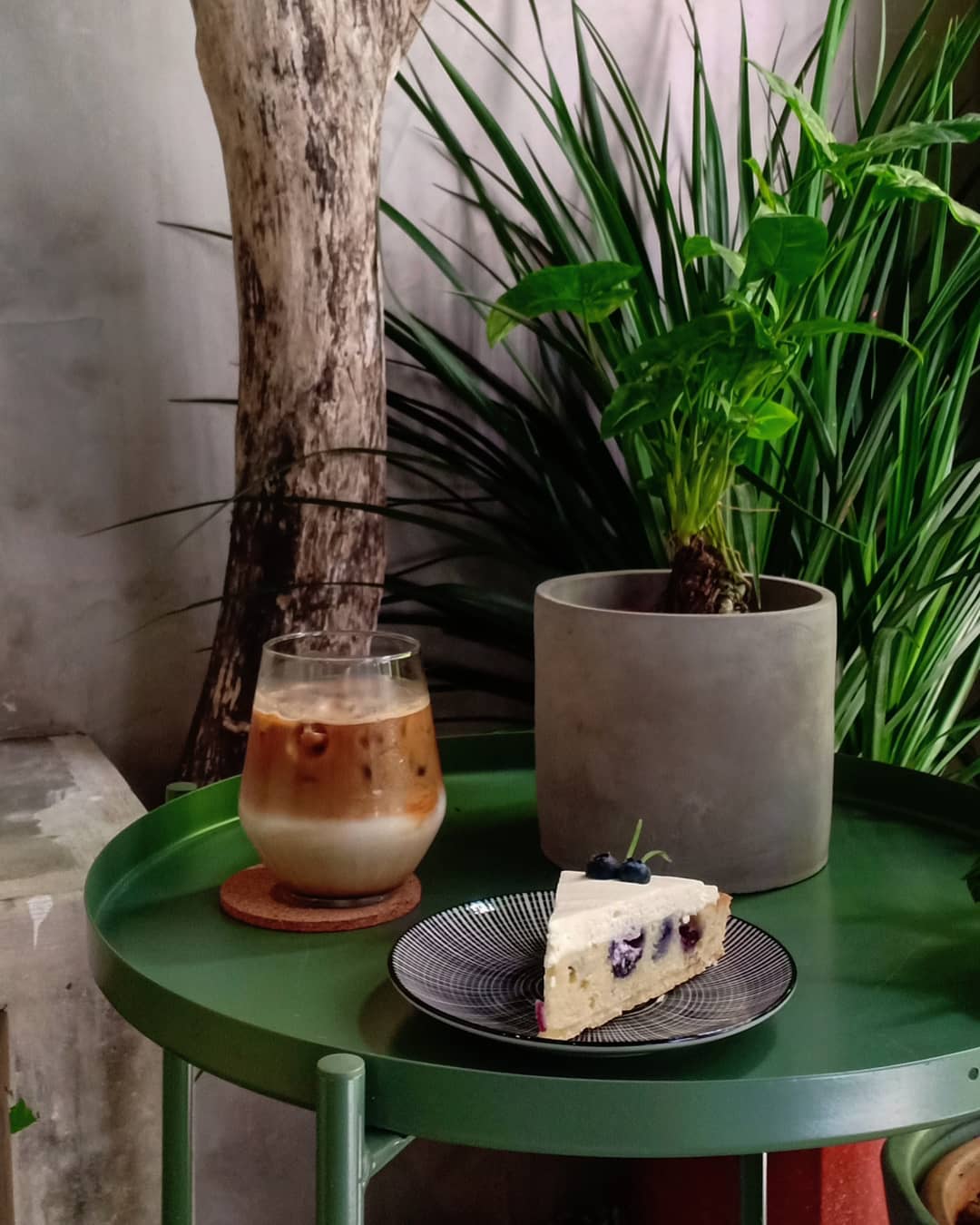 You'll find people from all over Selangor as well as local Puchong folk here during the weekends, just for their artisanal beverages and cakes
Image credit: @sean_max101
Coffee fans will have a blast picking what to order with their impressive selection of hand-brewed coffees. The Elida Green Tip Geisha (RM26) stands out the most and not only because of its name, but also the flavour profiles listed: lychee, bergamot, and jasmine. If these fancier picks aren't for you, stick to a regular cup of Espresso for only RM7. 
Watch our video feature here:
Address: 78G, Jalan Puteri 5/5, Bandar Puteri, Puchong
Opening hours: 9AM-6PM, Daily
Contact: 018-919 6311 | Sipping Corner Facebook
---
---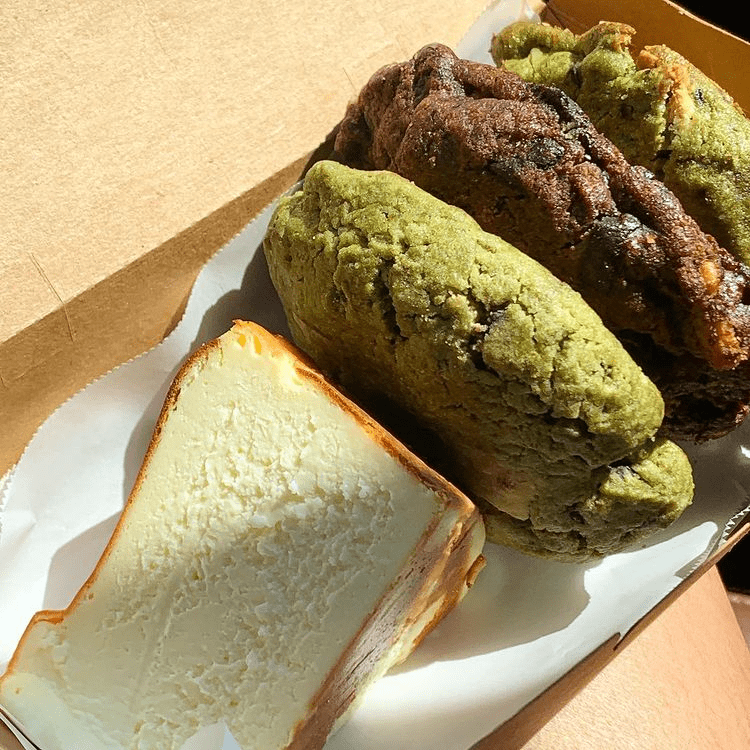 Image credit: @clvcafebar
You don't have to leave your furkids at home during weekend brunches at C'est La Vie. This industrial-style spacious cafe in Puchong that's made cosy with yellow lighting and booth seats, lets patrons dine on mains and sweet desserts in the company of their pets.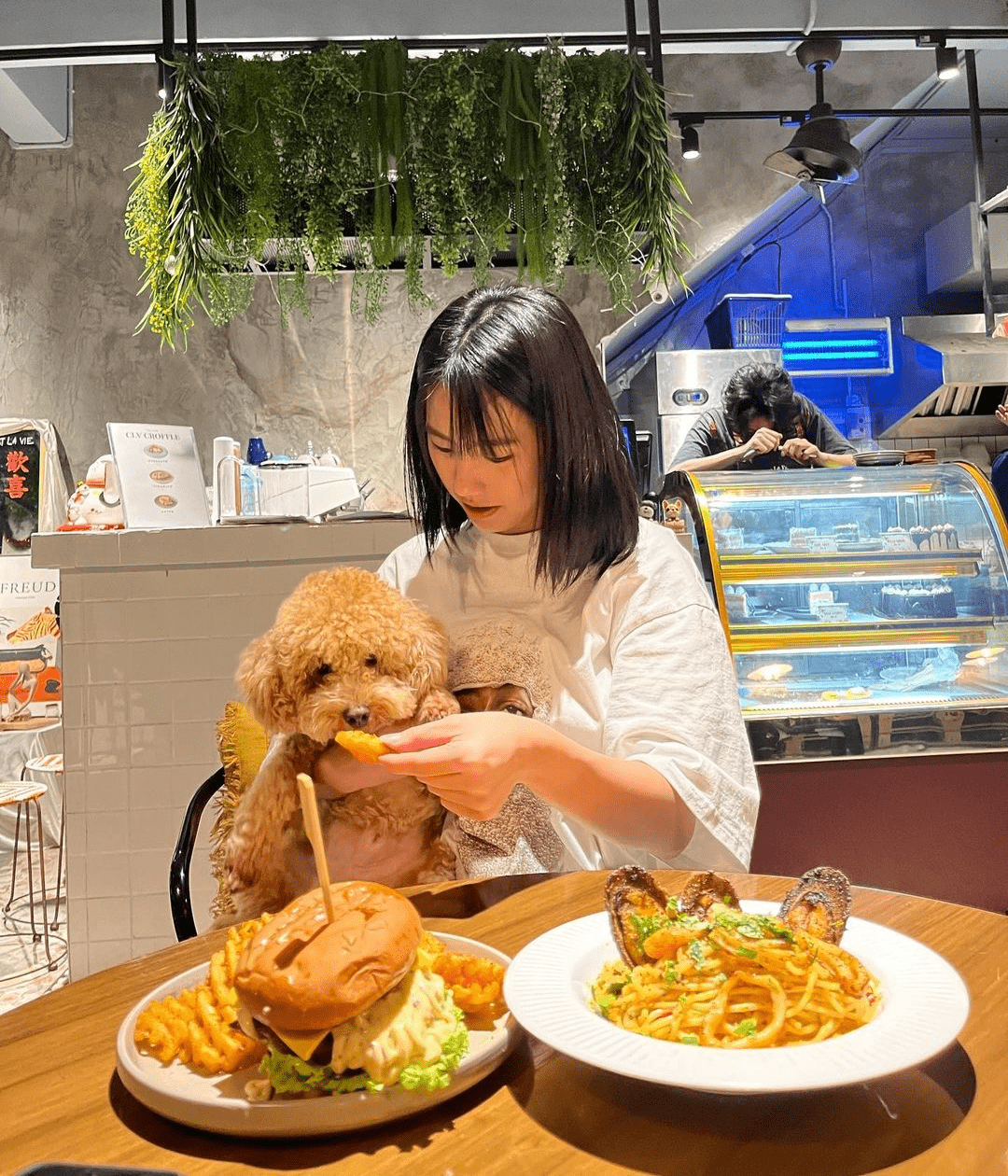 Image adapted from: @jervainnnnnnn
For hungry patrons, their mains comprises of hearty breakfast plates to pastas. Gargantuan Breakfast (RM30) with bacon, sausage and omelette the stars of the dish, and OX – King (RM30) – a massive burger made up of beef patty, deep-fried enoki mushrooms, and caramelised onions – are some dishes to find on their menu.
Croffles are a recent sweet addition to their display of seasonal cakes and tarts, and perfect for those with a sweet tooth. Choose from Affogato (RM10) with vanilla ice cream, to Lotus (RM12) topped with a Lotus Biscoff cookie, or have croffles crowned with a scoop of gelato (RM15) – Salted Caramel, Earl Grey, and Royal Chocolate ice cream.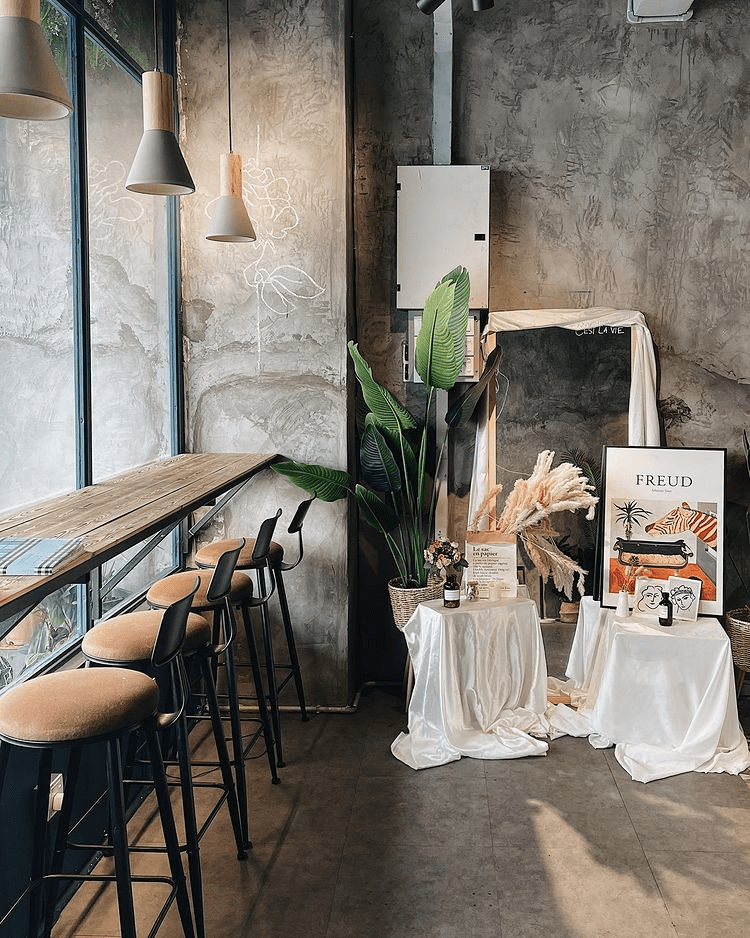 Image credit: @alextayz
On the weekends, the cafe churns out massive soft cookies (RM7/each), with decadent options such as matcha, hojicha, double chocolate, and smores. To keep their furry patrons happy too, they have a special Pawsta (RM7) dish made specially for pets.
Address: 9-1, Jalan Kenari 17F, Bandar Puchong Jaya 47100 47100 Puchong, Selangor
Opening hours: Mon, Tue & Thu 12PM-9PM | Fri – Sun 12PM-10PM (Closed on Wednesdays)
Contact: 03-8082 5943 | C'est La Vie Facebook
---
9. Haus7cafe – cosy cafe inside a house
---

Image credit: haus7cafe
As much as we enjoy heading to cafes conveniently located in the heart of townships and cities, cafes such as Haus7Cafe are a breath of fresh air for those looking to take a break at a quiet space during the weekends.
This pork-free cafe is considered a hidden gem among Puchong residents due to its location – it sits unassumingly in a quiet neighbourhood, serving coffee, cakes and food from a residential property.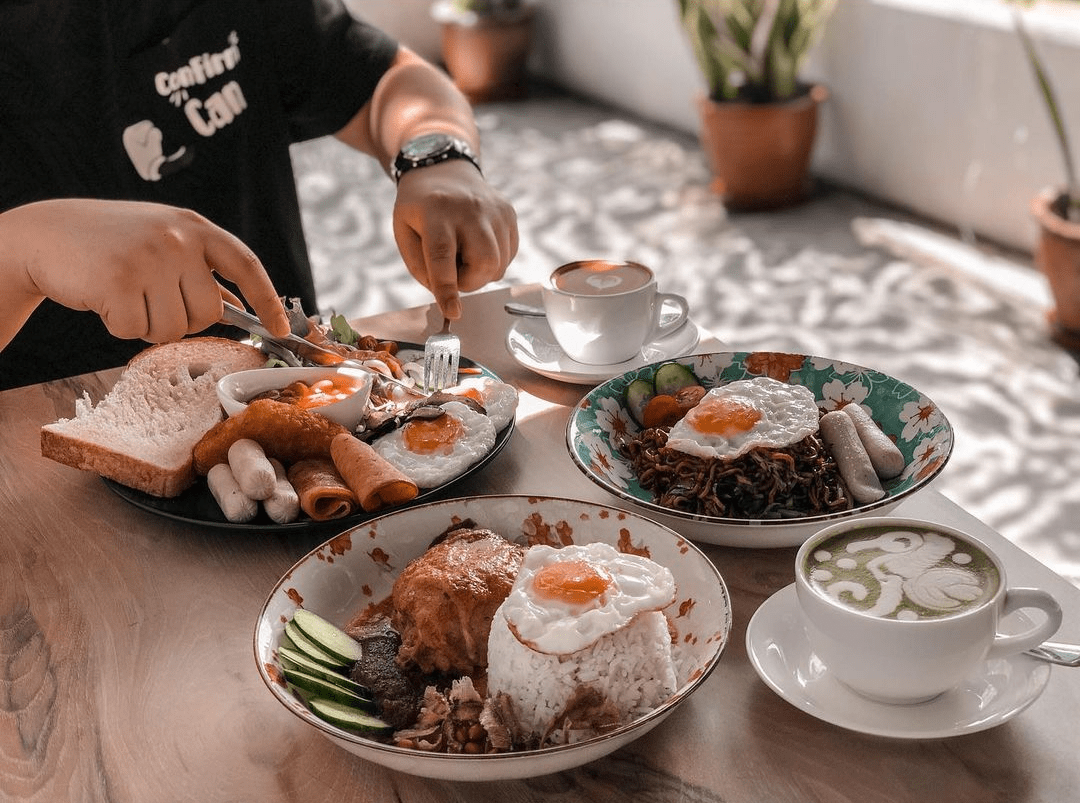 Image adapted from: @woody_alvin
Here, patrons can order Western mains and local cuisine such as Portuguese Oven-grilled Chicken (RM19.80) and Spicy Mongolian Pasta (RM11.80), or sip on coffee beverages to pair with their cake offerings – Classic New York Cheese Cake (RM12/slice) and Musang King Mille Crepe Cake (RM15/slice), to name a few.
There's a bookshelf with English titles by the cafe's ordering counter too.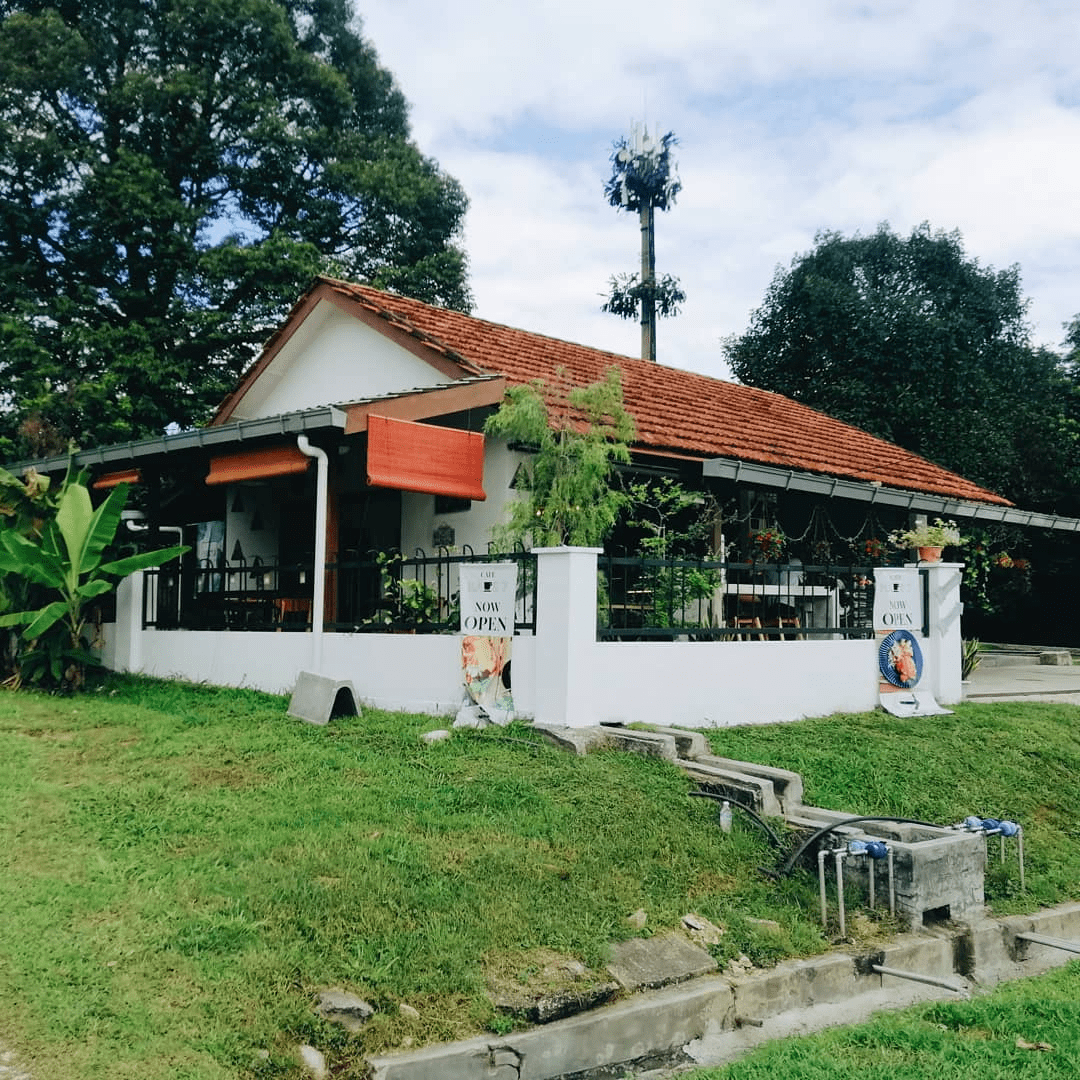 Image credit: @haus7cafe
Address: Lot 7446-H Jalan Puchong Kampung Batu, 14, 47100 Puchong, Selangor
Opening hours: Tue – Fri 9AM-5PM | Sat & Sun 9AM-7PM (Closed on Mondays)
Contact: 017-428 8332 | Haus7Cafe Facebook
---
[Closed] 10. Mancave Cafe & Collectibles – action figures on display
---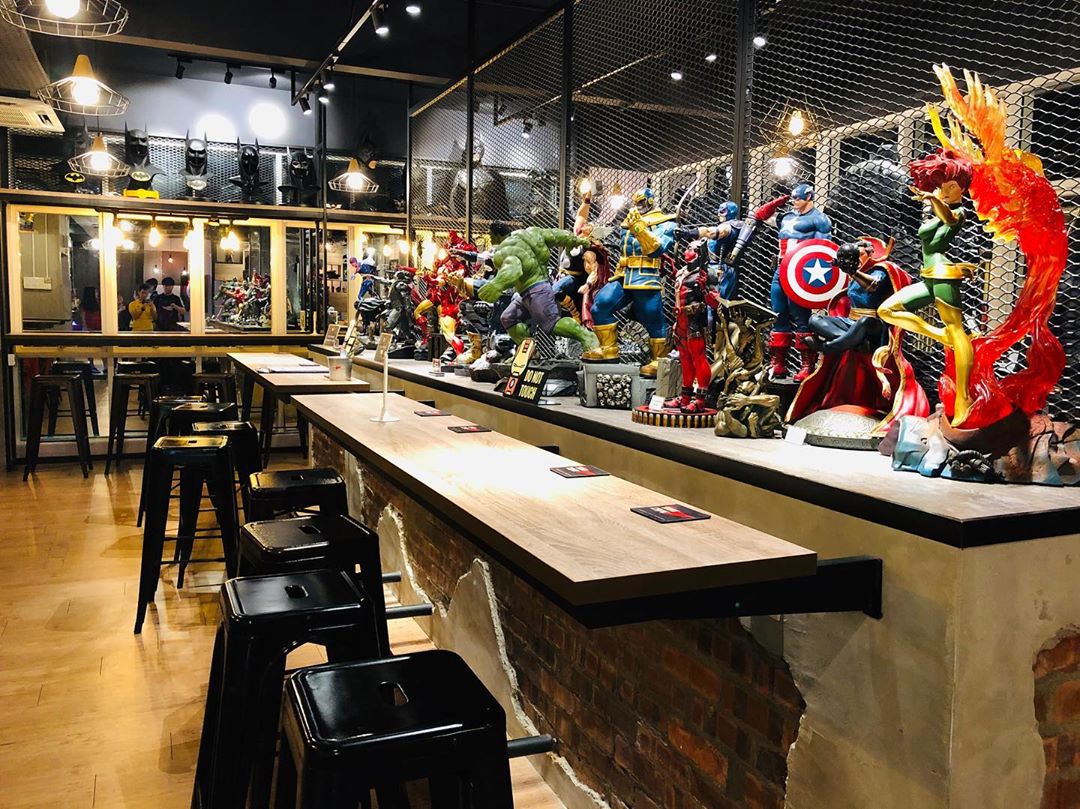 Image credit: @woonweelin
It's only been months since Avengers: Endgame came out in cinemas, and while it may have been the last time we get to see the entire team on the big screen, we can still spazz over our favourite heroes at Mancave. 
The cafe was started by a small group of friends who had amassed a huge collection of superhero figurines, so instead of keeping them in their homes, they decided to open a cafe where their figurines would be put on display for diners to admire.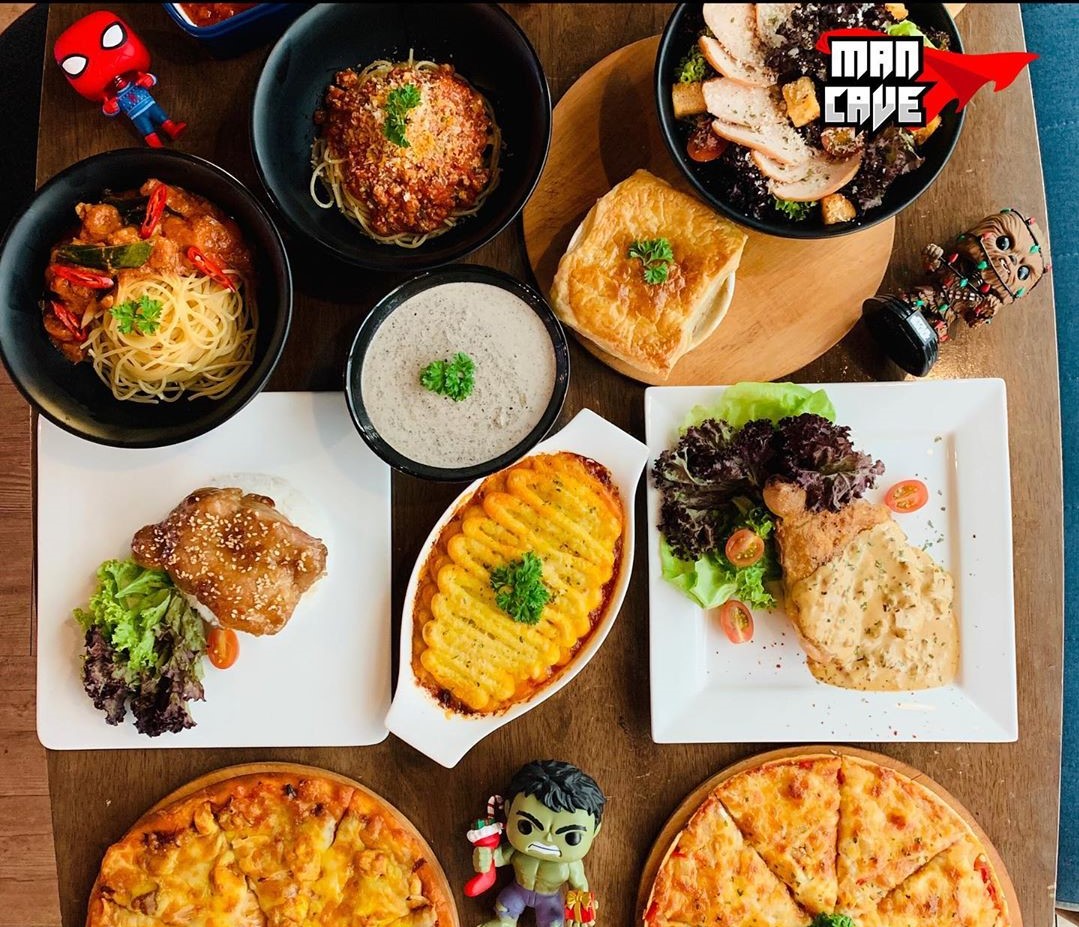 Image adapted from: @mancavecafecollectibles
Tour around the mini gallery as you wait for your food to arrive. Some of them are even placed right in front of the long dining counter, so you'll be able to admire even the tiniest details of each figurine as you tuck into your food. 
You'll see plenty of Western fare when you're flipping the menu with options ranging from chicken chops to pastas and pizzas. However, you'll come across some fusion finds like Creamy Tom Yam Prawn Pasta (RM14.90). Prices are also considerably affordable as you can get a whole Hawaiian Pizza for just RM13.90.
Address: No.17 (1st Floor), Jalan Puteri 7/13A, Bandar Puteri, Puchong
Opening hours: Mon-Thu 12PM-10PM | Fri 12PM-12AM | Sat 10AM-12AM | Sun 12PM-10PM
Contact: 018-298 2312 | Mancave Cafe Collectibles Facebook
---
Cafes in Puchong
---
If you find yourself cafe-hopping every week, you're bound to have a shortage of places once you've turned over every rock in your area. When that happens, just drive a little further to towns like Puchong, where it's just as much of a foodie heaven as Subang and PJ. These cafes with delicious dishes and IG-worthy interiors certainly won't disappoint.
For more good eats, check out these articles:
---
Cover image adapted from: @yu_jie12, @teeweiseng, @prinsayys_, and @hangjung
This article was first published on 10th February 2020, and updated by Janet Cho in January 2023.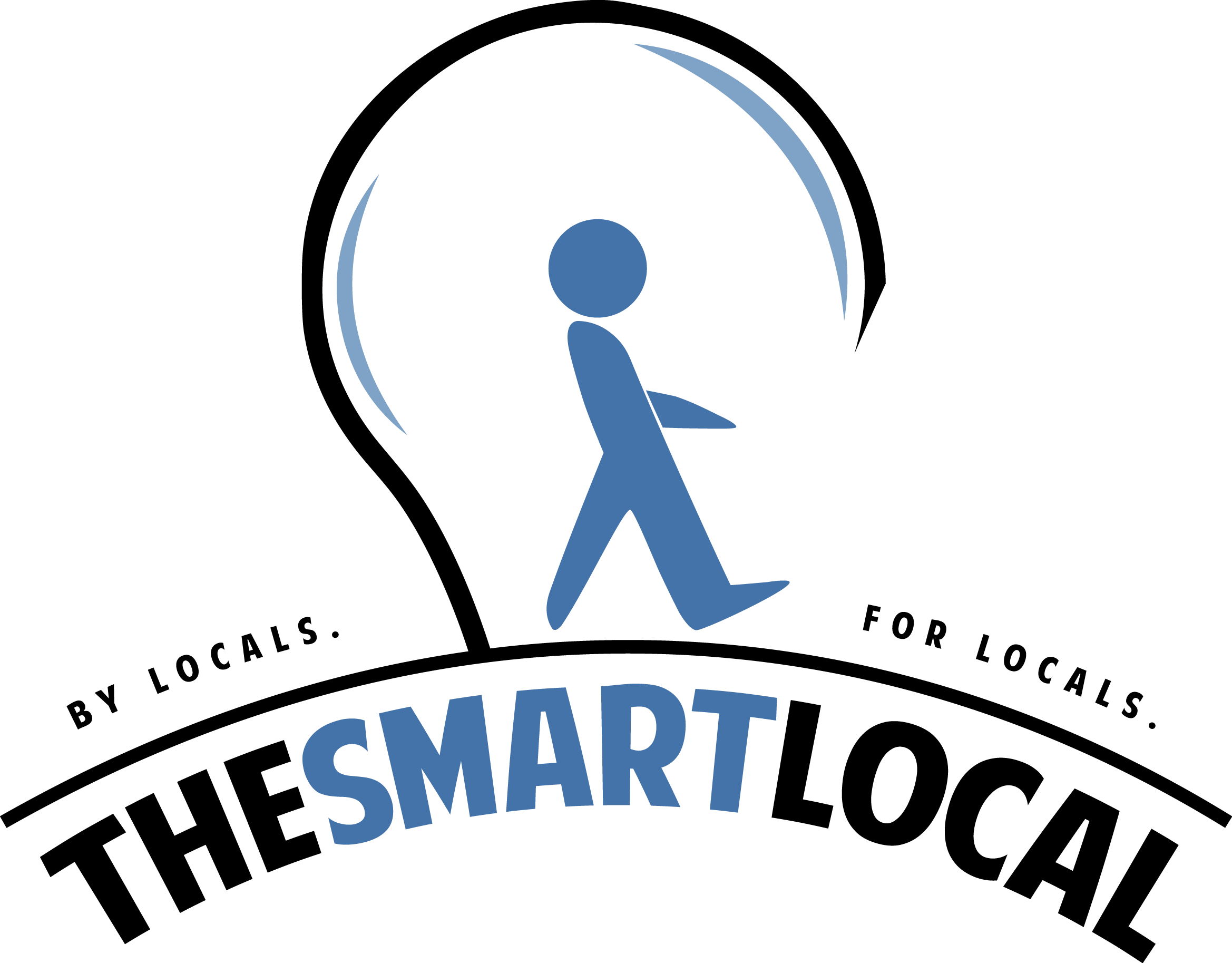 Drop us your email so you won't miss the latest news.