Myvi drives through the flood
---
Mention Myvi and Malaysians confirm call it the King of the Road. This compact, yet mighty, car never fails to amuse locals with its antics on the road – take for example when it was spotted 'flying' over a drain and remaining largely undamaged despite getting hit by a falling tree.
Recently, a Myvi car was caught driving through a flooded road without much of a problem. It even sped through the floodwaters, and overtook a much bigger vehicle that appeared to be stranded in the flood.
---
Myvi effortlessly overtakes Mazda on flooded road
---

Video credit: Maxim Ho
On 7th March 2022, netizen Maxim Ho shared a 9-second video of a red Perodua Myvi driving through a flooded road. In the now viral video, the ubiquitous car effortlessly overtook a Mazda that was stuck on the same road.
The viral video, which has garnered over 5,000 shares and nearly 60,000 views at the time of writing, showed the Myvi car cutting through a massive flood.
The location of the incident, however, is not known.
The video was posted with the caption "Why Myvi can go thru but Mazda cannot?" on the Facebook page Mazda吹水站. It was shared among Mazda car owners, likely in hopes of finding out how a Myvi could drive through a flood and not the Mazda, which appeared to be a Mazda CX5 model and is relatively larger in size.
---
Netizens suggest car's air intake position
---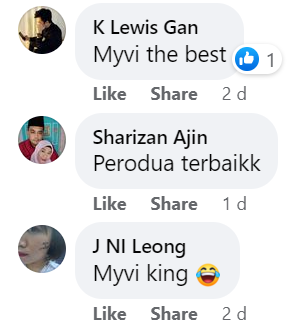 Amusing comments left by netizens
Image credit: Maxim Ho
Many netizens had a good chuckle over the Myvi car and its most recent adventure, which, no doubt, has been providing some much-needed humour during the most recent floods in KL.
But some had some pretty good explanations for the car's ability to navigate the floodwaters compared to the Mazda.


Comments suggesting that Myvi escaped the flood due to the location of its air intake system
Image credit: Maxim Ho
According to several Facebook users, a Myvi's air intake system is located higher than that of the Mazda in question. This allows it to cut through the floodwaters like it's no big deal. Since water can't get into the air intake system, an essential mechanism that supplies air for the engine combustion process, the car still runs as it usually does.
Other netizens had more lighthearted theories. Some suggested that it was a matter of driving skills and sheer guts, while others joked that maintenance for a Myvi is relatively cheaper when compared to a Mazda.
---
Myvi driving through flash flood
---
It's indeed amusing to watch Myvi cars continue to amaze Malaysians as they are captured in various unimaginable situations. But all jokes aside, we do hope that car owners will always prioritise their safety wherever they go no matter the type of car that they're using.
Read more here:
---
Get more stories like this!
Drop us your email so you won't miss the latest news.