Best bars in George Town, Penang
---
Penang has plenty to offer locals and tourists alike, from its lip-smackingly good hawker food to its rich cultural attractions. When it comes to food, it only continues to exceed expectations. In recent years, the island has become a hub of hip cafes and also trendy bars.
Drinking dens in the state take on a mythical status – from snazzy hole-in-the-walls and alluring, well-hidden gems, to flamboyant and quirky watering holes. To take your usual suppers at a nearby mamak up a notch, have a fun night out with your pals at one of these 8 stylish bars in George Town, Penang that open till late.
---
1. Backdoor Bodega – speakeasy-style bar with locally inspired drinks
---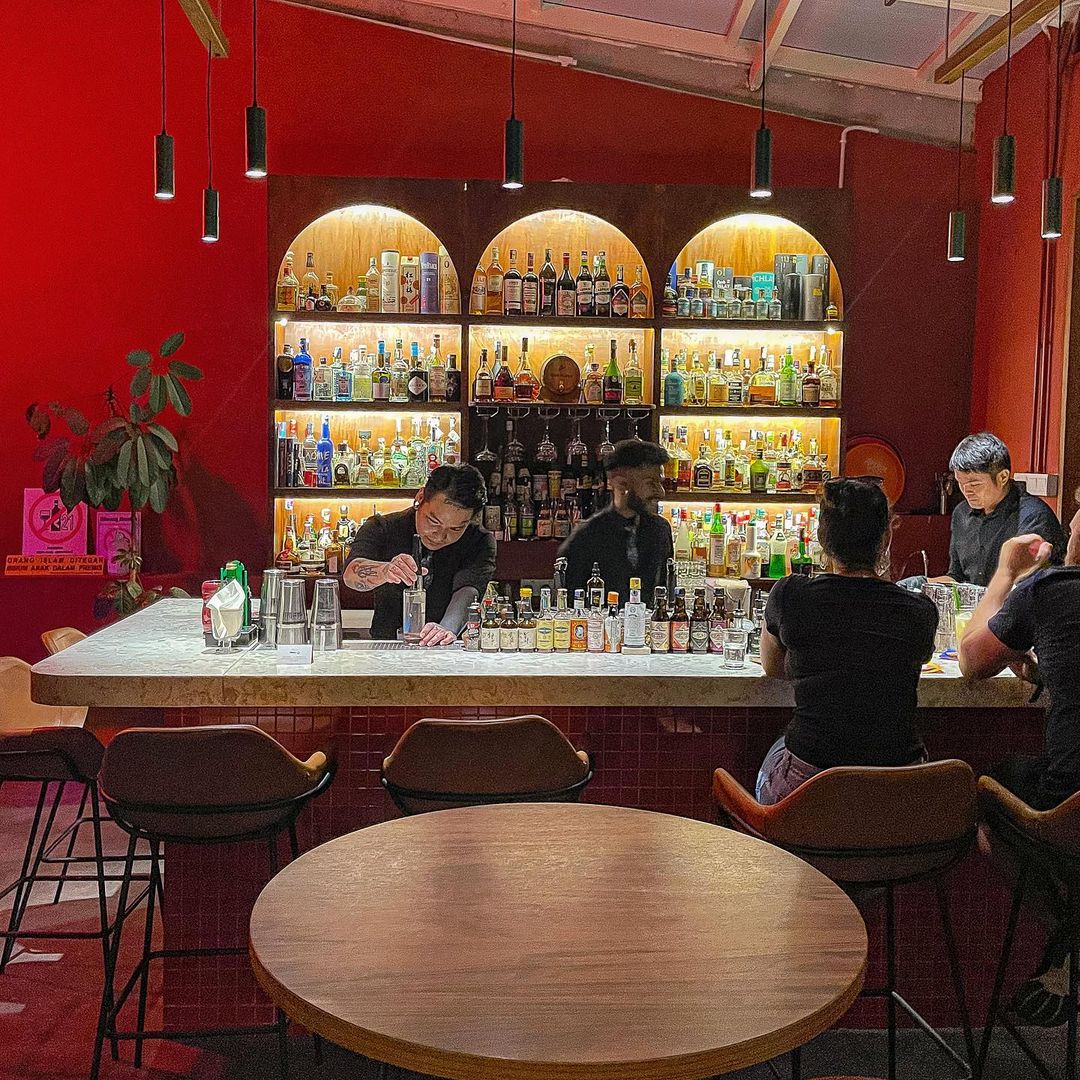 Image credit: @champions1984
In true speakeasy style, Backdoor Bodega is a bar hidden right at the back of a clothing store called The Swagger Salon. Stripped back and homely yet stylishly chic, the secret bar – which wittily parades as an overpriced pin shop – feels like an afterparty-style drinking hideout that's perfect for a night out with close friends.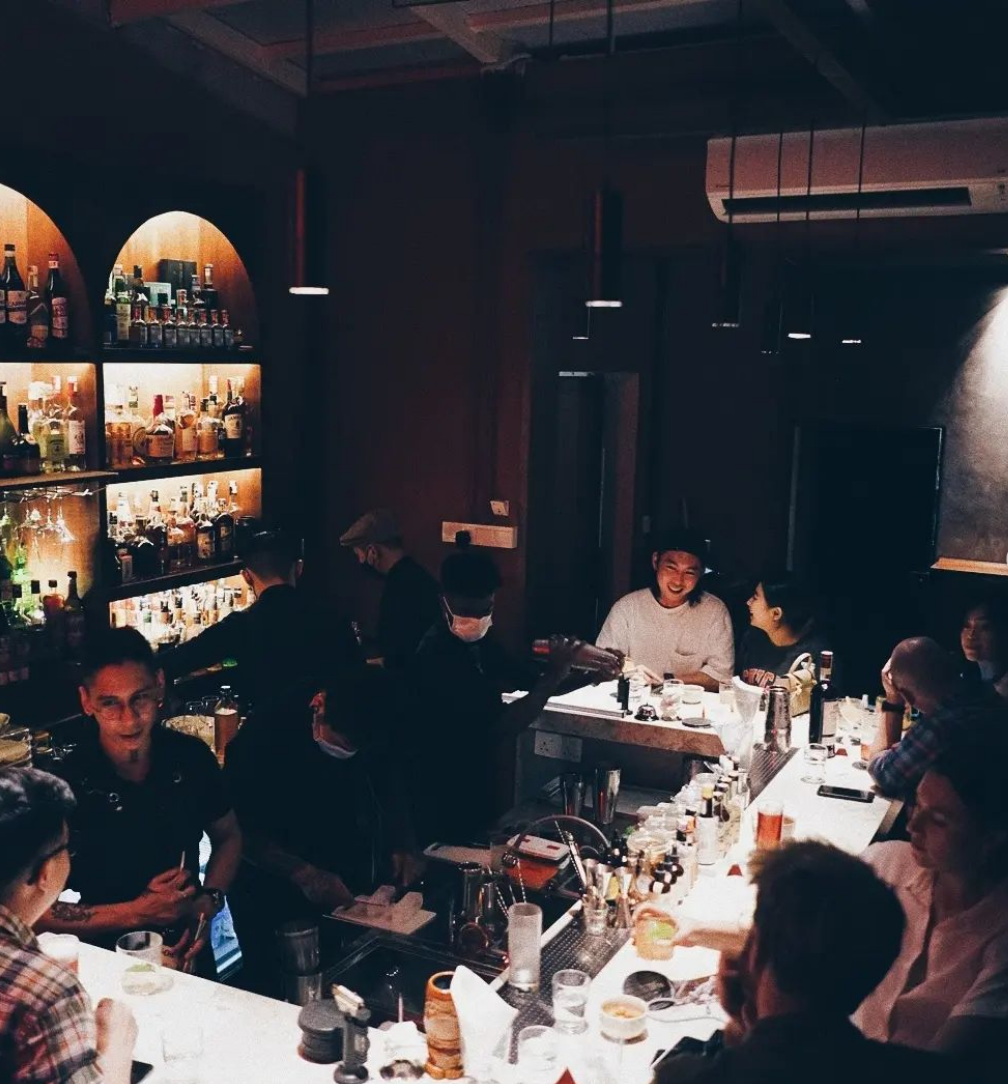 Image credit: @jonleekw
Brought to life by a team of young and passionate bartenders, the speakeasy earned a spot on the 2022 Asia's 100 best bars list with their exquisite cocktails and signature creations that infuse local flavours.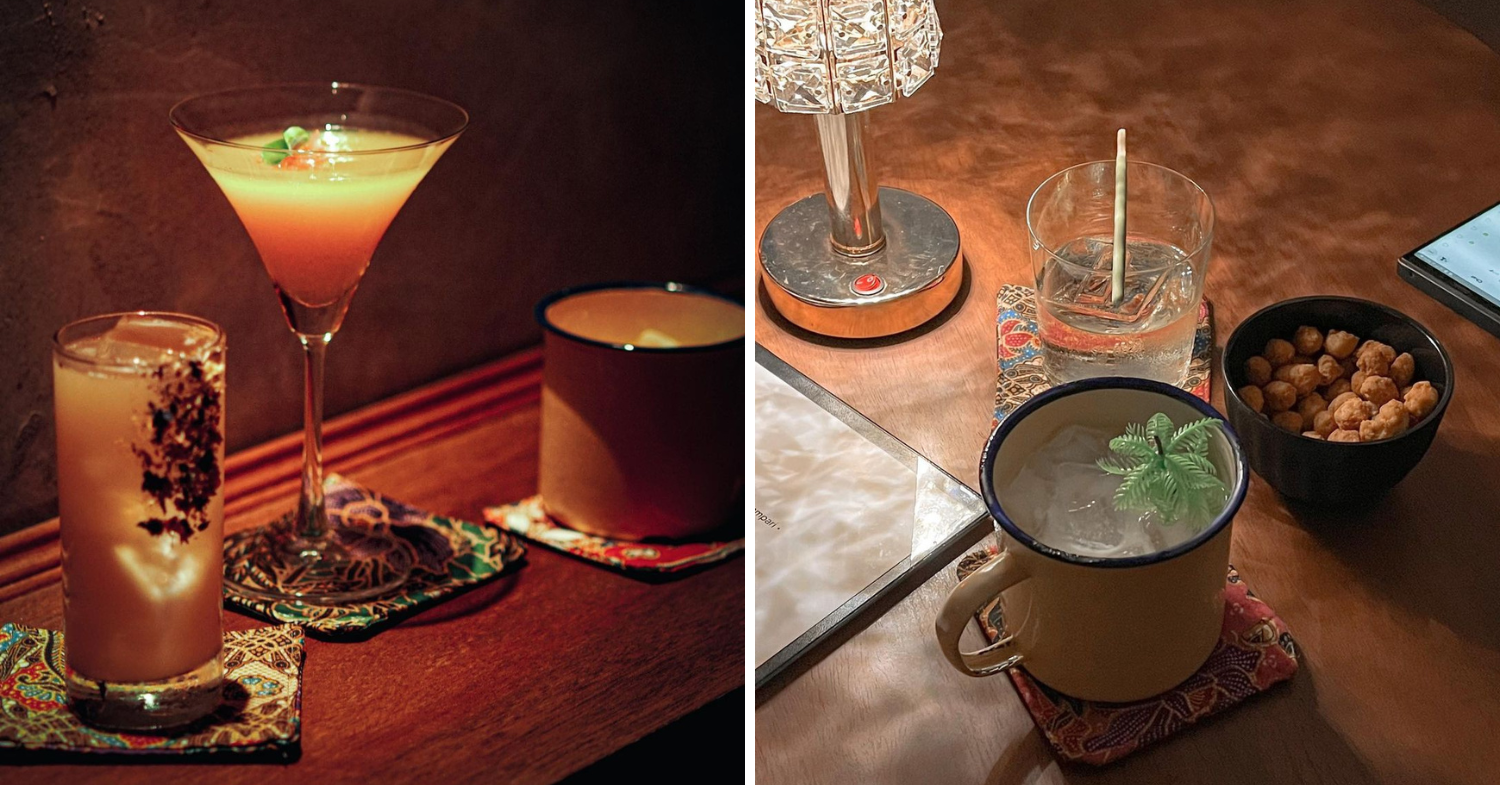 Image adapted from: @cafephileeee_ & @_ekqn_
On their menu, you'll find unique creations such as the signature Kelapa Hotak (RM38) which is a combination of in-house coconut rum, pandan and a spoon of kaya, and Ulam Mojito (RM38) – an eclectic rum-based drink infused with local herbs such as ulam, daun kesum and kaffir leaf.
They also offer a tamer mix of flavours that are still strong on the alcohol, such as the cherry and vodka concoction Cherry Bomb (RM25) and the strong Vesper (RM60) which features Ford's Gin, vodka and Lillet Blanc.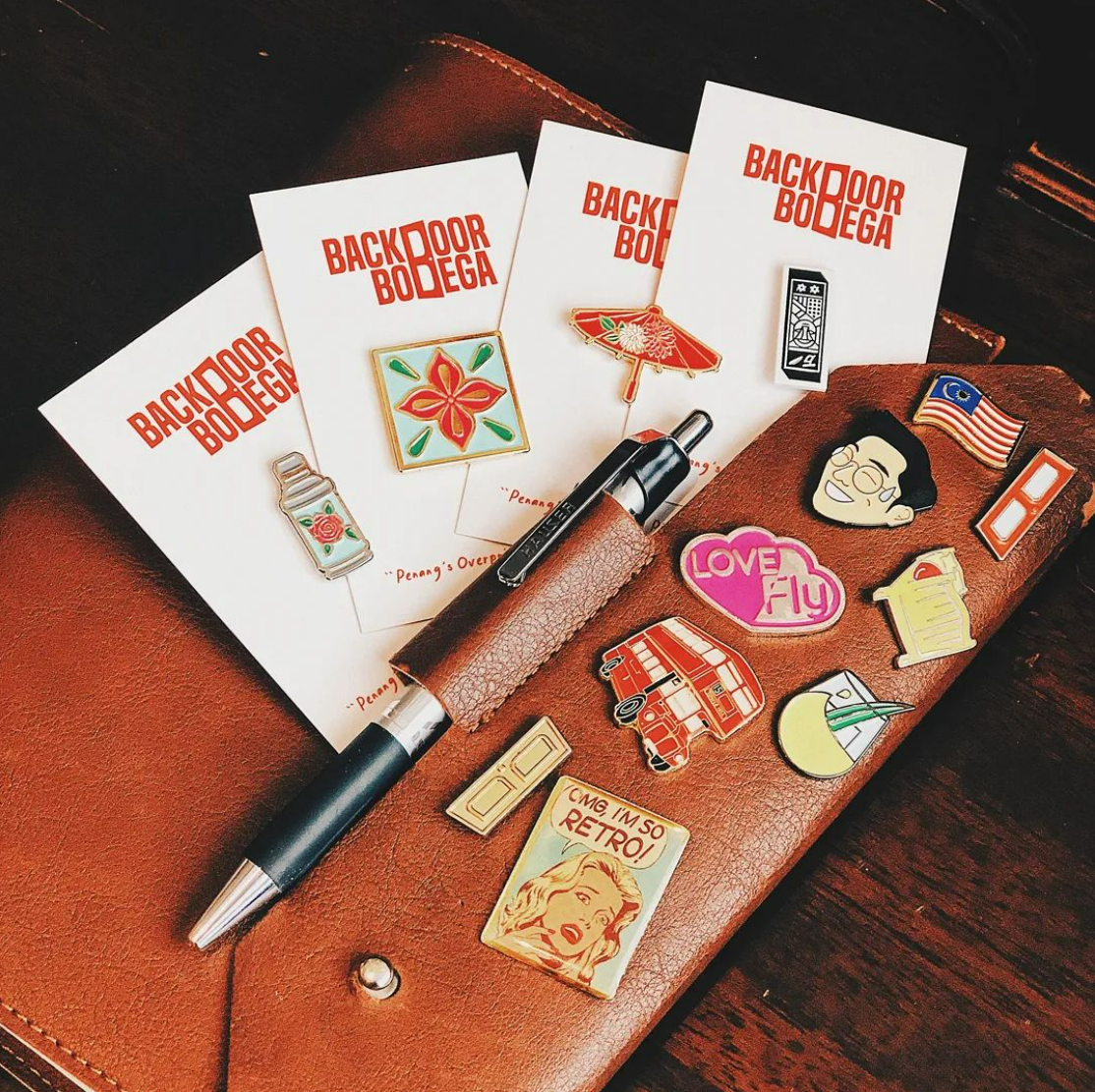 Image credit: @missleexinyi
They have a range of seasonal bottled cocktails, some collaborations, that are available for certain periods of time only. These can be purchased on their website, where you'll find other merchandise such as pins, drinking mugs, and T-shirts. They ship nationwide, with next-day delivery offered. Bars Penang
Address: Jalan Gurdwara, 10300 George Town, Penang
Opening hours: Thu-Mon 8pm-12am (Closed on Tuesdays and Wednesdays)
Contact: 012-320 2218 | Backdoor Bodega website | Facebook | Instagram
Read our feature to find out more about Backdoor Bodega here.
---
2. Good Friends Club – "kopitiam" bar that puts a twist on local drinks
---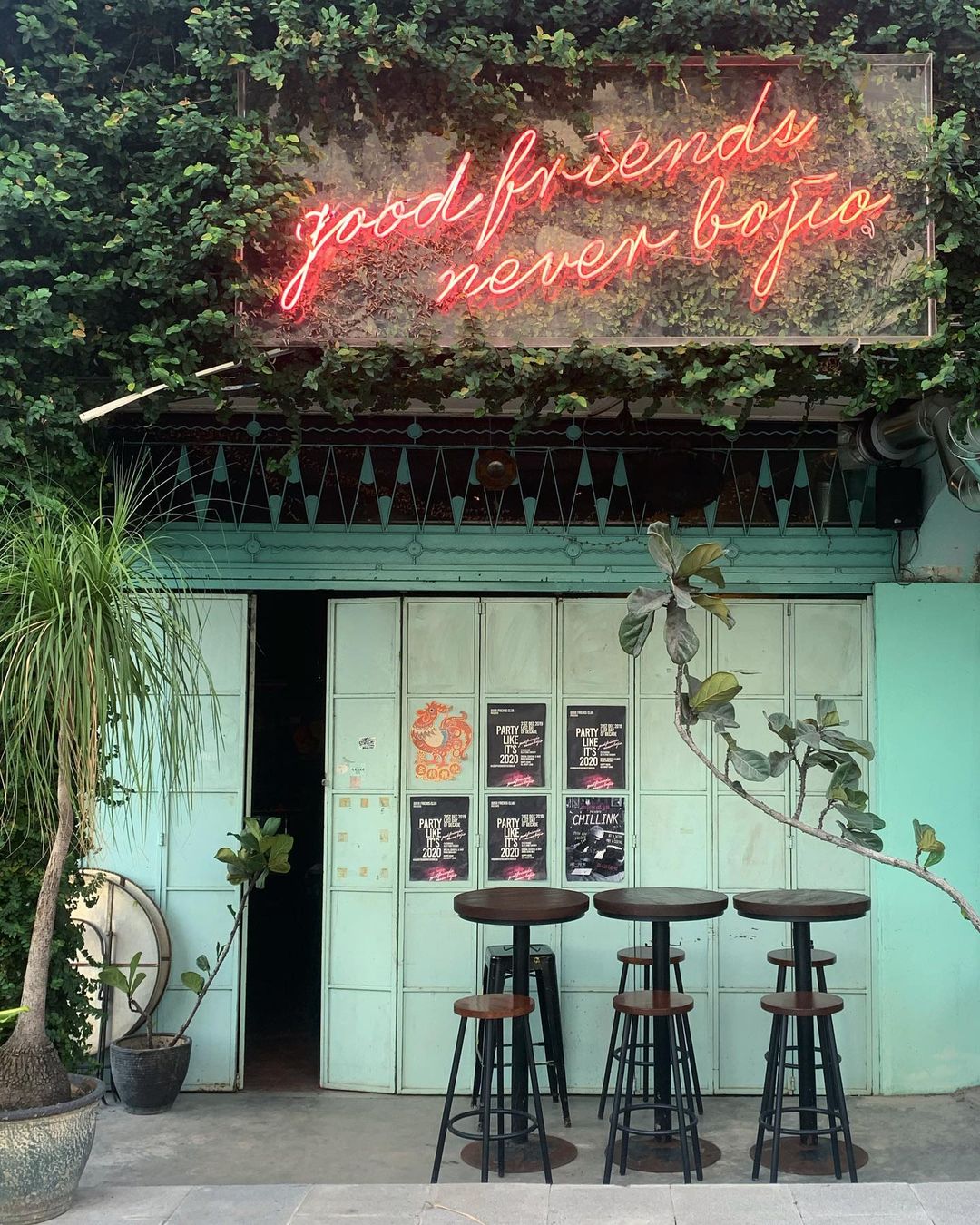 Image credit: @goodfriendsclubpg
We won't laugh if you said you walked right past this hidden bar thinking it was just another kopitiam – we would've missed it too. Bars Penang
The Good Friends Club marks itself apart from other bars in Penang with its ingenious concept of an old-school Chinese kopitiam. An easy way to spot it – simply look out for a neon signage that spells "Good Friends Never Bojio", which means a close pal would never not invite for the uninitiated.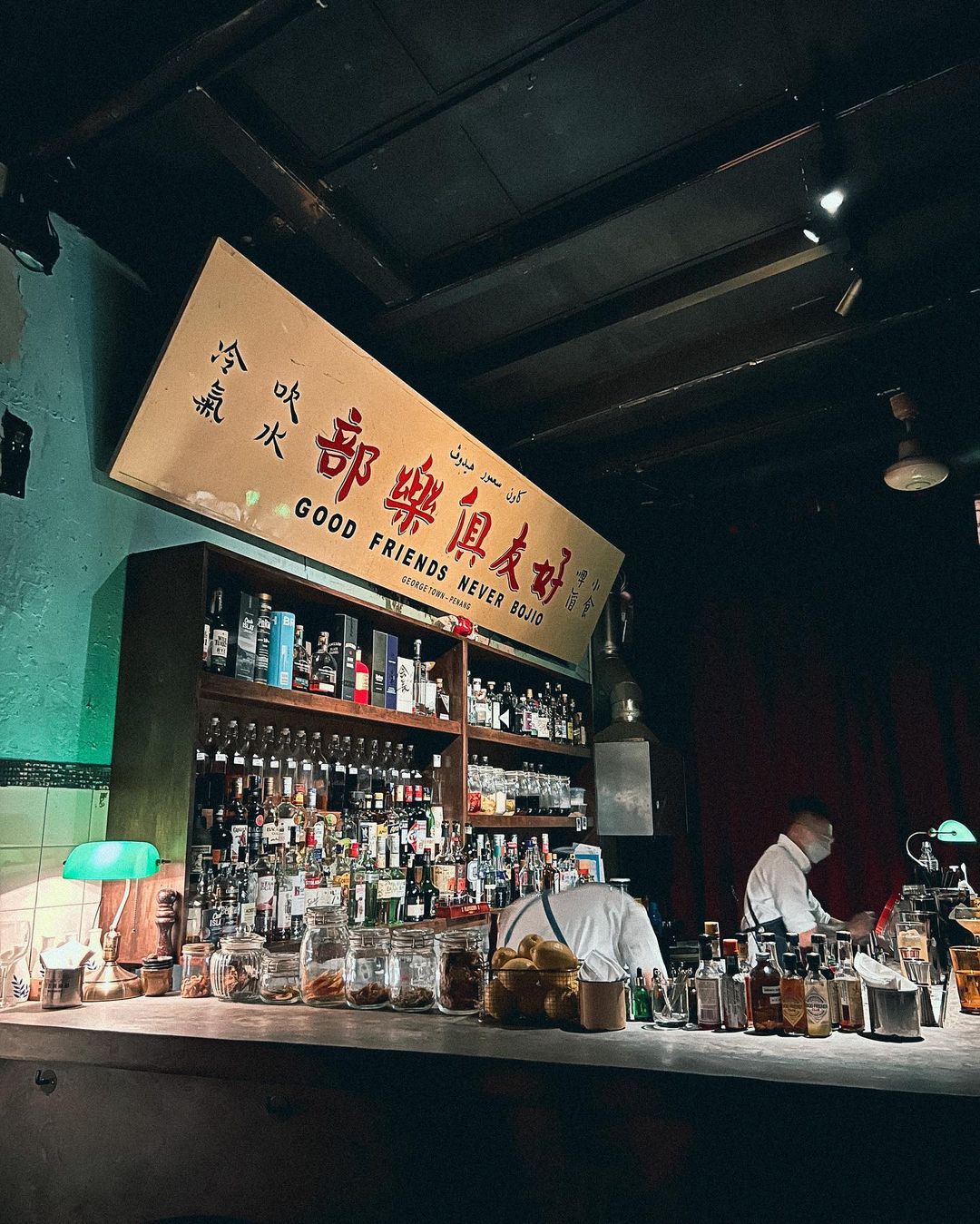 Image credit: @thejspace_
Similar to a local hawker place, this bar has the vibes of a laidback haunt that you and your friends can revisit often. 
A dimly-lit room with metal chairs and tables, wooden cabinets decorated with old trinkets, vintage posters plastered on the walls – it would be easy to forget you are in a speakeasy, if not for the shelves of cocktail bottles by the bar area and the always-present crowd with their drinks in hand.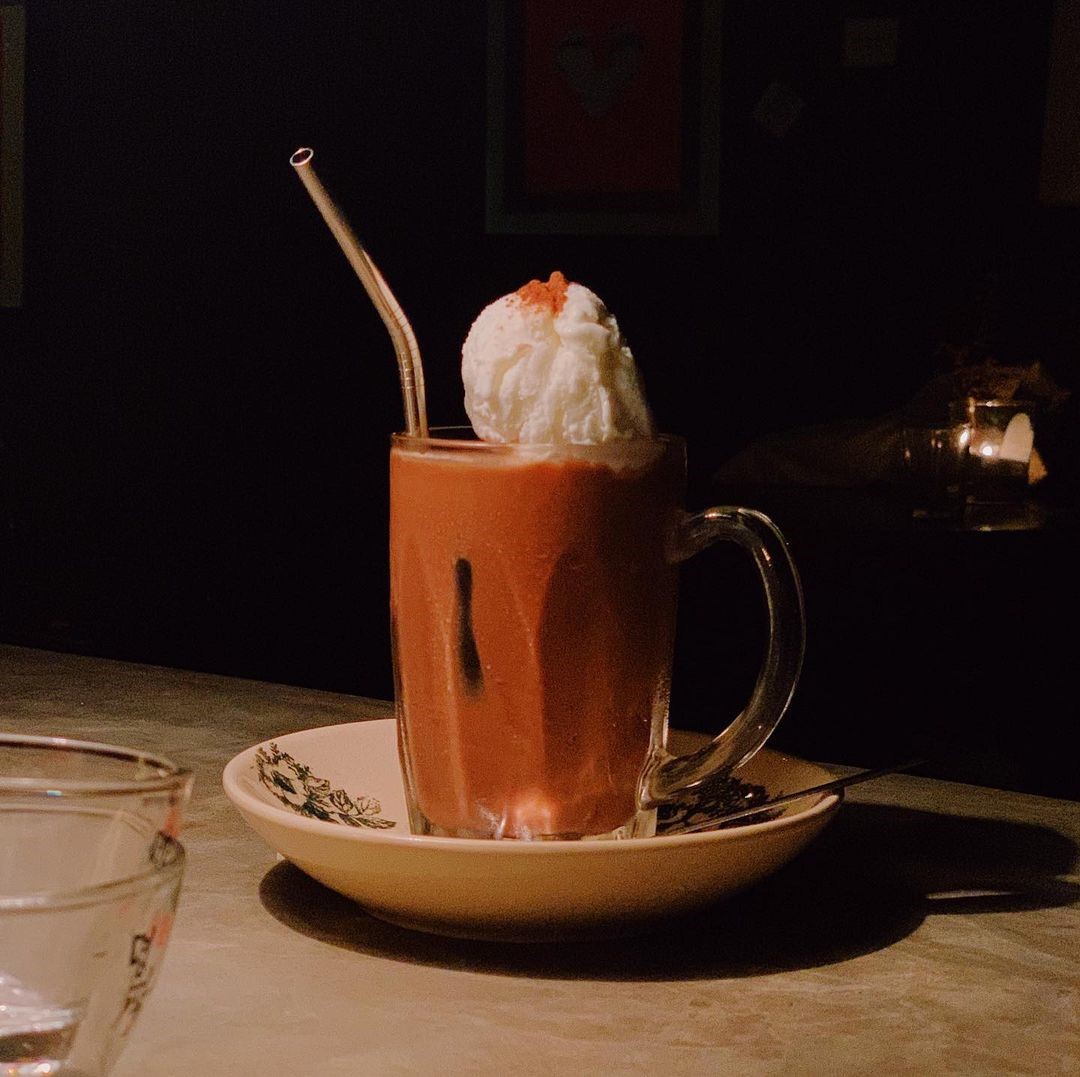 Image credit: @kitoki
In true kopitiam fashion, find drinks such as Kopi C-Peng (RM30), Milo Peng O Kao (RM35) and Lao Hao Peng Kao (RM35) on their menu that are served in traditional ceramic cups. But don't be fooled by the drinks' names and appearances. They are concoctions of our local drinks with cheeky infusions of alcohol such as rum and vodka.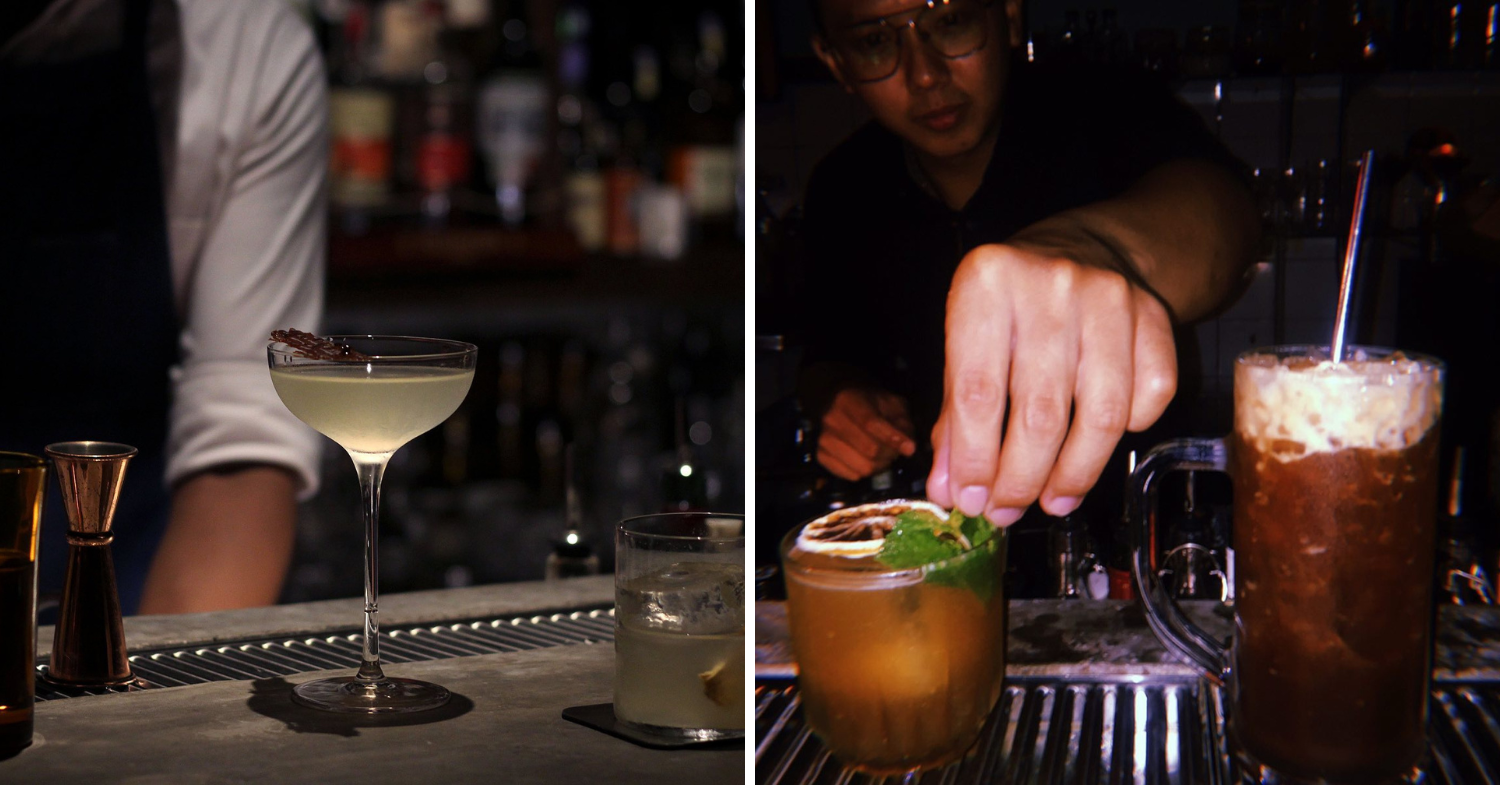 Image adapted from: Goodfriendsclub & Goodfriendsclub
Penang-Cillin (RM35) is another quirky cocktail that comprises ginger gula melaka syrup and whiskey. You might also be intrigued by a chai-infused vodka with cream liqueur and hints of toasted coconut and cinnamon – this is wittily named Smoky Leng Chai (RM40). Bars Penang
Address: 39, Jalan Gurdwara, 10300 George Town, Penang
Opening hours: 8pm-2am, Daily
Contact: 010-550 1204 | Good Friends Club Facebook | Instagram
---
3. Yoha-350 – underground industrial-themed bar
---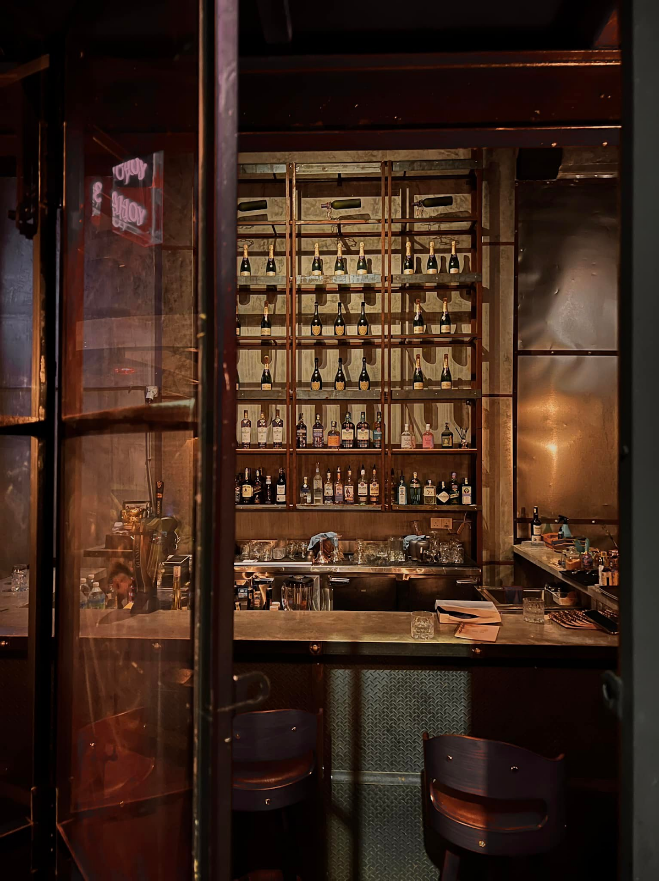 Image credit: Yoha-350
Yoha-350 takes their bar to another level – and by that, we mean underground. Bars Penang
This speakeasy is a relatively new one in town. It's a small industrial-themed bar tucked in the back alleys of Beach Street in George Town. But don't worry about missing its entrance. With pulsing neon-red lights that illuminates the otherwise dark alleyway, the bar gives off the inconspicuous speakeasy vibe whilst ensuring their customers won't get lost.
A descending staircase will take you to a small space with industrial elements and digital projectors that scream chic and stylish.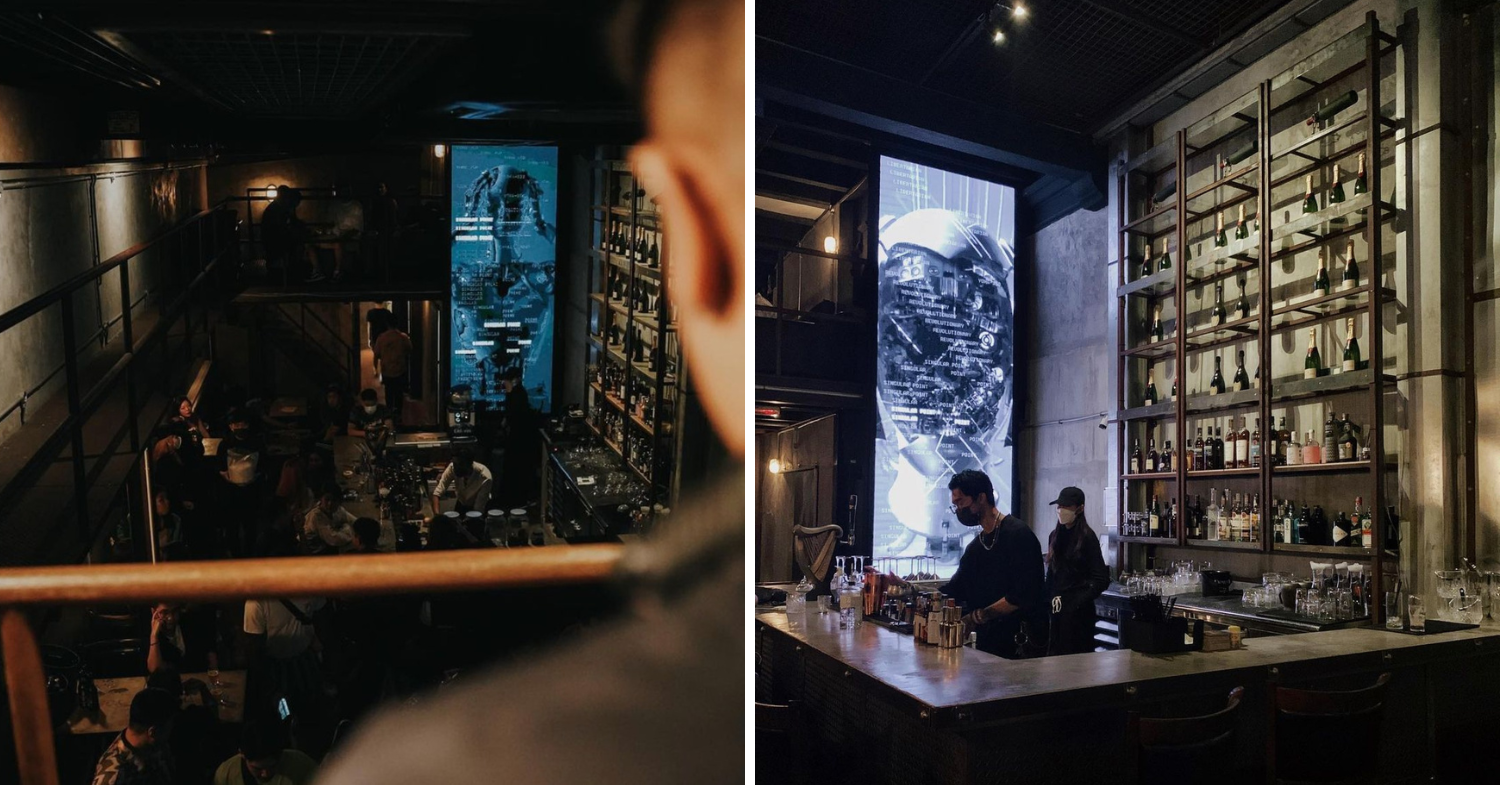 Image adapted from: Goodfriendsclub & Goodfriendsclub
Their signature cocktail menu makes for an enthralling read, with every cocktail on the list named after significant years throughout history. 
To give you an idea of this, the 1945 (RM45) is the year that the six-year World War II finally came to an end, and is represented as a gin drink with red dragon fruit, lemon and pomelo jelly. Likewise, 2019 (RM98), for 2 to 3 pax, is an eclectic mix of scratch whiskey, spiced rum and stout with tinges of coffee and fruity flavours – a chaotic drink that perfectly describes the year when Covid-19 affected lives worldwide.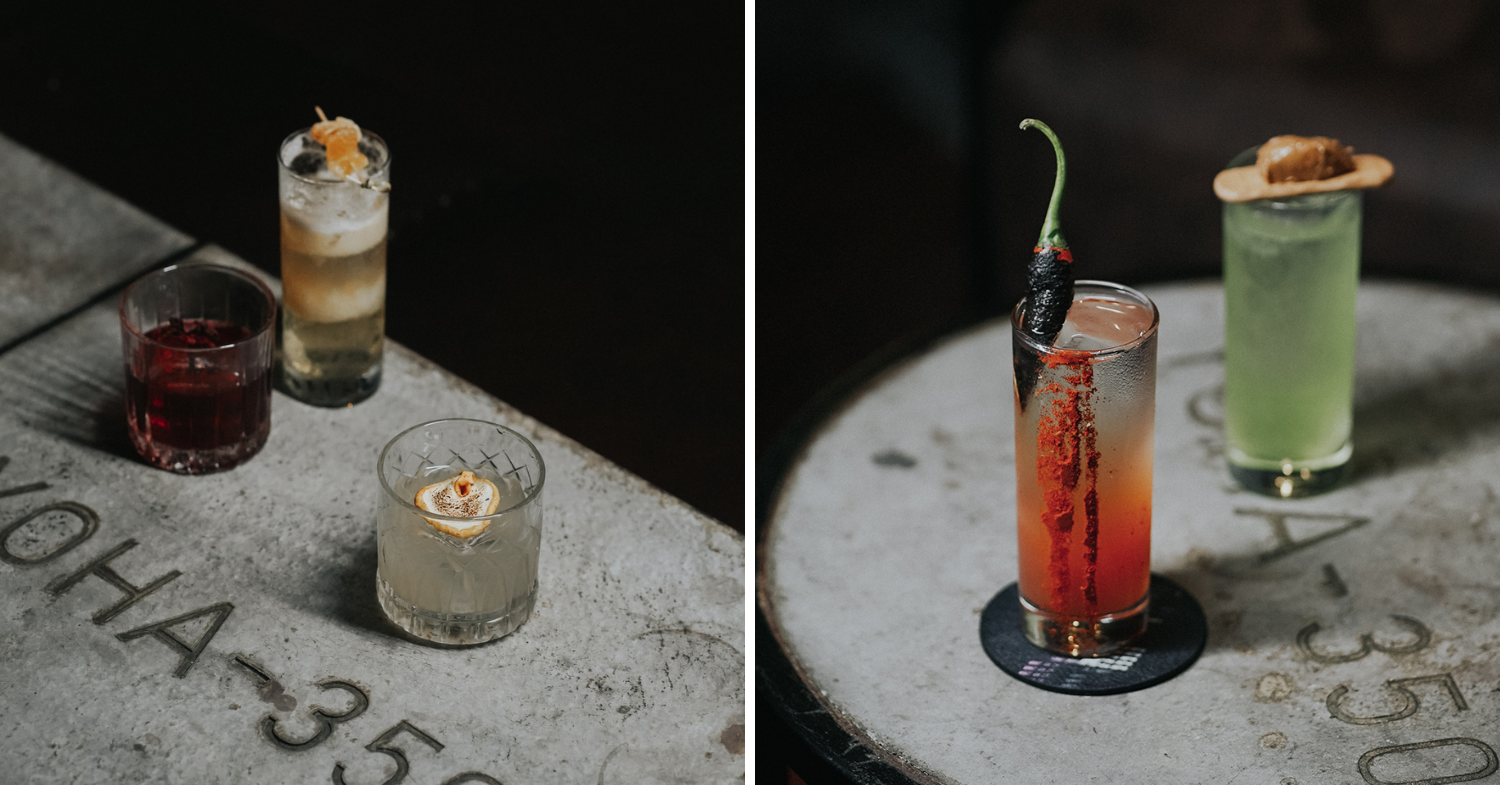 Image adapted from: Yoha-350 & Yoha-350
The bar is as enthusiastic about music as they are about cocktails. On weekday nights, you can expect a live band to serenade you as you sip on your drinks, while a DJ entertains patrons during the weekends.
Address: 350, Lebuh Pantai, 10300 George Town, Penang
Opening hours: Wed-Mon 7pm-3am (Closed on Tuesdays)
Contact: 013-515 0350 | Yoha-350 Facebook | Instagram
---
4. Over & Above – Japanese cafe by day, bar by night
---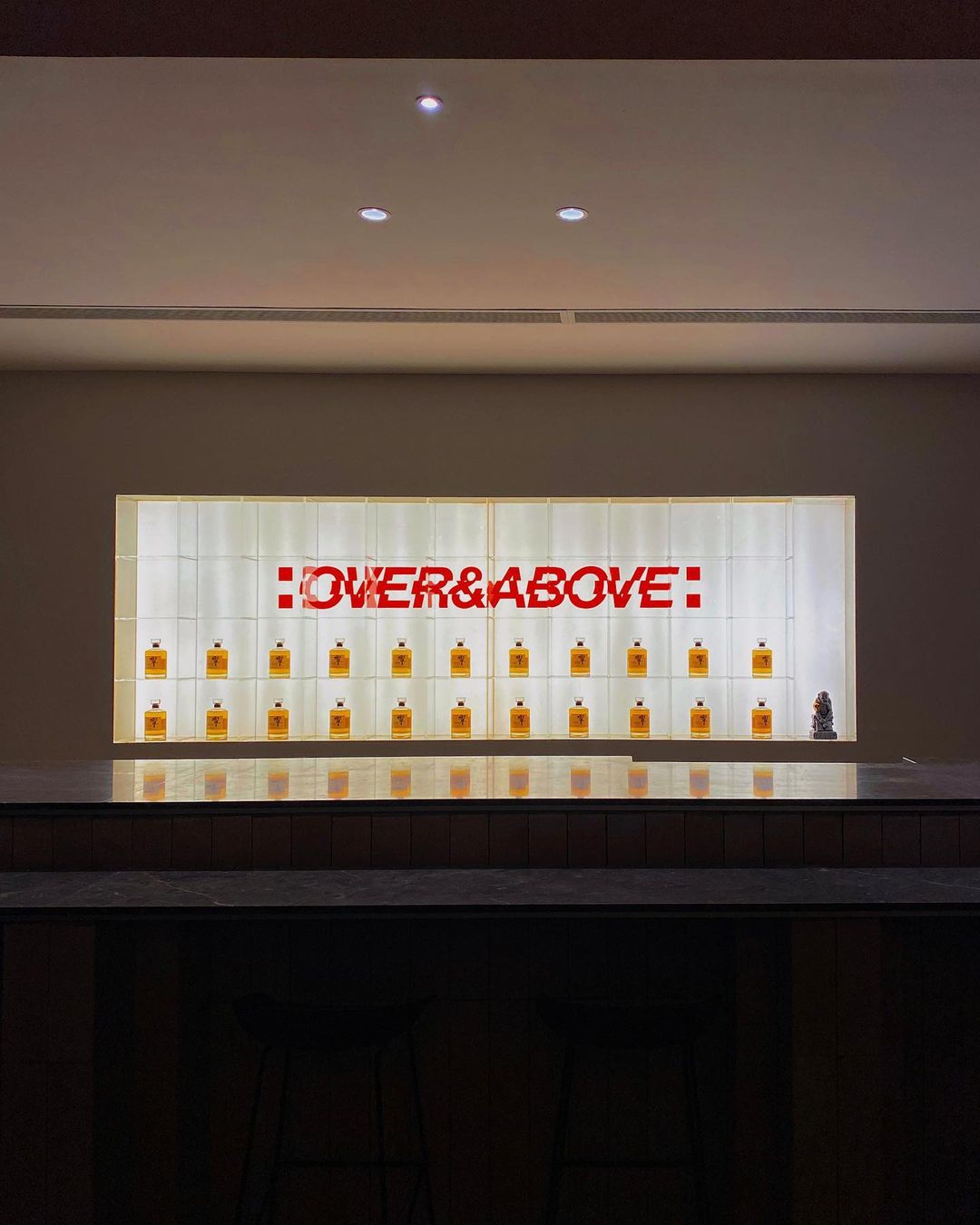 Image credit: @aintnxheart
Hannah Montana, but make it a bar. A contemporary Japanese cafe in the day that transforms into a trendy watering hole when dusk falls, Over & Above is also a rather new addition to the bar scene in Penang.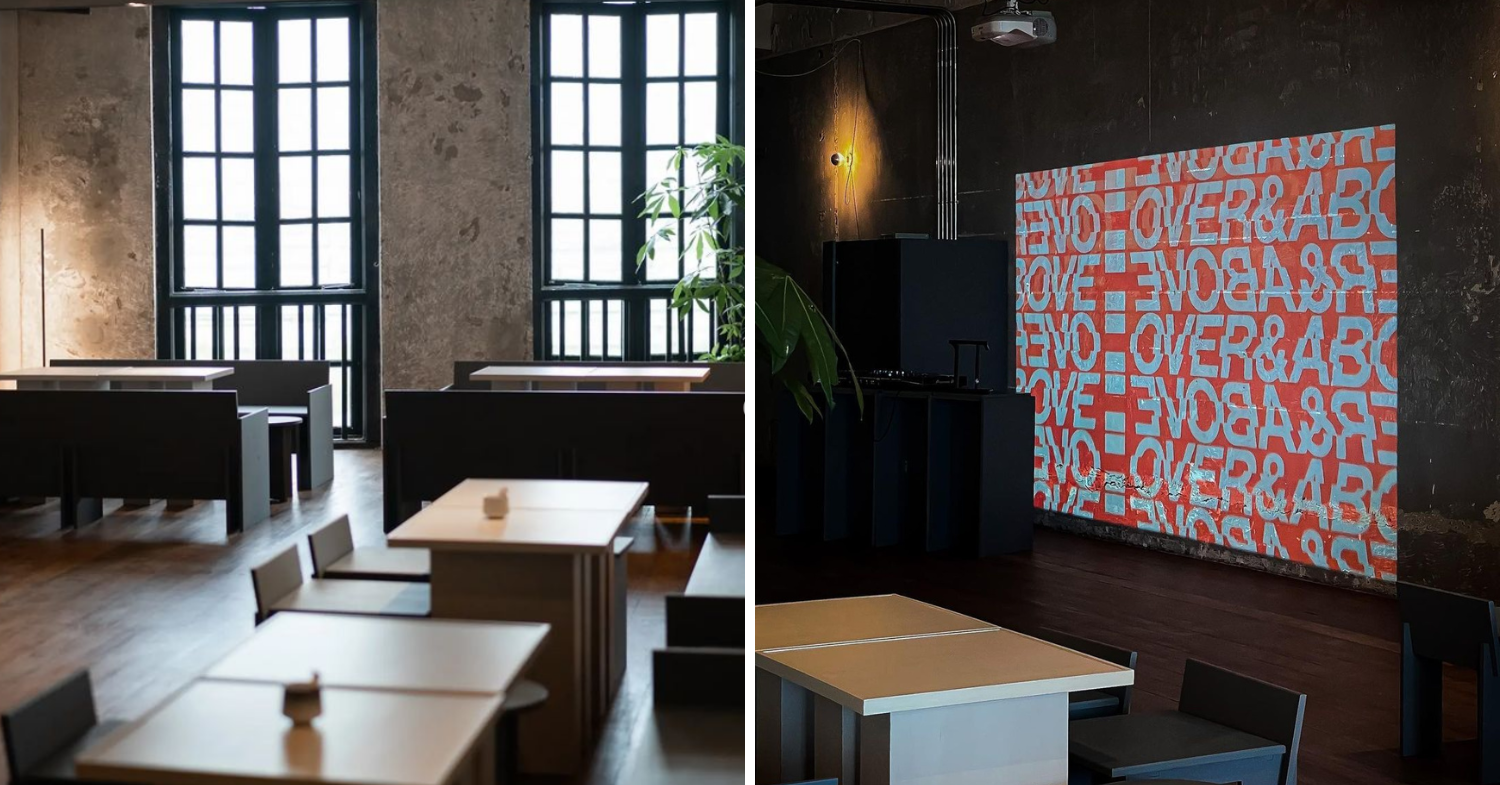 Image adapted from: @ooowenong & @jiarong98
Contrary to most bars that are burrowed in a dim somewhere, Over & Above boasts a bright and spacious interior. It's located on the second floor of a shophouse that overlooks a stunning view of jetties and seas of the island. 
The bar feels stripped back with its minimalist theme – track lights deck the bar, partitions separate simple furnishings, and alcohol bottles are neatly arranged by the counter.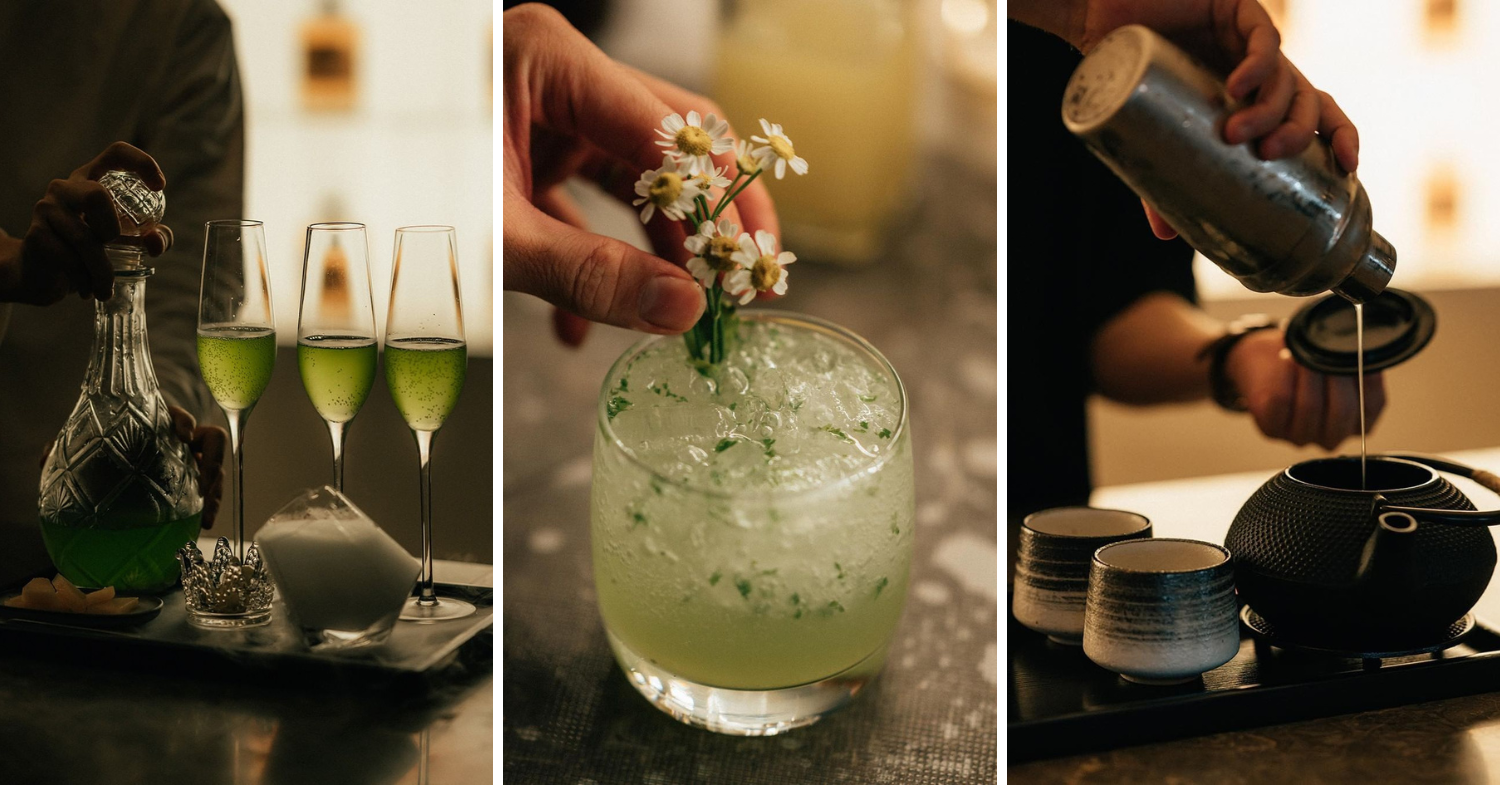 Image adapted from: @overandabovemy, @overandabovemy & @overandabovemy
This bar is not one for adding wacky ingredients to their drinks. On their booze menu, you'll find original and classic alcoholic beverages, such as brandy, whiskey, champagnes and a good pint of beer.
They offer speciality cocktails that serve 2-3 pax, so be sure to jio your friends for a get-together here – there's Kyoto Tripper (RM98) served in a gorgeous dainty Japanese tea set, Pearl of The Orient (RM98) and Sugar Daddy (RM98).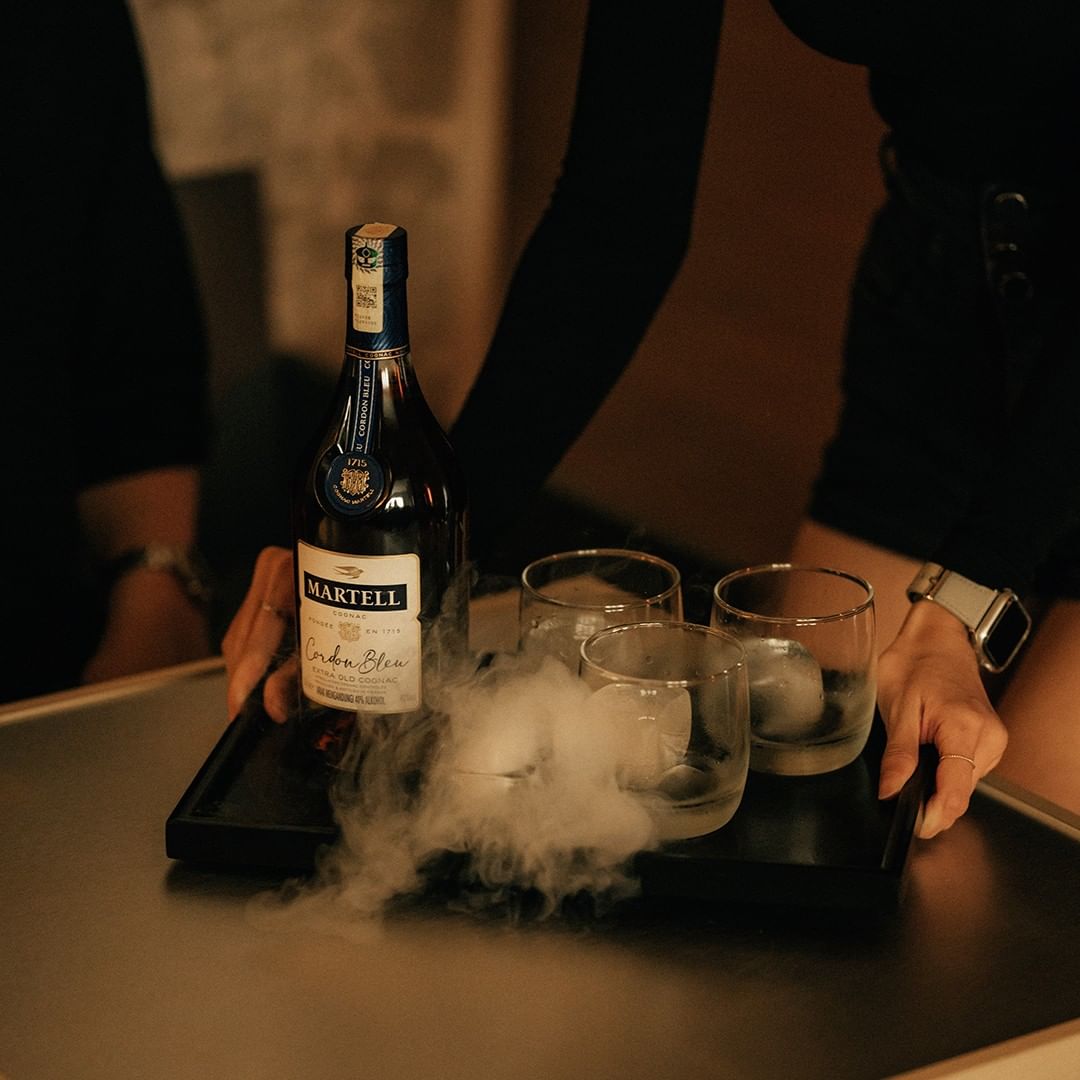 Image credit: @overandabovemy
Address: 3, Pengkalan Weld, 10300 George Town, Penang
Opening hours: Wed-Mon 11am-2am (Closed on Tuesdays)
Contact: 017-429 1964 | Over & Above Instagram
---
5. Beso Rosado – elegant cocktail bar in a neon-pink restaurant
---

Image credit: @klfooduo
Walk up to the entrance of Beso Rosado and you know you'll be in for a treat. It is a tasteful jumble of glitz and glam, with punk-rock graffiti sprayed on the walls of a room with lavish furniture – this will set the tone of the tai tai evening you'll have here.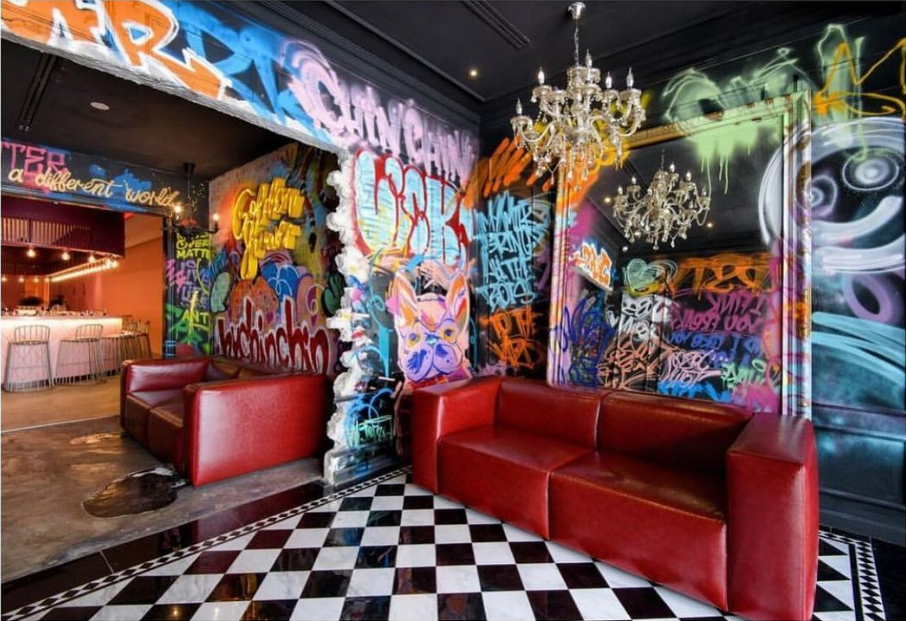 Image credit: @anjiconnell_acidplus
Inside is a stark contrast to its entrance. Head further into the restaurant to soak up the feminine decadence – the space features explicit pink walls and velvet chairs, as well as pops of fuchsia and magenta neon lights. A long pink and gilded bar takes centre stage, with an audience of patrons encircling a team of bartenders working their magic behind the counter.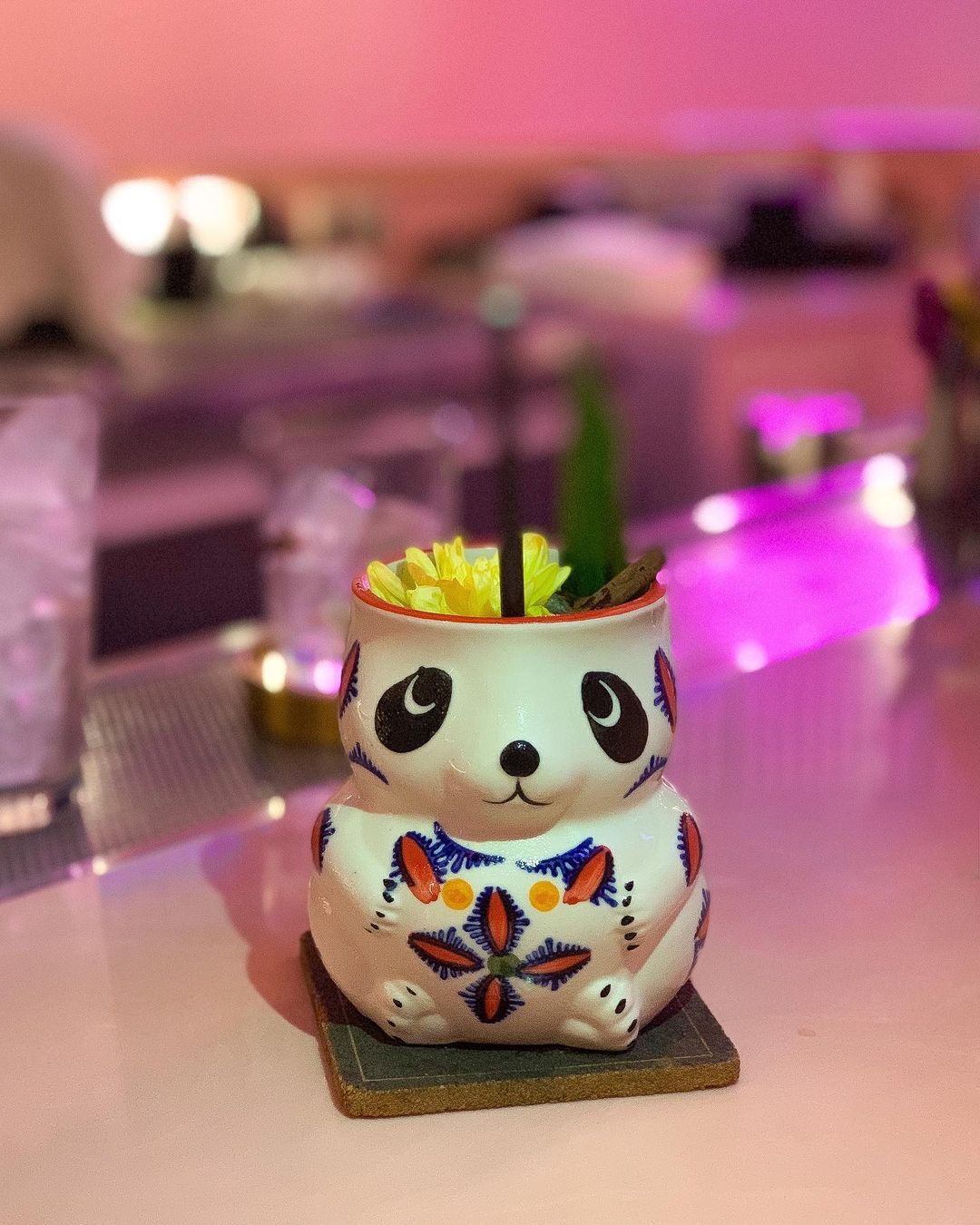 Tropical Panda
Image credit: @yummmseng
Beso Roado's curated drinks list will make you want to sip late into the night, be it for the exotic flavours or the elegant presentation. 
Casa DeLapina (RM32), for starters, is a tropical cocktail made up of tequila, pandan syrup, pineapple and mango juice with a burnt bay leaf – this all gets served in a golden pineapple glass. Another signature drink is the Tropical Panda (RM32) that comes in an adorable panda cup. It's a comforting concoction of Caribbean spiced rum, cinnamon syrup, passion fruit puree and ginger beer.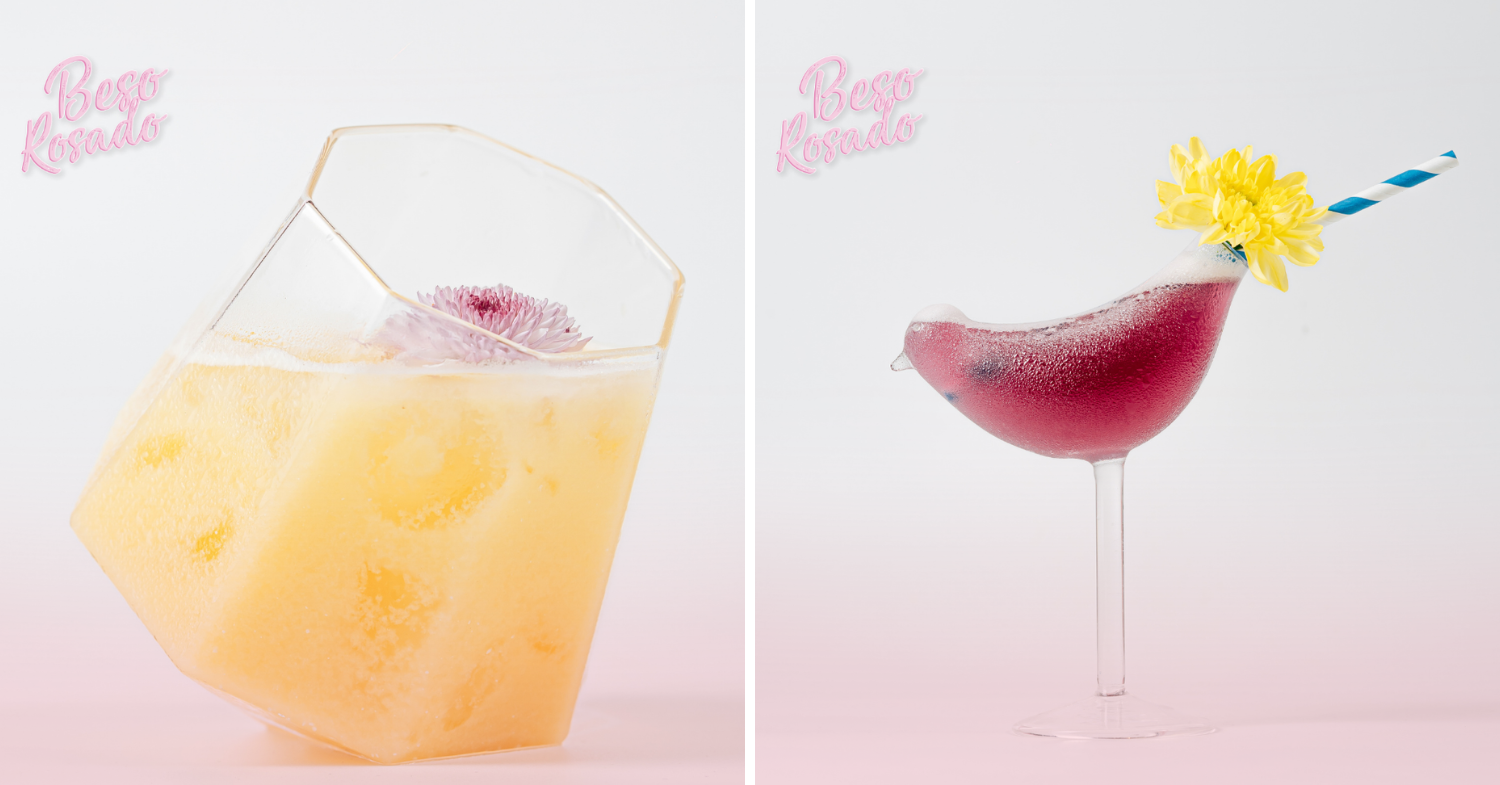 Image adapted from: Beso Rosado & Beso Rosado
Gorgeously blushed and aromatic, Purple Rain, Purple Rain (RM32) is a unique creation comprising blue pea flower-infused gin with earl grey tea, lemongrass and floral hints from lavender. Or try My Granma's Memory (RM32) which brings out more savoury profiles with coconut cream on rum and coconut syrup, and kaffir leaf and galangal that sharpens the overall flavour of the cocktail.
Due to the bar's increasing popularity, Beso Rosado now also doubles as a hob and grill restaurant that serves incredible cuisine such as Sirloin Steak (RM68) and Cold Capellini Pasta (RM12).
Address: 86, Lebuh Bishop, 10200 George Town, Penang
Opening hours: Tue-Fri 6pm-12am | Sat & Sun 12pm-12am (Closed on Mondays)
Contact: 04-263 6868 | Beso Rosado Facebook | Instagram
---
6. Er Yi Tai – izakaya that serves Japanese snacks & alcohol
---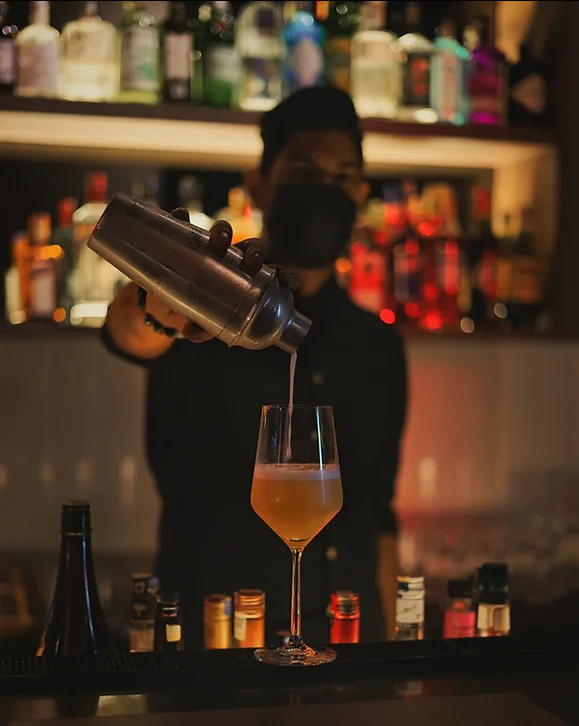 Image credit: Er Yi Tai by Hygge
A best-kept secret among locals that's imbued with a sensual allure, Er Yi Tai – a cheeky Chinese name that translates to English as "second wife" – is a Japanese izakaya-style bar with a gourmet twist.
Dark, moody and atmospheric, this bar is more mystifying than it is dodgy. It screams speakeasy in every sense – classy leather couches, fancy lights and panelled woods in brown and deep orange hues.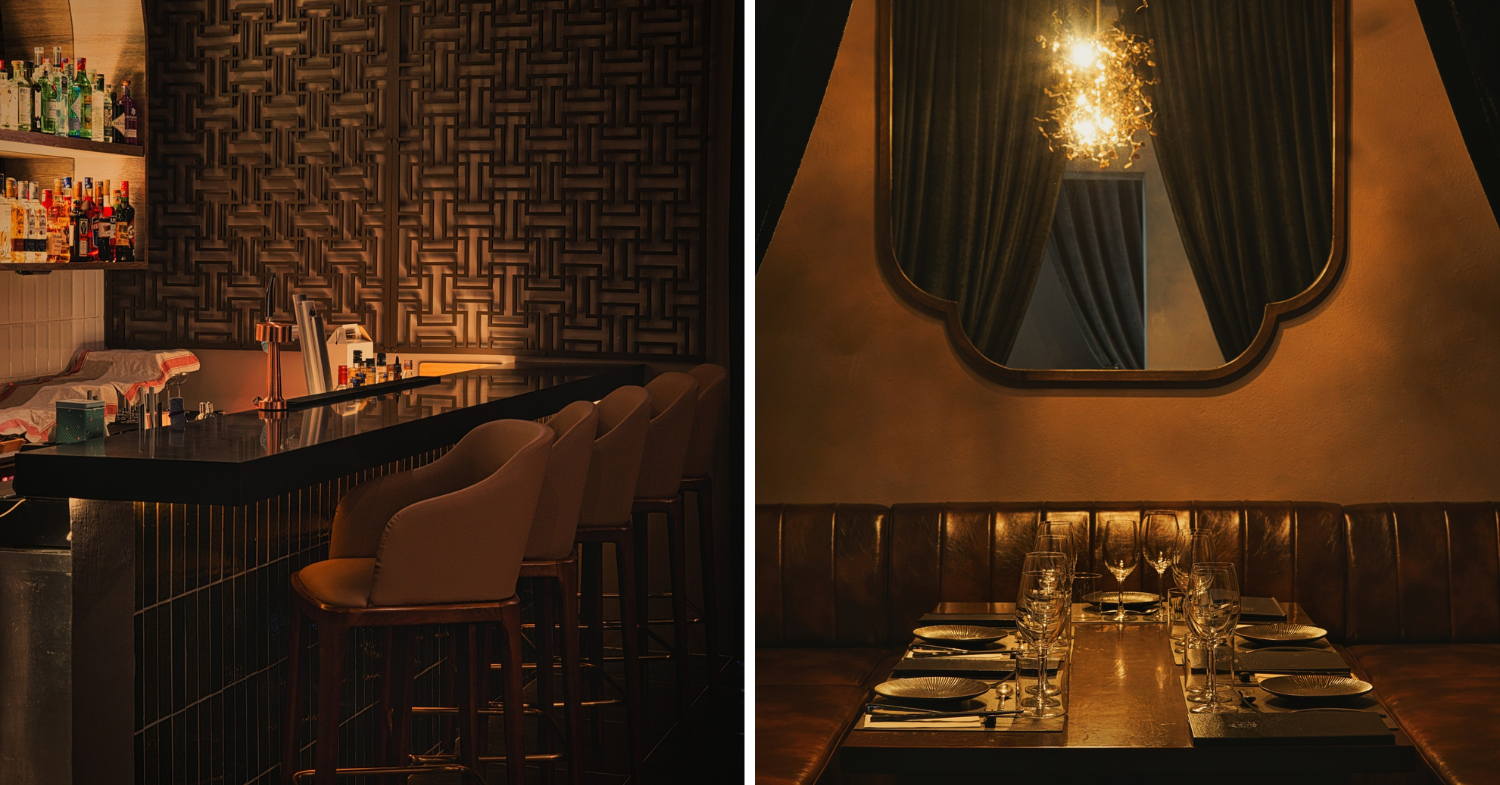 Image adapted from: Er Yi Tai & Er Yi Tai
Er Yi Tai serves Japanese appetisers alongside a variety of alcoholic beverages. For drinks, you can enjoy Japanese classics such as spirits, sake and Japanese Highball. But do get yourself a glass or two of their cocktails with names as saucy as the bar itself. 
There's Er Yi Tai's B*tch (RM40), a bold and fruity glass of rum, amaretto, pineapple juice and lemon. Or be intrigued by Spicy Lips (RM38), a spicy and spectacular tipple of vodka, chilli and lemongrass.
To end the night on a decadent note, The Climax (RM39) feels like a dessert – the cocktail is an indulgent mix of tequila, chai and condensed milk.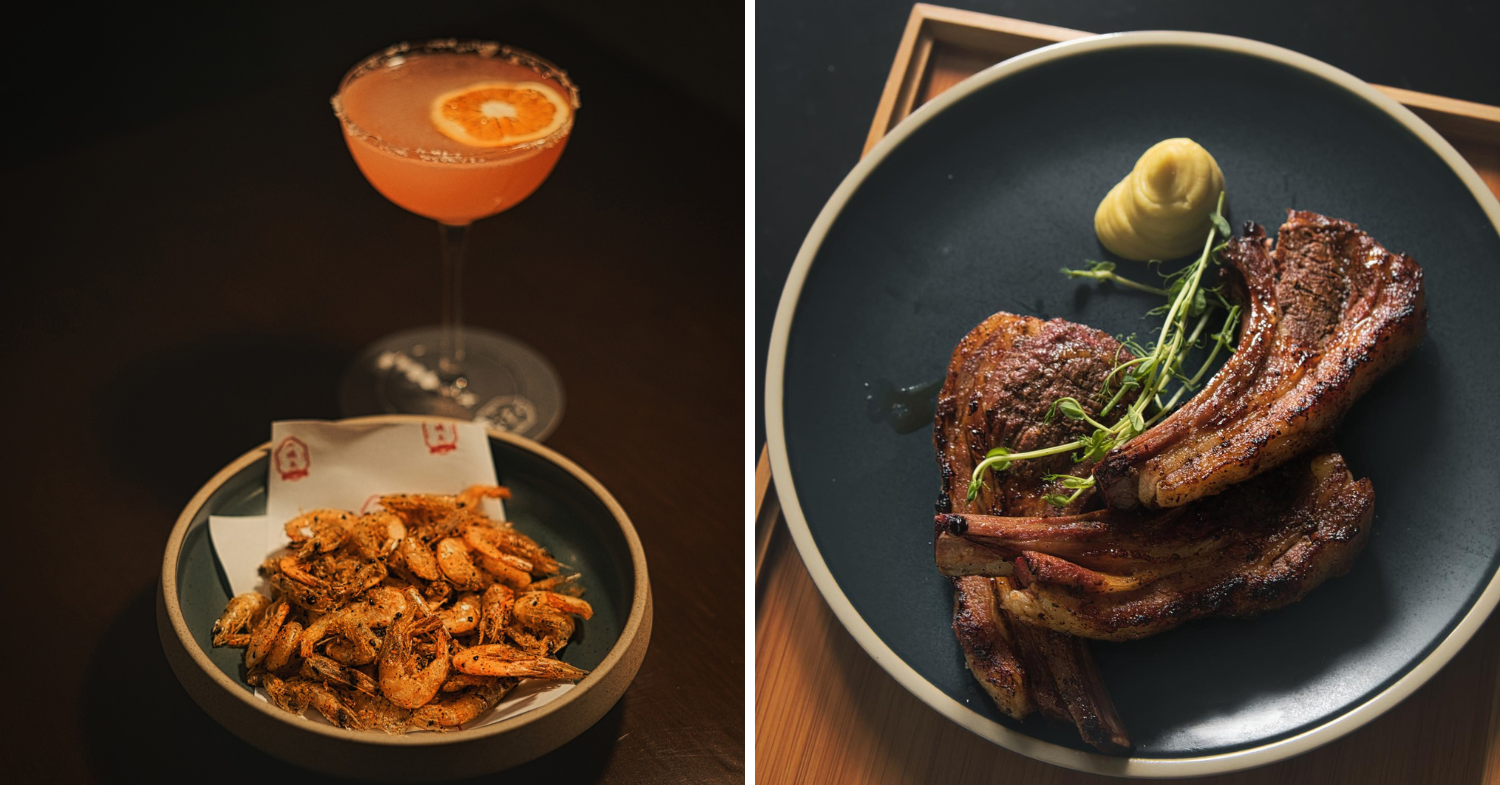 Image adapted from: Er Yi Tai & Er Yi Tai
Wind down in the evenings with a few small plates to share among friends. Sakura Kakiage (RM28) – tempura onion and sakura shrimp snack with beetroot – and Octopus Ceviche (RM36) served with white corn and shallots are sharing plates that burst with flavours. Or go straight for juicy cuts of grilled Angus Sirloin (RM85) and Iberico Pluma (RM65) which both pair delightfully with the drinks here.
Address: 56, Jalan Kuala Kangsar, 10450 George Town, Penang
Opening hours: Mon, Thu & Sun 3pm-1am | Fri & Sat 3pm-2am | Wed 6pm-1am (Closed on Tuesdays)
Contact: 011-5853 5663 | Er Yi Tai website | Facebook
---
7. Manchu Bar – enchanting old Chinese bar with opera performances
---

Image credit: @manchupenang
If there is one bar that encapsulates the spirit of vivacity, luxury and fun, it is Manchu Bar – but perhaps in the Ming dynasty period.
Lively, flamboyant and glamorous – these are some words that'll come to mind when raving about Manchu Bar to your pals. This speakeasy is truly an escape from the toils of your daily life. Push aside the black velvet curtains at the entrance, and step into the vibrant portal of a bar that'll transport you to another place and time.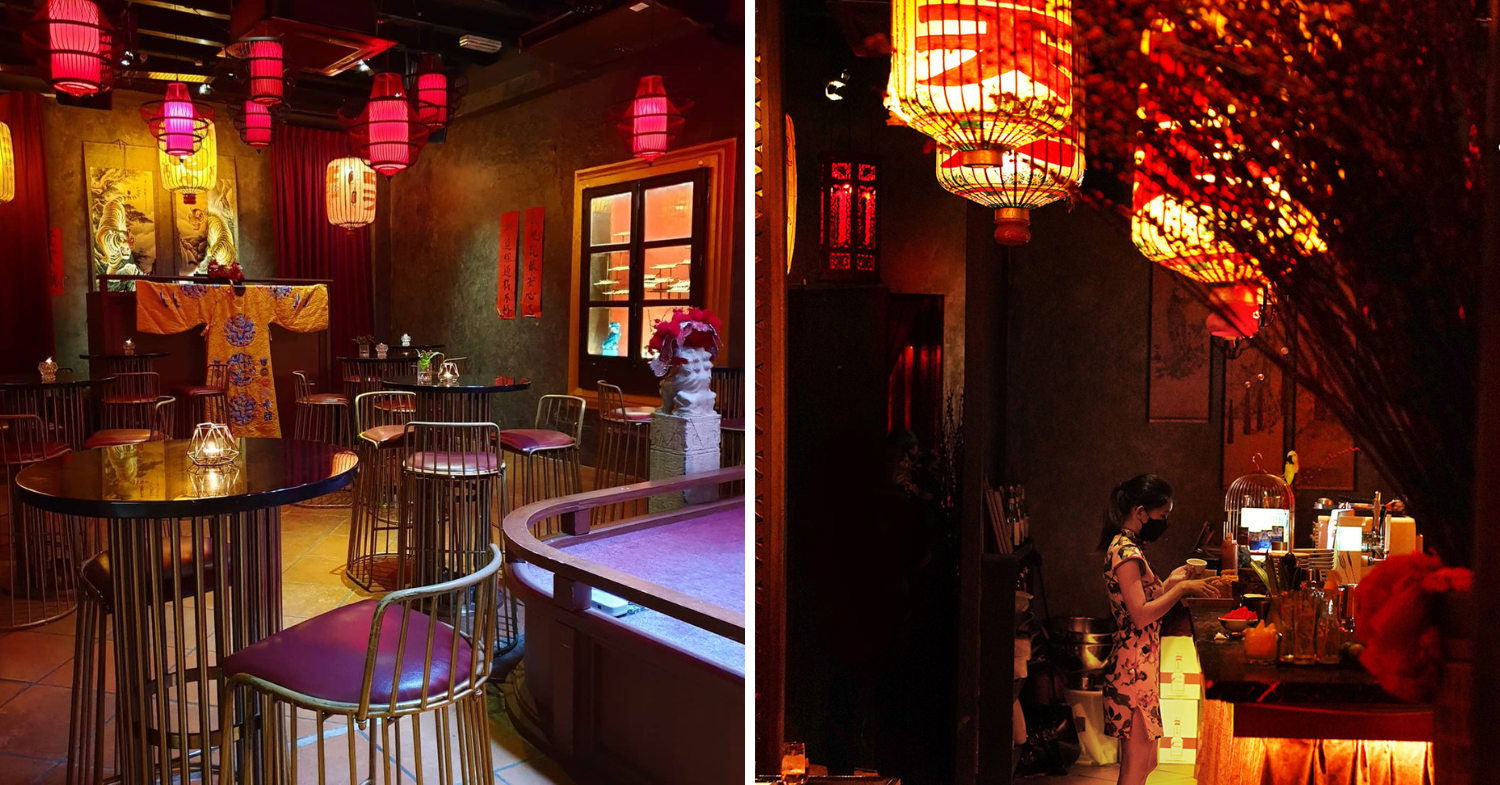 Image adapted from: @manchupenang & Manchu Bar
Manchu bar is a Chinoiserie-inspired bar decked with vivid red lanterns, elaborately carved wood furnishings, silk draping and sprouts of tall leafy greens. Whimsical paintings and classic Chinese motifs on the walls add to the bar's overall traditional, yet charming, ambience.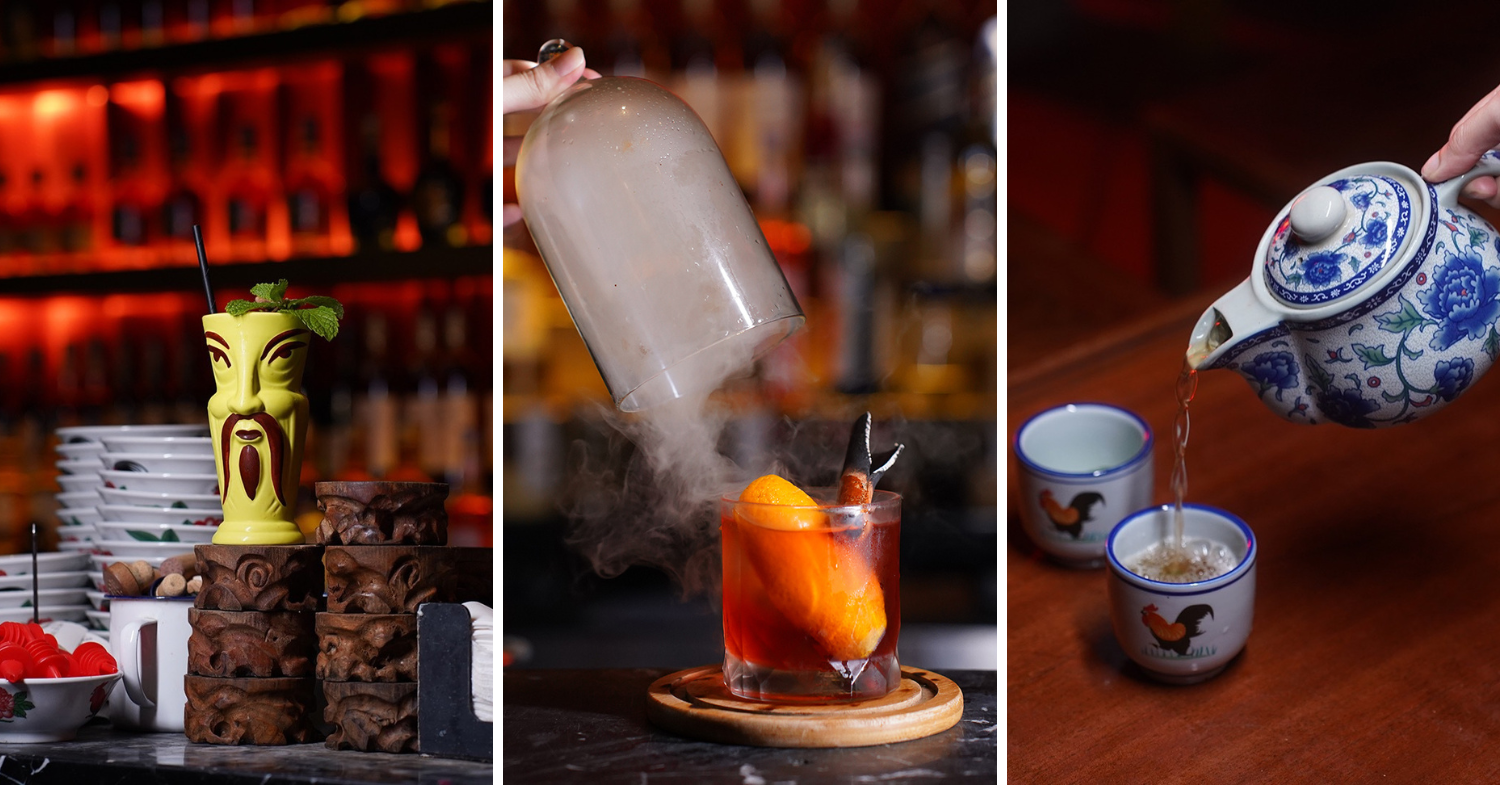 Image adapted from: Manchu Bar, Manchu Bar & Manchu Bar
It isn't only the bar's elaborate decor that takes you on an experience of escapism. Their drinks play the part just as well. Here, you can order an array of classic alcoholic beverages, as well as localised cocktail drinks served in gorgeous Chinese kitchenware.
The Imperial Cocktail menu boasts innovative concoctions such as Leilomei Milk Tea (RM34) – think bubble tea spiked with vodka – Tangerine Taels (RM40), a zesty tequila drink with a citrusy touch of Chinese oranges, and Elixir of Youth (RM40), which is pretty much herby liqueur disguised as dainty teas.

Image credit: Manchu Bar
Manchu Bar puts on amazing live performances on certain nights as well. This is usually announced on their social media pages. You can expect band performances, operas, and Chinese traditional dance performances to take in as you sip on your drinks. 
Address: 38 & 40, Jalan Pintal Tali, 10100 George Town, Penang
Opening hours: Tue-Sun 6pm-3am (Closed on Mondays)
Contact: 012-500 7588 | Manchu Facebook | Instagram
---
8. Magazine 63 – reminiscent of old Shanghai
---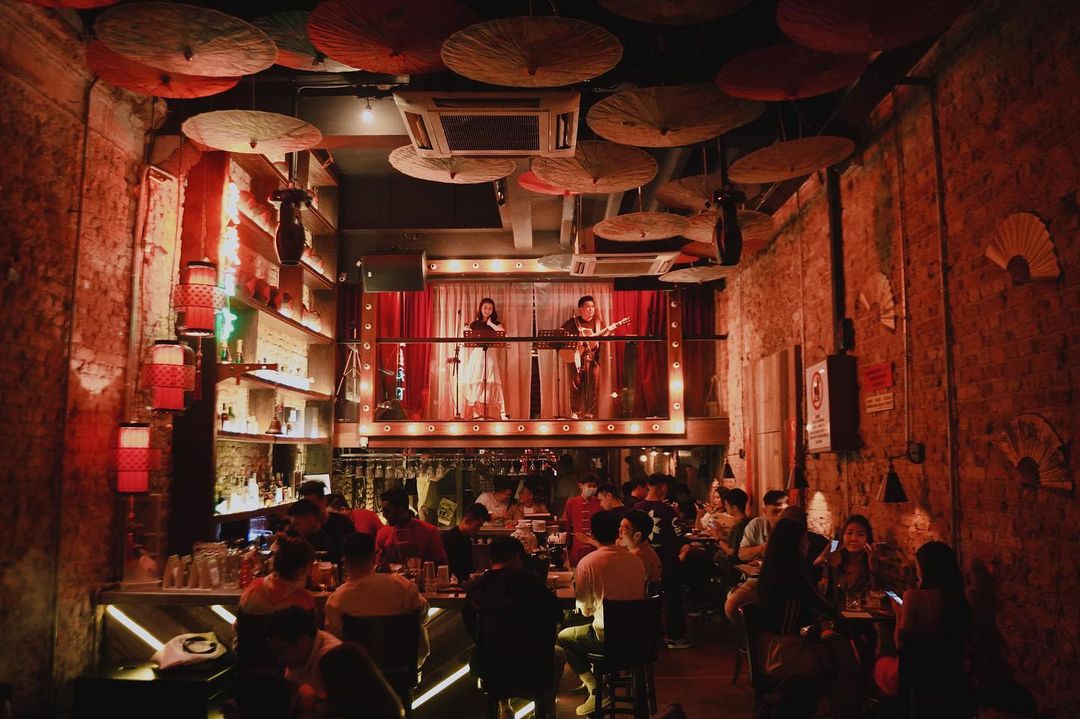 Image credit: @magazine_63
When bar-hoppers think of speakeasies in Penang, Magazine 63 always springs to mind. The start of this watering hole is likely what initiated the speakeasy trend on the island, and has become a popular haunt when it comes to a ritzy night out with well-crafted drinks. Bars Penang
When we say this speakeasy is hidden, it is very much so. With the facade of an abandoned shoplot, the bar doesn't disclose a specific hint that lets you know of its location – we advise you to have your Google Maps turned on.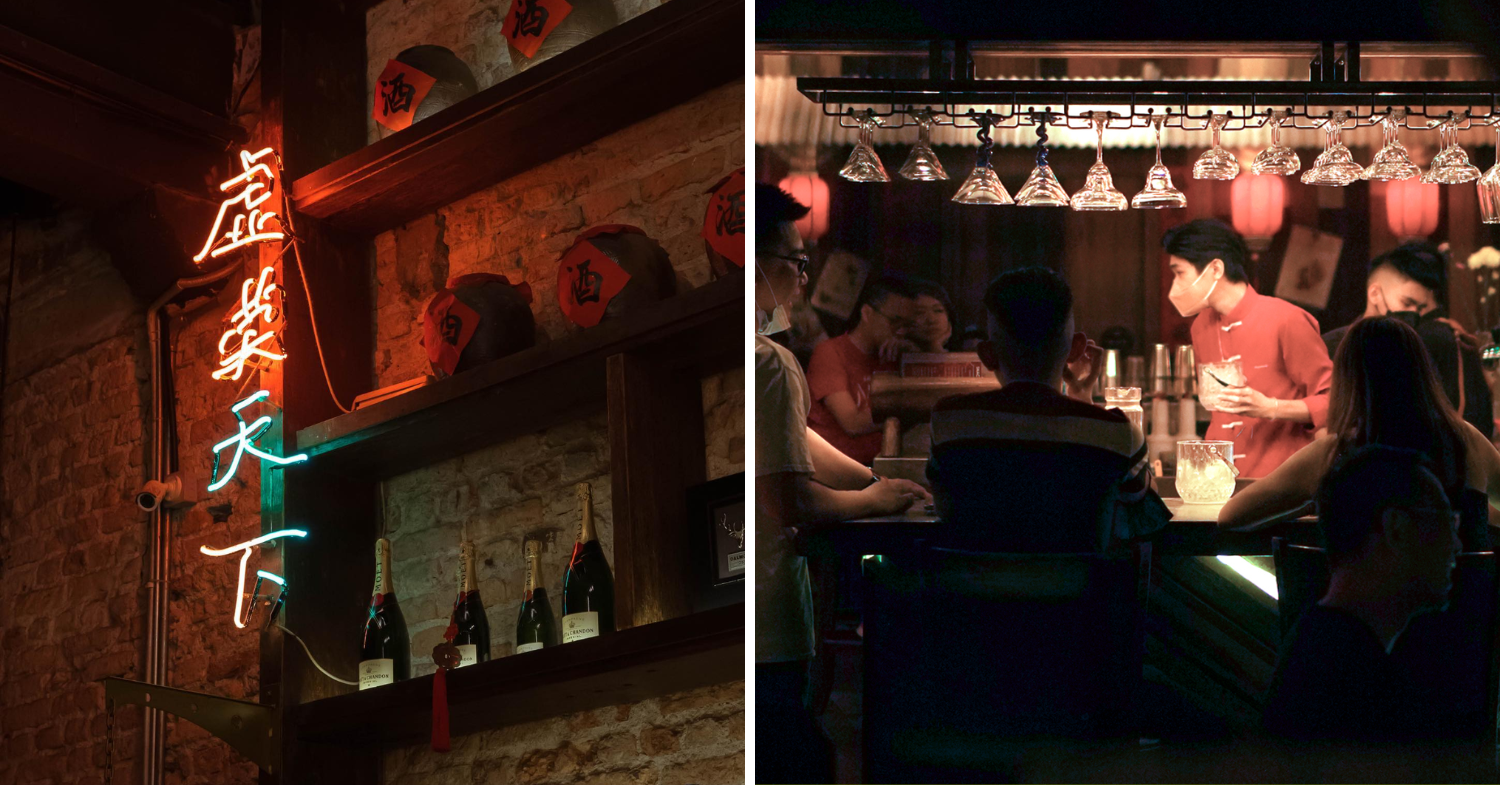 Image adapted from: Magazine 63 & Magazine 63
Magazine 63 is another bar with an old-world Chinese concept, like something out of a period drama. It fuses the enchanting oriental vibe with a stylish contemporary interior, creating an intimate and chic drinking space.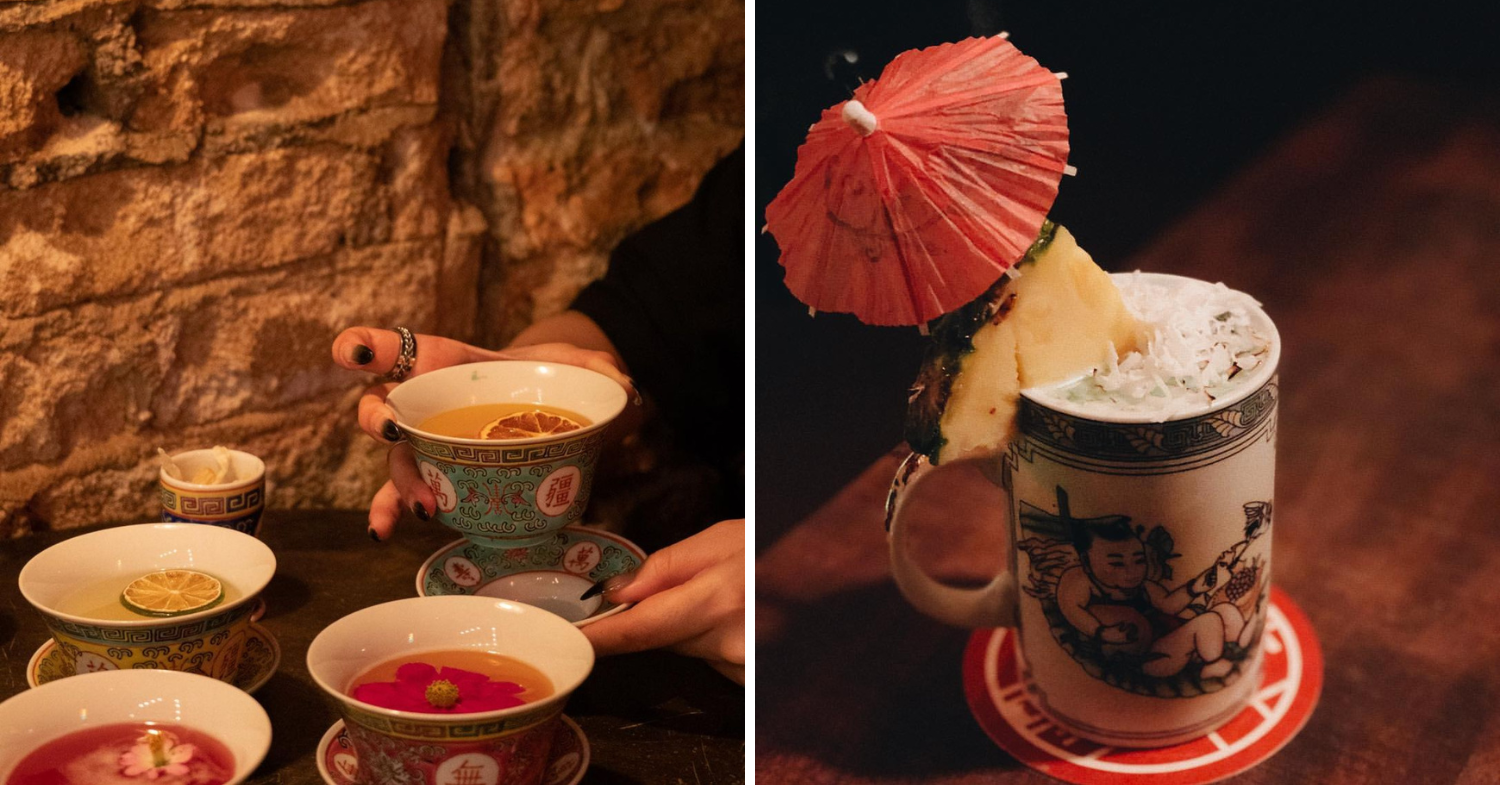 Image adapted from: @magazine_63 & @rimatambunan
Bartenders here conjure expertly-mixed tipples, including classic cocktails and signature serves. Staying relevant to its theme, the bar's signature cocktails are very much inspired by Eastern flavours. 
Aptly served in traditional Chinese ceramic drinkware, Hidden Gem (RM88 per pot) is a brandy, honey scotch whiskey and red bull concoction that is poured into porcelain teacups and shared amongst a group. Or sip on a well-curated Spicy Grave (RM48) – made with Ocho Blanco tequila, lemon, firewater and bitters – or a single malt dry whiskey with dry vermouth and black walnut mixture, called the Whisky Black Walnut (RM48).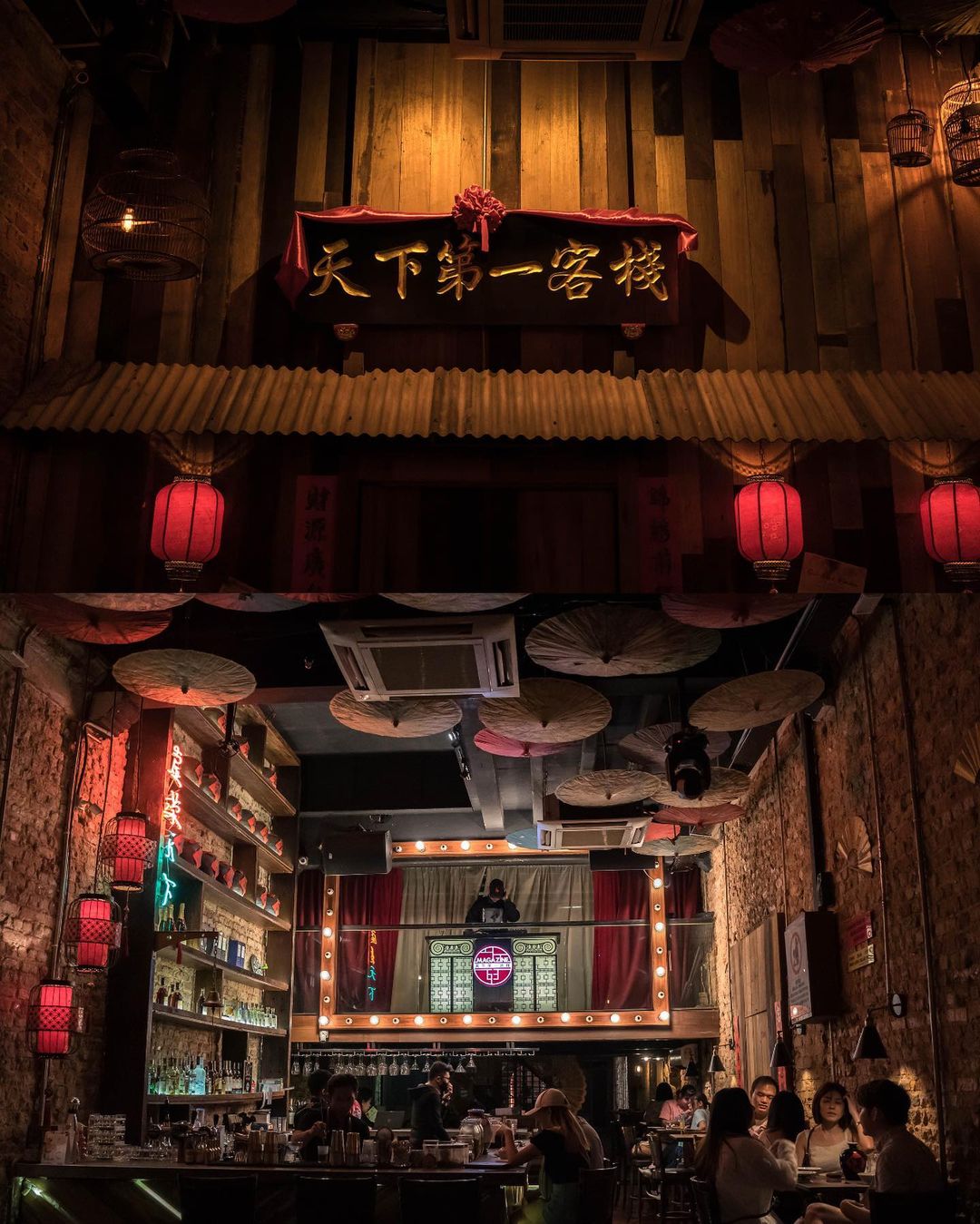 Image credit: @magazine_63
The bar hosts regular live music or DJ performances, which pairs beautifully with the heady drinks they serve.
Address: 63, Jalan Magazine, 10300 George Town, Penang
Opening hours: Tue-Sun 8pm-2am (Closed on Mondays)
Contact: 017-636 3551 | Magazine 63 Facebook | Instagram
---
Bars in George Town, Penang
---
Some nights, we just crave for a boujee affair that involves sipping on well-crafted cocktails in a suave bar. Penang is filled with plenty of stylish bars, so in the case you might not know where to locate them, this is the list for you.
Get a taste of the chic side of Penang and the illicit 1920s glam at these cocktail havens – it'll be a whirl of a night out with your best pals.
For more places to discover in Penang:
---
Cover image adapted from: @kitoki, @overandabovemy, @klfooduo & @magazine_63
Get more stories like this!
Drop us your email so you won't miss the latest news.