Seafood restaurants in Johor Bahru
---
Having a meal of seafood always feels like a celebration. A huge spread of the ocean's finest that has been spiced, fried or grilled to perfection makes for an ideal feast you can enjoy with friends and family.
While indulging in ceviche or sashimi is a delight, we do crave the local spin on a scrumptious fresh sea catch sometimes. If you're looking for a seafood fix that can also feed a party, here are 8 seafood restaurants in Johor Bahru known for their mouthwatering variety of aquatic bounties – including saucy crabs, seasoned prawns and even stir-fried snails.
---
1. Restoran Tian Lai Seafood Garden – a variety of juicy crab dishes
---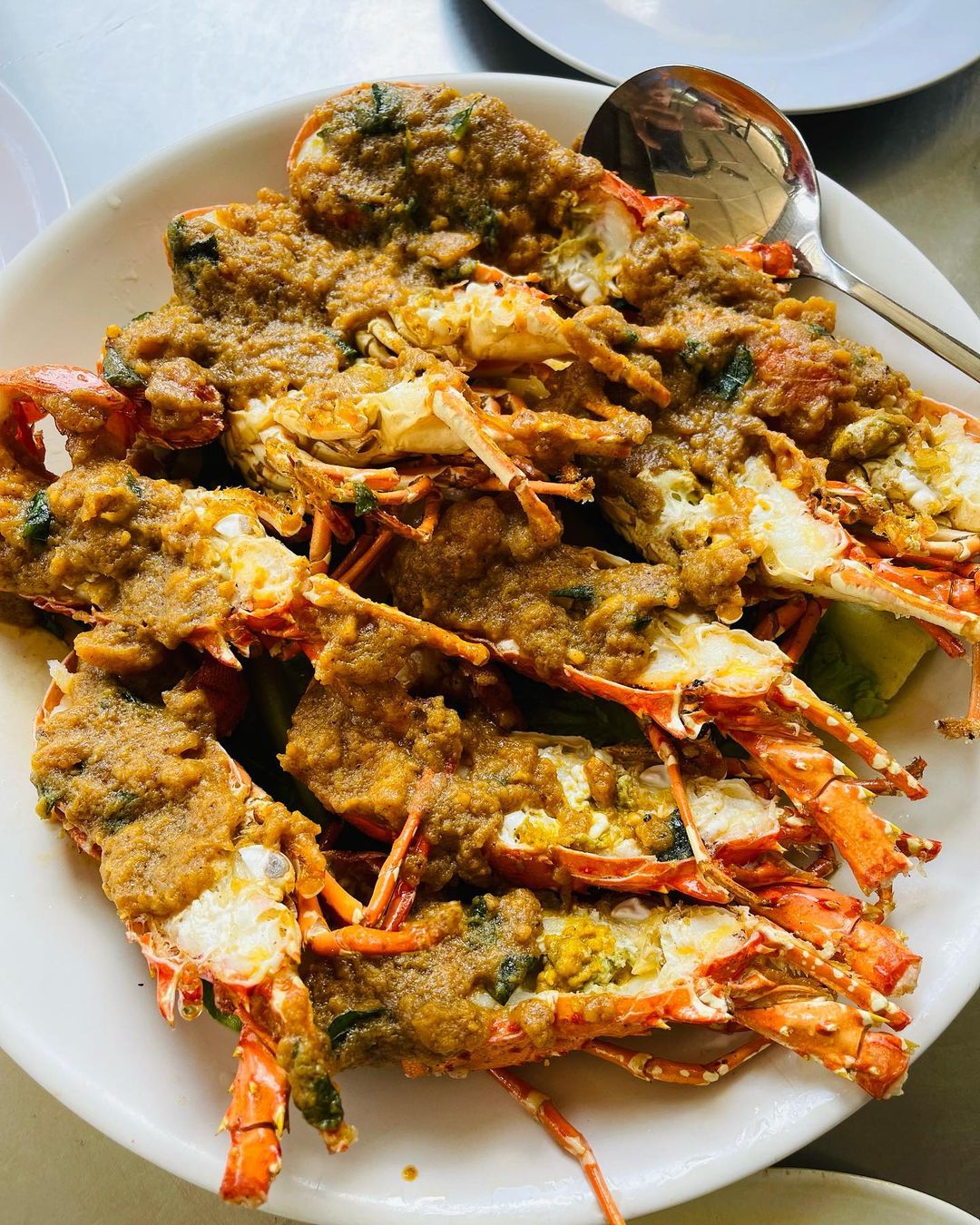 Image credit: @louisphua11
Restoran Tian Lai Seafood Garden is a favourite meal pit stop for peckish road trippers. With a prime location near the Second Link and its highly-raved juicy crabs, it's no wonder many locals and Singaporeans alike cannot resist stopping by for some finger-licking seafood.
Don't let the local restaurant's humble facade fool you – they offer a vast assortment of reasonably-priced seafood dishes cooked in various ways.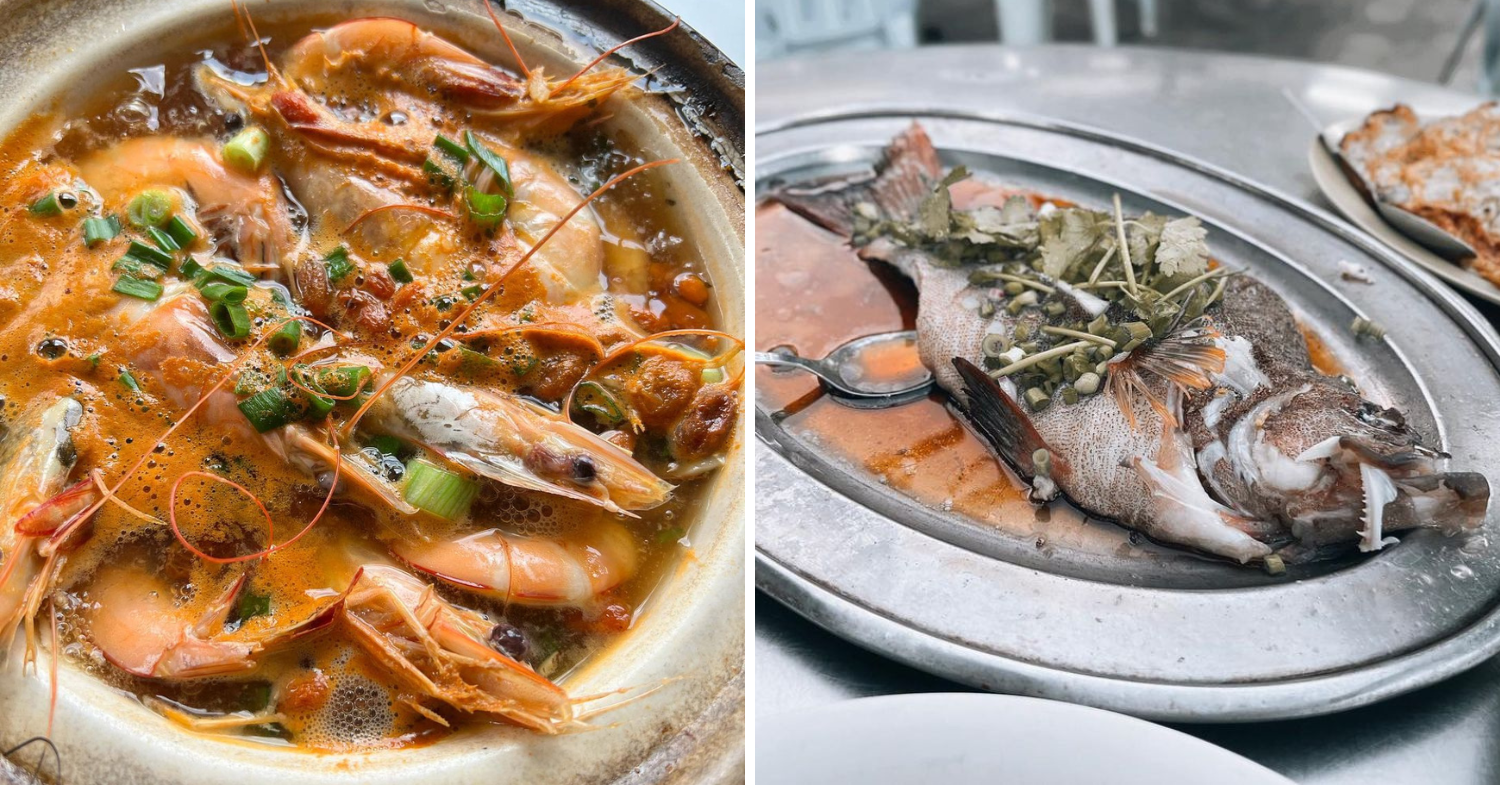 Image adapted from: @coolnegotiater_eats & @fyx.730
This restaurant takes pride in serving not only the freshest, but also the juiciest, crabs with fluffy insides that are packed with flavours from the supremely divine sauces they have been doused in.
Get cracking with a few of their most popular dishes, such as the signature Kam Heong Crabs, subtly tempered with dried shrimps and curry powder, or the creamy and decadent Salted Egg Crabs that bursts with a wonderful harmony of sweet and savoury.
Prices for seafood menu items are available on request – it's recommended that you ask a waiter for prices before placing an order. You can expect to pay between RM500-RM600 for a 10-pax meal comprising four seafood dishes and two vegetable sides.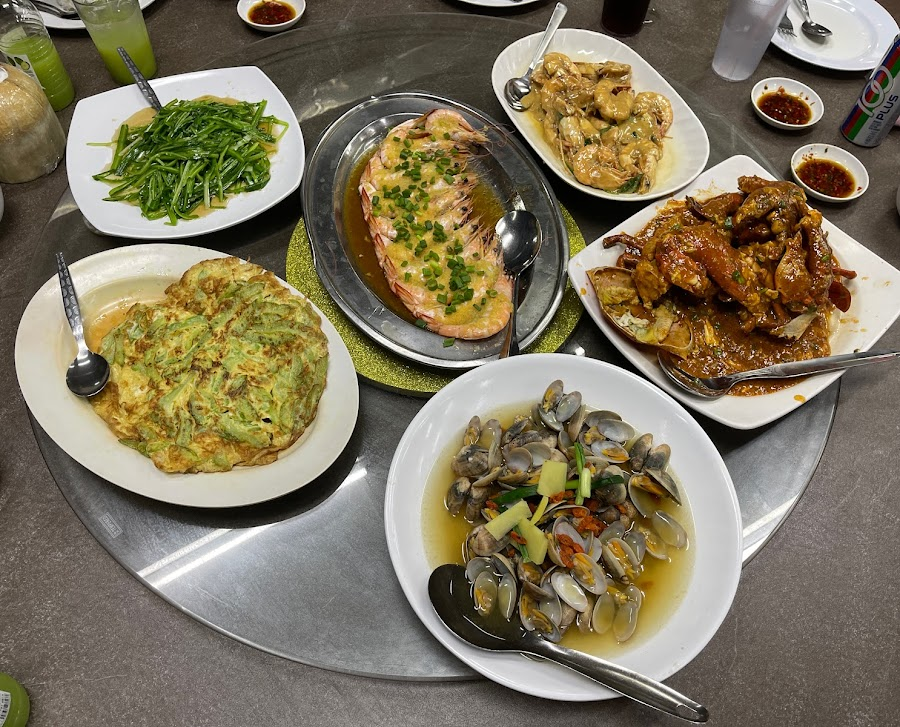 Image credit: Google Photos
For something simple and comforting, opt for a plump steamed fish – these are also priced on order. There are choices such as White Pomfret and Golden Snapper – their signature fish dishes comes with an aromatic sweet carrot gravy and a heaps of fried shallots and garlic blanketing the fish.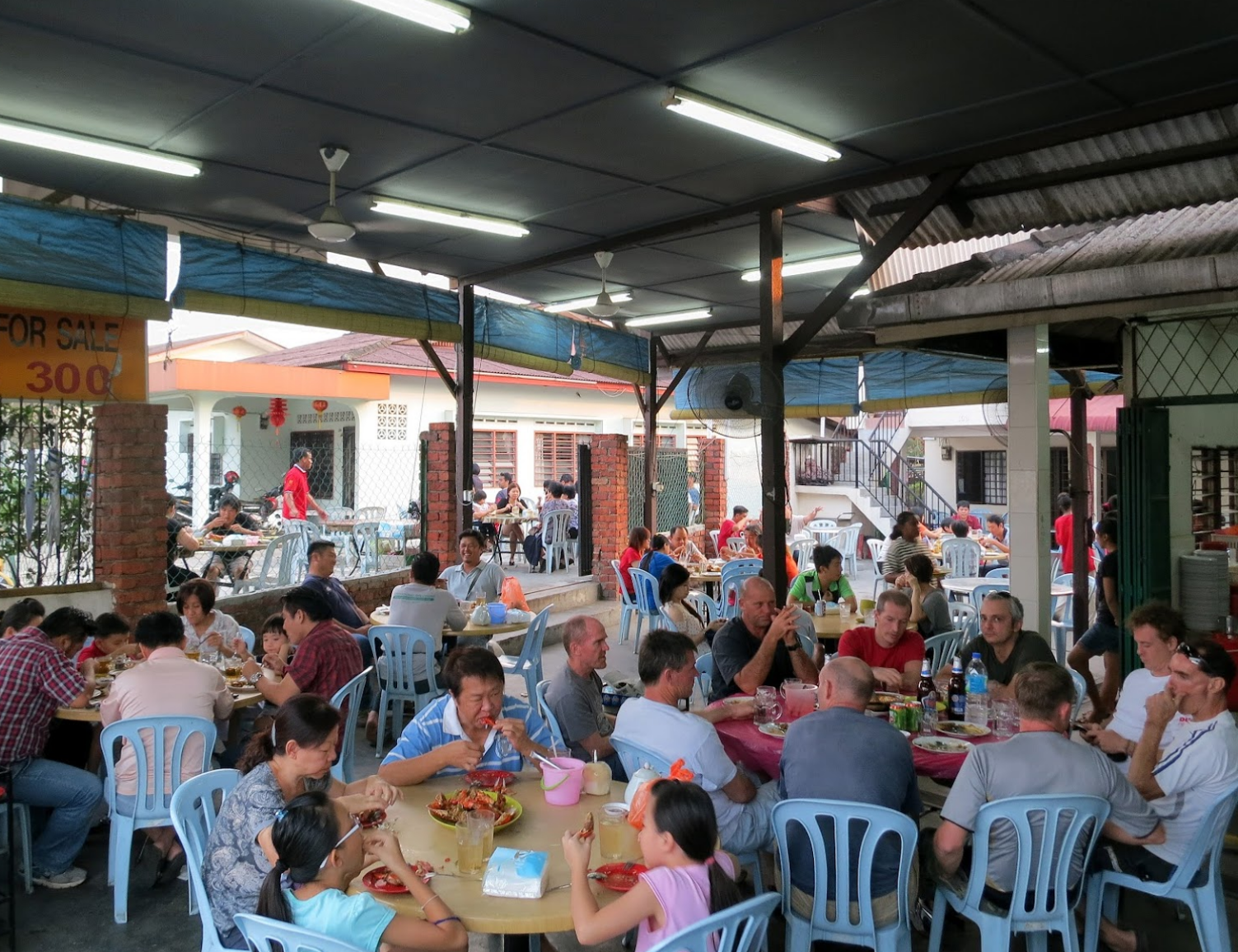 Image credit: Google Photos
Address: 158 Jalan Leong Bee, Gelang Patah 81550, Johor Bahru, Johor
Opening hours: Tue-Sun 12pm-11pm (Closed on Mondays)
Contact: 07-510 1521 | Restoran Tian Lai Facebook
---
2. Anjung Senibong Seafood – pick your seafood & choose how they are cooked
---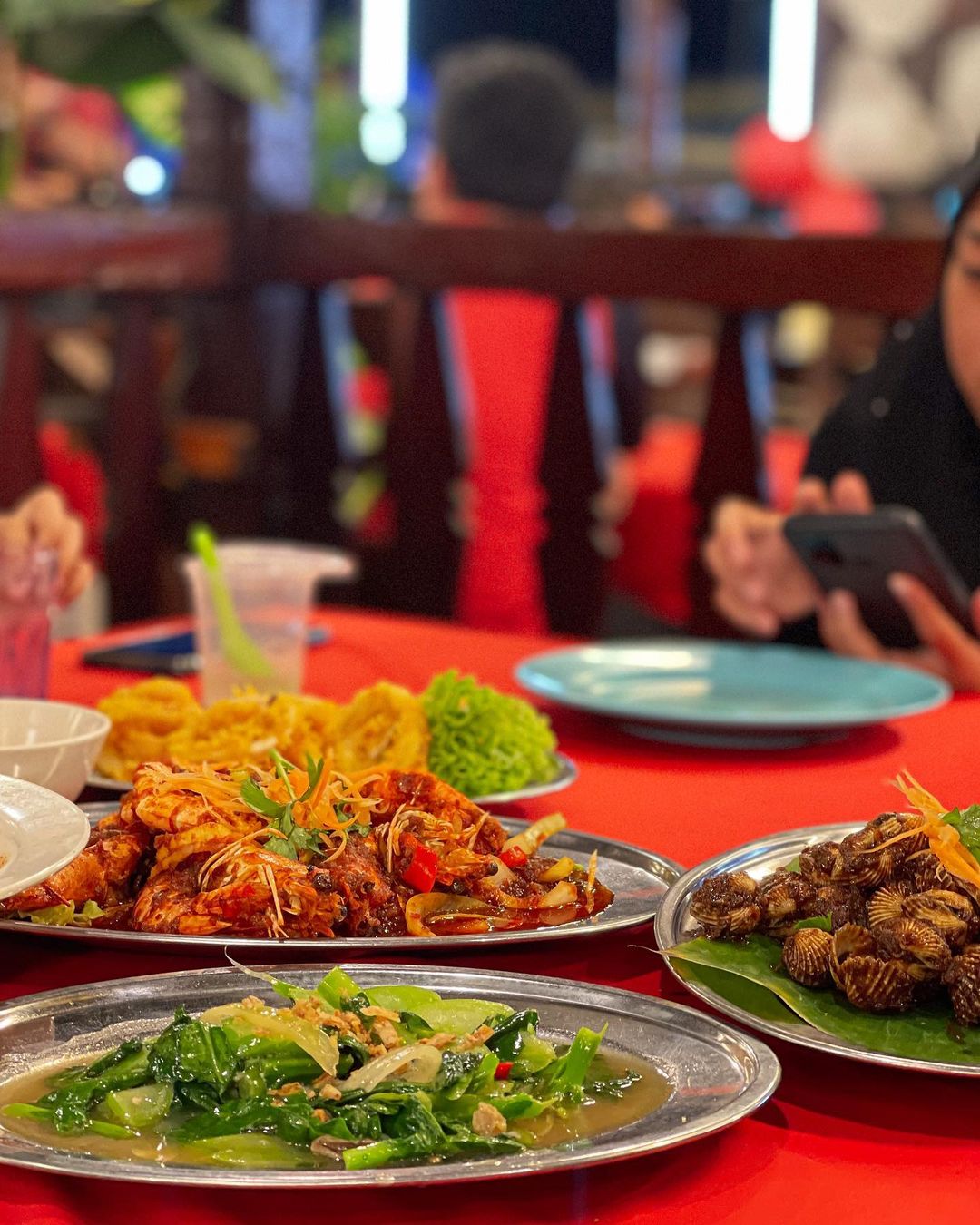 Image credit: @azielamohdamin
Nothing beats the experience of dining on fresh seafood right by the calm seas itself, with unbeatable views of the coastline and sea breeze in your hair. At Anjung Senibong Seafood –  located within a waterfront village called Senibong Village – you'll get a first-hand experience of that.
Amidst the flurry of patrons and servers within the village, take your time to sift through the displayed catch of the day and choose from fresh fish, stingrays, squid, and crustaceans to have for dinner. While they do have a menu, the chef welcomes customers to put in requests on how they would like their seafood cooked.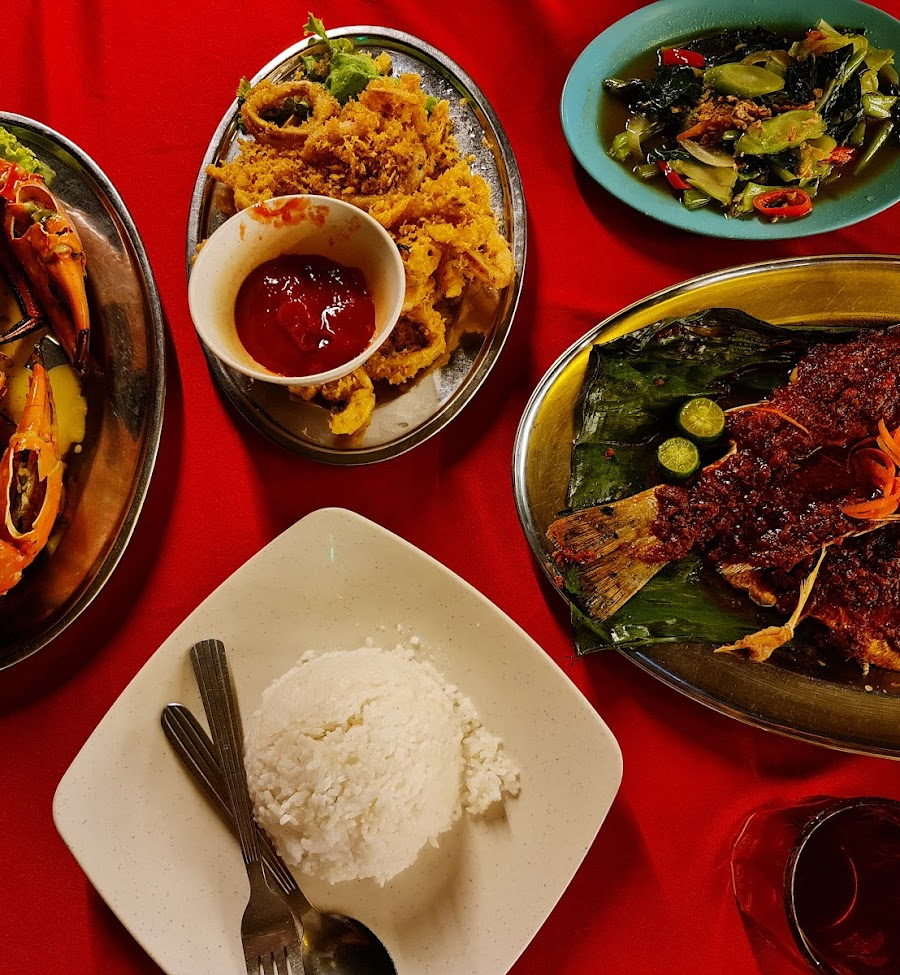 Image credit: Google Photos
Pairing well with steaming white rice, the Sambal Lala (RM15) is a fiery plate of stir-fried shellfish, with the tiny shells serving as amazing vehicles of sambal that makes the flavour and kick of the chewy lalas all the more distinctive.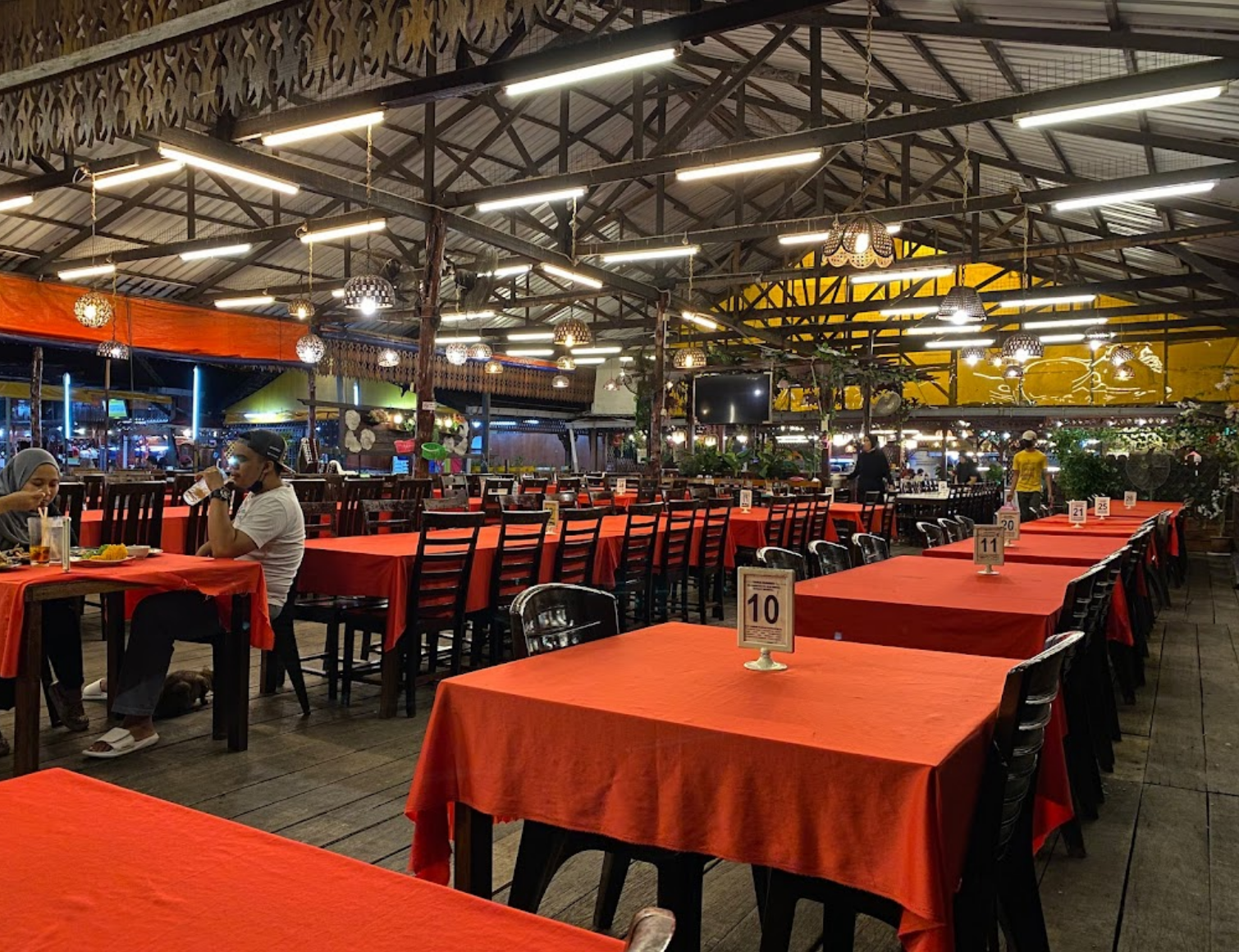 Image credit: Google Photos
Crowd favourites here include Cereal Prawn (RM20) where the succulent prawns contrast satisfyingly with their ridiculously crispy cereal coating, as well as the luscious Chilli Crab (RM9/100g) that isn't spiced with sweet chilli, but rather fiery sambal that will thrill those who like it extra pedas.
Address: No. 4 Jalan, Persiaran Senibong, Bandar Baru Permas Jaya, Masai 81750 Johor Bahru, Johor
Opening hours: Tue-Sun 3pm-12am | Mon 3pm-11.30pm
Contact: 013-784 9476 | Anjung Senibong Seafood Facebook
---
3. Selera Senibong Seafood – dine on Strabismus Snails with sunset views
---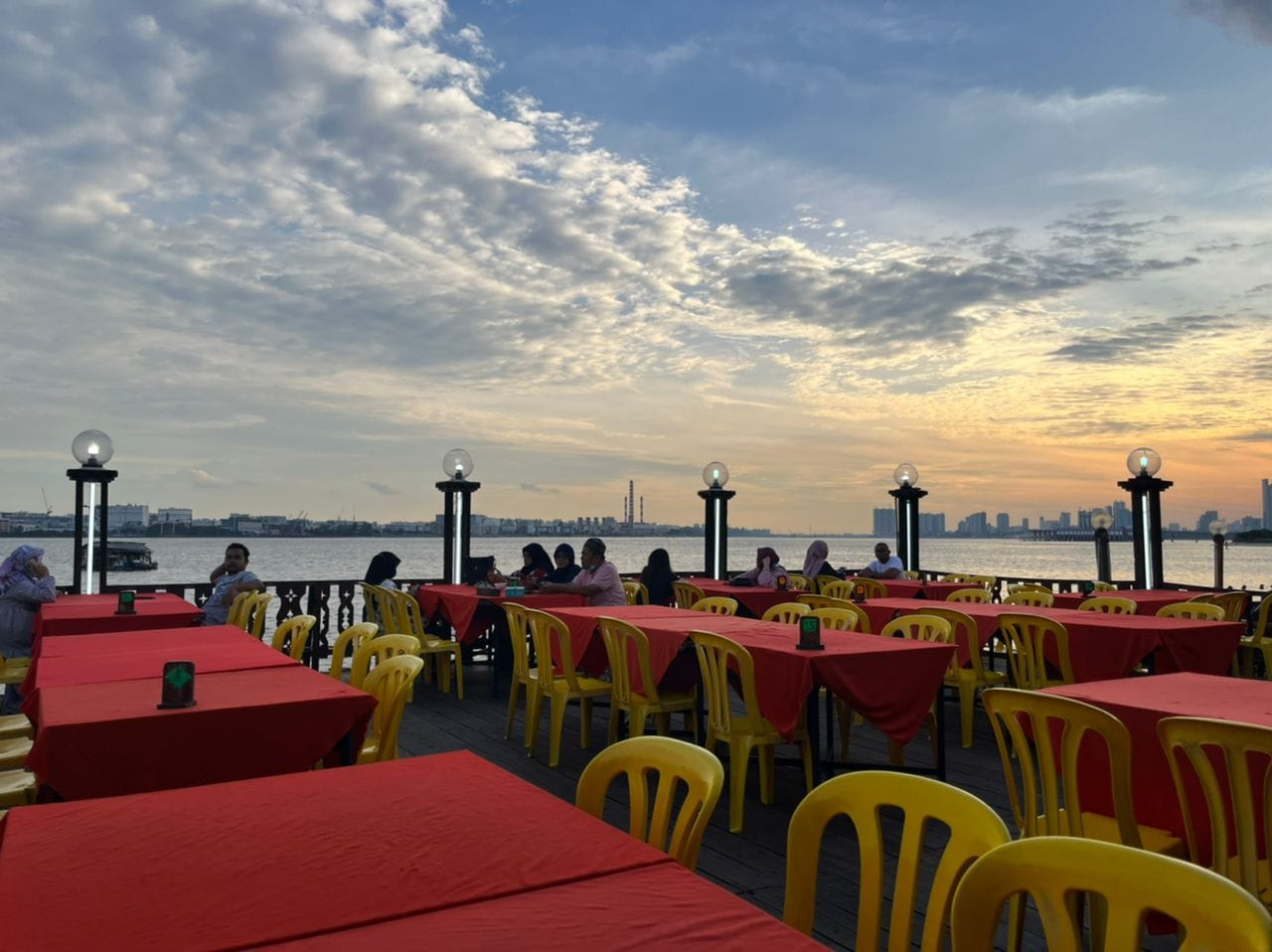 Image credit: Selera Senibong Seafood
Another restaurant that is snuggled in the depths of the Senibong Village is Selera Senibong Seafood. The alfresco dining area is stilted over water and faces the Straits of Johor, so you'll be treated to a golden view of the evening sunset as you devour your fresh sea proteins.
This seafood haven is a Malay-style seafood restaurant at its best. Similarly to Anjung Senibong, you can pick from an array of fresh seafood displayed by the eatery's kitchen, and select the amount or size according to the number of people in your party.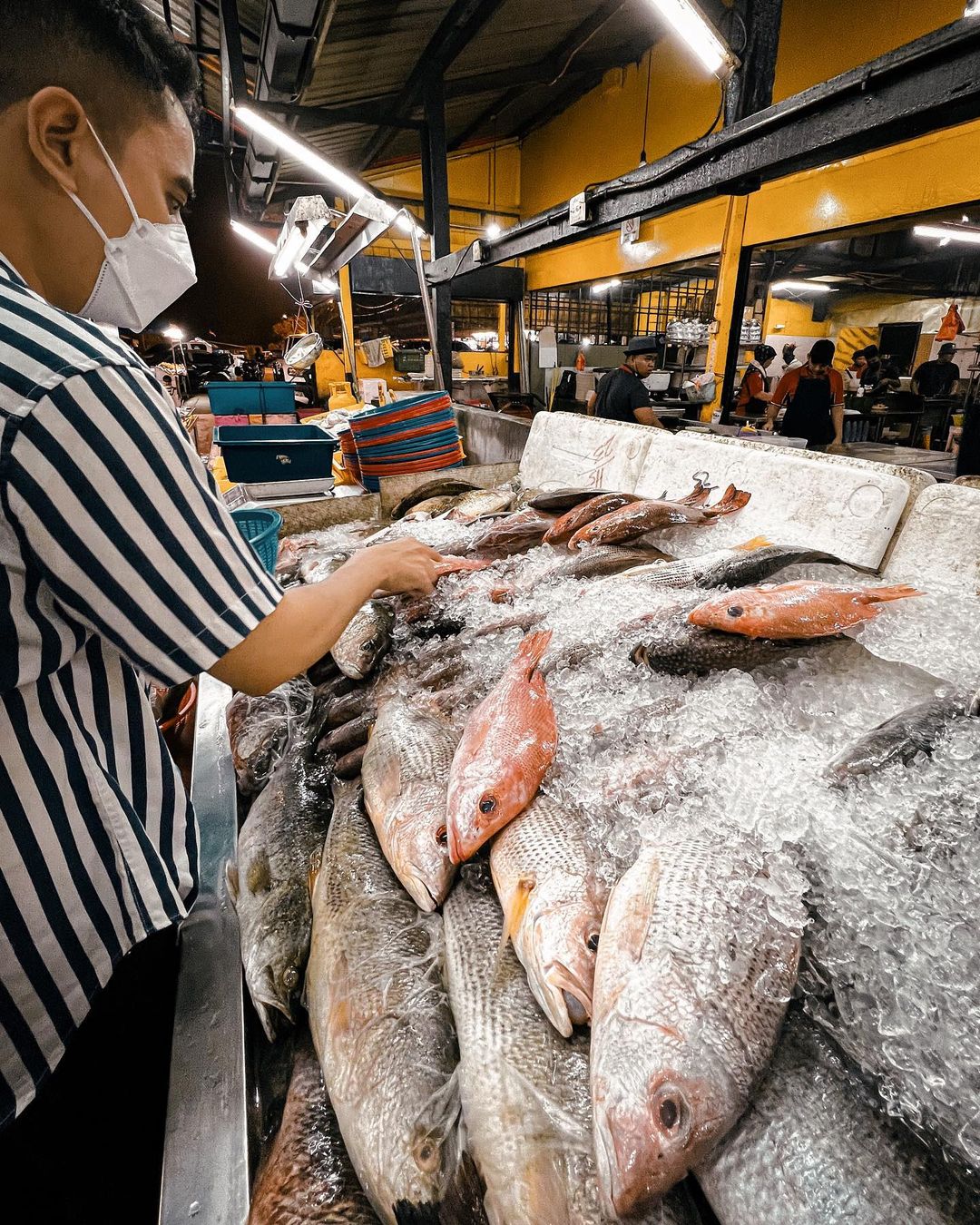 Image credit: @pikoazri
While they have the usual local seafood classics such as grilled cockles (RM20 for 500g) and Butter Prawns (RM13-16/100g), a stand-out dish here is the Siput Gonggong (RM30/1kg). 
These are cooked and simmered till they soak up all the thick spicy gravy, and then garnished with a simple sprinkle of coriander, spring onions and onion rings. Toothpicks are served along with the dish, which you can use to spear the chewy flesh of the snails out of their shells to avoid getting your hands dirty.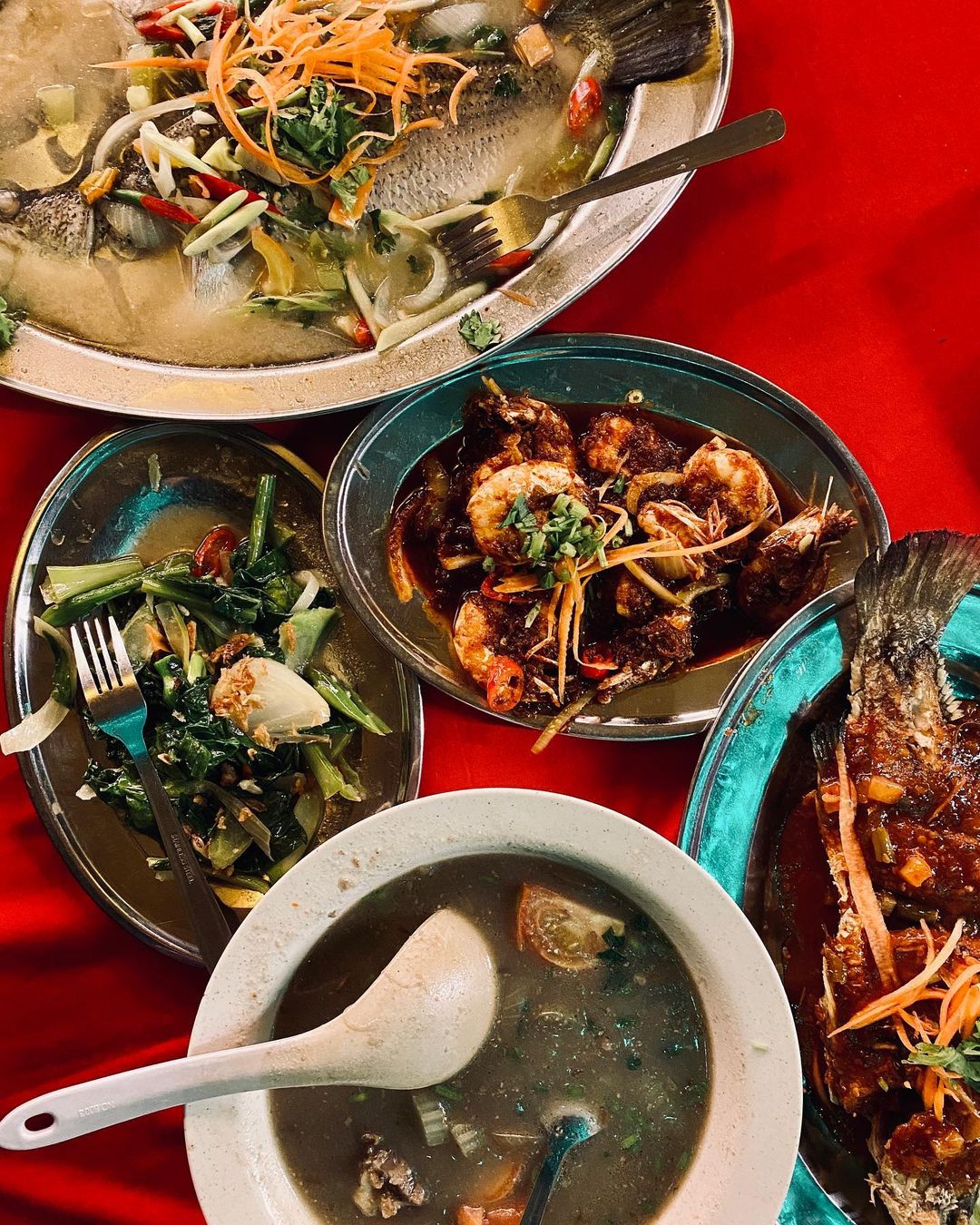 Image credit: @syznazwwii
Address: Lot 1055, Kg. Senibong, Jalan Persiaran Senibong, 81750, Mukim Plentong, Bandar Baru Permas Jaya, Masai 81750 Johor Bahru, Johor
Opening hours: 5pm-12am, Daily
Contact: 012-755 7327 | 019-705 5543 | Selera Senibong Seafood Facebook | Instagram
---
4. Fatfish JB – hotpot-style seafood feast
---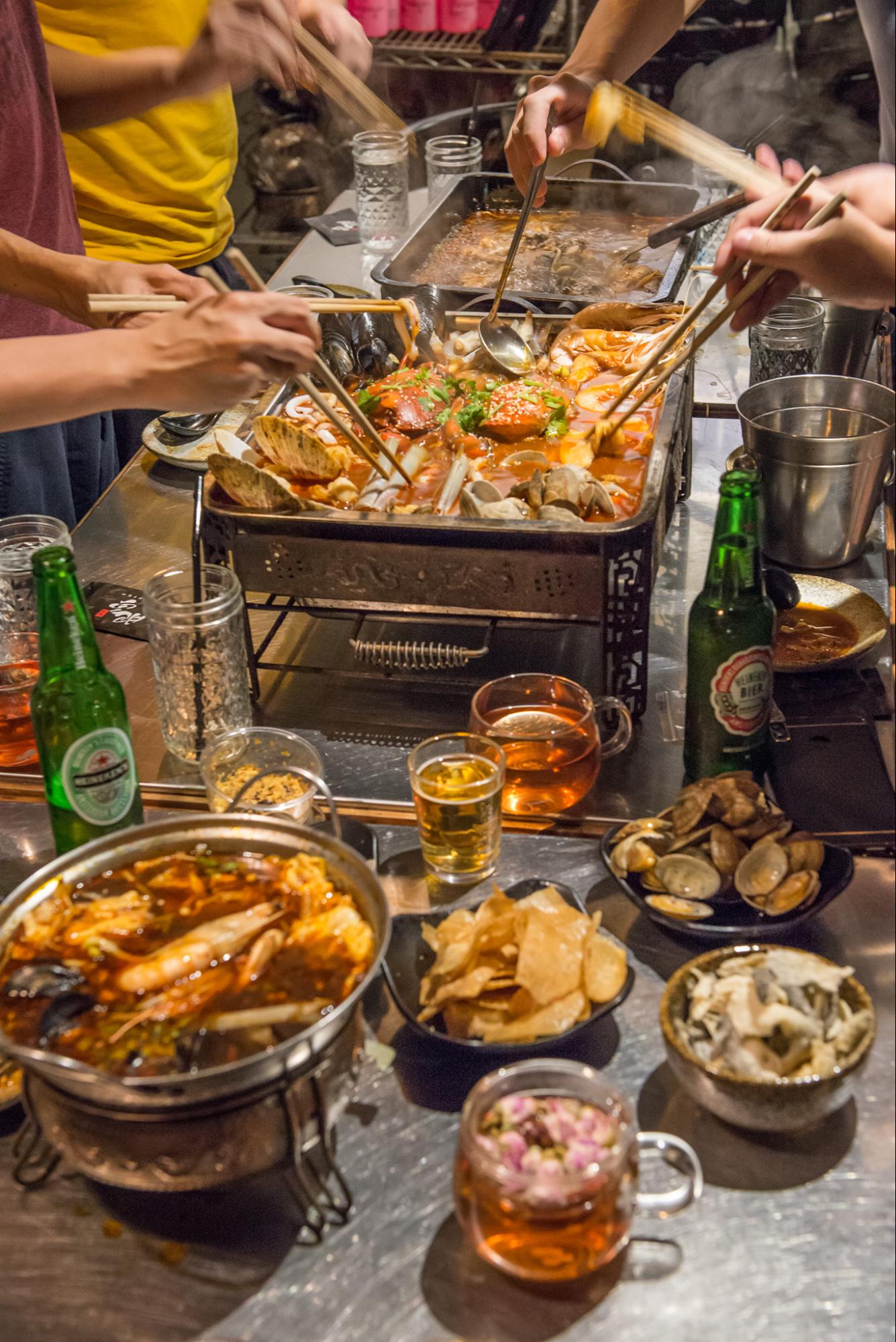 Image credit: Fatfish jb
Apart from being saliva-inducing eats, the other thing seafood and hotpot have in common is that they are both always in season – no matter the weather or occasion. If you agree with the sentiment, Fat Fish JB will be heaven to you.
Hot and welcoming, aromatic and filling – meals here are served in cauldrons that are loaded with an enticing mix of abalones, prawns, lobsters and fish, all simmering away in a richly seasoned broth.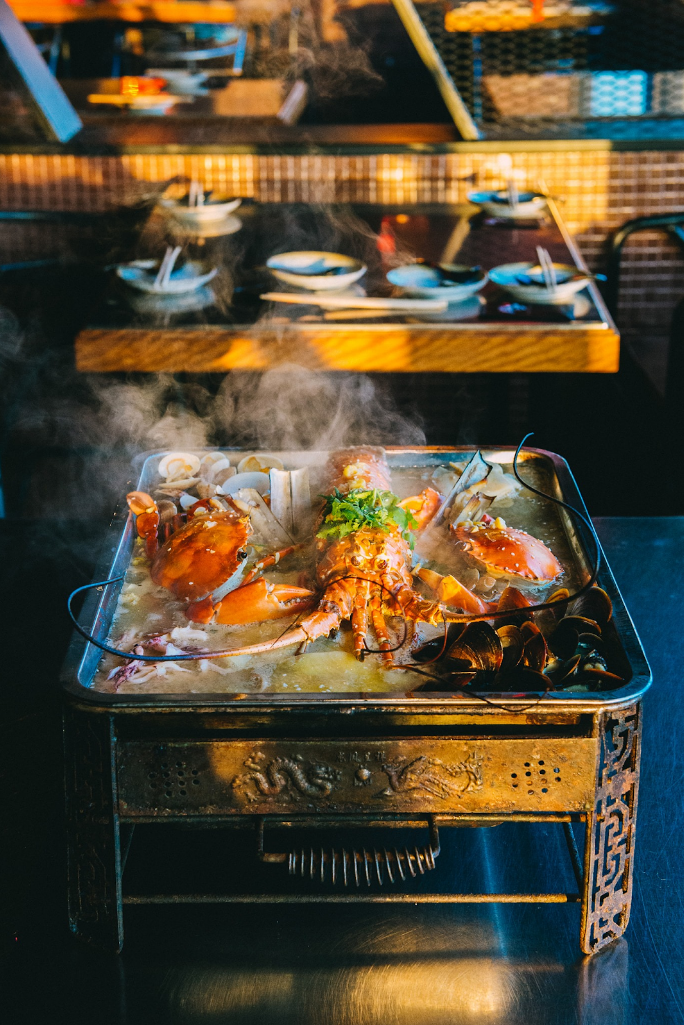 Image credit: Fatfish jb
They have a host of hotpot options here, which are categorised into two groups – Fat Fish Pot and Seafood Pot. If you fancy a fleshy fillet, opt for the Barramundi Pot (RM76.30) or the Orange Roughy (RM198.90), while the Seafood Pot (RM188/1-2 pax, RM238/3-4 pax) is a smorgasbord of crustacean, clams and squids.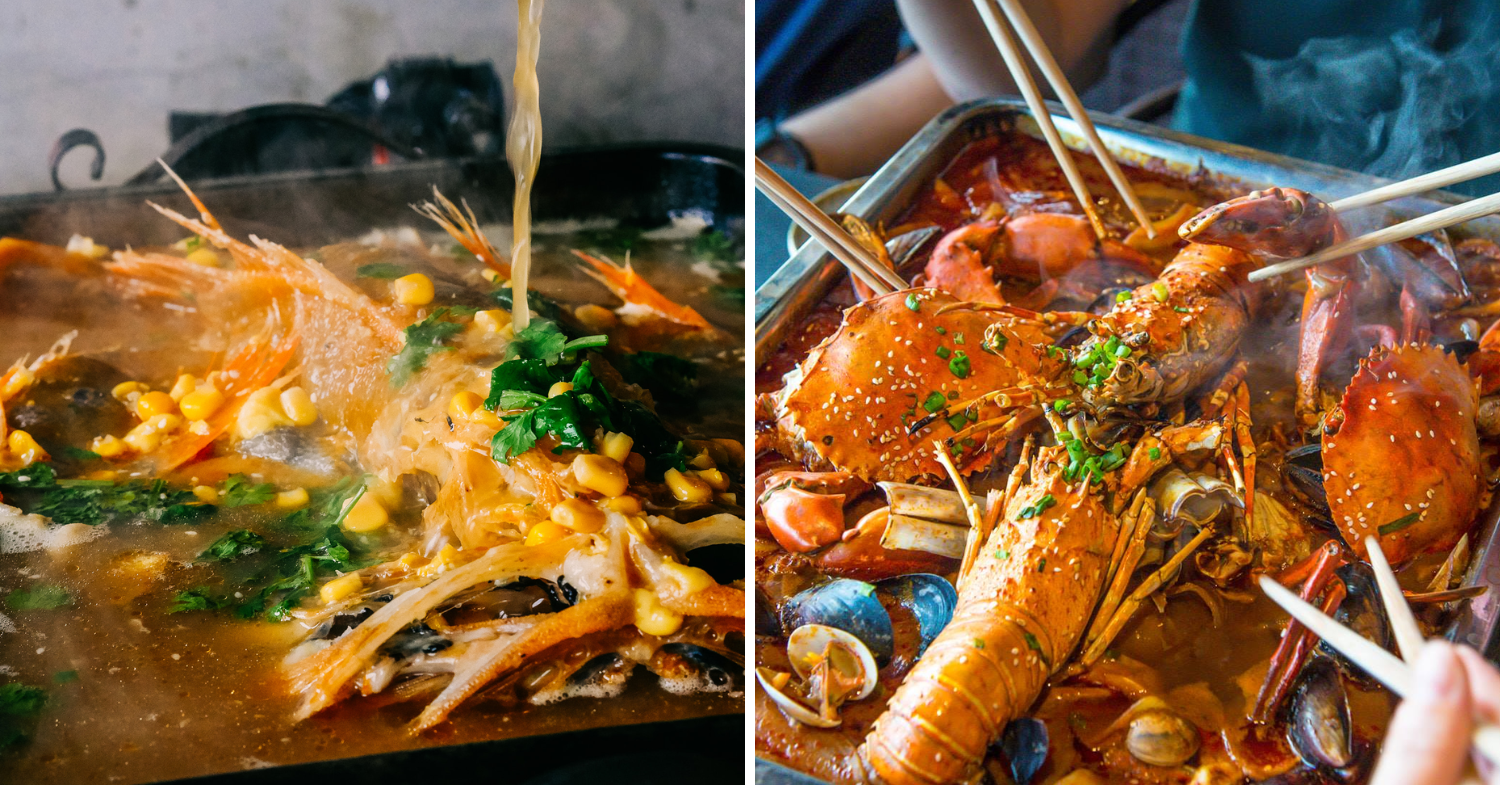 Image adapted from: Fatfish jb & Fatfish jb
You might have a hard time choosing a broth for your hotpot base from the variety of them offered on the menu. There are delicious classics like Sichuan Hot and Spicy soup, as well as Herbal soup, and unique ones such as Pumpkin soup and Sweet Corn soup.
There are also Minipots (from RM29.90) for smaller groups and even a personalised pot option, so there is something for everyone here.
Address: 97, Jln Beringin, Taman Melodies, 80250 Johor Bahru, Johor
Opening hours: Tue-Sun 4.30pm-2am (Closed on Mondays)
Contact: 07-330 9420 | Fatfish JB Facebook | Instagram
---
5. Ong Shun Seafood Restaurant – no-frills eatery for butter cream prawn & chilli crab
---

Image credit: Eatbook
Ong Shun Seafood Restaurant is not the place for frills and luxury. But best believe that you'll taste a whole lot of comfort and nostalgia in their tasteful seafood dishes. The best part is that this restaurant is Muslim-friendly, so no one will have to miss a taste of their divine dishes.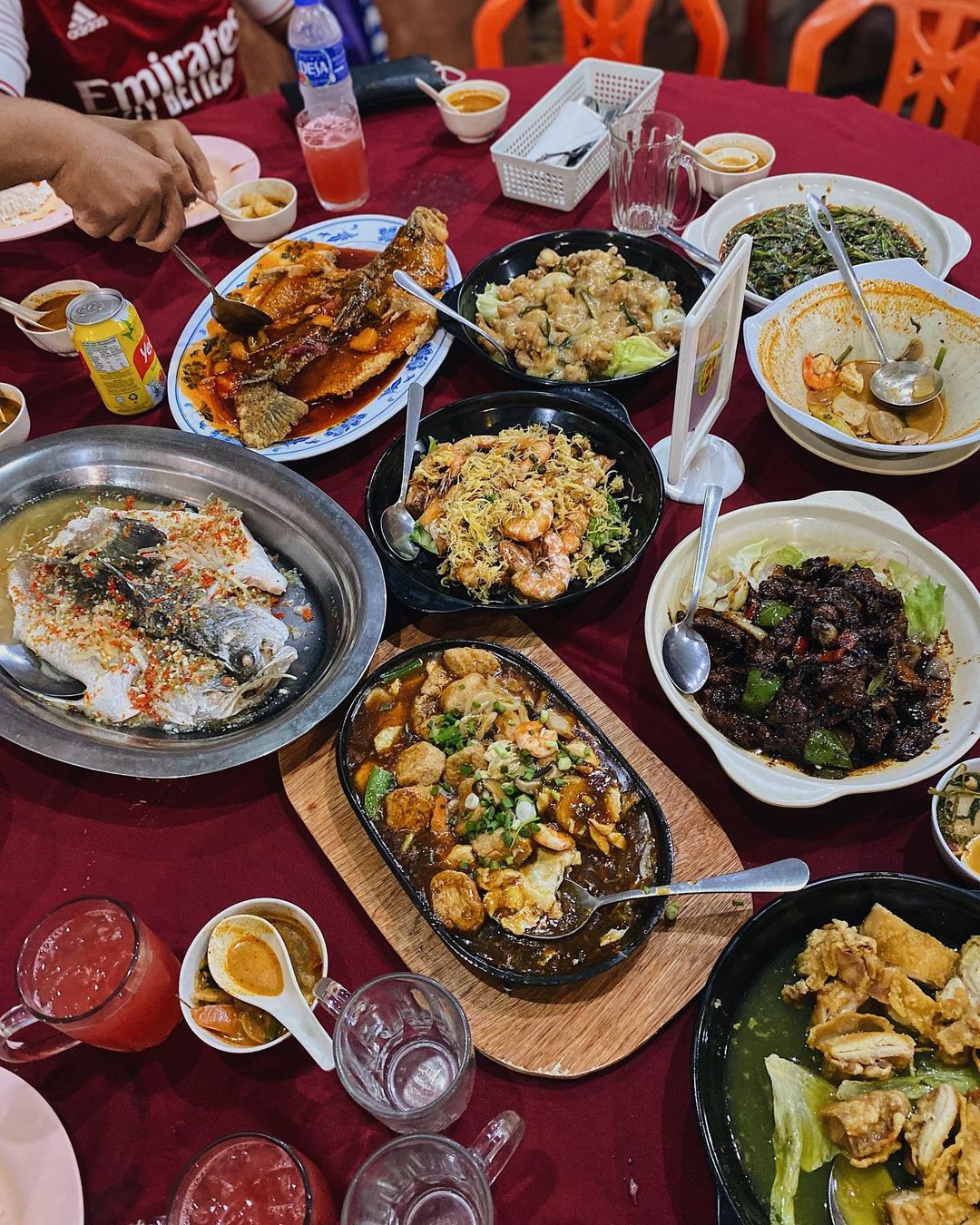 Image credit: @syafiq.kharis
Their extensive menu will have your table teeming with old-school Chinese stir fries and seafood platters. If you're having trouble selecting just a handful of dishes to gorge on, try their Butter Cream Prawn (RM26) or Salted Egg Squid (RM16) – you can't go wrong with such a fragrant and rich dish.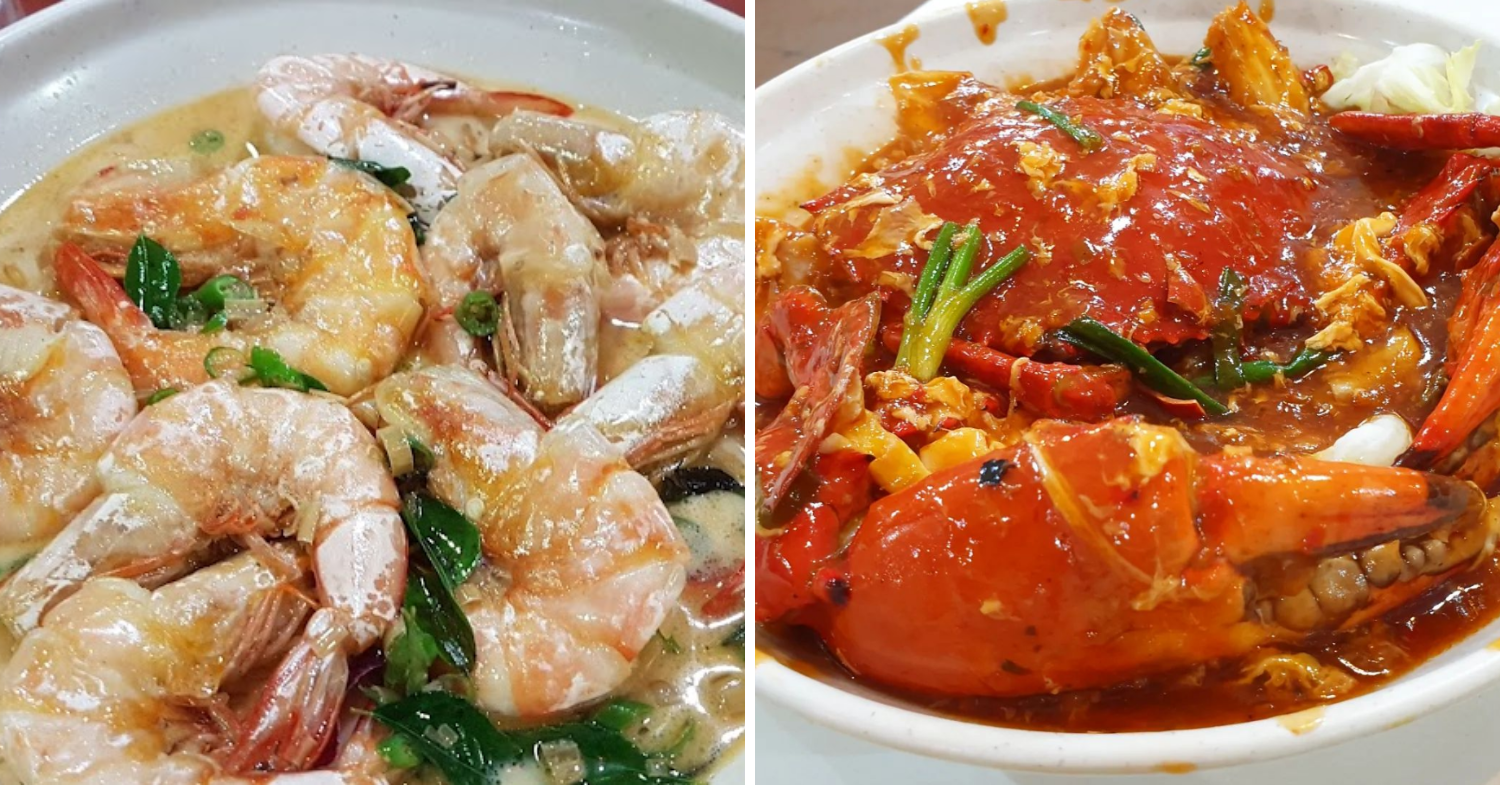 Image adapted from: Google Photos & @fatsnobby
The Chilli Crab is another staple that'll have you swooning at the succulent and sweet crab meat, even if the spice is burning your tongue. This dish is priced upon order, so do ask your waiter for a figure before ordering. Don't leave without trying a plate of fried man tous (RM1.10/piece) as well, to soak up all the tangy chilli-gravy when you're done scouring the flesh from the crab shells.
Address: 67, Jalan Abdul Samad, Kampung Bahru, 80100 Johor Bahru, Johor
Opening hours: Tue-Sun 1pm-11pm (Closed on Mondays)
Contact: 07-223 8953 | Ong Shun Seafood Restaurant Facebook
---
6. Yi Jia Seafood – two branches in Johor
---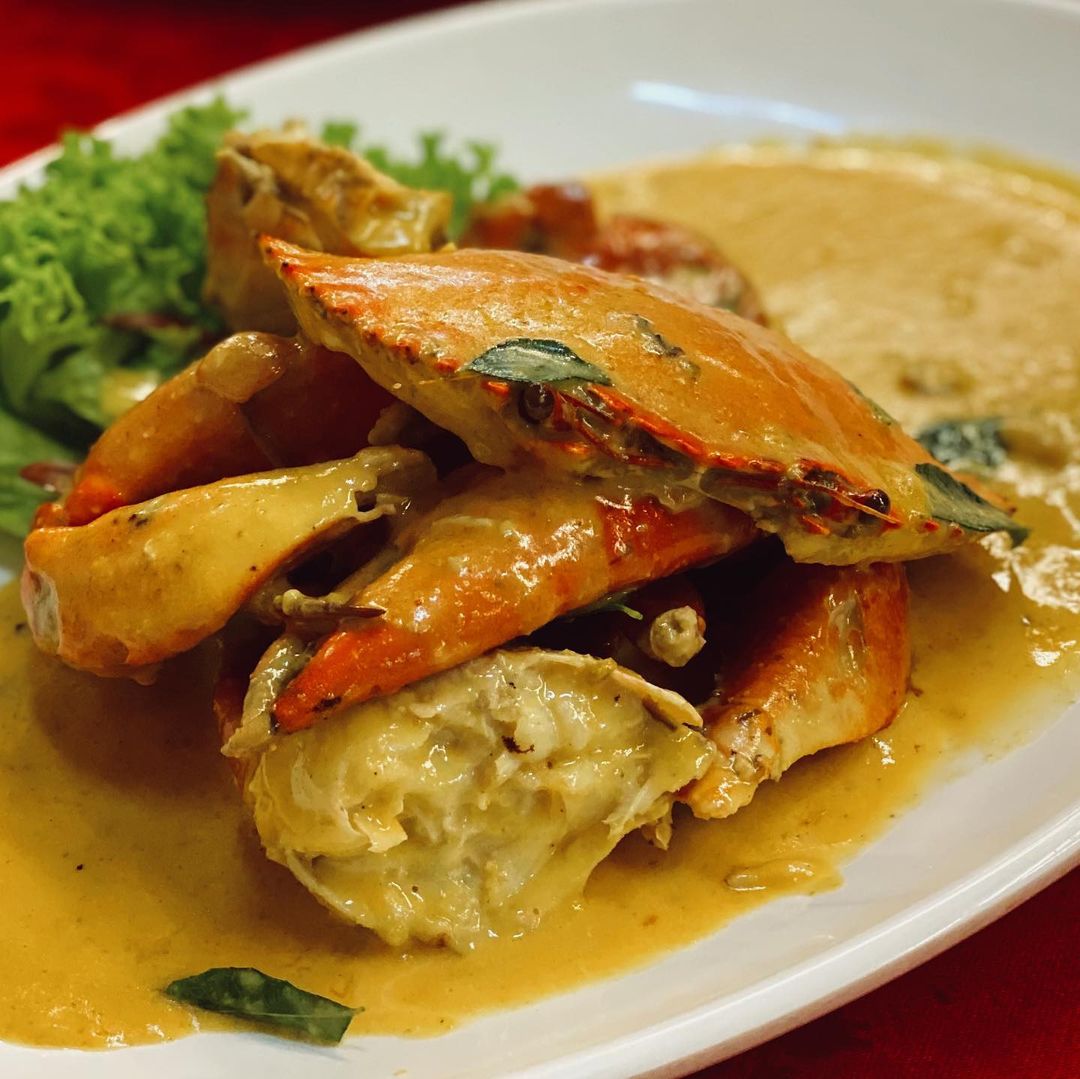 Image credit: @hungryybearr
A grand space decked with glowing lights and red lanterns, and a giant crab statue beckoning at the entrance – it's hard to believe that Yi Jia Seafood first started out as a modest roadside seafood eatery. Today, it has evolved into one of Johor Bahru's most popular seafood restaurants, with two branches across the state and one in KL.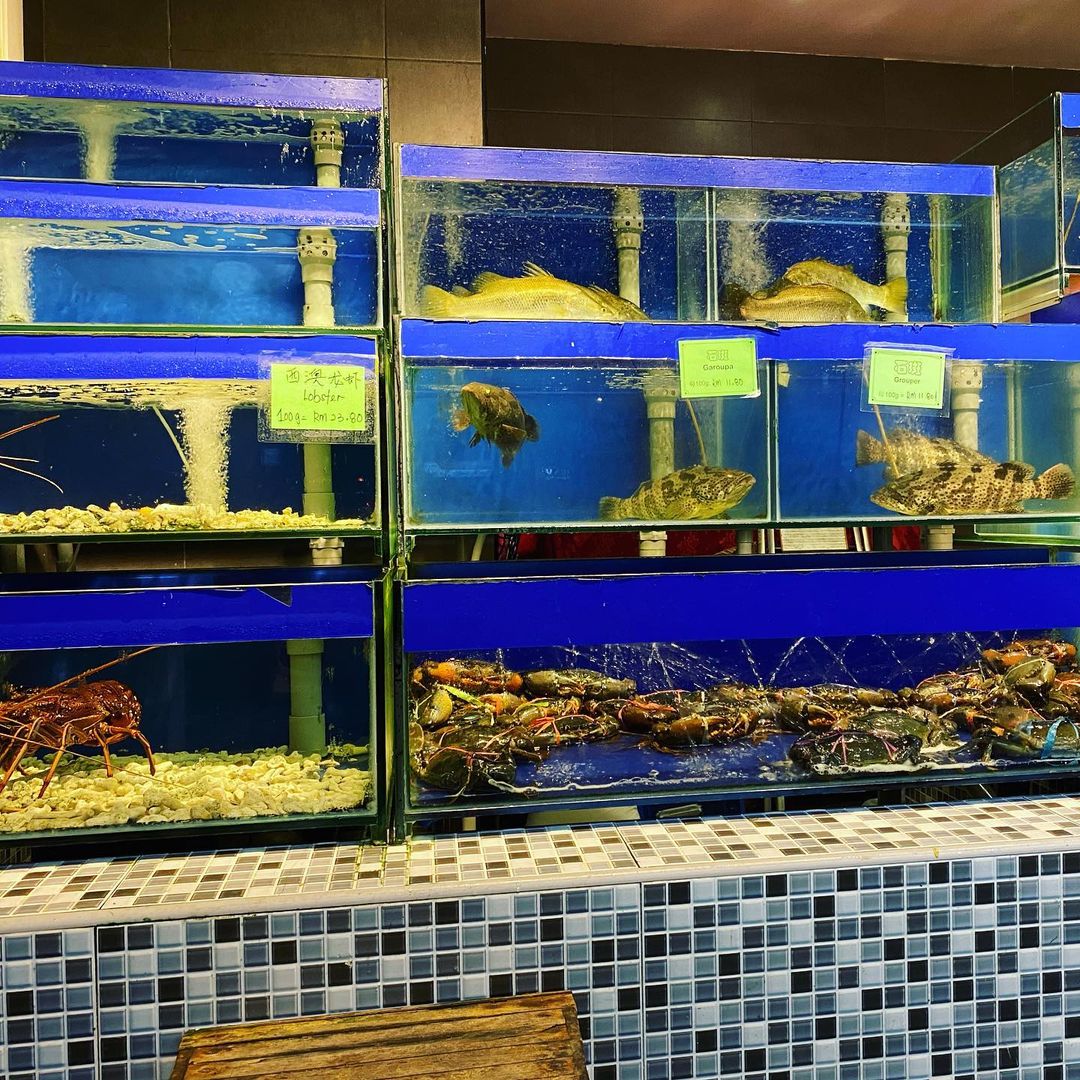 Image credit: @hungryybearr
Typical of an extravagant Chinese seafood restaurant, you'll see huge aquarium displays with all sorts of marine life crawling and swimming inside. Choose your desired dinner, and let the kitchen work their magic.
Diners can find a good selection of fish, prawns, crab, meaty mains, bean curd, vegetables, soup, rice and noodles on the restaurant's menu. But with seafood being the main highlight here, you'll want to get your hands dirty with the Signature Golden Fried Crab, an utterly buttery salted egg sauce that blankets the gargantuan red crusts.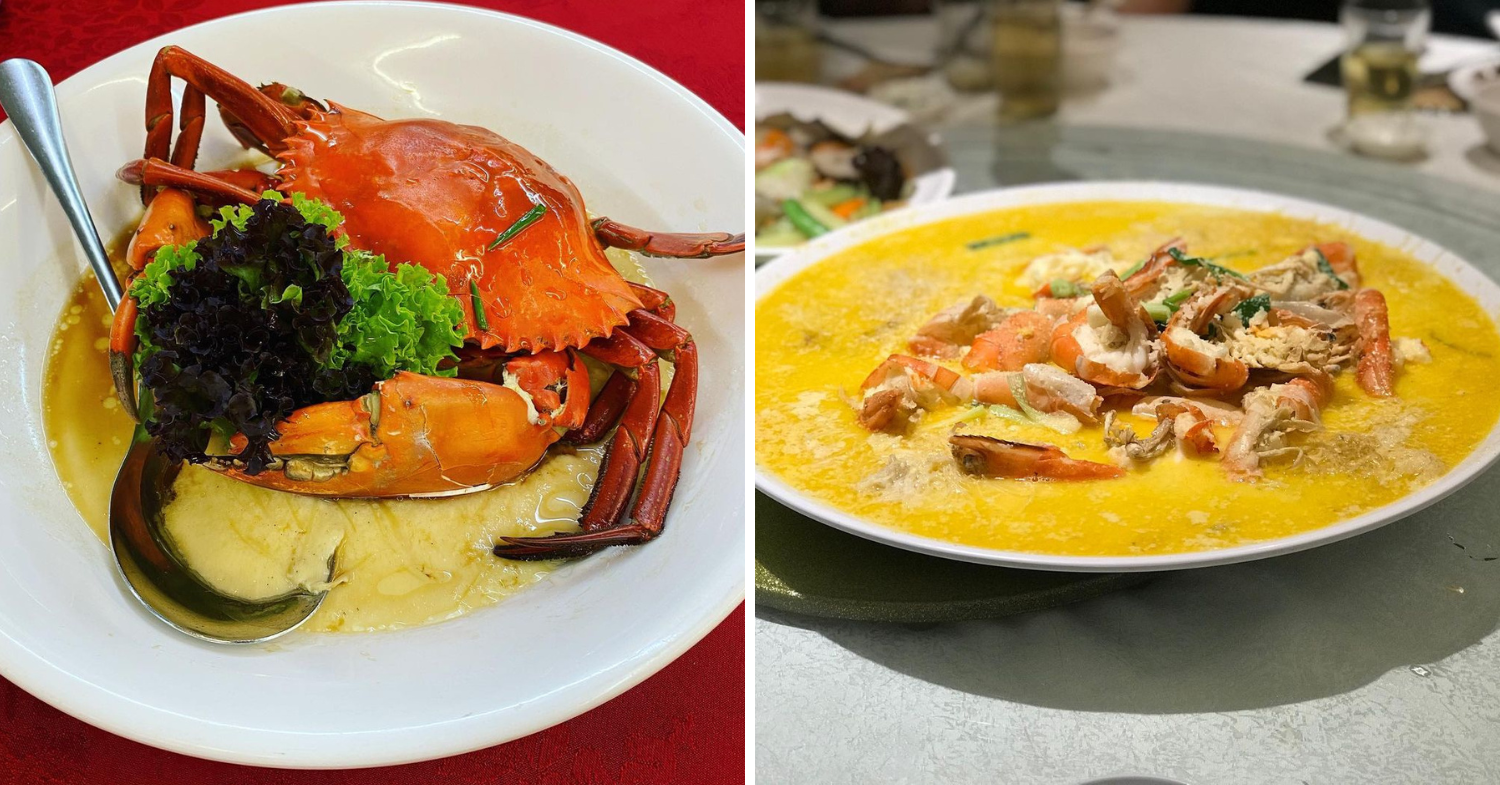 Image adapted from: @charredspoon & @djoearisto
The prices for crabs are seasonal, but you can expect to pay around RM13.80 per 100g. There's also a minimum order of two crabs per dish. Other seafood options, such as lobsters (~RM24.90/100g) and Marble Goby Fish (~RM19.50/100g), are also priced seasonally.
Dive into the Curry Prawns Indo style (from RM30) and be wowed by the aromatic prawns that's infused with a blend of spices. Or go for the Stir Fried Clams with Spicy Sauce (from RM18) that is simply show-stopping with its wonderfully sweet-spicy kick.
Yi Jia Restaurant @ Taman Setia Indah
Address: No. 17, 19, 21 & 23, Jalan Setia 9/17, Taman Setia Indah, 81100 Johor Bahru
Opening hours: Mon-Fri 3pm-11.30pm | Sat & Sun 12pm-2.30pm & 4.30pm-11.30pm
Contact: 07-359 7782 | 012-707 5806 | Yi Jia Seafood website | Facebook
Yi Jia Restaurant @ Taman Bukit Indah
Address: No. 21 & 23, Jalan Indah 25/1, Taman Bukit Indah 2, 81200 Johor Bahru, Johor
Opening hours: Mon-Fri 3pm-11.30pm | Sat & Sun 12pm-2.30pm & 4.30pm-11.30pm
Contact: 07-232 7137 | 012-740 7822 | Yi Jia Seafood website | Facebook
---
7. Chua Kee Seafood Restaurant – humble Chinese-style restaurant for black pepper crab
---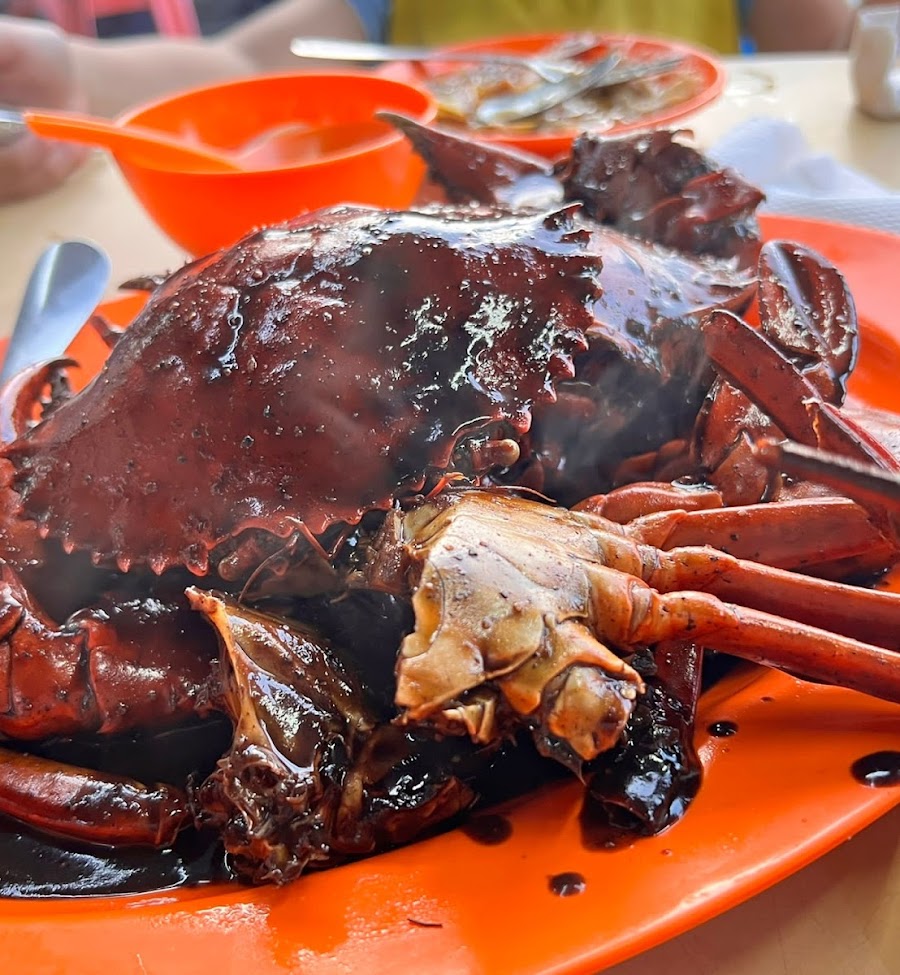 Image credit: Google Photos
With all the trappings of an old-school zi-char eatery, Chua Kee Seafood Restaurant is a go-to gem among locals, especially when the seafood craving hits. This no-frills restaurant feels like that familiar neighbourhood haunt that cooks up a storm of seafood feast for friends and family to bond over, having been around for more than 20 years.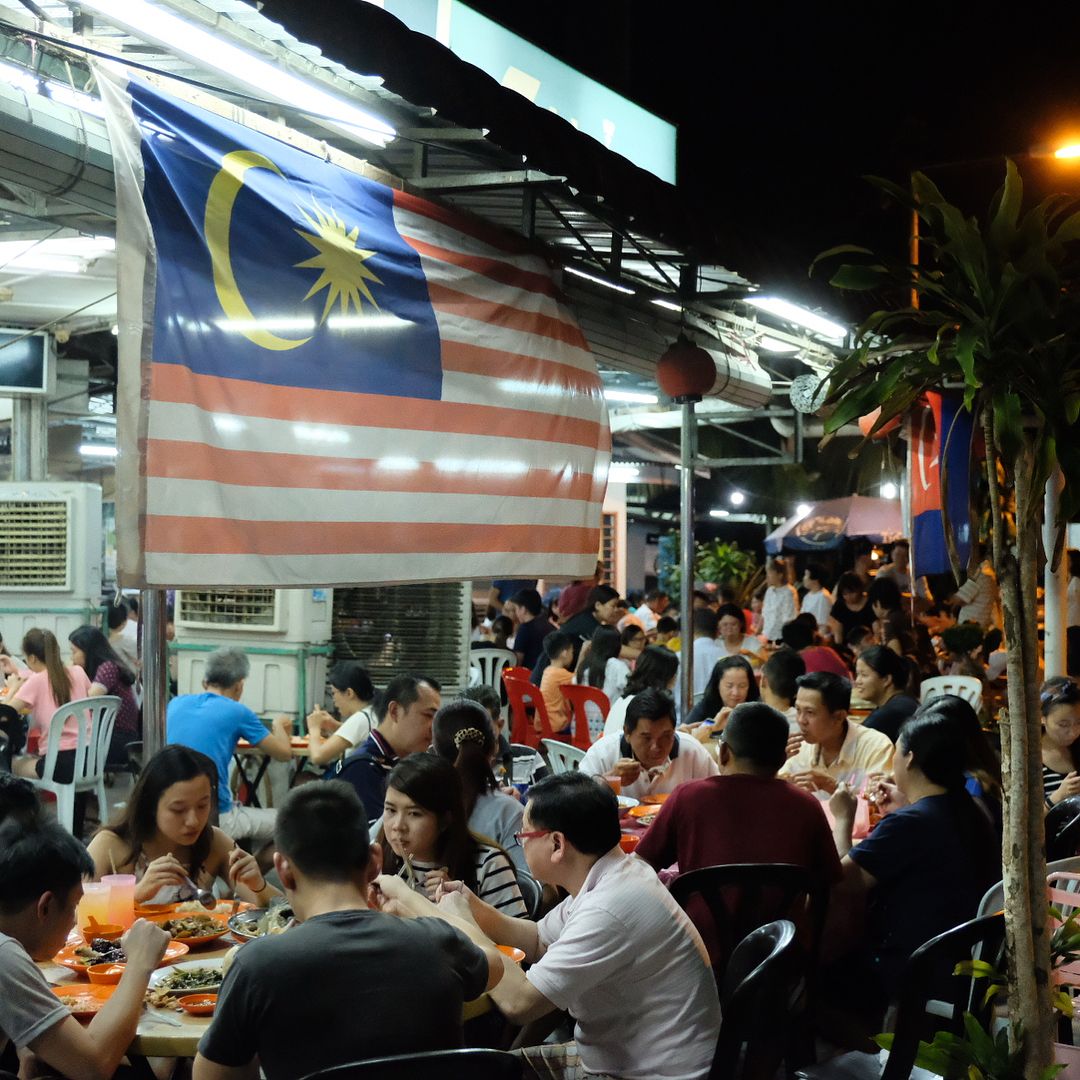 Image credit: @isazhang
Their Black Pepper Crab (~RM130/1kg) is easily their most popular dish – the platter of massive crustaceans slathered with glazy black pepper sauce is something patrons cannot afford to miss. Another delightful signature here is the Cereal Prawn (from RM30) that has tons of juicy prawns encrusted with crispy goodness – it's a dish too tempting to not try.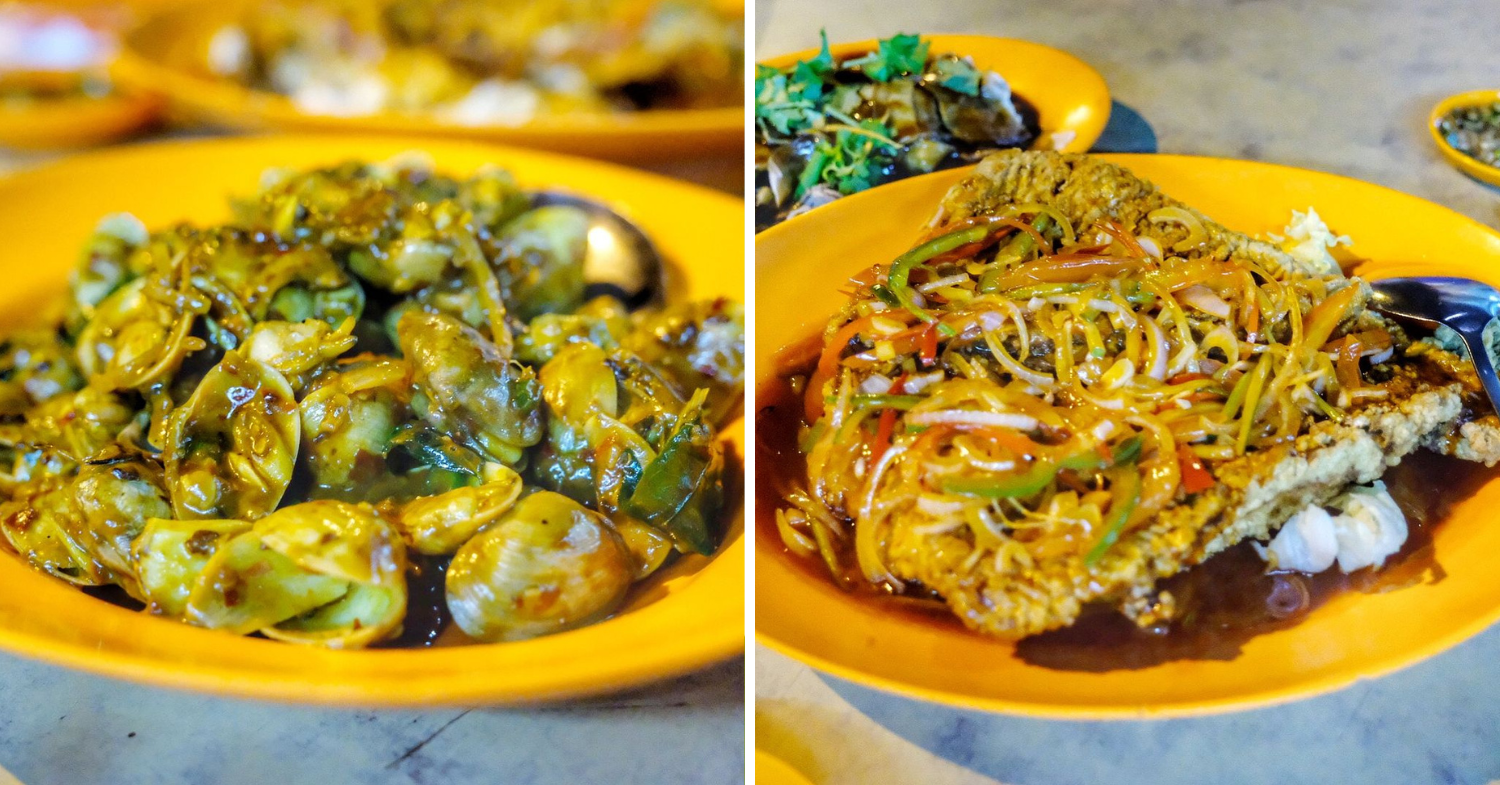 Image adapted from: @isazhang & @isazhang
For something simple, there's the Hong Kong-style Steamed Fish, a freshly steamed pomfret doused in a simple gravy, and tears open to a silky smooth inside. Fish dishes here are seasonally priced, but expect to pay between RM40-RM190 per kg for a dish.
Address: Jalan Merah 1, Taman Pelangi, 80400 Johor Bahru, Johor
Opening hours: Thu-Tue 11.30am-11pm (Closed on Wednesdays)
Contact: 012-761 0529 | Chua Kee Seafood Facebook
---
8. Jade Garden Seafood Corner – seaside restaurant for fried lobster
---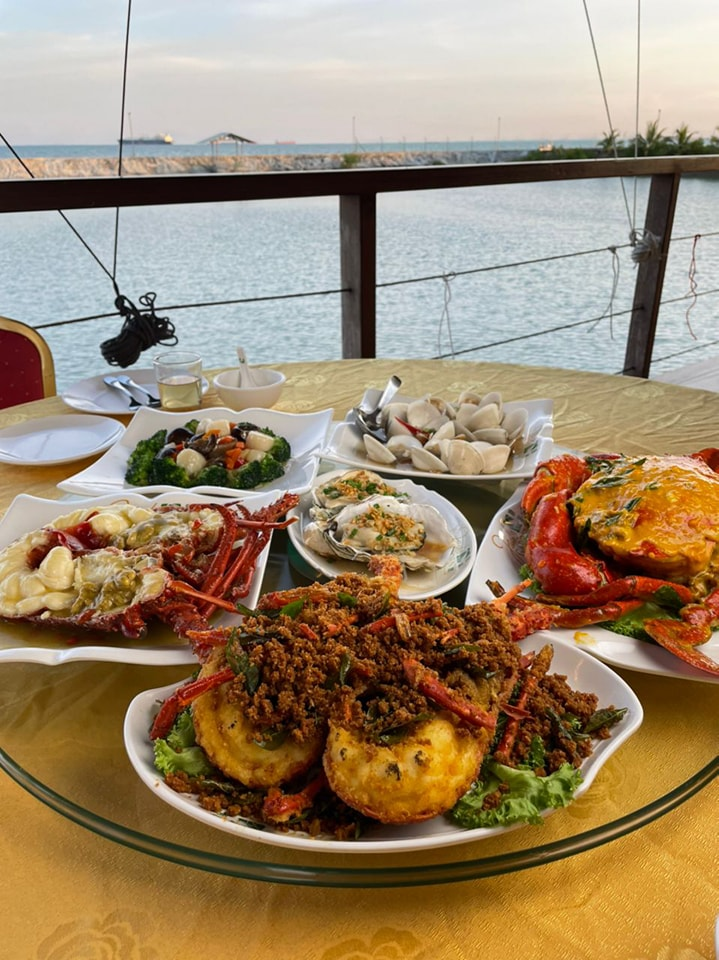 Image credit: Jade Garden Seafood Corner
Heading to Jade Garden Seafood Corner may be quite a journey for most, as the restaurant is quite a distance from central Johor Bahru. But it is still frequented by locals for many reasons – the first being its staggering variety of seafood that'll please even the fussiest of eaters. 
The other reason is the serene ambience and stunning seascape view that makes for the perfect accompaniment to the seafood you're digging into.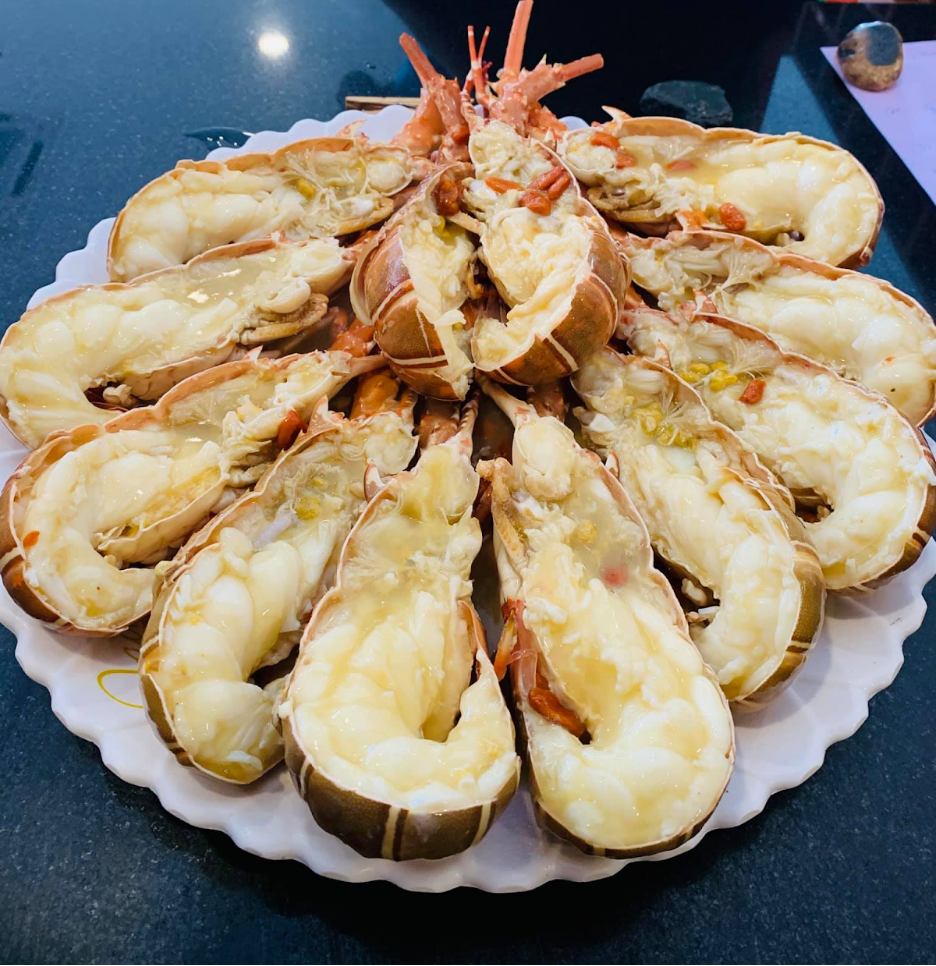 Image credit: Jade Garden Seafood Corner
You know you're in for the freshest seafood extravaganza when you're right next to the ocean.
Most patrons would agree that this restaurant serves the juiciest lobsters (from RM22/100g), so be sure to try a dish from the variety they have to offer – it includes Special Fried Lobster, Butter Lobster, Cheese Lobster and Italian Sauce Lobster.
There's also an assortment of exotic seafood dishes such as Fried Crabs with Marmite Sauce (from RM10/100g), Thai-style Squid (RM30), Chili Garlic Sauce Clams (RM50), and Asam Sauce Fish (From RM6/100g). 
When you're happily full after a lip-smackingly good seafood feast, grab some after-meal coffee or dessert at Yard & Co., a gorgeous cafe which is only a stone's throw from the restaurant.
Address: Lot 4785, 1, Jalan Siakap, Kampung Sungai Rengit, Pengerang 81620 Johor Bahru, Johor
Opening hours: Tue-Sun 11am-10pm (Closed on Mondays)
Contact:  07-826 5460 | 017-794 5695 | Jade Garden Seafood Corner Facebook
---
Seafood restaurants in Johor Bahru
---
Seafood doesn't always come cheap. But it's well-worth the price when you're devouring fresh juicy prawns doused in sambal or salted egg from a local eatery in good company – and it'll taste just as exquisite as a meagre plate of pan-seared scallop.
So bookmark this list if you're planning to catch some good seafood fare when in Johor Bahru.
Read more here:
---
Cover image adapted from: Fatfish jb, @isazhang, @ _justfoodie_ & @fyx.730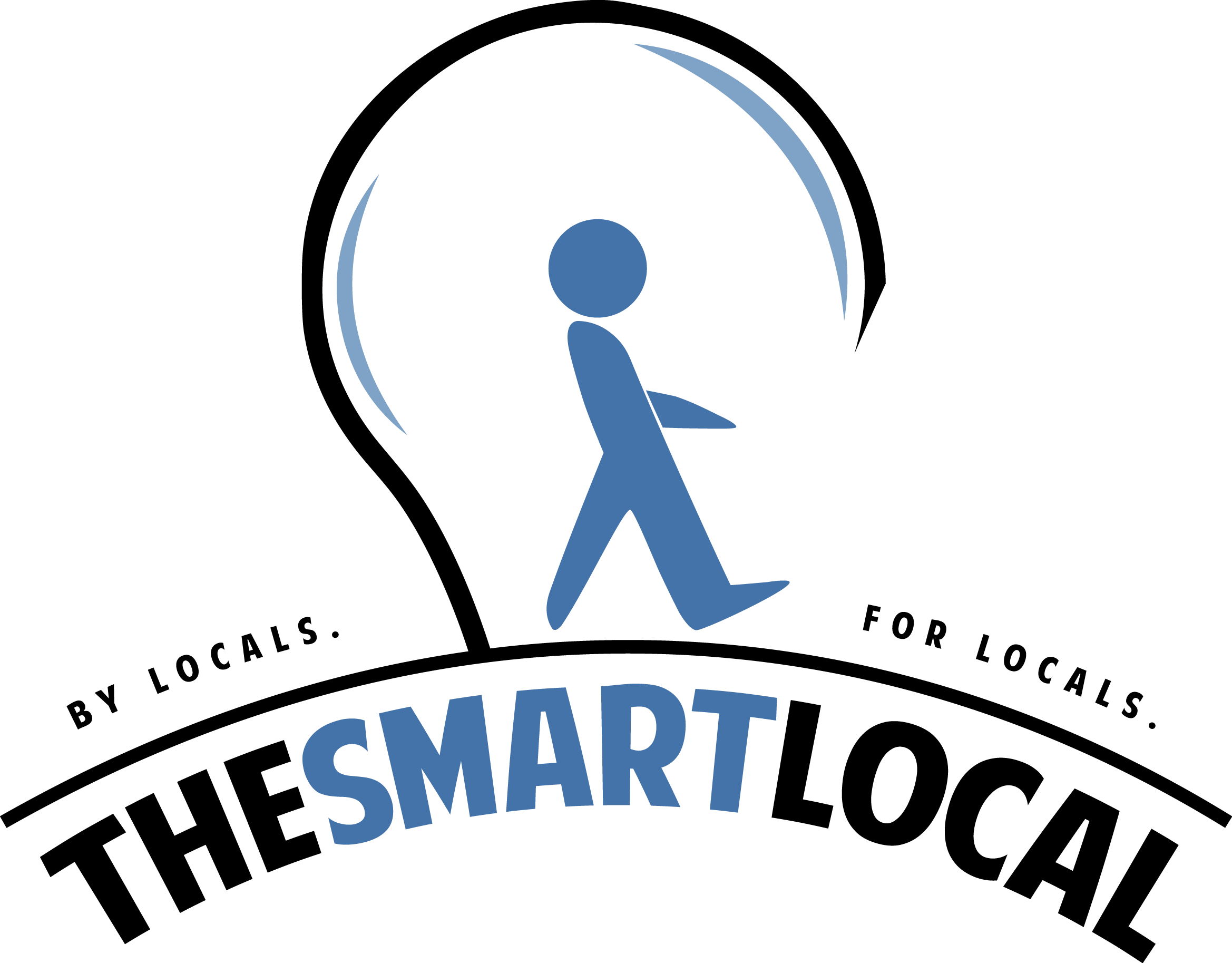 Drop us your email so you won't miss the latest news.