Foodpanda riders and postman help fix woman's punctured tyre
---
For most of us who can drive, maintaining our vehicles in good condition with regular servicing is an important commitment. Although many of us can take care of our vehicles well, we often forget some of the basic things in vehicle maintenance such as checking the tyres for adequate pressure before driving.
This in turn may land us in unwanted situations like a tyre puncture in the middle of nowhere. Luckily, this Malaysian woman who drove a 4-wheeler without realising a puncture got help from several Foodpanda riders and a postman with replacing a spare tyre by the roadside.
---
Woman thanks riders and postman for helping out with tyre puncture
---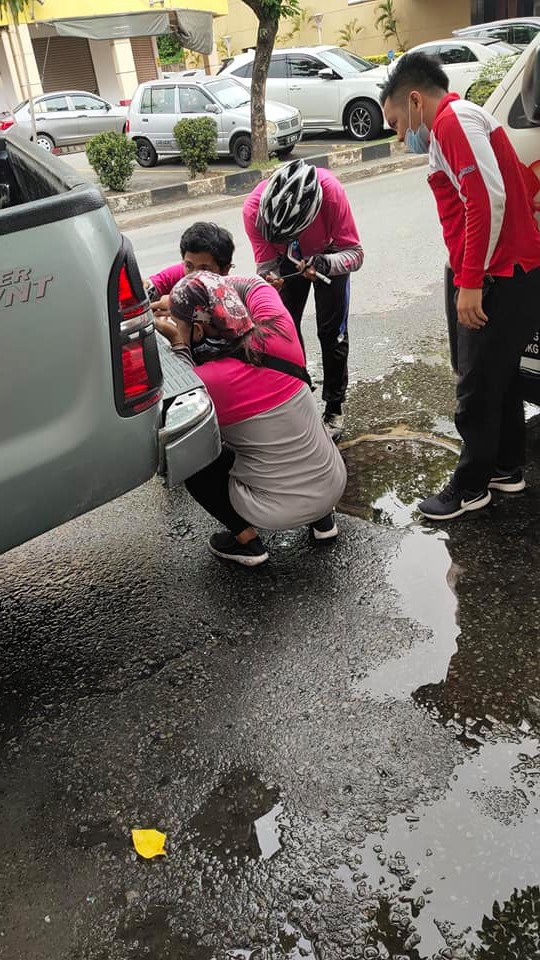 Image credit: Siti Amina Musa
On 6th July 2021, netizen Siti Amina Musa took to Facebook to express her gratitude towards several foodpanda riders and a postman who had voluntarily helped her replace a punctured vehicle tyre by the roadside.
When contacted, Siti explained to The Smart Local Malaysia that the incident took place when she was out with her two kids to get some pizza from the Damai Plaza in Kota Kinabalu, Sabah. While waiting for the food to be ready, Siti said she drove out to a nearby bakery to get some bread.
On her way to the bakery, she suddenly heard a noise coming from the car. Thinking that it was coming from the things she kept on her dashboard, she quickly cleared them up to get rid of the noise.
"But the noise was still there and I continued driving. Then suddenly, I saw a foodpanda rider following me and asked me to pull over. I was really shocked at first but I just did what he said thinking there could be something urgent.
When I got out of the car, the rider told me that one of the car tyres is punctured and it needs to be fixed immediately. I then called my husband to ask about the spare tyre," Siti said.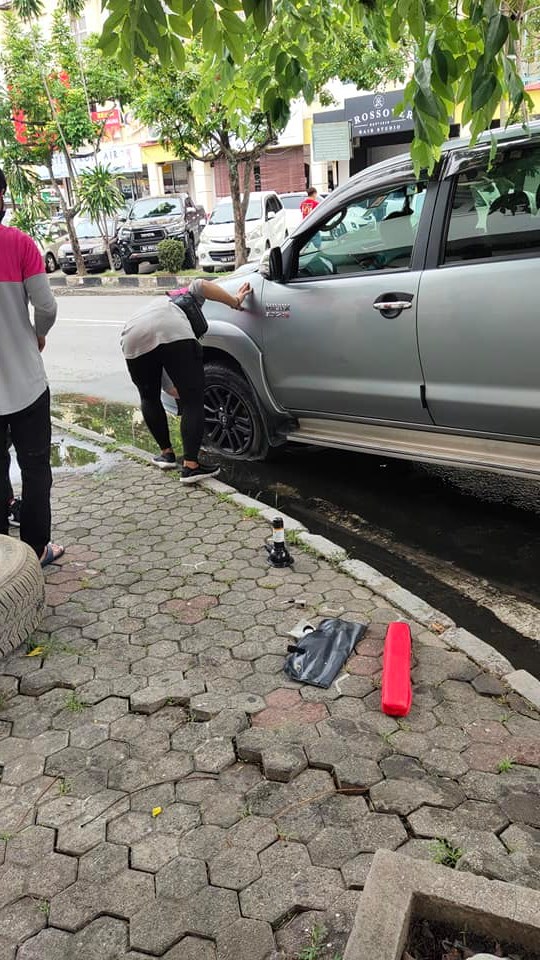 Image credit: Siti Amina Musa
The rider then voluntarily helped her to replace the spare tyre before several other riders including a postman joined to help. It took about 30 to 45 minutes for the riders to replace the punctured tyre.
"I'm really grateful to the riders for their willingness to help me although I did not request for it," Siti told The Smart Local Malaysia, adding that she's actually pregnant.
"The riders probably helped me a lot because I'm pregnant. Nonetheless, I'm thankful for the help. I had also given RM50 to each one of the riders for taking the time out to me."
---
Netizens praise riders' goodwill
---
Since its posting, Siti's viral post has garnered over 500 reactions and 300 shares among Facebook users. Netizens who reacted to the post also commended the teamwork of the riders and their willingness for helping the woman.

Image credit: Siti Amina Musa
Facebook user Jopihing M Boringgit is among those who praised the riders. He said the riders' kind gesture shows that Malaysians are kind-hearted people who are willing to help others.


Image credit: Siti Amina Musa
Meanwhile, netizen Ummi Rahmah also commented that the riders are kind. She's also relieved that nothing serious happened to Siti Amina who drove the vehicle without realising that she had a punctured tyre.
---
Riders help woman fix punctured vehicle tyre
---
It is really heartwarming to see Malaysians helping each other out in times of trouble. We hope the kind acts of these riders will inspire everyone to be on the lookout for people who need help in our community, especially during the pandemic.
Read more here:
---
Cover image adapted from: Siti Amina Musa and Siti Amina Musa
Get more stories like this!
Drop us your email so you won't miss the latest news.