Things to do in Cameron Highlands
---
Cameron Highlands needs no introduction. Besides being one of the few places in Malaysia where we can make a trip just to escape the heat and humidity of the lowlands, the hill station also hosts numerous fun attractions like scenic tea plantations and strawberry farms – perfect for de-stressing from city hustling. 
For those looking for new spots to visit in Cameron Highlands, we rounded up a list of things to do there – including glamping in bubble domes and riding ATVs to catch glimpses of rolling hills.
---
1. Ride ATVs through tea plantations with Cameron Adventurous
---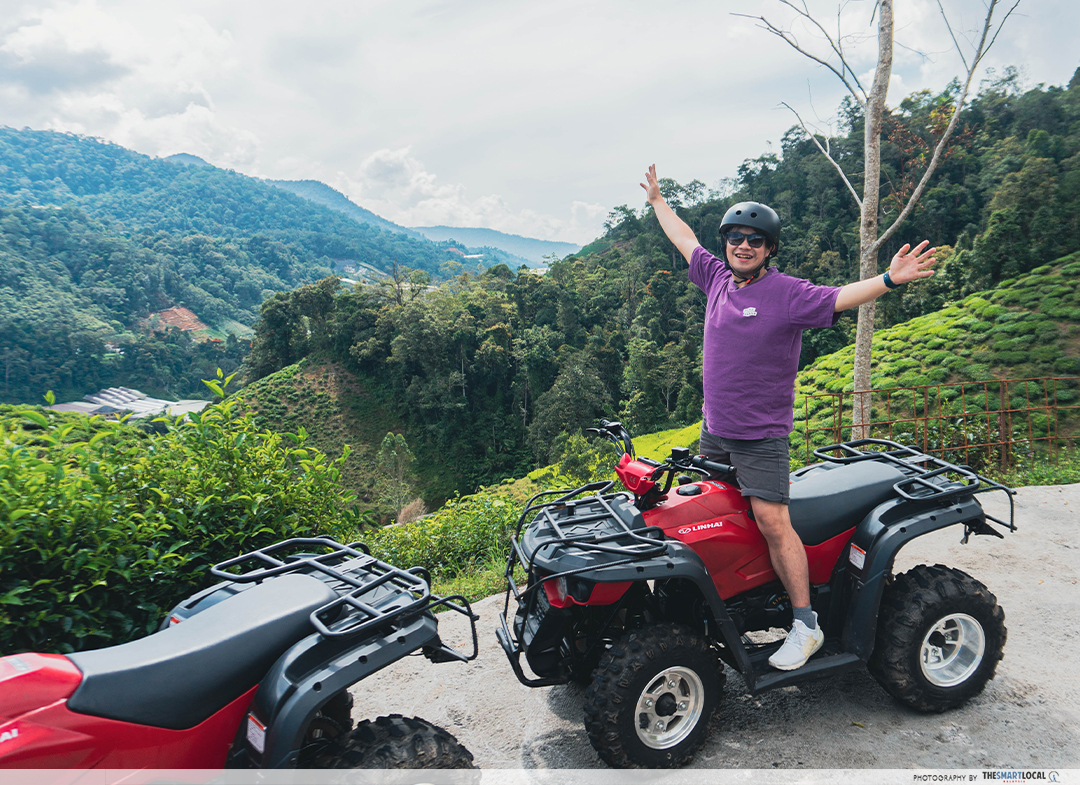 Strolling through tea plantations by foot is a must when you're visiting Cameron Highlands. Though, if you're a thrillseeker looking to sneak in an adventure while taking in the sprawling plantations, you're in luck – with Cameron Adventurous, you can hop on all-terrain vehicles (ATVs) for a scenic ride through green rolling hills.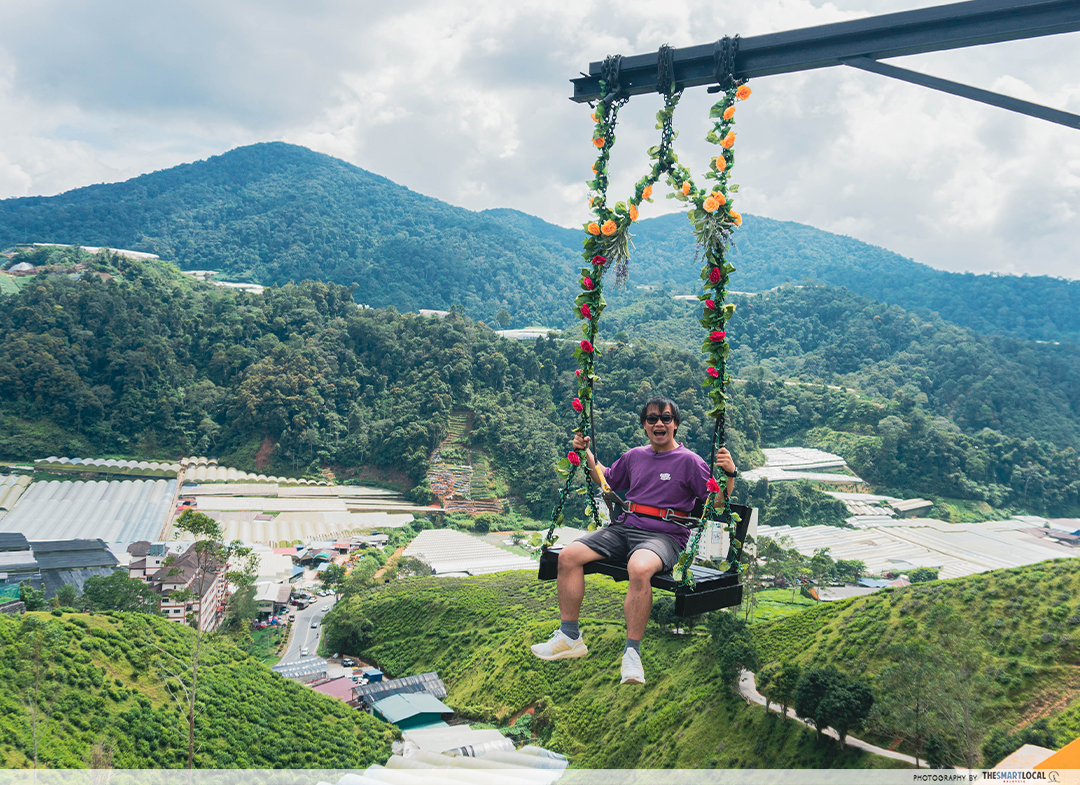 The trip will take you for an approximately 2.5km-long ride, weaving through a tea plantation and hitting designated lookout points where you can stop and snap photos of the lush greenery. 
For an additional RM5, you can get on a swing to experience dangling in the air with the surrounding valleys as your backdrop.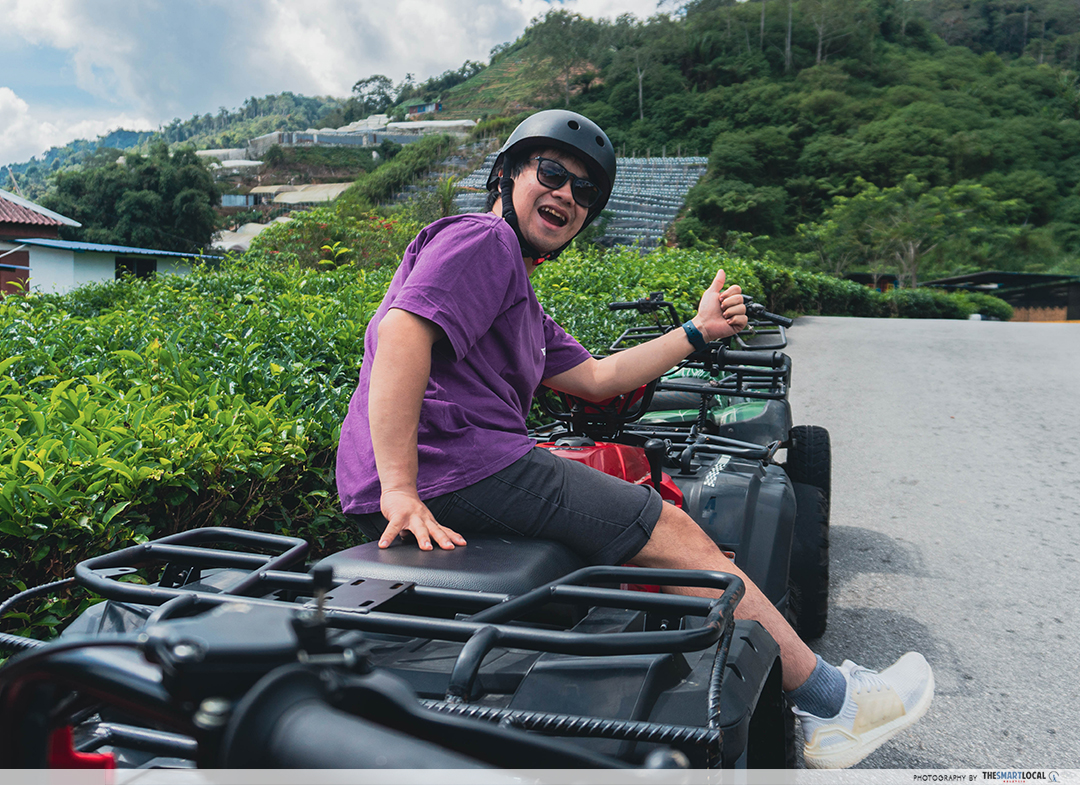 Adventurous individuals can also opt to ride solo on a single ATV (RM80/pax), or pair up for a double ATV (RM90) combo. If you're taking little ones with you, hitch a ride on the Safari Ride instead – a staff at Cameron Adventurous will drive a group of guests through the plantations and make pit stops at the amazing lookout points too.  
Tickets for Safari Ride: RM18/adult and RM12/child
Address: Cameron Valley Tea House 3, Jalan Besar Kuala Terla, 39000 Cameron Highlands, Pahang
Opening hours: Tue – Fri 10AM-5PM | Sat – Mon 9AM-6PM
Telephone: 013-534 2002
Cameron Adventurous Facebook
---
2. Pet fluffy sheep at The Sheep Sanctuary
---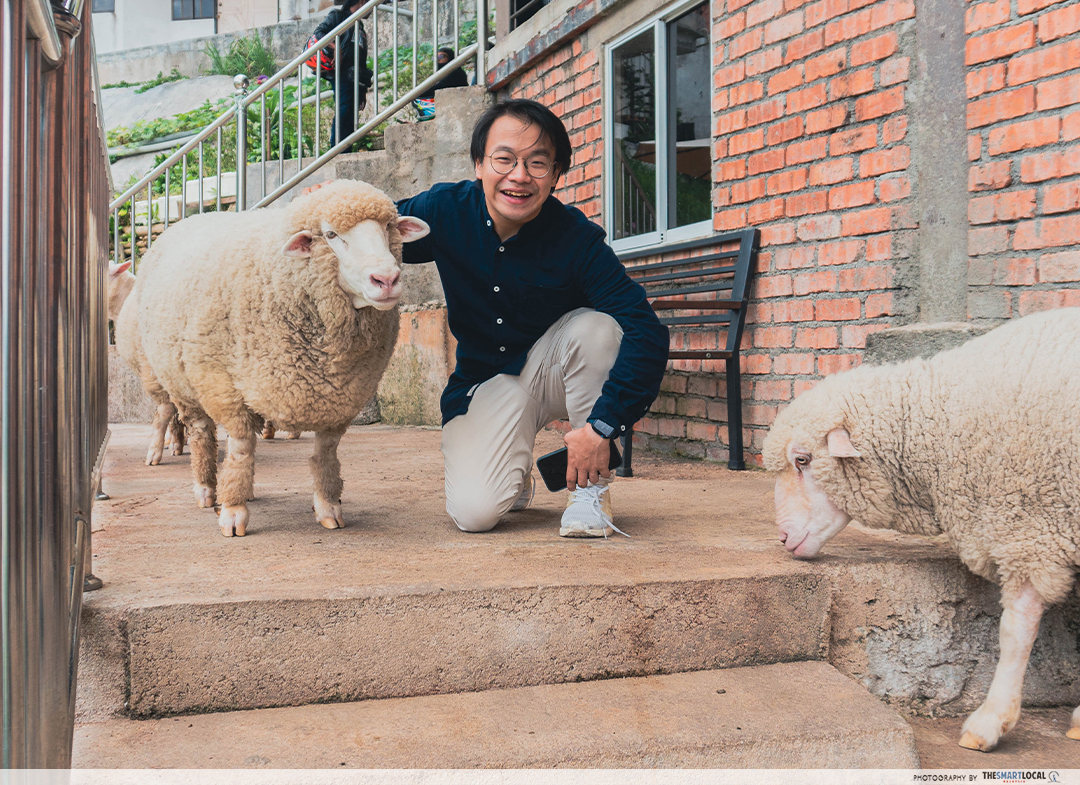 You'll hear locals likening going to Cameron Highlands to a 'trip abroad' due to the area's charming cottages and grassy landscapes. The Sheep Sanctuary, home to flocks of actual fluffy sheep, will have you thinking you're literally in New Zealand.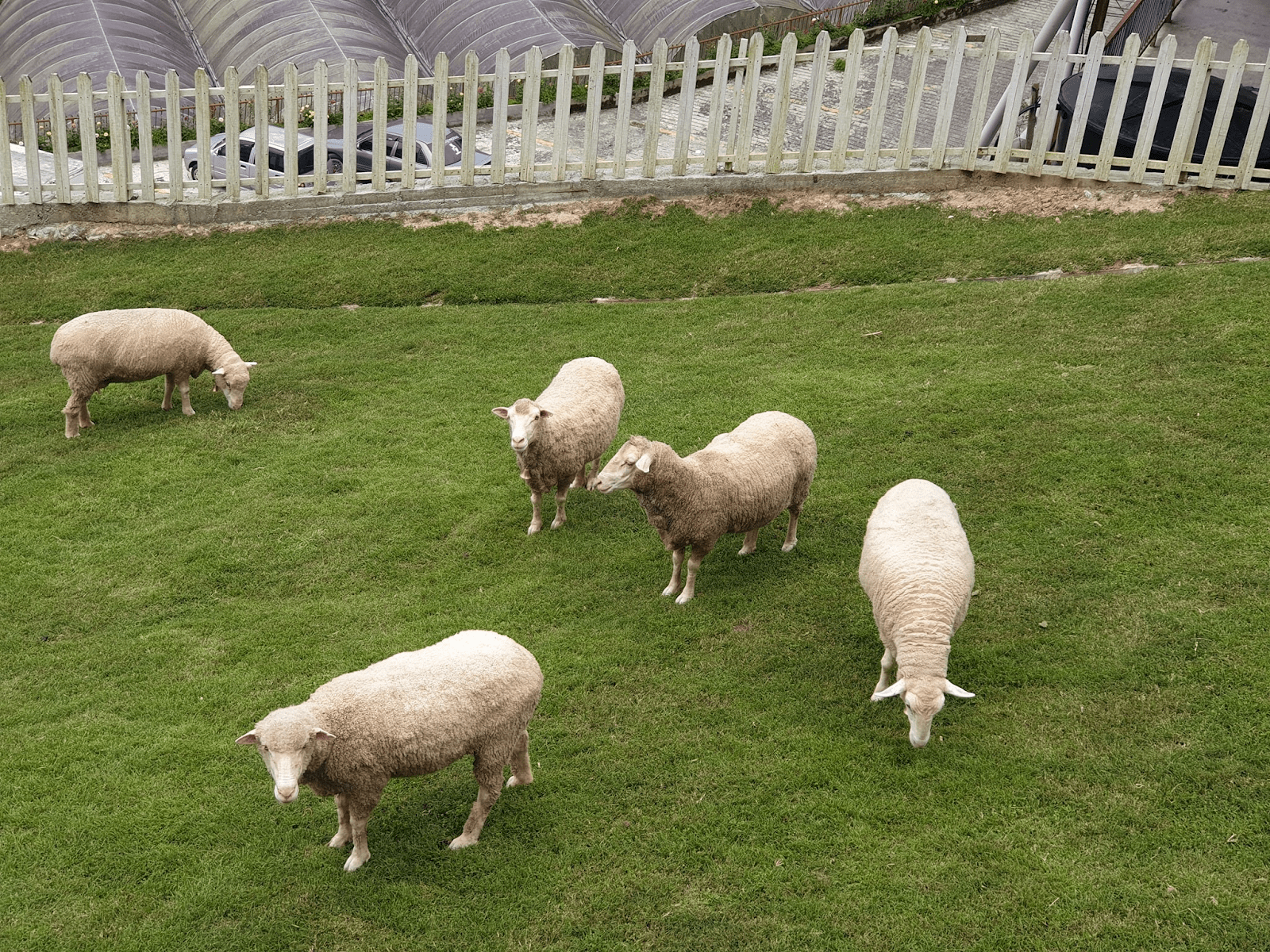 Image adapted from: The Sheep Sanctuary
This mini farm's fluffy residents have been brought in from Australia, and they roam both within a pen and freely on a lawn. Parents with easily-frightened little ones can stick within the sheep pen, which is enclosed with wooden fences to keep the adorable floofballs at a comfortable distance.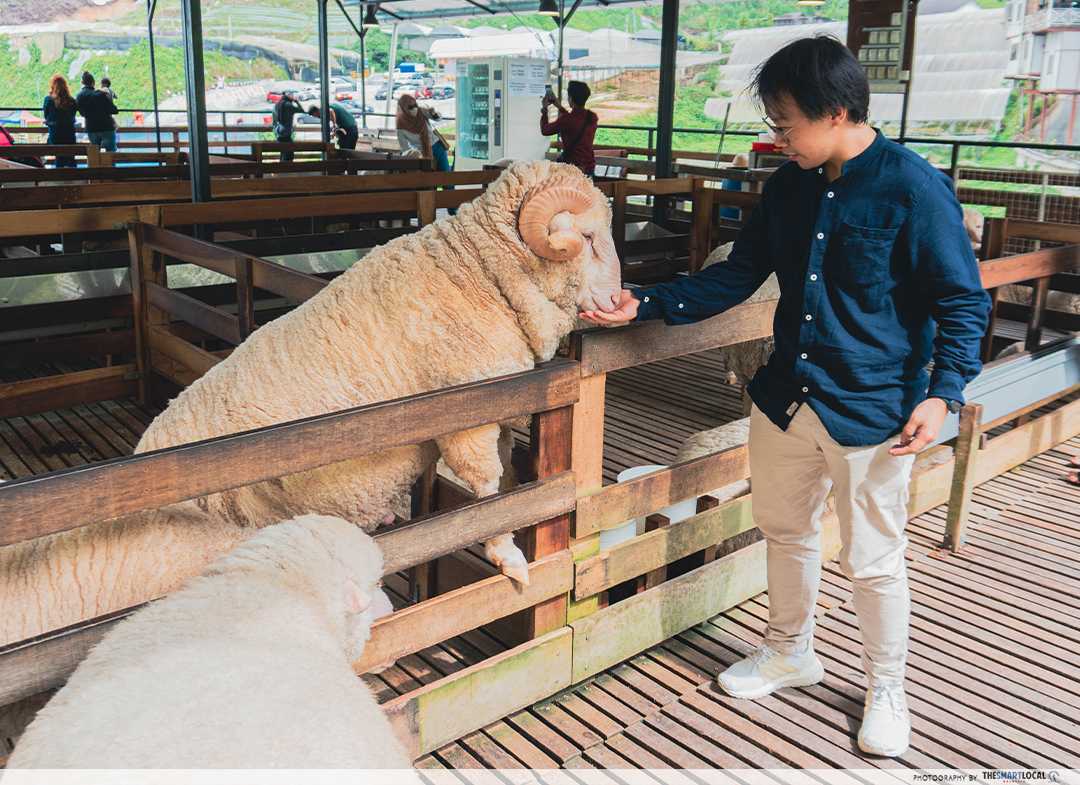 Whether you come to pet and cuddle the sheep – or just snap cute selfies with them – you'll be guaranteed a fun-filled time here. Each entrance ticket also comes with a pack of feed for you to treat the adorable creatures with.  
Tickets: RM8/adult and RM4/child
Address: No 187, Kea Farm Market 39100 Cameron Highlands, Pahang
Opening hours: 9AM-5.30PM, Daily
Telephone: 018-661 8488
The Sheep Sanctuary Facebook 
---
3. Go camping at Taman Eko Kem Sungai Pauh
---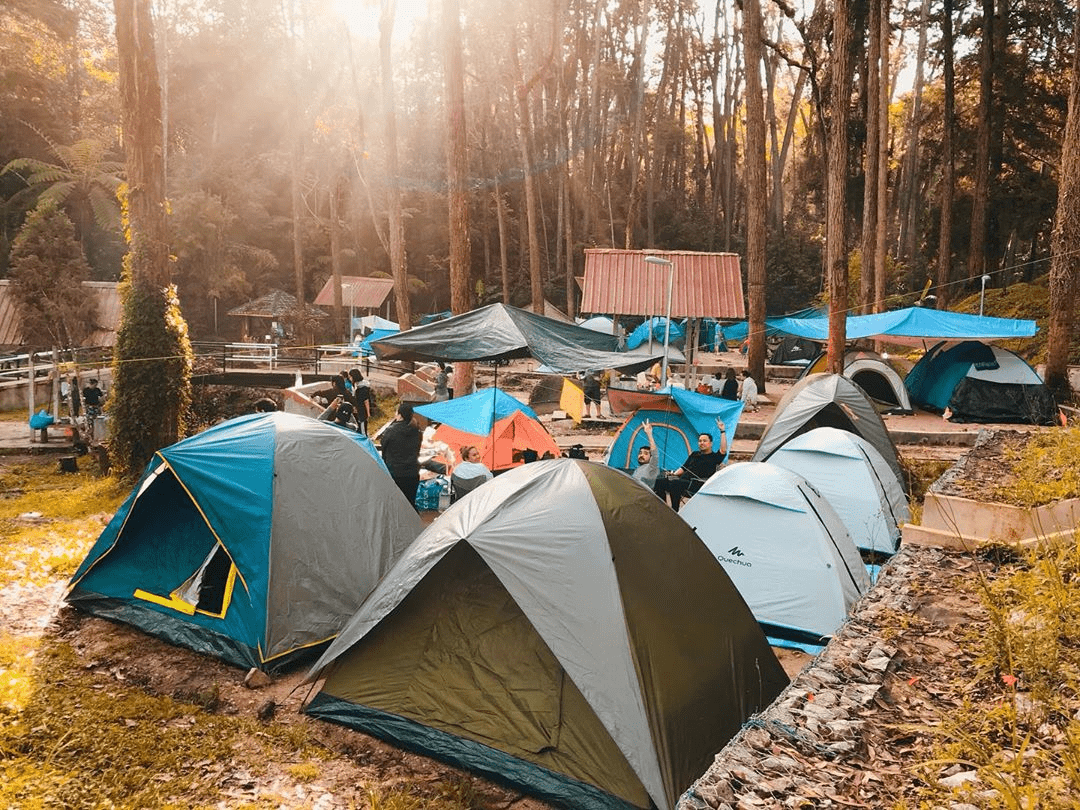 Image credit: @terryfredericks
Outdoorsy wanderlusters looking to spend more than a day in Cameron Highlands can have an overnight at Taman Eko Kem Sungai Pauh. This campsite comprises three main areas to pitch tents, and is located next to a forest. It especially draws nature lovers who want to sleep under the stars, brushed by the cool night breeze.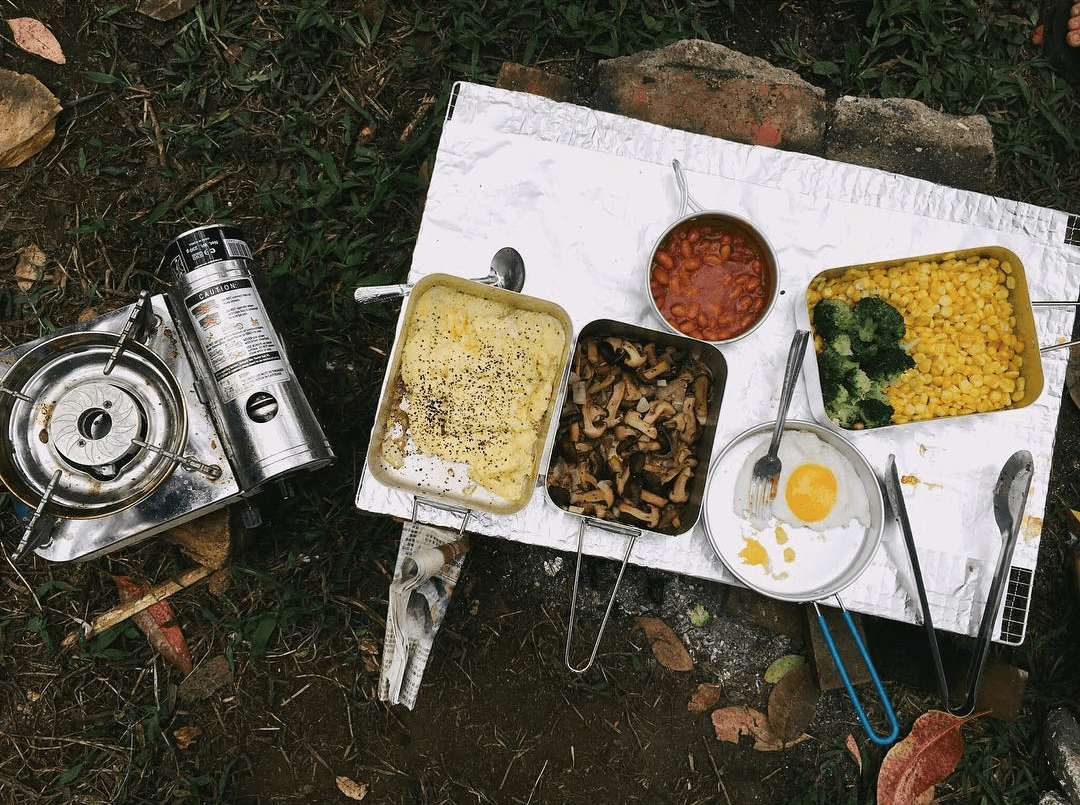 Image adapted from: @chingychann
You'll need to rough it out in true camping style here – this covers bringing your own cookware to prepare meals, and pitching your own tents for sleeping. Don't leave out clothes or blankets to bundle up in either, as temperatures here are known to drop as low as 15 degree Celsius.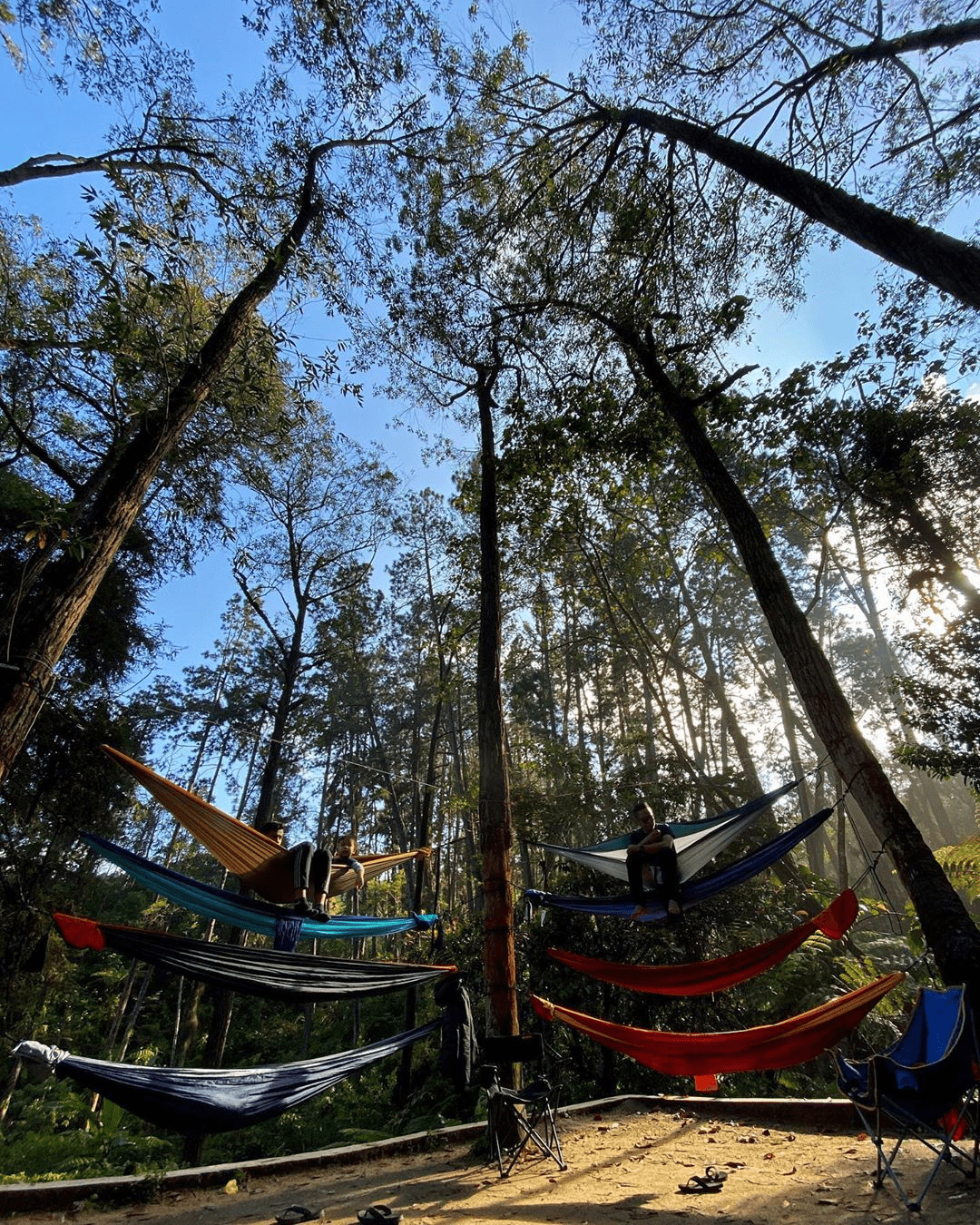 Bring your own hammocks to enjoy a relaxing day in nature at Kem Sungai Pauh
Image credit: @asmidarz 
The campsite is, however, equipped with common barbecue pits and bathrooms with shower heads, as well as electric power points and tap water. As you'll have to bring along tents and other essentials for a camping trip, you can borrow a wagon to port your personal equipment from your car to the camping site. 
There's a one-time entry fee (RM2), as well as fees (RM10/pax) for each person in your group to camp at Taman Eko Kem Sungai Pauh.
Address: Pejabat Hutan Daerah Cameron Highlands, Tanah Rata, 39000 Cameron Highlands, Pahang
Opening hours: 24 Hours, Daily
Telephone: 05-491 1384
---
4. Hike up Gunung Berembun for scenic mountain views
---

Image credit: @syabilmhd
If you spend a night at Taman Eko Kem Sungai Pauh, you can consider hiking up Gunung Berembun the next morning. Not to be mistaken for the peak in Negeri Sembilan, this mountain in Cameron Highlands offers several different trails, including the Trail No. 6, accessible directly from the campsite.

Image credit: @amy_nuramy
Trail No. 7 is recommended for both beginners and avid hikers who want to complete a hike in under three hours. Regardless of which trail you choose to tackle, a hike up to the peak of Gunung Berembun – which has an elevation of 1840m – lets you take in plenty of fauna and flora, as well as views of mist hovering over mountaintops.  
To start your journey on this trail, simply head to Agro-Technology Park.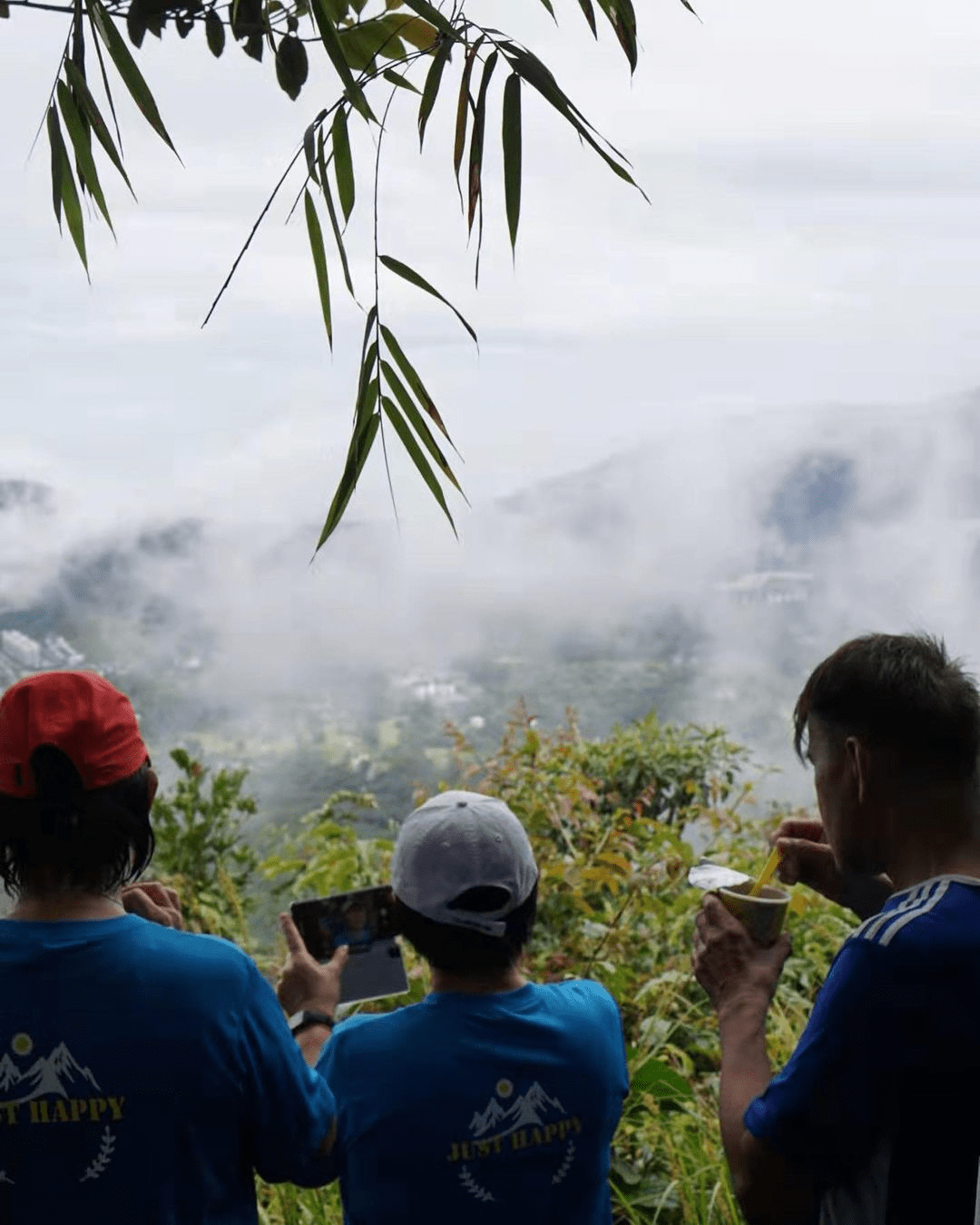 Image credit: @jane.yapp
Hiking duration: 3 to 5 hours
Fees: RM3/pax
Getting there: It's recommended you drive here or hire a private car. Trails 6 and 7 will have parking spots if you're planning on coming here by vehicle. You can locate it via the GPS coordinates 4.472583, 101.400429.
---
5. Go glamping in bubble domes at A'Moss Farmstay 
---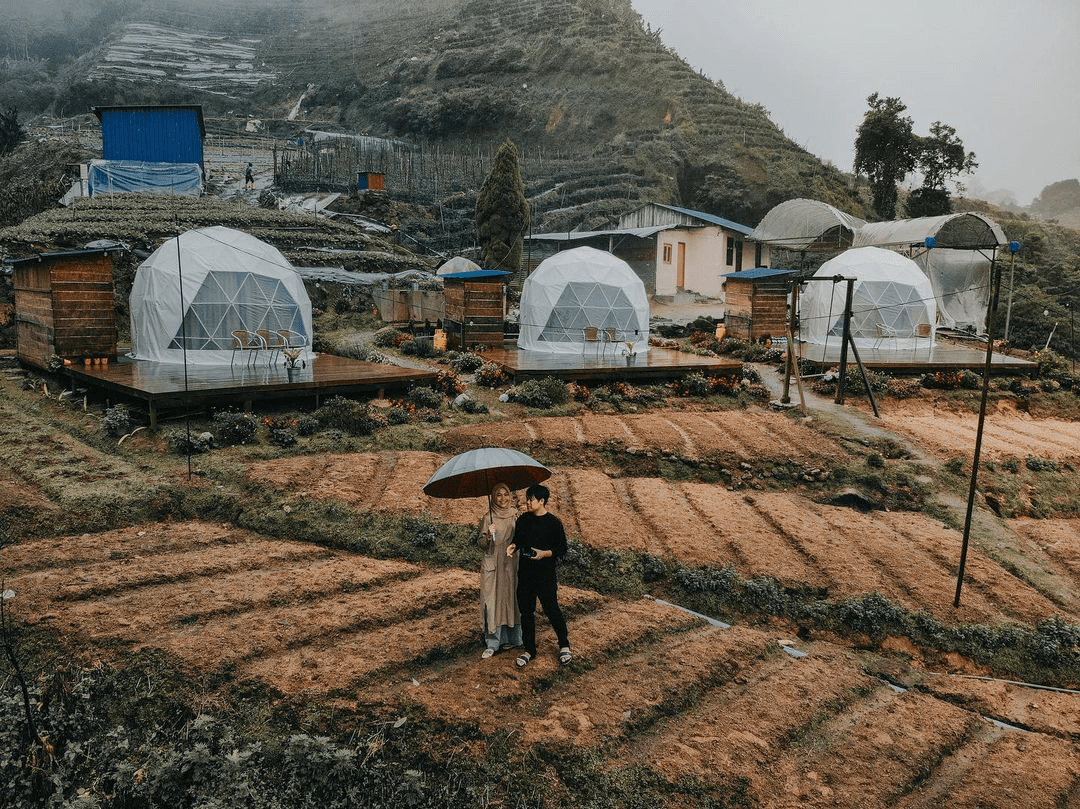 Image credit: @yunnaquiah
Glamping has become a popular staycay option, as it wraps the comforts of a proper hotel with impressive views of nature. At Cameron Highlands, you'll find A'Moss Farmstay, a glampsite on a farm that lets guests spend nights in bubble domes with comfy beds and private bathrooms.
Each tent has an outdoor patio attached, where you can catch views of Cameron Highlands at different times of the day –  and stargaze after nightfall.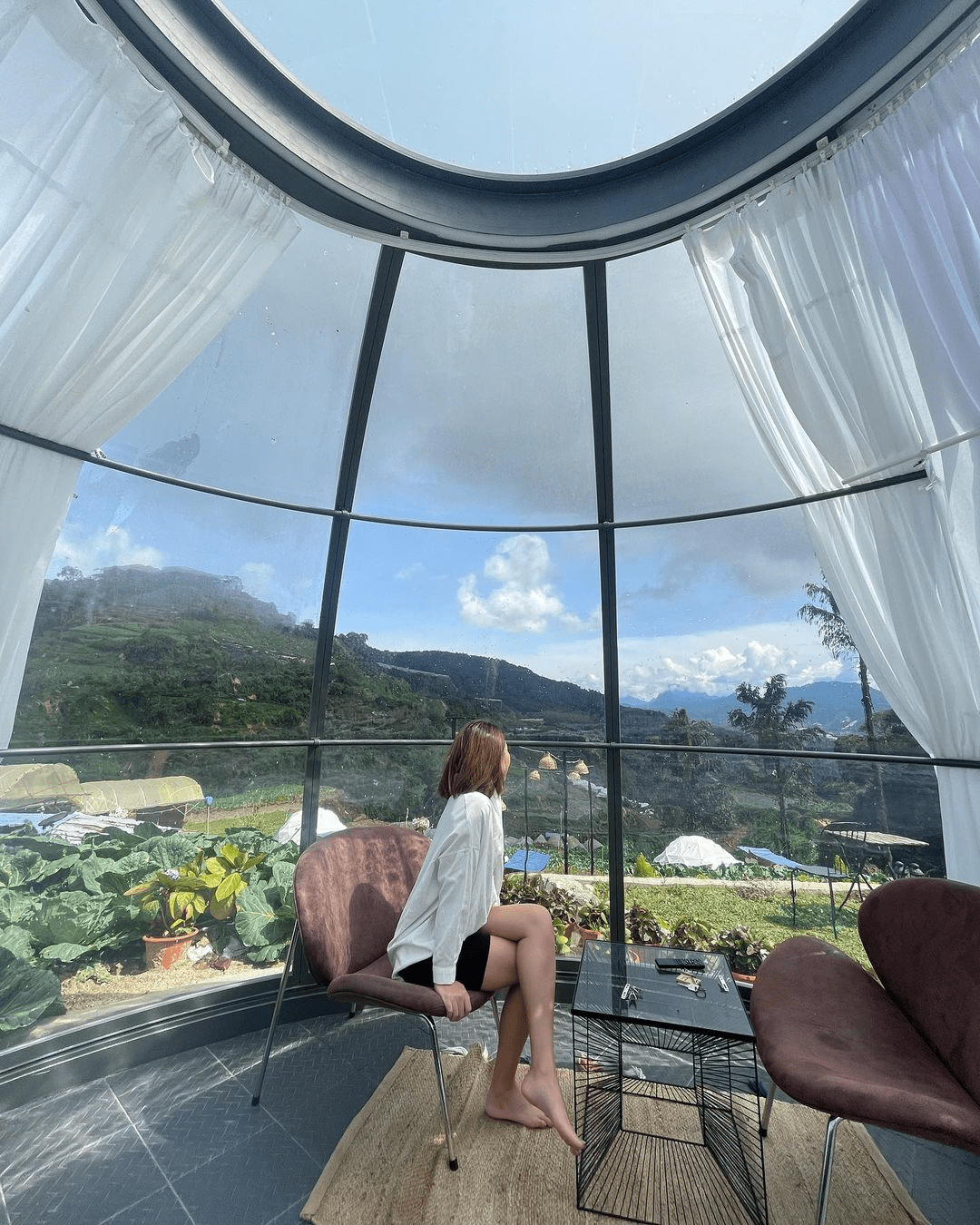 Image credit: @sharnicechua
There are three domes here – Domes 1 and 2 (from RM265/night) feature a queen-sized bed and accommodates up to three people, while Dome 3 (RM270/night) has two bunk beds for groups and families.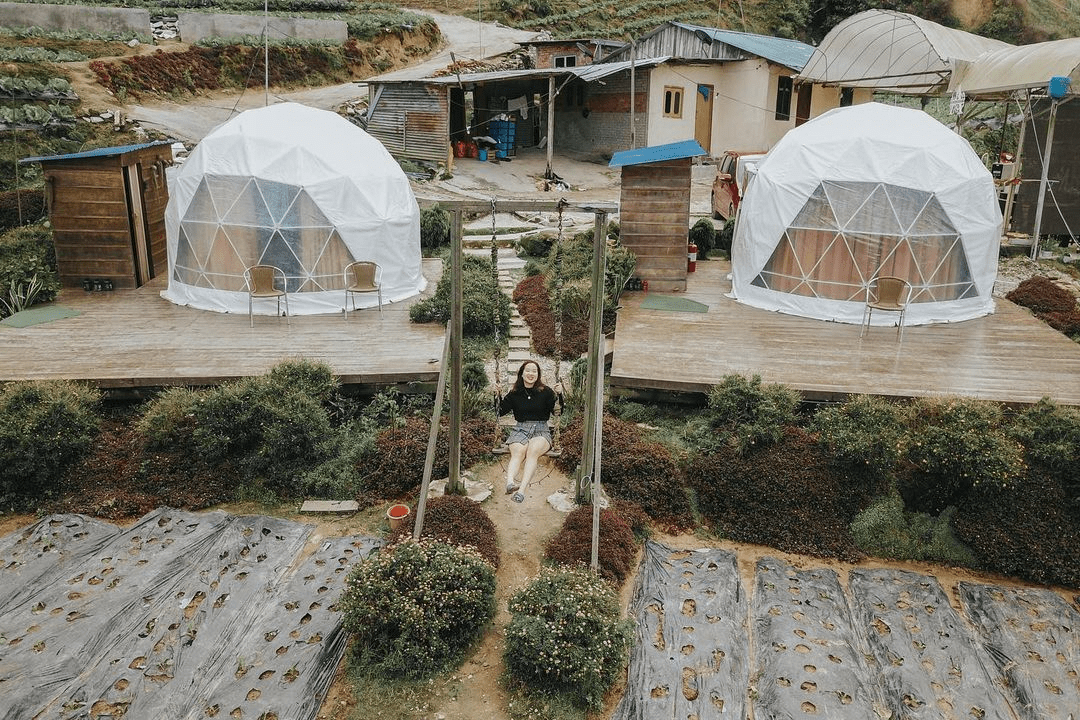 Image credit: @kentwongbug
Do note that none of the tents have air-conditioning – but this shouldn't be much of a problem, as guests can open the doors to let the cool mountain air in. And as the domes are in the middle of a farm, you'll have to drive down a narrow road to reach the site. 
If you get hungry, there's a shared kitchen equipped with a fridge, oven, stovetop and grill. 
Address: Kampung Gerak Sepadu, Brinchang 39000 Cameron Highlands, Pahang
Opening hours: 24 Hours, Daily
Telephone: 019-555 0356
A'moss Farmstay website
---
6. Stroll through a flower garden, Cameron Highlands Flora Park  
---

Image credit: @yilingggg__
Cameron Highlands Flora Park has been turning heads ever since it opened its doors back in 2021. This flower garden features a plethora of photogenic spots, including whitewashed steps against a hill of dainty pink flowers that look right out a page from a fairytale book.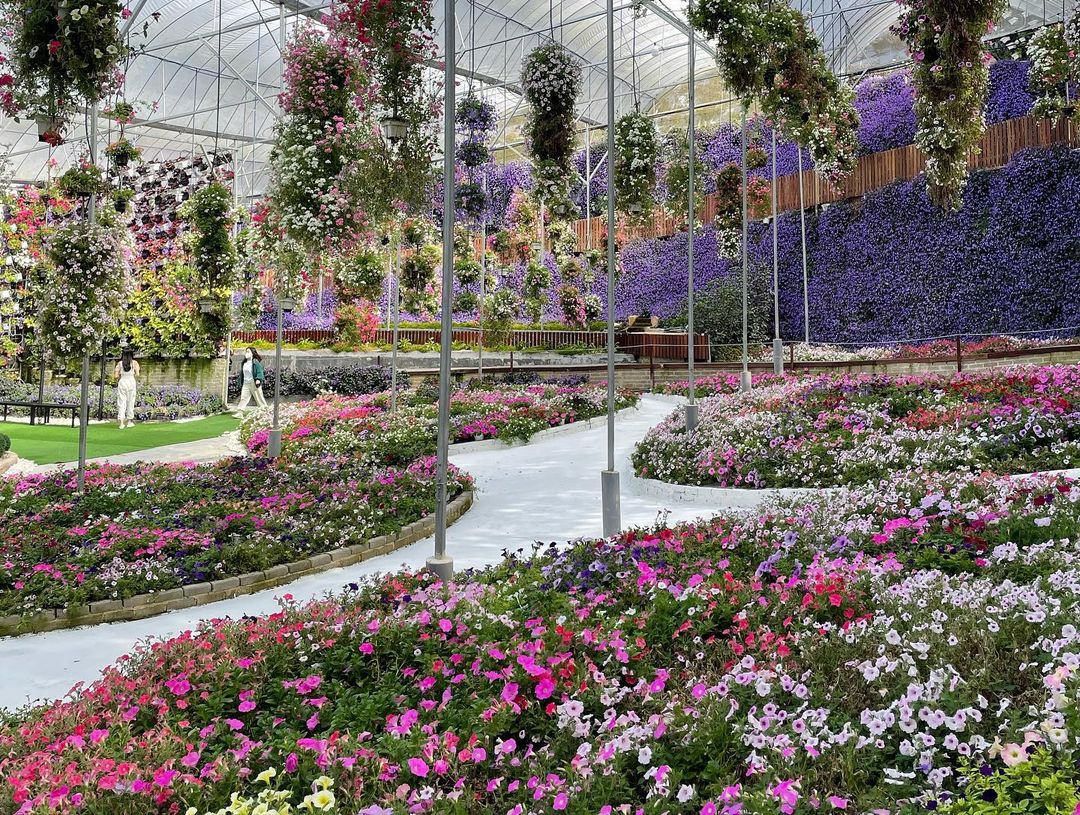 Image credit: @ch_flora_park
If a stroll through a garden abloom with pastel flowers is not enough, the park also offers outdoor picnic sets for couples and groups. Each set comes with a spread of desserts and a pot of tea.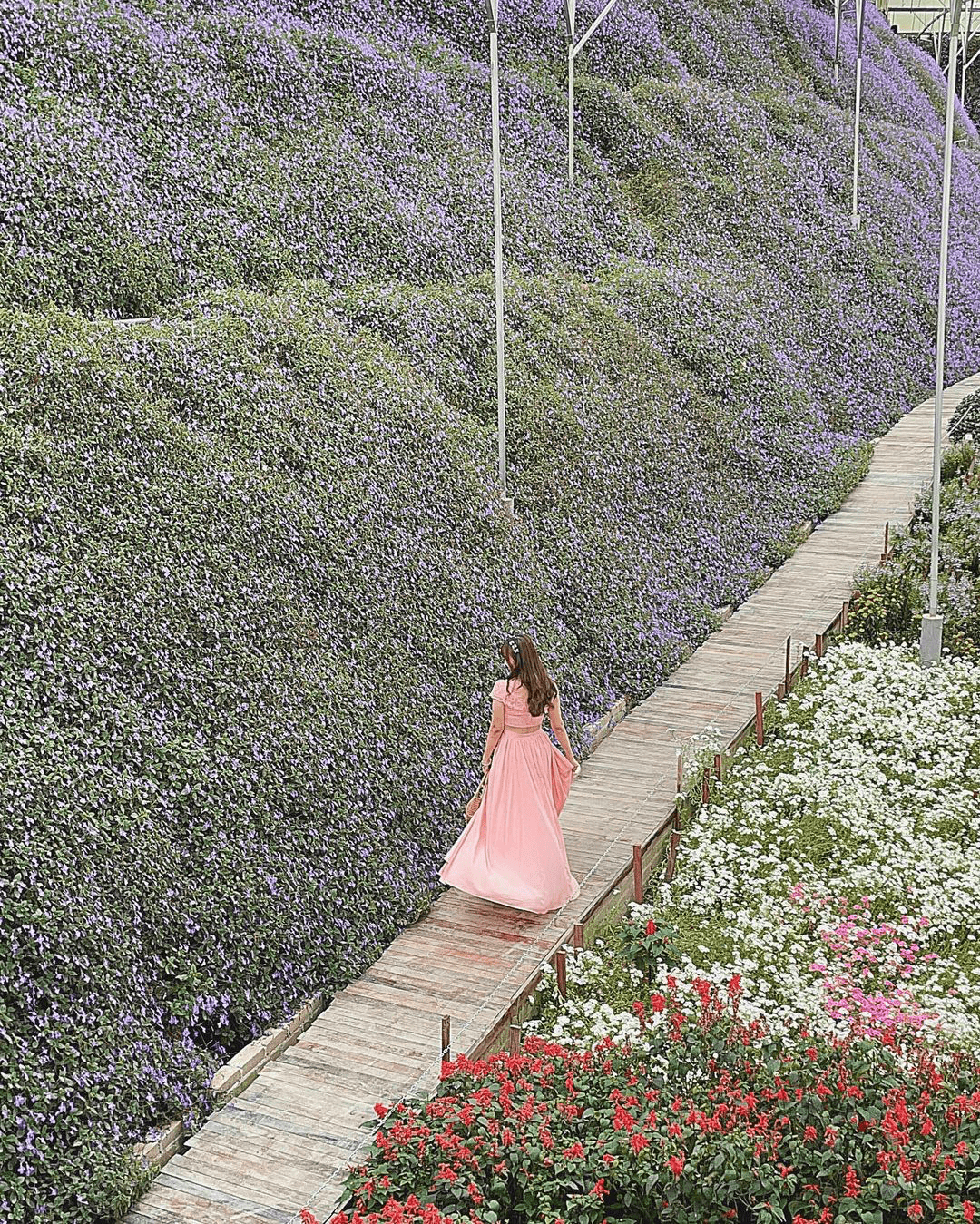 Image credit: @nicole_lsx94
Read more about Cameron Highlands Flora Park here. 
---
7. Take a trip down memory lane at Time Tunnel Museum
---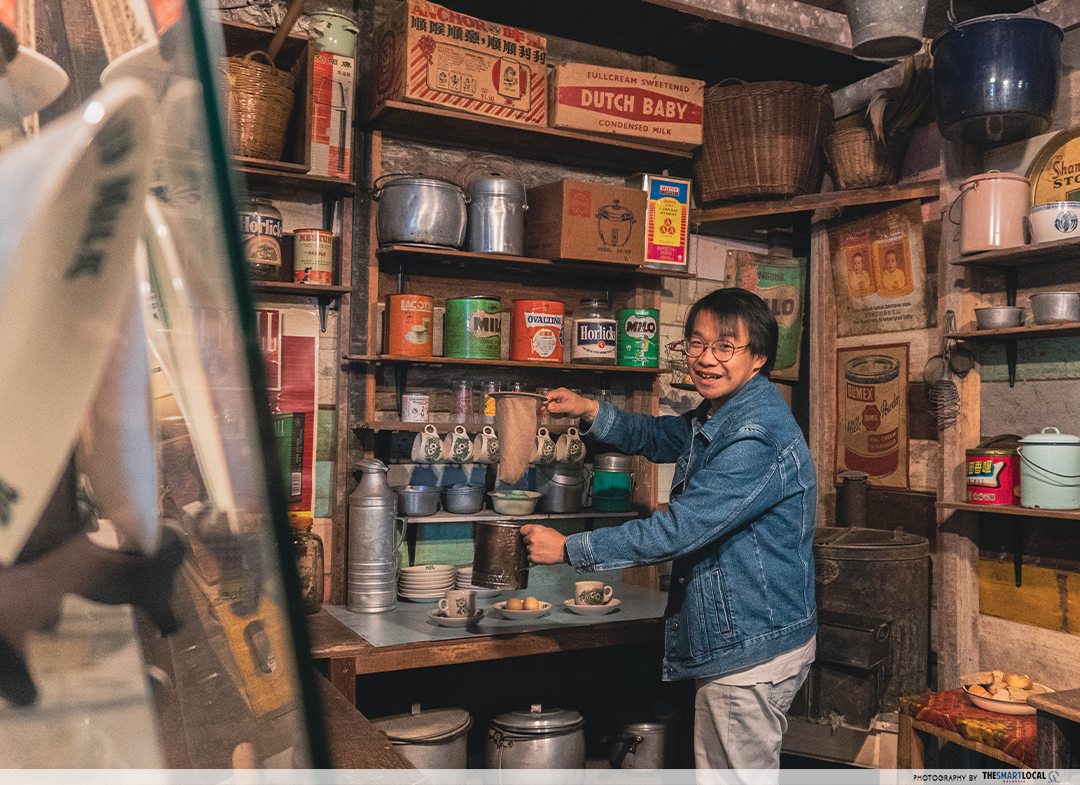 For a trip down memory lane, pay a visit to Time Tunnel Museum in Brinchang. This unique memorabilia museum, said to be Malaysia's first, will transport you back to the past with a kitchen set-up reminiscent of our grandparents' homes, and various antiques on display that'll have you feeling nostalgic.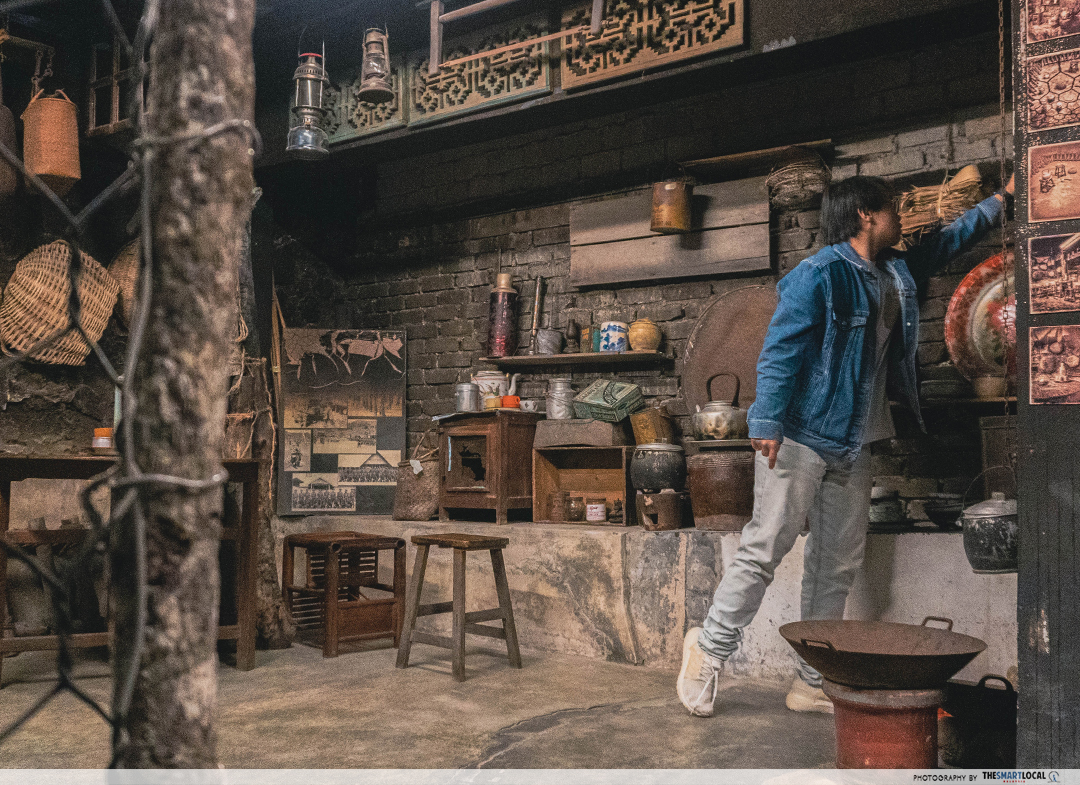 Spot old tin cans of popular local drinks, such as Nestum and Milo, on view in the 'kitchen' exhibit. Vintage posters advertising food brands from yesteryear will surely jog your memory too.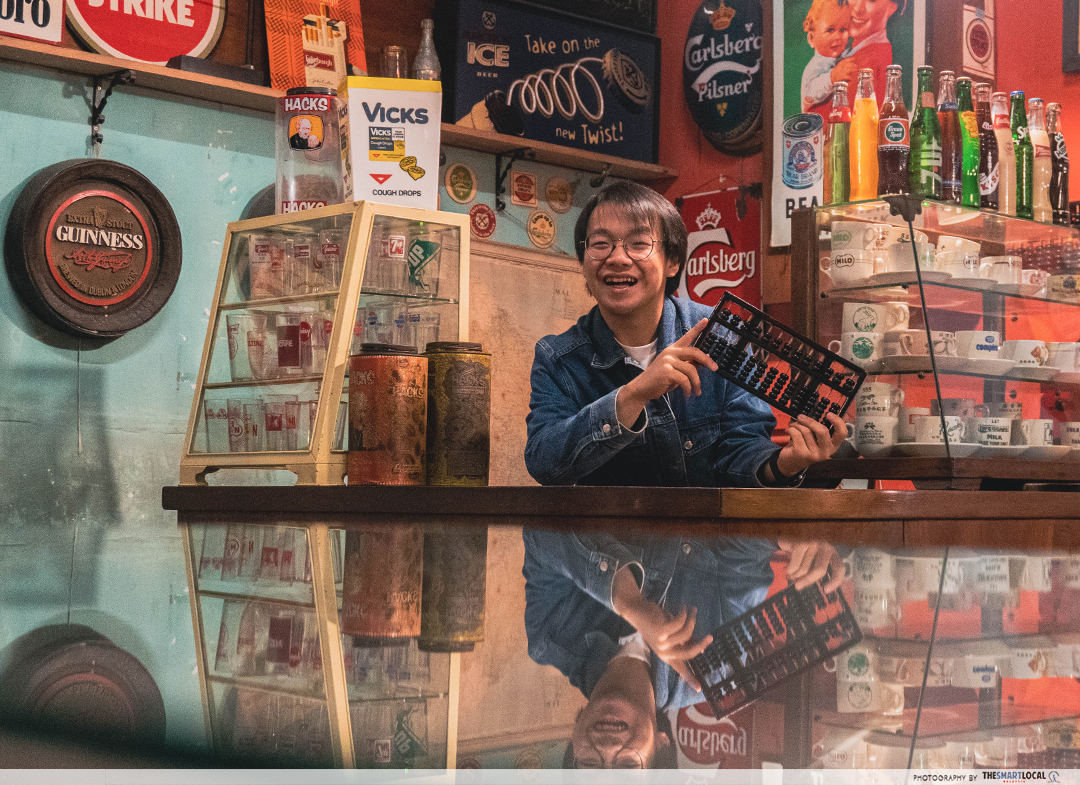 Other nostalgic items, such as enamel tiffin carriers, have also been carefully preserved and put on display by the museum's collector.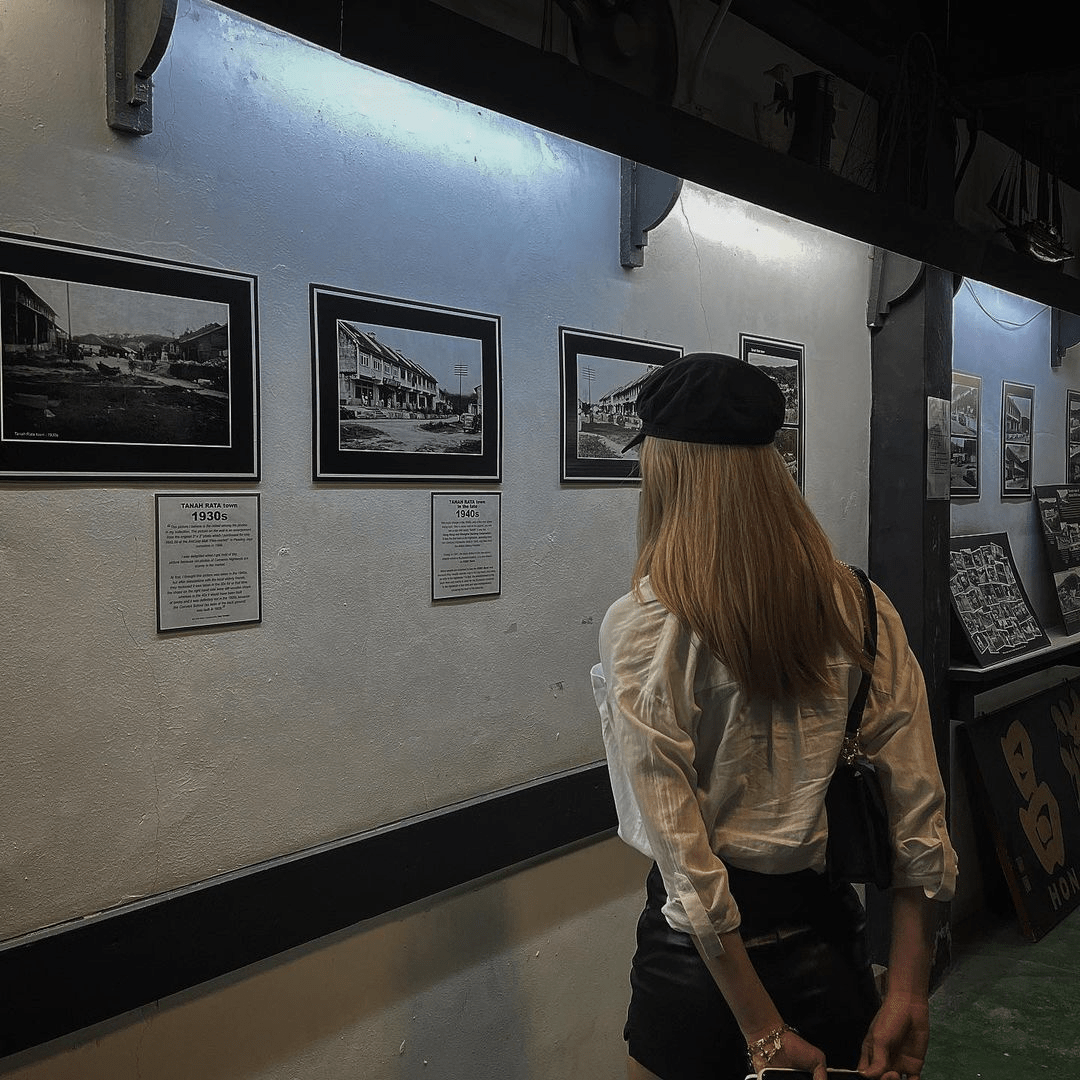 Image credit: @naomiii_1003
Other things you can see at this local museum are photos of Cameron Highlands taken during the '50s and '60s – a real treat for history buffs looking to learn more about the town's history as a resort and hill station.
Tickets: RM8/pax
Address: Jalan Sungei Burung, Brinchang 39100 Cameron Highlands, Pahang
Opening hours: 9AM-6PM, Daily
---
8. Visit an enchanting Mossy Forest for views of mist
---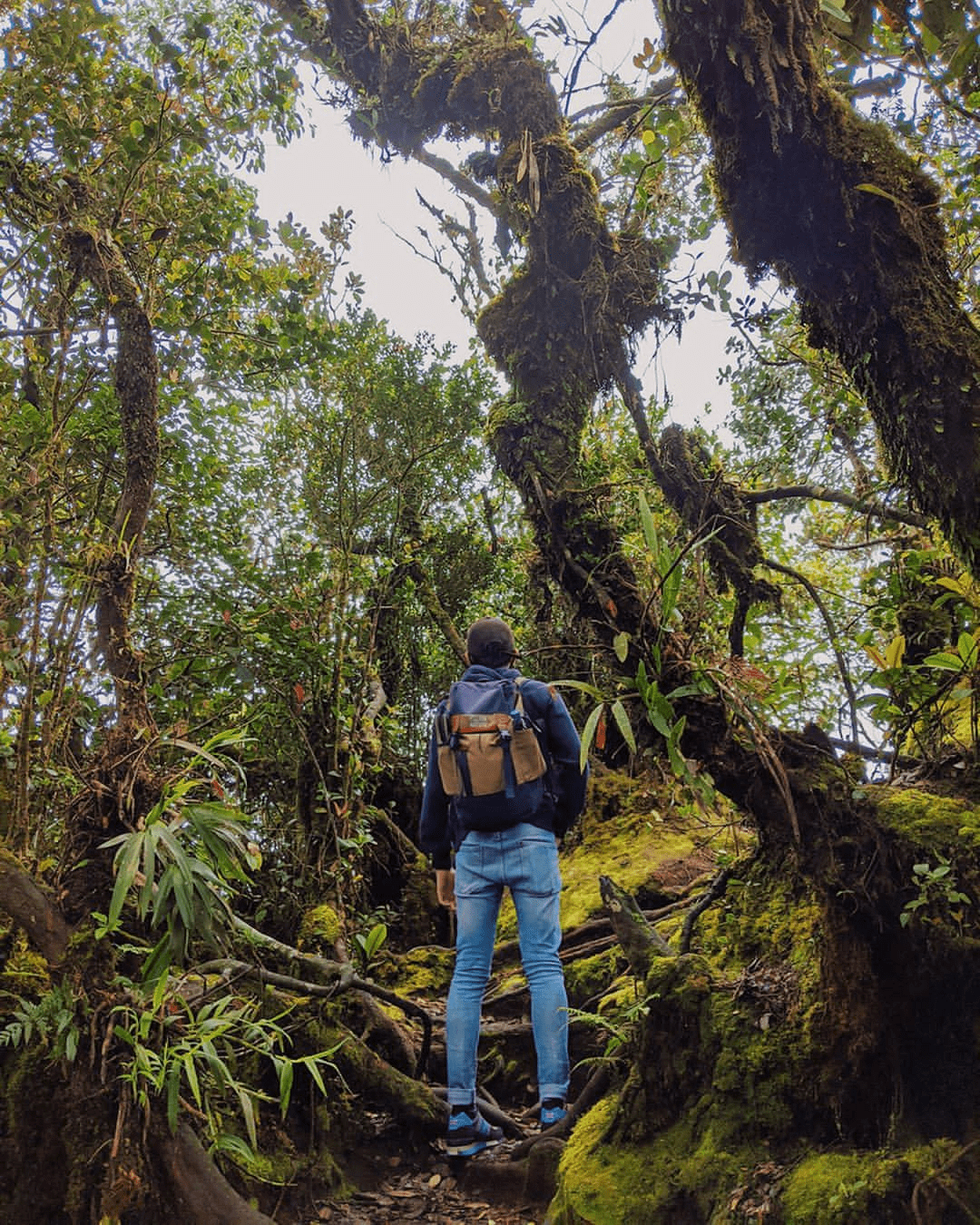 Image credit: @azmirulshafiq
The scenery at Mossy Forest is often compared to the surreal backdrops from the Lord Of The Rings. And not without reason, as this Cameron Highlands forest is well-known for its enchanting moss-covered landscape, where visible mist seeps between exotic plants and trees.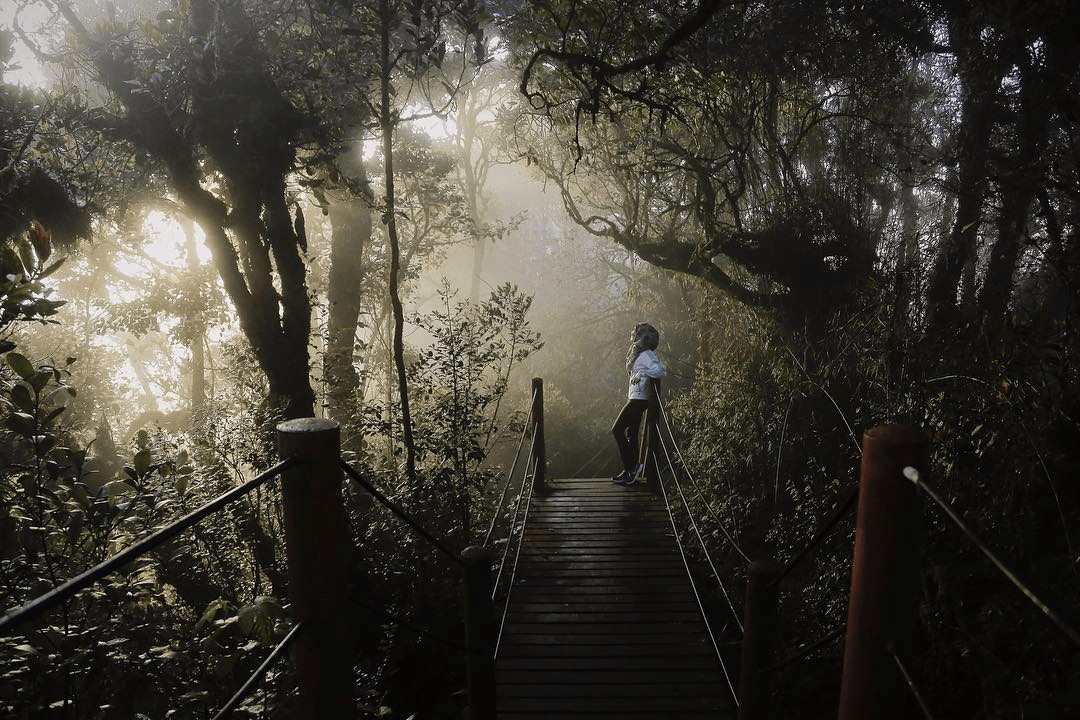 Image credit: @white_label_company
The border between Perak and Pahang is also visible when you reach the peak on your mountain hike here, roughly at 2000m. At this height, you'll find yourself looking down on low-lying clouds – the reason why the forest has also been dubbed 'Garden in the Clouds' by locals.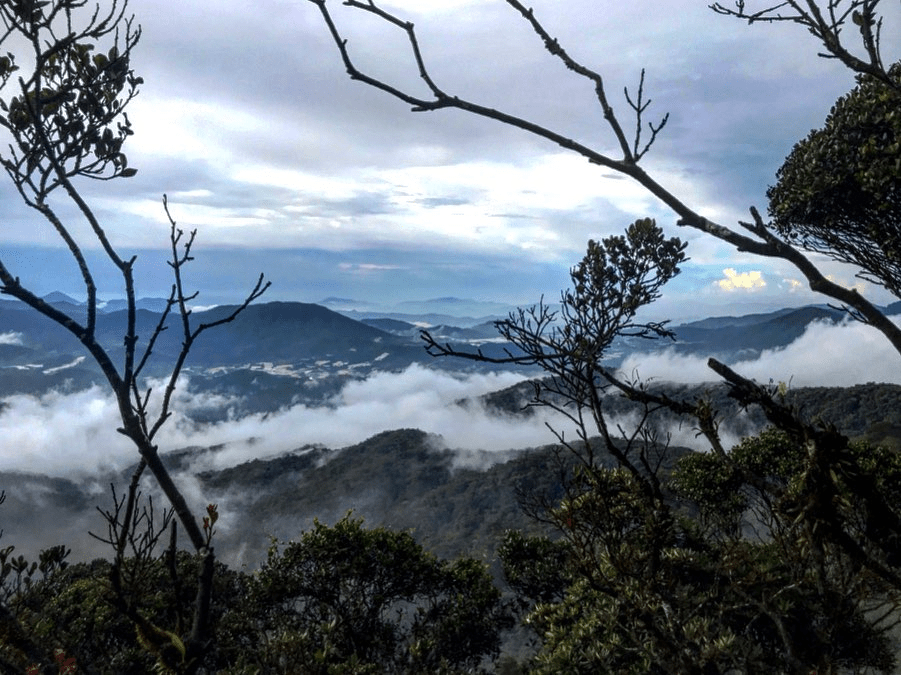 Image credit: @ariannamaurii
Avid hikers can choose from 14 different hiking trails here, including an easy one with paved pathways, which takes about 30 minutes to complete. 
Hiking duration: 30 minutes to 1 hour
Fees: RM10/adult and RM5/child
Getting there: From Brinchang town in Cameron Highlands, drive about 7km towards Copthorne Hotel and the junction to Mossy Forest should be to your left after the hotel.
---
9. Sip on tea & nibble on scones at tea rooms
---
The Lord's Cafe
---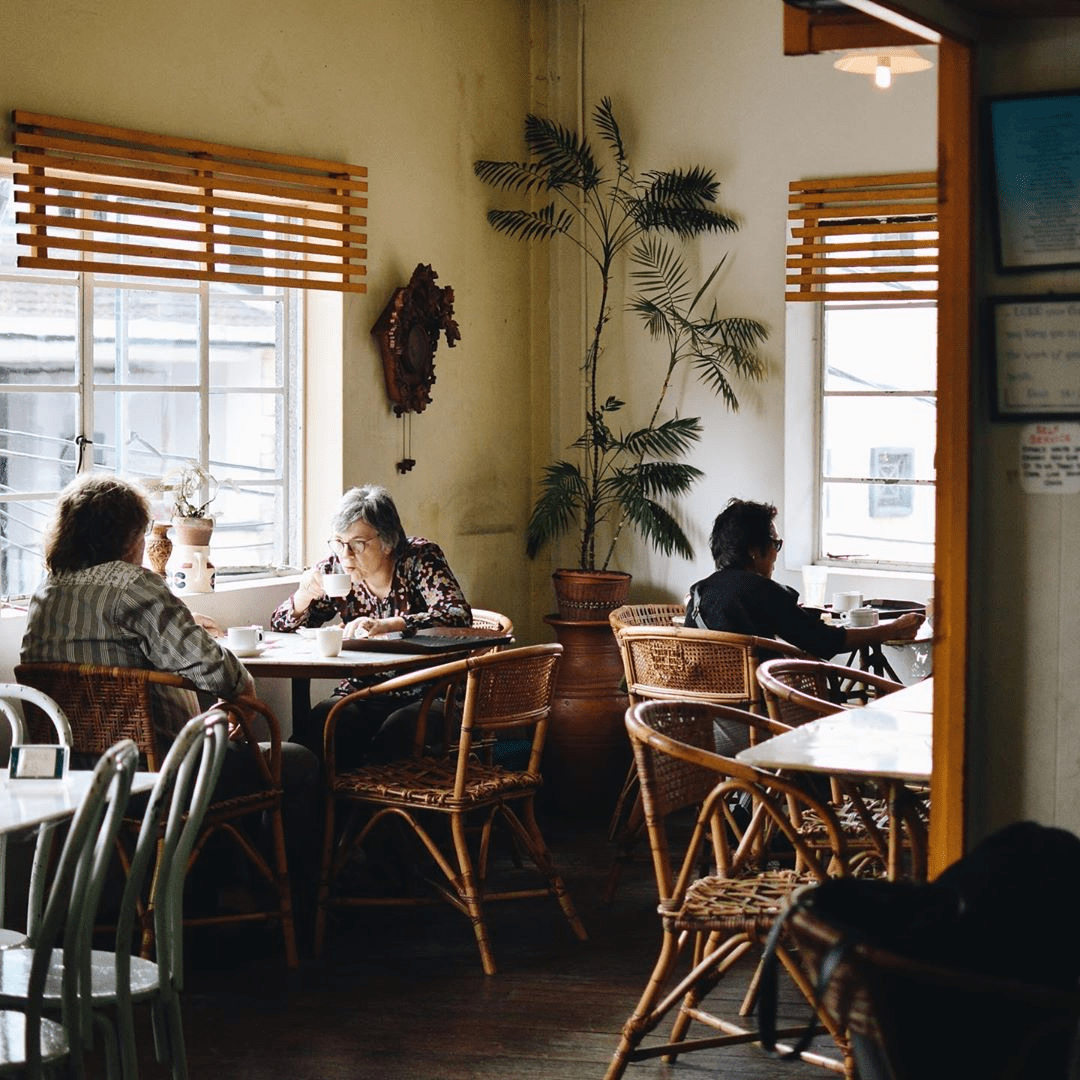 Image credit: @tayeichi
The Lord's Cafe is a humble cafe on the second floor of a building, that's linked to a Catholic church in Tanah Rata. Their menu features affordable bakes and beverages all priced below RM10, so it's not unusual to see long queues outside their shop.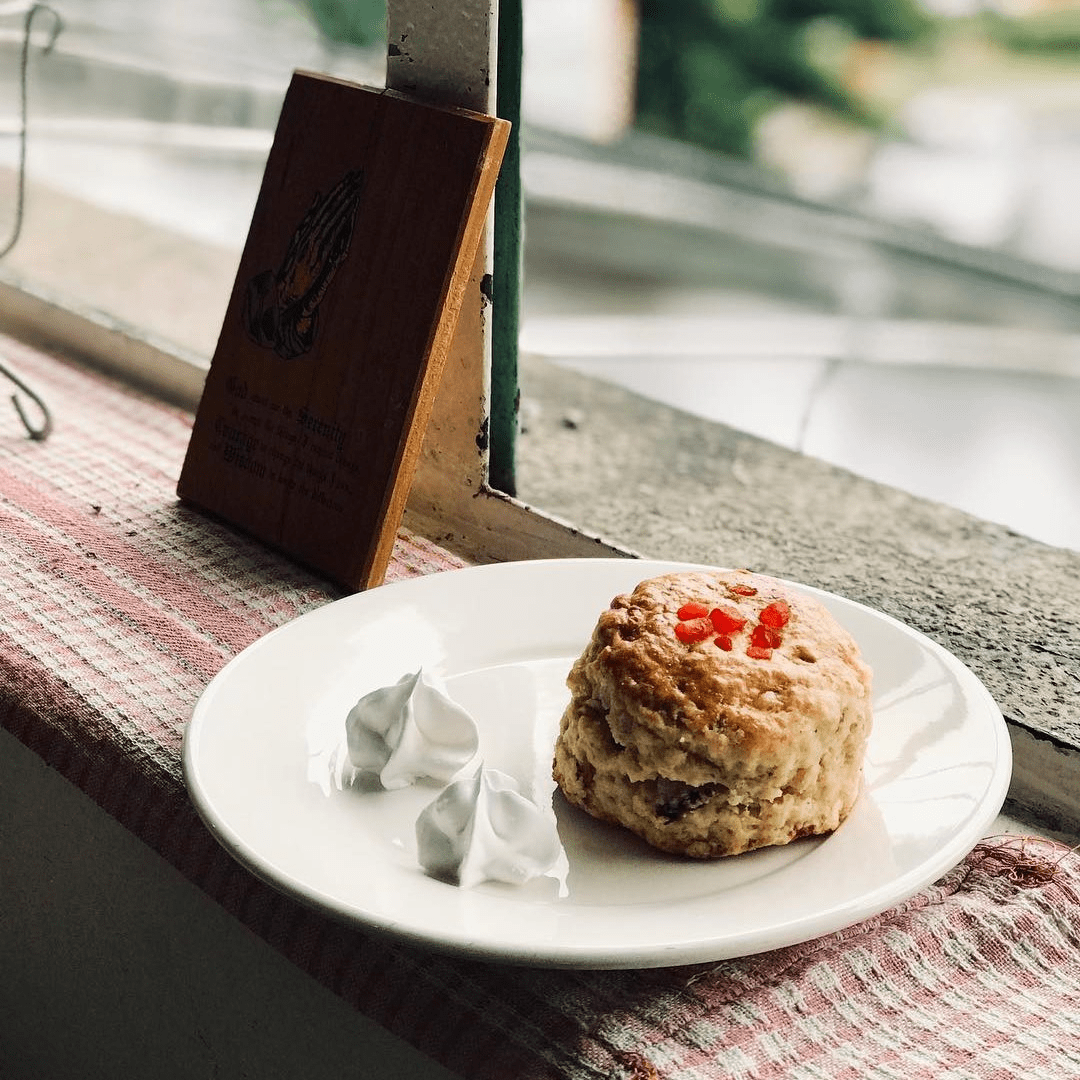 Image adapted from: @alfredchan83
You'll find a cosy dining area here featuring bookshelves and rattan chairs, to dine on scones (RM2.80/each) served with butter, homemade strawberry jam, and a dollop of whipped cream. The Strawberry Fruity Scone (RM3) is another speciality here that has bits of strawberry baked into the fluffy scone. 
Other bakes to order include their hearty Apple Pie (RM3.80) served with a scoop of vanilla ice cream (RM5.20), and cakes such as Banana Chocolate Cake (RM3.20/slice) and Lemon Cheesecake (RM4.60/slice).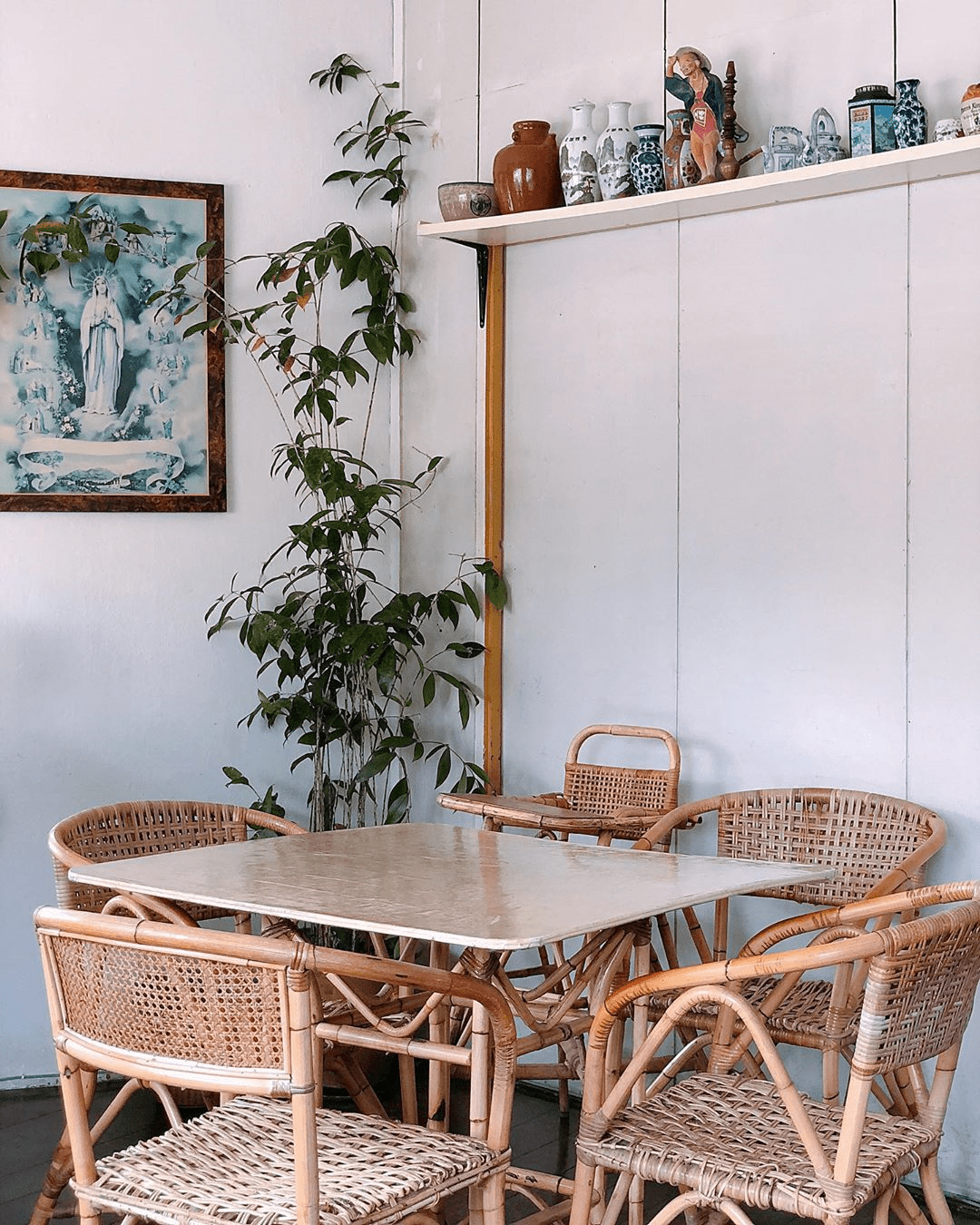 Image credit: @weekendee
You'll have to order at the counter and pick your own food up once they're ready, as this cafe operates on a self-service basis. 
Address: No 4, Jalan Besar, 39000 Tanah Rata, Pahang
Opening hours: Mon – Sat 10AM-6PM (Closed on Sundays) 
---
The Smokehouse Hotel
---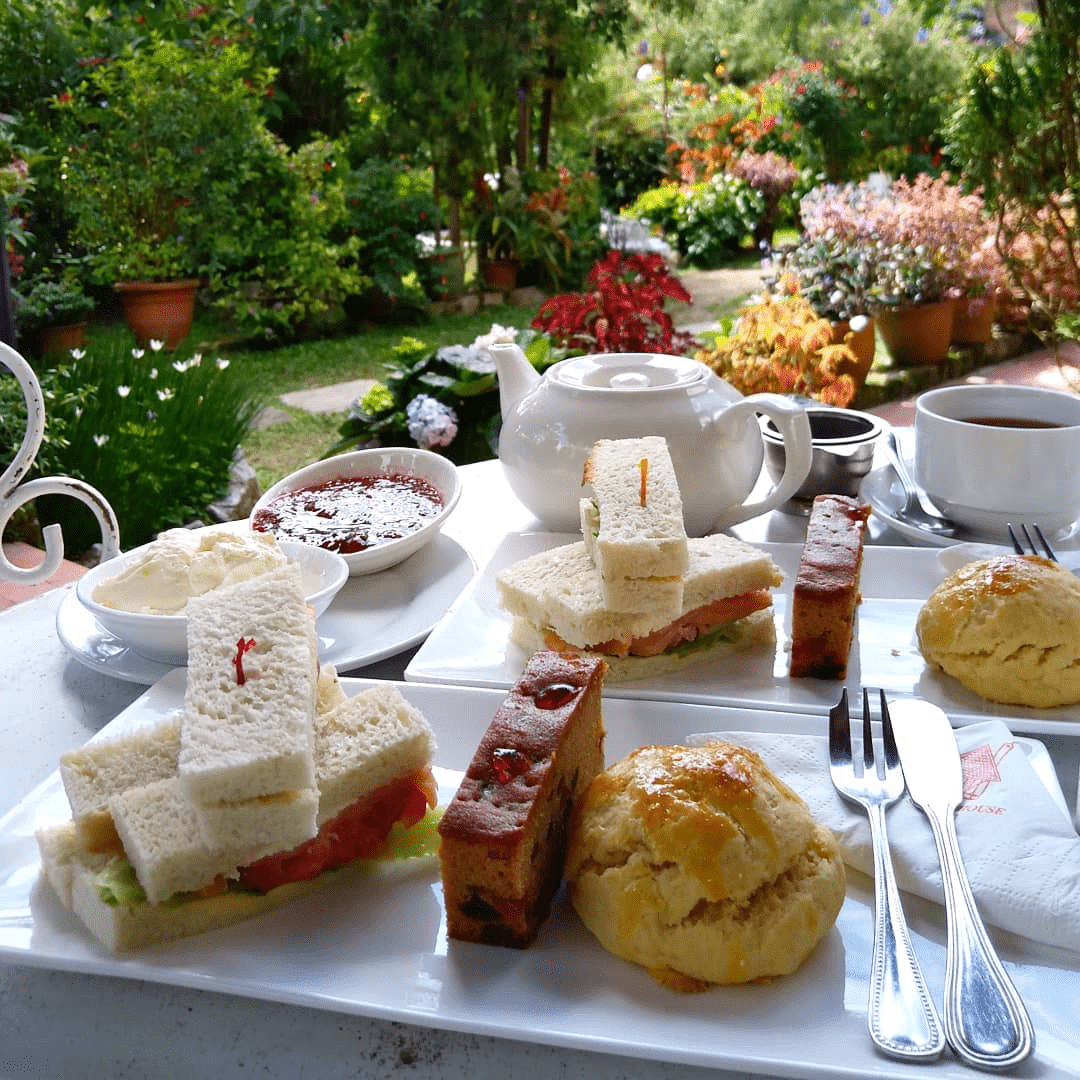 Image credit: @new.myvi
One of the many charms of Cameron Highlands is the English-style cottages that dot the area – The Smokehouse Hotel is one of these. Besides being a quaint space for guests to spend a comfortable night in, it's also known for the famous Smokehouse Scones (RM20), a delightful country-style treat comprising two scones, jam, and cream.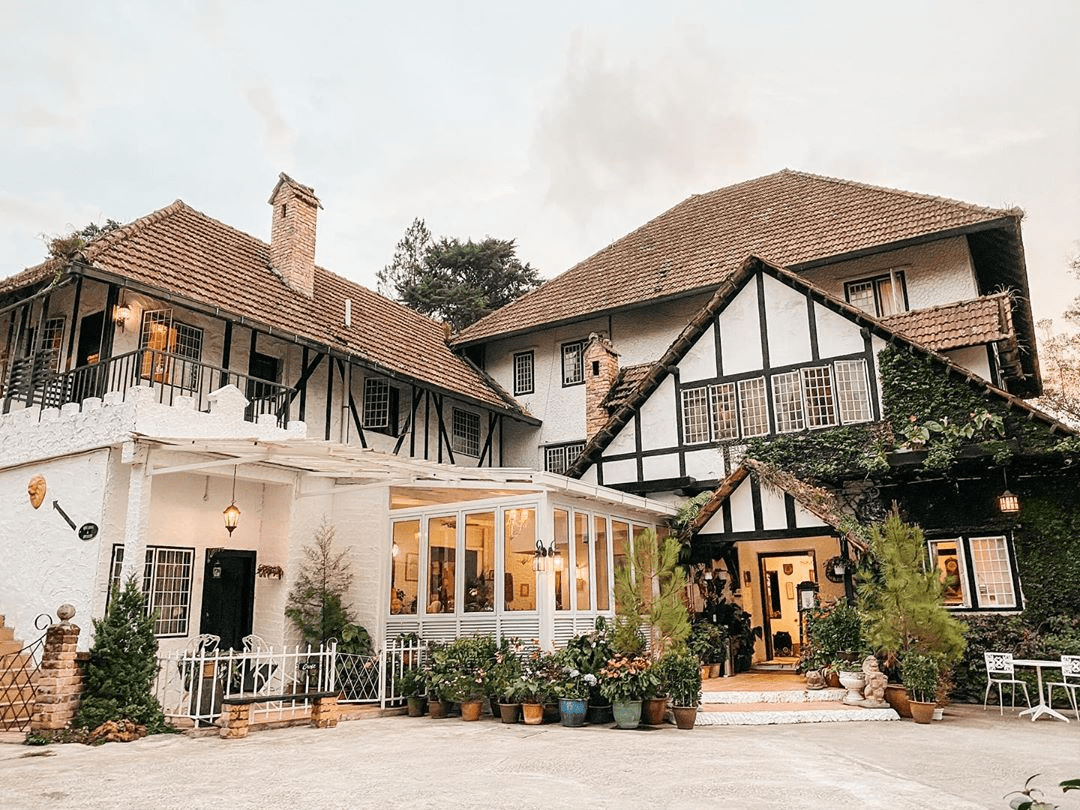 Image credit: @cosyrumah
Non-staying guests are also welcome to check out the area while taking afternoon tea here, with all patrons having the option to have their meals in a serene English-inspired garden with views of lush greenery.

Image credit: @fangling_514
To avoid disappointment upon your arrival, it's recommended that you make a reservation online here.
Address: Smokehouse Hotel Cameron Highlands, By the Golf Course, Jalan Besar 39000 Tanah Rata, Pahang
Telephone: 05-491 1215
The Smokehouse Hotel & Resort Facebook
---
Jim Thompson Tea Room
---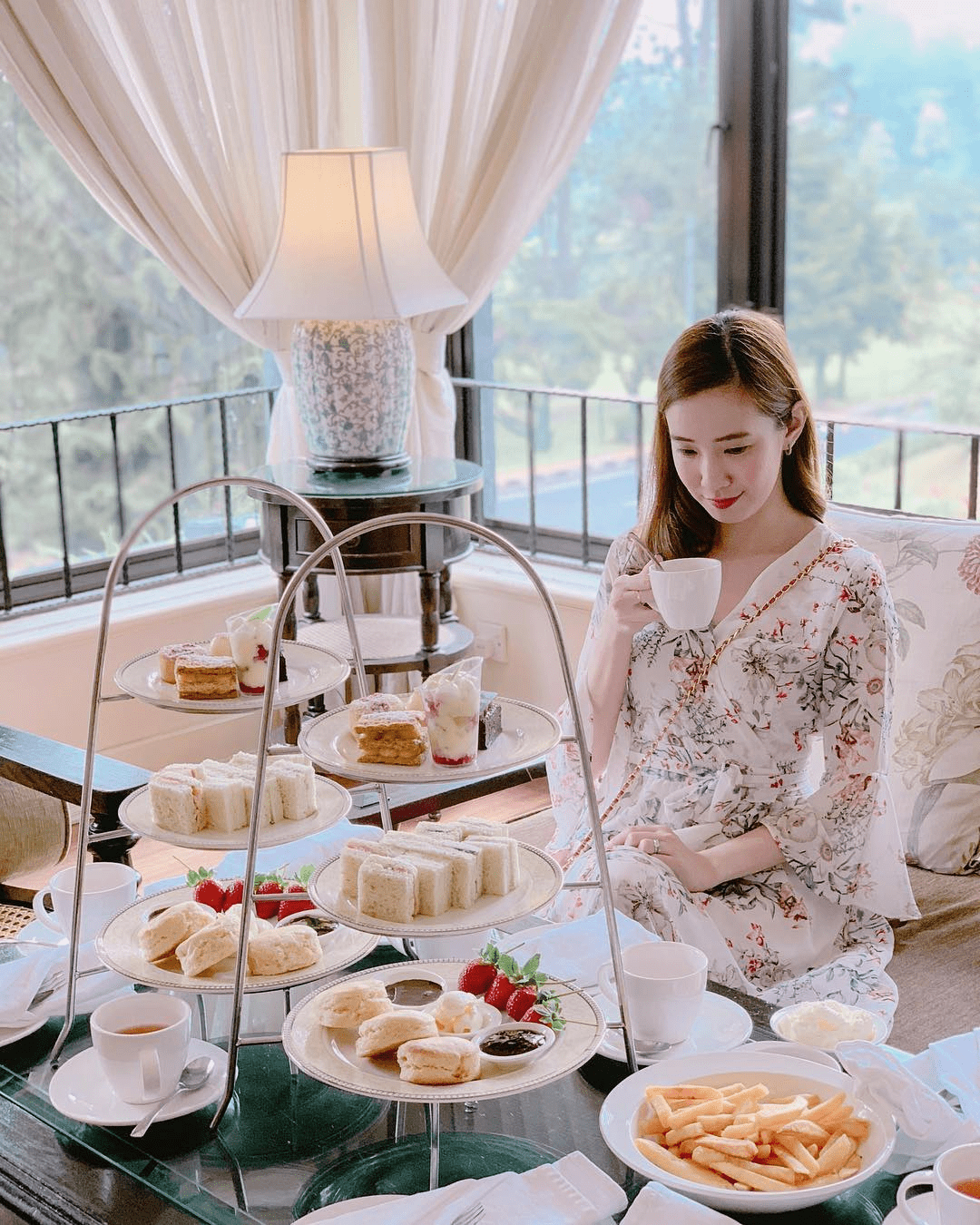 Image credit: @minn.cha
Cameron Highlands Resort is another hotel housed in a charming cottage in Cameron Highlands. Here, afternoon tea is served from 3PM in the Jim Thompson Tea Room. You can dine on a selection of small bites with cups of warm tea in a cosy dining area in the colonial-style tea room.
There's even live piano music to further enhance the old-fashioned afternoon teatime experience.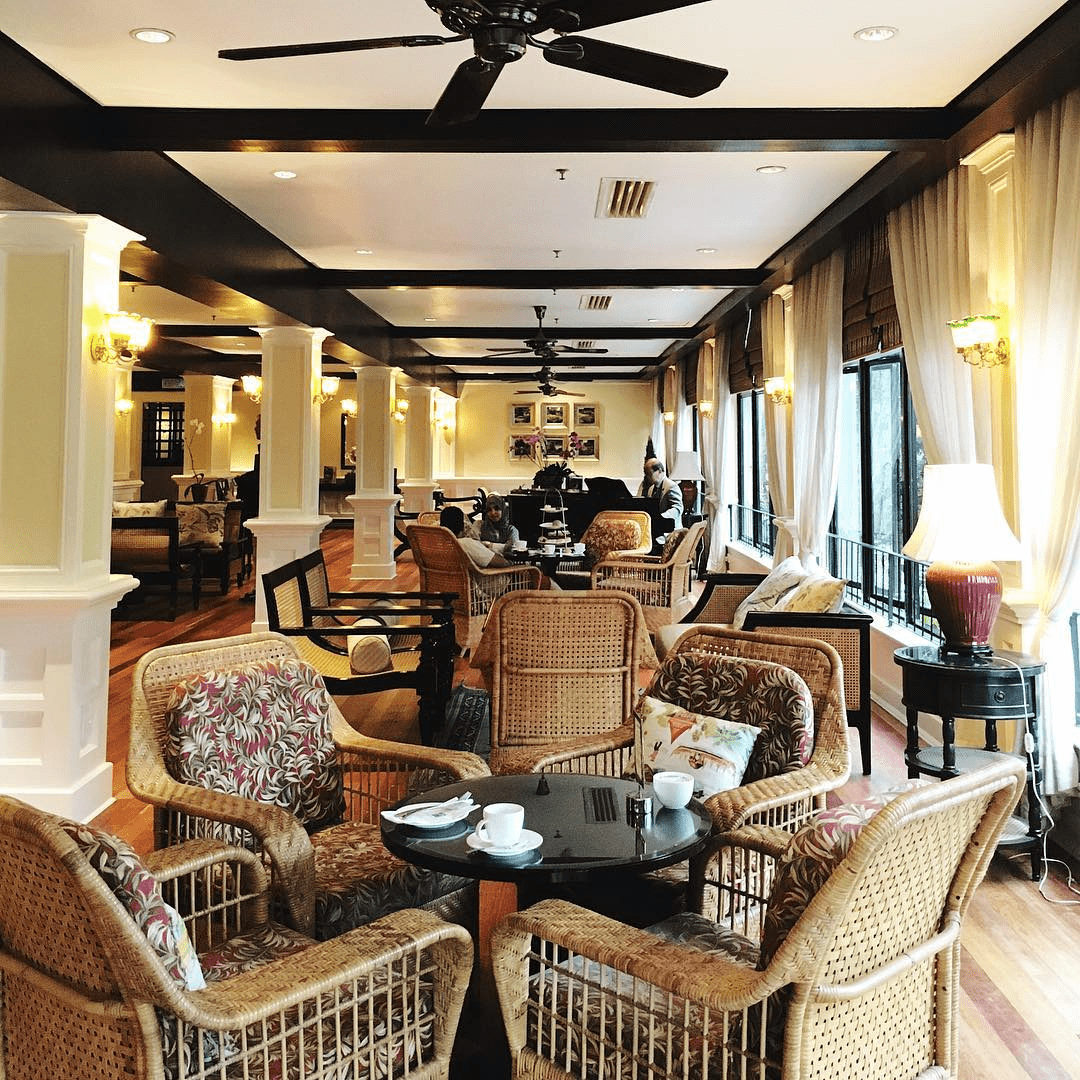 Image credit: @_farahhani
Those here with their SO can order the Couple Set (from RM130), a three-tier tray of finger sandwiches, scones, and pastries, served alongside your choice of tea or coffee. If not, opt for the regular afternoon tea set priced RM75 per guest.
Address: Cameron Highlands Resort, Brinchang 39000 Cameron Highlands, Pahang
Opening hours: 12PM-6PM, Daily
Telephone: 05-491 1100
Cameron Highlands Resort Facebook
---
10. Shop for succulents at plant nurseries
---
Cactus Point
---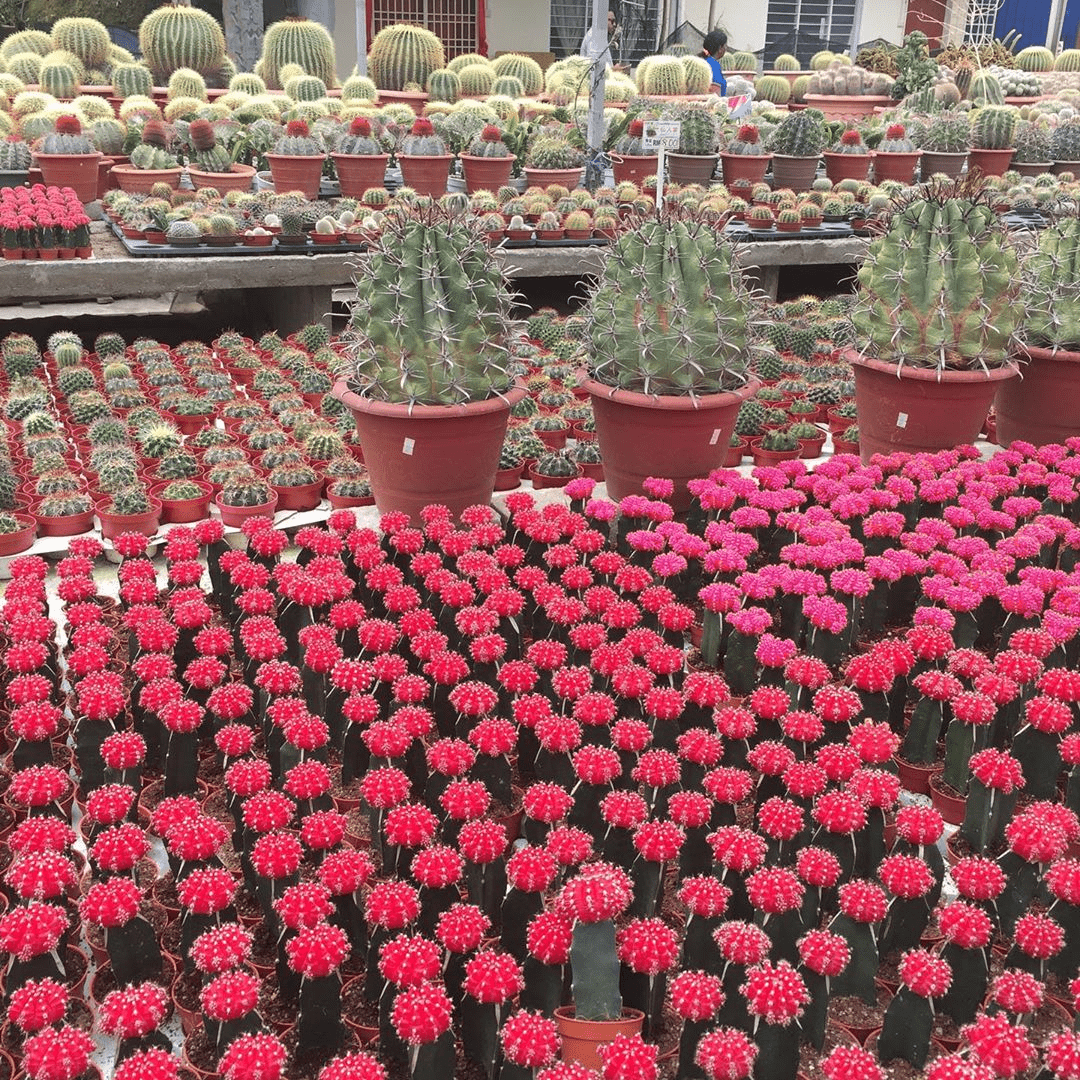 Image credit: @yenleecheng
Anyone looking to adopt succulents, or just stroll through a scenic garden filled with a variety of plants, can visit Cactus Point. This attraction in Cameron Highlands is frequented by locals and tourists alike, and offers free admission.

Image credit: @hatimaniss
Find a wide array of greens while you're walking through the plant nursery, including succulents (from RM2/each) that bloom with red, pink and yellow flowers. There are also exotic plants to look out for that are worth checking out if your home could use a refresh from live blooms.
Address: 42, Jalan Brinchang 39100, Cameron Highlands, Pahang
Opening hours: 10AM-5PM, Daily
Telephone: 011-1782 9384
---
Cactus Valley
---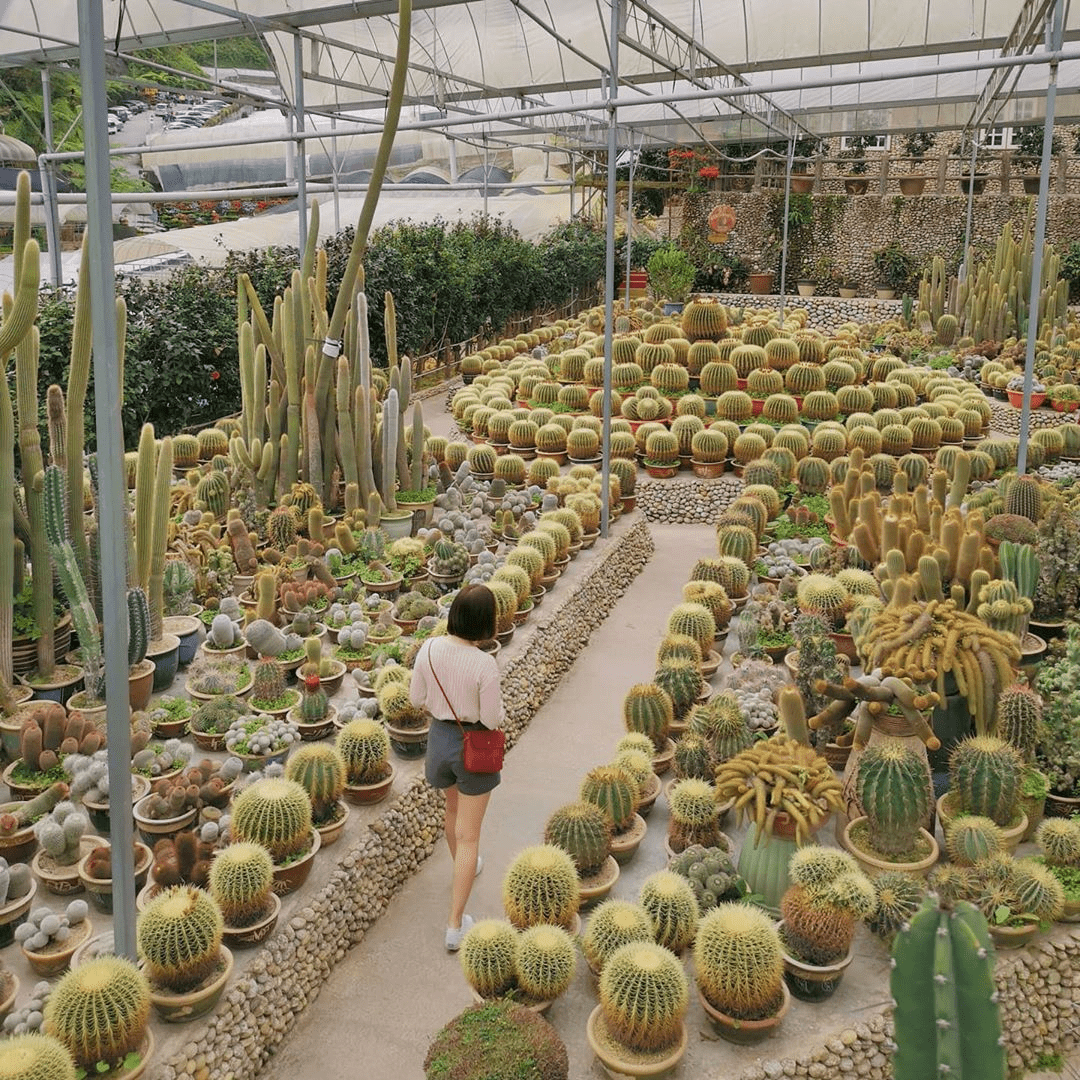 Image credit: @claraxlala
Cactus Valley is another popular attraction to visit in the Highlands, due to its cacti 'maze' of diverse varieties that line the pathways. If the pandemic has turned you into a plant parent, you can shop for affordable cacti here, as the plants are not just for show.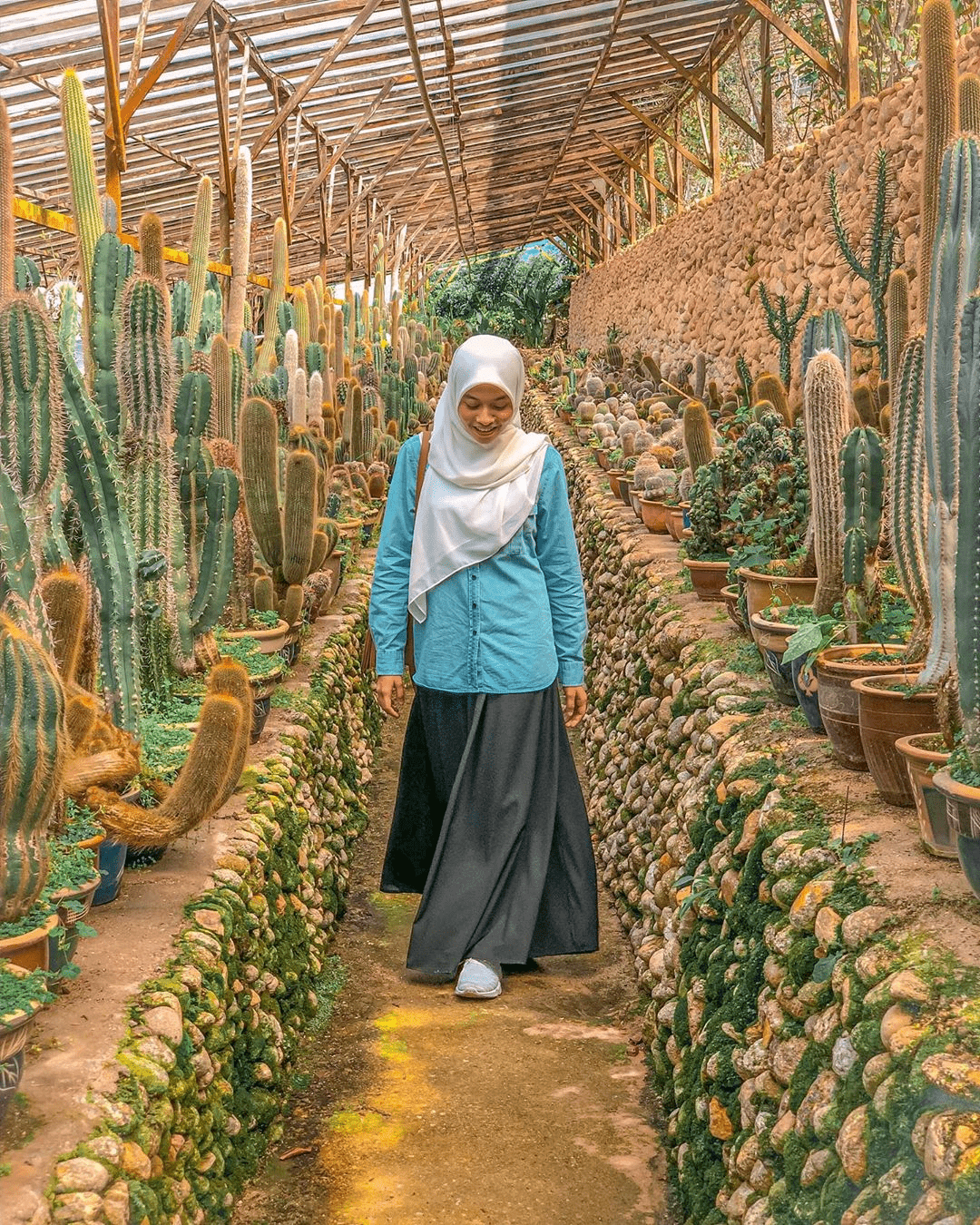 Image credit: @iffaahh___
Browse through pots of succulents (from RM2/pot) large and small, or flowers (from RM8/pot) such as roses and lavender, and purchase some colourful live decor for your home.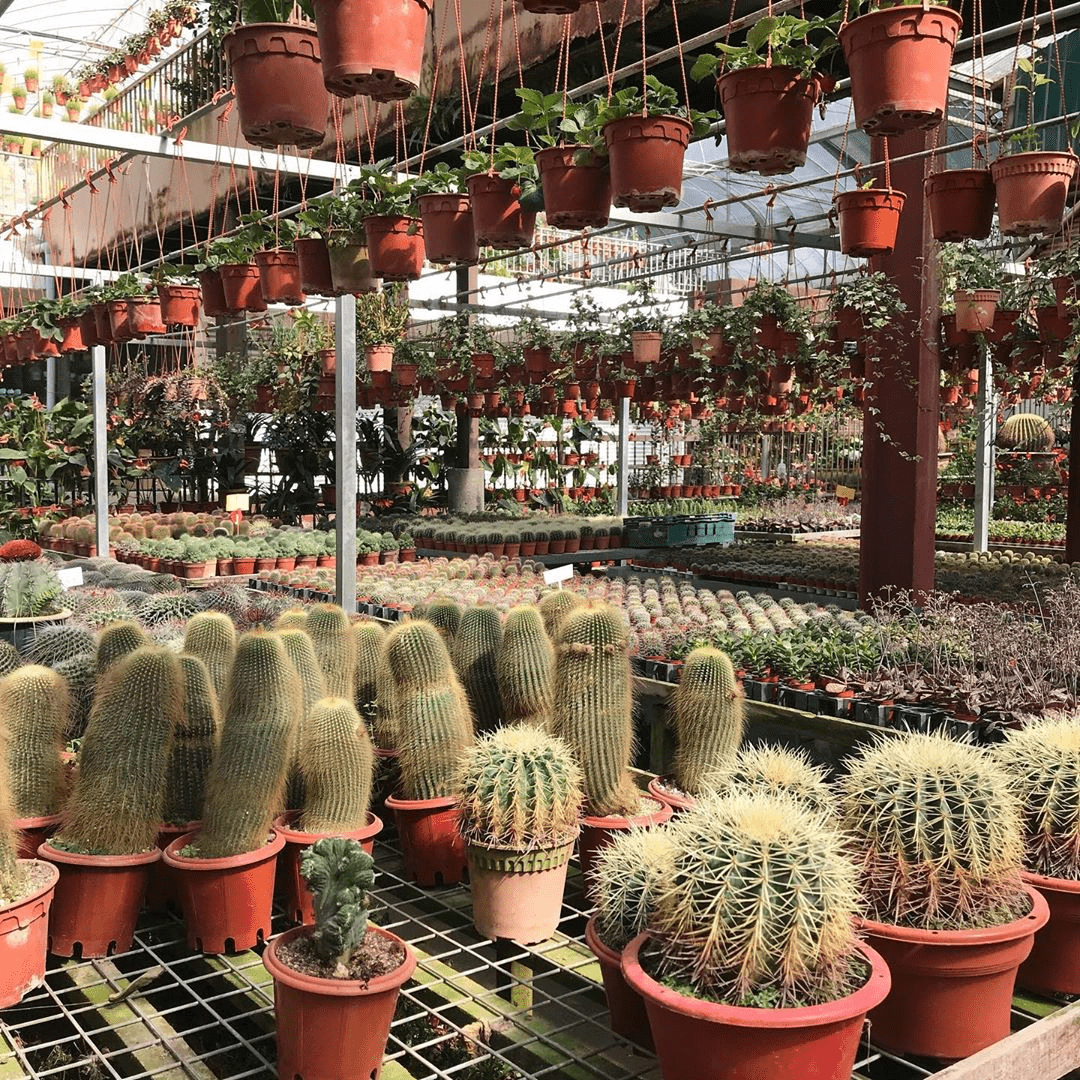 Image credit: @lijhuin
Fees: RM4/adult and RM2/child
Address: 42, Jalan Brinchang 39100, Cameron Highlands, Pahang
Opening hours: 10AM-5PM, Daily
Telephone: 011-1782 9384
---
11. Chase a scenic waterfall at Lata Iskandar
---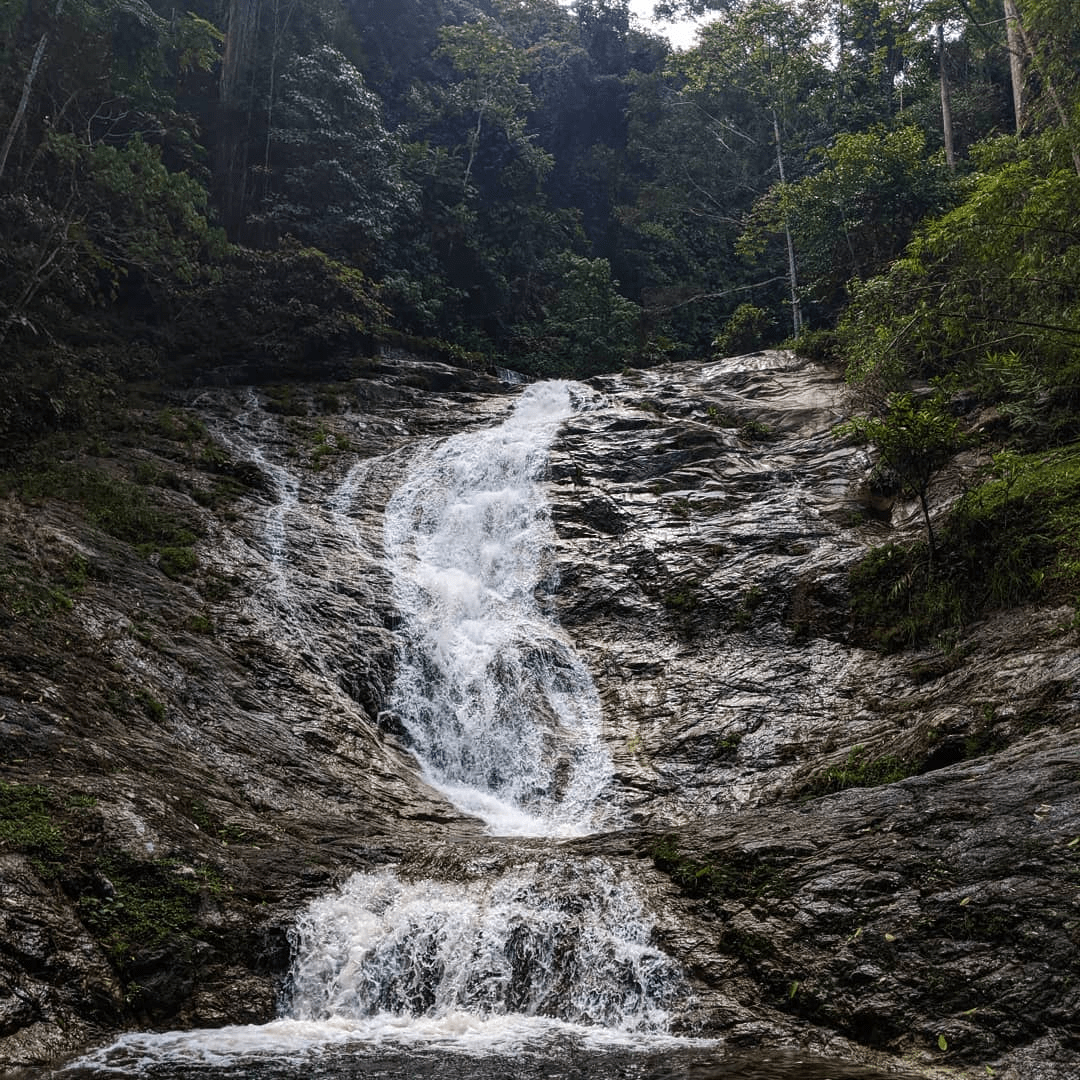 Image credit: @yifan_connie
Most waterfalls in Malaysia require a bit of a hike to reach. But at Lata Iskandar, just a short walk will get you to the base of a scenic mile-long waterfall. The cascades are even viewable from your vehicle if you're on your way up to Cameron Highlands via the Malaysia Federal Route 59.
Nonetheless, it's highly recommended that you make a stop at the waterfall to take in the views on foot.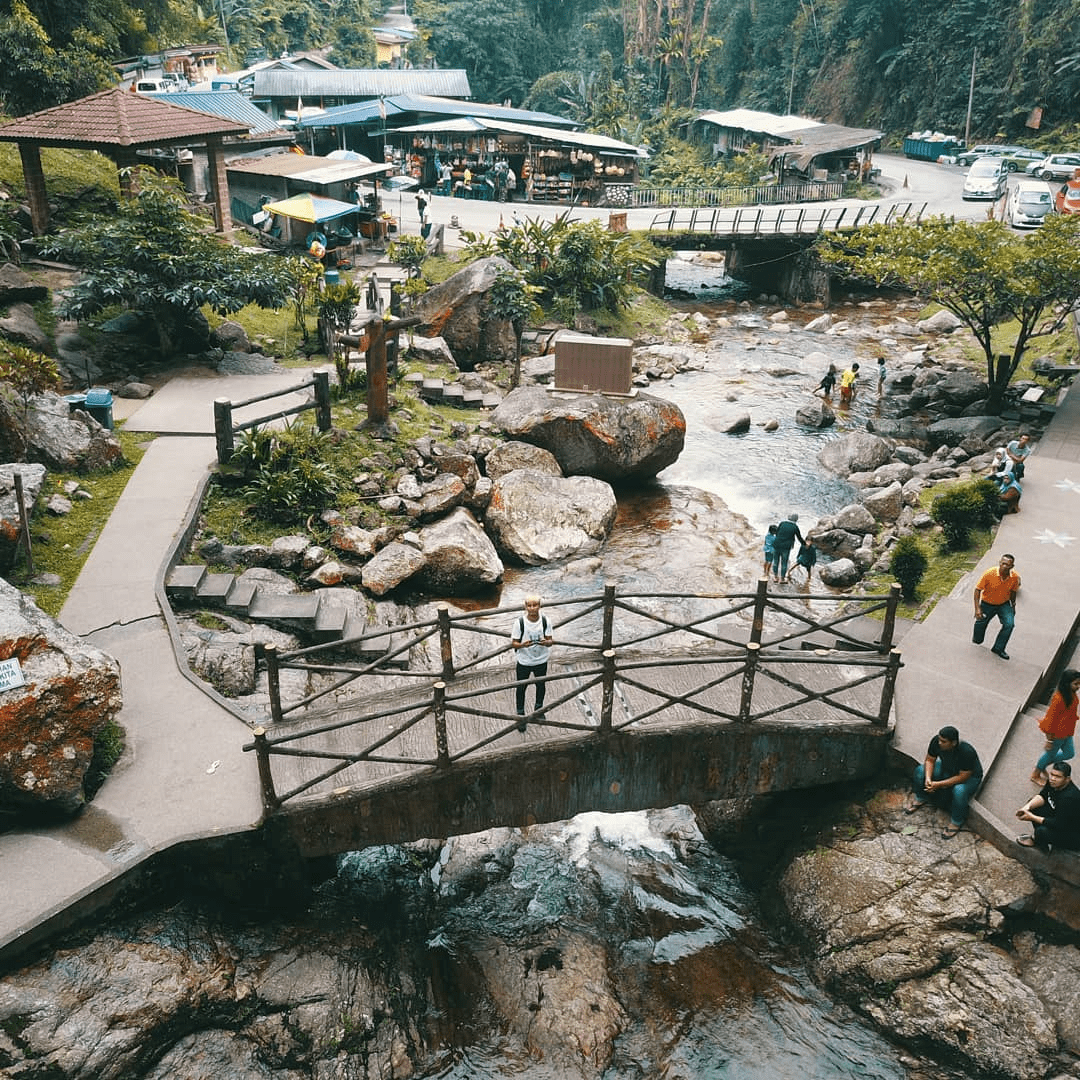 Image credit: @icheezer 
If you're up for a challenge, trek up a flight of steps along the waterfall to reach the top and be treated to splendid views of the waterfall and its surroundings. Though, you won't be deprived of vistas even while staying close to the falls' base, with bridges and gazebos to walk along and take photos of the stunning waterfall.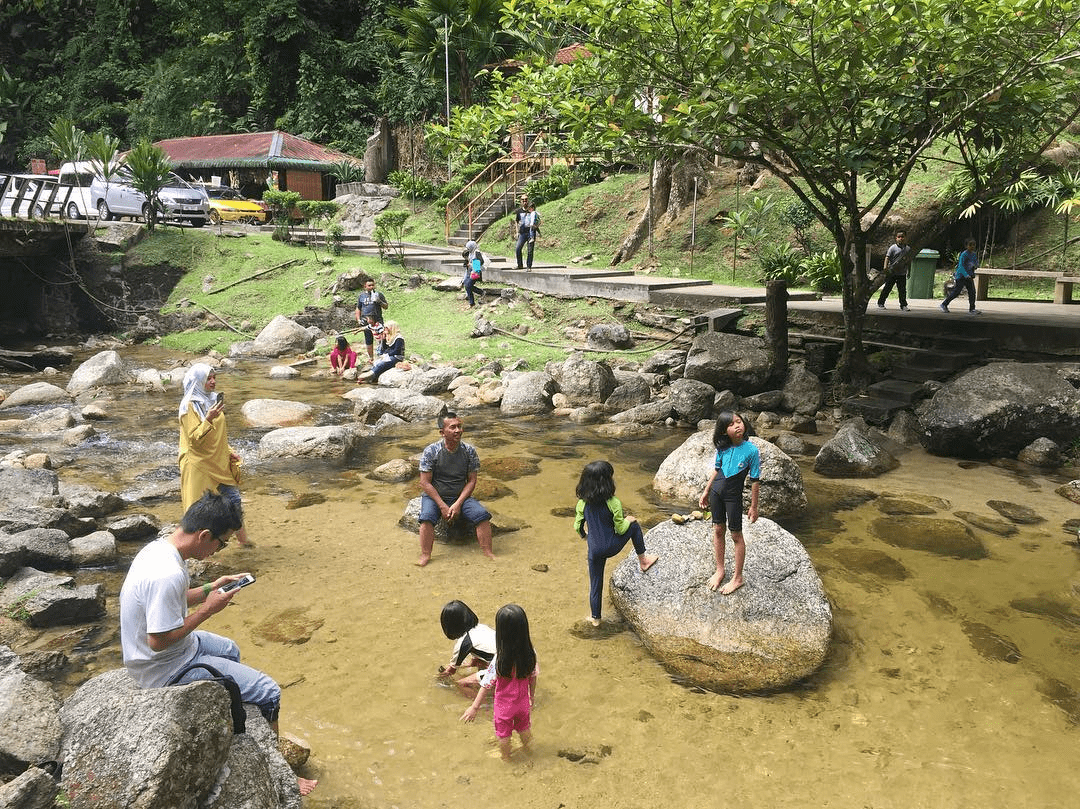 Image credit: @syikinsalleh
Locals often come to dip their feet in the cool, refreshing waters at the foot of this waterfall – there's even a small rock pool for wading. However, if you want to go for this yourself, note that the waters can get pretty deep and caution should be exercised. 
Address: Exit 59, 35000 Tapah, Perak

---
12. Try unique food combos at local food stalls
---
200 Seeds Cafe
---
It's no secret that nasi lemak is a favourite dish among Malaysians. Over at 200 Seeds Cafe, you can try this local dish with a sweet twist, in the form of Strawberry Nasi Lemak (RM14.90).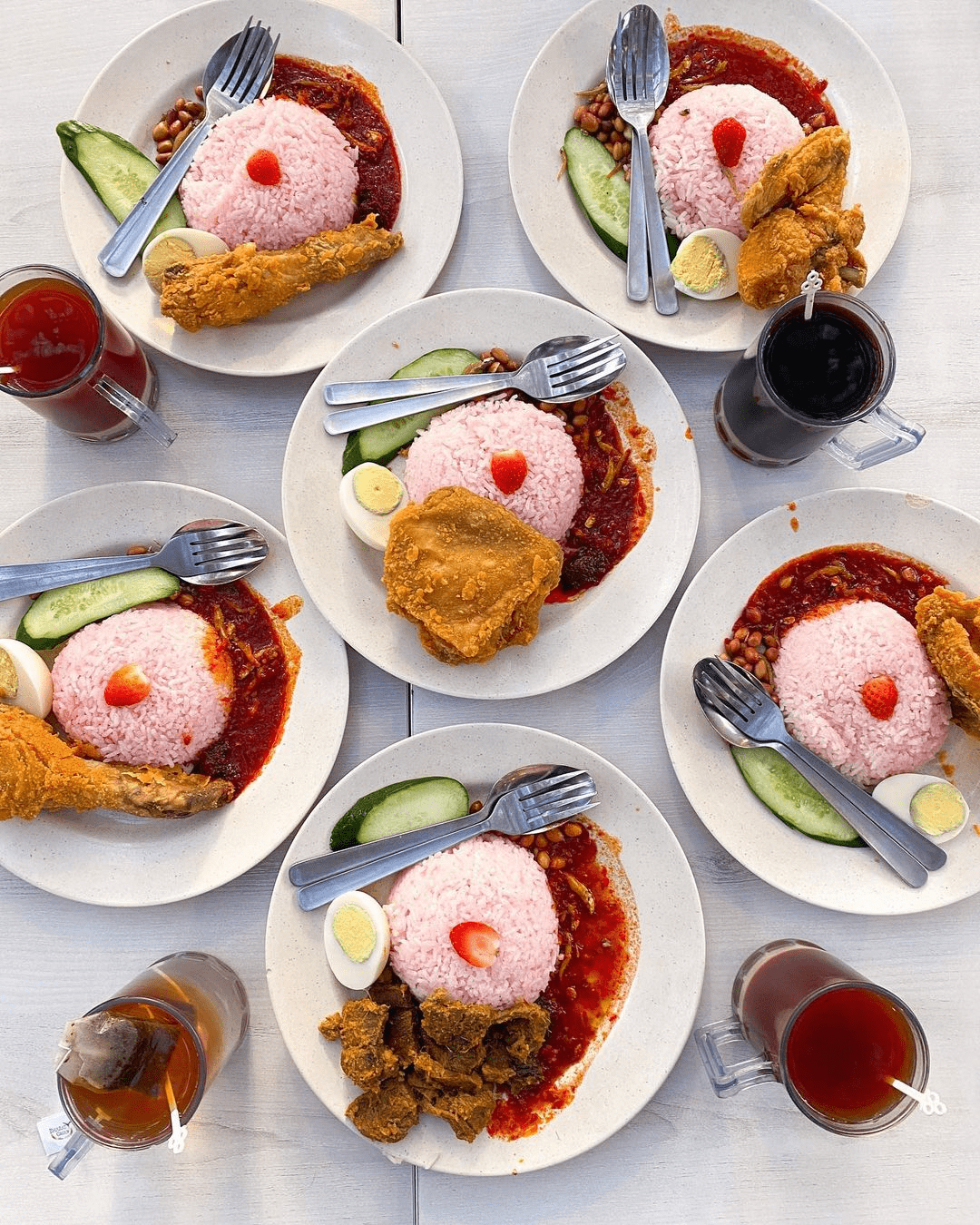 Image credit: @aminjamean
Instead of served just on the side, sweet and juicy strawberries are infused in fluffy rice, turning it an interesting shade of pink. The sambal also gets simmered with strawberries for extra fruity flavours.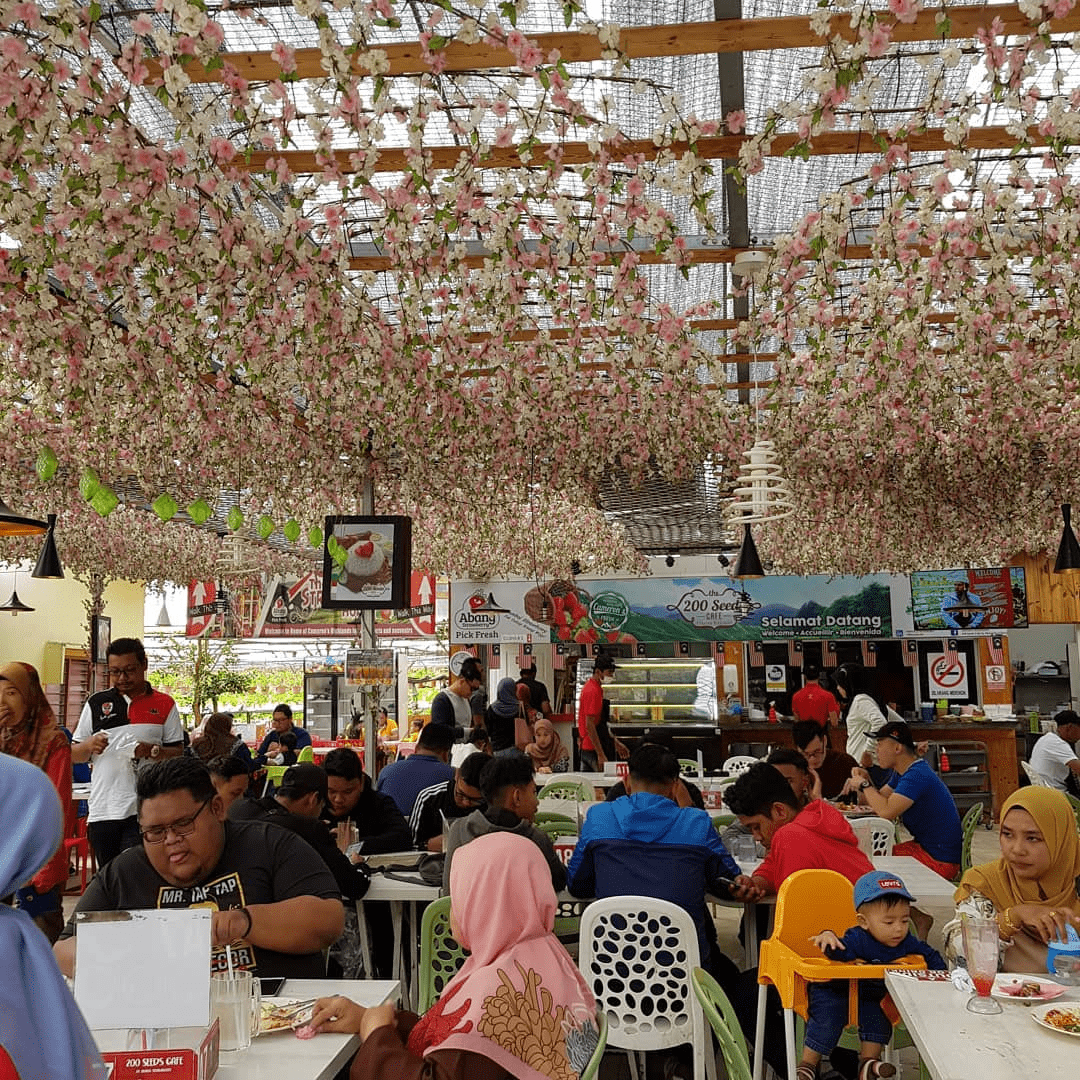 Image credit: @fadzidahahmad
Other interesting food combos you can order here are the Naan Strawberry (RM10), with bits of fresh strawberries baked into the dough, and Lasagna Sambal Strawberry (RM14.99) which has bolognese sauce uniquely flavoured with strawberry sambal.
Address: No 27, Kampung Taman Sedia, Tanah Rata 39000 Cameron Highlands, Pahang
Opening hours: 8AM-4.30PM, Daily
---
Lavender Garden
---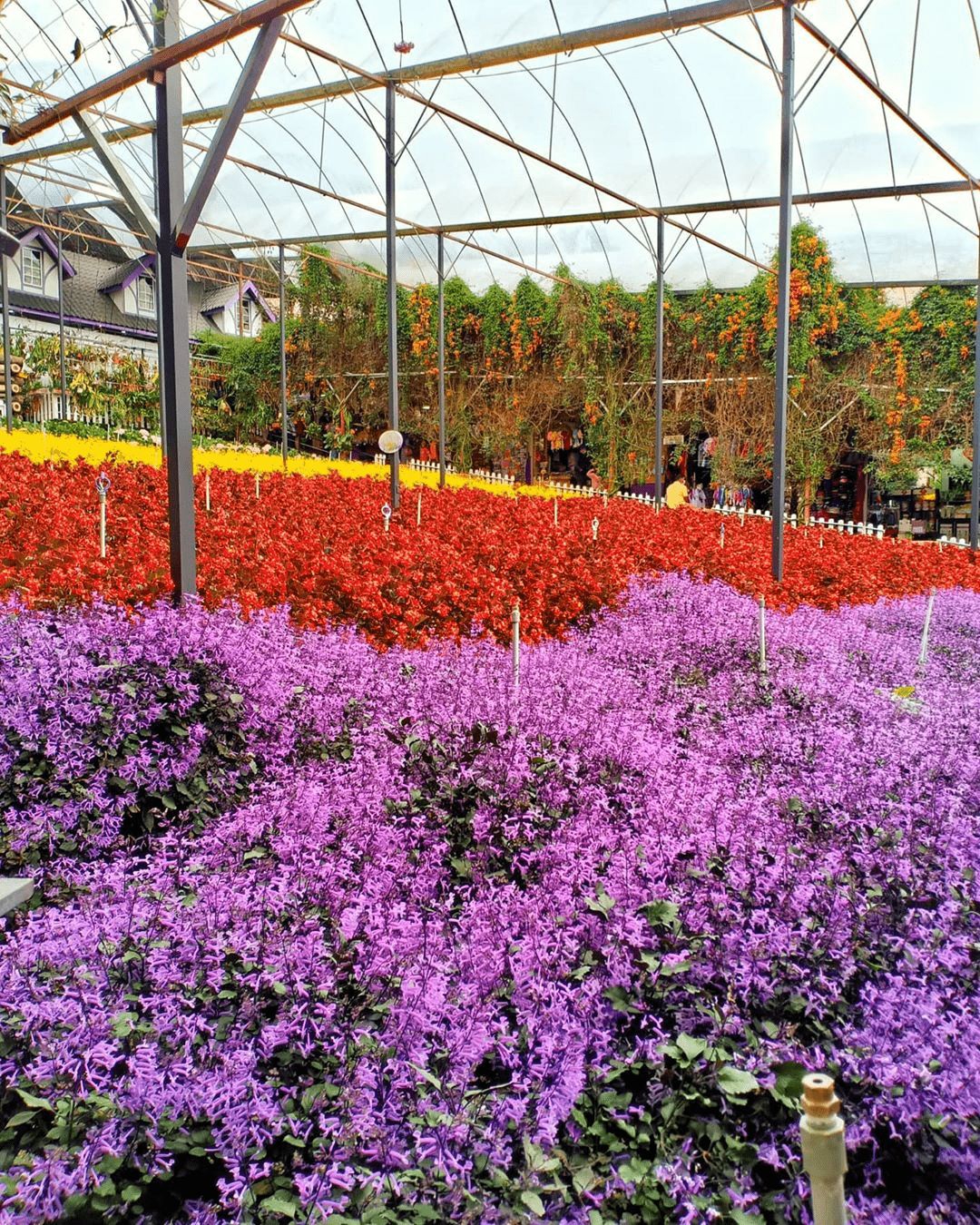 Image adapted from: @_liamohamad
Lavender Garden is filled with flowers in vibrant shades of purple, yellow and red, all neatly grouped and arranged on a gently-sloping hill.
While this garden's forever-spring vibes has made it a well-known photo attraction, the Lavender Ice Cream (RM8) sold here is equally popular with visitors.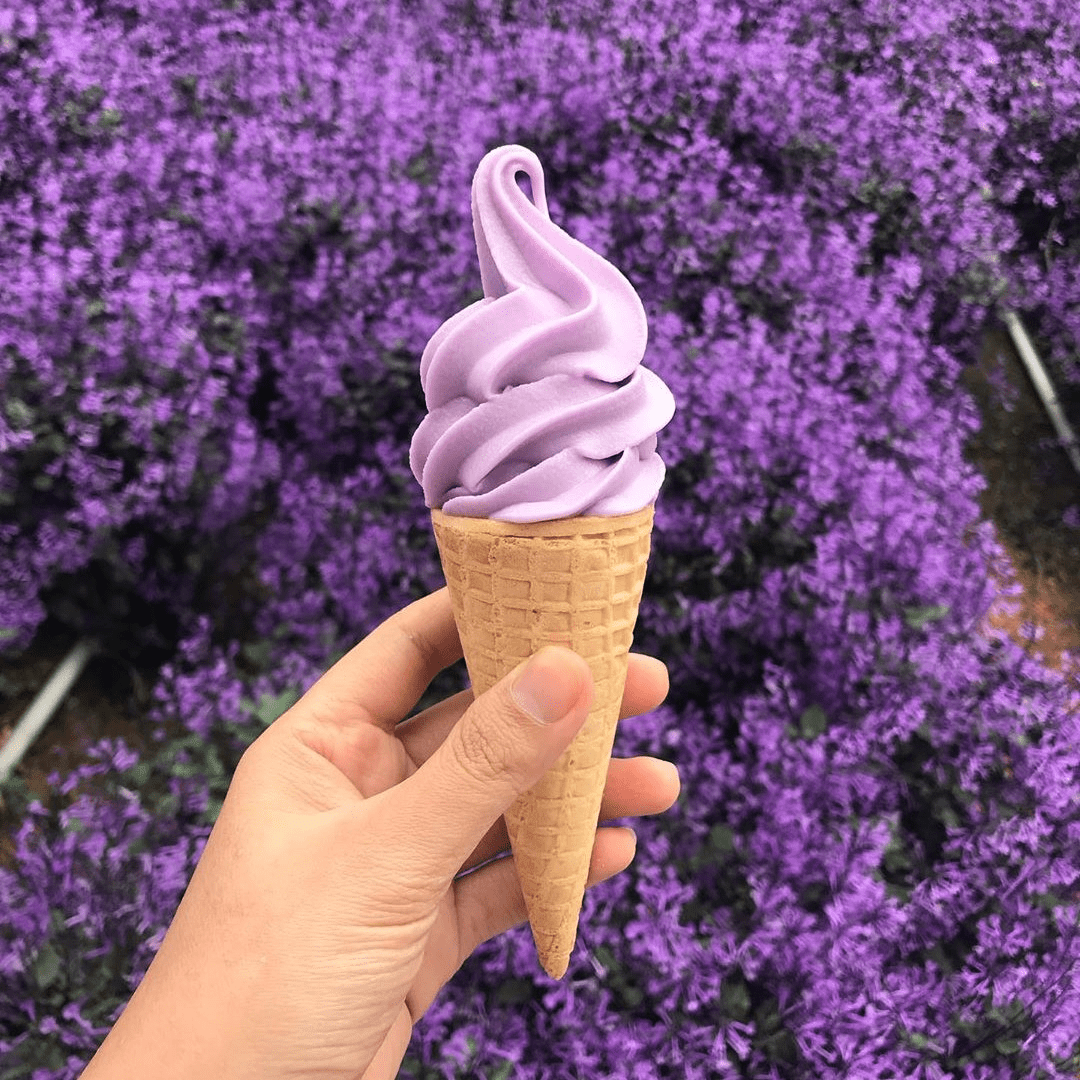 Image credit: @moonisme91
The ice cream combines lavender and creamy vanilla in a classic soft serve, and can be bought from a stall within the park.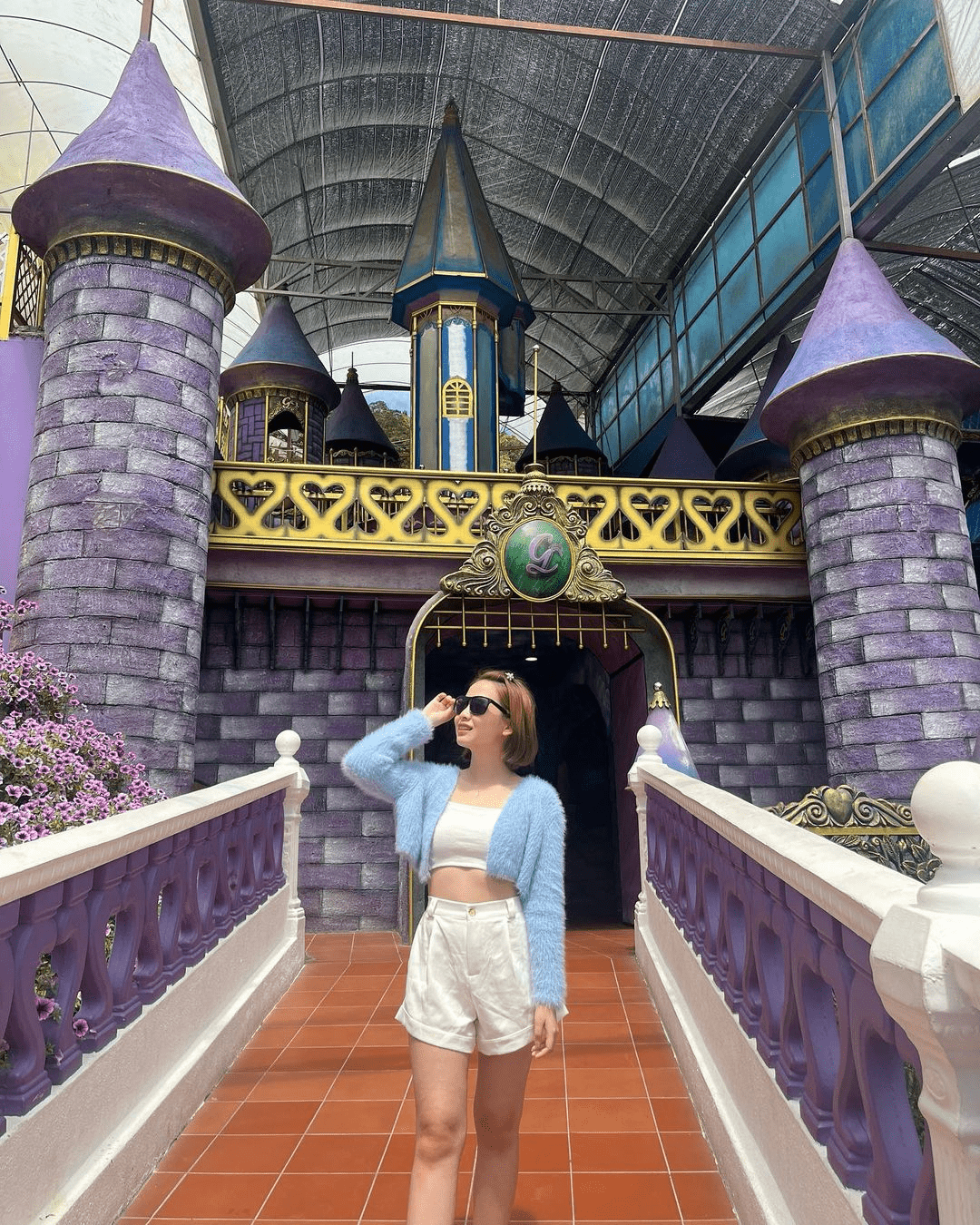 Image credit: @jodylim.16
There's a fee to pay for both adults (RM15/pax) and children (RM10/pax) to enter the garden. Besides the flowers and ice cream, there's also plenty of photogenic spots to check out to make the most of your ticket, including a mural of purple trees and storybook-inspired statues of oversized boots.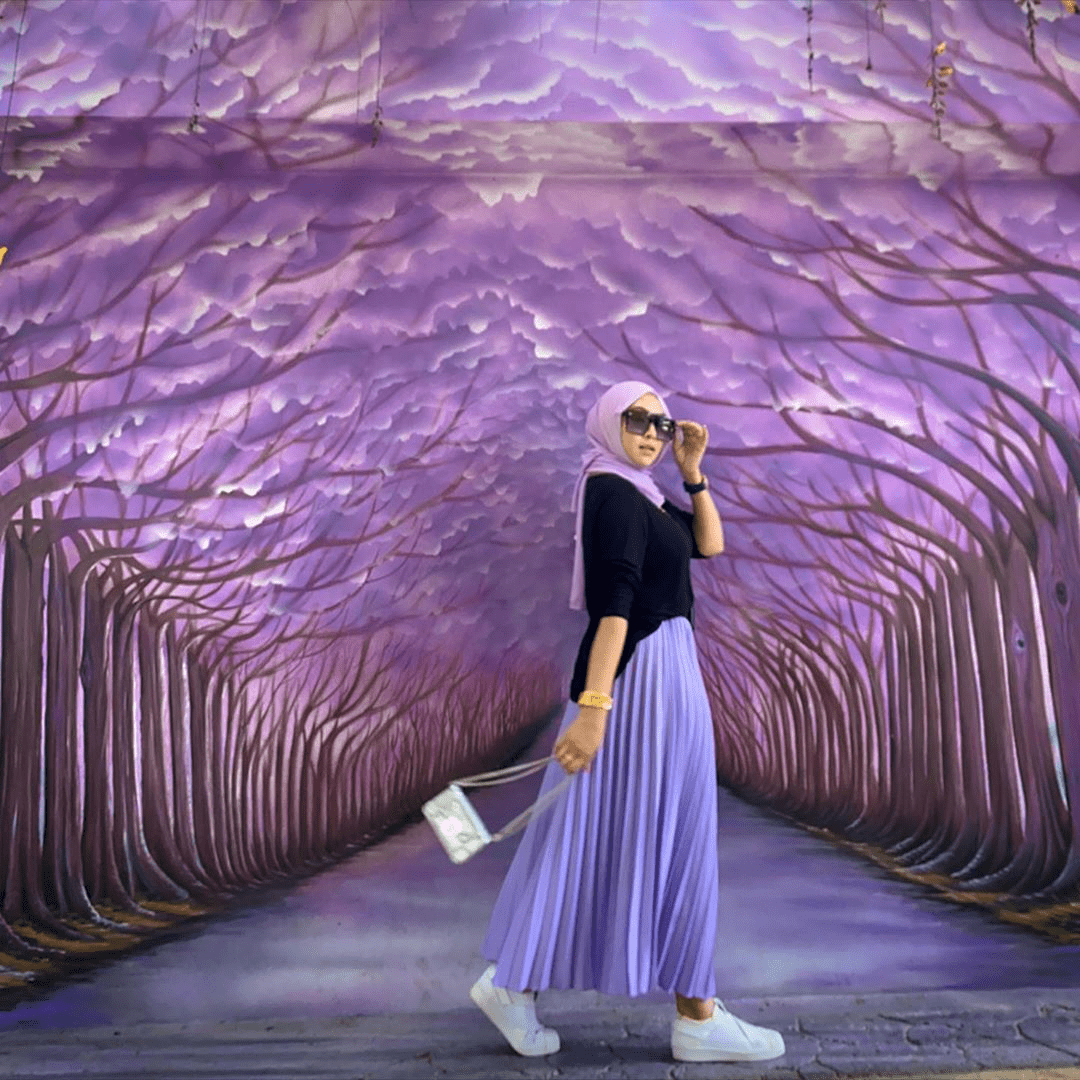 Image credit: @baby_meksaleh
Address: Tringkap 39100 Cameron Highlands, Pahang
Opening hours: Mon – Thu 9AM-6PM | Fri – Sun 9AM-7PM
Telephoe: 05-496 1208
Cameron Lavender Facebook
---
13. Shop for street food at a popular night market
---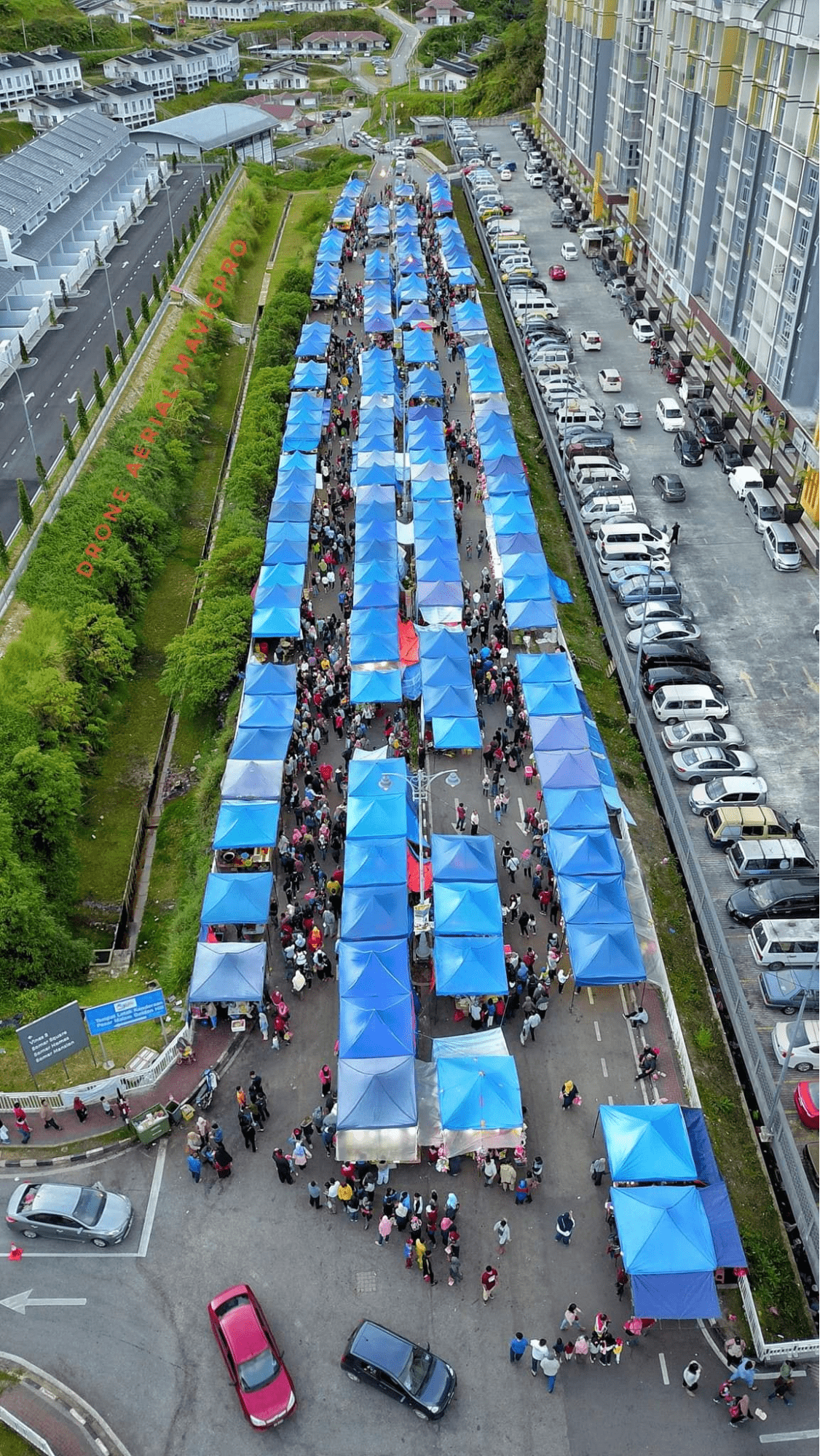 Image credit: Informasi Malaysia
Golden Hills Weekend Night Market is well-known among visitors for its mile-long row of stalls selling street food and fresh produce from nearby plantations and farms. The late-night haunt is also known as Brinchang Night Market among locals, and operates on Fridays and Saturdays from 5PM.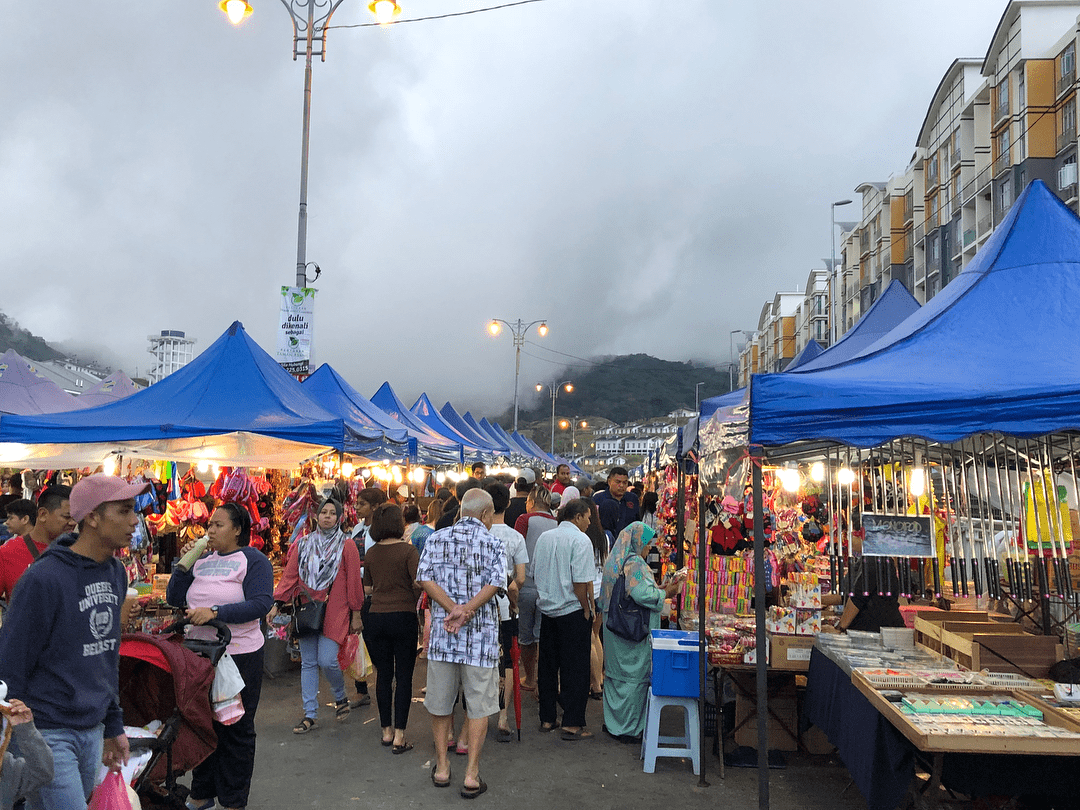 Image credit: @metatts_
One of the main highlights of this pasar malam is its immense range of quick food options. Some Malaysian-favourite treats you can expect to find here include sloppy Ramly burgers and sweet apam balik. As this is a popular spot to visit among locals, it's highly recommended that you drop by early, as parking can be difficult to find. 
Address: Jalan Sungai Ruil, Brinchang, 39000 Cameron Highlands, Pahang
---
Things to do in Cameron Highlands
---
There are plenty of interesting attractions to visit in Cameron Highlands, with the many plantations and farms that cover the area. But if you're looking to expand your itinerary beyond these, bookmark this guide for future trips there. 
Check out our other guides of things to do here: 
---
Photography by Khairul Shafit.
Cover image adapted from: @yilingggg__, Cameron Highlands Info, and @yunnaquiah
Get more stories like this!
Drop us your email so you won't miss the latest news.