CHAGEE in Kuching, Sarawak 
---
Coffee may be the popular drink of choice, but there are many of us who simply can't give up a cup of aromatic tea. For Malaysians who love tea-based drinks and beautiful architecture, CHAGEE's first outlet in Kuching, Sarawak, is unlike its other outlets in the country.
It's set in a stunning Chinese-style building by the lake, with wood furnishings that captures the charms of a traditional Chinese teahouse. The tea beverage brand's Kuching outlet is also just a stone's throw from an elaborate paifang, or gateway, and a nine-turn bridge that are popular backdrops for photos. 
---
A stunning Chinese-style building by the lake
---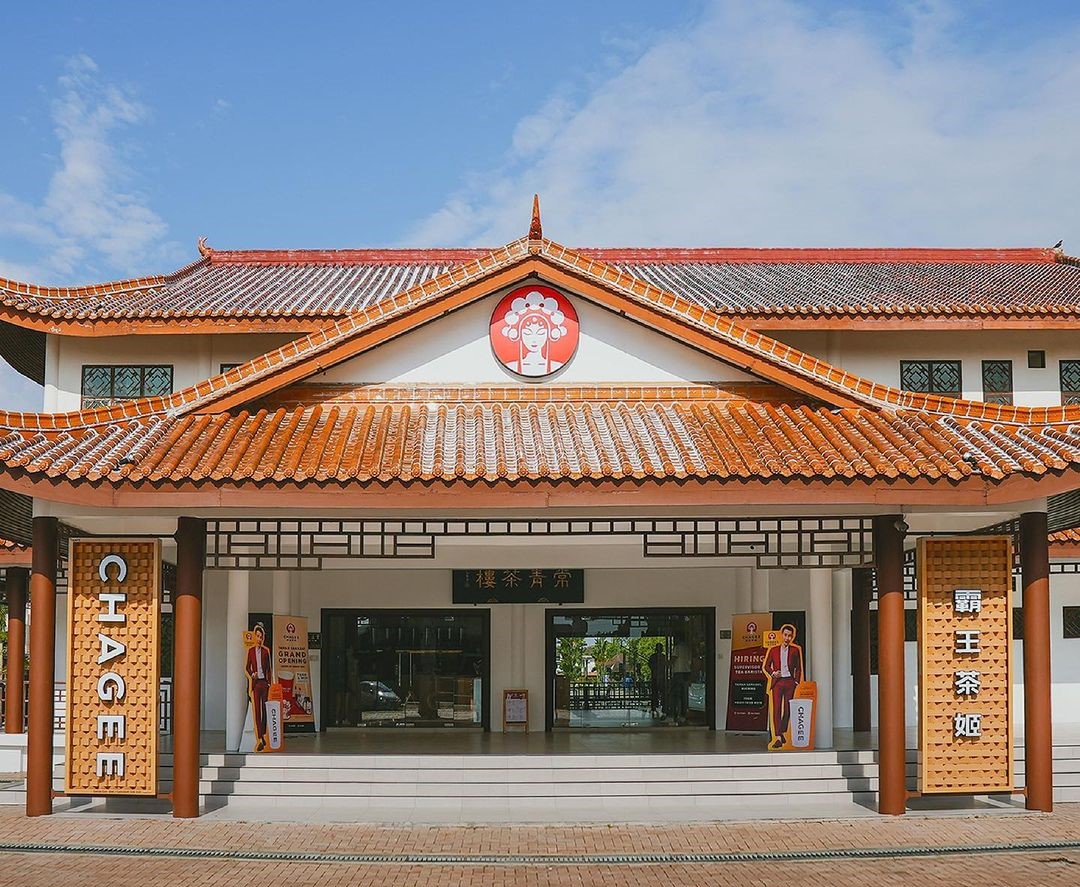 Image adapted from: CHAGEE MY
If you see a grand pavilion by the lake at Malaysia-Chinese Friendship Park – or Taman Sahabat – in Kuching, you might think that this is just another feature of the scenic park. But the glorious building happens to be home to a newly-opened CHAGEE outlet, which is its first store in Sarawak and also its largest outlet in Southeast Asia.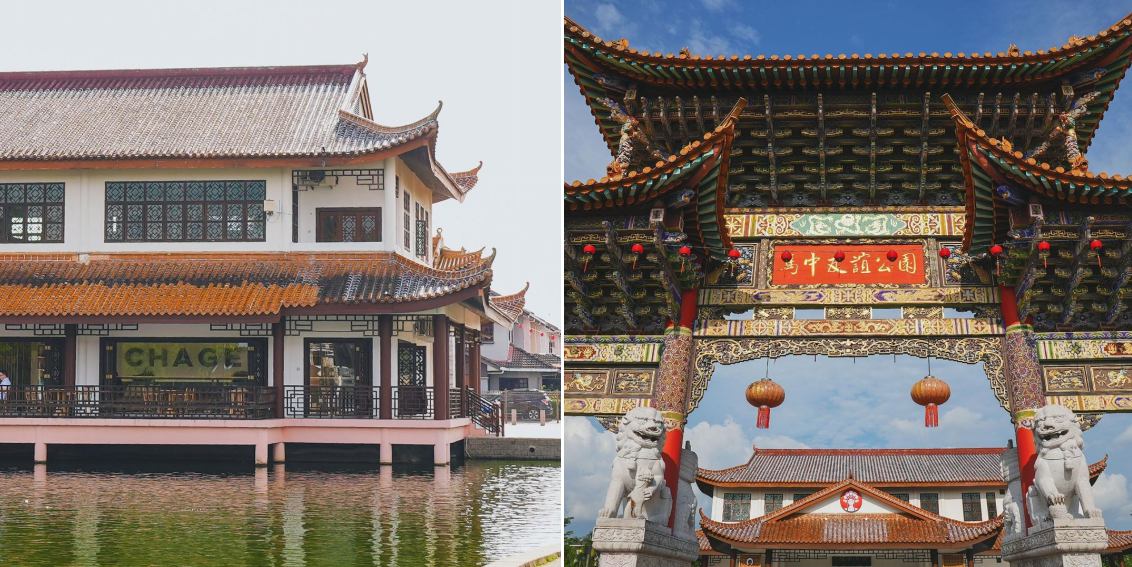 Image adapted from: CHAGEE MY & CHAGEE MY
Originally from Yunnan, China, the teahouse chain now has 40 outlets throughout Malaysia. Its newest one in Kuching is a unique space that lets patrons enjoy its tea-based drinks in a photogenic building on a lake.
The building's breathtaking facade is an obvious nod to the traditional architecture of Chinese pavilions from a past time – think yellow-glazed roof tiles with pointed edges, and wooden posts and panels, along with intricately-carved Chinese lattice designs that decorate eaves and windows.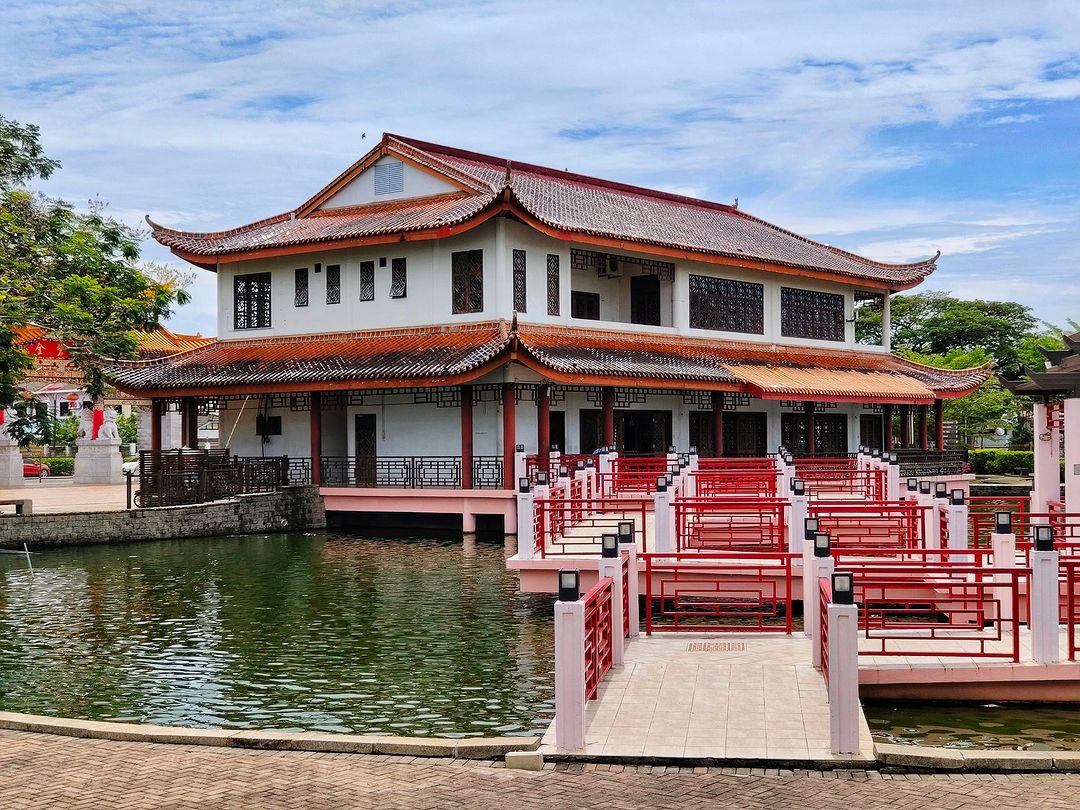 The building is erected half over the waters by stone pillars
Image credit: @sir_eim
Not just the building, the entire area of the park has been thoughtfully constructed to replicate a Chinese garden. You'll see a majestic archway – also known as paifang – that's elaborately decorated and festooned with red lanterns to welcome visitors, and even an eye-catching nine-turn, or zig-zag, bridge.
The bridge is bordered with striking red railings, and stretches out from the building and over the lake – reminiscent of regal waterside pavilion gardens in the olden days.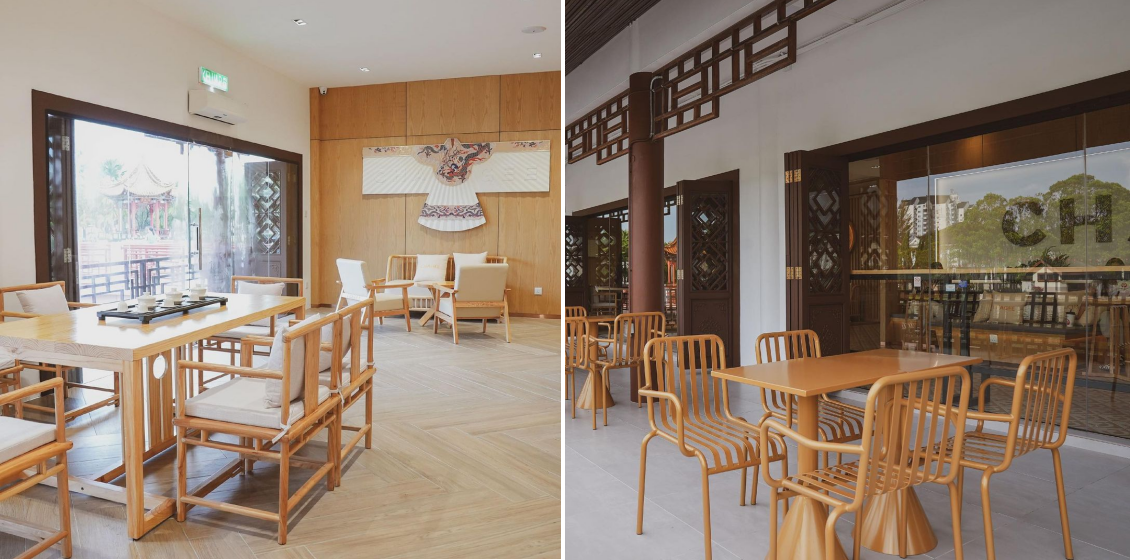 Image adapted from: CHAGEE MY & CHAGEE MY
Inside, the outlet houses plenty of seating for yum cha sessions. A blend of wood and oak furnishings in various shades of brown, the interior of the indoor dining space is simple yet sophisticated, with touches of Chinese elements and wall decor that add to this branch's traditional teahouse vibes.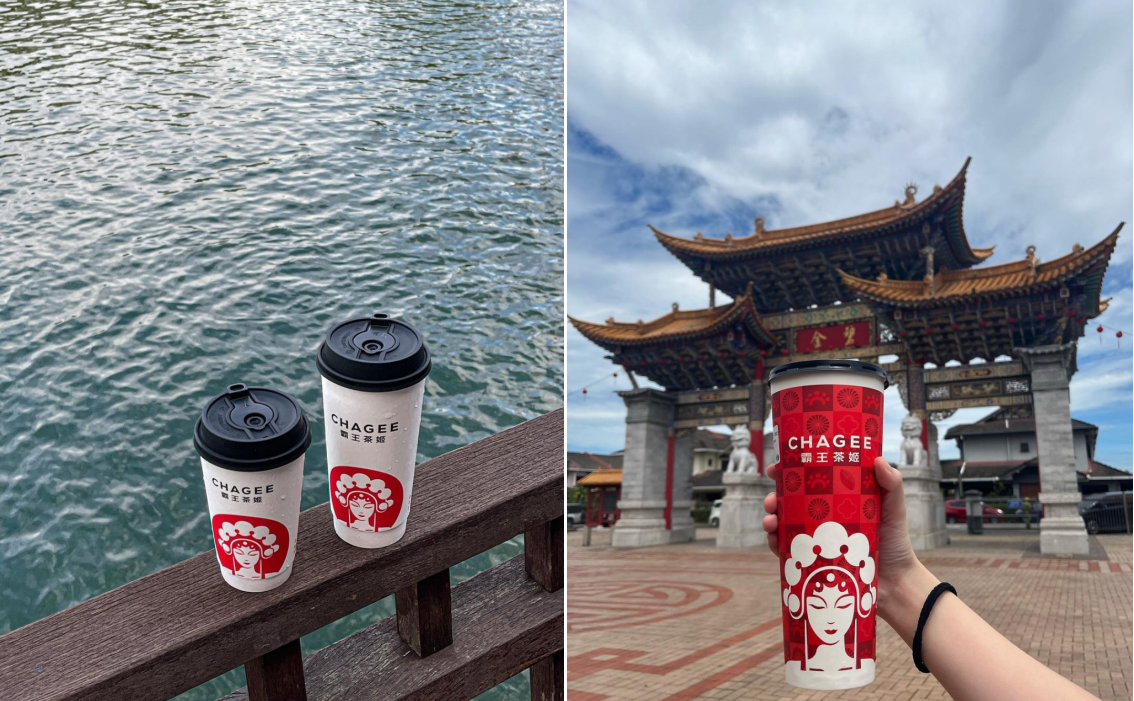 Image adapted from: @mummummmmmmmm and @ctz3_0
Choose to chill with your cup of tea indoors, or outdoors by the waters. We recommend the latter, as you'll be treated to a great vantage point of the lake and surrounding traditional architecture.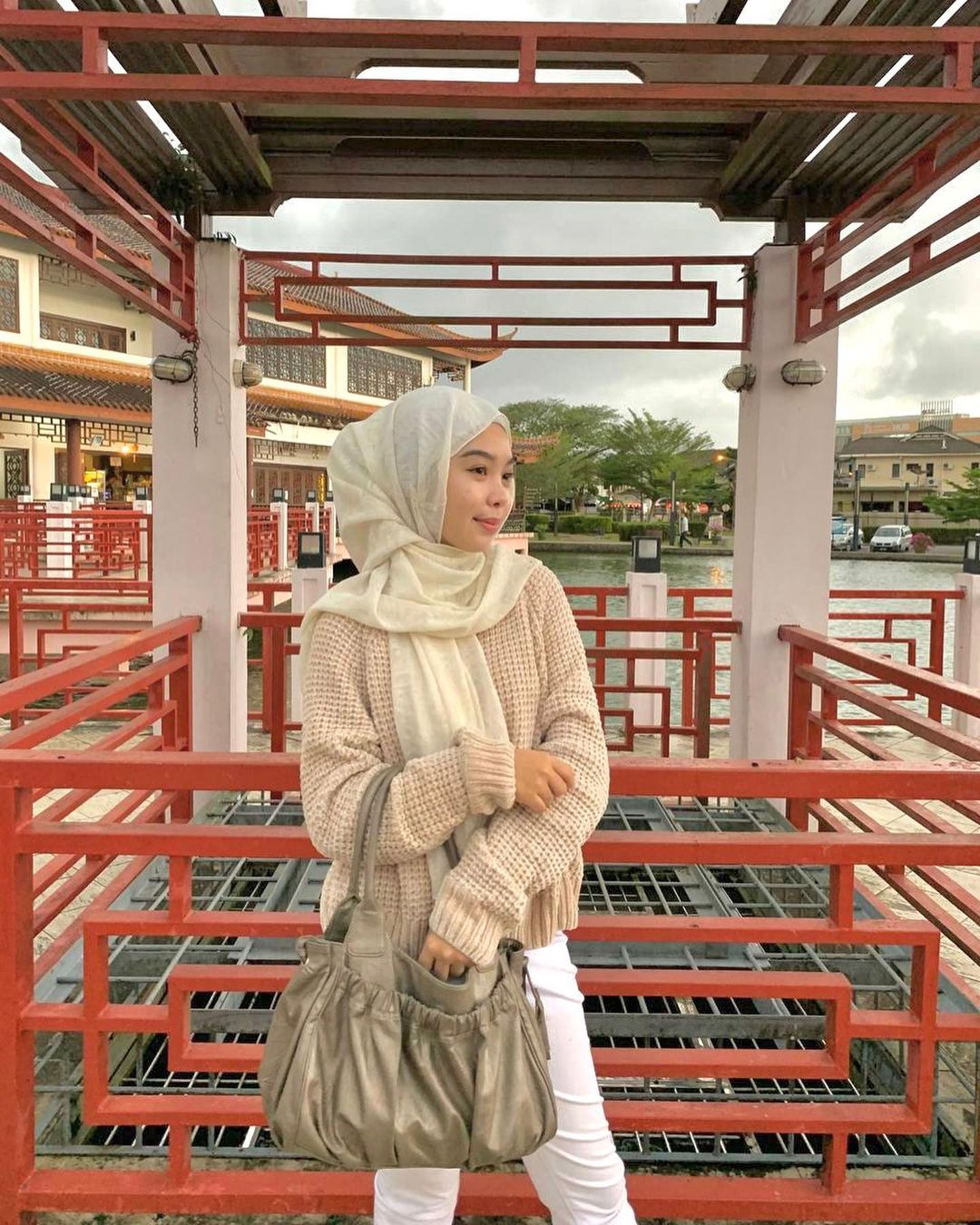 Don't forgo the chance to take a ton of beautiful shots for the 'Gram at the various photo spots here
Image credit: @yayajohnnyslee
---
Milk tea & fruity beverages
---
CHAGEE is a teahouse that serves milk tea sans the boba, but its unique take on tea drinks will appeal to millennials and Gen Zs alike. 
Milk tea fanatics will enjoy their signature Tie Guan Yin Milk Tea (RM14.90) – a mix of fresh oolong tea with frothy milk. Other milk tea-based drinks include the earthy Yunnan Puer Milk Tea (RM11.90) and unique Glutinous Green Tea Milk Tea (RM12.90).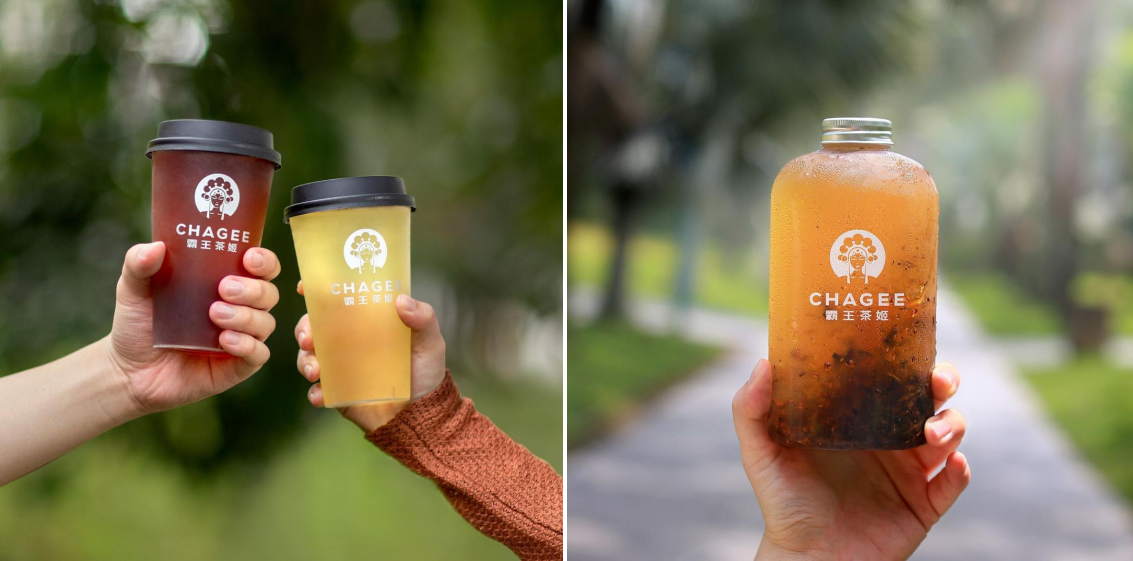 Image adapted from: my.chagee & my.chagee
For caffeine drinkers, their Premium Brew Tea series might appeal to you. There's Da Hong Pao Tea Macchiato (RM13.90) that'll give you an intense bitter, yet satisfying, coffee kick. Or go for the Organic Oriental Beauty Cold Brew (RM16.90) for a refreshing beverage packaged in a convenient bottle.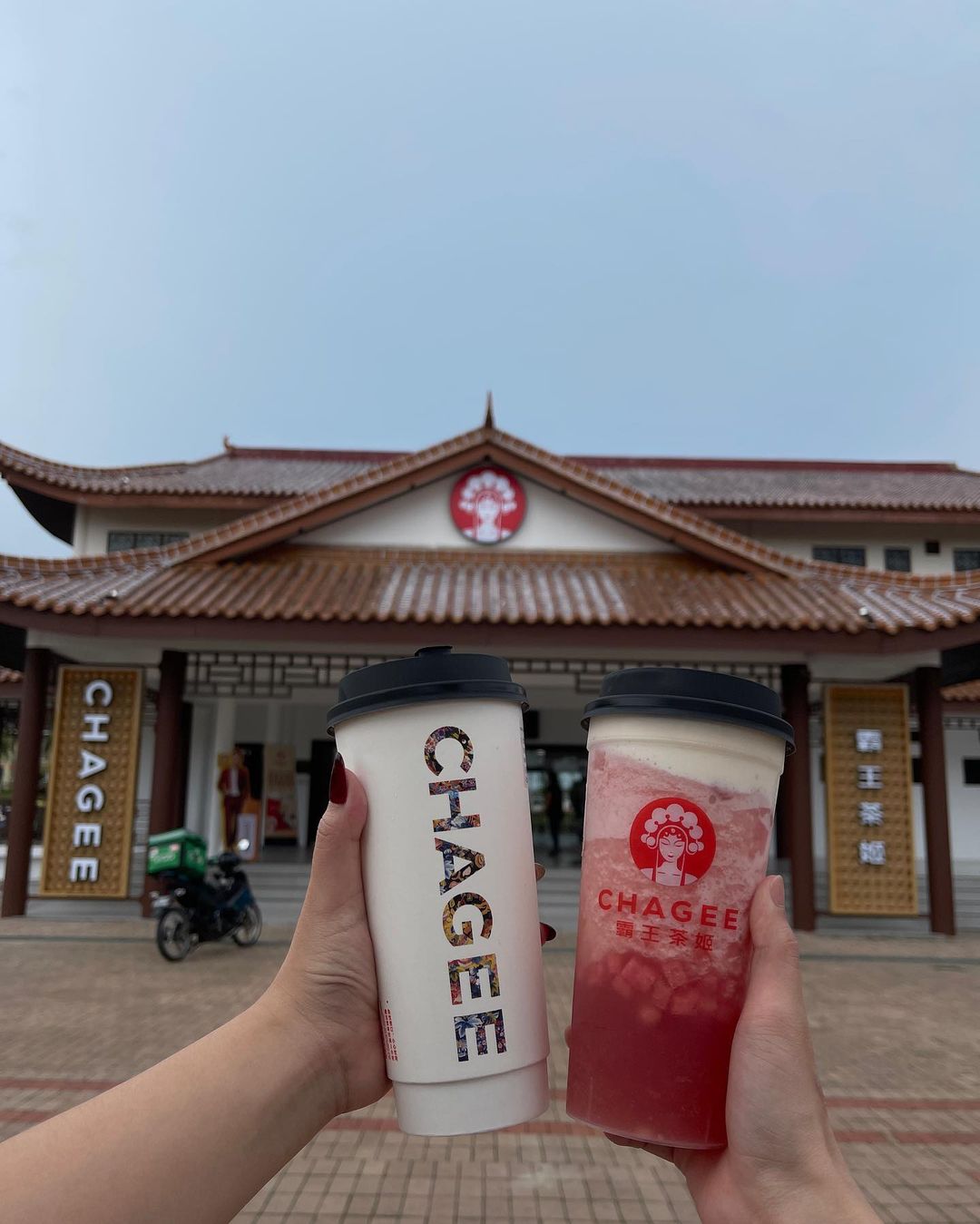 Image credit: @mummummmmmmmm
If you're craving a refreshing and sweet concoction, CHAGEE has an extensive array of Fresh Fruit Teas as well. Go for the highly-raved Royale Fruit Oolong Tea (RM19), a tea drink comprising chunks of watermelon, lemon, and lime. Or try the Fresh Watermelon Jasmine Tea (RM14.90), which feels more like a dessert with its blended consistency that bursts with sweet watermelon flavour, topped with a thick coating of soft cheese cream.
---
CHAGEE opens in Kuching, Sarawak
---
If you like your afternoon tea with a view, drop by this one-of-a-kind CHAGEE outlet in Kuching, Sarawak. Not only will you get up to sip tea inside a stunning building, you'll also get to snap all the shots you'll need for the 'Gram and enjoy views of a scenic lake.
Address: Taman Sahabat, Jalan Song, 93350, Kuching, Sarawak
Opening hours: 10AM-10PM, Daily
CHAGEE Malaysia's Facebook | Instagram
Read more interesting features of places here: 
---
Cover image adapted from: CHAGEE MY, @3.4half and @wongtongwei

Get more stories like this!
Drop us your email so you won't miss the latest news.