Childhood snacks in Malaysia
---
Malaysians who grew up in the 90s would know the feeling of stepping into a convenience store and experiencing that wave of nostalgia upon spotting familiar childhood snacks like Choki Choki and White Rabbit. However, there are also a ton more candies that we grew up with that can no longer be found in most stores. 
We've compiled a list of childhood snacks every 90s Malaysian grew up with that you would've probably forgotten about if not for this blast from the past:
---
1. Packet cotton candy
---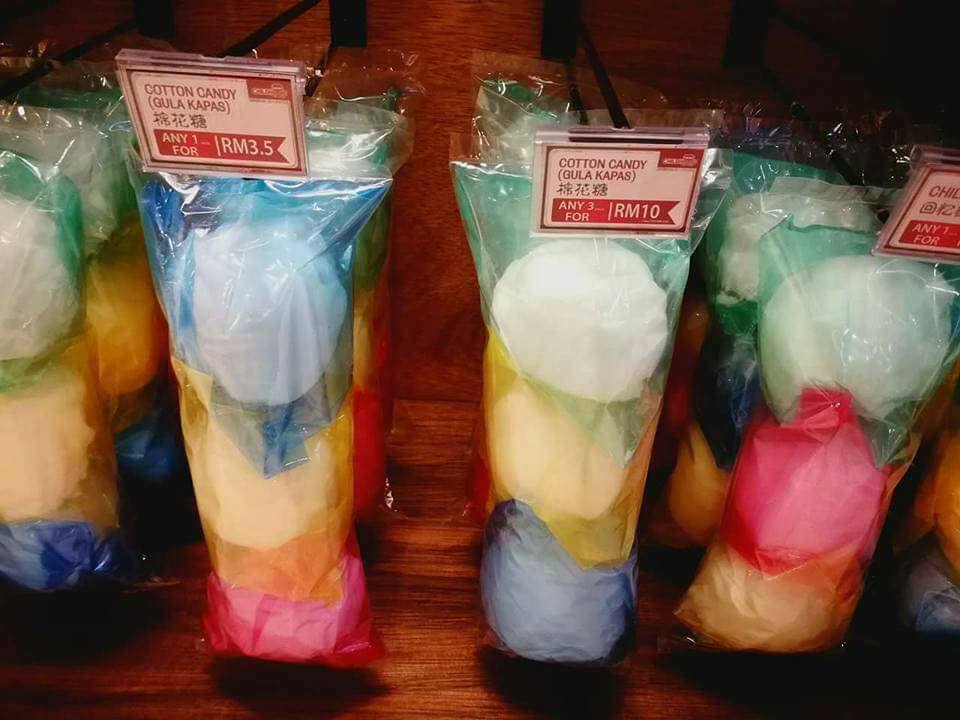 Image credit: Giler Femes
There were very few places that sold freshly-made cotton candy in Malaysia. As a close substitute, we settled for these cotton candy balls that were sold in translucent plastic wrappers in school canteens and the neighbourhood kedai runcit. We could get a packet for about RM0.20 – RM0.30, though they're now sold at specialty stores for a whopping RM3.50/packet. 
They didn't come in any flavours, but they melted in your mouth the same way as regular, more expensive cotton candy did. 
Find packet cotton candy (RM3.50/packet) at Childhood stores across Klang Valley.
---
2. Marukawa Fruit Bubble Gum
---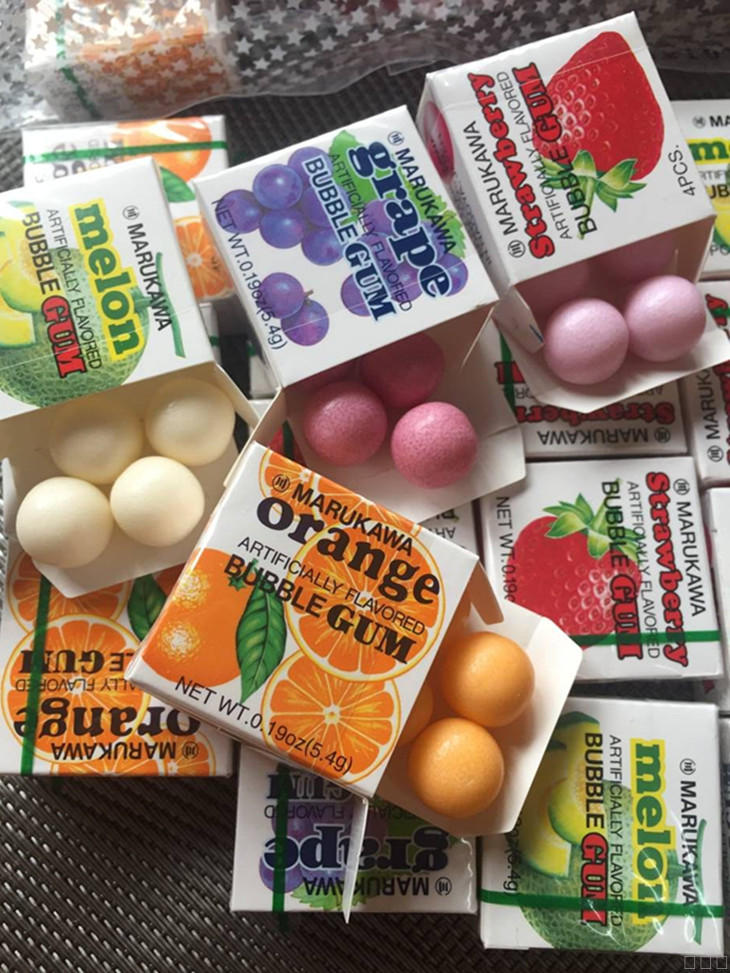 Image credit: China Global Mall
Hand some of these Marukawa Bubble Gum balls out in school and you'll be the popular kid for a day, especially if you had all the flavours in hand. We probably loved them as much as we did because of its fruity flavours which weren't common in bubble gum, especially honeydew. They also had a satisfying crunchy outer layer that kept us popping them in one after the other.
While these are no longer being sold in school canteens, you can still find them in Daiso stores, though you'll be paying a steeper price tag than you used to 15 years ago. 
Find Marakuwa Bubble Gum (RM5.90/8 packets) at Daiso stores across Malaysia.
---
3. Kumquat sticks
---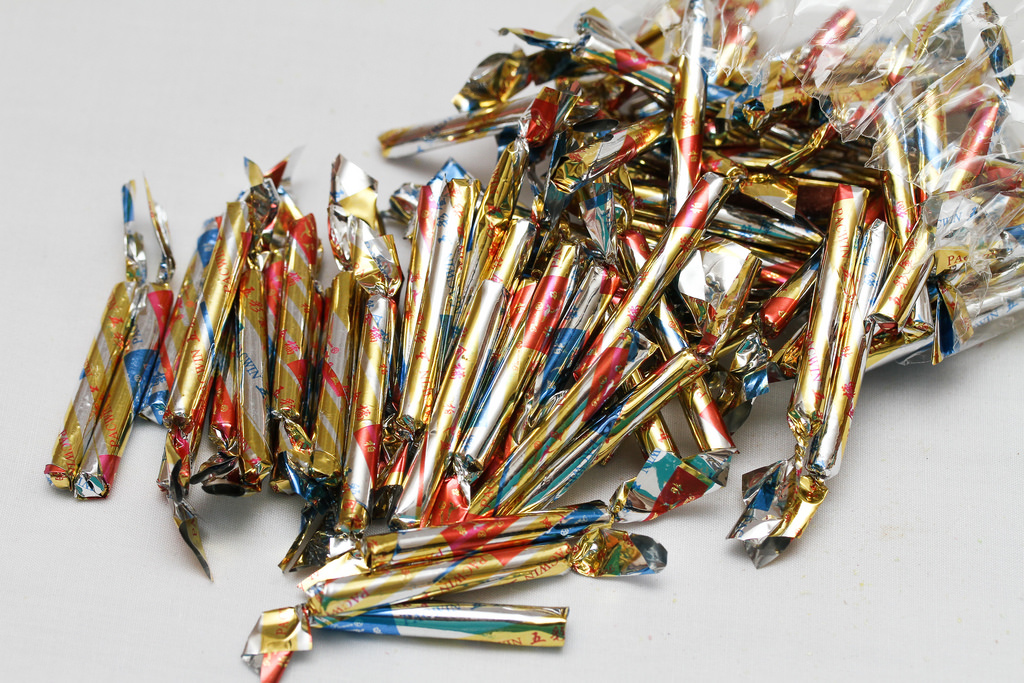 Image credit: Pinterest
Kumquat sticks were always sold alongside dried orange peels and plum candies as they fell into the same category of "herbal traditional sweets". Not everyone was a fan of them because there was a bitter taste to them. Once you got past that, you'd start to taste the sweetness and slight asam-like tartness of the candy.
Plus, these sticks came wrapped in flashy gold and silver packaging that only further enticed us to grab a handful whenever we saw them being sold in a candy store. 
---
4. Ring Pop
---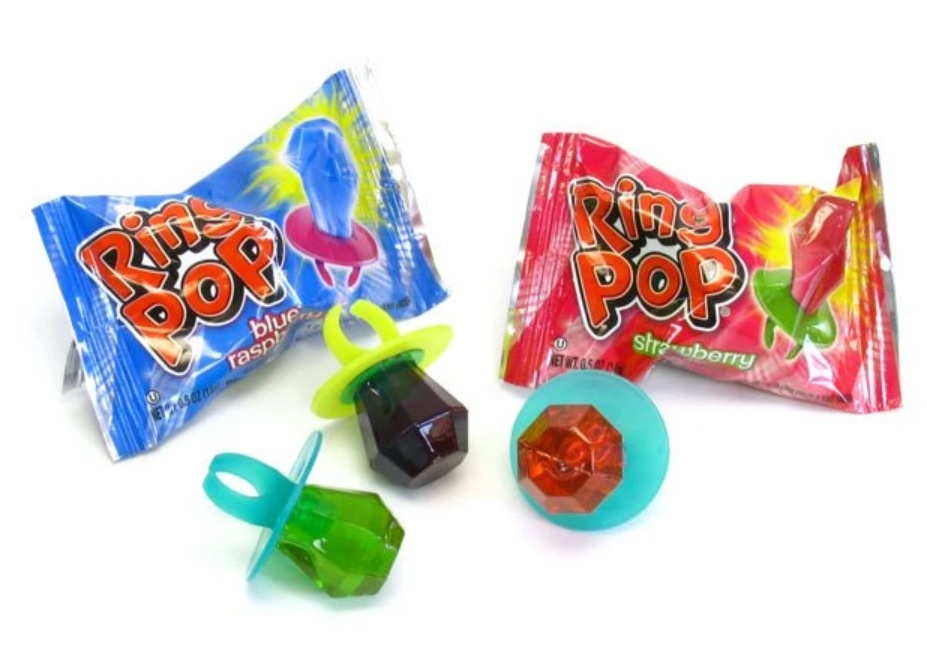 Image credit: Old Time Candy
When we were in primary school, we regarded these rings as a fashion statement. Heck, they were even better than our mom's diamond ring as these ones were actually delicious and got the job done when we needed something sweet to perk us up. 
We couldn't stop ourselves from getting matching ring pops with our BFFs, though we'd all secretly try to snatch the best-looking ones first. Things got really wild when the local sundry shop started stocking up the ones that came in fancy swirls and designs. 
---
5. Listerine Sheets
---
Back in primary school, the greatest test to determine how much of an "adult" you were was to successfully finish a Listerine Sheet without squirming from the strong peppermint flavour.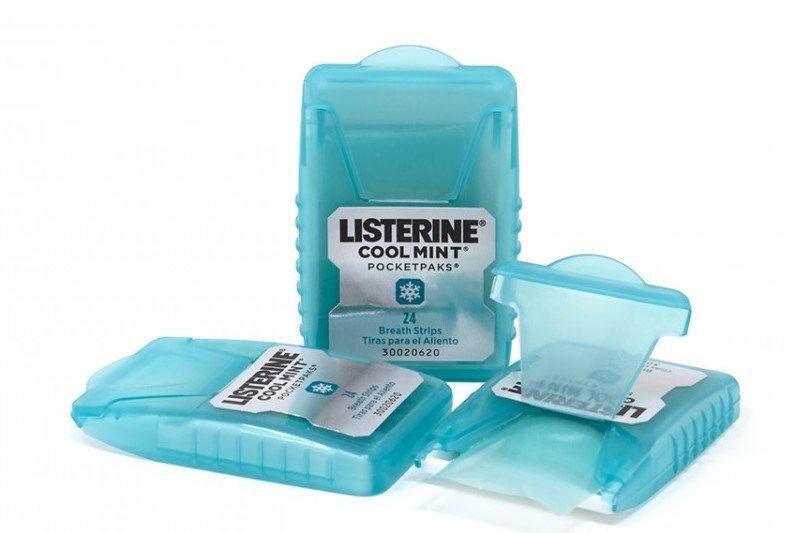 These turned our tongues blue
Image credit: Candy.com
Having the taste buds of a kid meant that it was a big feat for us to even keep the mint in our mouths for longer than a few seconds due to its minty sting. As a result of that, it became a challenge among our friends to see who could be the best record holder. 
We were also pretty mind blown that we could get mint in this thin, translucent form – just like how shook we were when we found out that the paper wrapper on White Rabbit candies could be eaten. 
Find Listerine Sheets (RM28.50/3 packets) at Shopee.
---
6. Chiclets
---
Chiclets was discontinued in 2016, but we stopped seeing them in marts way before that. These square bricks of chewing gum were a popular alternative to Wrigley's strip gum.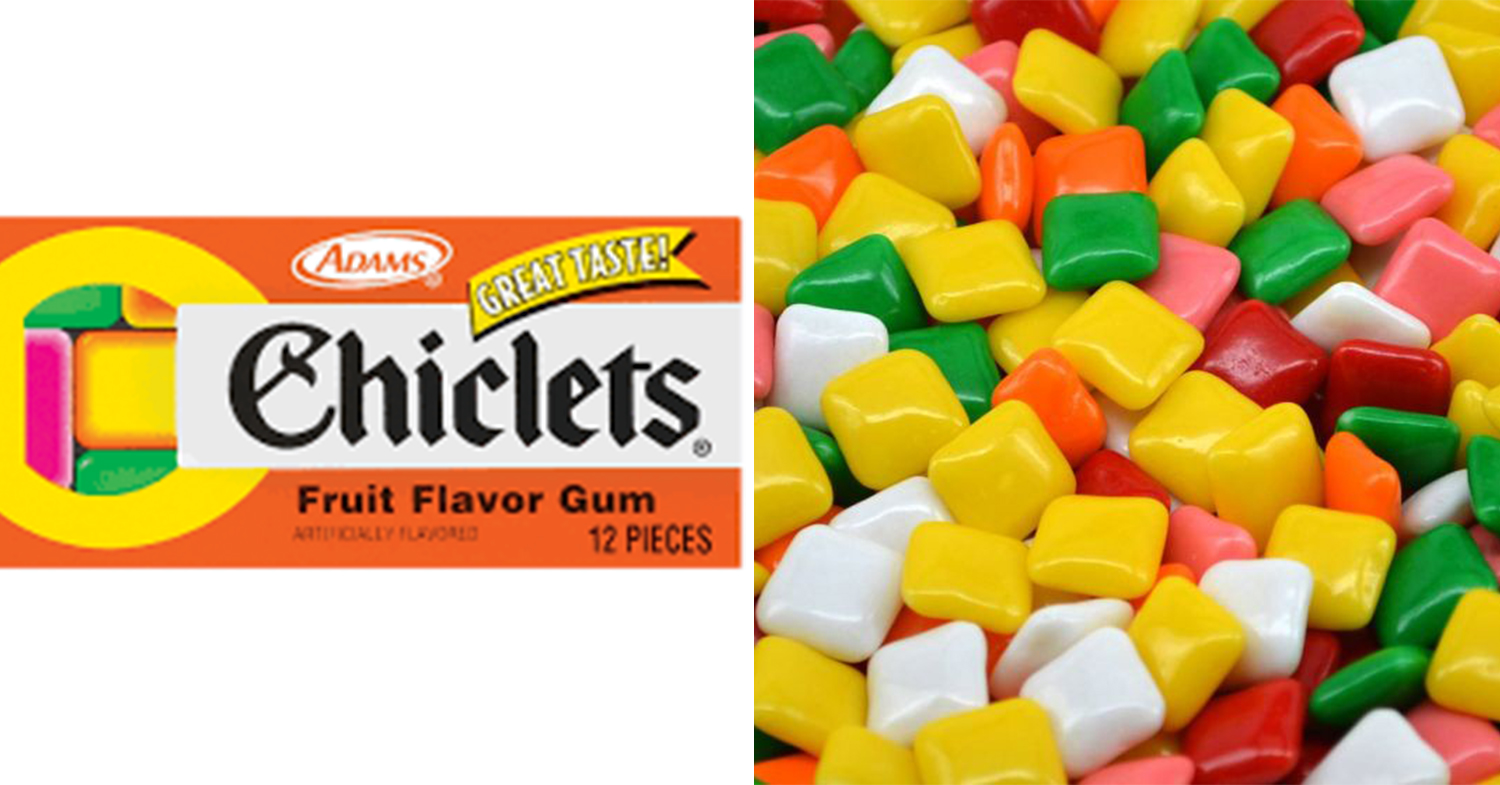 Chiclets had a crunchy sugar coating with a soft gum filling
Image adapted from: Edward's Food Giant and Candy Favorites
When you got the fruit-flavoured pack, the gum pieces always came in a mix of standard colours: pink, yellow, orange, white, red, green, and white. The colour combo was iconic and became representative of the Chiclets brand.  
---
7. Horlicks Malties
---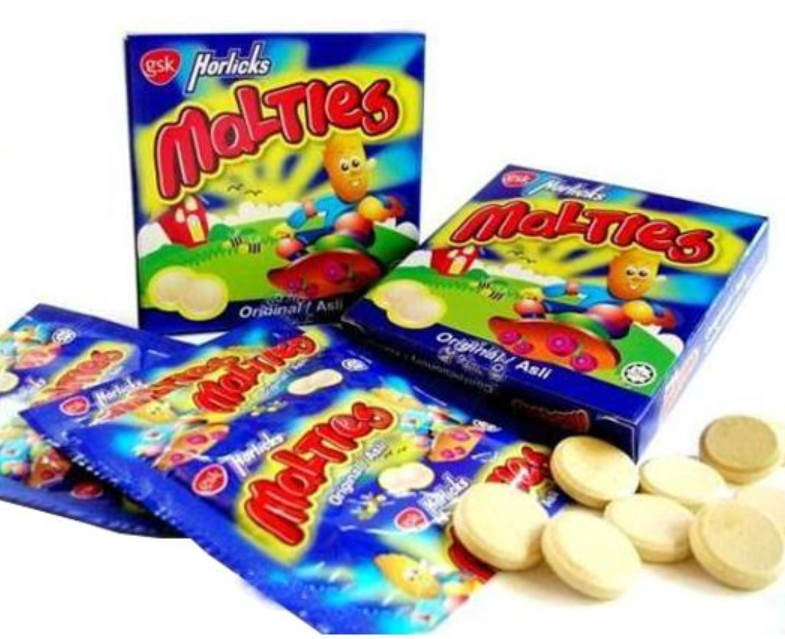 Image credit: Qoo10
Horlicks Malties was another candy on the market that wasn't as sugar-laden as the rest. While it was still sweet, we could taste the distinct flavour of grains from the blend of wheat, barley, and whey. There was also a chocolate version that came in red packaging instead of blue. 
Even though we'd have a cup of hot Horlicks in the morning, it wouldn't stop us from popping in a couple of Malties in between classes. At the very least, this was one of the few childhood snacks that was somewhat a more nutritious candy alternative. 
Find Horlicks Malties (RM28/10 packets) at Lelong.
---
8. Candy necklace
---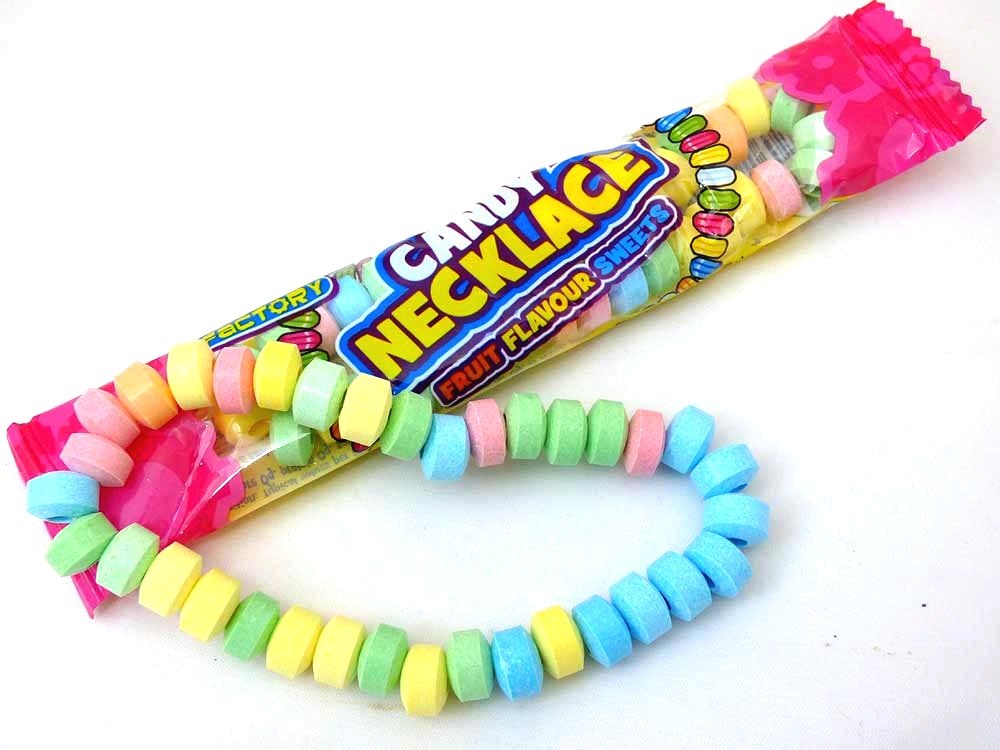 Image credit: All About Party Bags
Most of us bought these candy necklaces not because we liked the candy, but so that we could wear it and flaunt it to our family and friends. The candy itself didn't taste like much besides just plain sugar and maybe a slight hint of fruitiness, but that didn't stop us from eating it after we were done playing dress-up. 
---
9. Plum tablets
---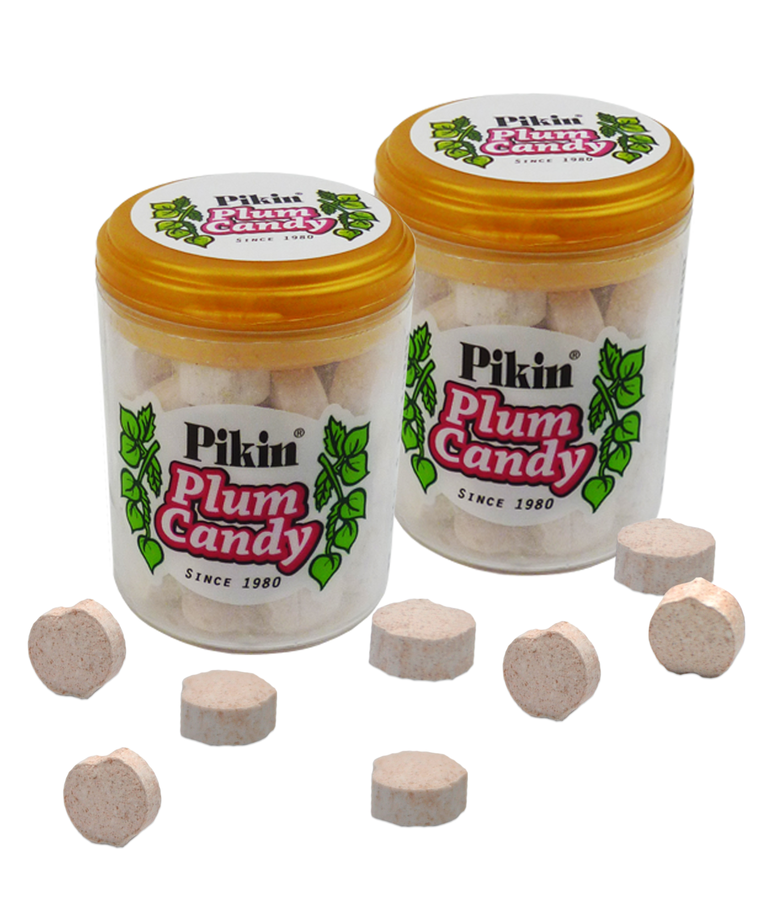 Image adapted from: Isetan
Pikin's Plum Candy was a healthier alternative to regular candies like Mentos or Kopiko as they were made from real fruit. This meant that parents were always more forgiving whenever we appeared with a bottle of this in our hands as opposed to other candies at the checkout counter. 
The candy even came in small plum-shaped tablets that were pale pink in colour. Its signature sweet and slightly acidic taste was a big hit with all the kids in school.
Find Pikin Plum Candy (RM2/bottle) at Shopee.
---
10. Didi Jelly Bean
---
Jelly Belly, the brand that monopolised the jelly bean market across the globe, hadn't really penetrated the Malaysian market back in the 90s. This meant that most of us either didn't know about Jelly Belly or their RM10 price tags were simply too expensive for our RM2/day pocket money.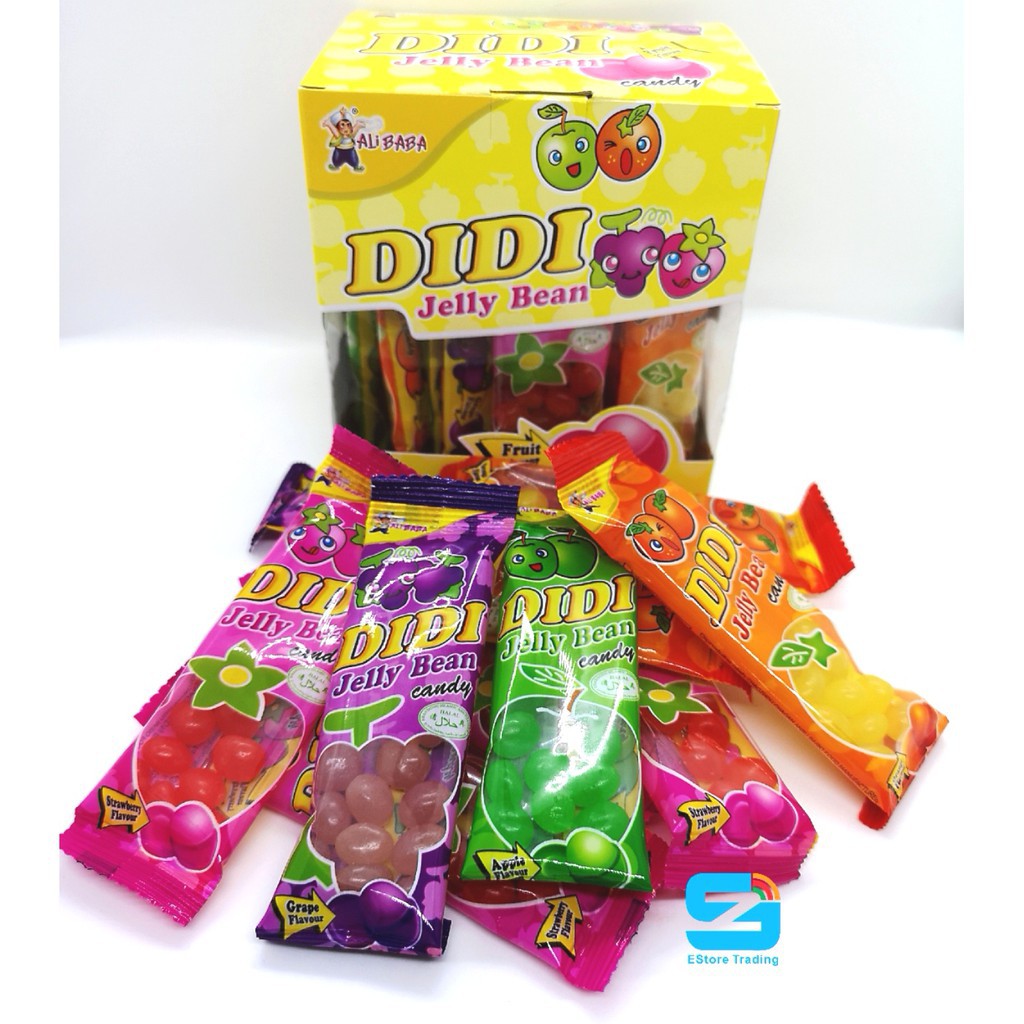 Image credit: Shopee
Instead, we had Didi's Jelly Bean. They came in single-flavoured packets and cost about RM0.50 each, but they were worth the splurge. While they didn't have fancy flavours like strawberry cheesecake and toasted marshmallow like Jelly Belly, they still did the trick with classic fruit flavours like green apple, strawberry, and everyone's favourite – grape. 
Find Didi's Jelly Bean (RM7.50) at Shopee.
---
11. Didi milk tablets 
---
Growing up, some of us may not have been big fans of drinking milk because it was too bland. But as an alternative, we'd happily pop these milk tablets from Didi any day.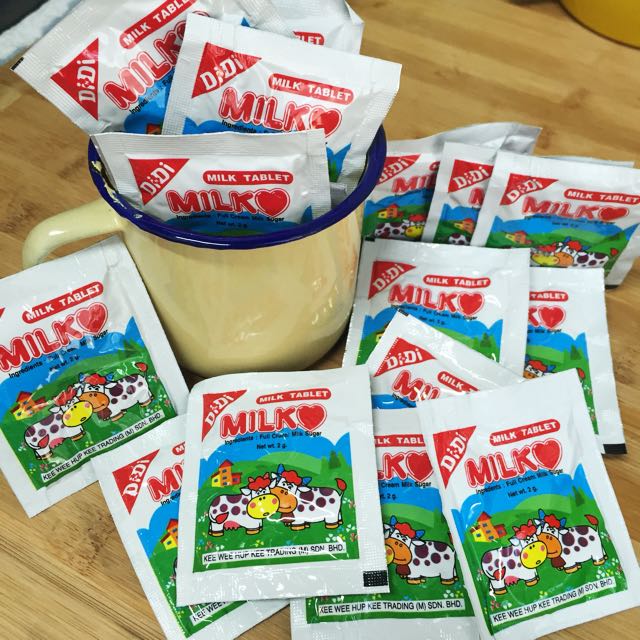 Image credit: Carousell
This milk-based candy came in small discs that were powdery to the touch. It was extra creamy and had that slight tinge of sweetness which made it even more addictive for kids. It was probably a main source of calcium at that point in time. 
Find an alternative to Didi's milk tablets at Shopee.
---
12. Colourful candy in milk bottles
---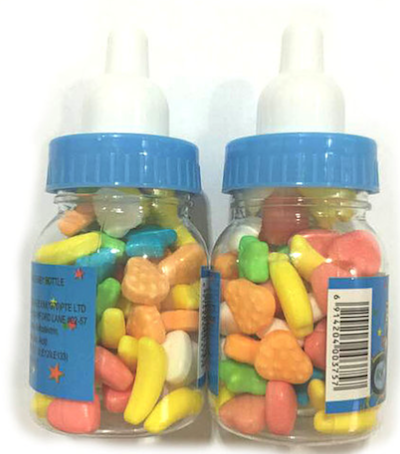 The candy came in a bunch of fruity flavours, though the banana ones stood out the most due to its strong flavour.
Image credit: throughtheyears87
When these milk bottle candies started appearing on pasaraya shelves and our school's canteens, everyone had to get one for themselves. And it was mainly because of the packaging. In fact, we adored it so much that we'd keep the milk bottle container even after we finished all the candy inside. 
Find milk bottle candies (RM42/50 bottles) at Shopee.
---
13. Hard candy with plum centre
---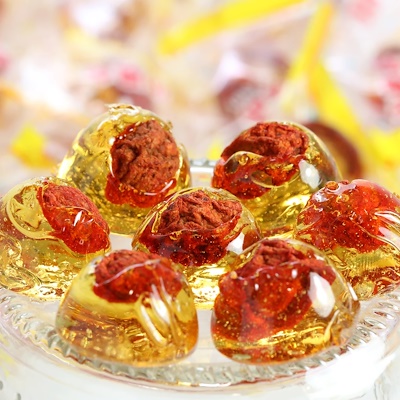 Image credit: Qoo10
These hard plum candies were a huge hit with older relatives, which just goes to show how long they've been around. Since they could always be found around the house, us younger kids eventually shared our parents' love for this old school treat as well.
The hard outer shell tasted simply of caramelised sugar, so the best part was getting to the middle where the real treat was – the asam. Once we got to the dried plum in the centre, we'd gnaw off as much of the fruit as we could. It was a hard feat due to its dry and rough texture, but we'd always feel accomplished when we ended up with a clean seed.
Find these plum candies (RM2.50/10 pcs) at Shopee.
---
14. Candied winter melon
---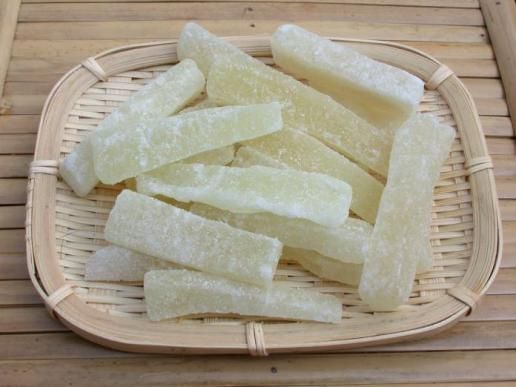 Image credit: Pinterest
Candied winter melon sticks were one of the few options from those pickled fruit stations at malls that we actually liked. They were coated in a layer of sugar, but once you bite through the hard exterior, you'll find that the insides are chewy and still retained a slight hint of juiciness. 
They were also a cooling snack, so they were the perfect treat to fight off heatiness – especially when paired with an iced barley drink. 
Find candied winter melon (RM2.80/packet) at Shopee.
---
15. Crunchy peanut candy
---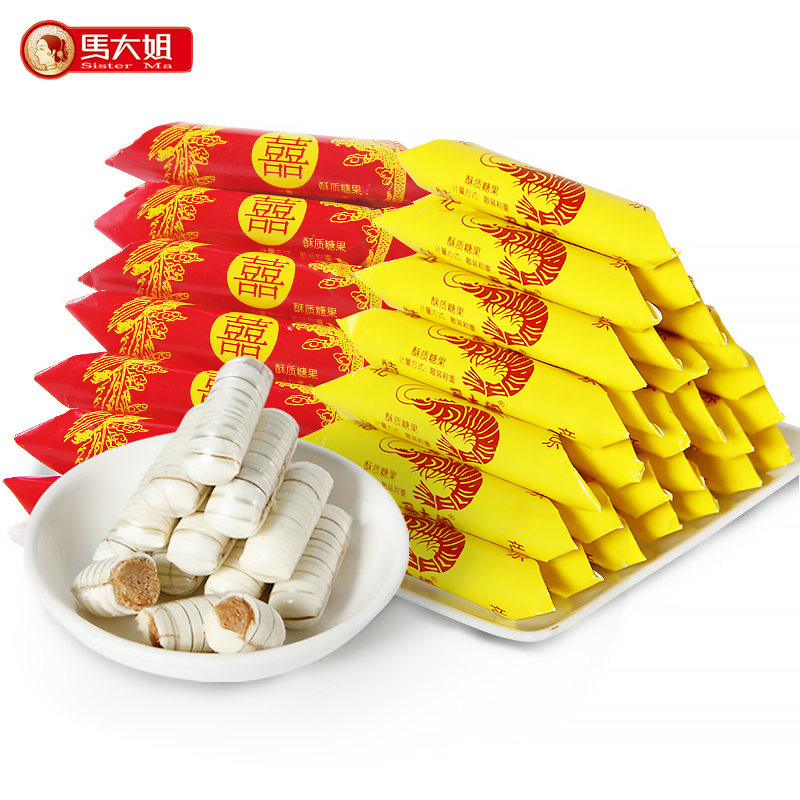 Image credit: YOY Cart
This crunchy peanut candy is easily recognisable from the brown stripes on its white outer shell. Biting into it, you'd discover the delicious peanut filling inside. It was made from a blend of peanuts and sugar which were finely ground and densely packed together. 
While we could get them at any time of the year, childhood snacks like these ones in particular were especially popular during Chinese New Year. You could almost definitely find them in the candy jar of every house you visited. 
Find these peanut candies (RM6/packet) at Shopee.
---
16. Fruit-flavoured breath spray
---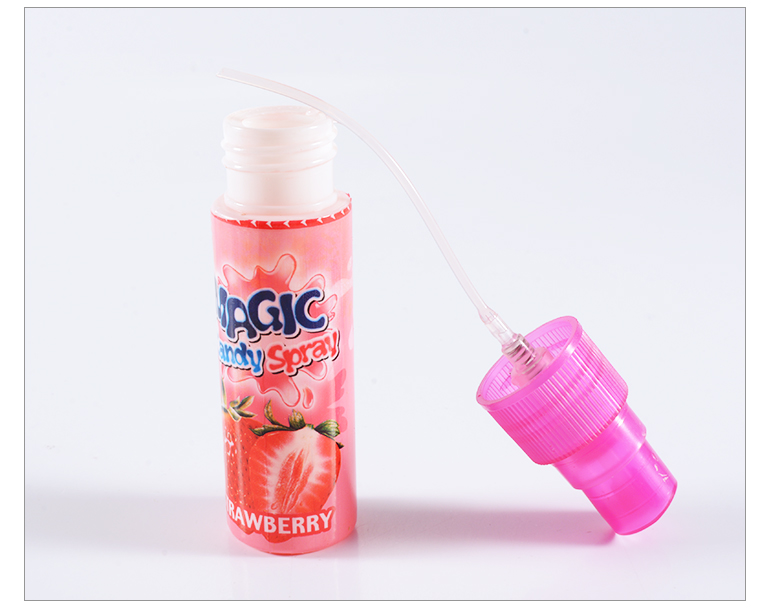 Image credit: Alibaba
When we needed to freshen up our breaths after eating our fill of keropok lekor and nuggets, we'd reach out for the kid-friendly version of breath spray. Carrying one of these around in our pockets also made us feel like an adult.
We had a blast spraying it onto our tongues and tasting the sweet apple or strawberry flavours after. While it doesn't keep our mouths minty fresh, it certainly helped in reducing the number of students with bad breath in school. 
---
17. Yogurt stick
---
We always had a blast with these yogurt sticks that were eaten the same way as you would eat a Choki Choki. These, of course, were much smaller in size and came in tubes made from firm plastic so that it was easier to grip with your teeth instead of having it flop around.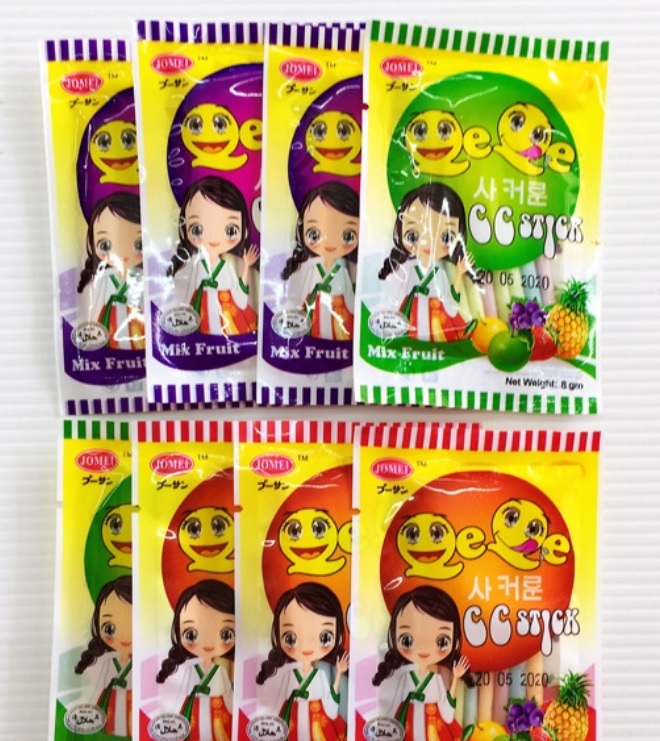 These yogurt sticks came in flavours such as pineapple, grape, strawberry, apple and orange.
Image credit: Shopee
You could get a variety packet that came in a bunch of different flavours and you could also get them in individual flavours once you discovered your favourite. The texture of the candy itself was similar to that of super thick icing. It was creamy and turned slightly powdery when dissolved.
Find these yogurt sticks (RM4/packet) at Mudah.
---
18. Coconut candy
---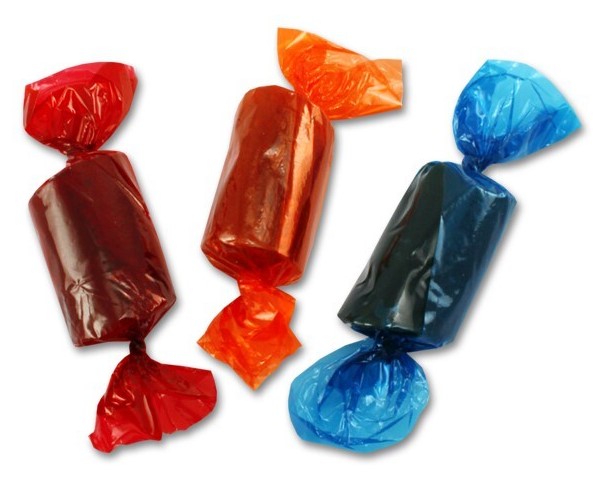 Image adapted from: Shopee
No visit to Melaka is complete without bringing back home a packet of coconut candy. They're made from coconut and gula melaka, which makes for a sweet yet fragrant treat. They were popular since our parents' days, so we were probably first introduced to this treat through our parents' love for it. 
You can actually still find them in the stalls that line Jonker Street in Melaka, making them a popular souvenir among visitors.      
Find coconut candy (RM3.50/packet) at Shopee.
---
19. Chewy fruit stick candy
---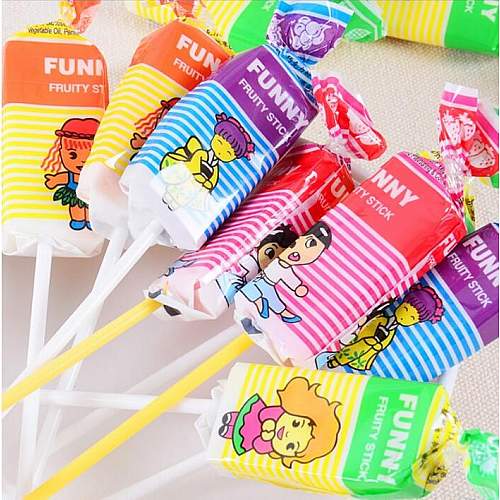 These gummy lollies came in a bunch of flavours like orange, strawberry, grape, pineapple, and blackcurrant.
Image credit: La Rue
This chewy fruit candy came in sticks, just like lollipops. But instead of hard candy, it was a chewy slab of candy that came in various fruit flavours. It was just like Sugus, except that it had a milky aftertaste. It also had a very distinct creamy flavour to it which only made it more addictive for kids. 
These candy sticks were also popular for their fun and colourful packaging. We could easily spot them in candy stores among other classic childhood snacks due to the stripes and adorable character designs on the wrappers.
Find chewy fruit candy (RM4.20/packet) at Shopee.
---
20. Bubble Yum
---
While Wrigley's chewing gum was one of the most common options we had, our eyes always strayed to the more expensive and sweeter Bubble Yum. Its vibrant purple colour and retro packaging made it difficult not to notice, especially with the punk duck as a mascot – pink mohawk and all.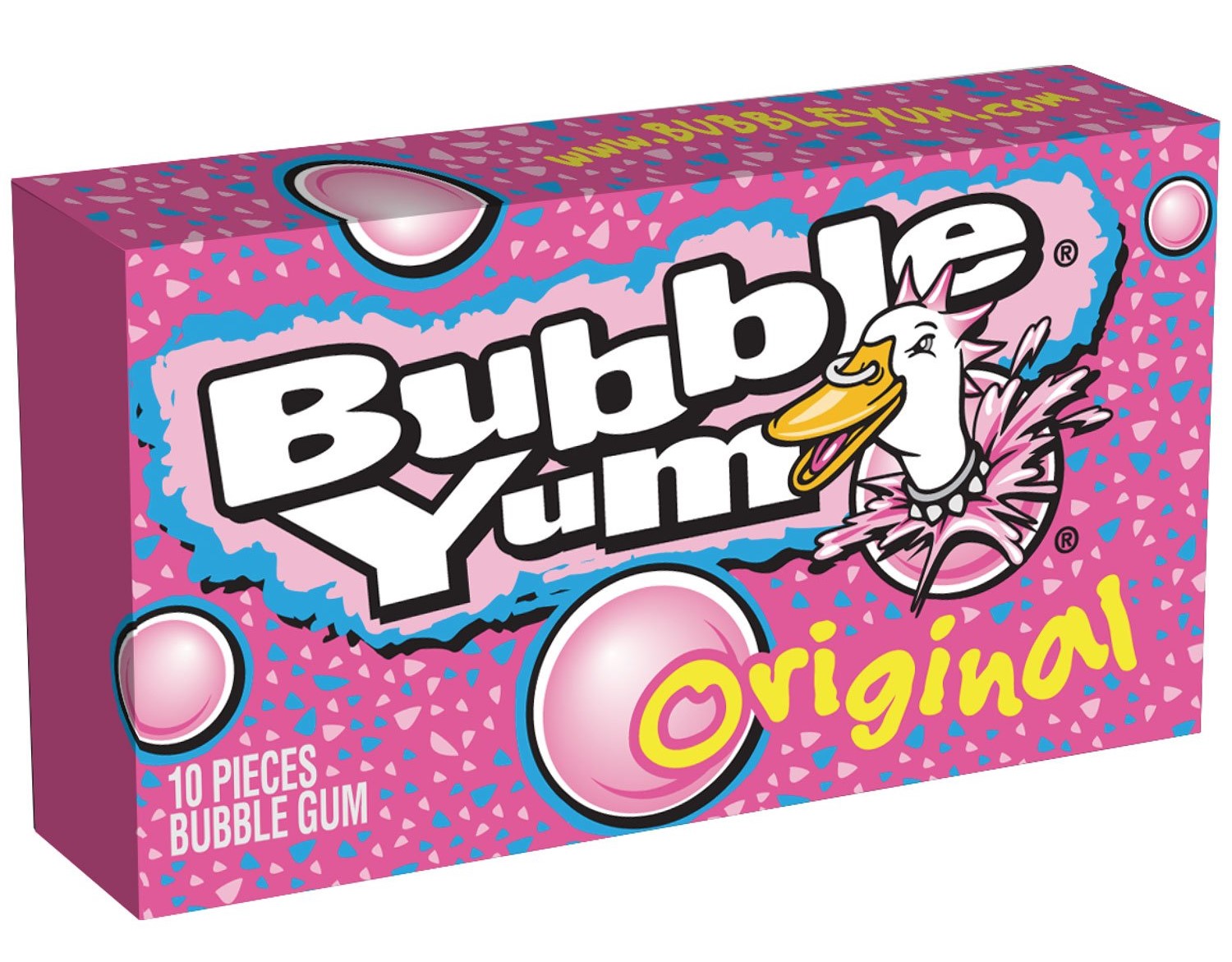 Image credit: Amazon
Instead of a thin strip, the bubble gum came in small pink blocks instead. We used to finish a whole bar of it in one sitting while trying our best to blow the biggest bubbles. Immediately after, we'd be busy nursing our terrible jaw ache. 
Find Bubble Yum (RM5.90/packet) at Shopee.
---
21. Chocolate footballs
---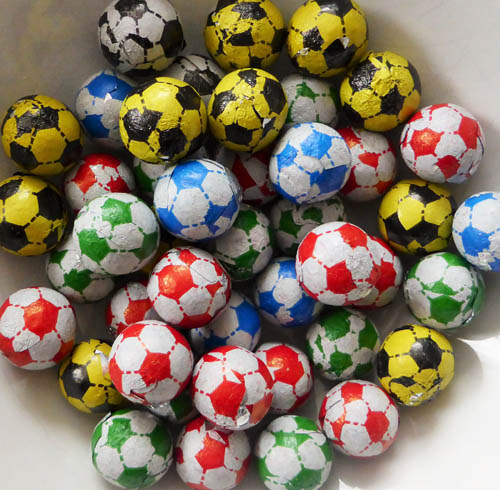 Image credit: Mrs. Beightons
Chocolate footballs have also found a place on our list of childhood snacks. They were everyone's go-to door gift for birthday parties due to their fun packaging. They came in a bunch of colours, so we'd trade them with our friends to get the ones in our favourite colour combo. 
The chocolate itself was just regular ol' milk chocolate, so you can rarely go wrong with that. Some of them had raisins inside, so it felt like we had hit the jackpot whenever we found one. 
Find chocolate footballs (RM14.40/packet) at Shopee.
---
22. Butternut candy
---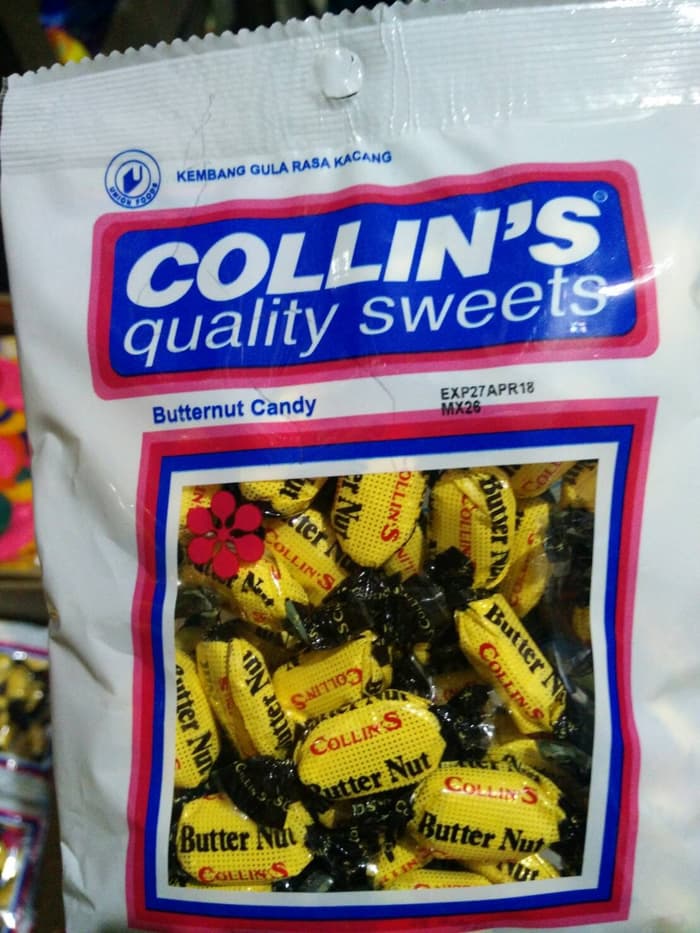 Image credit: Tokopedia
Butternut was every grandparents' go-to candy to give to their grandchildren when they visited. If their house had a candy dish for visitors, you can bet that you'll find a handful of these in there. 
Even so, we were a lowkey fan of this candy for the sweet ground peanut inside. They almost tasted like honeycomb bits, which made the butter candy taste a whole lot better.
Find Butternut candy (RM9/packet) at Shopee.
---
23. Boomer Bubble Gum
---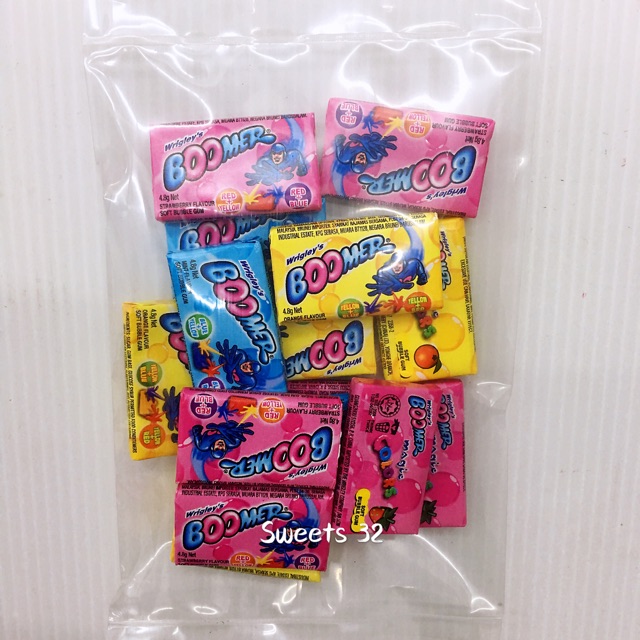 Image credit: Shopee
Boomer bubble gum's selling point was that you could buy several colours and mix them together to create a new colour. For instance, chewing red and blue gum together would turn it purple while blue and yellow would result in green. 
Getting our hands on Boomer bubble gum was how most of us picked up colour theory, which proved to be useful in art classes. 
Find Boomer bubble gum (RM5.20/15 pcs) at Shopee.
---
24. Magic chew
---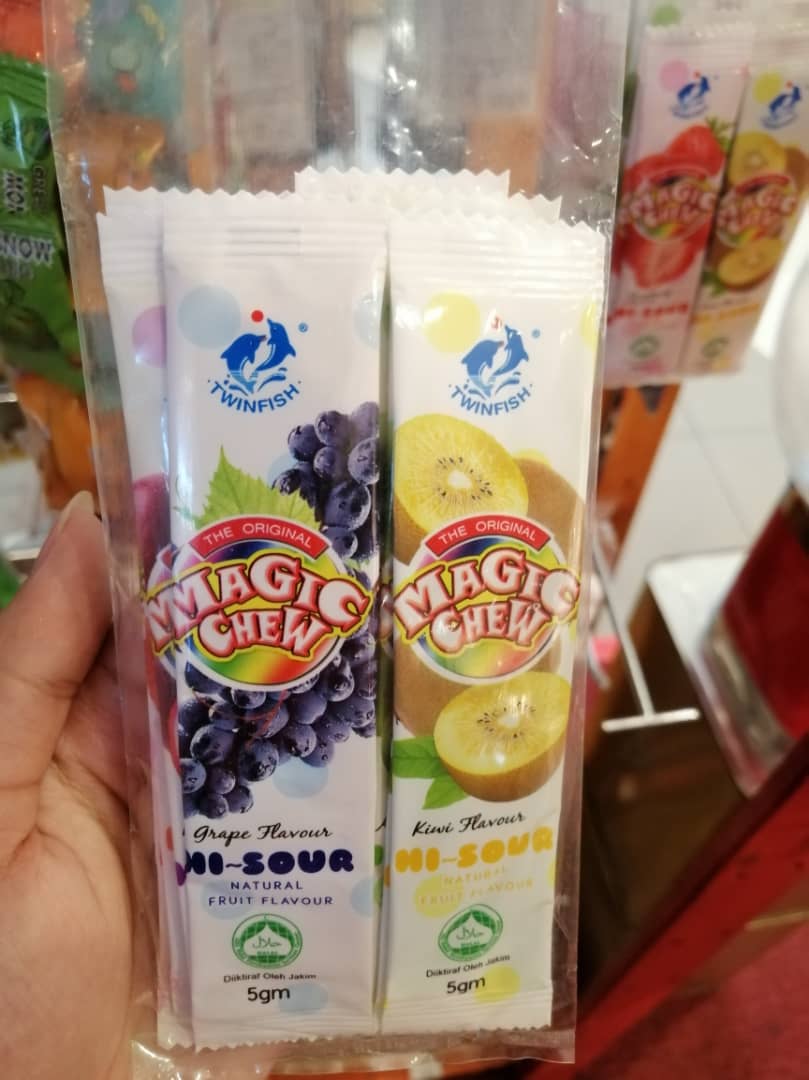 Image credit: Amber Lee
Magic Chew was a fruit candy that came in long strips. It's sort of what you'd imagine Mentos to be if you were to flatten it out with a rolling pin, but without the hard candy shell. It was incredibly chewy, to the point where it would always get stuck in your teeth, but it was so good that we kept going back for more. 
It was also one of the few treats out there that were not made from artificial flavours but instead used natural fruit flavouring, which was a big plus. 
Find Magic Chew (RM2.47/packet) at Shopee.
---
25. Sour fruit powder
---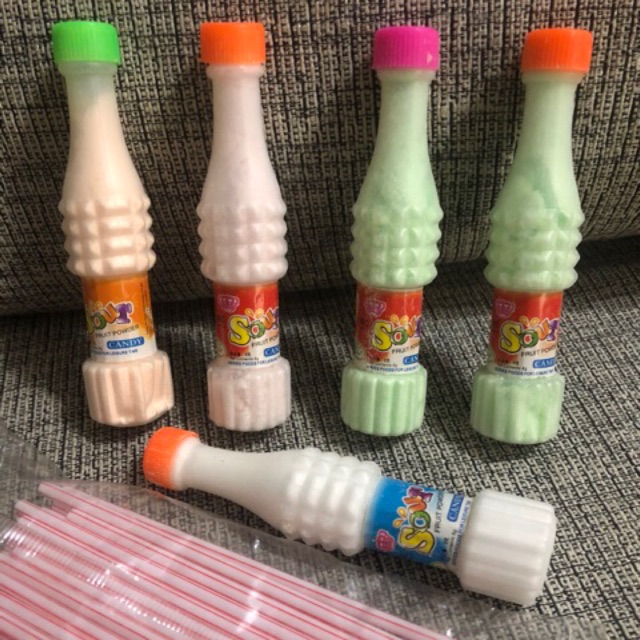 Image credit: Shopee
Whenever we bought a bottle of sour fruit powder, it always came with a mini straw. You were meant to add a little water in the bottle and shake it up to dissolve the powder inside, but most of us always ate it straight up by sprinkling it onto our tongues. 
Find sour fruit powder (from RM0.99/bottle) at Shopee.
---
26. Jelly cups and sticks
---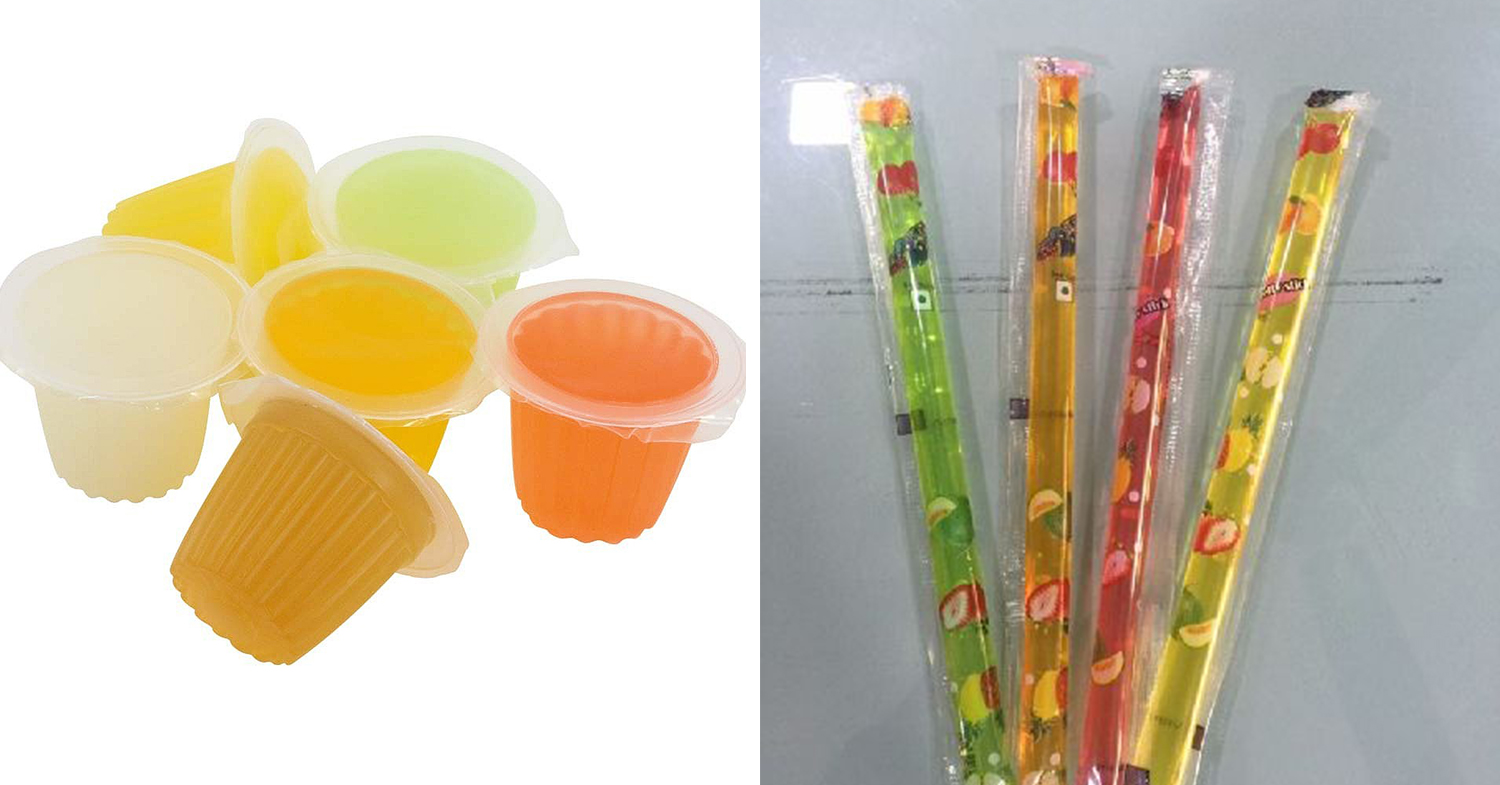 Image adapted from: Parrot Essentials and Exporters India
When talking about childhood snacks, you can't miss out on fruit jellies. As kids, we simply adored eating these jellies that came in little plastic cups that you had to peel the cover off before slurping up in one go. They were so addictive that our parents had to ration them out so that we didn't ruin our appetites after bingeing on the whole packet of cup jellies. 
There were also jelly sticks that you had to squeeze out using your fingers, which made it more fun. These ones were more of a novelty compared to the commonly sold jelly cups, so we'd always rush to get our hands on them whenever we saw jelly sticks sold on pasaraya shelves. 
Find cup jellies (RM3.50/packet) at Shopee.
---
27. Lucky cocoa ball
---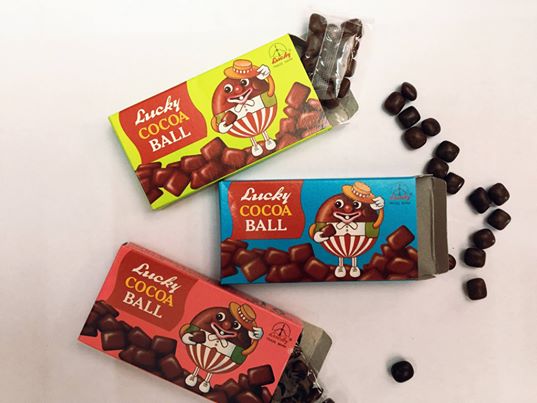 Image credit: BEHYPY
The face of Lucky Cocoa Ball resembled Humpty Dumpty, the talking egg from our childhood nursery rhyme. Paired with retro packaging, it looked like it was a candy from the 80s, though most of us would remember these chocolate nibs as one of the many popular childhood snacks from the 1990s.
The cocoa balls were more pillow-shaped than they were balls, and they came in tiny clear packets that were stuffed into boxes. They weren't overly sweet and had that slight bitter taste of cocoa powder, so kids either loved it or hated it. 
Find Lucky Cocoa Ball (RM6.50/30 packets) at Shopee.
---
28. Melon bubble gum
---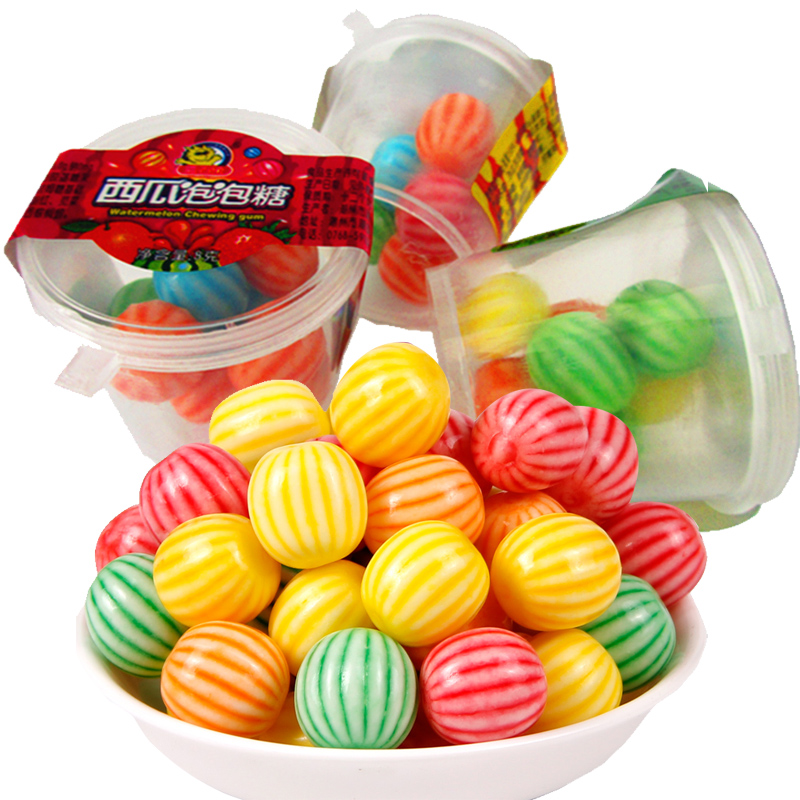 Image credit: YOY Cart
Melon bubble gum didn't taste specifically of any melon per say, but there was a very distinct taste that set it apart from other fruit-flavoured candy. It was sort of a mix between watermelon and honeydew, but it was delicious nonetheless. 
These little melon-shaped gumballs came in various colours and had thin stripes on the outside. When you bit into it, the sugar coating crumbled and melted in your mouth to reveal the chewy bubble gum inside.
---
29. Fruit drops
---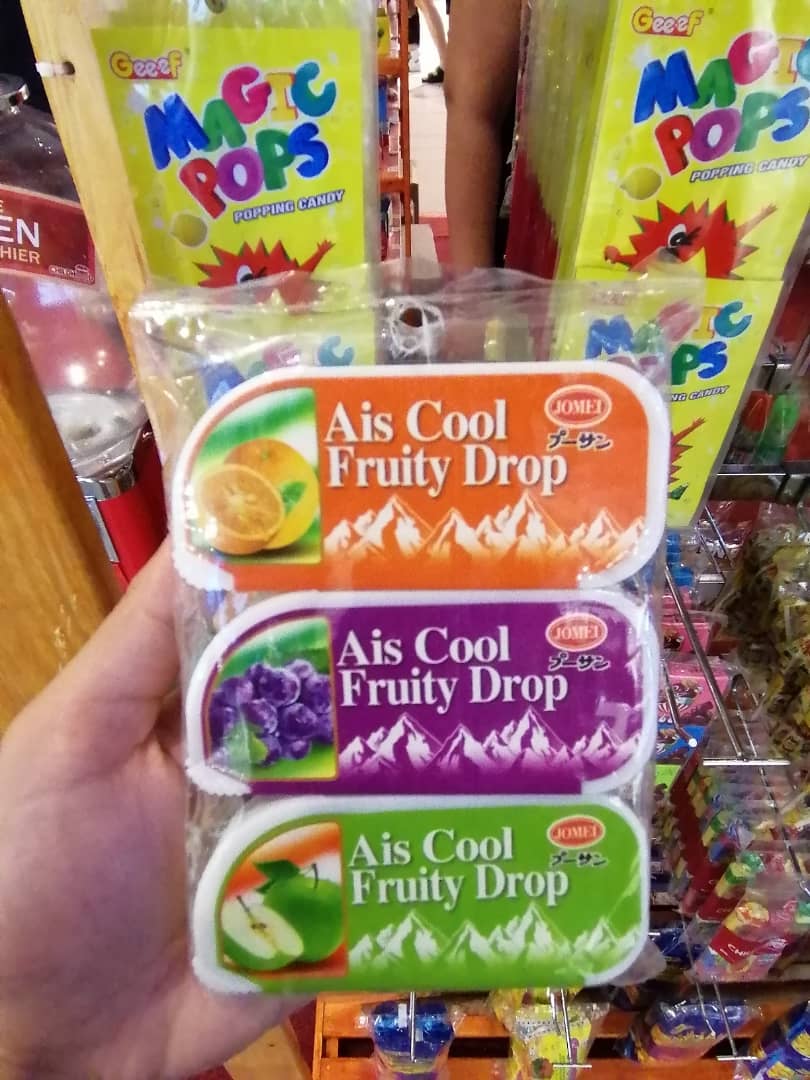 Image credit: Amber Lee
Ais Cool Fruity Drop was sort of like a Tic Tac, but they were slightly bigger in size and were extra minty. They came in a variety of flavours such as apple, grape, orange, strawberry and blueberry. It was tough to pick just one favourite as all the flavours were really well done and complemented the blast of cool mint. 
Find Ais Cool Fruit Drop (RM7/20 packets) at Shopee.
---
30. Jelly lollipops
---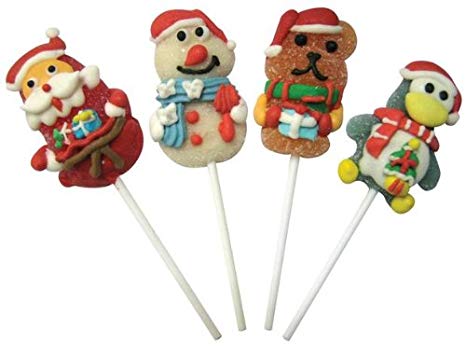 Image credit: Amazon
As a kid, novelty jelly lollipops were a treat that was a step up from the ol' Chupa Chup, especially since these came in cute, colourful character designs. Apart from the sugar-coated jelly, we particularly enjoyed picking off the small bits of decorations that were made from icing sugar – like Santa's moustache and the snowman's carrot nose.
---
31. Nini biscuit stick
---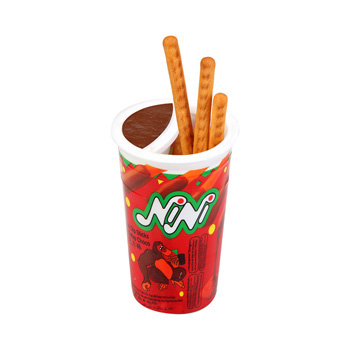 Image credit: Zuppa
Kids these days enjoy eating biscuit sticks like Pepero and Pocky. But back in the 90s, Nini biscuit sticks with molten chocolate, strawberry and peanut dipping were the bomb. These sweet treats were snacks many of us can fondly remember enjoying during recess and after school, as a quick bite whenever we were hungry. It was a fun snack to consume too – many millennials can relate to the experience of running out of the dipping sauce before finishing eating all the biscuit sticks, as the dipping sauce wasn't usually filled all the way to the bottom.  
---
32. Spectacle chocolates
---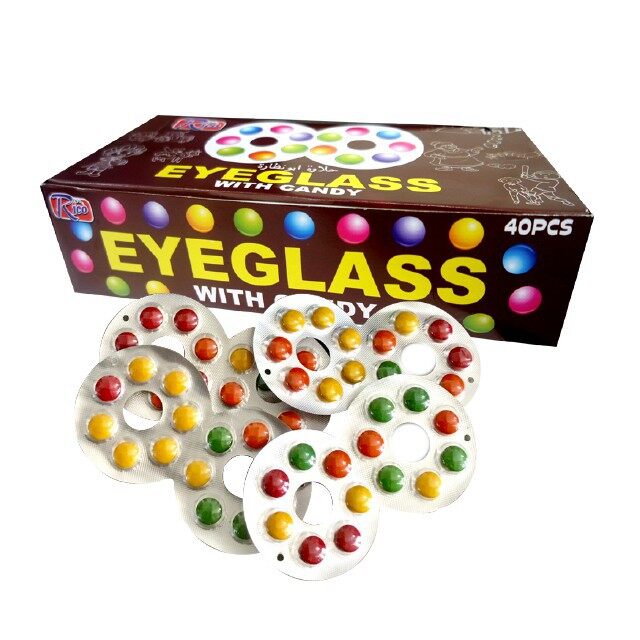 Image credit: Snowemy85 / Lazada
Those who were born in the 90s might recall consuming one too many spectacle chocolates, or eyeglass with candy, before. They were a must-have at every kids' party back in the day, and was considered an affordable alternative to M&Ms. Besides being sweet and rich in chocolate taste – and entirely addictive – these tiny chocolate buttons in orange, yellow and green were popular because they were cheap. They were also called 'spectacle chocolates' because they came in plastic strips that look like eyeglasses.
For the fun of it, some children preferred eating the chocolate buttons from one colour to another.
---
33. Yupi burger
---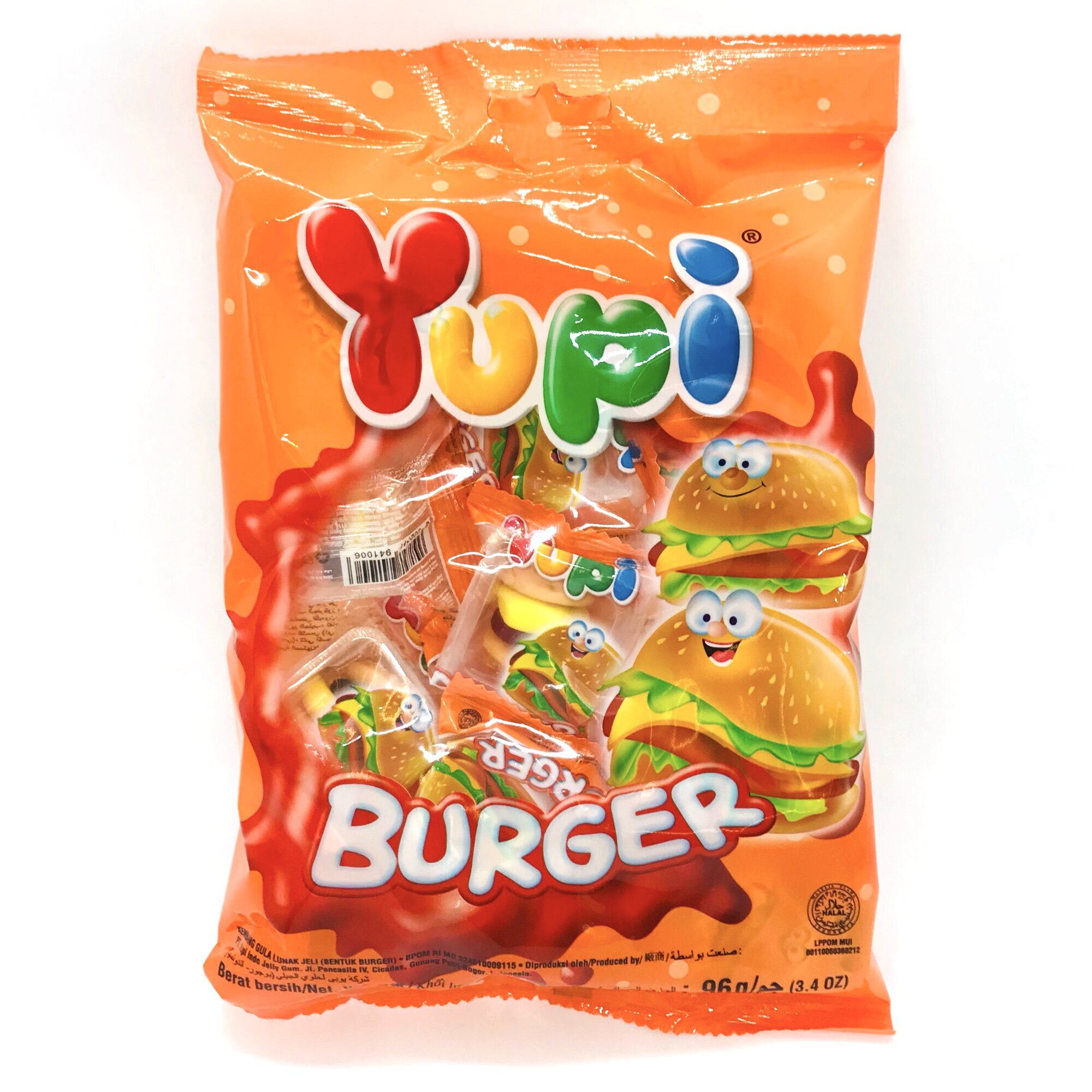 Image credit: World Sweet House / Lazada
Burgers can never taste like sweets. But thanks to Yupi Burger, many of us spent our childhood gorging on gummy candies shaped like – you guessed it – burgers. This small candy was a favourite among many in the 90s because of its unique form which resembles a real hamburger – but tinier in scale.
Anyone who grew up eating this gummy snack would likely tell you that it was one of the tastiest gummy candies they've tried as a kid. Because they look like burgers with many layers, the eating process was enjoyable too.
---
34. Ice lollies
---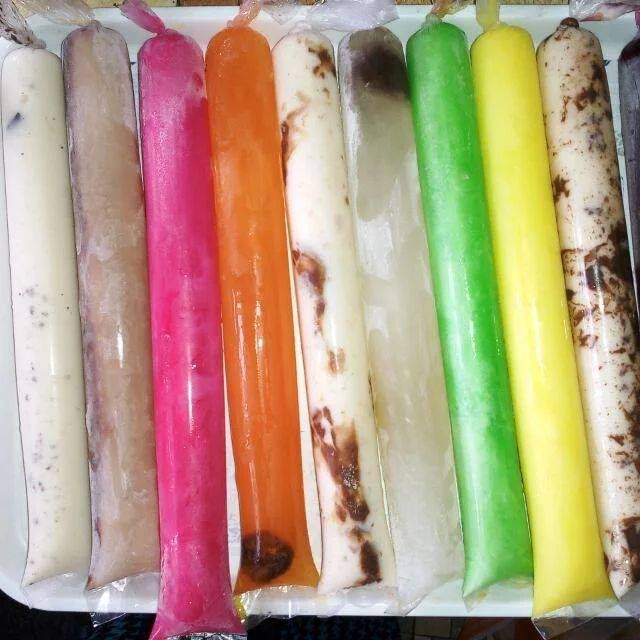 Image credit: Ice Cream Malaysia Cafe Kapal
One of many reasons why 90s kids are full of sweet childhood memories is because they got to experience the best of both worlds. Before popsicles and ice cream cones, there was another easier and more economical way to enjoy ice cream – ice lollies, or pops.
This 90s childhood-favourite cold treat is quite hard to find these days, because popsicles and ice cream cones with their variety of rich flavours have become more popular. But ice lollies are simple to make – they could be made at home, and easily whipped up by freezing different types of commonly consumed drinks such as milo, sour plum and orange in long plastic bags.
---
35. Hacks sweets
---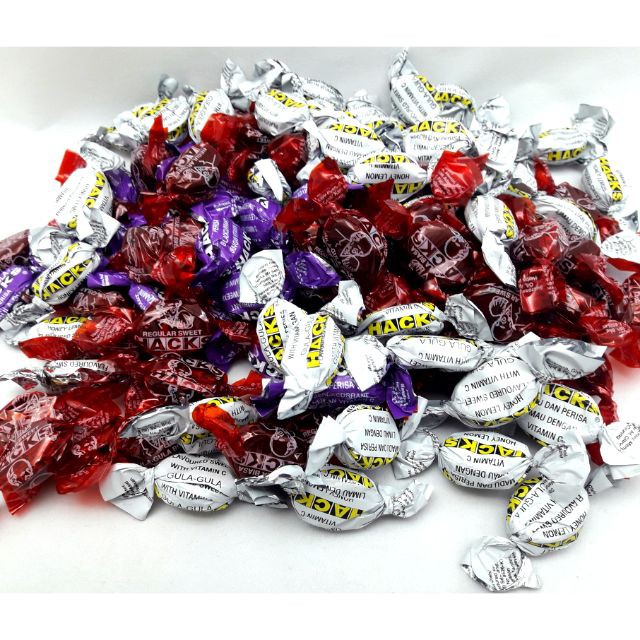 Image credit: halalsnackshop / Shopee
There are different boiled sweets to help tackle pesky coughs or sore throats. Though they might not have been the first treat kids think of to sate their sweet tooth, Hacks sweets was a well-known candy in the 90s that was the solution to these common ailments – they were also good for freshening your breath.
They contained medicinal properties to relieve cough and sore throat symptoms, and were basically medicated cough drops in the form of hard-boiled sweets that came in different flavours such as honey lemon, blackcurrant, mandarin ginger, clove and apple. 
---
36. Lemon tablets
---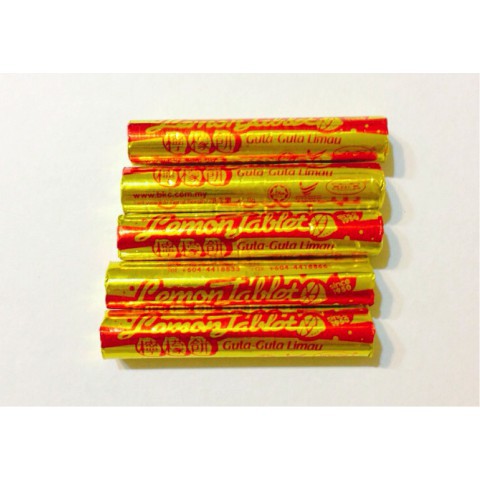 Image credit: adamloh1987 / Shopee
Lemon tablets are sweet, citrusy tablets that melt in your mouth. The unusual packaging of these sweets should never hinder you from trying to find them at a kedai runcit, as they can get pretty addictive if you happen to like them.
These tablets are made from Chinese medicine, and flavoured with lemons and liquorice, that's altogether great at making you feel refreshed when you're feeling uneasy. In a way, they are slightly similar to the preserved tangerine peels that are often eaten to improve appetite and digestion.
---
37. Chocolate coins
---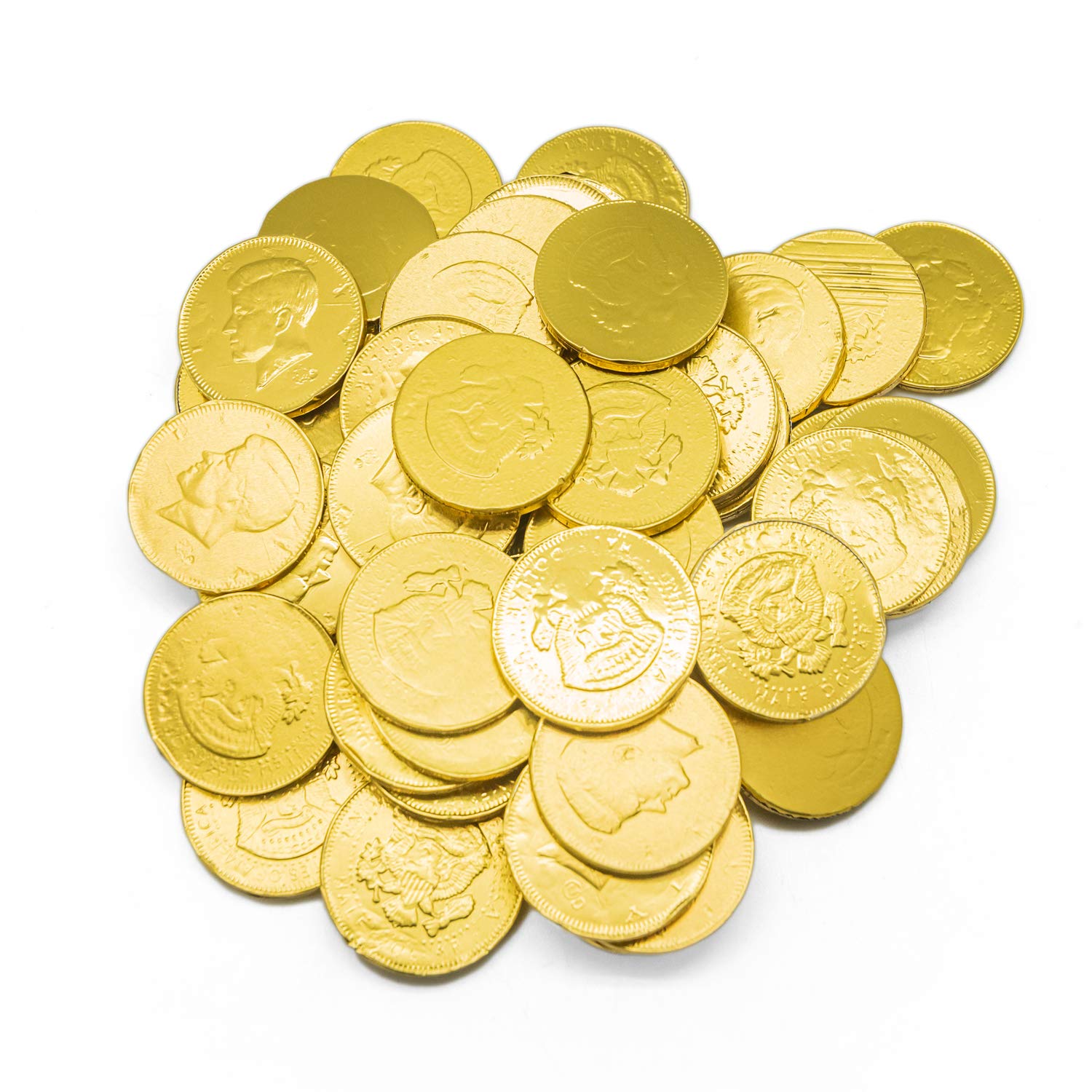 Image credit: Ubuy
Football-shaped chocolates were uniquely shaped chocolate bites that we are all familiar with. Apart from these, there were chocolate coins too. These round confectionaries are a complete crowd-pleaser at most kids' parties – mostly because of its unique shape and gold foil covering that resembles a coin. So while chocolates are rather easy to get these days at most convenience stores, marts and supermarkets, and with plenty of varieties sold, back in the day these were our go-to snacks that were affordable and widely available.
---
38. Seedless conserved plum (Chen Pi Ying Zi)
---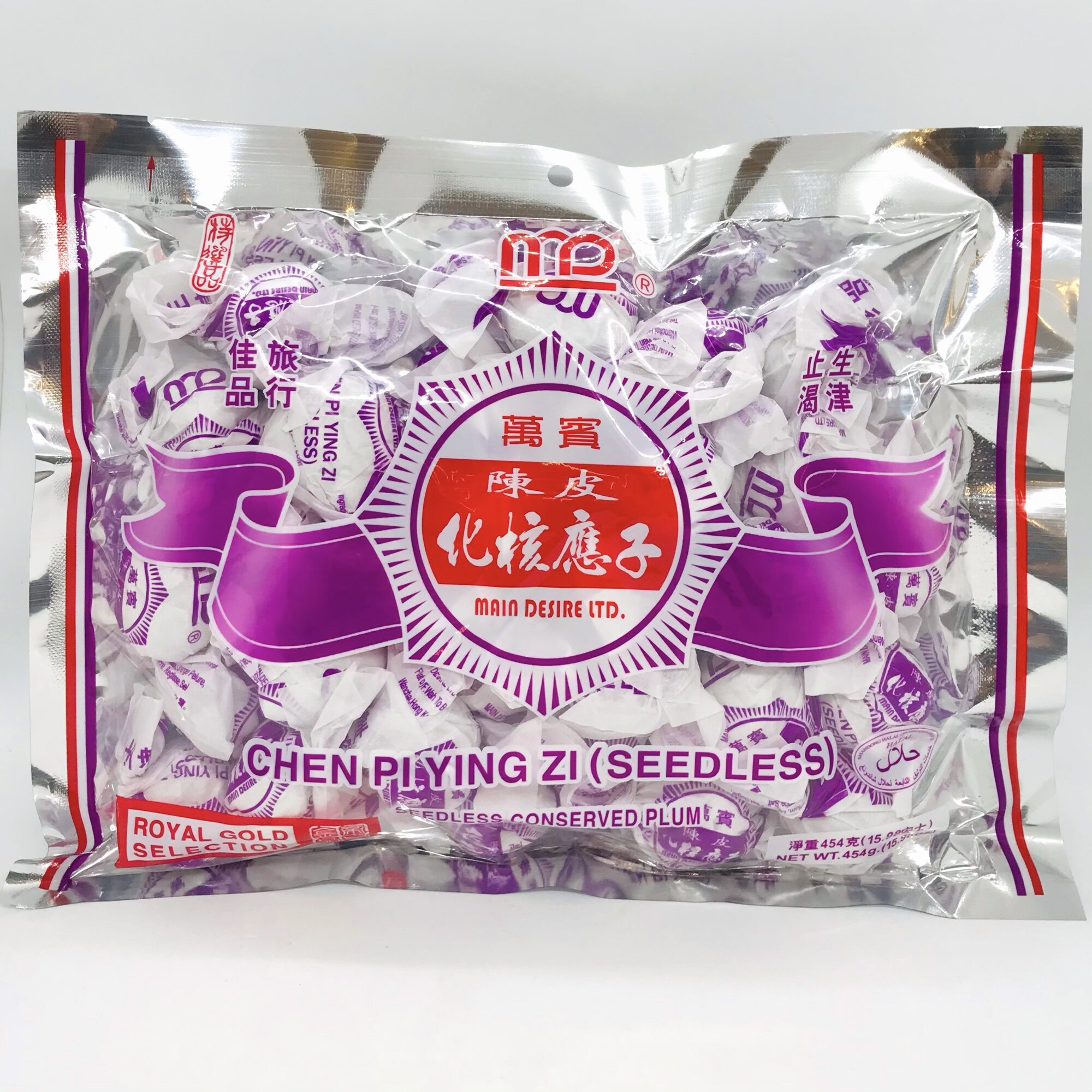 Image credit: World Sweet House / Lazada
Preserved fruits may not be everyone's cup of tea, but they were eaten quite often by children in the 90s. Conserved plums, dried tangerine peels and dried plums are some of the healthier and tart addition to the list of sweeter childhood snacks we used to inhale in our youth. These seedless conserved plum, also known as chen pi ying zi, is one of many preserved fruits that were popular in the 90s. Apart from their sharp, unique taste, munching on these dried snack is pretty common as they are widely believed to be good for digestion.
---
Malaysian childhood snacks
---
We've all had that "ahh!" moment whenever we happen to stumble across a nostalgic item or food, and we're sure you've just gone through a couple of those when going through this list of childhood snacks. It's a shame that kids these days will never get to try some of our all-time favourites, but it just goes to show how good we had it during our time – after all, we had a ton of childhood snacks and candy to binge on. 
Make the most out of your sugar rush by partaking in fun activities like these:
---
Cover image adapted from: China Global Mall, All About Party Bags, Mrs. Beightons, Qoo10, Giler Femes, and Isetan
This article was updated by Siva Selan on 22nd June 2022.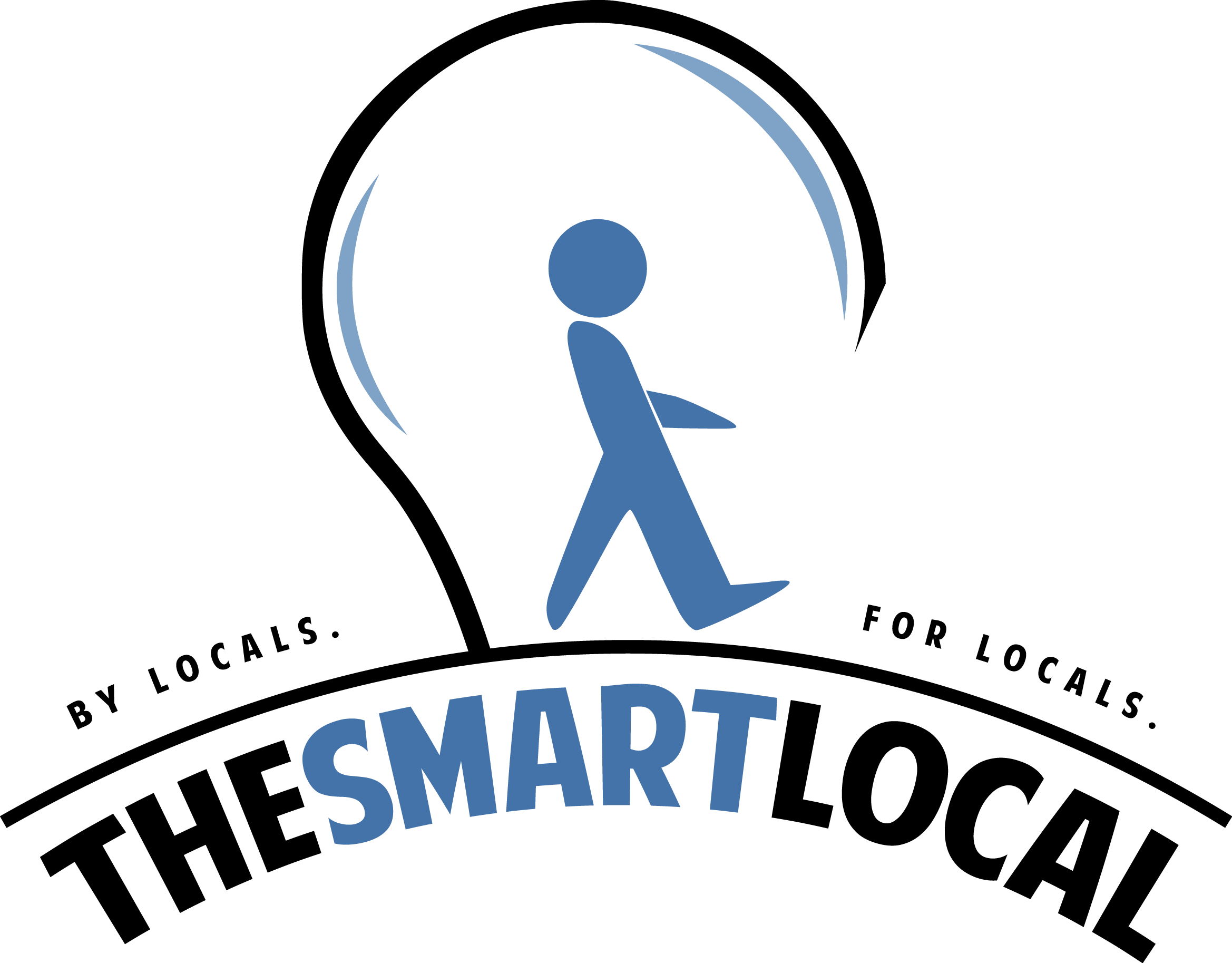 Drop us your email so you won't miss the latest news.