Costumes Malaysians have worn to vaccination
---
Malaysians are known to bring on their funny sides to the benefit of others during otherwise difficult times such as the pandemic. This was previously shown by these Malaysians, who shared their hilarious stay-at-home MCO activities to keep busy online. 
Now, many Malaysians are going the extra mile by dressing up in costumes to keep safe from Covid-19 and entertain others while attending their vaccination appointments. This is why characters such as Sailor Moon to Black Panther and a prehistoric dinosaur were spotted at Covid-19 vaccination centres.
Here are some of the best costumes Malaysians have worn for their vaccination appointments:  
---
1. Donald Duck – cheery version of the grumpy character
---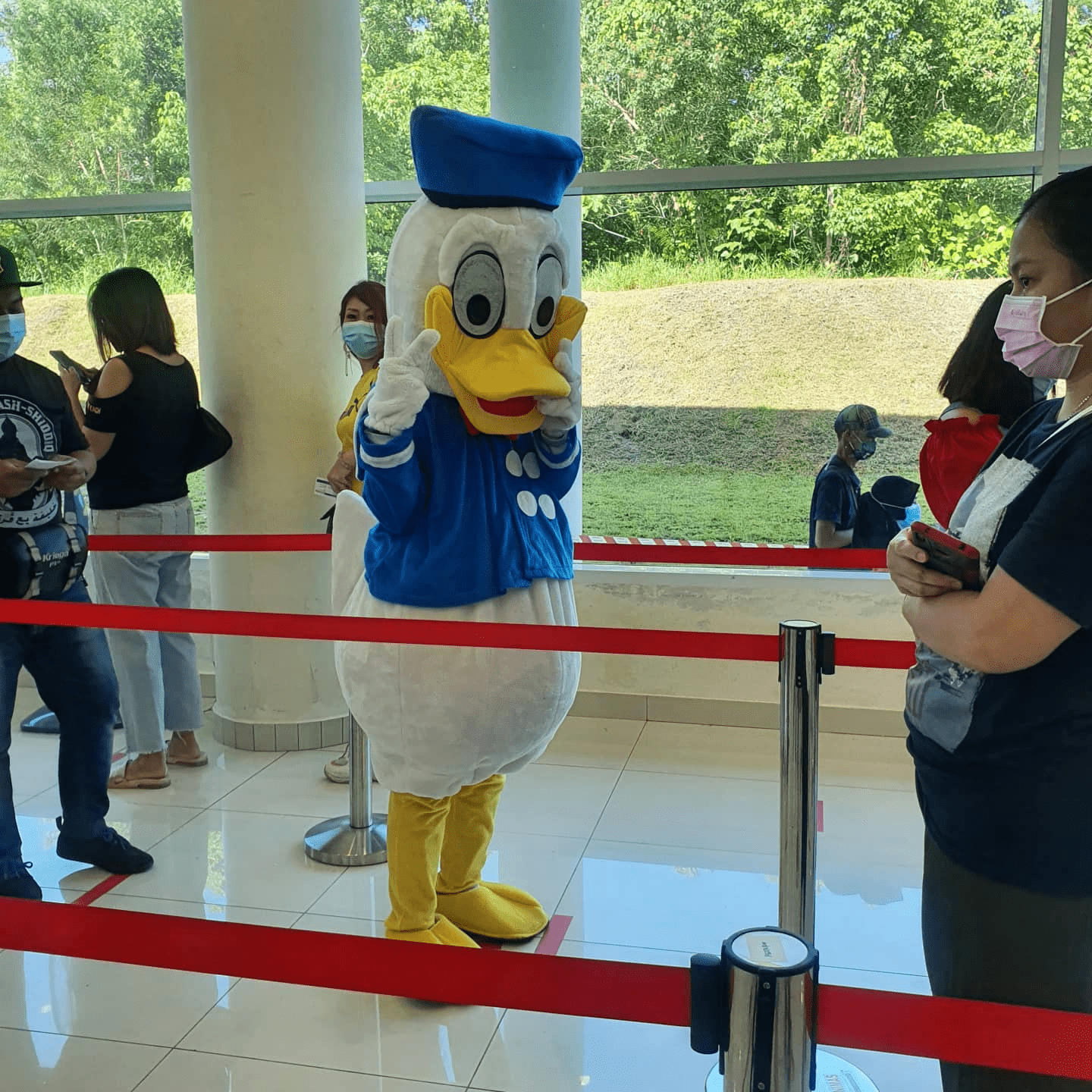 Image credit: Universiti Malaysia Sarawak (UNIMAS)
Donald Duck may be known for his temperamental mood – a departure from Disney's otherwise perky animated characters. But this wasn't the same case when a cheery version of the cartoon character was spotted at the University Malaysia Sarawak (UNIMAS) vaccination centre.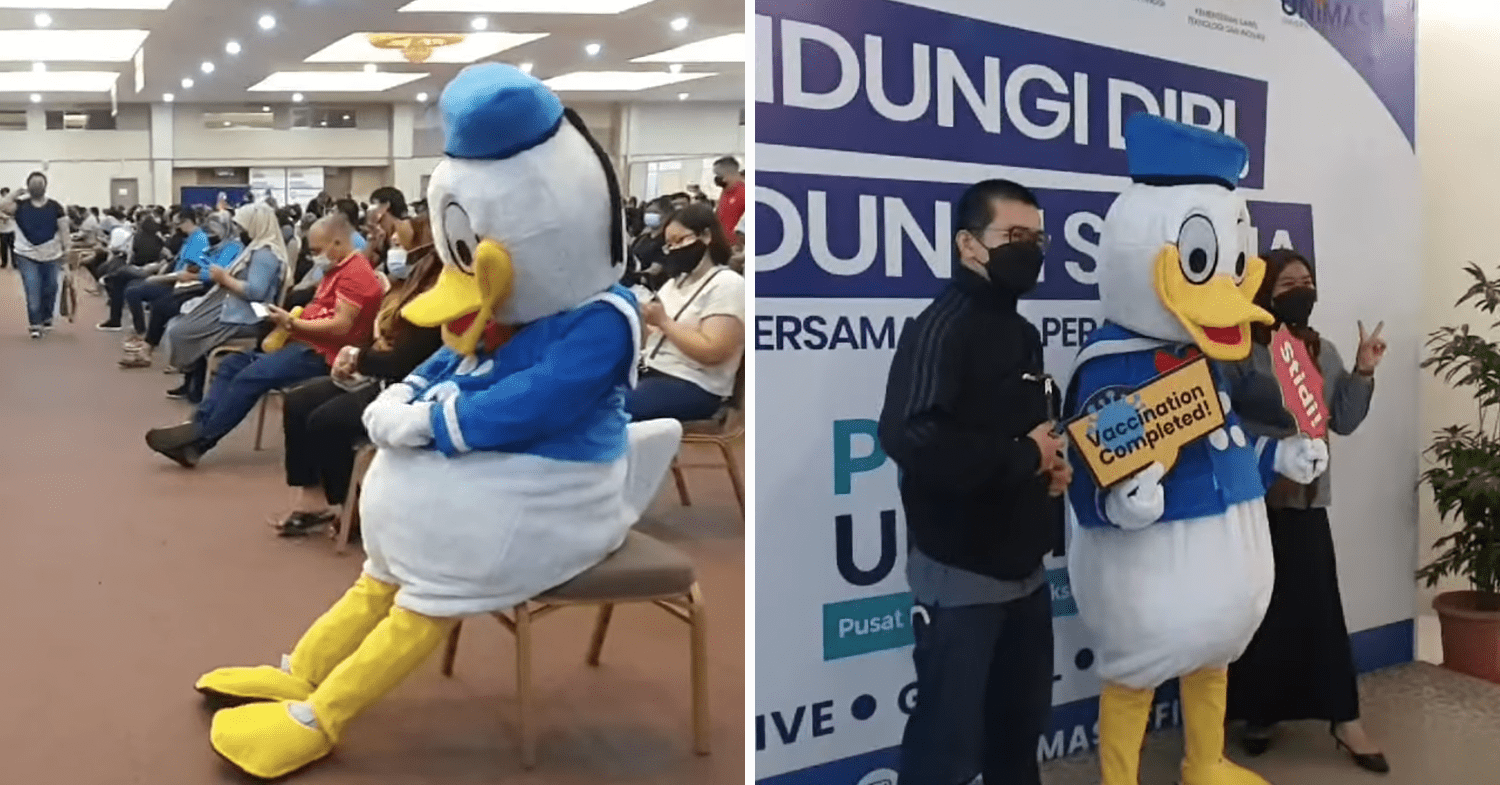 'Donald Duck' graces UNIMAS vaccination centre with his presence
Image credit: Universiti Malaysia Sarawak (UNIMAS)
The Disney character was seen waddling down the aisles of the PPV, taking the time to snap photos with amused staff members. A video shared by UNIMAS on their Facebook account showed vaccination candidates stopping 'Donald Duck' for photo ops too after they got vaccinated.
---
2. Ultraman – even superheroes aren't immune to Covid-19
---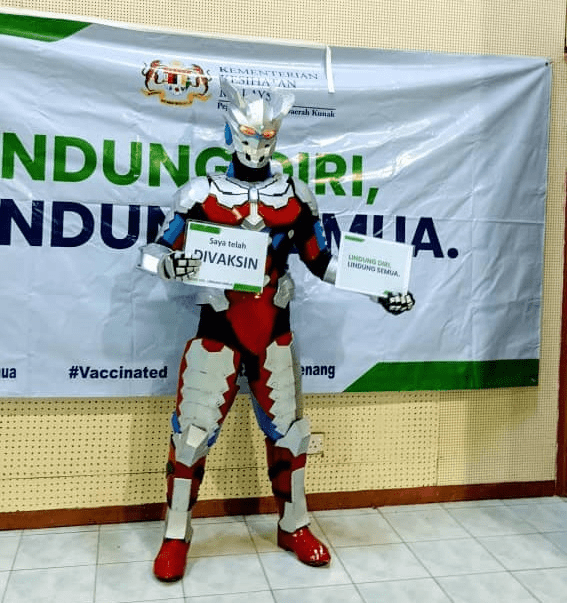 Image credit: Johor Circle 
Showing that even superheroes need to keep safe against Covid-19, Ultraman was spotted at  Dewan Masyarakat Sri Kunak vaccination centre in Sabah on 12th June.  
A video that circulated on Facebook and TikTok showed a frontliner administering a vaccine jab to a man decked out in full Ultraman costume. While his identity is not known – which seems pretty in-character for superheroes – his presence was definitely a head-turning one that had many at the vaccination centre asking for photos, including his vaccinator.
---
3. Sailor Moon – also known as 'SalahMoon' 
---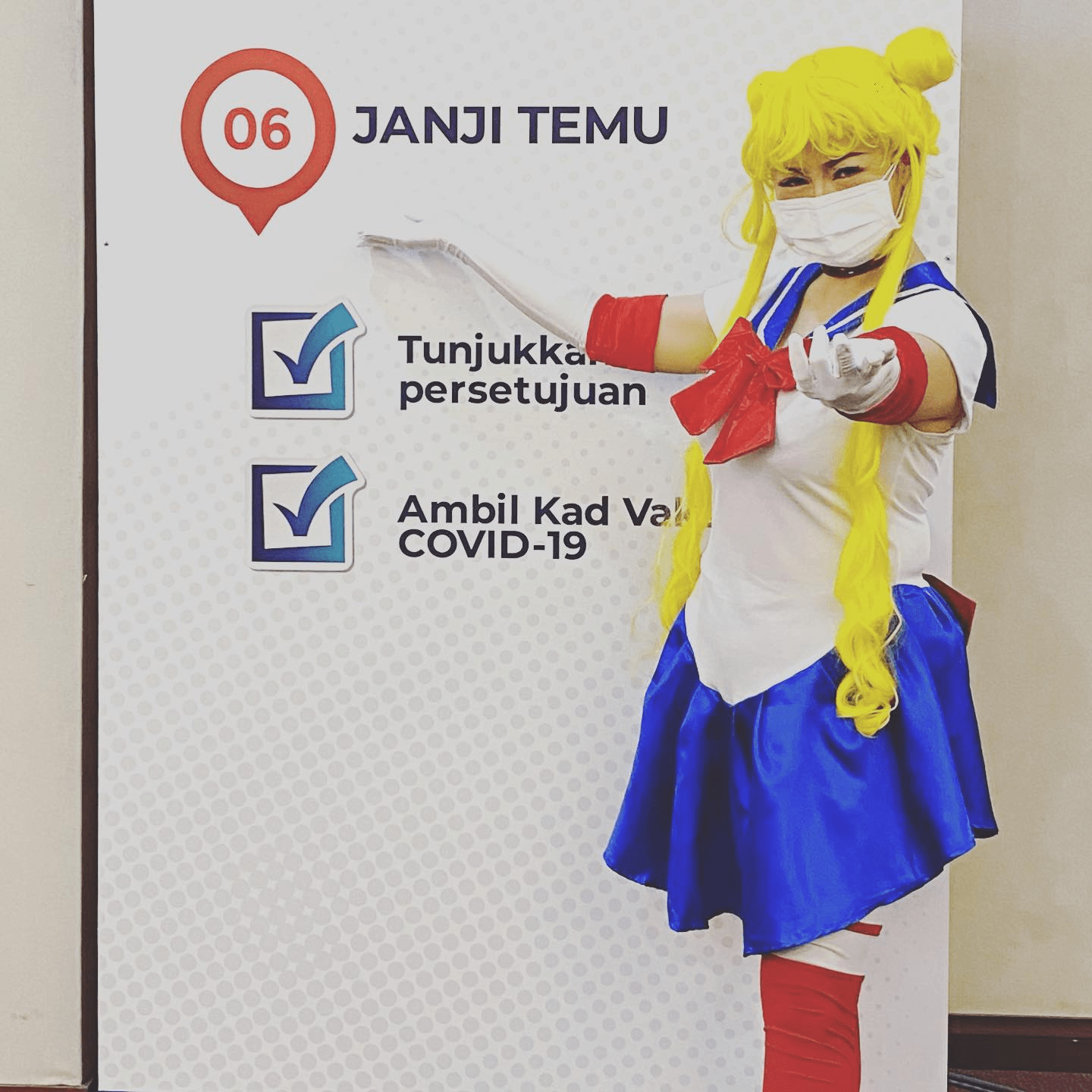 Image credit: Universiti Malaysia Sarawak (UNIMAS)
Bringing another round of smiles to UNIMAS workers and vaccination candidates is this Sailor Moon cosplayer spotted at the vaccination centre on 19th July. Rather than naming herself after the Japanese anime, she did so as a hilarious, Malaysian version of the character: Salah Moon – as UNIMAS shared on their Facebook.

Image credit: Universiti Malaysia Sarawak (UNIMAS)
The woman behind the cheeky name and costume is said to be Ngah Rito Thian, who is one of three women from the team Kepocik which hosts variety programmes on Facebook for their followers. 
---
4. Mickey Mouse – animals, too, need to get vaccinated
---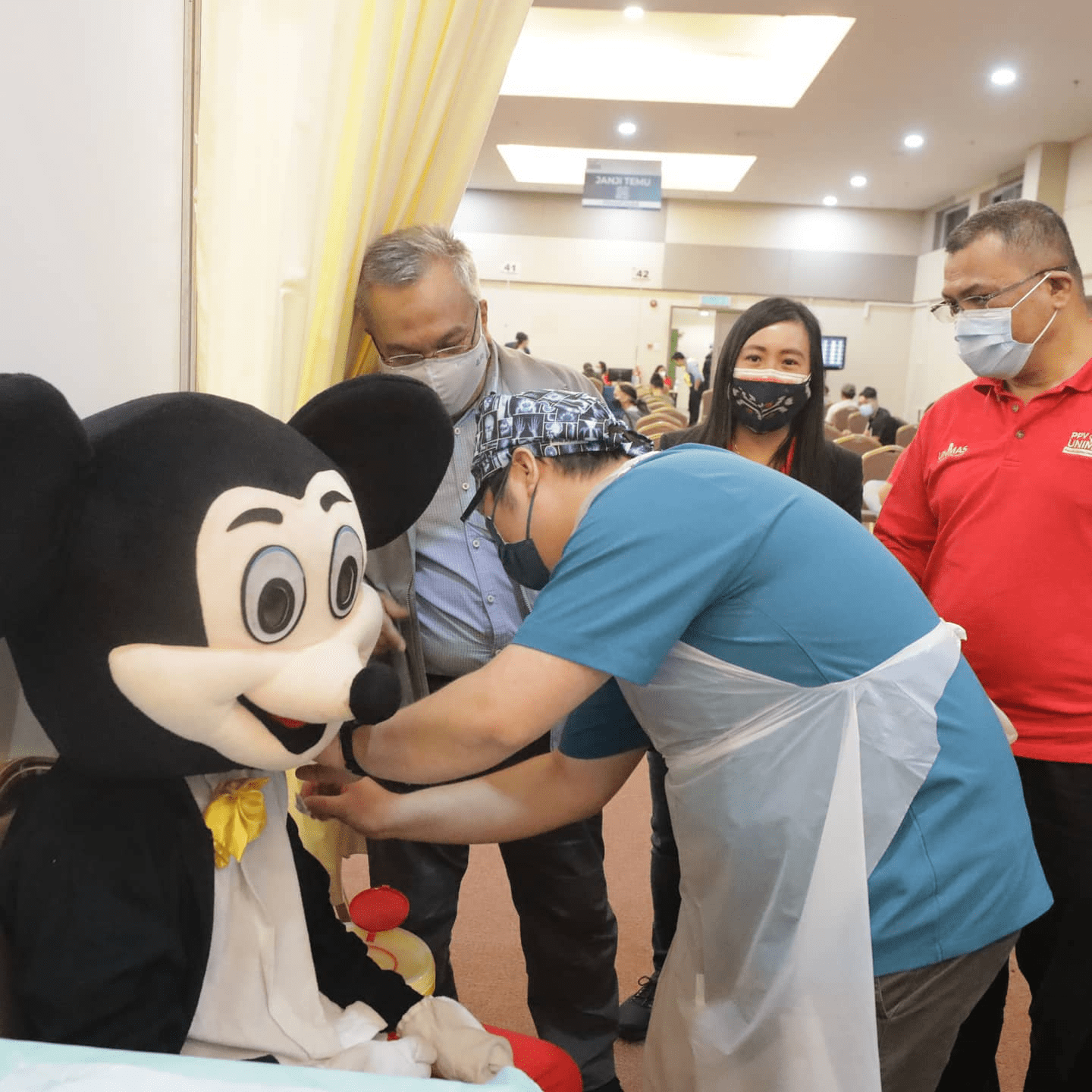 Image credit: Universiti Malaysia Sarawak (UNIMAS)
Sarawakians have, no doubt, been bringing their A-game when it comes to dressing up for their vaccination appointments. Yet another costumed individual was seen at UNIMAS – this time, Mickey Mouse, who was getting his 2nd vaccine dose there.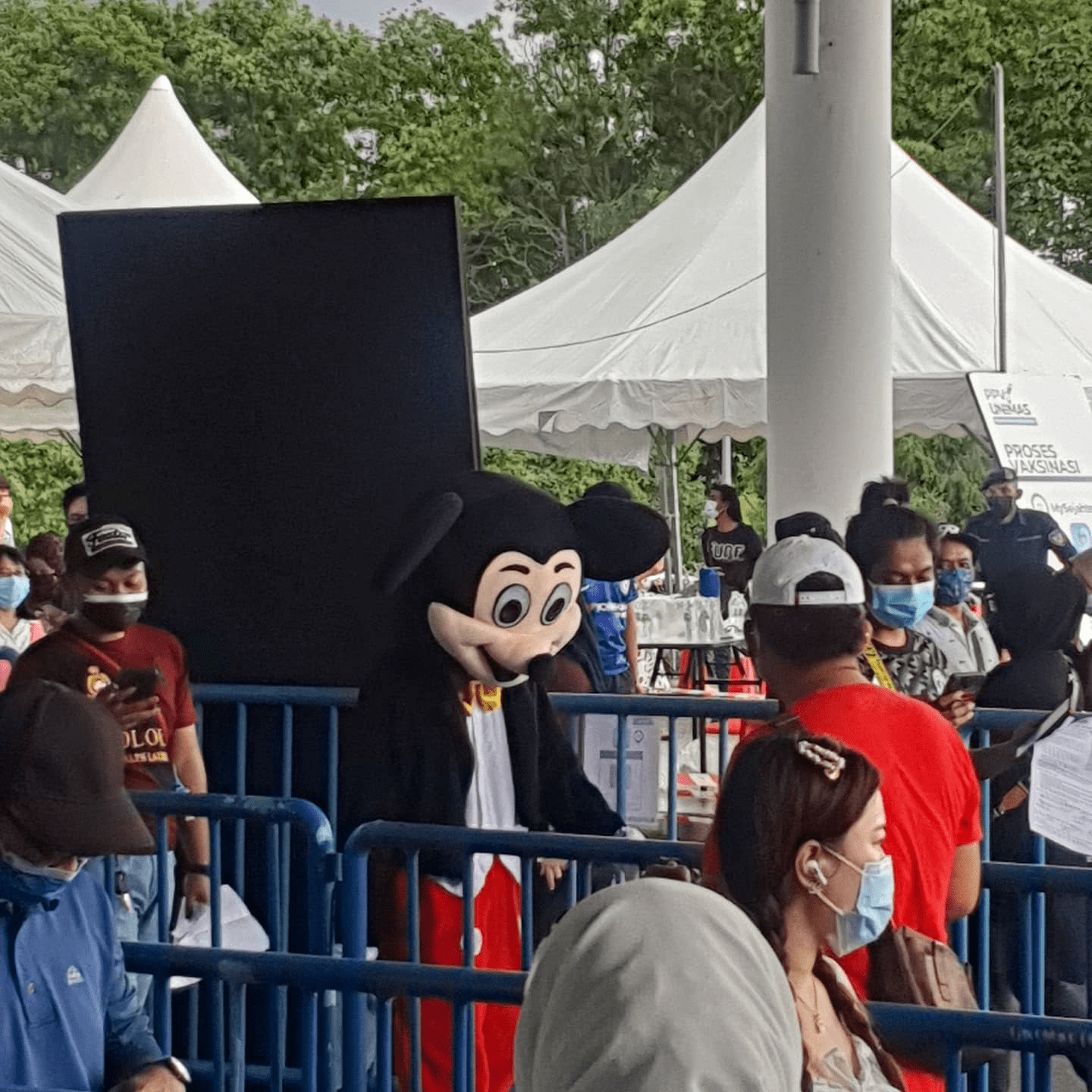 Image credit: Universiti Malaysia Sarawak (UNIMAS)
Offering Disney fans a chance to see the iconic character in the flesh is Mohamad Nurhassrieen Shah Mohamad Hassan, an alumnus of UNIMAS, who took the time to dress up as Mickey Mouse for his vaccine jab on 12th July. 


A netizen commented, "I didn't know that even animals can get vaccinated."
Image credit: Facebook
The sighting had a netizen jokingly saying that he was unaware that animals were included in the vaccination rollout, and some wondering where Minnie Mouse was. With Donald Duck already spotted at a vaccination centre, Malaysians may not have to wait too long for the rest of Mickey Mouse's friends to show up.
---
5. Captain America and Superwoman – an unlikely Superhero duo
---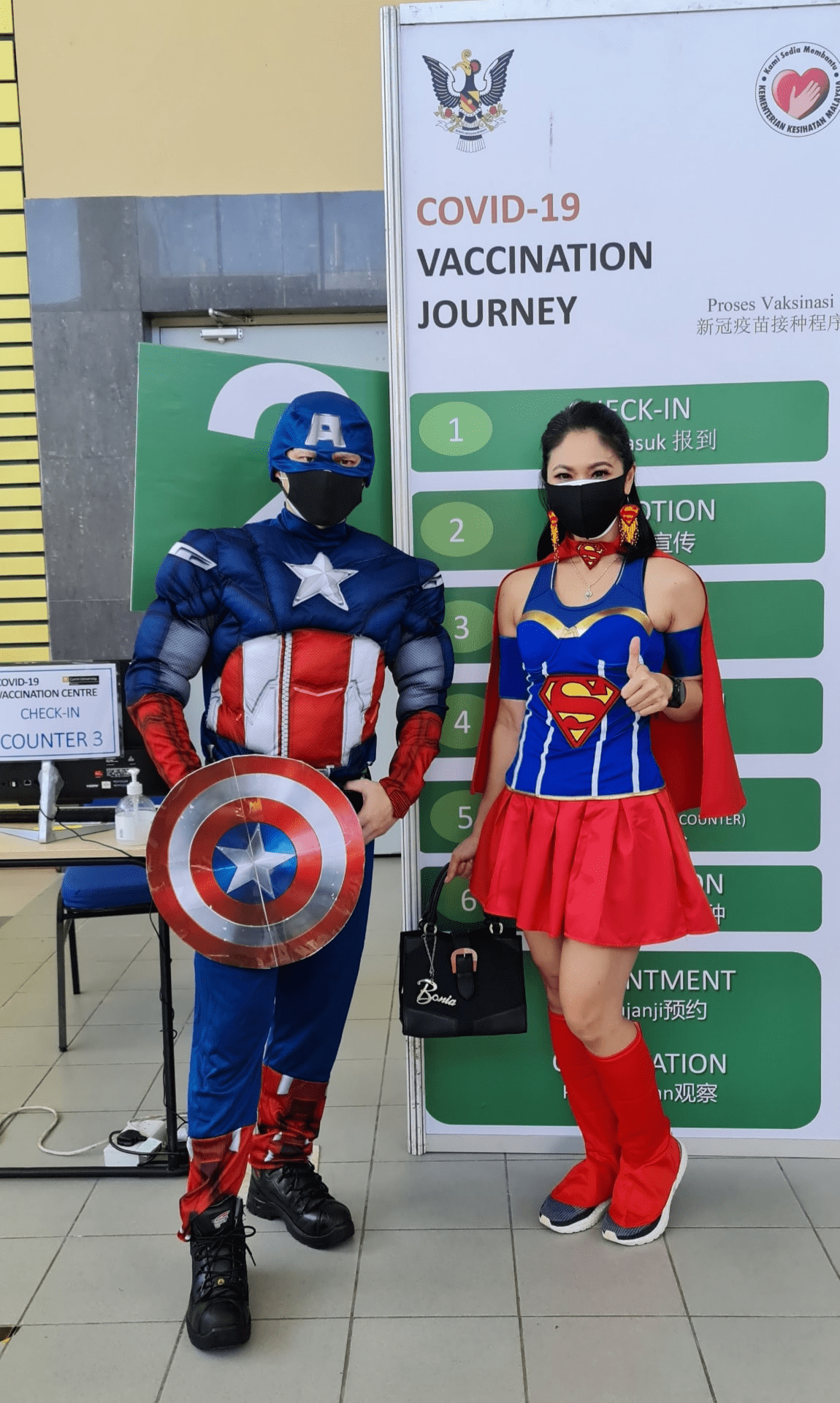 Image credit: Nancy Maria
Followers of Marvel and DC Comics often engage in fanwars over their favourite superheroes. But showing that superheroes can come together for the greater good of the public is this Captain America and Superwoman duo sighting at Curtin University Miri vaccination centre in Sarawak. 
The duo behind the unlikely superhero pairing are Werry Lipi and Nancy Maria. The couple wore the costumes for Werry's vaccination appointment as a challenge. They took to Facebook to share that they would wear the costumes if a photo of Werry wearing several superhero costumes for various marathons received 2,000 likes. 
It's safe to say that the photo reached its goal, as Werry showed up impressively dressed up – and netizens hailing him 'Captain AMirica.' Not wanting him to be all decked out for his vaccination appointment alone, Nancy also donned a Superwoman costume while accompanying him. 
---
6. Naruto – ninja running from Covid-19
---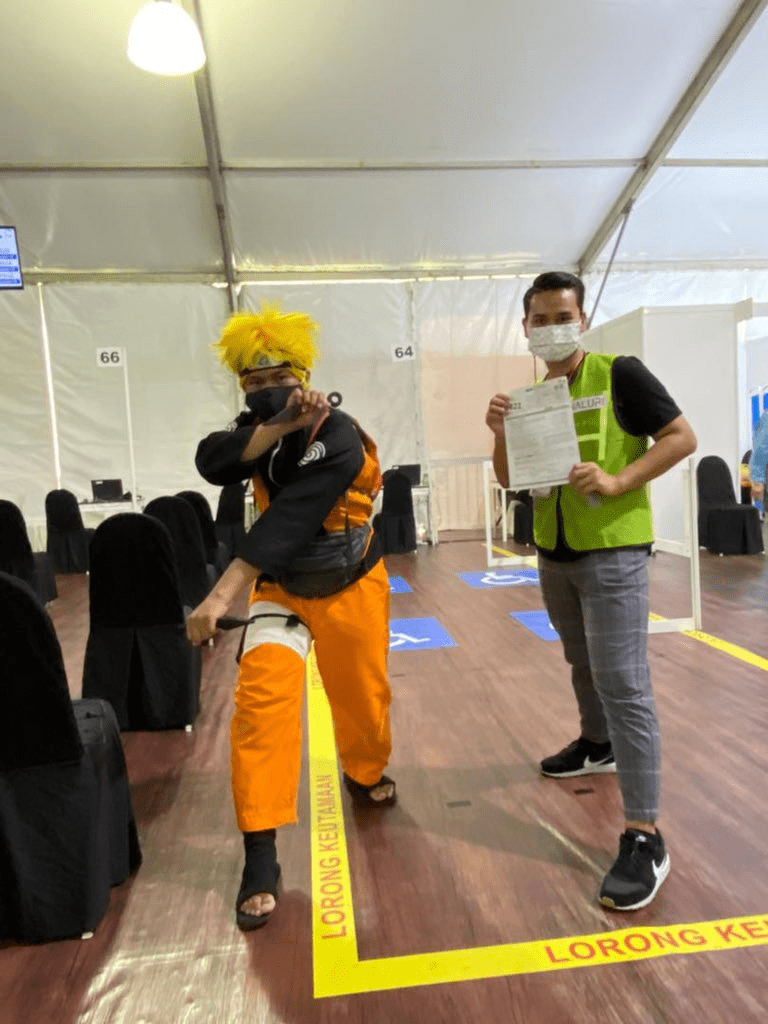 Image credit: @Safwnsmt
Fans of Japanese manga and anime series, Naruto, were in for fun while getting their vaccine jabs at Bukit Jalil Stadium, currently operating as a vaccination centre, on 30th June. A man cosplaying as the well-known character got vaccinated there, much to the delight of Malaysians missing out on Comic Fiesta conventions and cosplaying before the pandemic struck. 

Image credit: @Safwnsmt
It's safe to say that PPVs have become the next best place to pull off next-level outfits as we're all minimising our outdoor excursions now – as the Malaysian 'Naruto' was a welcome sight by individuals there gleeful to spot his familiar orange-and-black garb and striking yellow locks. 
---
7. Iron Man – suiting up and masking up for the jab
---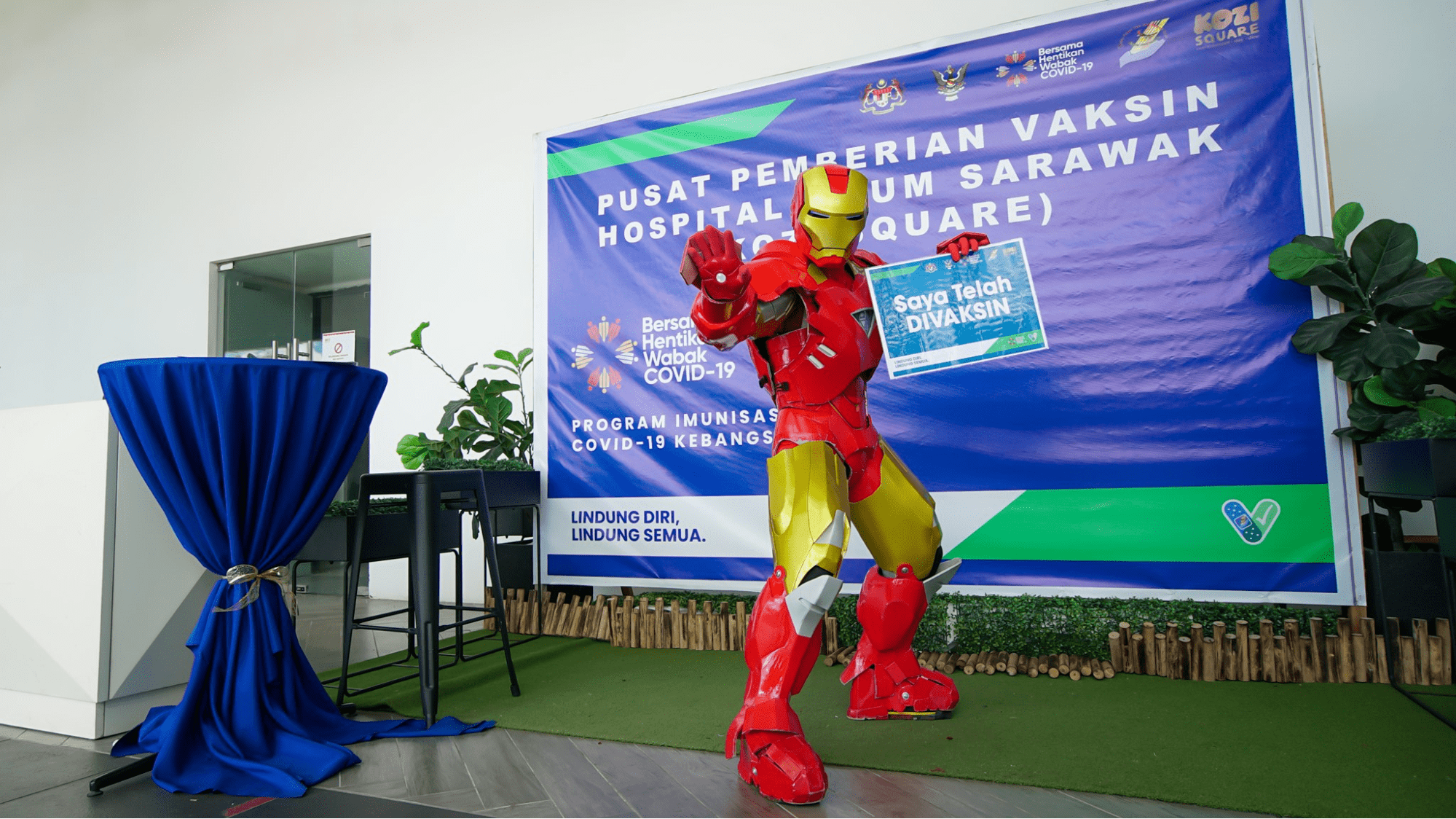 Image credit: KOZI Square
Mohd Syah Nizam Rajap, 32, was behind this legit Iron Man costume at the vaccination centre at Kozi Square in Sarawak. He ditched his regular clothes for the well-known Marvel character's eye-catching armoured suit to raise public awareness on getting vaccinated against Covid-19. 
He also hoped to bring cheer to frontliners, volunteers and members of the public at the vaccination centre, as reported by New Straits Times.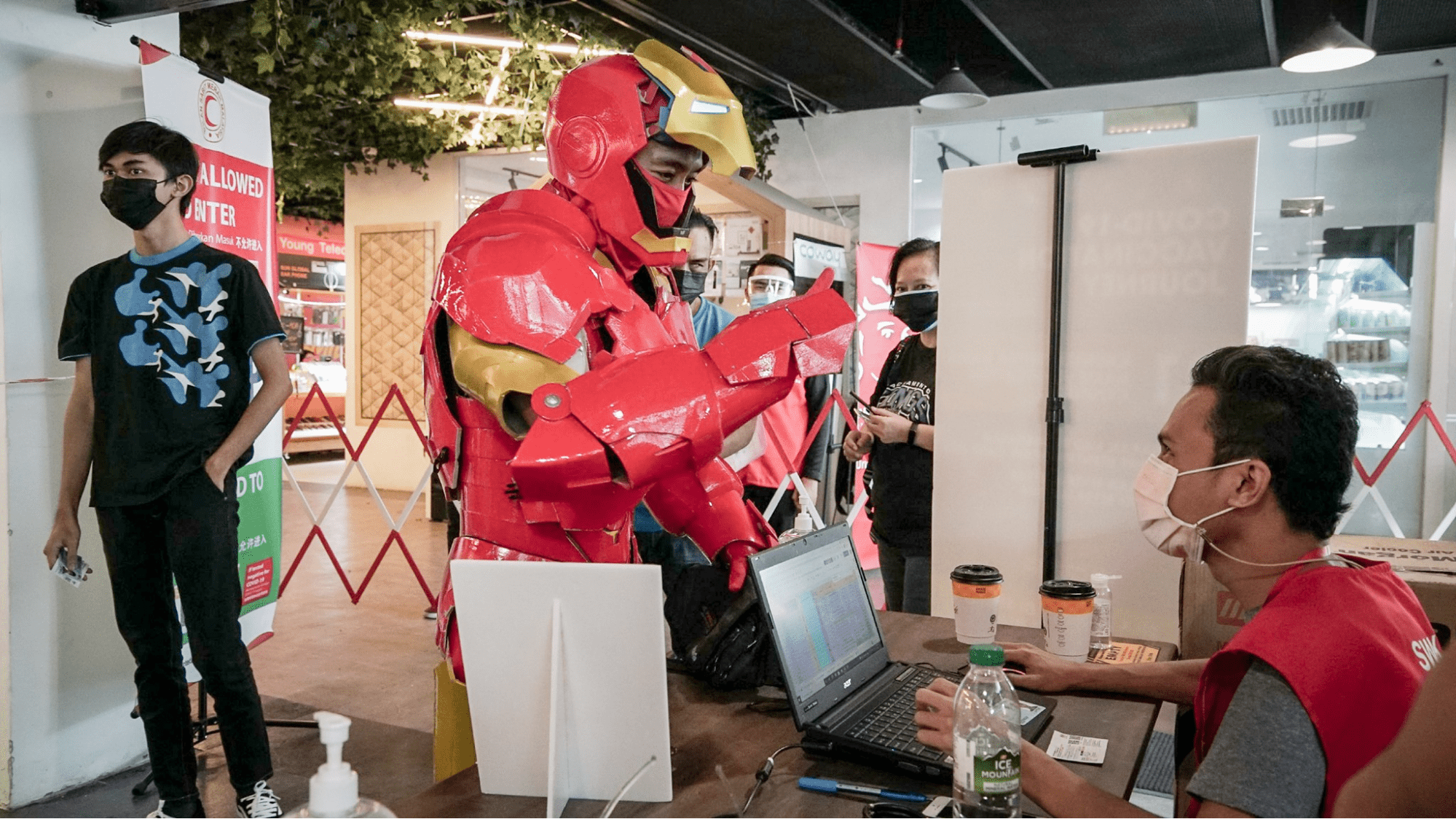 Image credit: KOZI Square
Showing that he's just a regular guy, trying to keep safe like the rest of us during the pandemic, the 'Iron Man' was seen wearing a matching red face mask under his helmet.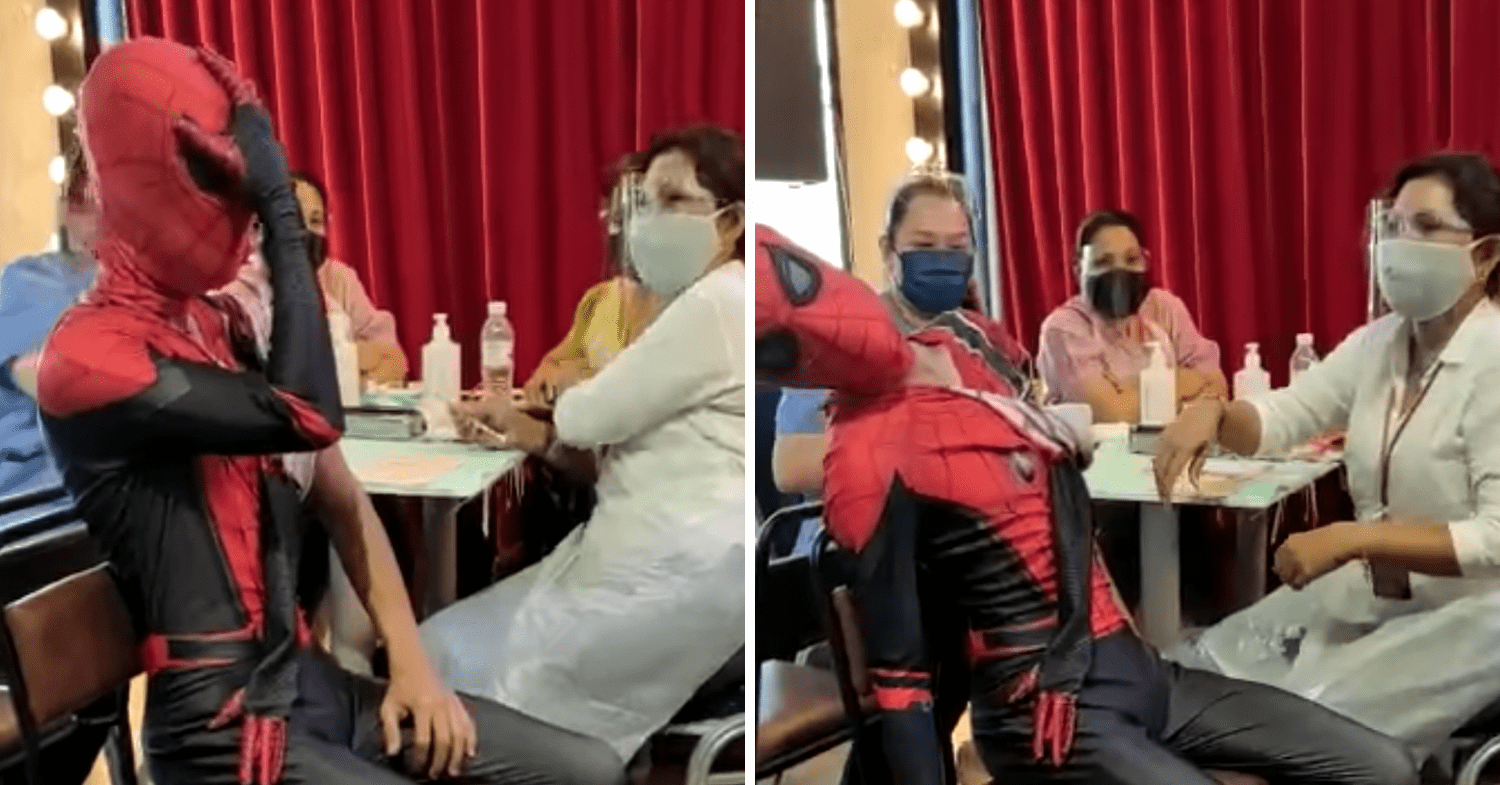 'Spider-Man' entertains frontliners and volunteers at the vaccination centre
Image adapted from: Michael Lim 
This wasn't Syah's first cosplaying rodeo either. He also wore a Spider-Man suit to his first vaccination appointment at the same location. A video shared by a netizen on Facebook showed him donning a Spider-Man costume, playfully acting afraid of his vaccine dose and pretending to faint right after.
---
8. Star Wars – may the antibodies be with him
---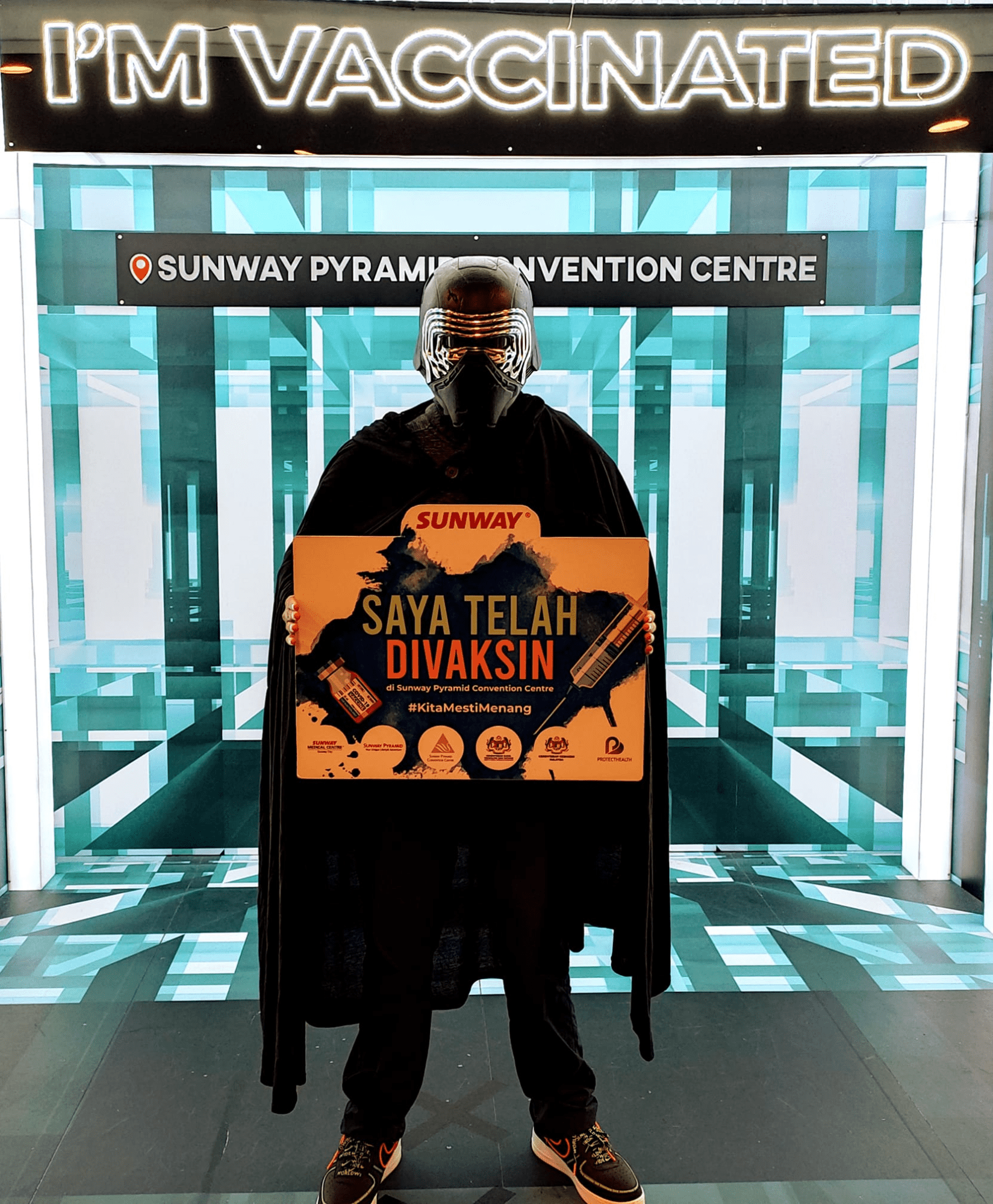 Image credit: Amer Alif Ameran
Star Wars is known for its cult following – and it shows, with several characters from the popular cult blockbuster making an appearance at vaccination centres across the country. 
Passionate individuals who're part of the Facebook group ​​Official Star Wars Malaysia Fan Club (SWMFC), have been sharing their impressive costumes there – with characters such as Kylo Ren, Jedi, and the Mandalorian spotted.
While some are seen in full gear, and others with their lightsabers and helmets that make for some next-level face protection – all the same, these fans have been showing up to get vaccinated against Covid-19 in style.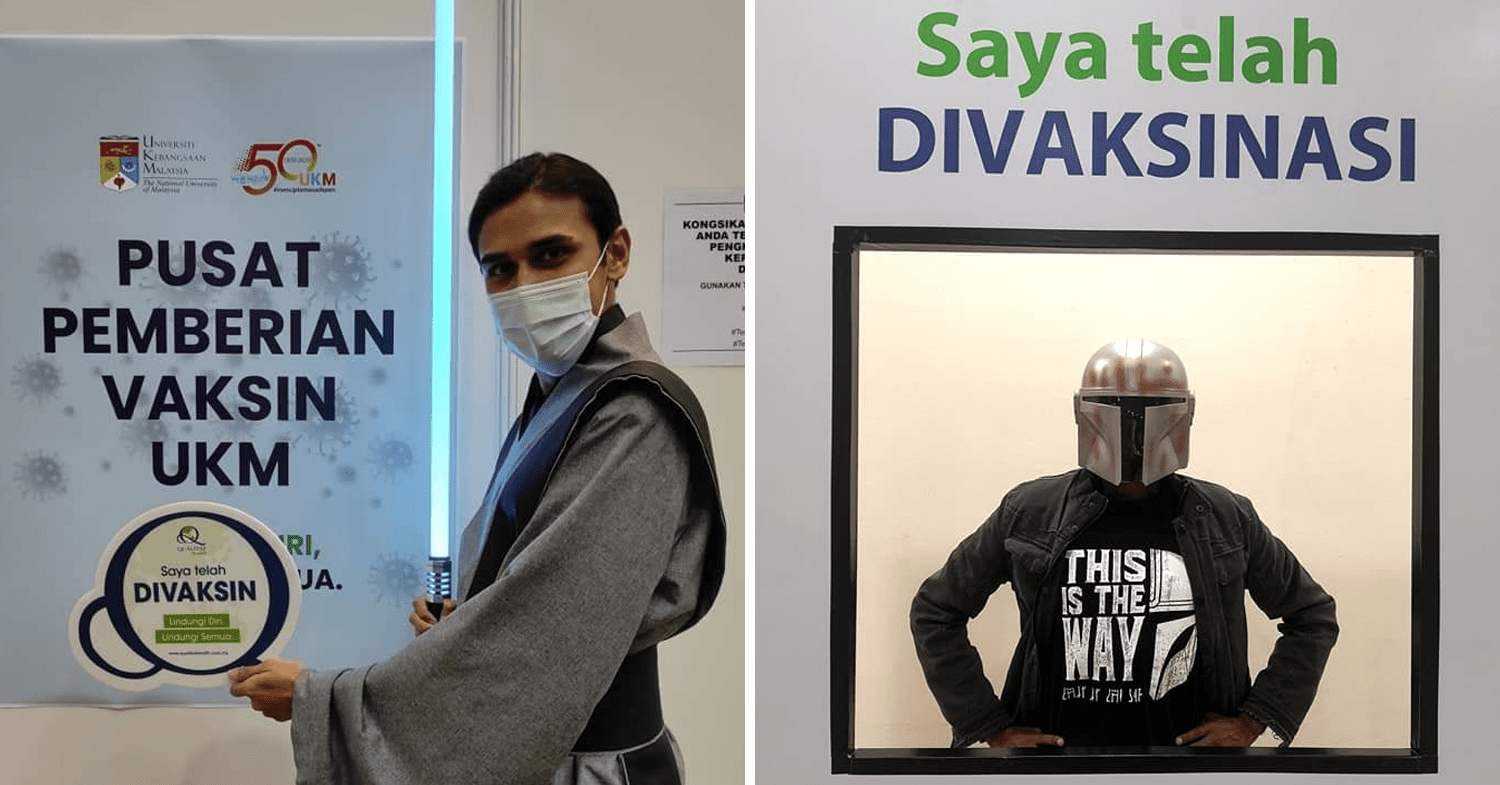 Image adapted from: Jeremy Yong and Nav Arun
---
9. Black Panther – even Wakanda's protector needs to queue up
---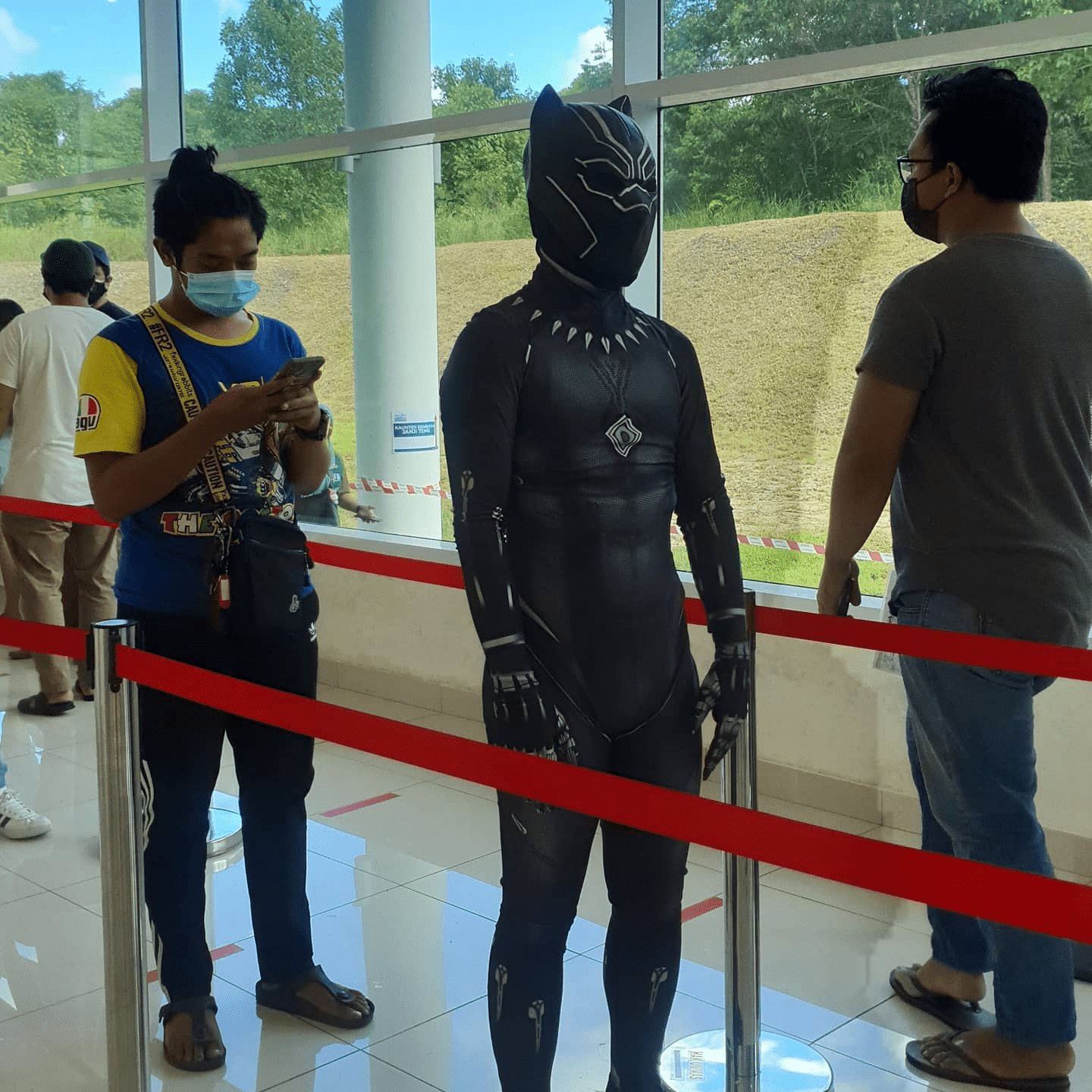 Image credit: Universiti Malaysia Sarawak (UNIMAS)
It's not just Disney and Japanese manga characters at UNIMAS – Black Panther also 'left' Wakanda to drop by UNIMAS to get vaccinated. 


A netizen commented, "Wakanda's emperor also needs to line up? Awesome, this is called equality."
Image credit: Facebook
Several netizens have taken to joking on UNIMAS's sharing of the sighting on Facebook that he wandered too far from home in fictional Wakanda – and others saying that even the royal head of Wakanda had needed to line up to get vaccinated.
According to this UNIMAS Facebook post, the man behind the Black Panther costume is Mohammad Hassarudin Rajap, who is part of Sindang Samarahan Superhero Team – a group of individuals who dressed up in costumes to entertain crowds prior to the pandemic. This explains the presence of Donald Duck and Mickey Mouse, also part of this team, who are all playing their parts in the fight against Covid-19 by getting vaccinated while having fun with it. 
---
10. Dinosaur – travelling through time to get his jab
---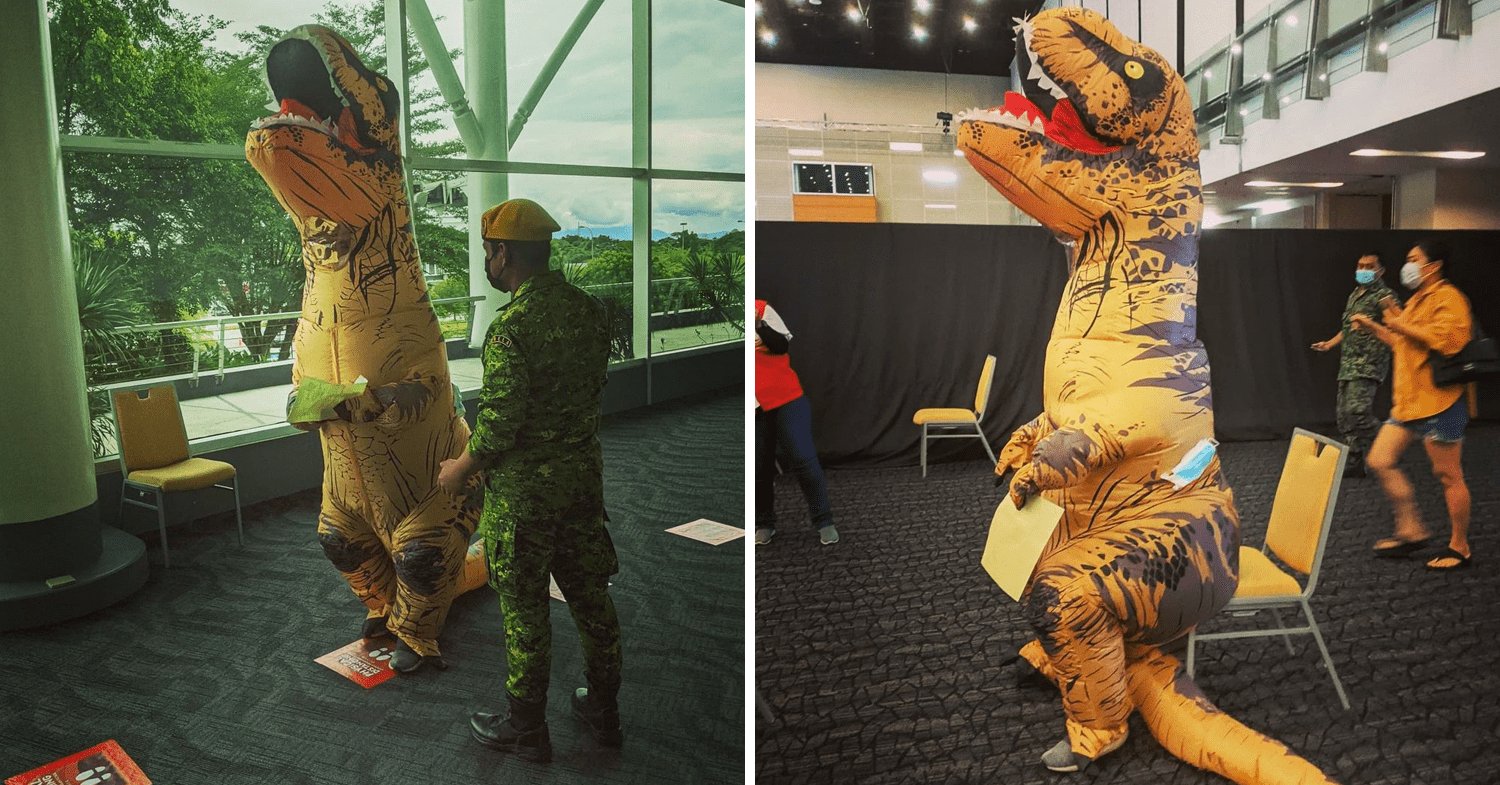 Image adapted from: @kennysia
Among the superheroes and animated characters as next-level personal protective equipment (PPE) is this man's creative attempt to stay safe against Covid-19 – by donning a dinosaur suit to his vaccination appointment at Borneo Convention Centre Kuching (BCCK).

Image adapted from: @kennysia
Kenny Sia, who wore the hilarious costume to get vaccinated, was also part of a cheeky 'Guide To Vaccination For Dinosaurs,' which went viral online. No doubt, many in person and online were tickled by the prehistoric, mammoth creature sighting at the PPV.   
---
11. Clown – a shoutout to individuals affected by the pandemic
---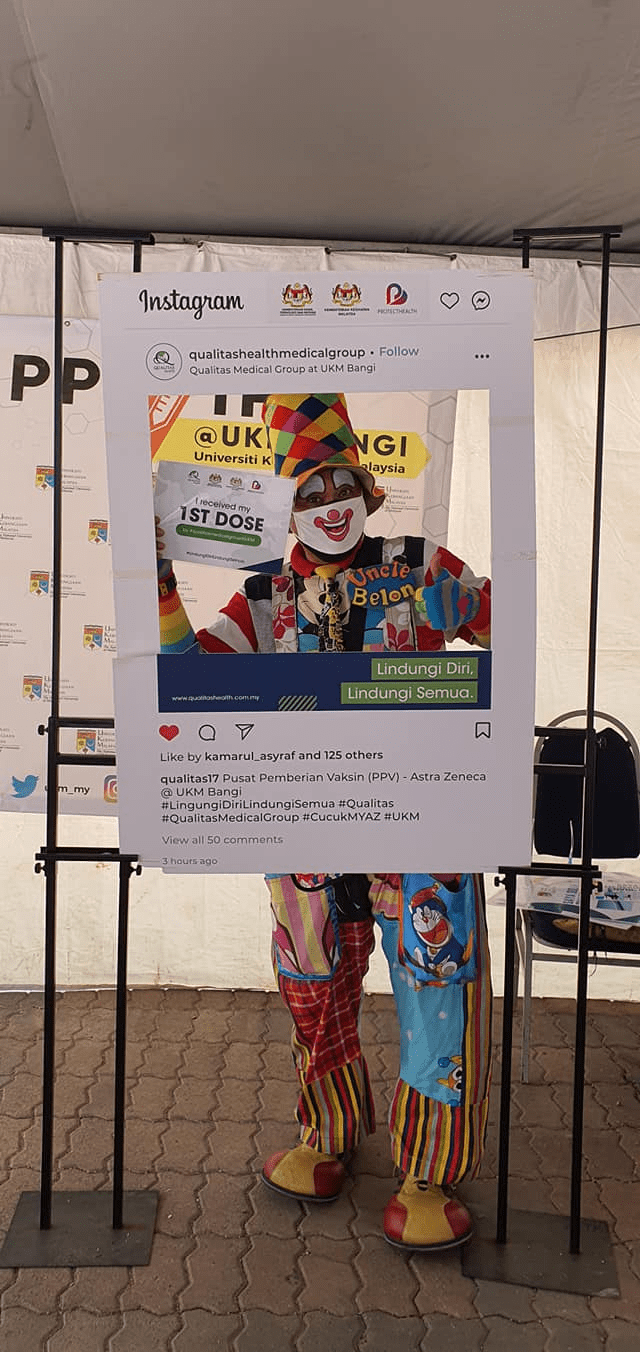 Image credit: Clownbadutmagic Uncle Belon
Clowns are not hard to spot at events. But that's all changed with the pandemic putting a pause on social gatherings. Deciding to bring back fond memories for Malaysians and himself is Mohd Rizal Yusoff, who dressed up head-to-toe in a clown costume while at Universiti Kebangsaan Malaysia (UKM) vaccination centre.
He used to work as a full-time entertainer bringing smiles to individuals around him, but he had to switch jobs after his career was affected by the pandemic, as reported by Sinar Harian. He opted to don his costume once again in hopes of encouraging other clowns who had to put aside their costumes due to the pandemic like him, and cheer up frontliners at the PPV. 
---
Our Malaysians vaccination costumes tiering chart
---
Based on what we've seen so far, here's a tiering chart that we've done.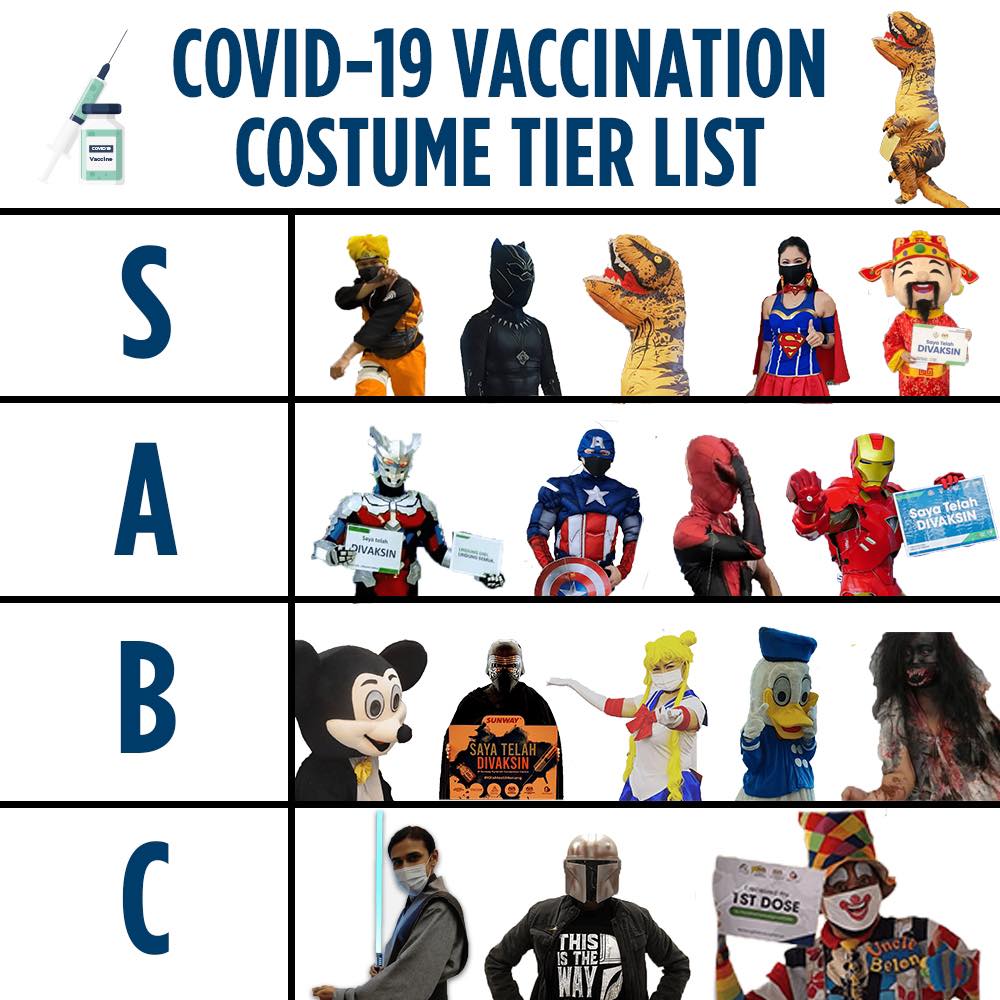 ---
Costumes Malaysians have worn to vaccination appointments
---
Our frontliners have been working hard to ensure that we can get vaccinated against Covid-19. So we applaud the creative Malaysians who have been bringing smiles to workers and the public at vaccination centres with their next-level costumes. 
Rest assured, those wanting to join in on the fun for their vaccination appointments should ensure that their costumes are vaccine jab-friendly.  
Read more here: 
---
Cover image adapted from: Universiti Malaysia Sarawak (UNIMAS), Universiti Malaysia Sarawak (UNIMAS) and Universiti Malaysia Sarawak (UNIMAS)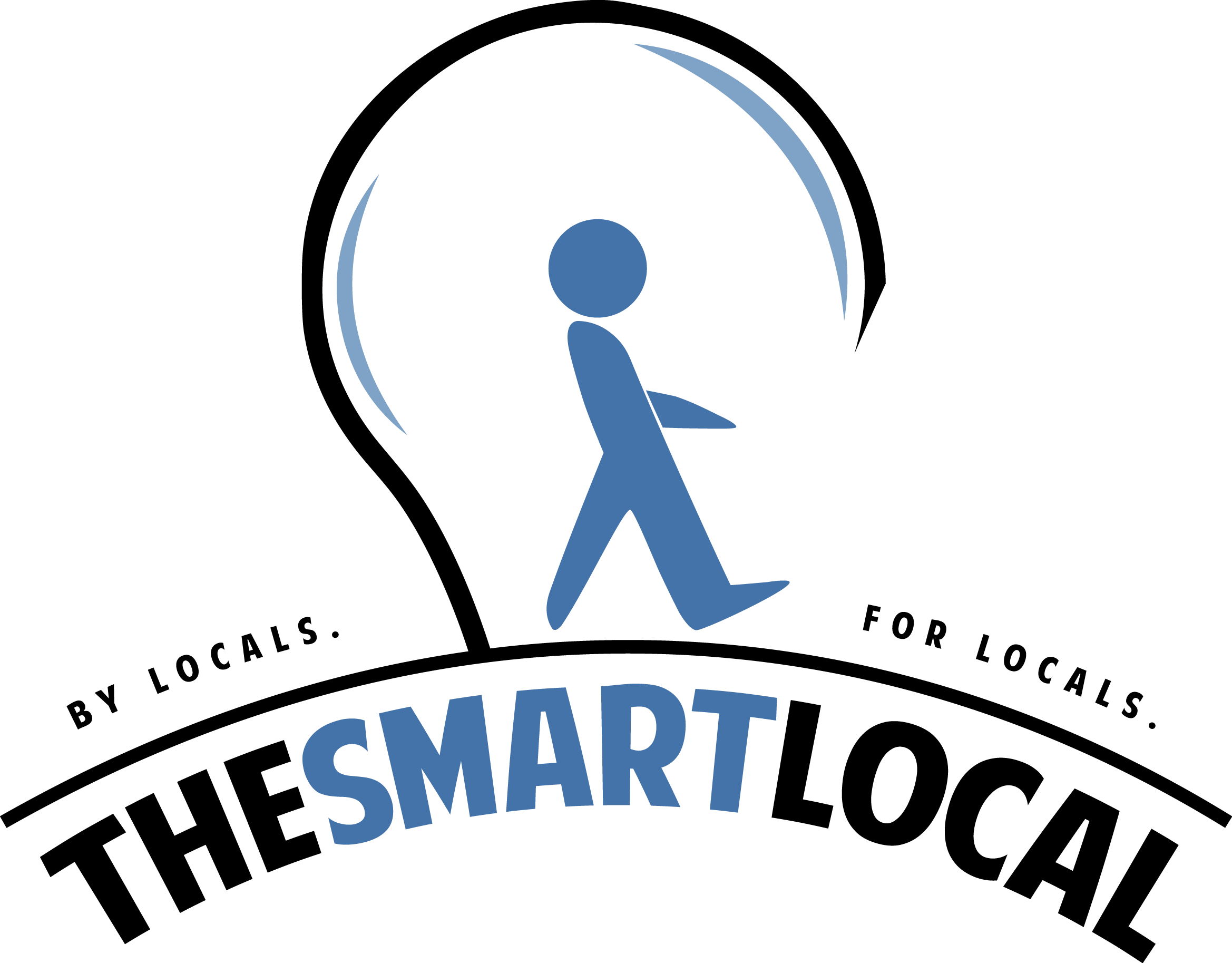 Drop us your email so you won't miss the latest news.