Rolling clouds seen across Malaysia
---
Malaysia has seen her share of weather phenomena, with blazing red skies and double rainbows spotted in Penang and Kedah not too long ago during the MCO. Now, another unusual cloud sighting is being reported: masses of rolling clouds hovering low to the ground and stretched out like a bridge in the skies. 
With how breathtaking the whole thing looked, many Malaysians have been sharing photos of this unusual weather occurrence that had been taking place in Sarawak, Putrajaya and Cyberjaya since 18th October 2020. 
---
Sarawakians report rolling clouds in skies
---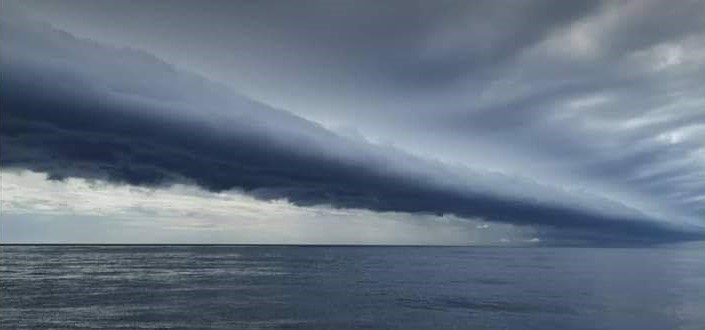 Image credit: @Sarawak_Aritok
The sighting of these rolling clouds was first reported by Twitter user @Sarawak_Aritok on 18th October 2020. The 4 photos that the account shared showed a dark mass of clouds sweeping across the skies in Sarawak. 
With rainfall with thunderstorms reported across Malaysian states – and monsoon season still in full bloom since September – heavy rain clouds aren't a rare sight during this time of the year. But what's different this time round is that these rolling clouds looked like they were stretching for miles ,with no breaks in between at all.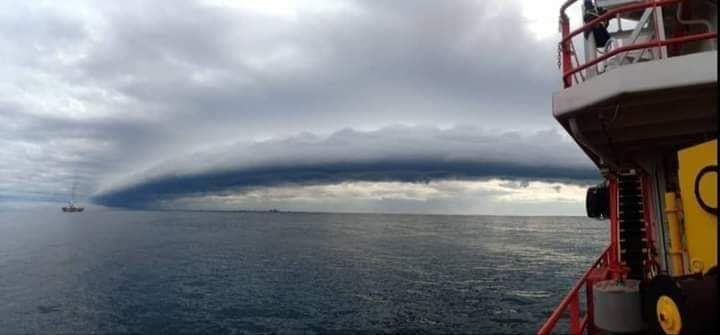 Image credit: @Sarawak_Aritok
Another Twitter user, @amalvellous, also came out to share a video that her husband recorded in off-shore Miri a day later on 19th October. The 6-second clip showed the same rolling clouds in the skies. 

Image adapted from: @amalvellous
---
Putrajaya and Cyberjaya also see their share of unique cloud formation
---

Image credit: @abamihsan 
Those in Peninsular Malaysia have also been seeing their share of the same unusual-looking clouds. This included those living in Putrajaya and Cyberjaya, who have been posting photos of similar rolling clouds in their respective towns too.
In response to @Sarawak_Aritok's tweet, Twitter user @abamihsan shared several photos of a dark stretch of heavy clouds over Putrajaya Lake on 19th October. With the clouds reflected off the lakes, it looked almost like a giant waterfall.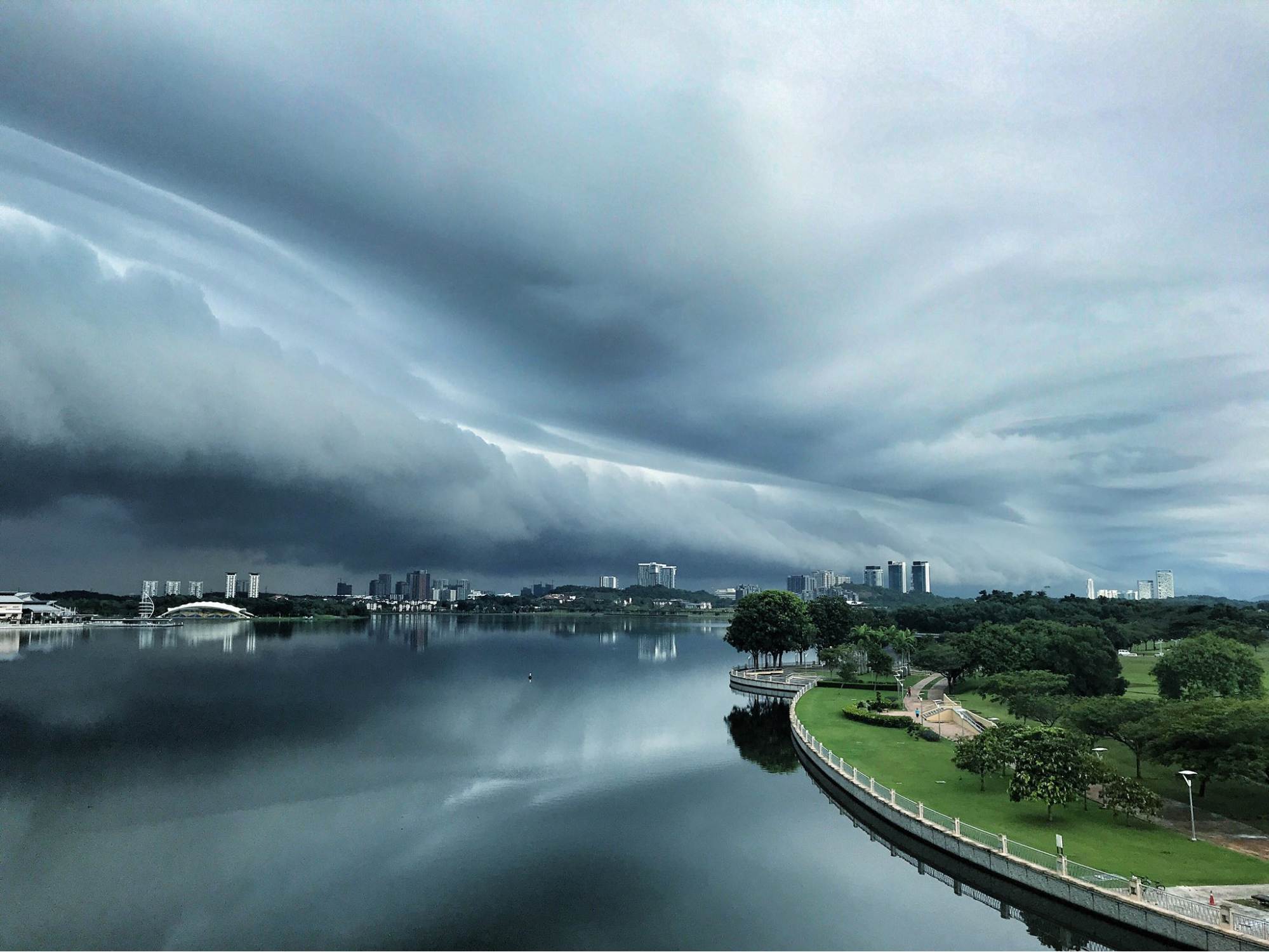 Image credit: @abamihsan 
Instagram user, @cyberjaya.info, also shared photos of the rolling clouds just next door in Cyberjaya on 20th October. In a wide bird's-eye shot of the town, the clouds are photographed hovering over apartment buildings and a stretch of road early in the morning.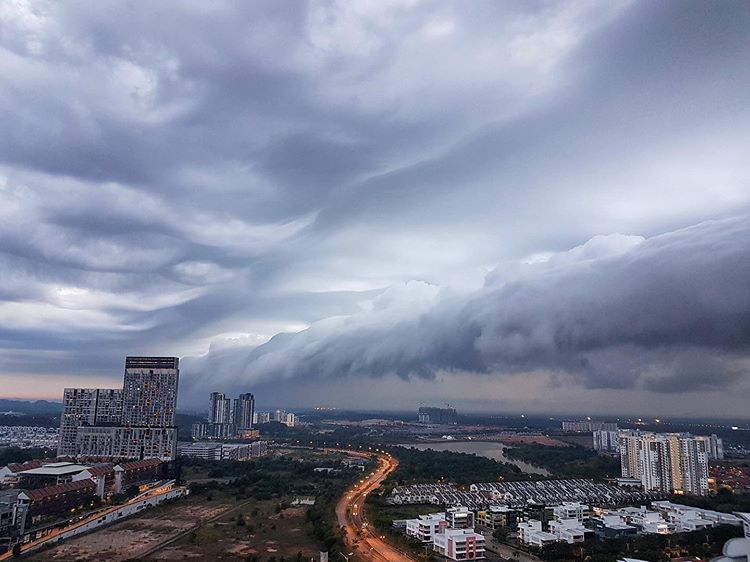 Image credit: @cyberjaya.info
Another shot of the rolling clouds in Cyberjaya, also shared by @cyberjaya.info, showed the ominous-looking clouds hanging low in the skies just ahead of a traffic light, giving off major apocalyptic vibes.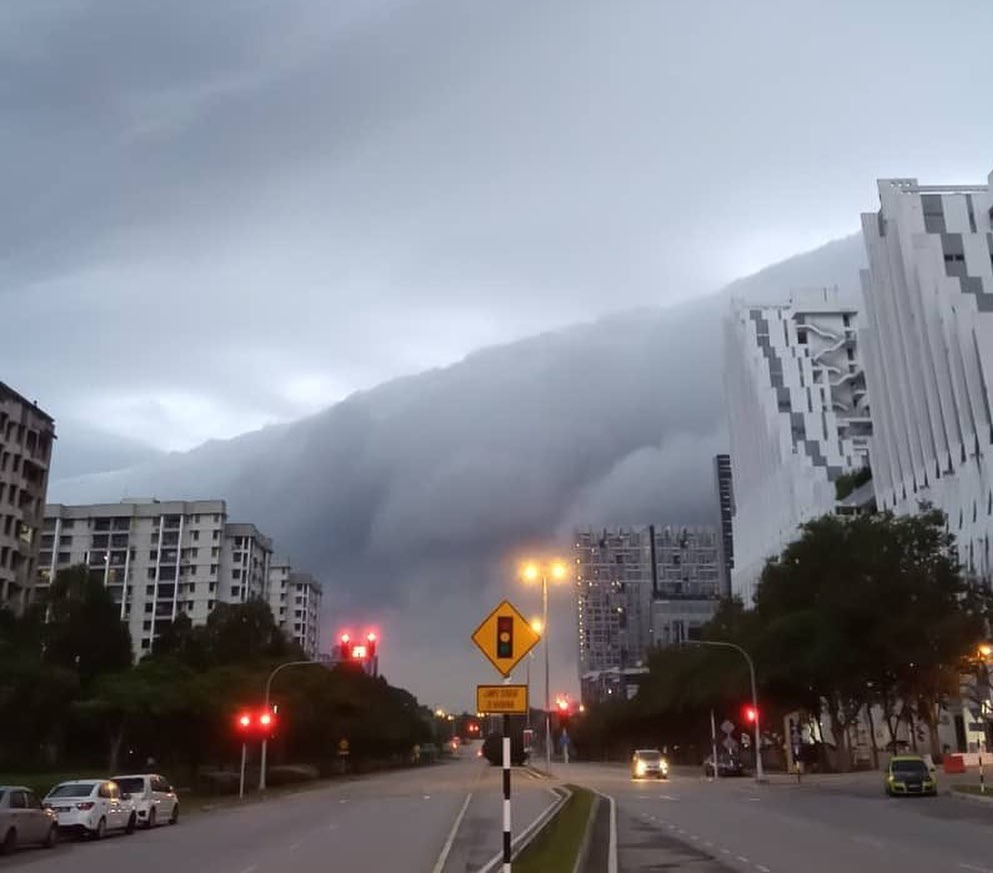 Image adapted from: @cyberjaya.info
---
Netizens left in awe over rolling clouds
---
The rare sighting left many netizens in awe, with Sarawak_Aritok's Twitter post garnering over 16,000 likes at the time of writing. Many came out to associate the clouds with things they were familiar with, such as the Flying Nimbus from Dragon Ball, to explain the phenomenon. 
But others just came up with creative guesses as to what it could be, with Twitter user @mrkalili commenting in all caps: "CLOUD BRIDGE".


Image adapted from: @mrkalili 
Many more were just stunned by the sight, as aptly put by netizen @roazlinakarim_, who tweeted, "I would literally [sob] like a baby while trying to take a picture of it. Too beautiful to handle." 


Image adapted from: @rozalinakarim_
While it's a rare sight for many, Twitter user @itsclrkhns said that the unique cloud formation wasn't as abnormal as many made it out to be, tweeting, "It's pretty normal when you live just right next to the sea and it's monsoon season. But that cloud formation still looks amazing, scary and beautiful." 


Image adapted from: @itsclrkhns
---
Rolling clouds seen across Malaysia
---
While Malaysians are used to seeing rainfall and heavy clouds, especially during this time of the year, these rolling clouds are a less-than-usual sight. According to many, these rolling clouds may probably be a case of squall line, which indicates a cold front and the presence of heavy rainfall, lightning and winds, or even morning glory clouds or roll clouds. 
But whatever it may be, it's pretty darn cool and leaving us in awe of nature once again. 
Read more news in Malaysia here:
---
Cover image adapted from: @abamihsan 
Get more stories like this!
Drop us your email so you won't miss the latest news.