Papan in Perak
---
When we think of attractions in the state of Perak, the bustling Concubine Lane and imposing Kellie's Castle come to mind. Just a short distance from these must-visit spots is Papan – a single-street town that's home to a row of forgotten heritage shophouses with a storied history. 
In stark contrast to the well-preserved historic structures in Ipoh, just a 30-minute drive away, the shophouses in Papan are mostly abandoned and shrouded with thick foliage. But the town is much more than just a graveyard of buildings. 
Uncover over a century of history, a former World War II clinic and an istana built in the 1890s when you drop by this lesser-known attraction in Perak. 
---
Long-forgotten, pre-war shophouses
---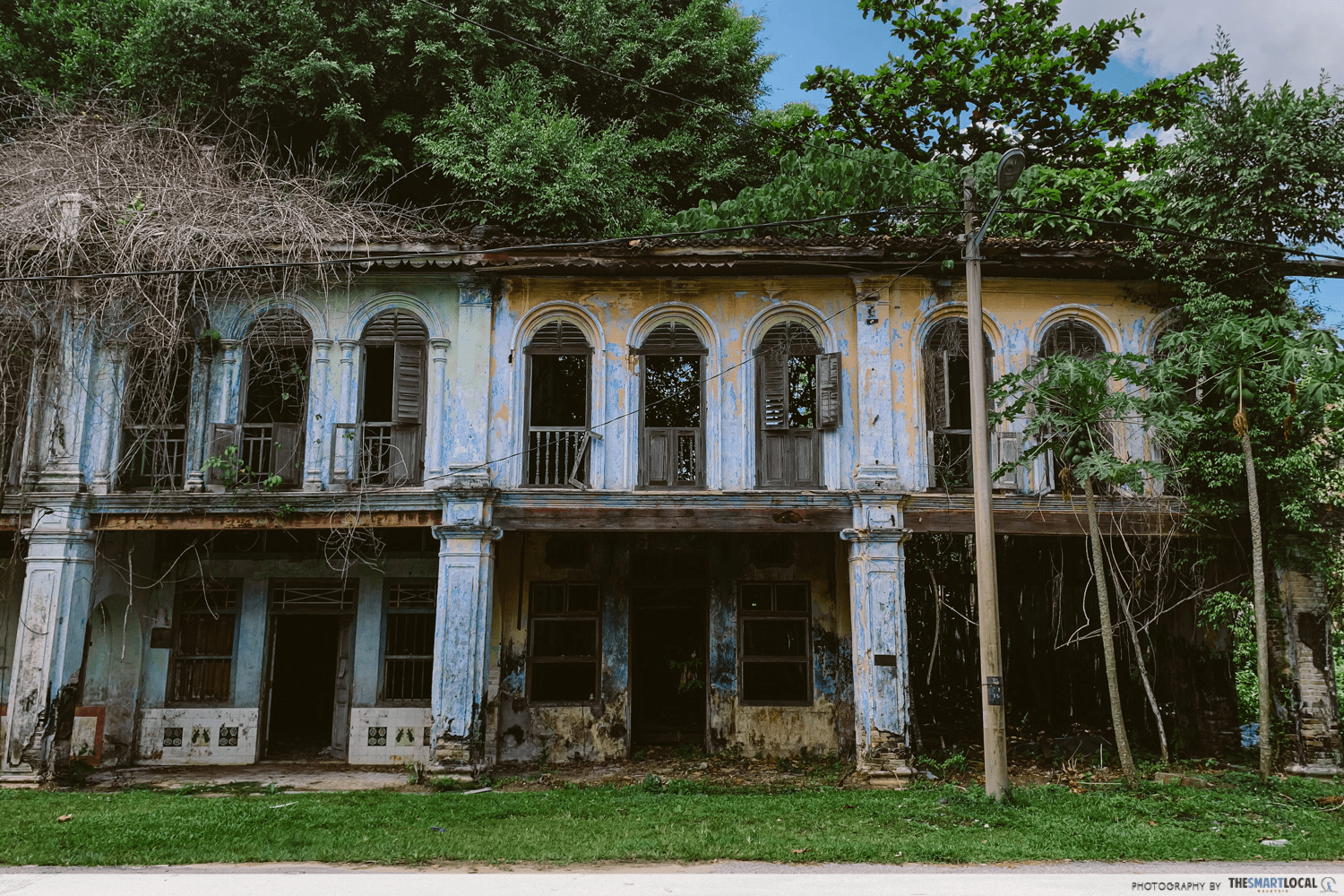 The word "post-apocalyptic" might come to mind when you arrive in Papan.
Not unlike the Straits Eclectic-style shophouses in George Town and Kuala Lumpur, there are at least 30 shophouses to be discovered in the quiet town – which comprises a single Main Street lined with these structures, and a couple of diverting alleys leading to timber houses.
However, most of the pre-war buildings here are missing doors and windows. Not to mention, many of their roofs are crowned with lush foliage, signalling an absence of occupants.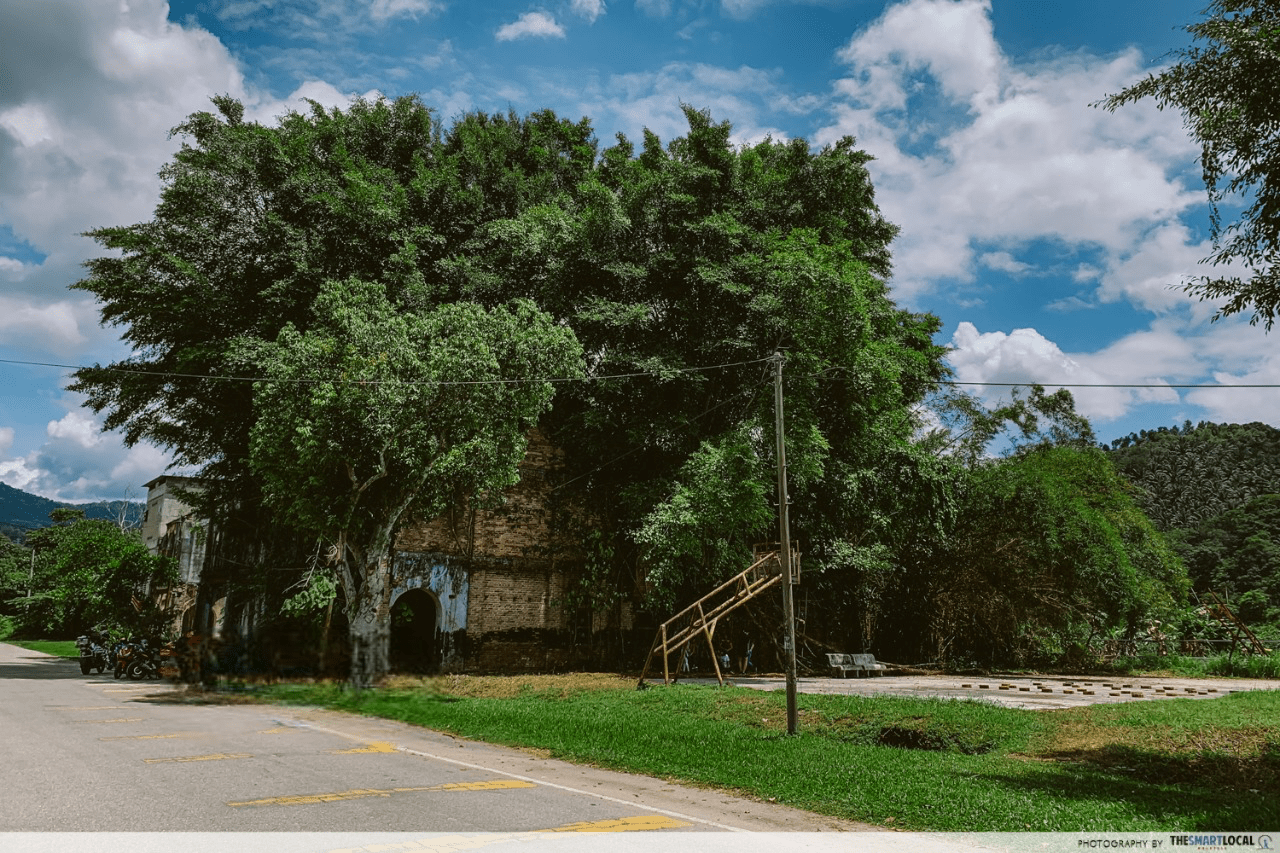 A shophouse, to the left, shrouded by trees and a basketball court to the right.  
A stroll through the town might have you wondering what secrets the gutted, uninhabited buildings hold. But there's a sign on a shophouse facade warning curious visitors of falling objects within – a likely occurrence due to the building's dilapidated state.
So, venture inside the shophouses if you dare, but know that this isn't recommended. Those who have entered its depths have seen remnants of a barbershop, school, and kitchen inside three separate shophouses.
---
A tin mining history & population of 300
---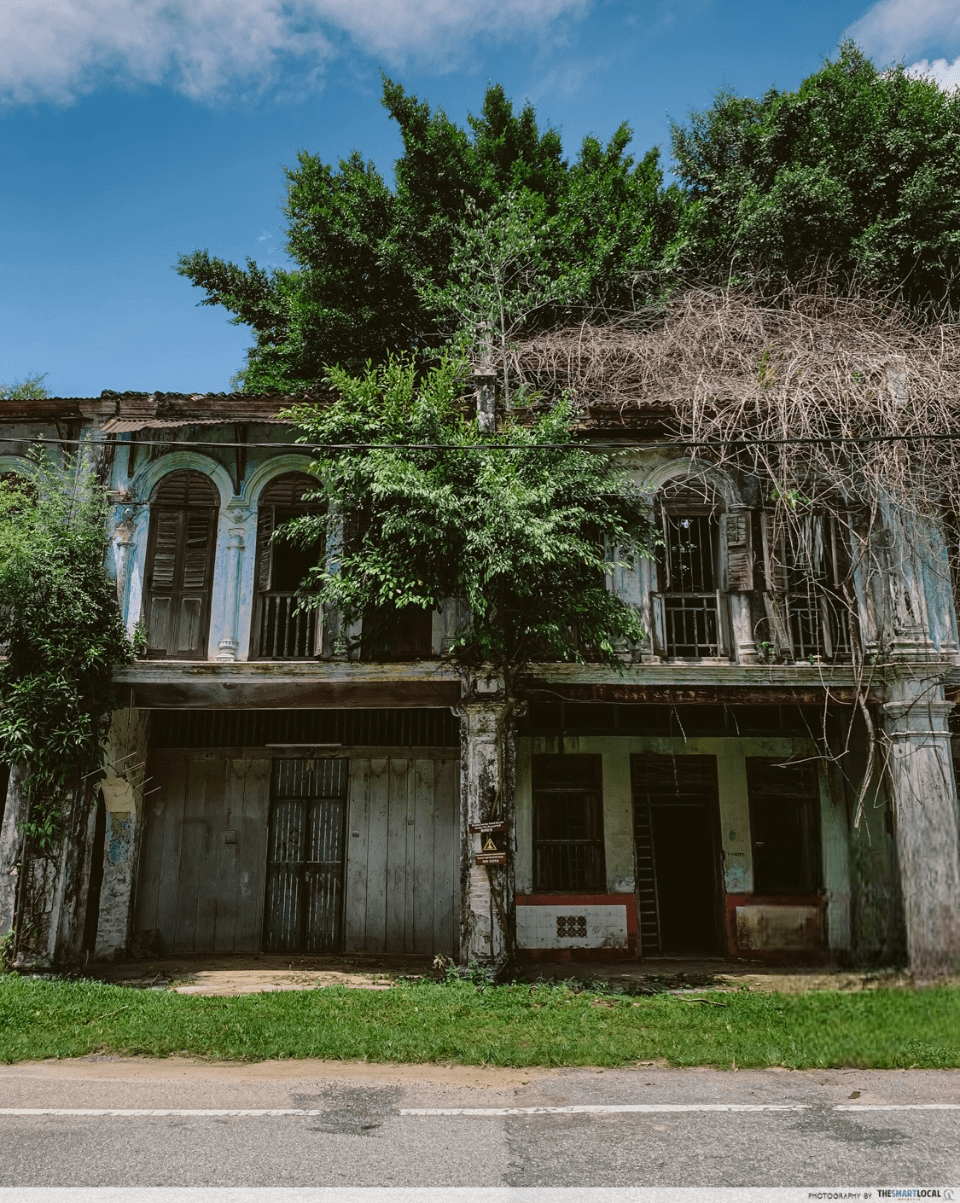 An abandoned shophouse in Papan, with part of its walls overtaken by a banyan tree. 
The crumbling shophouses of the quiet Papan may hold a certain charm today. But this wasn't always the case. It was once a prosperous town, supplying chenggal trees from nearby forest to the local timber industry and later transforming into a flourishing tin-mining town in the 1800s.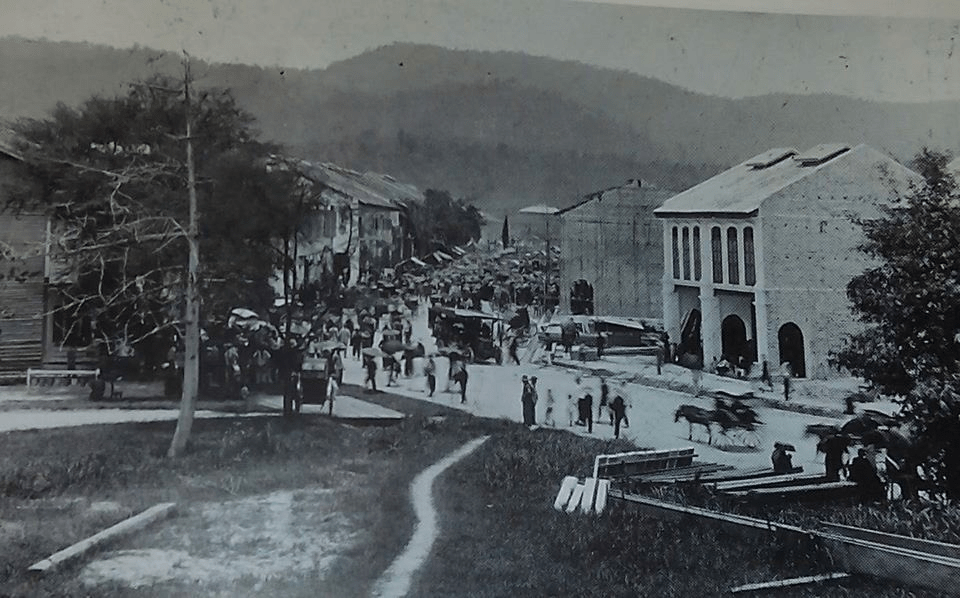 Main Street in Papan pictured in the 1910s
Image credit: @GambarKlasik
Tin mines were established in and around the area in 1877, with over 2,400 individuals once living here. The shophouses were built to accommodate the sudden increase of activity and residents, with community staples like a post office, police station, market and theatre also established. 
However, a drop in tin prices in 1985 saw the abrupt end of the town's glory days in the 1980s. Other incidents that led to a mass exodus from the town were the Japanese occupation of then-Malaya, several fire outbreaks, a clash between secret societies involving 18,000 men in the town, and a radioactive threat.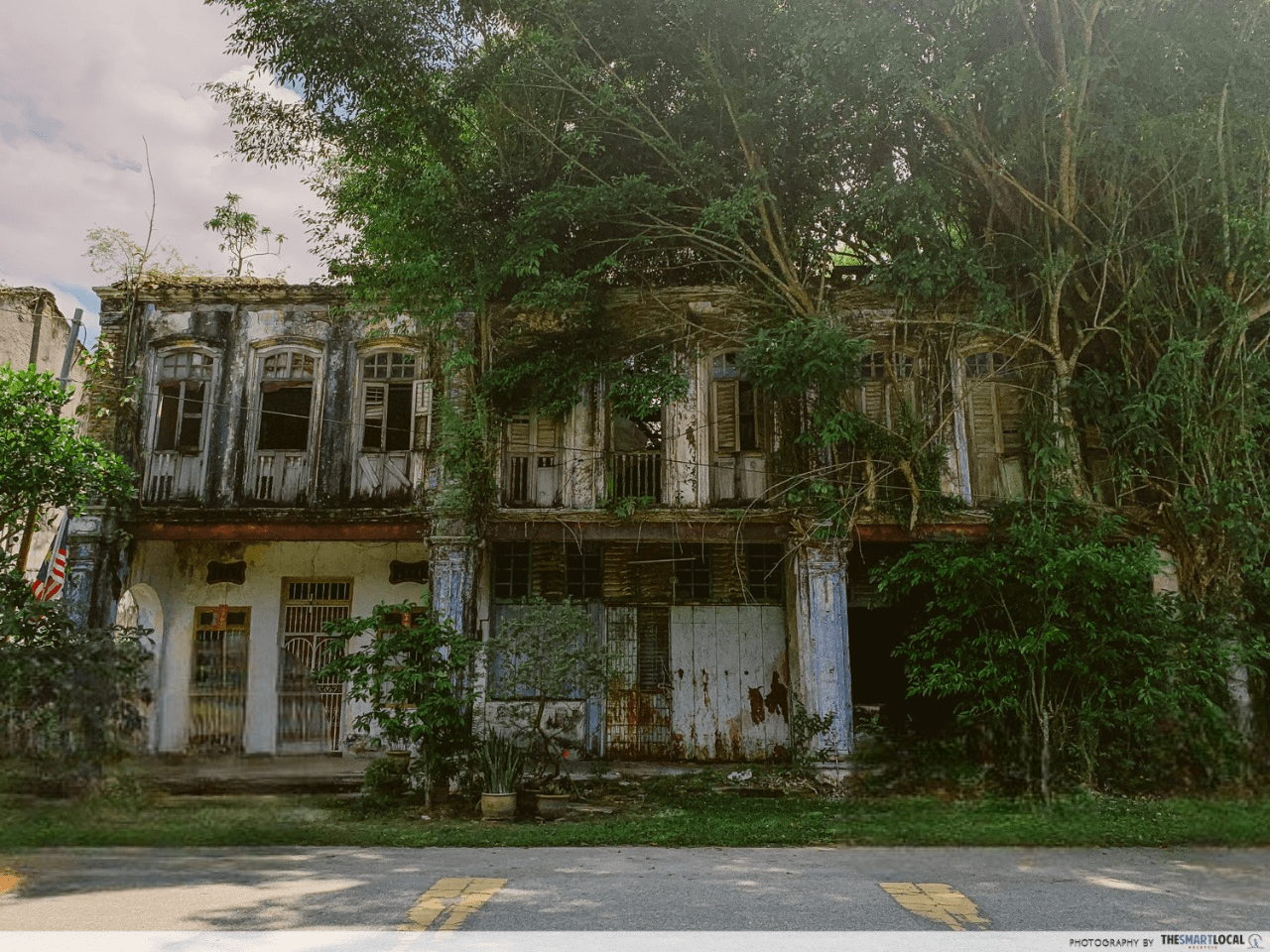 While the deteriorated shophouses may seem vacated, a few are actually still occupied today. Parked cars and well-tended plants at doorways show signs of life within a couple of the aged lots. 
According to a South China Morning Post report, there are less than 300 residents currently residing in Papan. A total of 31 mostly elderly residents occupy 10 old shophouses along Main Street, while 200 others live in the vicinity of the shophouses in the timber houses.
---
Former clinic, Mandailing palace and traditional mosque
---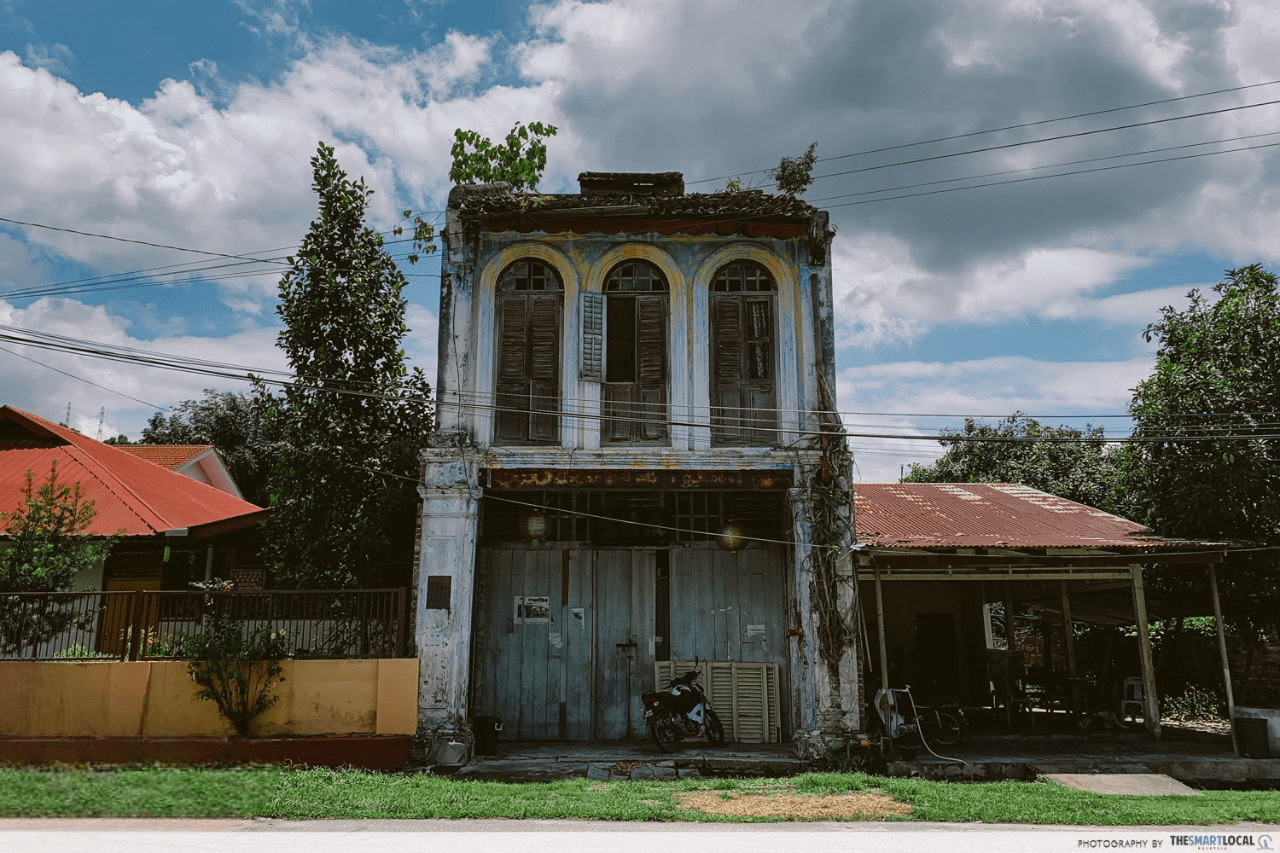 Nestled between the pre-war shophouses is an especially notable one once belonging to the local war hero Sybil Kathigasu, known as Lot No 74. She was a nurse who operated a clinic in the building to aid the Malayan Peoples' Anti-Japanese Army during World War II. 
Together with her husband, Dr Abdon, they treated the resistance guerrilla fighters here. It is believed that the fighters also made Papan their hideout during war time due to its forested surroundings. 
Imprisoned and tortured for her role in the war, Sybil was the only Malayan woman to receive the second-highest British George Medal for civilian courage. Today, her clinic stands as a memorial to her efforts, with newspaper clippings about her pinned to its facade.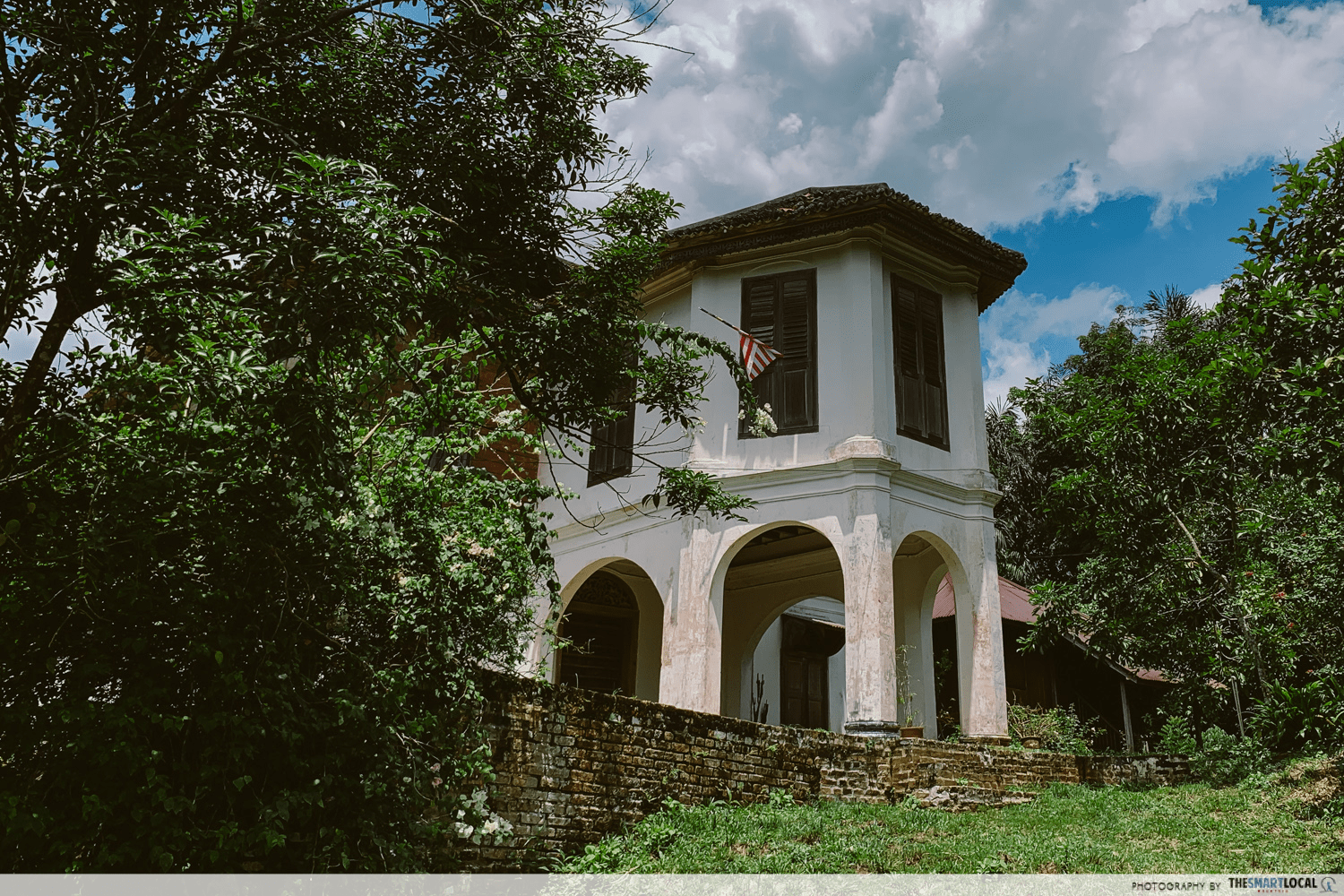 Just a stone's throw away from Papan's Main Street are two other historic buildings – Istana Raja Billah and Kampung Papan Mosque. Though you aren't able to enter these structures, they are still magnificent to behold from outside.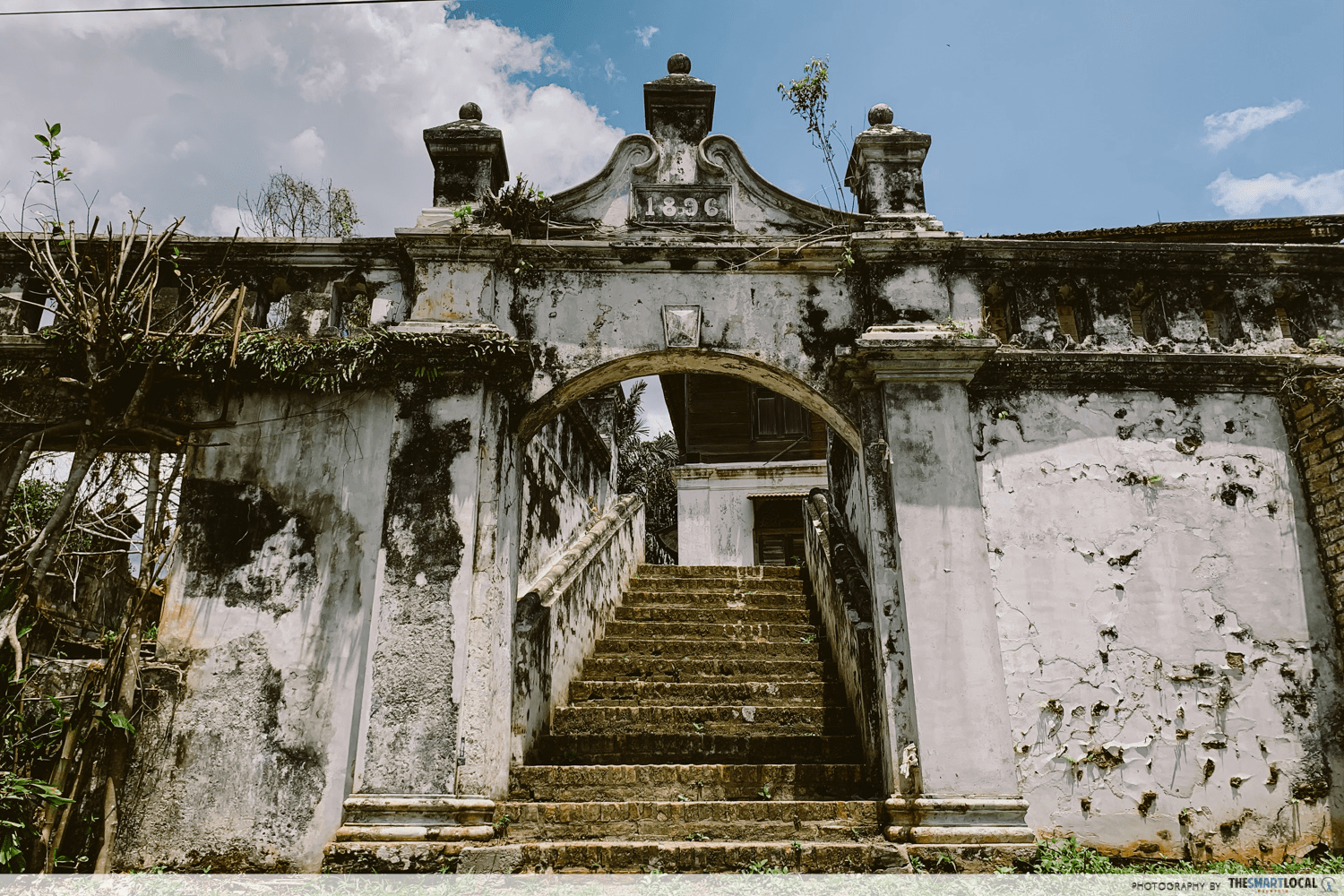 The mansion's entrance with the year "1896" crowning its elaborate arch. 
The buildings are also linked to another rich history of Papan – its Mandailing villagers from Sumatera, Indonesia, and Papan's first local village chief, or penghulu, Raja Billah. The latter was awarded the noteworthy role following the Mandailings aiding the British during the Perak War in the mid-1800s. 
The mansion, also dubbed Rumah Besar, was once a large gathering place for the local Mandailing settlement. Today, it's listed as a heritage building by the Department of National Heritage, with descendants of the Raja said to live in a separate structure next to the mansion.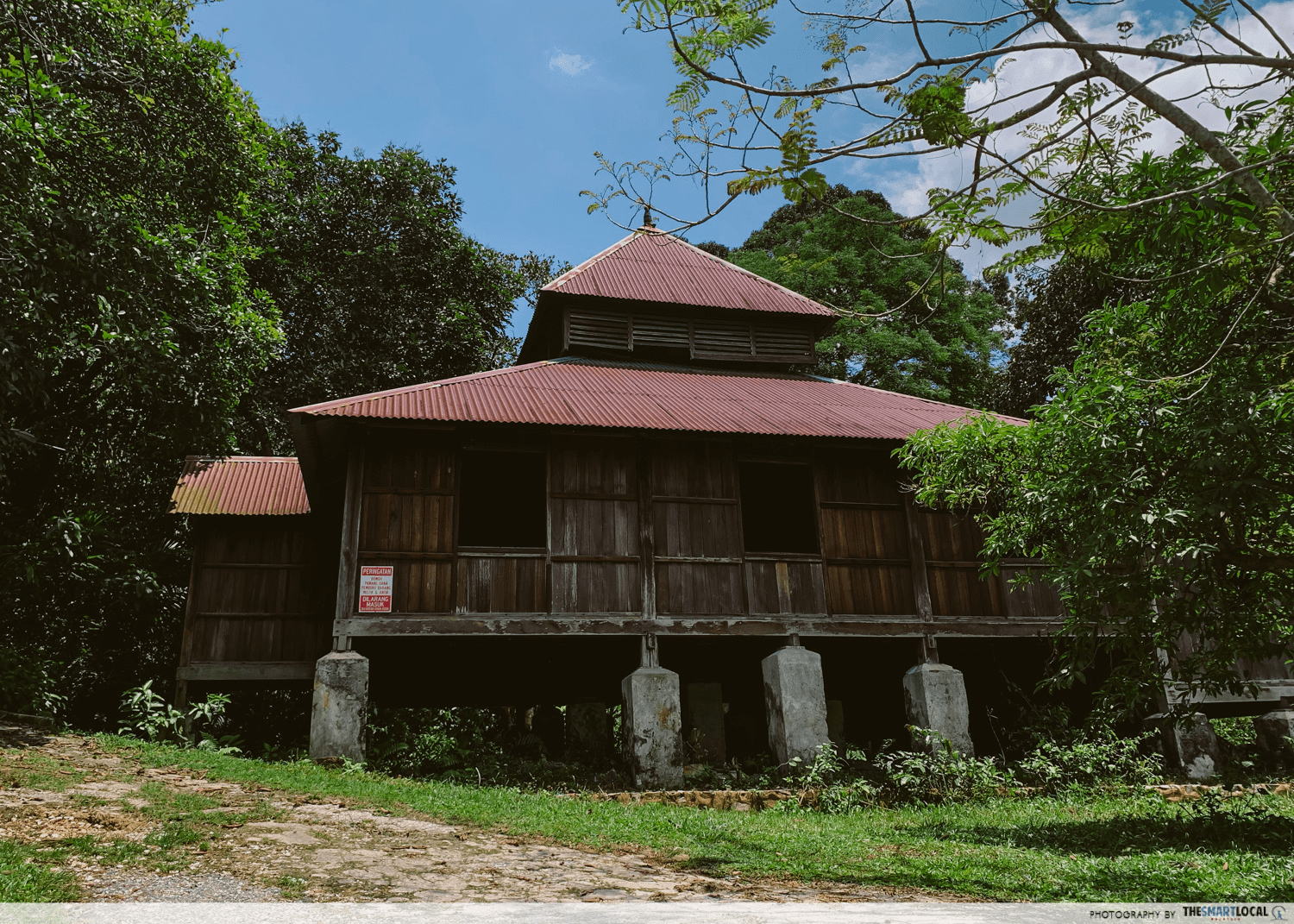 A mosque was also built in the area by the Mandailings, and is considered one of the oldest mosques in the state. Unlike other traditional mosques with a minaret and dome, Kampung Papan Mosque features a tiered roof and stilts. 
Due to its mysterious exterior – and likely the filming of a 2011 horror film at the mansion called Penunggu Istana – a sign on its facade warns visitors like shaman (bomoh) and charmers (pawang dana) not to enter the historic mosque. 
---
Papan, a forgotten town with heritage buildings in Perak
---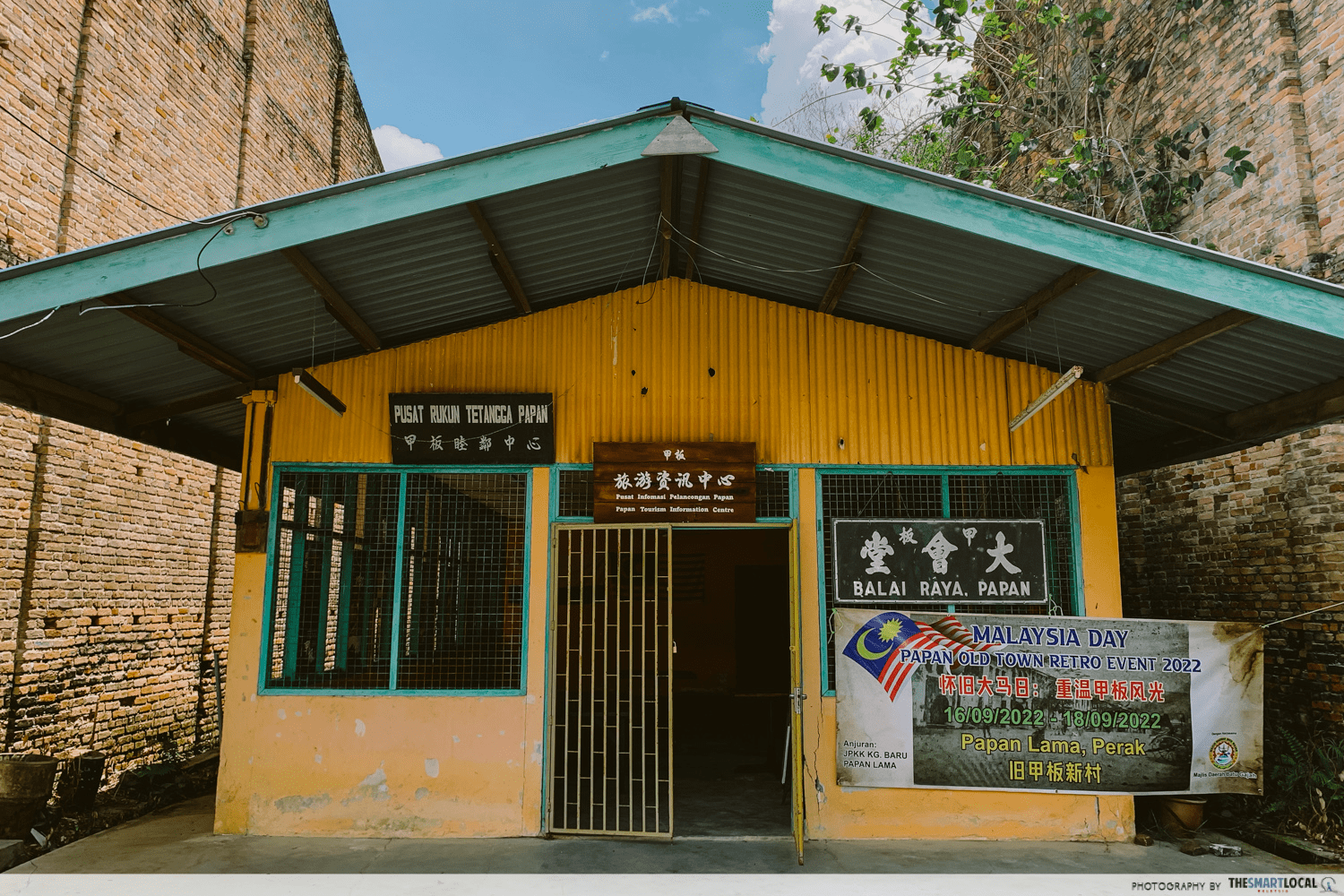 A recently-built Papan Tourism Information Centre in Papan.
Malaysia is home to many significant buildings that have managed to stand the test of time and remain a part of our country's history. Likewise, over in Papan, the charming shophouses may have lost most of their former glory, but remain a symbol of the town and a reminder of its rich, storied history.
So, if you're looking for a new place to visit while in Perak, drop by this lesser-known town in the state to learn more about it and sneak a glimpse at its heritage shophouses. 
Also watch our feature of Papan here.
More forgotten places here: 
---
Photography by Janet Cho. 
Cover image adapted from: TheSmartLocal Malaysia.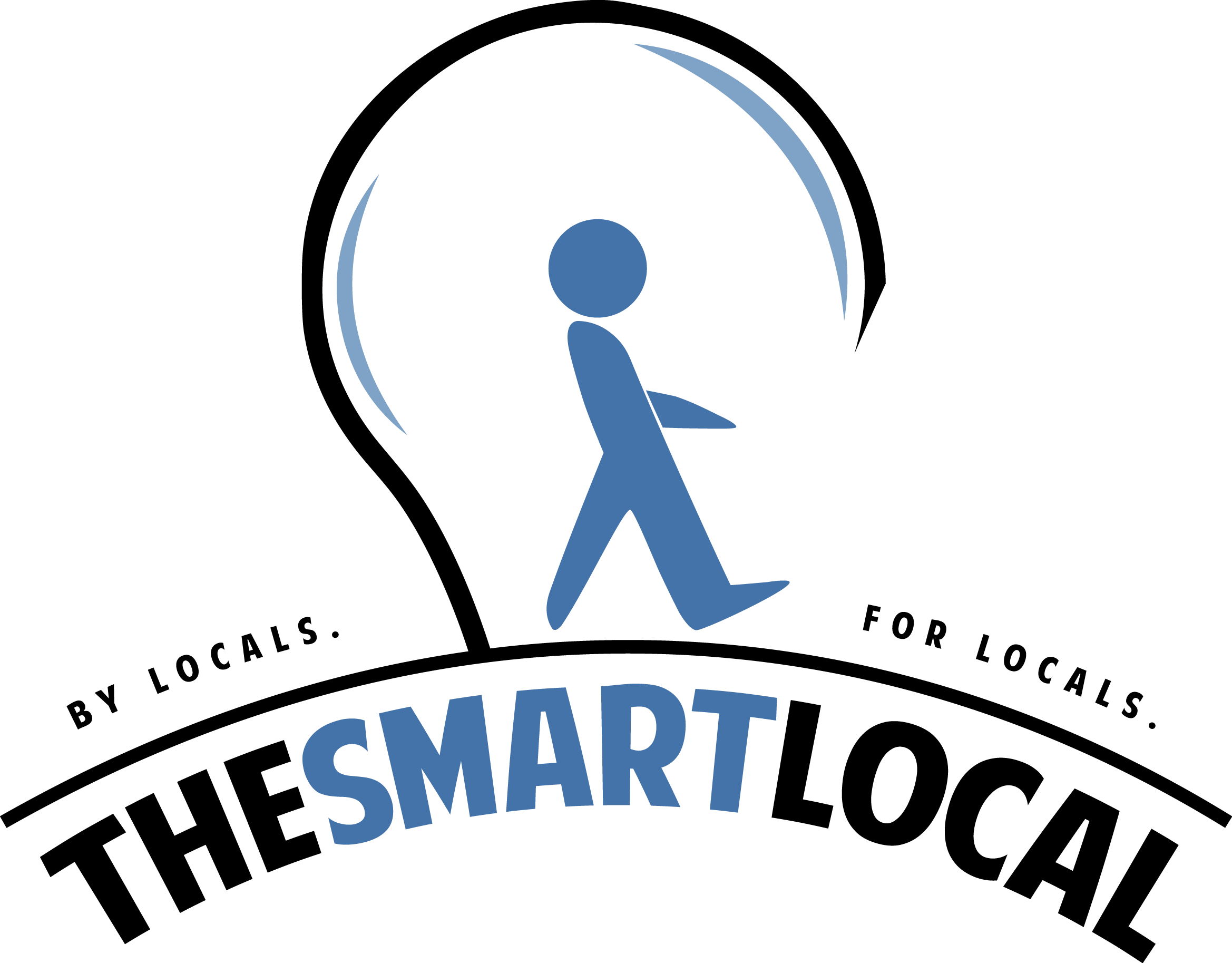 Drop us your email so you won't miss the latest news.