Abandoned heritage sites in Malaysia
---
Malaysia has no shortage of charming heritage buildings. Many of them have stood the test of time and been revived as hotels and cafes. Aside from these, there are other century-old properties in our country that have seen better days.
As we're always mesmerised by forgotten buildings, with their mystery and hints of former grandeur, we gathered a list of ten abandoned heritage sites around Malaysia.
---
1. Casuarina Inn, Perak – Taiping's own Stonehenge
---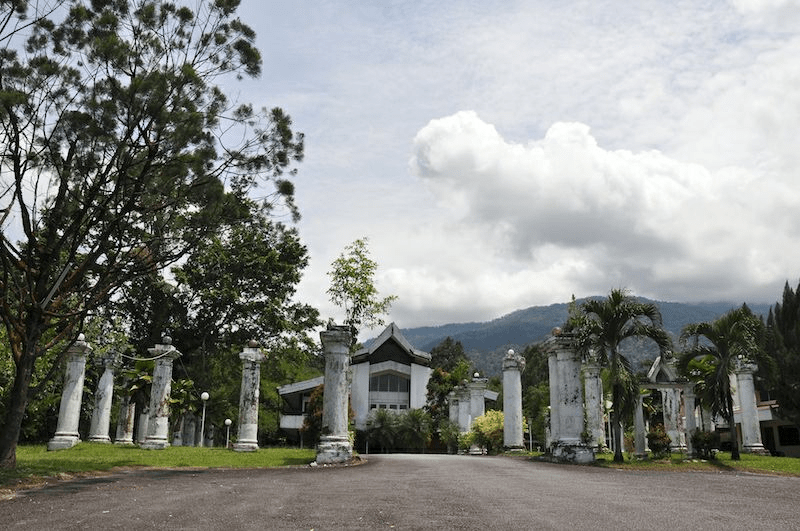 Image credit: Atan Mohd Irwani Hafiz
There are a number of notoriously haunted spots in our country. Casuarina Inn is one of them. Located near Taiping Lake Gardens, this former residence-turned-resort comprises a rest house and 34 pillars that still stand though the structure they once supported has fallen to ruin — widely believed to be due to fire, or pesky termites.
Due to its storied history and eerie, abandoned appearance, the inn is commonly said to be haunted.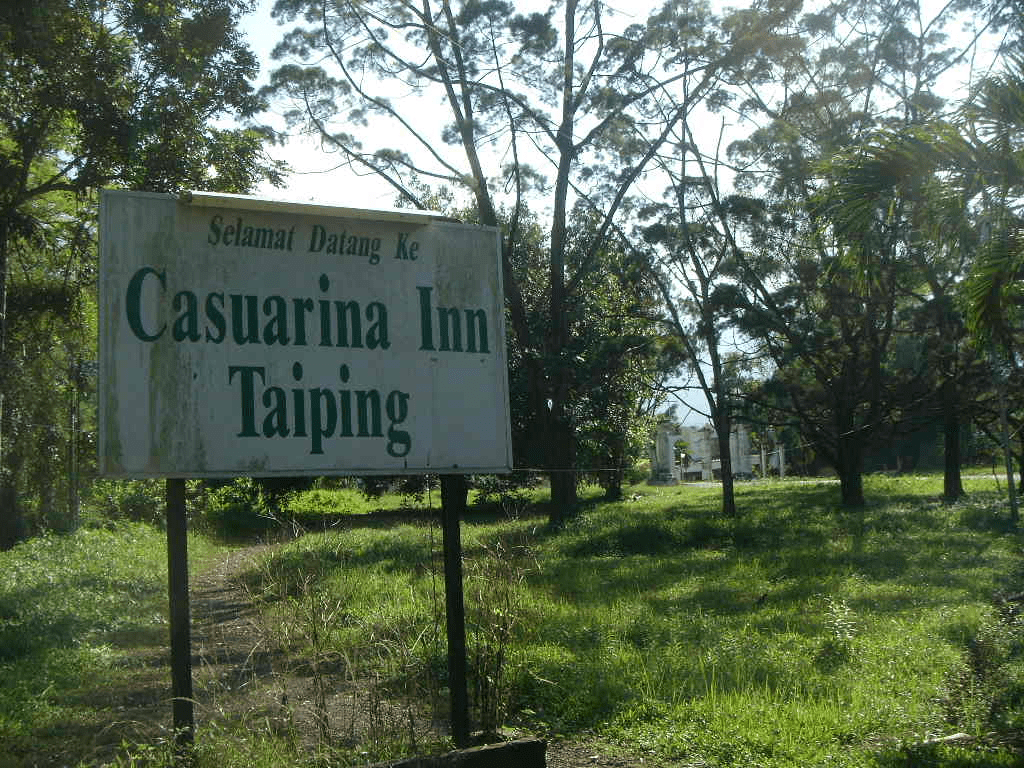 Image credit: @syafs__
The columns were part of Tristram Charles Sawyer Speedy's home in the late 19th Century. Also known as Captain Speedy, he was the assistant British resident of Larut who is said to have occupied the house here as well as another bungalow in Matang. 
The building behind his raised home was a rest house for British officers, and later a dormitory for the British Army. When then-Malaya declared its independence, the buildings were acquired by the Perak state government in 1972 and converted into Casuarina Inn.
During its operational days, the inn was a budget-friendly hotel with 26 rooms. It closed down in 2010, however, and has been abandoned since. There were plans to restore the heritage site as a historical attraction in 2020, but nothing has developed from the initial discussions.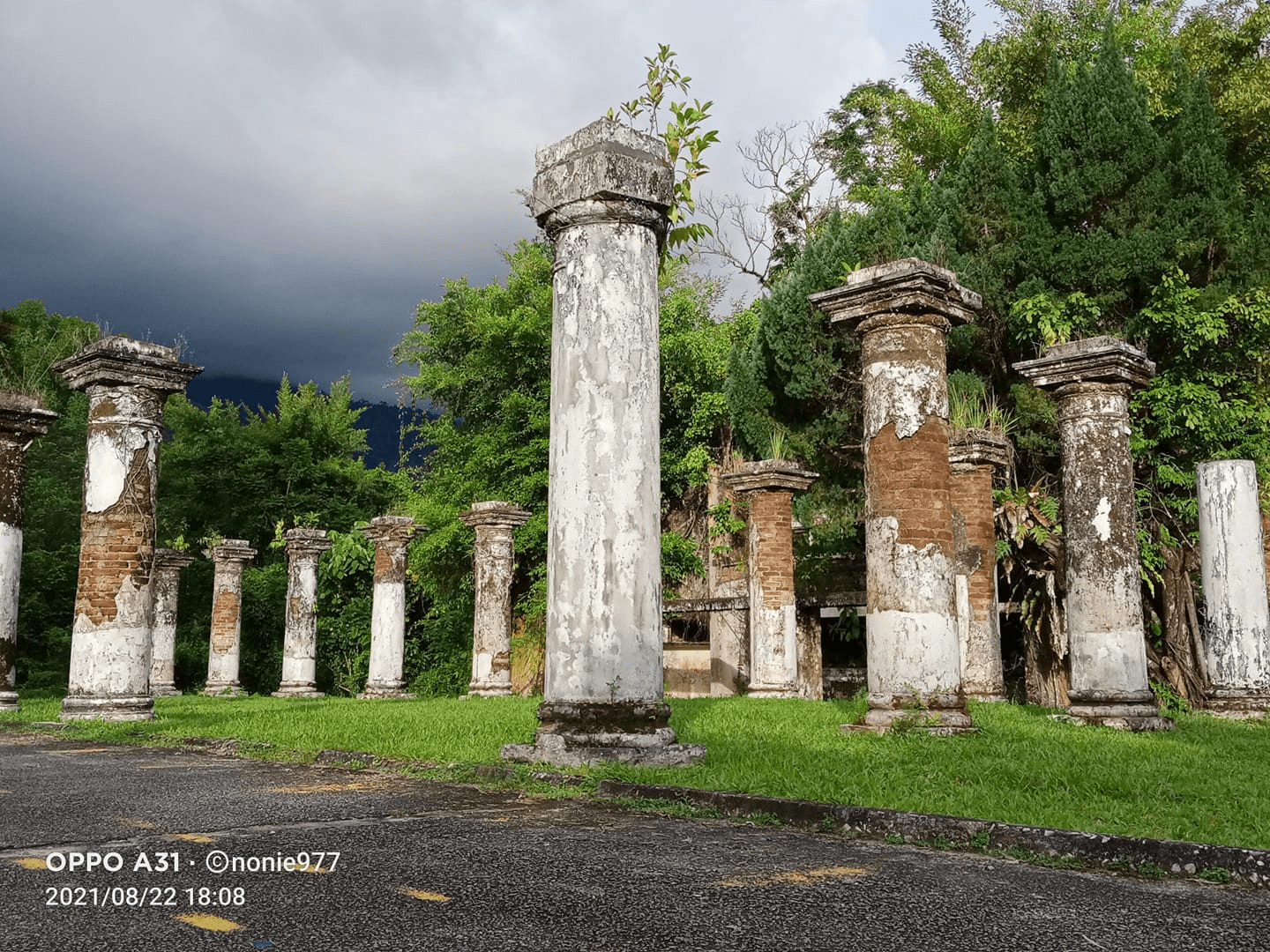 Image credit: Raja Zairil Nuteh Halijah
Weeds and shrubs have taken over much of the land in its abandonment. Due to its unkempt appearance, it has been popularly linked to paranormal activity. Hotel guests who checked in at Casuarina Inn before it closed also have their share of stories involving strange apparitions and disembodied noises during their stay.
---
2. Leper Asylum Church, Penang – 19th century church on an island
---
It's hard to believe that the attraction-filled Jerejak Island was once the Alcatraz of Malaysia. But this was indeed the case. In 1868, the island was a leper asylum of the Straits Settlements, until it was turned into a quarantine station for newly arrived immigrants to the settlements in 1875. Fast forward to 1969, and it was converted into a high-security detention centre which housed up to 900 prisoners at a time, till it closed in 1993.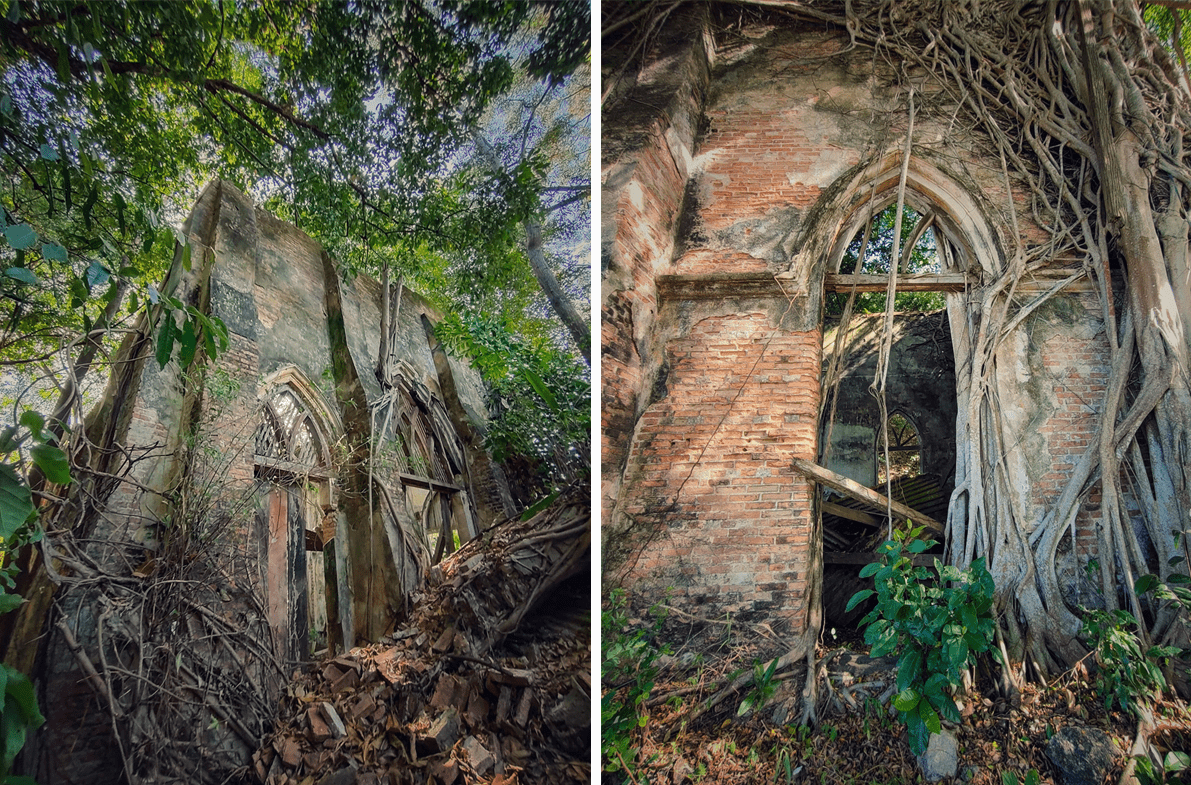 Image credit: Ishak Hassan
Though the island was given a thorough makeover when it was redeveloped as a resort in 2004, left-behind abandoned structures such as Leper Asylum Church remain tucked in its forest.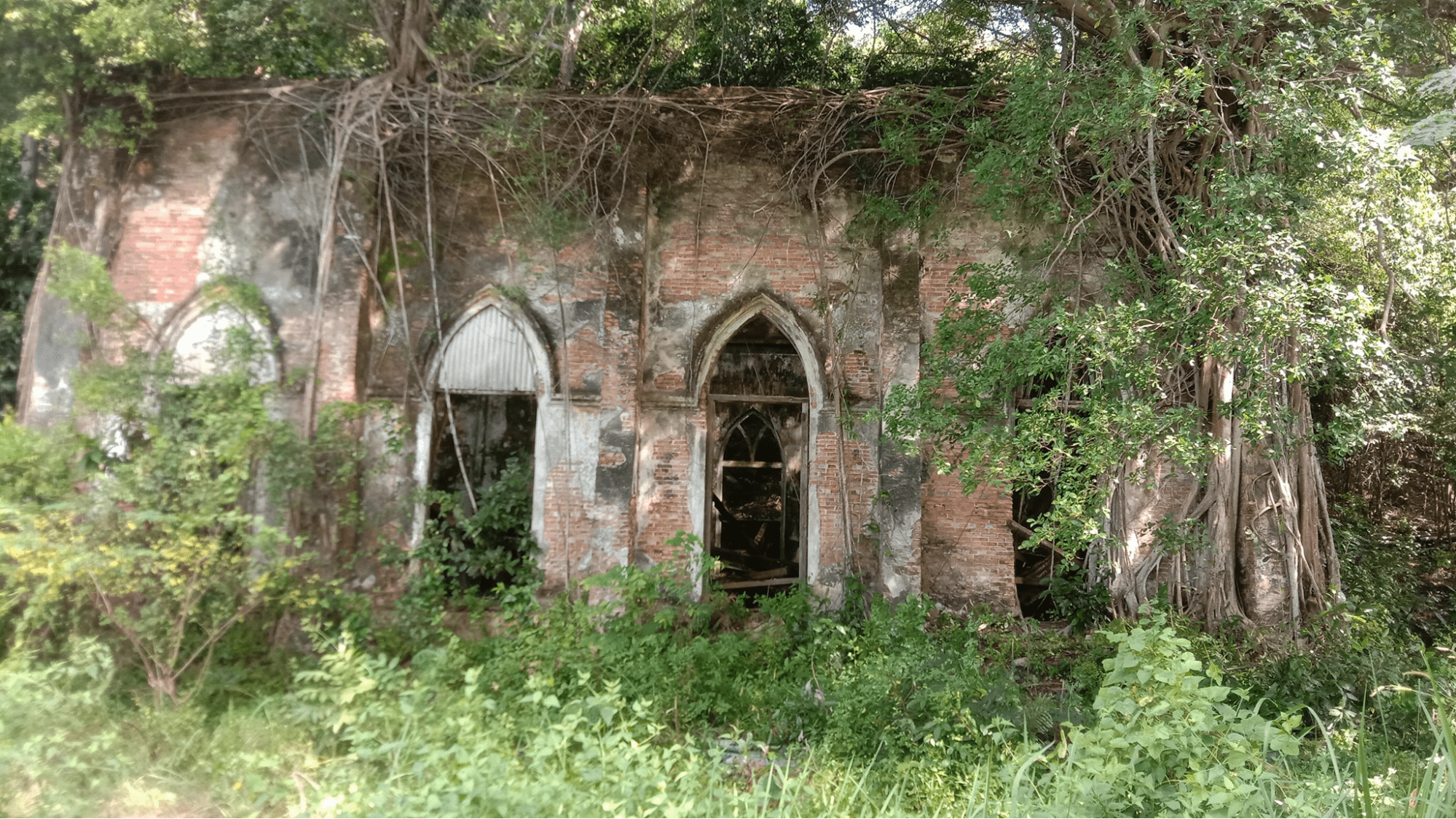 Image credit: Jerejak
This Roman Catholic chapel officially opened in 1896 to serve inhabitants on the island. While it is now in ruins and almost completely eaten up by the surrounding forest, it is still a sight to see due to the still-standing brick walls with lancet windows. 
Jerejak is now a popular photo spot among hikers venturing into the forest to see the church and other abandoned structures in the area – including a quarantine centre and the remnants of Jerejak Prison Camp.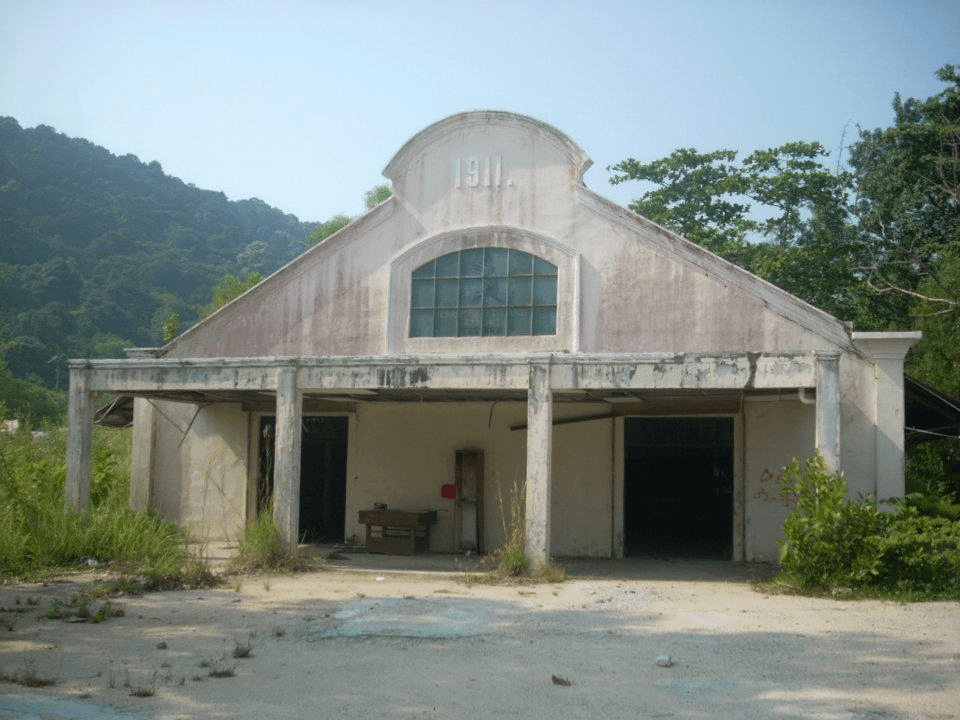 Part of the quarantine camp
Image credit: Steven Lai Chan Yang
---
3. Pura Tanjung Sabtu, Terengganu – century-old traditional Malay houses
---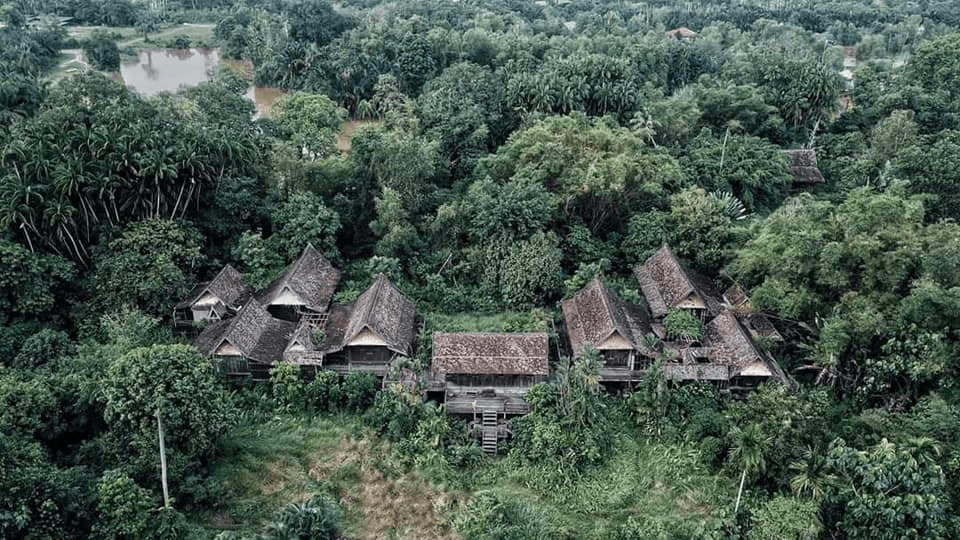 Pura in Sanskrit means "palace", with the homes also dubbed Tujuh Rumah Putera.
Image credit: Warisan Pahlawan Melayu
Most houses are built from scratch. But Pura Tanjung Sabtu in Terengganu comprises seven traditional Malay timbre houses that were plucked from nearby towns and relocated to a 14-acre lot as a palace for a local songket designer.
The mastermind behind this unique collection of buildings is Tengku Ismail Tengku Su, a craftsman inspired by the lavish Shangri-La hotels. To achieve his dream palace, he went through the arduous task of relocating the houses and connecting them via walkways to mimic old traditional homes from the 18th century. 
Each house is believed to be between 100-200 years old each, and are named after the towns they were from.

Image credit: Warisan Pahlawan Melayu
In its heyday, the palace buzzed with activity, welcoming visitors from around Malaysia and abroad at three houses on the property. Manicured gardens and vibrant orchards used to surround the houses too, with over 20 gardeners in charge of looking after the gardens. 
However, after Tengku Ismail passed away in 2011, the houses fell into disuse and were left abandoned, with trees now shrouding the splendid architectural site. As he was a prominent songket designer, the local government has considered setting up a songket museum at the palace in his honour.
---
4. Alma Baker Mansion, Perak – lesser-known mansion in Batu Gajah
---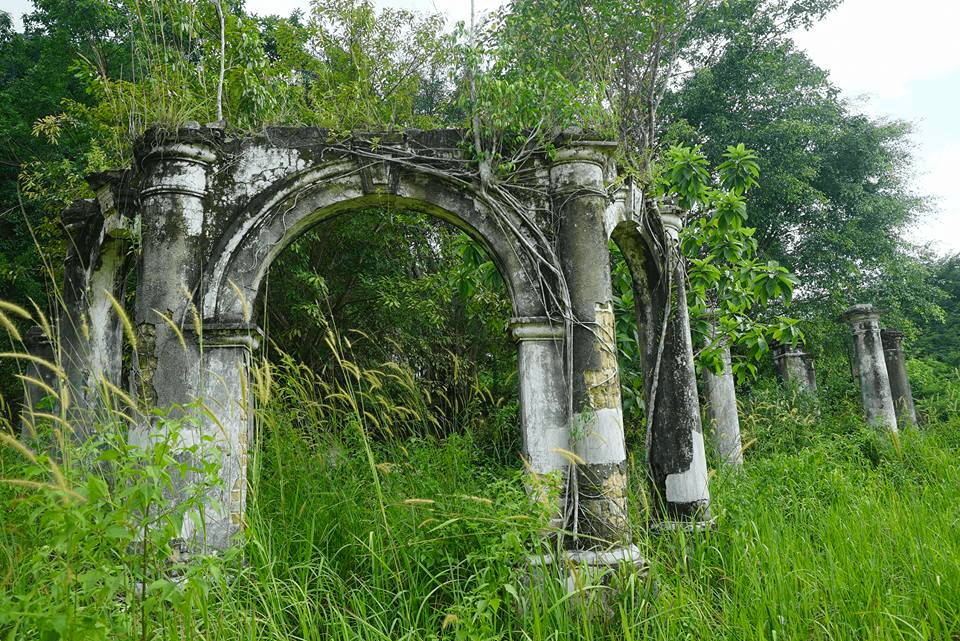 Image credit: Eng Swee Ong
Overseas tourists and locals alike probably know Kellie's Castle – a magnificent, unfinished mansion in Batu Gajah, Perak, that was once owned by Scotsman William Kellie Smith. A lesser-known former mansion once located here too is Alma Baker Mansion, a colonial house built in 1894 by Charles Alma Baker, a businessman from New Zealand.
However, Alma Baker Mansion is often left out of Batu Gajah's list of attractions, as all that is left of the mansion are tall masonry columns overgrown with weeds.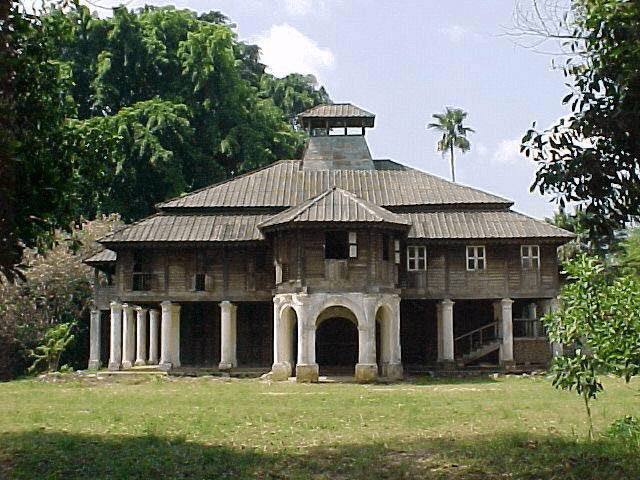 Image credit: Albert Ng
Unlike many colonial mansions in Malaysia, the New Zealander's grand home has all the charms of a traditional Malay house on columns, crowned with a watch tower. 
Alma Baker lived here with his family from 1890 till his death in 1941, and was said to have been in friendly rivalry with Smith over their colonial homes.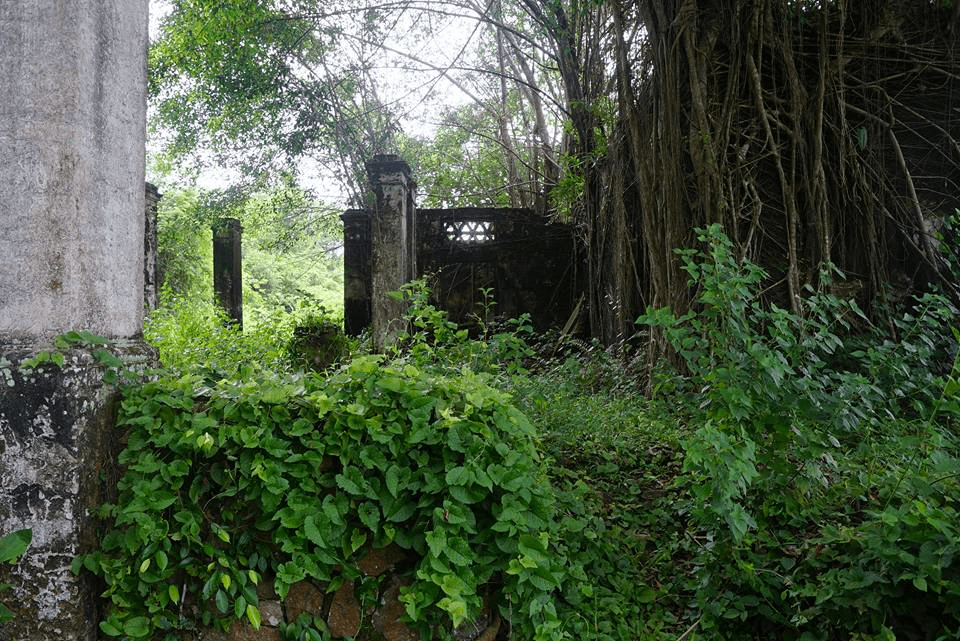 Image credit: Albert Ng
Not all of the mansion is truly gone. In 2011, Alma Baker's house was bought over by a local lawyer. The wooden section of the house was subsequently dismantled to be transported via five 40-foot lorries to Setiu, Terengganu, about 764km away. It was then renamed Ombak, meaning wave, and remains visible to visitors in the coastal state.
---
5. The Kinarut Mansion, Sabah – an accidental discovery in a forest
---
When it comes to mysterious abandoned houses in Malaysia, The Kinarut Mansion – or Rumah Besar Kinarut – in Sabah is a strong contender as one of the most mystifying ones yet.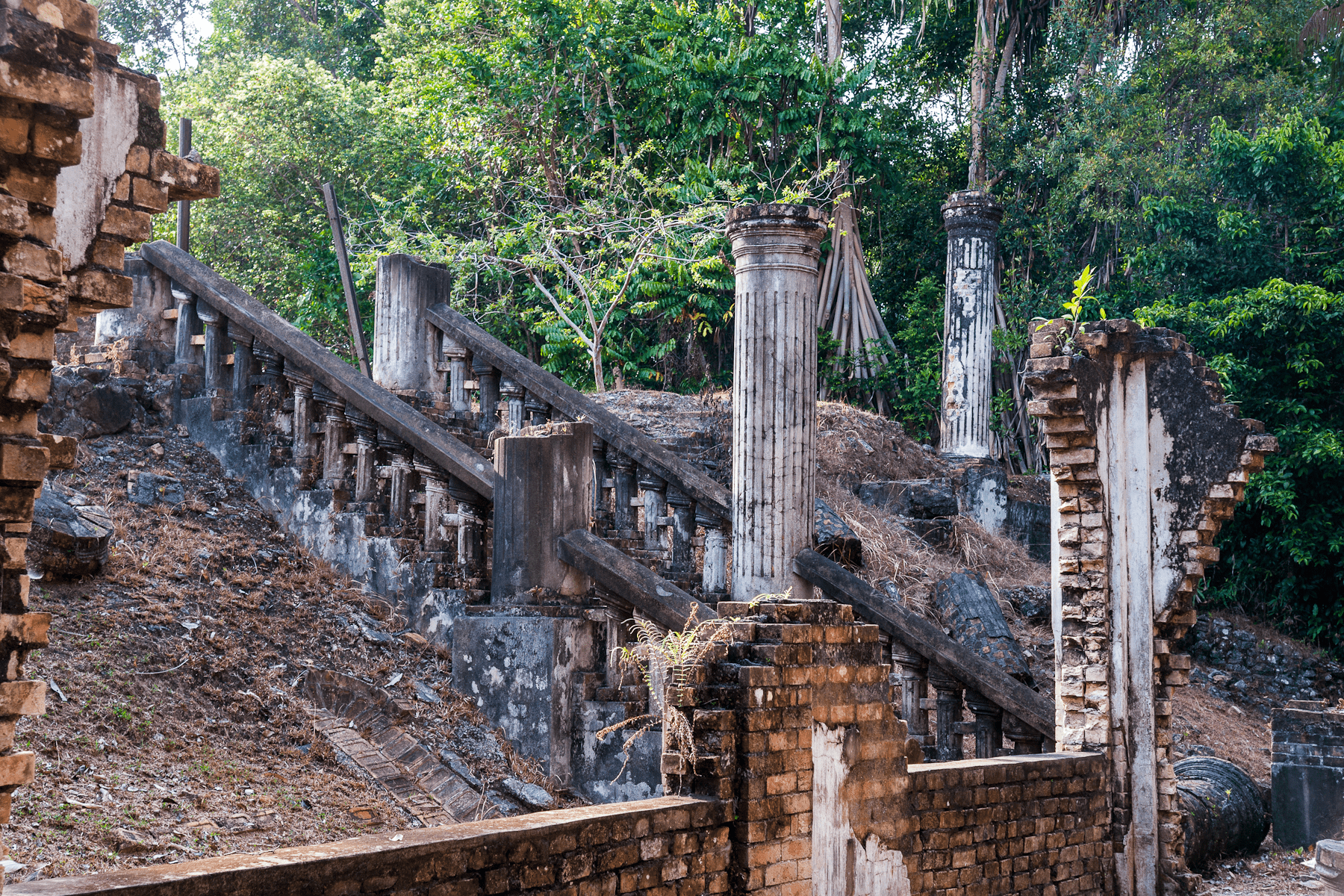 Image credit: Wikimedia Commons
The mansion was accidentally discovered by the Sabah Forestry Development Authority (SAFODA) in 1990 while they were exploring a jungle to plant acacia trees. They found the former house in a state of ruin, with only massive Greco-Roman columns, a flight of steps, and parts of its outer walls still standing. 
The former two-storey whitewashed mansion featured 48 rooms and 21 stairs, and was believed to have been built between 1910 and 1914. Stone and wood workers brought in from Hong Kong, along with Javanese labourers, worked on the house. 
It became the first stone mansion in North Borneo upon its completion, and the residence of a German rubber plantation owner, W.F.C. Asimont.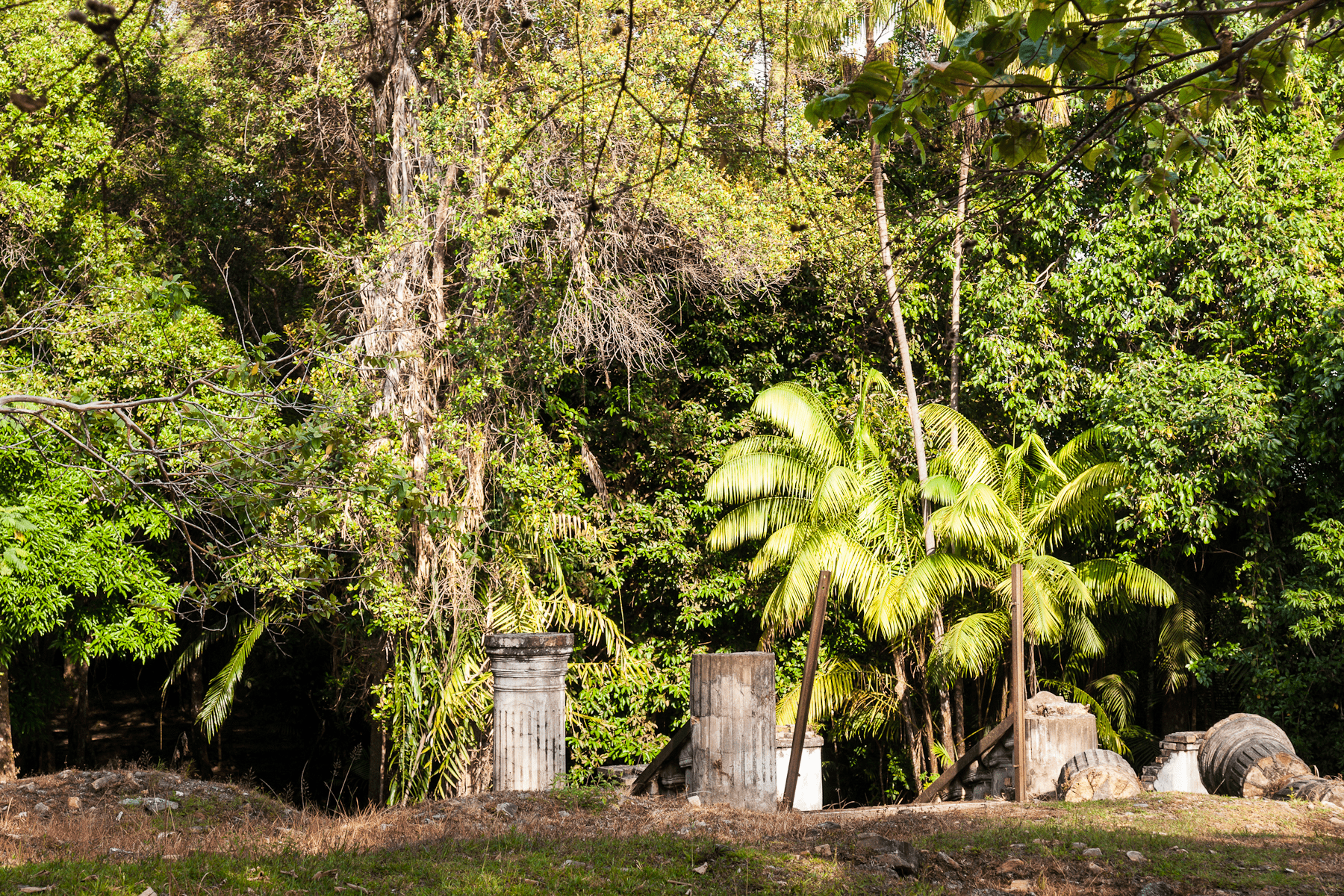 Image credit: Wikimedia Commons
However, the reason behind the house's demolished state remains a mystery. Some say financial hardships fell upon its owner, while others held that the house was built in secret and was demolished by the North Borneo Chartered Company that ruled the area in 1923. 
In recent times, locals have supposedly seen apparitions including a hantu tinggi, or 'tall ghost', and heard the screams of a pontianak in the area. 
Though seemingly abandoned, the mansion ruins is currently under the care of Sabah Museum, while the land it sits on was gazetted as a historic site in 1994. It is now called Panorama Rumah Besar Kinarut, and opened to the public in 1995.
---
6. Sacred Heart Chapel, Melaka – century-old chapel
---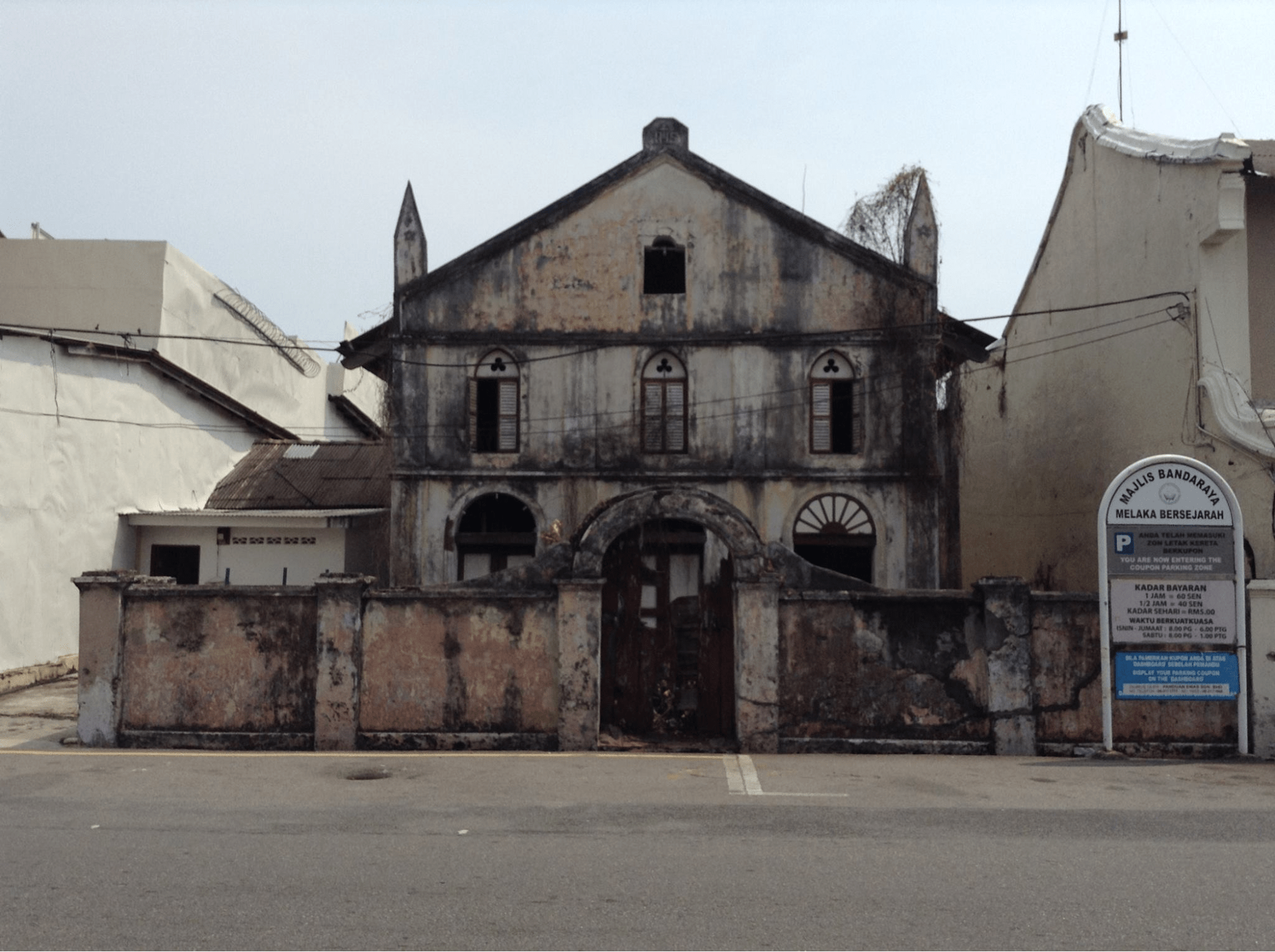 Image credit: 魏翰俍
Melaka is known for its well-preserved heritage sites, including the prominent red Christ Church. But one church in the state that has been left abandoned is Sacred Heart Chapel, a quaint Roman Catholic chapel on Jalan Tengkera that was believed to have been built in 1875. 
Often dubbed Tranquerah Chapel by locals, the church was once regularly visited by the Roman Catholic community in the Tranquerah district. However, it eventually fell into disuse as its congregation gradually grew smaller and the land lease expired in the 1970s.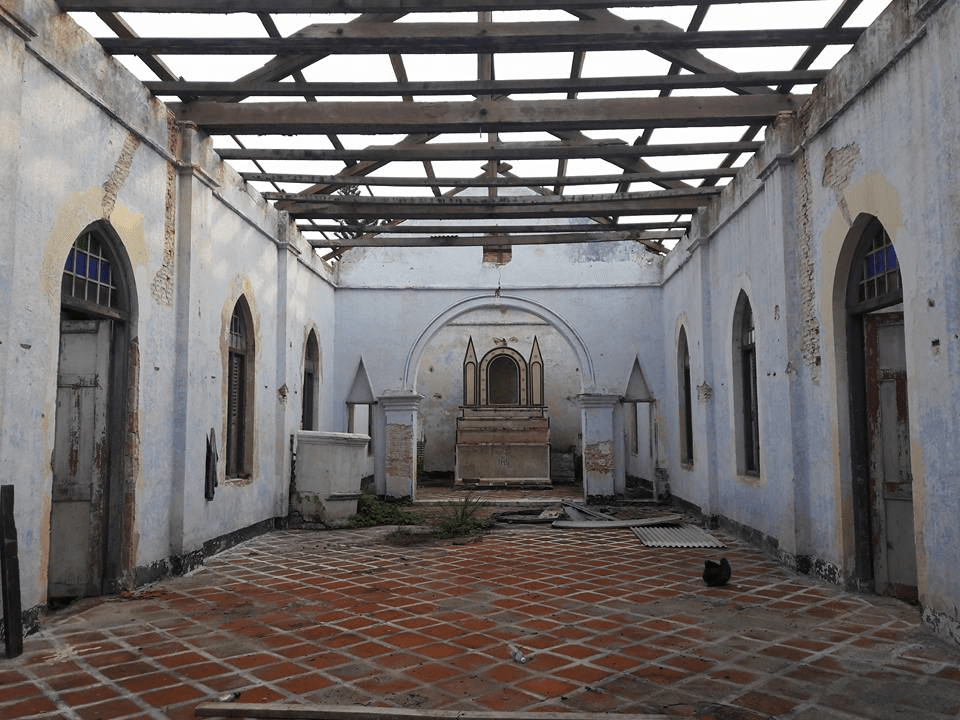 Image credit: Sherman Loi
What's left of this century-old church today are bare concrete walls with casement windows and stained glass panels. Many of the church's interior structural walls still stand, along with the sanctuary altar. But nature has reclaimed most of the floors and pavements.
---
7. Istana Sepachendera, Kedah – 'Taj Mahal' of Alor Setar
---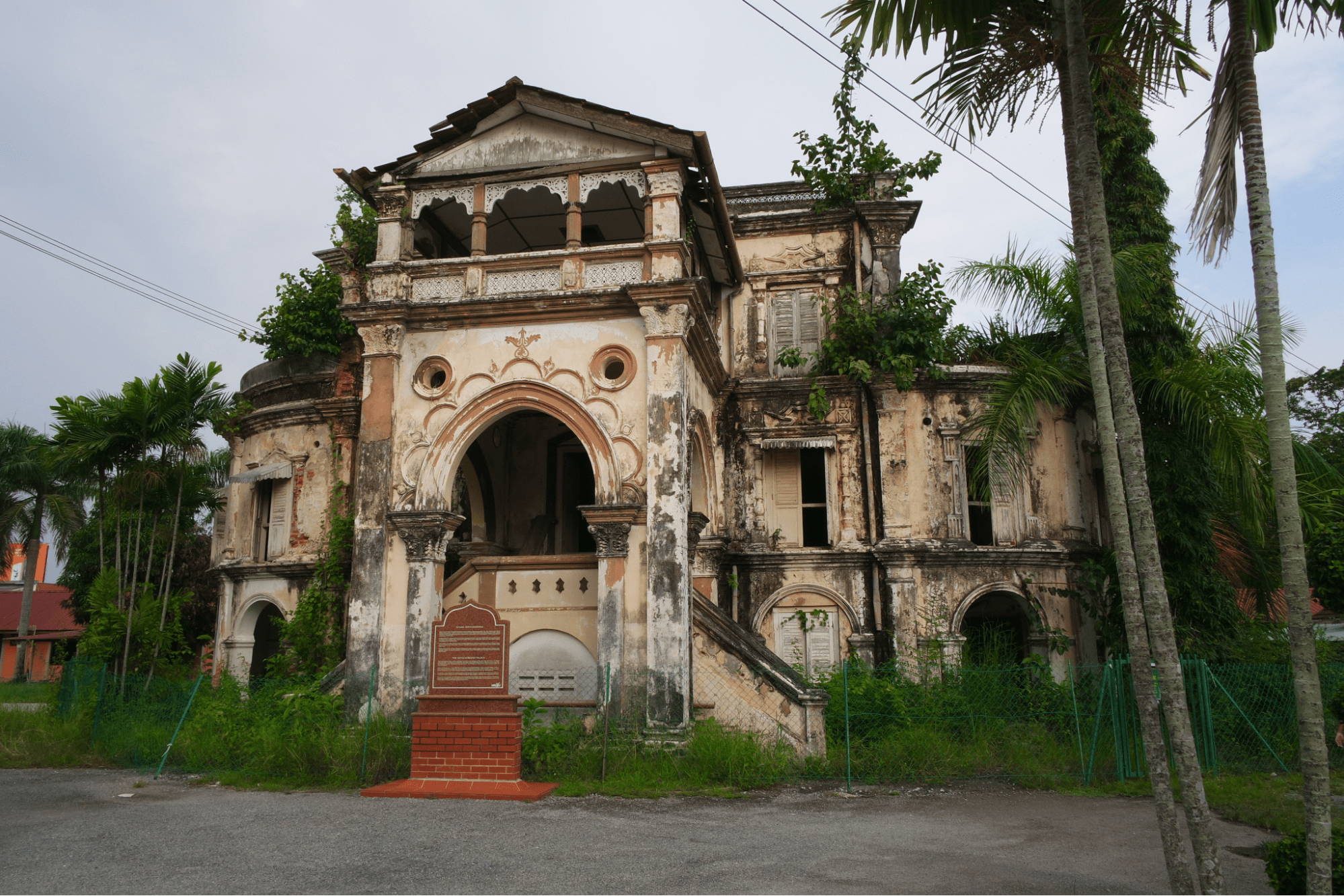 Image credit: Wikimedia Commons 
Istana Sepachendera is a grand palace hidden within the grounds of a school. It's often compared to the Taj Mahal due to its intriguing backstory. In 1882, the 26th Sultan of Kedah – whose administration spanned from 1881 to 1943 – built the residence as a declaration of love for his Thai wife, Che Sepachendera.
His devotion to her shines through the building's stunning architecture, which blends together Malay and Thai influences. The royal couple gave birth to several royal princes in the palace too.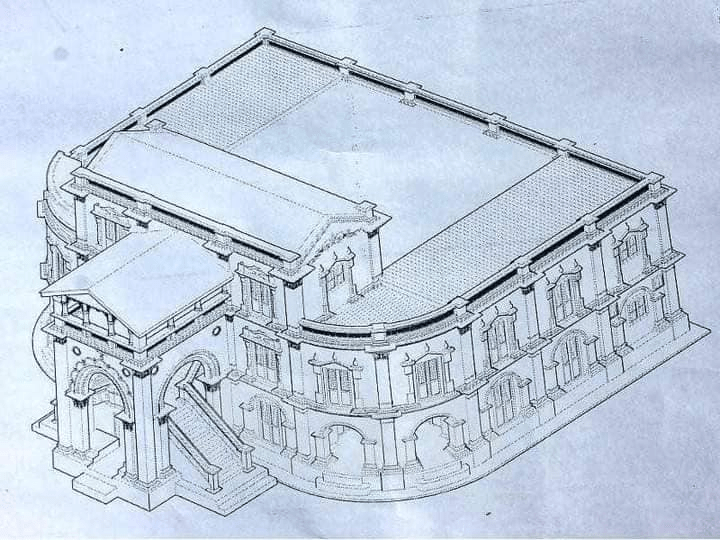 Image credit: Illuminasi
Sepachendera's death in 1907 led the royal family to vacate the house. But it remained inhabited for years after by various parties. In 1922, it was home to the first English girls' school in Kedah – Kampung Baru Girl's School, established by Sepachendera's son, Tuanku Ibrahim. During World War II, the palace was occupied by Japanese soldiers.
Following the war, the building became another all-girl's school, but it closed in 1954. 
The palace was last in use in 2000, when it functioned as a prayer hall for students and staff at the nearby Insaniah University College. There were talks in 2014 to preserve the palace and convert it into a museum.
---
8. Sacred Heart of Jesus Church, Penang – Notre-Dame of Pagar Tras
---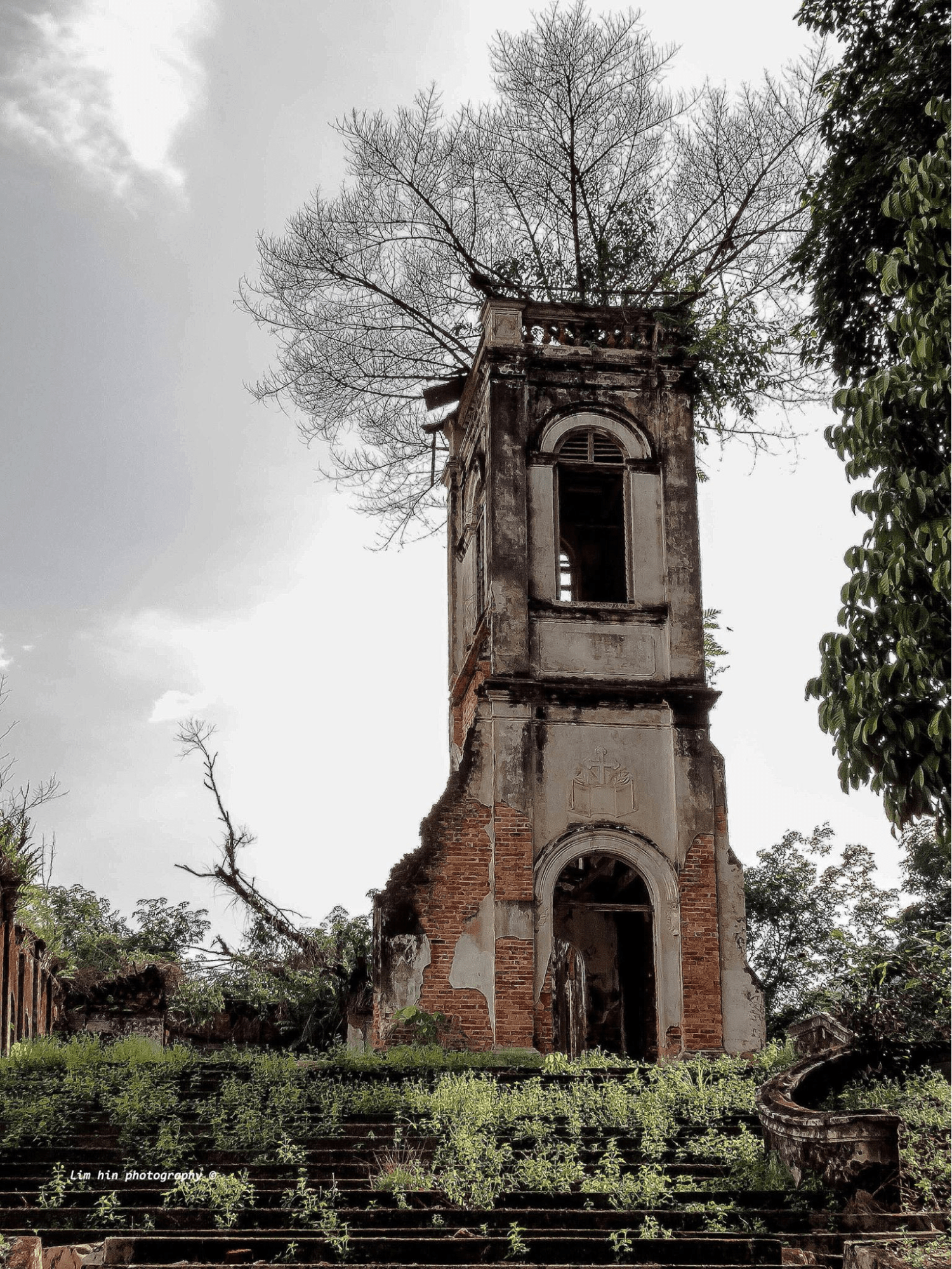 Image credit: Lim Hin
Hiding out in Penang are the ruins of Sacred Heart of Jesus Church – otherwise nicknamed the 'Notre-Dame of Pagar Tras', as the church was built with the French cathedral in Paris as an inspiration.
It has been abandoned for over 80 years. A single bell tower, part of the church's walls, 62 steps leading up to the church, and a cemetery with over 100 graves, are all that is left of the church.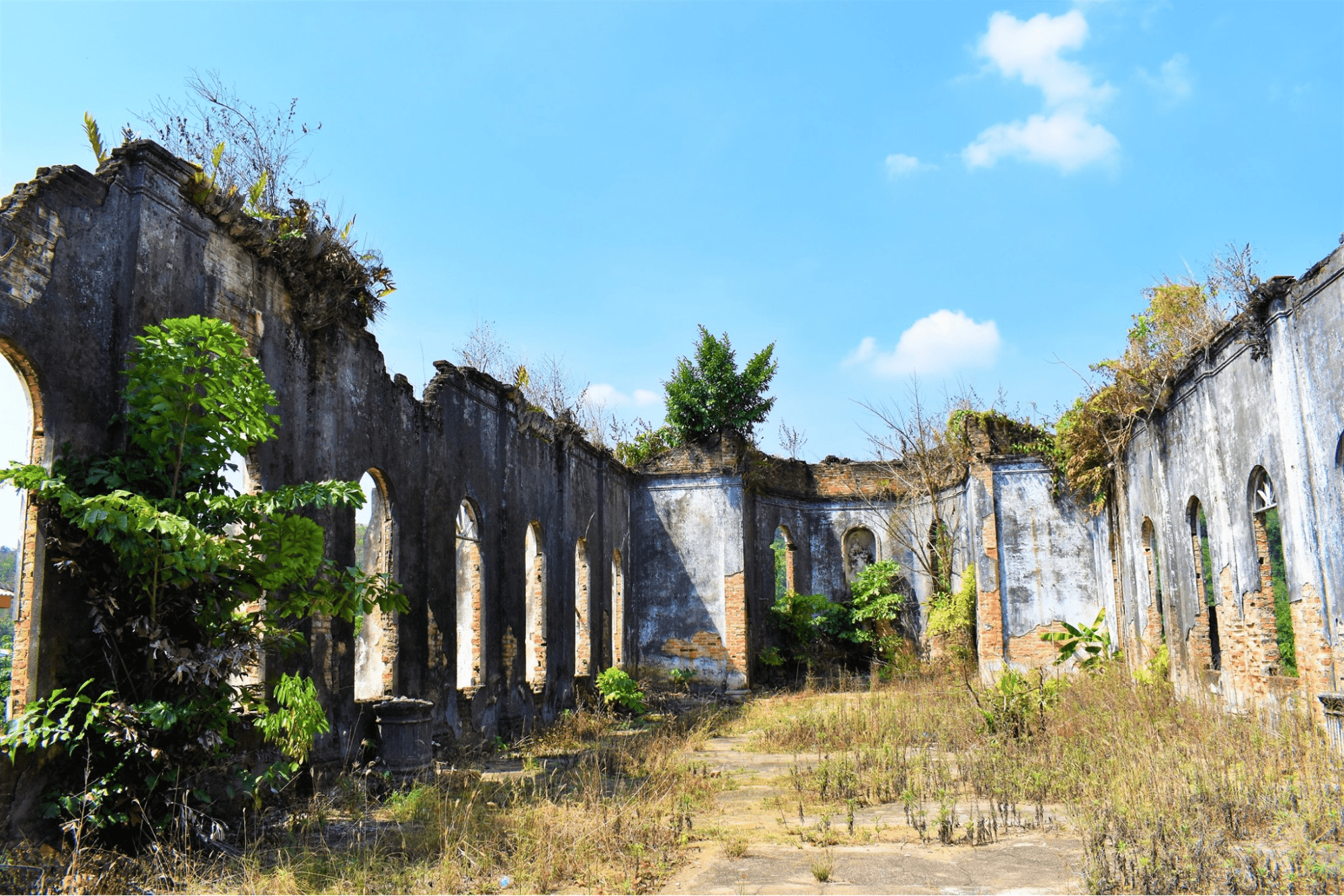 Image credit: Siang Siang
The first brick was laid here in 1882 by French Catholic missionaries, who sought to establish the first church in the small village of Pagar Tras. Architectural features reflecting the Notre-Dame in Paris include the two bell towers and the arched windows.
Before World War II, the church was an important religious site for Chinese-Hakka immigrant farmers in Penang. But they were resettled in neighbouring towns by the British military due to fears of communist uprisings in the area. The church eventually ceased operations and was abandoned in the war.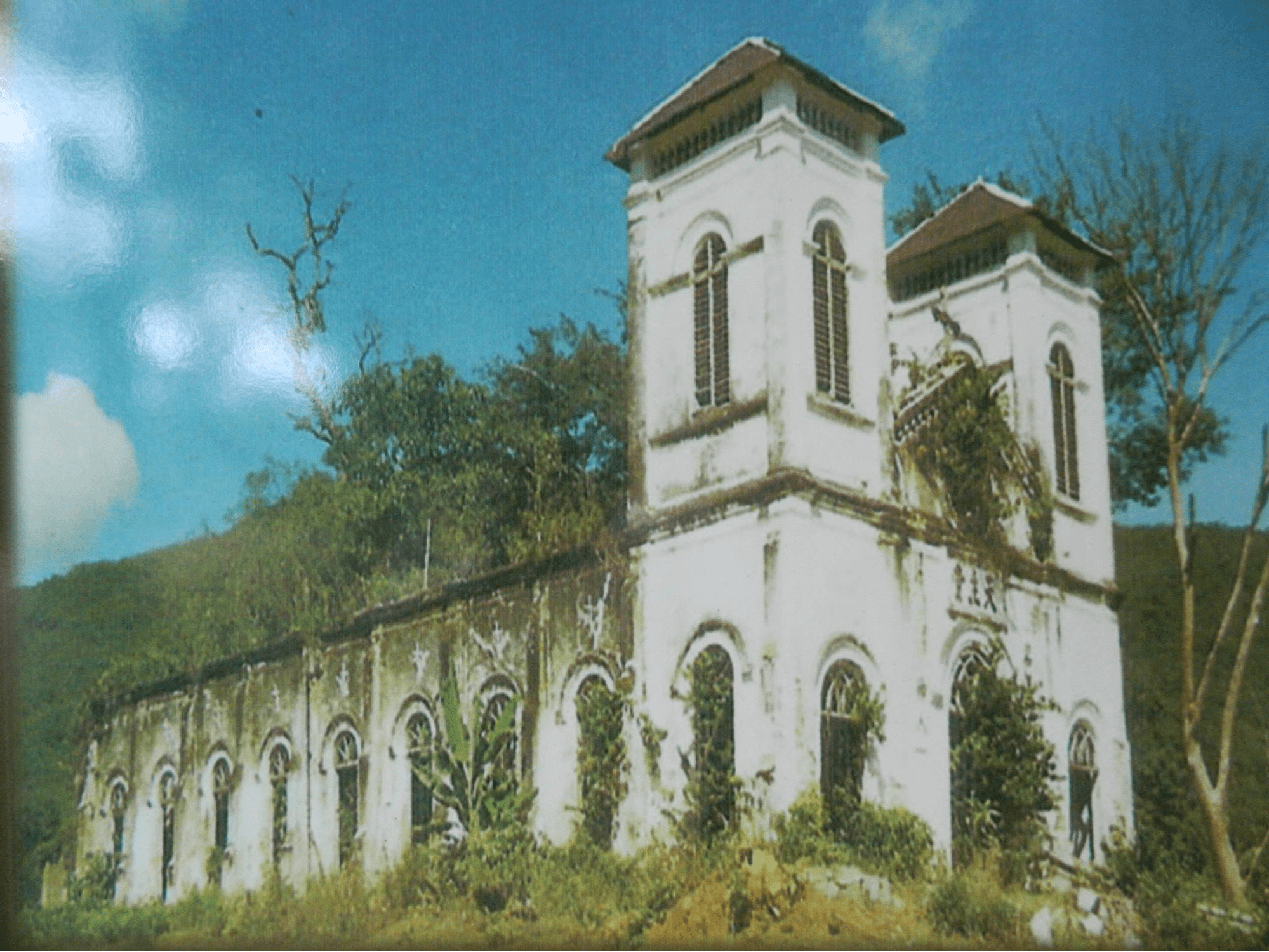 Image credit: Anthony H S Law
There have been numerous talks by local authorities to preserve the church as a national heritage site in 2020, though nothing has been done yet.
---
9. Balai Zaharah, Johor – clove-shaped building once host to royal ceremonies
---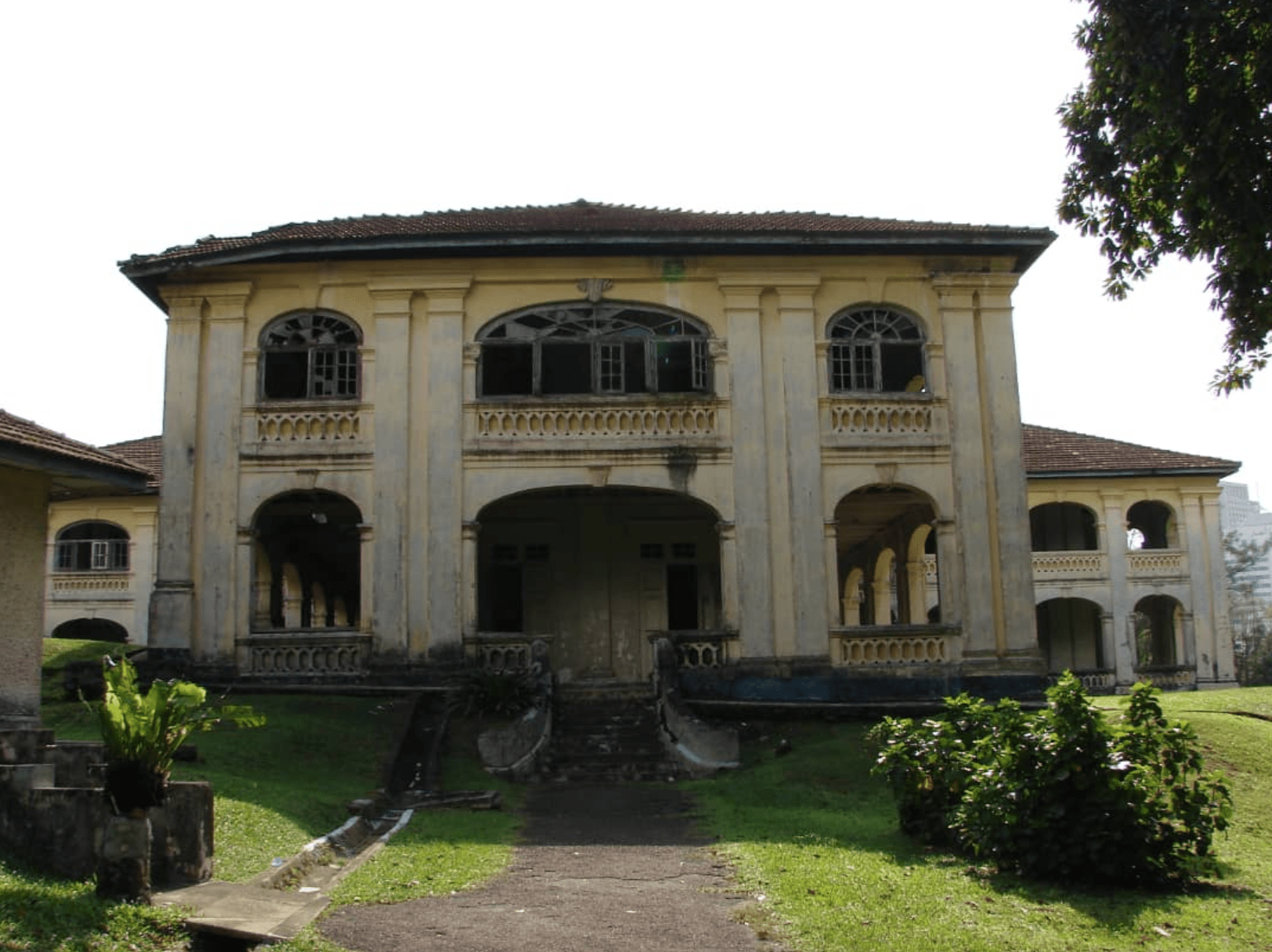 Image credit: Google Maps 
Adjacent to Istana Zaharah in Johor is Balai Zaharah, an audience hall that was used to host grand  ceremonies, including royal weddings and sultan inaugurations. The hall is all that's left of the royal estate after the Istana, built in 1889, was destroyed during World War II.
Although it is not known when the audience hall was officially built, given the conflicting accounts about its history, it is believed to have been built around the same time as the palace. Some have speculated that it was built as early as 1858, as the royal family is said to have stayed here while waiting for the new palace to be built.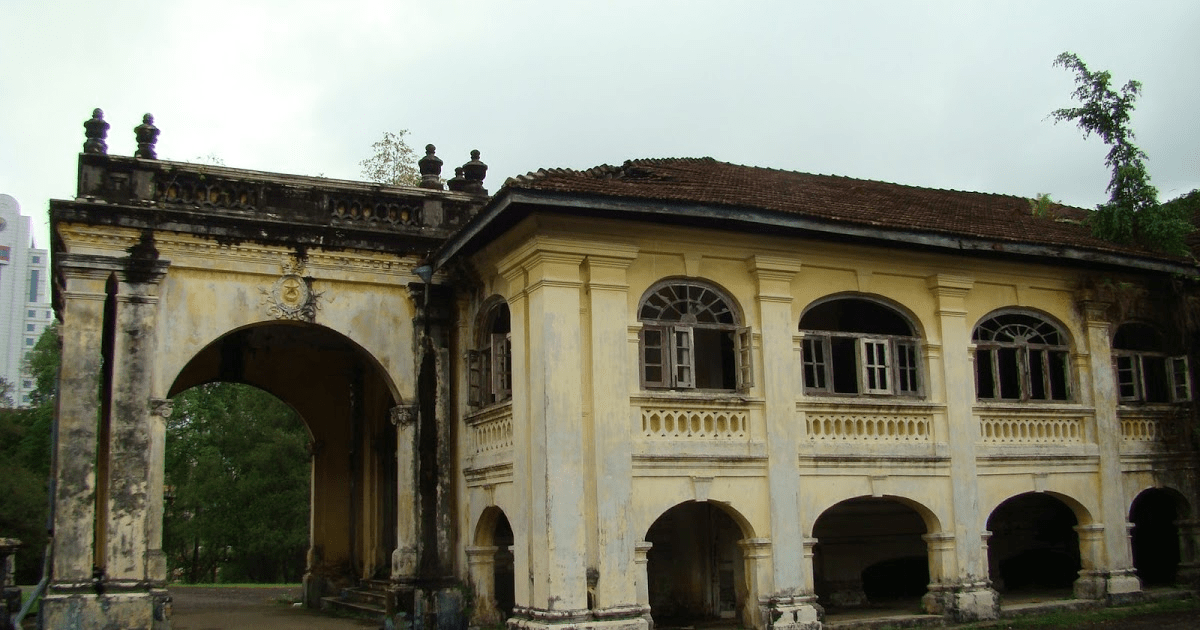 Image credit: Wikimedia Commons
Balai Zaharah is also known as 'Balai Cengkih' among locals, due to the ornamental designs that adorn the buildings resembling a cengkih, or 'clove'. The structure itself also features four projections just like the aromatic flower bud, said to reflect the four main groups of dignitaries in Malaysia during royal functions: the Malays, Chinese, Indians, and British. 
The extravagant building was left vacant when the royal residence moved from here to Sultan Abu Bakar Grand Palace on Jalan Tun Dr Ismail. It was briefly used as a school, Bukit Zaharah Religious School, and later an English university before it was left abandoned.
---
10. Istana Raja Muda, Perak – once the official palace of the Raja Muda
---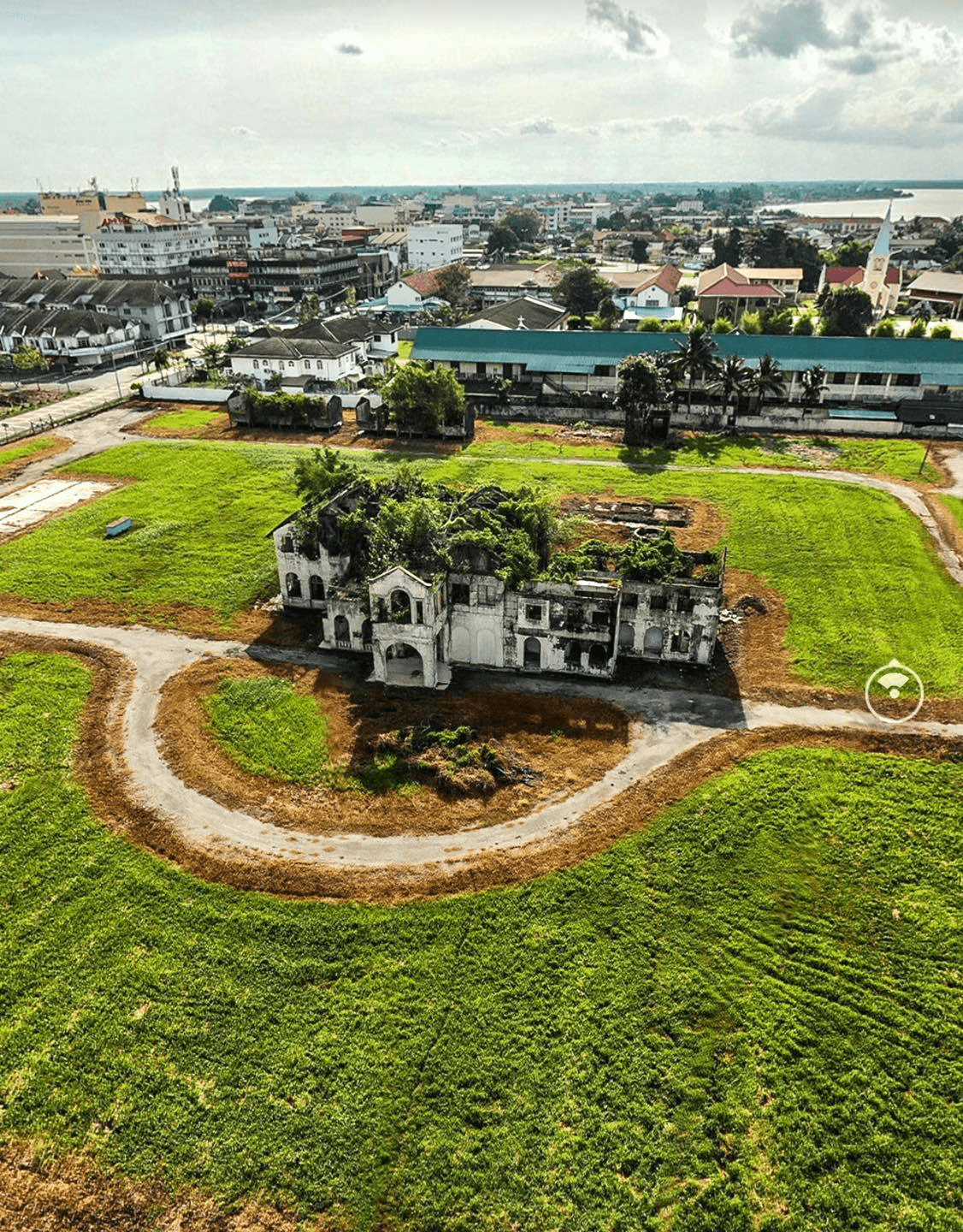 Image credit: Viral Perak
Istana Raja Muda is a prominent landmark in Perak, due to the lush green trees that sprout from its abandoned structure, located smack-dab in the middle of a sprawling two-hectare land. 
Built in 1922, the palace used to be the official residence – or Istana Raja Muda – of the Raja Muda of Perak in Teluk Intan. Teluk Intan was also the official residence of the Perak regent. However, in 1988, the palace of the Heir Apparent was moved to the bustling city of Ipoh at Istana Tetamu instead, which is now the current Istana Raja Muda.
The palace was occupied till Raja Muda Musa's death in 1987.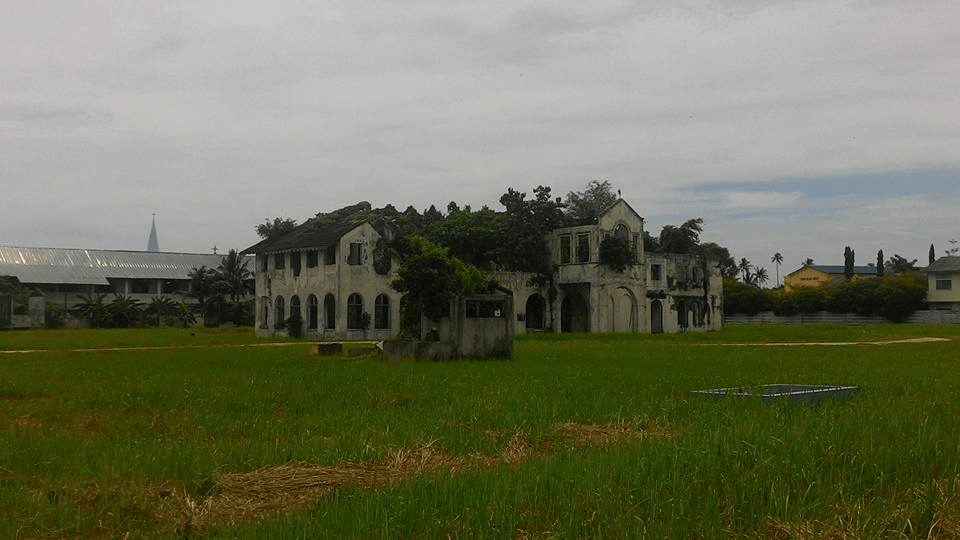 Image credit: Perak Heritage Society
In 2021, there were discussions held by the Perak government to sell the land with the abandoned structure of the palace so it could be redeveloped. After the public protested against the move to demolish the historic building, the decision was deferred. In 2022, the local government agreed to not sell the land. 
---
Heritage buildings & ruins in Malaysia
---
Those who consider heritage buildings as part of our country's storied past often look to them as glorious reminders of a bygone era and a testament to how our country has changed over time. While it is sad to see many buildings fall to ruin and left forgotten, there are still remnants of them that we can still see today, and hope that they will be preserved so many more can see them in the future too. 
Watch our video for more abandoned heritage sites in Malaysia:
Read more here: 
---
Cover image adapted from: Lim Hin, Viral Perak and Raja Zairil Nuteh Halijah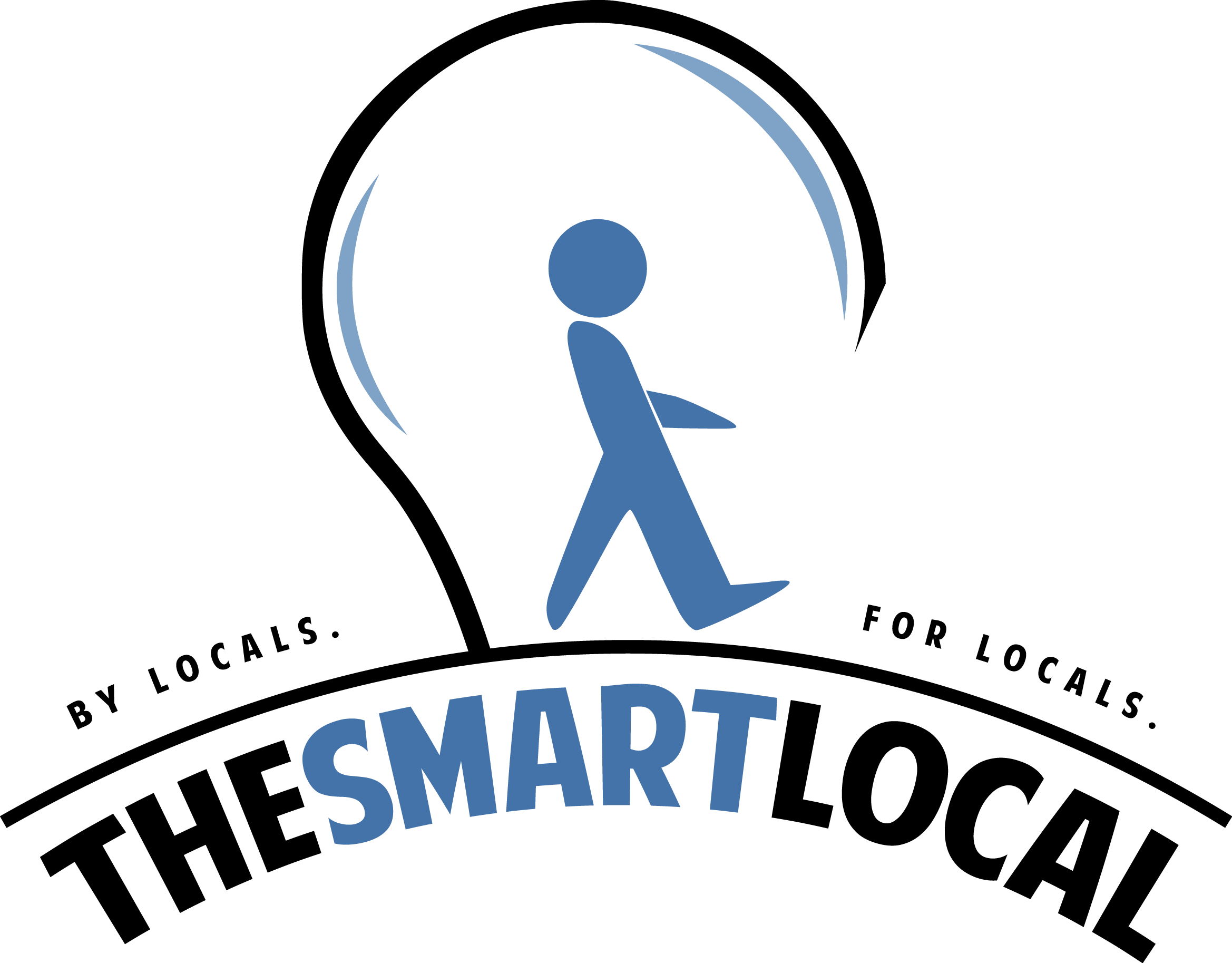 Drop us your email so you won't miss the latest news.