Cheong Fatt Tze Mansion in Penang
---
Penang is a charming island with a well-preserved history. In its capital city, George Town – dubbed a UNESCO World Heritage Site – numerous heritage buildings have been revamped into grandiose hotels that have retained their timeless charms.
Located  in the beating heart of George Town is Cheong Fatt Tze Mansion, or The Blue Mansion, a 130-year-old heritage building. Formerly the residence of a local tycoon, it is now a boutique hotel that features a fine-dining restaurant, cafe, bar and magnificent architecture – perfect for staycays or a short visit for brunch and guided tours. 
---
A majestic building with a rich history
---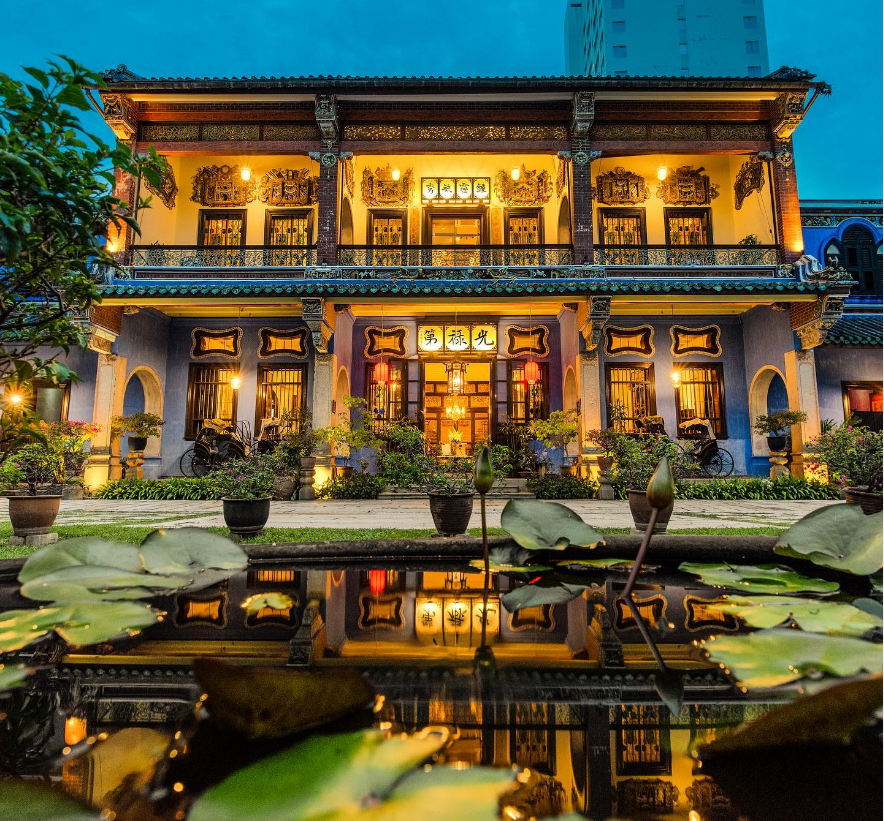 Image credit: @cheongfatttzemansion
Once the home and office of Cheong Fatt Tze – a Chinese tycoon who was also known as "Asia's Rockefeller" – The Blue Mansion was built in the 1880s as a gift for the magnate's seventh wife, who was his favourite out of his eight wives.
The lavish mansion contains 38 rooms, five courtyards, seven staircases, and a whopping 220 windows. At the back of the mansion sit the Cheong family's bedrooms, dining halls and spaces for ancestral prayers, while the centre wings were used for business functions and meetings.
Cheong Fatt Tze's passing in 1916 saw the demise of his grand home. Though it was bequeathed to his son, the mansion fell into ruins. Thankfully, the property was sold to a group of Penang conservationists who worked arduously for nearly a decade to refurbish it. With restorations completed in 1996, the historic mansion is now one of many successful heritage preservation stories in Penang.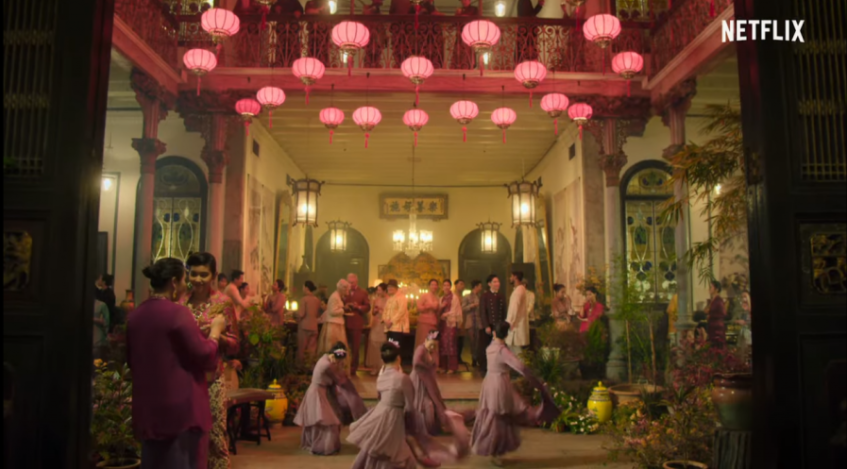 A scene from The Ghost Bride which features The Blue Mansion
Image credit: @netflixmy
With its fascinating architectural styles and mystical beauty, the mansion is also a desirable backdrop for many filmmakers. It was featured in several renowned movies and TV series, most notably the Hollywood blockbuster Crazy Rich Asians (2018), Netflix's The Ghost Bride (2020) and the Oscar-winning film, Indochine (1992). 
---
Chinese-Western influenced architecture
---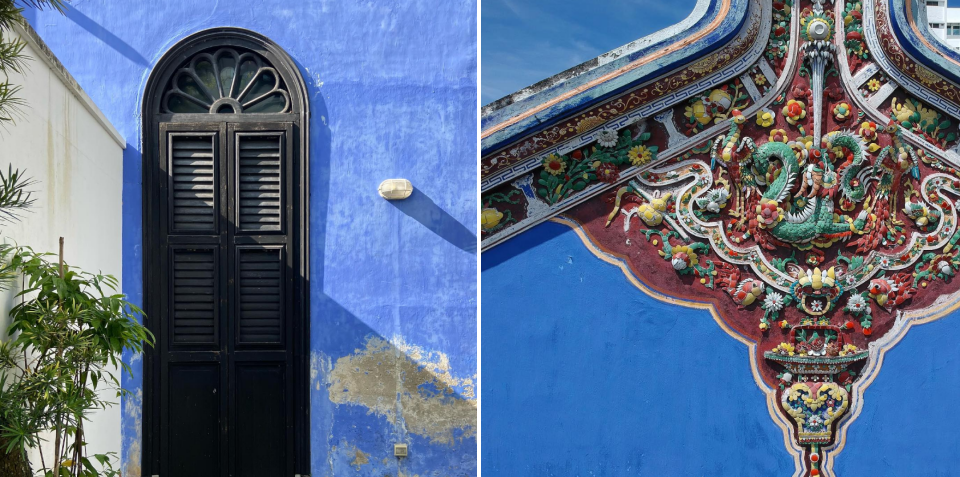 Image adapted from: @tieshtravelgram & @cheongfatttzemansion
The Blue Mansion gets its name from the eccentric blue colour of the walls. Fun fact – dye from indigo plants was mixed with lime to produce a natural blue dye that was used as the wall paint. This type of paint is also ideal for tropical countries.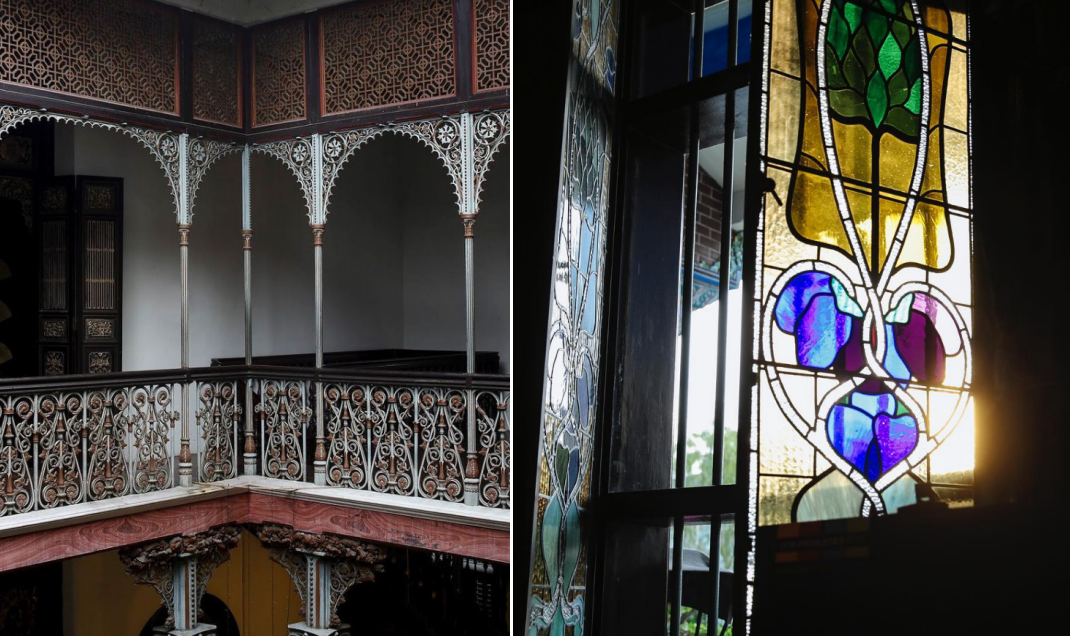 Image adapted from: @cheongfatttzemansion & @cheongfatttzemansion
Cheong Fatt Tze consulted with leading Feng Shui masters and professional architects to replicate the traditional beauty and elegance of Chinese houses, and meld them with Western-style architecture.
Visitors can stroll through the mansion's stunning central courtyard and main hall to take in its magnificent artisanship and artefacts.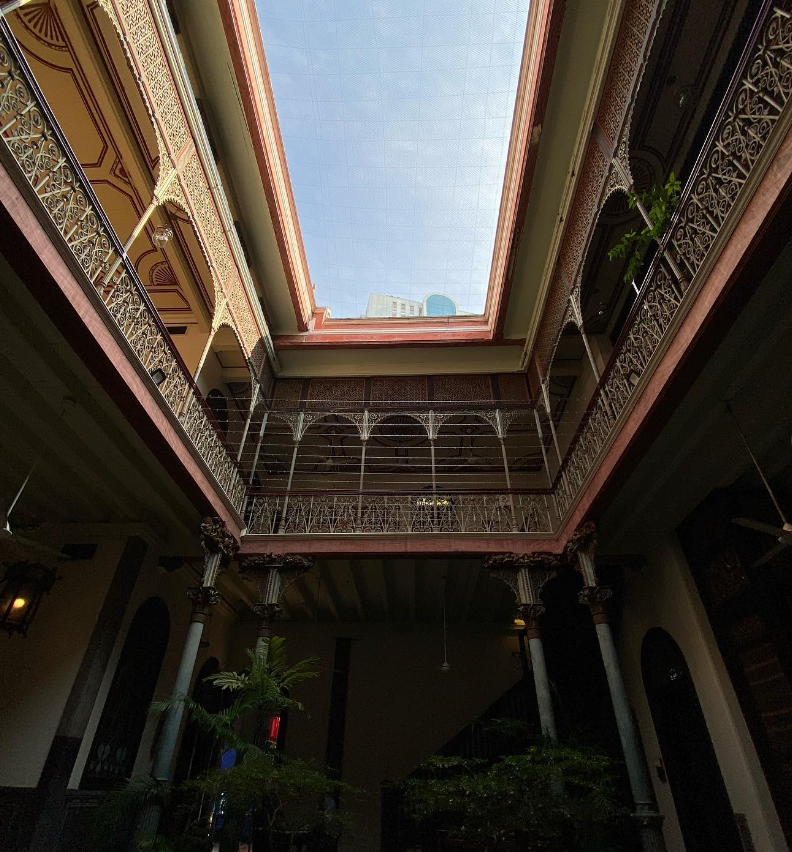 Image credit: @tieshtravelgram
There are also guided tours conducted from Thursdays to Sundays (11AM-2PM) so history buffs can learn more about the mansion's Straits Eclectic architecture – an architectural style prevalent in heritage buildings around Penang – or Feng Shui elements incorporated in the mansion's design and layout.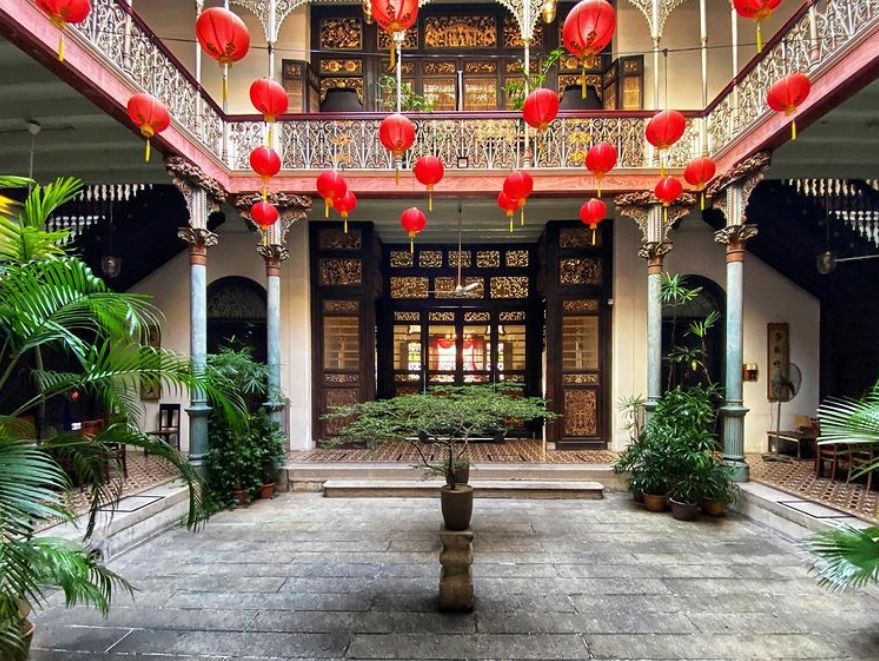 Image credit: @palmtreesandpizzas
---
Dining experiences at The Blue Mansion
---
Cheong Fatt Tze Mansion also offers a culinary experience for foodies at Indigo Restaurant, located on the first floor of the mansion. Like the mansion's architecture, the restaurant's cuisine also brings together the East and West in its fusion dishes.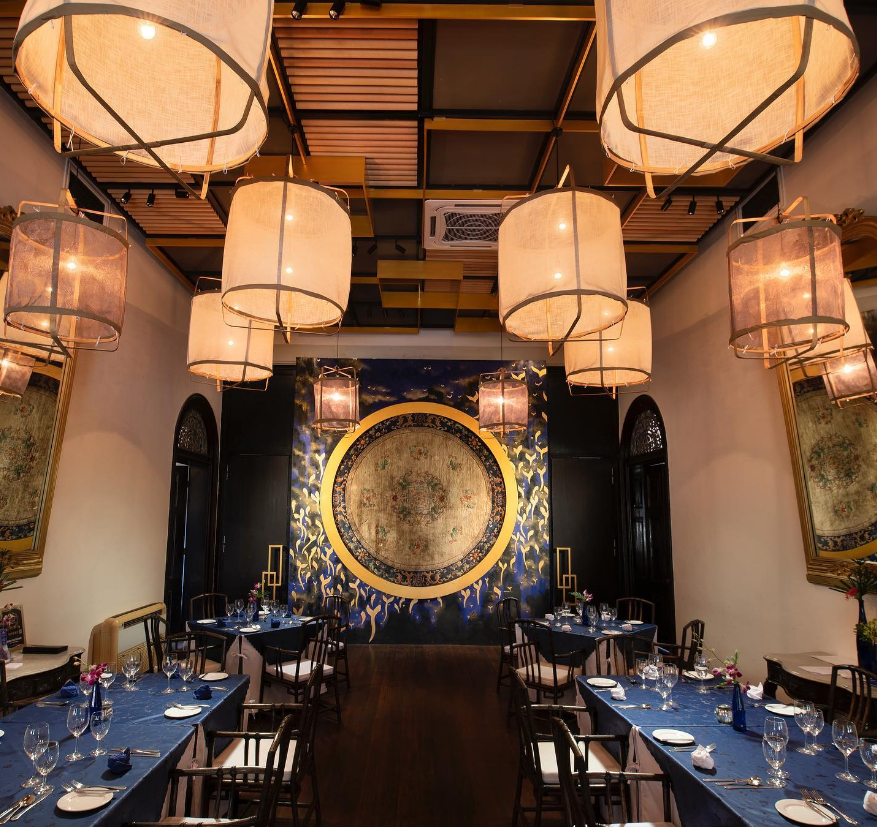 Image credit: @indigo.georgetown
Helmed by Penang-born Chef Jack Yeap, Indigo Restaurant serves a three-course fine dining lunch (RM88++ per person), and a 7-course tasting and dinner menu (RM388++ per person). It's also open for private events, and takeaways and deliveries.
Those who wish to avoid dining out at this time can opt for their Home Special menu, which features afternoon tea snacks and gourmet dishes.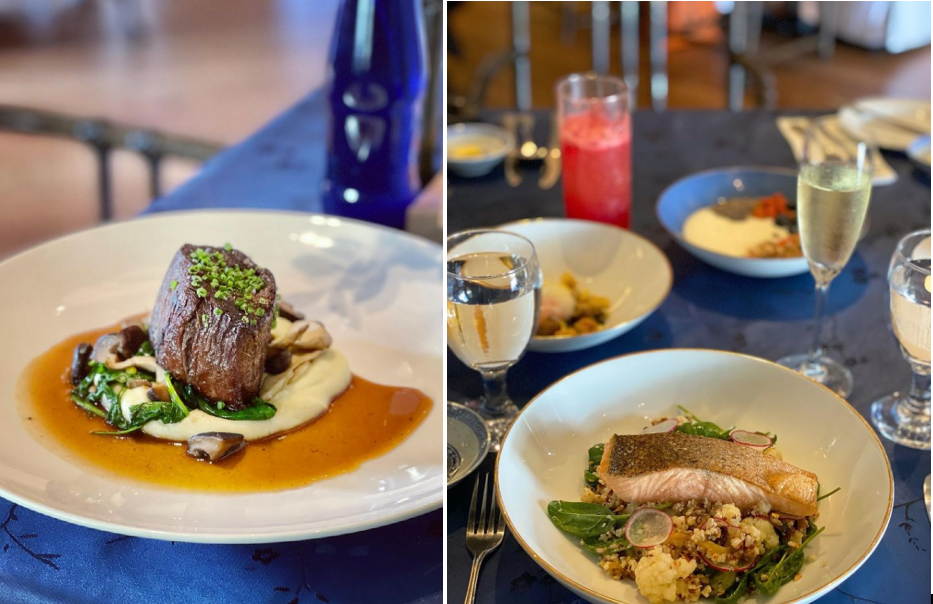 Image adapted from: @yinglai and @indigo.georgetown
For a more casual setting, head to Cafe Mangga, a recently launched cosy brunch spot hidden inside The Blue Mansion. You can enjoy an array of Western brunch dishes including Eggs Benedict (RM28) and Miso Mushroom Spaghetti (RM28), as well as classic local ones such as Mangga's Nasi Lemak (RM28) – all under a gigantic mango tree.
The cafe opens from 10AM till 6PM, and is set in a space by the main entrance of the mansion.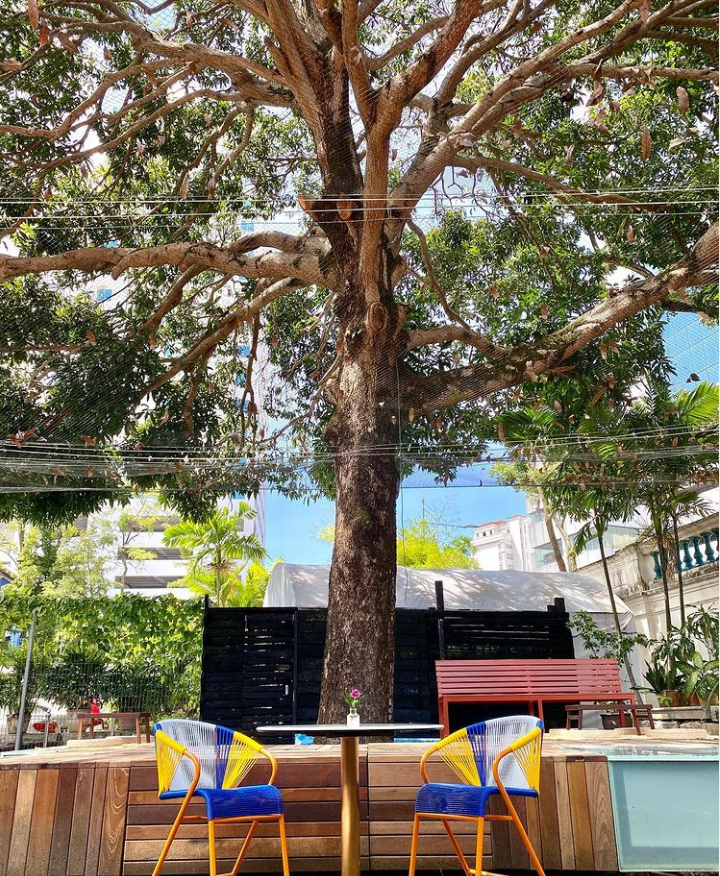 Image credit: @manggaatthebluemansion
You can also drop by The Bar for pre-dinner drinks – sip on refreshing cocktails during their Happy Hour (5PM-9PM) for discounts on beverages.
If you fancy a more breezy atmosphere, their Courtyard seating is open to guests of The Bar as well as hotel guests. During the weekends, a guzheng player will serenade visitors while they soak up the tranquil ambience here.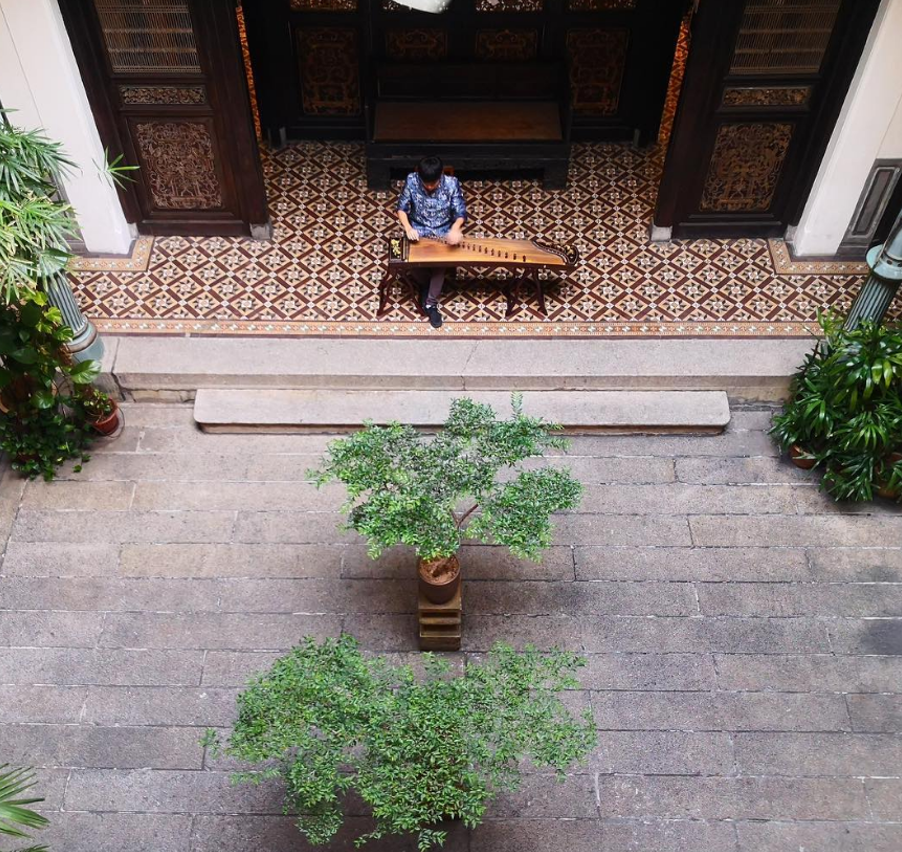 Image credit: @indigo.georgetown
---
Stay and experience the splendour of the mansion
---
To fully immerse yourself in the resplendent ambience and charm of the property, you can also book a stay at the mansion's boutique hotel.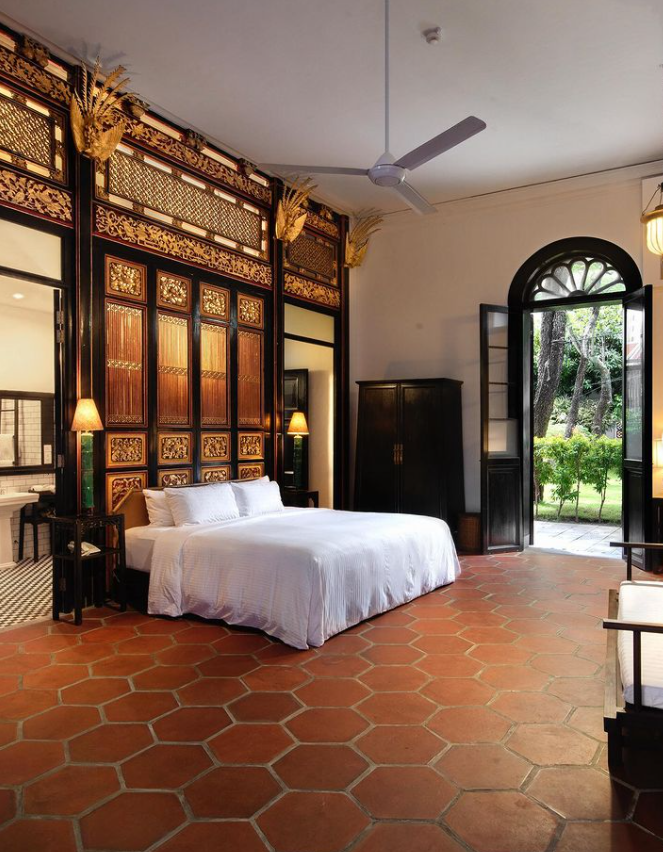 Image credit: @cheongfatttzemansion
As the hotel is located right smack dab in the heart of George Town, there is no better way to experience Penang's living heritage then spending a night in one of their 18 artfully conserved rooms.
Each room is decorated and furnished with specific themes in mind to pay tribute to the mansion's original owner's world – The Ming Collection, The Liang Collection, The Tan Suites, and The Han Suites.
A night's stay in a standard room starts at RM635/night for 2 adults and a child, while suites are priced from RM850/night for 2-3 adults and a child.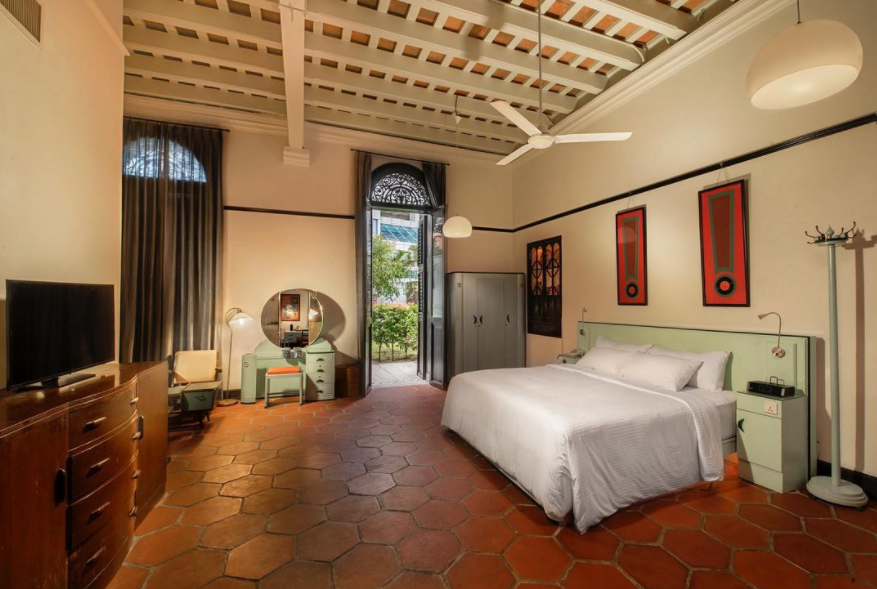 Image credit: @cheongfatttzemansion
For Malaysians looking to go all out with a staycay, opt for a night's stay at Townhouses by Blue Mansion instead – a collection of century-old town houses on Jalan Pintal Tali that have been handsomely restored.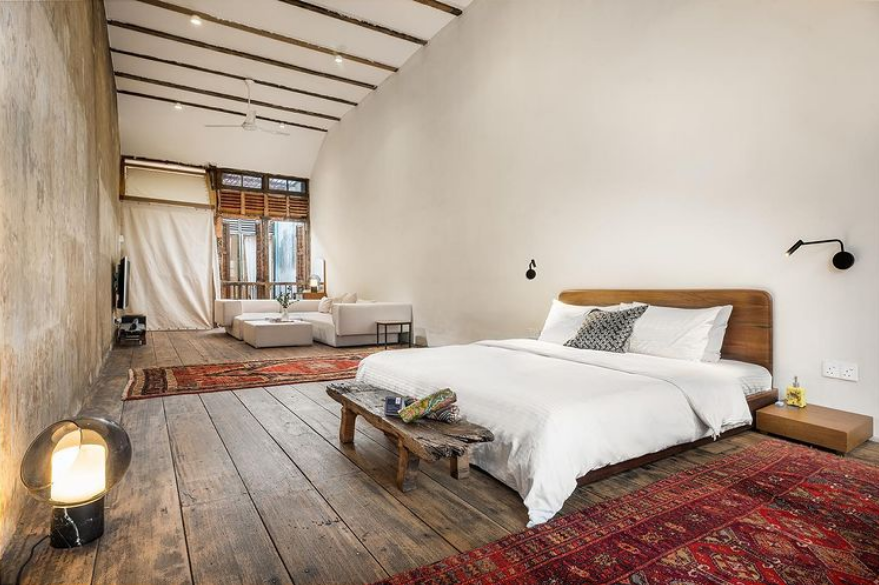 Image credit: @cheongfatttzemansion
With a minimalist yet exquisite vintage interior, the town houses are included in two themed collections – Tjiong on Rope Walk and Zhang on Rope Walk. You'll have a spacious private sanctuary all to yourself, with the city just outside your door. 
These townhouses can host a family or a group of four adults and two children, with prices starting from RM800/night.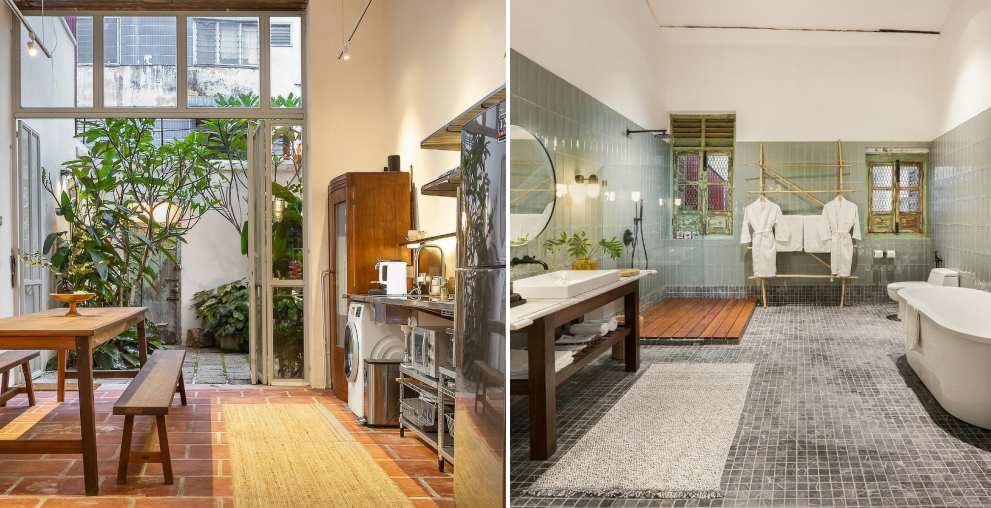 Image credit: @cheongfatttzemansion
---
Cheong Fatt Tze Mansion in Penang
---
The Blue Mansion is more than just an enchanting mansion to stop by during your trip – it is bound to bring you back to the romance and opulence of the Peranakan Chinese era we often see in films and TV series.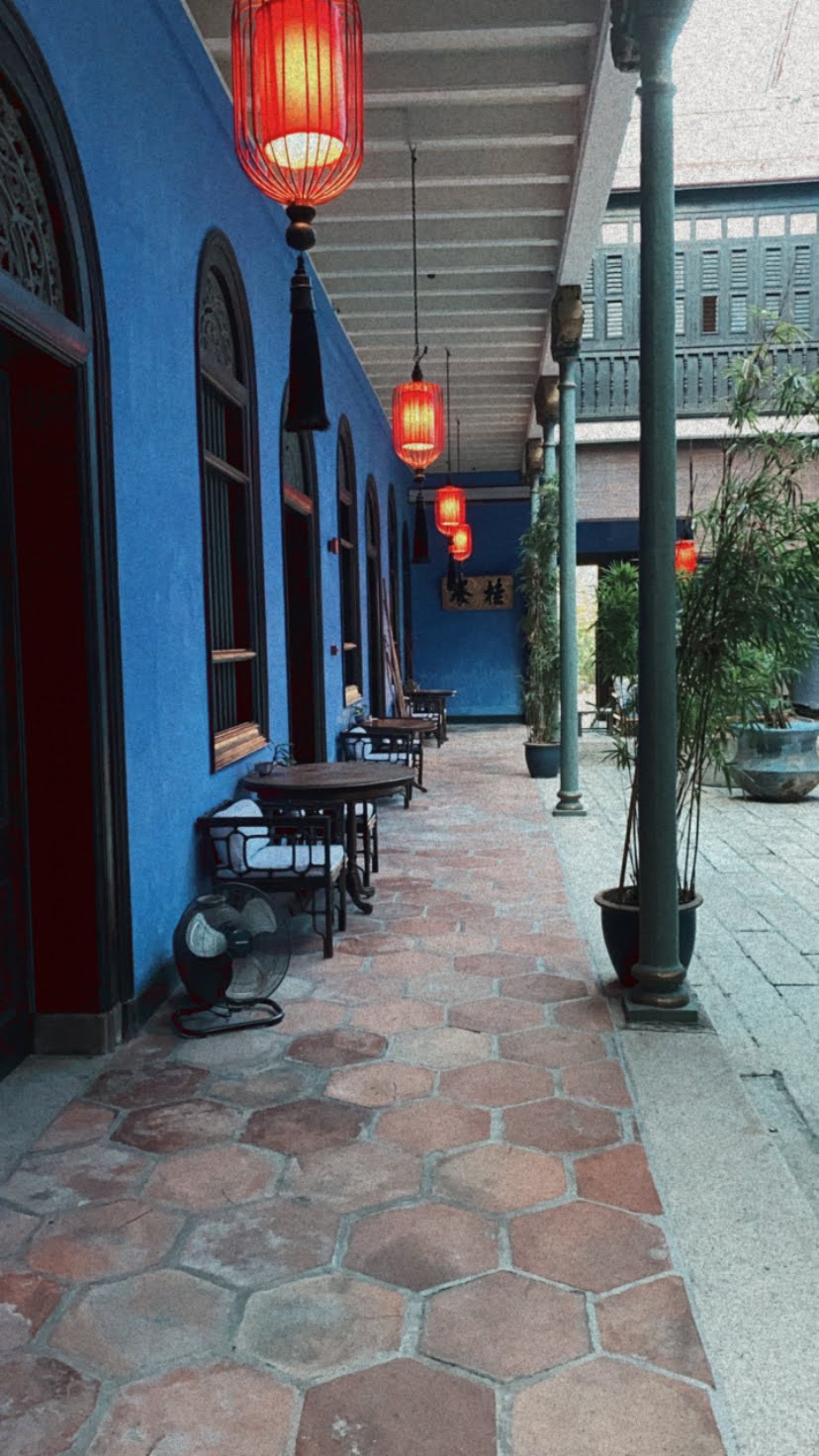 Image credit: Jia-Ju
So drop by the mansion for a tour, or book an overnight stay to soak in the mansion's old-world beauty – or simply enjoy an intimate dining experience surrounded by the richness of Penang's heritage present in the mansion's splendid architecture.
Prices for guided tours: RM25/adult and RM12.50/child below 12 years old
Address: 14, Leith Street, 10200 Penang
Opening hours: 24 hours, Daily
Telephone: 04-262 0006 | 04-262 5289
Cheong Fatt Tze, The Blue Mansion website | Facebook | Instagram
Also check out these places in Penang:
---
Cover image adapted from: @cheongfatttzemansion, @indigo.georgetown & @cheongfatttzemansion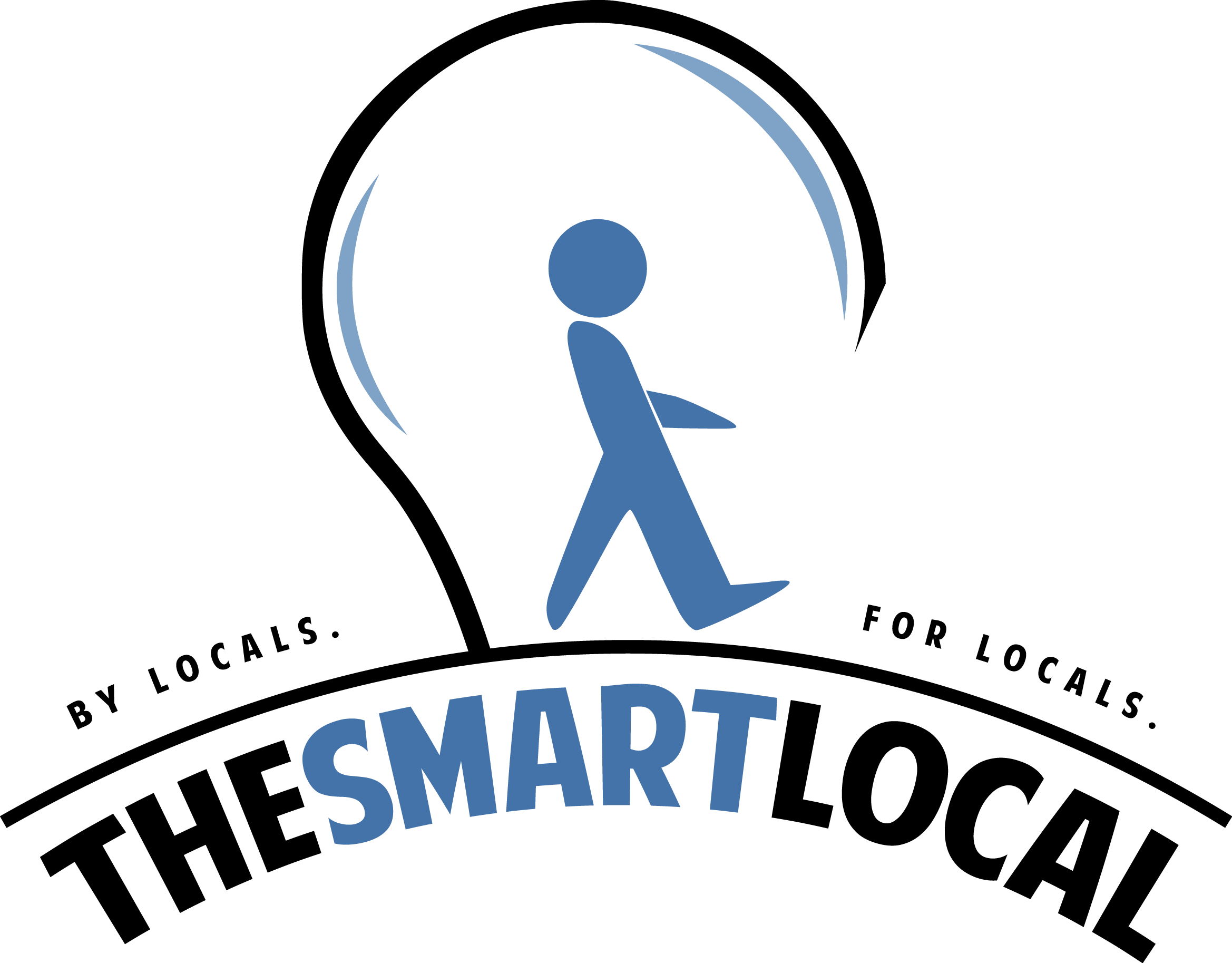 Drop us your email so you won't miss the latest news.