Malaysians buying food for delivery riders
---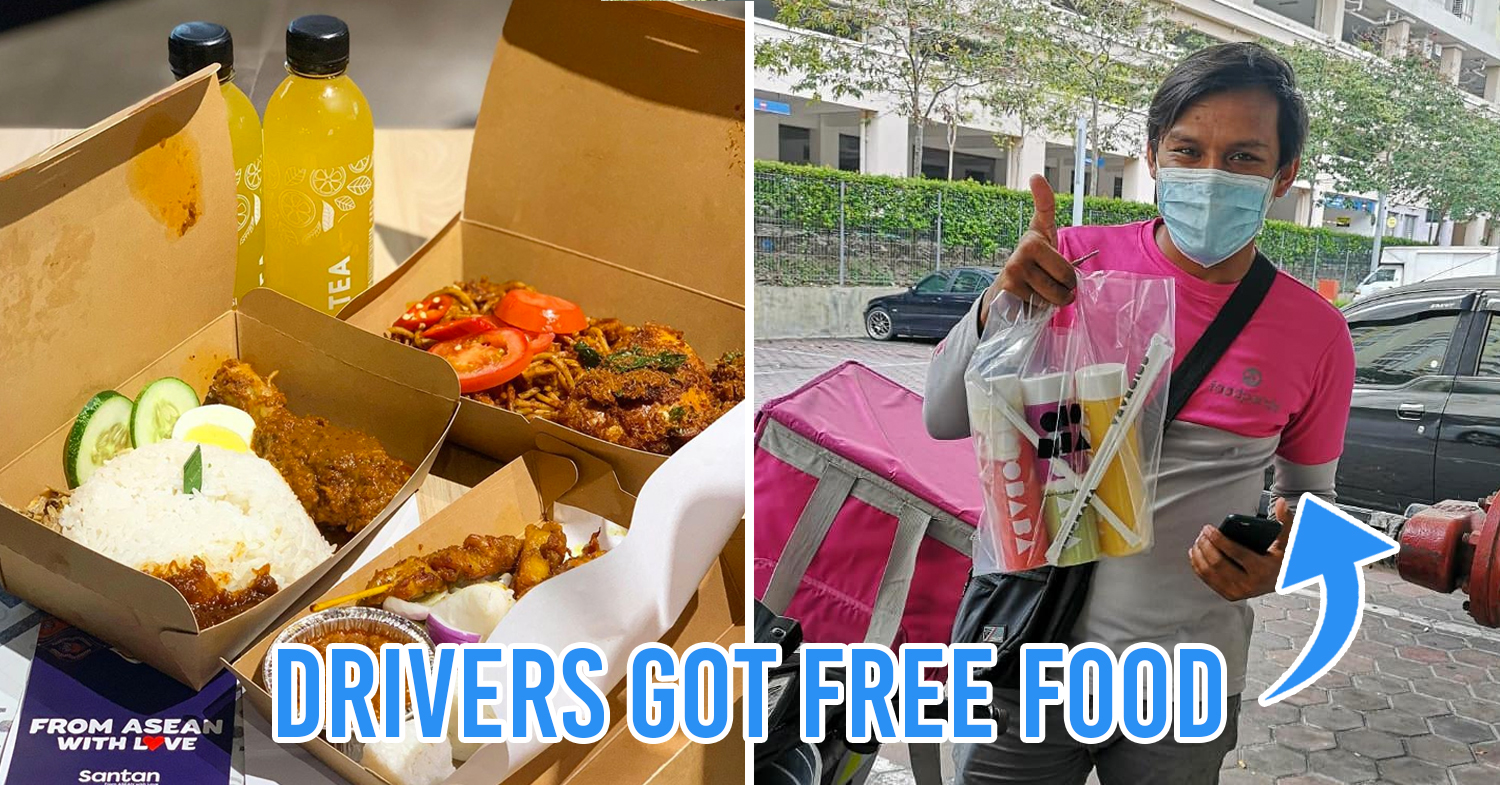 Image adapted from: @yumintum_& @colobaba_pv128

No doubt, most of us have succumbed to eating packs of Maggi mee at least 3 times a week now as we're staying at home amid the Movement Control Order. Which is why we're more than thankful that restaurants and food deliveries are still operating so we can satisfy our usual cravings.
In the true "Malaysian boleh!" spirit, several Malaysians have decided to express their thanks for Grab and Food Panda delivery riders by ordering extra food for them while they continue to work and deliver food while we're cooped up at home and staying safe.
---
Community gives back to delivery riders with free food
---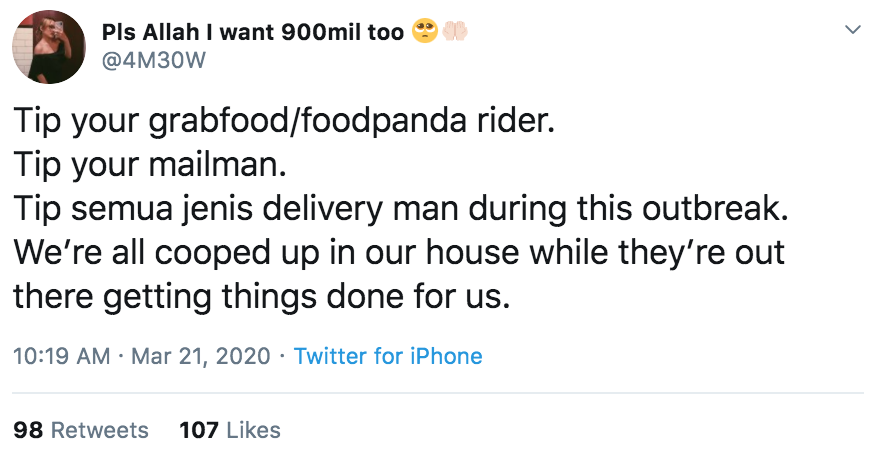 Image adapted from: @4M30W
Delivery riders in Malaysia have a track record of helping out local communities. And their efforts have been noticed by citizens, most notably during this time as many of us are avoiding going out altogether and utilising food delivery apps.
Malaysians have taken to treating them to free meals while they deliver orders to show their appreciation. Several Twitter users have shared their good deeds online, including users Athena and Joseph Stewart, who bought their drivers set meals of nasi lemak with rendang from Santan and fried chicken from Texas Chicken with their orders.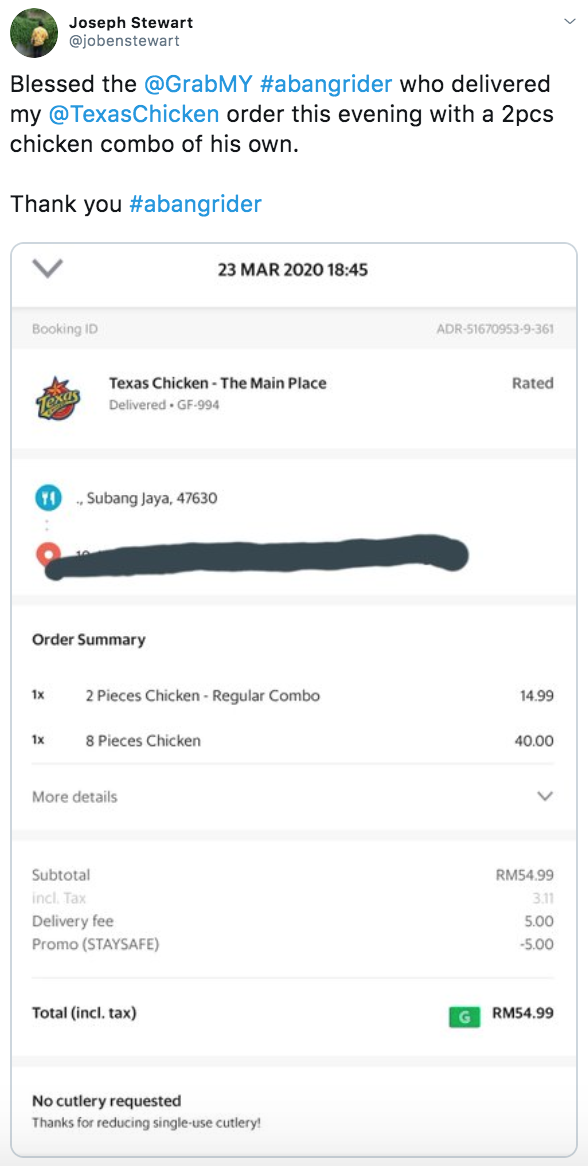 Image adapted from: @jobenstewart
While a seemingly small deed, both users showed that their abang drivers were touched and thankful for their thoughtfulness.

Image adapted from: @nadhiwah
---
Malaysians leave out snacks and thank you notes for riders
---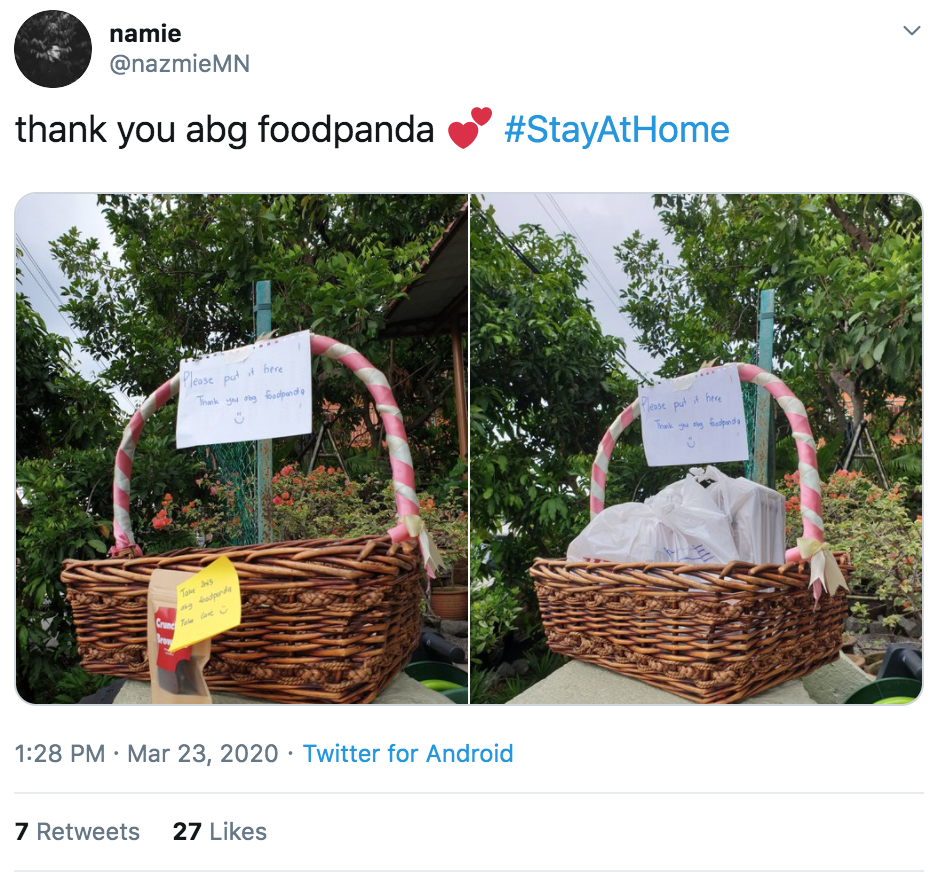 Image adapted from: @nazmieMN
Food delivery services have shown that they are taking care of their drivers and the community during this time by implementing contactless deliveries.
But this didn't stop Malaysians from getting creative in showing their thanks for their drivers, including Twitter user Namie, who left a pack of free brownies and a note that reads "Take this abang Foodpanda. Take care." for her Food Panda driver.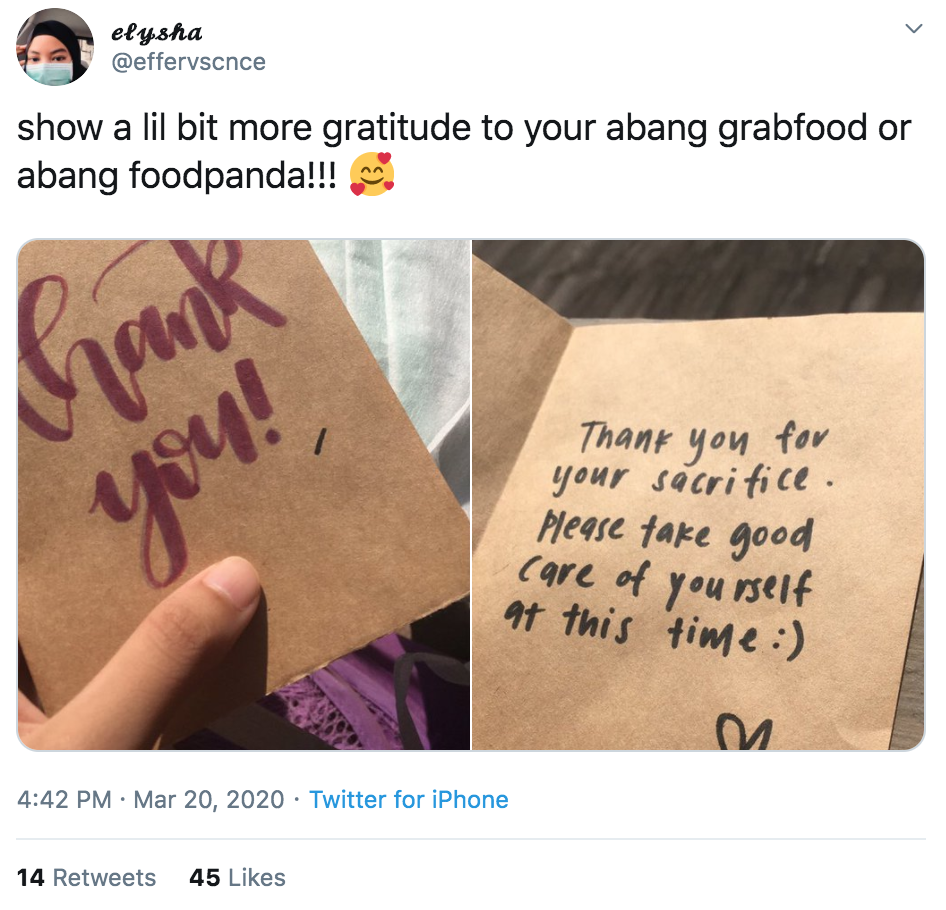 Image adapted from: @effervscnce

Another user Elysha left a face mask and "thank you" note for her driver, and urged her community to do the same.
---
Driver shows his appreciation for thoughtful customer
---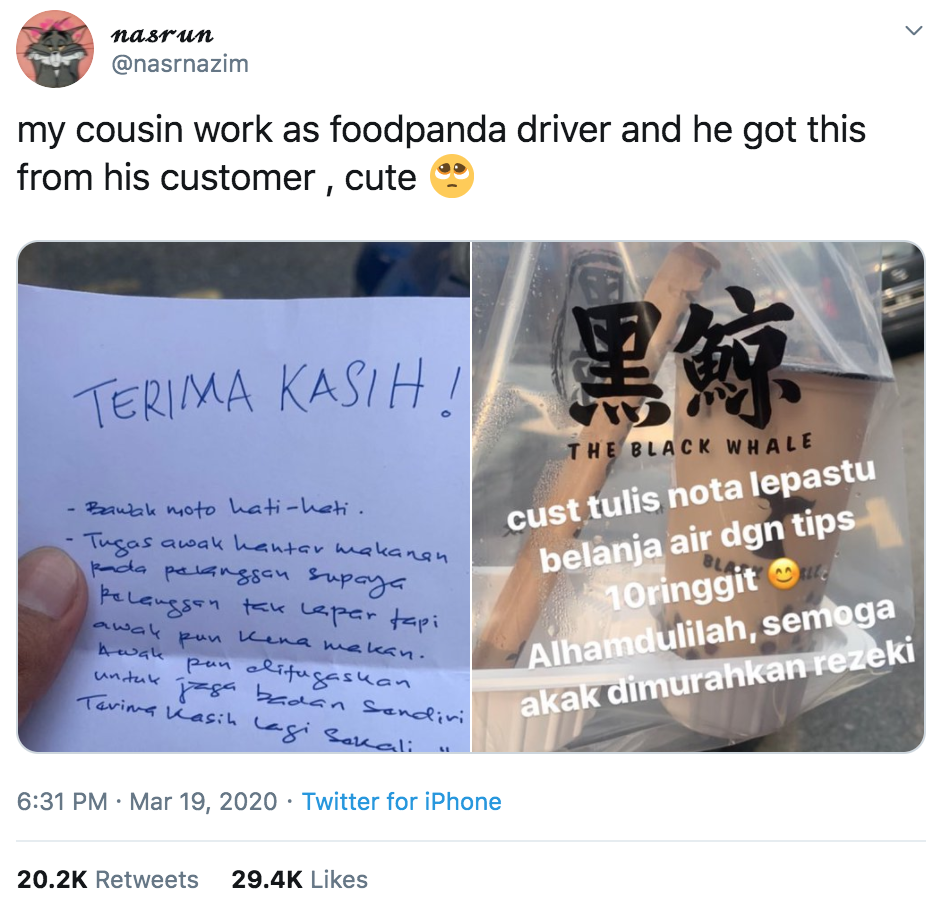 Image adapted from: @nasrnazim
Not too long ago, a Twitter post went viral of a Food Panda driver who shared with his cousin what he had received from a kind customer. It included free boba tea from The Black Whale, a tip of RM10, and a sweet note  – which shows that they appreciate every little thing that comes their way.
The full note can be translated from Malay to English as:
"Thank you! Drive your motor carefully. Your duty is to send food so people don't go hungry, but you need to eat too. You also have the task of taking care of yourself. Thank you once again. You are also a hero".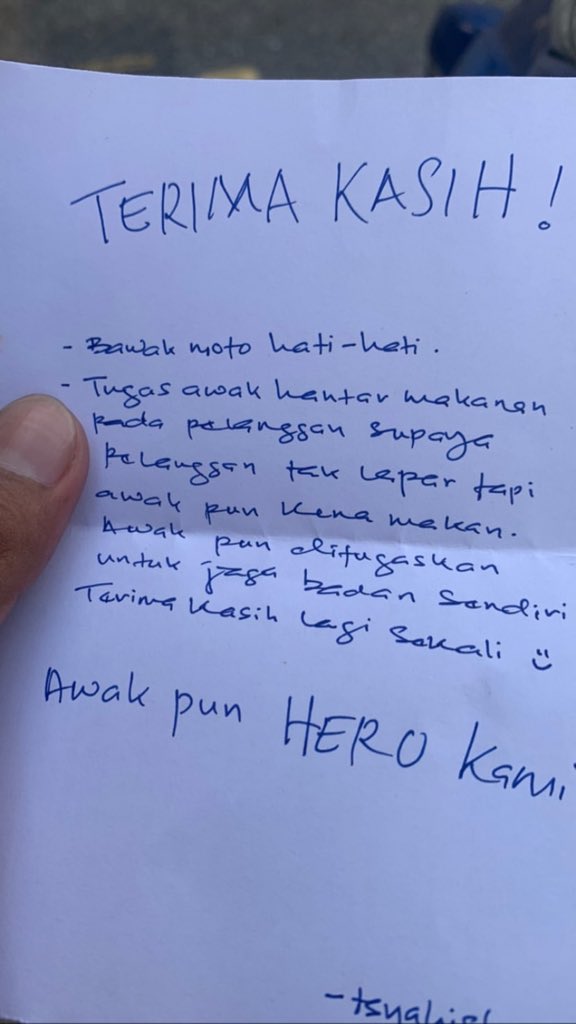 Note of thanks that a Food Panda driver received from his customer
Image credit: @nasrnazim
---
Community gives back to food delivery riders
---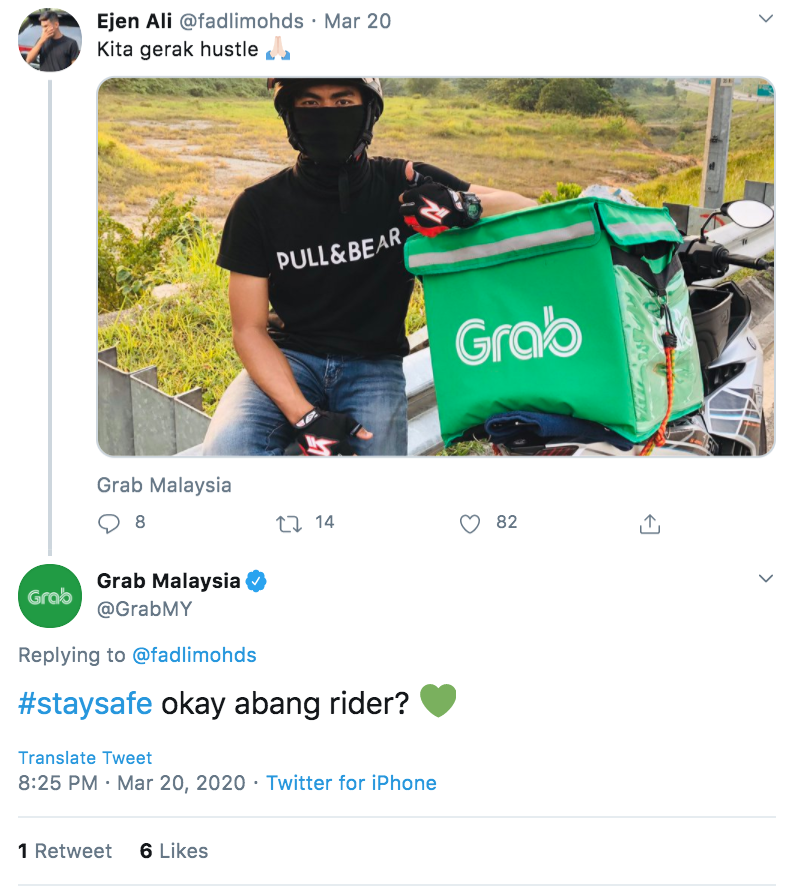 Grab MY sends well wishes to their drivers during COVID-19
Image adapted from: @GrabMY
There are several grocery stores with delivery services that we've been taken advantage of during this time. But with booking slots mostly taken up, most of us have turned to food delivery apps, which means that delivery riders are working extra hard to cater to orders now.
So before worrying about whether your order will show up the next time you go online to get food, consider showing your appreciation for those still having to work while we stay at home.
Keep up with COVID-19 related news here: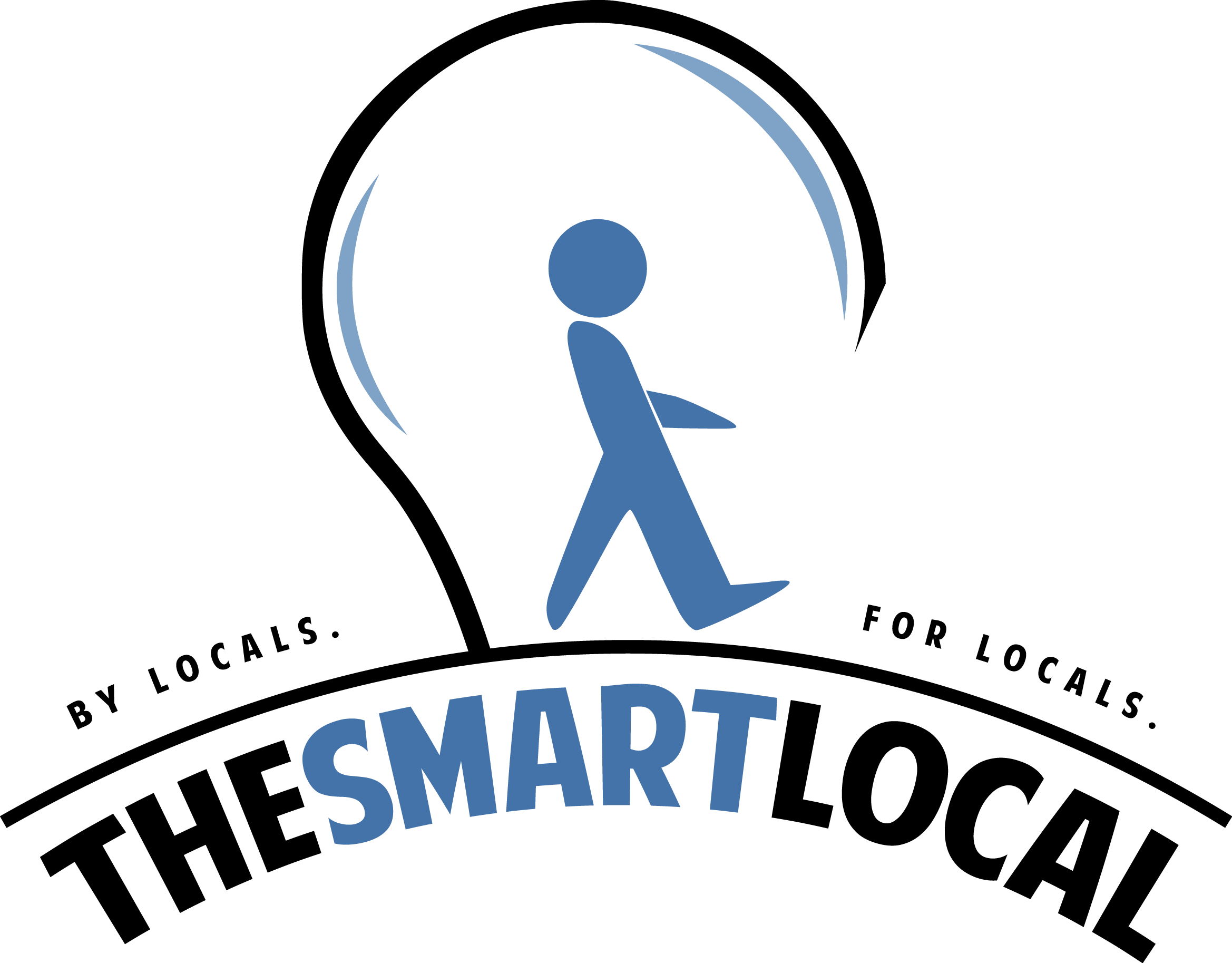 Drop us your email so you won't miss the latest news.