Fine dining in Kuala Lumpur & Petaling Jaya
---
Date nights for the average Malaysian couple go like this: dinner and a movie after. But when there are no new blockbusters to watch and you've already toured the same mall for the umpteenth time, it's only natural to want to shake that ol' routine up. 
On those really special occasions like birthdays and anniversaries, a simple dinner plus movie just isn't going to cut it. There's a misconception that multi-course meals don't come cheap for us millennials, but we dug up these fine dining courses that are worth their price tags, so you can impress bae.
If you're looking to kill time in KL before your big date, here are some ideas on what you can do:
---
1.  Marble 8 – dry-aged steak for lunch (from RM78/pax)
---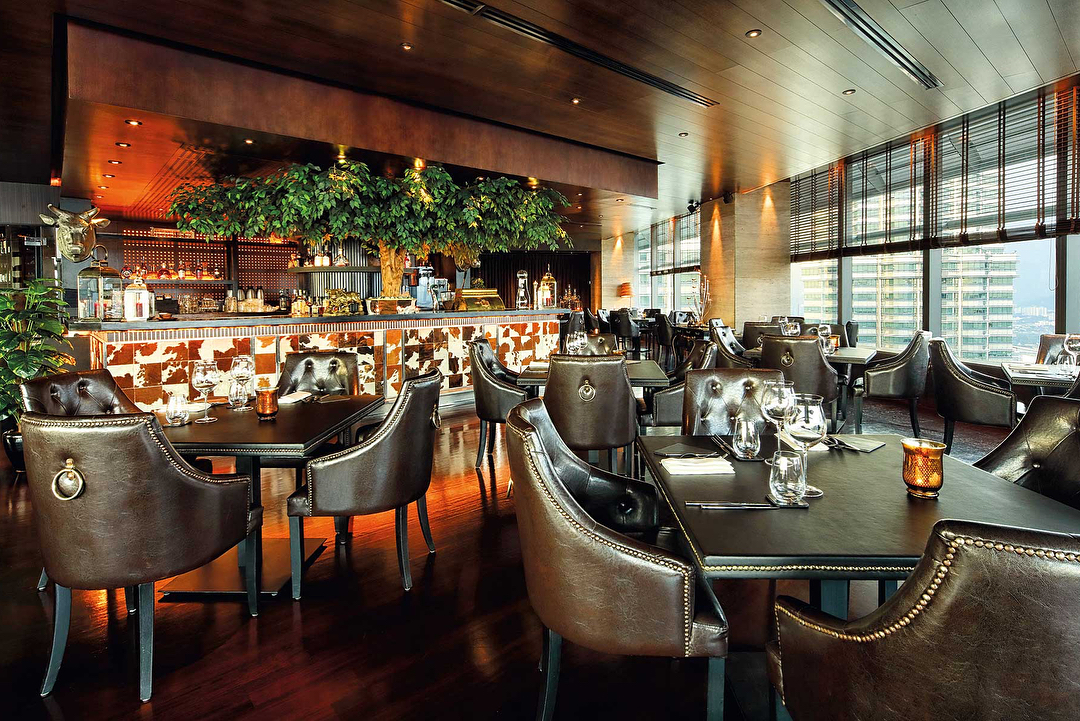 Image credit: @marble_8
Marble 8 is a hot destination among steak lovers in the city, though not all of us can afford a RM400 steak on a casual night out. But this doesn't mean you can't ever afford to feast on their signature dry-aged beef. 
Just head over for their 4-course Elite Gourmand Lunch (RM118/pax) and you'll be able to get Grilled Black Angus Fillet, a pasta dish, as well as an appetiser and dessert.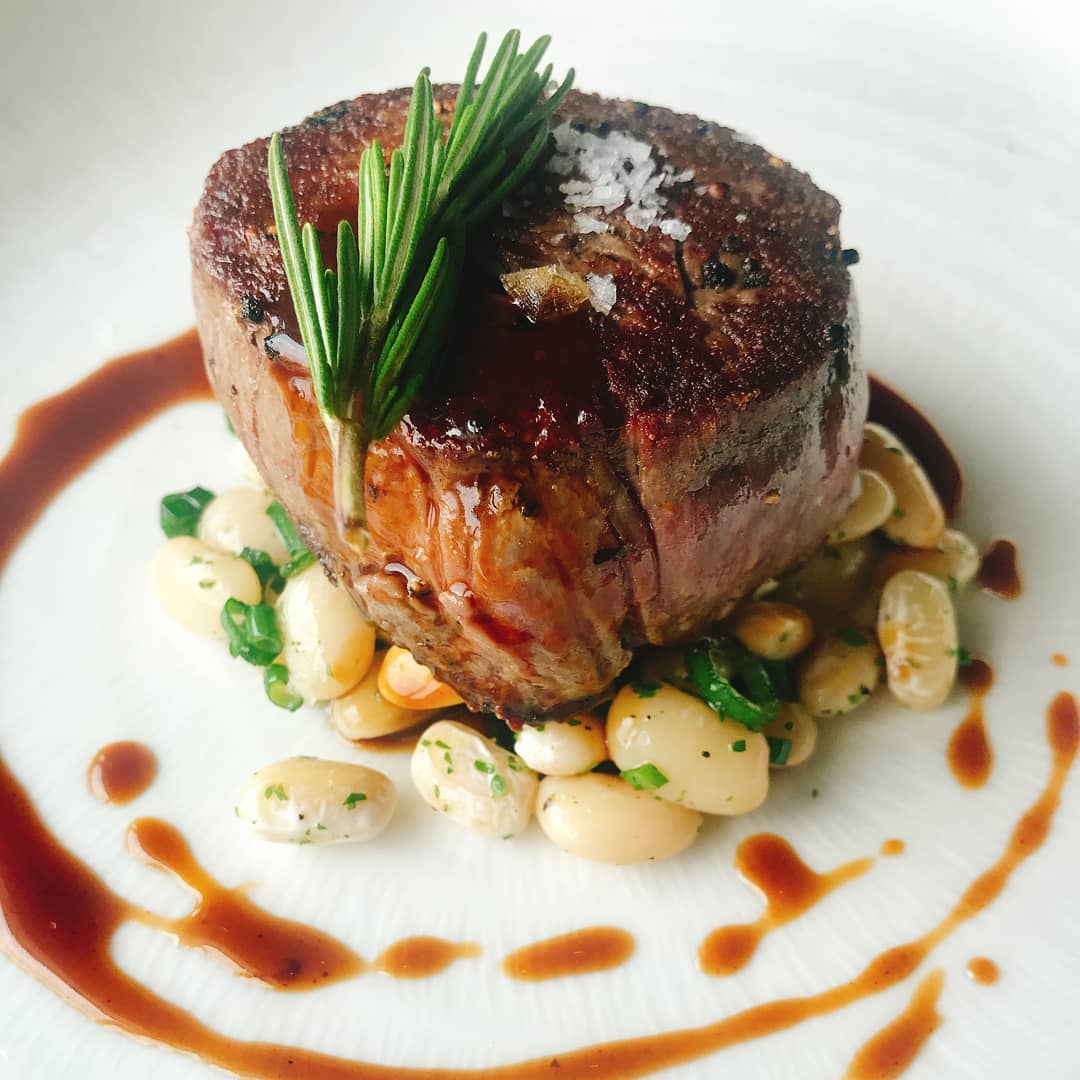 Grilled Black Angus Fillet with Cannellini Beans, Spring Onion & Beef Jus
Image credit: @marble_8
If you prefer lighter lunches, go for the 3-course meal (RM78) instead where your main course will be a pasta dish of your choice. The Tagliatelle with Wagyu Bolognese is easily a stand-out dish from the selection, but the Pappardelle with Mushrooms & Capsicum Salsa can be a good alternative for vegetarians. 
Address: Level 56, Menara 3 Petronas, Persiaran KLCC, 50088 Kuala Lumpur
Opening hours: 12PM-2.30PM & 7PM-11.30PM, Daily
Telephone: 03-2386 6030
Website
---
---

Image credit: @akaneko_food
Most of us go for sushi when we're craving Japanese food. But if you're looking for the real deal without having to get on a plane, go for the set meals at Sou Omakase instead. You can choose your main course from the menu while the other 3 dishes – starter, chawanmushi, and dessert – will be decided by the chef.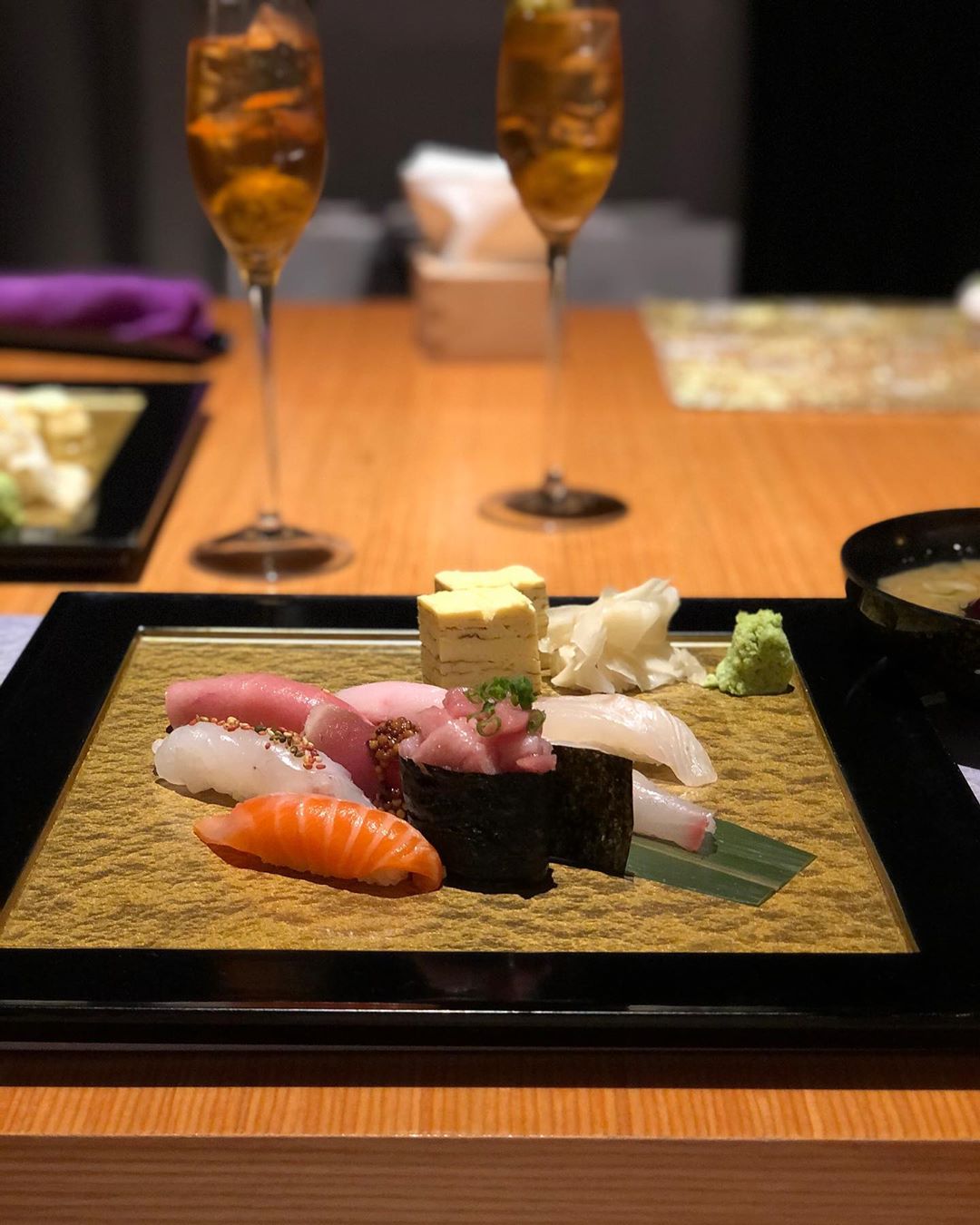 Sushi fans will want to go for the sashimi menu as their main course
Image credit: @ming_fy
The Lamb Tan-Tan Nabe is a popular pick from the Light & Simple Lunch Course (RM88/pax) as you don't often find a lamb hot pot made with spicy sesame broth in regular Japanese food joints. You'll be served a platter or thinly sliced meat which you can quickly cook by dipping into the piping hot soup base for a few seconds. 

A grand interior with marble flooring, stone walls, wooden partitions, and cushioned chairs.
Image credit: Sou Omakase Dining
Address: G247, Ground Floor, The Gardens Mall, Lingkaran Syed Putra, Mid Valley City, 58000, Kuala Lumpur
Opening hours: 11.30AM-2.30PM & 6PM-9.30PM, Daily
Telephone: 03-22021133
Website
---
3

.

2OX – French food in the heart of KL (from RM120/pax)
---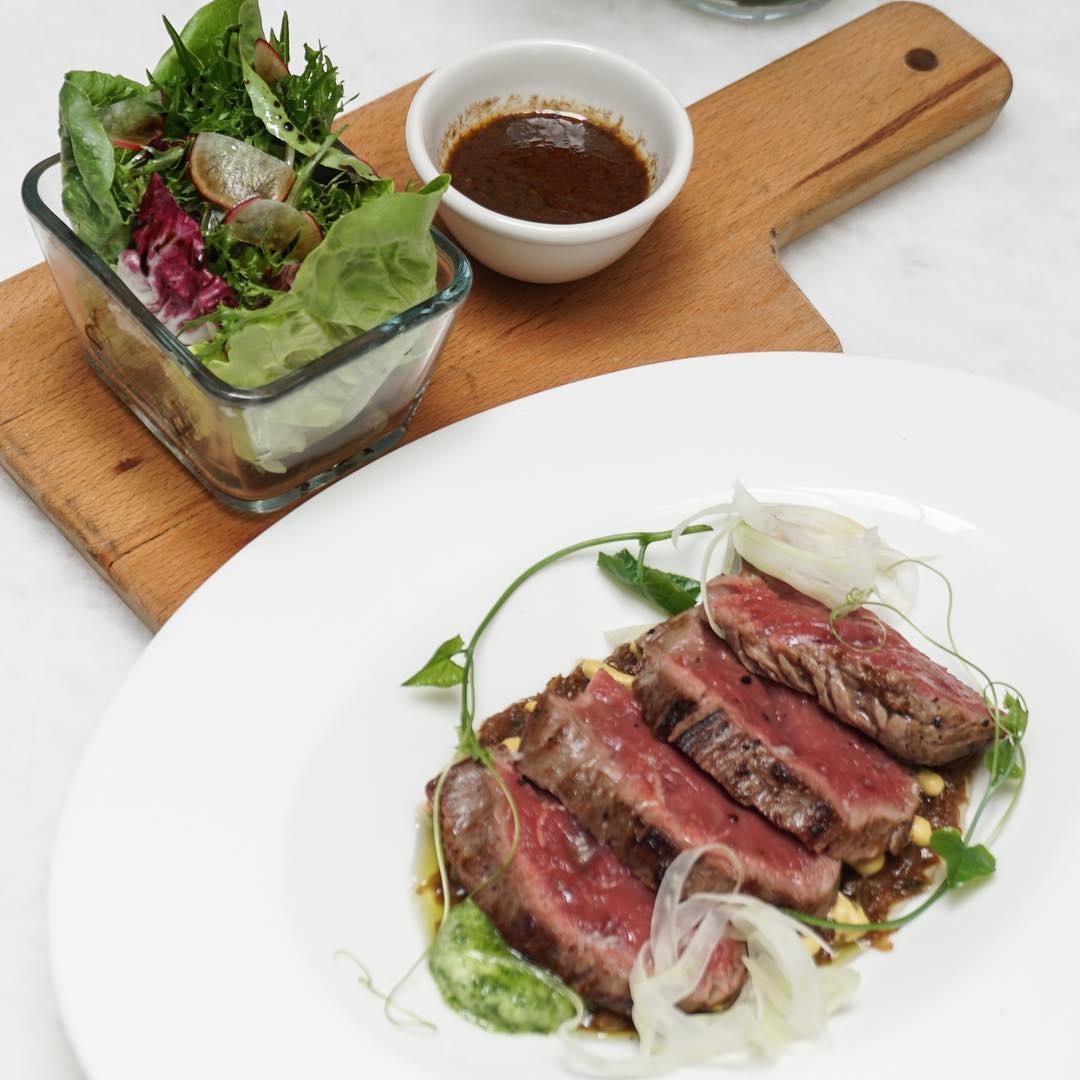 Grilled grass-fed beef tenderloin with caramelised onions served with a side of salad and a black truffle sauce to pair
Image credit: @2ox_kl
Nothing screams luxurious fine-dining as much as French cuisine does – think escargot and beef bourguignon. They may be everyday dishes for the French but over here, they can be expensive as heck. Which is why 2OX's multi-course meals are a steal, considering you still get classic dishes like Vegetable Ratatouille and Ox-tail Bourguignon. 
Go with the Simply French Menu (RM120/pax) for a simple introduction to French food. For mains, take your pick from Angus & Wagyu Beef Burger, Seared Salmon, and Wild Mushroom Risotto.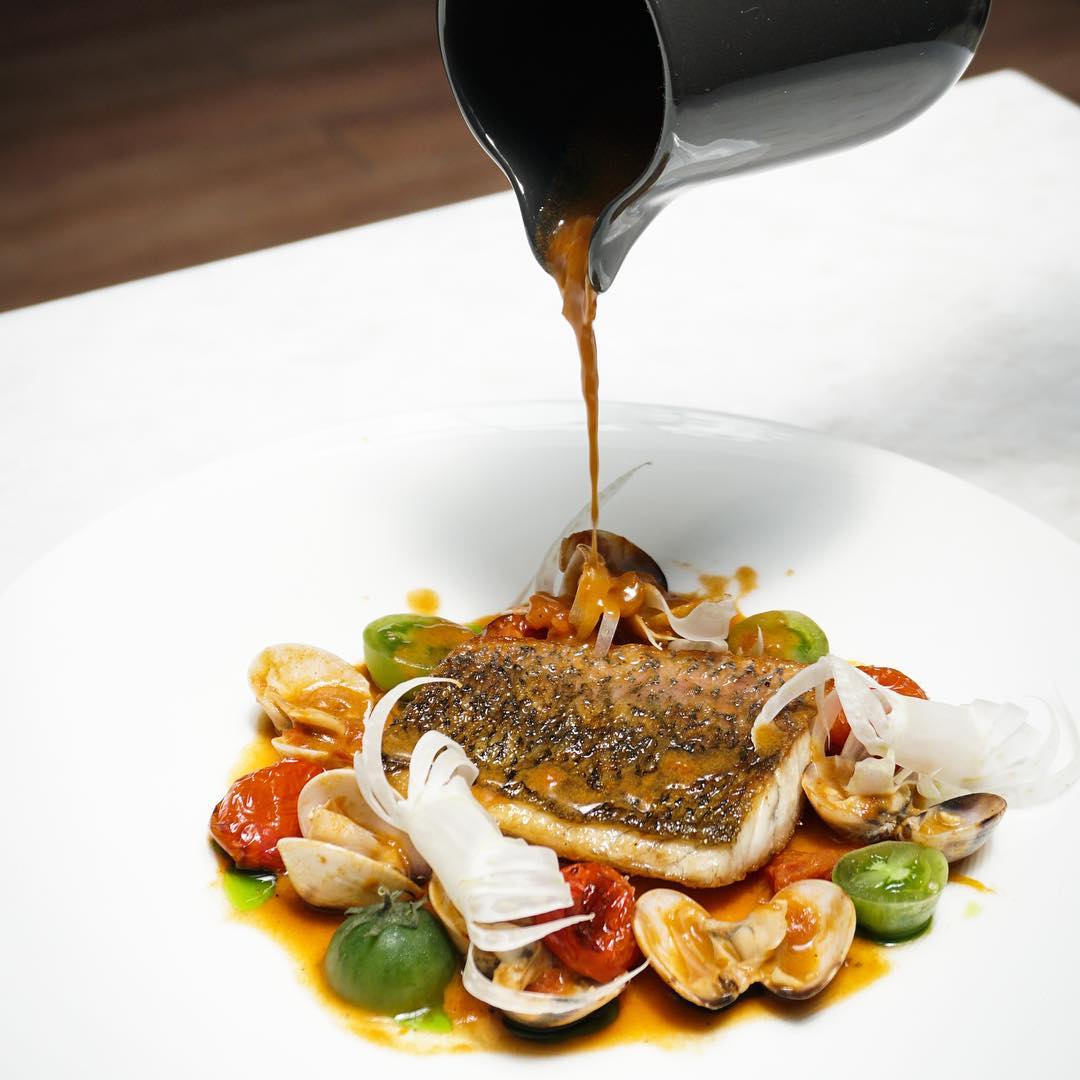 Roasted sea bass in a French fish stew with manila clams and highland vegetables
Image credit: @2ox_kl
If it's a special night out and you don't mind splurging just a tad bit more, opt for the 3-course Journey Thru France Menu (RM150/pax). There are 8 mains for you to choose from, ranging from premium cuts of beef like Grain Fed Wagyu Striploin and Beef Tartare as well as seafood options like Pan Seared Maine Scallops and Wild Caught Barramundi Fish.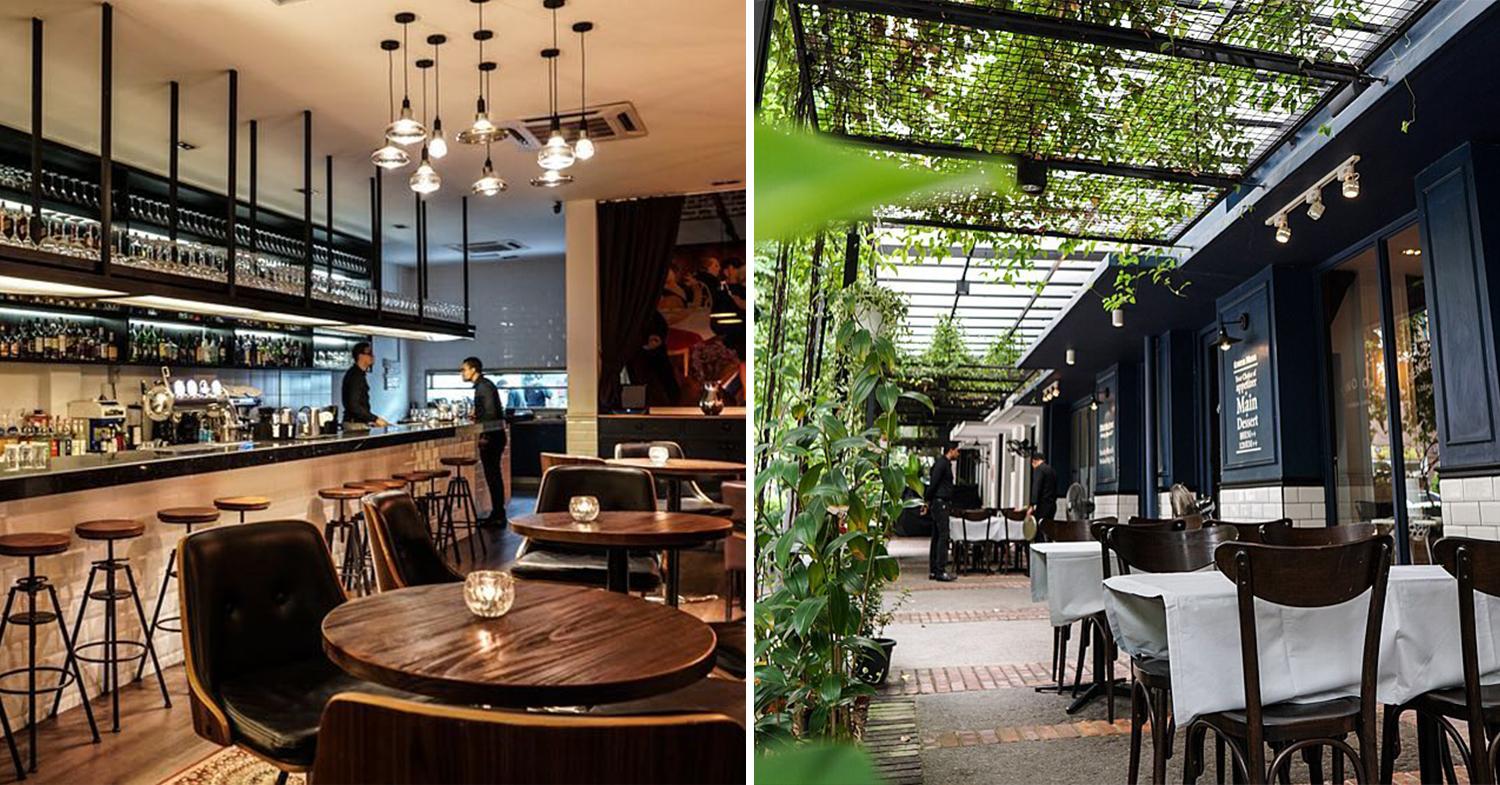 The dark mahogany hues in the dining area inside contrasts the vibrant alfresco seating outside
Image adapted from: @2ox_kl
Address: 54G & 56G, Jalan Doraisamy, Chow Kit, 50300 Kuala Lumpur
Opening hours: 12PM-11.30AM, Daily
Telephone: 03-2692 2233
Website
---
 

4. BARAT – an easy introduction vegetarian dishes (RM99/pax)
---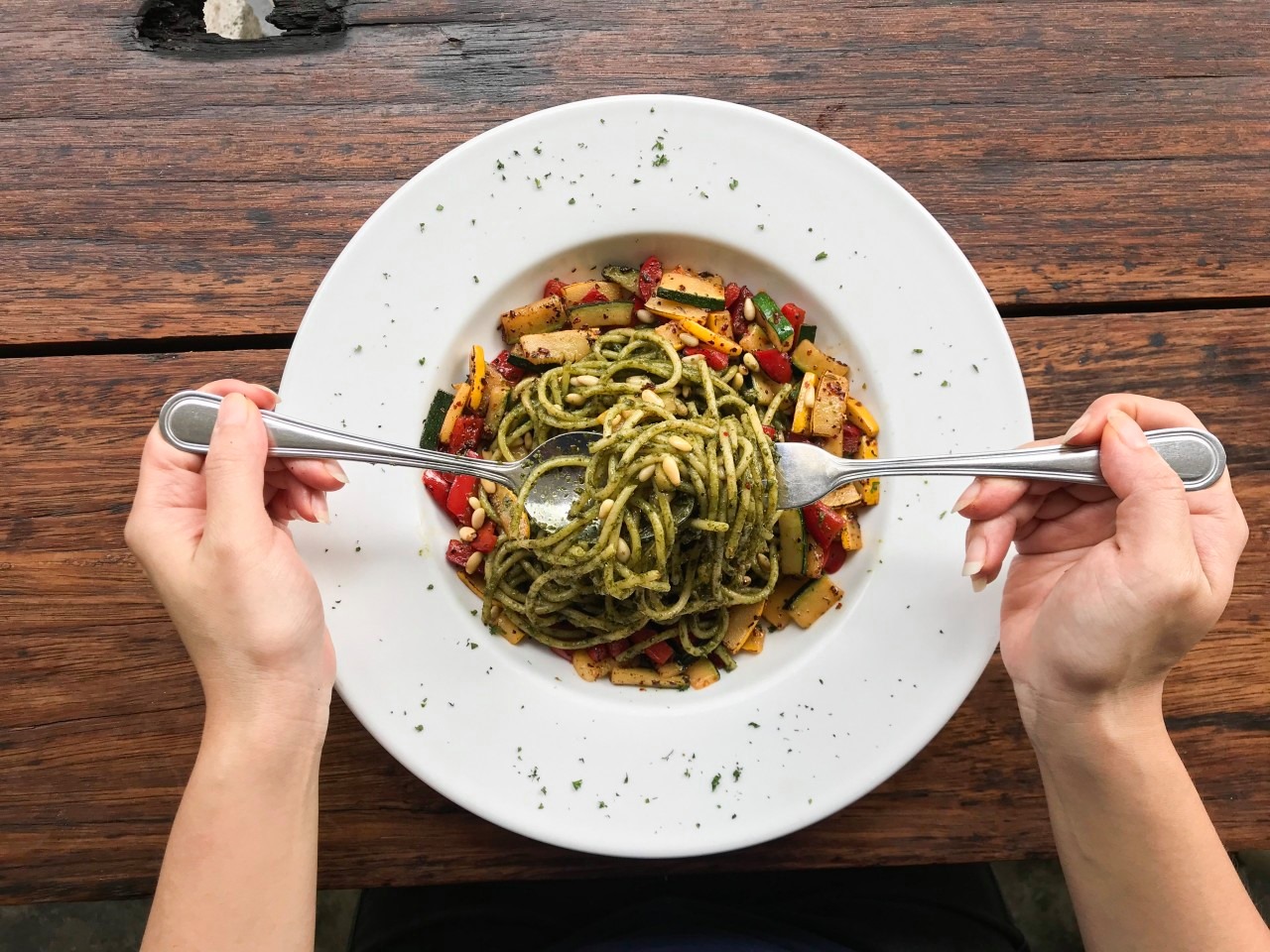 Basil Pesto Pasta with slices of grilled zucchini and carrots, topped with toasted pine nuts
Image credit: Barat Lifestyle Vegetarian Restaurant
It's not easy to switch to a vegetarian diet when we're used to having at least one meat dish on the dinner table. But if you've been wanting to give it a try, Barat may just be the restaurant to convince you to leave your meat-eating days behind.  

Coconut Ice-cream, Pistachio Carbonara, Blue Cheese Sweet Peppers, Pumpkin Soup, Pesto Pasta, and Patatas Bravas
Image credit: @ssayang.life
Live a day in the life of a vegetarian with the Degustation Menu (RM99), a 9-course meal to show you that veggies can make a scrumptious meal if you know the right recipes. 
Regulars come back for the Patatas Bravas, a potato-heavy dish that's served with a spicy tomato sauce. Another favourite is the Roasted Pumpkin Soup for its slight spicy tingle from the addition of ginger.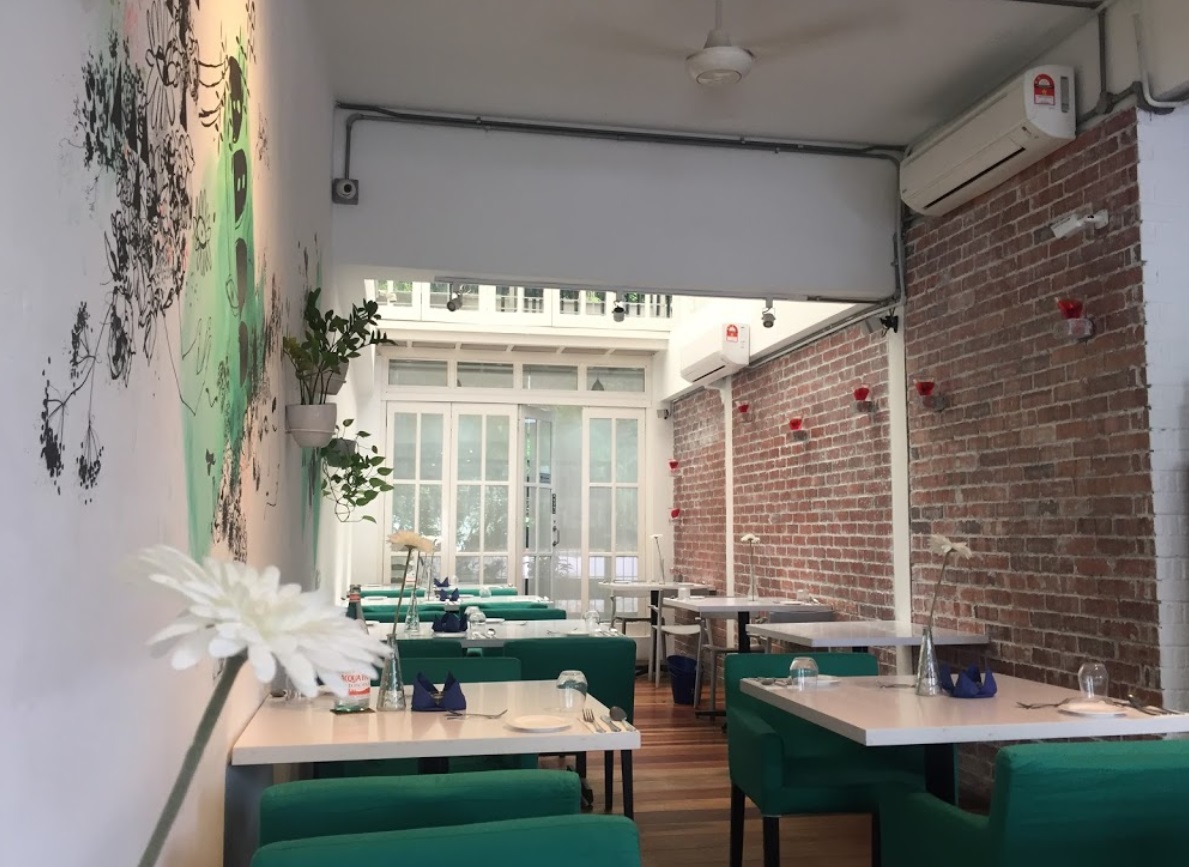 Image credit: Jook Yie Yong
The restaurant's eco-friendly too. They let in plenty of natural sunlight during the day and use fans as much as possible, only resorting to switching on the air-conditioning when the weather outside gets too hot. 
Address: 19, Lorong Kurau, Taman Bukit Pantai, 59100 Kuala Lumpur, Wilayah Persekutuan Kuala Lumpur
Opening hours: 11AM-11.30PM, Daily
Telephone: 010-288 2654
Website
---
5. Cafe Cafe – choose from 4 French multi-course sets (from RM111/pax)
---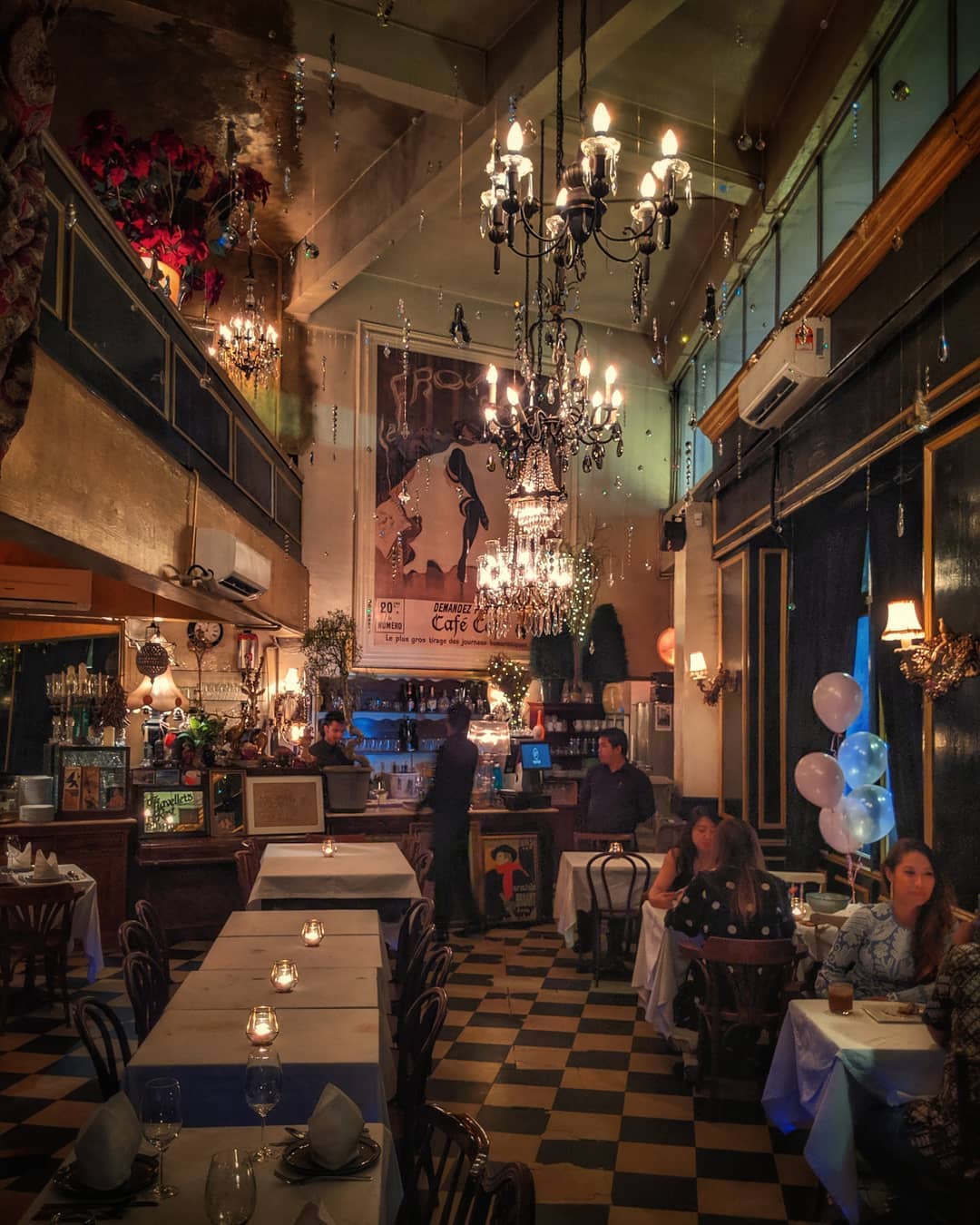 Image credit: @patpincon
Cafe Cafe's decor is a wild mix between Parisian Chic and Victorian French, where the lines get blurred among the chequered tiles, slick black and gold storefront, plush velvet chairs, and patterned wallpaper plastered across walls. The exquisite furnishing is the perfect backdrop for a feast of fine French cuisine.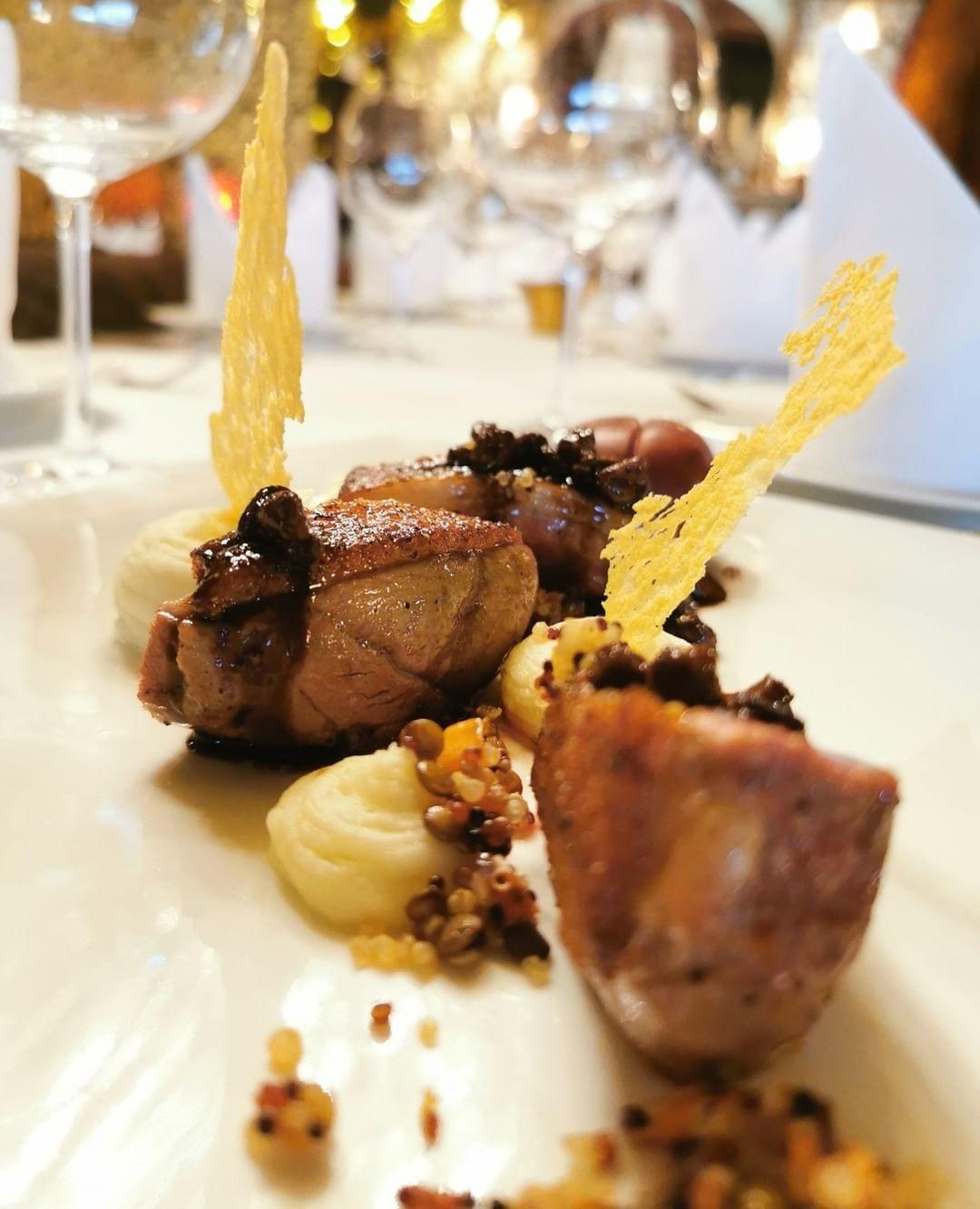 French duck breast with foie gras vinaigrette reduction mixed with quinoa and lentils
Image credit: @cafecafekl
They're known for their budget-friendly multi-course meals. You can choose from 4 sets with the cheapest one being priced at RM111/pax for a 3-course meal, which has always been a crowd-favourite for its Fettuccine with Truffle Sauce. If you're looking to treat yo' self after payday, head for the RM166/pax 3-course meal which comes with Risotto Porcini with Foie Gras.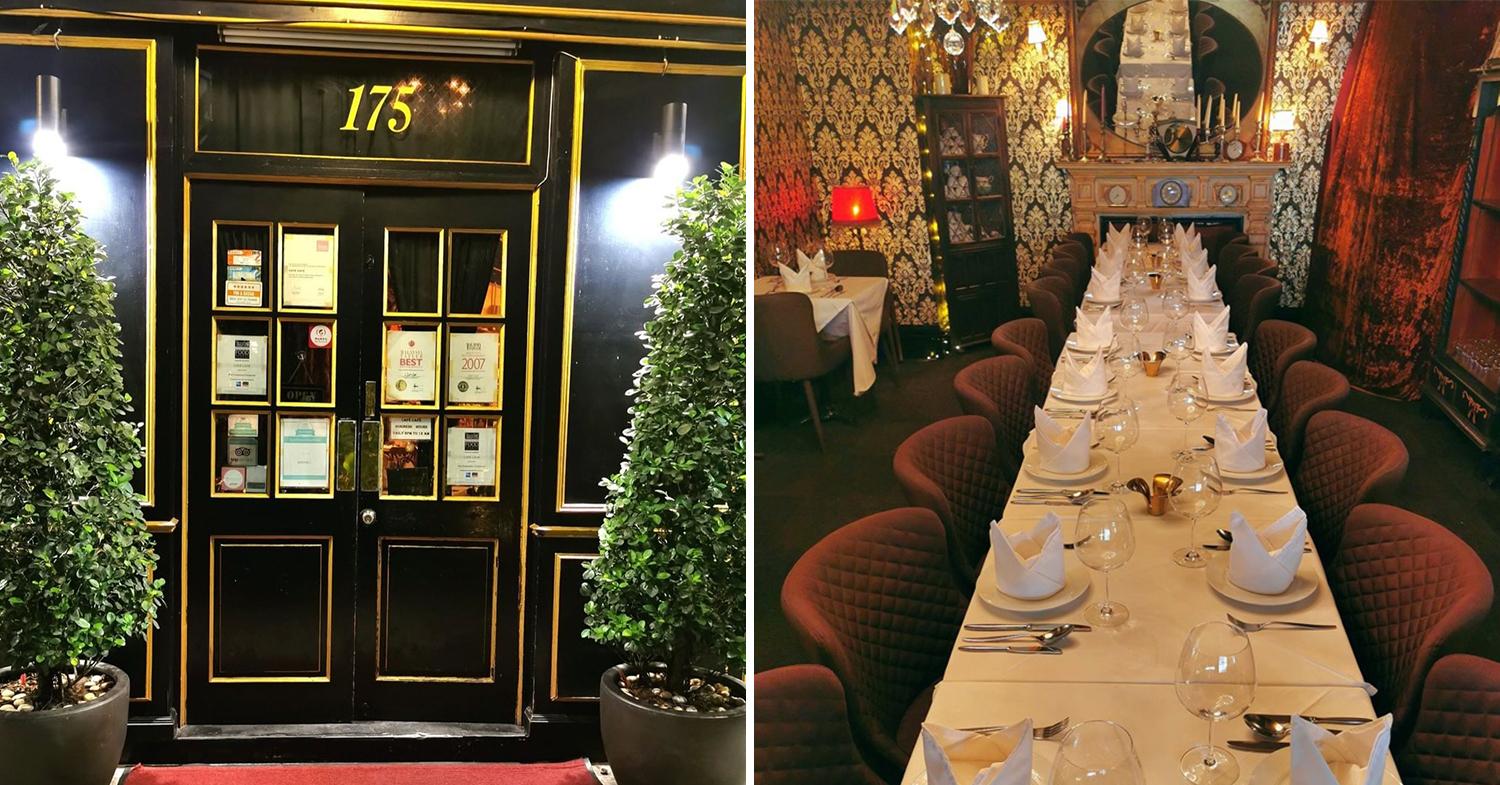 Image adapted from: Cafe Cafe KL 
Address: 175, Jalan Maharajalela, 50150 Kuala Lumpur, Malaysia
Opening hours: 6PM-12AM, Daily
Telephone: 03-2141 8141
Website
---
---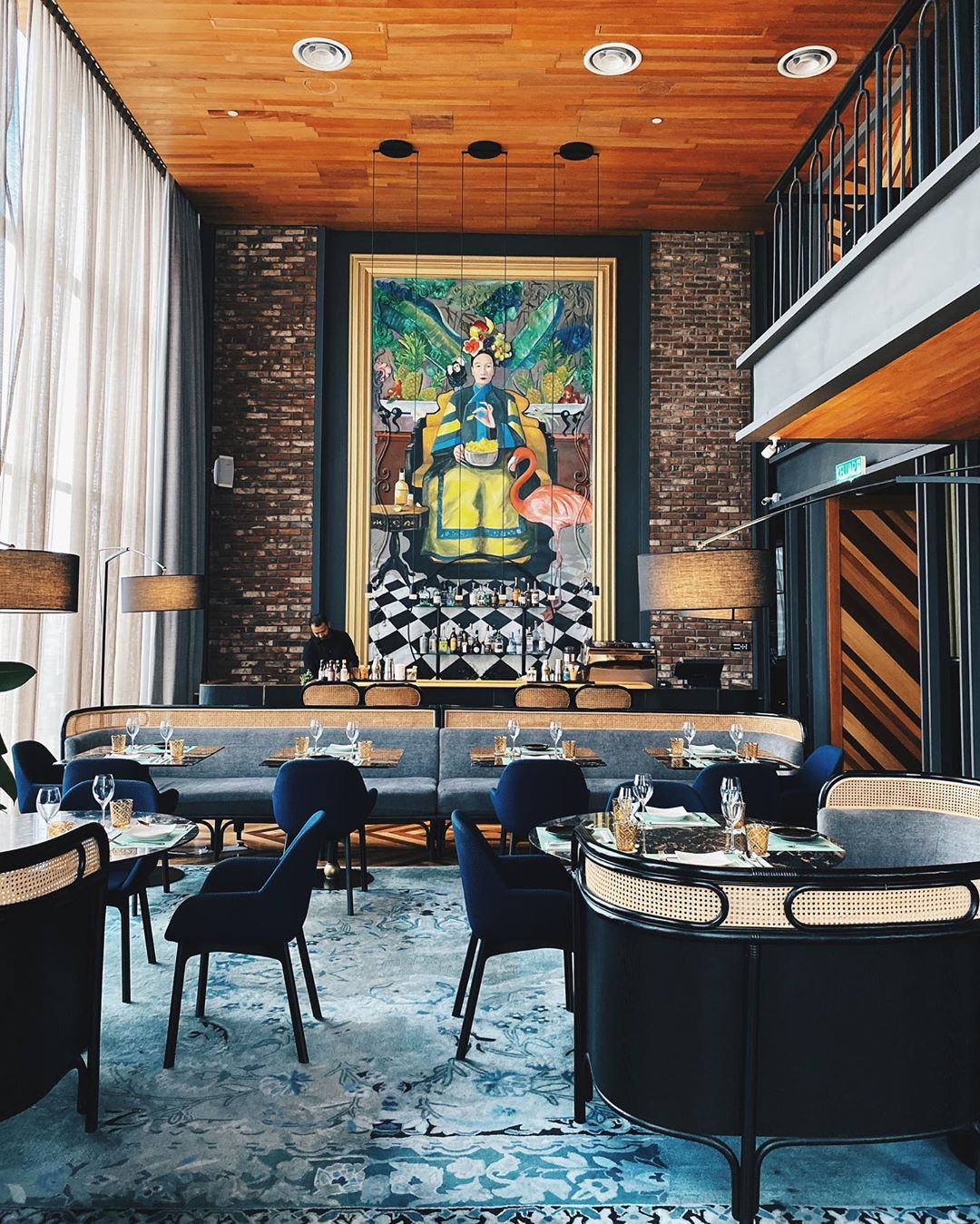 Image credit: @shaunie.l
The aesthetic of Mr. Chew's Chino Latino Bar is eclectic – a massive portrait of Empress Dowager Cixi, multi-coloured wood panels, floor-to-ceiling windows, and plush carpeting.The ritzy interior transforms Wolo Hotel's penthouse into a high fashion one where the Sex and the City gals would've loved to drop by for after work cocktails.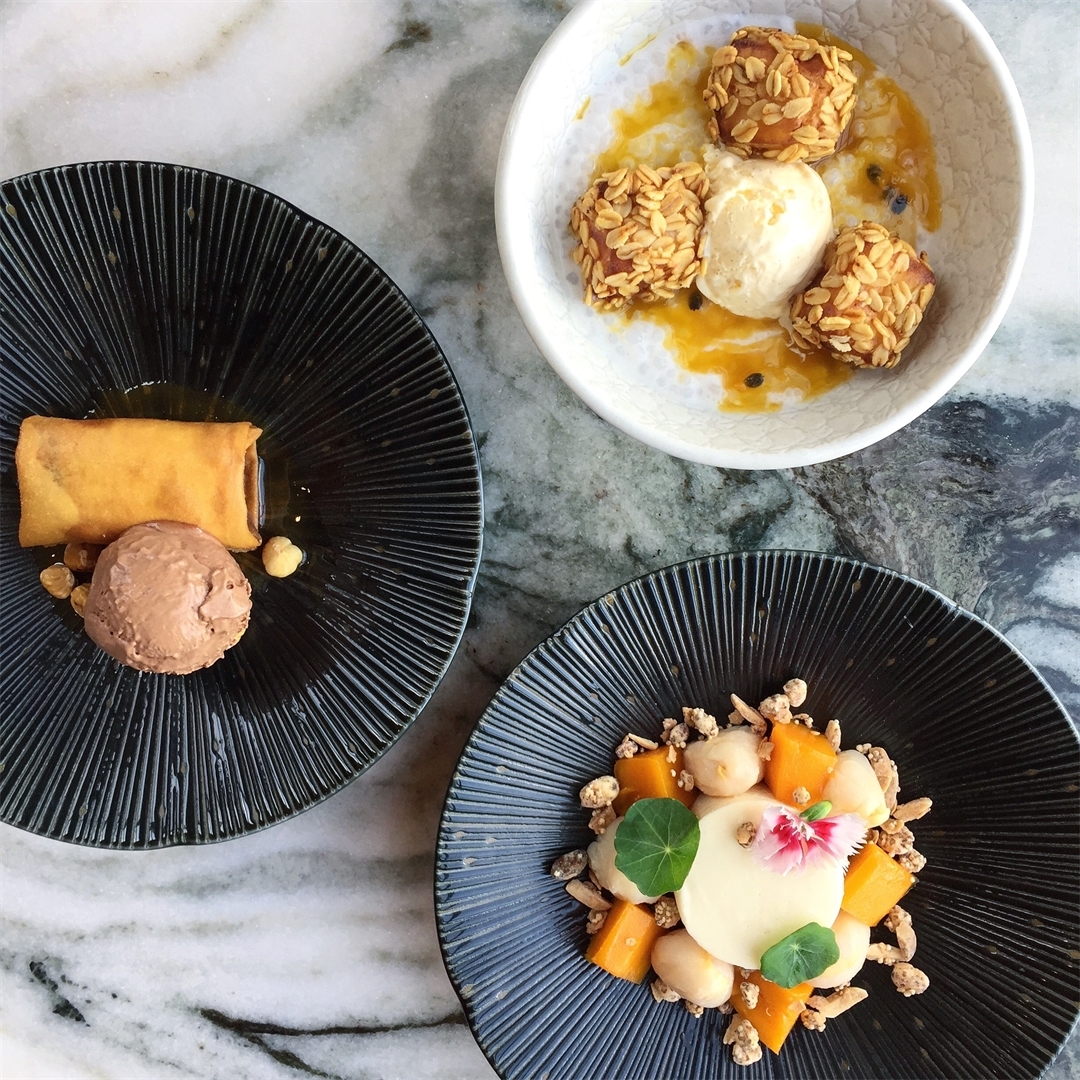 Mango Panna Cotta and Chocolate Banana Roll
Image credit: @mrchewchinolatinobar
Manhattan-esque vibes aside, their menu is largely Asian with a pinch of Latin American influences. So while some of the dishes like Lychee Ice Kacang (RM35) may sound familiar to us, they've reinvented the dish by sprucing it up with earl grey and ginger mint toppings as well as creme brulee. 
If your dream meal is to just go straight for the desserts, go for their Dessert Degustation (RM55/pax) – a 6-course dessert menu that also comes with alcohol pairing for an extra RM30.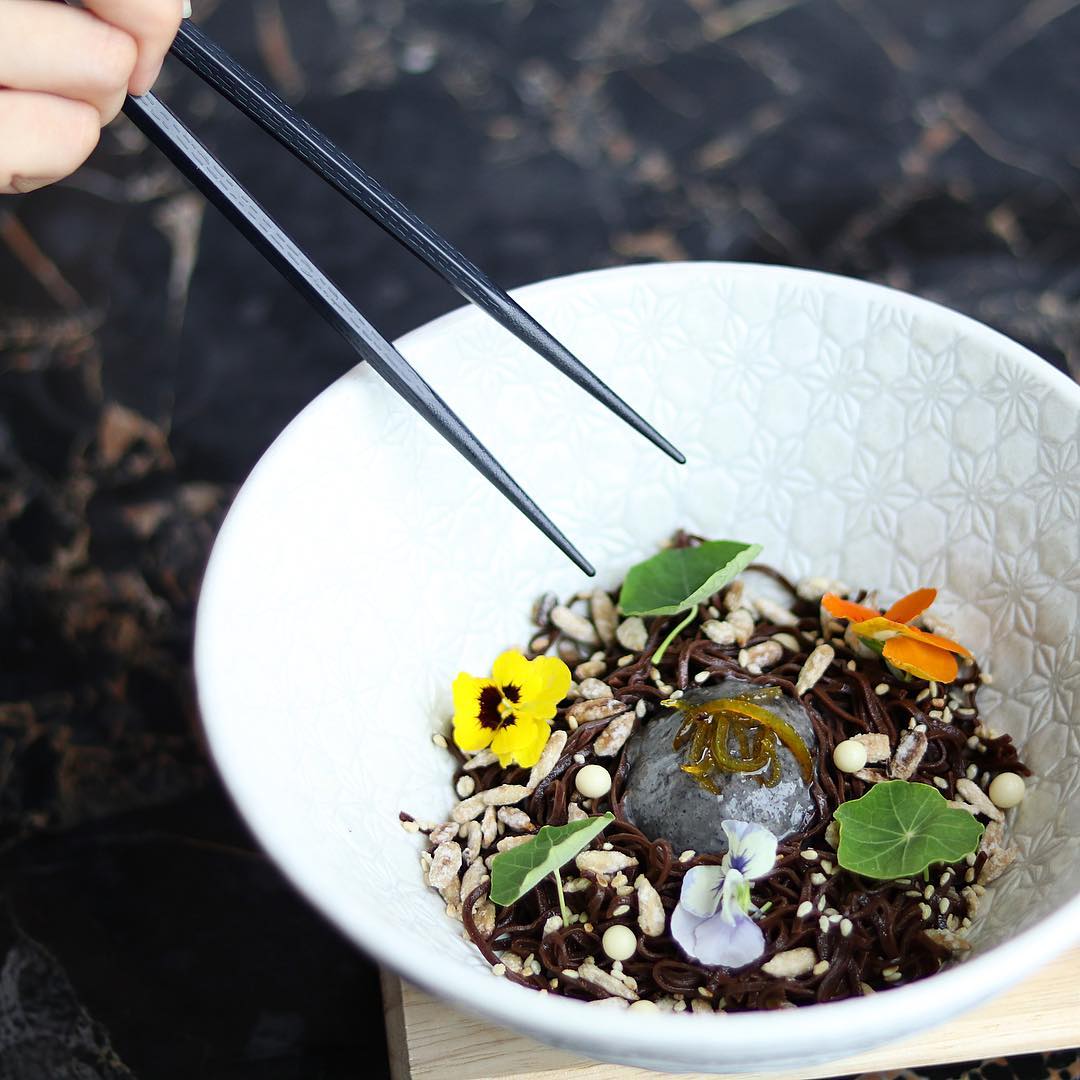 The dessert version of the classic Chinese noodle dish made with chocolate noodles, sesame ice cream, and crystallized pine nuts
Image credit: @mrchewchinolatinobar
This 6-course dessert experience comes with items that aren't on their regular menu, so it's worth a try if you're the adventurous type. Dishes on their degustation menu have previously included Mixed Berries Honeycomb Sago Crisp and Kumquat Marshmallow.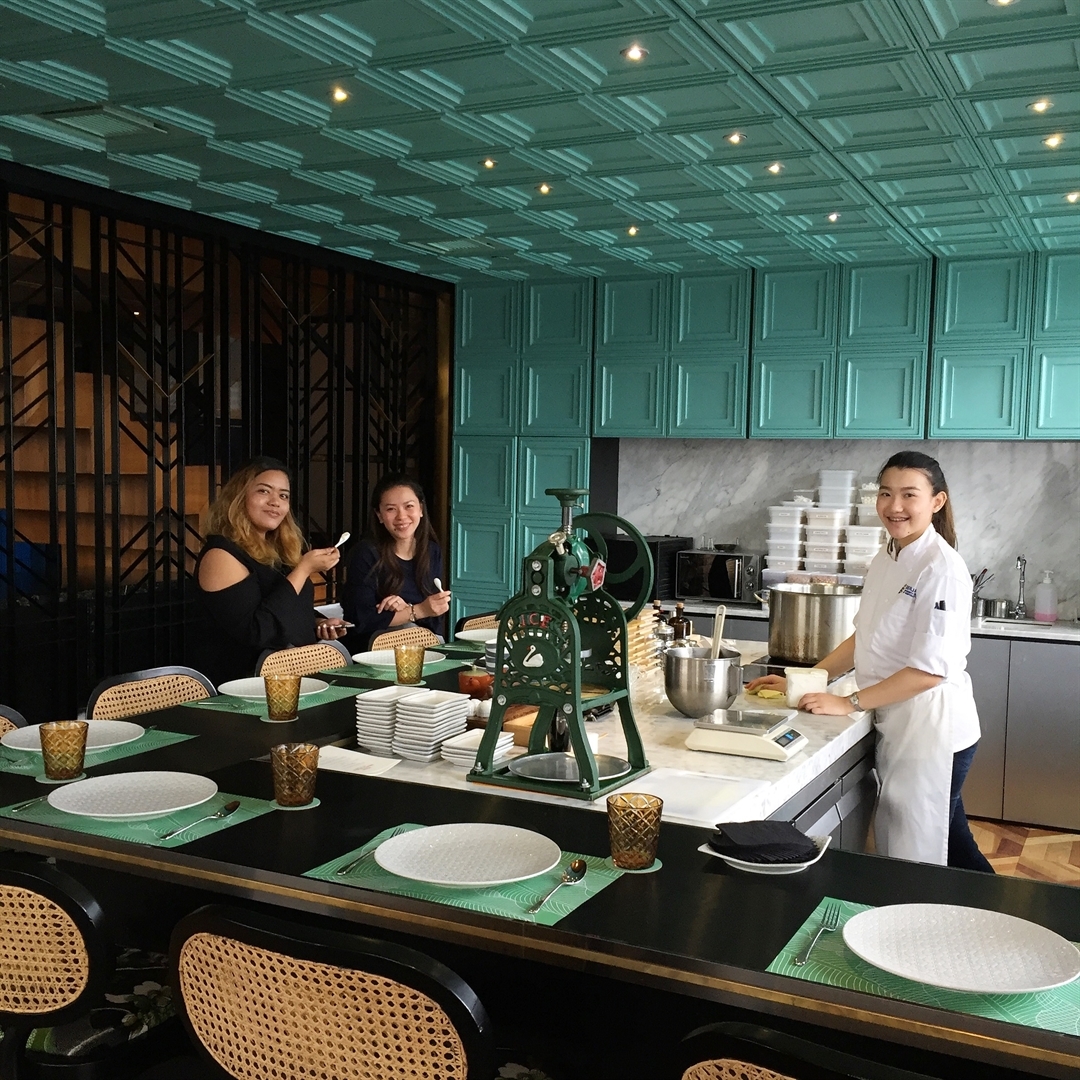 The dessert bar is a separate enclave from the main dining area, differentiated by its light teal walls and ceilings.
Image credit: @mrchewchinolatinobar
Address: The Penthouse, WOLO, Bukit Bintang Street, 55100 Kuala Lumpur
Opening hours: 11.30AM-2.30PM & 6PM-1AM, Daily
Telephone: 03-4065 0168
Website
---
7. Symphony by Chef Jo – spearheaded by ex-MasterChef Malaysia judge (RM150/pax)
---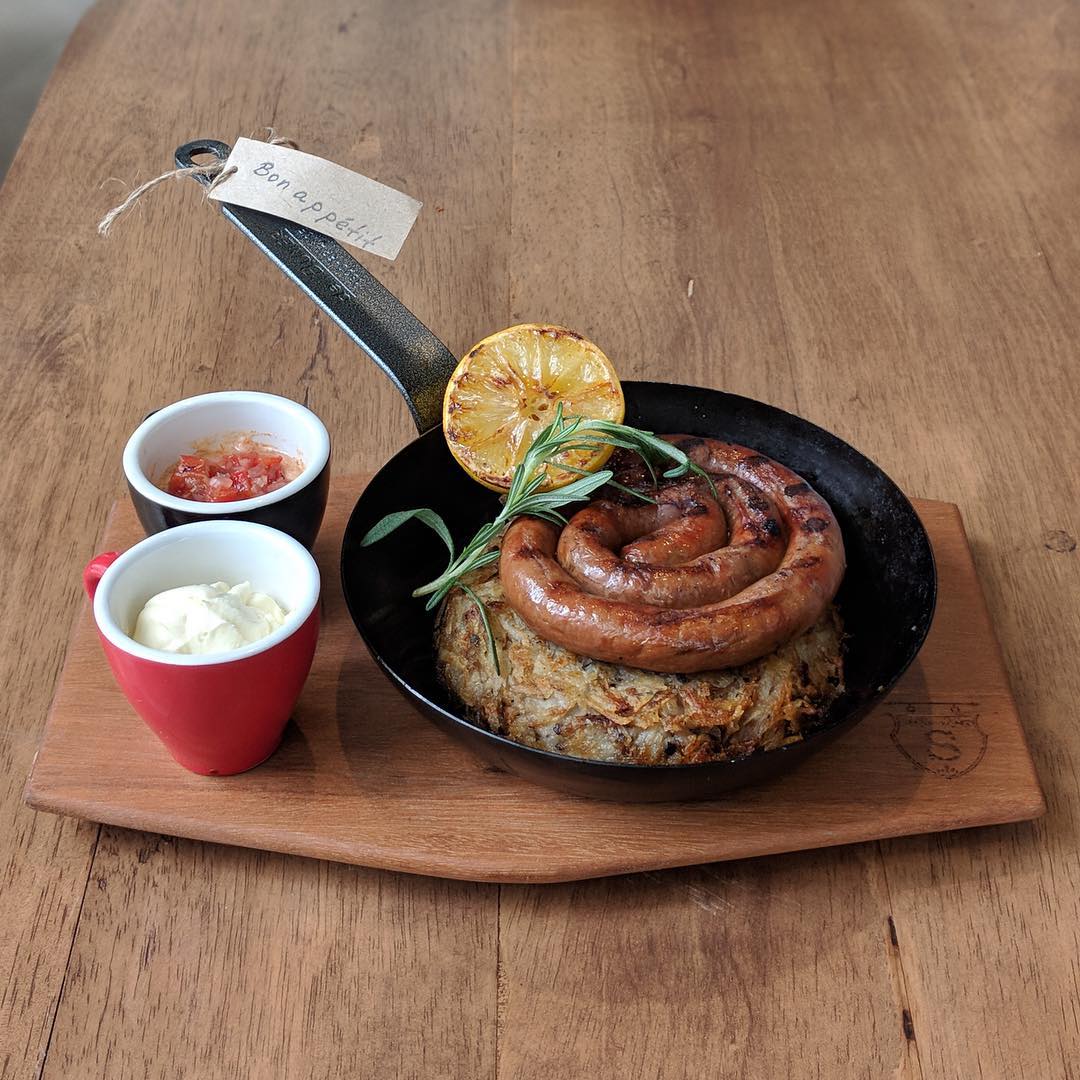 Grilled lamb sausage served on a potato fritter and served with sour cream
Image credit: @officialsymphonybychefjo
Former MasterChef Malaysia judge Chef Johari helms Symphony, crafting dishes to form an expansive menu with influences spanning from all over the world. When you go for Chef Jo's Tasting Menu (RM150/pax), you'll start your meal off with a French-style Escargot Petite that's been dressed up with puff pastry and creamy spinach.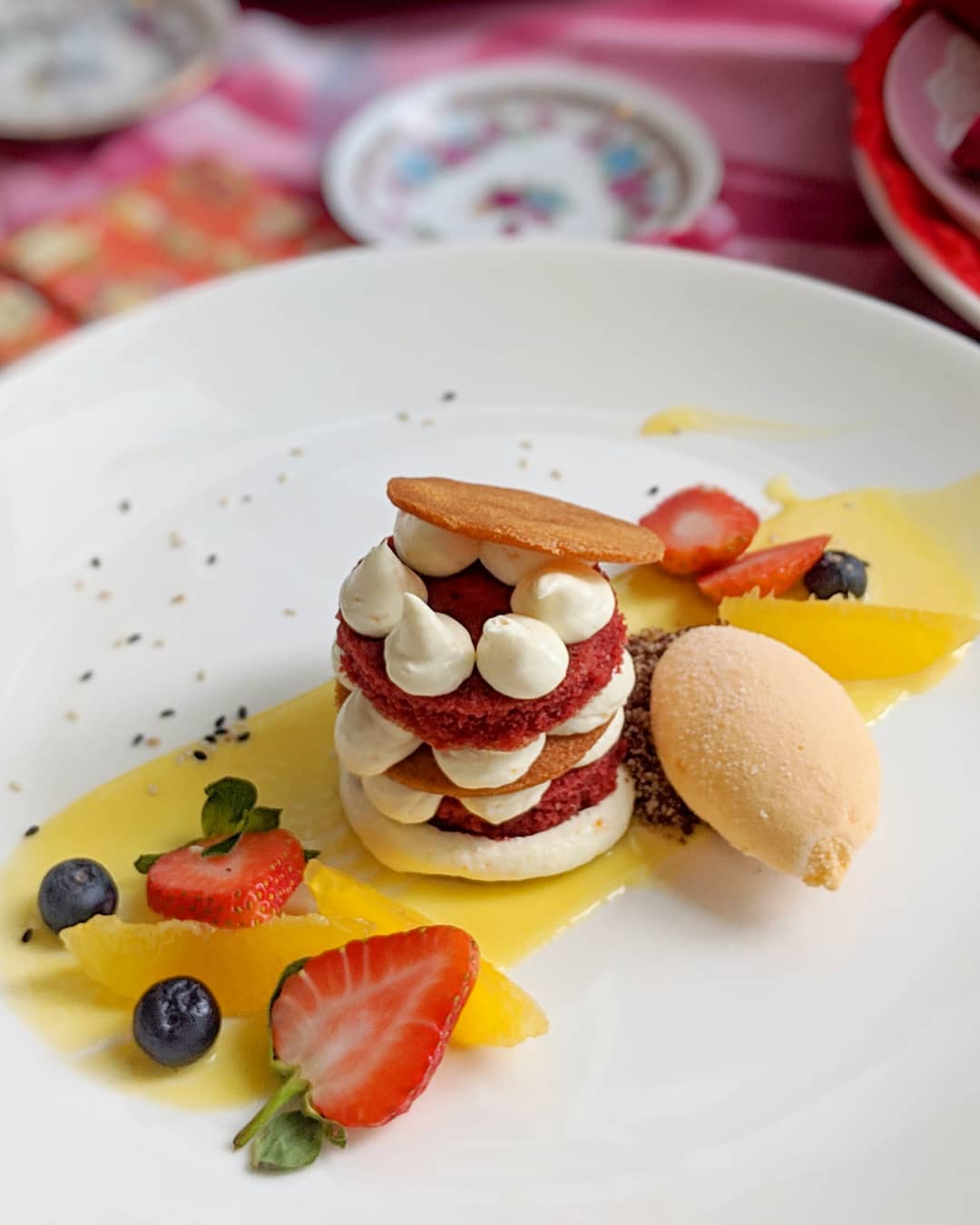 Crispy tuile pastry layered between red velvet cake with dollops of cream cheese, paired with mandarin gelato|
Image credit: @officialsymphonybychefjo
The chef pays homage to our Malaysian roots by also offering local-inspired fare like Jack Pavlova that's made with honey jackfruits instead of the usual assortment of berries. The Oxtail Assam Pedas is a fresh take on the Malaccan delicacy where the fish has been replaced with rich and tender oxtails.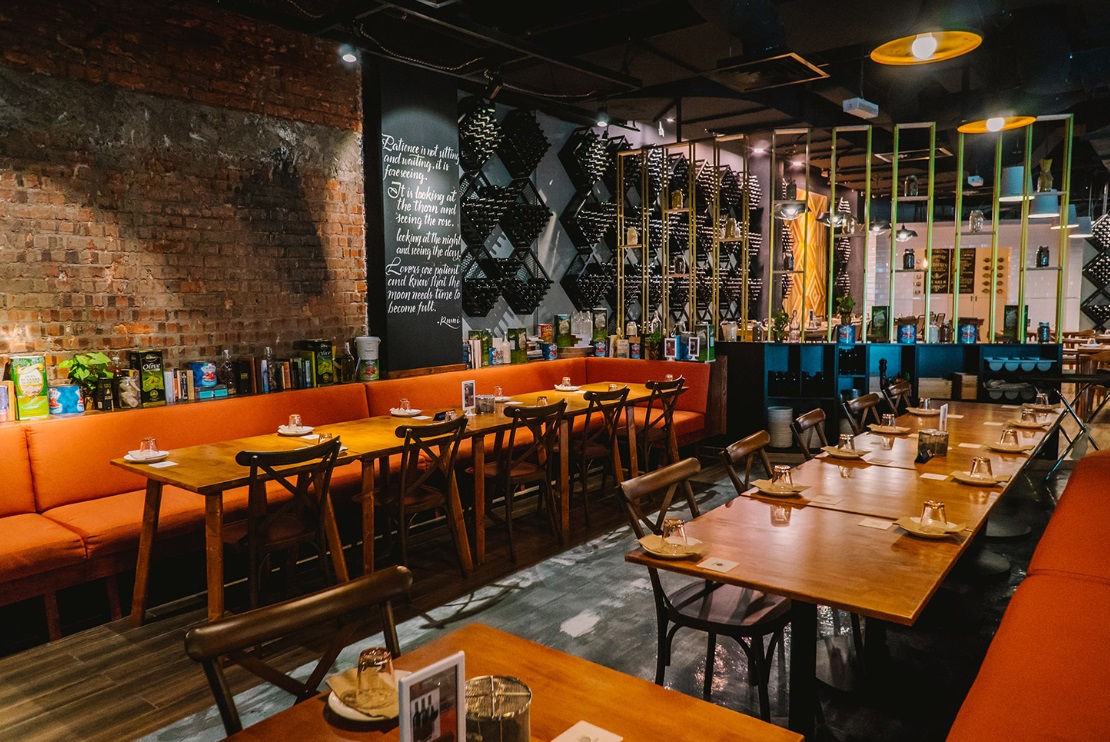 The brilliant pops of orange from the couches give a balanced contrast to the bare brick walls and dark fixtures
Image credit: Symphony by Chef Jo
Address: L1-19 to L1-21, 1st floor of Damansara City Mall, Jalan Damanlela, Pusat Bandar Damansara, 50490, Kuala Lumpur
Opening hours: 12PM-10PM, Daily
Telephone: 03-2011 7173
Website
---
---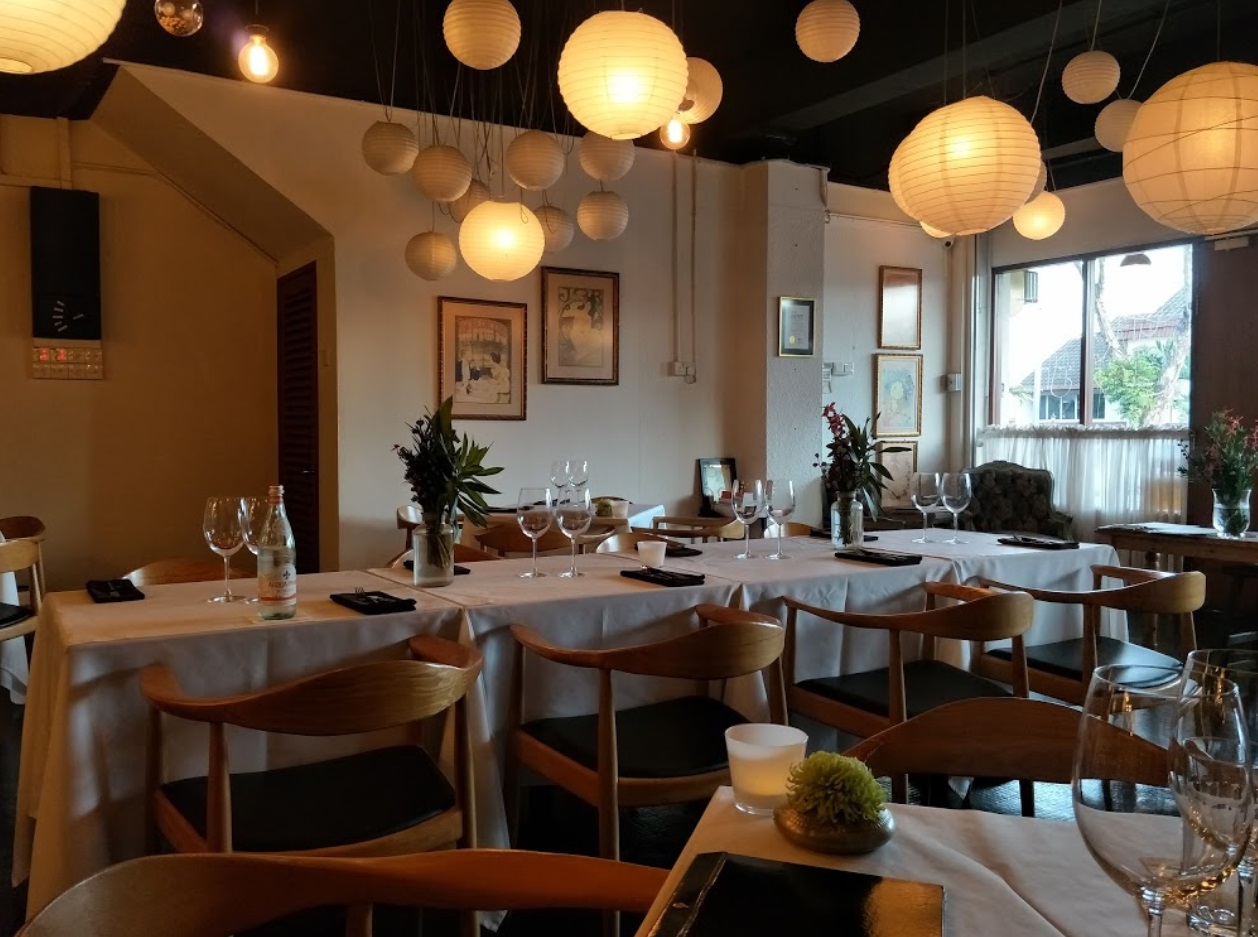 Image credit: sf aai
Lanterns to set the mood, wine glasses on every table, and an intimate space – Bistro à Table ticks all the boxes for romantic date night out. So if you're already planning for the next birthday or anniversary, remember to make a reservation 3 to 5 days in advance because tables get booked out fast.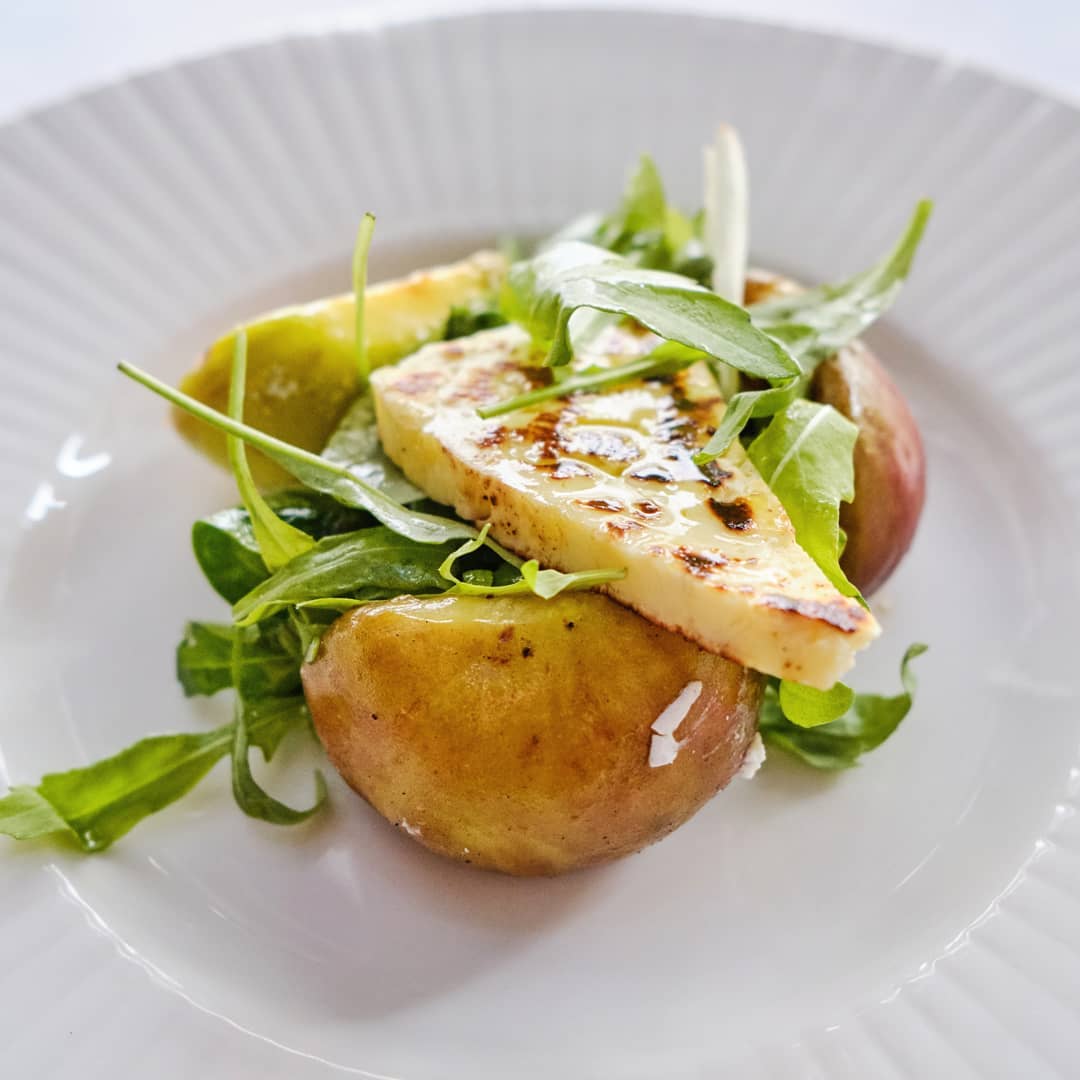 The vegetarian-friendly Grilled Figs with Haloumi
Image credit: @bistro_a_table
Vegans and vegetarians need to have this place bookmarked because they're one of the few that offer multi-course meals catered to your diet. The Vegetarian Degustation and Vegan Menu are each RM135/pax for a 3-course meal. While their mains like Truffle Mushroom & Pistachio Risotto is impressive enough, it's their desserts that really knock it out of the ballpark.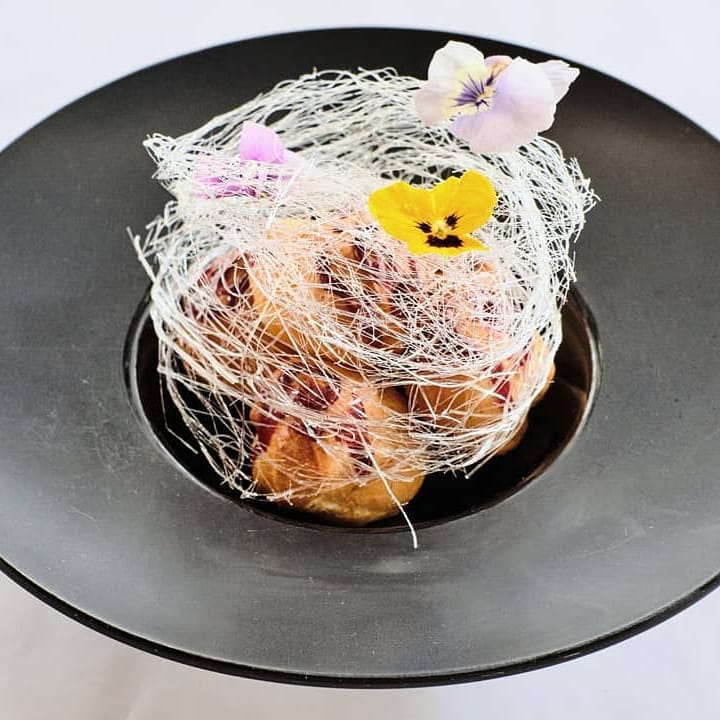 Passion fruit profiteroles topped with an intricate net of spun toffee
Image credit: @bistro_a_table
The Spiced Papaya Tart with Pomegranate Tea Konyaku Jelly has caught our attention for its unique mix of flavours, and the same goes for Passion Fruit Profiteroles with Spun Toffee. 
Address: 6, Jalan 17/54, Seksyen 17, 46400 Petaling Jaya, Selangor
Opening hours: Tue-Sun 12PM-2.30PM & 6.30PM-11PM (Closed on Mondays)
Telephone: 03-7931 2831
Website
---
9. Thirty8 – refined Malaysian food in a 5-star setting (RM95/pax)
---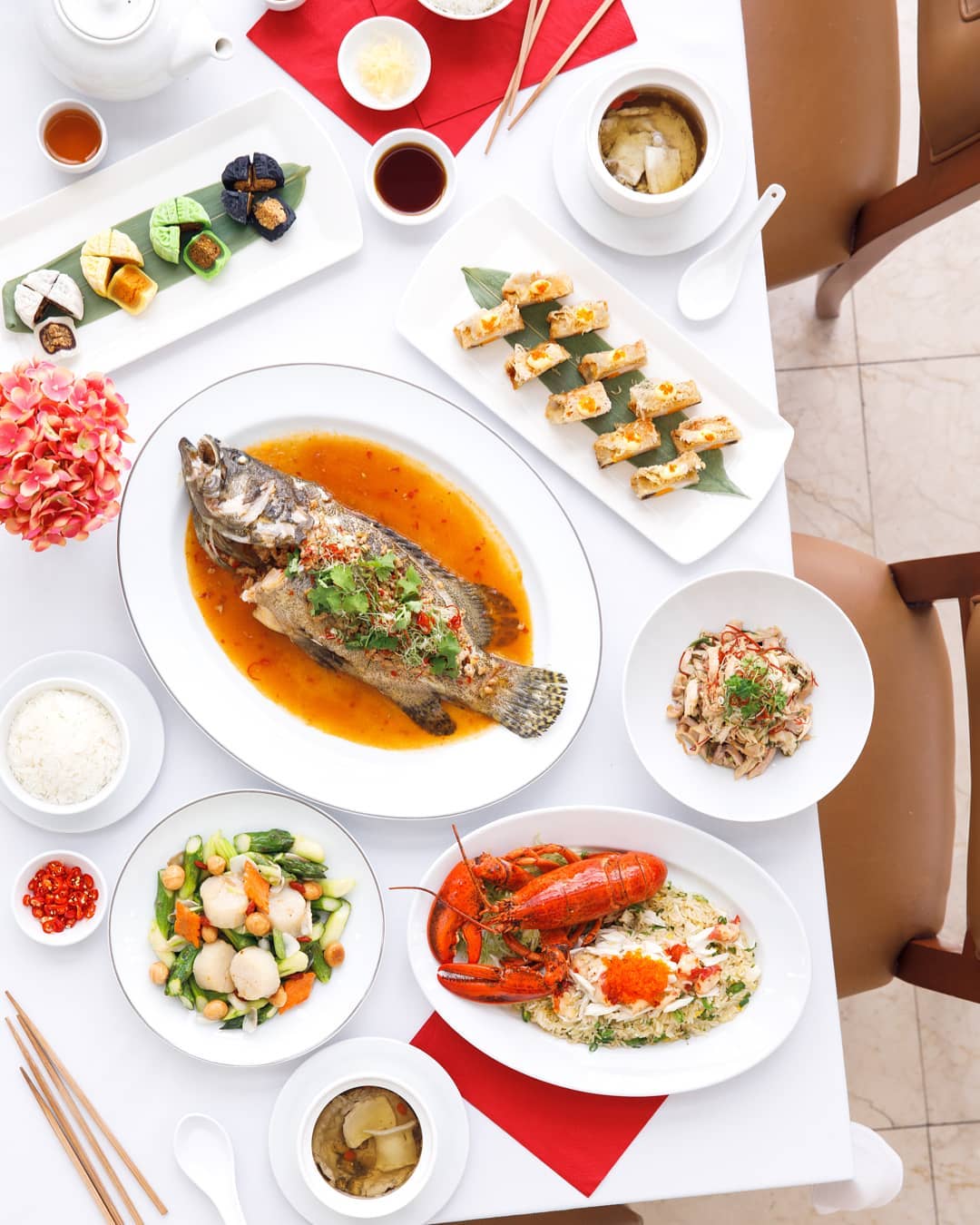 Image credit: @grandhyattkualalumpur
The luxe local dishes at Thirty8 will suit every family members' taste buds, even the picky grandmother who prefers eating at home. There's a certain charm in having comfort food cooked by master chefs in a 5-star setting. And it also happens to be your best bet when planning for a family gathering. 
Thirty8's Business Lunch (RM95/pax) can be catered to any diet, simply because of the multitude of options you get to pick from the menu. 
Those who are all for Asian food can choose from Double Boiled Chicken Soup, Longevity Noodles Soup, or Sweet and Sour Chicken. If you're in the mood for Western, go for the Angus Beef Burger or Barley and Corn Risotto as your main.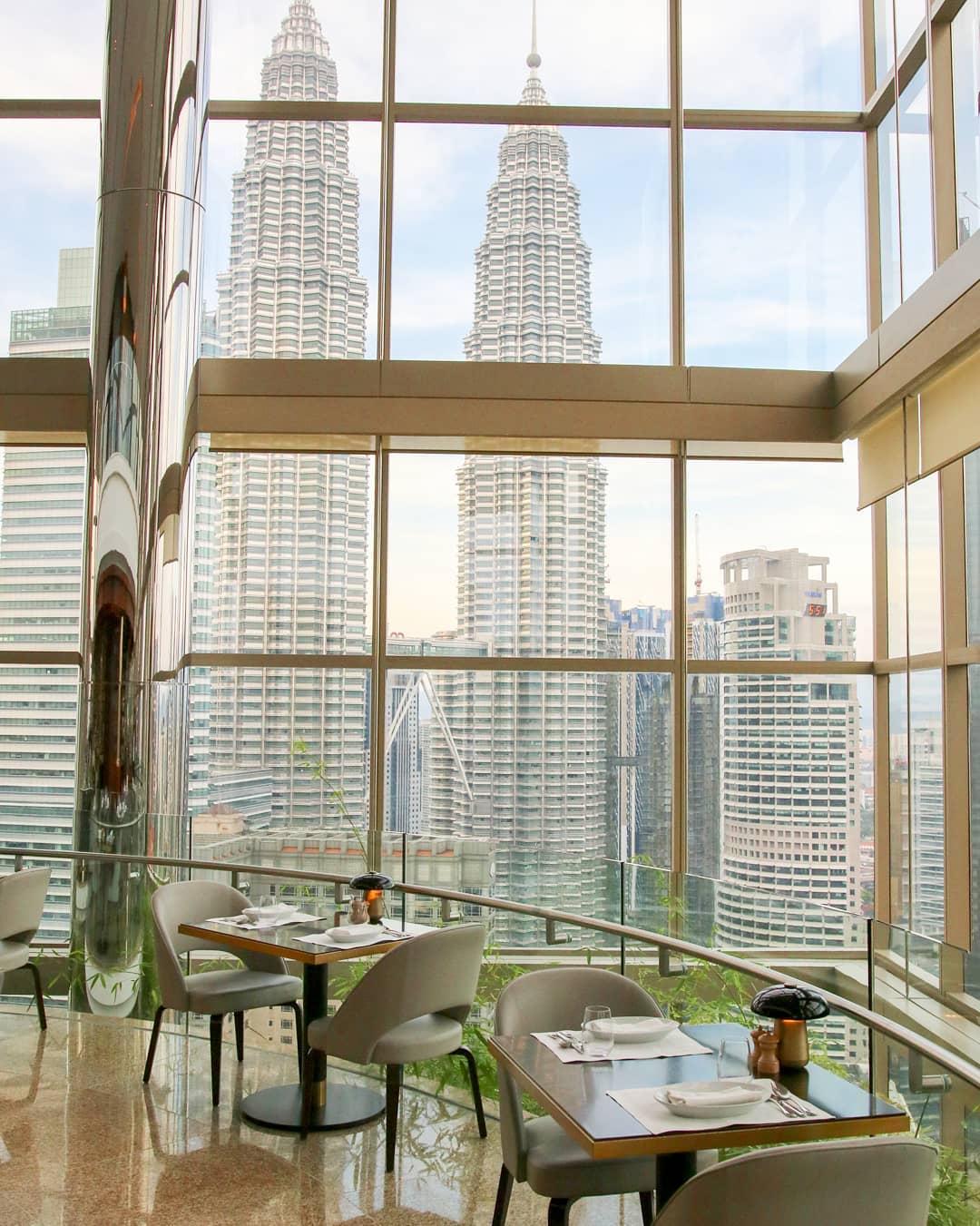 Image credit: @thirty8kl
The floor-to-ceiling windows give you a good view of the iconic KLCC Twin Towers, but it's the colourful plush couches and throw pillows that add a cosy feel to the place.
Address: Grand Hyatt Kuala Lumpur, 12, Jalan Pinang, Kuala Lumpur, 50450 Kuala Lumpur
Opening hours: Mon-Fri 6AM-10.30AM & 12PM-1AM | Sat-Sun 6AM-11AM & 12PM-1AM
Telephone: 03-2182 1234
Website
---
10. Nobu – 3-course Japanese lunch set (RM168/pax)
---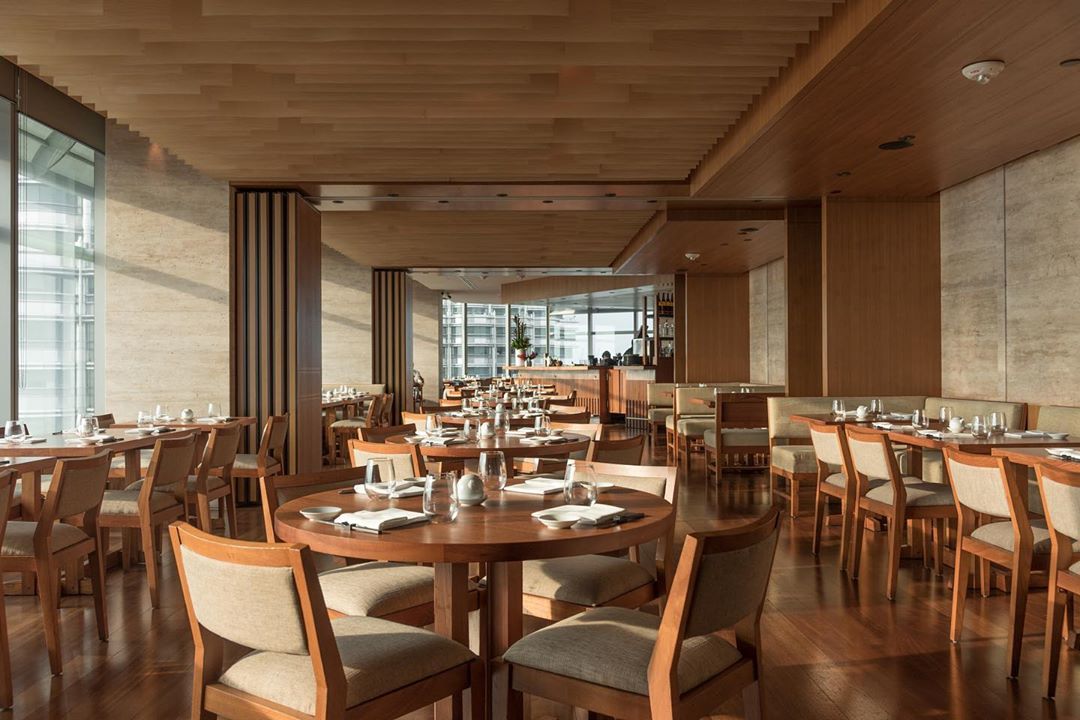 Nobu has an elegant Japanese aesthetic with natural wood themes for a simple yet classy interior
Image credit: @nobu_kualalumpur
Most of us have probably heard of Nobu, known for their haute Japanese fusion cuisine and worldwide premium outlets frequented by celebs. A simple order of just 3-4 à la carte dishes will normally cost you over RM300, but their Pre-fixe Lunch set will only cost you RM168/pax for a lavish 3-course meal.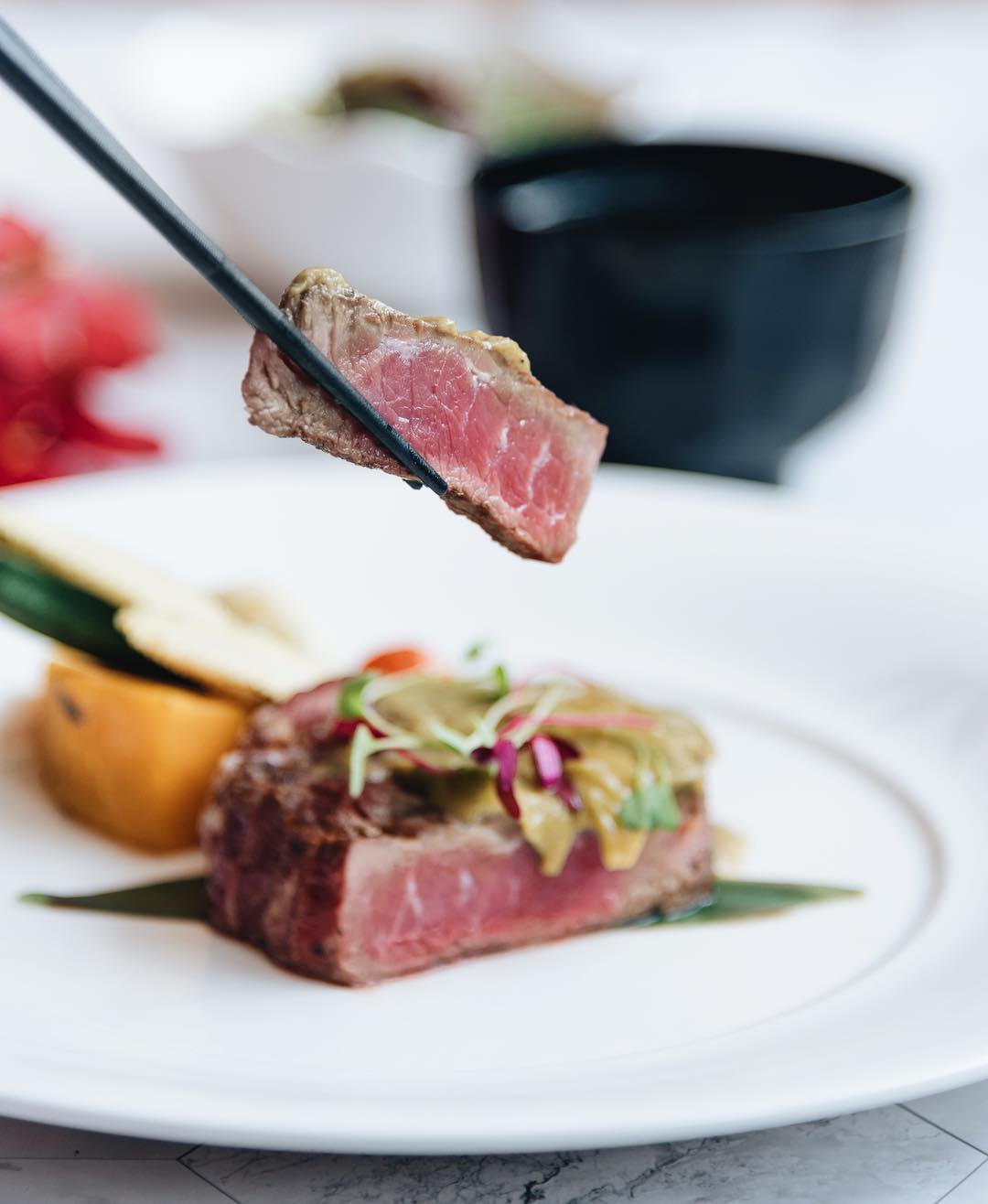 You can have Beef Tenderloin Wasabi Pepper as your main course
Image credit: @nobu_kualalumpur
This price tag comes with fresh seafood that's flown in from Japan and premium ingredients like truffle. To get the most of your money's worth, go for sashimi appetisers like Salmon New Style Sashimi or Yellowtail Jalapeno and premium meats like the Beef Tenderloin Wasabi Pepper for your main course. 
Address: Menara 3 Petronas, Persiaran KLCC, Kuala Lumpur City Centre, 50088 Kuala Lumpur
Opening hours: Mon-Fri 12PM-2PM & 6PM-10.30PM | Sat-Sun 1PM-4PM & 6PM-10.30PM
Telephone: 03-2164 5084
Website
---
Multi-course meals in Kuala Lumpur
---
Average Malaysians like us can only get a peek of the tai tai life through the means of social media. But with these pocket friendly options, we now get to experience fine dining for ourselves instead of just looking at the food through the screen of our phones. Planning for the next romantic evening out with boo just got a lot easier.
For casual nights out, check out these other restaurants instead:
---
Cover image adapted from: marble_8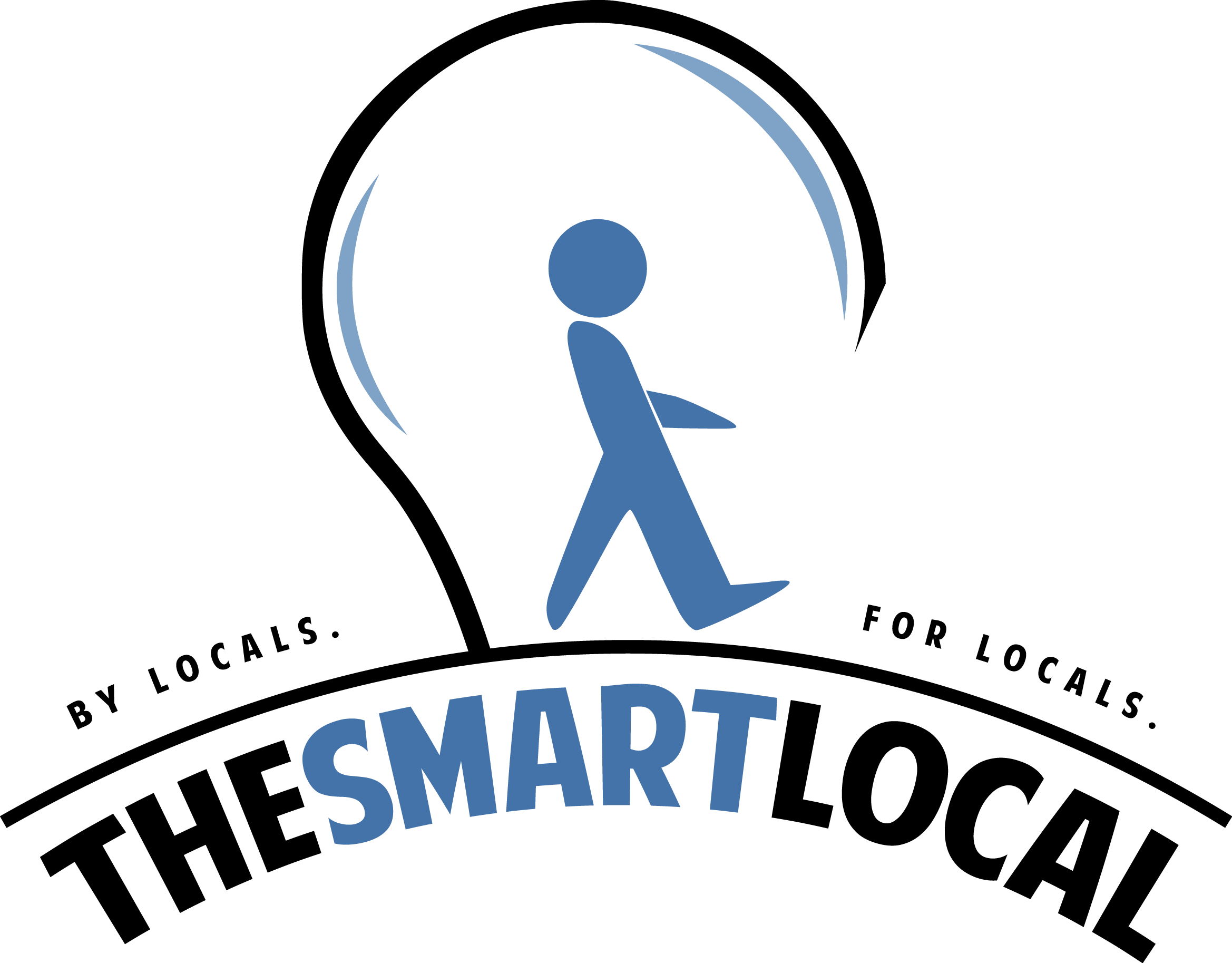 Drop us your email so you won't miss the latest news.