Restaurants opened in 2020 to check out soon
---
New restaurants and cafes pop up all the time, and Instagram culture has placed greater importance on modern eateries looking pretty and appealing, in addition to serving scrumptious food. These 10 new restaurants that opened in 2020 have proven that they are not just a flash in the pan, as they have both substance and style to keep up with the hype.
---
–  Klang Valley  –
---
1. WOP Pizzeria – artisanal pizzas made from scratch 
---

Image credit: @mikey_wes
WOP Pizzeria stands for wood-fired oven pizzeria – an artisanal pizza parlour that serves handcrafted pizzas from scratch.
WOP's exterior is bright, vibrant, and attention-catching. In fact, their bar stools make a prime spot for Insta-worthy shots. 
Their pizzas are priced on the high end, around RM40 for a plate – a portion that one person can easily chomp down on their own – but their ingredients are on the premium side.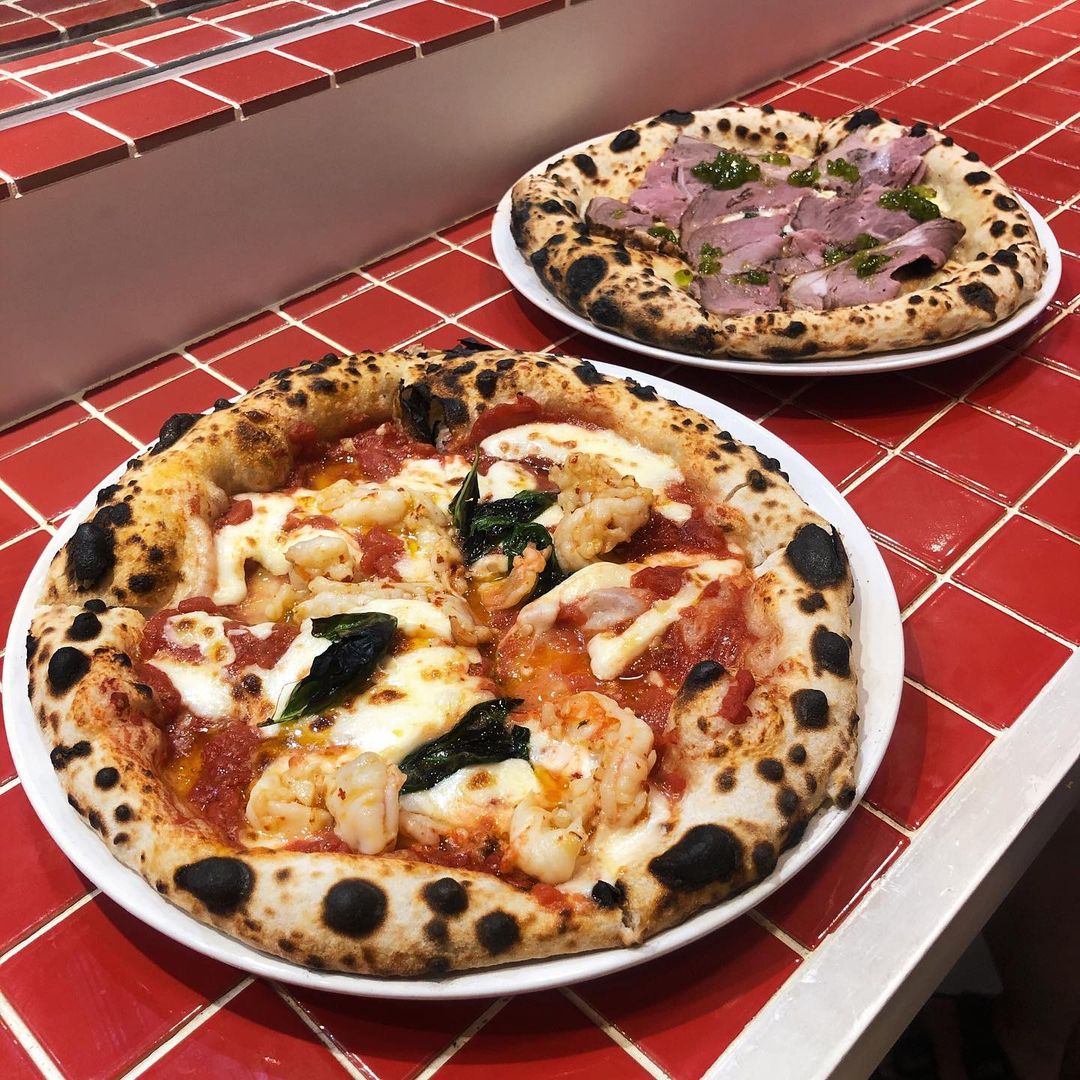 Image credit: @lijhuin
WOP's pizza crust is made from sourdough, and many patrons have commented that it is the star of the dish. It's thick around the edges and thin in the middle. The dough is also soft and fine, with a smoky aroma imparted from the mangrove wood used to bake the pizza in the oven.
Pizza toppings include smoked duck, portobello, truffle oil, shrimp, beef, and more – all of which explains the higher price point of the dish. 
Address: Plaza Damas, H-0-8, No 60, Jalan Sri Hartamas 1, Sri Hartamas, 50480 Kuala Lumpur
Opening hours: Sun – Thu 11AM-9PM | Fri & Sat 11AM-10PM
Telephone: 03-6419 7530
---
2. Apollo Dining – exotic Greecian-themed interiors
---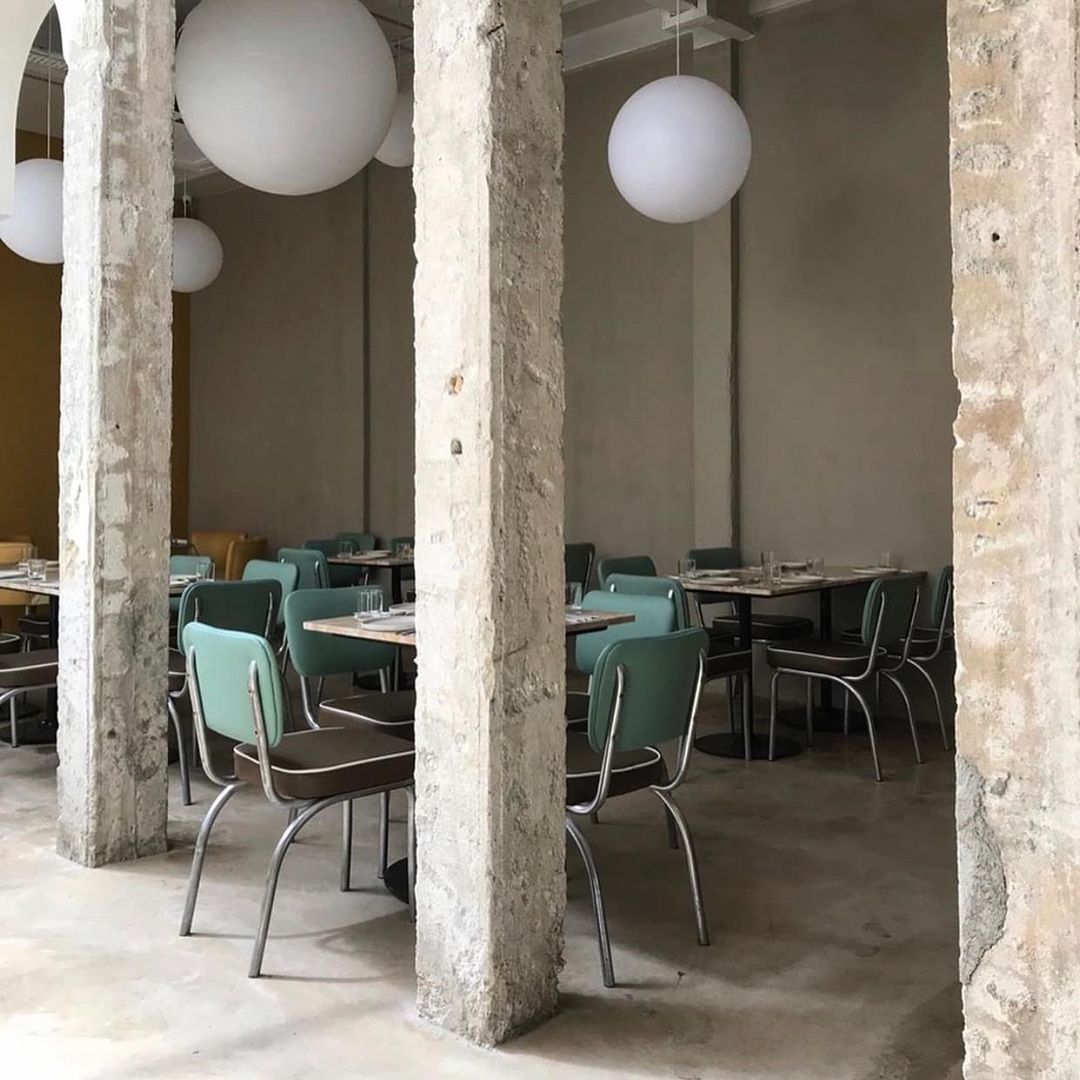 Image credit: @apollodining
Apollo Dining's design and interior took social media by storm when they first opened in March 2020, and for good reason. The restaurant looks beautifully unique with its Grecian theme. You will feel as if you stepped into a Greek temple as the place has lots of cement pillars, archways, and natural sunlight spilling in.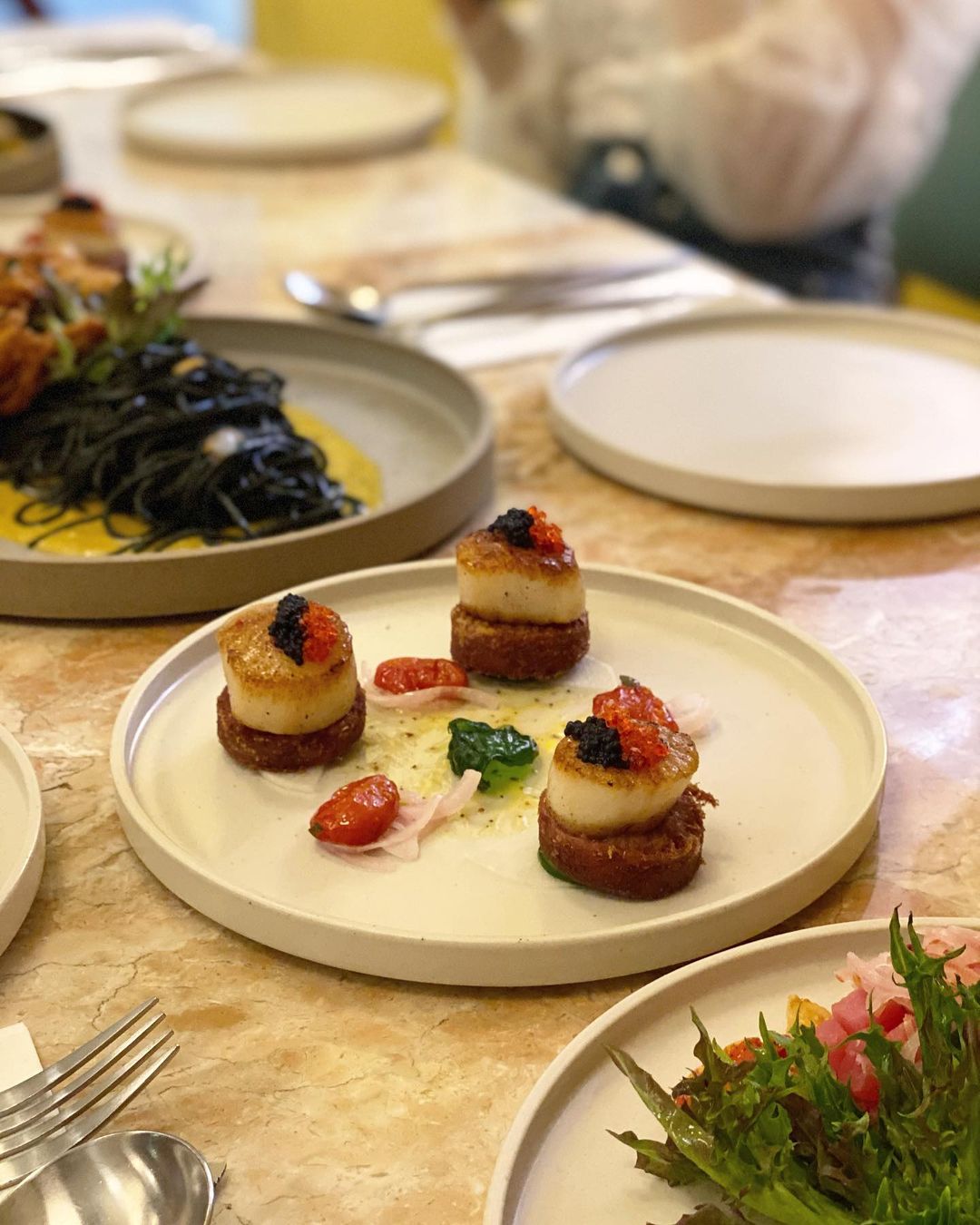 Image credit: @xioven
The menu perfectly complements the exotic interiors with a touch of Asian fusion that you will find in dishes such as Chilli Crab Squid Ink Pasta (RM48), Duck Risotto (RM39), Kicap Manis Duck Confit (RM41), and more.
Address: 28, Jalan Kemuja, Bangsar, 59000 Kuala Lumpur
Opening hours: Tue – Sun 11.30AM-3.30PM, 6PM-10PM (Closed on Mondays)
Telephone: 03-2201 7565
---
3. Nippori Bistro – bold international fusion dishes 
---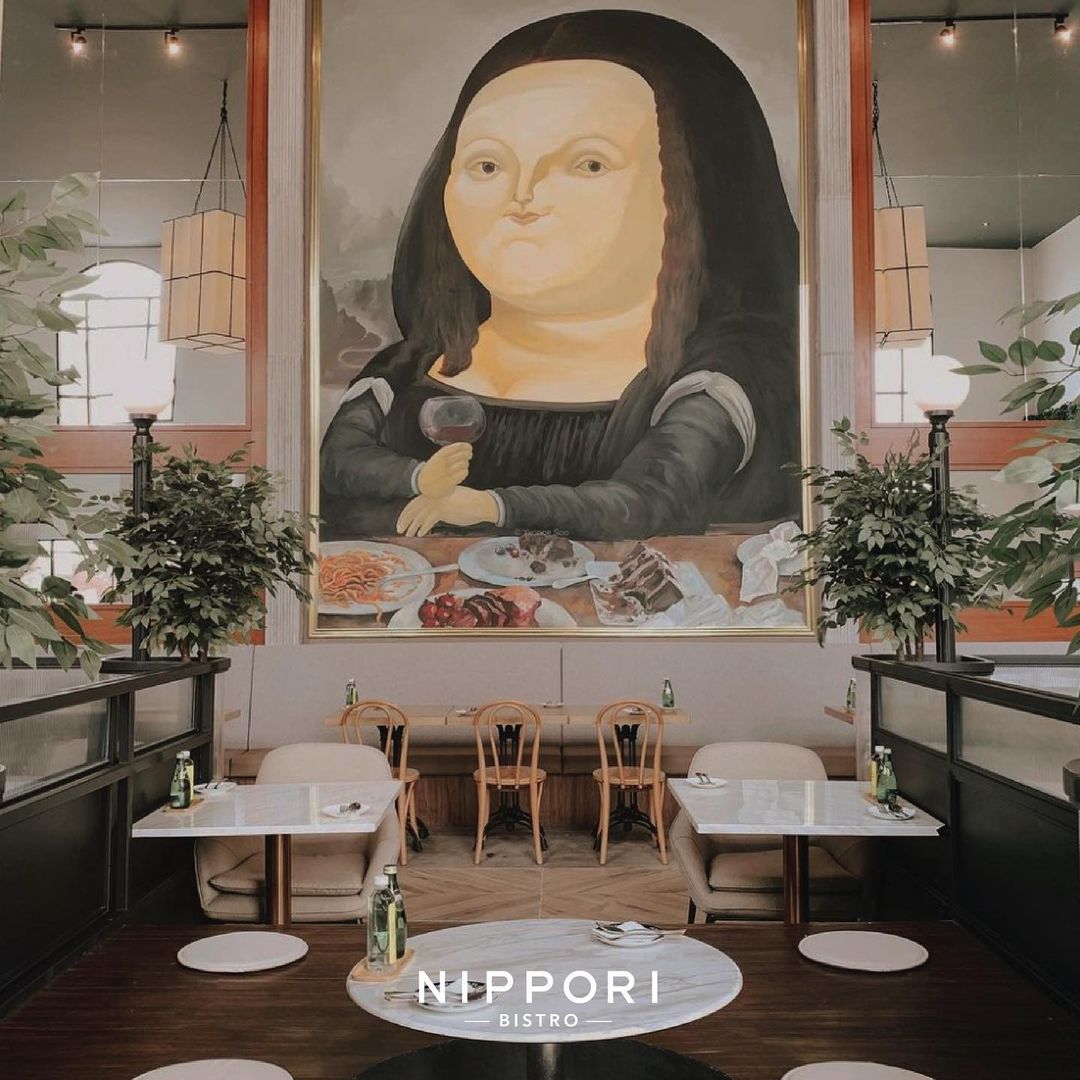 Image credit: @nipporibistro
When one mentions Nippori Bistro, the image of a larger-than-life Mona Lisa immediately comes to mind as Instagram has been flooded with shots of the restaurant's statement piece – a testament to prove that you have checked in here.
Housed in a large space that's designed with a mix of English colonial architecture and Japanese elements, Nippori Bistro's menu is an amalgamation of international flavours with offerings ranging from pizza, pasta, crepes, sashimi, sushi, and even a counter of enticing-looking French pastries.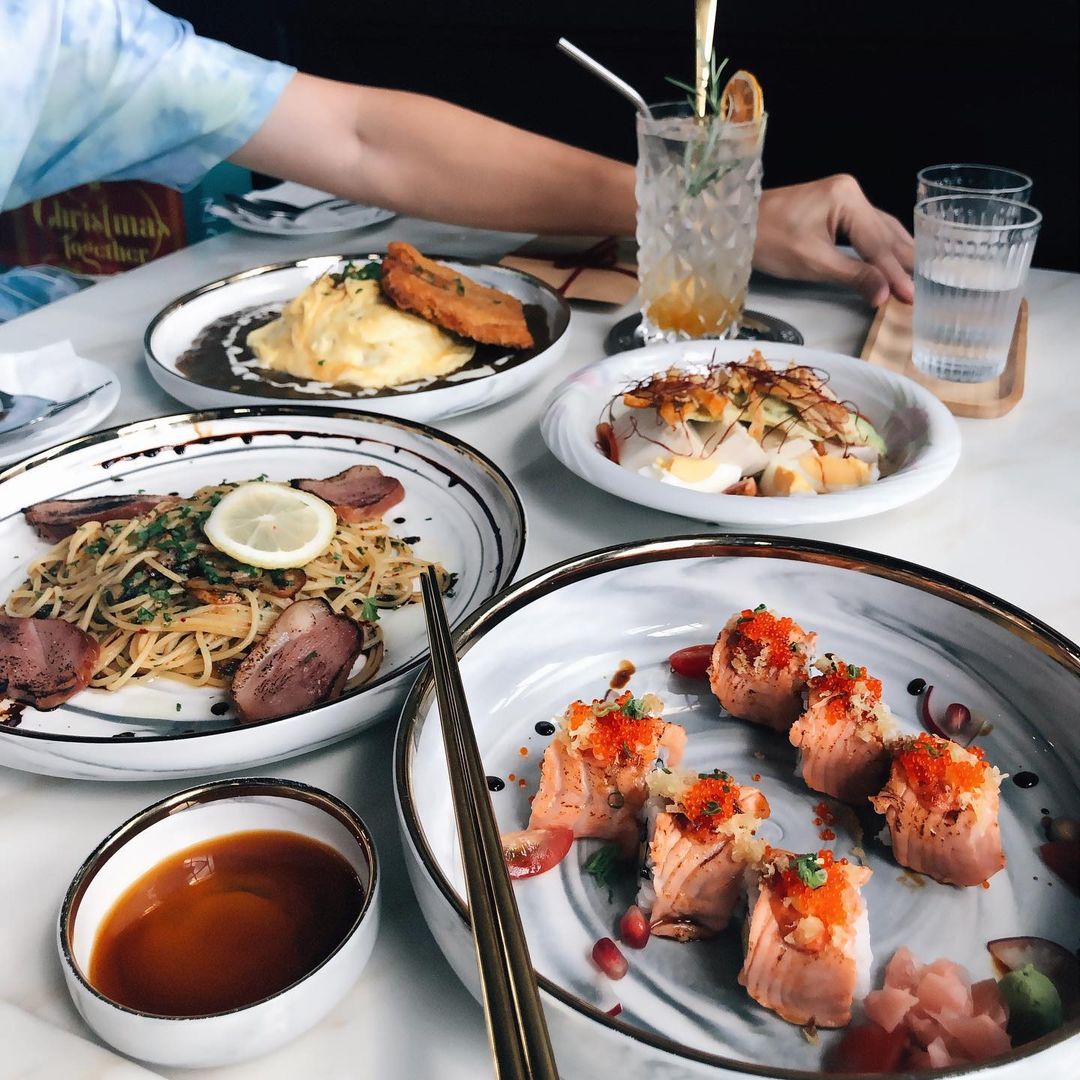 Image credit: @wencychu
Adventurous foodies can look forward to trying bold dishes from the likes of sushi with foie gras (RM58), pasta with spicy beef miso paste (RM36), to even a natto rice set (RM18). Natto is fermented beans – a dish infamous for its strong, pungent smell and gooey texture – definitely not meant for everyone's palate.
Address: Lot 2 & 3, B Land, Jalan 51A/225, Seksyen 51A, 46100 Petaling Jaya, Selangor
Opening hours: Tue – Sun 10AM-4.30PM, 6PM-10PM (Closed on Mondays)
Telephone: 011-5992 0379
---
4. Calia – premium sashimi and steaks
---

Image credit: @tiingxtravelxfoodie
Originating from Melbourne, Australia, Calia was welcomed with much anticipation and excitement from Malaysians when they opened their first outlet in Pavilion, Kuala Lumpur. 
Their aesthetics did not disappoint, with the exterior exuding luxury with its marble walls, and the interior comprising a bright and inviting space, with floor-to-ceiling windows, greenery, and neutral tones.
Calia's menu is curated with high-quality ingredients from different parts of the globe – think white truffle oil from Italy, sashimi from Japan, and wagyu from Australia, just to name a few.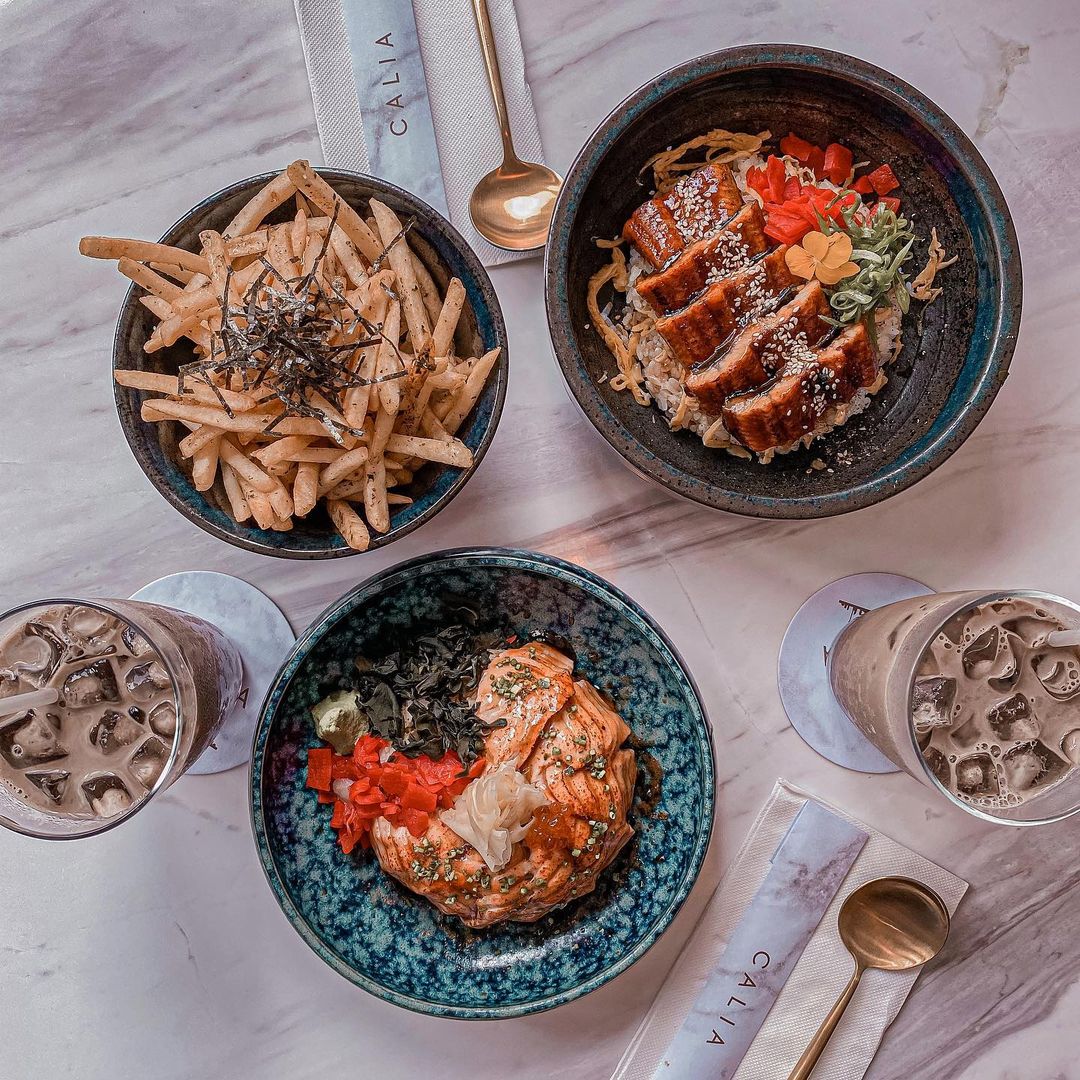 Image credit: @zoe_toh
First-timers are encouraged to try two of their signature dishes: The Calia Wagyu Bowl (RM78) – premium Australian marbled wagyu steak and Japanese rice, and Aburi Salmon (RM43), also a bowl of Japanese rice covered with slices of torched salmon and topped with a spoonful of ikura and Calia's secret sauce.
Address: Lot 6-11, 168, Jalan Bukit Bintang, Bukit Bintang, 55100 Kuala Lumpur
Opening hours: 10AM-10PM, Daily
Telephone: 03-3268 9962
---
5. Natalina Italian Kitchen – classic Italian cuisine
---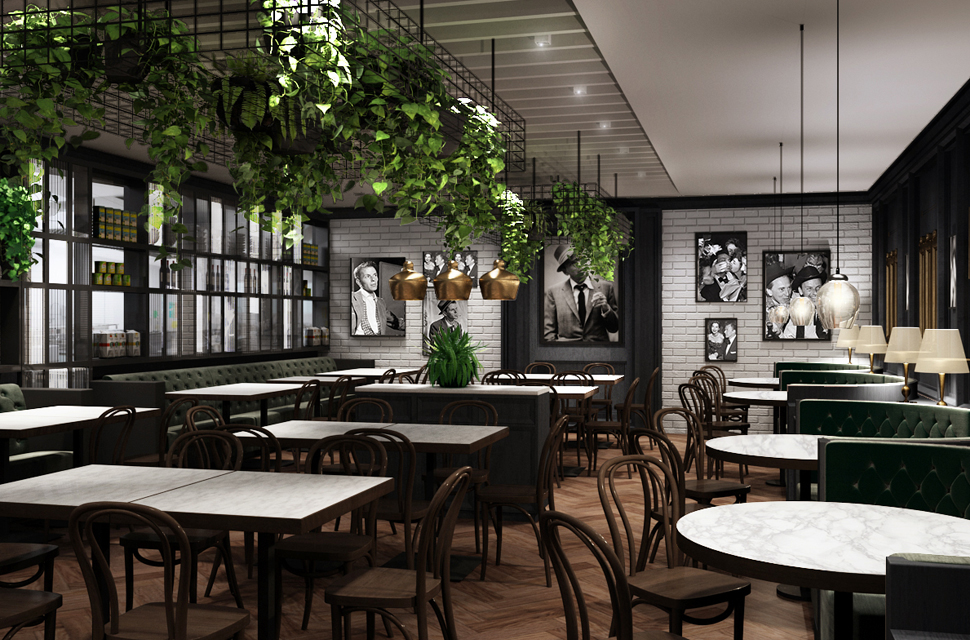 Image credit: Soma Architecture Design
Natalina Italian Kitchen has interiors that are both plush and comfortable, with black and white portraits of famous Italian figures, such as Frank Sinatra's mother, Natalina Garaventa, lining their brick walls.
Italian food purists will like that they serve authentic and classic Italian cuisine, so you can expect familiar offerings of pasta, ravioli, risotto, pizza, gnocchi and steak. We recommend you order the customary tiramisu – made with rich coffee and smooth mascarpone – to finish off the meal on a sweet note.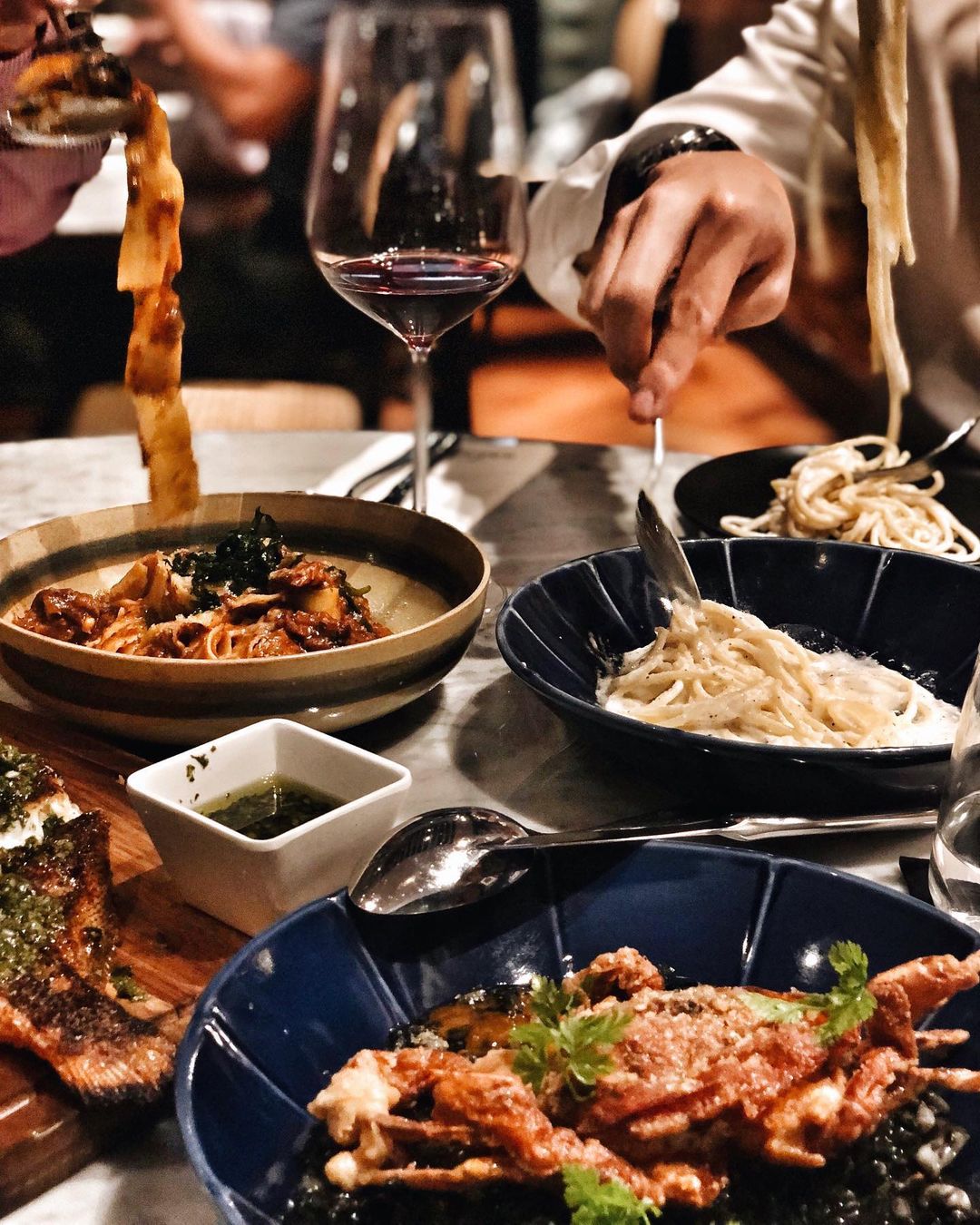 Image credit: @fivefourfeasts
Dishes are priced at around RM40 for a plate while seasonal steaks can go up to RM165 for a single portion.
Address: Avenue K, Lot 06.03, 156, Jalan Ampang, 50450 Kuala Lumpur
Opening hours: 12PM-10.30PM, Daily
Telephone: 012-673 3860
---
6. Jibby By The Park – serene alfresco dining 
---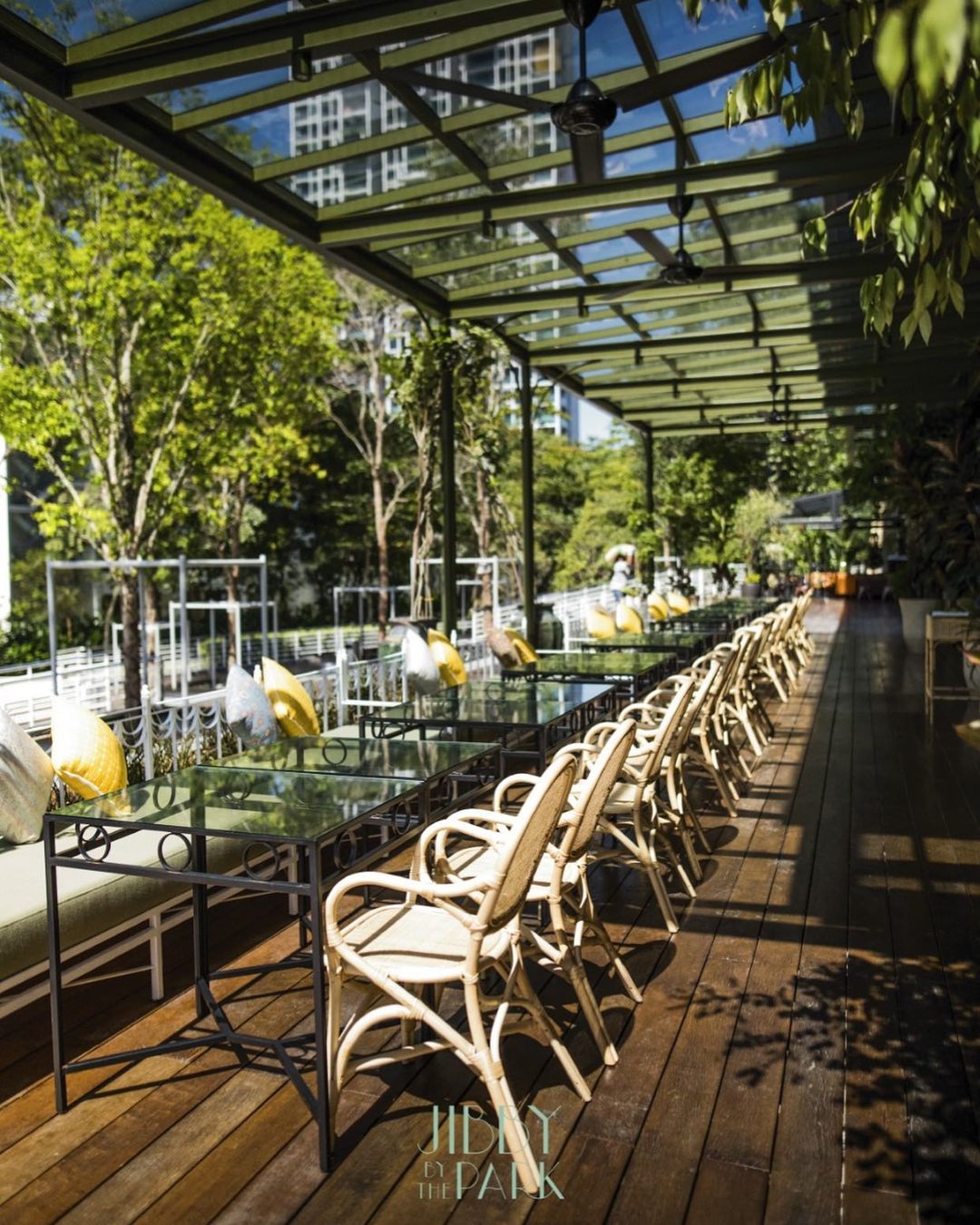 Image credit: @jibbygroup
Jibby By The Park's greenhouse concept is the epitome of serene alfresco dining. Filled with natural light and lots of lush greenery both outdoors and indoors, they have a beautiful space that can have diners sitting for hours just to enjoy the ambience.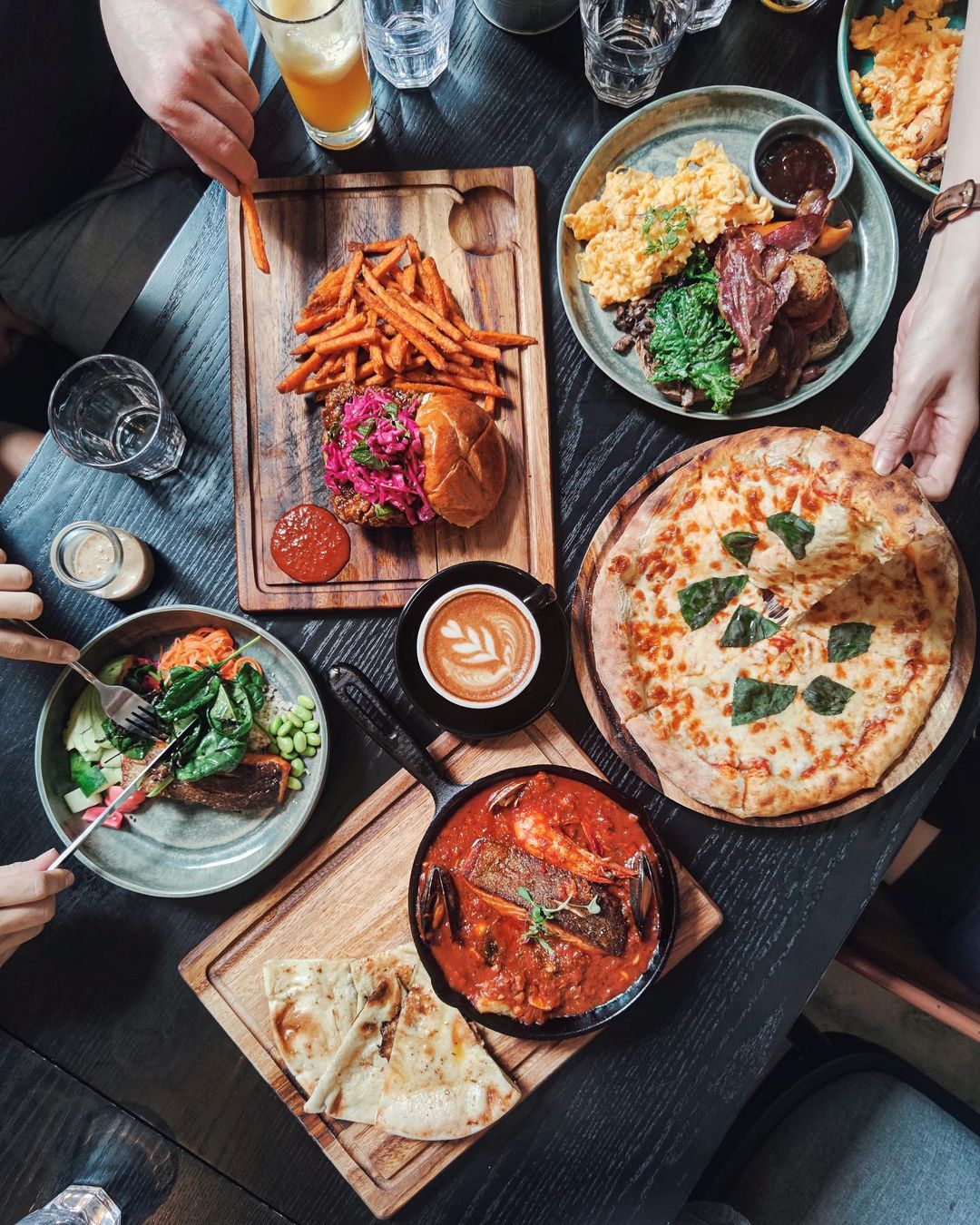 Image credit: @owenchia_lifediary
Their menu is a mix of intercontinental flavours covering breakfast, lunch, and dinner. You can find the likes of Big Breakfast (RM35), Australian Beef Ribs (RM75), Pan-Fried Salmon (RM48), Mushroom Aglio Olio (RM32), Ayam Bakar Madu (RM35), and many more.
Address: FF-18 & FF-19, First Floor, The [email protected], No 5, Persiaran Residen, Desa ParkCity, 52200 Kuala Lumpur
Opening hours: Sun – Thu 10.30AM-9.30PM | Fri & Sat 10.30AM-10PM
Telephone: 010-201 7428
---
–  Penang  –
---
7. Dozo Japanese Restaurant – full-fledged Japanese cuisine
---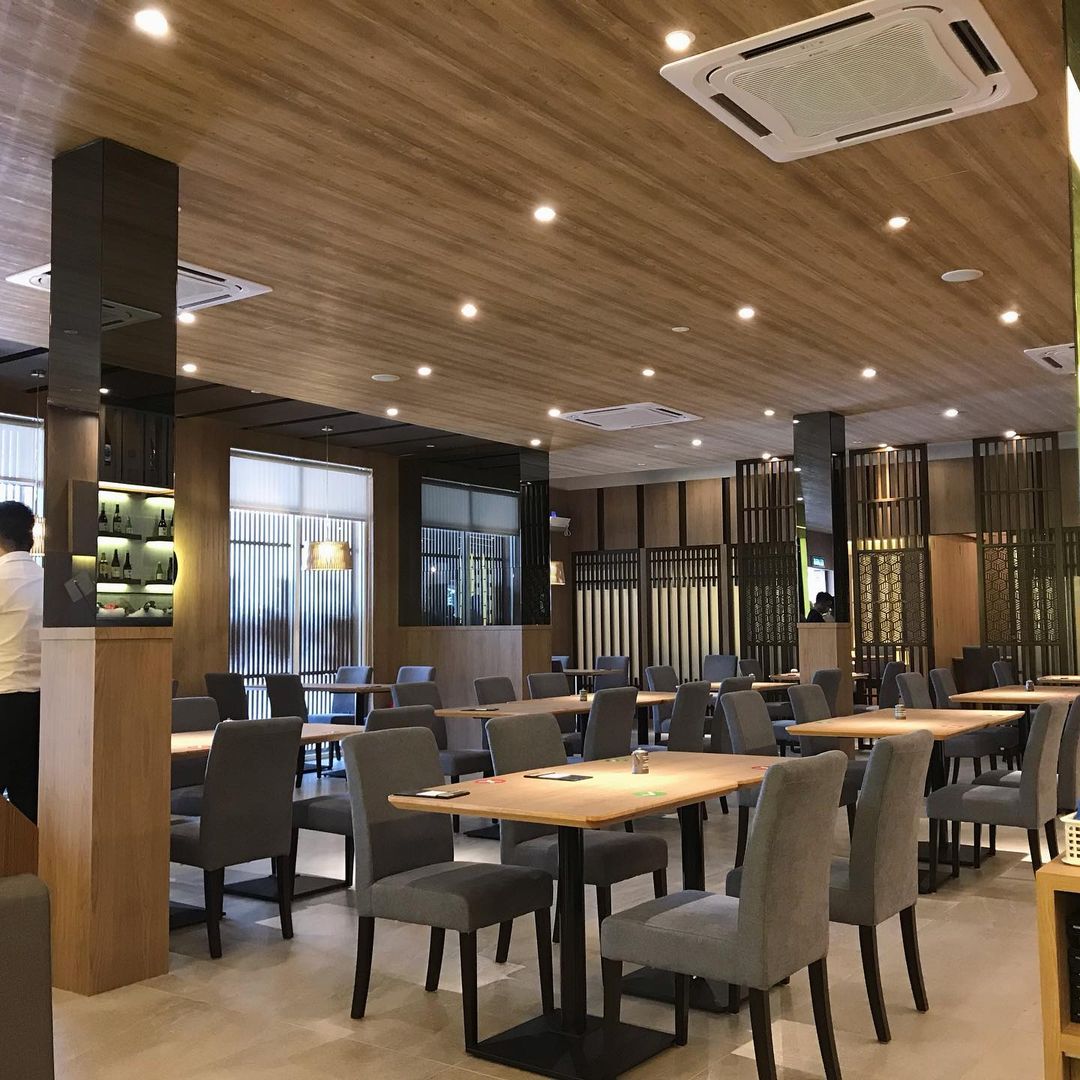 Image credit: @kennixfooddairy
London's Dozo Japanese Restaurant landed on Malaysian shores when they opened their first outlet in Ipoh in 2016, and in August 2020, they opened a second outlet in Bayan Lepas, Penang.
The one in Penang takes up three shop lots, which means that it's big and spacious, perfect for big groups looking to dine in together.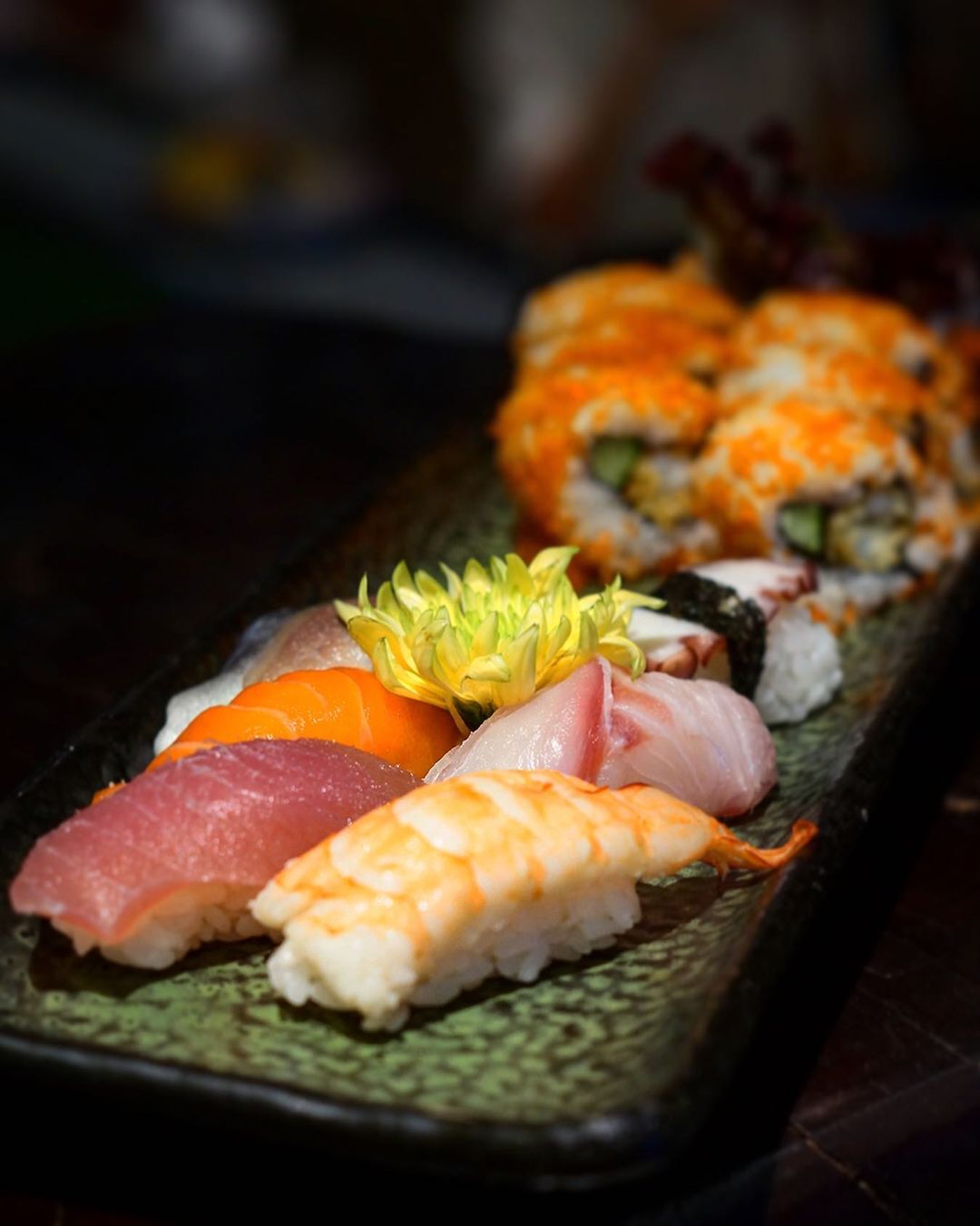 Image credit: @dozo.my
One can expect to have a feast at Dozo as they are a full-fledged Japanese restaurant serving up all the essentials ranging from sushi, sashimi, sukiyaki, yakitori, ramen, nabe, don, and many more.
The price hovers around RM30 per person – considered to be more expensive than your usual commercial Japanese restaurant chains, but their ingredients are of high quality, with some air-flown directly from Japan.
Address: No 1-1-26, 27 & 28 (Ground Floor), SummerSkye Square, Jalan Sungai Tiram 8, 11900 Bayan Lepas, Penang
Opening hours: Mon – Thu 11.30AM-2.30PM, 5.30PM-10PM | Fri – Sun 11.30AM-10PM
Telephone: 04-608 6296
---
8. Midnight Cat Noodle – hearty Szechuan noodles 
---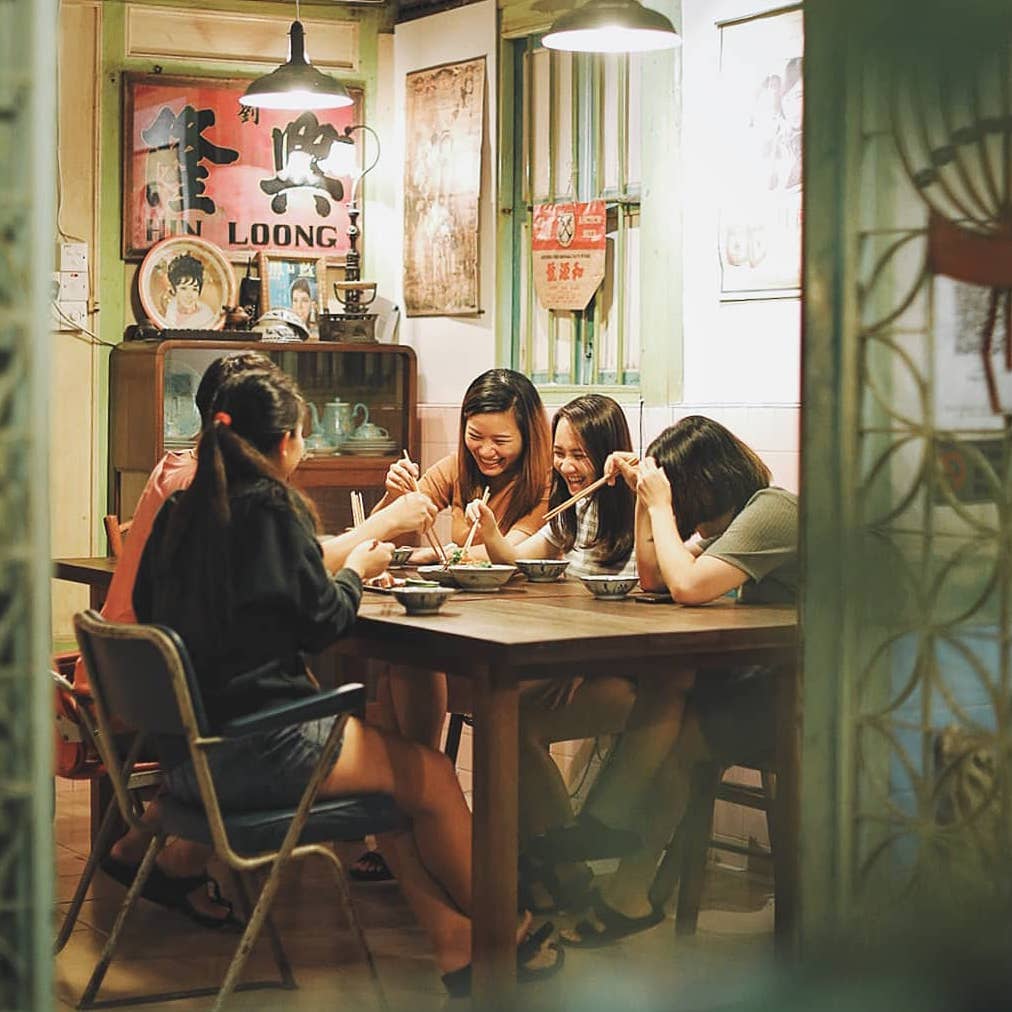 Image adapted from: @midnightcatnoodle
Midnight Cat Noodle is located in a small, rustic pre-war house that will surely transport you back in time once you enter the establishment. Old-school Chinese posters line the walls and antique appliances and porcelain tea sets adorn every corner.
As its name suggests, Midnight Cat Noodle is for hungry night owls as they open late into the night serving delicious and hearty Szechuan meals.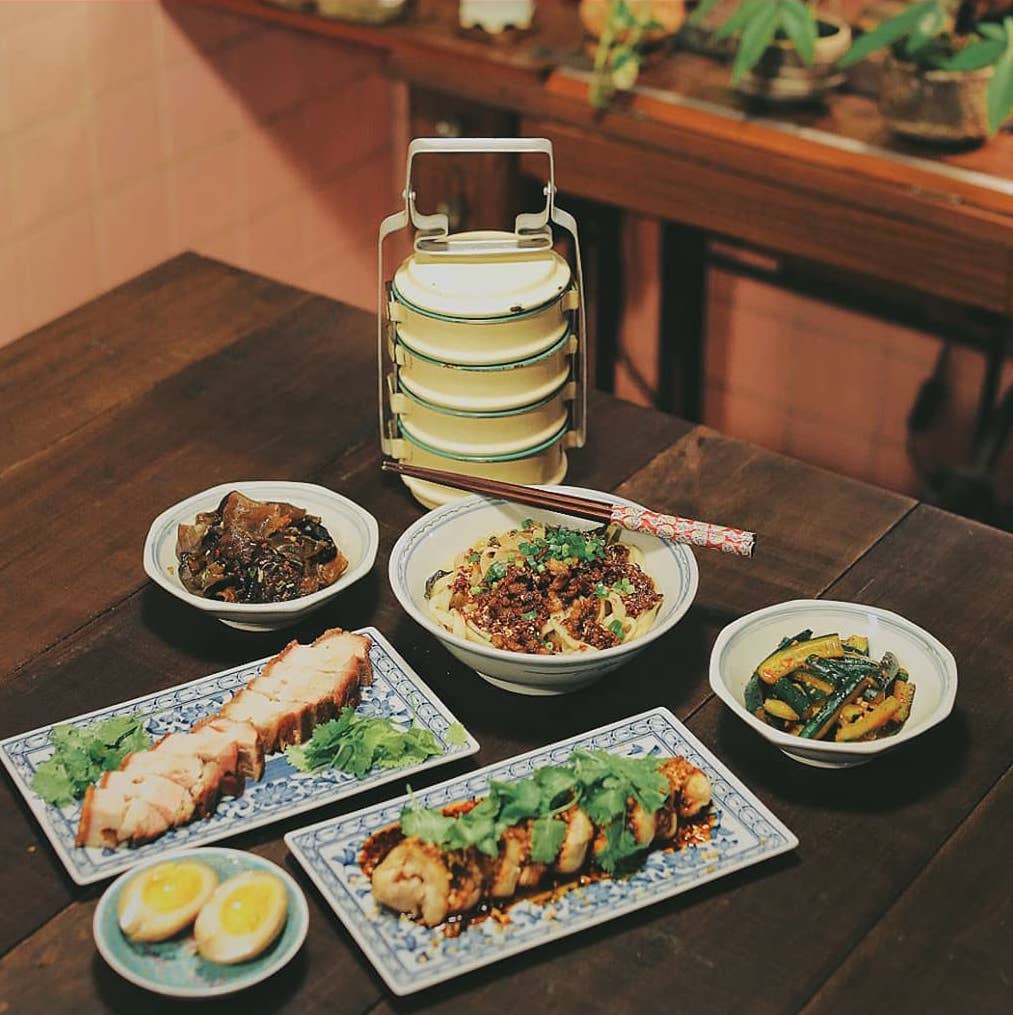 Image adapted from: @midnightcatnoodle
The menu is simple, with bowls of belly-warming spicy noodles, dumplings, and other Szechuan delicacies. Their main courses only consist of noodles (priced around RM10 for a bowl), but you can pick either the soup or dry version, then add on a variety of toppings of your choice such as hard-boiled eggs, roasted pork, and more.
Address: 312B, Jalan Thai Pak Koong, Tanjong Takong, 10470 Tanjung Tokong, Penang
Opening hours: Thu – Sun 6PM-12AM
Telephone: 012-490 4669
---
–  Johor  –
---
9. In The Tent – hotpot under a tent 
---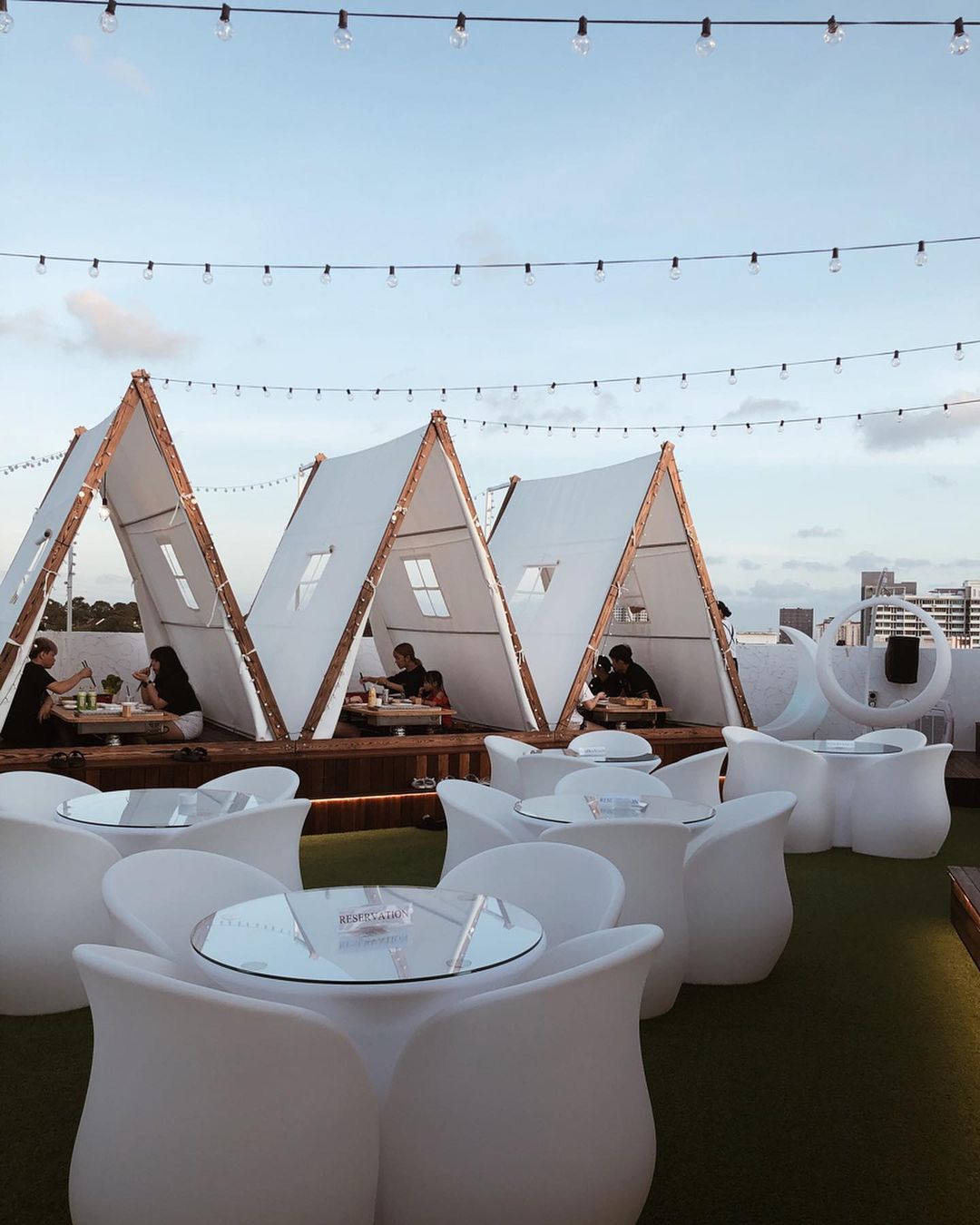 Image credit: @kittyroarr
In The Tent is a hotpot restaurant perfect for couples as the setting is dreamy, romantic, and one-of-a-kind.
Located on a rooftop in Mount Austin, Johor Bahru, you can look forward to dining under the night skies, with beautiful fairy lights strung above you. There are also tables set under tents, for more privacy and shelter, while still enjoying the cool night air.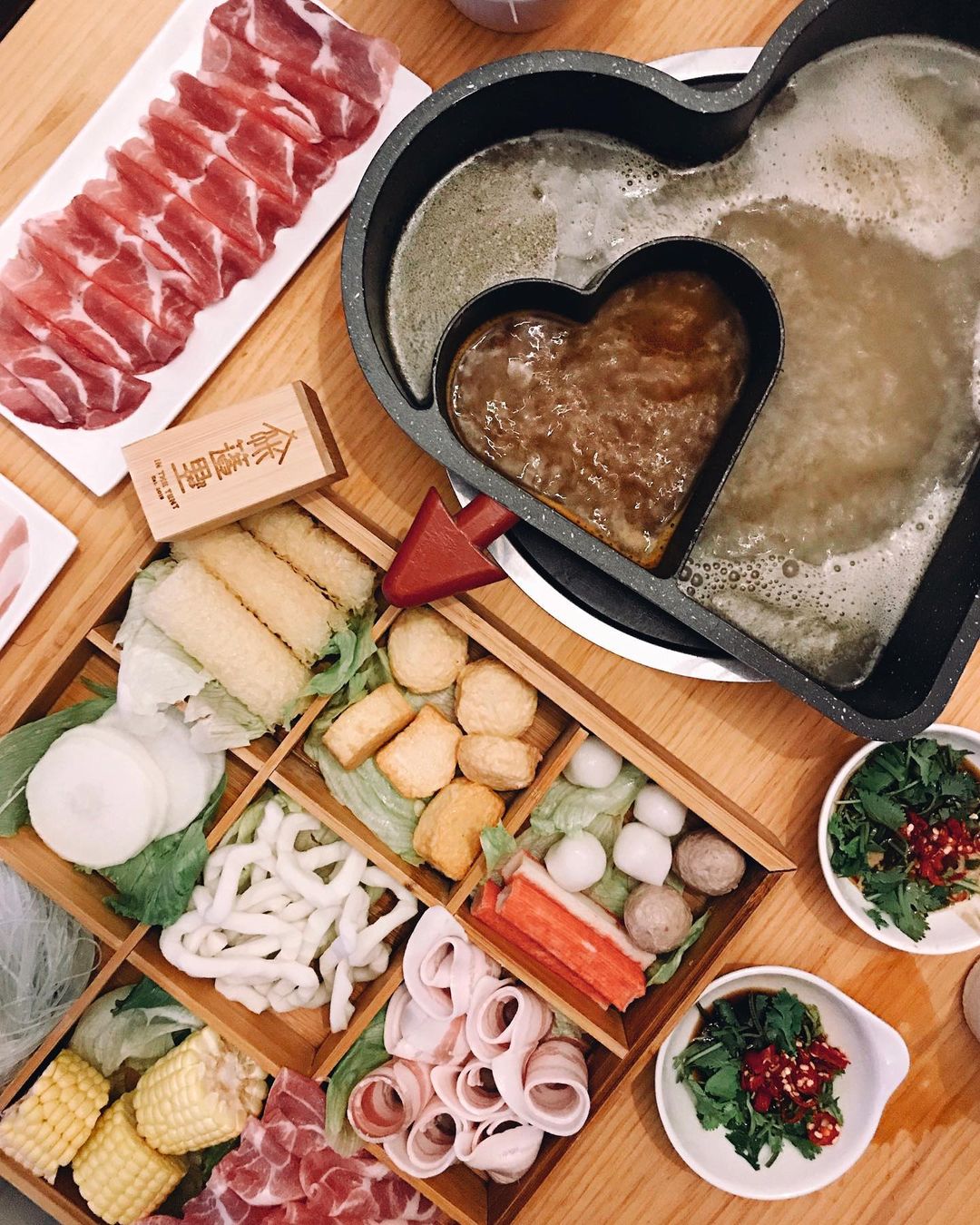 Image credit: @foodie2girls
 Menu-wise, you will find the usual staples of hotpot ingredients including meat, seafood, vegetables, fishballs, and the like. The soup will also be served in a cute heart-shaped pot to complete the experience.
Expect to pay around RM50 per person.
Address: 5th Floor, No 55, Jalan Austin Heights 8/7, Taman Mount Austin 81100 Johor Bahru
Opening hours: 5PM-2AM, Daily
Telephone: 013-787 8782
---
10. WohBee Canteen – floating canteen in a fishing village 
---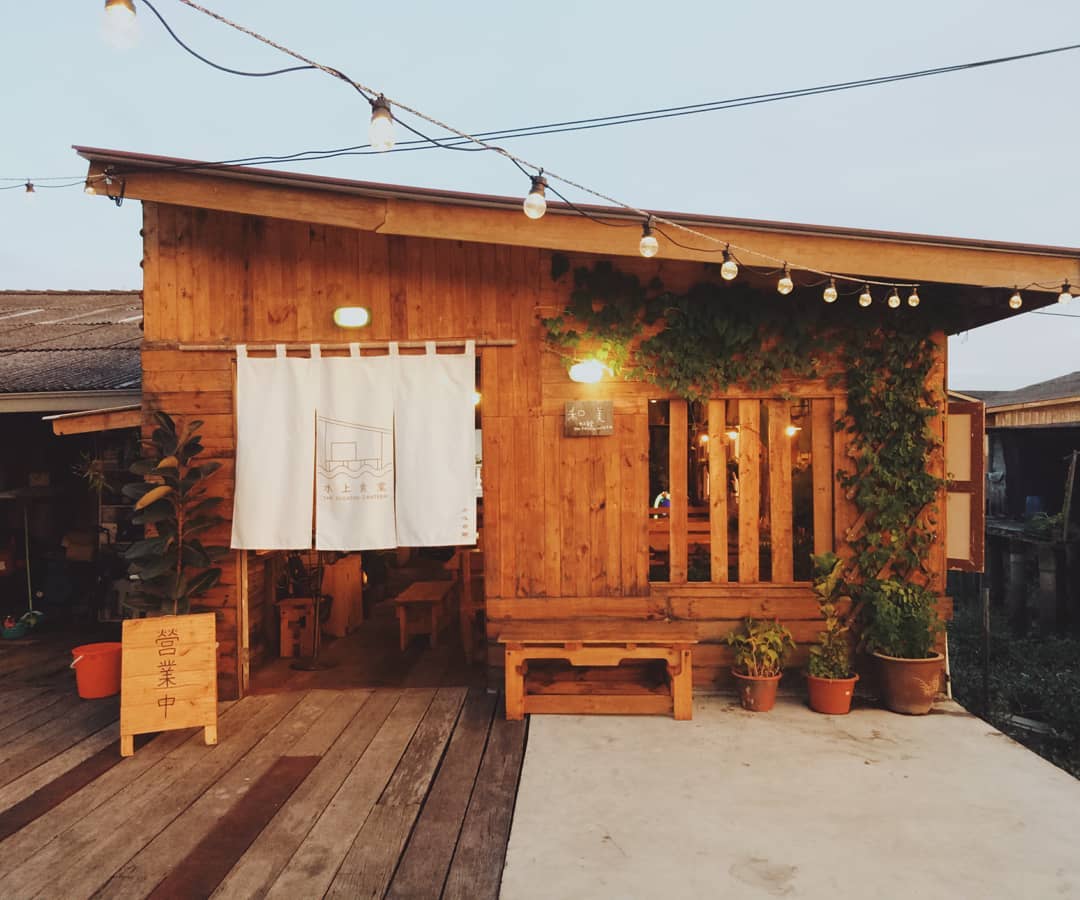 Image credit: @wohbee_canteen
WohBee Canteen provides another novel dining experience. Located in a fishing village in Kukup, it's dubbed as the floating canteen, as it's built on stilts above the water. Add to that WohBee Canteen's wood-heavy decor, and you'll agree that the place has an old-school communal canteen vibe.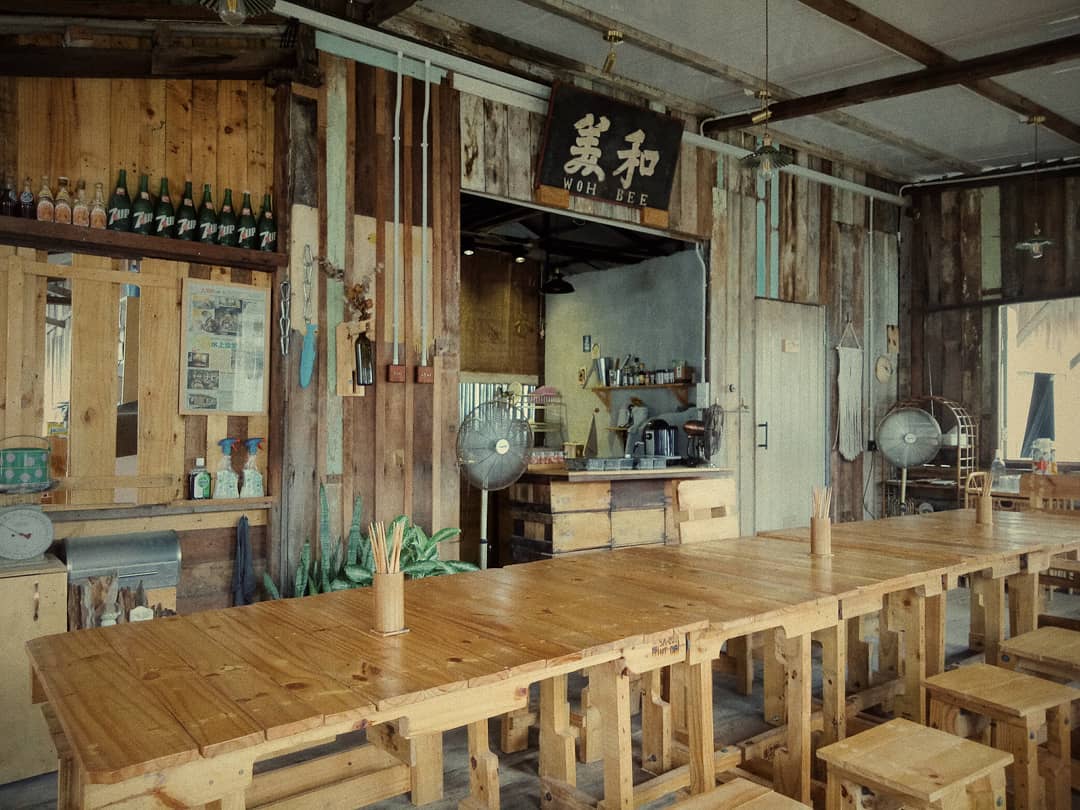 Image credit: @wohbee_canteen
They serve Chinese dai chow, specialising in seafood given their proximity to the sea.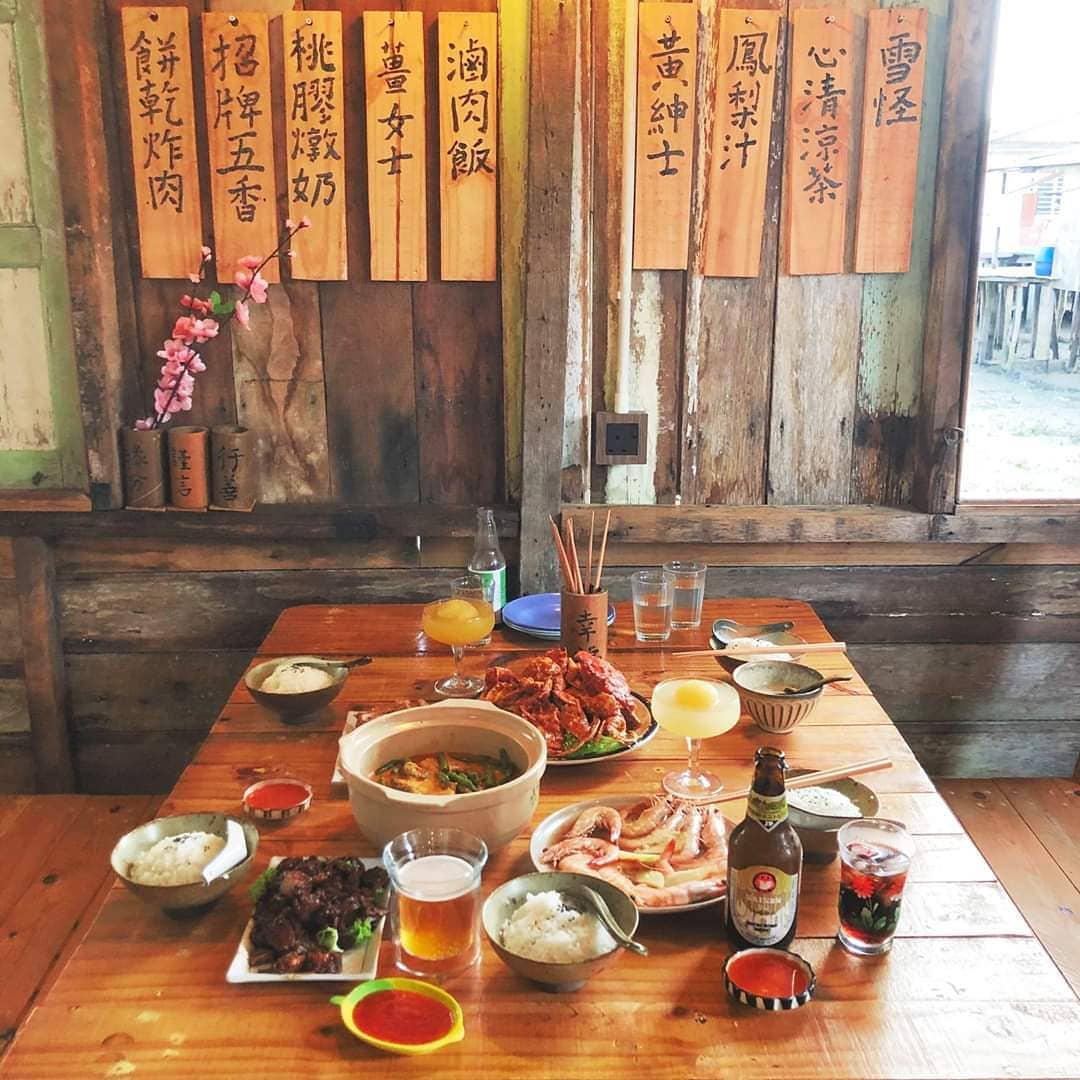 Image credit: @wohbee_canteen
The place only opens on Saturdays, so make sure to call ahead to reserve a spot as there will be many others who are planning a weekend trip there as well.
It will take around an hour by car to get to WohBee Canteen from Johor Bahru's city centre.
Address: Kukup, 82300 Pontian, Johor
Opening hours: Sat 7.30PM-11PM
Telephone: 019-777 9504
---
2020 restaurants worth checking out
---
While long queues at newly opened cafes and restaurants do not guarantee that the place will not close down after the hype dies down, the eateries on this list may be here to stay for long given the crowds that have consistently flocked to these places even though some have been opened since the beginning of last year.
If you're looking to dine in at any of these places, we highly recommend calling in advance to make a reservation since we're still in the middle of a pandemic. Let's also do well to remember to keep to SOPs, practise good hygiene habits, wear a mask, and maintain social distancing and avoid overcrowding when we're out and about. 
Keep reading for more noteworthy cafes and restaurants in Malaysia:
---
Cover image adapted from: @owenchia_lifediary, @lijhuin, and @foodie2girls
Enjoying The Smart Local Malaysia? Follow us on Facebook and Instagram for more stories like this. If you have a story to share, email us at [email protected].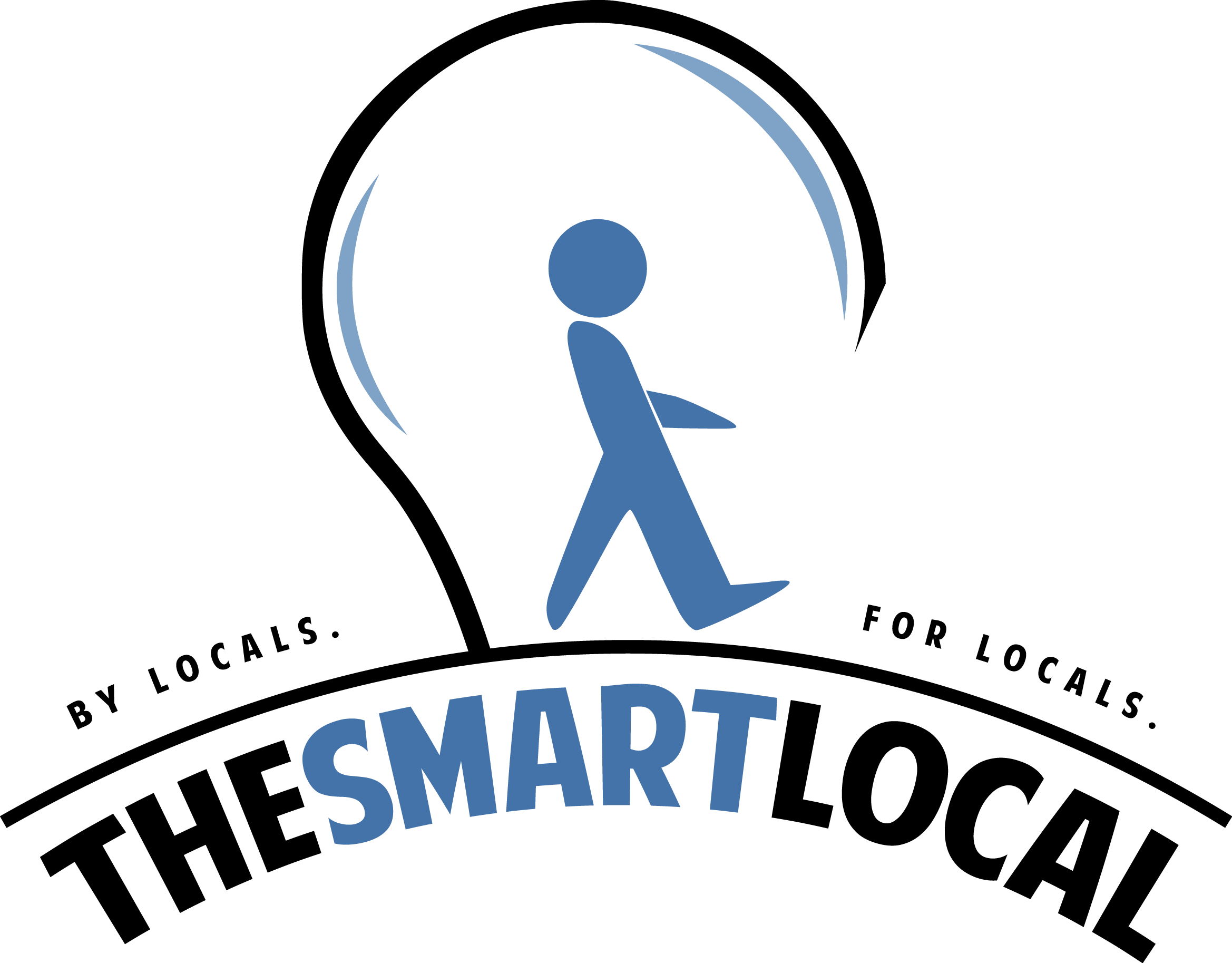 Drop us your email so you won't miss the latest news.