Cafes in Cyberjaya, Selangor
---
Cyberjaya is filled with countless surprises for those who aren't aware of what there is to this town other than tech companies and multimedia universities. One of the many attractions in Cyberjaya is its cafes that has become a hideaway for many locals and students alike. 
While you can find trusty franchises here such as Starbucks and San Francisco Coffee, venture to one of the 10 cafes in Cyberjaya that you can't find outside this town. They have cosy and rustic interiors – perfect if you need a little getaway from the city. 
Here are our other food guides in Klang Valley you should check out: 
---
1. The Botanist Green Cafe – pao cafe that sells eco-friendly goods
---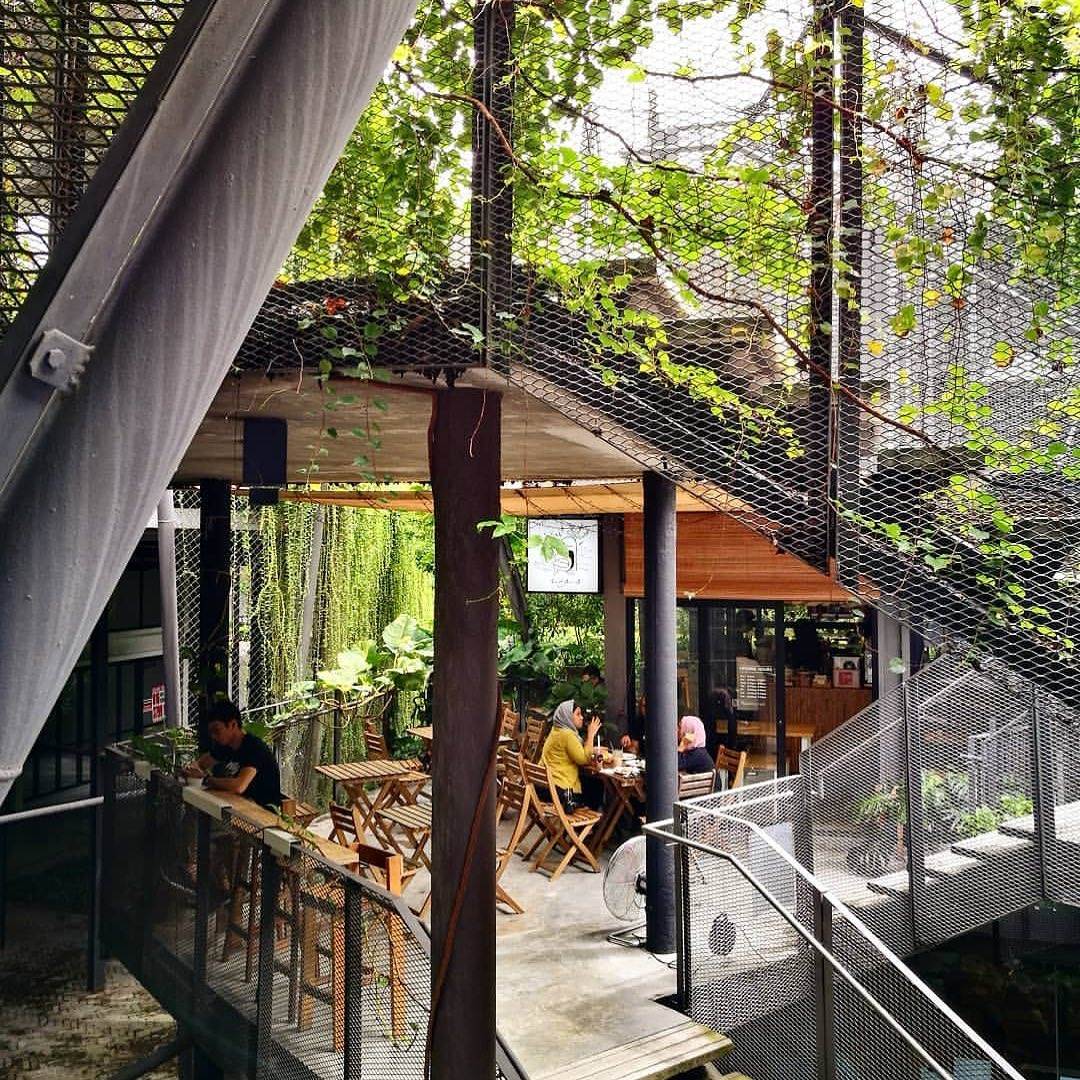 Image credit: @thebotanistgreencafe
The Botanist Green Cafe is a rustic cafe that serves sesame and charcoal paos with unique fillings. And those who are into waste-free living will be glad to know that there's also eco-friendly items for sale here.
Paos (RM12/each) here are all organic and homemade, with rendang, fried chicken, or crumbly cheese fillings. Other small, sweeter bites here are brownies (RM7/each), Burnt Cheesecake (RM10/slice), and Banana Bread (RM7/slice). Pair these off with its signature and healthy Blue Pea Tea (RM4), or a cup of Iced White Coffee (RM10).

Image credit: @thebotanistgreencafe
Don't leave without checking out the selection of eco-friendly goods. There are botanical soaps (RM28/bar) with lavender and rose scents from Australian vegan brand Church Farm, and Wooden Forks and Spoons (all RM4/each) for sale here. And if you're a coffee addict, consider getting a reusable travel mug (RM48) that comes in muted shades of blue and green.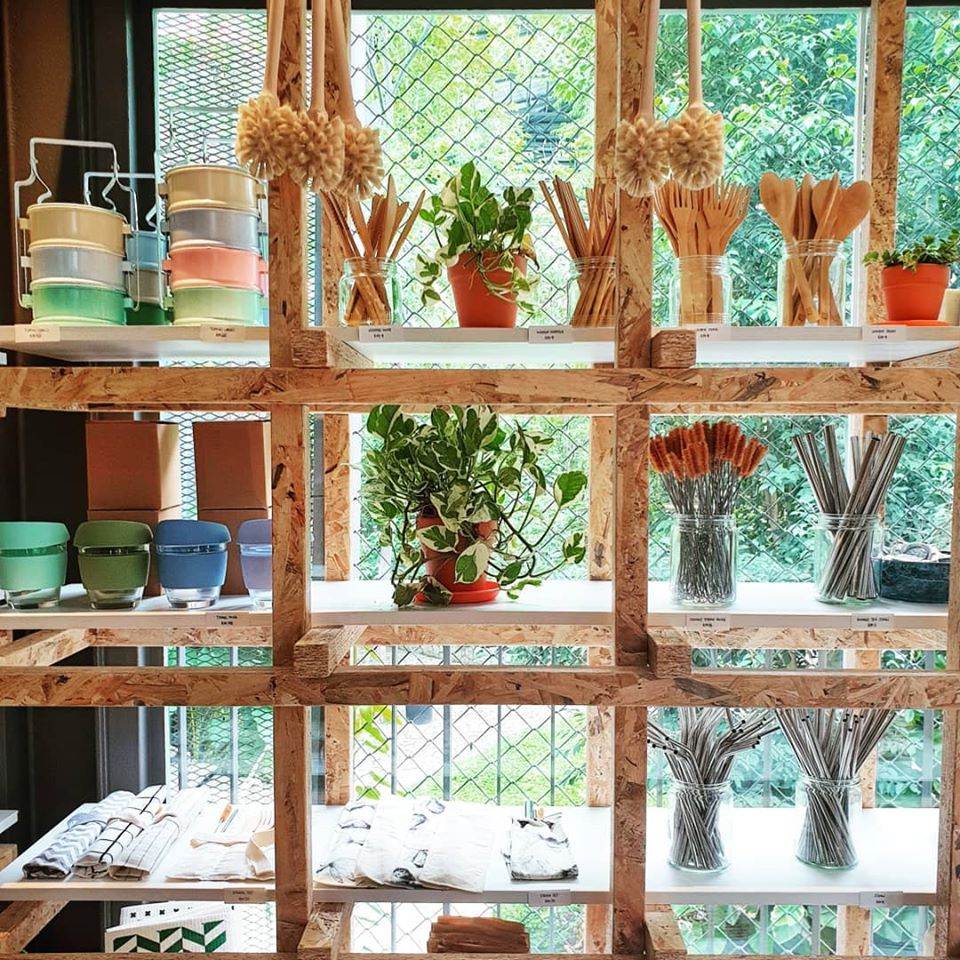 Variety of eco-friendly items for sale at The Botanist Green Cafe
Image credit: Tamarind Square 
To encourage greener practices, bring your own container when you're planning to tapau here and you'll get a 10% discount off your entire bill. 
Address: GP3A-03M, Level 3M,Tamarind Square, Persiaran Multimedia, 63000 Cyberjaya
Opening hours: Tues-Fri 12PM-8PM | Sat 10AM-8PM | Sun 10AM-5PM (Closed Mondays)
Website 
---
2. Monjo Coffee – American diner-style cafe
---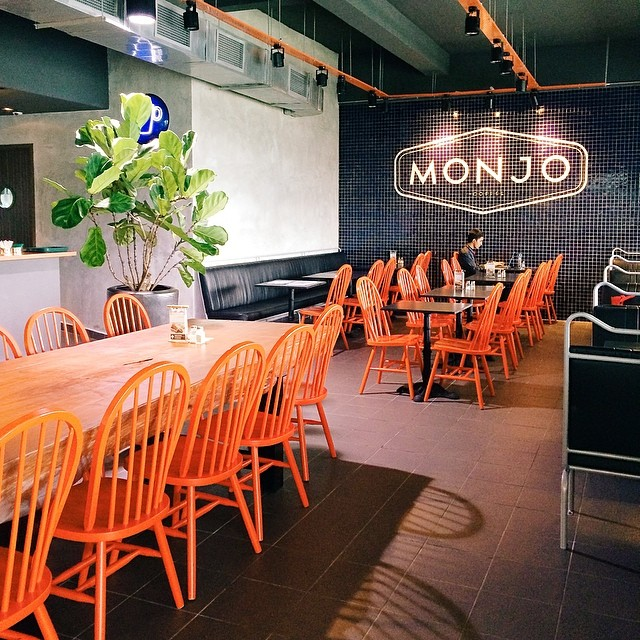 Monjo Coffee is one of several cafes in Cyberjaya for coffee addicts with a unique New York-inspired interior
Image credit: @aaput
Tucked away on the 5th floor of a commercial hub, Monjo Cafe serves up classic American diner food and cups of to-go coffee. If you're a New York aficionado, check out the details in the store that are a shout out to its iconic subway system – subway tiles and a priority seating sign outside its store, as well as subway signs that show you where the counters are inside.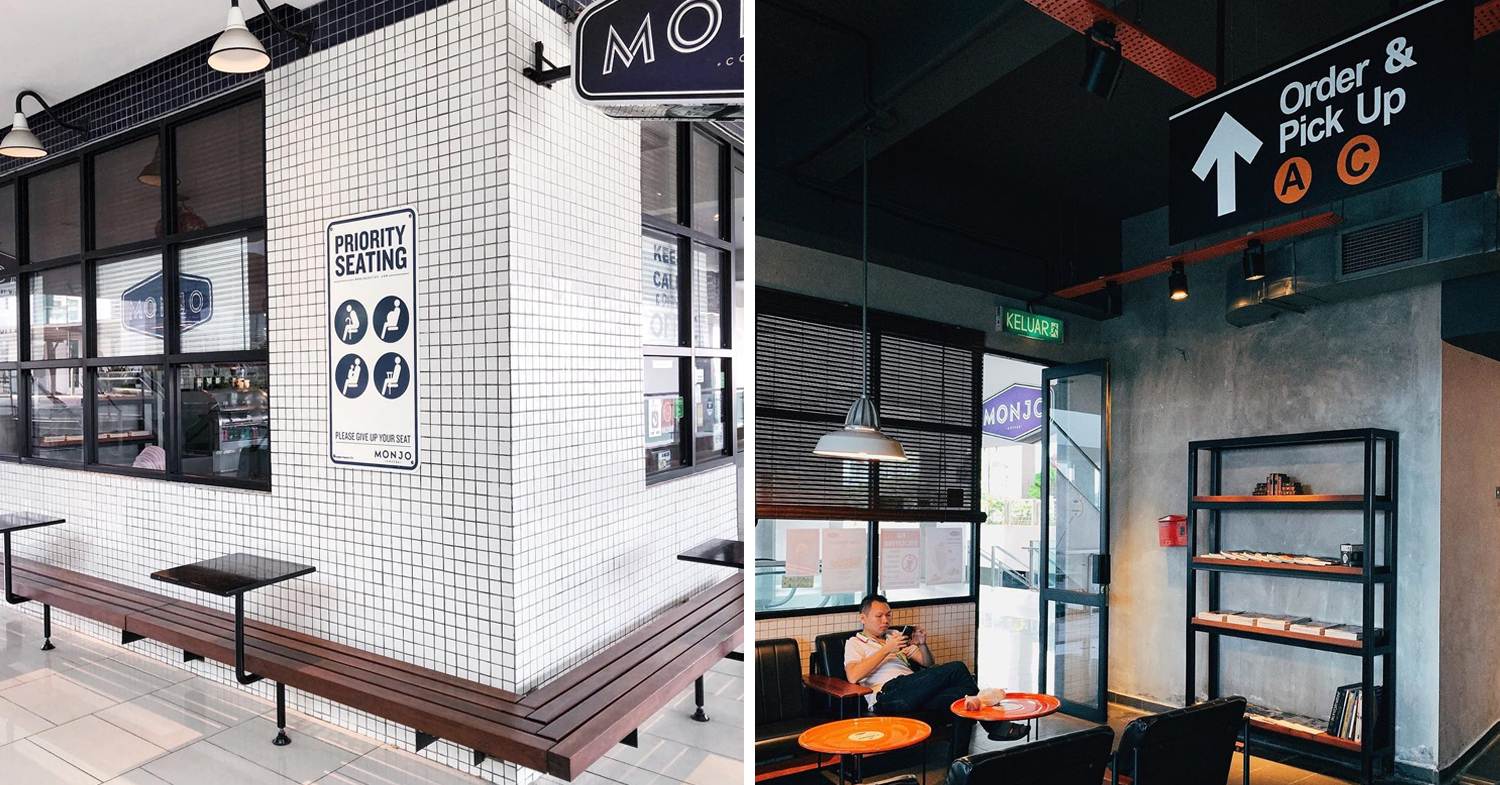 Image adapted from: @ainamarwani and @arifuddinrahmad
The cafe opens bright and early at 8AM, so early rises can get here early for a hearty plate of English Breakfast (RM19) or Eggs Benedict (RM16) with multigrain bread.

Image credit: @angietyo
For lunch, they have a series of pastas and sandwiches available. Order the Crispy Chicken Burger (RM24) that has a little crunch boost with tortilla chips on the side, and American BLT Sandwich (RM23), a classic all-American dish packed with crispy bacon and vegetables.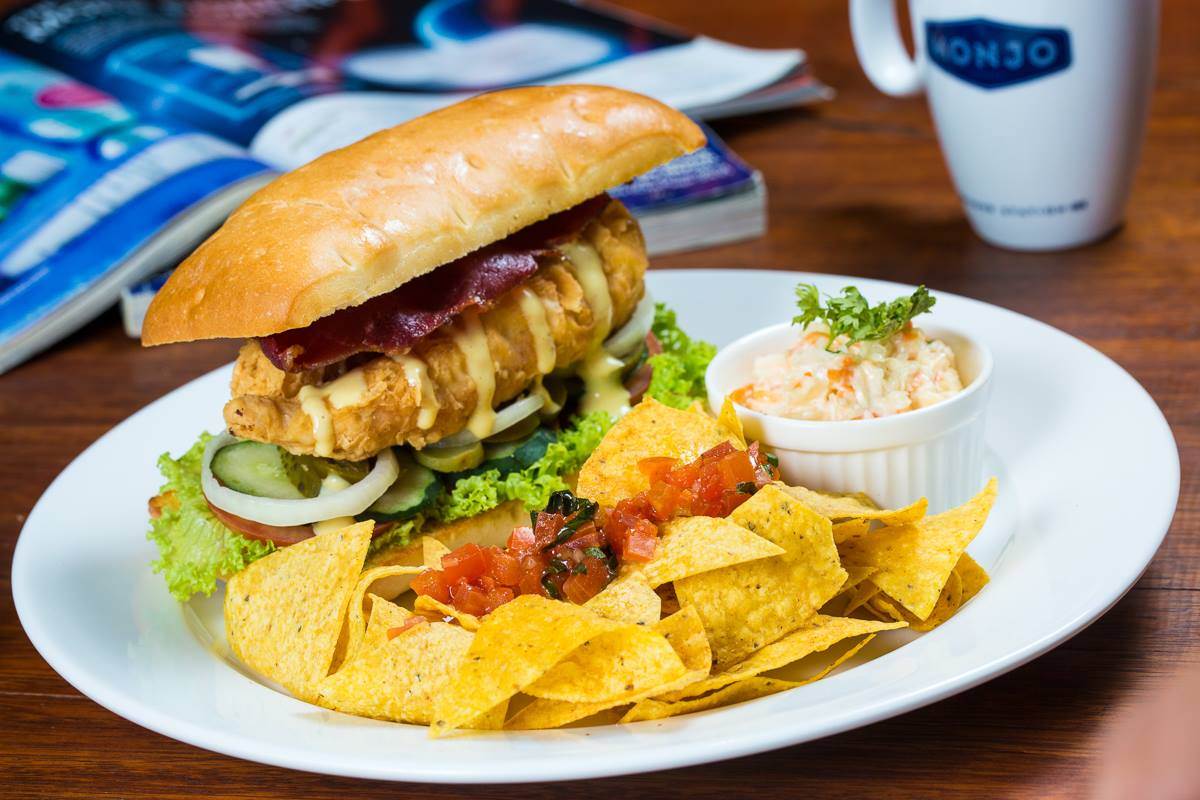 Image credit: Monjo Coffee
They also have their own house-blend coffee beans. You can taste chocolatey and buttery  notes in their cup of Cafe Latte (RM11.90) or Americano (RM10.90), which you can also get to-go here. 
Address: P5-11 Shaftsbury Square, Persiaran Multimedia, Cyber 6, Cyberjaya
Opening hours: Mon-Sat 8AM-10PM (Closed Sundays)
Telephone: 03-8689 5208
Website 
---
3. Herbs and Butter – Malay comfort food in a cosy setting
---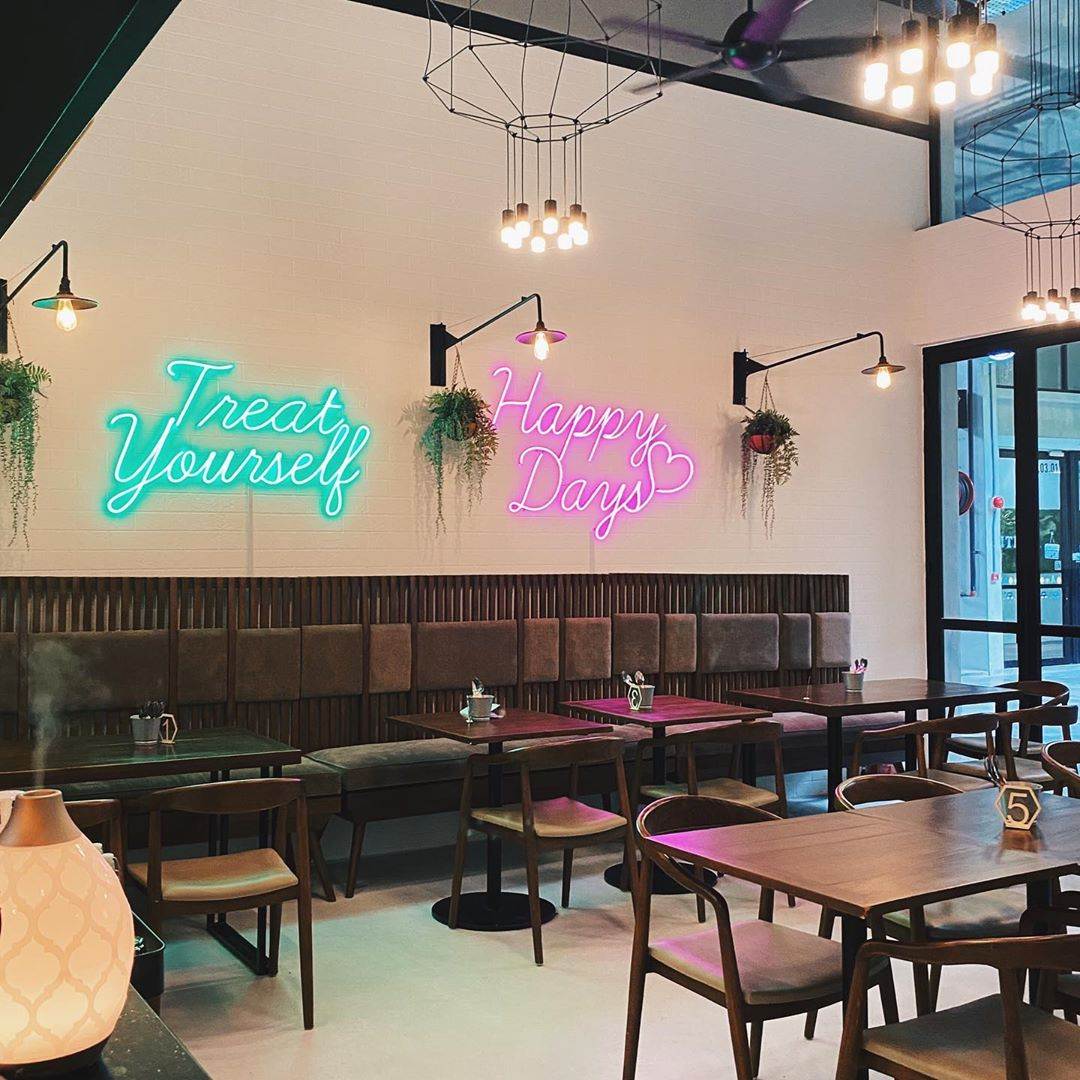 Image credit: @herbsandbutter
If you're in town with a group of friends, check out Herbs and Butter. It's a cosy Asian and Western cafe known for its affordable platters that serve up to 4 people. It comes in 2 options: Herbs Platter (RM39/2 pax) with Western mains such as parmesan chicken and butter prawn, and Butter Platter (RM29/2 pax) with nasi goreng and kerabu sotong. 

Mee Rebus Jawa (RM12) that has noodles, shredded beef, and bean sprouts in a spicy broth
Image credit: @herbsandbutter
Ala carte Malay comfort food options are also available here. Laksa Johor (RM15) is a secret family recipe that is topped with homemade sambal and a mix of fresh vegetables. The Soto Ayam (RM12) and Nasi Daging Dendeng (RM12), which comes with keropok belinjau from Indonesia, are also worth trying out here.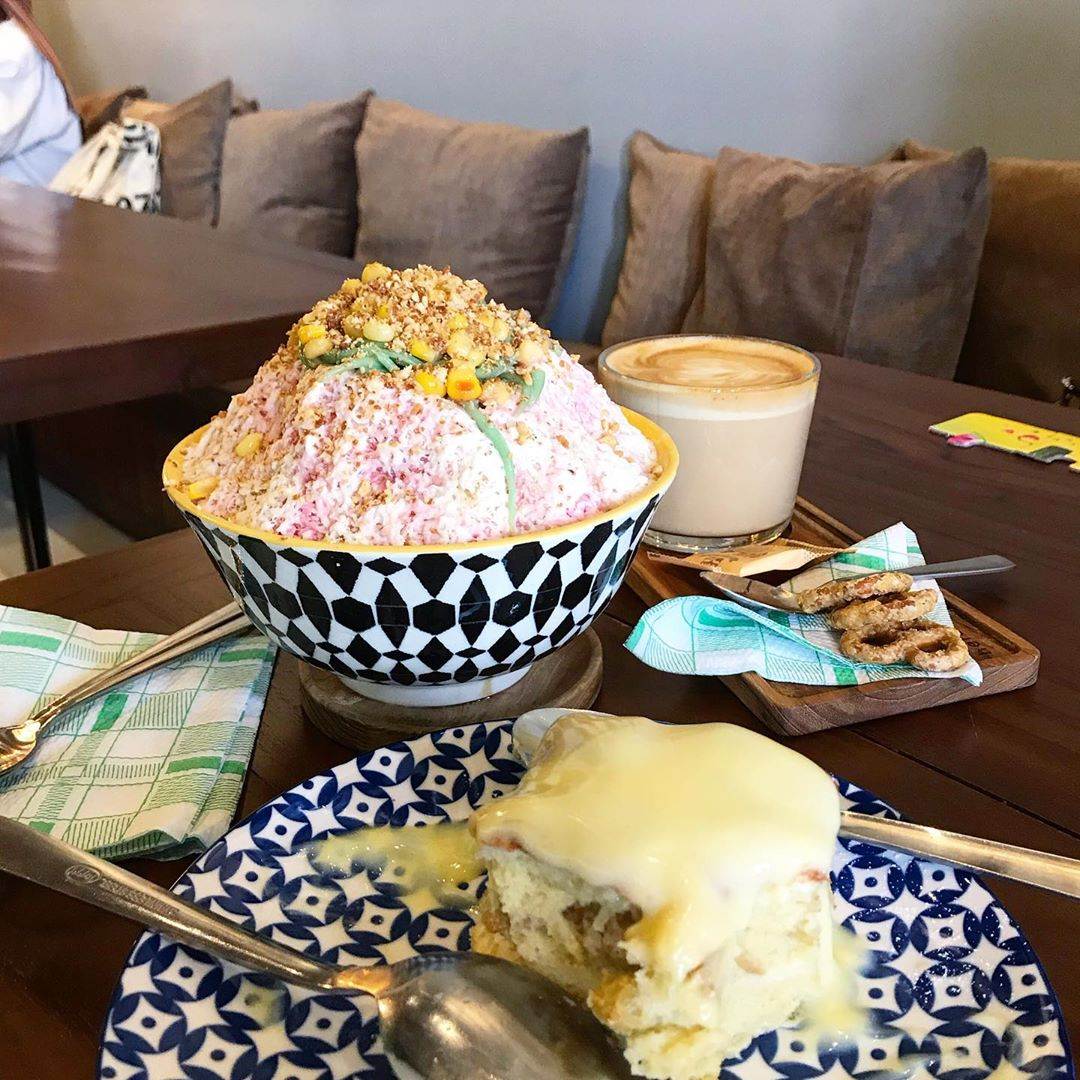 Don't miss out on their Ali Bingsu that's shaved ice with classic cendol toppings
Image credit: @jemsfoodblog
Once the spice hits, get a bowl of Ali Bingsu (RM15) or Strawberry Bingsu (RM25), which is also possible to share between your group of 2 for its generous portions. 
Address: D3-03-15 Tamarind Square, Persiaran Multimedia, 63000 Cyberjaya
Opening hours: Mon-Sat 12PM-10PM (Closed Sundays)
Telephone: 017-230 4384
Website 
---
4. Pastribella Bakeshop – bakery opened by Masterchef winner
---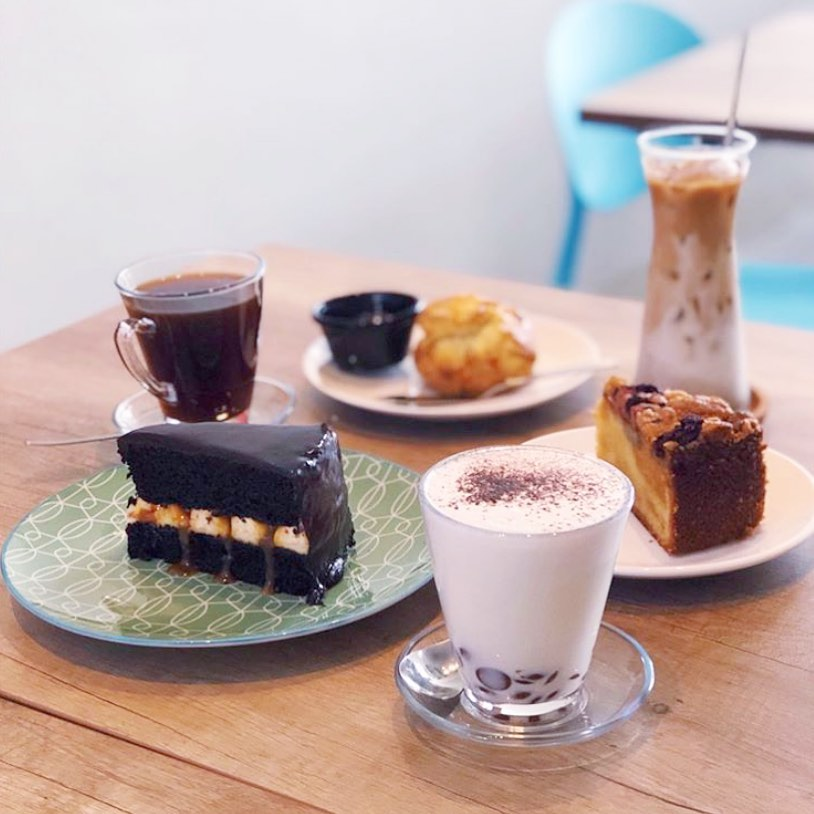 There are several dessert cafes in Cyberjaya, and Pastribella Bakeshop happens to be one of them that's opened by Masterchef Malaysia winner
Image credit: @pastribellabakeshop
We can't get enough of burnt cheesecakes and molten chocolate cakes – and any desserts so good that it rightfully becomes a main. Thankfully, Pastribella Bakeshop has a spread of decadent bakes laid out for you to feast your eyes on. With Masterchef Malaysia's Season 1 winner Dr. Ezani Monoto at the helm of this store, you're in for a real treat at this bakery.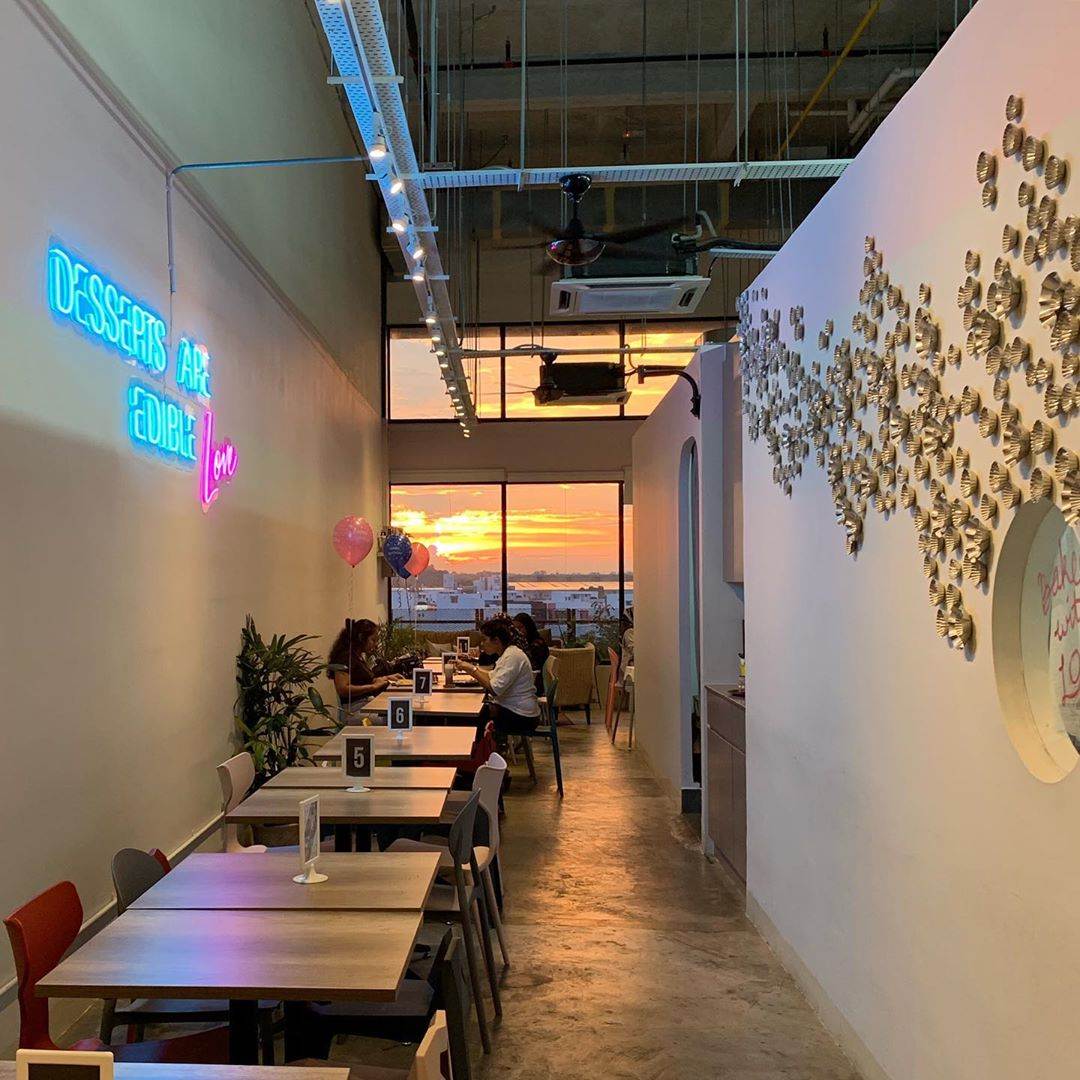 Image credit: @pastribellabakeshop
As the cakes get switched out daily, you'll always be in for a surprise. But you can expect staple flavours such as Carrot Cake, Burnt Cheesecake, and Molten Chocolate Cake, and its flourless Pistachio Rose (all RM14 – RM16/slice). Look out for the Fruit Tart Frangipane – it shows up every once and again, and has crumbly pastry and a generous topping of fresh fruits.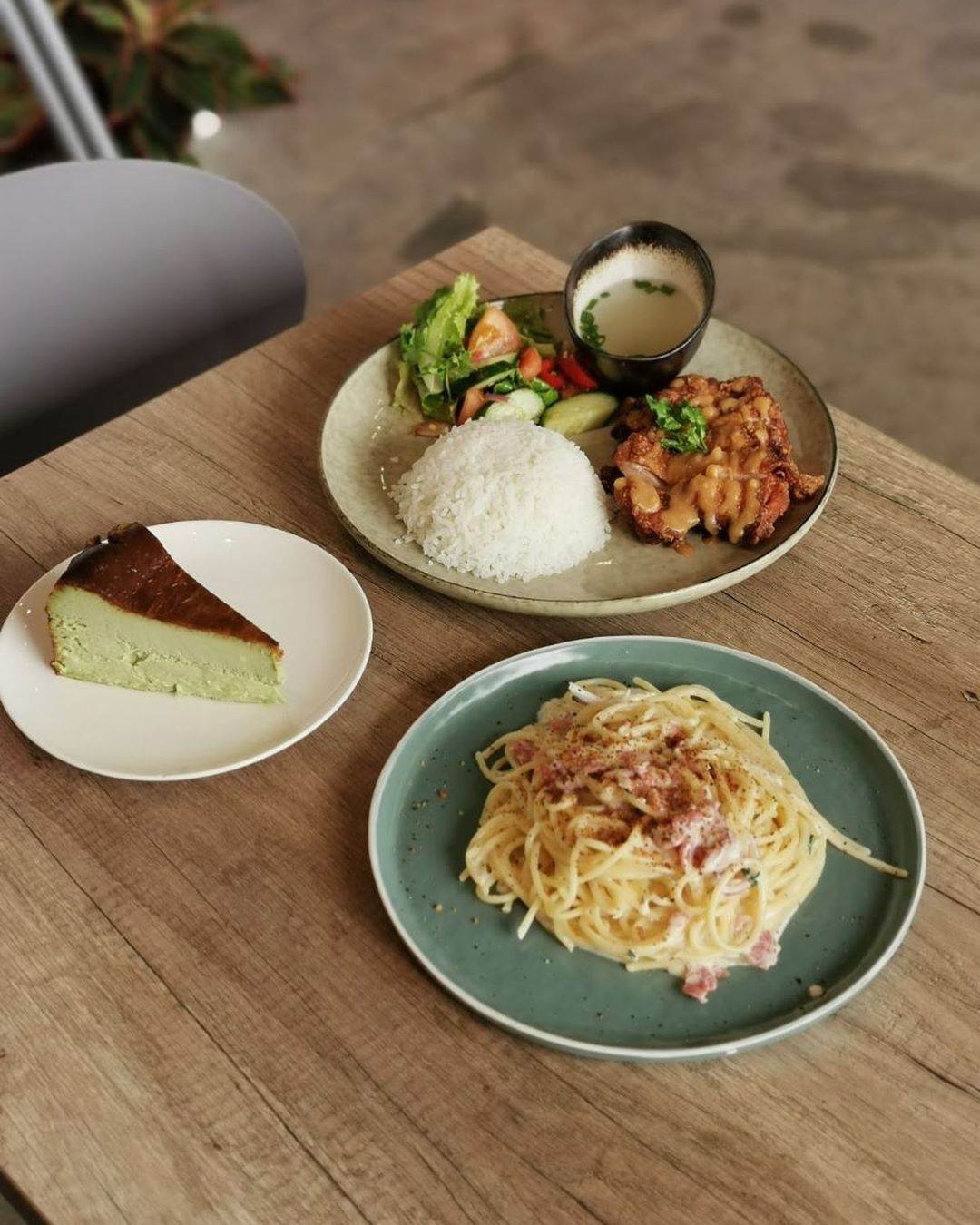 Image credit: @pastribellabakeshop
If you're still in need of something sweet, go for the Ice Cream Sandwich (RM10) – chocolate cookies sandwiching vanilla ice cream – and Salted Caramel Americano Float (RM11) or Peach Ice Tea Shake (RM8) to quench your thirst.
Address: D3-04-03 Tamarind Square, 63000 Cyberjaya, Selangor
Opening hours: Tue-Sun 12PM-9PM (Closed Mondays)
Telephone: 011-5621 9400
Website 
---
5. The Tepen – old-school dessert spot
---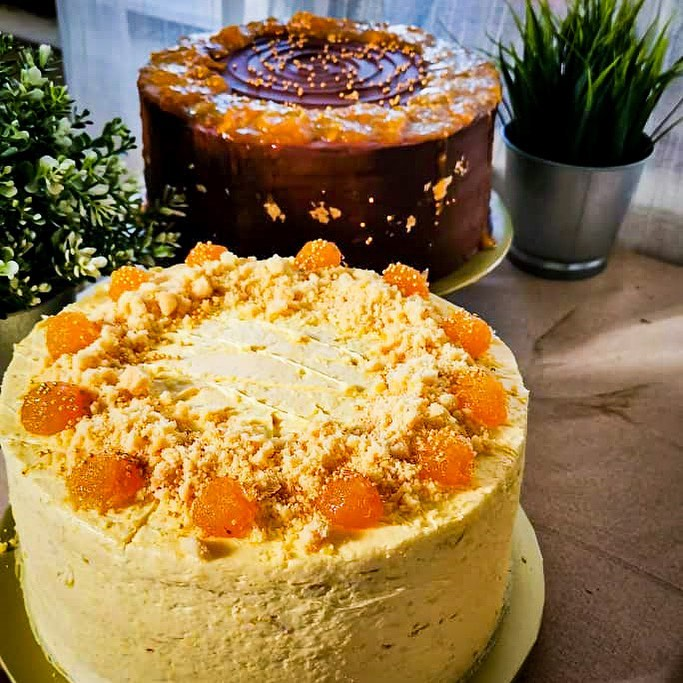 Image credit: @thetepen.my 
The Tepen is another dessert spot in town to add to your list of cafes with old-school aesthetics. They even serve a series of modern Malay and Western dishes to fill you up from Tiffin carriers, such as Laksa Salmon (RM18) and Nasi Bamboo The Tepen (RM22).
But their unique cakes, such as their Chili Chocolate With Raspberry Cake that has just a hint of chili flavour in it and their sweet and decadent Lime Syrup Cake, from RM9/slice, are not to be missed out on here.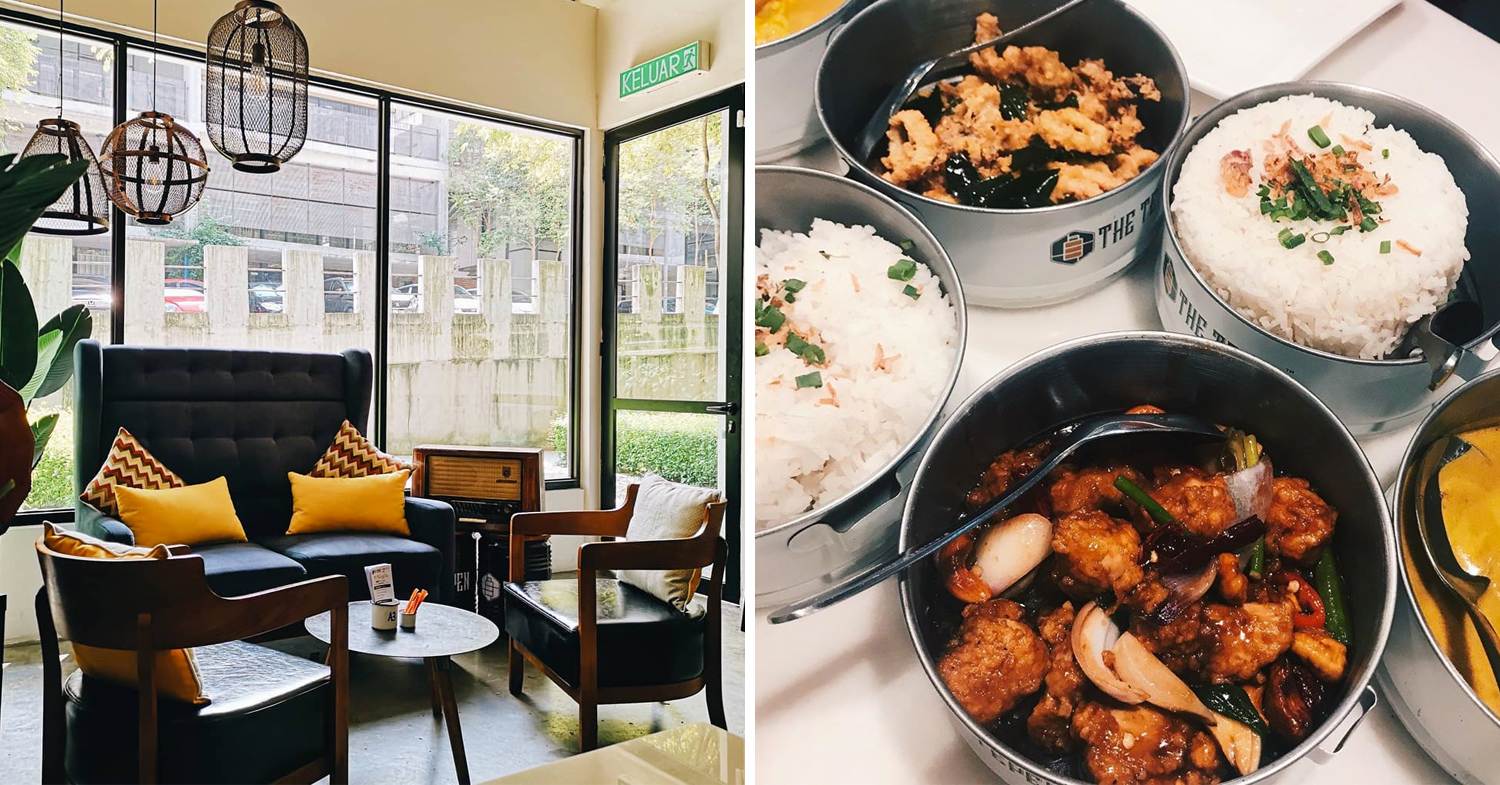 Cosy spots for you to grab a seat at while you gorge on sweet and savoury dishes
Image adapted from: @__zack666 & @nur.adawiyah
Their drink menu is also worth your attention. Other than classics like Teh Ais (RM6), try their unique offerings of Kopi Lokal Durian (RM6.50) which comes with just a hint of durian, and Boba Pandan Layer Tea (RM13) that'll give boba tea lovers a change of scene.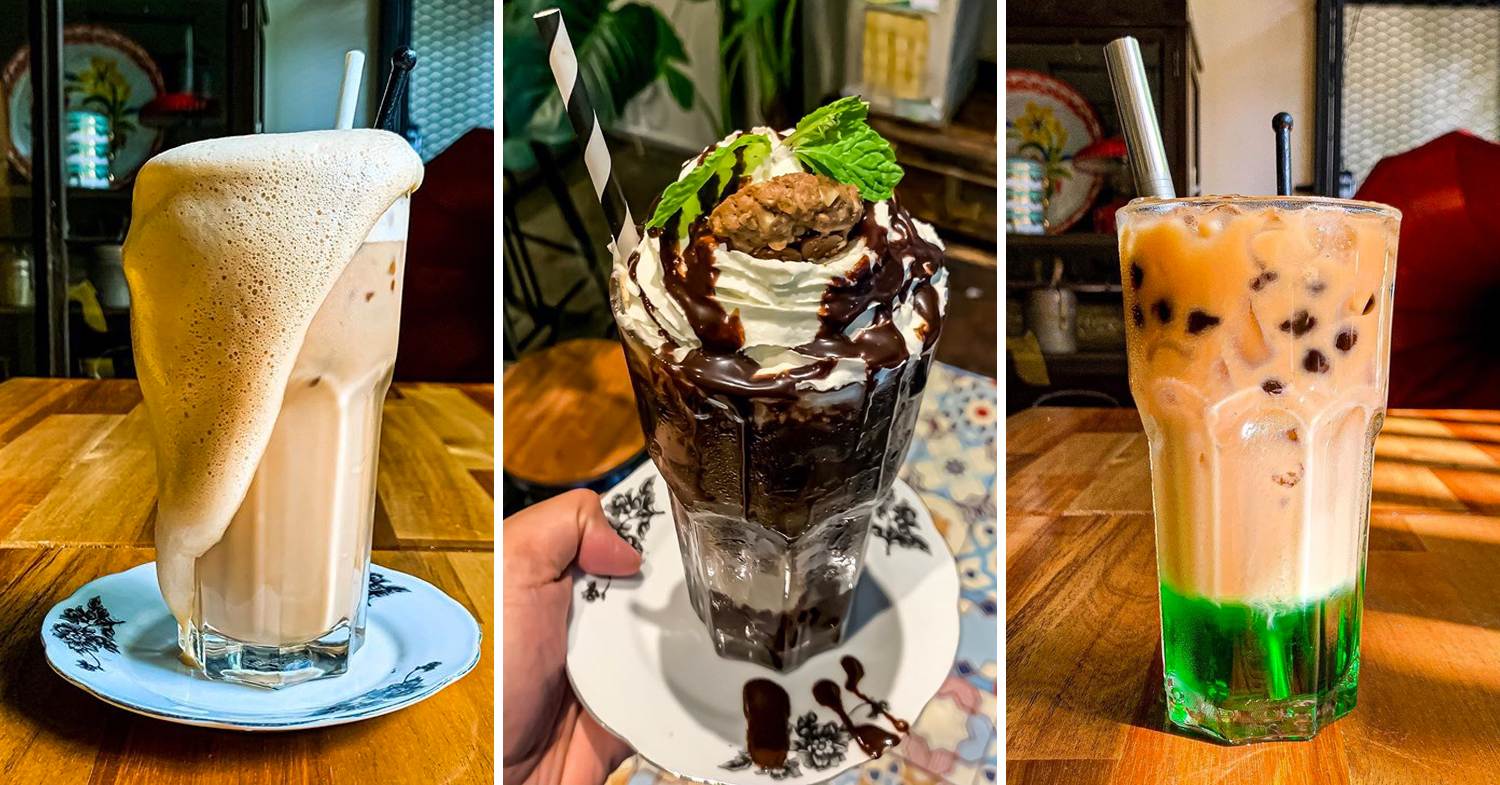 Cool off with their generous cups of Teh Ais, Iced Mocha, and Boba Pandan Layer Tea
Image adapted from: @thetepen.my, @thetepen.my, & @thetepen.my
Address: D2-03-07, Tamarind Square, Persiaran Multimedia, Cyber 11, Cyberjaya
Opening hours: 11AM-10PM, Daily
Telephone: 03-8800 8827
Website 
---
6. Alcea Cafe – artisanal coffees and dessert waffles
---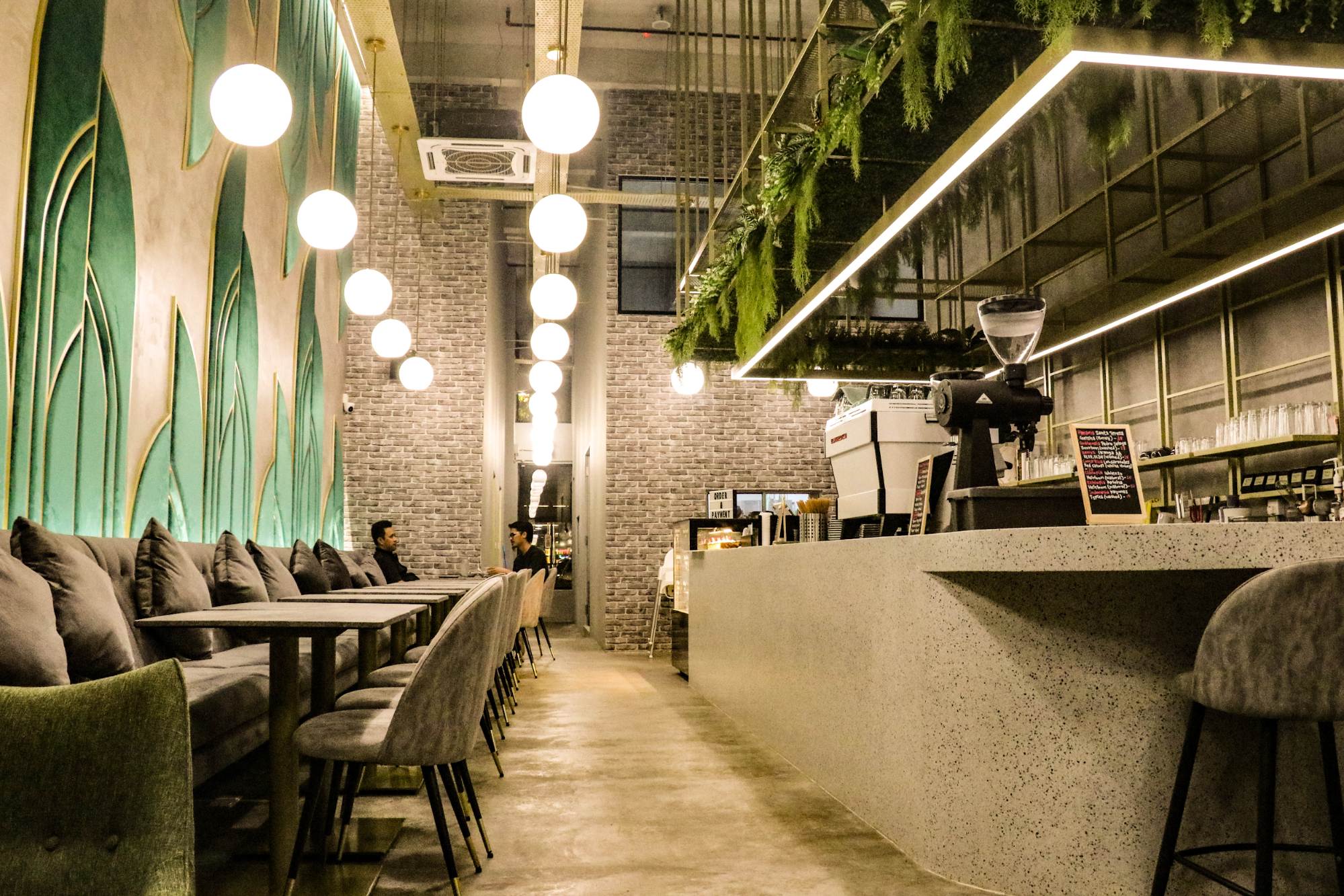 Image credit: Bernard Kung
Alcea Cafe is known on the block for being a cafe where their menu boasts more drinks than food items. With different brewing techniques and coffee beans that get switched out every week, coffee connoisseurs will find themselves right at home here. 
Some must-trys are Long Black (RM8) to fully tease out the nutty and citrus flavours of the beans. The speciality coffees ranges from RM15 – RM38, with options of single origin coffee beans from Brazil and Ethiopia. For something milkier, get Caffe Latte (RM11) and Flat White (RM12), which you can order cold for an additional RM1.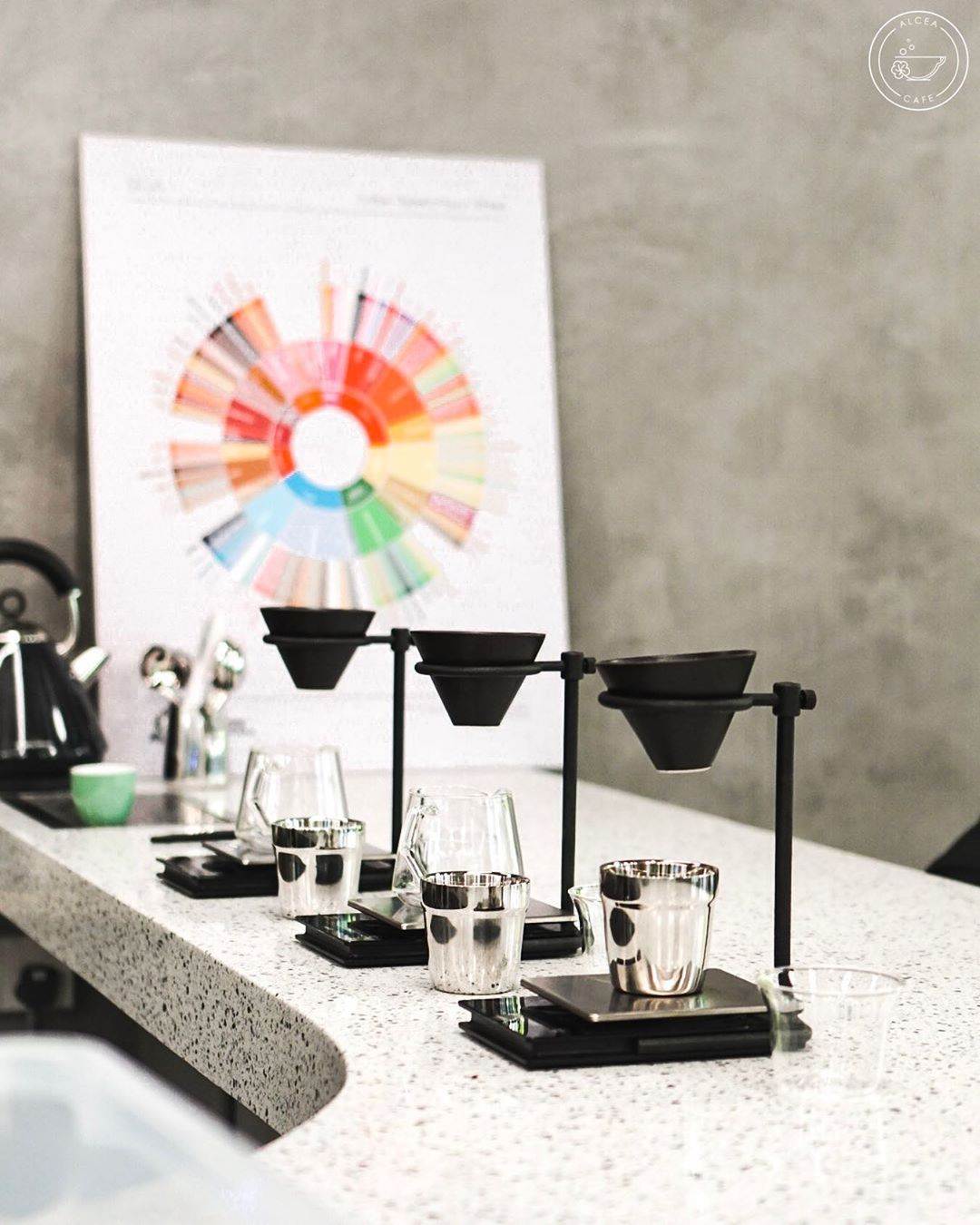 Image credit: @alceacafe 
Their menu is still slowly expanding, but do look out for their series of waffles. The Classic Waffle (RM10) comes with butter and maple syrup, or have it with a generous dollop of vanilla ice cream, berries and bananas, and maple syrup in the Fruit Basket Waffle (RM18). There are also breakfast options such as Egg on Toast (RM16) and Pancakes (RM10).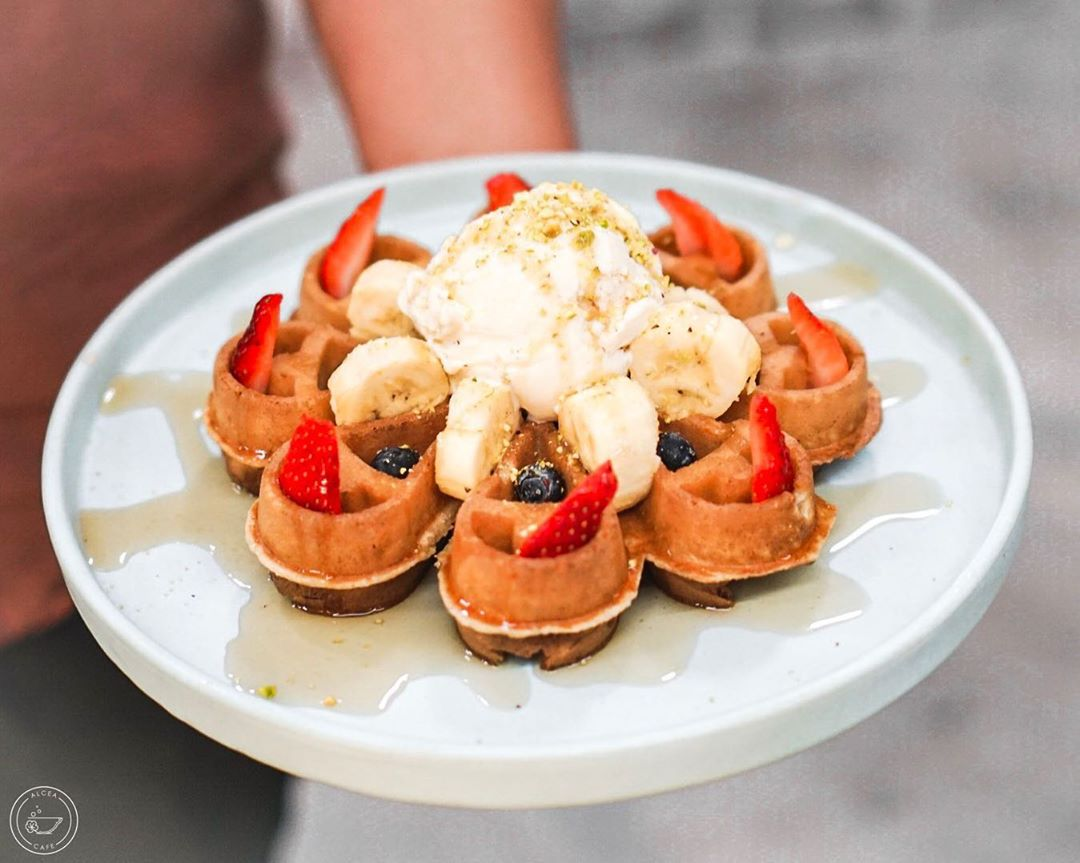 Image credit: @alceacafe
Savoury selections on their menu include Mutton Curry Pasta (RM19) and Seafood Spinach Carbonara (RM23), with healthier options of Basil Tomato Pasta (RM15) and Salad with Sweet and Sour Dressing (RM15). 
Address: D1-03-06, Tamarind Square, Persiaran Multimedia, 63000 Cyberjaya
Opening hours: Sat-Thurs 9AM-7PM (Closed Fridays)
Website 
---
7. Svart Cafe – industrial cafe with Chinese food
---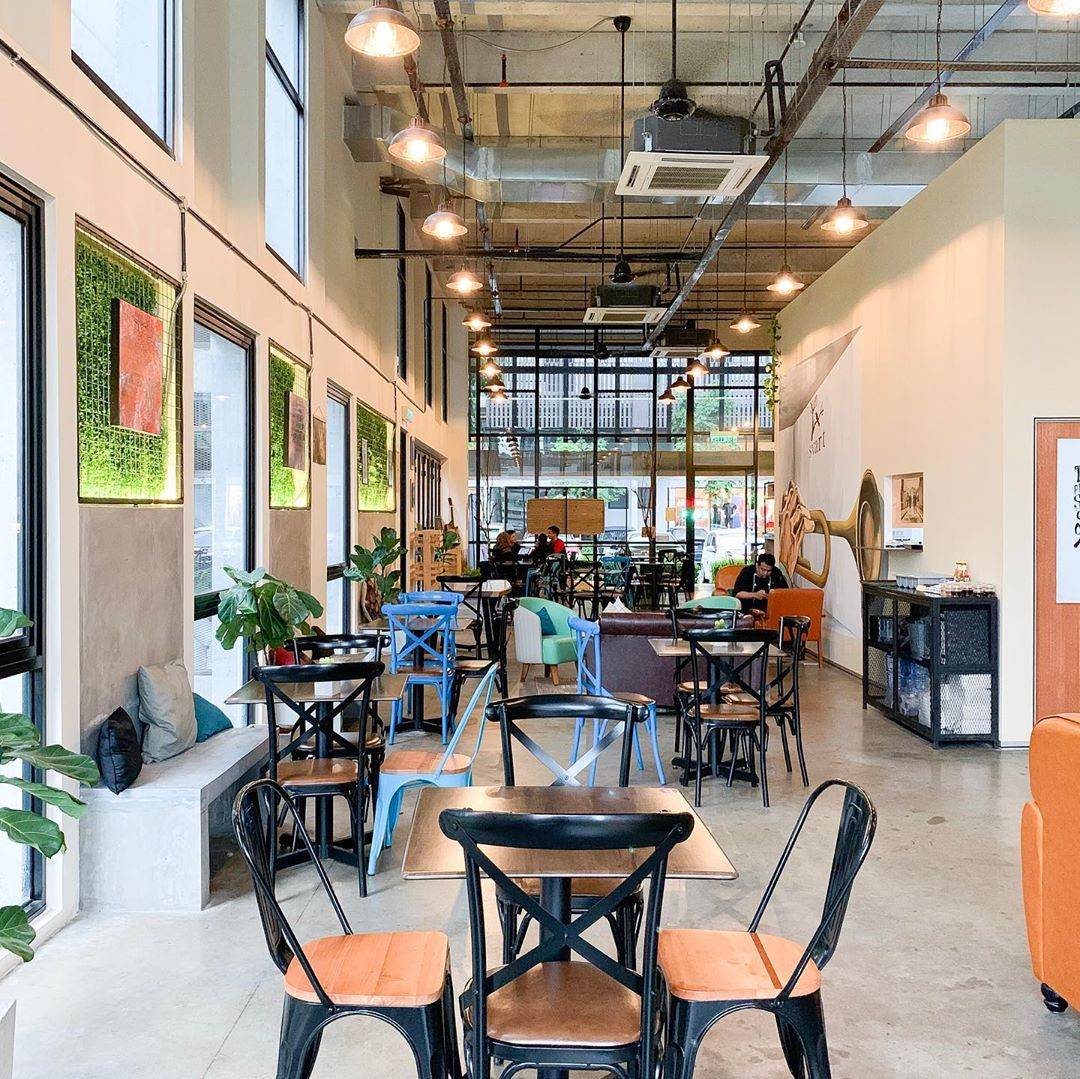 Image credit: @syafiqahamirfirdaus
Many often bemoan the lack of Chinese food options in Cyberjaya. But Svart Cafe happens to have several Chinese food options on their menu, such as Svart Fried Rice (RM16.90) and Sp Seafood Fried Kuay Tiow (RM16.90).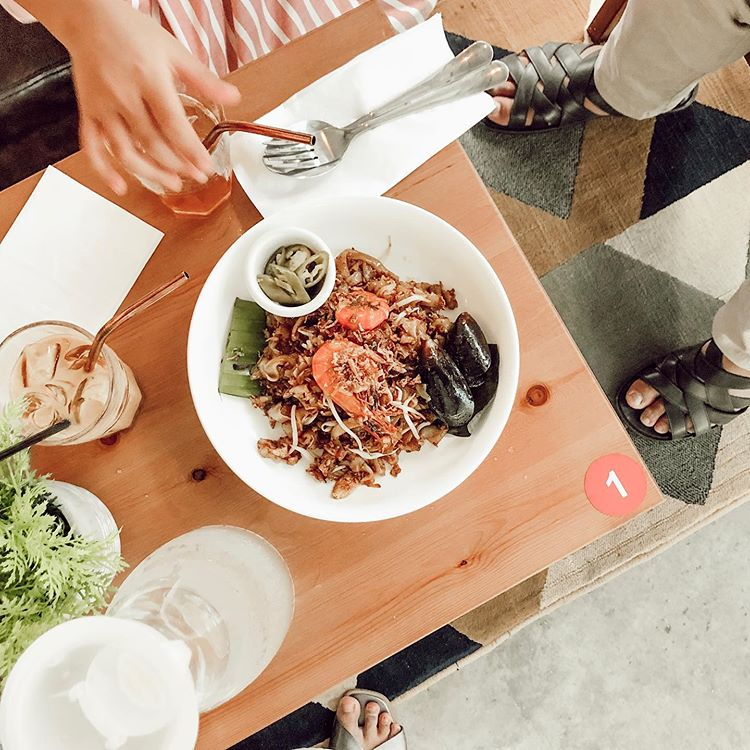 Image credit: @xwizit
Several Western dishes are also available. Creamy Salmon (RM20.90) with its homemade dill gravy, and classic Seafood Aglio Olio (RM17) are great options to try here.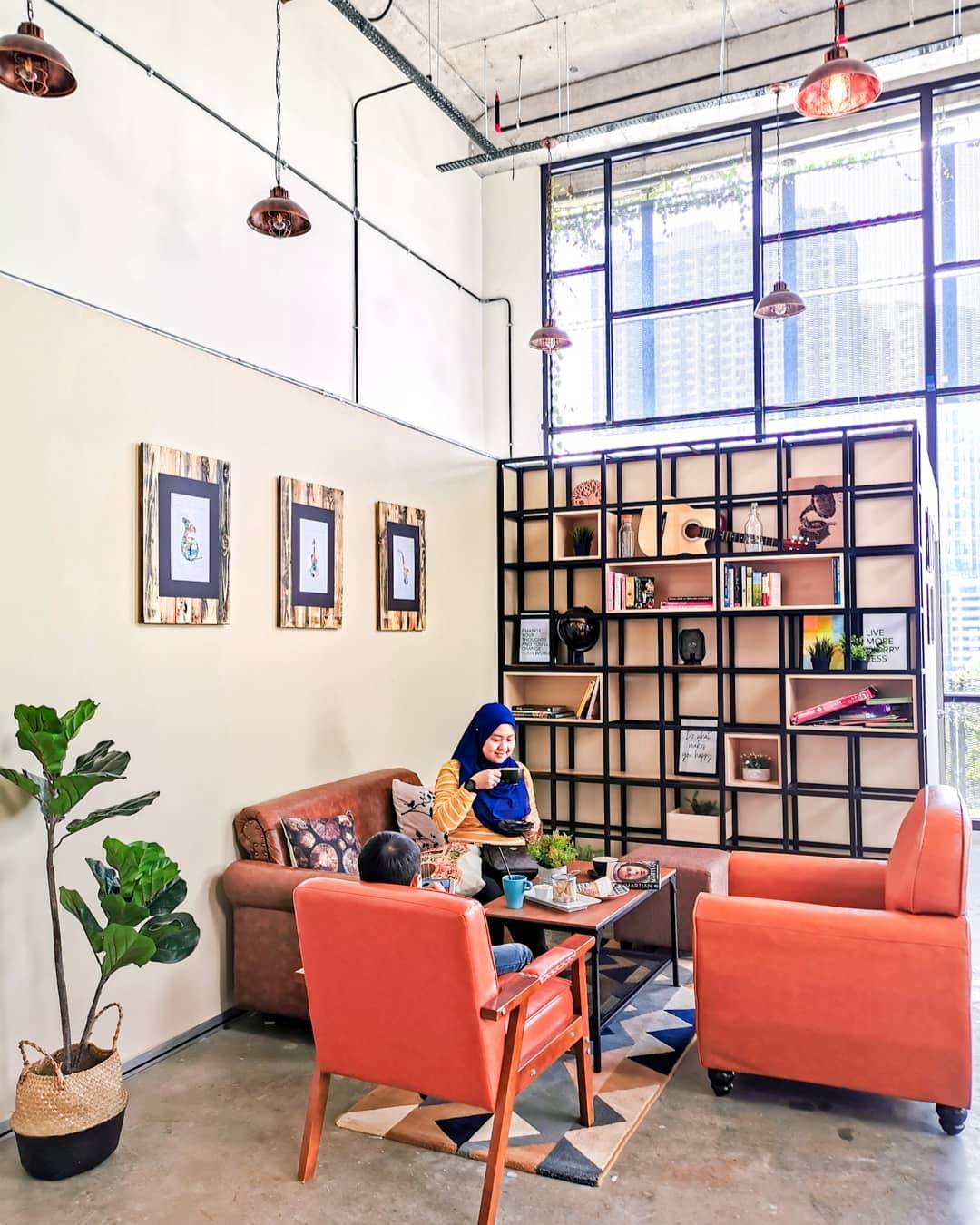 Several lounge areas with comfy leather couches to sip on a coffee and read a book are located around the cafe
Image credit: @marialatiff
There's also Student Set Lunch (RM10), where you can choose between 3 of their delicious mains for the promo between 12PM-2.30PM. And it all comes with a choice of free iced tea or rose syrup. 
Address: A-03-08, Tamarind Square, Persiaran Multimedia, Cyber 10, 63000 Cyberjaya
Opening hours: Mon-Sat 12PM-3PM & 5PM-10PM (Closed Sundays)
Telephone: 03-8322 3577
Website 
---
8. Plat Du Jour – modern cafeteria-style cafe
---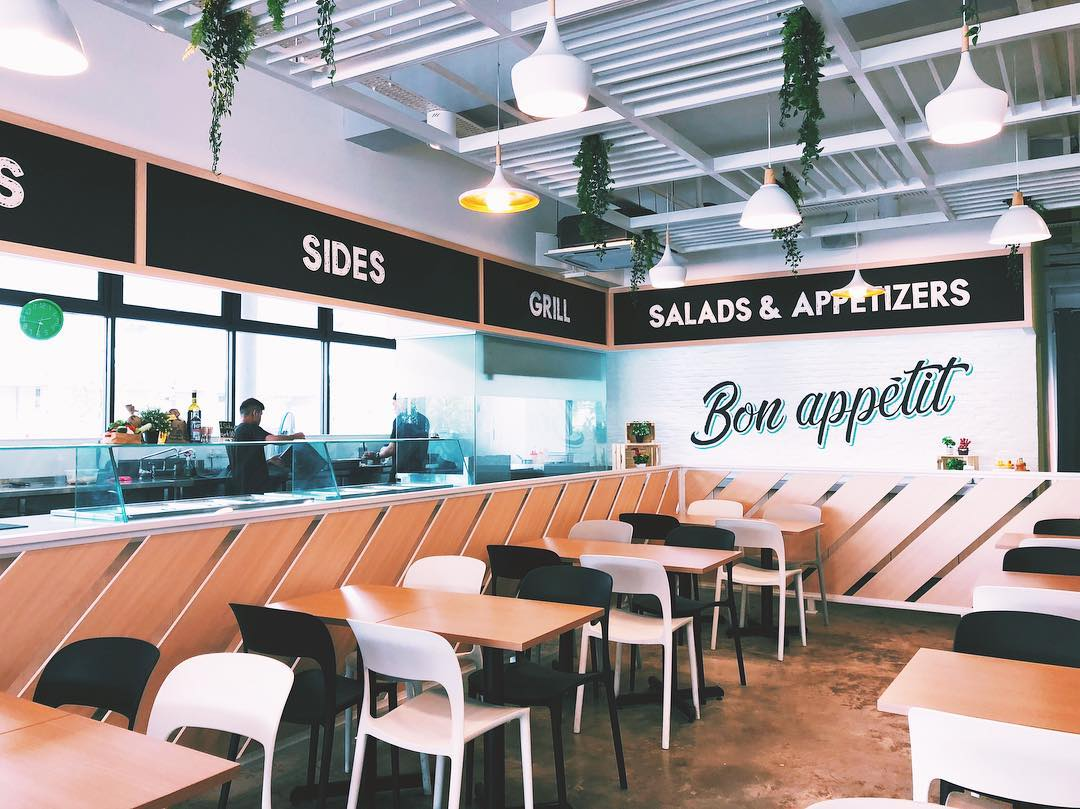 Image credit: @miyuki0777
Plat Du Jour is a French meets Malaysian cafe that's great for those in need of a quick, filling lunch. Their food is served cafeteria-style, so you'll get to mix and match dishes as you please.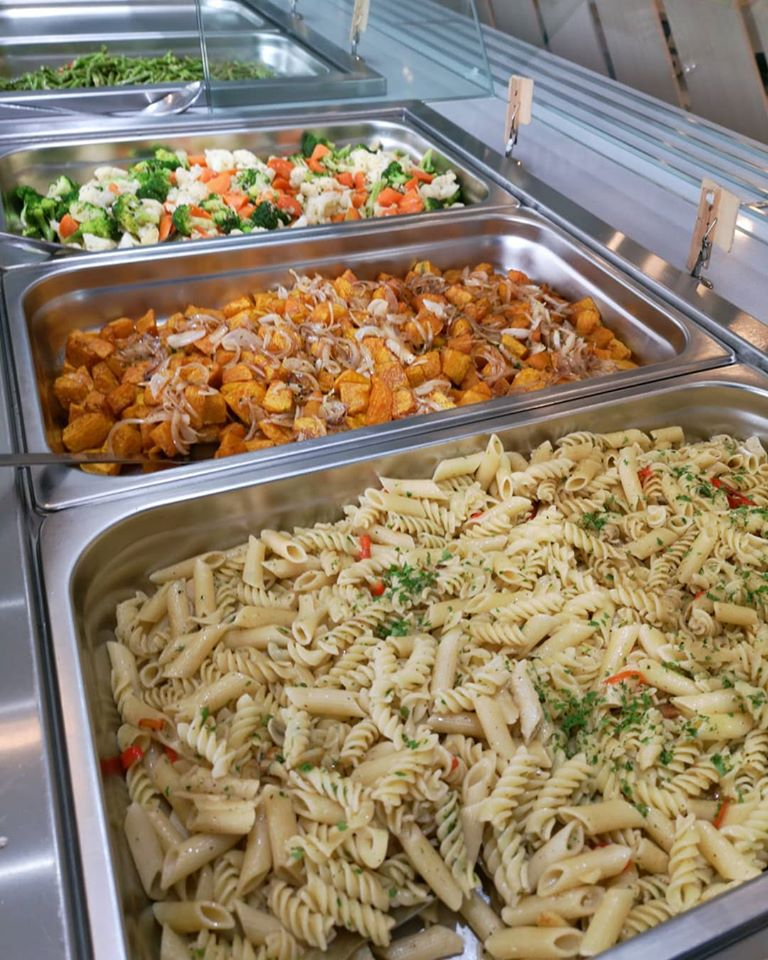 Image credit: Plat Du Jour 
Plat Du Jour translates from French to English as "Dish of the Day" – which is why you won't see the same dishes offered here with each visit. Check out their Facebook page to see what's on the menu for the day. 
There's usually a daily selection of 5 mains, such as Beef Sirloin Steak (RM39.90) and Grilled Chicken Breast (RM24.90), and 7 side dishes, of which you can pick out 2 to go with your main.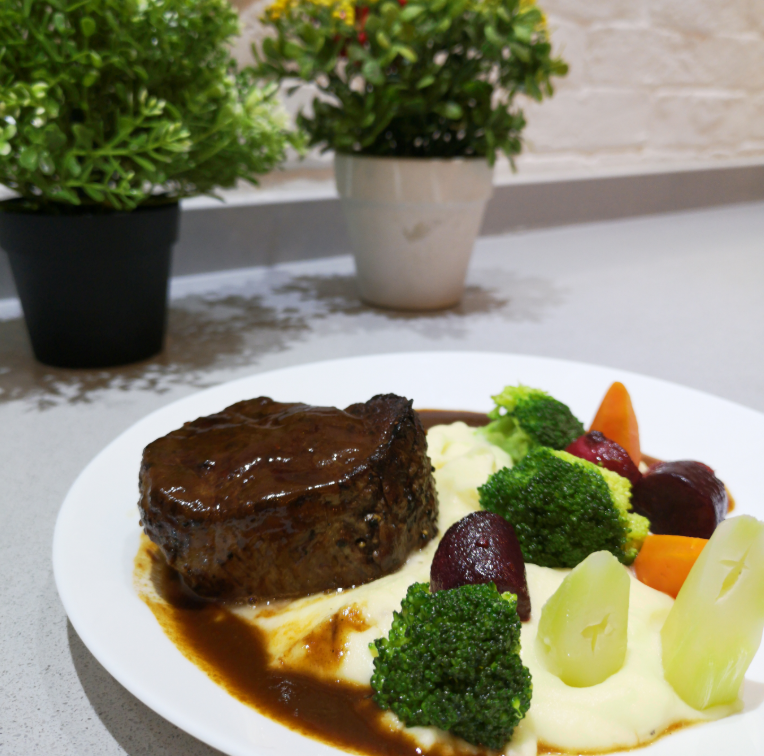 Image adapted from: Plat Du Jour
But if you do want to find a constant here, their signature Plat du Jour Beef Burger (RM29.90) has homemade beef patty and beef bacon topped with caramelised onion and a side of fries. And add a slice of cake (RM5) as a dessert, with flavours that get switched out daily as well. 
Address: G-1, Kanvas Prima 15, Jalan Teknokrat 6, Cyberjaya
Opening hours: Mon-Sat 12PM-3PM & 5PM-10PM (Closed Sundays)
Telephone: 03-8322 3577
Website 
---
9. Glaze Eatery – affordable lunch sets
---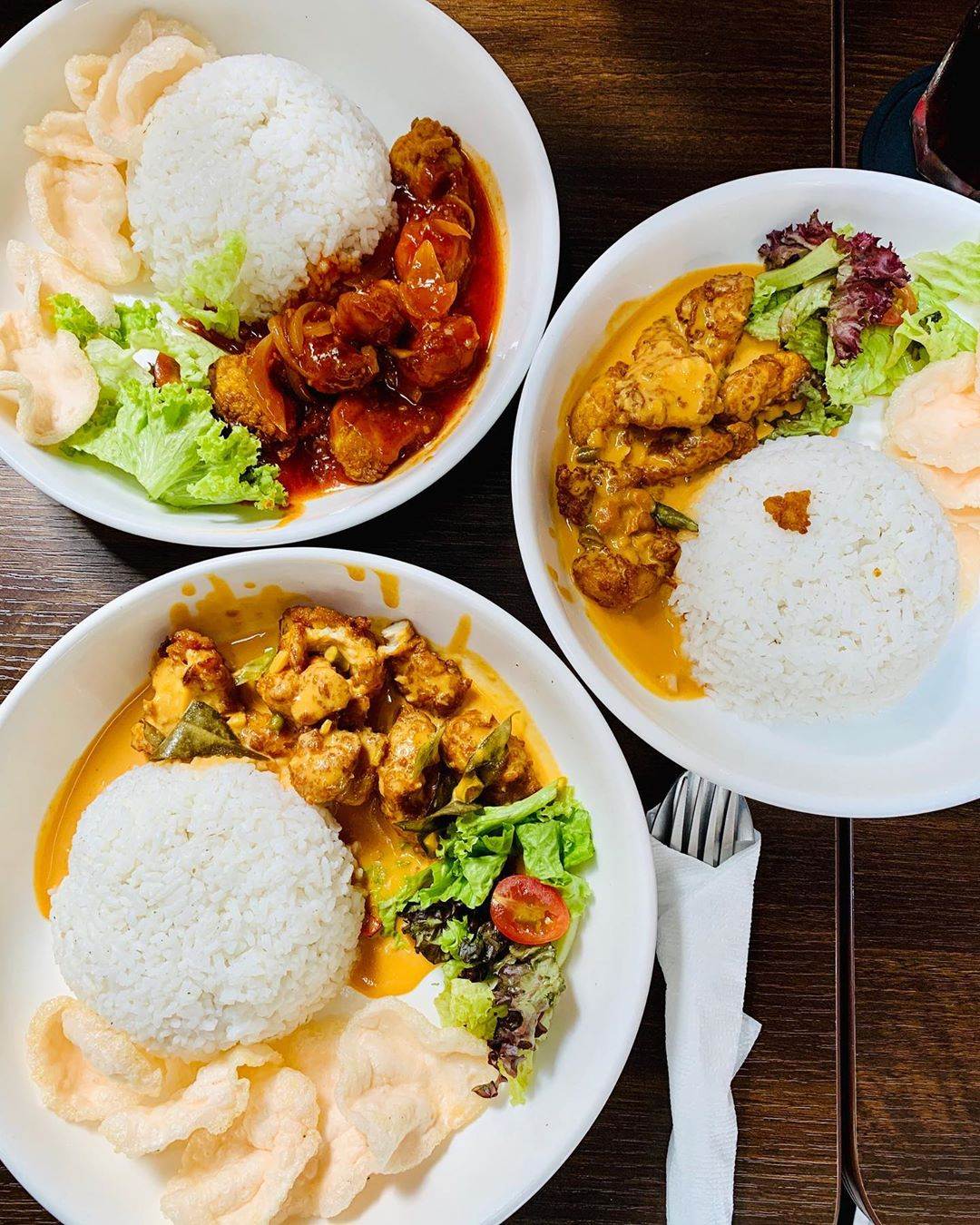 Image credit: @yayayiyo
Never running short of industrial-style cafes in Cyberjaya, Glaze Eatery is another cafe on this list with loft ceilings and cement floors – but with  neon signs bearing inspirational quotes sprinkled throughout its store that is perfect for the 'Gram.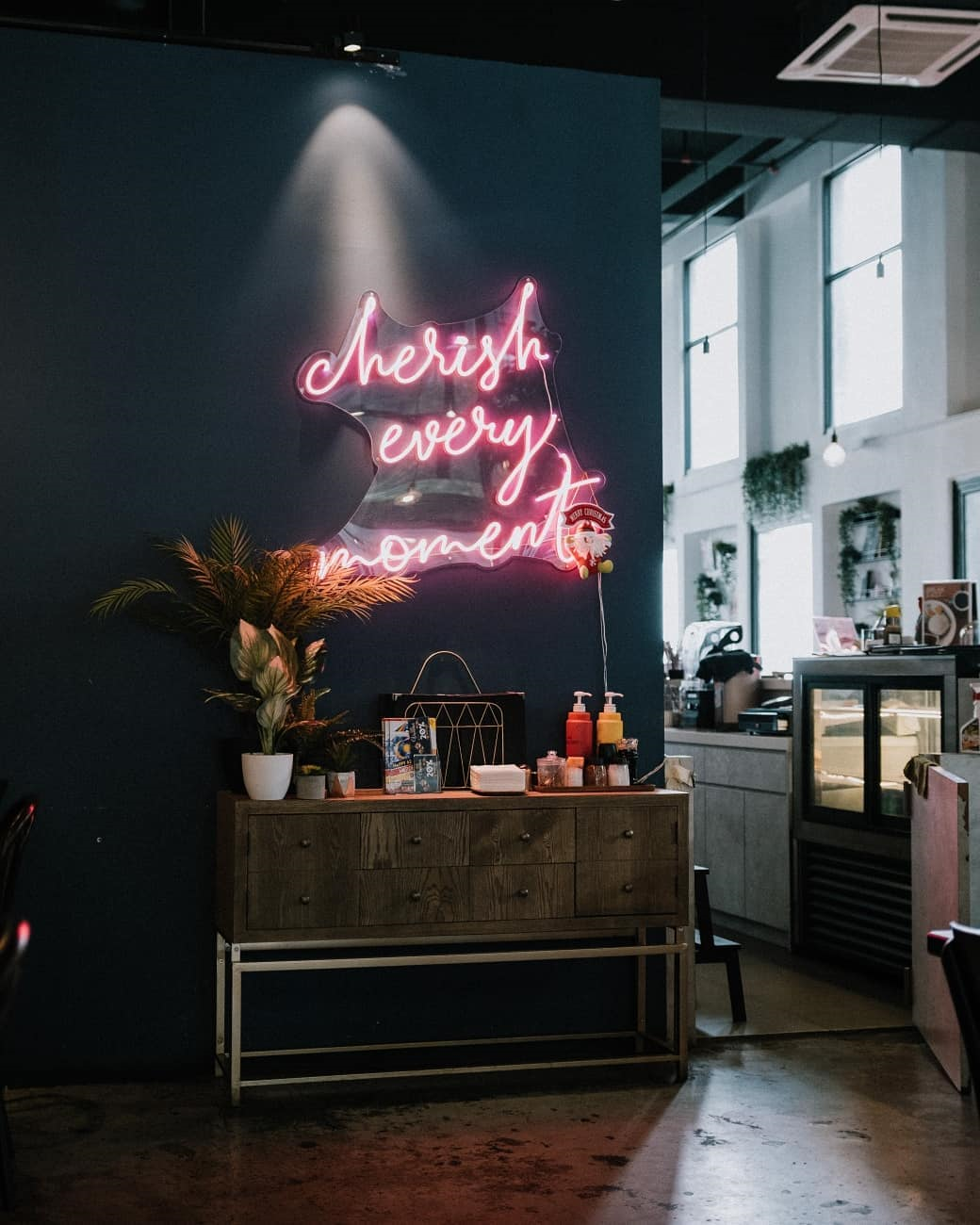 Image credit: @smallcamera91
Look out for their affordable lunch and dinner sets (both RM10) from 12PM-2PM and 8PM-10PM while you're here. The dish of the day changes weekly, but expect generous plates of Butter Chicken (RM13) with thick, creamy buttery gravy, and the just as creamy Salted Egg Chicken (RM14).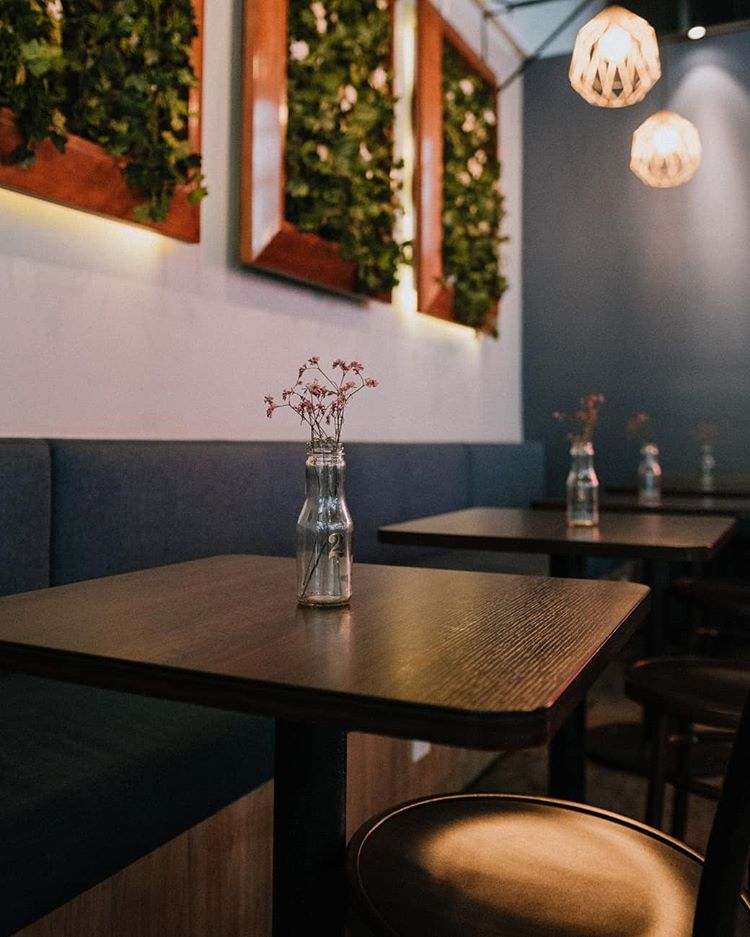 Image credit: @smallcamera91
Set meals also come with free iced tea, but do try their coffee drinks such as Long Black (RM7) or Flat White (RM9). They're made with a choice of local and international roasters such as Grin Roast and Roots Bangkok. 
Address: A-03-03A, Tamarind Square, Persiaran Multimedia, Cyber 11, Cyberjaya
Opening hours: 8.30AM-11PM, Daily
Telephone: 017-606 6162
Website 
---
10. Harvest Food and Coffee – cafe with books and board games
---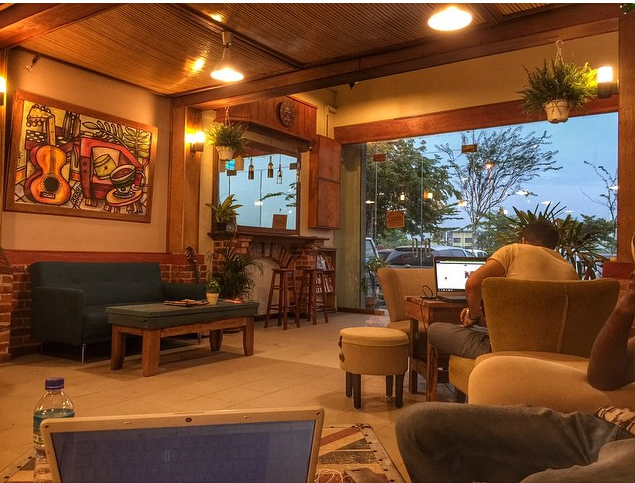 Image adapted from: @ibrahm.abdul
If you need more cafes in Cyberjaya to lepak at, check out Harvest Food and Coffee. This homey cafe has comfy dining sofas, a bookshelf filled with English books, and card and board games to play with while you dine on Asian and Western dishes.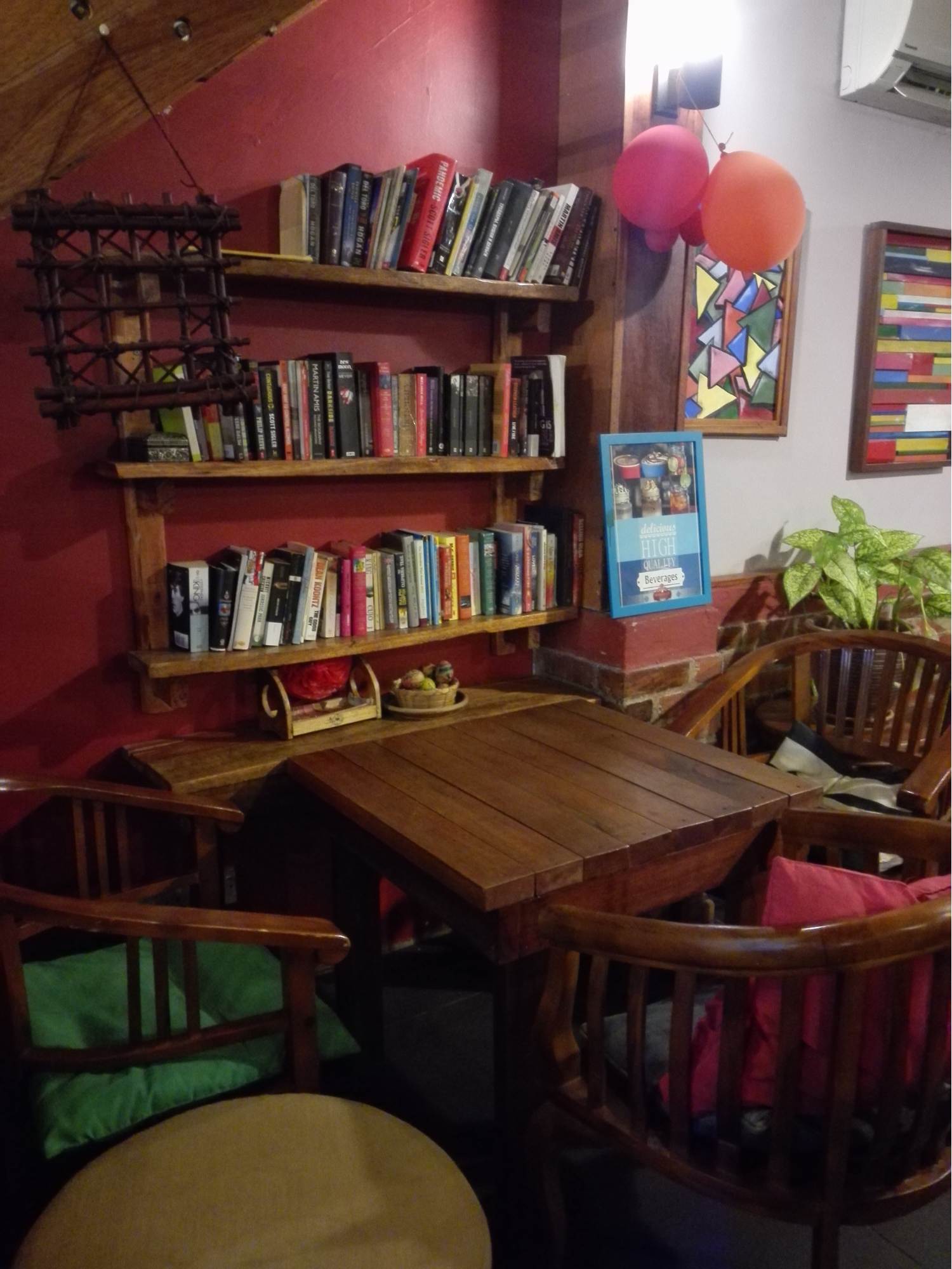 You can find popular titles from authors like Cecelia Ahern and Stephenie Meyer on the bookshelf
Image credit: Heaw Yu Teng
All American Backyard Burger (RM23.90) and Harvest Pizza (RM18) with baked pepperoni and fresh arugula are some options worth trying. Several vegan dishes are available as well, including Veggie Pizza (RM21.90) and Rice with Kung Pao Vegan Chicken Meat (RM15.90). 
For a light drink over a board game or book, the Blueberry Mojito (RM12) mocktail is a great refresher.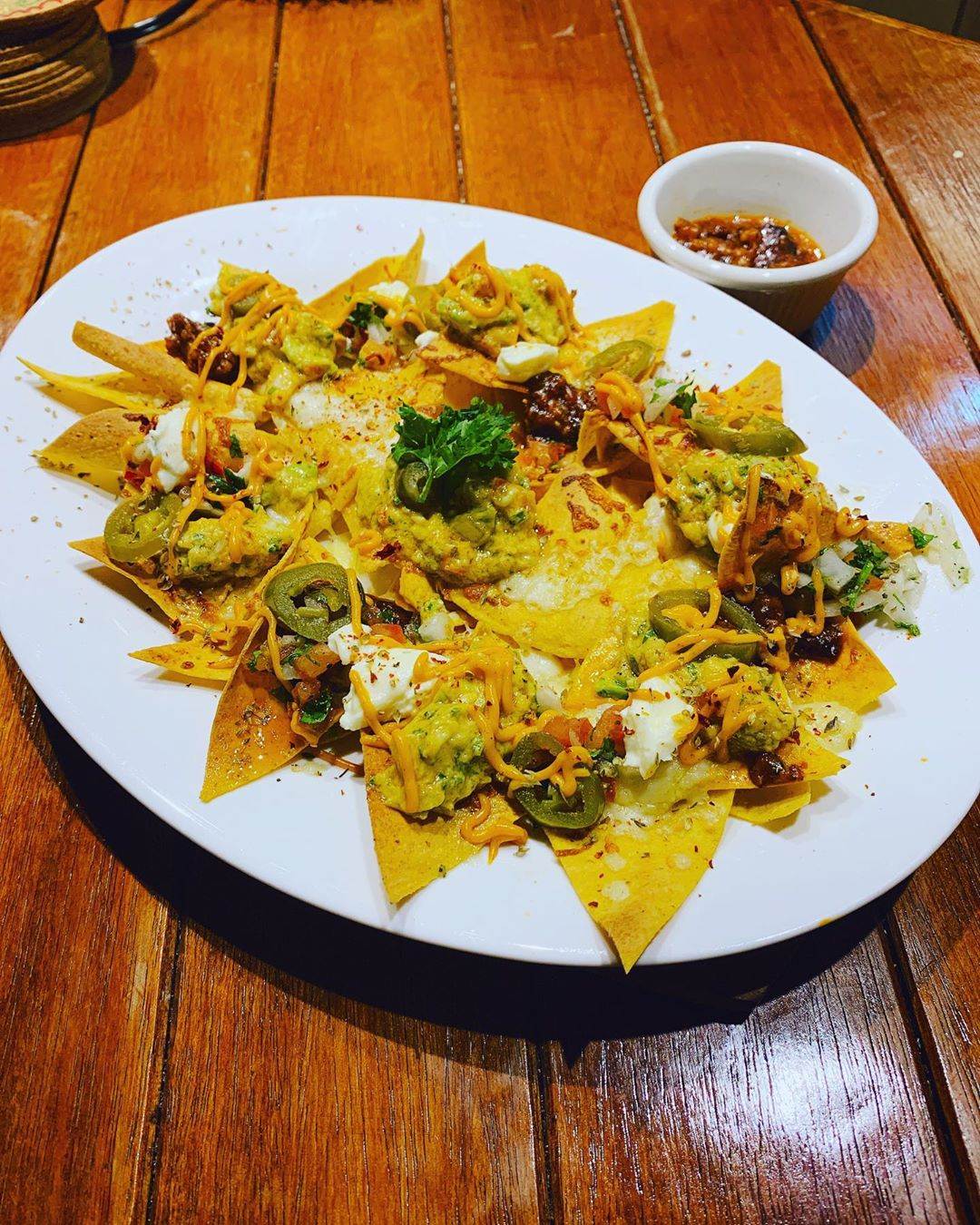 Harvest Food and Coffee also serves Mexican plates for a light snack over your board games
Image credit: @harvestcafecyberjaya
There's a live band that performs here every Friday and Saturday evenings to add a little more life to your regular night out. Boom, a local band, often swings by with their self-written pop tracks and bluesy cover songs from Daniel Caesar. 
Address: G-11, Block B Lingkaran Cyber Point Barat Neo Cyber, Cyberjaya
Opening hours: Mon-Thur 12PM-12AM | Fri 2:15PM-2:15AM | Sat 2PM-2AM (Closed Sundays)
Telephone: 019-223 9144
Website 
---
Cafes in Cyberjaya
---
Cyberjaya may be known as a tech and college town that's in a little bubble, but there are a ton of hidden gems in this town. It's no surprise that it has picked up on the cafe trend with dessert and brunch spots, and coffee-speciality cafes in Cyberjaya that are worth stopping by for.
After you hit up one of these cafes in Cyberjaya, also check out:
---
Cover image adapted from: @ieynrosli, @jaejungsuh, @abmuiz, and @thebotanistgreencafe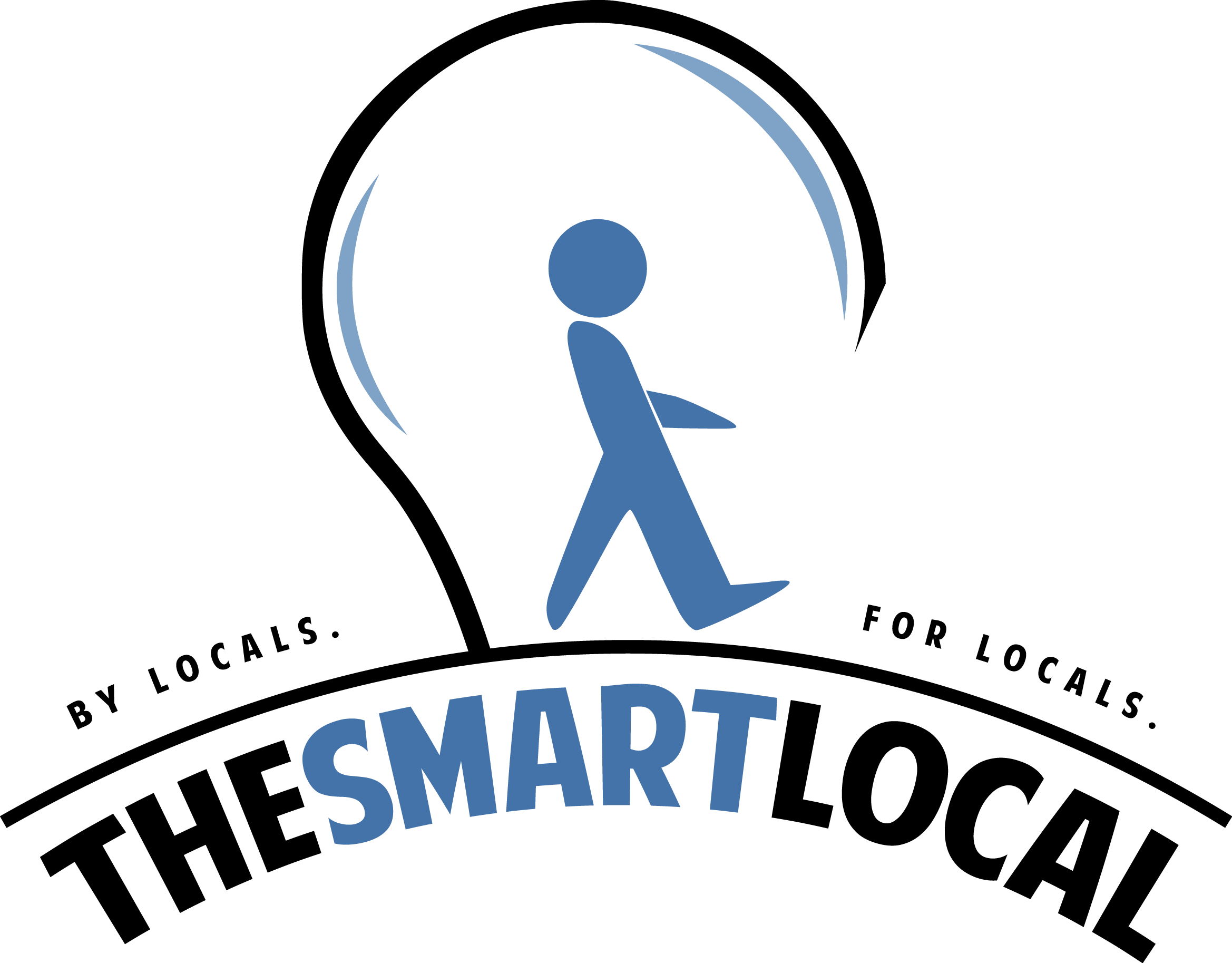 Drop us your email so you won't miss the latest news.