G2G Animal Garden in Seri Kembangan, Selangor
---
It's not often city dwellers get to soak up rustic charms of the countryside by interacting with farm animals and nature. Luckily for us, there are places such as G2G Animal Garden in the city, which brings that faraway "kampung" experience to animal lovers and families alike.
This petting zoo is home to over 60 species of animals, ranging from rabbits to meerkats. It's become a hideaway for animal lovers looking to hang out with exotic animals and more, and an affordable family-friendly spot for weekends spent in nature while partaking in activities such as feeding birds, catching fishes and riding ponies.  
---
G2G Animal Garden is home to over 60 animal species
---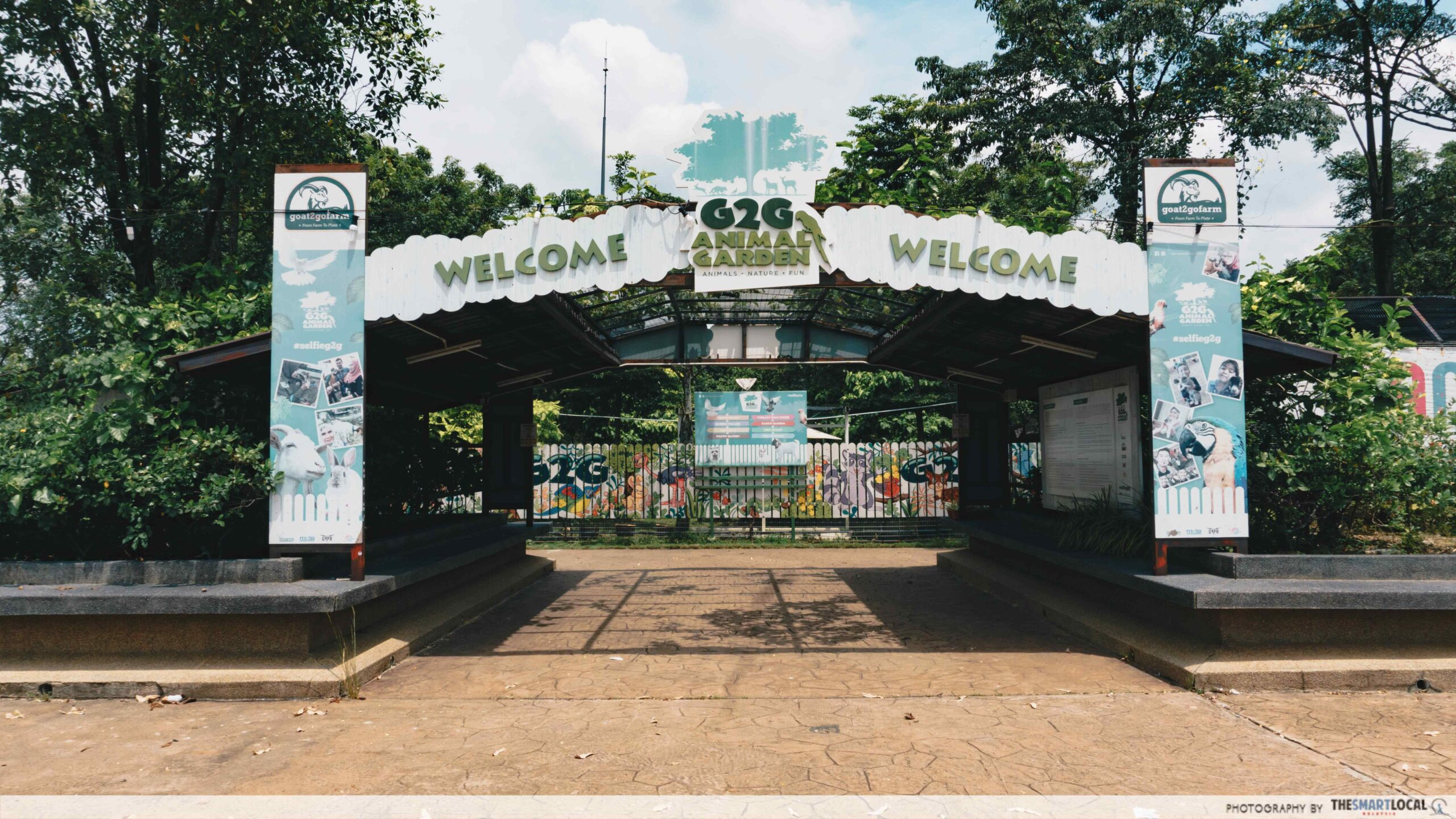 Those with little ones who want to hangout at spots that aren't parks and malls can add another place to their list. Tucked away in Seri Kembangan at Malaysian Agro Exposition Park Serdang (MAEPS) is G2G Animal Garden, a family-friendly petting zoo where visitors of all ages can interact with over 60 different types of animals at sanctuaries located here.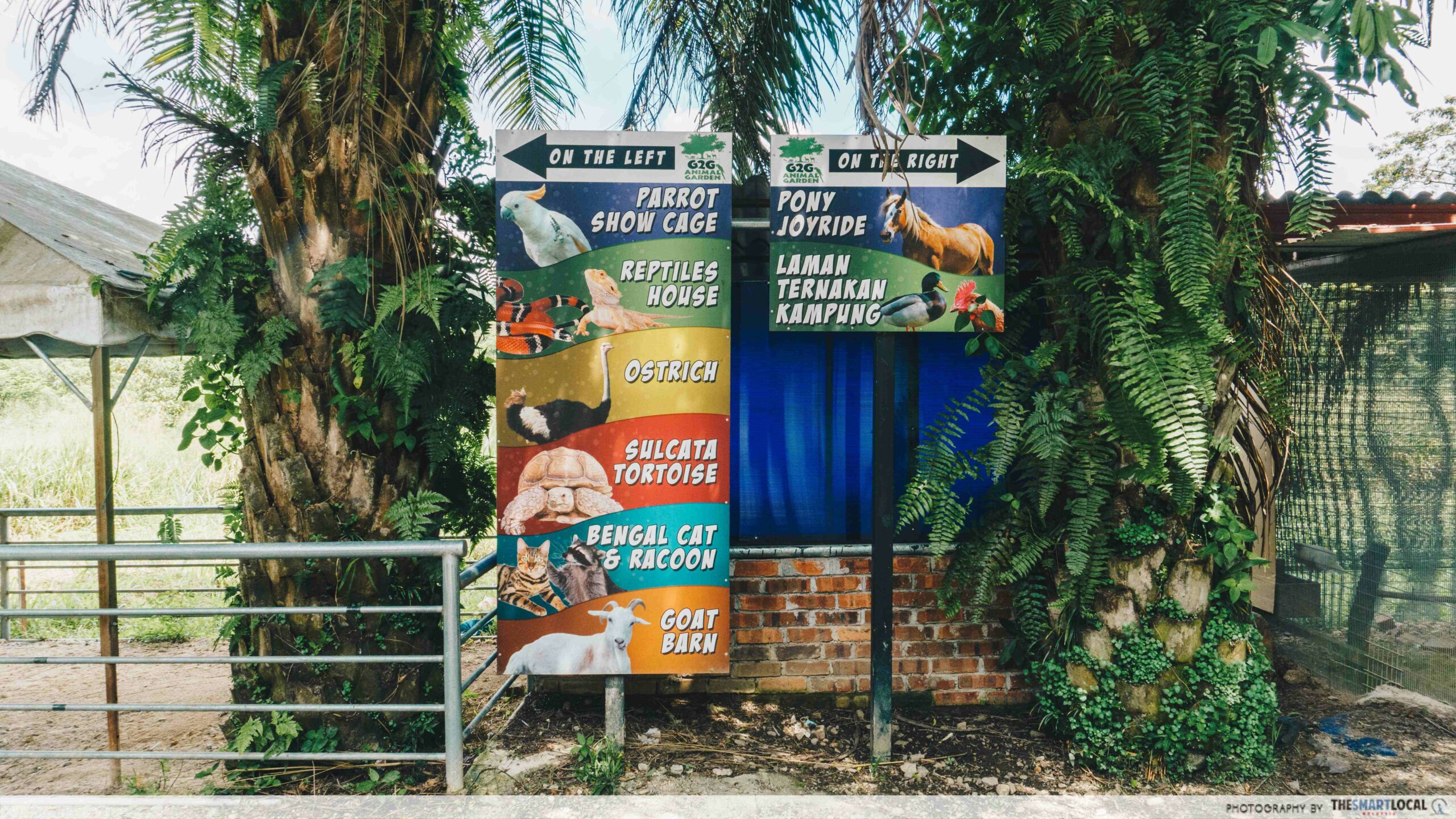 Tickets for adults (RM20/pax), senior citizens (RM15/pax), and kids (RM15/pax) won't burn a hole in your wallet either. Children whose heights are under 90cm will get free admission too. Just be sure to bring along your MyKad, or it'll be an additional RM10 for all admissions.
---
Pet exotic animals and more at G2G Animal Garden
---
Once you've purchased your tickets, be prepared to check out different sanctuaries for animals that include a Rabbit Garden to pet rabbits and guinea pigs; a Goat Barn to feed livestock; and a Reptile House home to exotic snakes. The entire petting zoo will take you roughly an hour or so to explore.
Here are eight things that you can do and see at G2G Animal Garden.
---
1. Feed deer and goats at the barn
---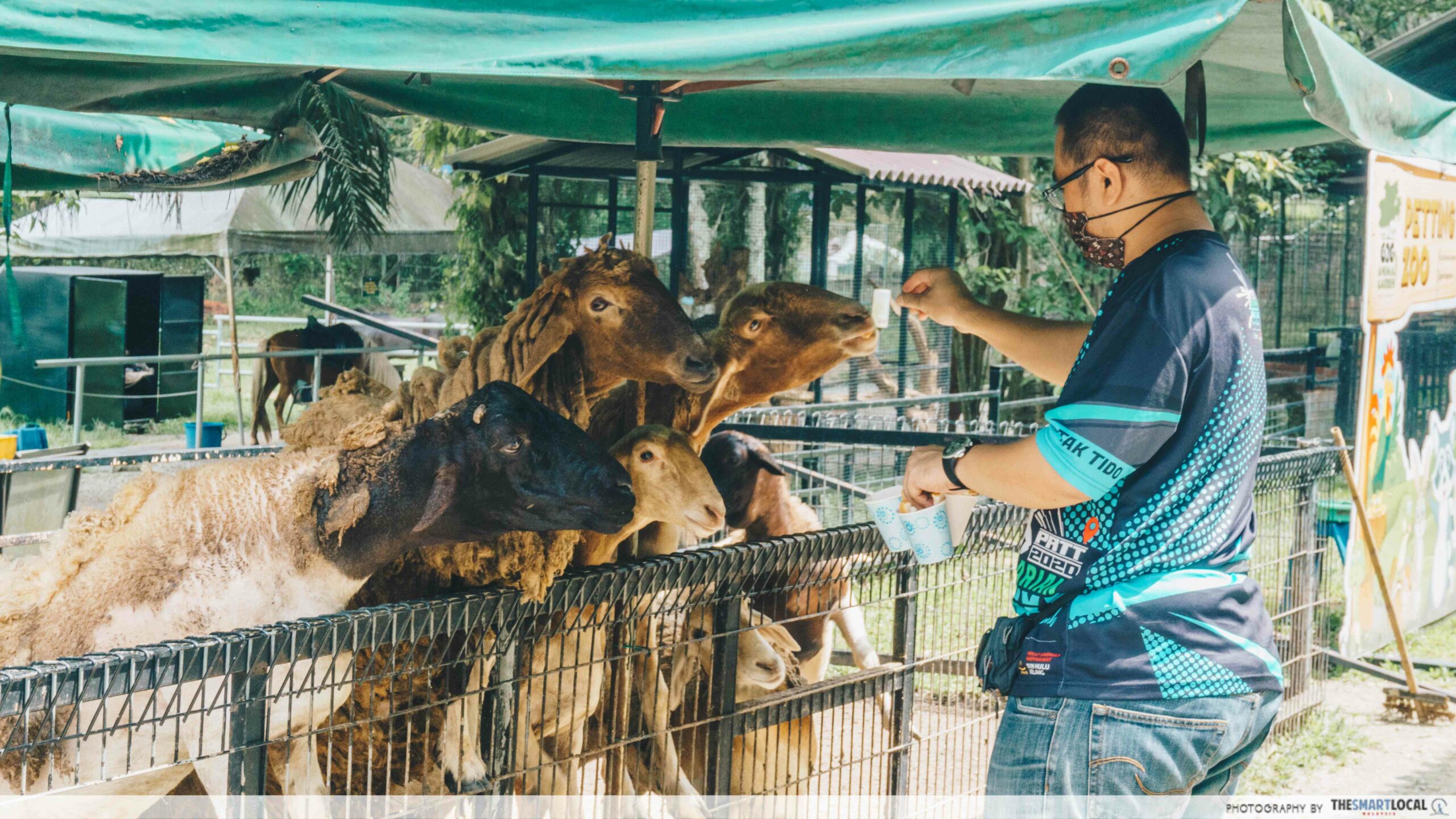 There are several attractions at G2G Animal Garden. But a highlight here is their Goat Barn, where visitors can feed goats with a cup of bread that they can purchase for RM1. Simply locate a rustic shack just a stone's throw from the Goat Barn to pick up the feed for the goats. Feed for majestic Timorensis deers housed in an enclosed area located just next to the barn can also be bought here.
It's recommended to purchase food for these animals to get them on their feet, so you can snap close-up photos of them. It's also plenty of fun to see them reaching out for the food in your hands with their necks and tongues extended.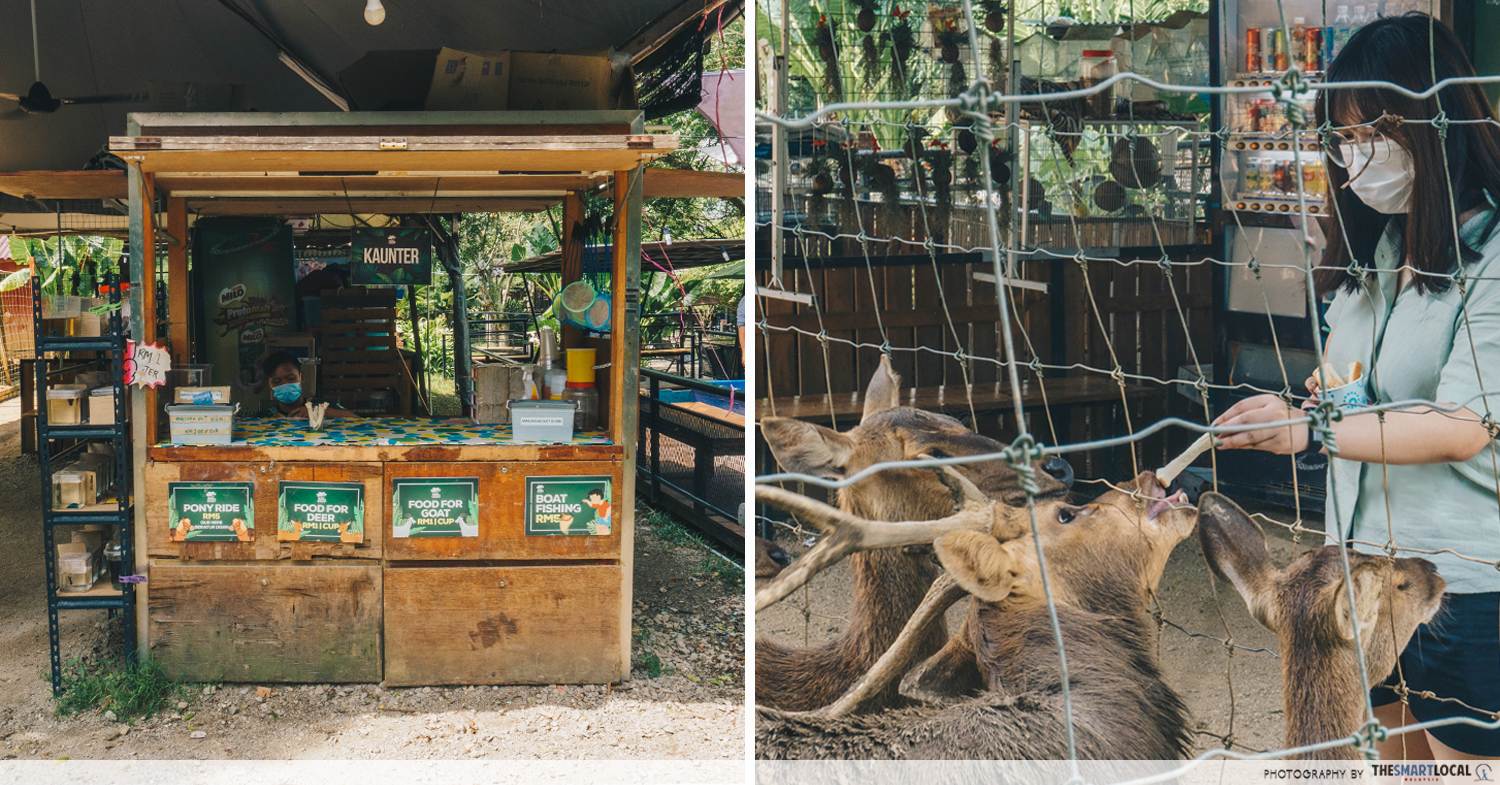 Find this rustic shack to pick up animal feed and more
---
2. Hang out with exotic animals indoors
---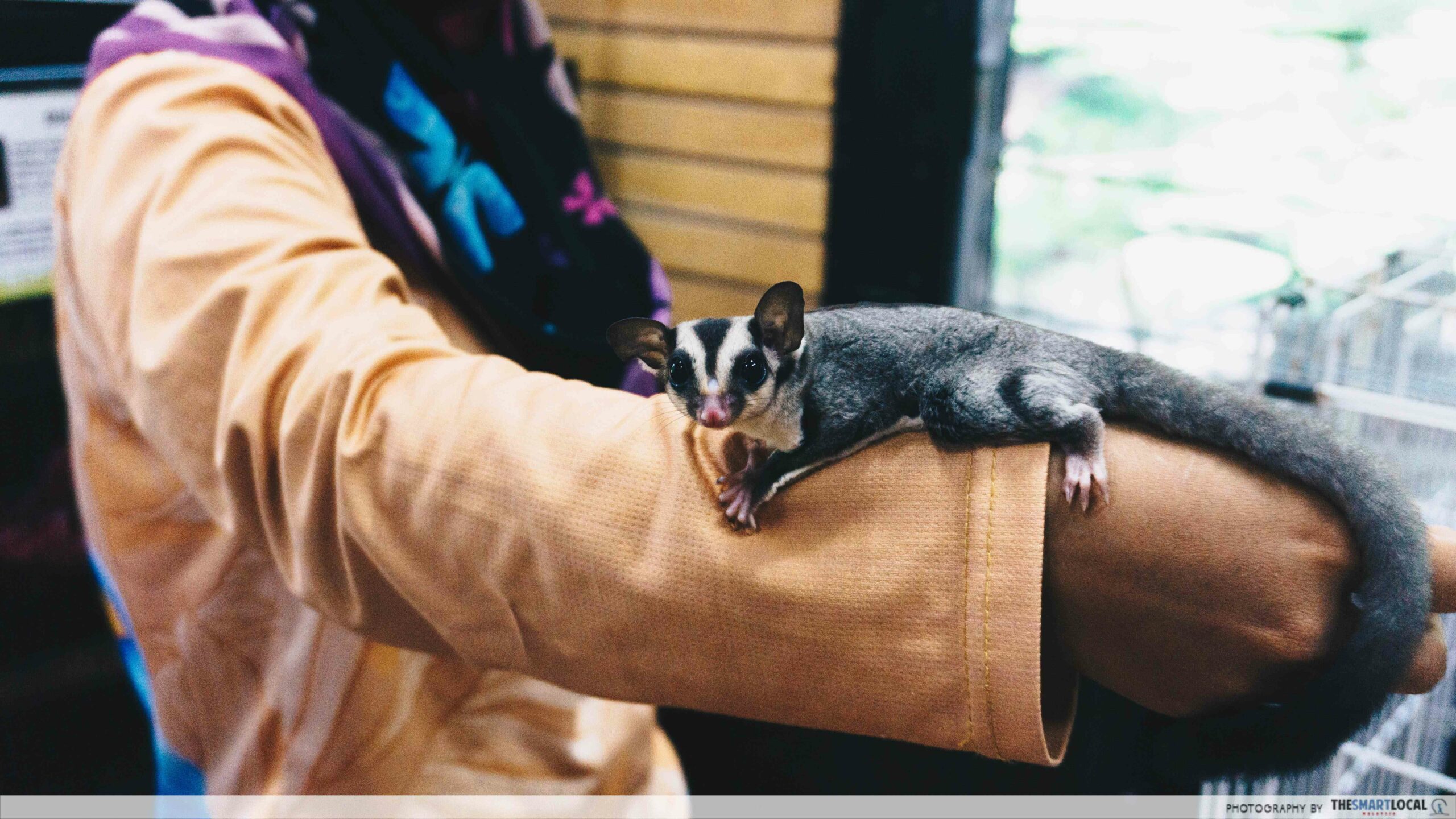 It's not just farm animals that visitors can get up close and personal with at G2G Animal Garden. At their indoor Cat House sanctuary, animal lovers can pet cuddly felines, as well as exotic animals such as ferrets, sugar gliders, and hedgehogs. 
A friendly staff will be around while visitors interact with these animals, so there's no need to fret if you've yet to work up the courage to carry or pet an animal that you see here.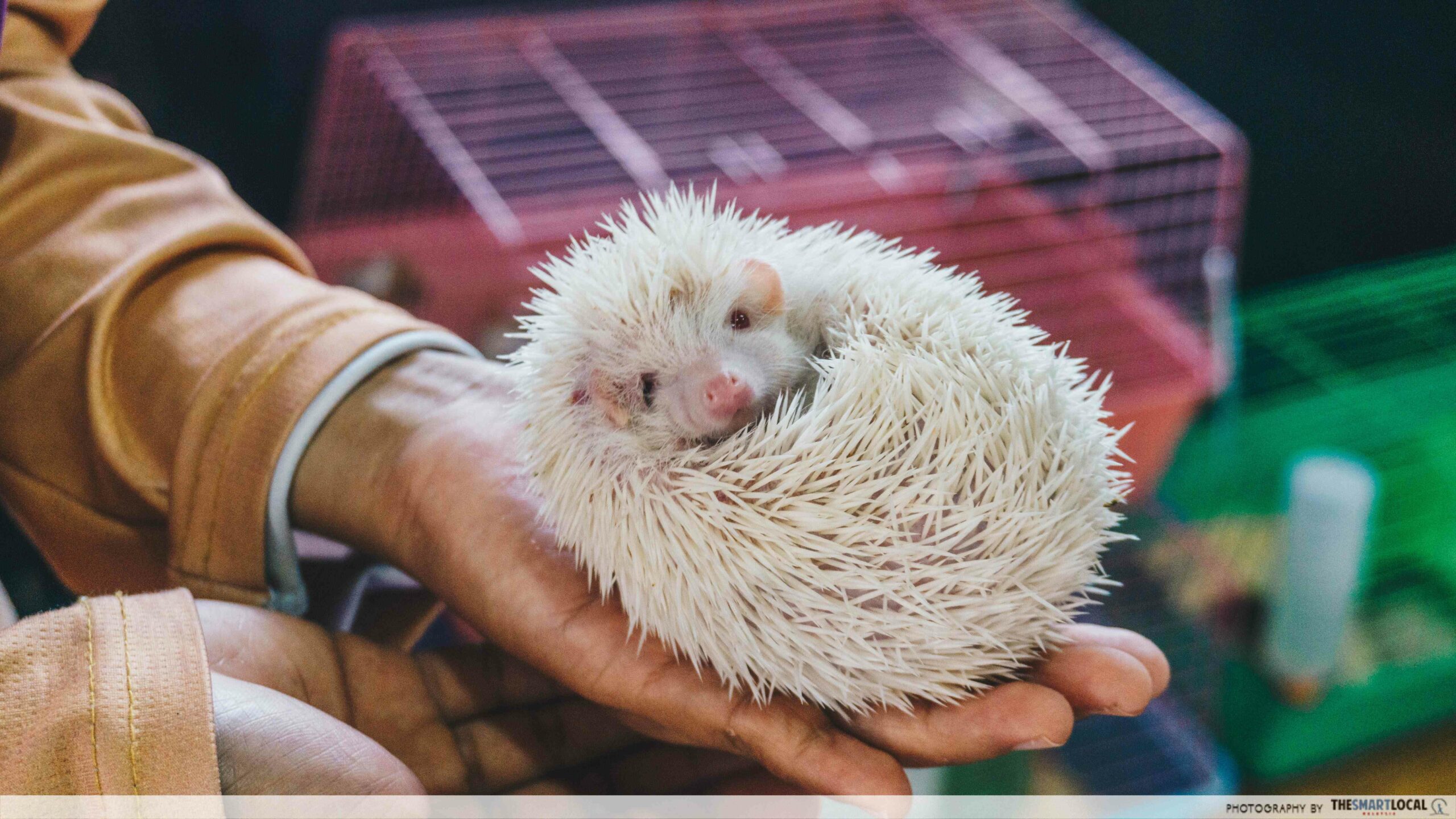 ---
3. Learn more about exotic animals, such as fennec foxes and raccoons
---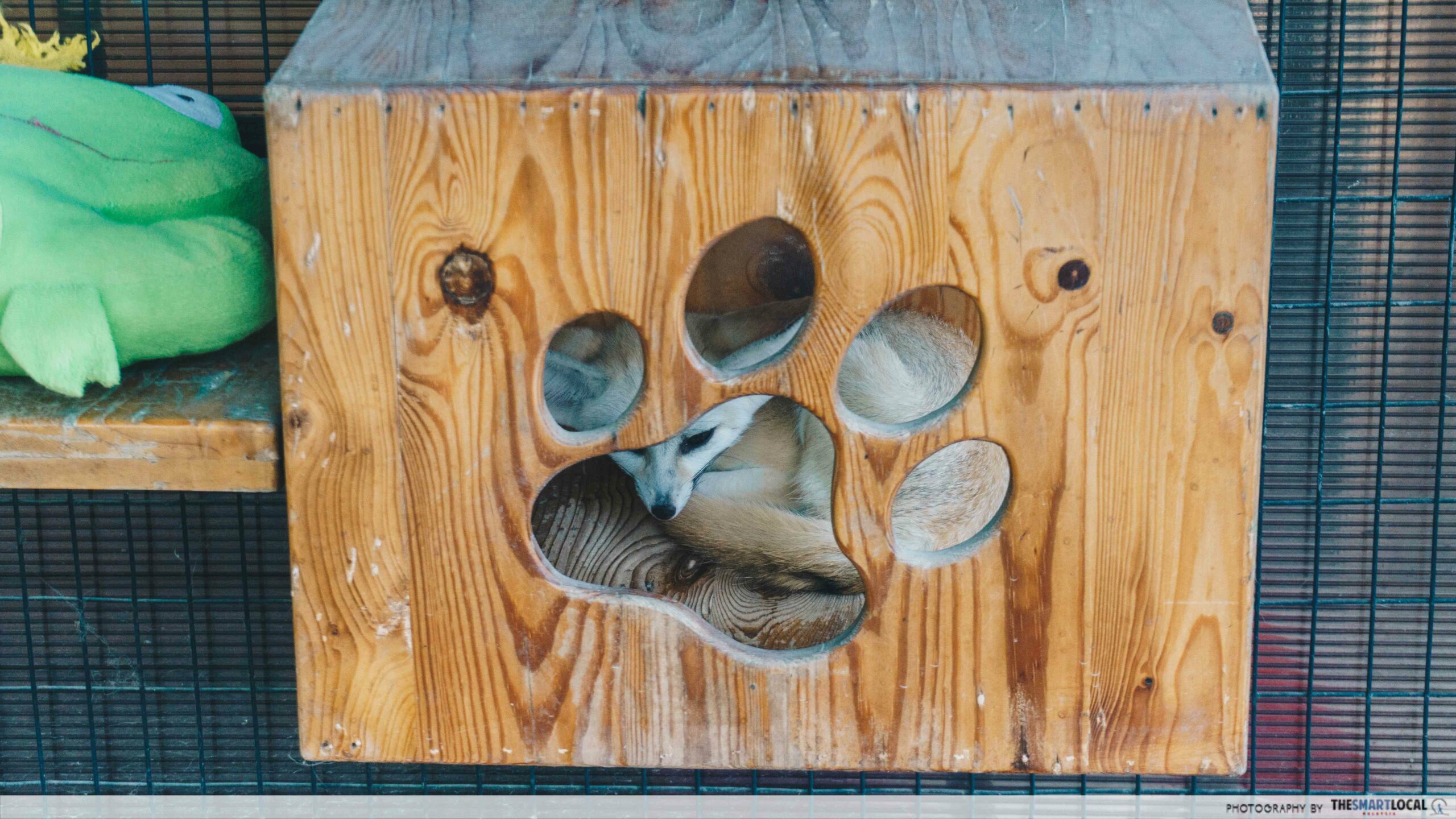 Besides the exotic animals that you can find indoors, there are also several of them out and about the petting zoo – including a fennec fox, a small fox well-known for its size and large, pointed ears – that you can catch glimpses of. 
As these animals are nocturnal by nature, you'll most likely spot the fennec fox sleeping in a hut during your visit. But don't miss out a chance to see the animal in person anyway, as the adorably grumpy character Finnick – who famously paraded as an elephant in Disney's 2016 animation film Zootopia – happens to be a fennec fox.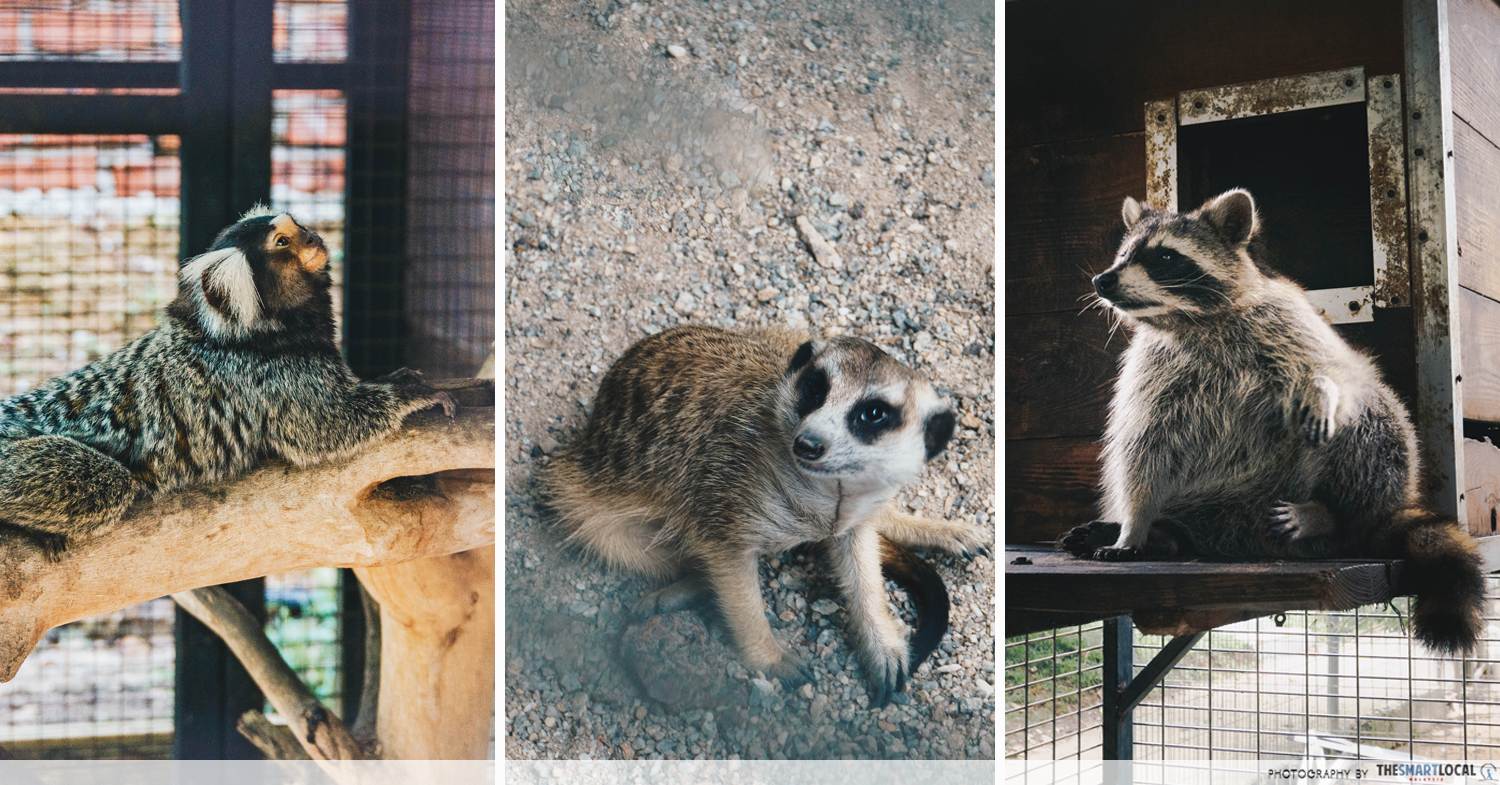 Marmosets, meerkats, and raccoons at G2G Animal Garden
Other wild animals to spot are raccoons, meerkats, and common marmosets – a species of monkey that has white tufted ears unlike most of its kind. If any animal species sound foreign to you, there are informative signs in English to let you learn more about the animals here. 
---
4. Hold the birds at the Bird Aviary in your hands
---
At G2G Animal Garden's Bird Aviary, you'll get to experience colourful birds flying around and over you in an enclosed space designed to let visitors interact closely with birds. A cup of seeds (RM1) can be purchased here so you can get have the birds eat out of your hands – literally.
You'll also get to see birds, such as parrots, that you can have perched on your hands – or head or shoulders, if you're daring enough – as well as vibrant Mandarin ducks and peafowls showing off their colourful plume.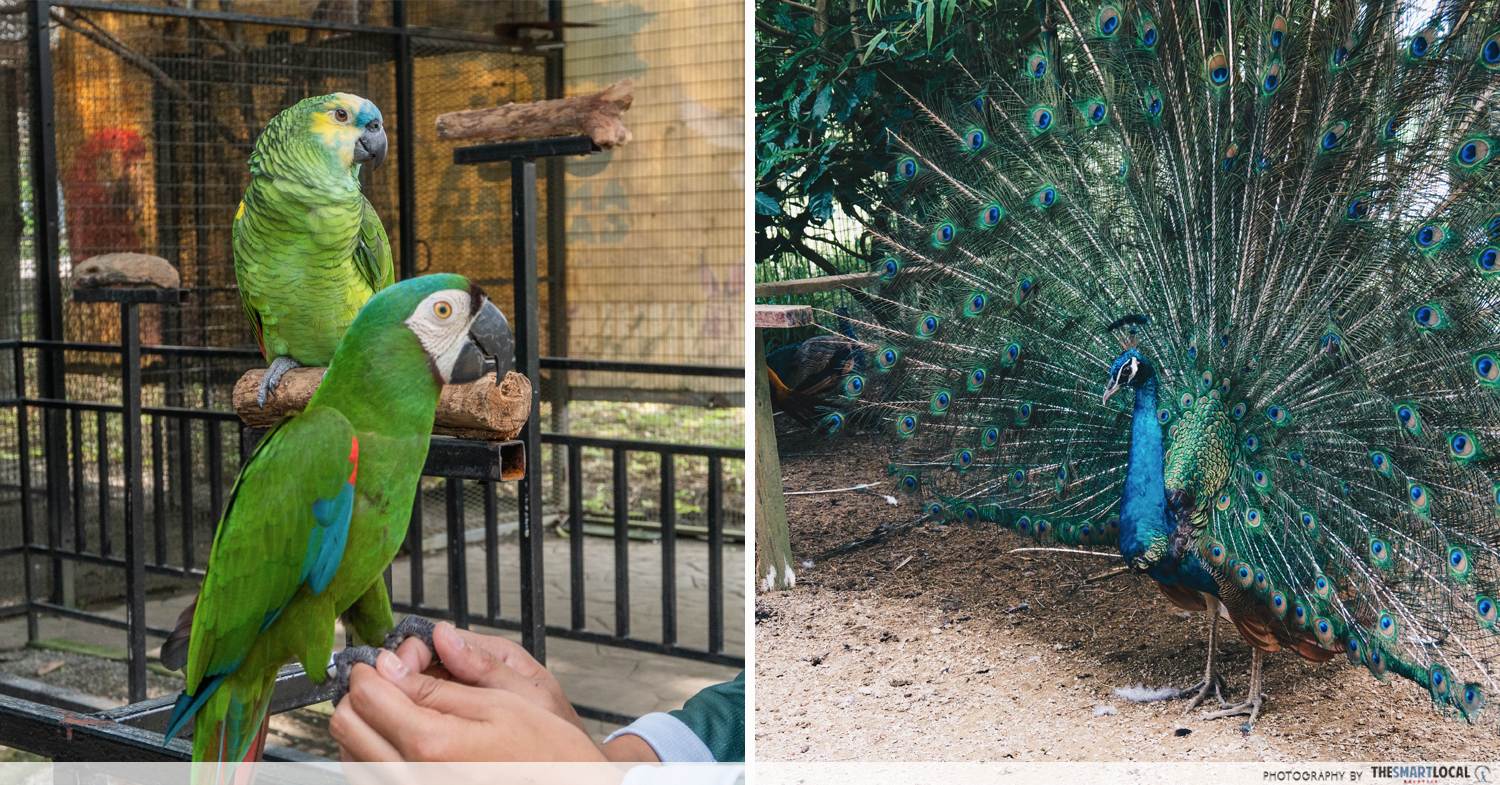 Don't forget to speak to the parrots here – they might just say something back.
---
5. See and feed small animals at the Rabbit Garden
---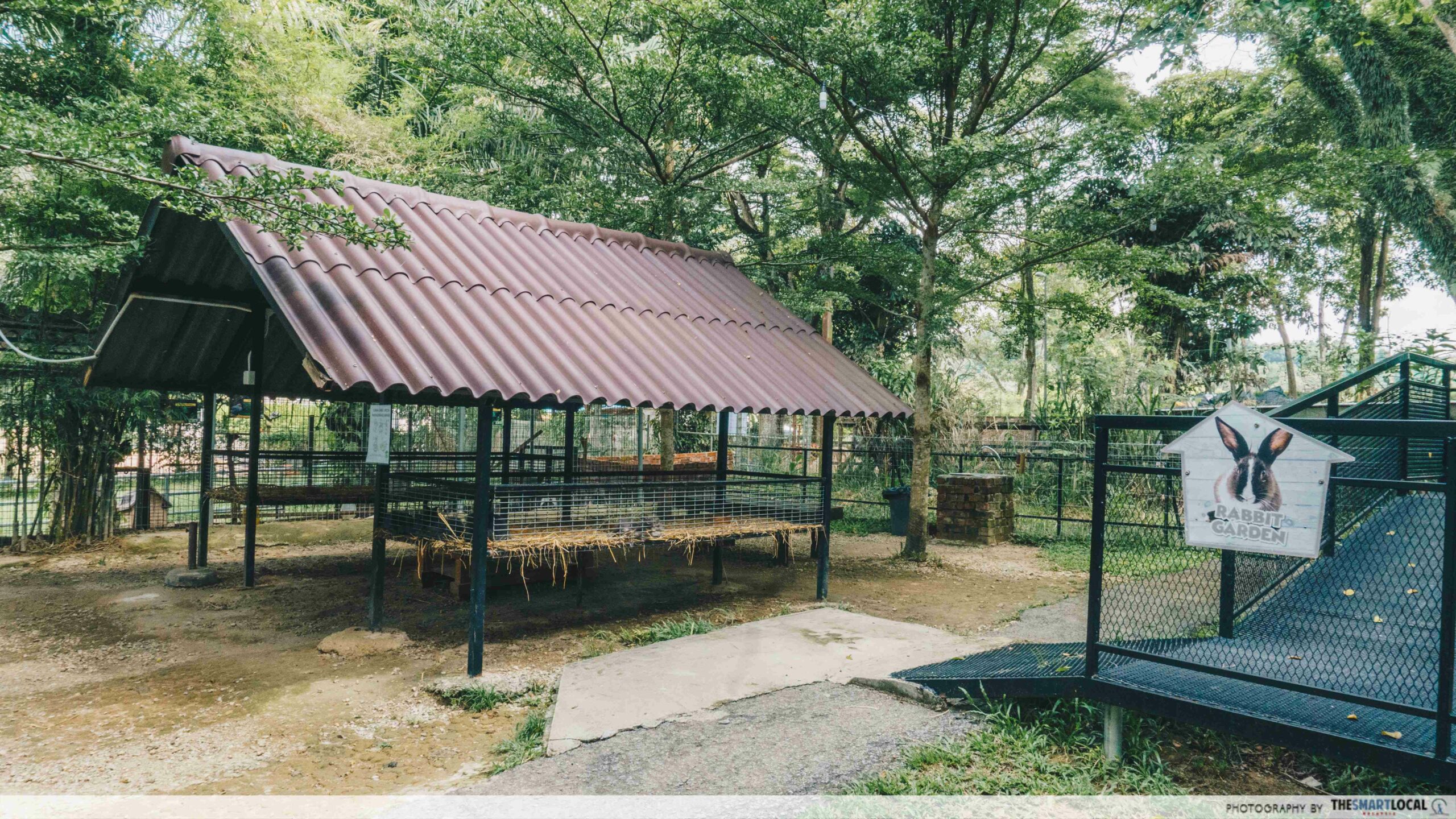 Rabbit Garden has huts that houses small animals 
If you came here for a traditional petting zoo experience, G2G Animal Garden has you covered at their Rabbit Garden. Here, visitors can pet and carry adorable rabbits, and see them hop around after snacking on their feed. Hordes of guinea pigs flocking around their feeding bowl are a sight not to be missed out on either.
Located within the Rabbit Garden are several enclosed spaces home to different species of chicken, as well as turkeys, for a true kampung experience in the city.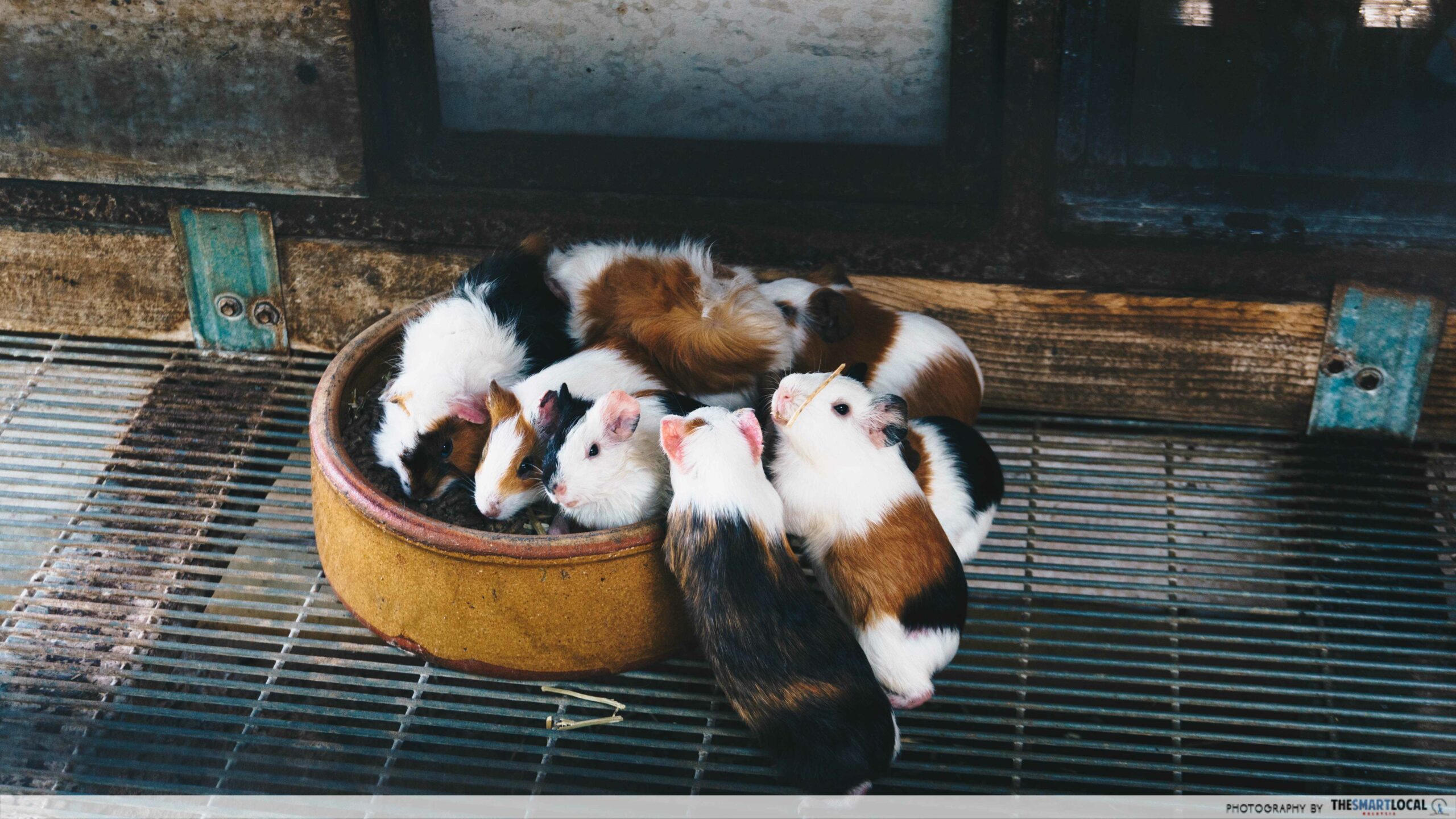 ---
6. Try your hand at fishing with nets
---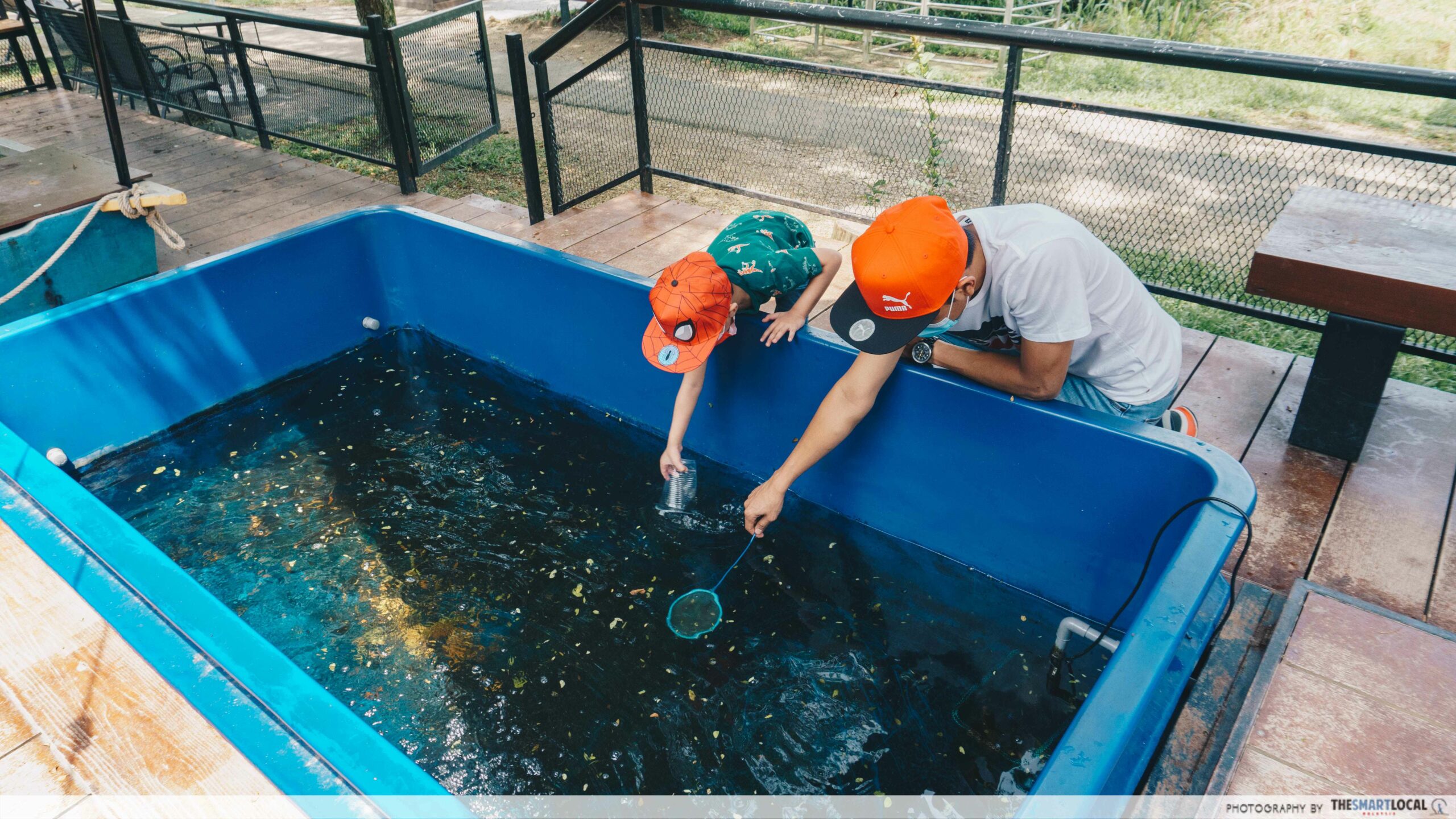 Boat fishing is a family-friendly activity that lets you take on your friends or family members in a friendly game of fishing. The rules are simple – rent mesh nets (RM5/pax) at the same shack where you get the animal feed, and try to catch as many guppy fishes as you can in 3 minutes from a large tub.
---
7. Catch a ride on a pony for RM5
---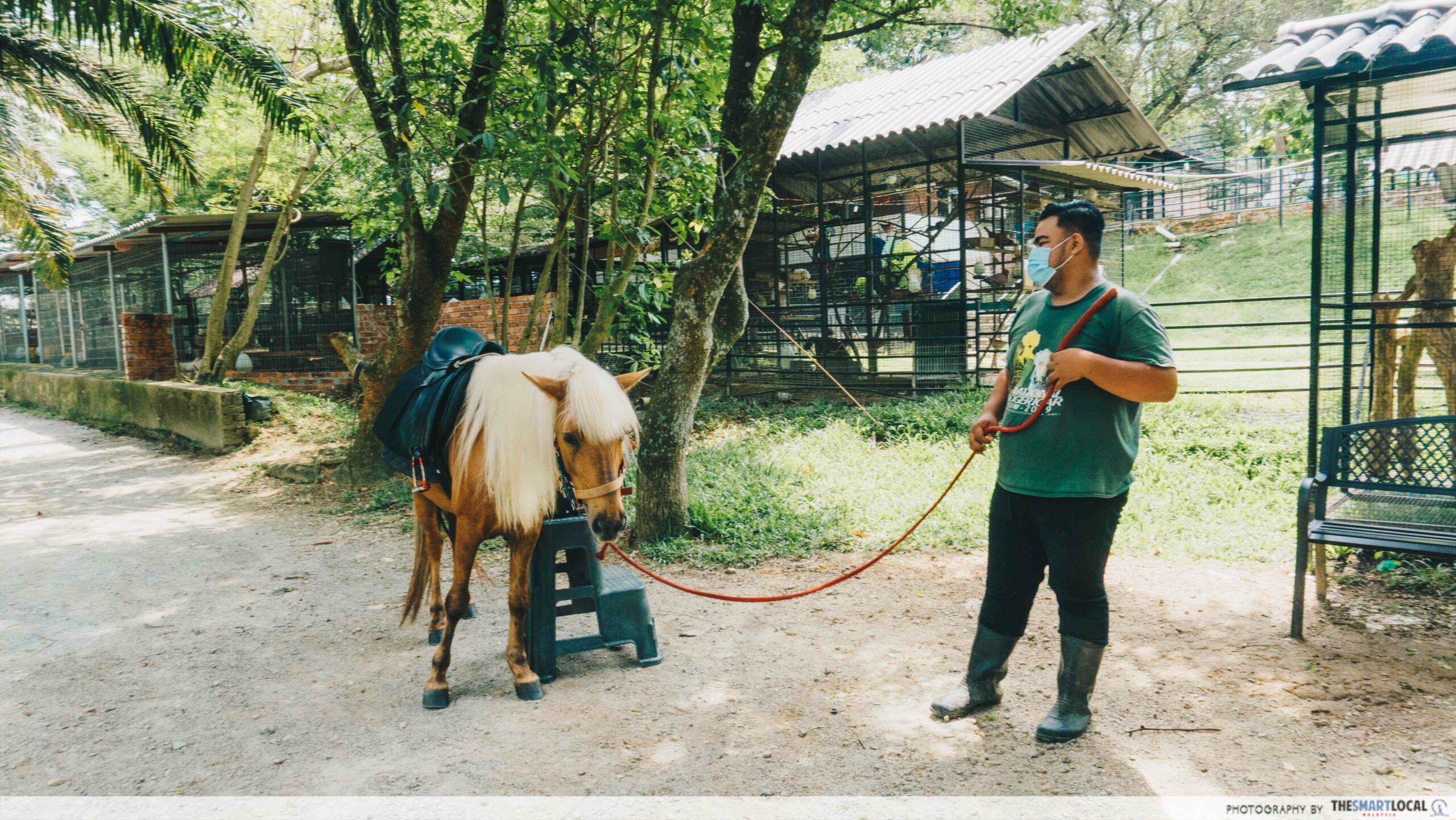 A treat for those with little ones is G2G Animal Garden's Pony Joyride. Kids will get to ride on ponies for RM5/pax, with a staff escorting every pony ride to ensure that all riders are kept safe during the trip. If your kids happen to be afraid of getting on a pony alone, the staff will allow two kids to sit atop a pony at one time, with parents able to walk alongside the ponies too. 
---
8. Get rid of your fear of snakes at the Reptile House 
---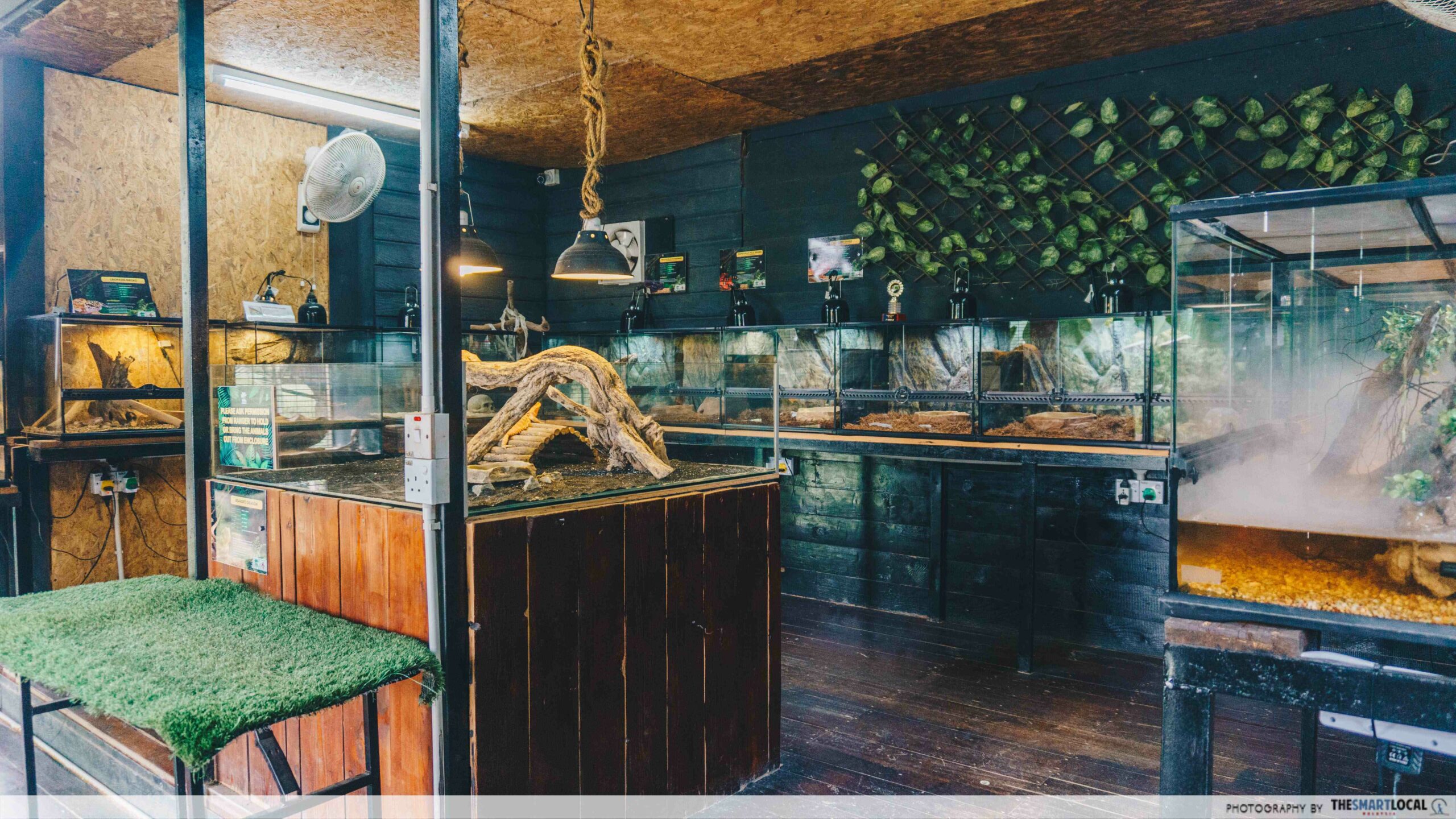 Another indoor animal sanctuary here is the Reptile House – home to snakes, lizards, bearded dragons, pacman frogs, and more. It may look like a pet store from the outside due to the glass display cases housing different reptiles, but all the animals here can be carried and touched with the assistance of a helpful staff member.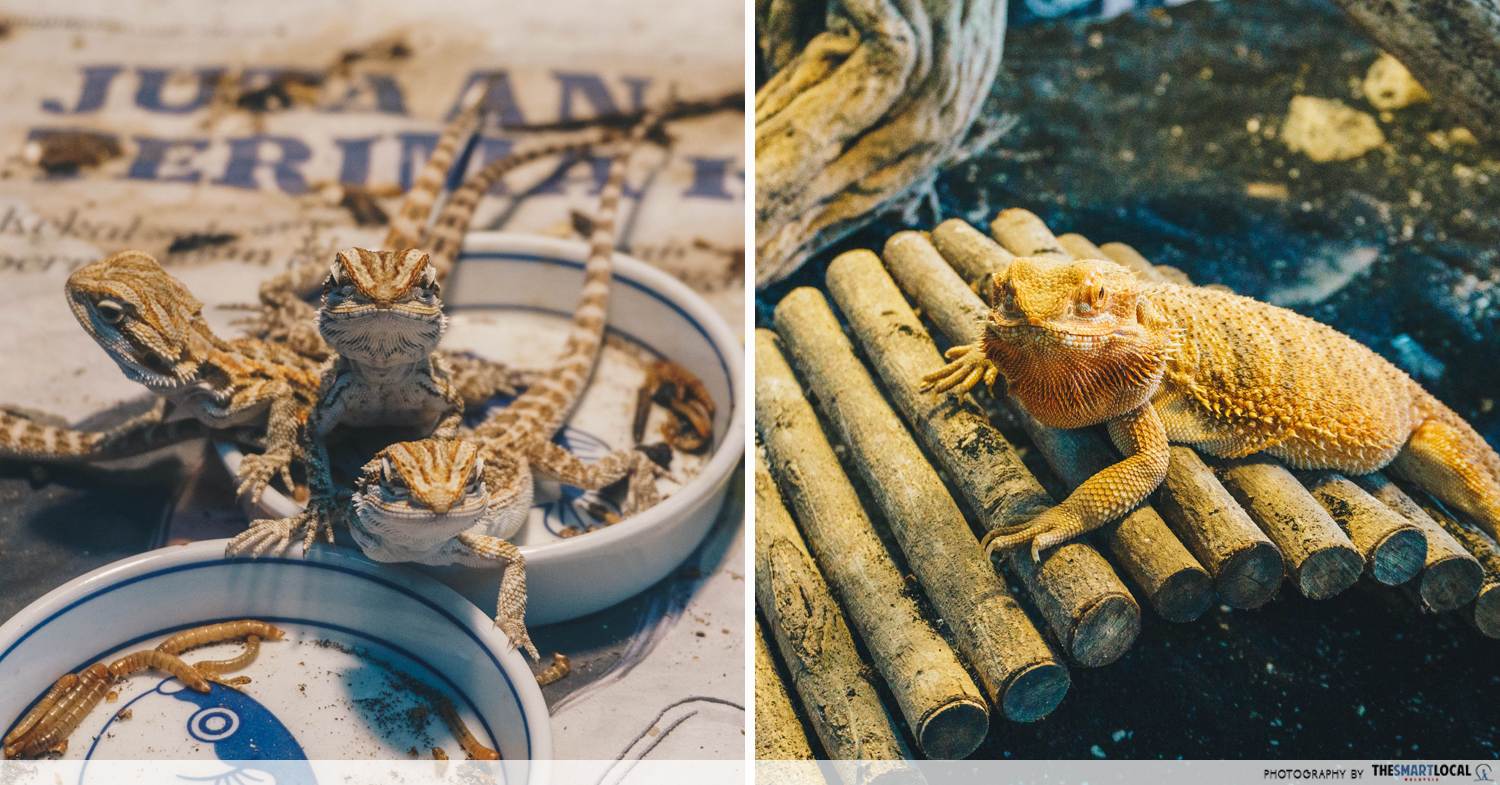 ---
G2G Animal Garden is an animal lover's hideout in Selangor
---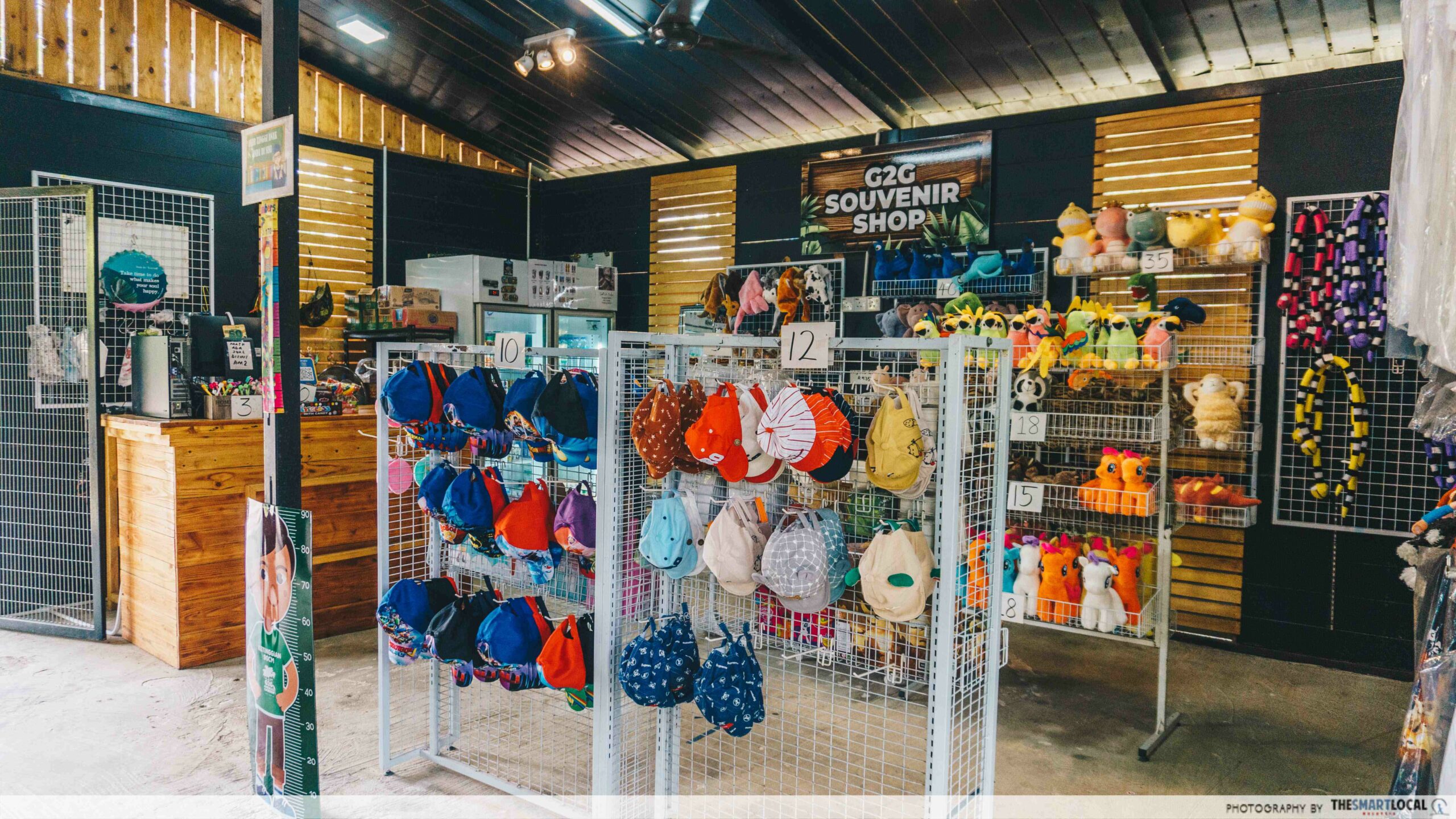 Souvenir shop in G2G Animal Garden to purchase caps, plushies, T-shirts, and more.
For anyone missing out on the back-to-nature farm – plus a chance of seeing animals up close in the city – G2G Animal Garden has several interactive animal sanctuaries at its kampung-style petting zoo that's fun for adults and kids alike. 
So the next time you're looking to spend time outside with your friends or little ones, consider dropping by this spot in Selangor. You can also purchase tickets online here to plan ahead of your trip.  
Address: 4/3, Jalan MAEPS, 43400 Seri Kembangan, Selangor
Opening hours: Mon 10AM-6PM | Wed – Fri 10AM-6PM | Sat & Sun 9.30AM-6PM (Closed on Tuesdays)
Telephone: 019-925 6852
G2G Animal Garden website | Facebook | Instagram 
Also check out these places in Klang Valley:
---
Photography by Danny Ko and Janet Cho. 
Get more stories like this!
Drop us your email so you won't miss the latest news.